DIY "Carved" Wood Medallions (you can make!)
This post may contain affiliate links. Please see disclosures here.
Home decor doesn't have to be expensive….or hard to create. Today's DIY "hand-carved" wood medallions are the perfect addition to any decor! (and won't break the bank!)
Post updated 3/2023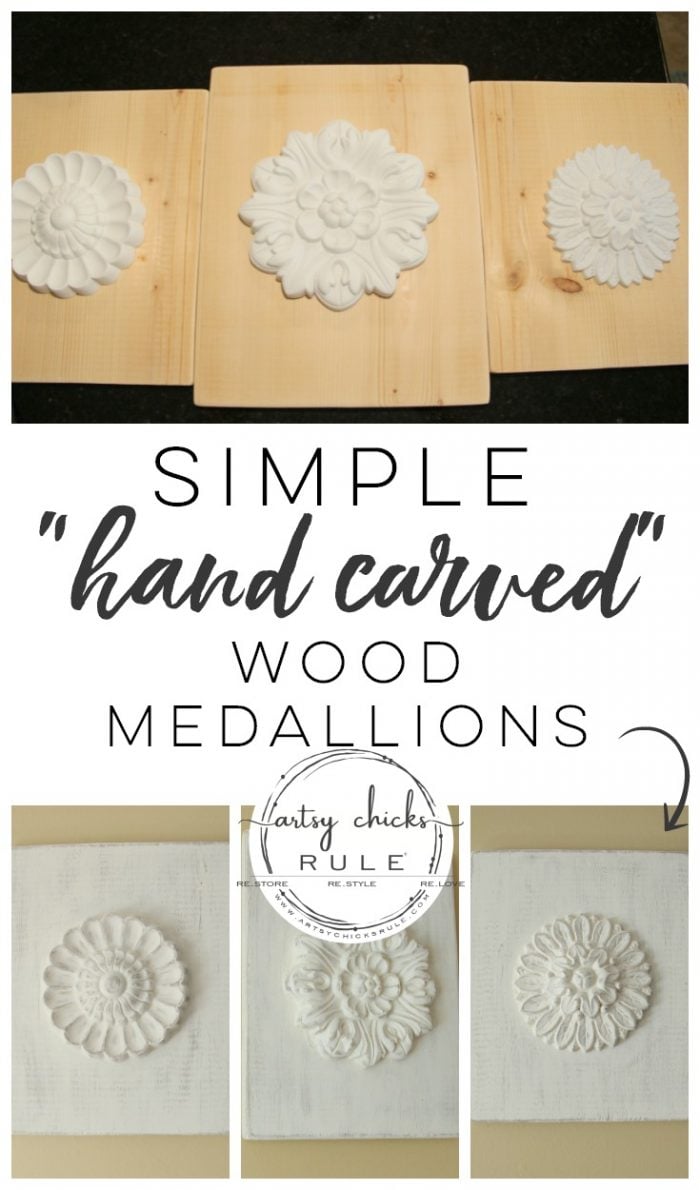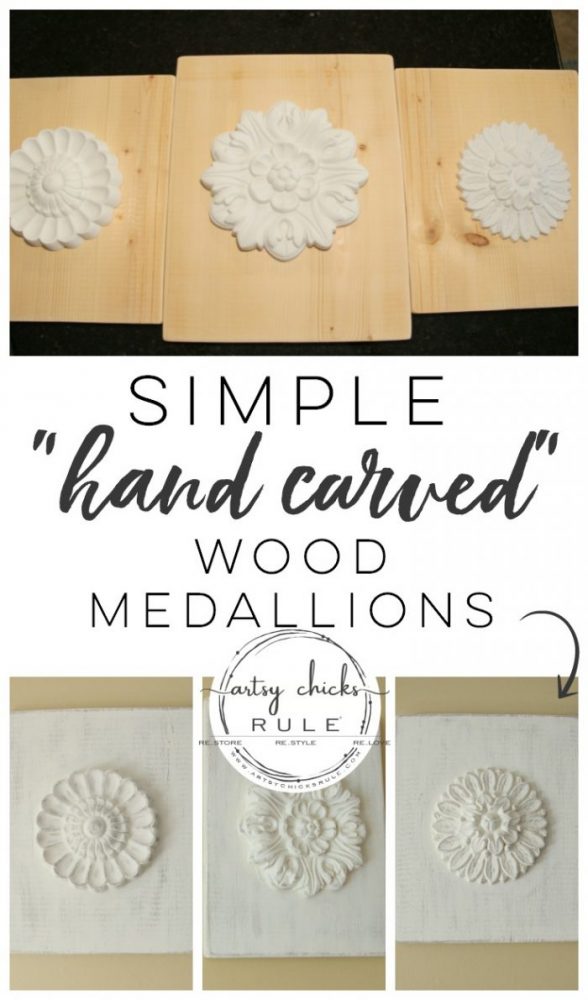 I have a super fun (and super easy) project to share with you all today.
DIY "Carved" Wood Medallions
Here's what inspired me.
These pretty wall medallions over at Ballard Designs.
What didn't inspire me too much….was the price.
So I made my own!
And you can make your own too. Really.
Because did I mention how EASY it was to make them?
And no, they are also not actually "carved" but I'm okay with that too. Since I have Amazon Prime, I always start my search there for items I need (most of the time anyway!)
I found these… (listing them here in case you'd like to make a set of your own) …
Ekena Millwork Chesterfield Rosette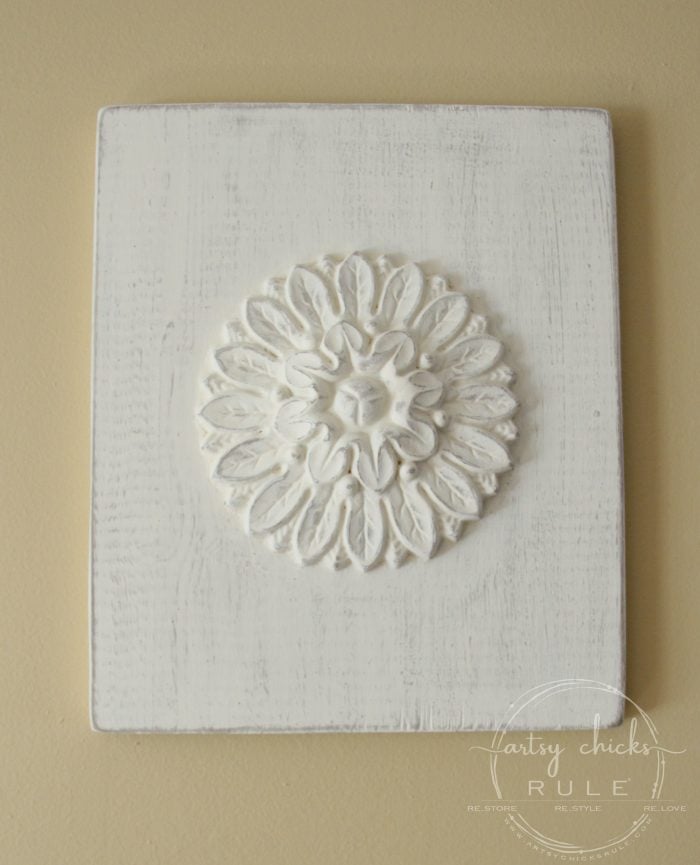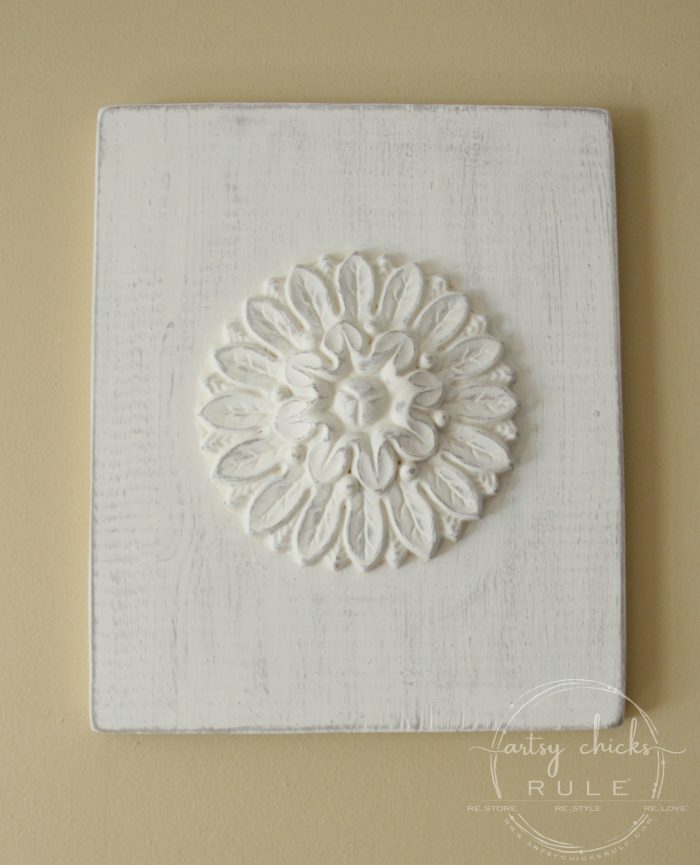 Ekena Millwork Kent Rosette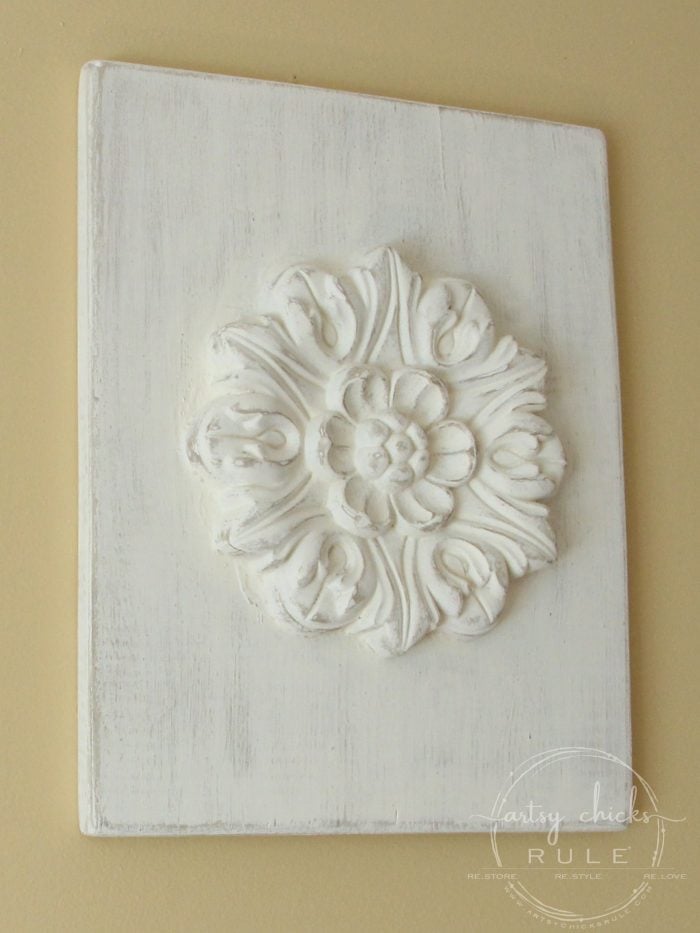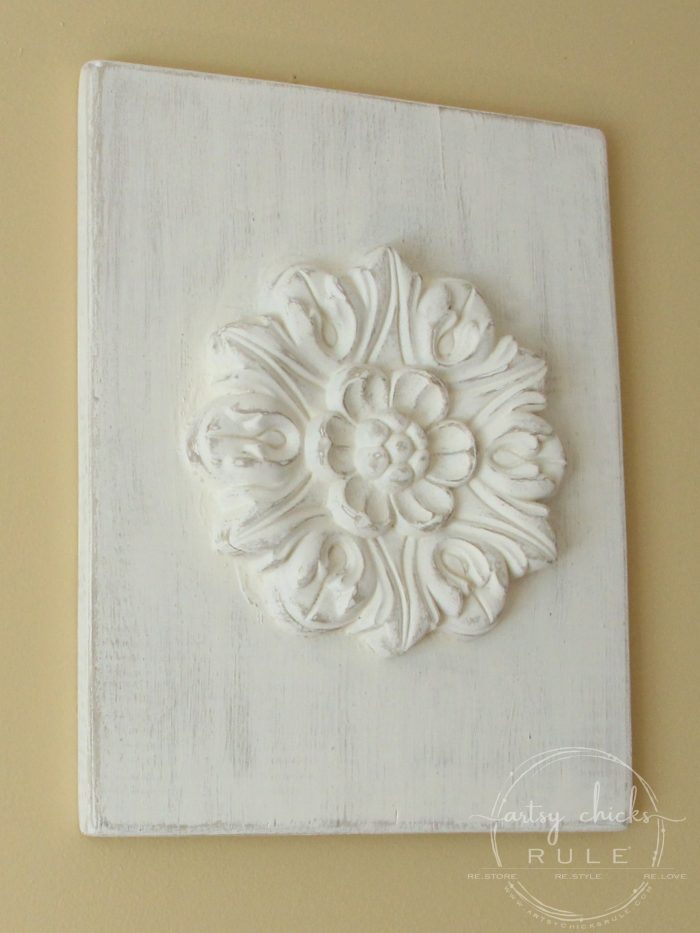 Ekena Millwork Sunflower Rosette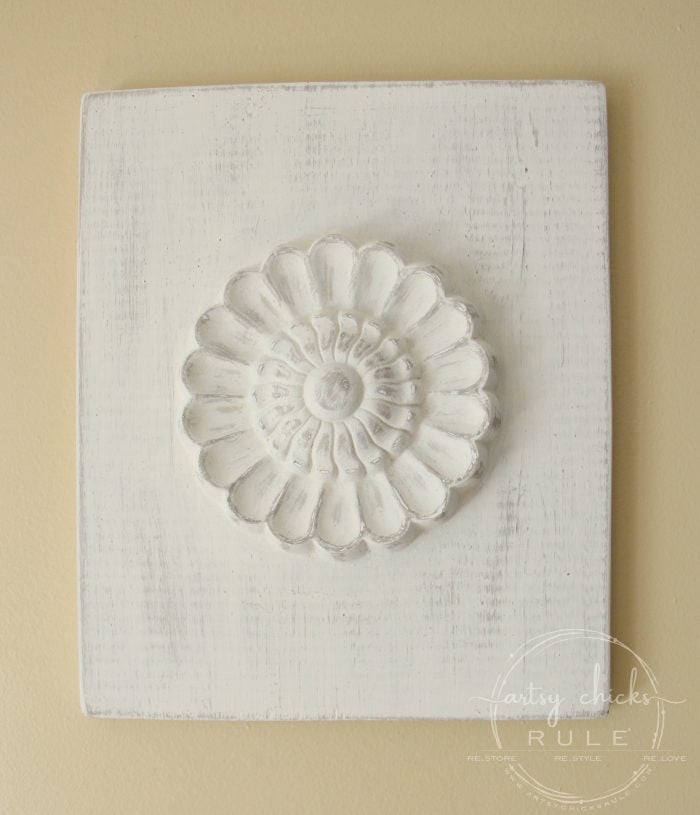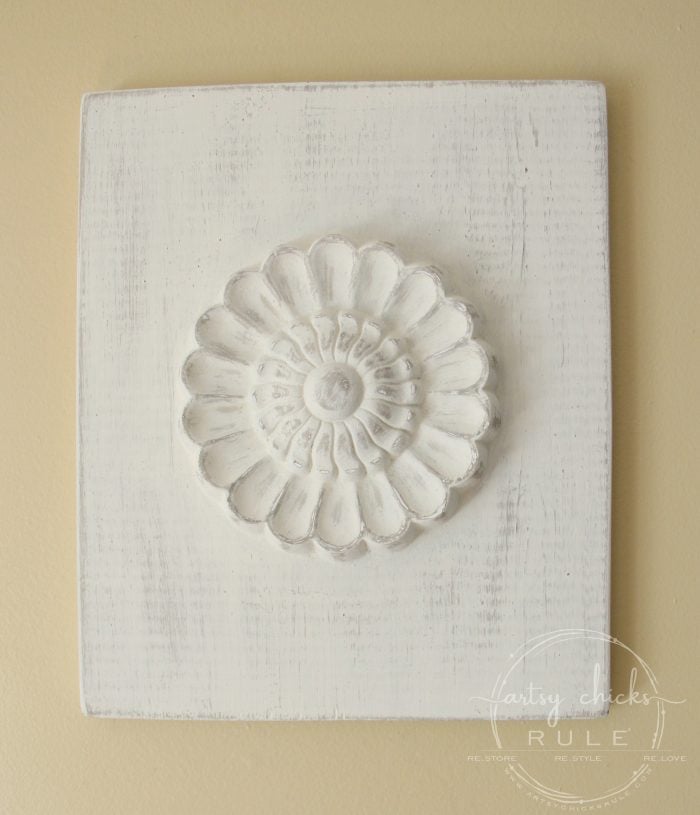 But here's what they looked like this when I received them. (minus the wood, of course)
(EDITED TO NOTE: The size of each is as follows: They are 3/4 inch thick. (so, 1 by)
The 2 smaller ones are 12 x 10 and the middle one is 14 x 11)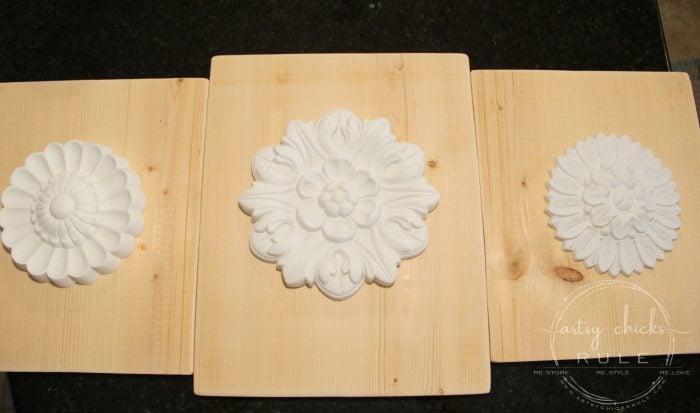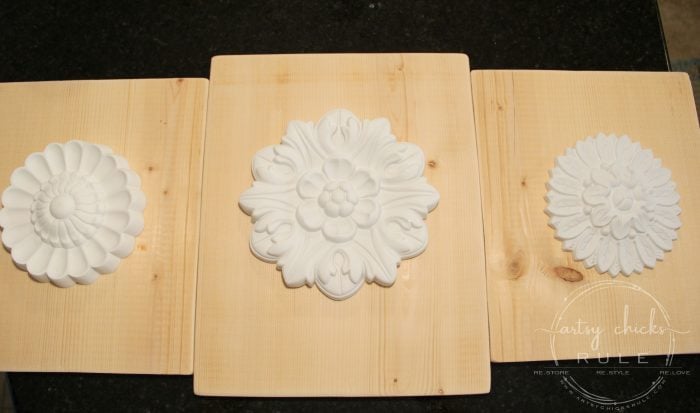 My husband cut the pieces of wood per my specified measurements.
We had the wood left over from another project so that was easy (and inexpensive) too.
He even did the sanding for me (I hate sanding but will do it if I have to).
I had him 'round' out the corners and edges for a softer, hand-made look.
The "inspired by" ones are very square edged but I wanted mine a little softer looking.
That's the beauty of making your own. You can create them how you want them.
I glued the medallions to those boards with this wood glue.
It worked great, once dry, they were SOLID.
After the glue was dry, I caulked around the edges to seal it to make it seamless.
**Be sure to use paint-able caulk for this step.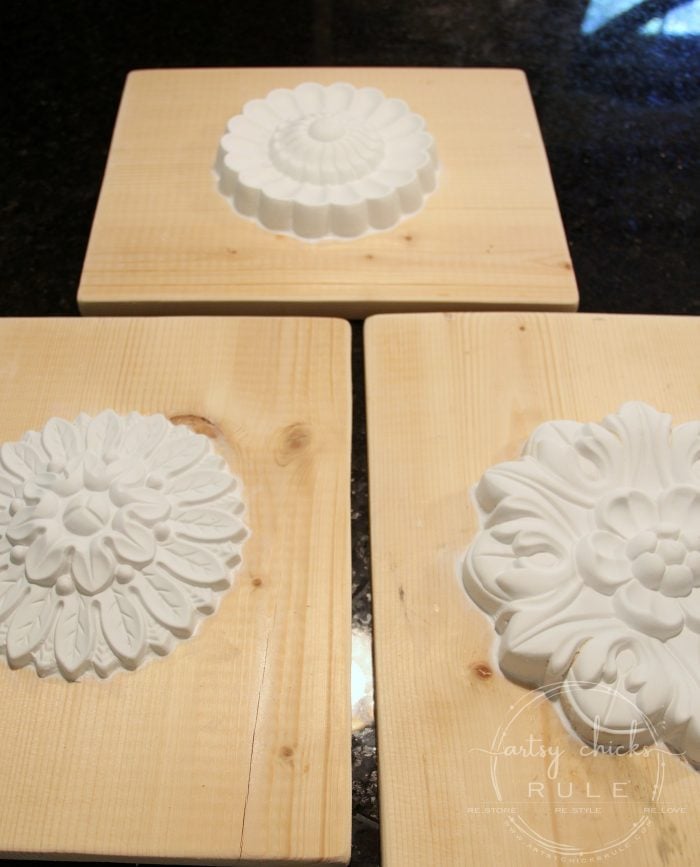 Once that was dry I originally painted them with one coat of Chalk Paint. A similar color is this one.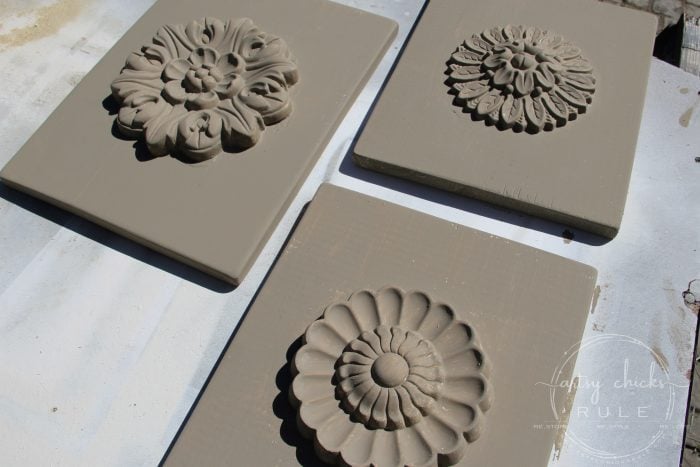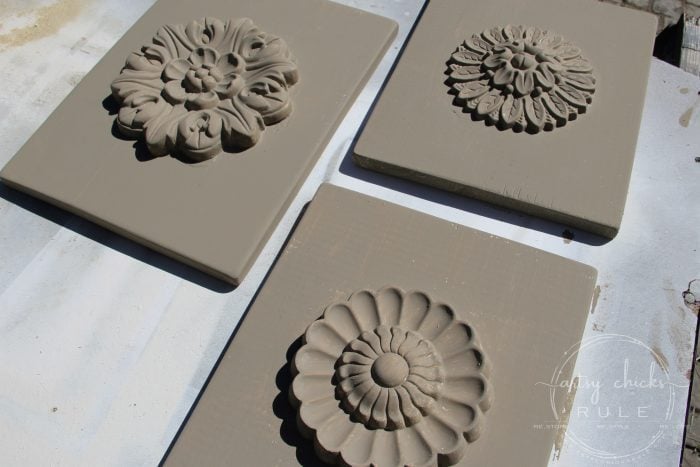 Next, I painted one coat of medium shade over that…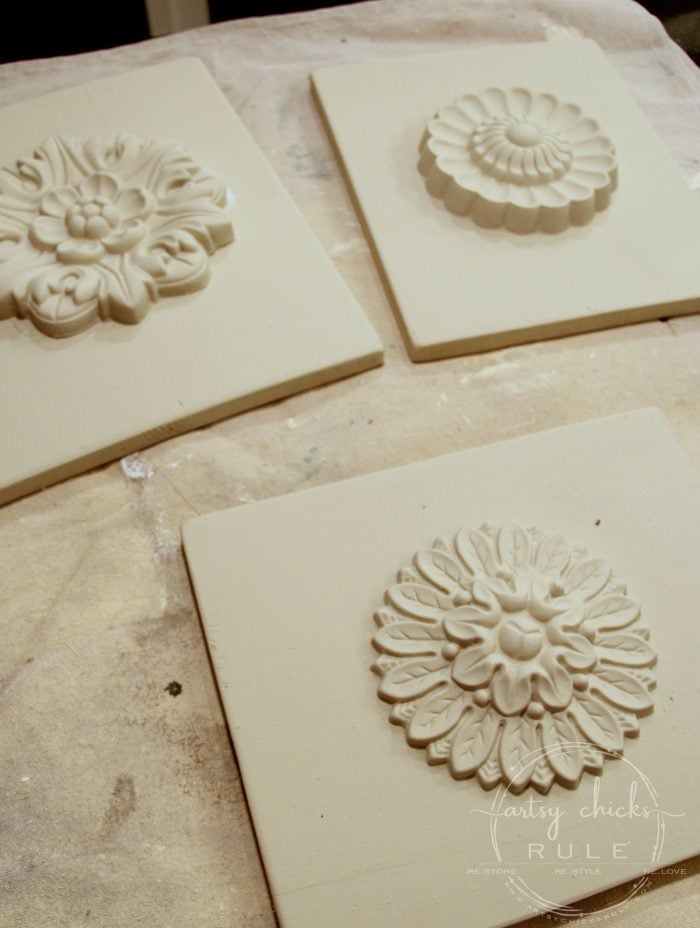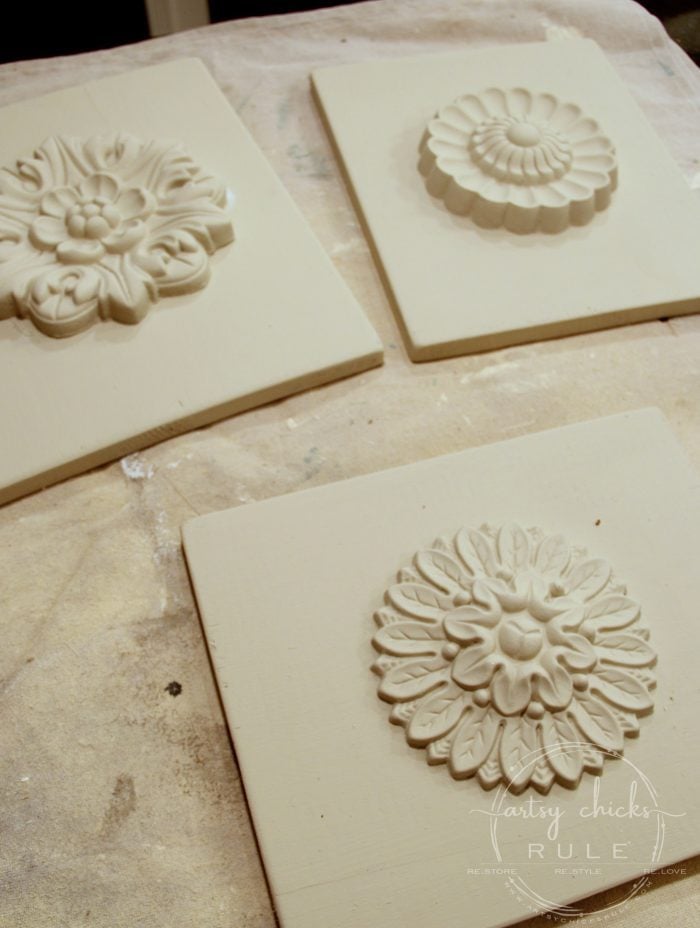 Then over those 2 paint layers, I painted one coat of off-white.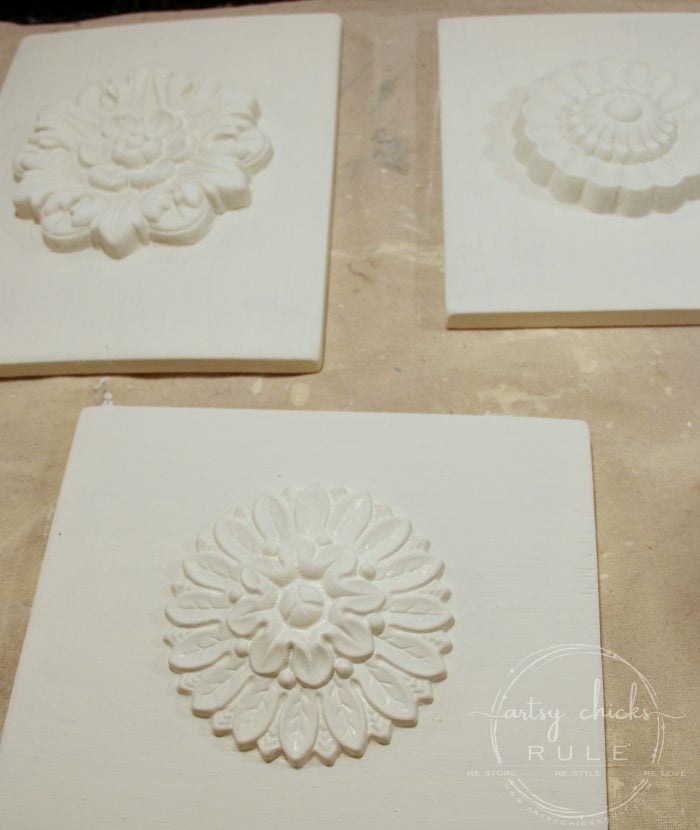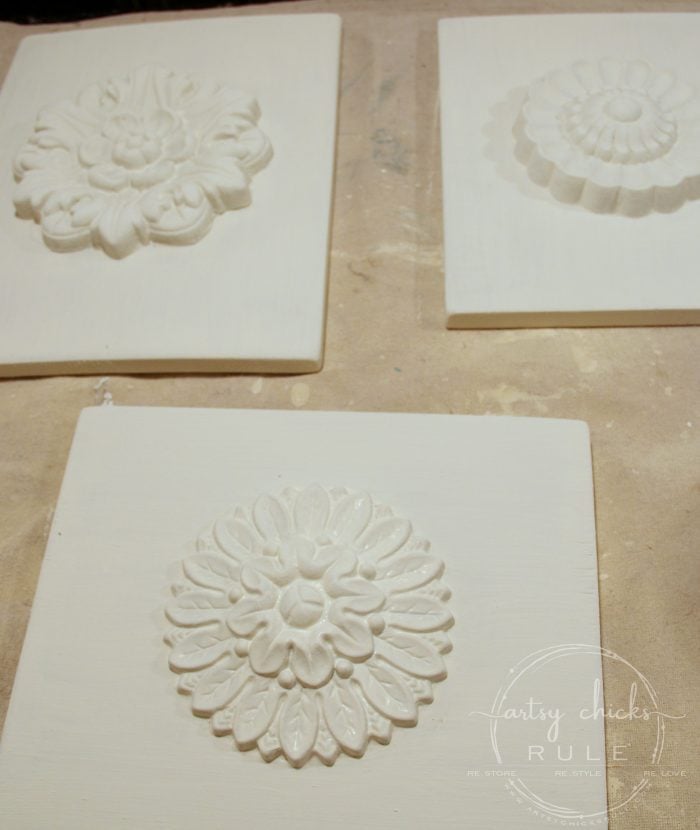 I wanted a nice layered effect with these colors.
Once distressed, I wanted to be able to see a touch of each color.
You don't have to use the same paint I used, but try to find similar colors to get this same effect.
They created dimension…and depth.
You can see how different they look once distressed….. (from above to below)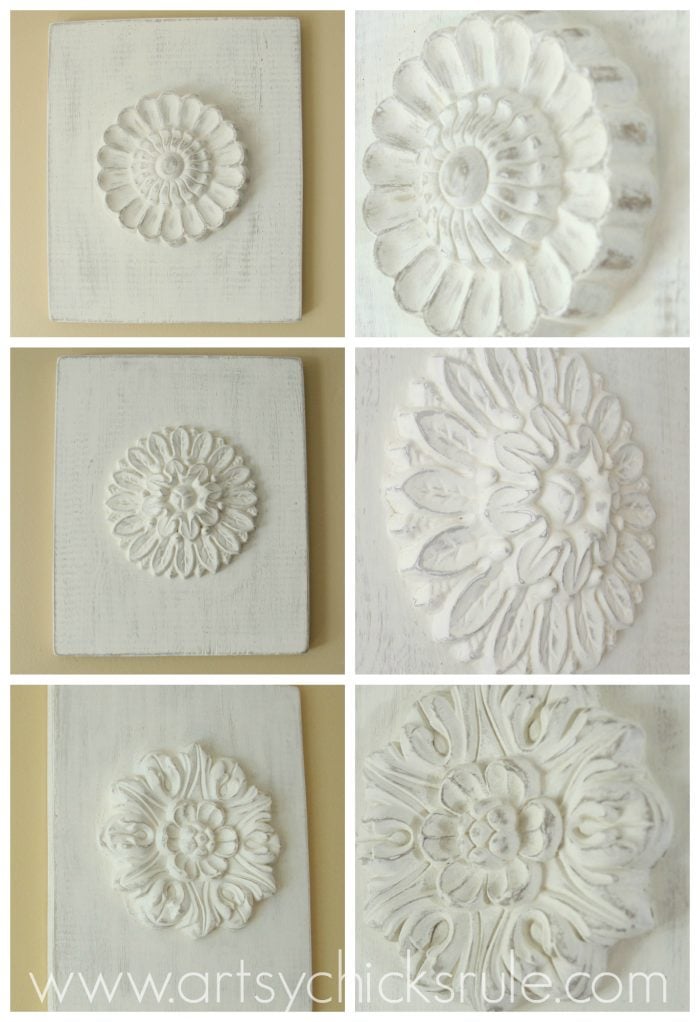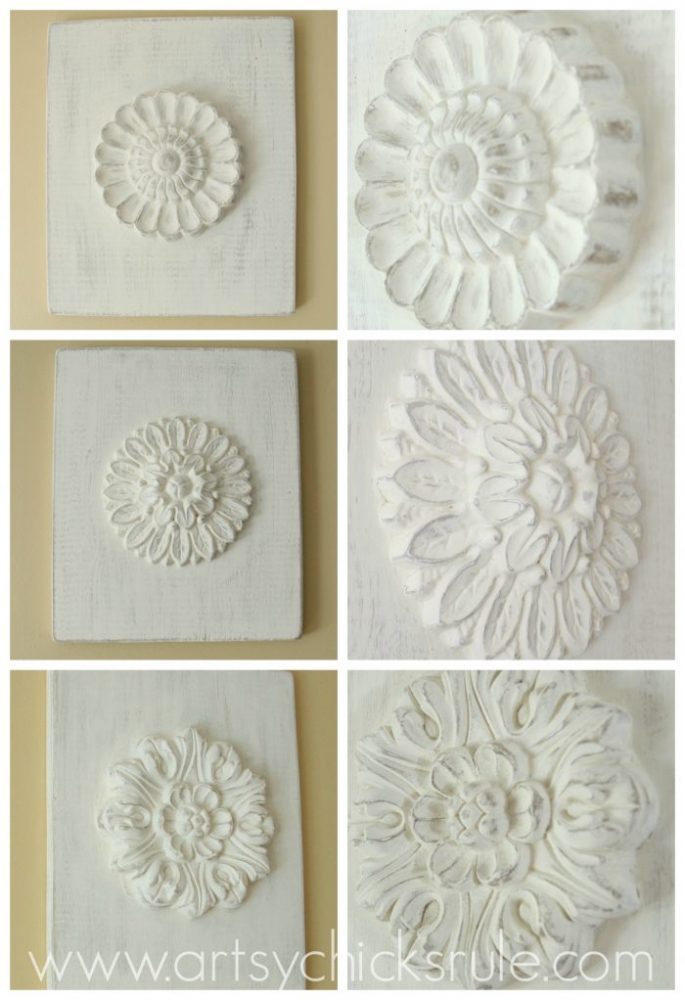 It's hard to tell in the photos but you can see a bit of each color, which I just love.
It really does add to the depth and dimension.
To seal them, I simply sprayed them with a flat sealer. I didn't want them to have a shine to them.
And since I wanted these to hang flush with the wall, I had my husband drill holes in the backs for me, like so…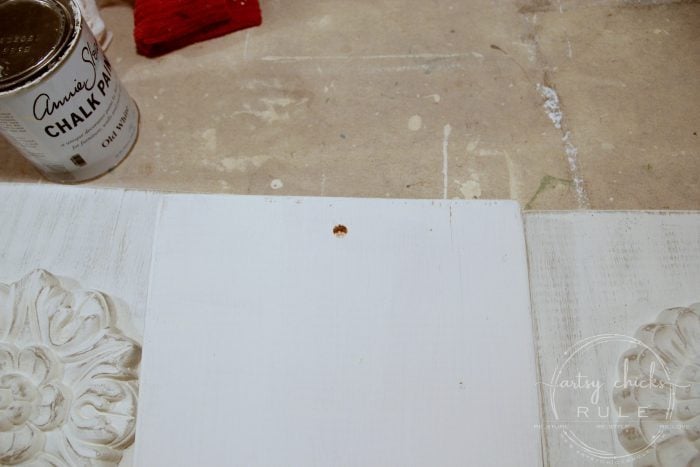 This is where they were originally hung in my home…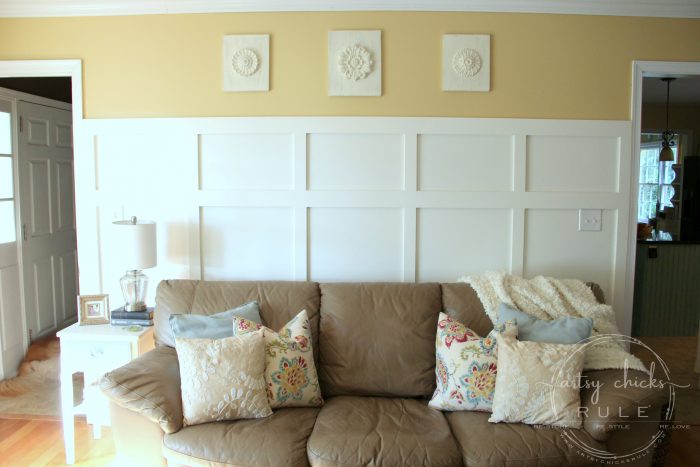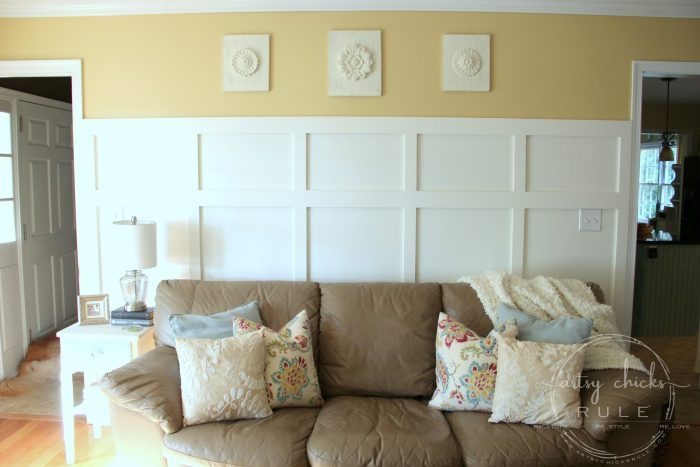 But I've since taken them down. (Wish I still had that old leather couch! I'd paint it now!! See my post on painting leather here)
I just pulled them out of the garage and hoping to use them in my decor again after the home remodel.
Our sweet girl Lexi was "guarding" the door over there on the left of the photo. Can you see her? I sure do miss her!
Here are a few more photos of them in our family room. (and how our family room used to look…here's a recent updated peek)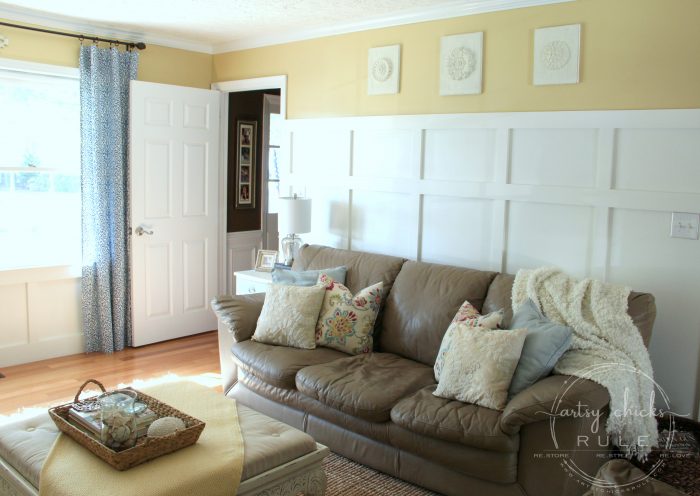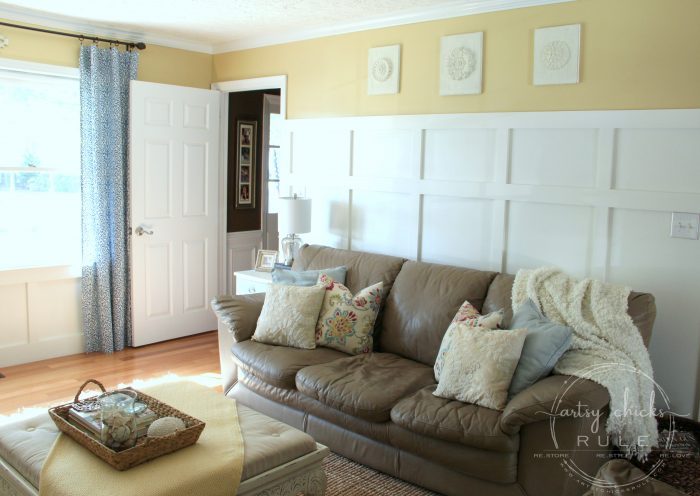 Gosh, my style sure has changed since I took this photo. But wow, it's been almost 10 years!
It's amazing what different paint, furniture, and curtains can do to a room.
With my light tan IKEA furniture and Sea Salt walls (and the dark brown foyer is gone too), this room is so light and bright.
Even more so than it was here.
And would you believe this room used to have dark brown wall paneling?
Oh my, it was so dark in here, I called it the "cave".
You can see that whole remodel (and those DARK walls) >>> here.
So what do you think? Would you tackle a project like this?
I say "tackle" but it really wasn't much to tackle!
If you don't mind that they are not actually 'carved' wood pieces then I think you will love them.
Now, just to note, this project cost me just under $26 because we had the wood and paint I wanted to use on hand.
BUT you could purchase small bottles of acrylic paint in similar colors from the craft store along with several pieces of wood and recreate this look for still well under $50.
It was definitely fun to do! And crafty! But even better, thrifty decor that doesn't look thrifty!
Pin it to save it for later!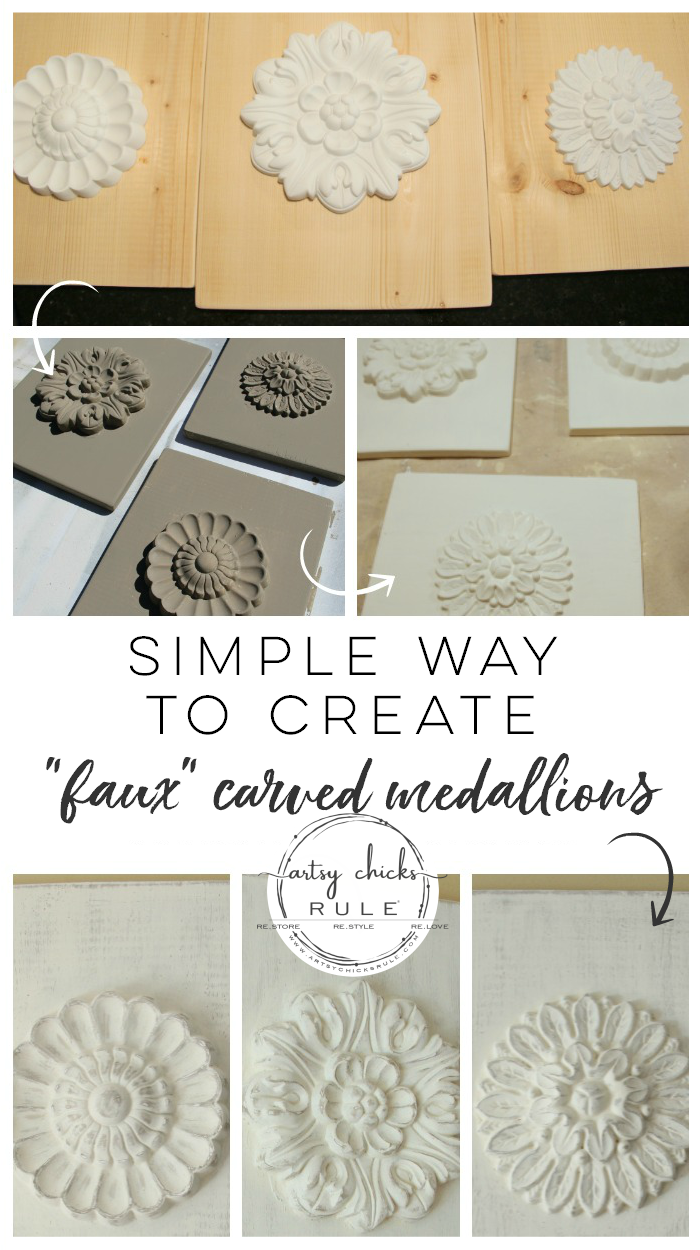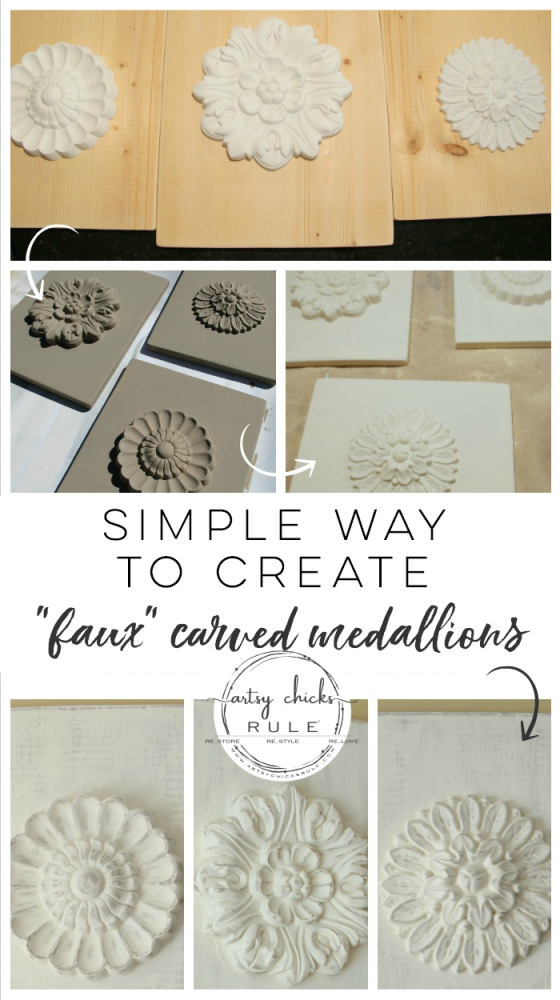 Have a great week friends! I'll see you next time with this! (blue and white tiled tray)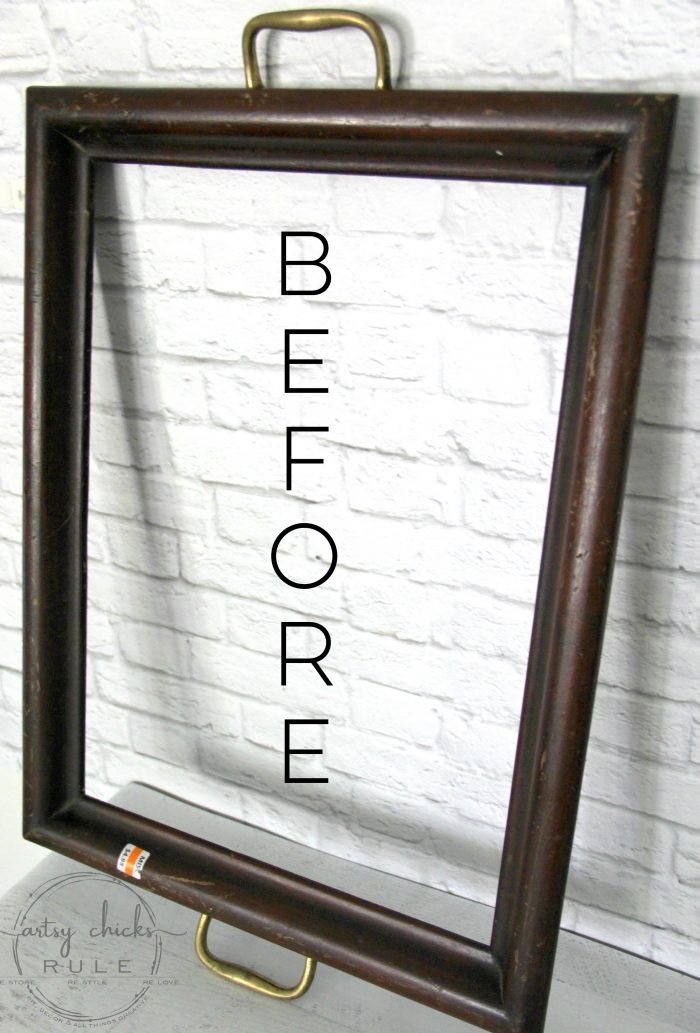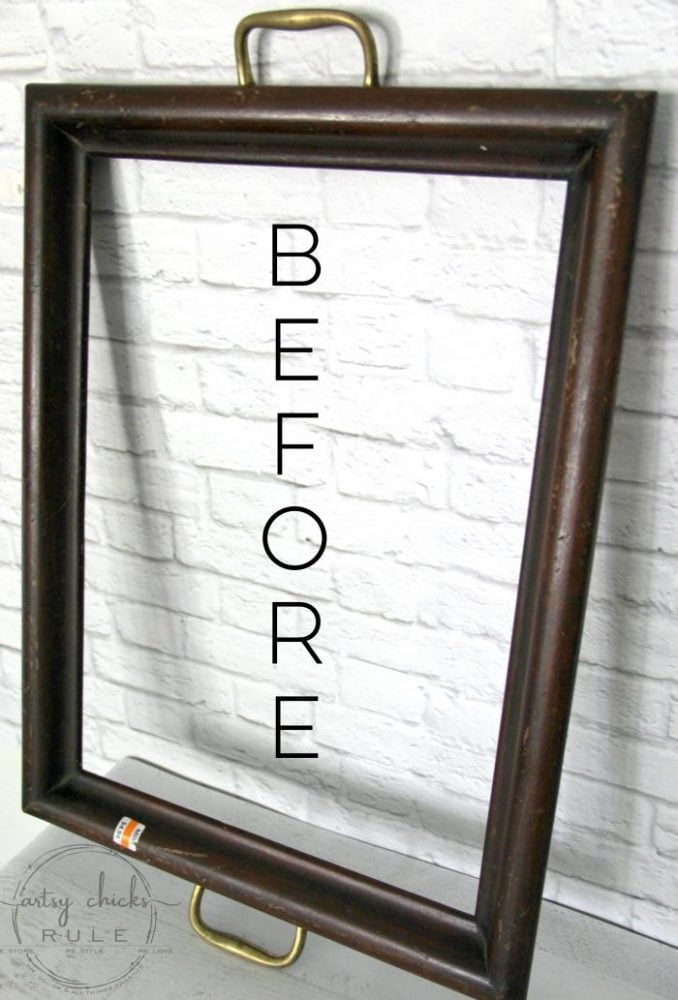 UPDATE! See it now here!!
xoxo