Black Friday TV, Not This Time (a Family Room Makeover)
This post may contain affiliate links. Please see disclosures here.
Are you a Black Friday Shopper?
I'm not. Never, ever, ever.
Well, there was this one time. ONE and only time.
About 9 years ago there was this super big (52 inch) TV at Circuit City.
And it was going to be on SUPER DUPER sale on Black Friday.
Of course, right?
And only at that price until 11am. So what's a girl to do?
I went out on Black Friday. Ugh.
It wasn't completely awful but I never want to do it again.
But I did get my (husband's) TV. :)
This one….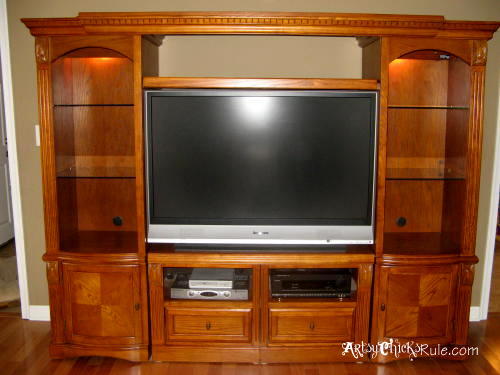 Honestly, too big for the room.
And so was that huge monstrosity (I did love it though) also known as the "entertainment wall unit".
That came later.
But too big or not, it was what my husband wanted for Christmas so that's what he got….on Black Friday.
I painted the wall unit last year with Sherwin Williams Harmony paint. (don't ask me what color because I blended a couple different ones together)
(plus new wall color…also Sherwin Williams. I didn't mix that one. It's called Blonde – SW-6128)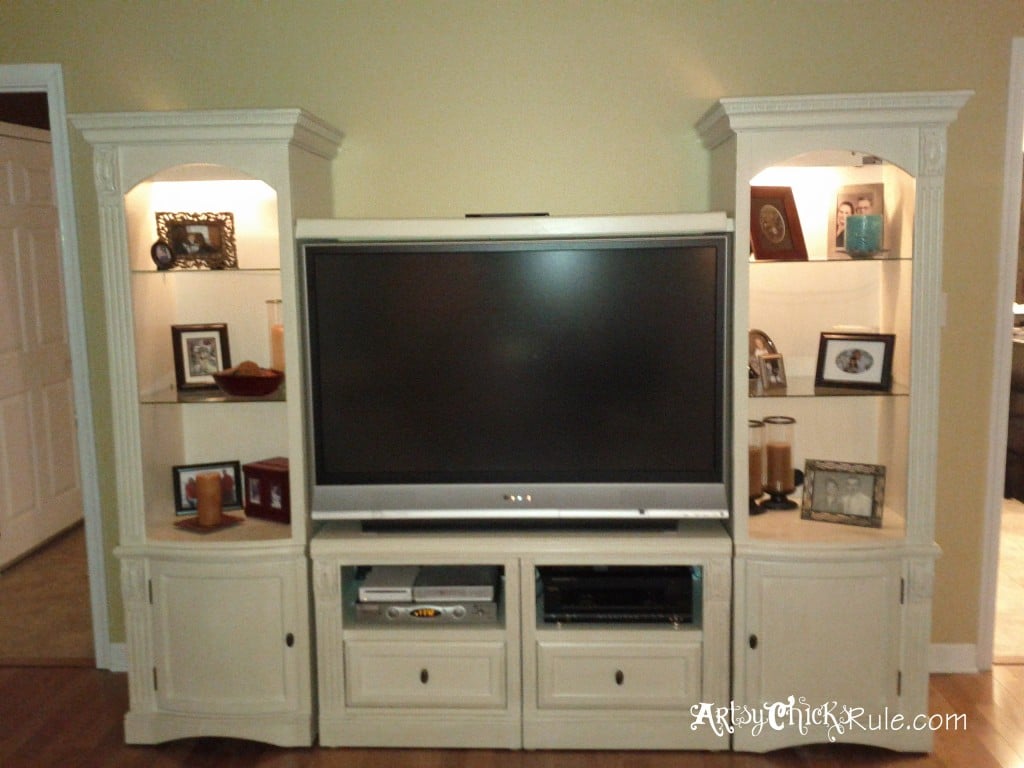 Loved it SO much more with the paint job. But it was all still too big for this room.
I'd been wanting to remove it all for a few years and put the TV over the fireplace (which is where I am standing to take this picture).
And we also wanted to get a new TV too.
The picture on this one was not so great anymore. Plus, it was not flat on the back.
So we finally did it. Yay!!!
New TV, electricians called (yes, we DIY basically everything, even electrical but this was not one we wanted to tackle) to wire over the brick fireplace and install new outlets, etc.
But first, let me show you a fun "before" of the fireplace where the TV is going.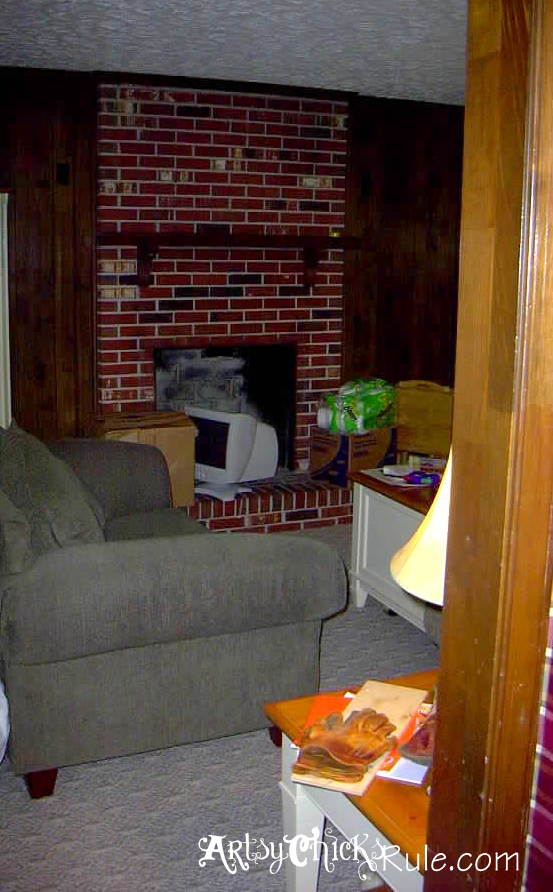 (and again, as with most of my "before" photos, they were taken within days of moving in…excuse the mess)
But just look.
Carpet, multi colored brick, inside of fireplace needs attention, dark brown paneled walls. (aka "the cave"….it was a very dark room)
And the very plain mantel.
We removed that paneling and prepared the underneath board for paint (it was left untaped under the paneling, etc)
MUCH brighter. New carpet and you can see I have begun painting the brick of the fireplace there. If you take a look at the before picture you'll see the 2 outlets in the paneling on either side of the upper fireplace.
Why?? Well, anyway, it made wiring for lights so much easier. We removed the outlets and put in those brushed nickel lights on each side.
(I later painted them with Oil Rubbed Bronze in this post –>here)
And a few years later on….several wall colors later (probably 3!) …..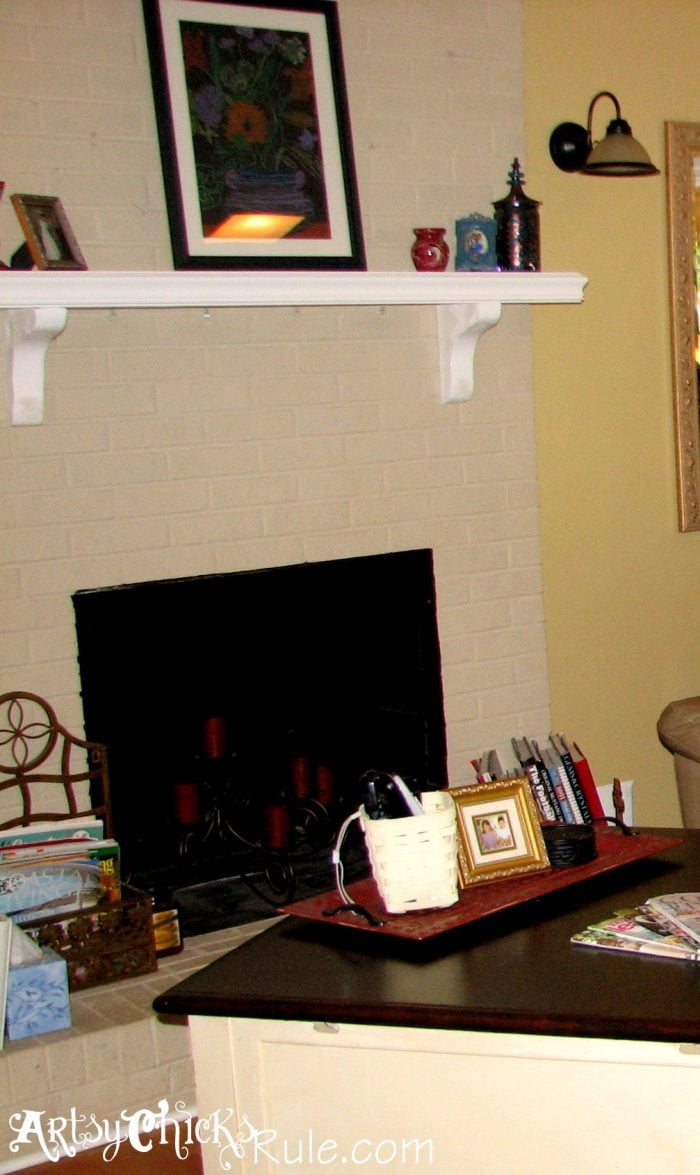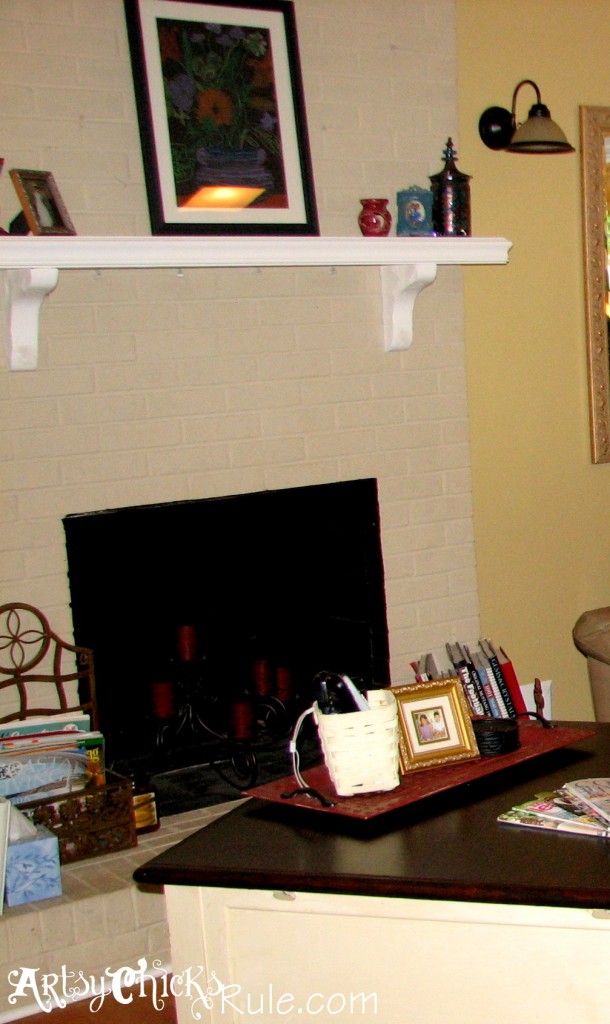 Yes, that is the same coffee table as in the other pictures. I used Minwax Polyshades on the top to darken it to a Walnut shade.
You can read about that in this post –> here.
We replaced the "corbels" on the mantel …or whatever you'd call those.
1970's special is what I'd call them. Or just very "rustic".
I found these at the thrift store (surprise!)….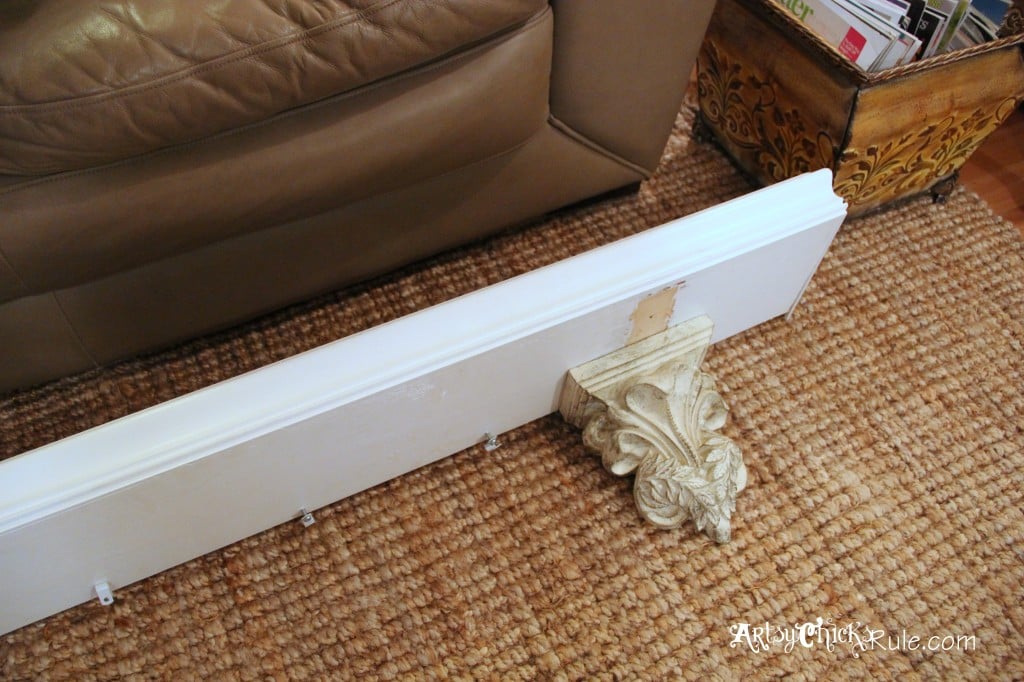 We were removing the mantel to lower it a bit to accommodate the new TV, so my husband removed the old corbels and put these on instead.
So much better.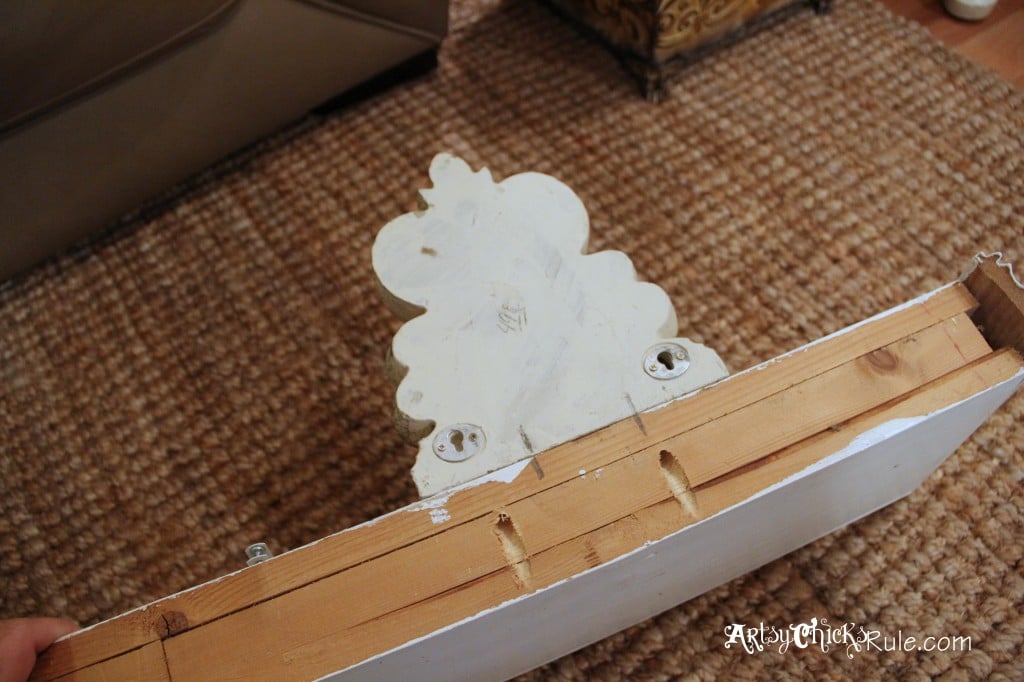 I painted the mantel with this….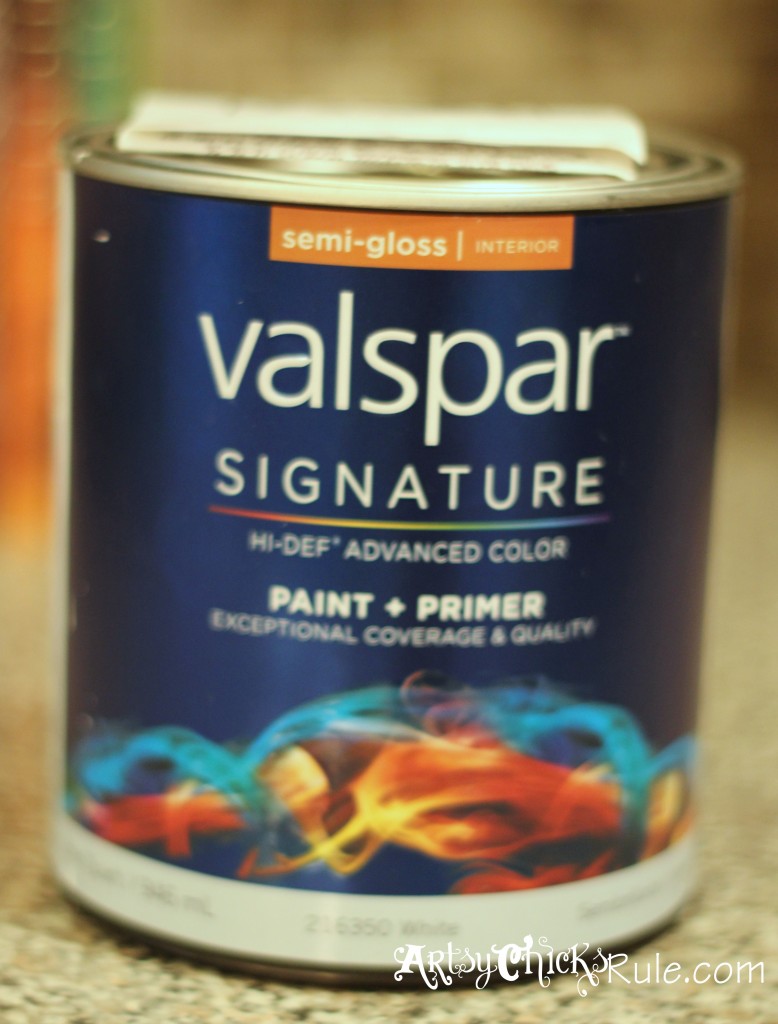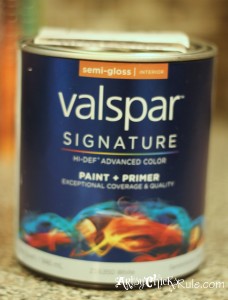 So back to the TV.
Ready for the electricians to come and do their work (excuse the paint job…I only needed to paint where the mount and mantel were going, they were coming the next day…because that's how we roll around here)
The new paint color on the brick is Sherwin Williams, Navajo White – SW-6126.
The old color was …beige.
I have no idea what shade at this point. It's been almost 10 years since I painted it the first time.
But I LOVE the Navajo White.
It's also on the walls in my Study. You'll see that room soon.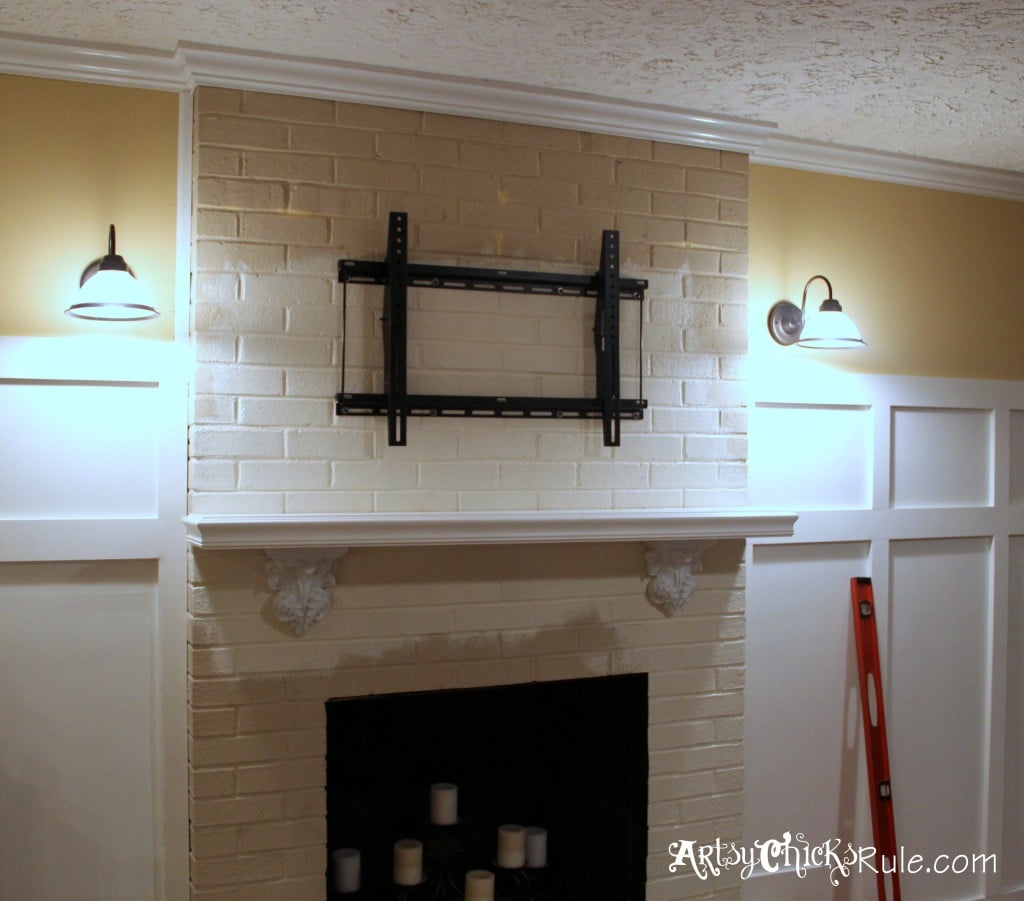 New mounting bracket, new corbels on the old mantel. All nice and level. (see the level?)
The only problem is…..the house is not level.
So yes, the TV and mantel were level….but crooked.
We should know better at this point.
I NEVER use a level and am almost always level to the eye.
Drives my husband crazy. He's a 'level' kind of guy.
And of course I am the one who noticed it was not level.
After the TV was up and all done. Yep.
But no worries, all non level now….but straight.
Craziness.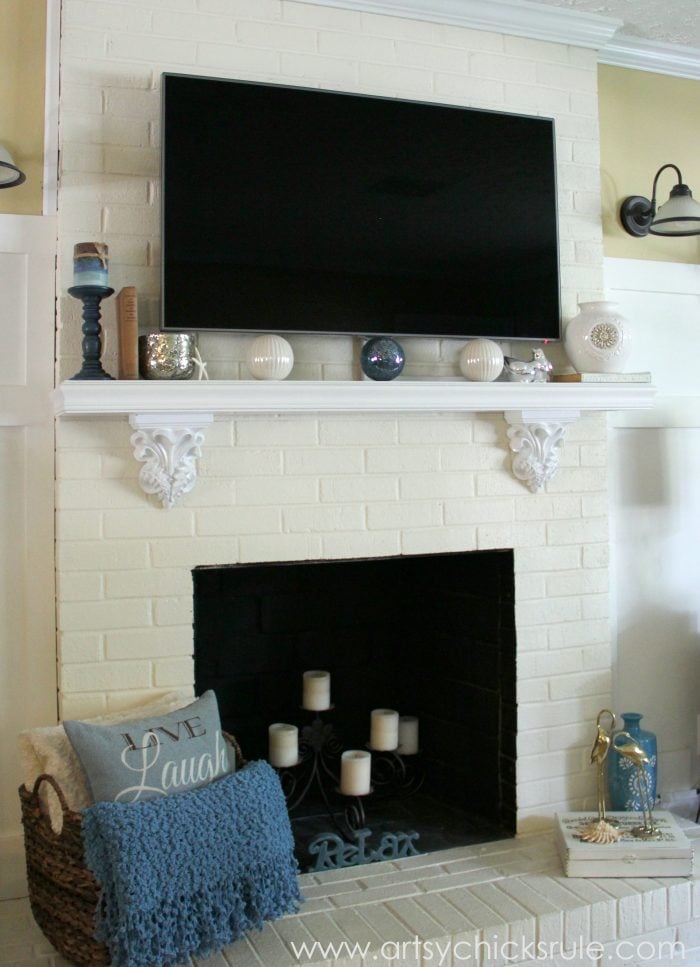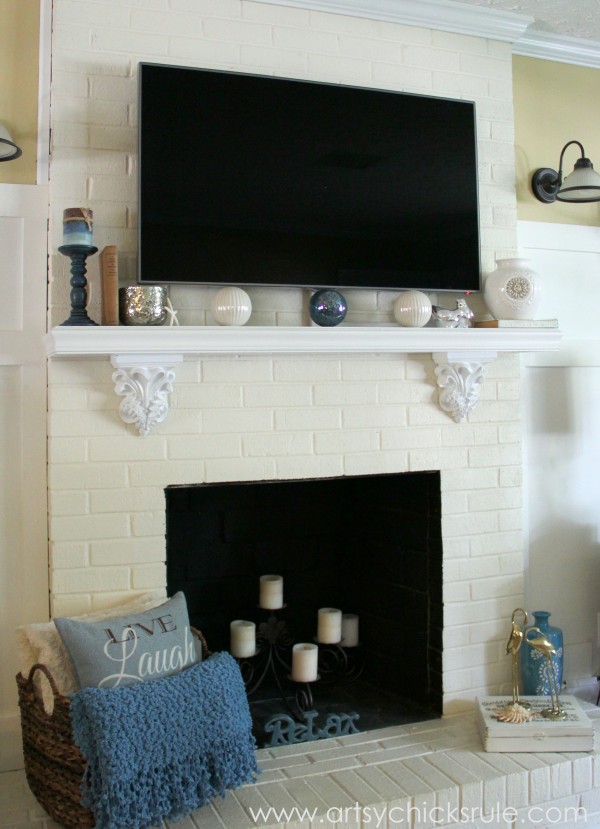 And as you know, we now have board and batten…and hard wood floors in this room.
We ripped out the carpet we put in after a few years and installed this wood we got from Lumber Liquidators about 5 years ago.
An entirely different room. From when we started….and since we've moved the TV over the fireplace and freed up all that space.
So, so happy with all the space.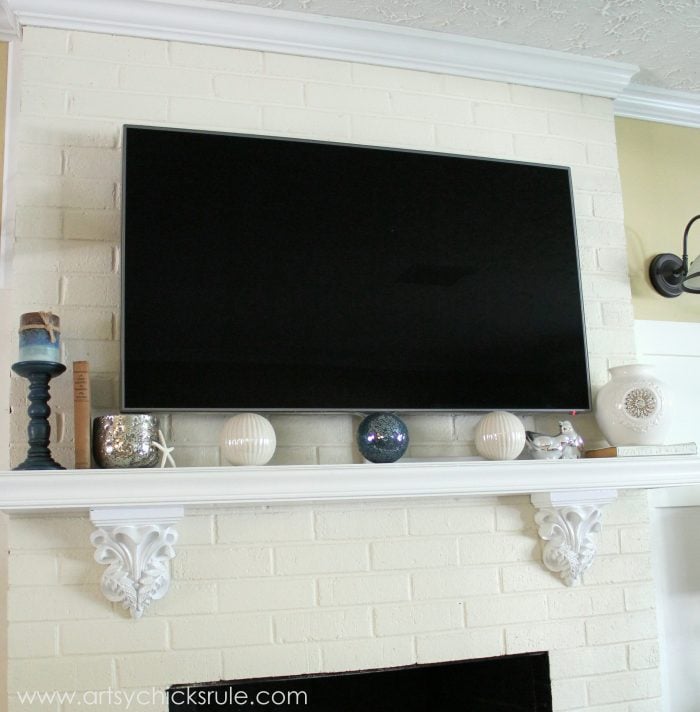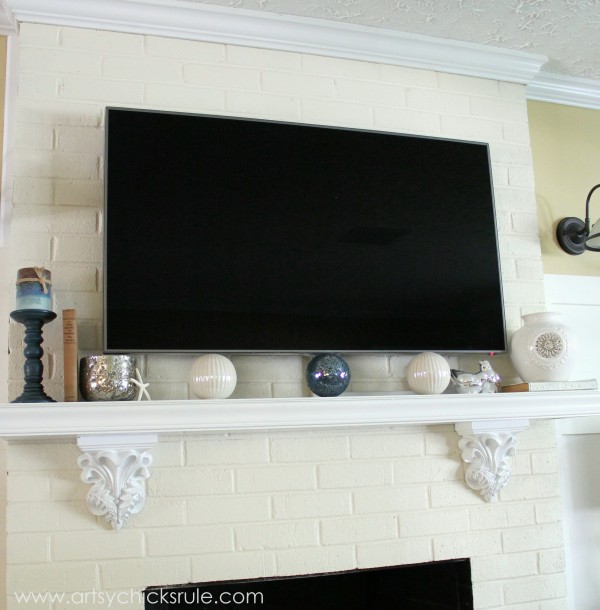 And the new TV….brought to you ON Black Friday, but not bought on Black Friday …this time.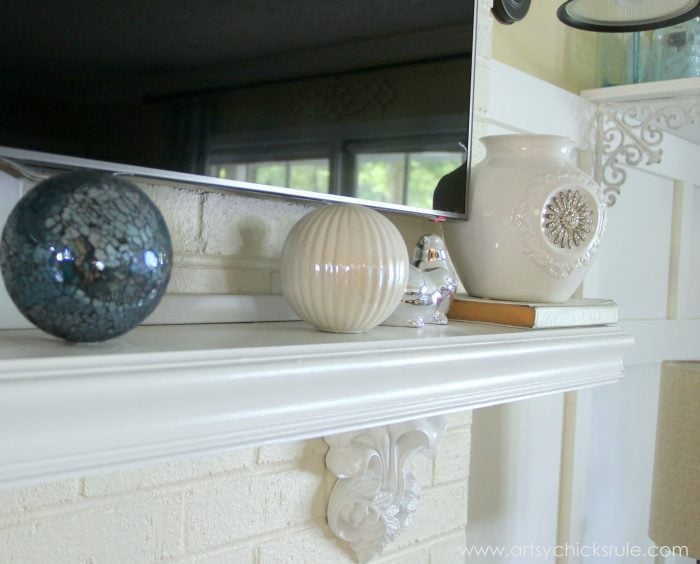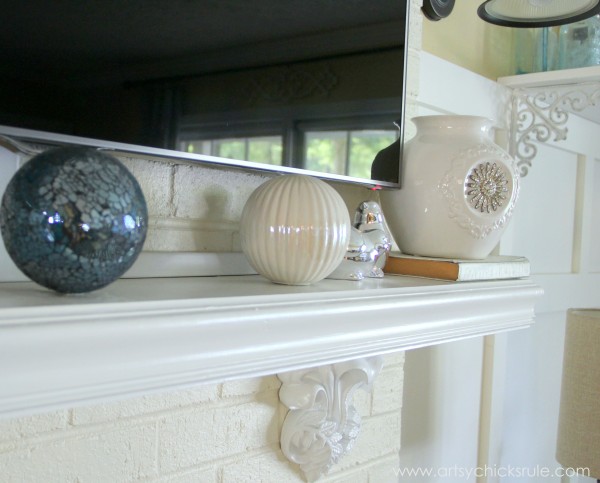 There's quite a bit of before and after going on in these photos. I can't wait to share the rest of this room makeover with you too. (room shots from all angles, before AND after)
Just wait til you see the rest!
It's amazing how far we have come. (and how many changes and paint jobs there were in between! ;) )
Before and After photos have always been a favorite of mine. I hope you enjoyed a little sneak peek of ours and this room.
So what's the lesson of this post? Don't trust the level! Trust the eye. ;)
Hope you all had a wonderful and relaxing day with family and loved ones yesterday. (and today too ….if you aren't a Black Friday shopper, that is :) )
PIN this room makeover to save for later!