Jingle Y'all – Thrifty Pillow Makeover w/Chalk Paint
This post may contain affiliate links. Please see disclosures here.
Jingle Y'all….the best southern holiday saying there is, right? Follow along as I paint an old thrifty pillow and add this fun saying to it…with paint!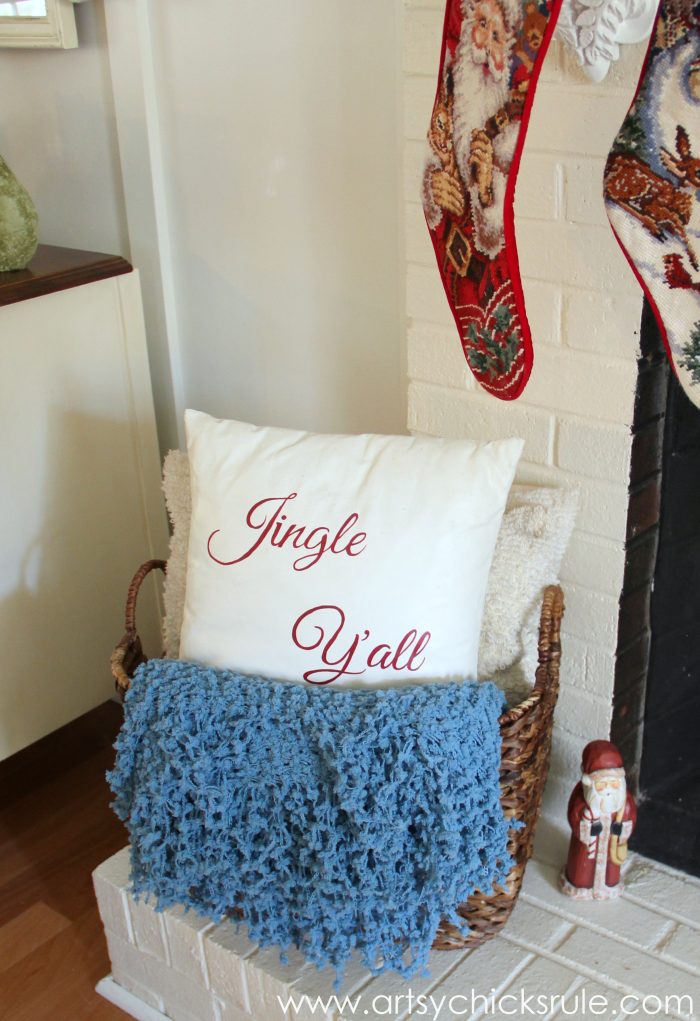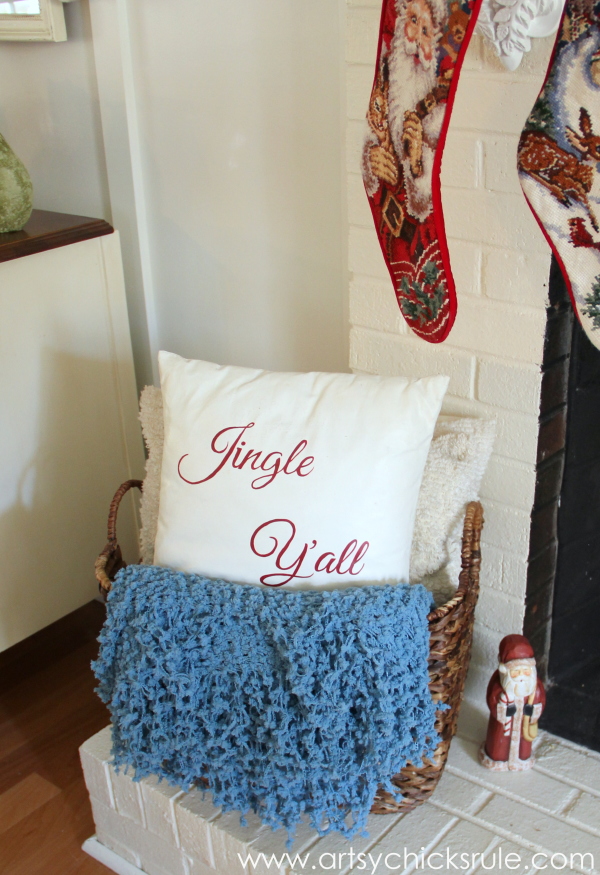 Did you know that I painted my outdoor porch pillows with Chalk Paint last Spring?
Well, I did. You can see it in this post –> here.
So as I was thinking about my holiday decorations for this year, it hit me….why not paint some super cheap (thrifty) pillows from the thrift store?
Now, to be completely honest, there are just certain things I will not purchase from the thrift store/garage sale.
That would be mainly those things that you can not WASH.
Yes, that is a requirement.
But pillows can be run through the wash depending on the type.
The ones I found for my little makeovers were probably that type but I figured I'd be painting and then following over that with a coat of wax.
That should seal them up well, right?
So I just sprayed them (really well) with Lysol first instead. :)
Plus, these will be decorative pillows and not something I'll be laying my head on anyway.
You get the picture.
I made 2 different pillows….this would be one of them. (I'll post the other one later in the week…you won't want to miss, it's 2 sided and super cute!)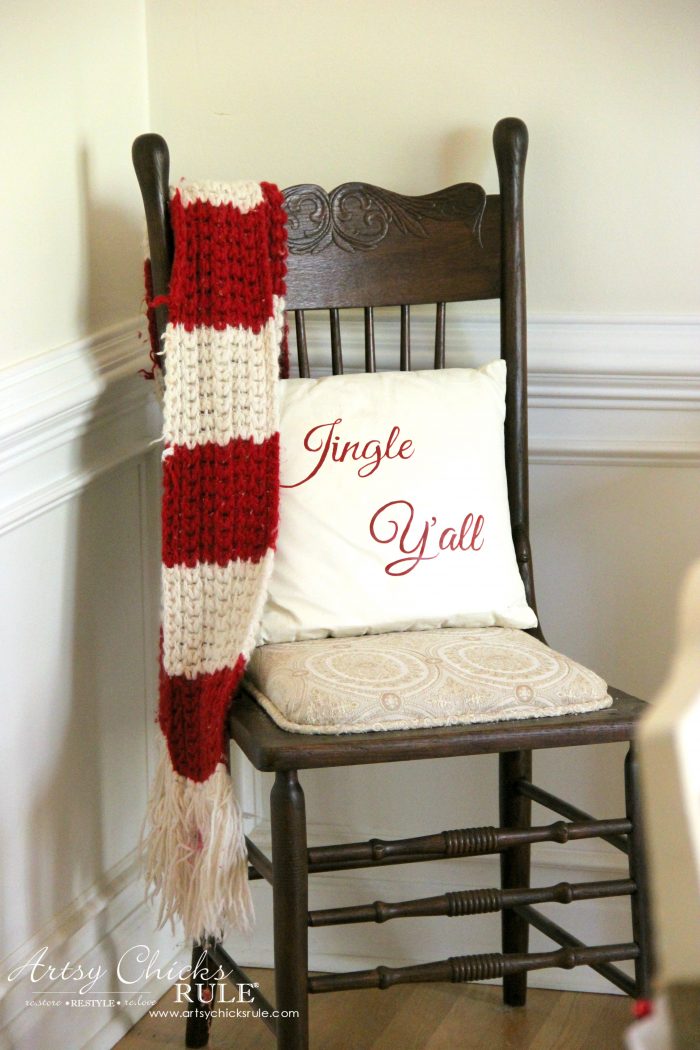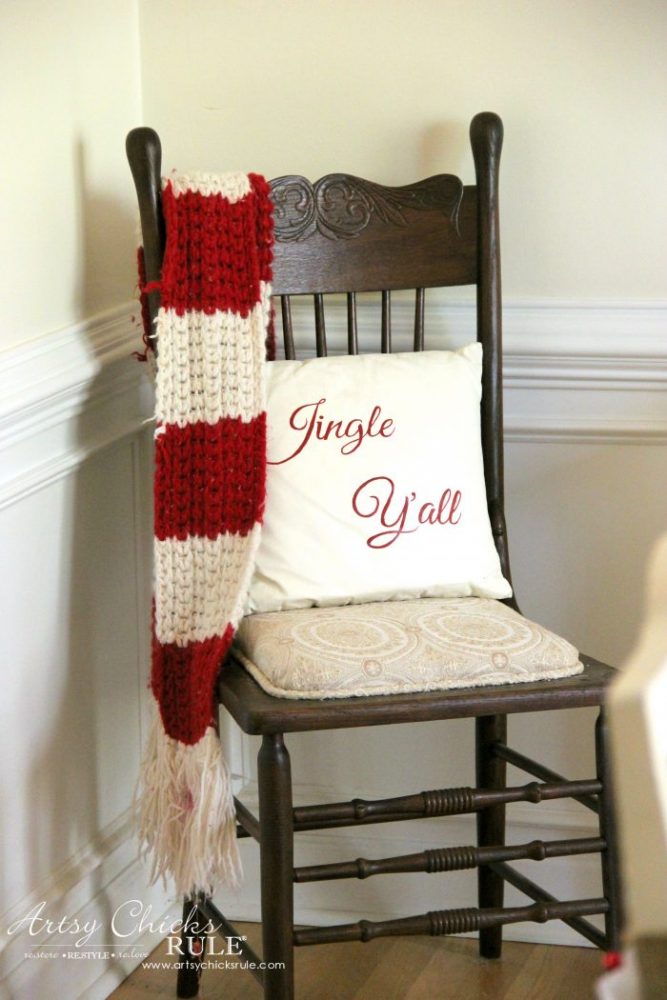 Jingle Y'all.
I wanted to do something with a fun twist on our ever popular "y'all".
I grew up saying y'all…and my cousins from up North say "you guys".
Or try to mimic us by saying "you all"….or yuaaawwwllll (that would be Northern for y'all).
Ha, don't. You don't sound right. I love you anyway and it's "wicked" cute but don't. ;)
(and I sound just as silly (probably more!) when I try to mimic them!)
All in good fun, of course! All in good fun. :)
So, the pillow.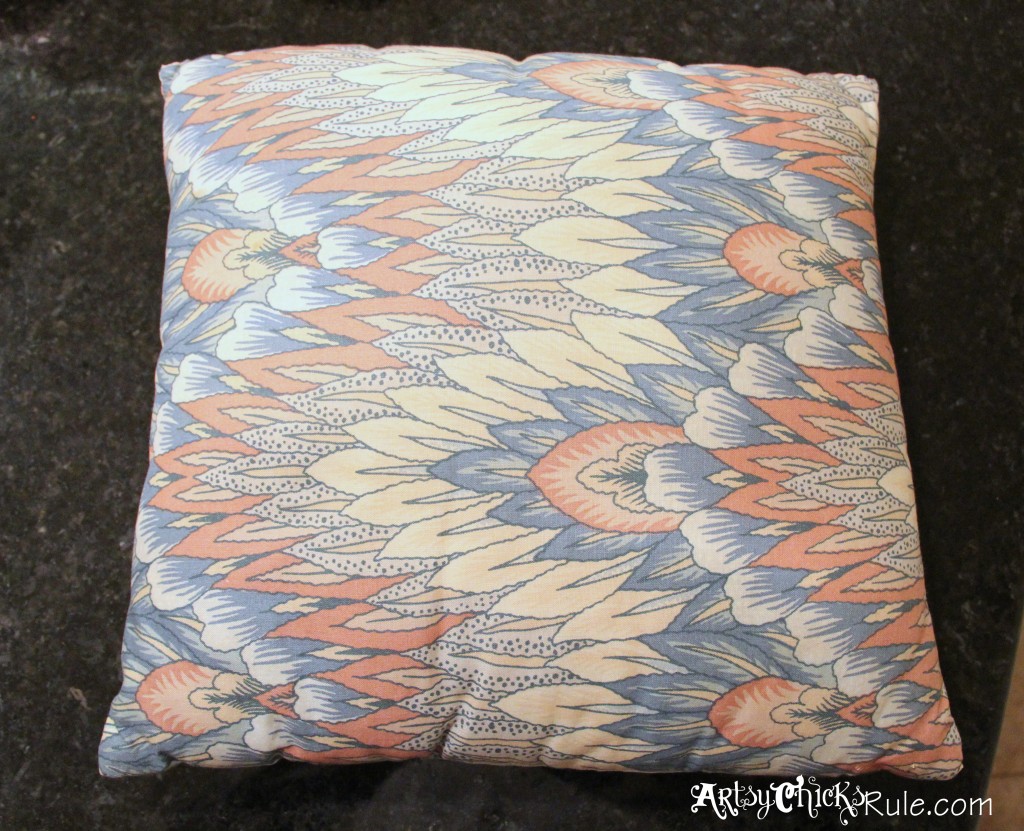 It came from the thrift store…couple bucks. Pretty, huh?
Perfect for painting, I say.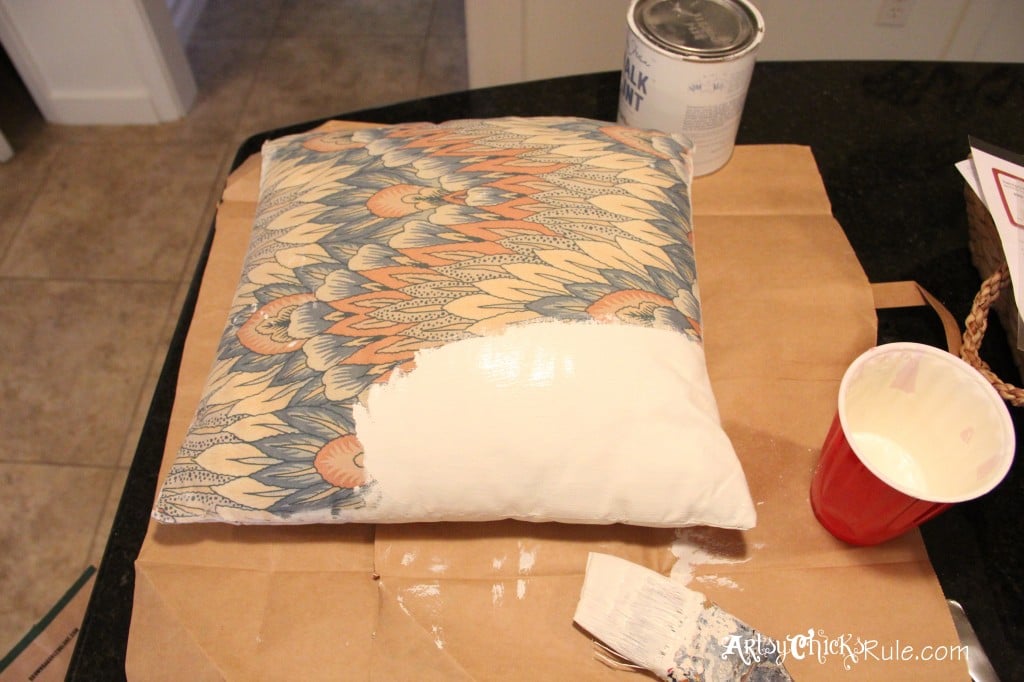 A little Old White/Pure White Chalk Paint blend (mixed with a bit of water so it will soak into the fabric well ).
You could also use a fabric medium found at most craft stores if you don't have Chalk Paint.
I am pretty sure that would work too.
I did 2 coats for full coverage.
Here is the graphic I created to go on the pillow …y'all. ;)
You can download it for free below!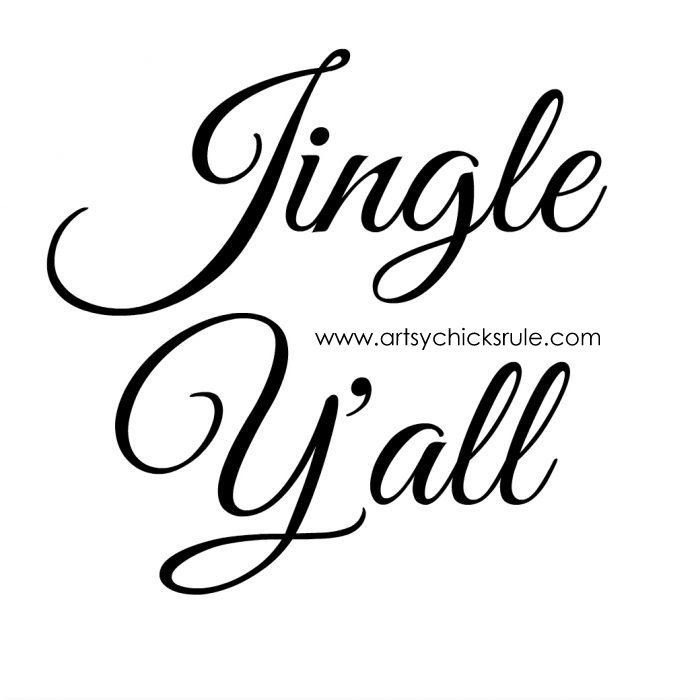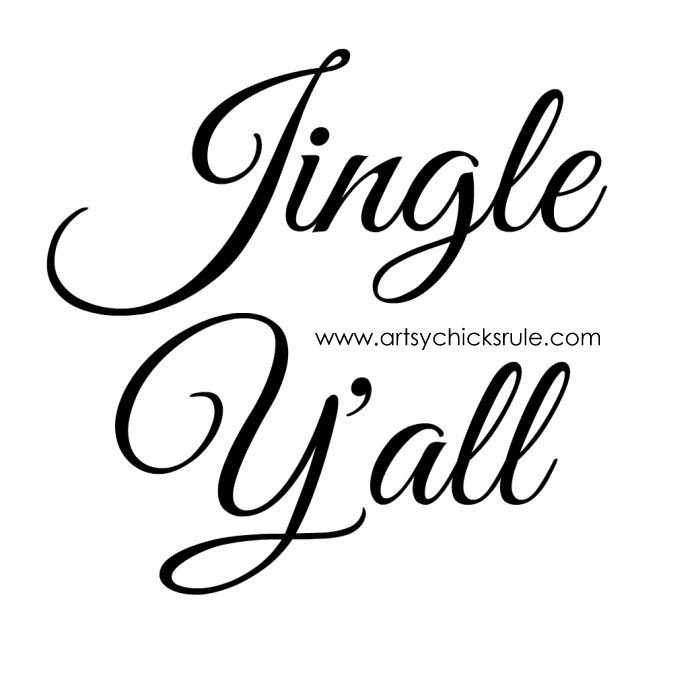 I printed it out on my computer the size that I needed for the pillow.
After the pillow was completely dry I transferred the graphics onto the pillow like so…..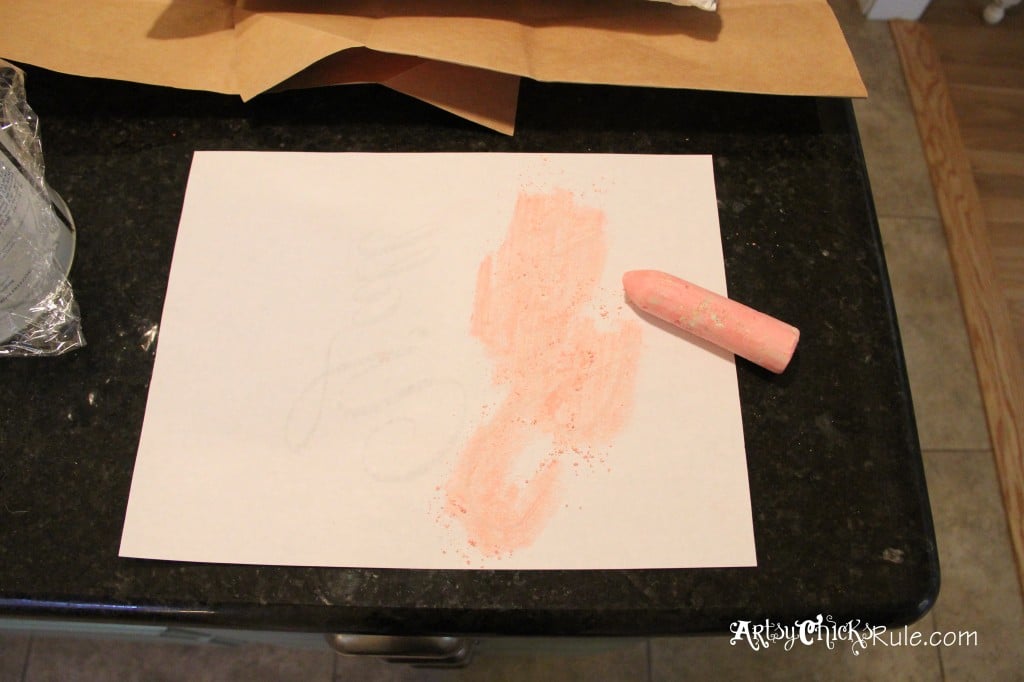 That would be dark pink sidewalk chalk. I rubbed it all over the back of the wording.
I then laid that over top of the pillow where I wanted the words to be placed. (I didn't do both words at the same time because I staggered them onto the pillow)
I then took a ball point pen (because it would "roll" smoothly over the lines) pressed/traced along the edge of the letters to transfer the chalk onto the painted pillow….
…as you can see below: (or hope you can see below, it was much more visible in person)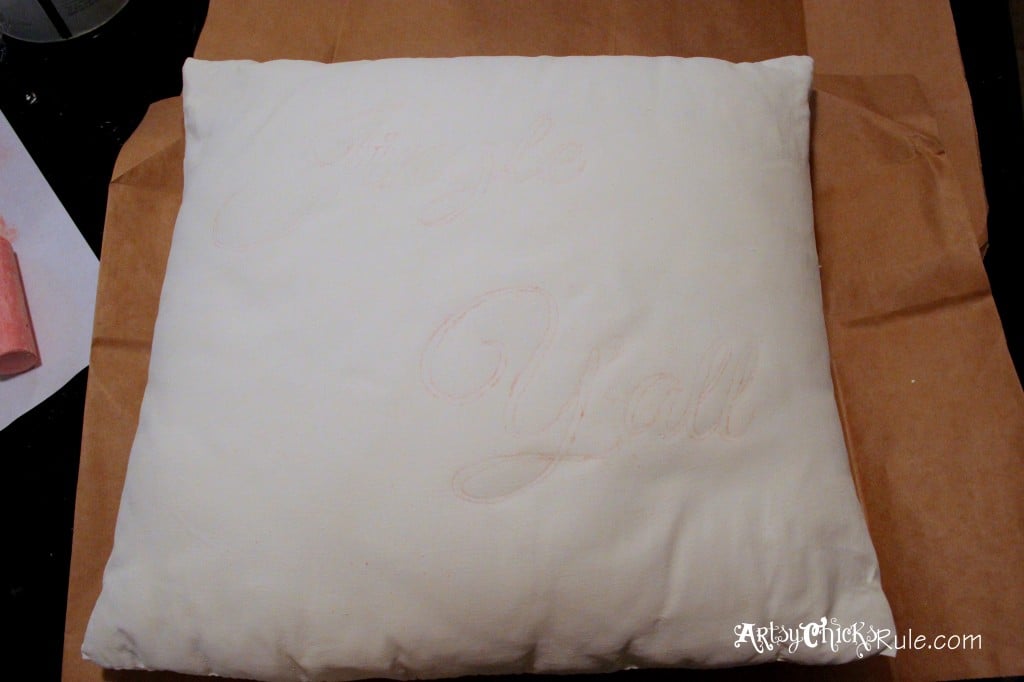 Next I used a blend of Primer Red/Emperor's Silk Chalk Paint to fill in the lettering. (with a small artist's brush)
After that was completely dry I applied Annie Sloan Clear Wax with a soft, lint free cloth.
I let it sit for a day and then "buffed" it. These come out feeling sort of leather-ish.
I actually like the feel of them.
They are for decorative purposes only. I cannot attest to how long they will hold up.
I just know that I LOVE them (I'll show you the other one later this week or next) and am thrilled with my super cute holiday pillows that cost me less than $5 total!
Plus, I don't think I could have found pillows with the wording I chose anyway! ;)
Want to see even more ideas on simple updates with Chalk Paint (that aren't furniture??)
Check out this post, here!
Like this Jingle Y'all Pillow?? PIN it to save it!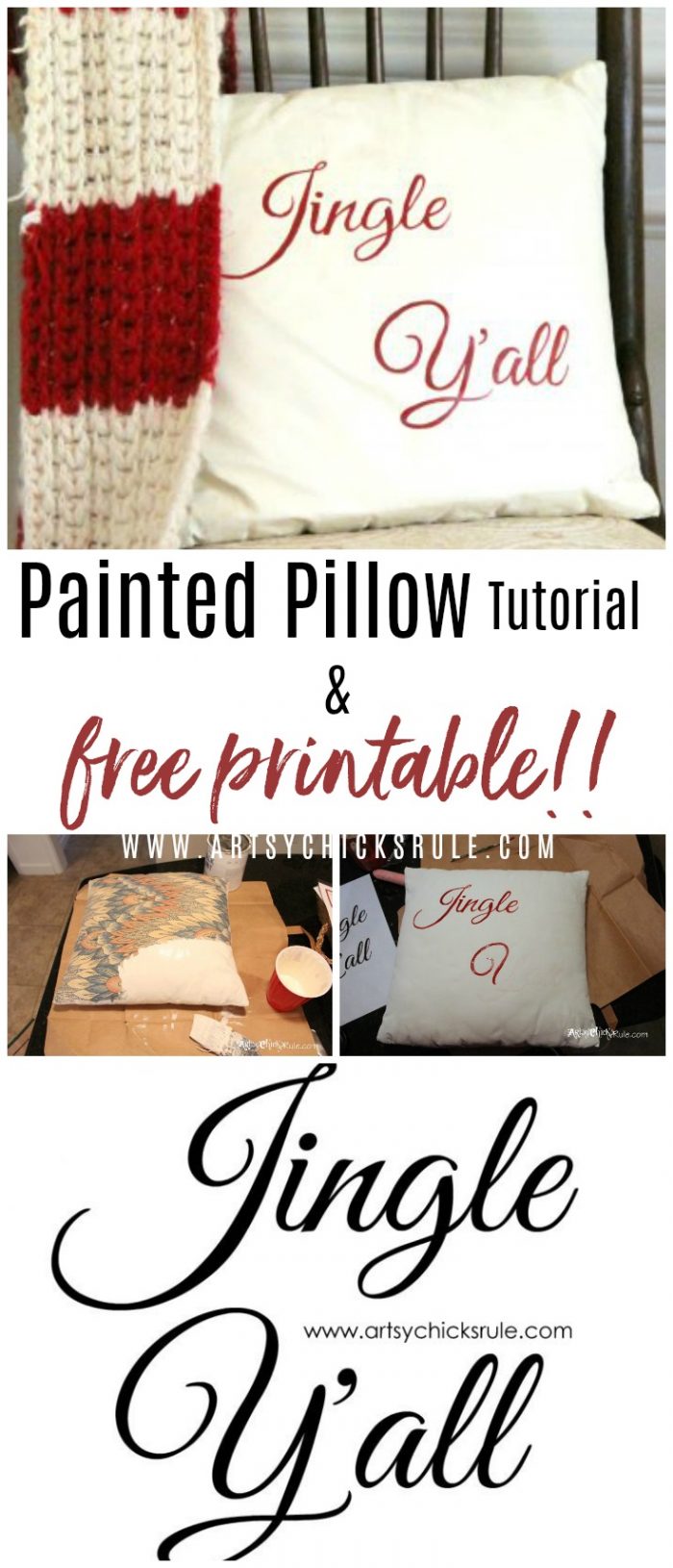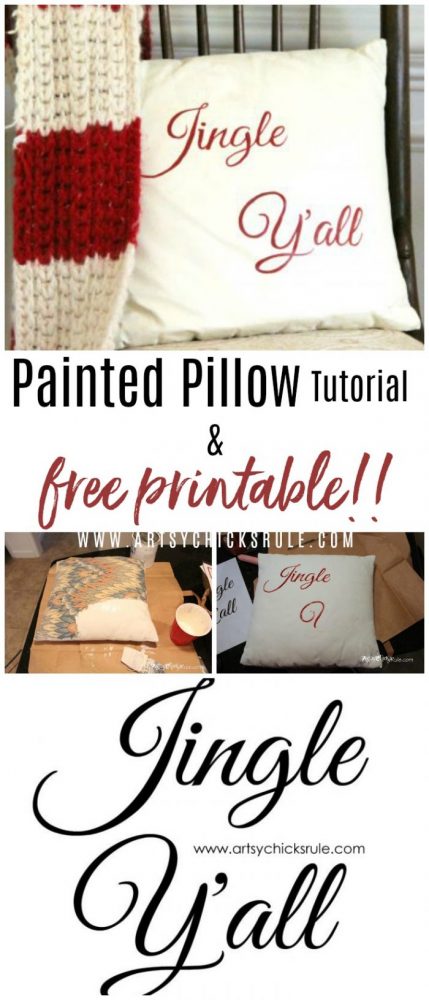 –>>Want to see this fun pillow in my holiday decor years later? Check out this Christmas Home Tour.
I hope you all have a wonderful Thanksgiving Day tomorrow surrounded by those you love.
XOXO,