DIY "Most Wonderful Time Of The Year" Sign
This post may contain affiliate links. Please see disclosures here.
I'm sharing how I made this now unavailable "Most wonderful time of the year" sign myself…for much cheaper!
This post was updated Dec/2020
In case you haven't figured it out by now…I'm a graphics loving kinda girl.
I love old vintage signs, love graphics, and love anything DIY.
And I really love typography.
I love how there are so many different fonts to create so many wonderful signs.
So, it should come as no surprise whatsoever that I would fall in love with this fabulous holiday sign I saw in the most recent Pottery Barn catalog.
(which is no longer available, btw)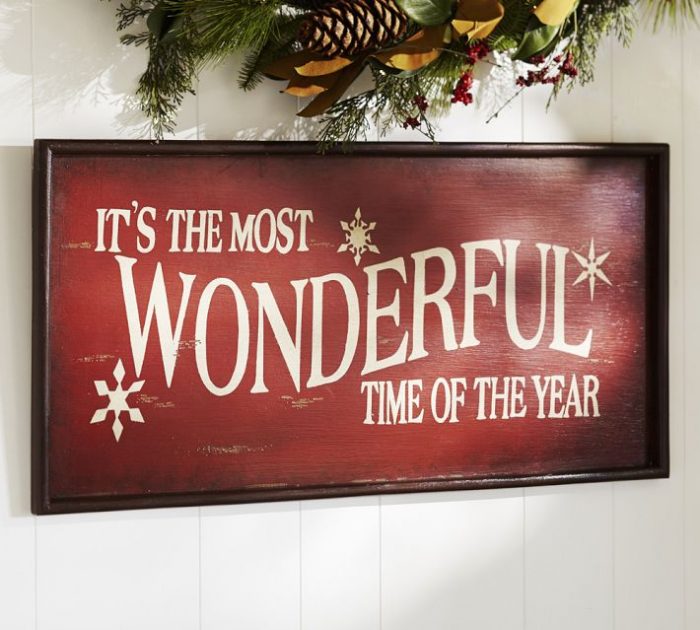 It had fun swirly letters and snowflakes! Kinda vintage-y.
Very pretty and right up my alley.
So I decided to make something similar holiday sign for my own holiday decor.
I jumped on my computer, picked the font I liked, and designed & created this graphic.
And you can too.
I'm going to show you how super simple it is.
Here is the printable I created for you to download.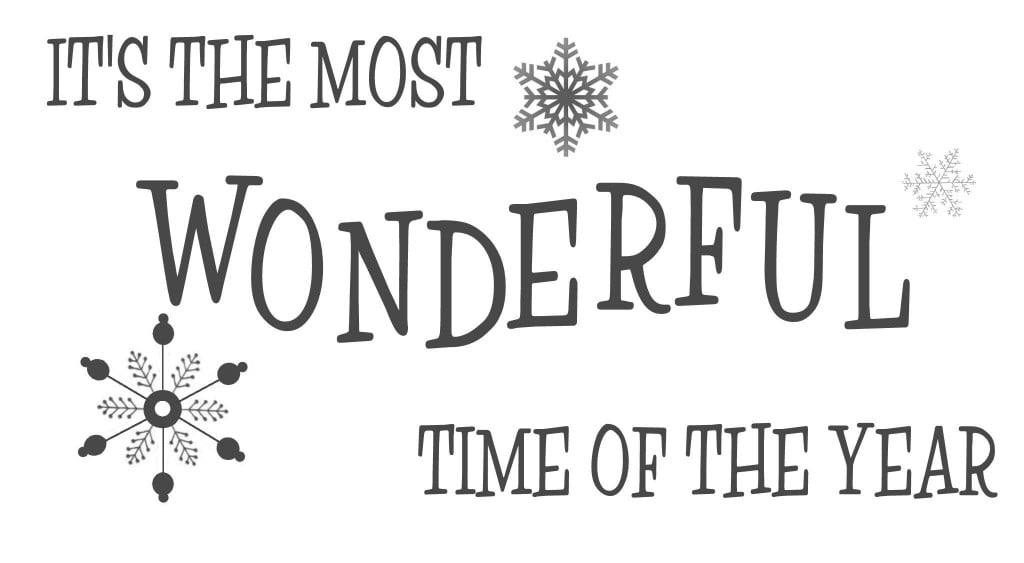 If you are already a subscriber, you can click here, enter your password (it can be found near the top of all my emails to you), and download this or any other graphic I've created over the years. (over 100!)
If you aren't yet a subscriber, you can click here or the pink box below to become one to gain access.
DIY It's the Most Wonderful Time of the Year sign
I picked up the frame for $1 at our local ReStore, yep, ONE dollar…see? Cheap.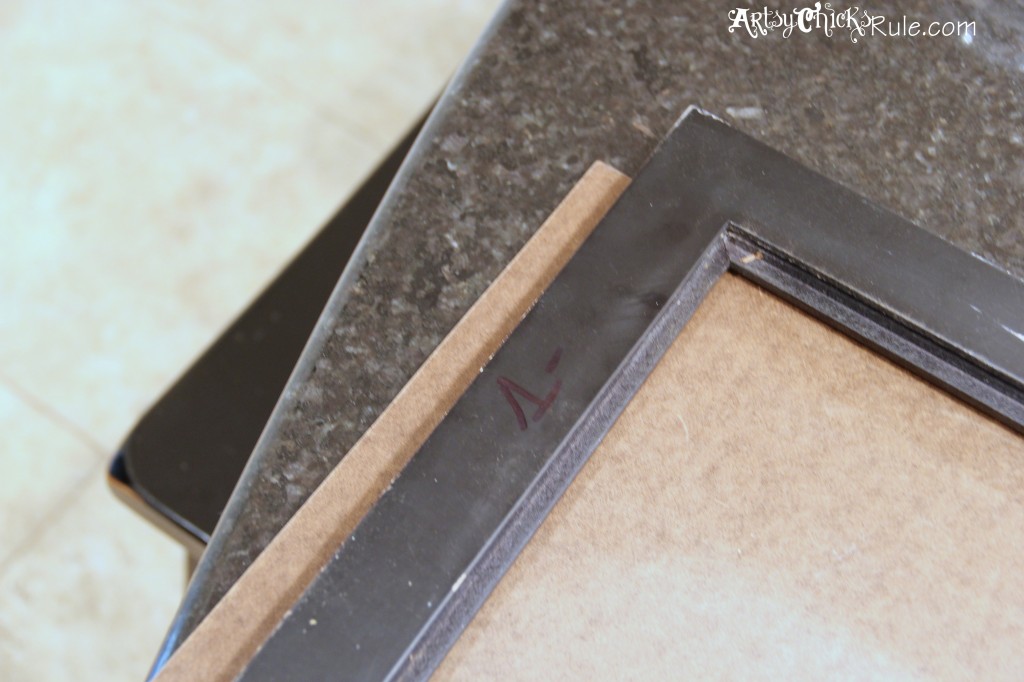 The print in the catalog had a dark frame so this was perfect BUT my vision for it was a little different.
Lighter and brighter, and a little more crisp and colorful.
So I sprayed the frame with a few coats of Valspar Satin Churchill Hotel Vanilla to get rid of the black color.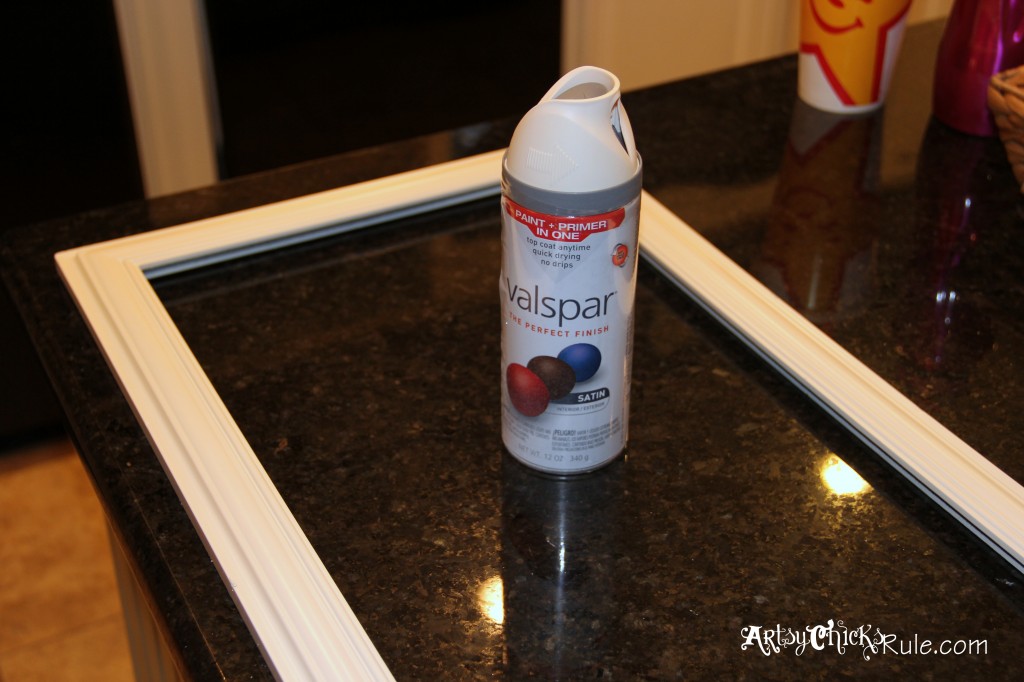 My husband cut a piece of board to fit for me. Pretty simple and inexpensive too.
You could use any kind of smooth backing/board here.
Here are the 2 pieces together before they were painted.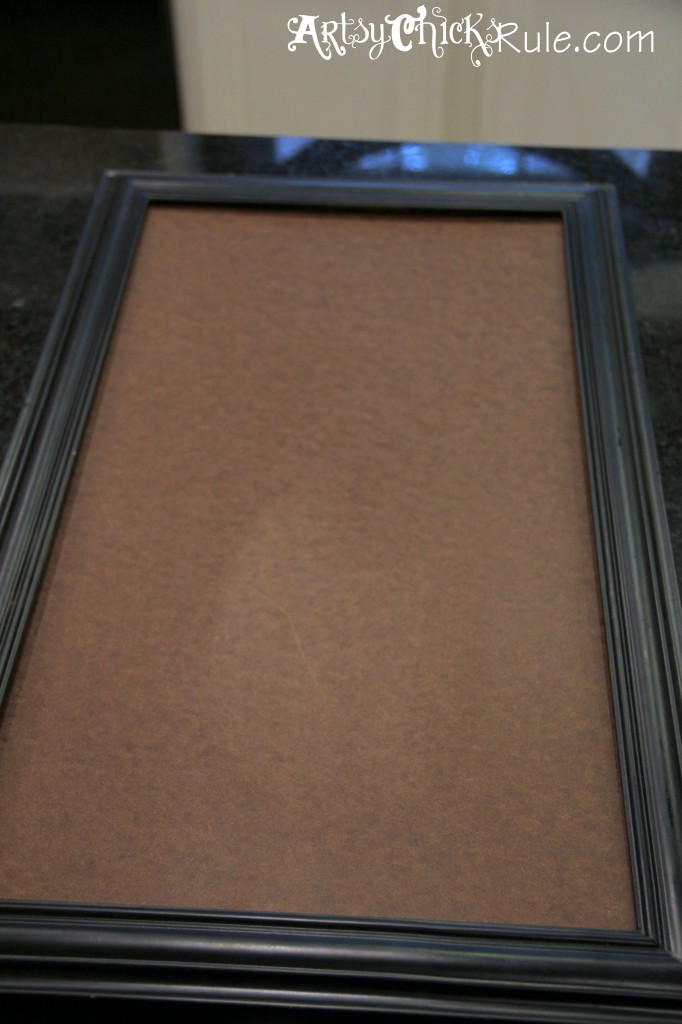 I painted the board (before placing it inside the frame) in a blend of Primer Red and Emperor's Silk Chalk Paint.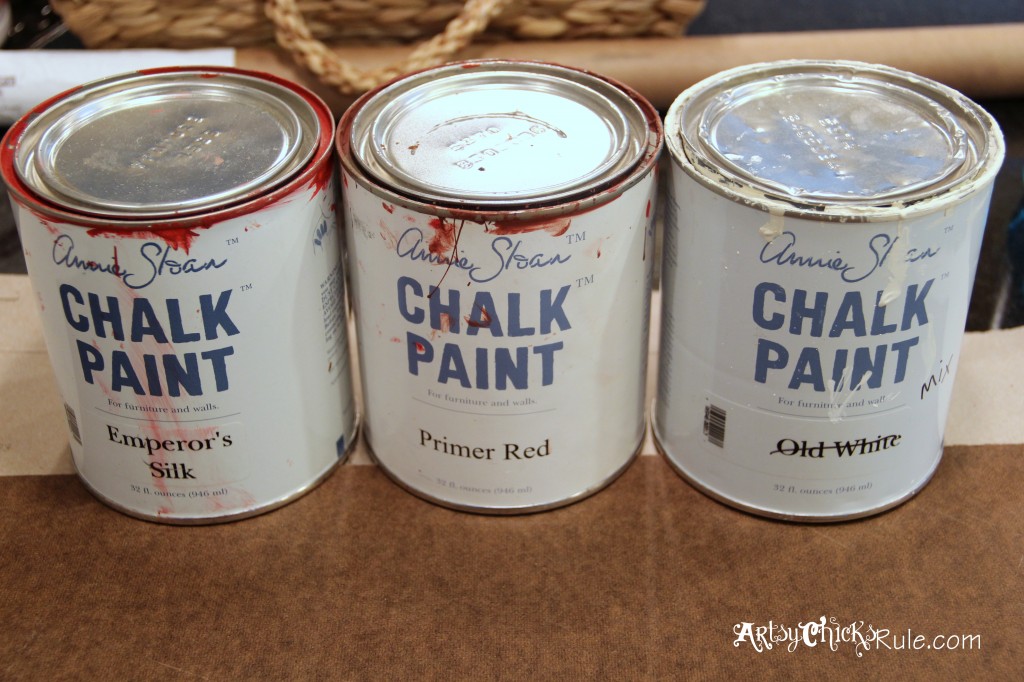 Any red craft paint will do also.
Once both were dry I put the board back into the frame and stapled it in. You could also glue it to the inside of the frame as well.
Either way will work.
(and oh my goodness, I just realized I gave you 3 different sneak peeks of things I've yet to blog about but have just recently completed–>my new, no-sew curtain panels-2014, my "new" dining chairs -painted and recovered- and my Craigslist "Baker's" hutch-2014— don't look! ha)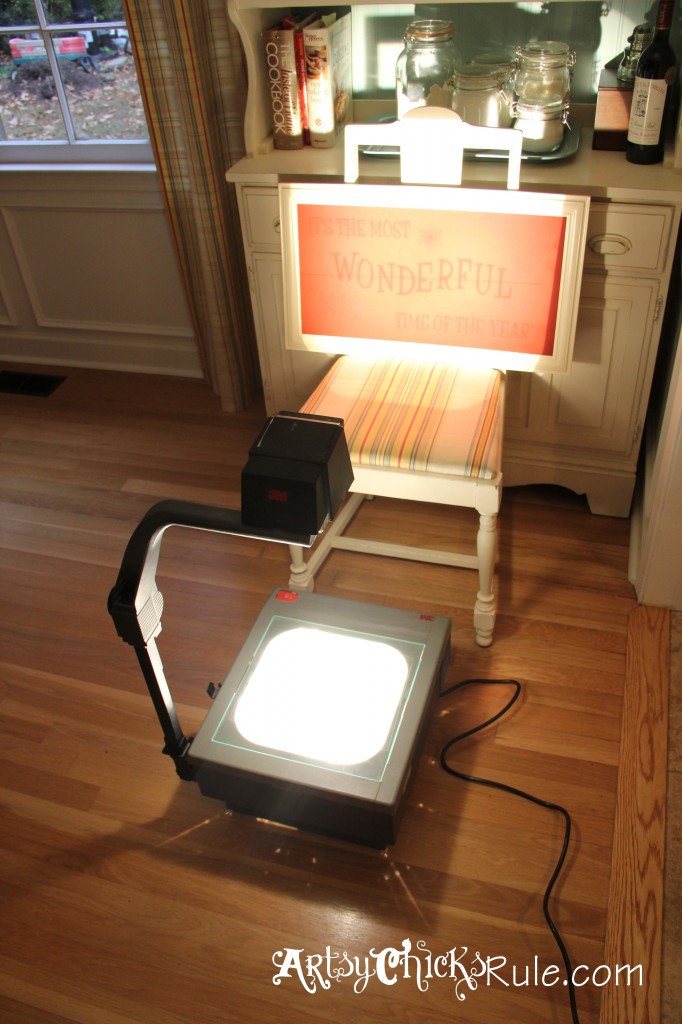 I printed out the graphic I created onto a clear sheet and used my projector to transfer the lettering (not as crisp and easy to see as a transparency but it worked ok for this).
You can do it in multiple ways.
If you don't own a projector you can use one of the other methods of transfers. I wrote an entire post to show all the different methods I use.
You can find it, here.
I planned to paint the lettering in with white paint so used a white watercolor pencil to transfer the letters and snowflakes.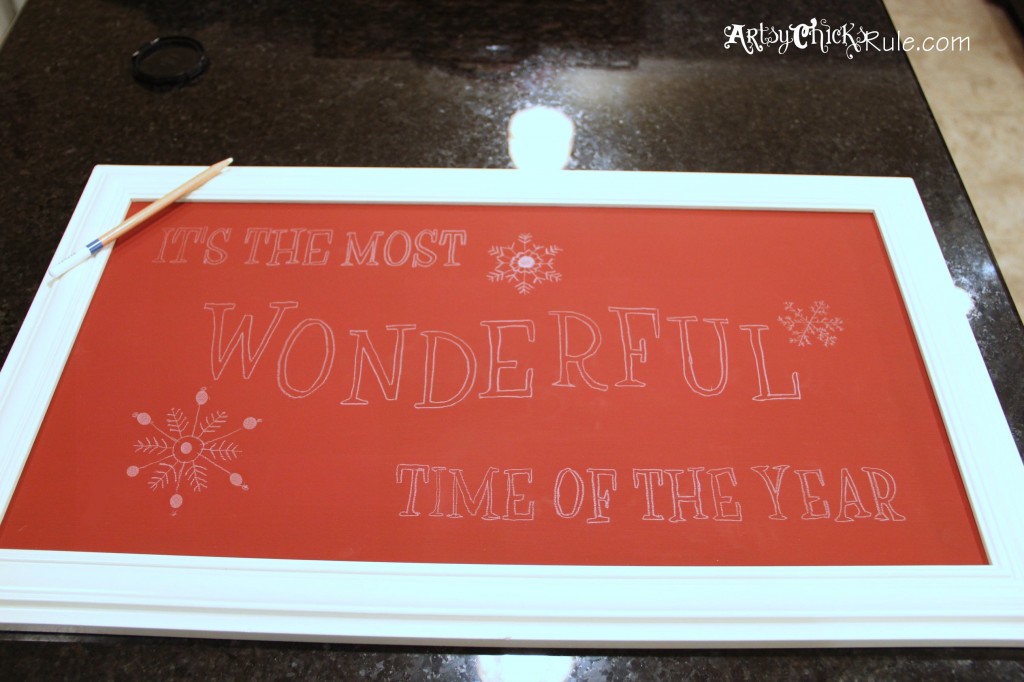 Then came the fun part…"coloring in the lines" (just like when we were kids).
I actually love doing this, don't ask me why because I am definitely a type-A girl but this is very therapeutic to me.
Very relaxing and slows me down. It requires my complete focus which is a good thing since my mind is always going a mile a minute.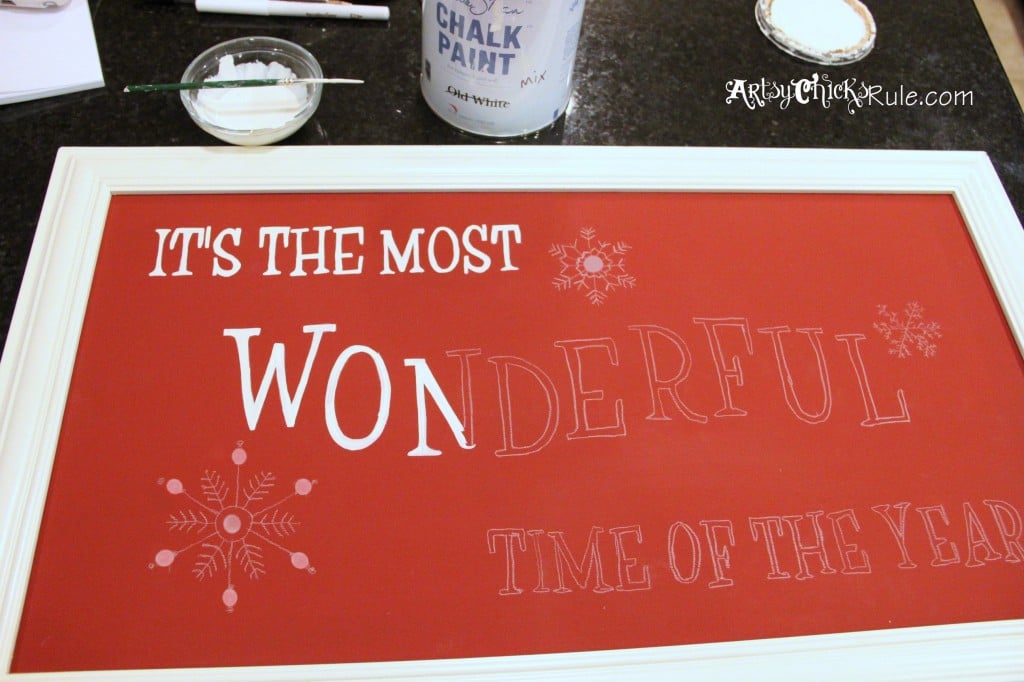 To distress or not to distress?
I went back and forth a bit on that before I decided to leave it be.
Crisp and clean looking. No distressing for this sign. Unusual for me!
But I liked the look of it AS-IS.
I sealed it with a quick spray over of a super flat spray to keep the matte look but to add some protection since I used Chalk Paint.
Thanks to my dear husband for holding it up for the photo.
I really love how my DIY holiday sign turned out.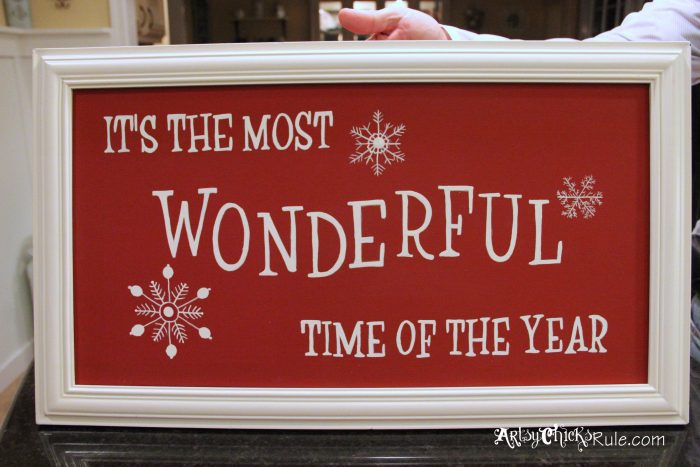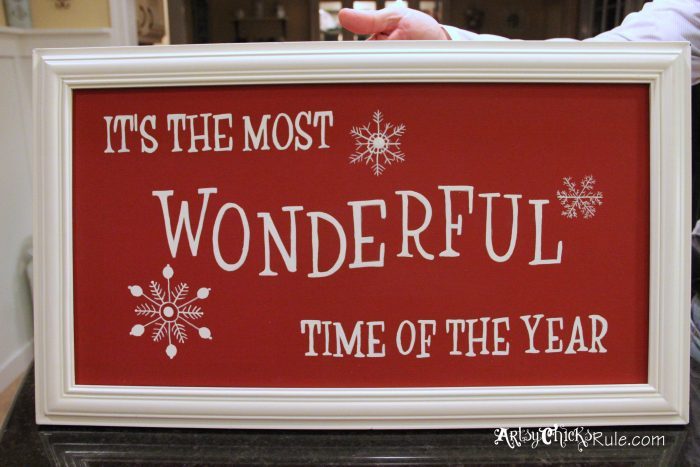 See? So easy!
It's the most wonderful time of the year…really! Now you have a sign to tell the world!
Or everyone that enters your home anyway.
I love it…and I love the splash of red to get us in the mood for the holidays.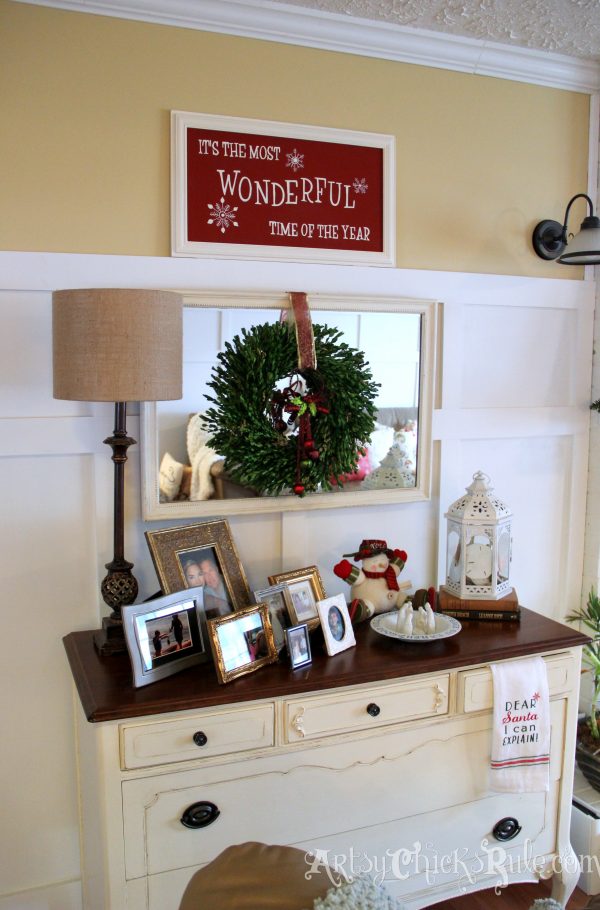 I've used it in several places in our home over the years.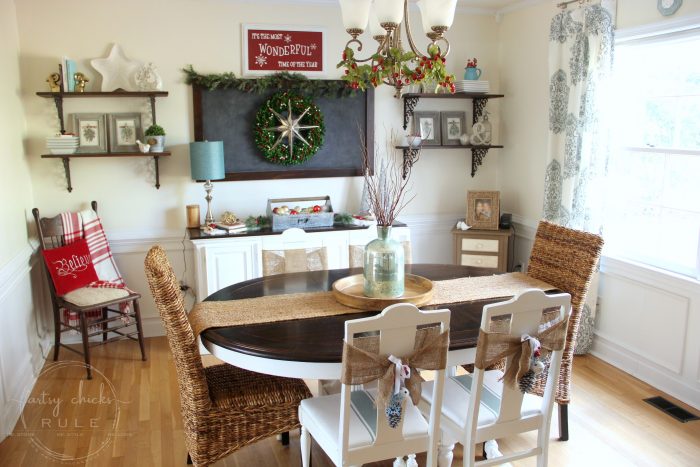 In our dining room before we turned it into a "morning room".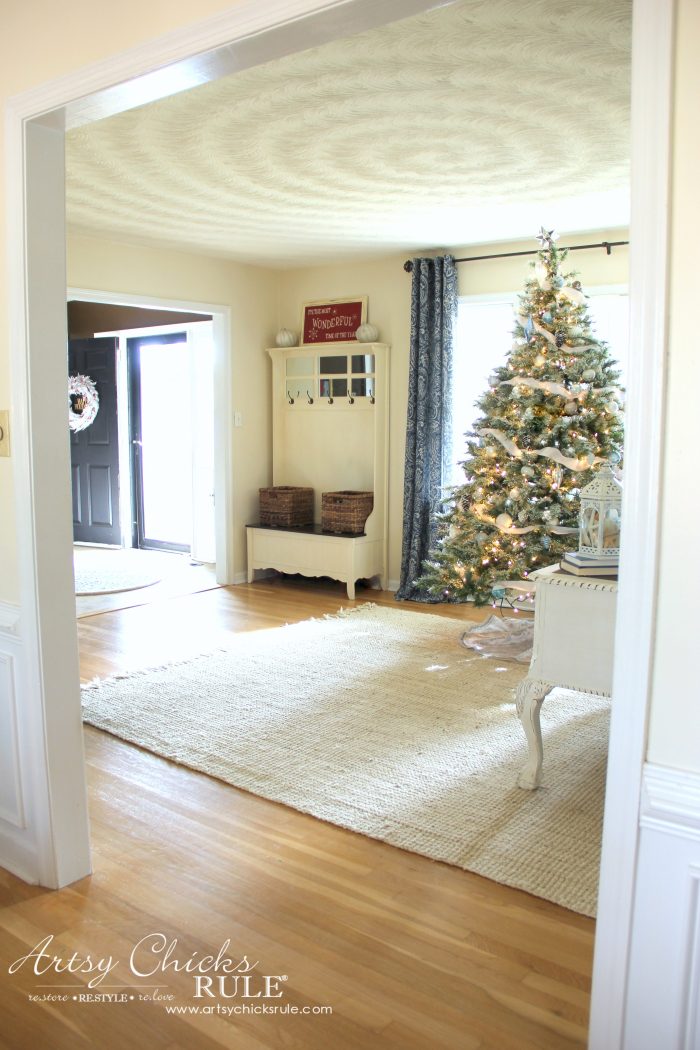 And in our study/formal living before we turned it into our dining room.
Can you see it over there in the corner?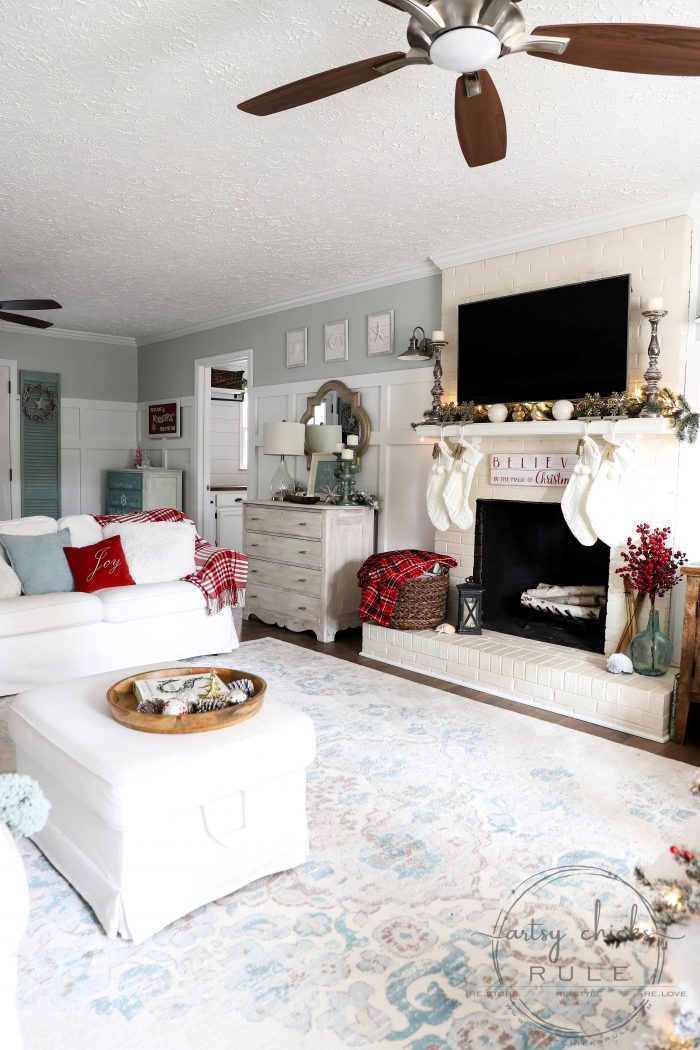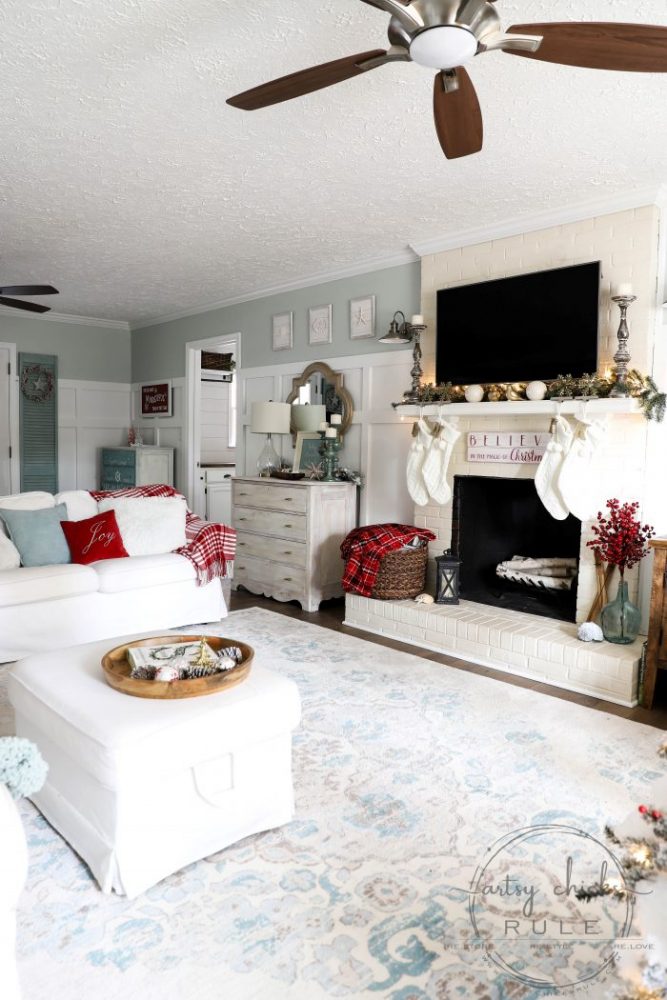 I've definitely gotten my use out of this pretty (and thrifty) sign!
Pin it to save it!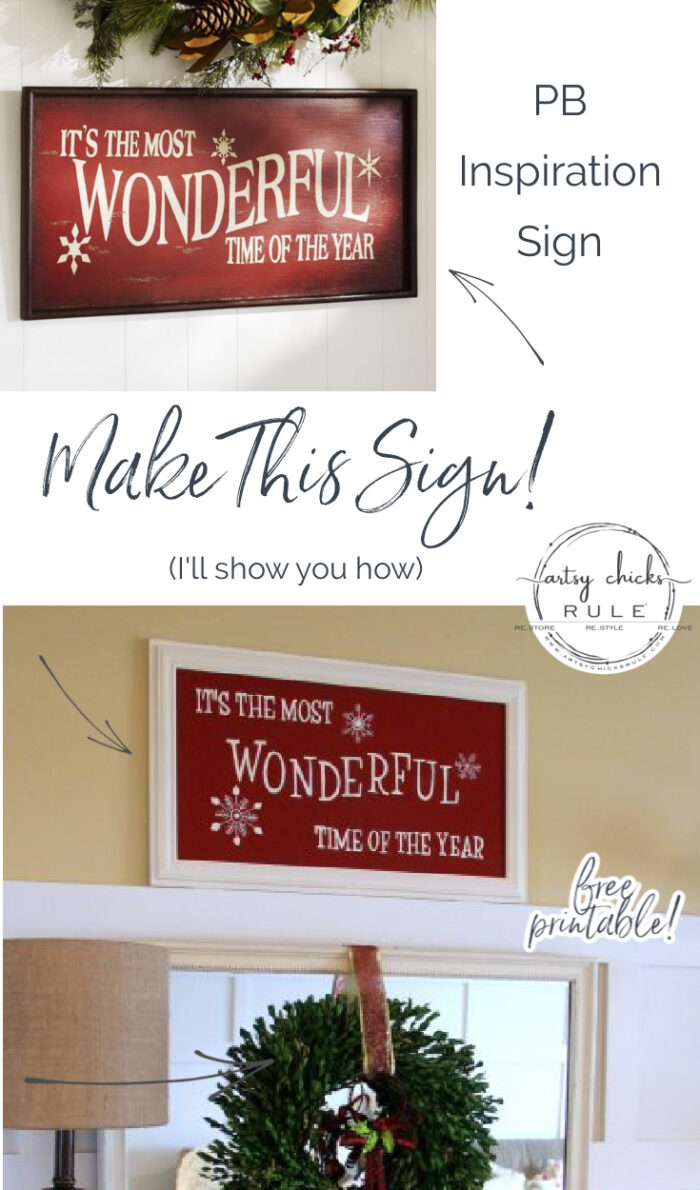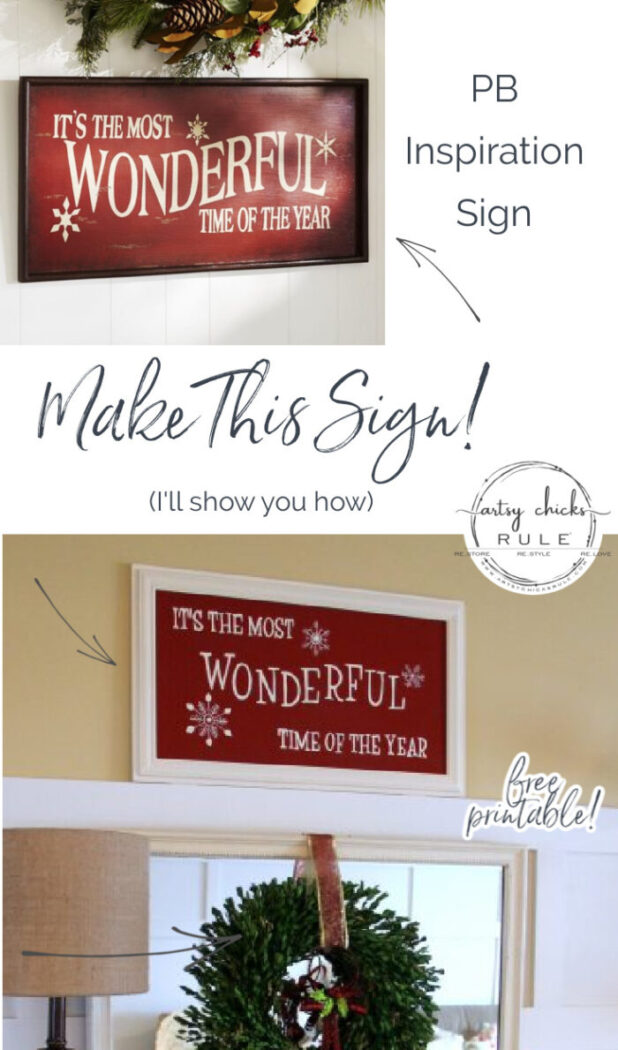 Have you started decorating yet? It seems everyone is earlier this year.
I usually wait until after Thanksgiving but as you can see I have started early myself.
How about you?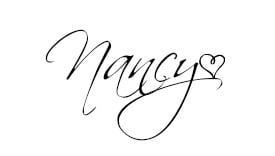 You may also like this project: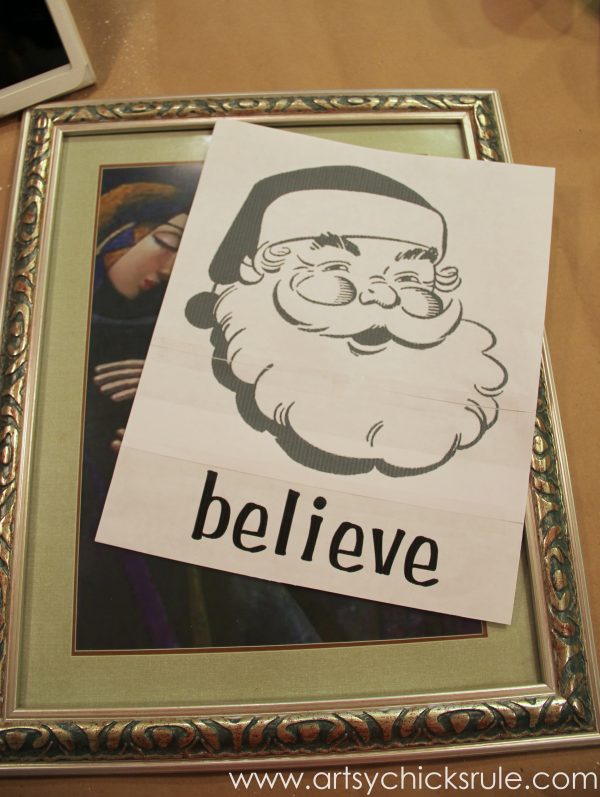 See it here >>> DIY Santa Sign Tutorial