This is a sponsored post written by me on behalf of Kalaty Rug for IZEA. All opinions are 100% mine.
I love home decor and design.
And I love rugs. Rugs are the anchor that pull it all together.
They can evoke a feeling of warmth and create a certain mood within a space.
A new rug can take an old room in a totally new direction and give it a completely new look.
I just love that!
Today I'm sharing with you Kalaty.com They are a family run business, spanning several generations, who make superior quality handcrafted rugs.
"Kalaty Rug Corporation is a family business that has been setting the gold standard for area rugs for generations. Highly respected for its superior quality handcrafted rugs, the company has built a reputation for its ability to combine color and design to create a broad range of area rugs that portray "Tradition for Today." "
I'm going to be sharing a couple "mood" boards below using 2 of the rugs I picked out from the styles listed below….. Contemporary & Ikat collections.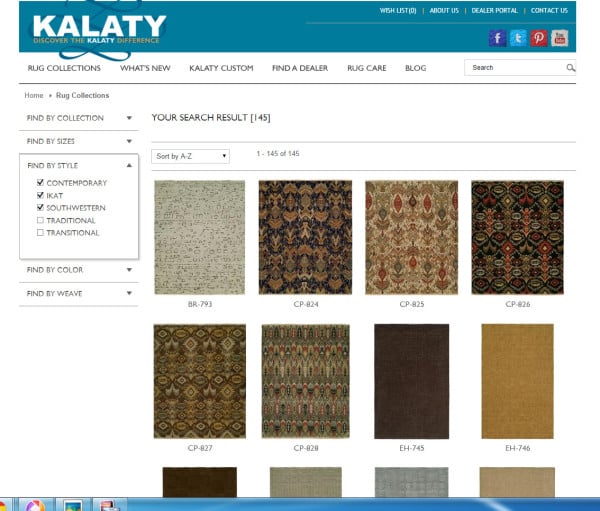 The first one is the Multi from the Caspian Collection. (Ikat)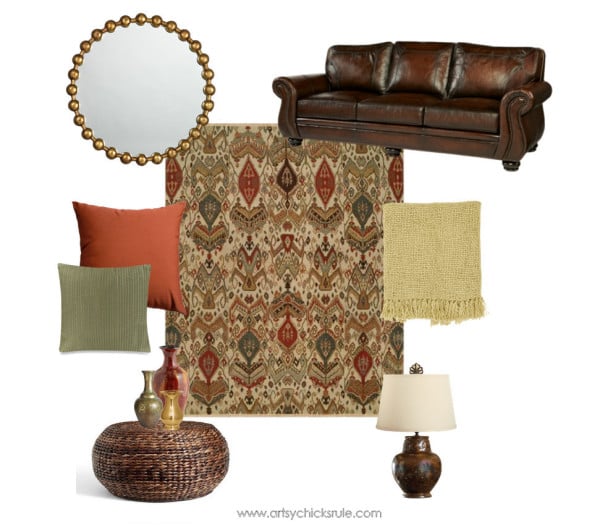 source for additional items here
I just love the colors in this rug. So very warm and exotic.
It's just amazing to me how the accessories and such came together so nicely around this lovely rug.
Or how about this one with it's tranquil blue colors?
This Blue rug from the Inspira Collection. (Contemporary)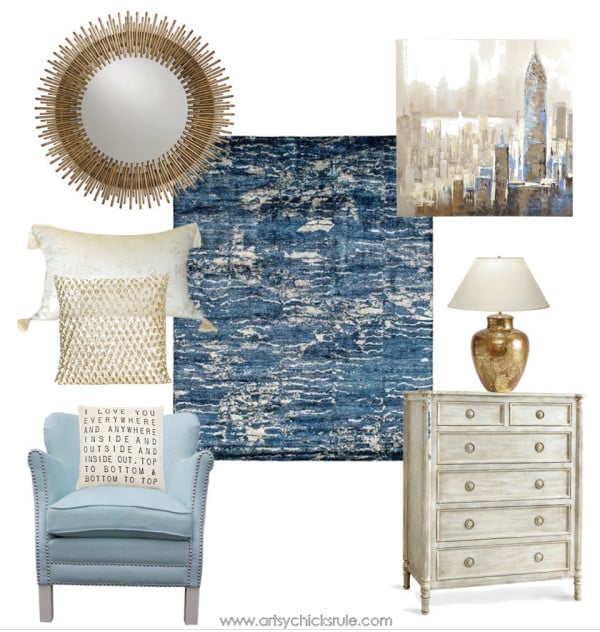 source for additional items here
My favorite, no doubt, right? ;)  I adore blues.
This room fell together so easily around this tranquil blue rug.
The creams, whites and shades of blue are perfect. I can see this entire grouping in my home.
These rugs really "make the space" in both sets. Anchoring and pulling all the pieces together in each.
You can find Kalaty Rugs on Kalaty's Facebook page, Kalaty's Twitter, Kalaty's Pinterest … and they even have a blog where you can learn more at Kalaty.com.
More about Kalaty Rugs here…
How would you like the chance to win a Kalaty Rug of your very own?? 
You can enter to win a 4×6 Kalaty Rug, valued at $1,000, by doing any of the following as entry:
1. Visit the Kalaty Rug website (Kalaty.com/rebate) and enter your email address for a Mail-in-Rebate form. (even if you don't win the rug, you can use the rebate to get a discount on a new rug from Kalaty)  Enter up to 3 valid additional email addresses for the Mail-in-Rebate, to count as 4 total contest entries.
2. Leave a comment on my blog with the Kalaty Rug dealer nearest you (found by going to http://www.kalaty.com/find-a-dealer.htm)
3. Leave a comment on the Kalaty's Facebook page page with the Kalaty Rug dealer nearest you.
4. You can also enter via the Rafflecopter below!! Multiple ways to enter! 
Enter between 10/1 and 12/13.
Two winners will be selected by IZEA and notified on 12/17.
Winners will be selected at random.
Good luck!!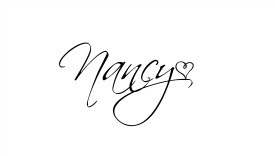 Follow Along Here!