Thrifty Bottle Makeovers (Decoupage and Chalk Paint)
This post may contain affiliate links. Please see disclosures here.
I have a really fun new crafty craft for you all today.
A little fun with some old bottles, decoupage and Chalk Paint.
Being the thrifty girl that I am, I can never throw anything away.
Almost anything anyway.
Like these old bottles I came across the other day while cleaning out underneath my bathroom vanity.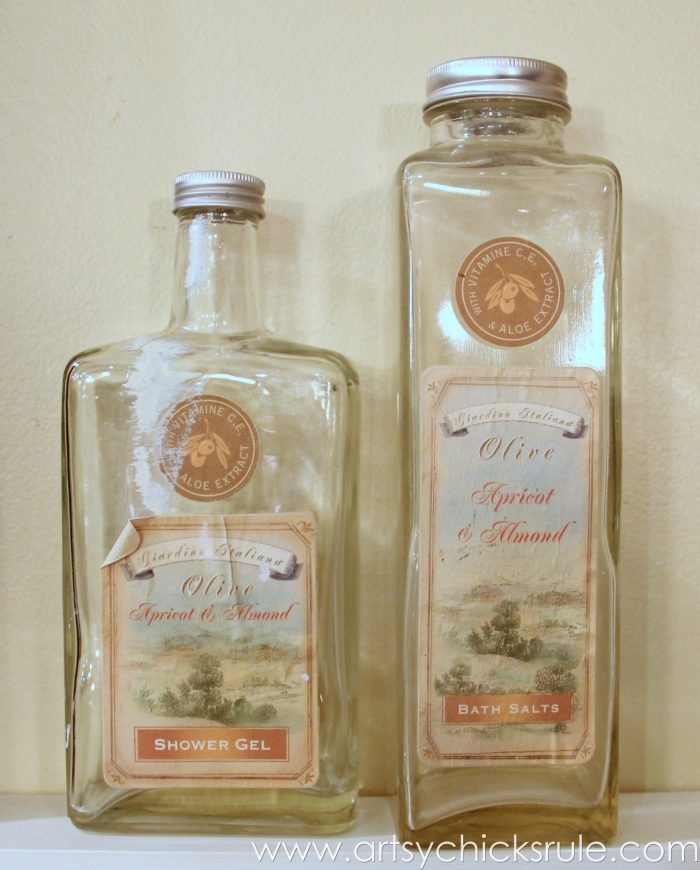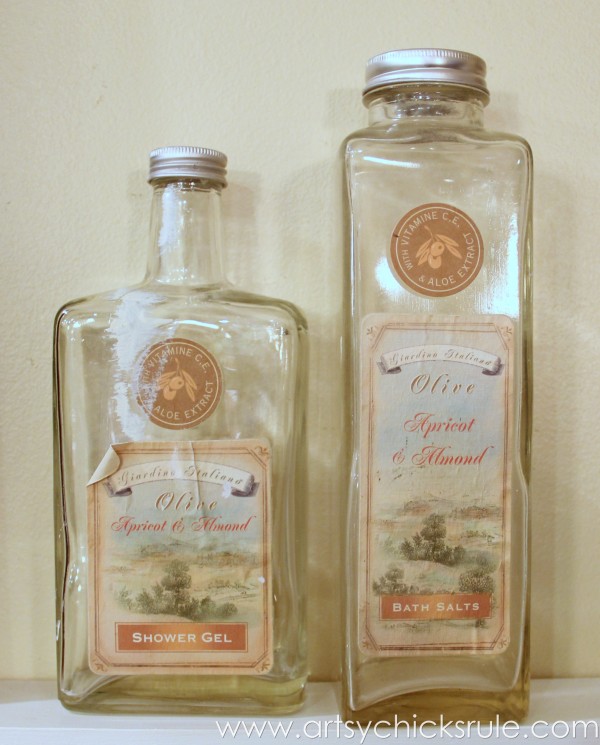 …and by "old", I mean old as in 15 years or so. Not old like the pretty blue bottles I collect. ;)
I almost tossed these but decided I really loved the shape of them and the pretty aluminum lids.
One of which I ended up not using but oh well!
I have used Chalk Paint® to paint bottles before….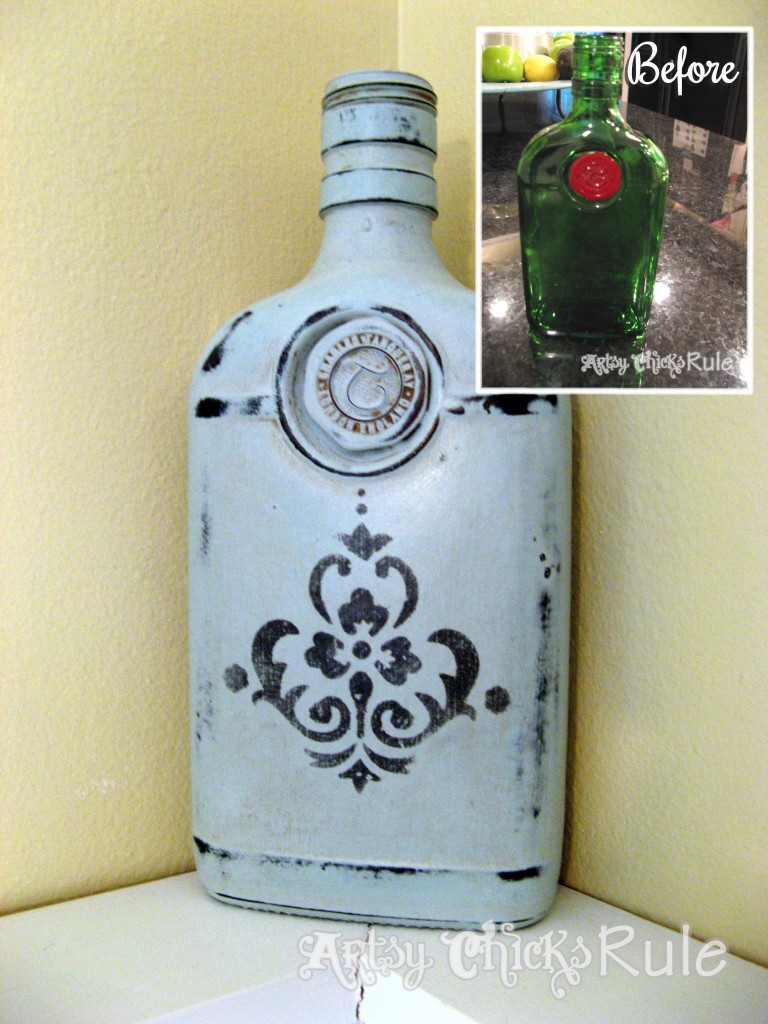 and this one…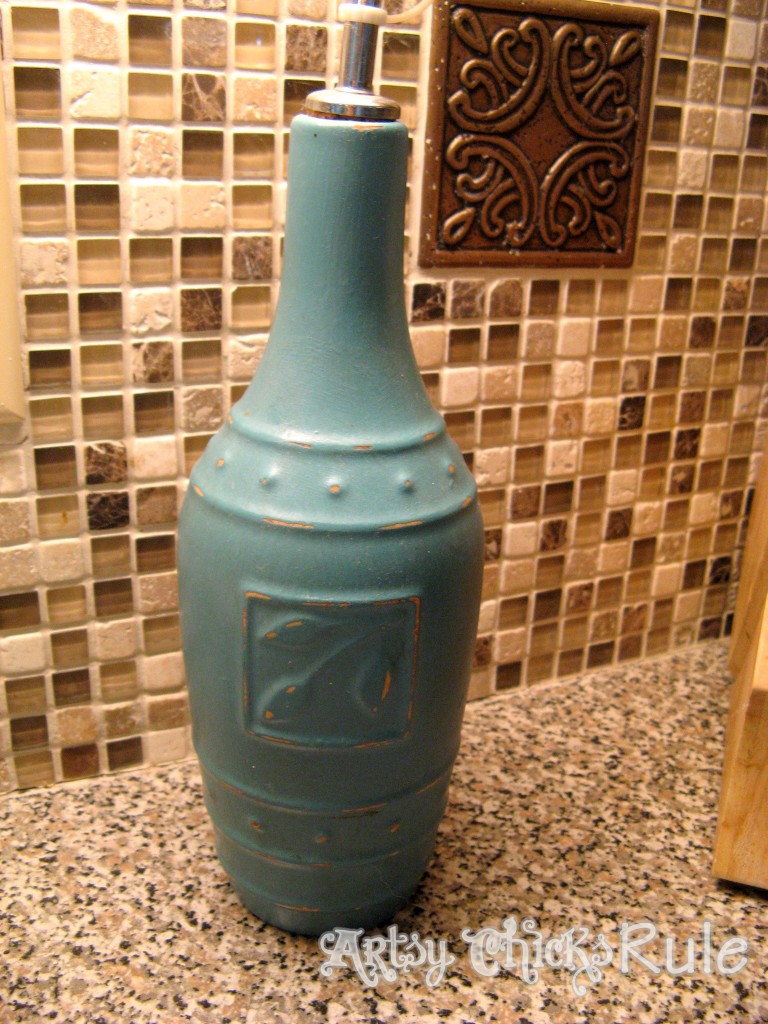 (this one was a gold colored ceramic before)
You can read about both of those bottles, and a few other things, here–> "Chalk Paint – It's Not Just For Furniture".
So…one of these bottles got Chalk Paint and the other got decoupage with Mod Podge.
I started by finding and printing out the labels I was going to use.
I found them at The Graphics Fairy (I love and use her images quite a lot).
The Vanilla Extract label was not long enough for my very tall bottle so I "stretched" it out before printing it.
The Jardin label, I printed in reverse so that I could rub the image onto the Chalk Painted bottle.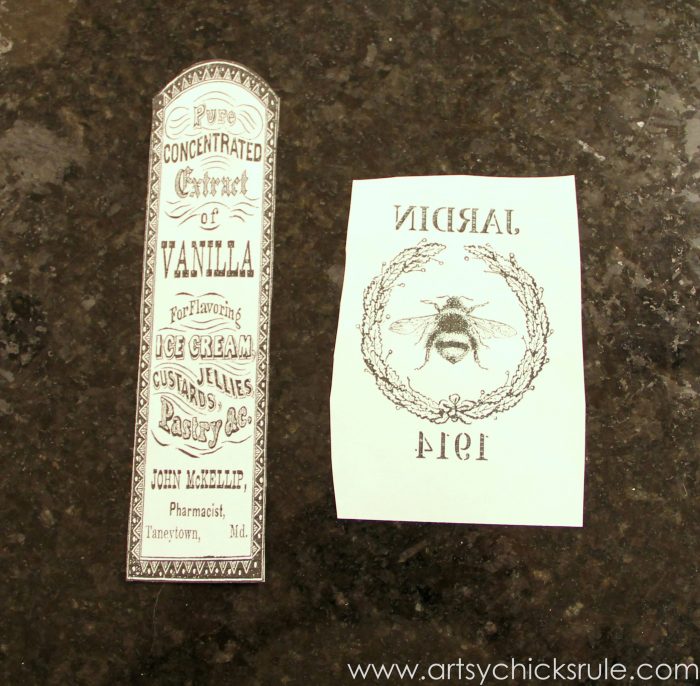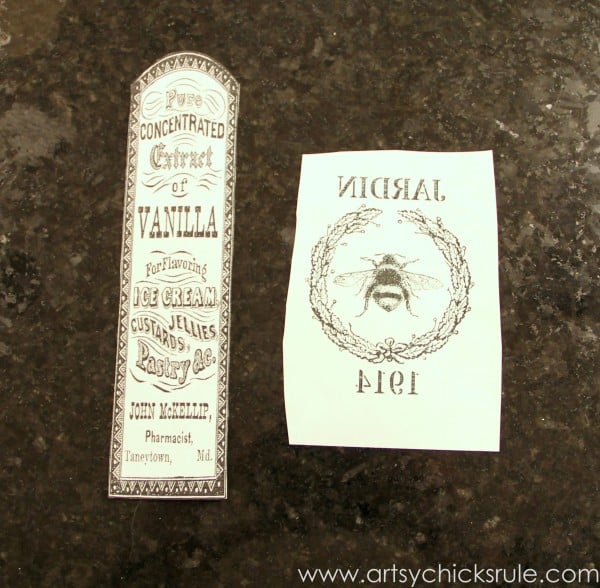 I applied Mod Podge onto the back of the "Vanilla" label….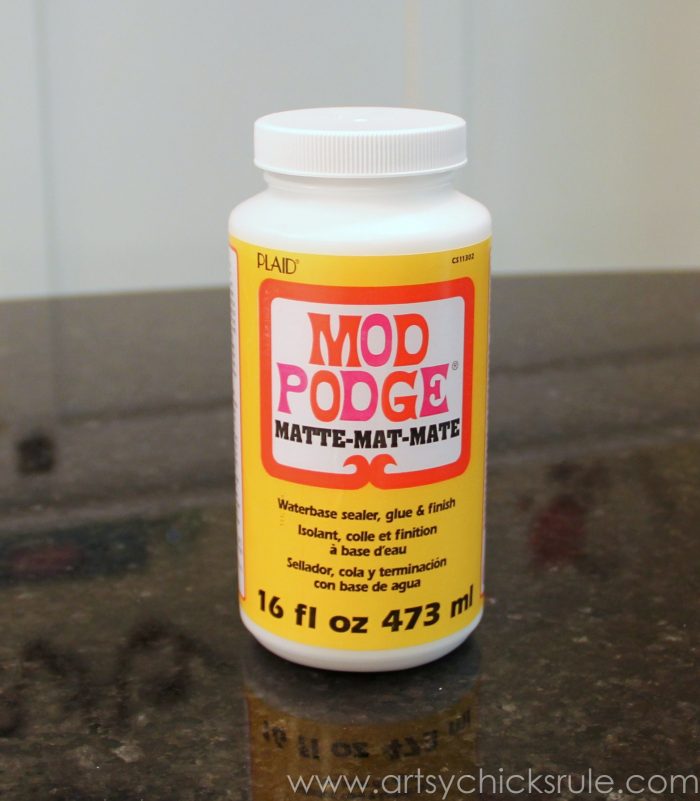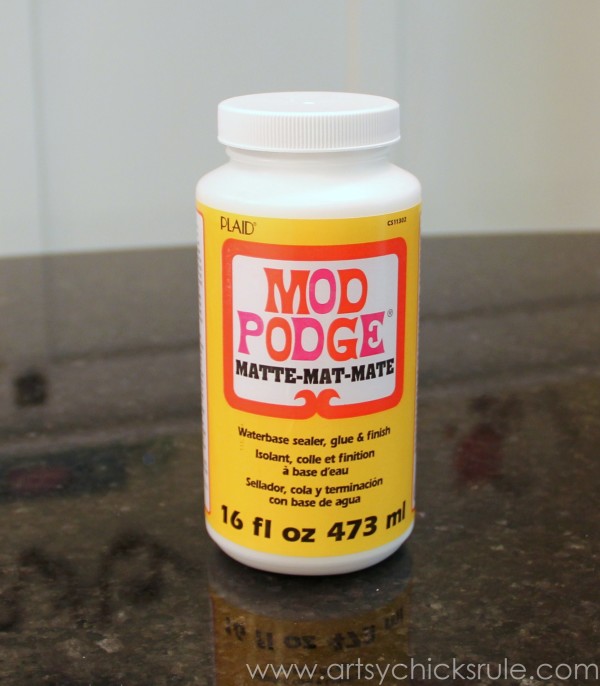 Then attached it to the bottle.
Next I painted the first coat (the underneath coat I wanted to show through) of Chalk Paint onto the other bottle.
Provence is the color…. (LOVE Provence!)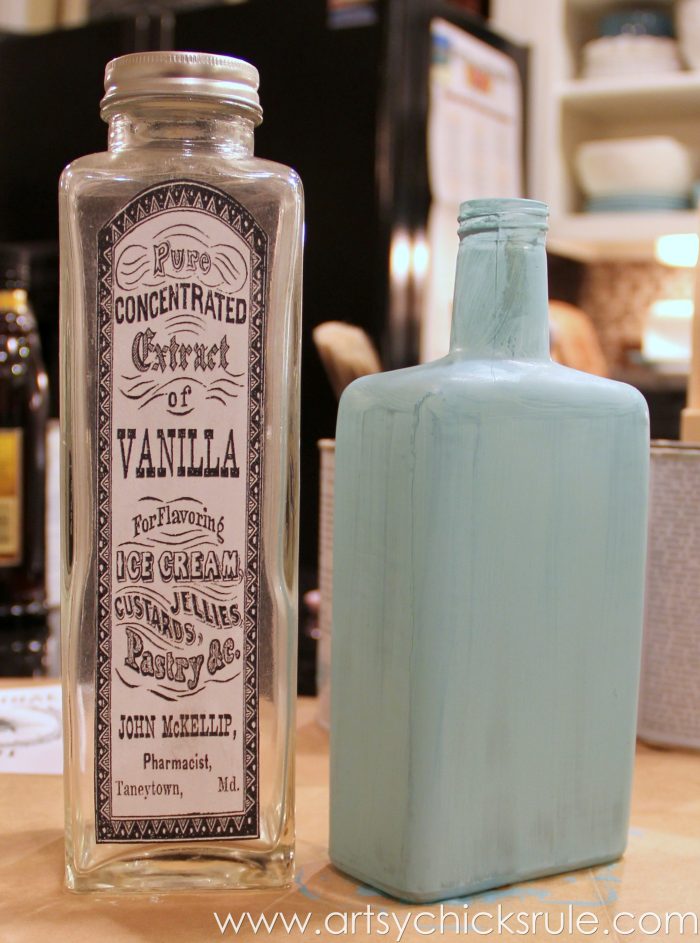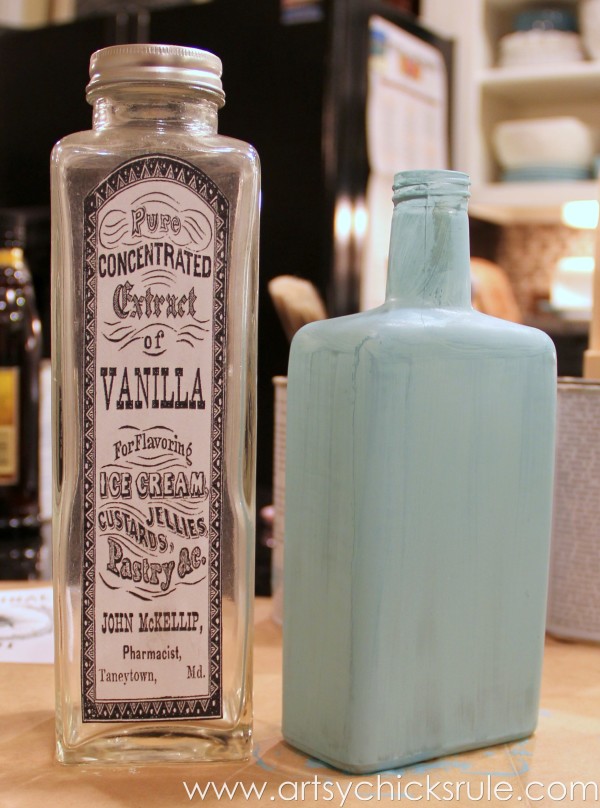 The label looks just "ehh" right now…but just wait.
I applied 2 coats of Provence. Then once that was dry I applied ONE top coat of Old White….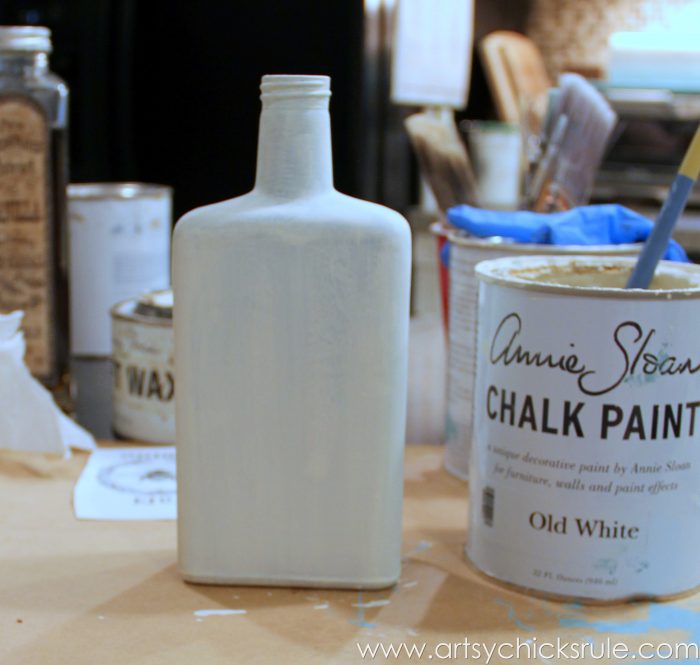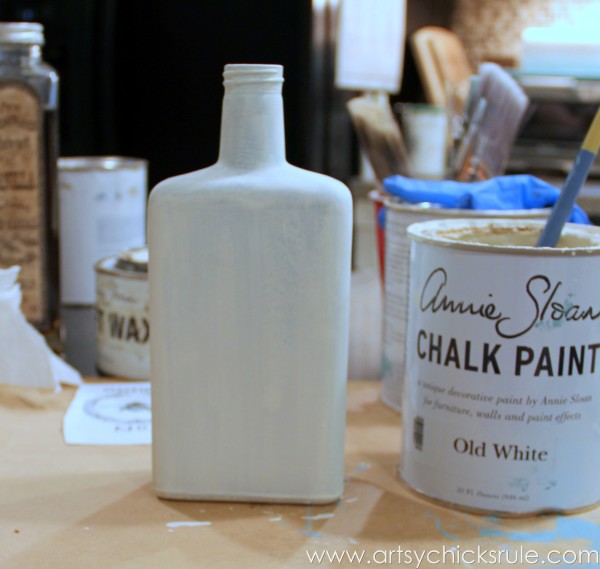 I wanted it to look as if it was worn a bit….or "washed".
Do you spy something in the background there?
Yes…it's the "antique" Vanilla Extract bottle. Looks a little different now. :)
I lightly distressed the Chalk Painted bottle once the final coat of paint was dry.
So easy. (but be sure to keep a very light hand so you don't go all the way to the glass…here and there is okay but you don't want to go through all over)
Then I took the reversed print and positioned it onto the front of the bottle….and rubbed over it with a pencil.
This is what I ended up with……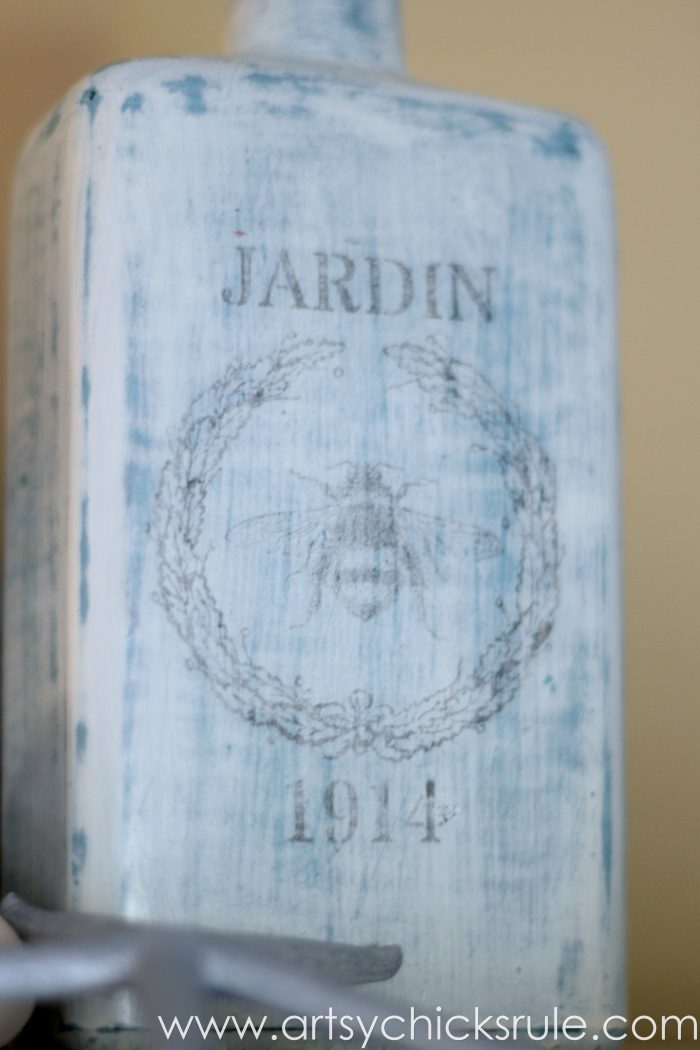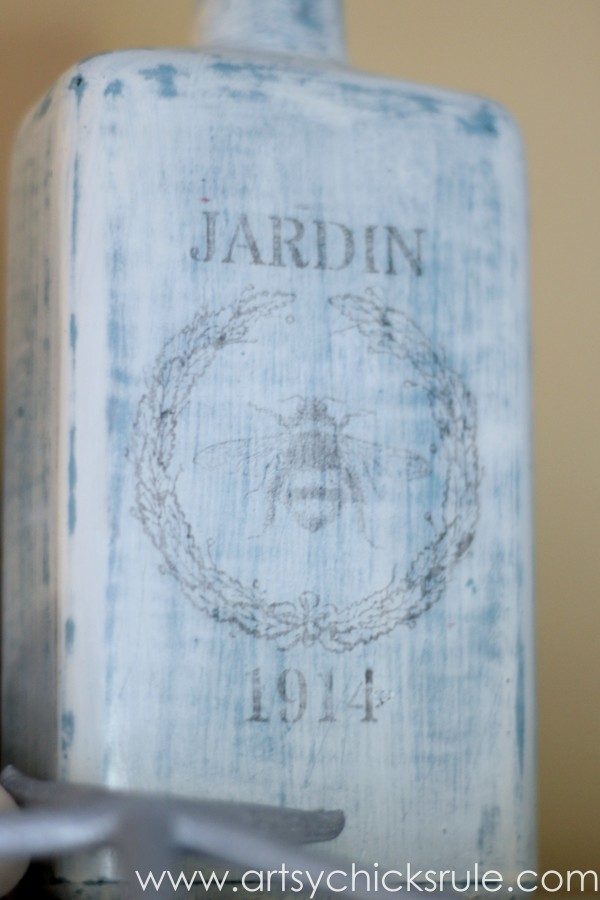 An "old worn looking graphic…on an "old" worn looking bottle.
Exactly the look I was after.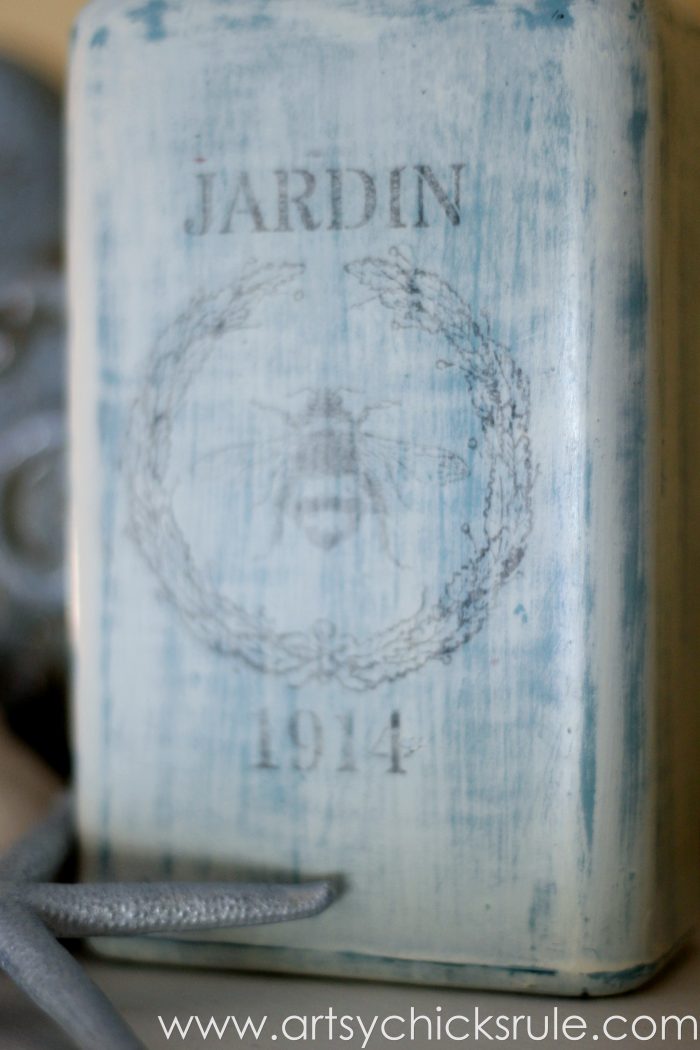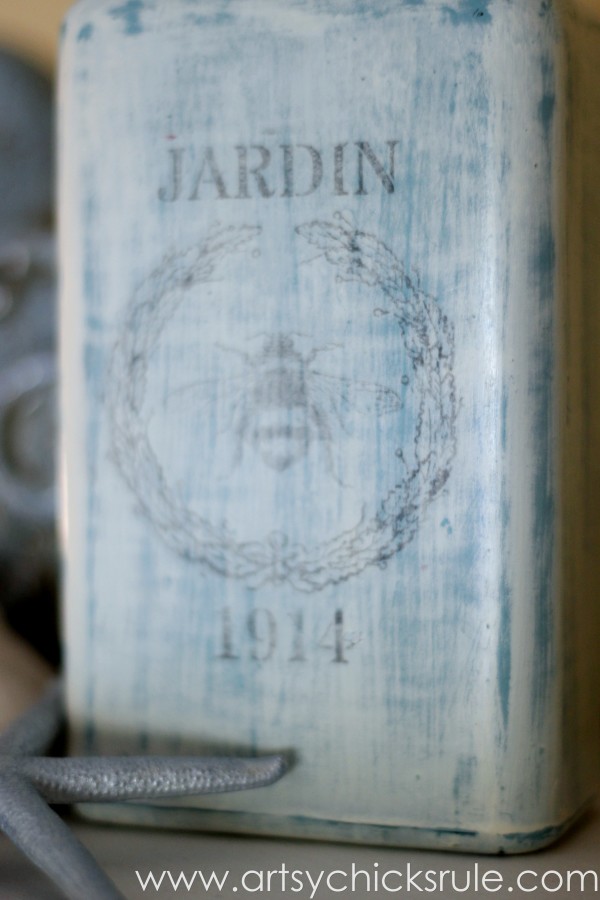 And, wow, how easy is that?? VERY.
I applied one coat of Annie Sloan Clear Wax to seal it all. I was very careful applying over the transferred area so I wouldn't smear it.
It was fine. Wax dried and buffed up to a beautiful sheen.
The "antique" Vanilla Extract bottle….even easier.
After the Mod Podge was dry all I did was add a layer of Annie Sloan Clear Wax over the label.
Directly over that I applied a bit of Annie Sloan Dark Wax.
I dabbed it here and there to give it a blotchy, aged look.
I really like the effect.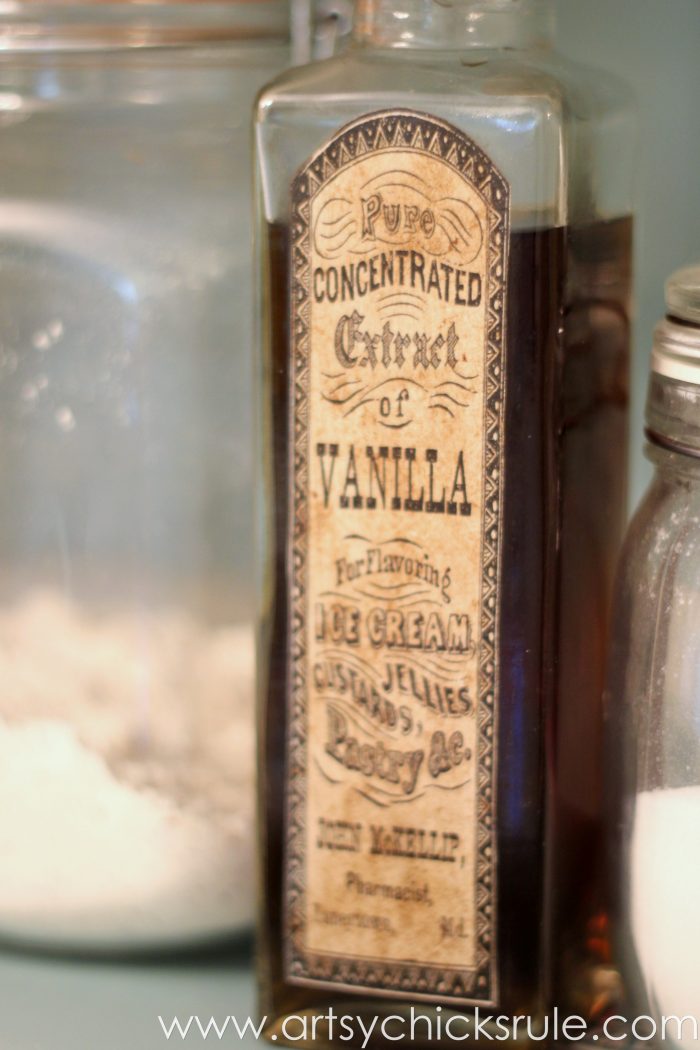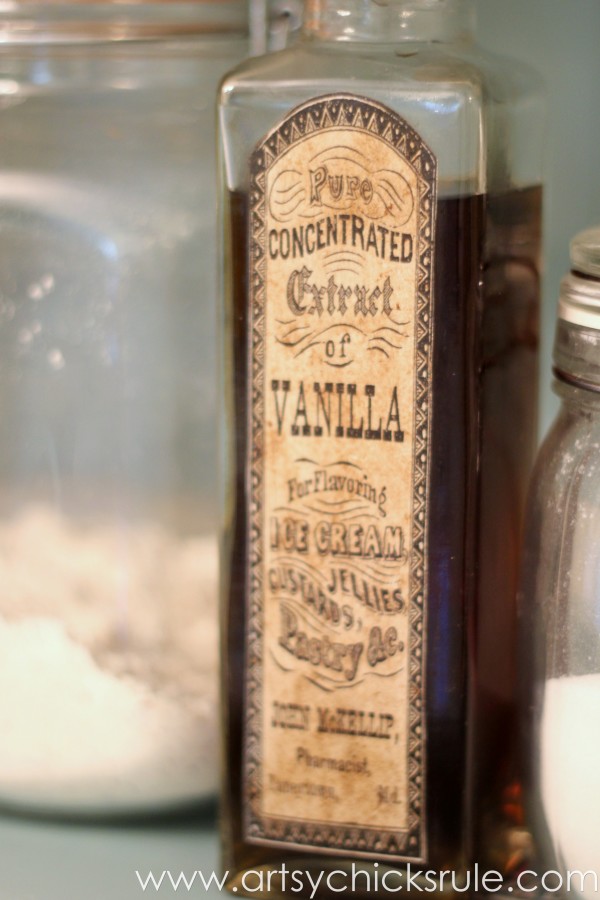 Both of these were ridiculously easy to do.
And quick too!
(if you don't include the time it took to remove the original labels…grrr…they were a bear but I got em!)
EASY, FAST….and INEXPENSIVE DIY home decor with a little decoupage and Chalk Paint.
Love it…and right up my thrifty little alley. :)
This is the bottle I decided to display without the lid.
I just liked the look better without.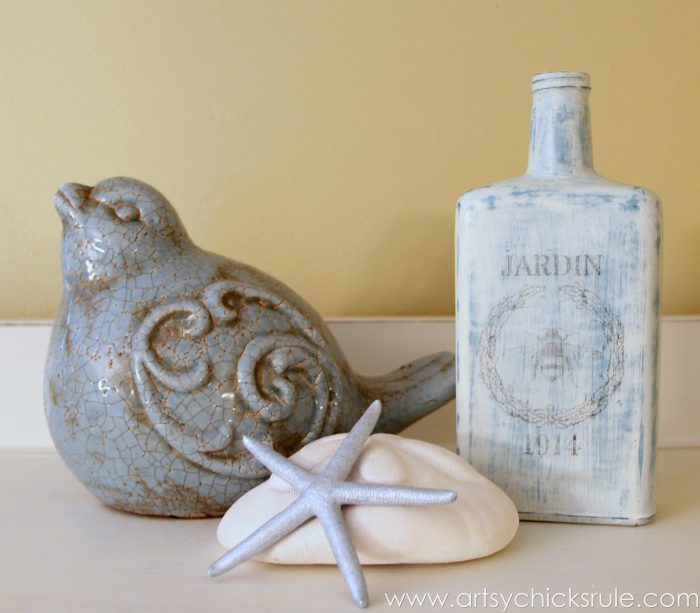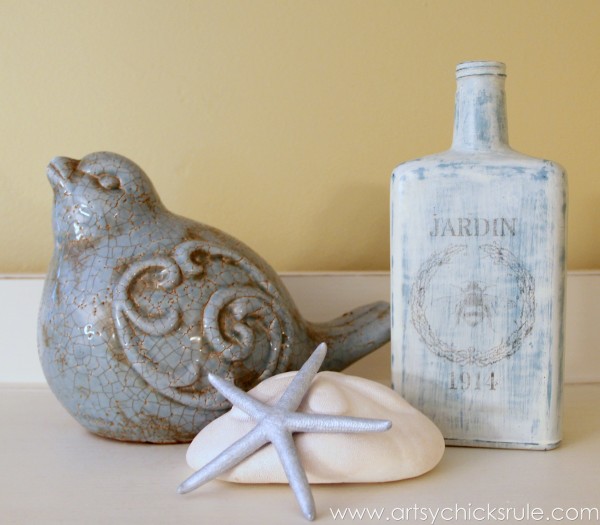 Love that Provence peeking through….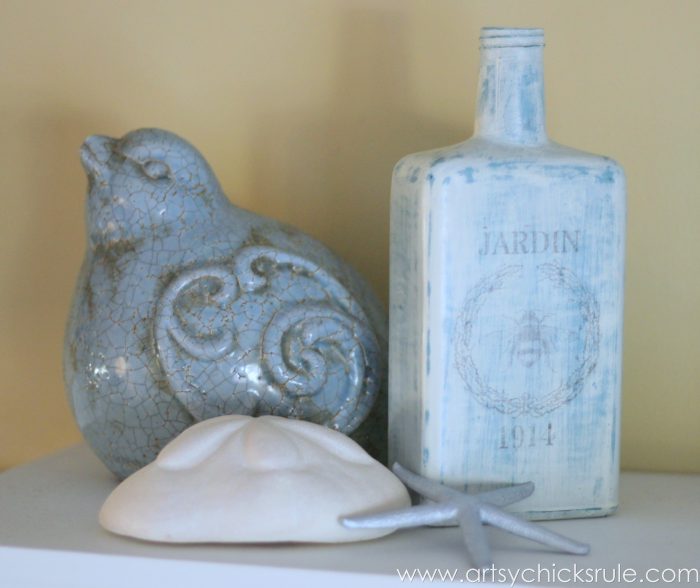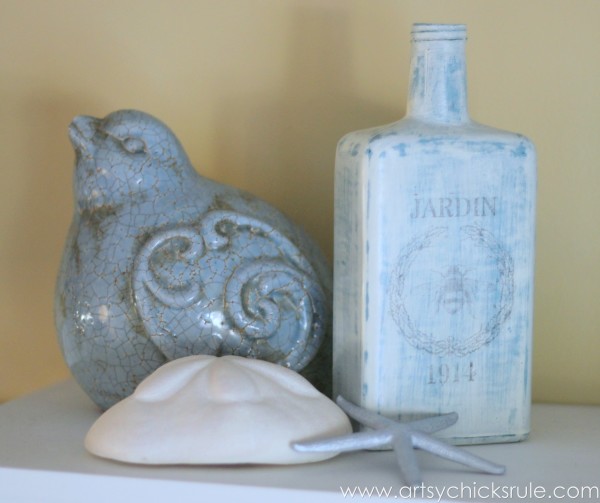 …and the way the "old" bottle of Vanilla looks on my "Baker's Hutch" with the rest of my baking supplies.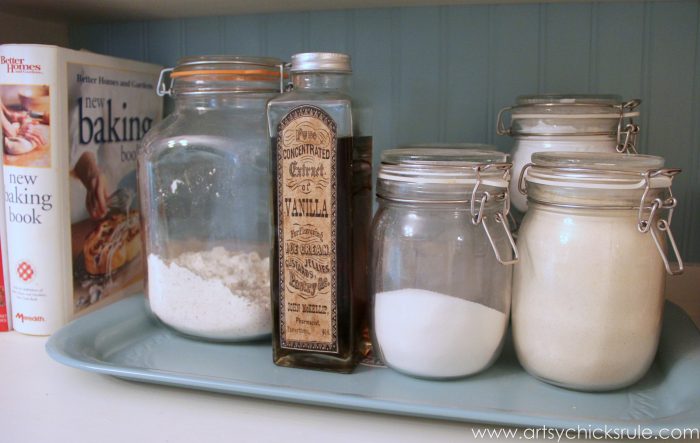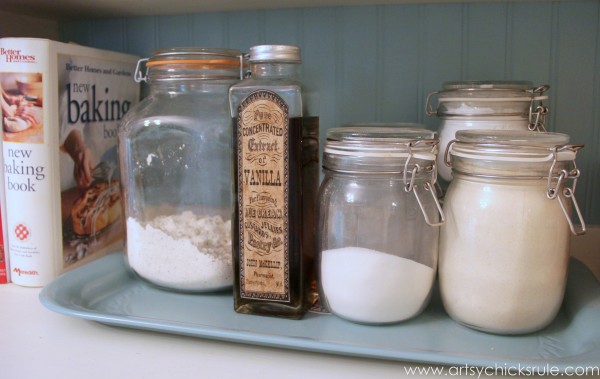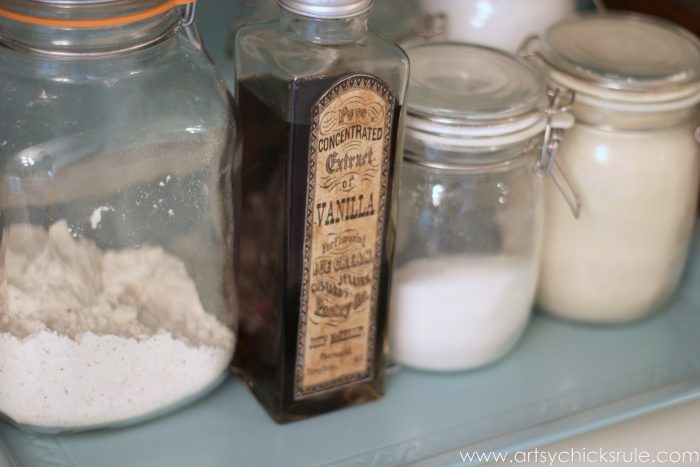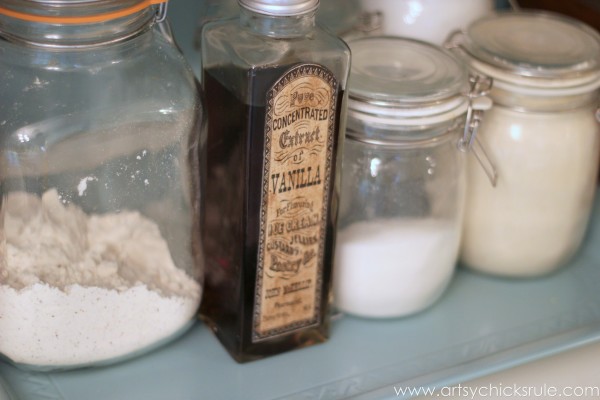 For the "vanilla"….I mixed water with food coloring. (red, yellow and blue)
So much fun.
You can use any old bottles for this.
Plus, they make a really pretty vase for flowers too.
Can't you just envision a single, pretty pink flower popping up out of that Jardin bottle?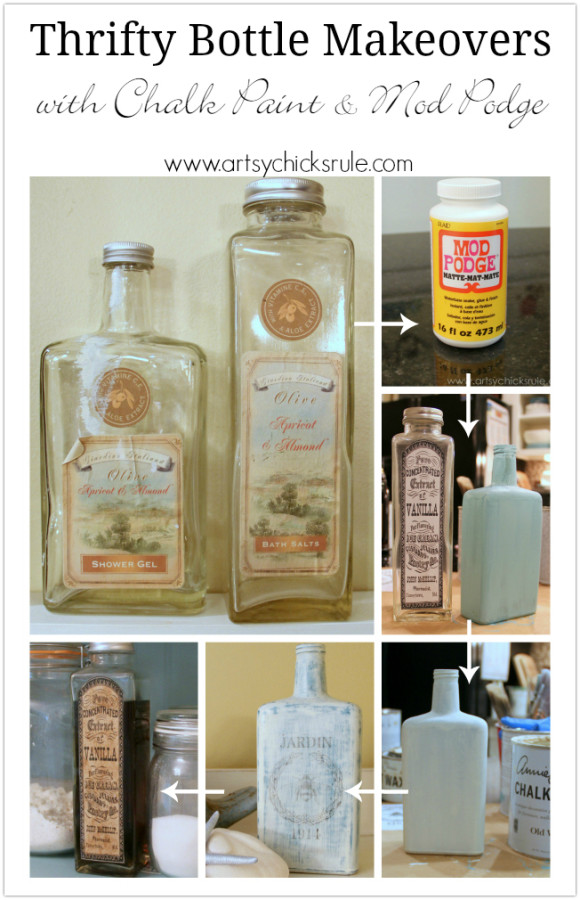 So simple!
Hope you'll look at those old "throw aways" a little differently next time you come across them.
Recycle….re.store, re.style and re.love! :)
I've got a few more bottles "up my sleeve"…I'll be sharing what I did with those soon.
They and these both make great hand made gifts!
Happy Weekend to you all!!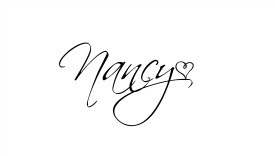 Be sure to follow me on Instagram and Facebook if you don't already!
I always post projects and things I'm working on
long before it hits the blog…..
….plus lots of fun random daily things too.