I am so excited about today's post.
It is a cause near and dear to my heart!
Did you know that October is Adopt a Shelter Dog Month?
(http://www.aspca.org/adopt/adopt-a-shelter-dog-month)
I, along with a bunch of my blogger friends, have gotten together to bring you makeovers that will benefit animal shelters.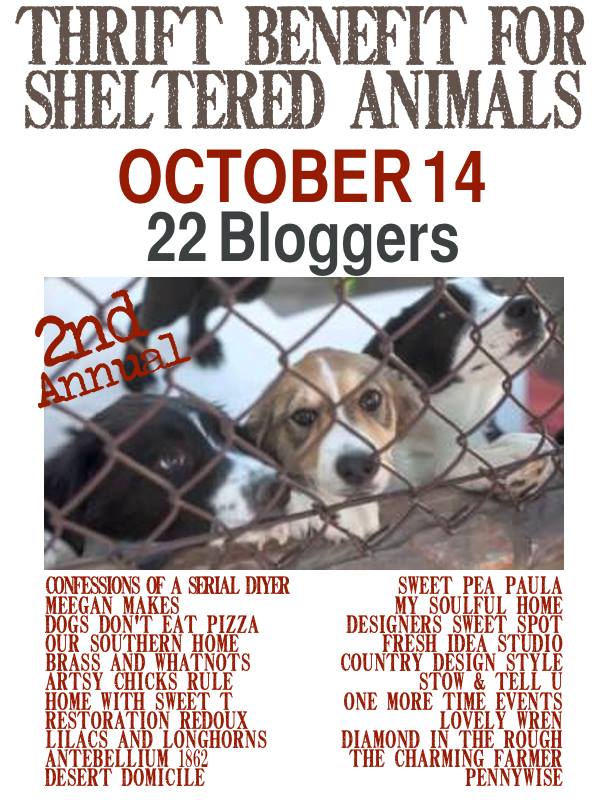 Mine is a bit different than some of the others since I was unable to find a thrift store in my area that benefits shelters.
But…. I did find out that a shelter in my area has a way you, I or anyone can donate!
It's through Amazon and is called AmazonSmile.
A small portion (.05% to be exact) of the purchase price goes back to the shelter when you click the link to make your purchase.
It could not be any easier!
The shelter that I would like to highlight today is: Animal Aid Society here in Hampton Roads.
The link to purchase, if you so choose, is here: AmazonSmile for Animal Aid Society
You may have the same option with your local shelter also so be sure to take a look and see!
I purchased this rug, scarf hanger (I LOVE it!) and book from Amazon using the above link so that means a portion of that sale goes back to this great organization.
(click the links above to visit the actual description pages on Amazon)
Here's the rug in my Family Room…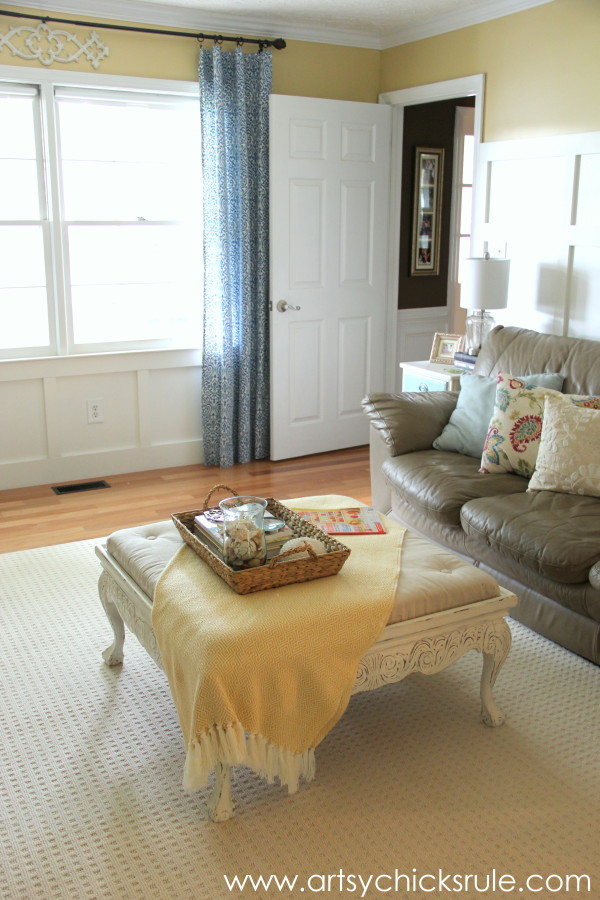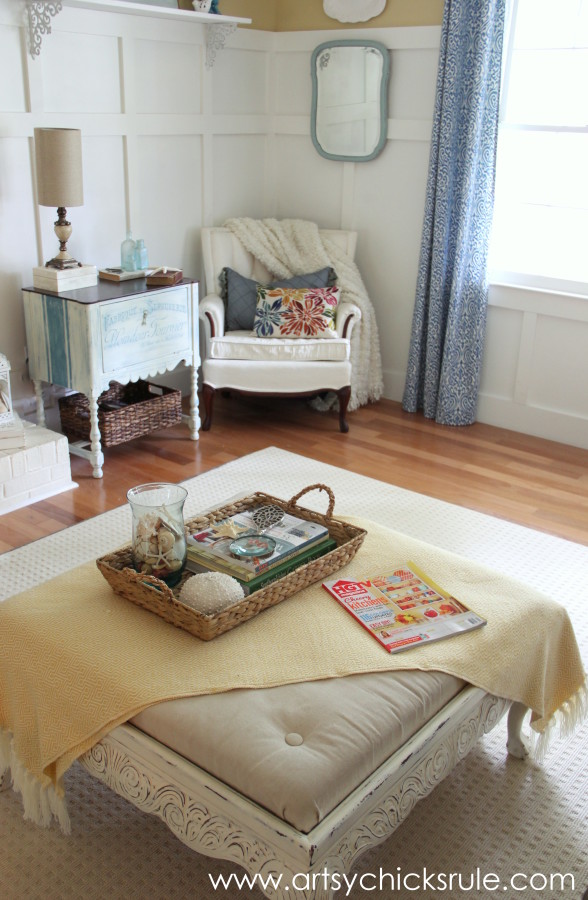 I thought it would be a nice, bright change for a bit.
The scarf hanger/holder…..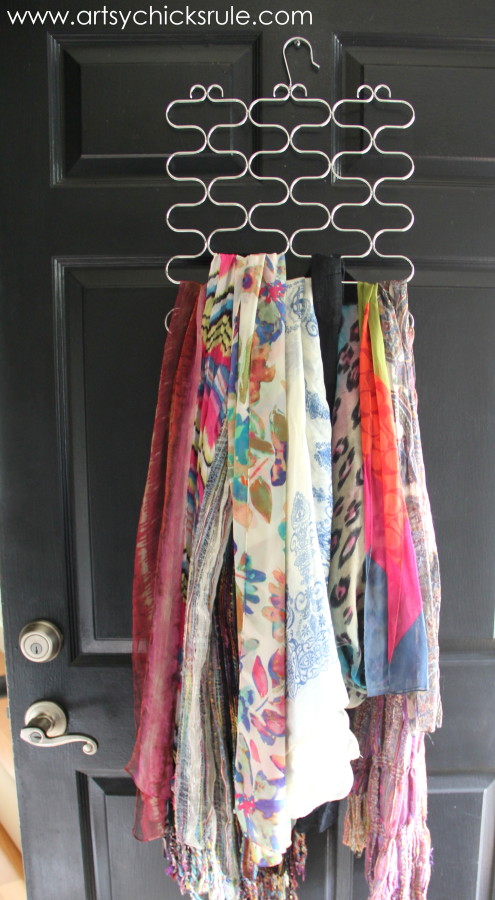 It's awesome. I love scarves and have a bunch.
This will be perfect for storing them.
I have a few more that I didn't add because I wanted you all to be able to see how they hang, etc. (and yes, it's hanging on my front door!! I have terrible lighting in my upstairs closet so brought it down to photograph it :) )
…and lastly, this book.
I try to eat gluten free for health reasons, by choice. It's an ongoing process and I don't stick to it 100%.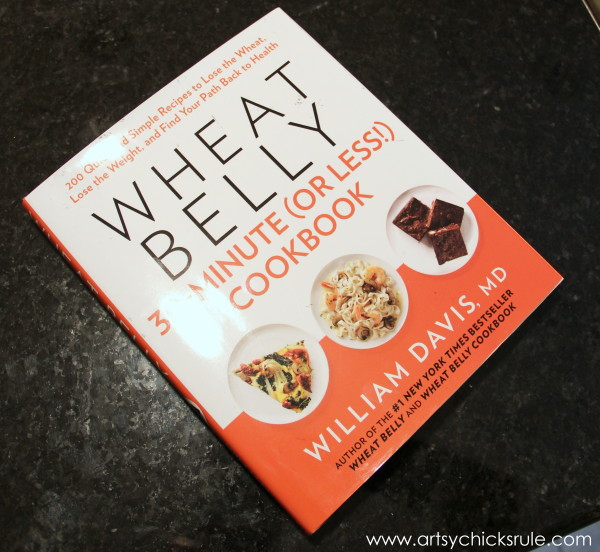 But I do think it's a good choice for me.
I'll talk more about all of that, and include my own recipes I've come up with, in my new and upcoming FOOD blog!
Yep, I'm starting another blog. I must be crazy since this one keeps me busier than I've ever been but I love food –and health– and want to share with you all.
By the way, no affiliation to any of these purchases other than I just wanted to buy them! ;)
A small portion of everything I purchased went back to the shelter, however.
So…. why is this subject so near and dear to my heart?
Because we got our sweet "Lexi" at an animal shelter 11 years ago.
She, along with her siblings and mother, were dropped off at a shelter.
It was my first time getting a pet at a shelter…and it won't be my last. I think somehow these animals "know" where they are, if that makes sense.
They seem grateful to be "chosen". My heart breaks for them and if I could, I'd take them ALL home.
We named our girl Lexi, by the way, because that is where she is from…Lexington, SC.
We got her while living there in 2002-2004. So she is a "Carolina girl" living in VA!
Lexi is and has been one of the best dogs ever. EVER, ever.
Well trained and behaved, gentle, kind and really a huge part of our family.
We love her as if she were one of us…because she really is!
You might have seen her around the blog a time or two.
She sneaks into my photos here on the blog.
Like this one….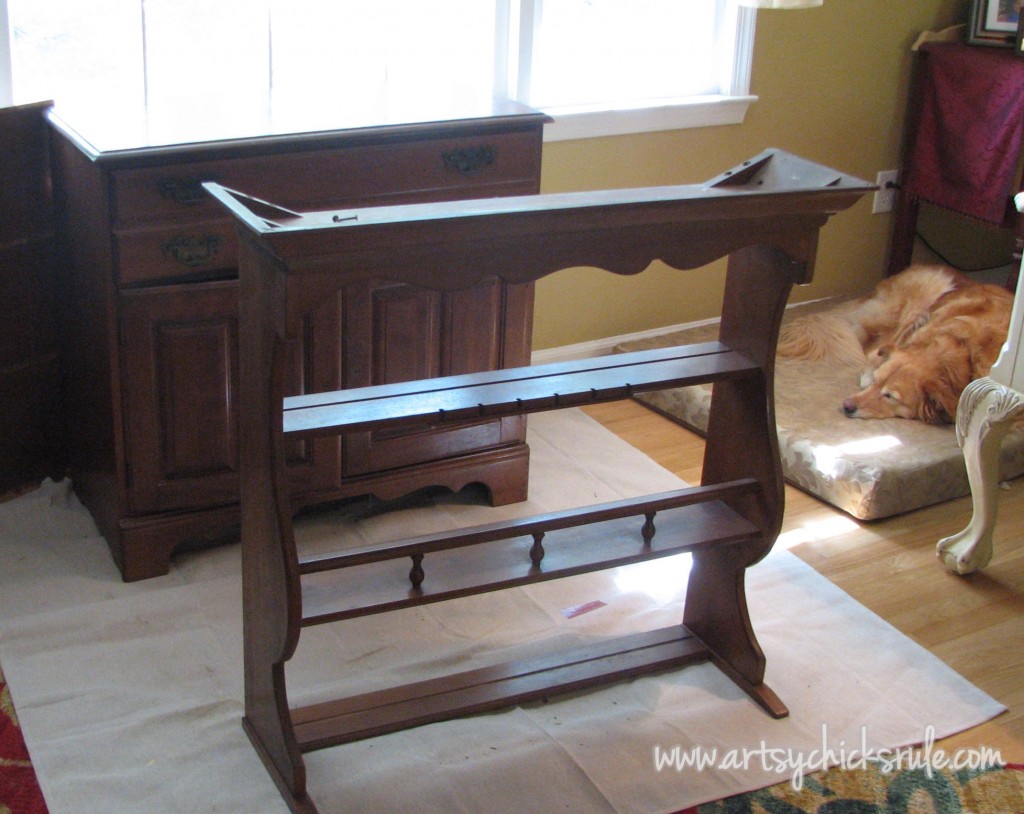 or this one…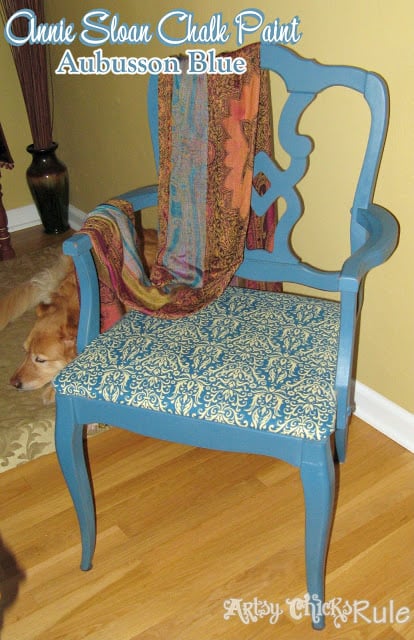 this one…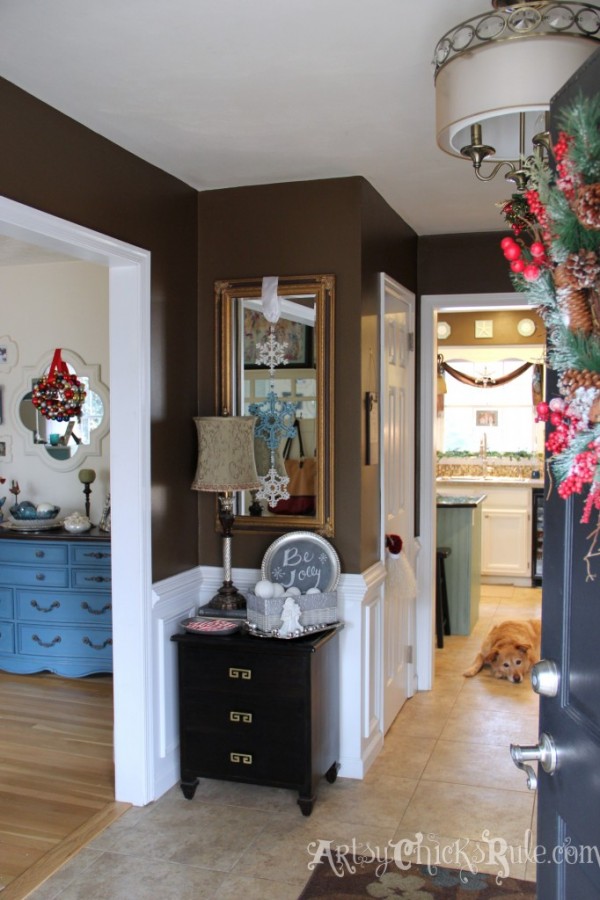 or the most recent…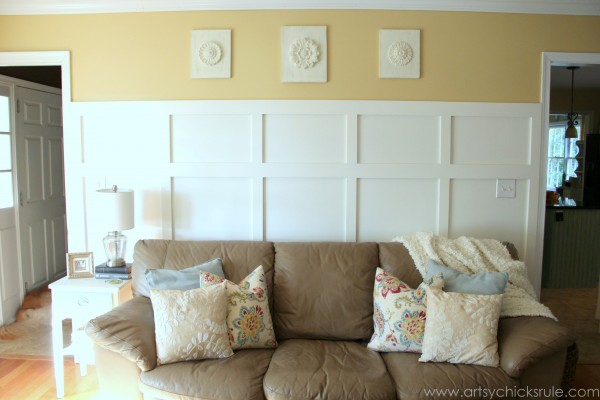 She's there on the left…..and "guarding" the front door.;)
And no, she does not sleep constantly.;)
She just loves to be in whatever room we are in….and promptly lays down.
Poor girl on days I'm all about the house! She knows not where to go.
Funny story about her. I was getting her groomed about a year ago and a lady came in with a dog that looked identical to my Lexi.
And when I say identical, I mean IDENTICAL in every way. Which is crazy because all of the puppies from her litter looked different.
Different hair type, hair color etc. Even the mother did not look a lot like my Lexi full grown.
So, to see a dog that looked identical floored me. I asked the woman how old hers was….7.
No way they were from the same litter because Lexi was 10 at the time. (not that I truly thought they'd be since we got her in SC and were back living in VA)
I asked what she was and was told a mix of Husky and Golden Retriever.
I never knew exactly what Lexi was but knew she was part Golden.
That's certainly not hard to tell! ;)
But I am now thinking she must have some Husky in the mix too!
Christmas morning one year….right in the middle of the mess. ;)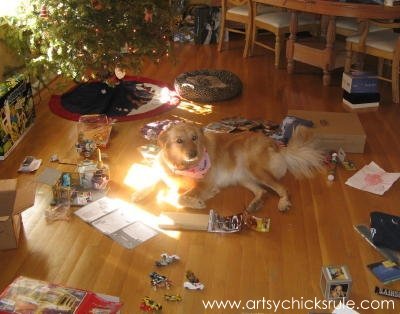 Another Christmas….hanging out while we do our thing.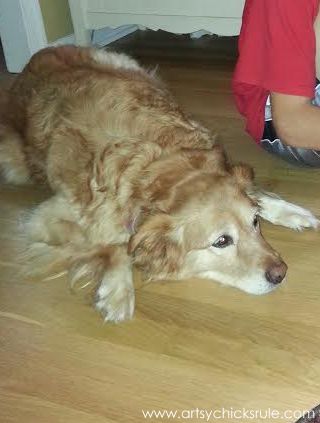 We do occasionally shave her … shaved and in the snow, not a good combination, I know.
But last year was crazy town winter here. Yuck.
She's not a fan. ;)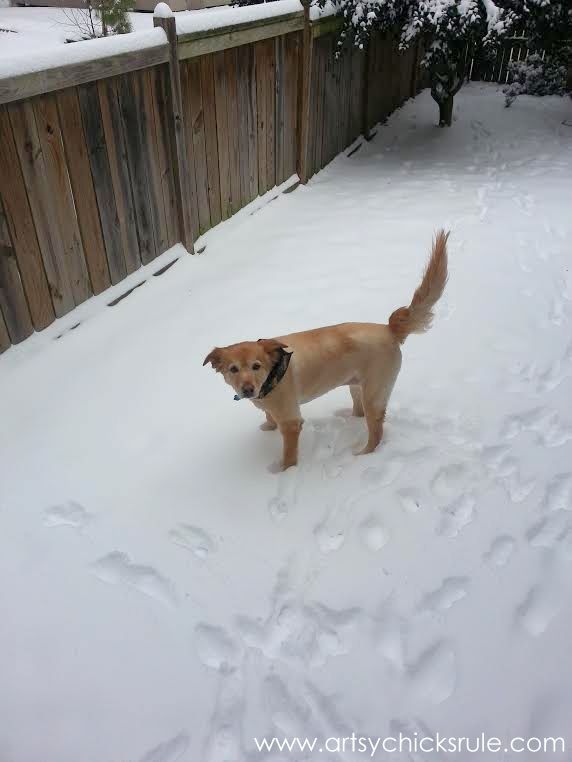 She looks like a boy when shaved. ;)
Poor girl. …and she got herself locked up on the deck last summer while we were all out in the yard working.
Silly girl, then stuck her nose through the gate as I came to free her. (I had to snap a pic!)
Is that not the sweetest, most mischievous face ever?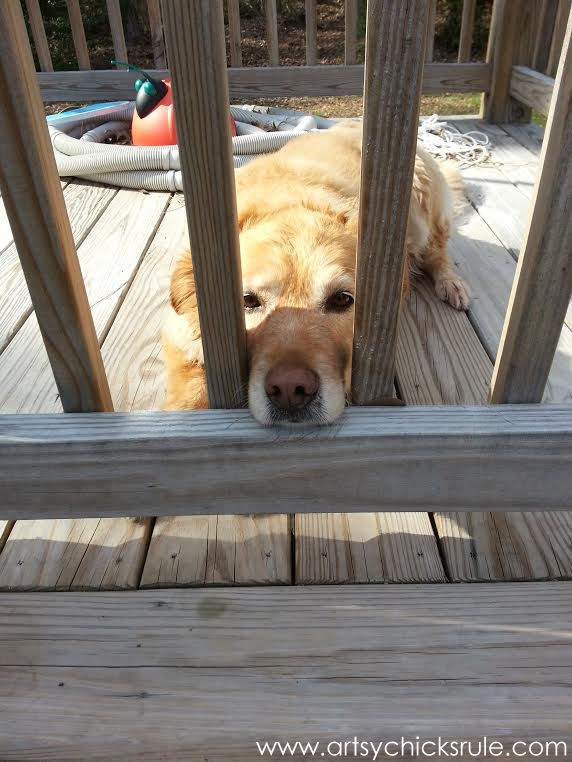 I wouldn't trade her for anything.
She is a huge part of our family and I am so thankful we found her and brought her home to live with us!
Remember, if you'd like to help out your local shelters (or even the one I linked above) be sure to order through the Amazon link I posted.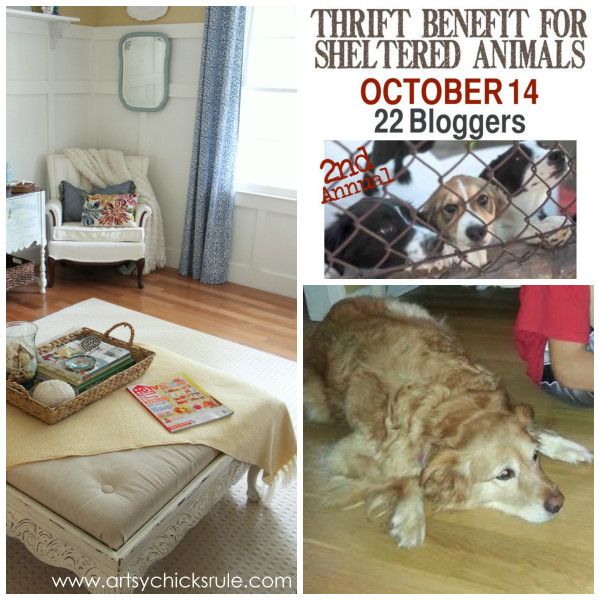 (or find your own shelter because I'd bet they have a similar link!)
A few of the bloggers created the following video if you'd like to take a look:
https://www.bigmarker.com/jeanette-chaney/thrift
All of the bloggers involved in this benefit have projects linked below.
They purchased items through thrift stores that benefit shelters in their areas and created makeovers.
Have you ever adopted a pet from a shelter?? If so, I'd love to hear about it!!
Hope you have a great week!! I'll be back later this week with a fun, new (and easy!) craft.