Coastal End Table Makeover (GF Chalk Style Paint)
This post may contain affiliate links. Please see disclosures here.
Trying a new one today, General Finishes Chalk Style Paint!
Hey Friends!
It's Trash to Treasure Tuesday!
Love this day, like I've said before, one of my favorites of the month.
If you are new here, T2T Tuesday is a day, once a month, when my friends and I share our thrift store (or yard sale, etc) makeovers.
It can be anything from furniture to lamps to bread boxes.
We find it in sad shape and give it a repurpose and/or makeover.
Today I'm sharing this really orange-y oak end table with y'all.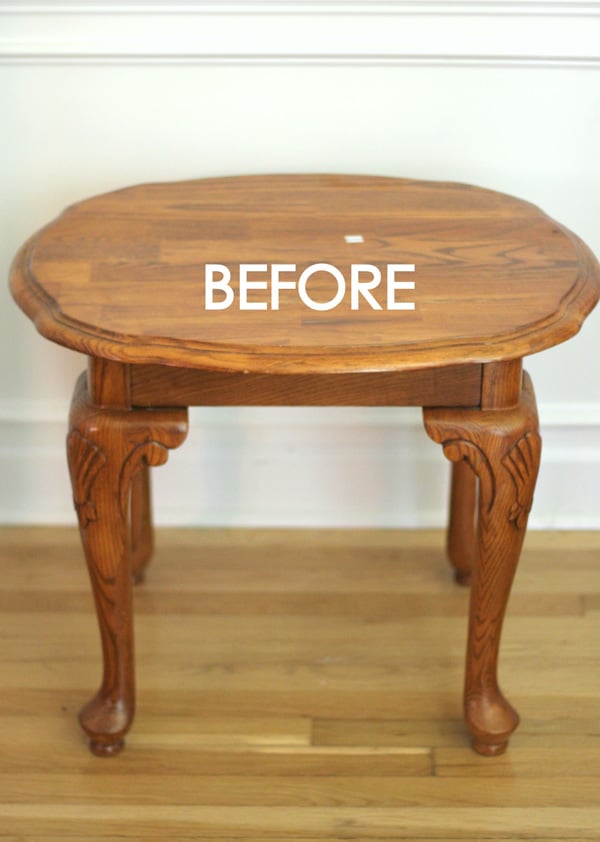 I paid $15 dollars for it from Goodwill.
It was in really good shape and was solid.
I thought this might be a good one to try out General Finishes' new Chalk Style paint on.
Did you know they have a new "chalky" style of paint?
Well, they do.
And I really enjoyed using it.
Now I'll share how I got it to look like this…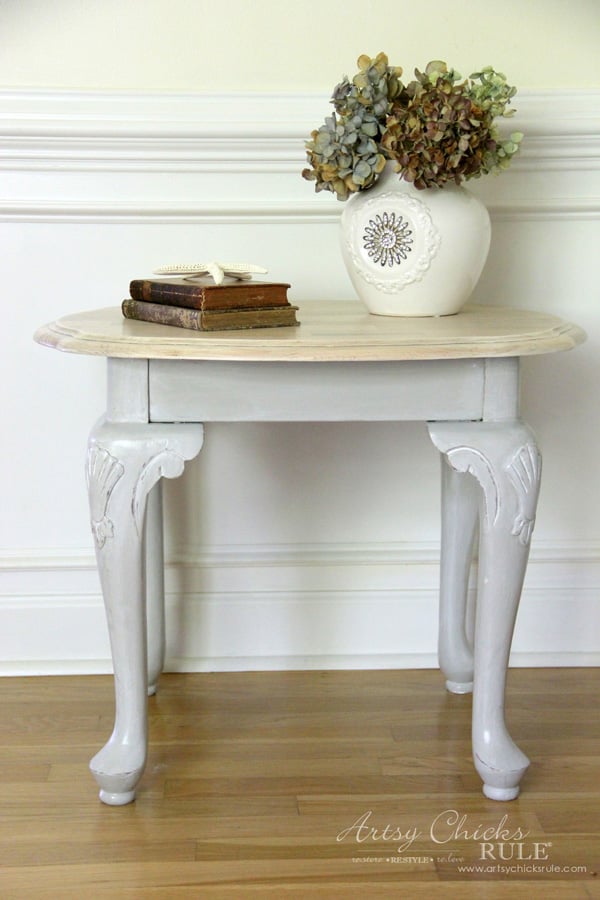 I applied two coats of the General Finishes Chalk Style Paint…..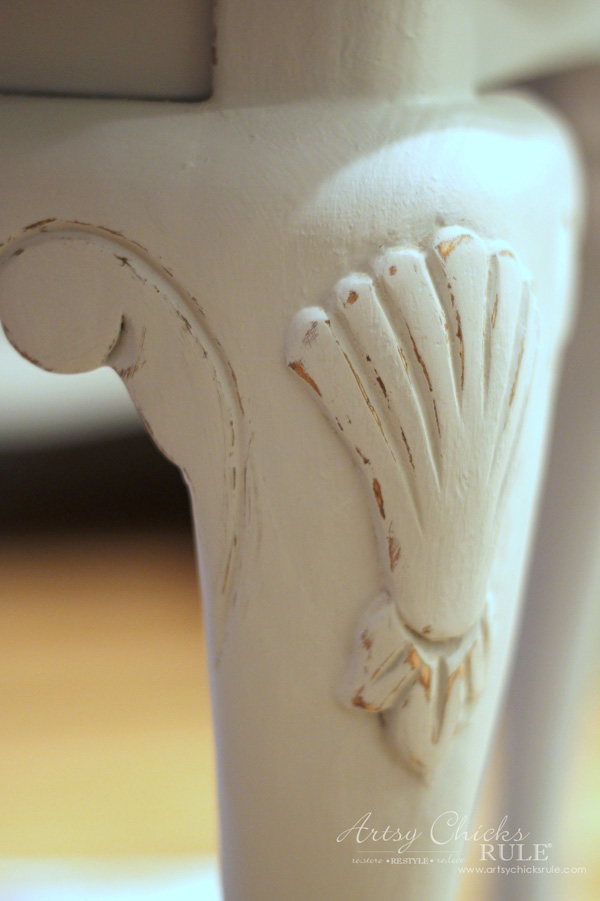 It applied like a dream.
I sanded the details just a bit before moving on to the next step.
Once that was dry and sanded, I applied the white glaze.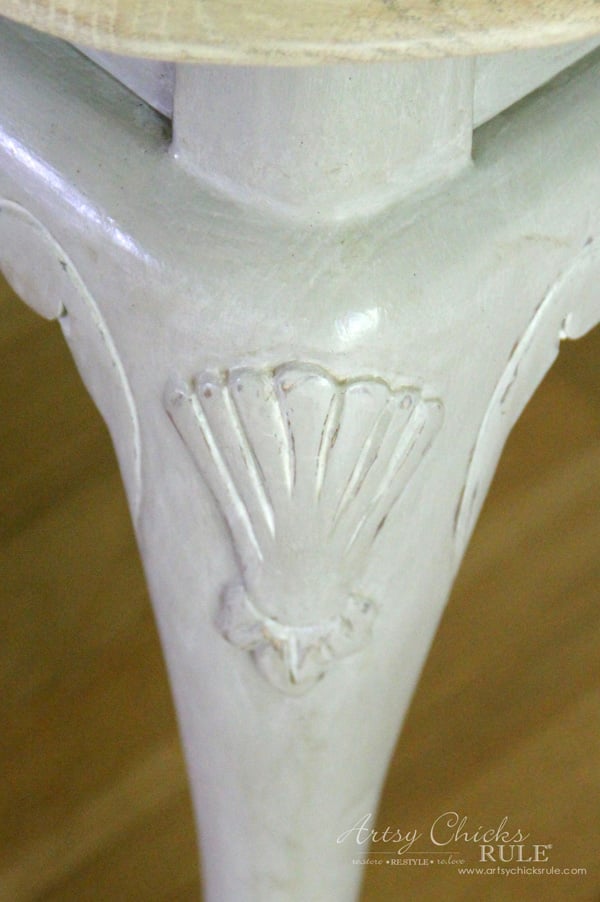 I wiped it on with an old rag (like t-shirt material).
And I wiped it off with an old rag.
When using glaze you basically wipe on, wipe off.
You want to make sure you get it into the crevices though.
**I will say this "chalk style paint" is not exactly like the usual Chalk Paint that I use quite often (by Annie Sloan).
It's not as porous as hers.
I certainly would not have been able to apply the glaze directly to the unsealed Chalk Paint brand without it soaking all in and turning white.
However, this paint is not totally nonporous as it did want to grab a bit of the glaze as I applied it.
It's just not as porous as the other.
Want to know about 26 other chalk style paints?
I've got the low down for you right here! >>> 26 Types of Chalk Style Paint For Furniture
I don't have a lot of photos of those steps as there wasn't really much to show.
Plus you need to work quickly any time you are using glaze-type products.
Once the glaze was dry, I applied a coat of sealer.
Here's a photo of how I tackled the top…..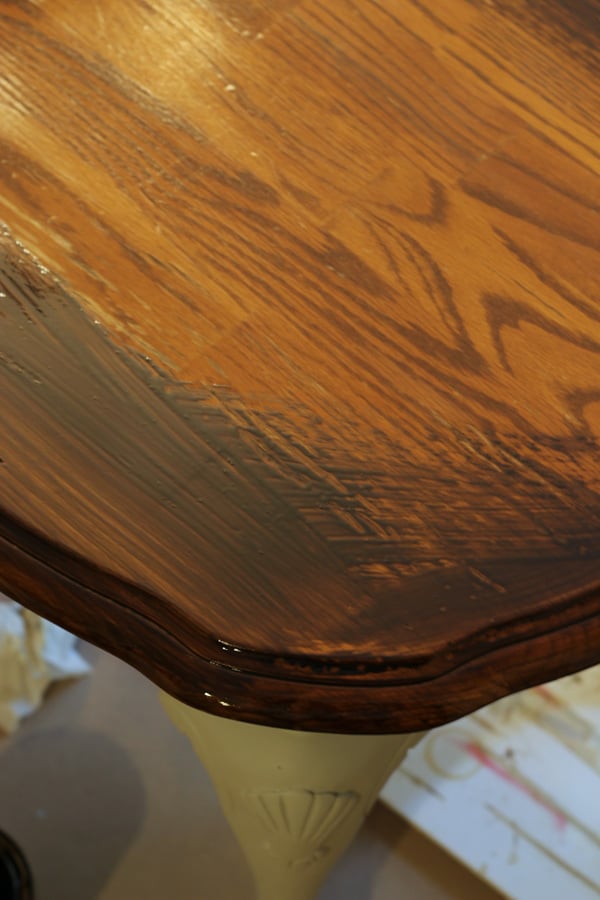 ….which I had originally planned to use Polyshades on, as you can see.
But then…I changed gears.
And no, it wasn't when this picture was shot.
Nope, it was after I had applied the Polyshades to the entire top of the table.
Yep, that's usually how I roll!!
I stood back and looked at it and said….that is just wrong.
Those table legs, and pretty gray color, were begging for a more coastal look.
And I was going to give it what it wanted!
So I let it sit for a day or two until I could get back to it.
Then outside it went for the fun removal process.
I would have applied a bit of Citristrip to remove the most recent layer but I couldn't find it in the garage.
(my husband happened to be in the garage tearing it apart as he was "organizing" and cleaning in there, it's coming along… lol)
So, I just pulled my sander out and got to work.
Want to see some of these projects in "live" time? Hop on over and follow along with me on INSTAGRAM. I'm always sharing in my stories as I'm doing projects, finding new furniture, fun finds….just all the day to day behind the scenes.
After hours and hours….(well, that's dramatic, but it felt like a really long time )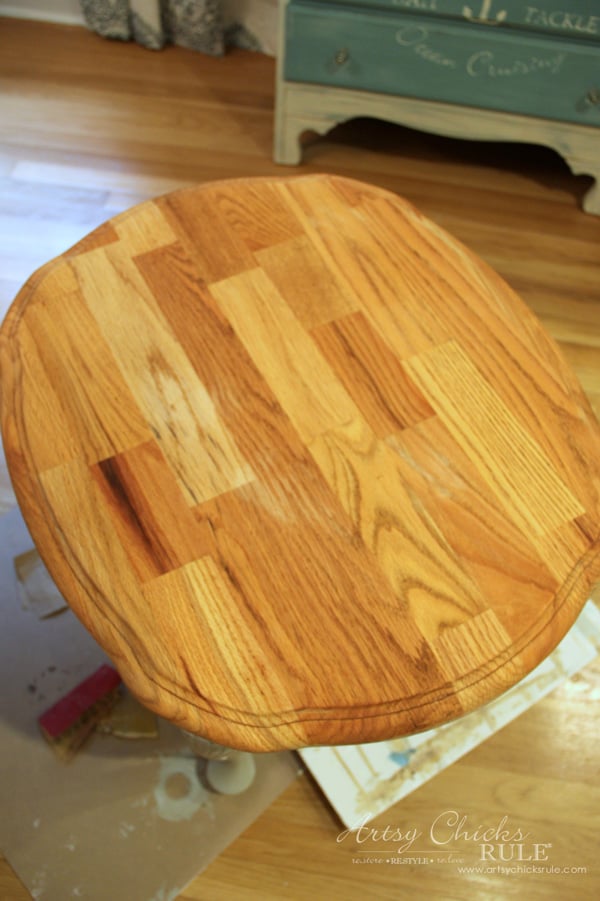 ….I had a pretty, unfinished natural wood top.
Now, I have to tell you, I hate sanding.
And the time it took me, I could have run up the road to get more Citristrip, come home, used it, and been done in no time.
Oh well, I get stubborn and just want to get "on with the show" sometimes!
So as you can see in the above photo, it's still quite orange-y when wet. (I had just wiped it down)
I pulled out a plastic cup and made a wet mixture of the white Chalk Paint and water.
I applied that to the tabletop.
When you do this, you can adjust how white you want it by adding more or less of the white paint.
I decided I wanted more, so I added a bit more paint.
This truly has got to be one of the most simple finishes you can do!
Once that was very dry, I sealed it with 3 coats of high-performance topcoat.
I did do a little light sanding in between coats.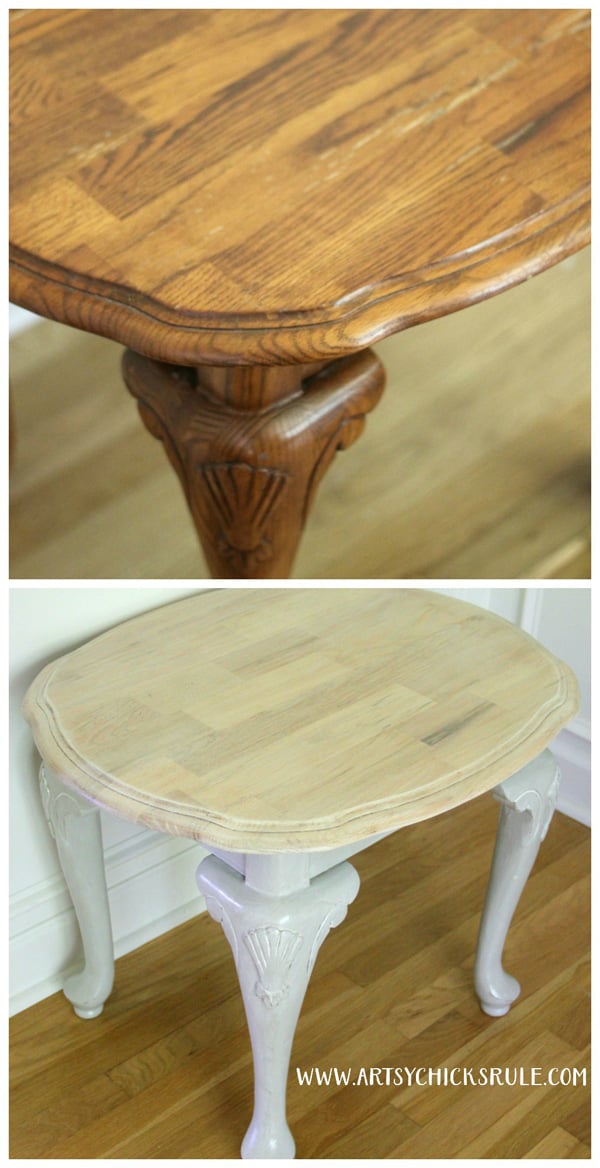 What a difference, right?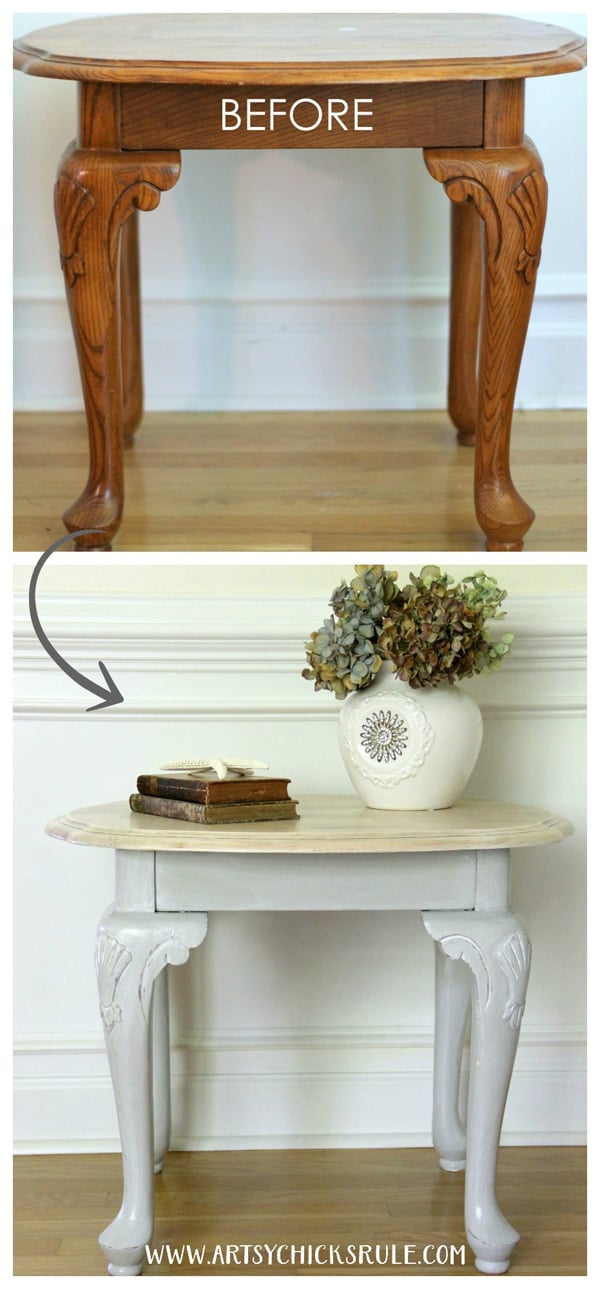 No more orange-y oak.
And wasn't I right?
It was begging for a more coastal look, don't you think?
The whitewashed top with the white-glazed gray legs.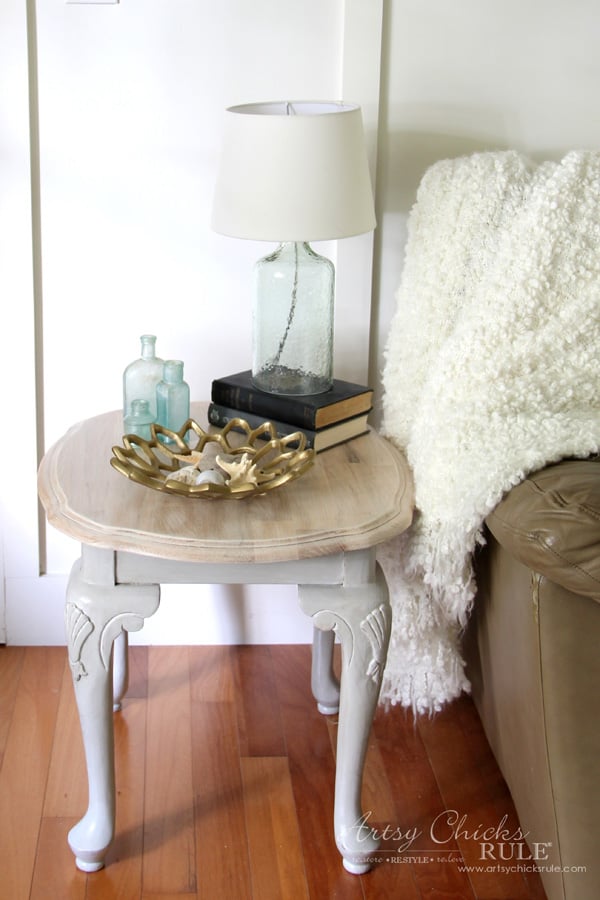 Up close…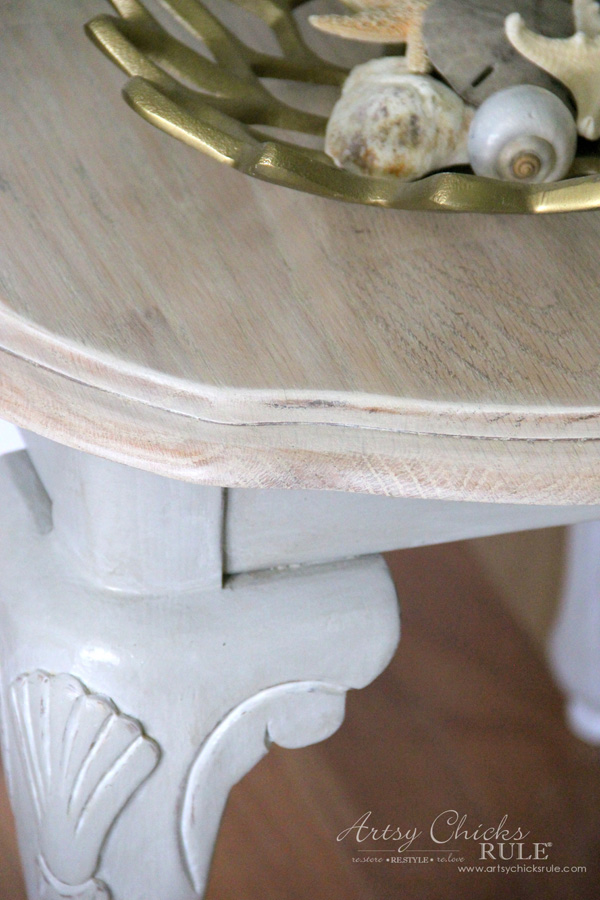 Curious about chalk paint?? I wrote an entire post devoted to all the pros and cons of using it, here >>> "Pros and Cons of Chalk Paint For Furniture"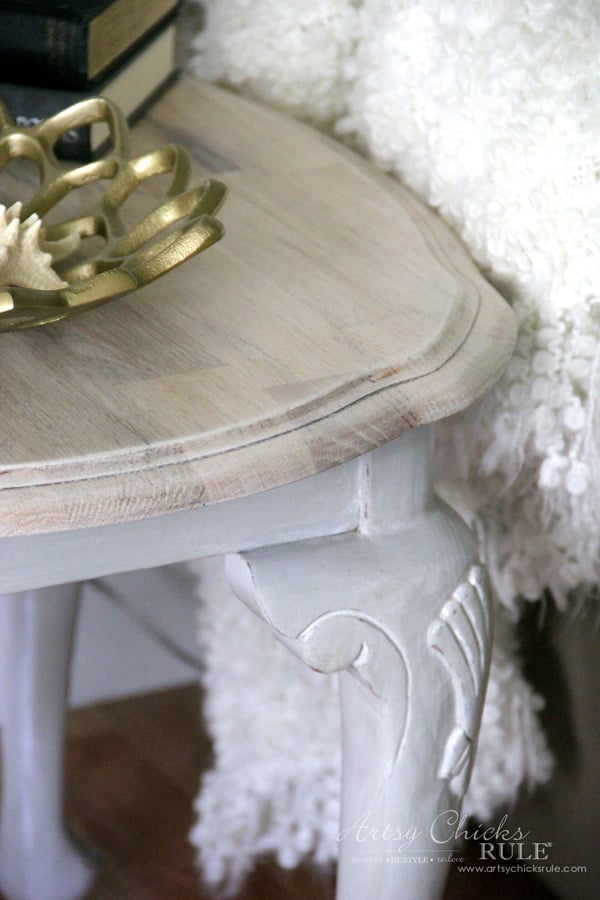 I'd say this definitely went from someone else's trash to a coastal treasure.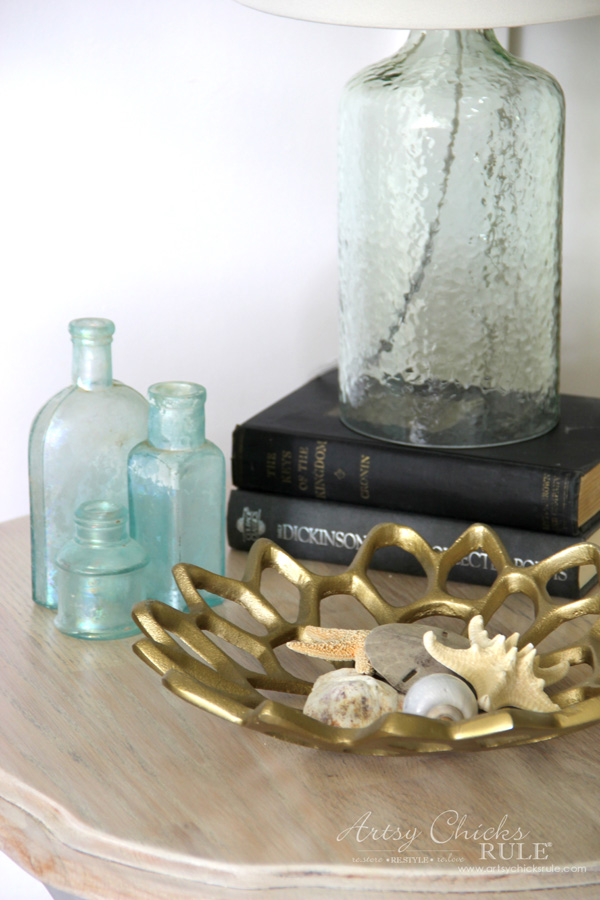 I love it and am so happy with how it turned out.
I really enjoyed the General Finishes Chalk Style Paint too.
I'll be using it again. (Actually, I also bought a blue shade so I will be using that one soon!)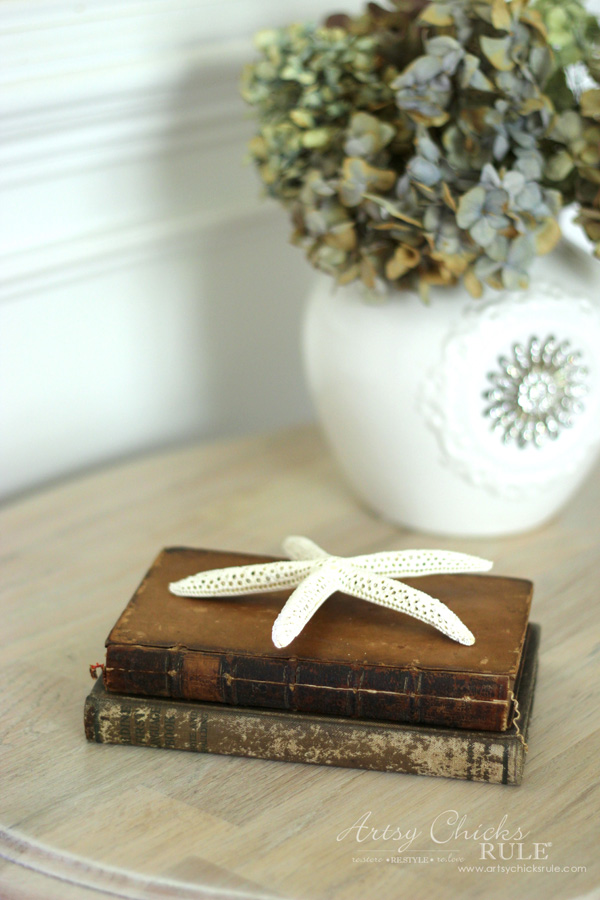 By the way, that top book is one of my treasures. It's from the 1700s!
I feel honored to own it. Sounds silly, I know, but true.
I LOVE old books.
And I thought I'd share my sweet little guy with you all.
He's getting big, 43 pounds at his last vet visit.
Which was about 2 weeks ago because he ate the ear off one of his toys (and it wasn't a little ear!)! Eek!!
Little booger, Xrays and vet visits later…still no ear.
Until a week (of checking poo) later.
I have never been so relieved to see anything in poo before!! lol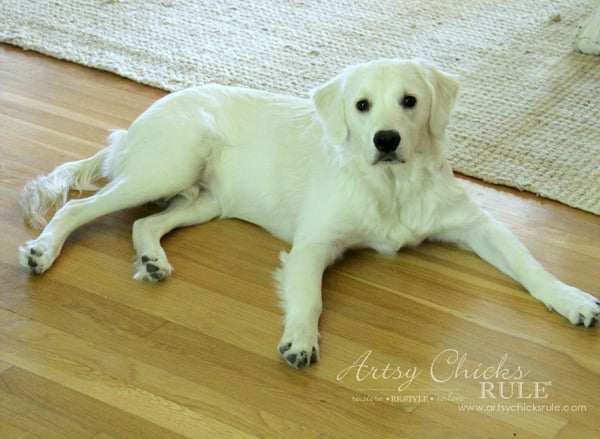 I share his adventures over on >>> Instagram if you'd like to take a look and/or follow.
And be sure to pin this for later! You may want to check out the GF Chalk Style Paint too!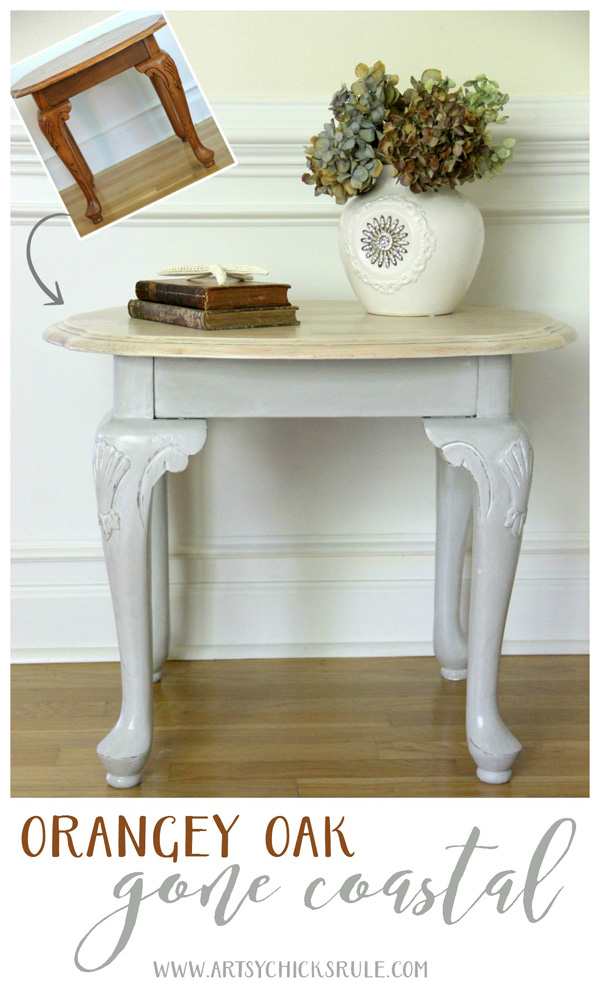 Let's take a look and see what kind of "treasures" my friends came up with this month…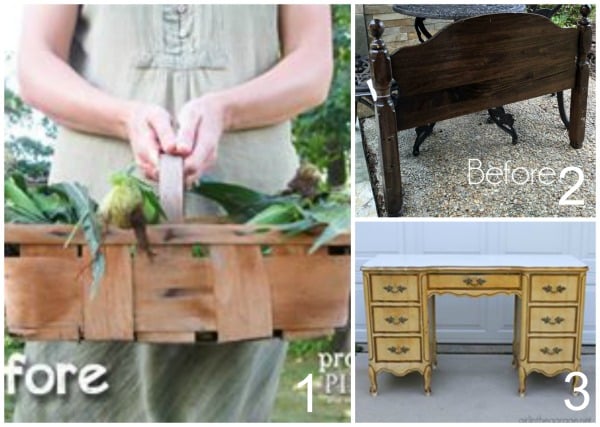 I'll see you guys back here soon with my latest furniture makeover!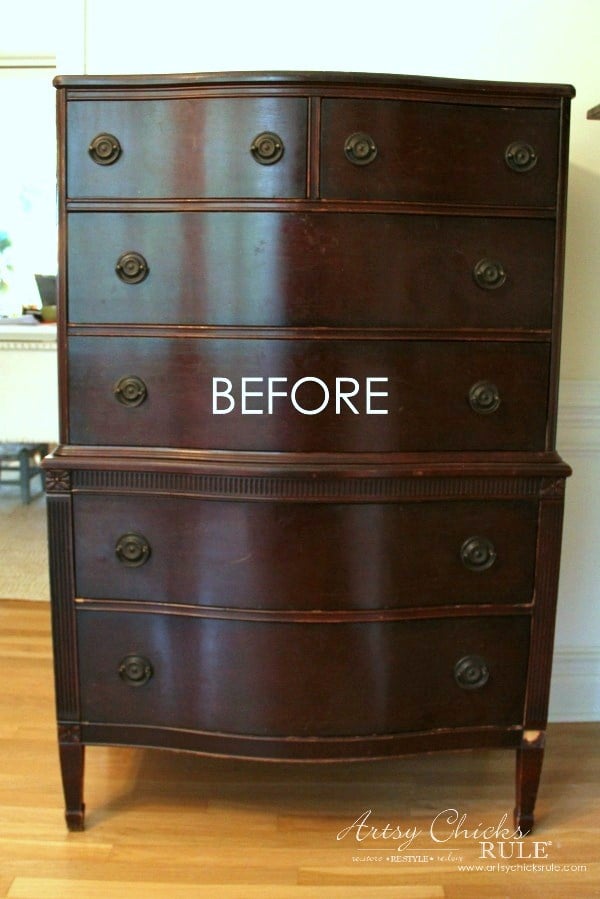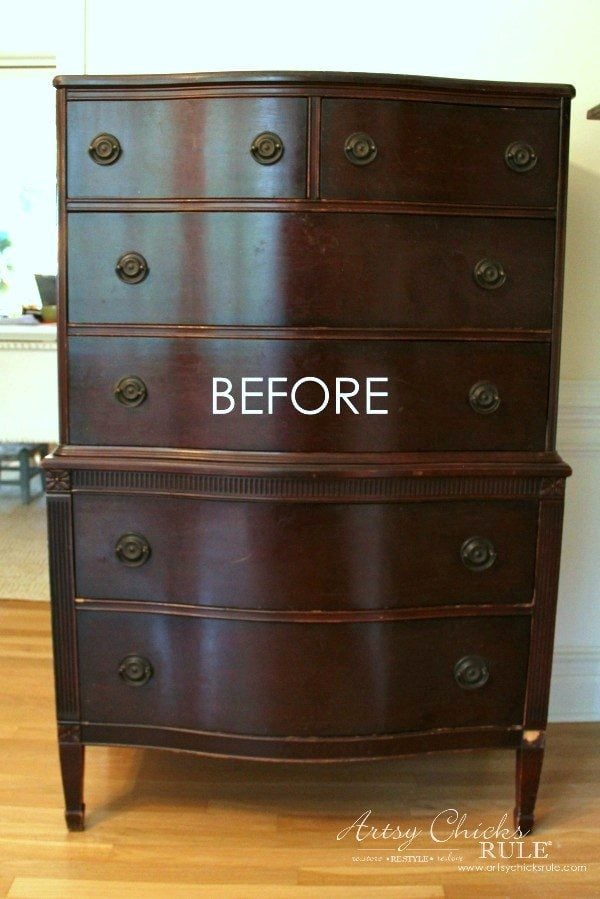 UPDATE!!! See it now, here!!
xoxo