Tips for Painting Walls (Guest Bath Makeover)
This post may contain affiliate links. Please see disclosures here.
This is a sponsored post written by me on behalf of FrogTape® for IZEA. All opinions are 100% mine.
Hi Friends!
I've been talking for a long time about painting my guest bath (again) and my family room (again). ;)
Yes, again and again and again! I love to paint furniture and I love to paint walls.
I've painted each room in this house at least 3-4 times in the last 12 years.
Every…single…room in this house, not even kidding.
Just as painting furniture can give new life, and a totally new look to old furniture, so can painting a wall.
It can change the entire feel of a room and is one of the easiest and most cost effective ways to give your home a new look.
Today I'm sharing a few painting tips for walls that I've learned along the way.
And I'm so thrilled to be partnering up with one of my favorites…
FrogTape® brand painter's tape…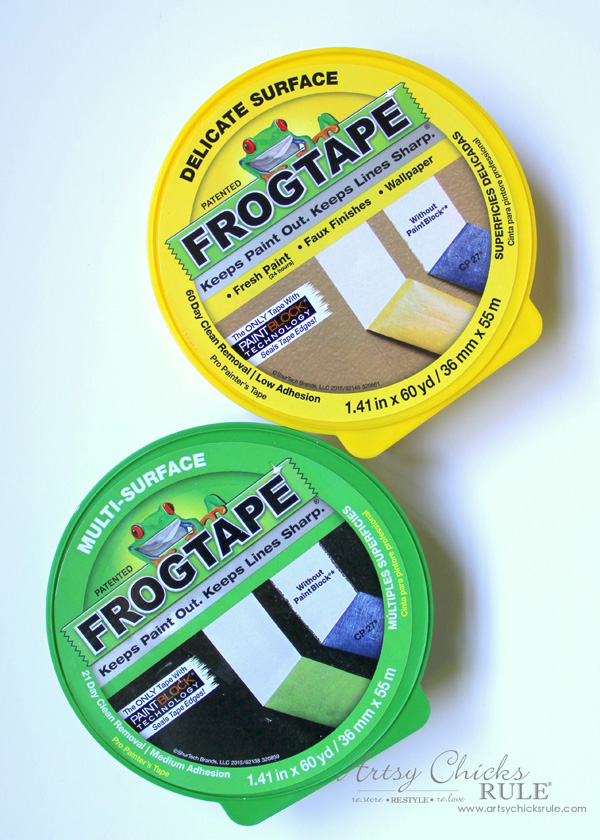 FrogTape® brand painter's tapes are the only tapes on the market treated with PaintBlock® technology…..FrogTape® Multi-Surface and FrogTape® Delicate Surface.
I love this stuff and you guys know by now I only share about things I use and love!
These tapes are great for painting walls in your home as well as baseboards and trims.
Here's what you'll need to get started painting those walls of yours. (or trim)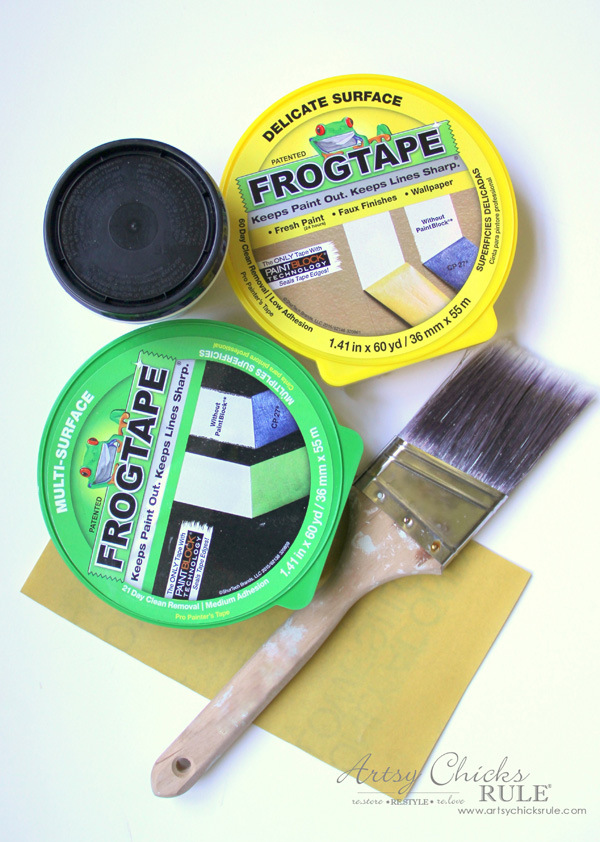 Tip # 1
Be sure to use a good angled paint brush for cutting in trim work.
For painting walls, I like to use a small plastic container to carry paint for cutting in around the trim.
You can reuse an old container or find one specifically made for this at the hardware store.
If painting walls, you'll want to use a good roller and paint tray as well.
Tip # 2
Fill old holes or blemishes, let dry and then lightly sand to smooth the area before painting.
Tip # 3
Use FrogTape® around each and every edge to protect trim (or wall) from the paint you are applying.
Did you know that the PaintBlock® in the FrogTape® reacts with the water in latex paint and instantly gels to form a barrier against paint bleed giving you the sharpest paint lines possible?
It's amazing and why I love this tape….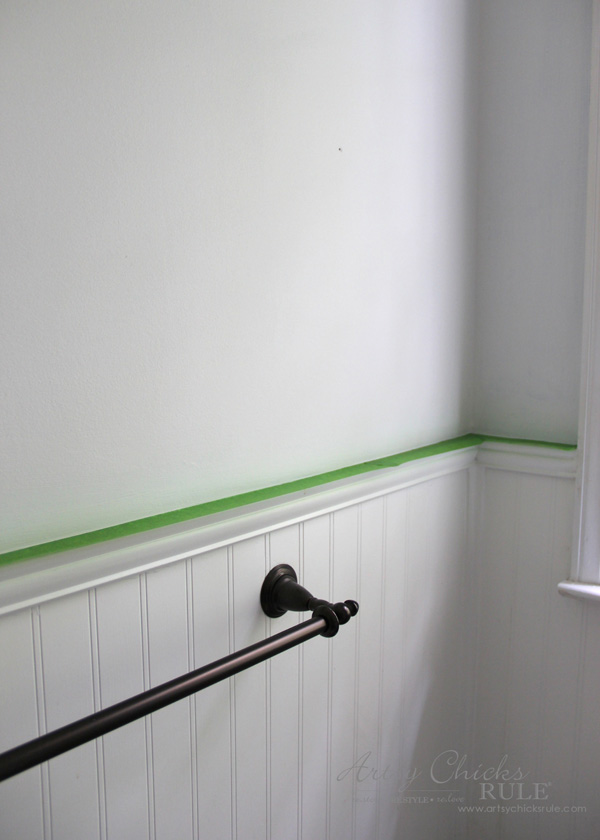 Be sure to press firmly as you are applying the tape.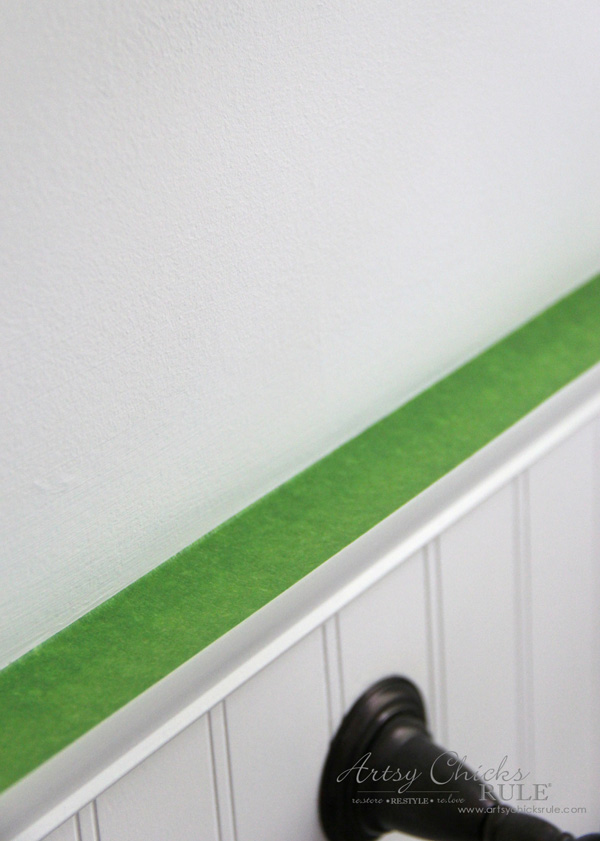 Tip # 4
Remove light switch plates and light fixtures (if possible) so you won't have to worry about painting around them.
If for some reason you can't remove something, then apply tape …
… and paint!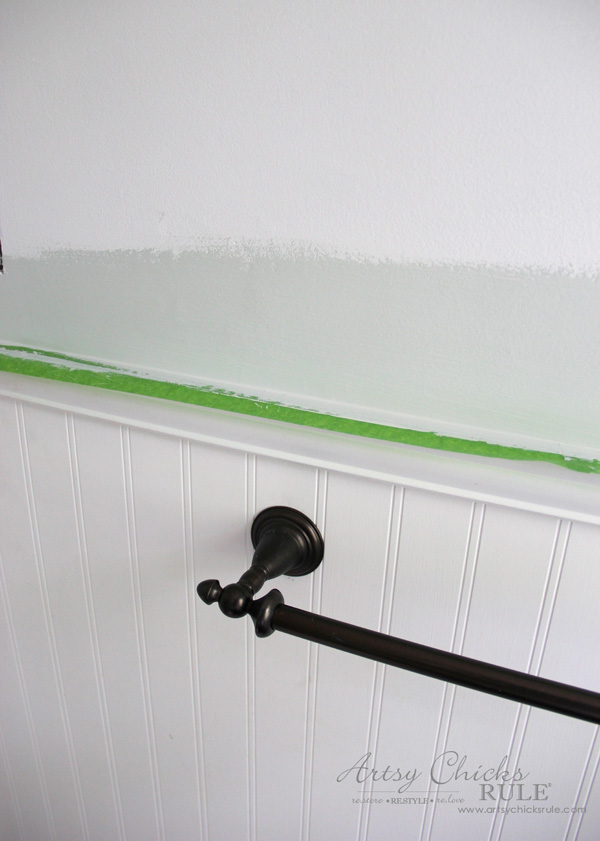 It doesn't take long to apply at all and makes the job go oh so quickly.
Tip # 5
If you are going to be applying the tape to a recently painted surface, be sure to use the FrogTape® Delicate Surface to protect your newly painted wall/trim, etc.
(it's in the yellow container pictured above)
Tip # 6
Keep paintbrushes and rollers wrapped in plastic wrap or plastic bag in between coats.
This will save you time in not having to clean each when a second coat will be needed.
Tip # 7
Don't let the paint dry too much before removing the tape.
I will usually remove the tape as soon as I am finished applying my second, and final, coat of paint.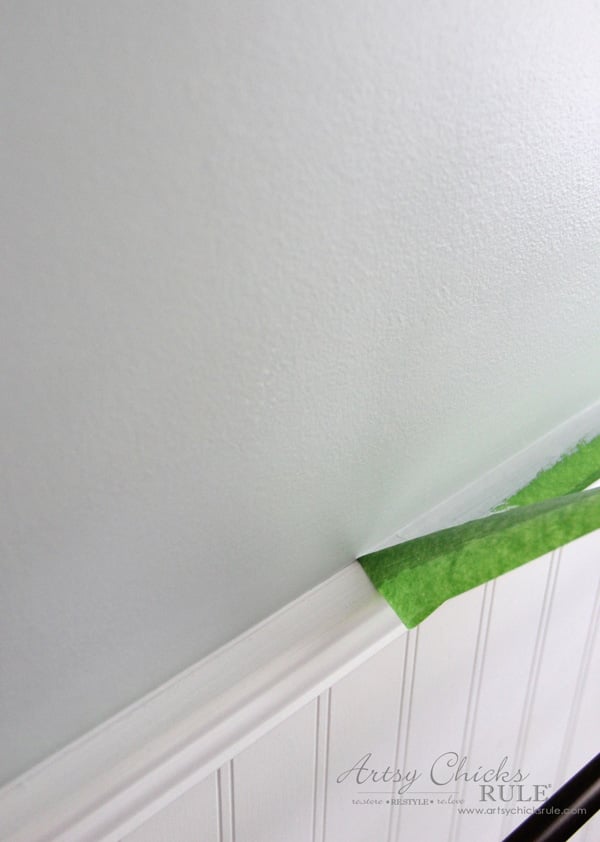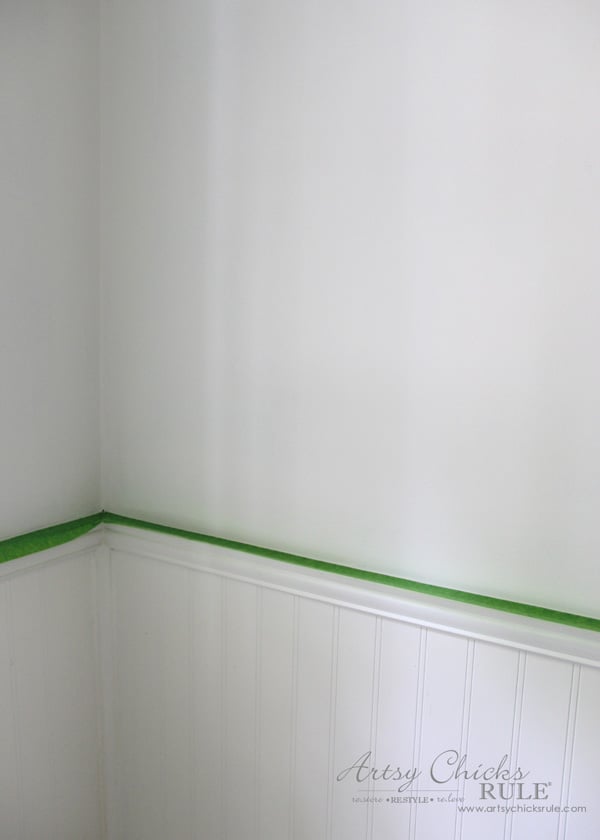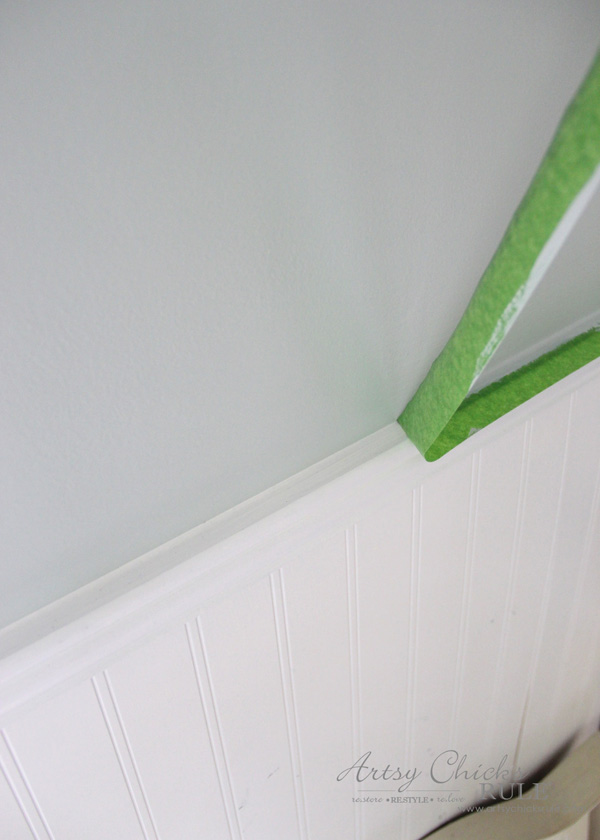 Every inch….perfect!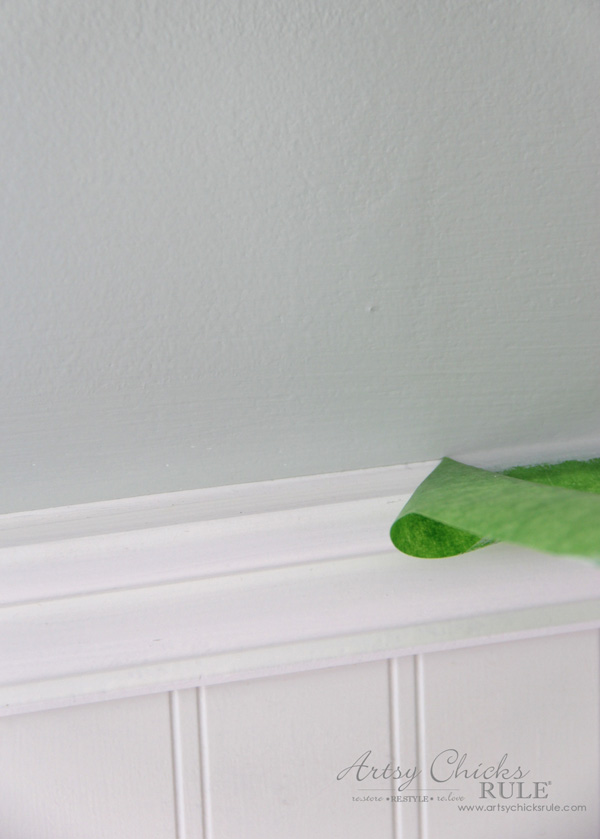 Love that.
So much easier than having to go back and touch up!
Who has time for that?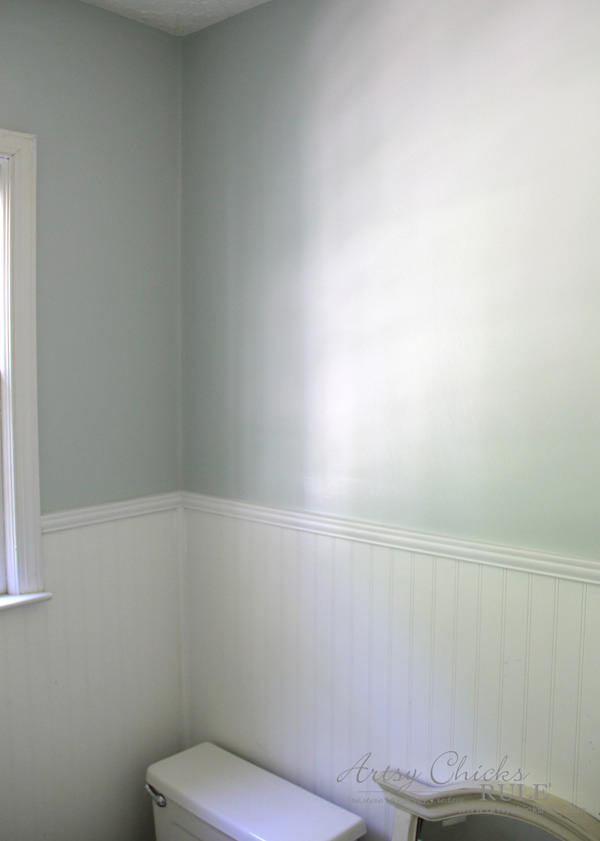 And the other side again….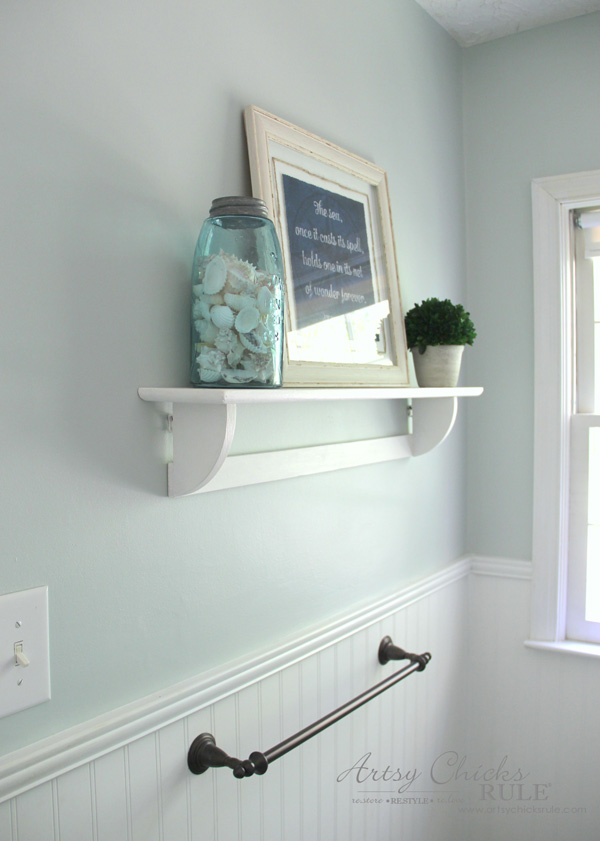 You'll have to check back in for the full reveal. :)
We did install a new light fixture and mirror but I've got several more things to do before I can show you the rest.
AND the shelf pictured above may or may not stay. We'll see!
Be sure to PIN this for later!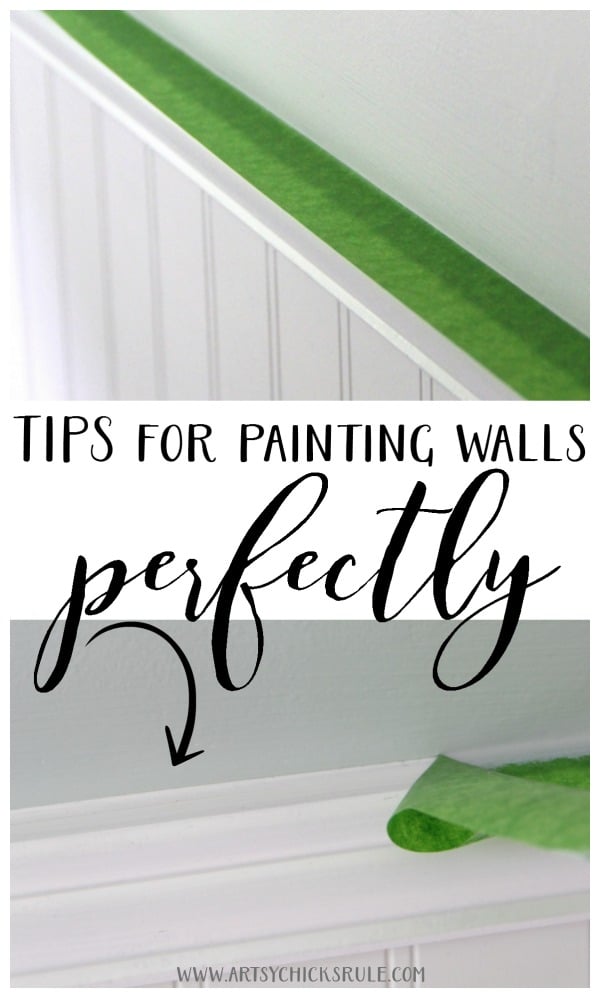 If you'd love to see some more painting inspiration, pop on over to here >>> FrogTape® painting inspiration
I'll see you guys back here on Tuesday with a brand new furniture makeover and Thursday with a "coastal fall wreath". :)
xoxo