3 Simple DIY Sugar Scrub Recipes (you can make!)
This post may contain affiliate links. Please see disclosures here.
What could be more decadent than rubbing your skin with sugar and oils? Not too much! See how to make your very own sugar scrub recipes below…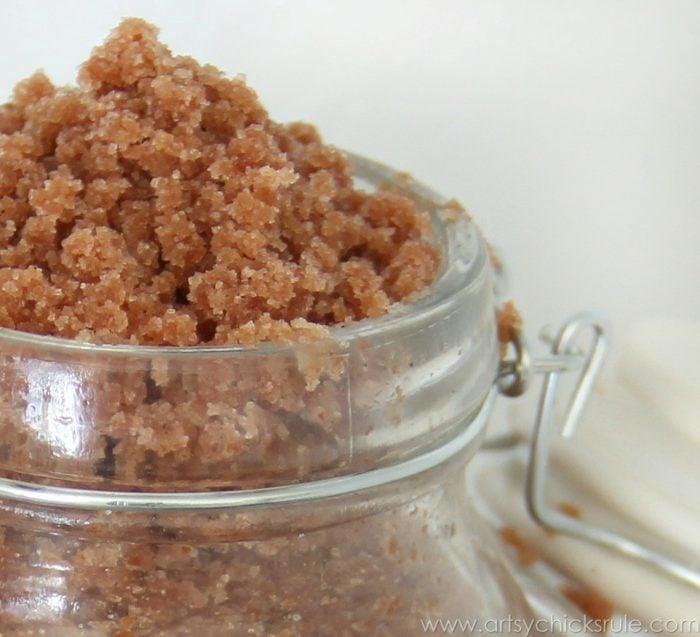 I'm sharing a few of my favorite DIY sugar scrub recipes with essential oils today.
I love using and making things with essential oils. I've been using them for over 15 years now.
You could definitely say I'm hooked. (obsessed? ..no we'll just say passionate ;) ) I have many and oh how wonderful they all smell.
But there are millions!
Okay, well probably not that many but there are a lot. It's enough to make your head spin.
I did try my hand at perfume making which uses very obscure and not your usual oils though.
So I sort of have an excuse for (going overboard) having so many lovely oils to play around with.
One of them is Cacao Absolute.
Oh my yummy,  it's indulgent.

It smells as delicious as you are probably imagining. Yep!
(and is actually a very wonderful addition to complex perfume blends, believe it or not)
It's a bit pricey though. As are a lot of the ones used in perfumery.
I mainly use the regulars such as Orange, Lavender, Lemon, Peppermint, etc, day to day.
Today I'm sharing the Cacao and a few other oils I love in some super simple sugar scrub recipes I came up with for y'all.
And perfect timing for Valentine's Day which is right around the corner….already!
Can you believe it?
How does the time go by so fast? I am already looking forward to Spring.
And the way things are going it will be here before we know it.
Alrighty then, sugar scrubs.
Do you guys know how insanely easy these are to make?
If you don't, or didn't already, you will now.
I'll start with this sugar scrub recipe using one of my favorite essential oil blends…Sweet Lavender & Lemon.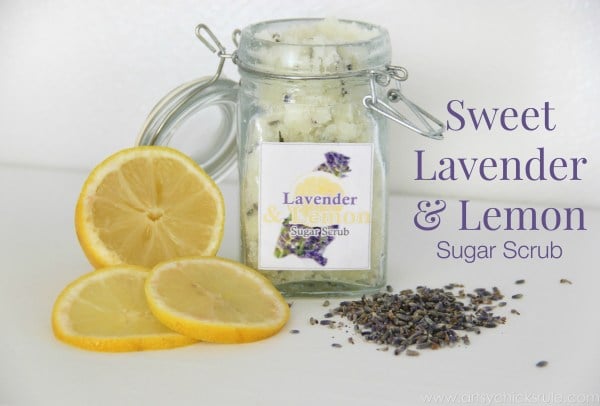 Yum, yum, yummy. This scent is heavenly.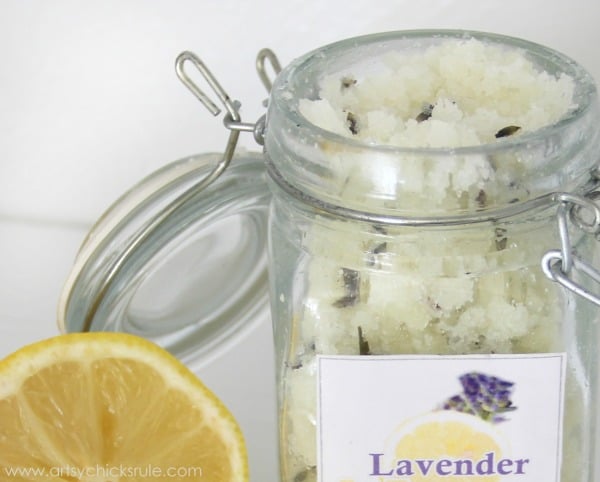 I used to have a soy candle company ages ago and this was one of my most popular scents.
It has sugar, lavender buds, Jojoba oil, Coconut oil, Glycerin, Vitamin E and essential oils of Lavender and Lemon.
Mix and done. 
How much easier can a sugar scrub recipe be?
Set all of your ingredients out.
Mix and blend well.
Then fill your jars.
Gift or keep and enjoy yourself. :)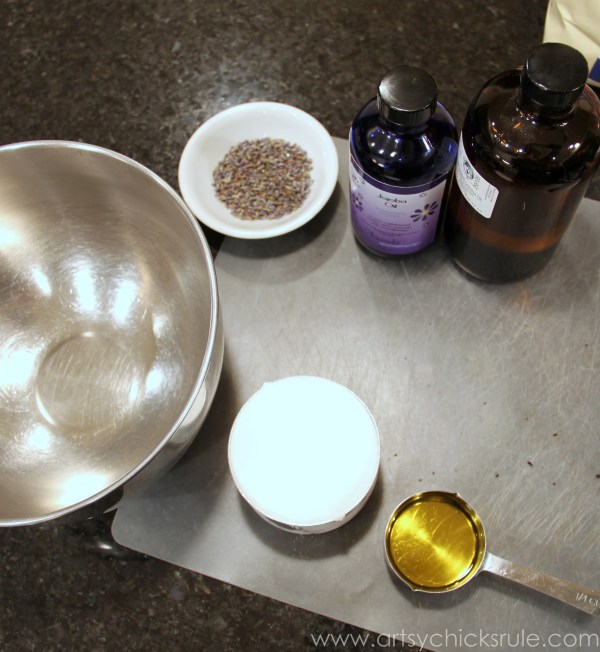 Or how about Peppermint & Vanilla Bean?
Have I told you about these vanilla beans before??
Oh, yes, I have, in this "Natural Soap Making" post I wrote here.
They are the most fragrant, most delicious, most amazing smelling things in the world.
Not kidding. At all. They are almost hypnotic.
Some truly amazing things come straight from nature!
I'm going to show you how to get the seeds out of the pod (in case you've never done it before).
Take a sharp knife and make a long slit right down the bean.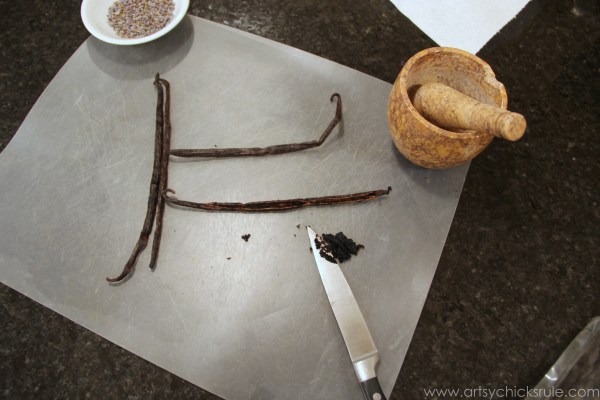 Then take your knife and scrape it (hard) to get the seeds out.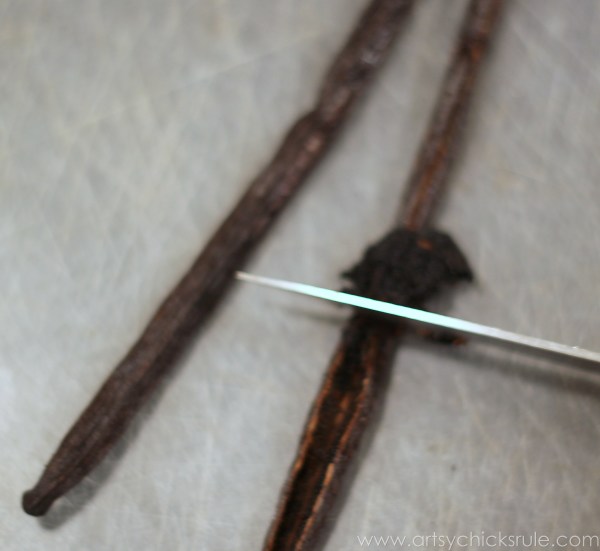 (sorry for the fuzzy photo here)
I added that directly to the bowl with the sugar & oils.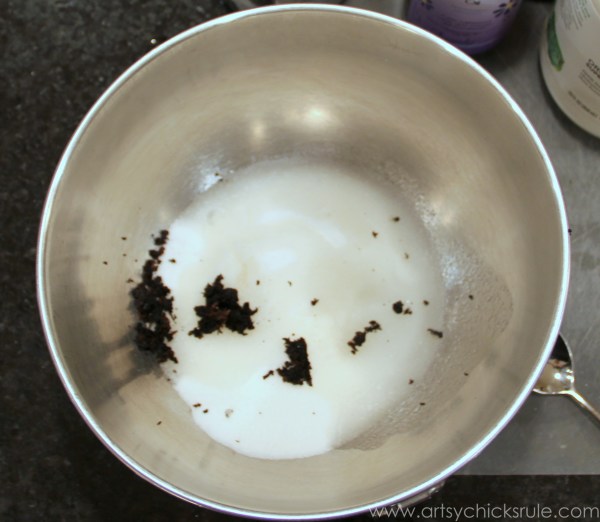 I used clear oils for this batch (jojoba is yellowish) because I wanted it to stay "white".
Avocado and coconut oil.
Later on I'm going to give you a printable recipe that is interchangeable for ingredients. (oils, essential oils, etc)
Then I added my Peppermint essential oil.
Oh my goodness. The smell…..is good enough to eat!
Vanilla and Peppermint make such a great mix.
So creamy and fresh at the same time.
I actually made some Vanilla extract using these beans and added a bit of Peppermint oil to it.
I then add a bit of that to a bit of distilled water and spritz around my home to freshen it up.
It's wonderful!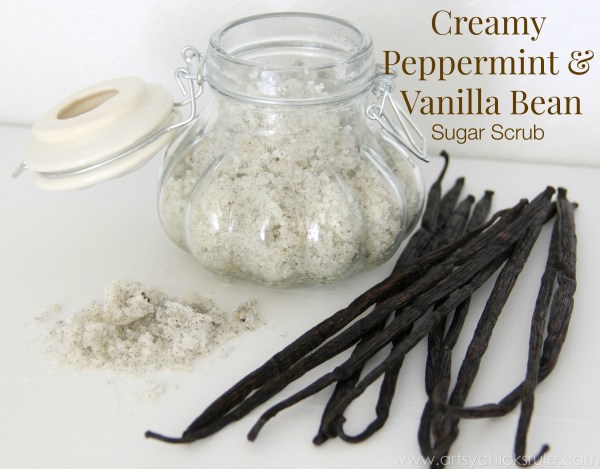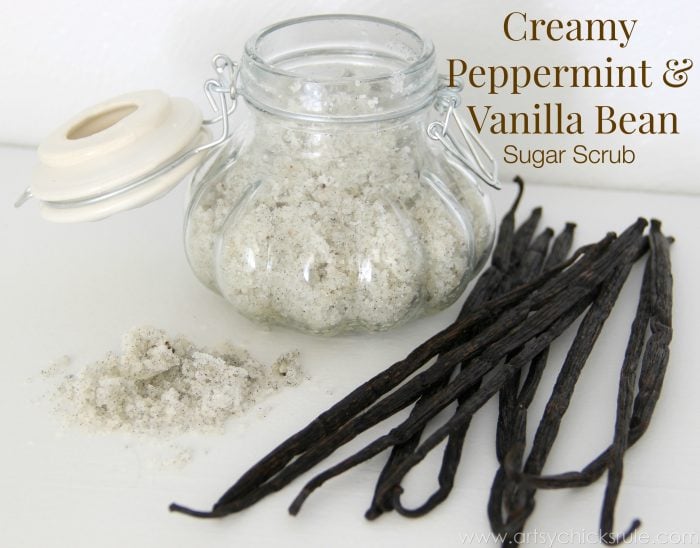 Look at all of those yummy Vanilla Bean seeds in the scrub!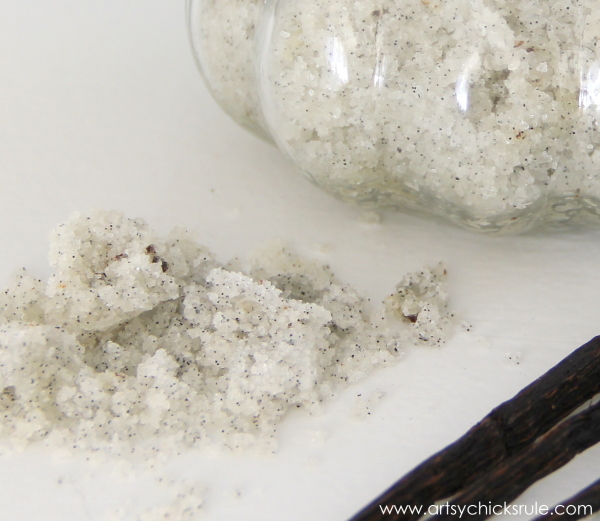 Lastly, but certainly not last….Decadent Chocolate Mint.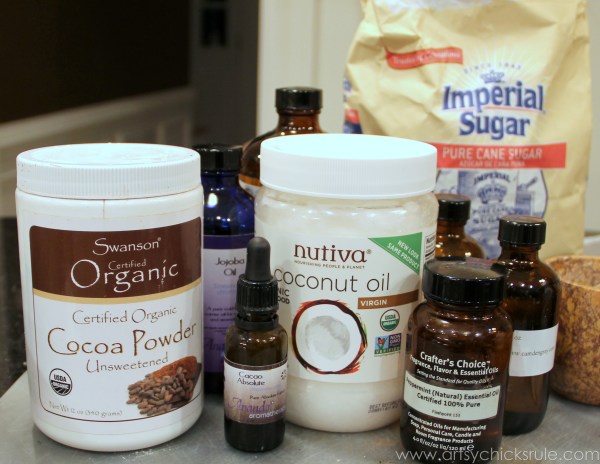 Remember that Cacao Absolute I mentioned earlier??
Here is where I used it.
Along with the other ingredients here.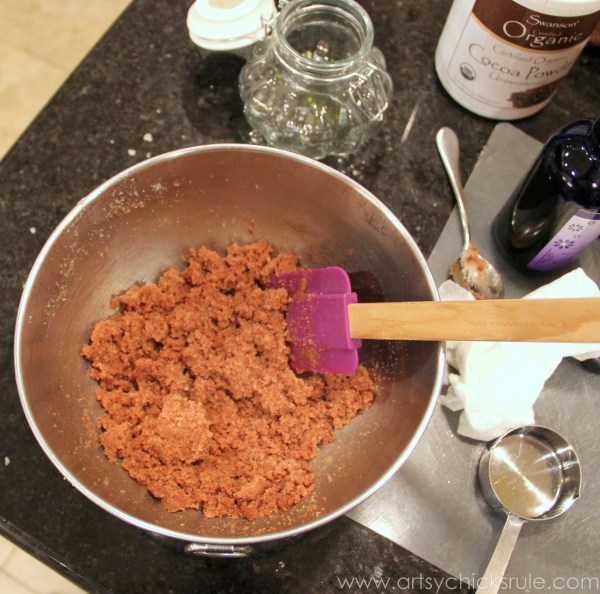 All mixed up and ready for the jar.
By the way, I found the Italian round decorative jars at HomeGoods. The lock lid jar I had on hand.
Yum. It really does smell good enough to eat.
And you actually could since they are all natural.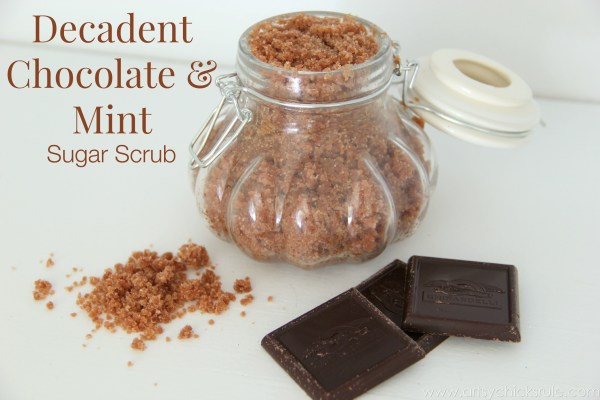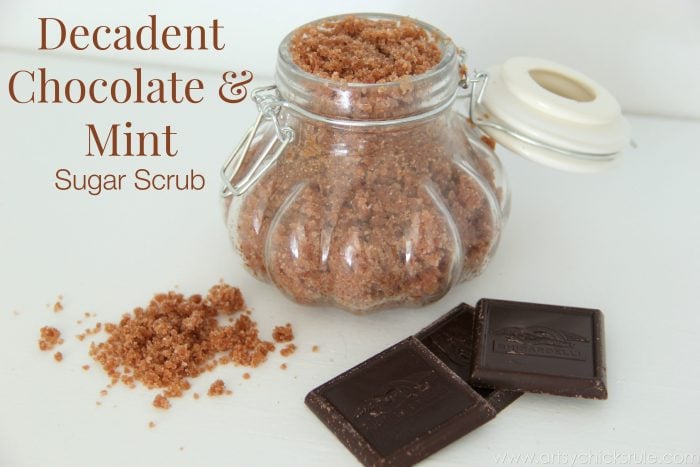 Not only does it smell good enough to eat, but it looks good enough too.
Aren't they fabulous? Even better…they are easy.
And they feel great on the skin.
I included glycerin in my scrubs (as you'll see below) because it is a humectant and wonderful for the skin.
In case you don't know, a humectant is something that draws moisture to your skin.
And moisture is what we want!
Here's the basic recipe. I'll give info on the different ingredients in the notes.
MATERIALS LIST:

Lavender Buds 
Vanilla Beans
Cocoa Absolute
Jojoba Oil
Coconut Oil
Glycerin
Peppermint Essential Oil
Sugar
Glass Jars
……………………………………………………………………………………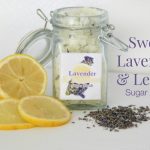 DIY Simple Sugar Scrub Recipe
Super simple sugar scrub recipe
Ingredients
1

cup

sugar

1/4

cup

oil

jojoba, avocado, coconut, hemp seed, sweet almond, etc

1

T

glycerin

1/2

tsp

Vitamin E

Approx 20 drops of essential oils

or more depending on oil and strength desired

See notes for extra info
Instructions
Mix all ingredients in a bowl and spoon into glass jars. Easy!
Recipe Notes
For the "Decadent Chocolate Mint" use 1 tsp to 1 T of cocoa.
For the "Sweet Lavender & Lemon" use 1 T or so of the Lavender buds. You can also add lemon zest, if desired.
PIN it to save it!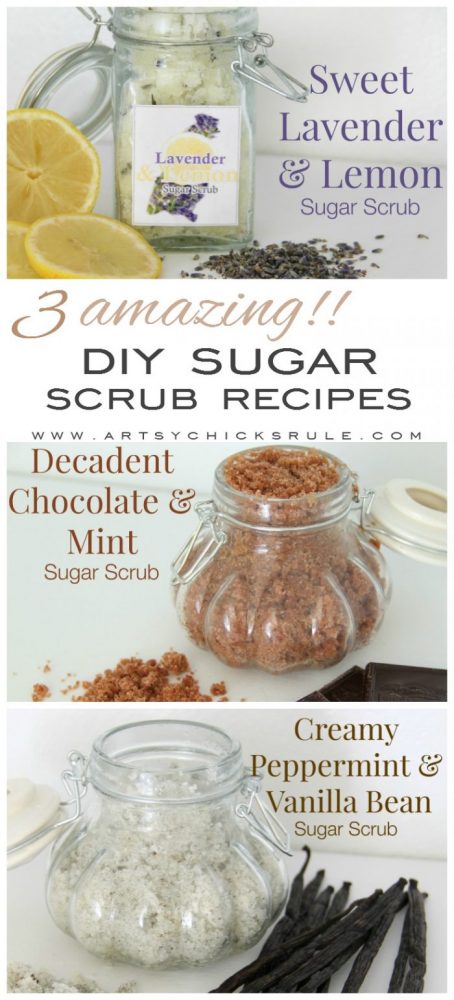 I hope you enjoyed these sugar scrub recipes. I so enjoyed making and sharing these with you.
Last year, at Valentine's, I shared Sugar Soap Scrubs.
You might also like this post: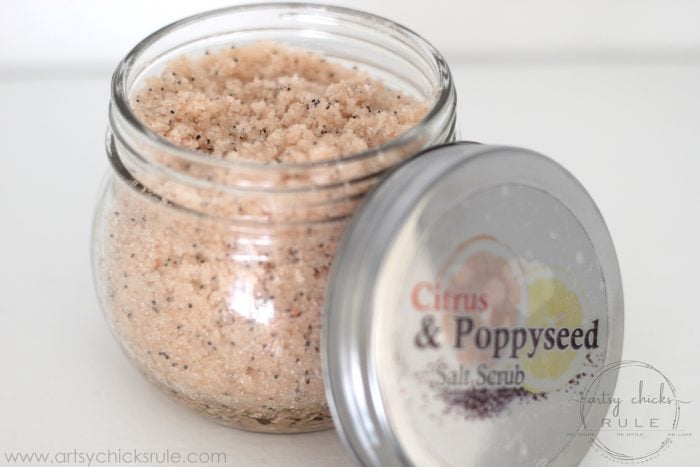 Get the recipe here>>> Simple DIY Salt Scrubs
Enjoy!!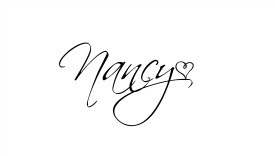 Note: I am not a health professional or medical doctor. The information and directions given on this site are of my own opinions and my own experiences with such and not meant to take the place of medical or professional advice. You may choose to try any or all recipes, etc,  I post at your own discretion.