Two Simple DIY Salt Scrub Recipes (you can make!)
This post may contain affiliate links. Please see disclosures here.
Love salt? How about the way it feels once rubbed onto your skin with decadent oils? Pretty great. Get 2 fabulous salt scrub recipes below.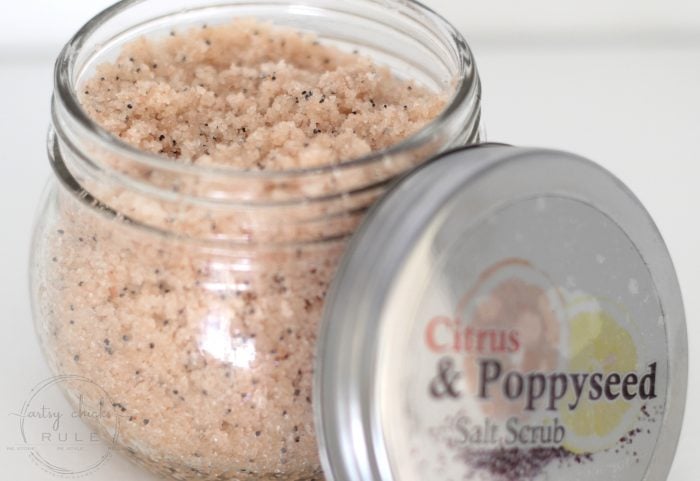 I'm back, as promised, with these yummy and simple DIY salt scrub recipes.
Last week I shared 3 sugar scrub recipes with you all. Insanely easy recipes I might add.
If you missed them, you can read about them here… 3 Simple DIY Sugar Scrub Recipes.
Today I'm sharing 2 salt scrubs, both made with Pink Himalayan Salt.
And both also insanely easy to make!
Just like I like it and I know you do too. :)
The first salt scrub recipe is Ginger & Grapefruit and below are some of the ingredients.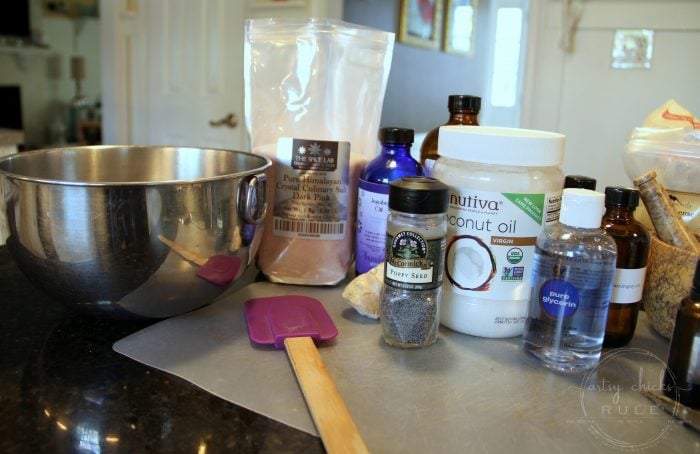 MATERIALS LIST:
Pink Himalayan Salt
Essential Oils
Coconut Oil
Glycerin
Vitamin E (you can use vitamin e capsules)
Avocado Oil
Jojoba Oil
Glass Jars
………………………………………………………………………………………….
So, do you remember how easy it was to just mix and be done for the sugar scrubs?
Well, it's basically the same exact thing with these. Yay!
I poured the salt into the bowl and added approximately 1 tsp of freshly grated Ginger for this batch.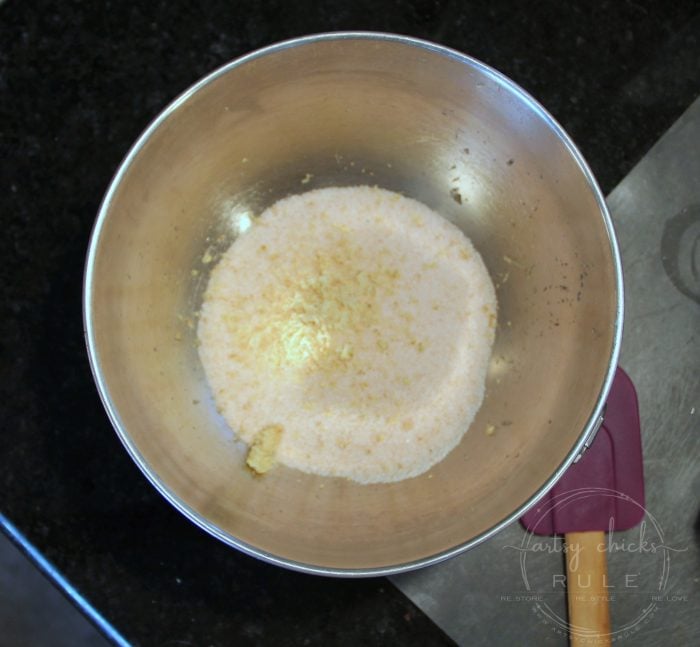 Then I also ground up some Frankincense Resin to put into this particular scrub.
Both have properties that benefit the skin.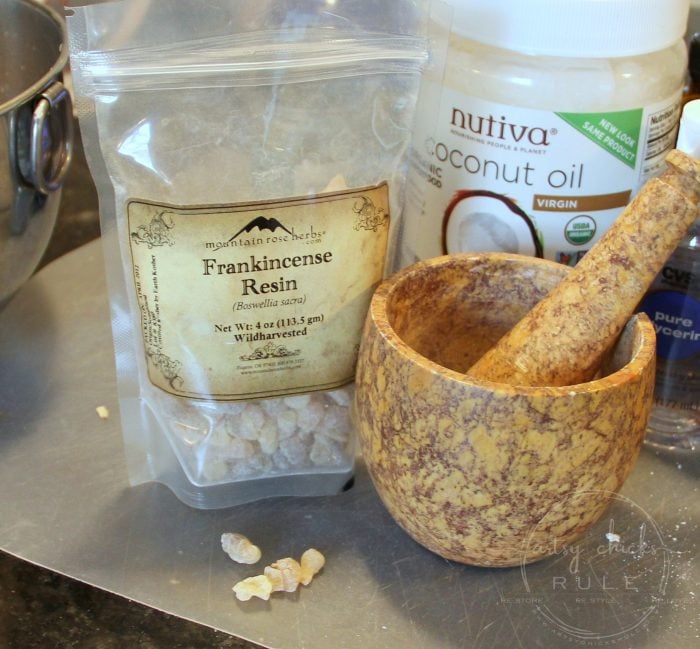 By the way, that resin smells amazing!
I mixed the oils in (I used equal parts of Avocado, Jojoba and Coconut for both scrubs).
Next I added in the essential oils, I used Grapefruit and Lemon, plus the Glycerin and Vitamin E.
Stirred well and scooped it into my jar.
I found this jar with the spoon on the side at a craft supply store.
I thought it was pretty cool…and perfect for the scrub.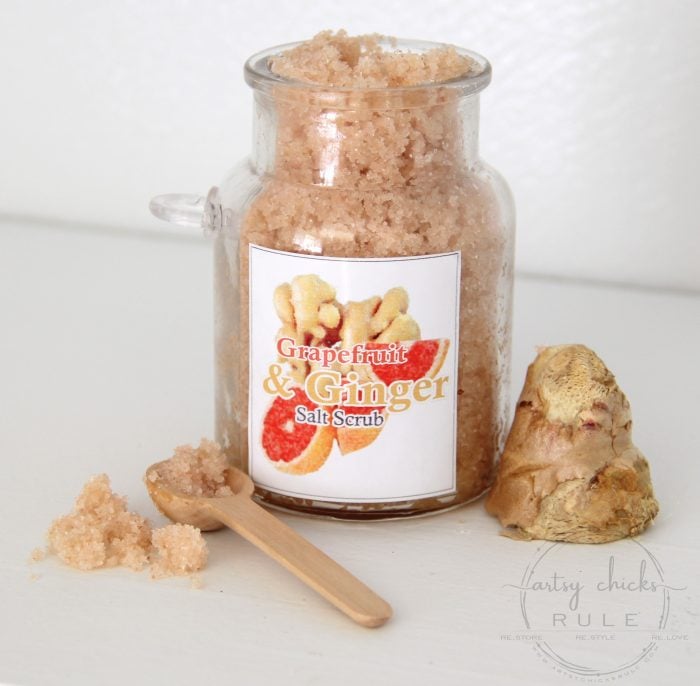 I also created and printed a label for the front.
Mmm, yum.
It smells so invigorating with all of those lingering scents of Frankicense, Ginger, Grapefruit and Lemon.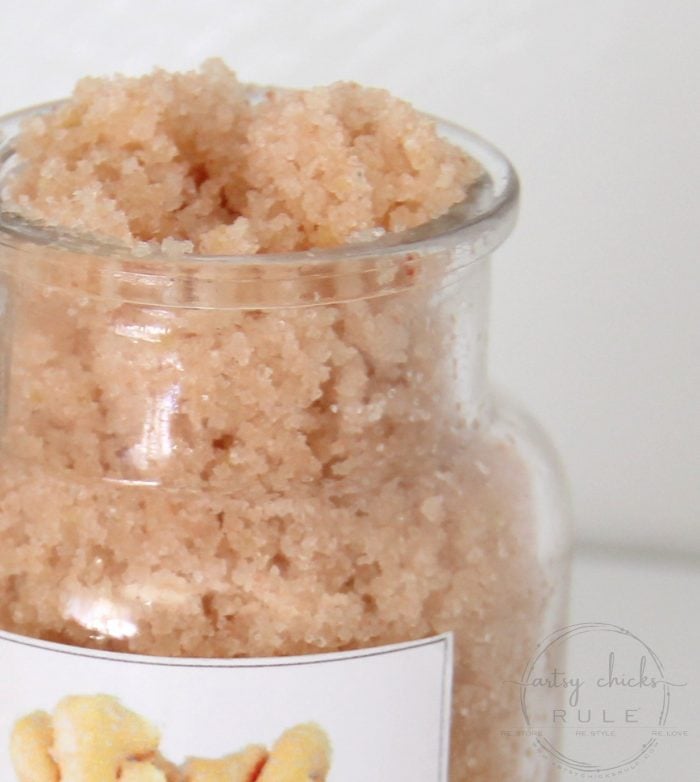 The other salt scrub recipe is Citrus & Poppyseeds.
I did everything the same except I added about a tablespoon of Poppyseeds to this one.
Lemon, Orange or Grapefruit zest might be a nice addition too.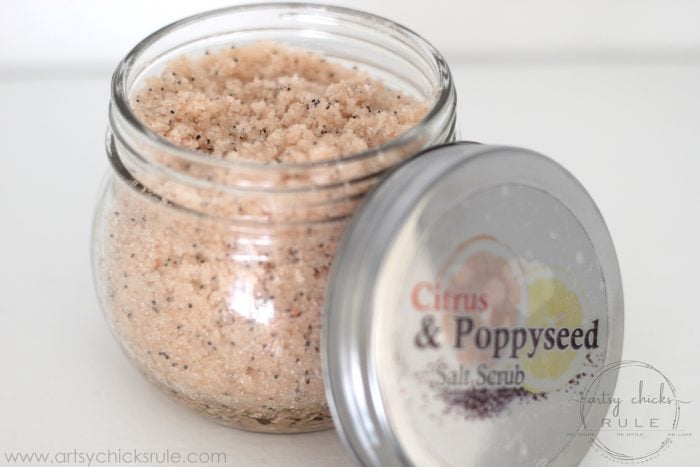 I created and printed a pretty label for this one too but used clear printer paper instead.
I really love this big jar with the screw top lid.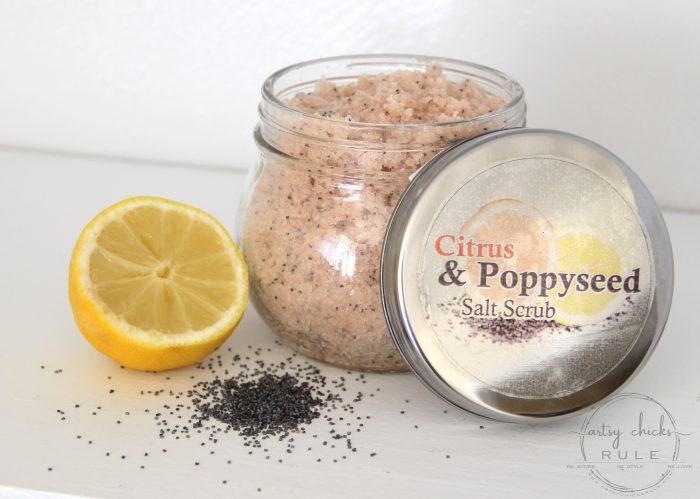 Doesn't it look almost edible? Yes, it does but probably wouldn't taste so good!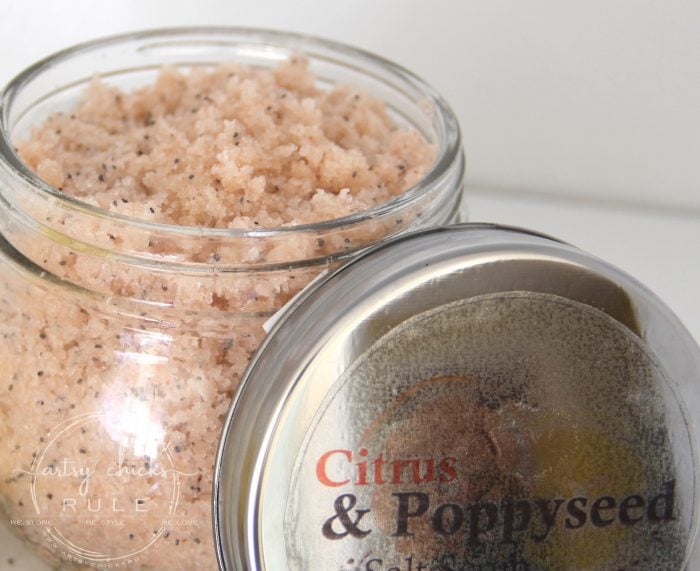 But it feels amazing on the skin.
Here's the printable recipe for you.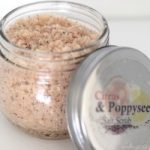 Pink Himalayan Salt Scrub
Base recipe for salt scrub.
Ingredients
1

cup

of Salt

your choice

1/4 to 2/3

cup

of Oil

again, your choice, for this scrub I used equal parts of jojoba, avocado and coconut

1

T

Glycerin

1/2

t

Vitamin E

Approx 20 drops of essential oils

or more depending on oil and strength desired

See notes for extra info
Instructions
Add ingredients to the bowl and mix well.

Scoop into your jars and enjoy!
Recipe Notes
For the Grapefruit & Ginger - add 1 tsp grated fresh ginger, 1 tsp ground Frankincense and zest of grapefruit, if desired.
For the Citrus & Poppyseed - add 1 T poppyseeds and zest of citrus fruit, if desired.
PIN it to save it!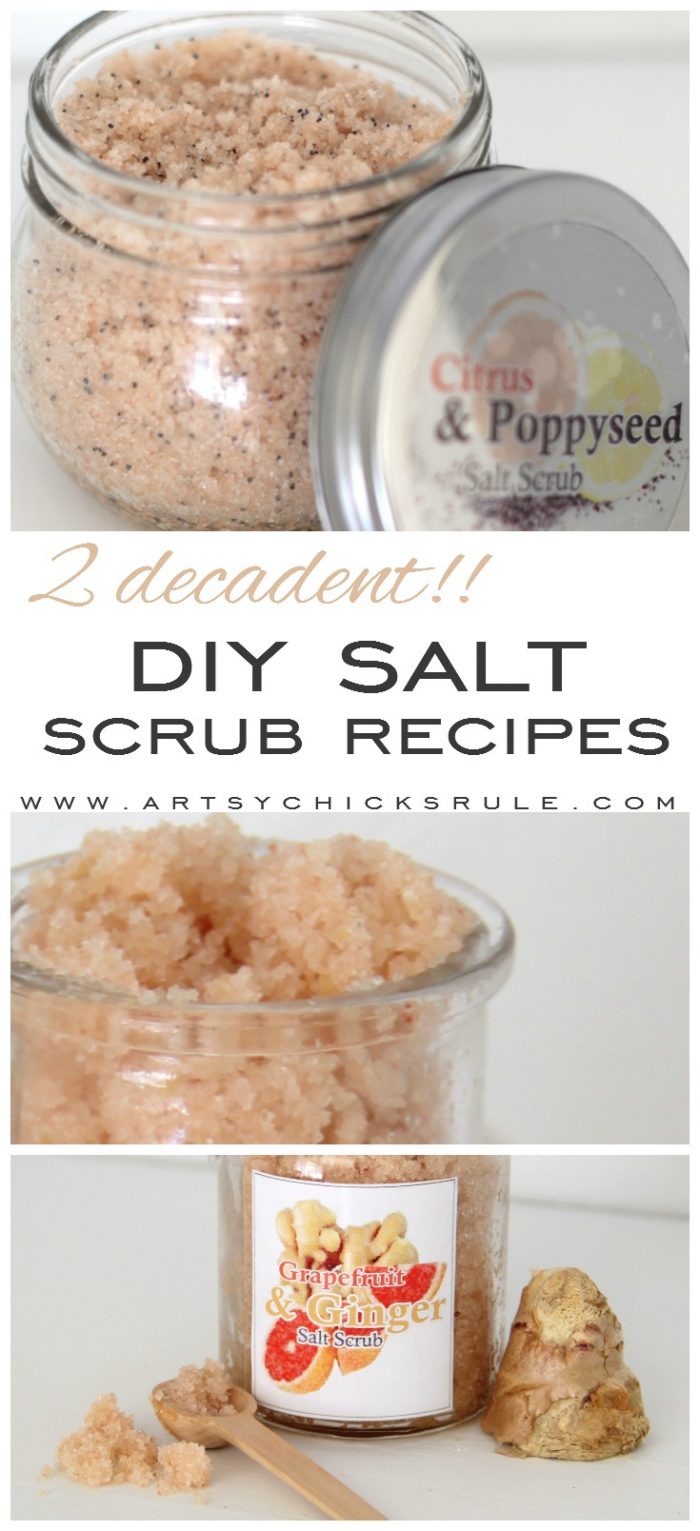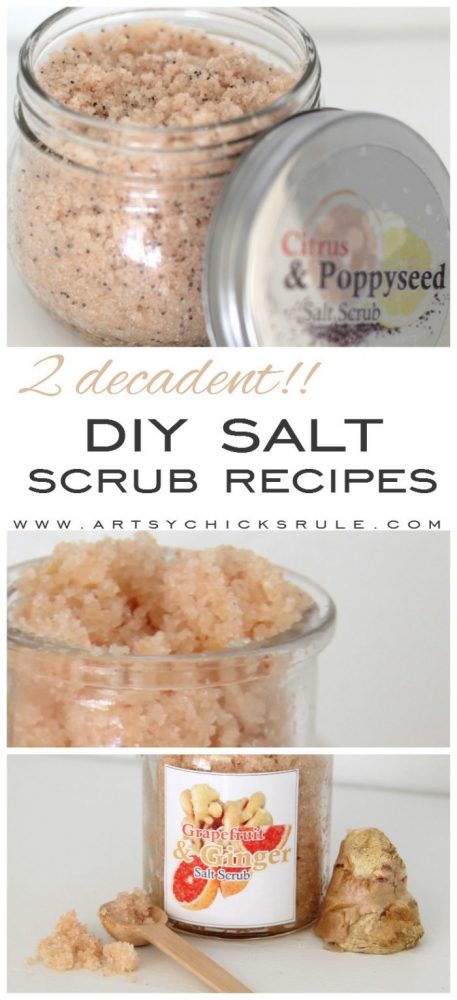 I hope you might give these salt scrub recipes a try. They are really easy to make and you can use just about any (skin safe) essential oil and base oils.
The possibilities are endless and they are so great for gift giving.
Visit your local craft store for jar ideas and mix one, or several, up!
You might also like this recipe: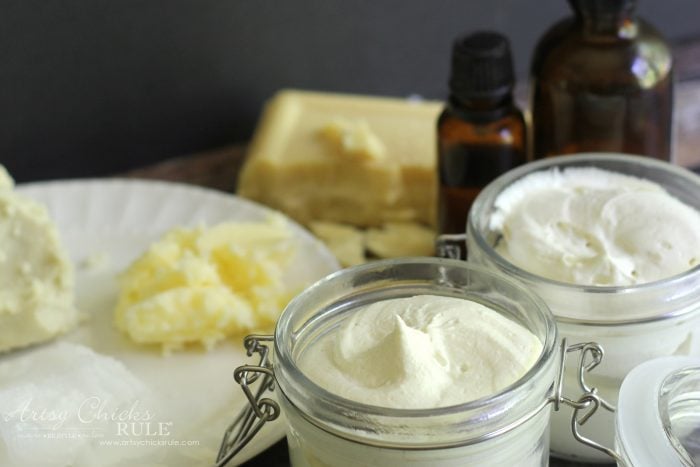 Get the recipe here >>> Easy Whipped Body Butter
Enjoy!! :)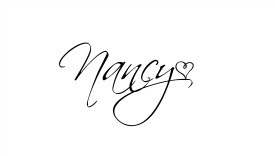 Note: I am not a health professional or medical doctor. The information and directions given on this site are of my own opinions and my own experiences with such and not meant to take the place of medical or professional advice. You may choose to try any or all recipes, etc, I post at your own discretion.