A Decorating Challenge – How to Shop Your Home (Foyer Table – Part 1)
This post may contain affiliate links. Please see disclosures here.
Have you ever shopped your own home before?
You know, walking around and picking things from here and putting them there?
Decorating with things you already own.
Changing things and creating completely new looks without buying anything?
This thrifty girl loves that idea.
Some blogger friends and I are going to share with you how we changed one space in our home, 3 ways.
We'll be sharing the first way or "look" today and will continue with 2 more new looks in February and March.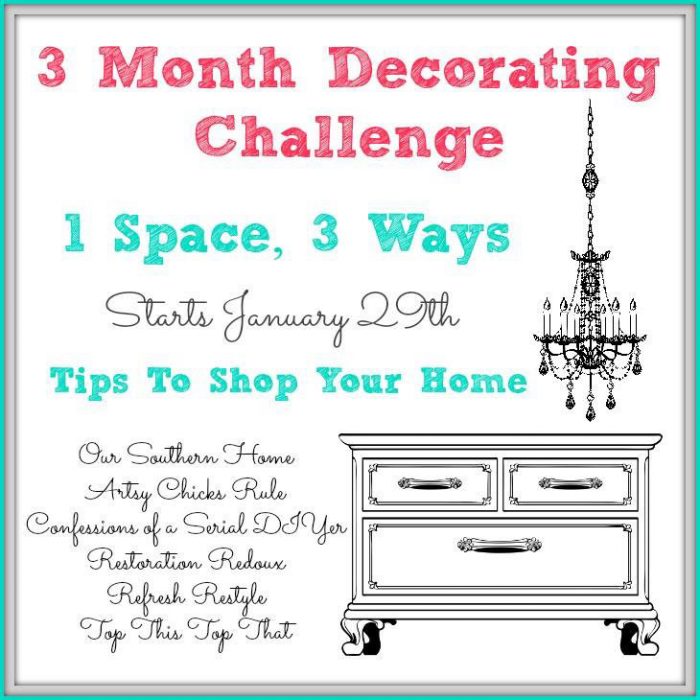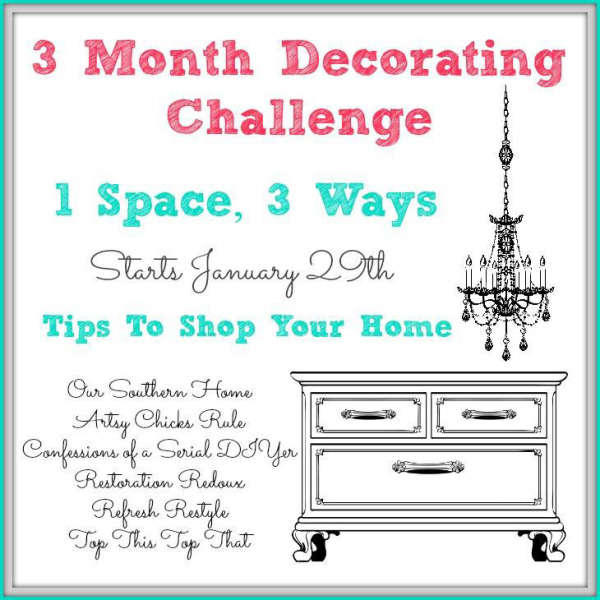 All with things we already own by shopping our homes.
My friend Christy over at Our Southern Home came up with this great idea for the challenge….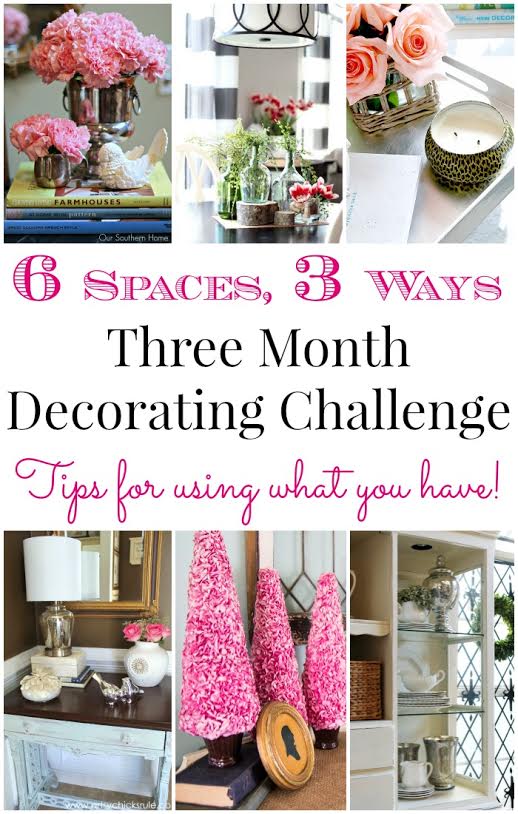 I will be the first to tell you that before I started blogging I pretty much kept things how they were, decor-wise,….for a very long time.
And to be totally honest, even after blogging somewhat! So this will help to push me to change things up more often around here too.
It's easy to get comfortable with our surroundings but if you are anything like me, you want (need) a little change up every once in awhile.
Without having to spend money to do it!
How smart is it to just use things you already own?
Today I'll be sharing how I decorated my antique carved entry table I recently did a makeover on. (You can read about that here)
AND I'll also be sharing some links to these same items and where I had them before, if you are curious.
Here is how my carved entry table looked before I changed it for today's challenge.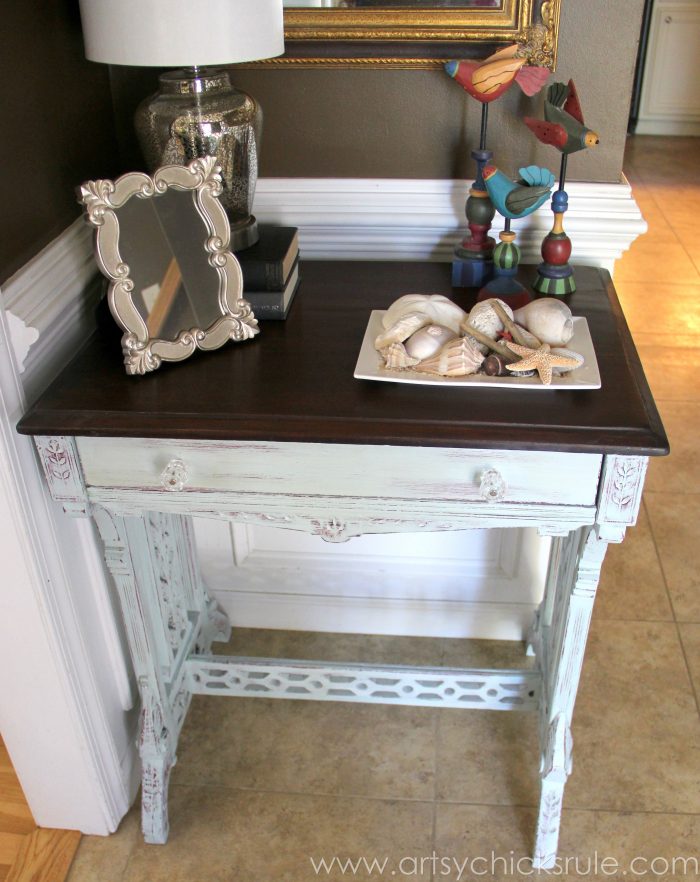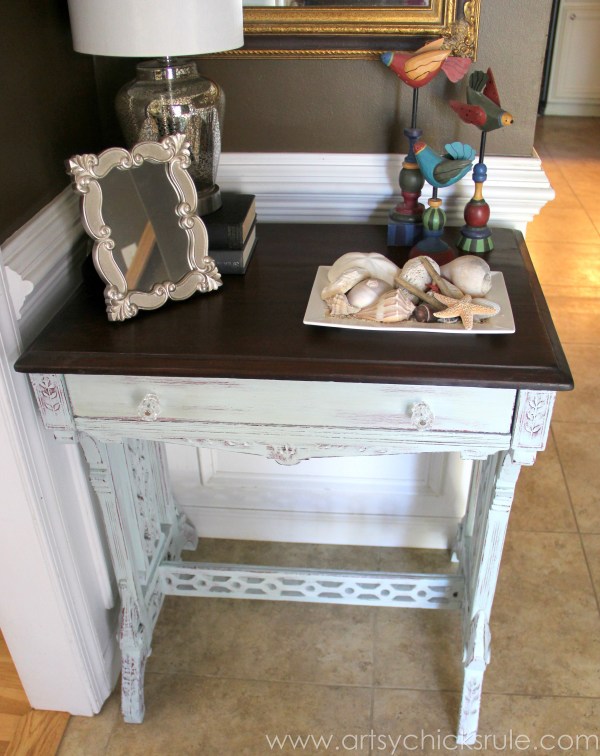 And here is how it looks now that I've "shopped my home" and changed the decor.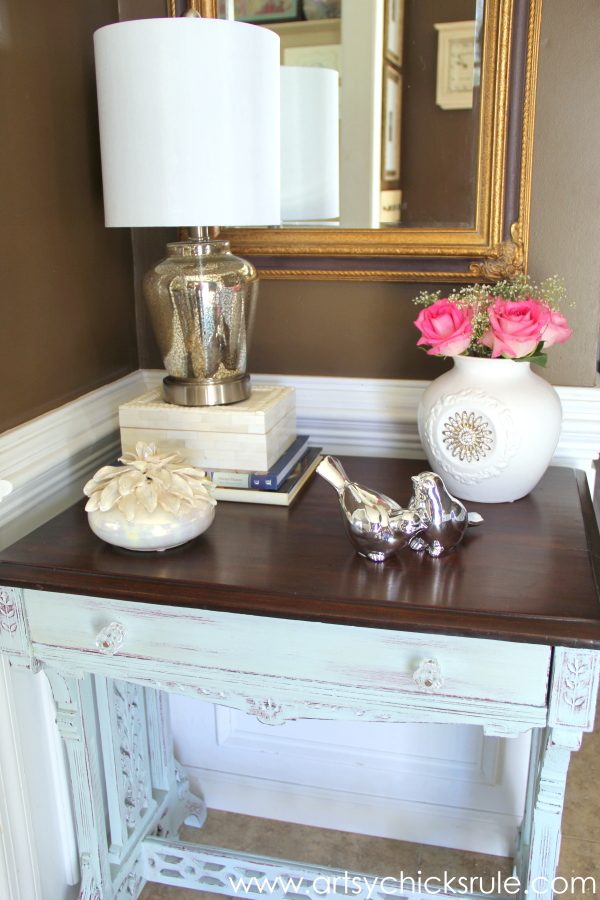 (and got some flowers from my sweet husband :) )
They were actually "shopped" too. The bouquet was in another vase and had yellow and red roses along with the pink. I took the pink ones out and added the baby's breath around them.
Then I took the pretty jar from my fireplace mantel and used it for the pink roses.
I got that pretty white vase/jar from Michael's last year on one of their 50% off sales.
I just love when they have things I want (need!) marked 50% off!
So does my hubby, I am sure! ;)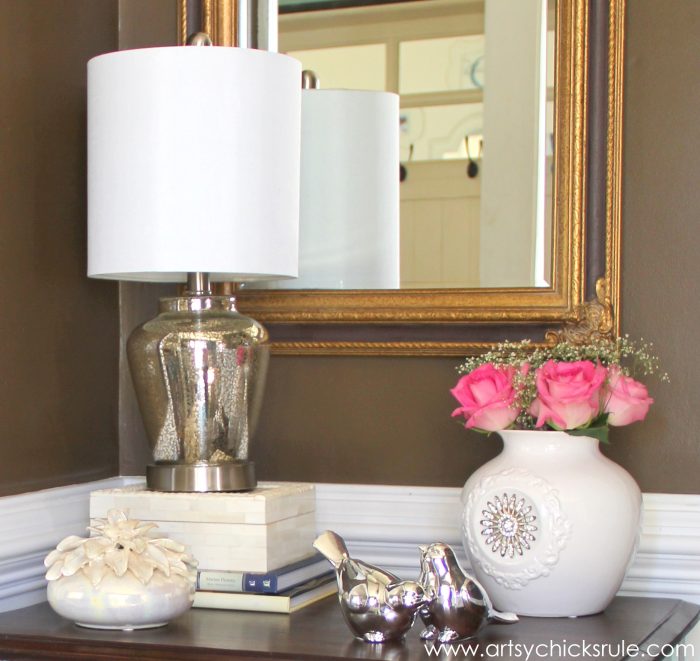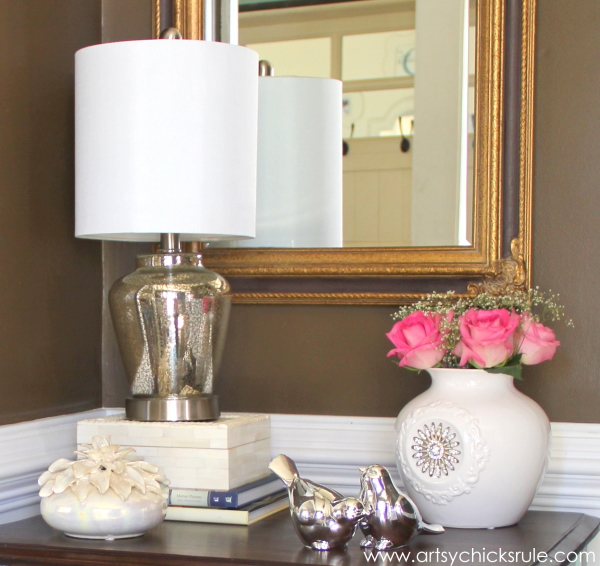 But once I saw that bling on the front I had to have it.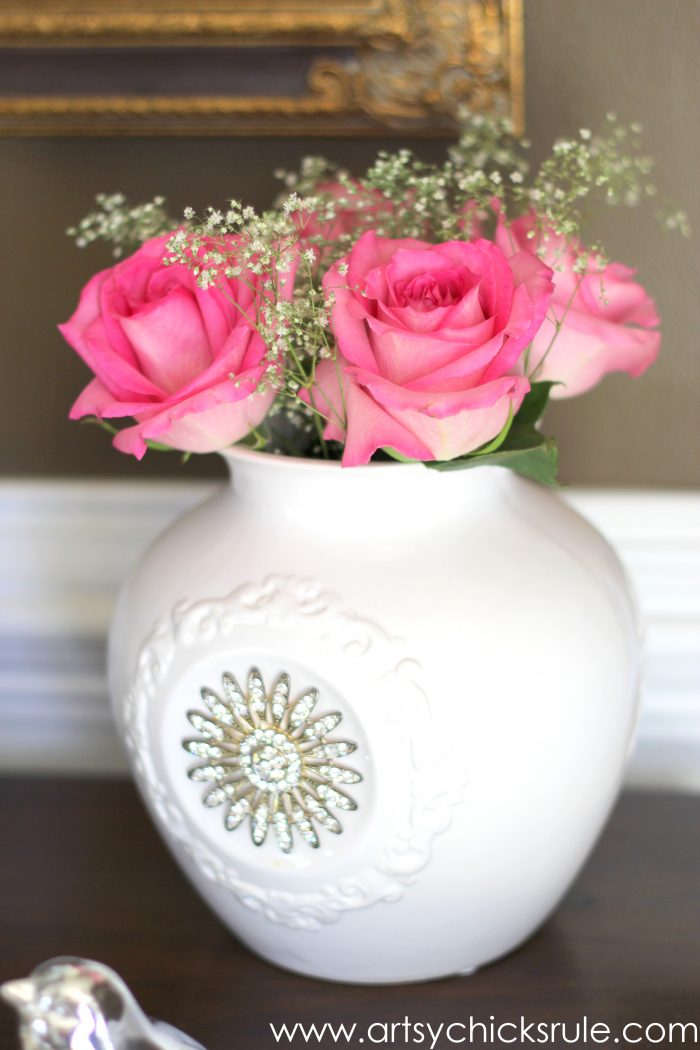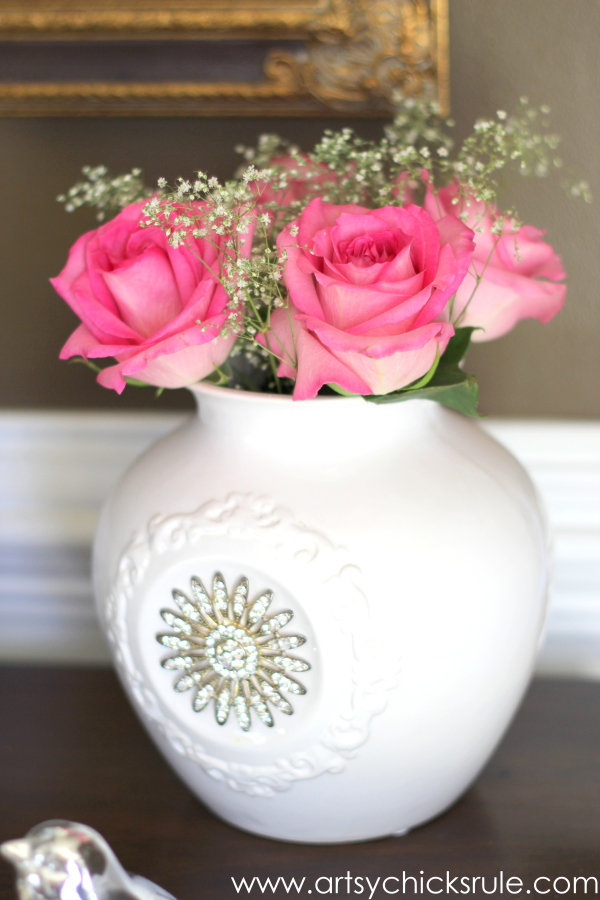 So pretty.
This same vase/jar got moved for Christmas decorating too. It's been all over my house at this point.
The shiny silver birds got relocated at Christmas too but have been residing on my mantel lately as well.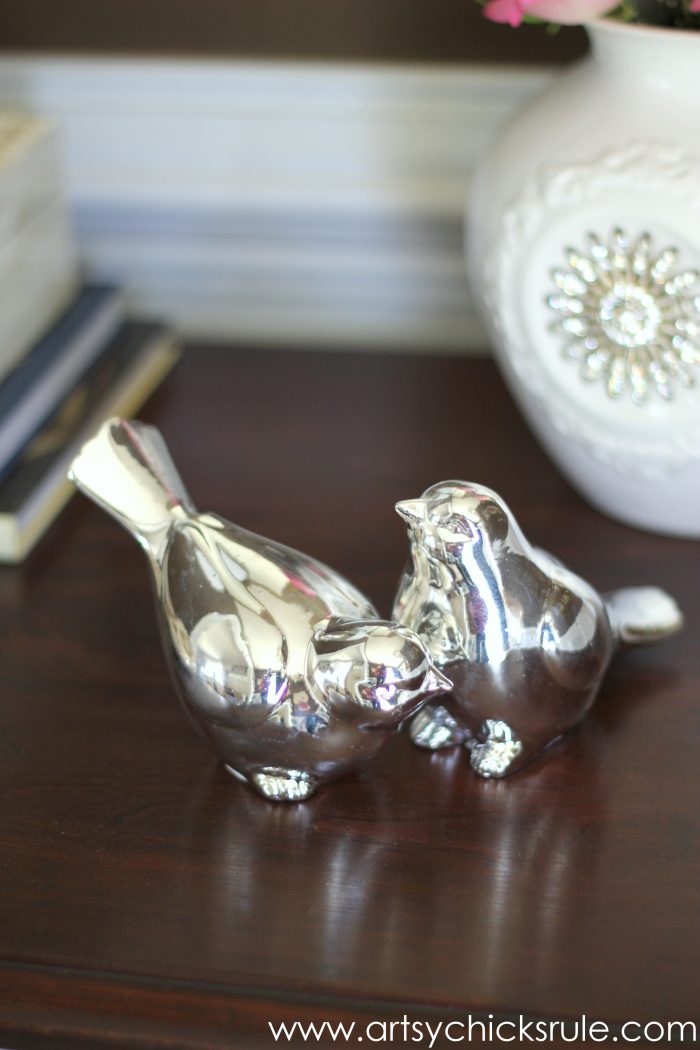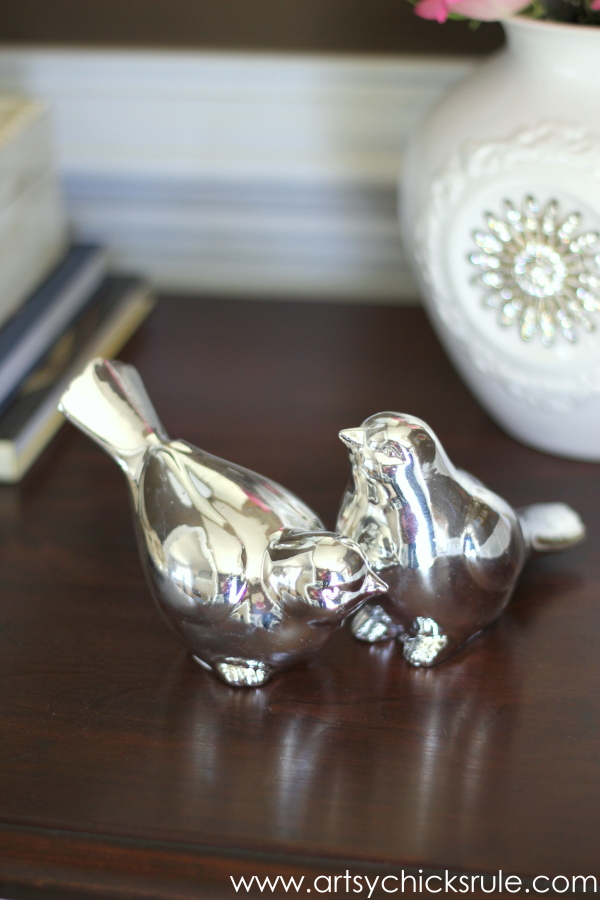 They also came from Michael's (and were also 50% off but bought at a different time)
This little lovely was purchased at TJ Maxx.
It was previously on my Aubusson Blue Chalk Painted Dresser.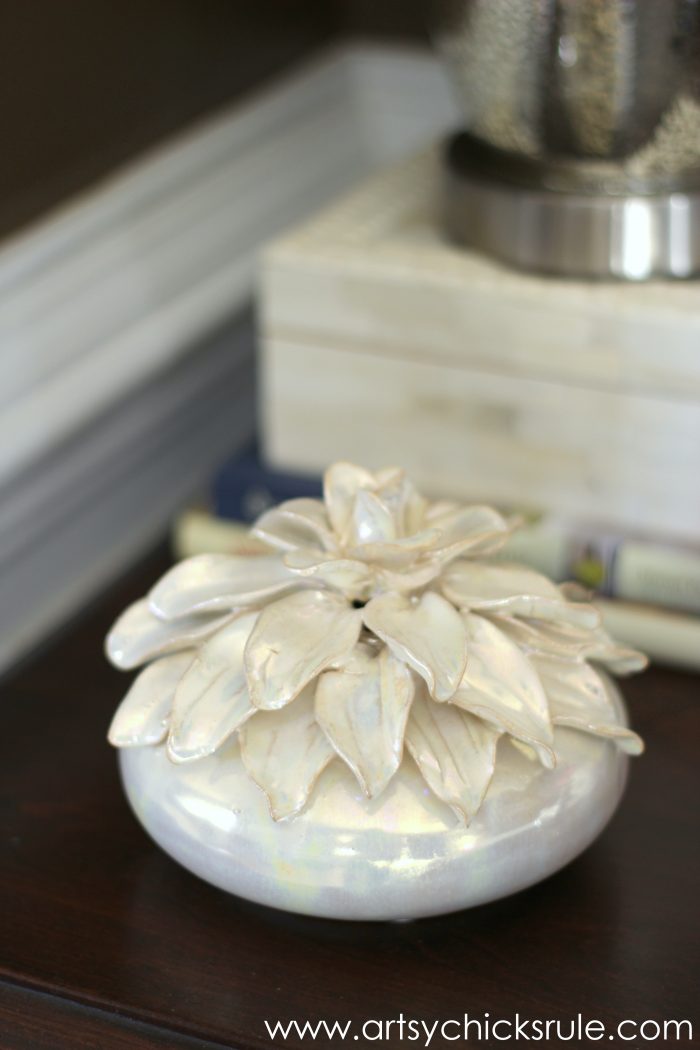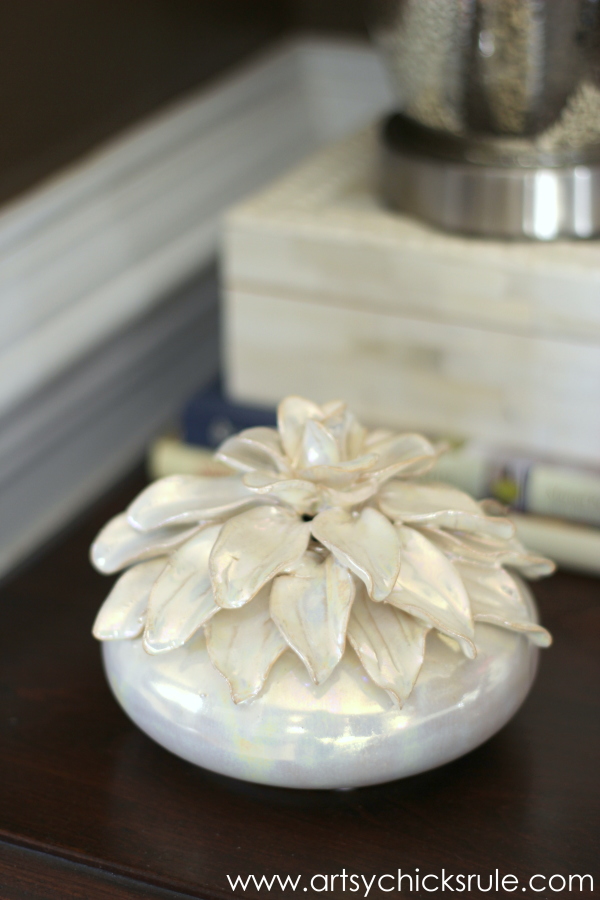 TJ Maxx has some of the best, most beautiful, unique and inexpensive decor items.
I love shopping there and HomeGoods for these types of things.
This light came from Ross, if I remember correctly.
I had it most recently on this thrifty end table. (which is showing a different lamp in the post)
The pretty box came from TJ Maxx last year. (the clearance isle, of course! I even shared on Instagram about my bargain at the time and the pretty rug I got at the same time :) )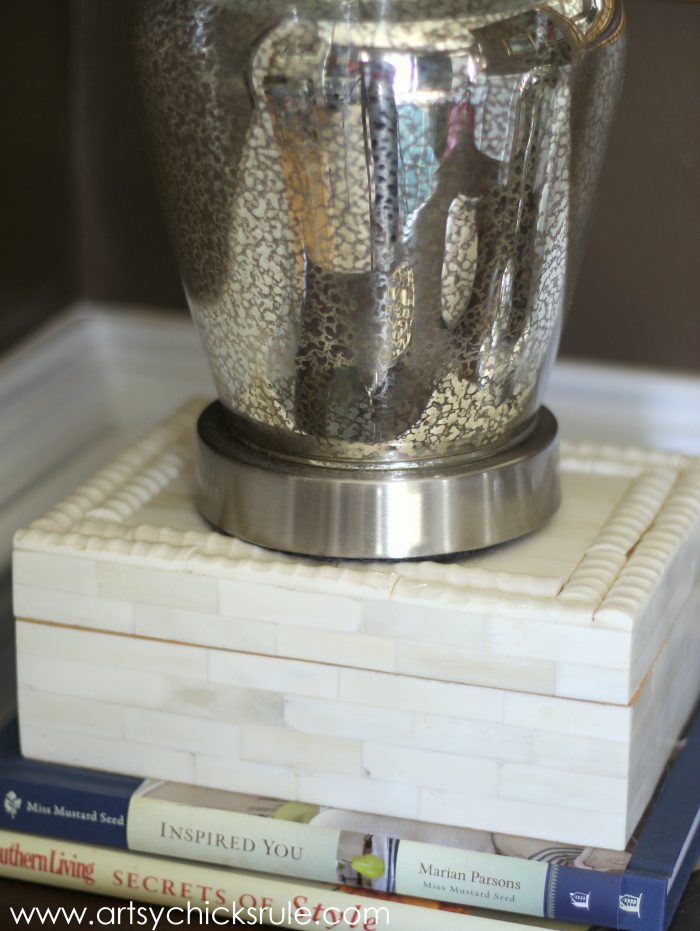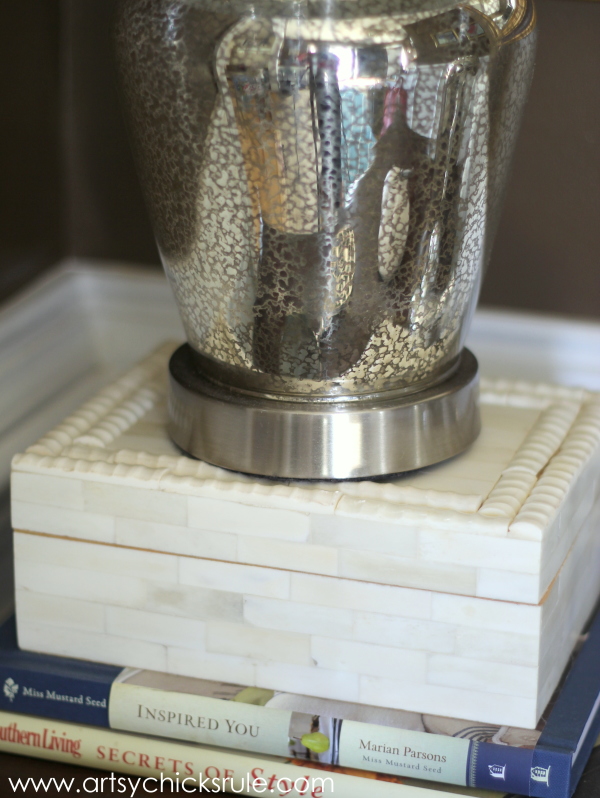 I usually use it on my French Styled Cabinet in the Family Room, either under a small lamp or to the side.
I also changed the books from below the lamp. These books end up all over my home in different places.
So there it is…..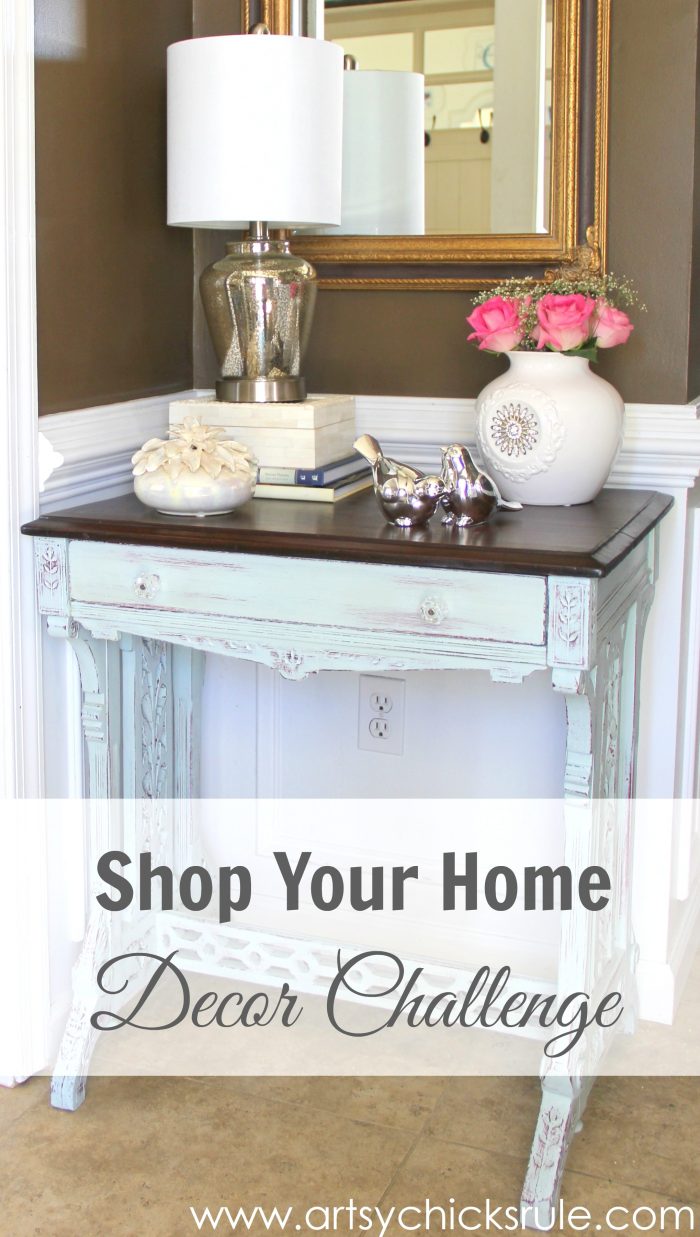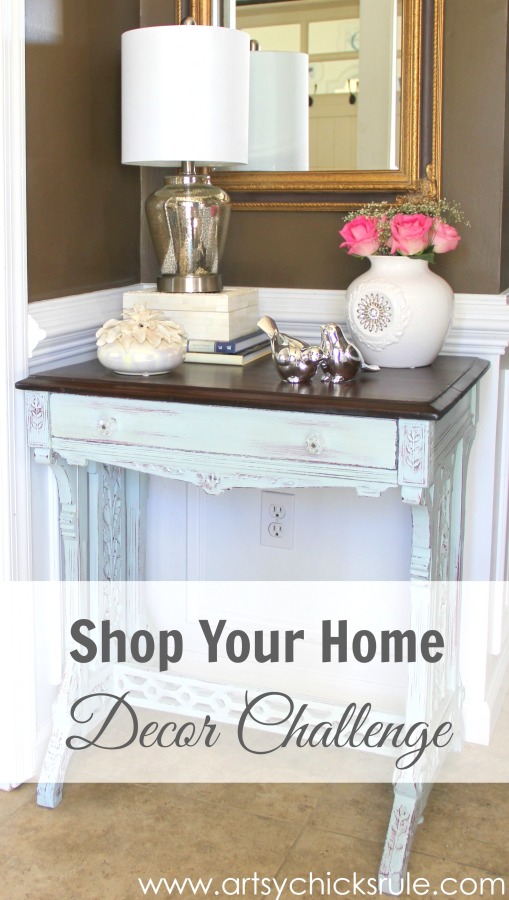 ….. a completely new look without spending a dime.
All items were "shopped" from my home.
Do you do this too? Shop your home? Change things up on occasion with things you already own?
There really are no major rules in decorating. Oh I know, there are MANY rules out there.
But I say, just do what you love.
Try taking and moving things around until you hit upon something that speaks to you.
Put together what feels good to you!
I hope you will try it out! It's a great way to get a fresh new look without spending any money.
Don't forget, we'll be sharing two more ways in the upcoming months of February and March.
Be sure to visit these creative bloggers below who are also participating in this 3 month – Shop Your Home – decorating challenge!
And one more thing….are you ready to participate with us? You can!
Now you can share your amazing decorating tips and projects plus ask questions and seek advice in our new Facebook group…….


Please visit (and join!) us over at the Decorating Enthusiasts page HERE to begin chiming in and sharing your own projects, or ask any questions you may have, etc.
We'd love for you to join the "shop your home" challenge and share your one space, three ways too!
Hope to see you there!!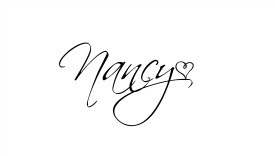 Be sure to follow me on Instagram and Facebook if you don't already!
I always post projects and things I'm working on
long before it hits the blog…..
….plus lots of fun random daily things too.