This post may contain affiliate links. Please see disclosures here.
I'm getting a little "gifty" with December's Giveaway! I hope you love it!
Hello, my wonderful friends!
It's time for the final giveaway for 2021… and I thought I'd do something a little different.
No paint supplies or any of that, just a little something for your home.
I use diffusers and essential oils all the time. I just love to mix and match all the amazing scents. Plus, they are healthier for you.
I don't burn candles or use air fresheners anymore, ever since my cancer diagnosis. I have used and loved essential oils for much longer than that but I got serious about it and quit the rest altogether.
I hope you will enjoy this giveaway!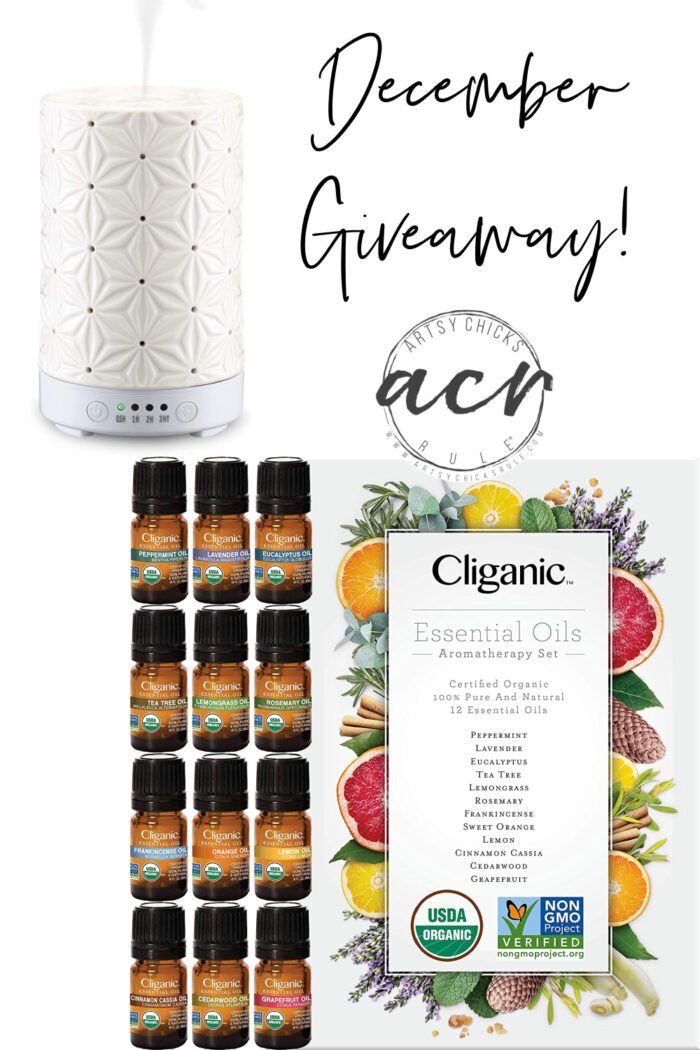 This beautiful essential oil diffuser and a bunch of essential oils to play with.
Here's how you enter:
To enter, just fill out the Rafflecopter below. Enter all or as many as you like for more chances to win.
Once the contest is over, the Rafflecopter will choose a winner at random.
That's it! (if you have trouble with the Rafflecopter box below, you can visit this link to enter instead, "December Giveaway")
The giveaway ends Thursday, December 23rd at 12:00 am EST.
After which, one winner will be chosen at random and notified via email.
You will have 48 hours to respond. If not, another winner will have to be chosen.
You must be 18 years or older (and a US resident) to participate. Void where prohibited.
…………………………………………………………………………
Good luck!!
I hope you have a blessed and wonderful weekend, friends!
xoxo