Industrial Cart Makeover (Themed Furniture)
This post may contain affiliate links. Please see disclosures here.
Sad cart turned industrial cart! Simple!!
I hope you have had a wonderful week so far.
I've been playing catch up in a big way!
I just got back from 4 days in Atlanta at the Haven Blogger's Conference … with all of my blogging buddies, awesome sponsors and new friends.
I'll be sharing a little "behind the scenes" in a post coming up later this week.
But for today….It's "Themed Furniture Makeover Time"
And today's theme is "Industrial".
Yikes. What to do, what to do?
I do love a challenge though.
I found this cabinet, cart, whatever at the thrift store for $12….yesterday. (okay, that would be TUESDAY of this week. I'm writing this post on Weds, and hopefully you are reading it on Thurs)
Now that we have that out of the way, here is what it looked like….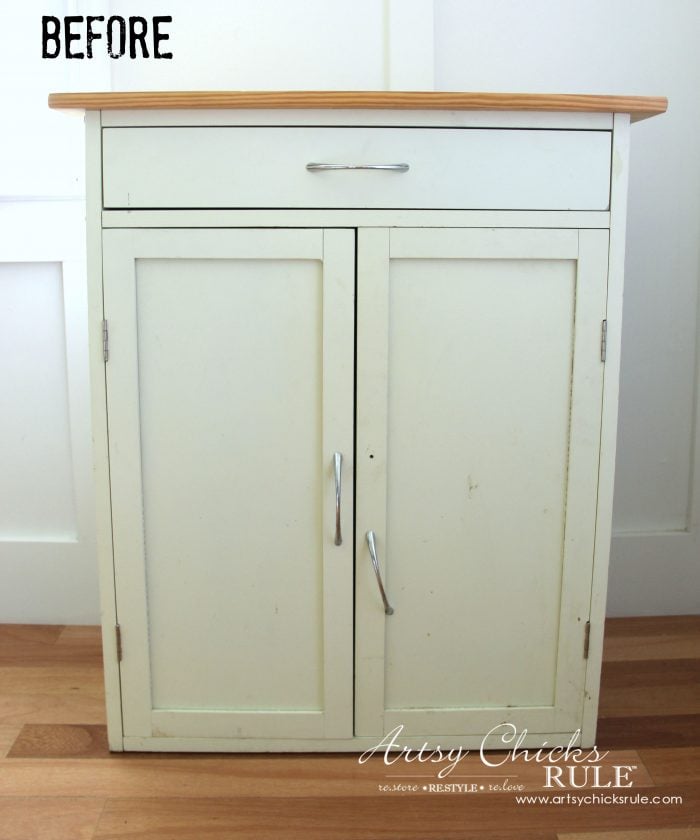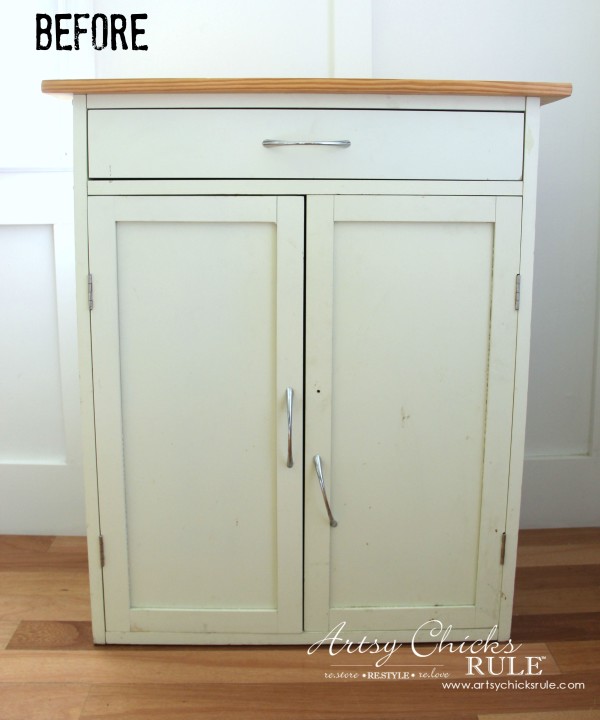 Sad little thing, right?
But not sad anymore. It's now an industrial cart that I plan on using in my garage. Yay!
In case you've missed any of the other monthly themed makeovers, you can see them right here—> Themed Makeovers
Soooo… industrial.
I must admit this one was a toughie for me. I do love Joanna Gaines and all of the industrial touches in her makeovers but they just don't all fit my design style.
I almost had to step out of this month's challenge but found this little "cabinet turned cart" in the knick of time….and knew exactly what I'd do.
After I picked up the cabinet at the thrift store ($12), I stopped in at Lowe's and The Home Depot and picked up caster wheels, hardware (which I didn't end up using) and spray paint.
I did several processes on this little cart that I'll go over for y'all.
First, here's the spray paint I used. Rust-Oleum Professional High Performance Enamel Spray Paint, Stainless Steel, 14-Ounce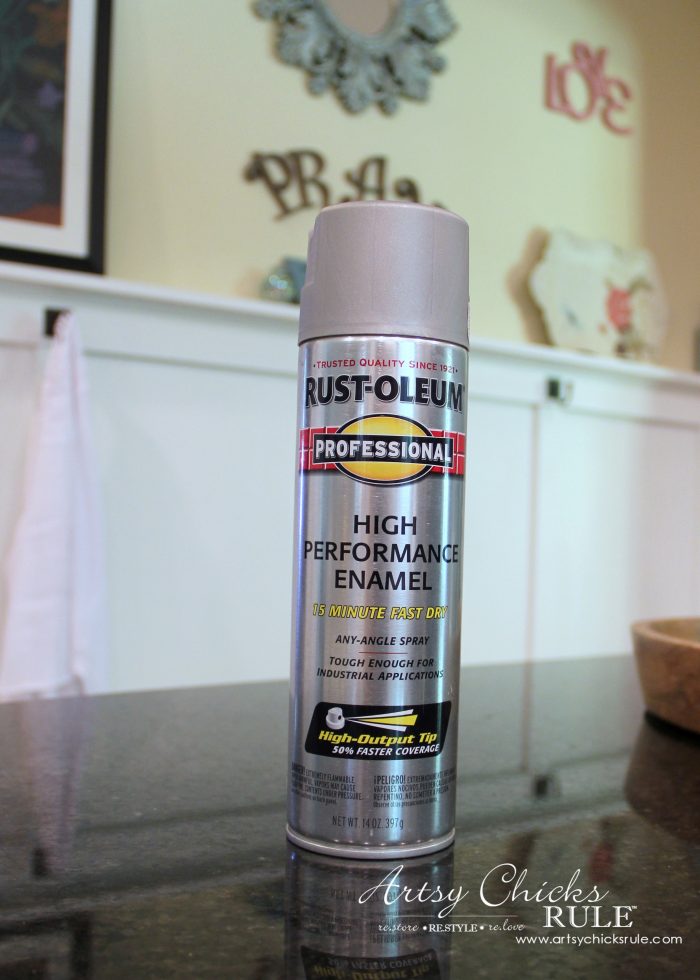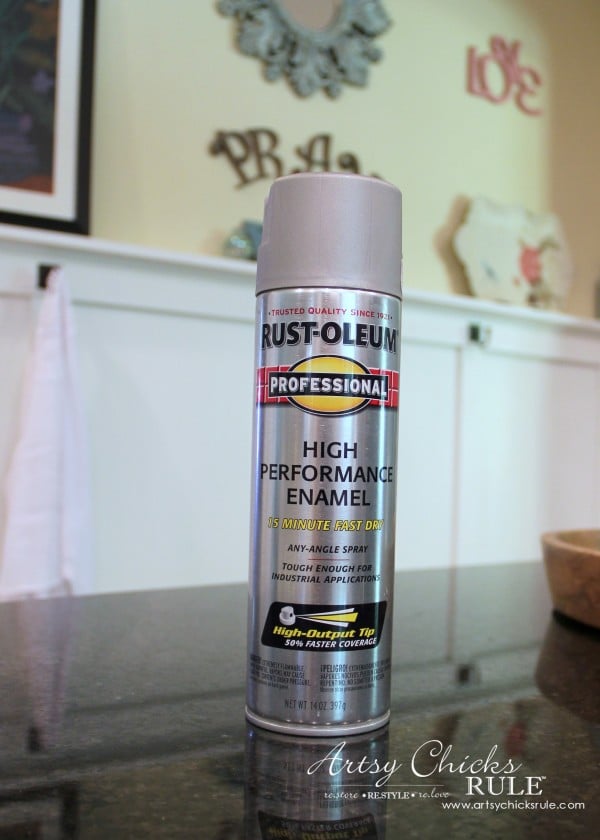 Stainless Steel is the color.
EASY PEASY! I took the cabinet outside and sprayed it all over.
Several coats…..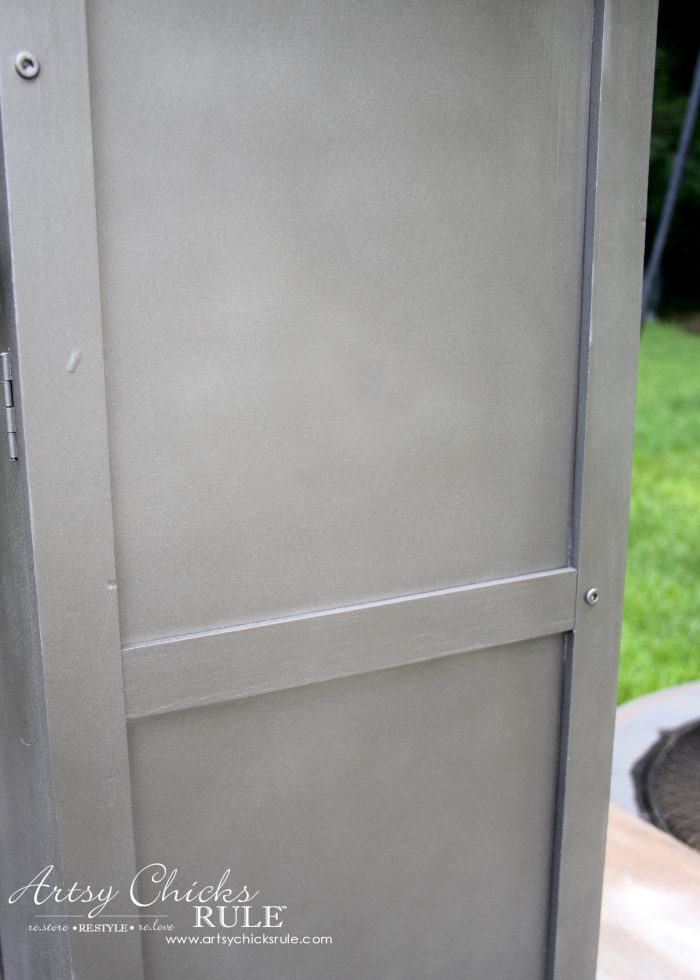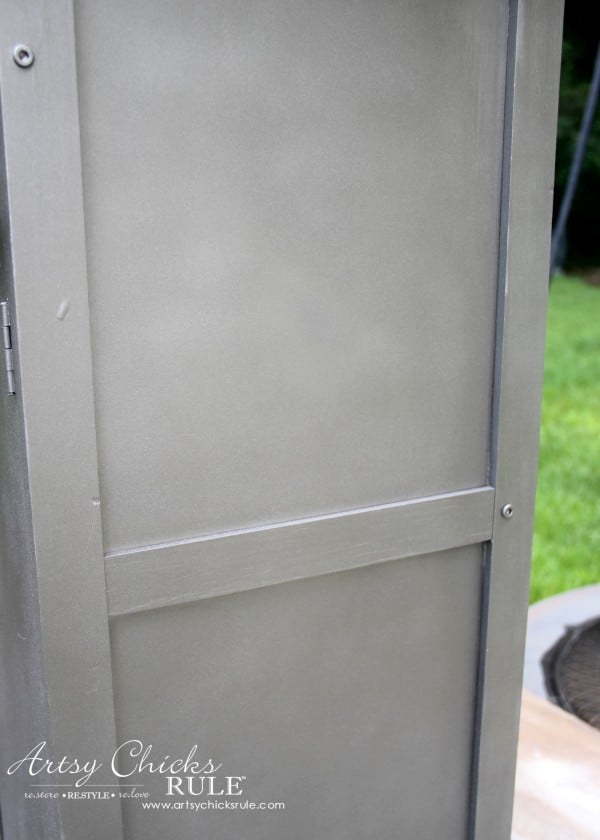 You can see it looks a bit splotchy.
Metallic paint is hard to get even….and even harder with spray paint. (in my opinion!)
But I didn't worry too much with trying to get it more even.
I had another treatment going over the top of it that would even things out.
Once that was dry I mixed up a glaze consisting of Polycrylic, Lamp Black Milk Paint (by General Finishes but any black paint will work) and this fab product below….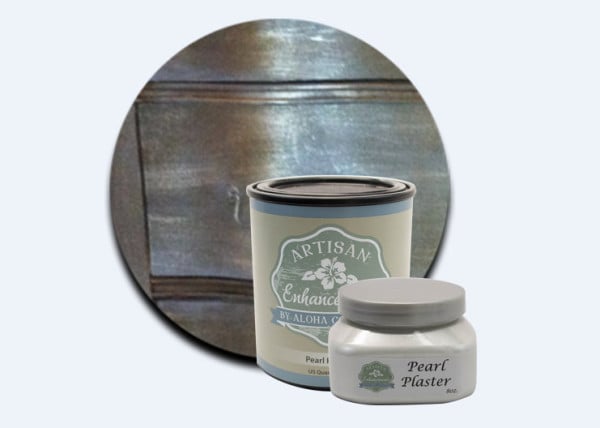 I've used it a few times before (mixed with the poly).
It gives such a pretty iridescent finish and I thought it would be perfect for a metallic look….and it was!
No need to measure, just mix up a little of each. (keeping it thin)
I used a rag to to wipe the glaze all over the Stainless Steel spray painted cabinet.
Then I used a clean rag to go back over and wipe some away.
This is really easy, no perfection of application needed.
It is a rustic, industrial type piece so should not be perfect as you'll see.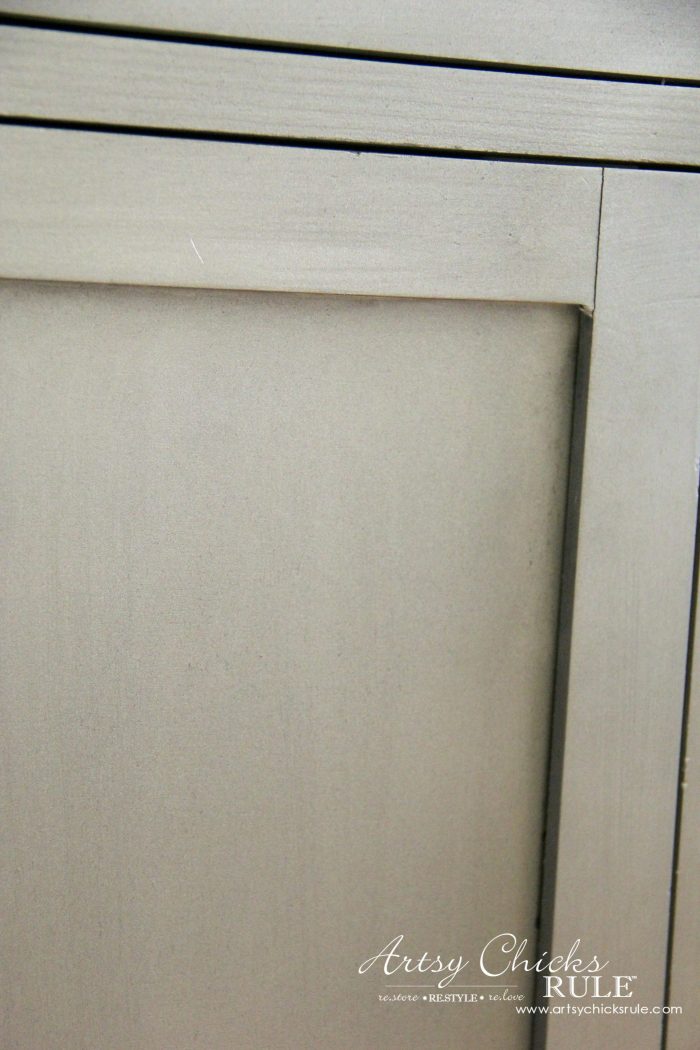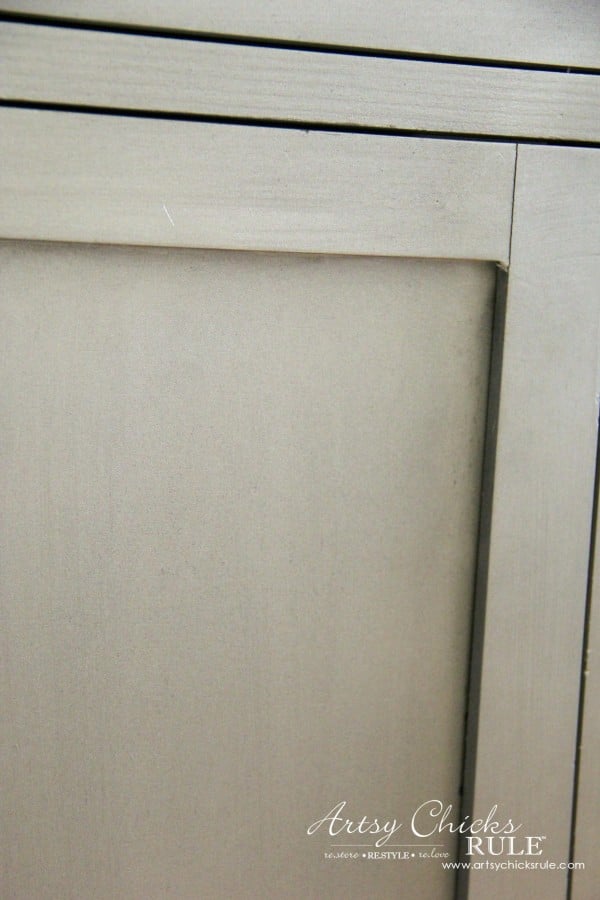 Hard to tell in the photos but I'll telling ya, that black iridescent glaze was the perfect finishing touch!
And so, to turn it into a "cart", I added these caster wheels to the bottom.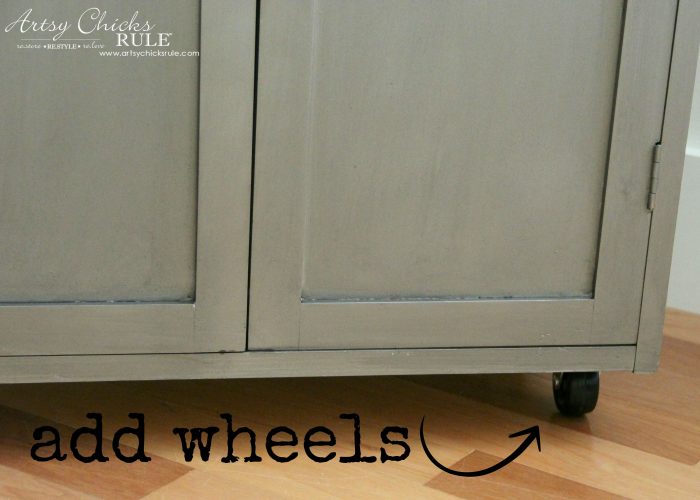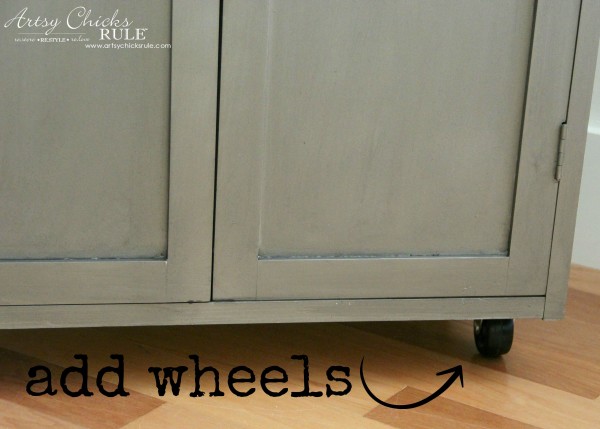 Just turn the cabinet upside down and screw them into place.
Voila! CART!! ;)
Anything that rolls is okay in my book. Especially in the garage.
Easy movement!
I also decided to use the original hardware.
I just sprayed and applied the same glaze.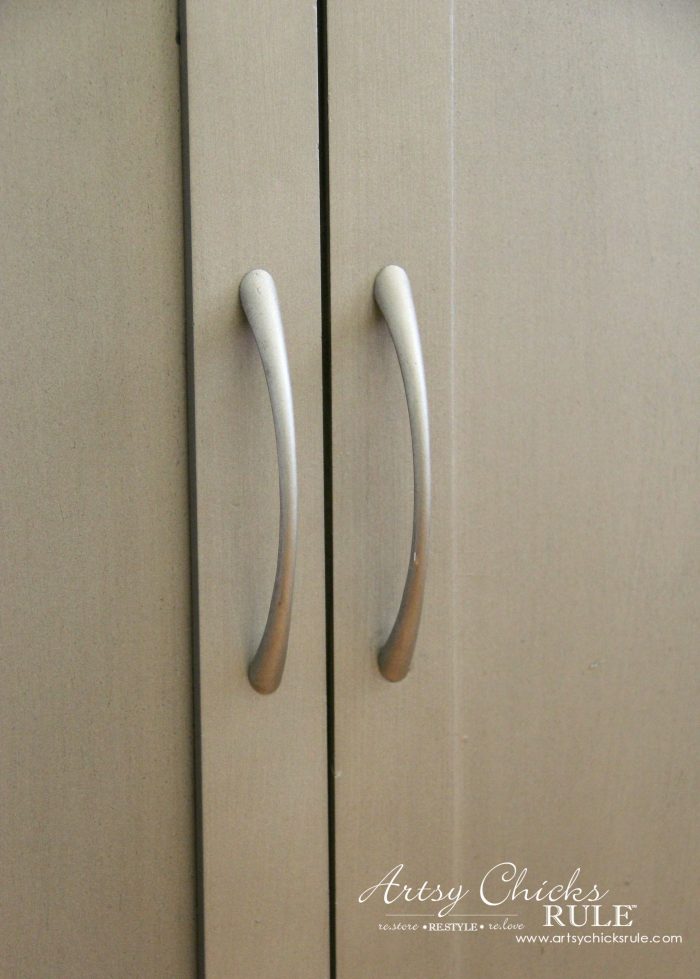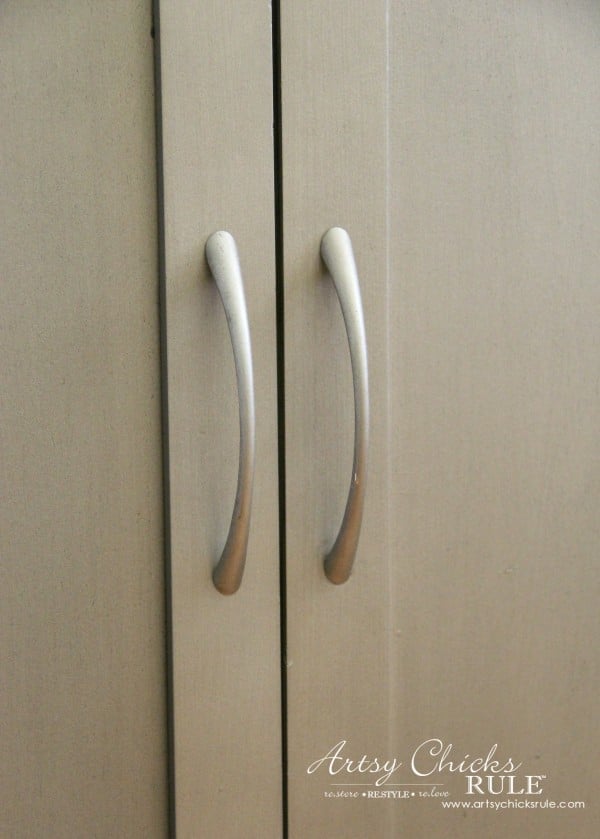 Now….for the top.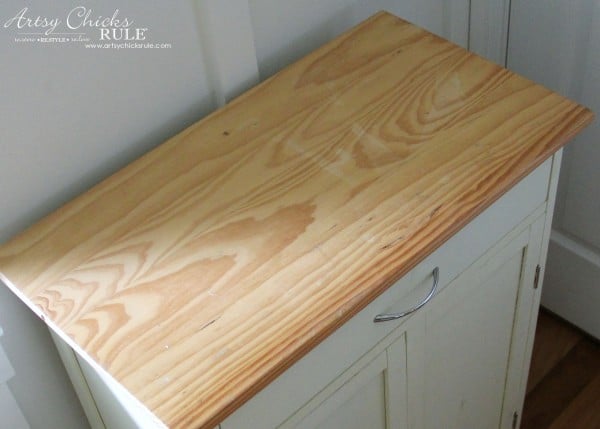 Didn't do a thing to it except clean it. (no sanding, etc)
Then I applied a watery mixture of Chalk Paint to create a "weathered, white washed" sort of look.
I wanted to totally get rid of that orange-y shade.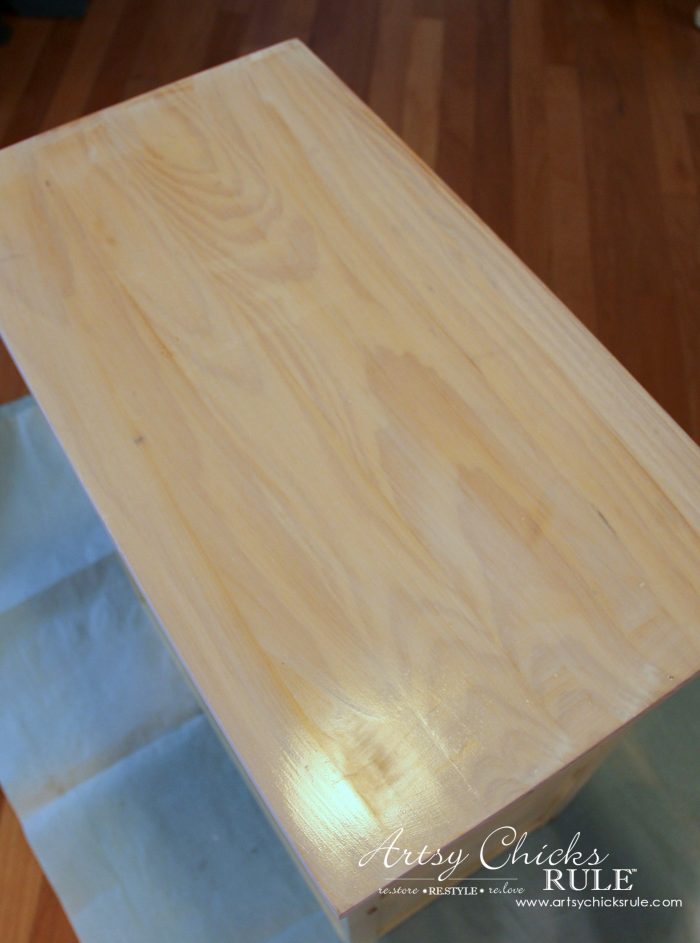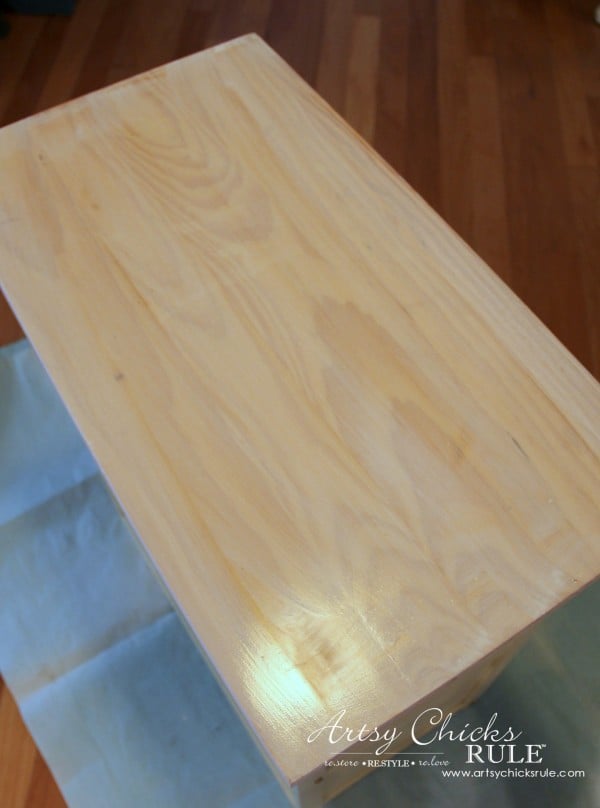 First coat.
And you guys, this is SO simple. No real rhyme or reason.
Just apply and brush around a bit, long strokes.
I used Pure White (mixed with water, lots of water) and Coco.
Apply the White all over first. Then go back over with the (watery) Coco in places with a separate brush.
Take the brush that had the White on it and smooth out the Coco.
Do that a few times until you get it how you want it.
THEN mix a bit of black paint with water. (again, I used Lamp Black by General Finishes but you can use any black)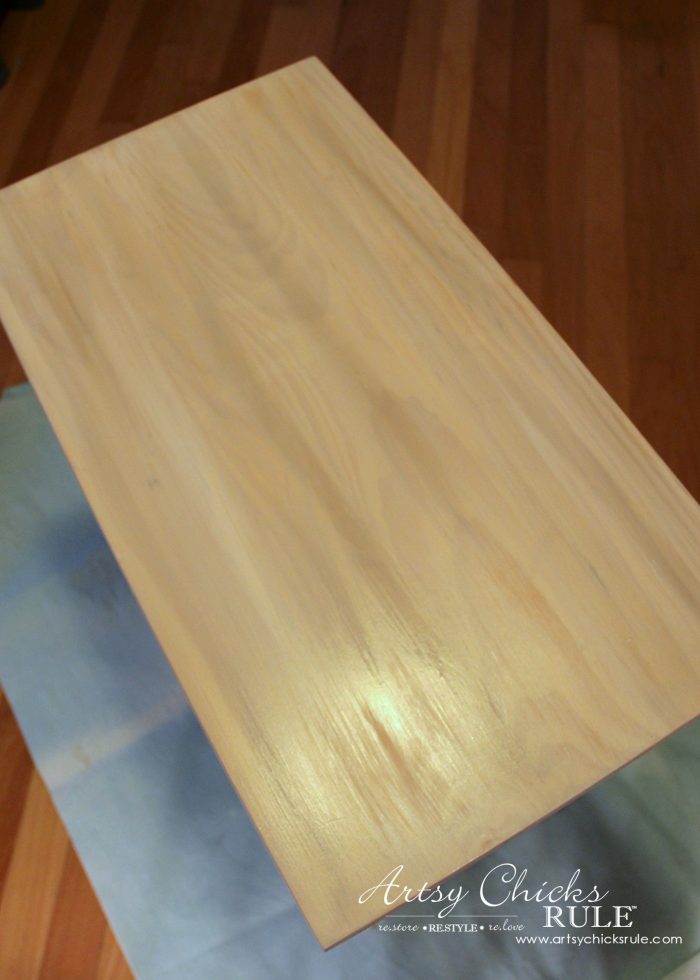 Take yet another brush and apply a bit of the black, in strokes, on the top. (only in a few places and very lightly)
Then, take the White brush and smooth the paint again.
You just want to give it some dimension and depth.
I wanted to end up with something in between "weathered" and "white washed".
If you want more of the "weathered" or "driftwood" look … start with the Coco and add White instead of the other way around.
Once that was dry I added a coat of wax. Annie Sloan Clear Wax.
Come back later and buff and you are done!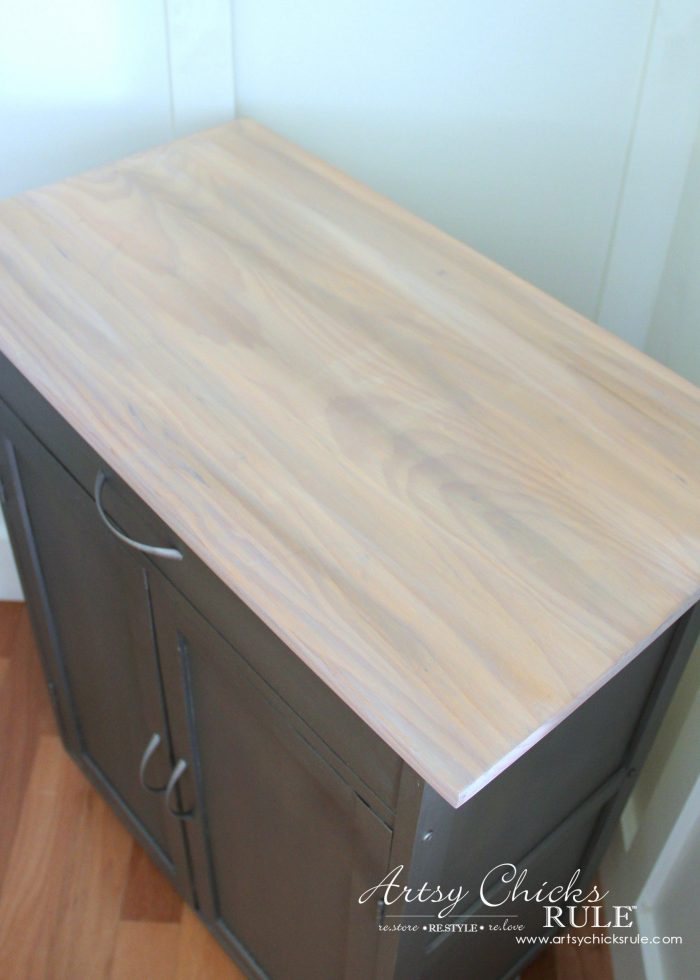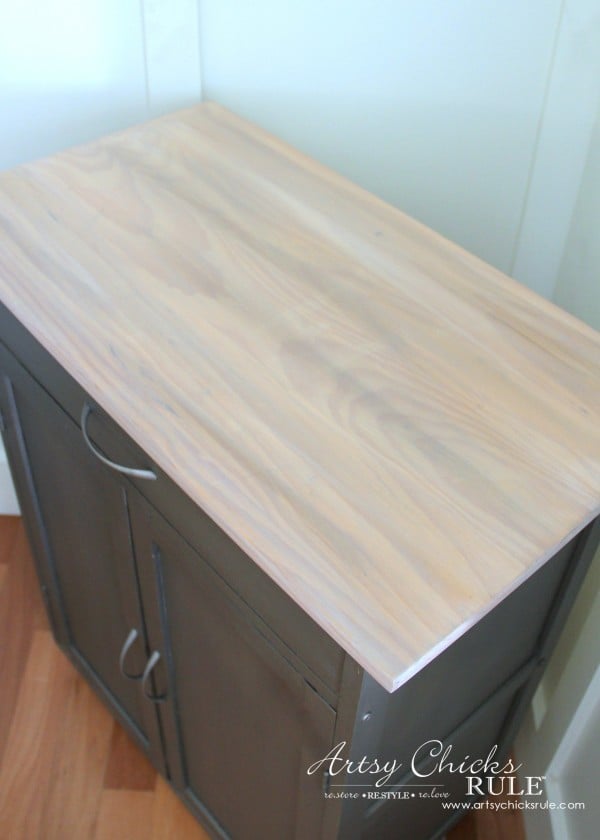 So much better than that orange-y orange!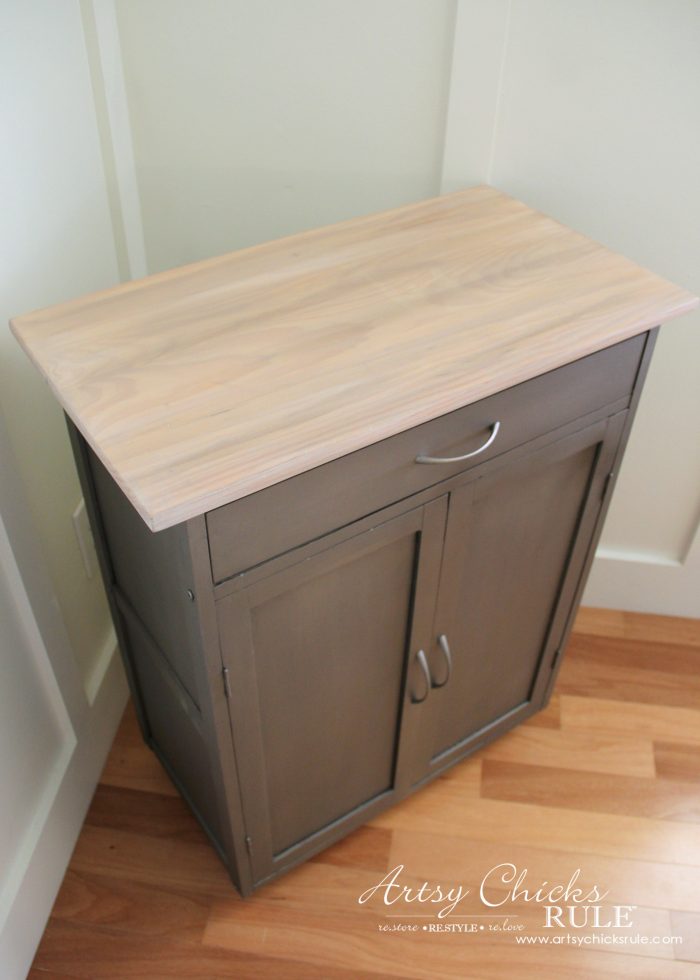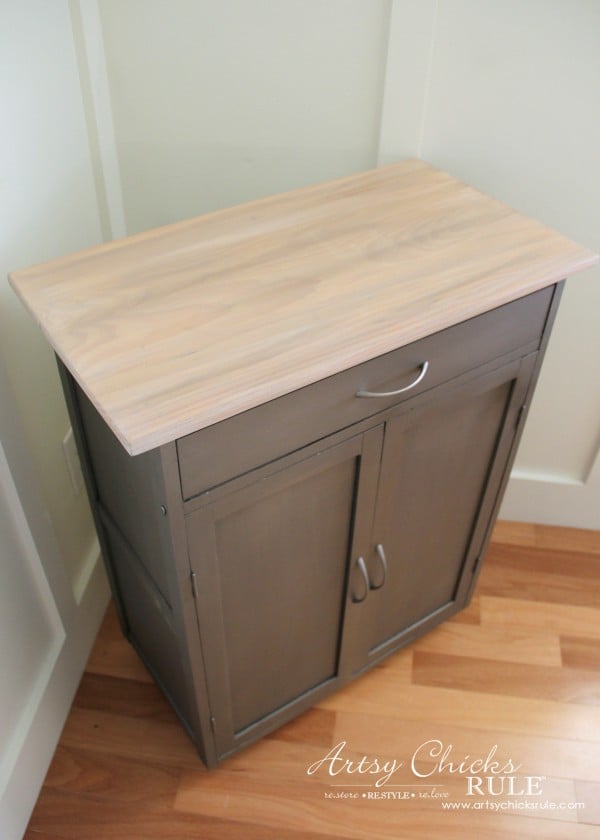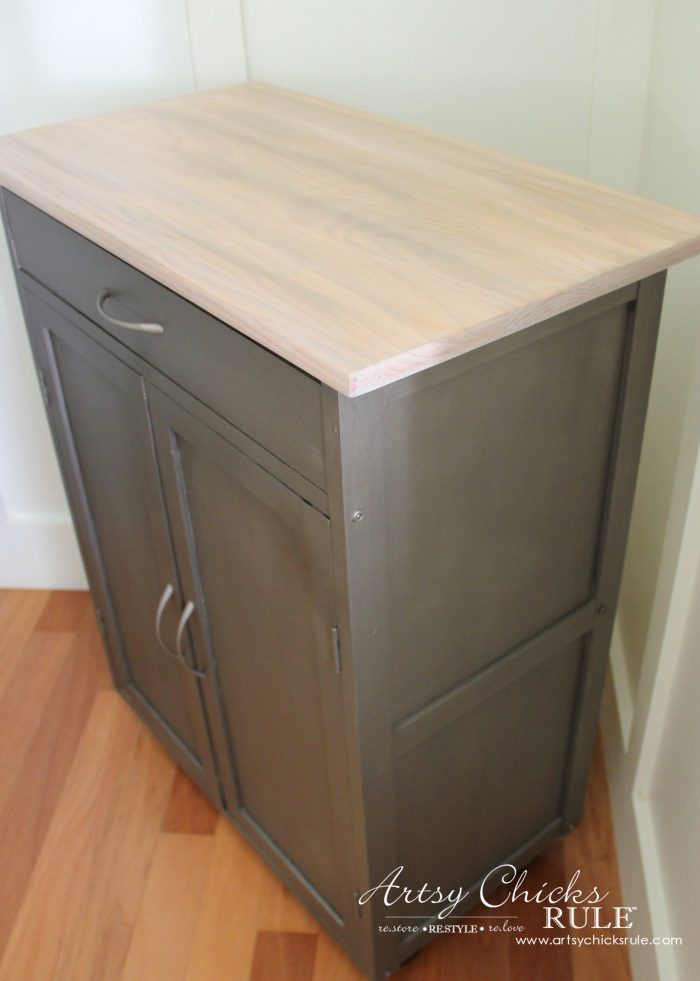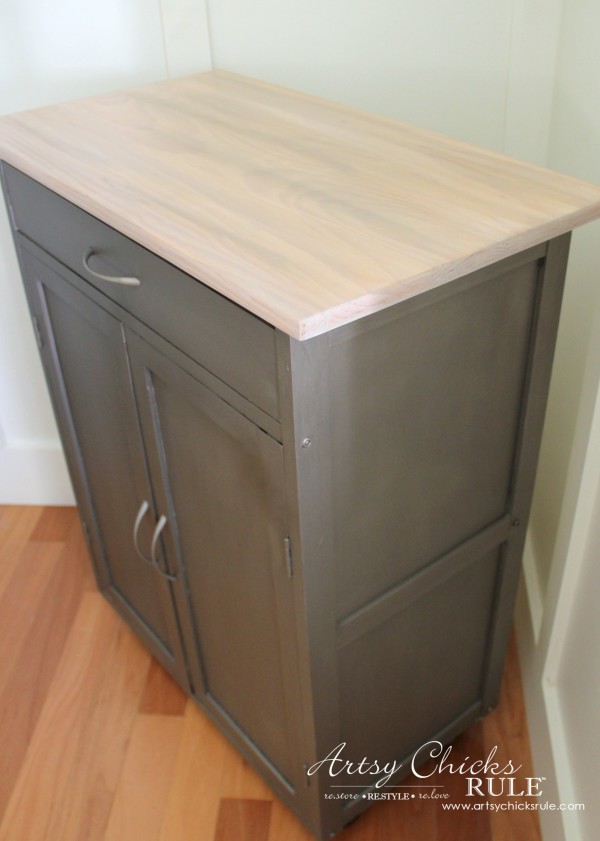 Here's a couple other pieces I white washed AND weathered (driftwood).
Click the links to see the techniques I used for those.
French Typography White Wash Makeover
"Driftwood" Beach Sign
So even though industrial may not be my thing, I somehow managed to come up with something industrial-ish looking.
And something I can actually use, even if it is in my garage! :)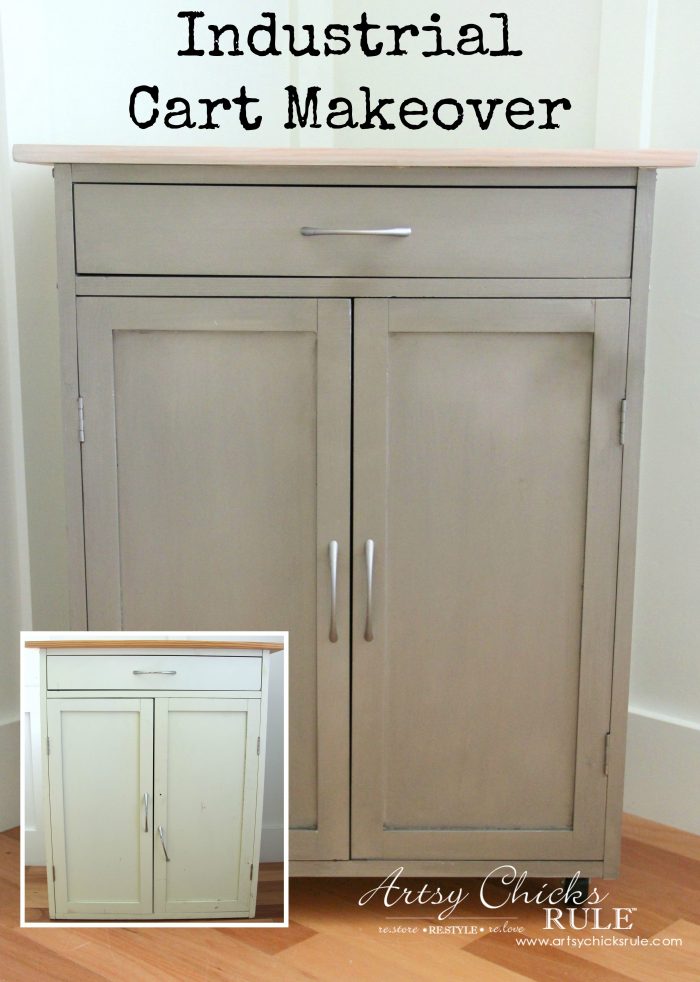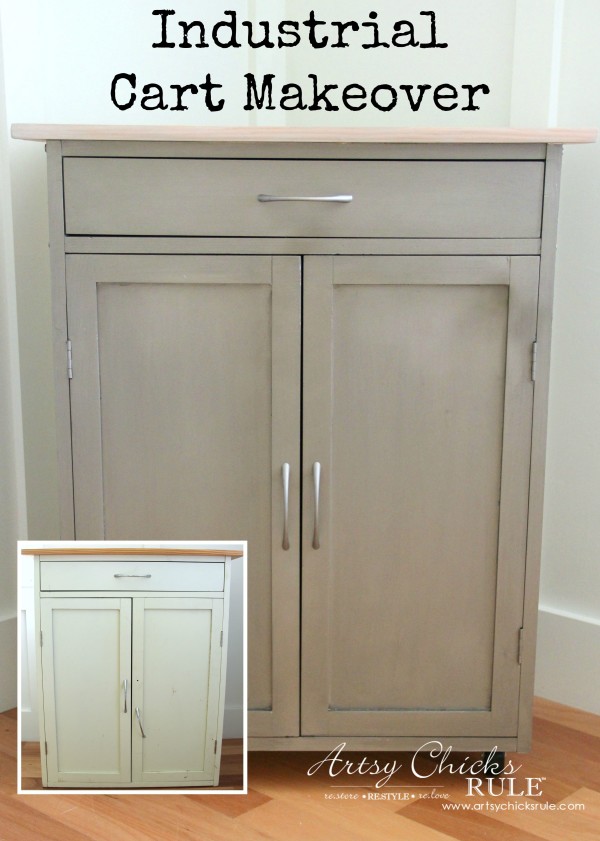 Be sure to see what my friends came up with for this challenge below.
See you soon with a bit of Haven (behind the blog scene!) and maybe even a few pictures of some of your favorite bloggers too! :)
Check back next week to see this new makeover!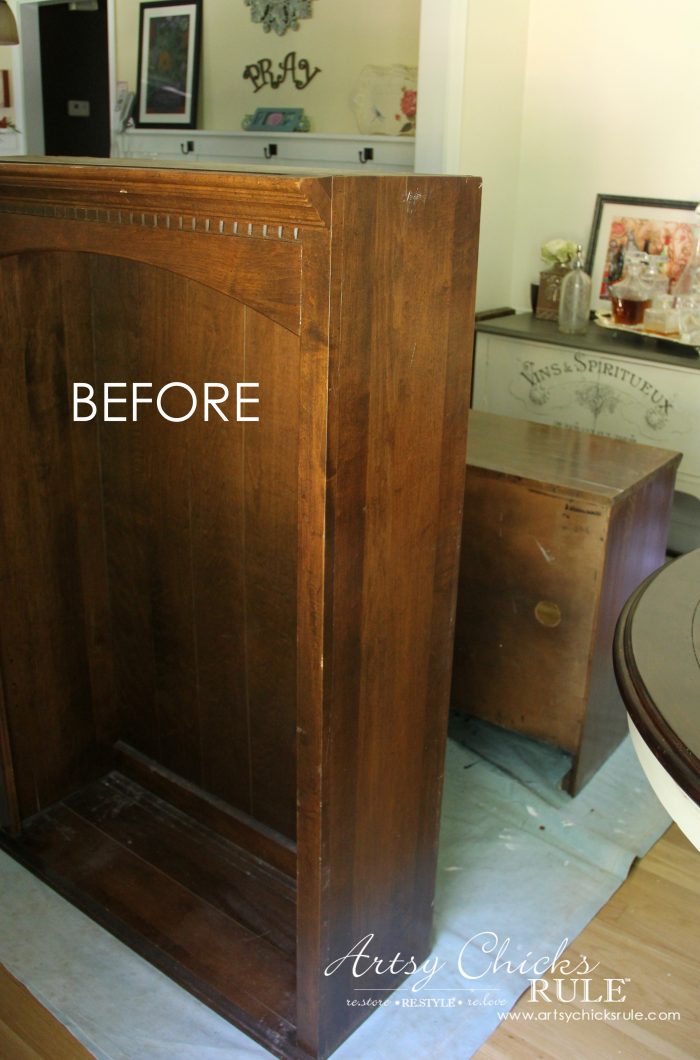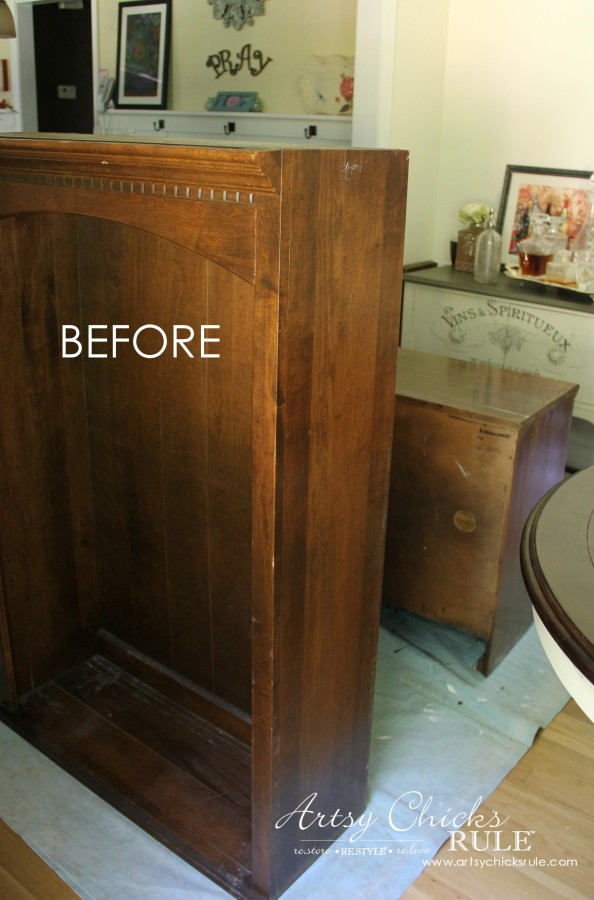 UPDATE!!! See it now, here!!