DIY Built In Bookcase Reveal
This post may contain affiliate links. Please see disclosures here.
Having a DIY built in bookcase surely changed the way this room looks and feels!
Wow, this has been a long day in the making!
The DIY built in bookcase reveal is here….finally.
It no longer looks like this….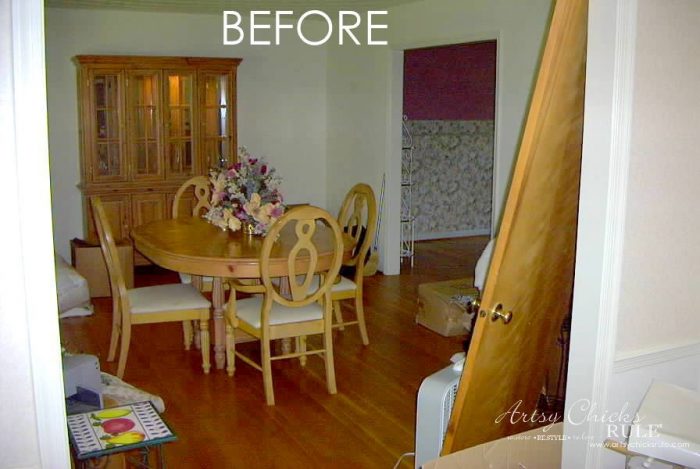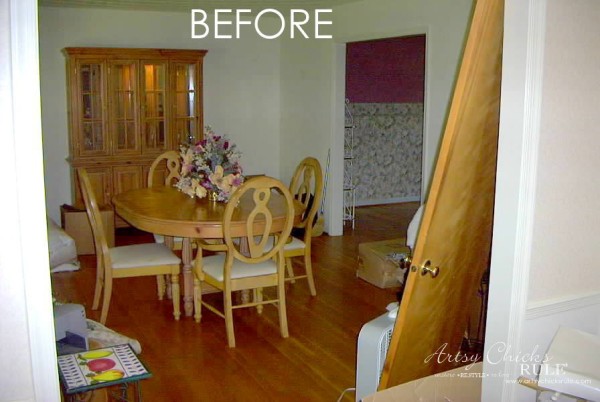 Can you say happy dance????
And no, it wasn't necessarily a super large project but it was a bit involved.
Not so much that we couldn't finish it timely though. ;)
We just kept getting sidetracked by so many other projects…over and over…and over.
But at last…it is finished….the DIY built in bookcase….is finished.
And I packed it full, I know. Bear with me. ;)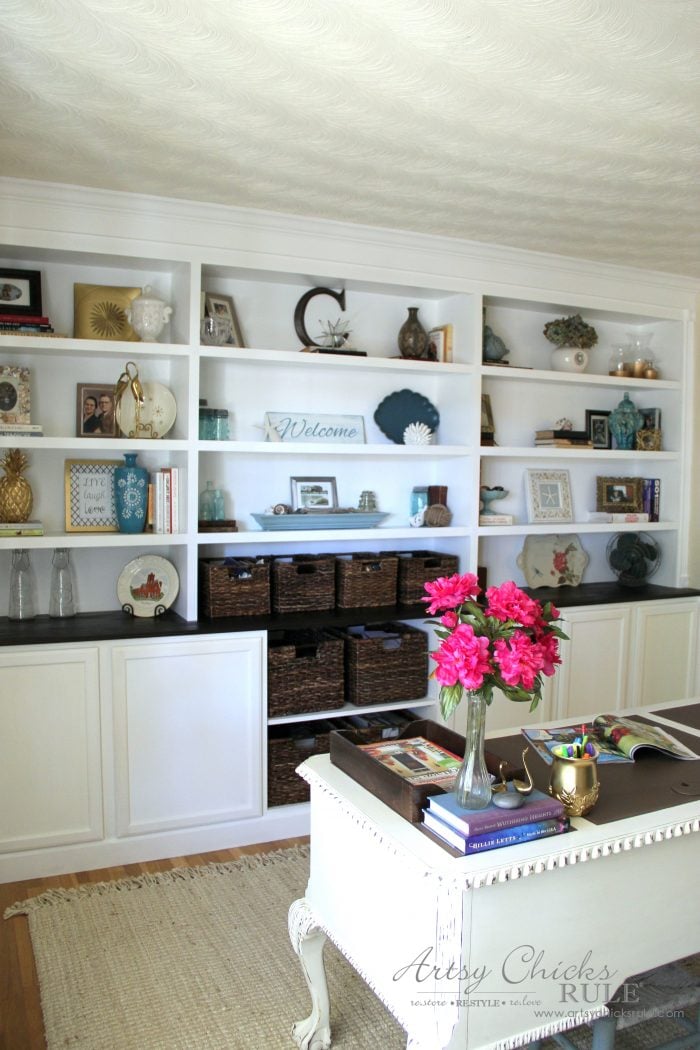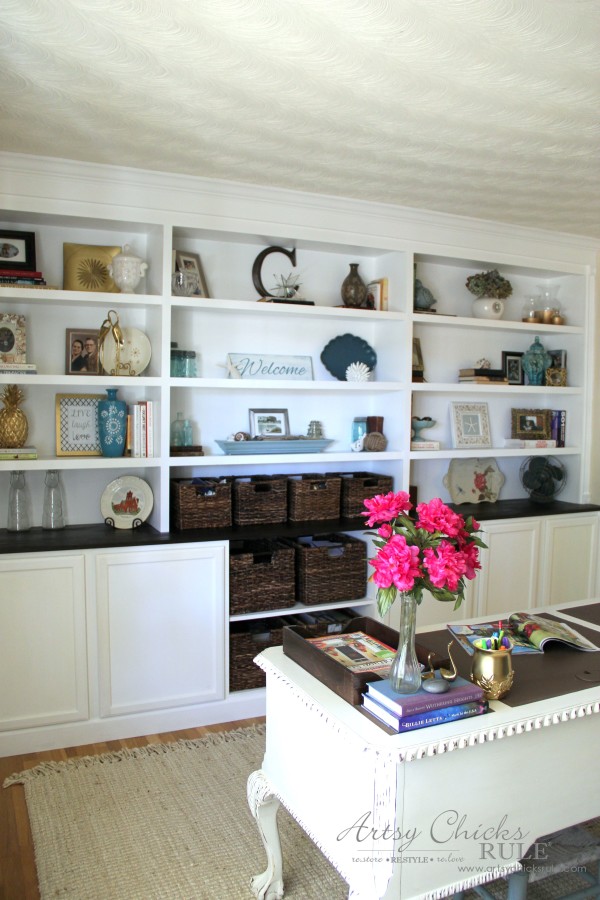 And let me tell you guys, I couldn't be any happier about this being done!
Especially since it happens to be one of the first things you see upon entering my home.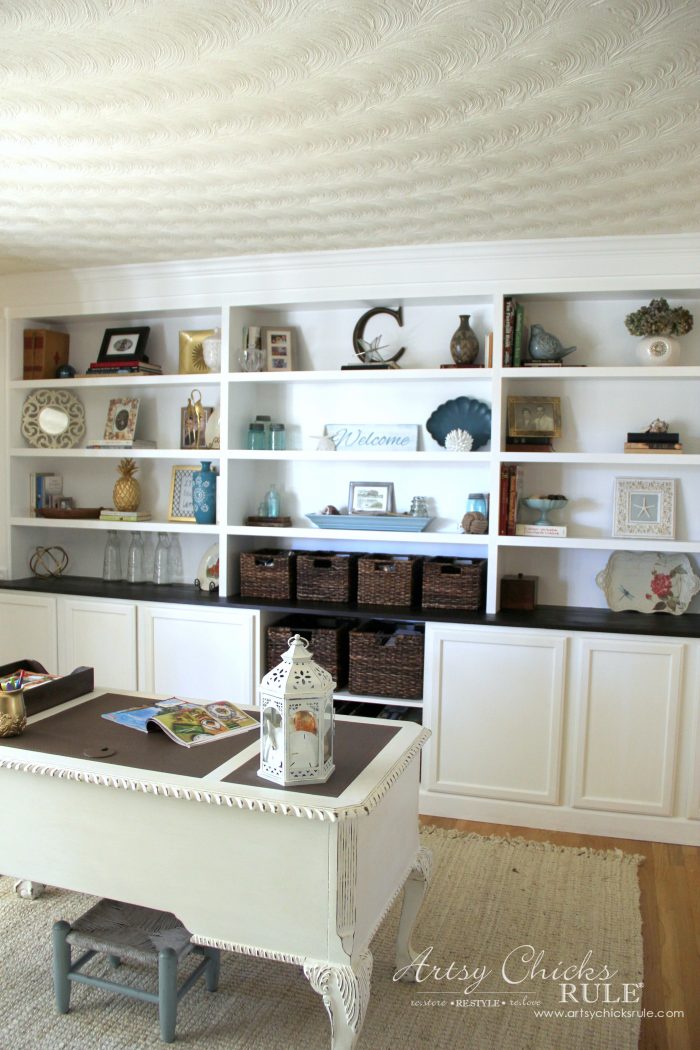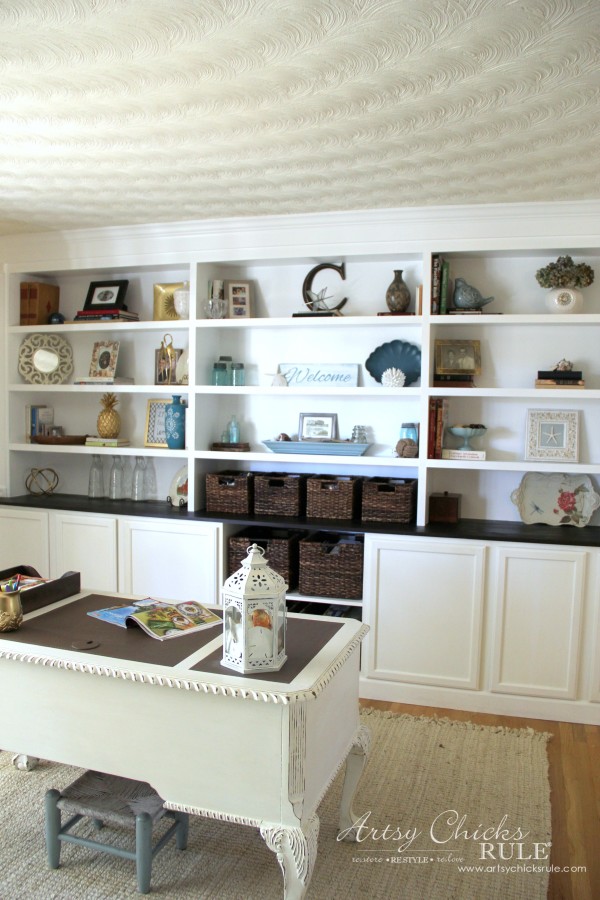 And yep, I know it's a "bookcase" … but I don't have enough books to fill it up! ;)
So I added decor.
I'm going to revisit it in the New Year but this is how I have it for now.
I'd like to add more books. I've been on the lookout for vintage ones.
Plus, y'all, I usually only have to style 2 or 3 shelves, not 12!
Ack…a little overwhelming.
But fun.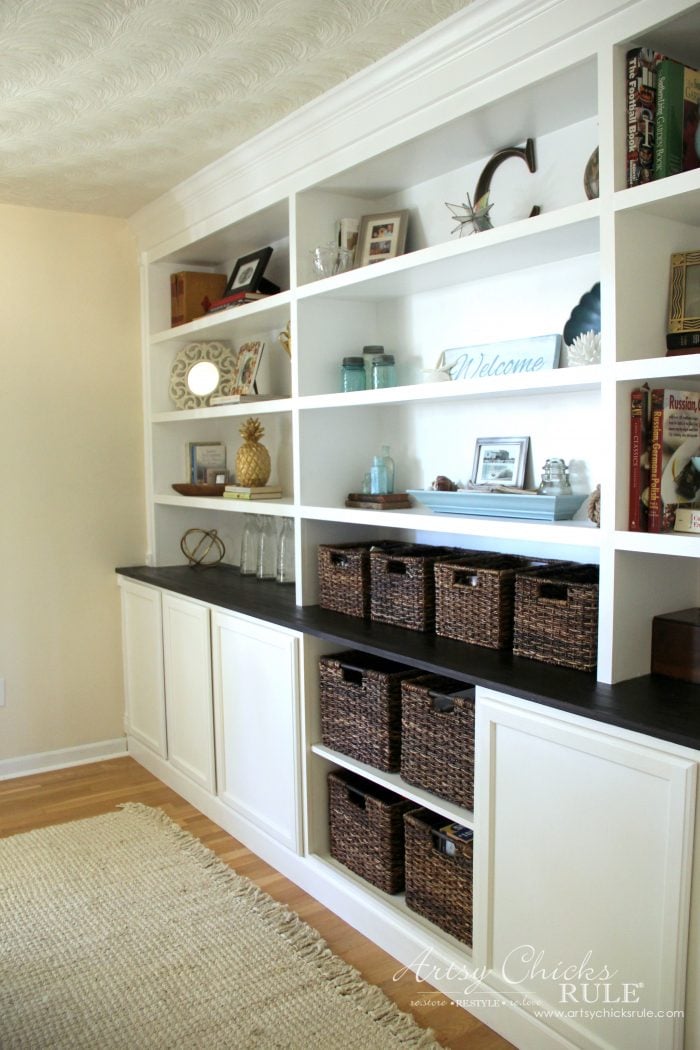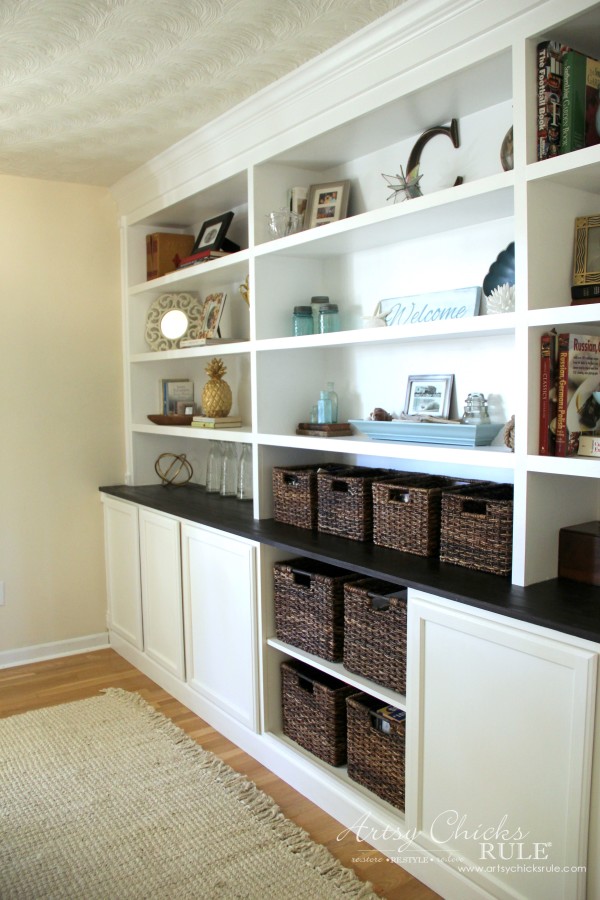 And just a little reminder of what this room looked like when we moved in….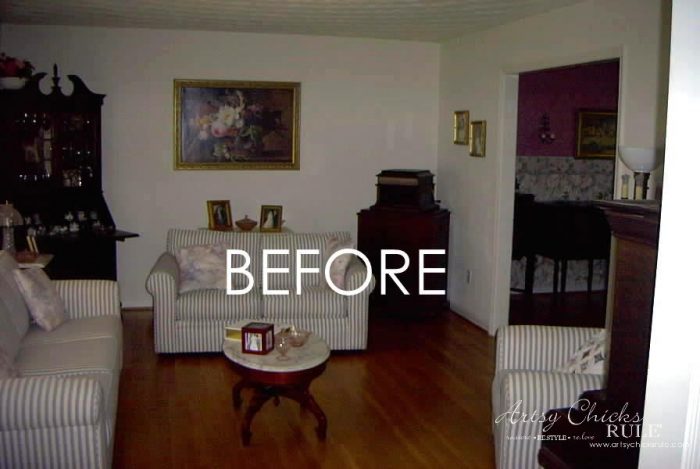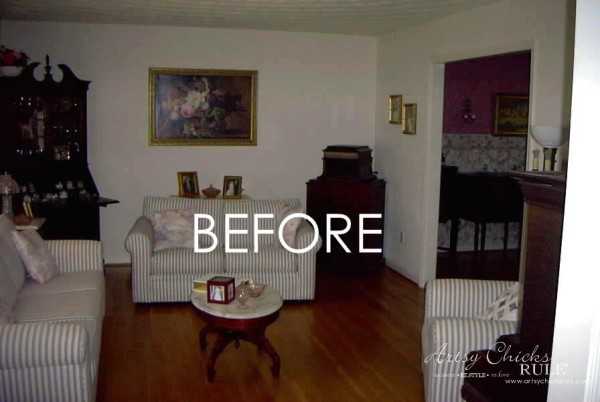 …this is the day we walked through with the realtor. (other owner's items)
That back wall is where the bookcase is.
And this is the day we moved in. (pardon the mess)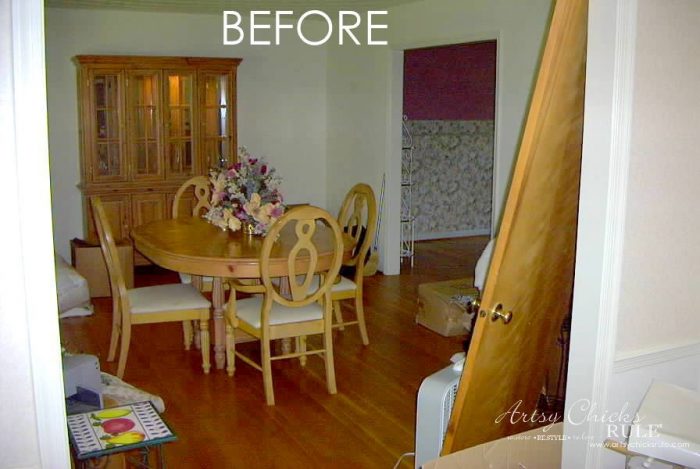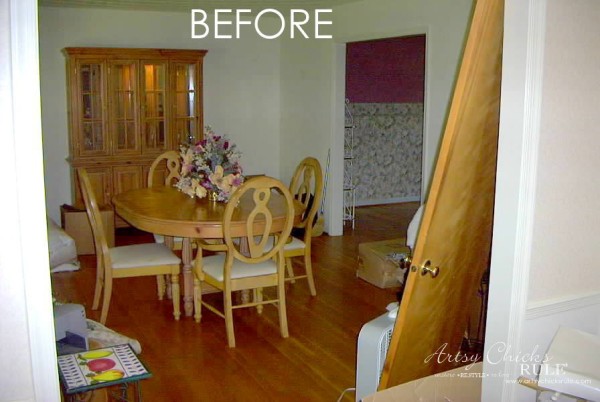 I was going to make it a dining room and what is the dining room now was my study. (the one with the pink wallpaper over there)
Ha…and that is the weird door we removed literally the day we moved in.
It was straight ahead from the front door/foyer closing off the kitchen.
And still as a dining room a few years later…..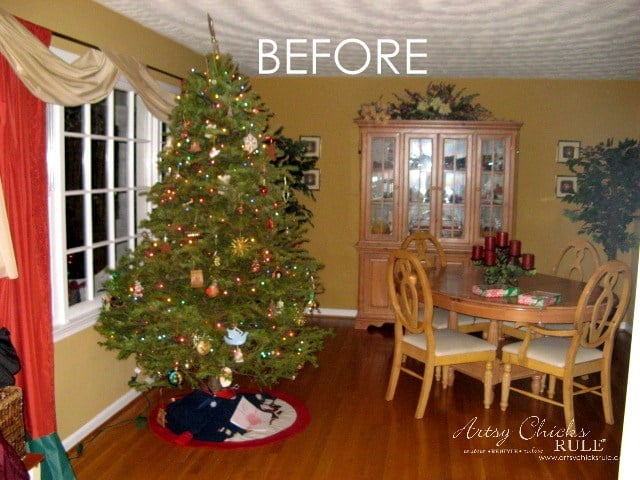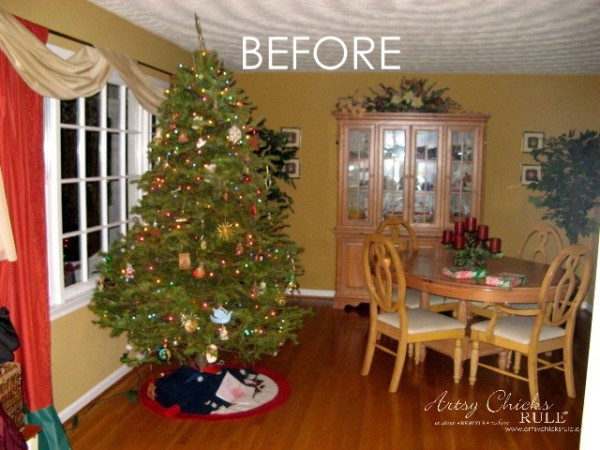 And now….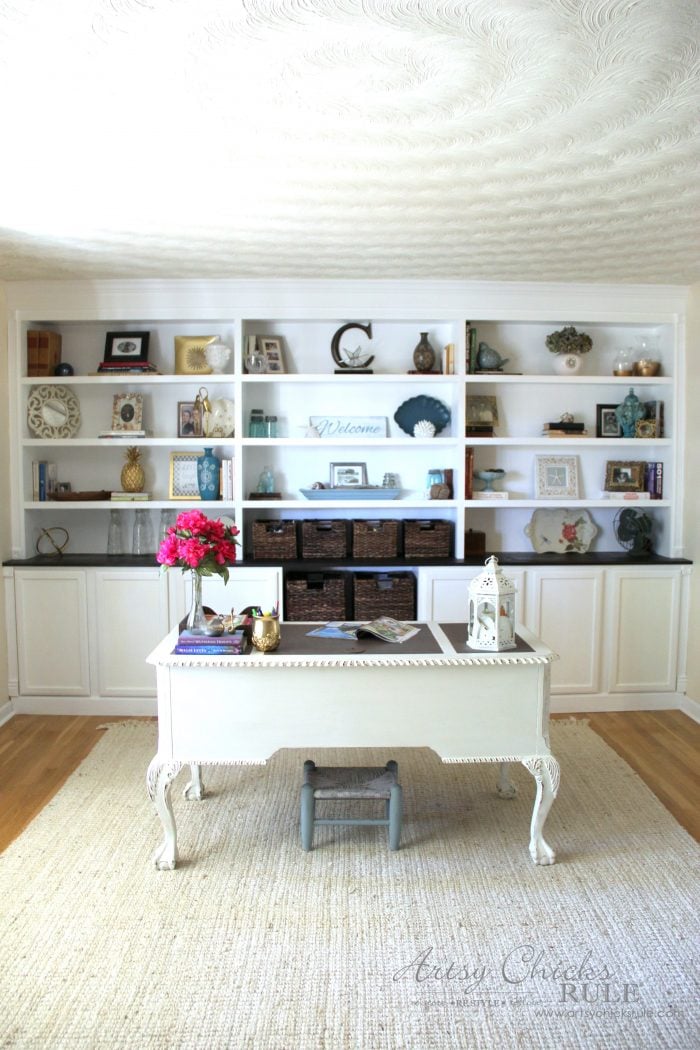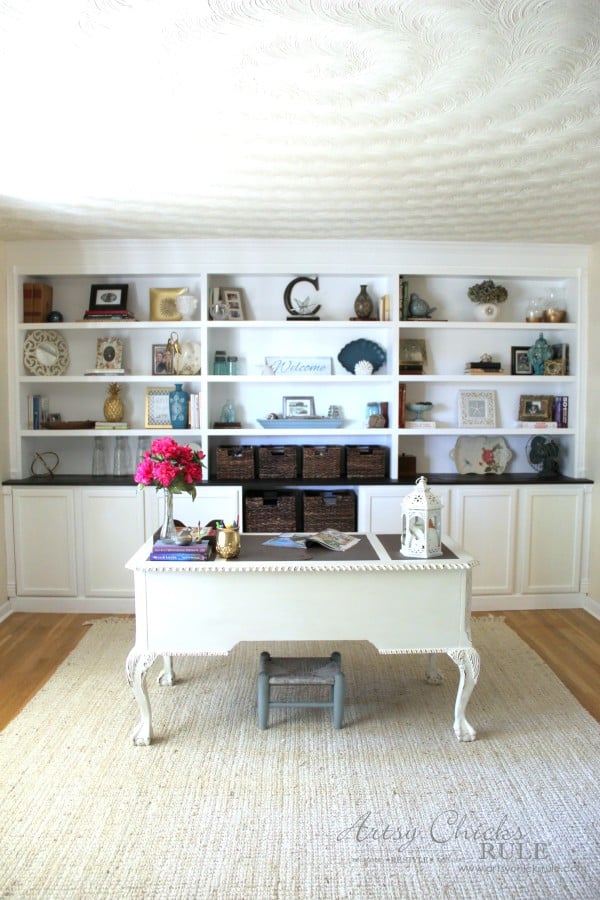 So…much…better.
We've also refinished the floors since then. (you can tell the difference in color from all the "before" photos above compared to this one)
It was really dark and orange-y and almost looked one color (no variation at all).
It took us a few years to muster up the courage to do it….and have to move everything out!
That was quite a job but do-able, as most are.
I'm just glad it's DONE and I can see the beautiful variation in the wood once again!
I guess I should mention the little foot stool. ;)
It is a thrifty find (was stained) that I painted and plan to use here.
I'm working on a chair for this spot also.
I repainted the desk a few years ago. I originally painted it a blend of Old Ochre/Cream (Chalk Paint® by Annie Sloan).
It was too yellow-ish so I painted again with Old White about 2 years ago.
I was never able to share it because this room was being worked on so long!
You can see what it used to look like here…. Study Desk.
Some up close shots of our brand new DIY built in bookcase….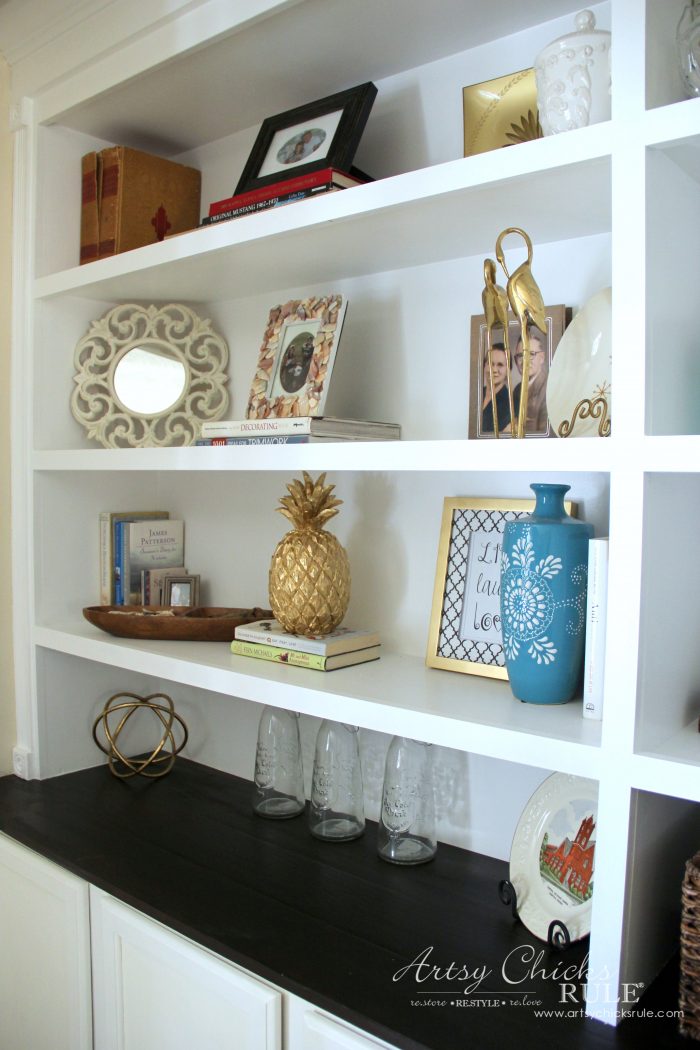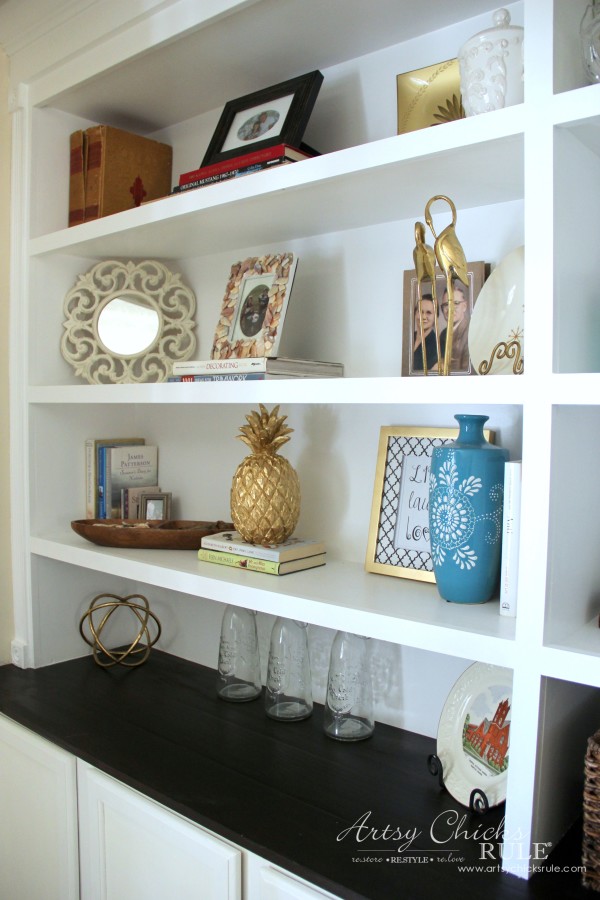 Top shelf … old encyclopedias given to me by a friend and thrift store items (gold plate and vase).
Second shelf … mirror I painted, frame and dish. (all thrift store items)
Third shelf … books, thrift store wood tray, thrift store pineapple (made over), framed print I created. (and later painted the frame gold)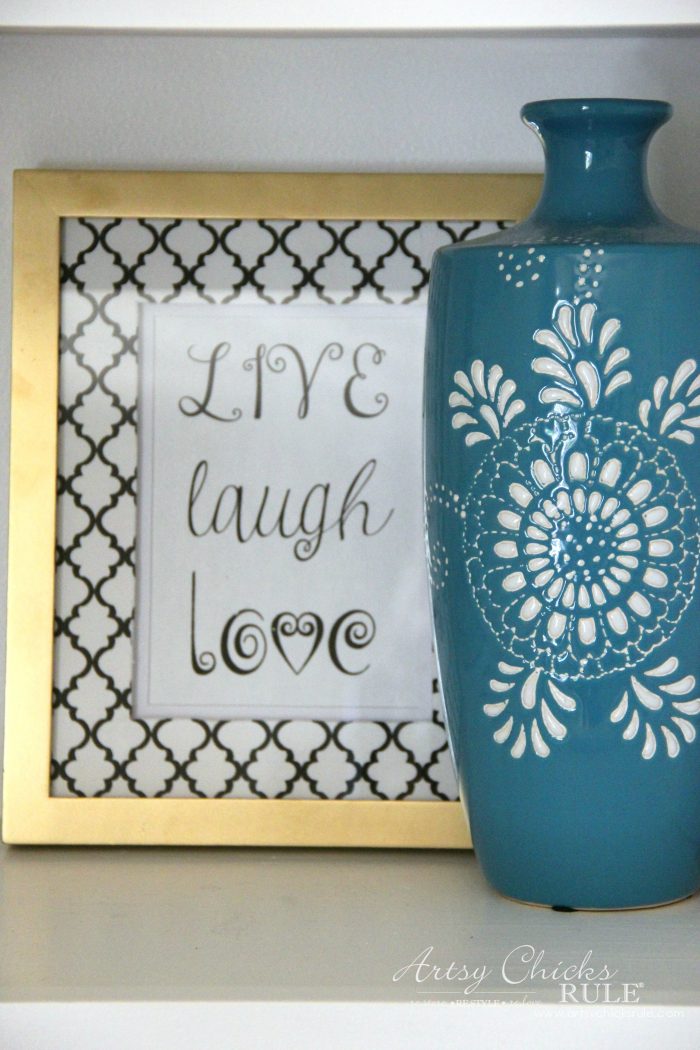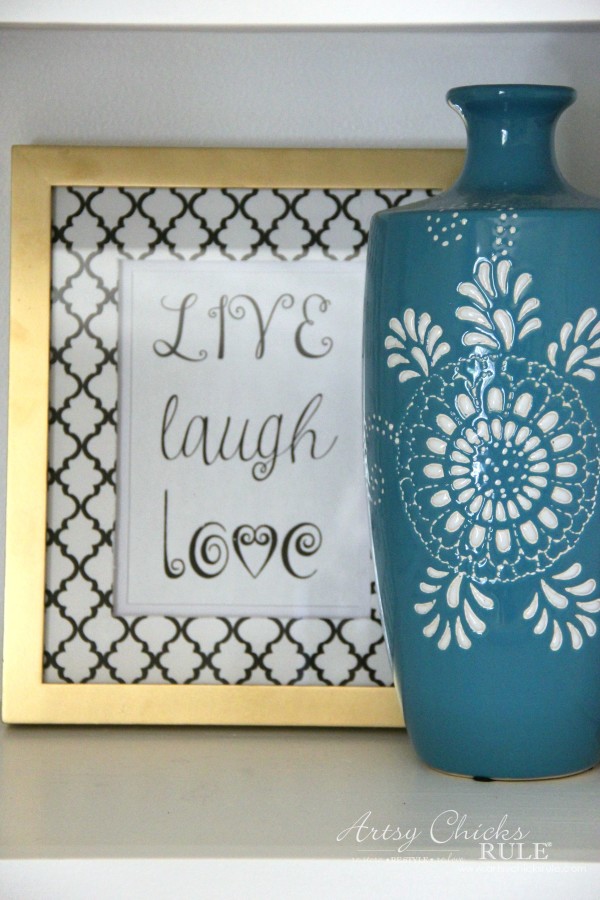 Fourth shelf … gold sphere and bottles (Kirkland's), plate of the church my husband and I were married.
Here's the pineapple makeover…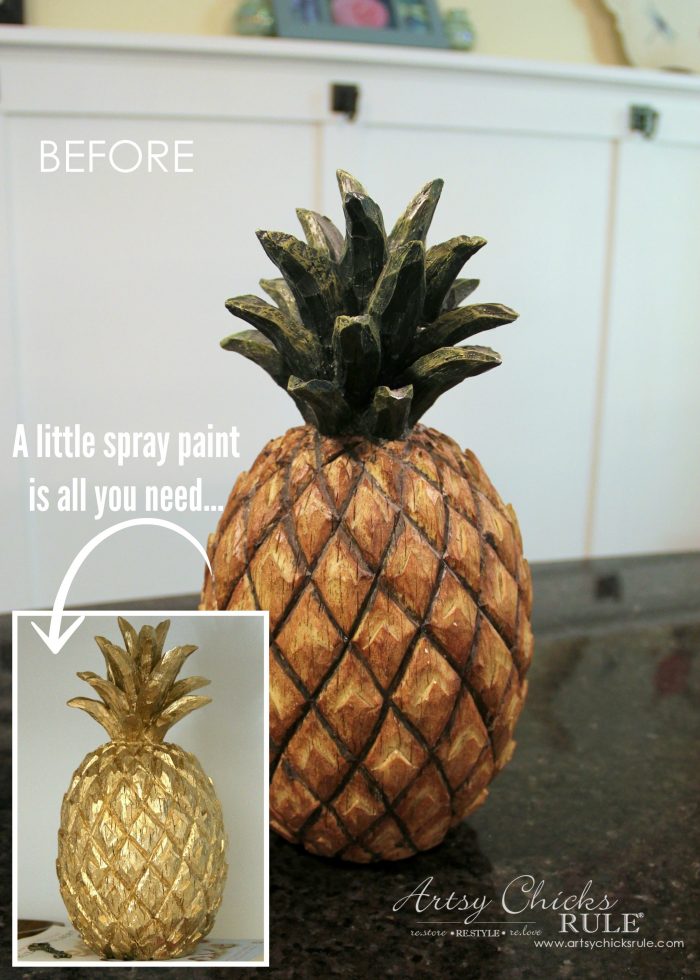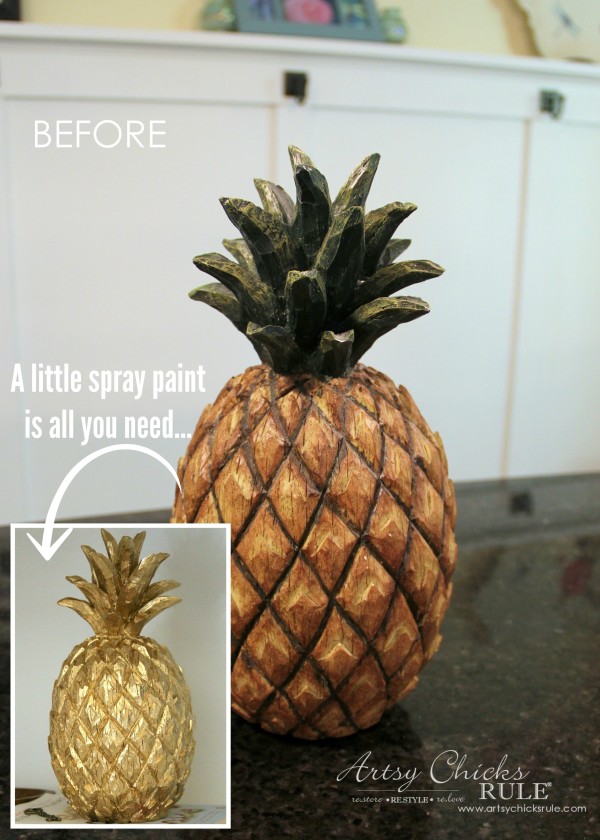 What a difference. Now it looks so elegant.
Seamless seams… caulk is my friend (and yours too, use it, it makes everything better ;) )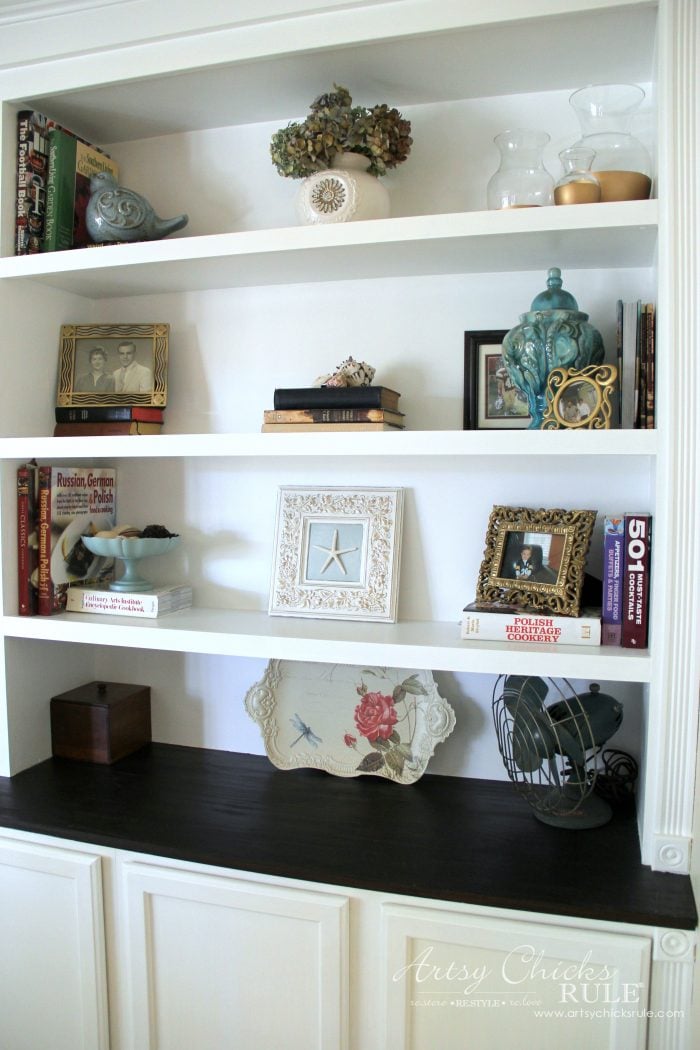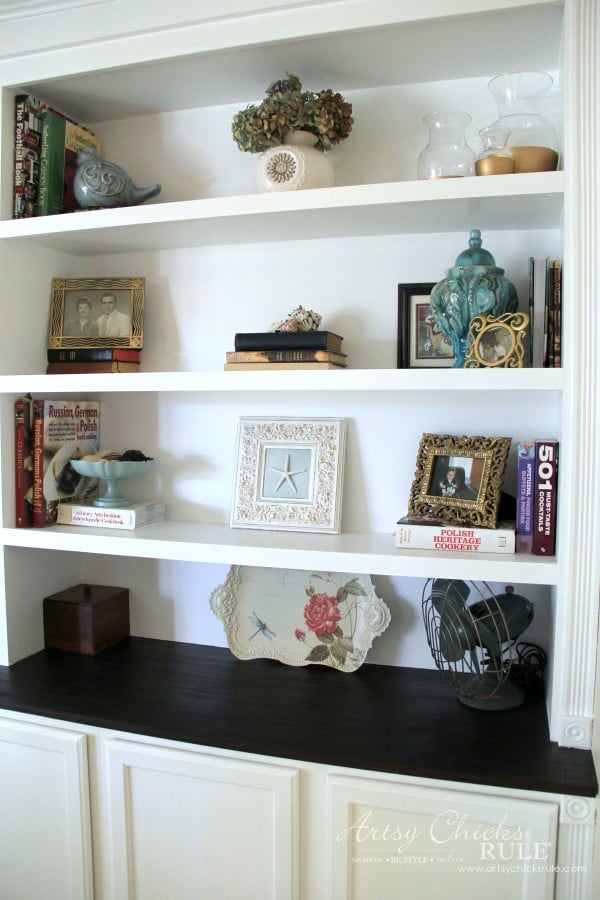 Top shelf … blue bird and vase from Michael's, (50% off, I usually don't buy unless it is) and gold dipped glass jars I made.
Second shelf … frame I sprayed gold (my parents), seashells and books, blue vase (Hobby Lobby).
Third shelf … metal dish painted with Chalk Paint® (was my mother's), wall art I created, cookbooks.
Fourth shelf … thrift store wood recipe box, tray from Pier One, vintage blue fan I found at a garage sale.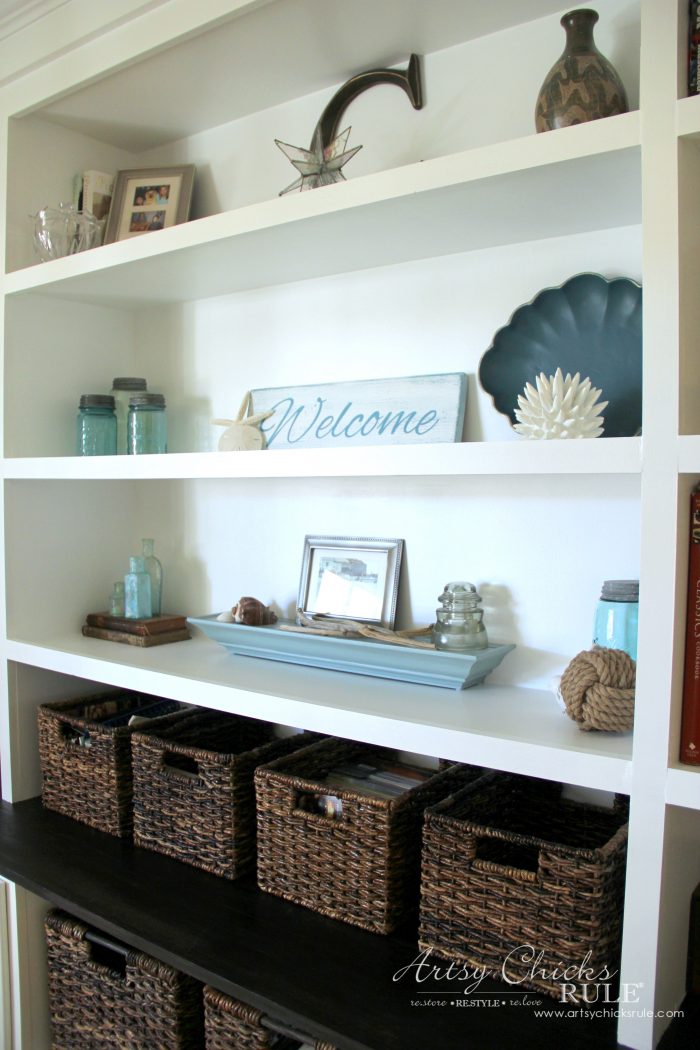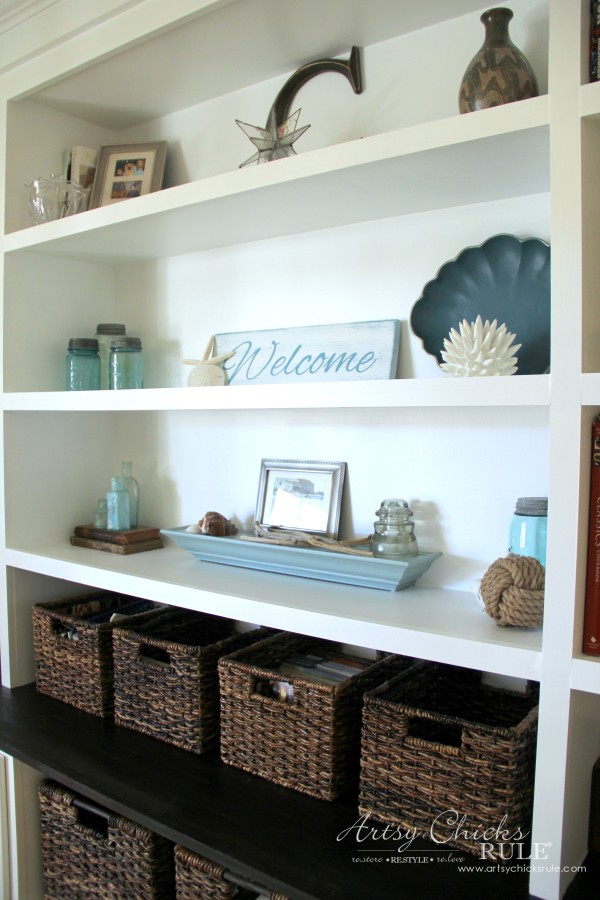 Top shelf … framed photos and a crystal dish that was a wedding gift (25 years next year!), letter "C" (Hobby Lobby, I think) and a stained glass star that was gifted to me, vase from relatives from travels.
Second shelf … blue Ball Mason jars, welcome sign I made, Aubusson blue (thrift store find) pottery dish.
Third shelf … vintage blue bottles and very old books. The center piece used to be hanging on my dining room wall (along with that mirror and framed photo).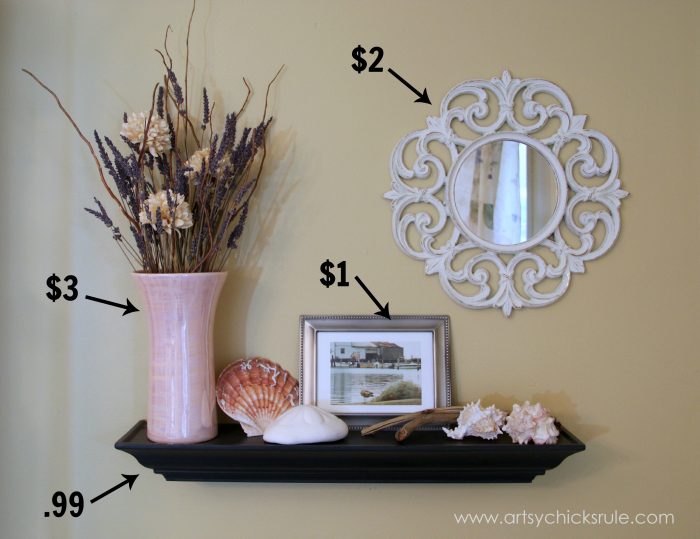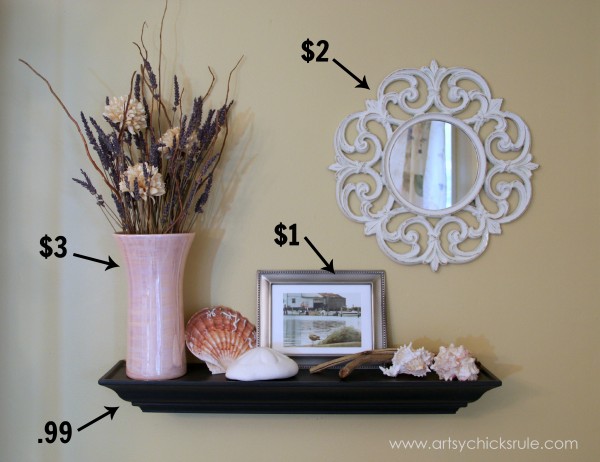 I removed it and repainted it (Duck Egg Blue) to put on the bookcase.
It is also a thrift store find I originally painted in "Graphite".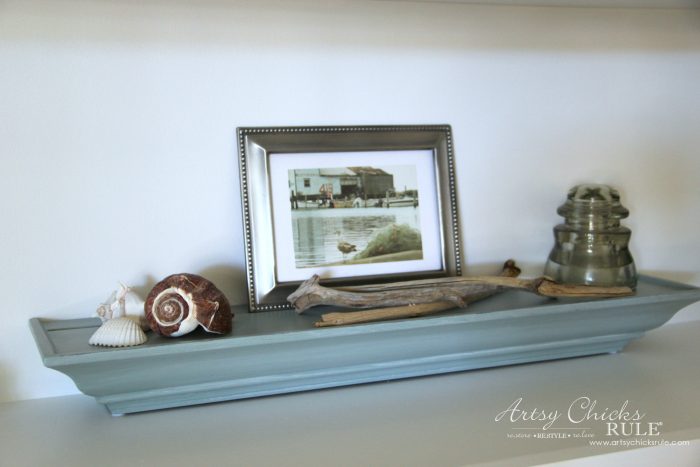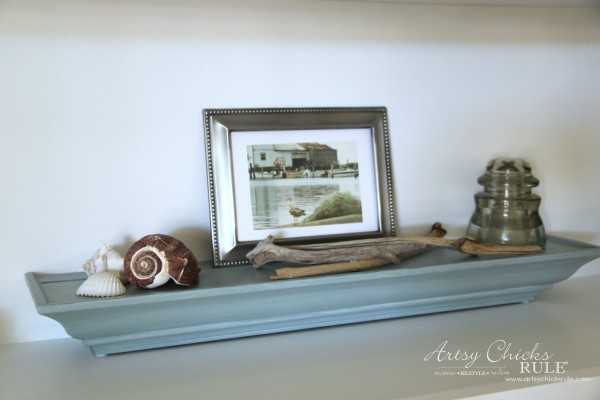 Fourth shelf … baskets are from Target. (love them!)
We left an opening in the center bottom for a shelf and more baskets. (on purpose ;) )
I wanted to break up the cabinets along the bottom a bit.
I love the contrasting colors.
(I'm including a few affiliate links, to some of the products I've used here, for your convenience! See here for full disclosure.)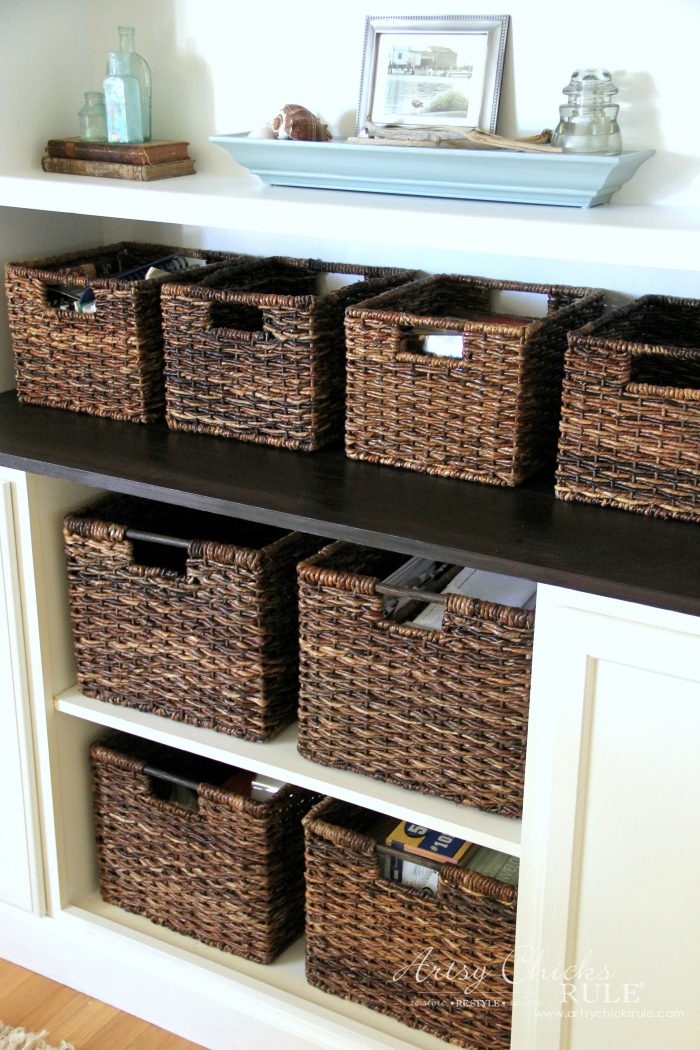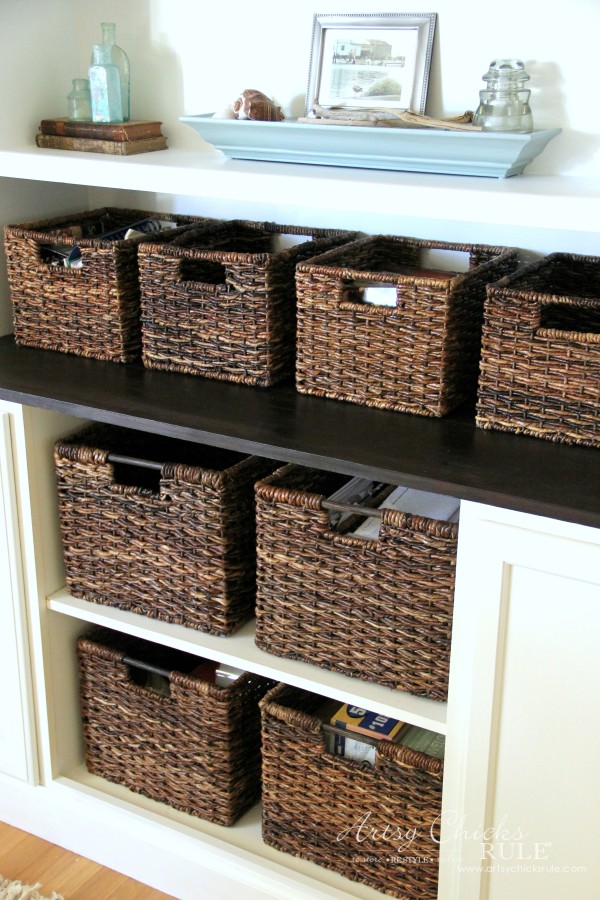 These baskets from Target are from the Threshold line. I just love them.
You can find them here: Target Basket Large
As you can probably see, I am using them for "stuff" and "storage"!
And since I paint inside so often, I decided to use a few of the cabinets for my paint storage.
Nice to have it close at hand.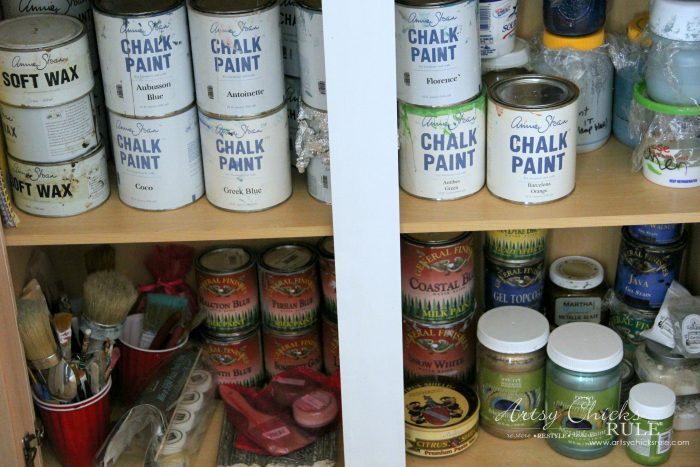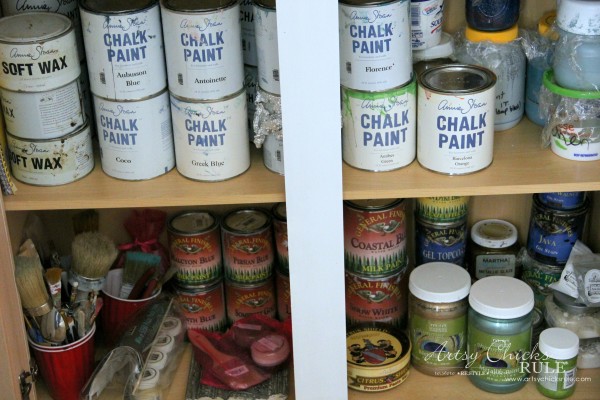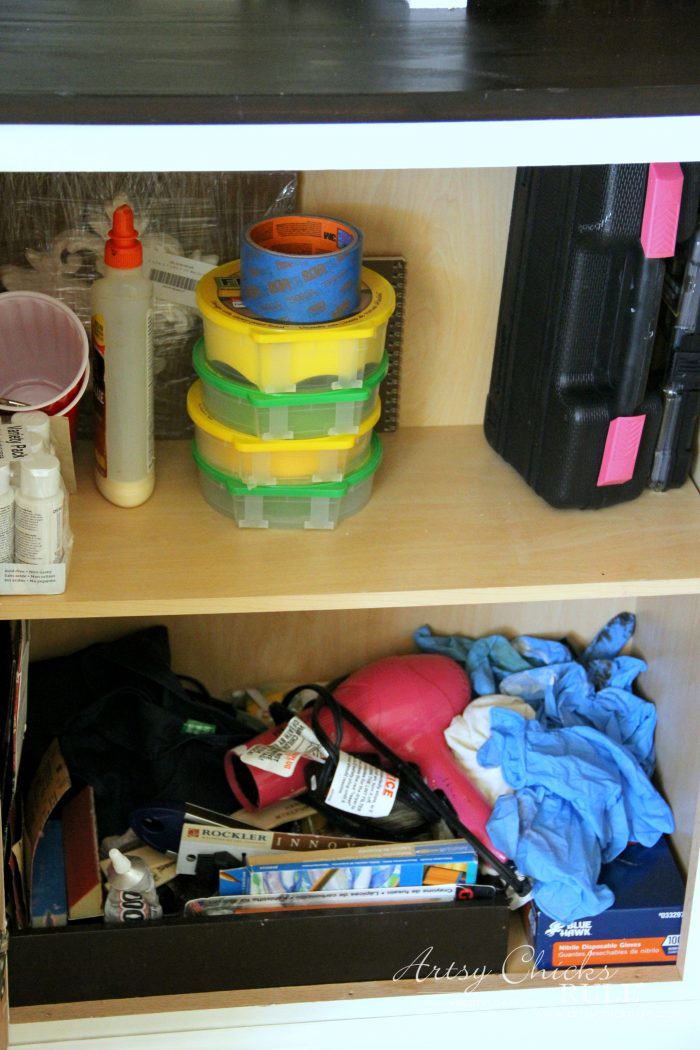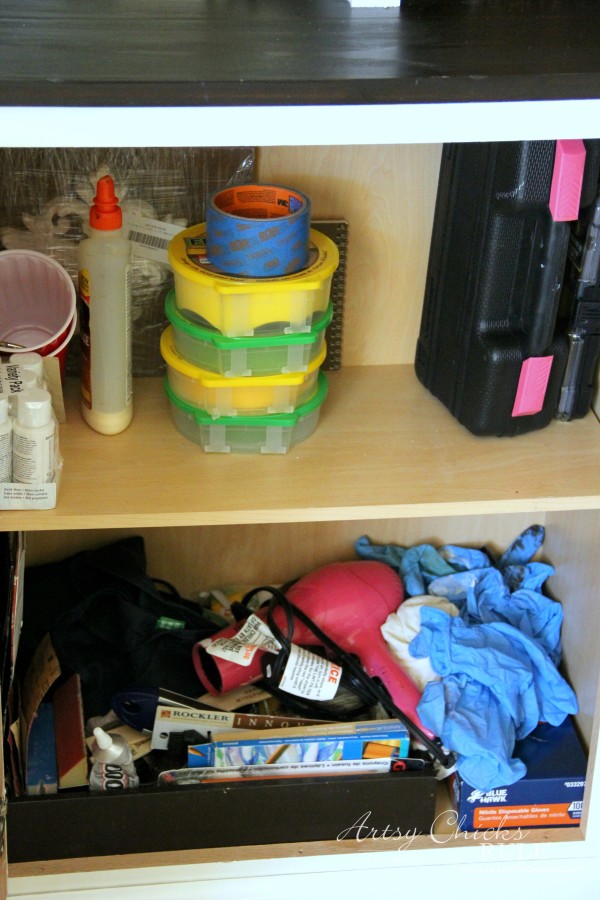 It's so nice to have all of this extra storage.
Especially so since I've made so many changes in the dining room lately.
I'm selling the old dresser (coffee bar) and bar cabinet so a bunch of my items had to be reworked….or purged.
OH! And I must show you my new curtains!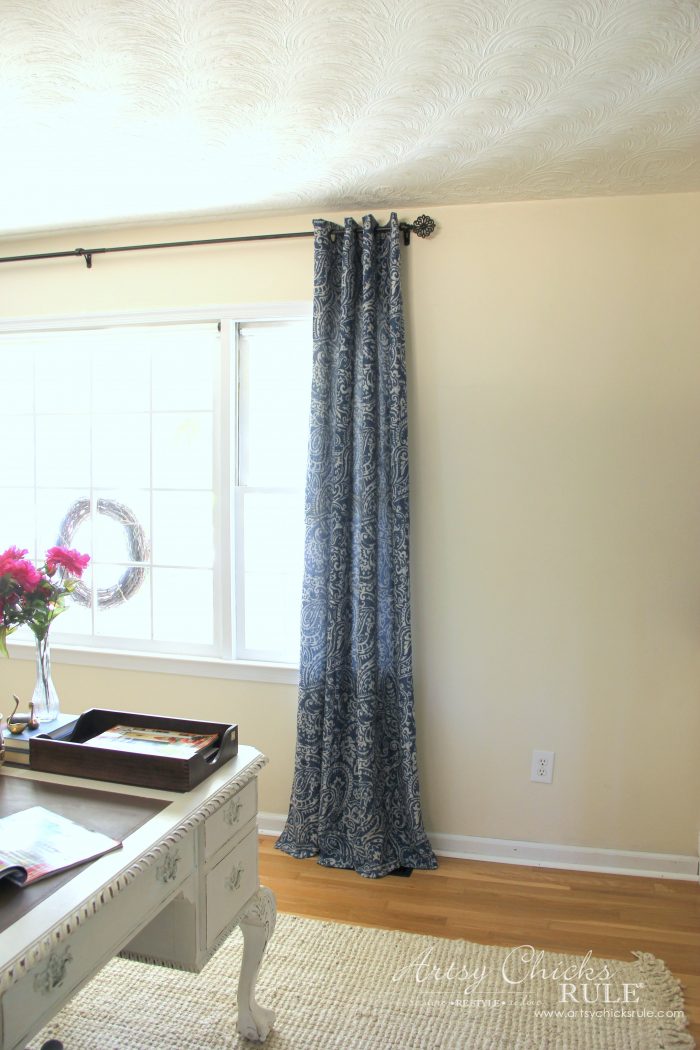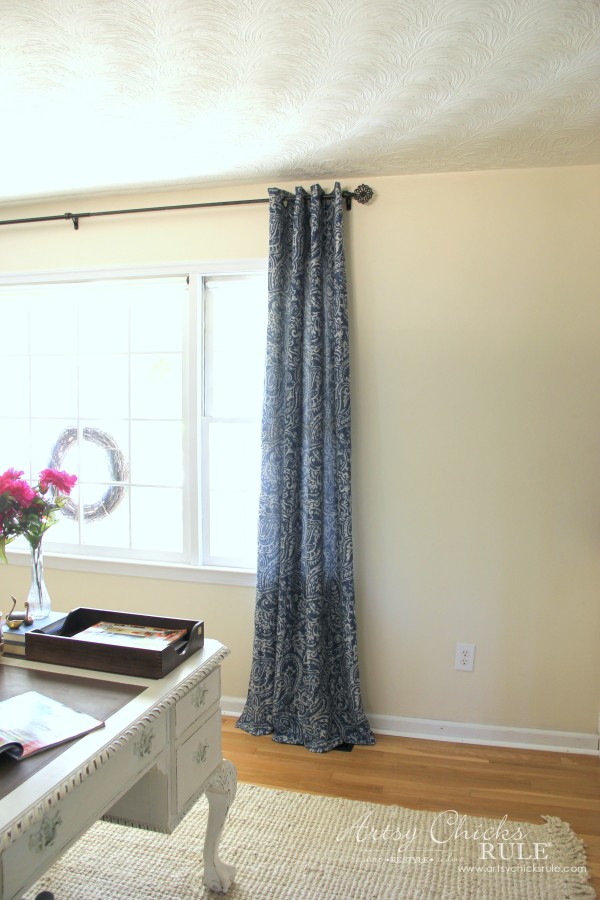 They are from Kohl's and I just love them, the color and the design. (and the price! very inexpensive)
You can find them here: Kohl's Curtain Panel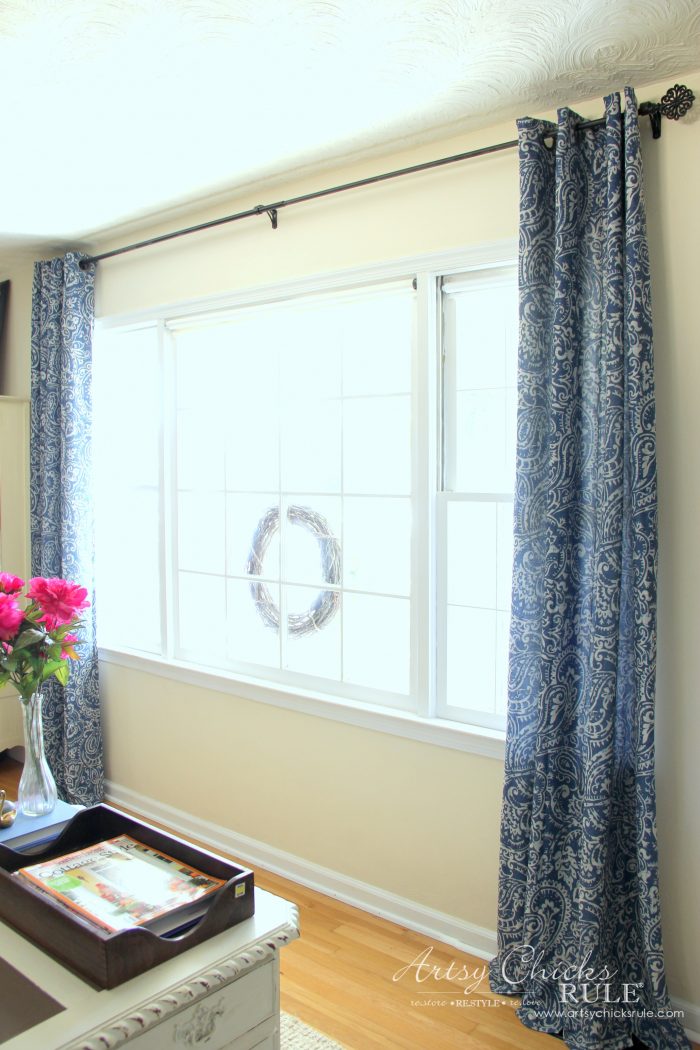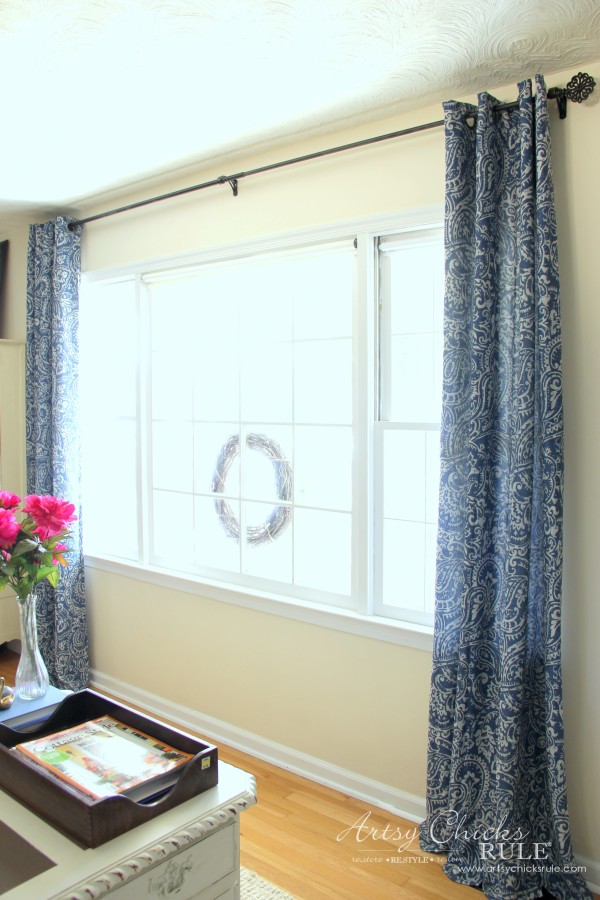 Aren't they lovely? I haven't decided if I will hem them or not.
Probably since I'm not really a fan of this look. (and I have a hairy Golden who's hair gets all over the bottom there)
I now have an artificial tree sitting in front of that window. (we'll do a real tree in the family room)
It also came from the thrift store and it's huge!
Got a pretty good deal, I think. :)

And I'm going to FLOCK it. I have never flocked anything but I am so excited I can hardly stand it.
I have wanted a flocked tree for forever. But they are so expensive and just go against everything I believe about decorating.
So….enter the thrift store and Amazon. Details later! ;)
Alrighty, the bookcase reveal is done!
I'll have a full DIY post of this build after the holidays are over.
I will also link it here too, just in case you would like to pin this now for future reference.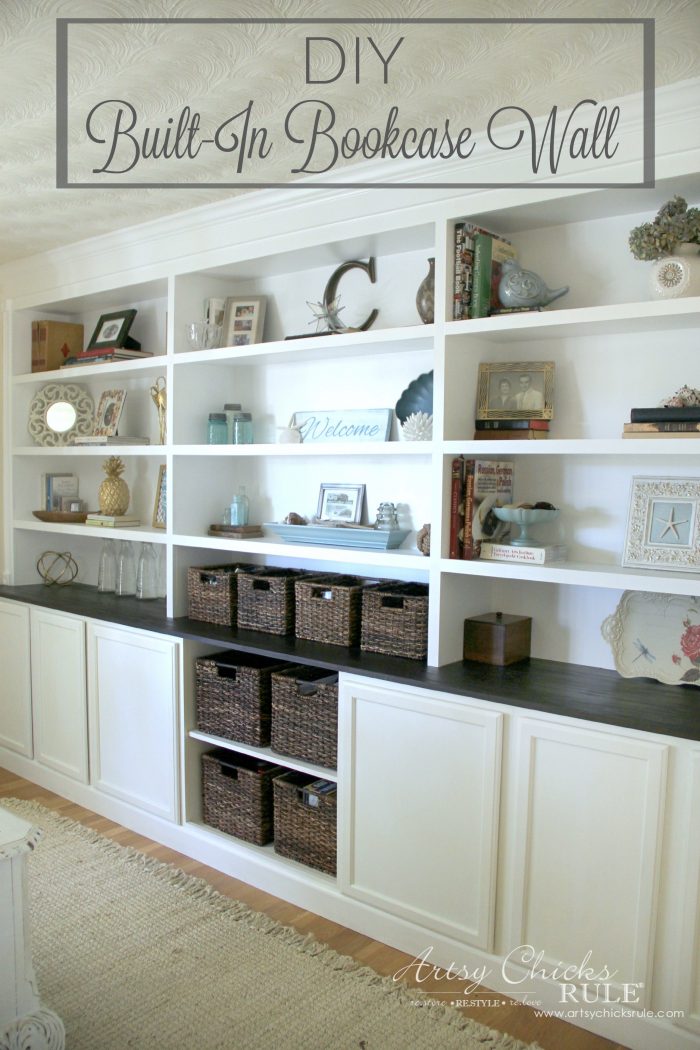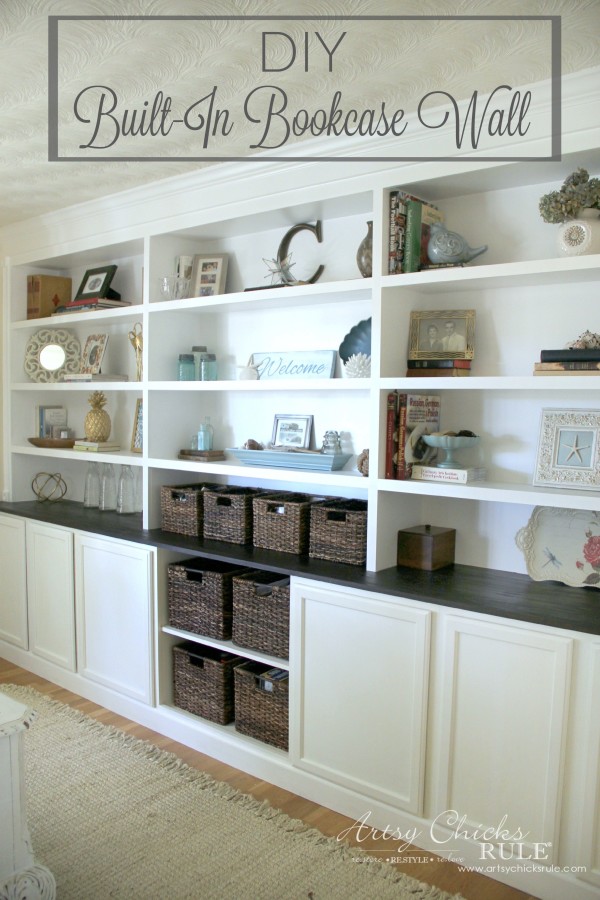 Happy dance all the day long!
EDITED to ADD: See here for the >>> DIY BOOKCASE TUTORIAL
Okay, now on to all of my other ongoing projects. I have quite a few. ;)
I will see you guys on Thanksgiving day with my third and final post in the "Holiday Decor" series.
It's a fun one!
Be sure to stop back by and take a peek. I'll be sharing a little fella that I loved so much I gave him a kiss. haha (no really)
And it's red, traditional and festive.
See you then! Hope you have a wonderful week and upcoming Thanksgiving Day.
If traveling, I wish you safe travels.
xoxo