Master Bedroom Plans & a Mood Board
This post may contain affiliate links. Please see disclosures here.
I have another "dreamy" post for y'all today. ;)
Dreamy as in Master Bedroom plans and a mood board I created with what I "dream" for this bedroom to look like after 11 long years!
With so much to do in this house, I've mostly neglected the bedroom decor-wise (except for painting the walls….3 times now!).
No more of that.
I'm ready to have my sanctuary.
My place to go and relax…instead of my place to just go and sleep.
Everyone should have that.
Now be warned, I'm going to be sharing some "real deal", "real life" photos today! ;)
Not the typical, pretty to pin photos.
But I just really wanted to share some behind the scenes….and it's not all pretty but it is true to life. :)
So first, my vision…..I created this mood board with things I love….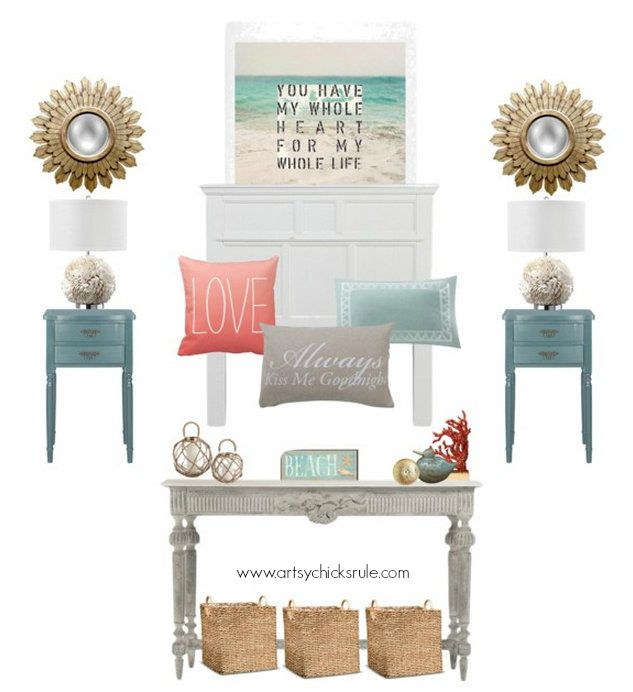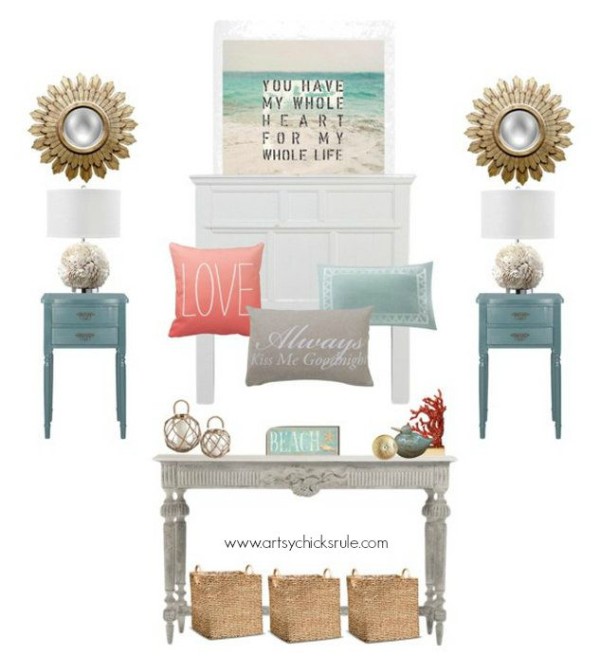 Bright, light and airy…and coastal, of course.
Or maybe a splash of fun colored fabric somewhere…curtains, bedding??
(see the colorful fabric behind the pillows in this one tying it all together?)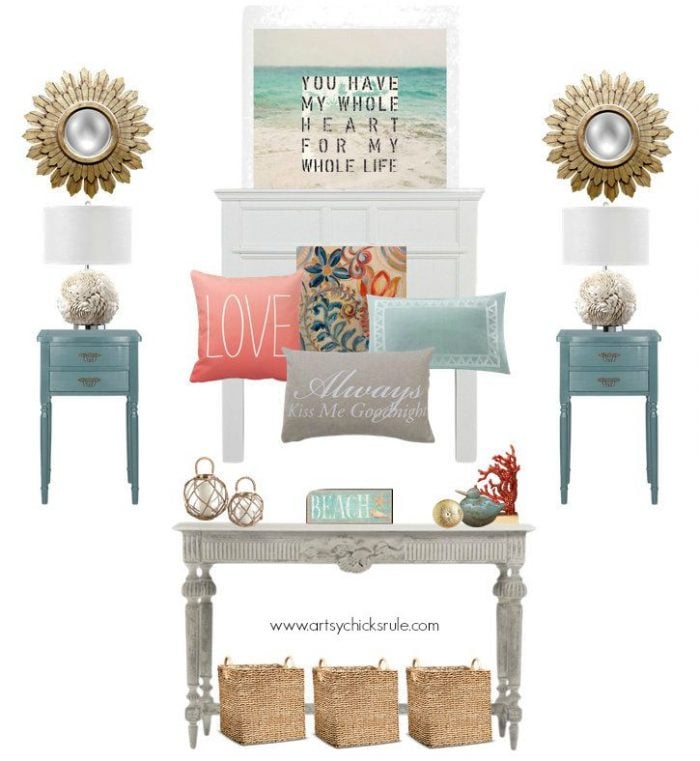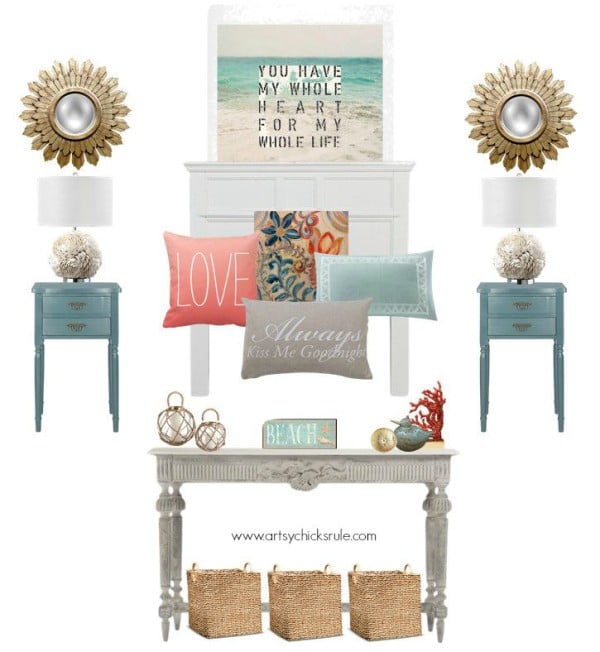 I'm unsure yet. We'll see if I keep it more neutral or add something fun like that.
So let's start at the beginning…sort of.
This room started out PURPLE with LAVENDER trim. I so wish I had taken a "before" photo like I did the rest of the house, but I didn't. :(
I have nothing against purple but it was quite bold for a Master bedroom.
I wanted to make it a bit more gender neutral so changed it to a green shade soon after moving in.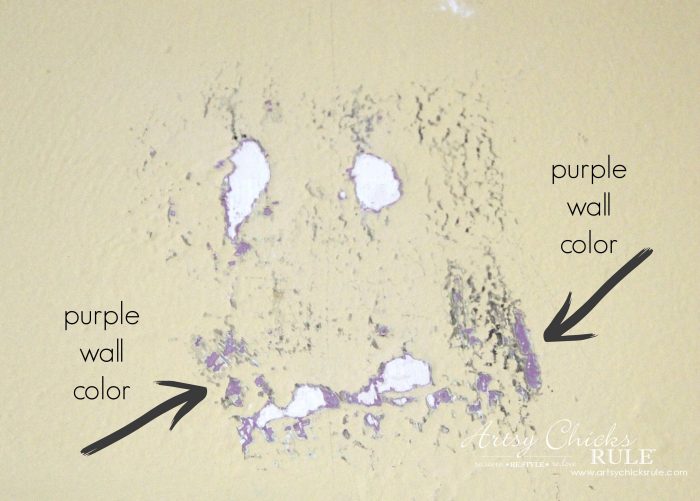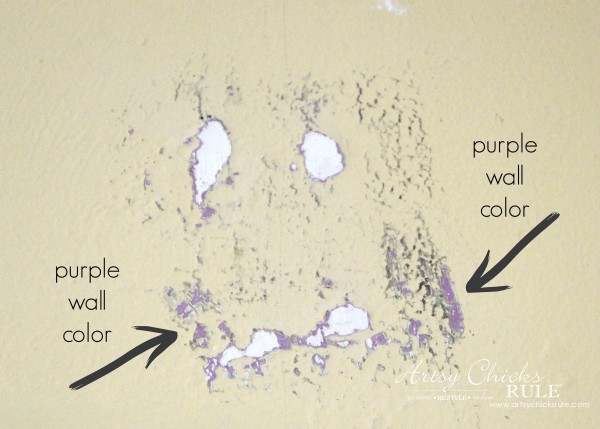 Looks like a sad face, doesn't it?! Haha
We were scraping off excess plaster (plaster walls) and smoothing things out before I painted.
And voila….PURPLE showed up!
I am a color loving girl but this is not my fave, I have to tell ya.
And here's the green color I painted over the purple when we moved in.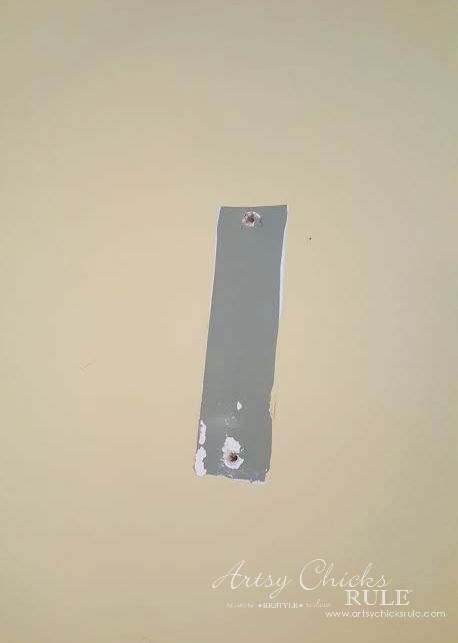 This was behind the TV mount on the wall and we're moving where the TV is going so we took it down.
It was kind of a sage-y green.
Then I painted it yellow about 6 years ago.
And NOW I just repainted it neutral so I can decorate and design without any restrictions.
That yellow made it hard for me.
I painted it in the same shade I just repainted our Dining Room.
Sherwin Williams Navajo White (by half with White). (I'll have an update on that room at the bottom of this post)
Here's how you paint your room without moving everything out….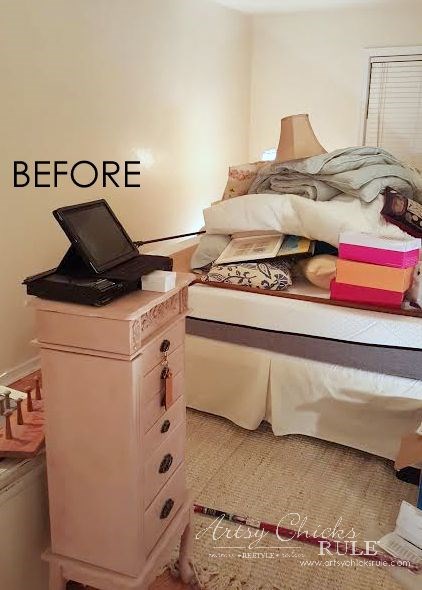 ….you pile everything up on the bed! ;)
Well, mostly … and move everything away from the wall to the center of the room.
And here it is in the yellow about 6 years ago. (please keep in mind I snapped these to show my sister the new yellow color….not to share with the world originally! ;) )
So…disregard the laundry and the decorating (or lack of decorating) in this photo.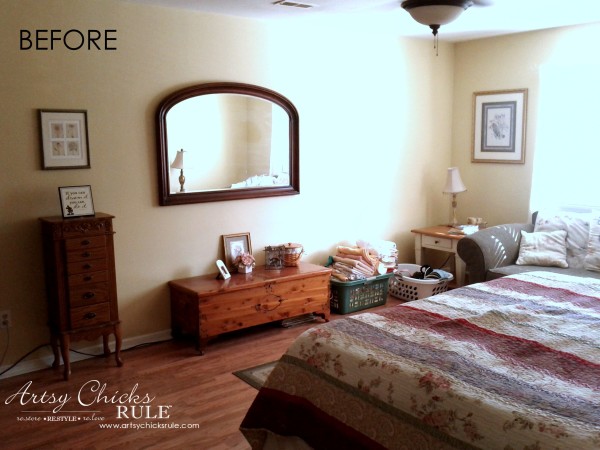 And now…. (same view, bed moved)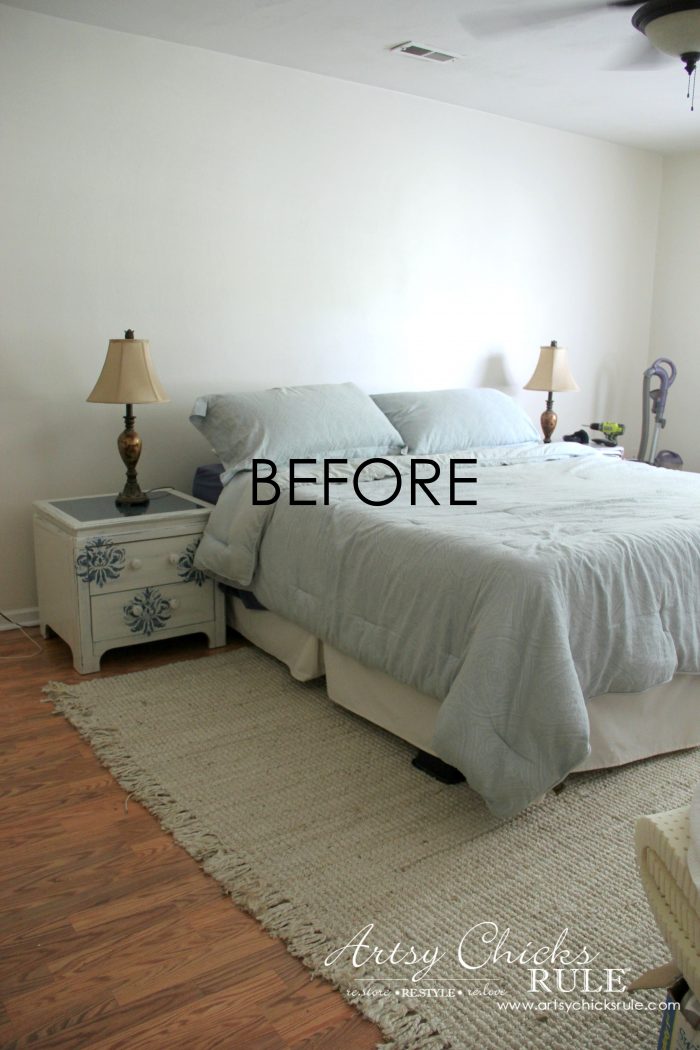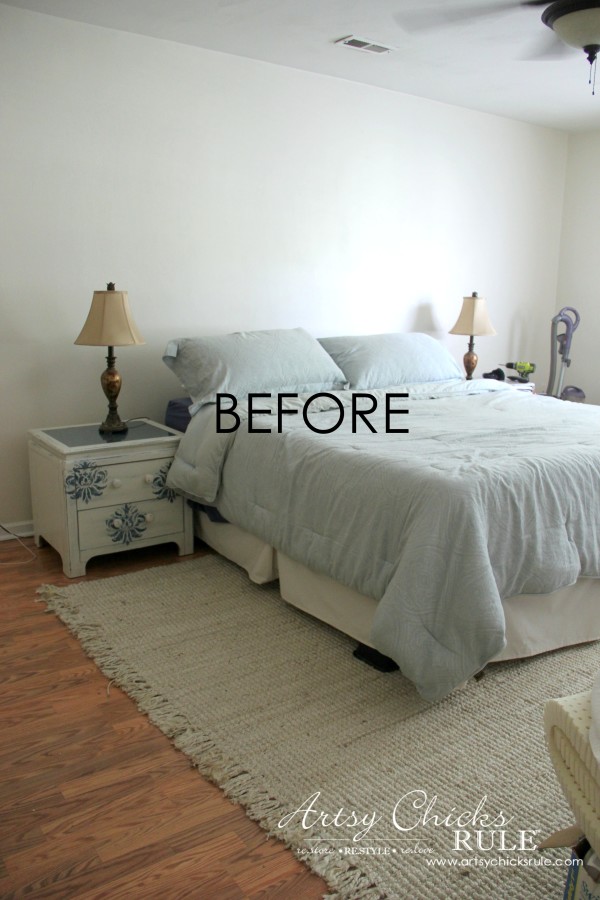 I really also dislike the orange-y laminate flooring we put in right after we moved in.
I am thinking about painting it but that's a big undertaking with all the items in this room.
So….maybe not! (but I did do a test strip with my method on a leftover piece and it worked!)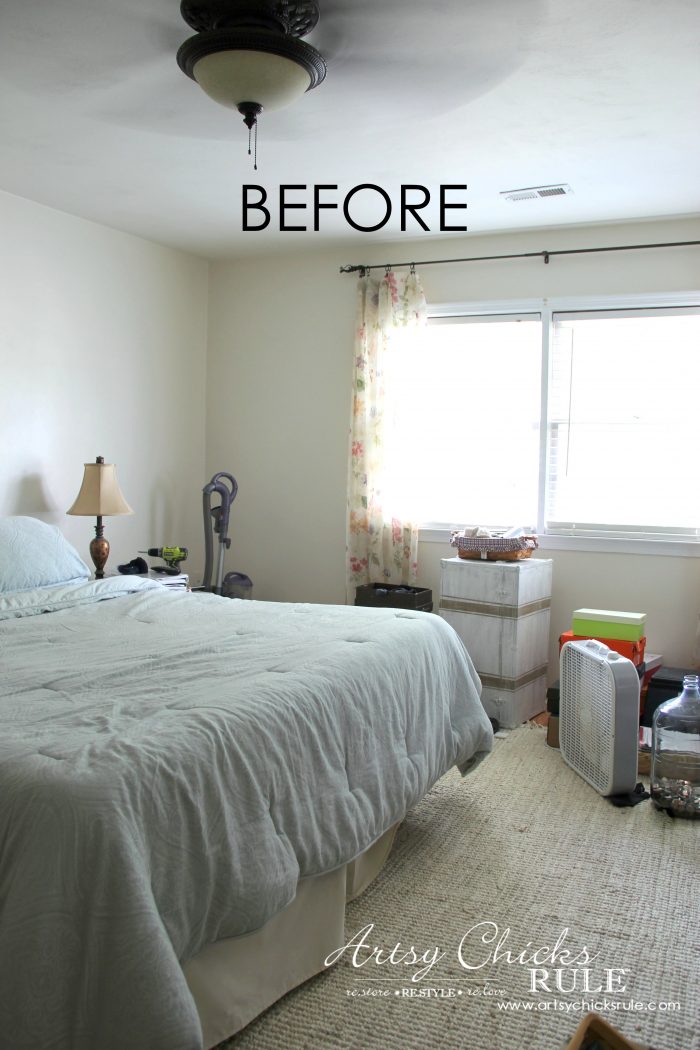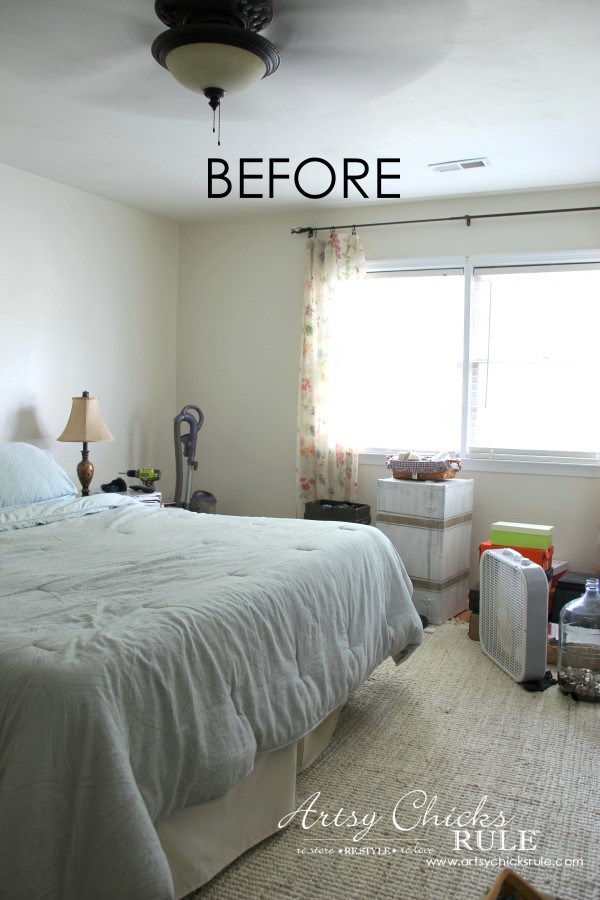 The paint color is sort of a "white sand beach" color. Perfect.
I think I'll save the rest of these "befores" photos until I have the pretty "afters" in the reveal upcoming.
I'm hoping to have it completed very shortly.
Hey y'all :)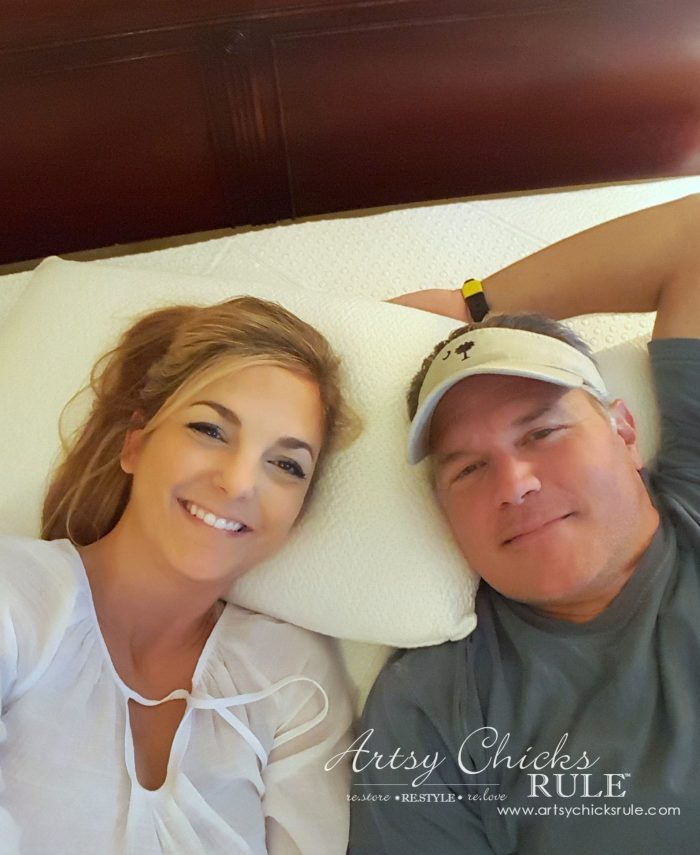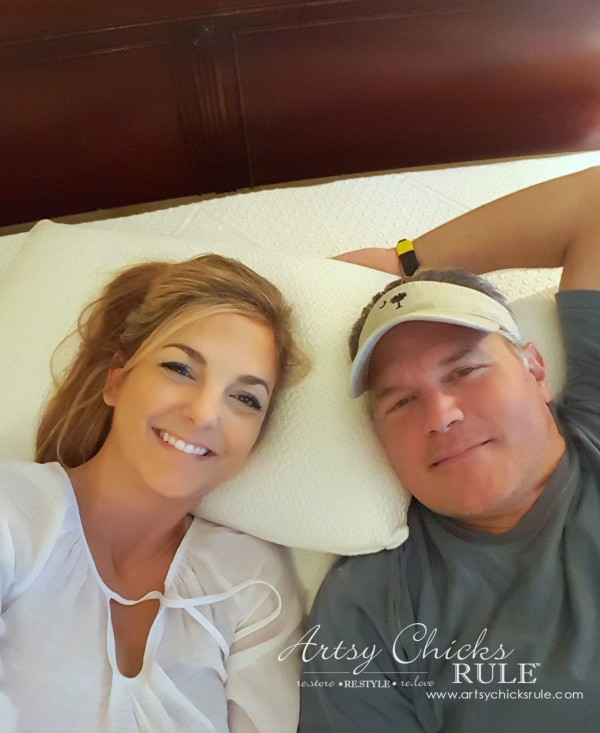 I'm finally doing something with that old thrifted headboard up there too!
I mentioned I'd share what's happening in the Dining room…..
(you can see the plans for, and mood board for this room, here –> "Dining Room Changes")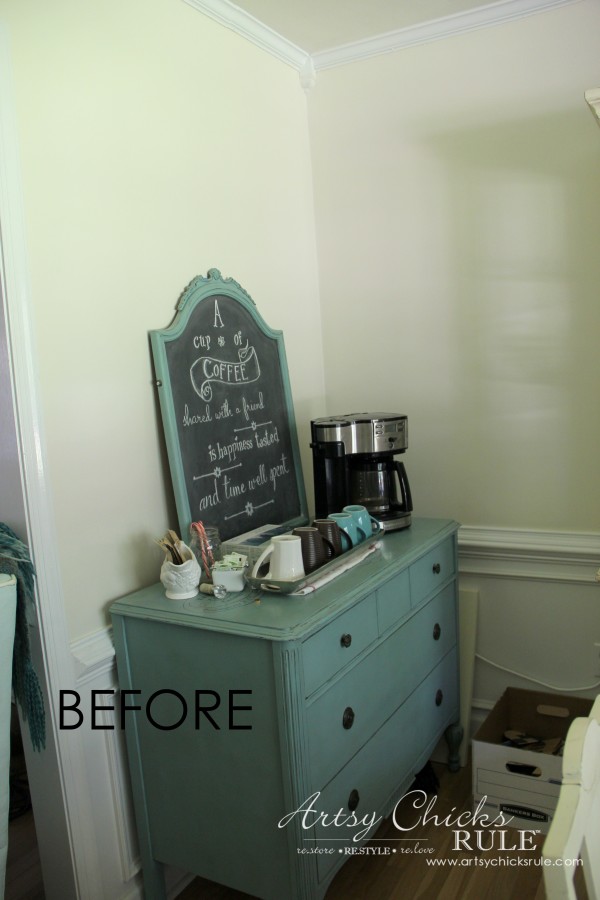 No more yellow! (although it is a "warm" shade still)
Not sure yet what will become of the Coffee Bar. I may design another or I may continue to use this one.
I will move it closer to the kitchen, however.
We removed the cabinet that was on the wall over the Bar Cabinet.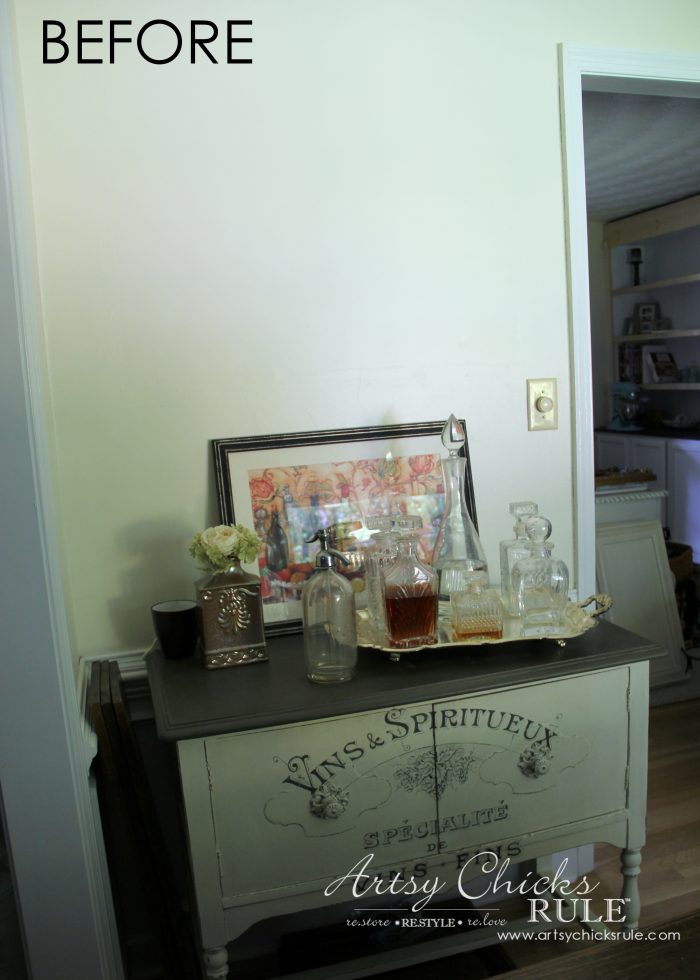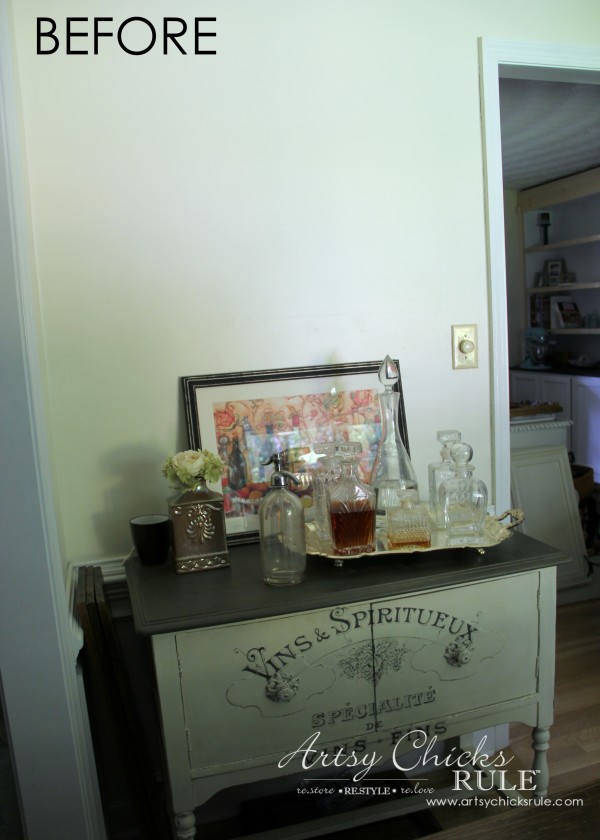 It's amazing how different it looks and more open.
But then that left us with all of this….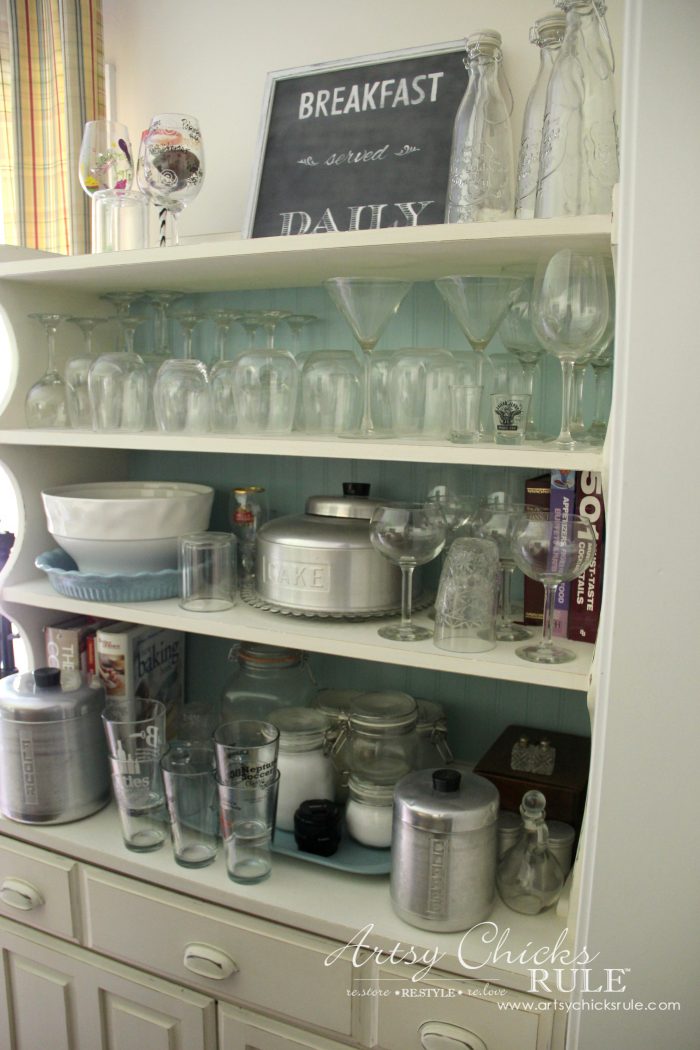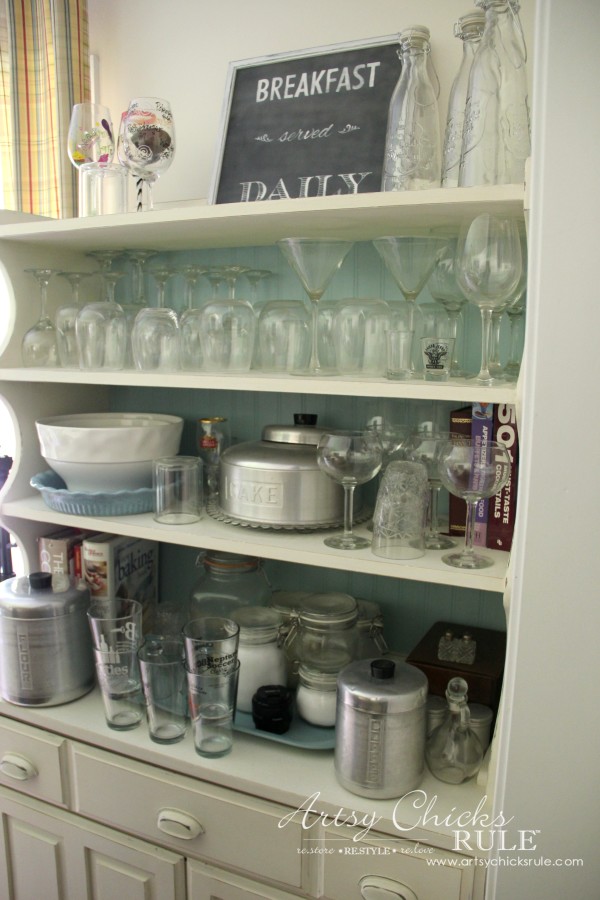 I need to find a new way to store all of the glassware that was IN that cabinet.
I may do several shelves with wine rack underneath.
Or I may sell the current bar cabinet and get one that is a bit larger (not open on the bottom) and put a shelf or two up top as well.
What do y'all think?
PLUS, I'm fairly certain I am selling the Baker's Hutch pictured above.
The Coffee Bar will go in it's place instead.
I know it all doesn't look like much right now but I'm excited about the change!
(and excited to get my house back in order! ;))
Alrighty….what do y'all think of my design for my bedroom? My mood board and vision?
I'd love to hear what you think about both the dining and bedroom plans…and anything you'd think would look nice that I might not have thought of.
I'm excited. I can't wait to have our bedroom fully decorated….finally.
See you guys next week with some "Trash to Treasures" and a simple but fun "Back to School" DIY project for you!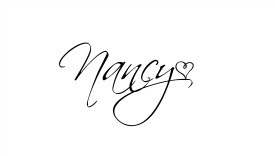 If you are interested in any of the things I shared above, here are some similar items:
(affiliate links, see my full disclosure here)

Follow along! –> Instagram ~ Facebook ~ Pinterest ~ Bloglovin