Simple & Fun Valentine's Day Craft
This post may contain affiliate links. Please see disclosures here.
Well hello there February! SOOO happy to see you. :)
The month of LOVE. (and just that much closer to Spring, YAY!)
If you follow me on Instagram, you already know that we went from 8 inches of snow to flip flop weather in the space of 3 days!
Crazy Virginia weather.
I'm so ready for Spring but first….
Valentine's Day is coming up, are you ready?
It's never been too big of a holiday for my husband and I since both of our birthdays are the in the 2 weeks before it.
We're pretty much partied out by the time it rolls around.
However, I do love a little LOVE.
So I have joined in with 13 other bloggers to bring you some fun Valentine's goodies.
Crafts and decor.
Like this fun and very simple project below….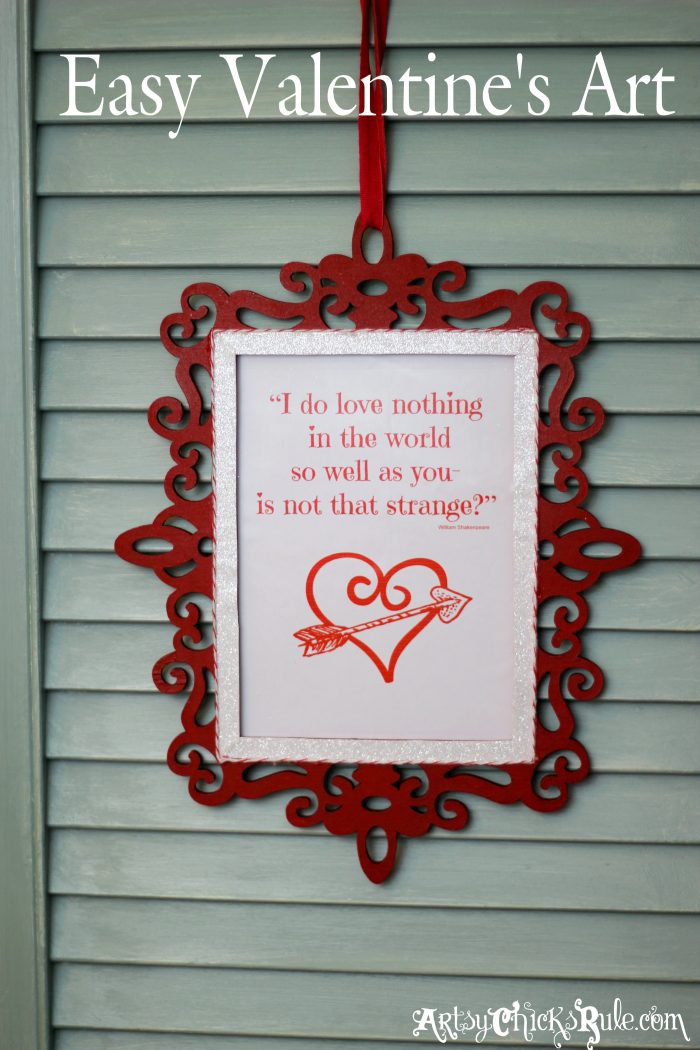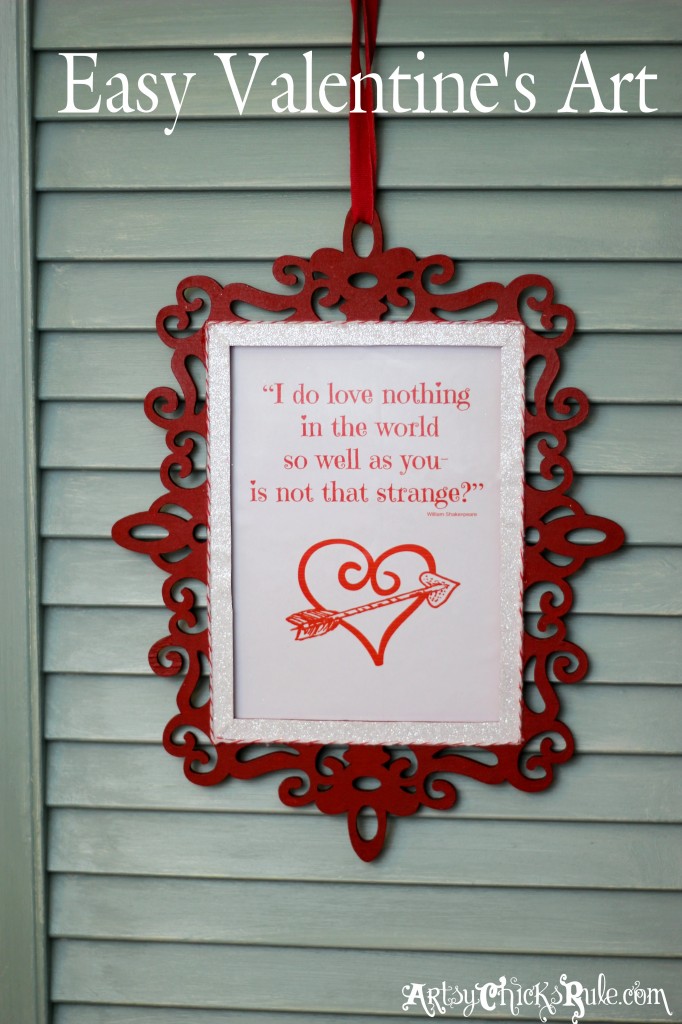 …one you can make or help your little ones make for a friend/loved one.
Or to simply add some Valentine decor to your home for the holiday.
…………………………………………………
I bought the lacy wood "frame" from Michael's last year but never ended up using it.
It's very similar to the snowflakes I used in my Snowflake Wall Hanging last year.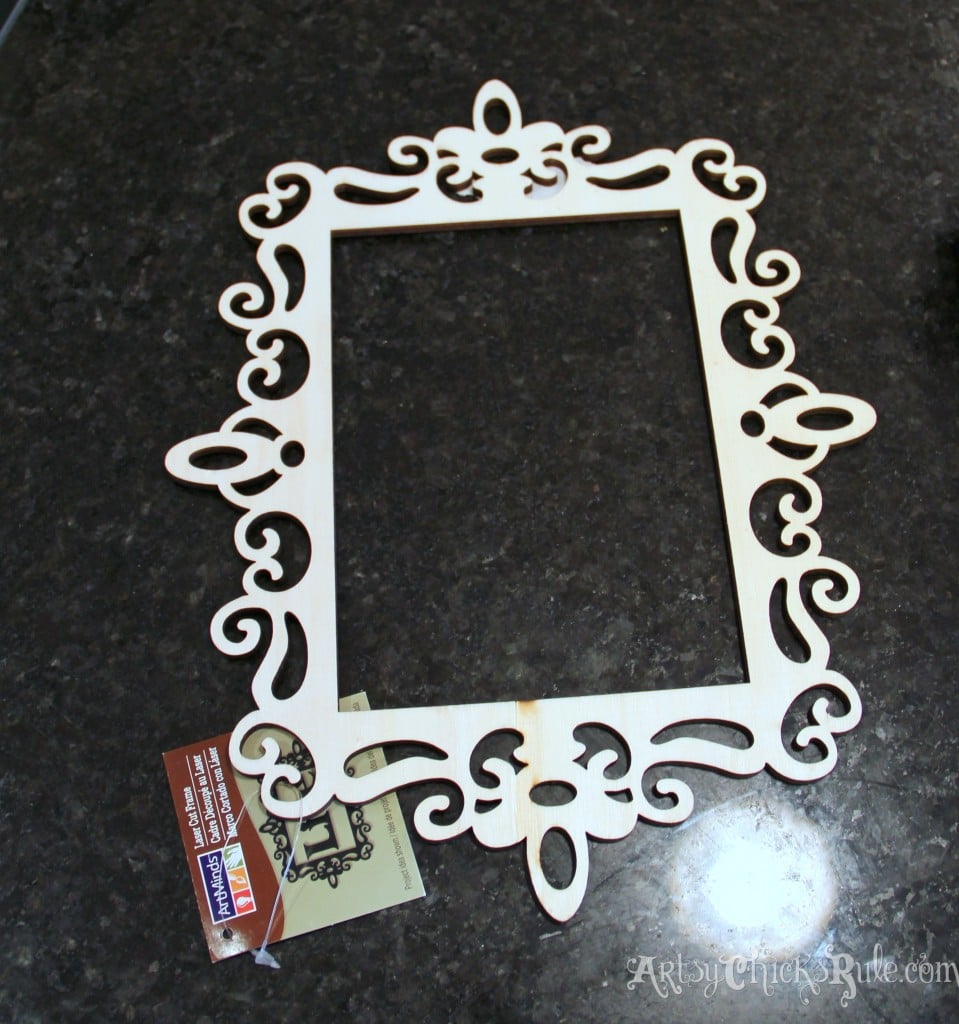 I came across it and thought it would make a pretty frame for a sweet "love" quote.
I searched around online until I found one I liked.
And I found this –> "I do love nothing in the world so well as you….is not that strange?"
William Shakespeare
I know, quirky. But I LOVE quirky! ;)
I created this graphic on my computer …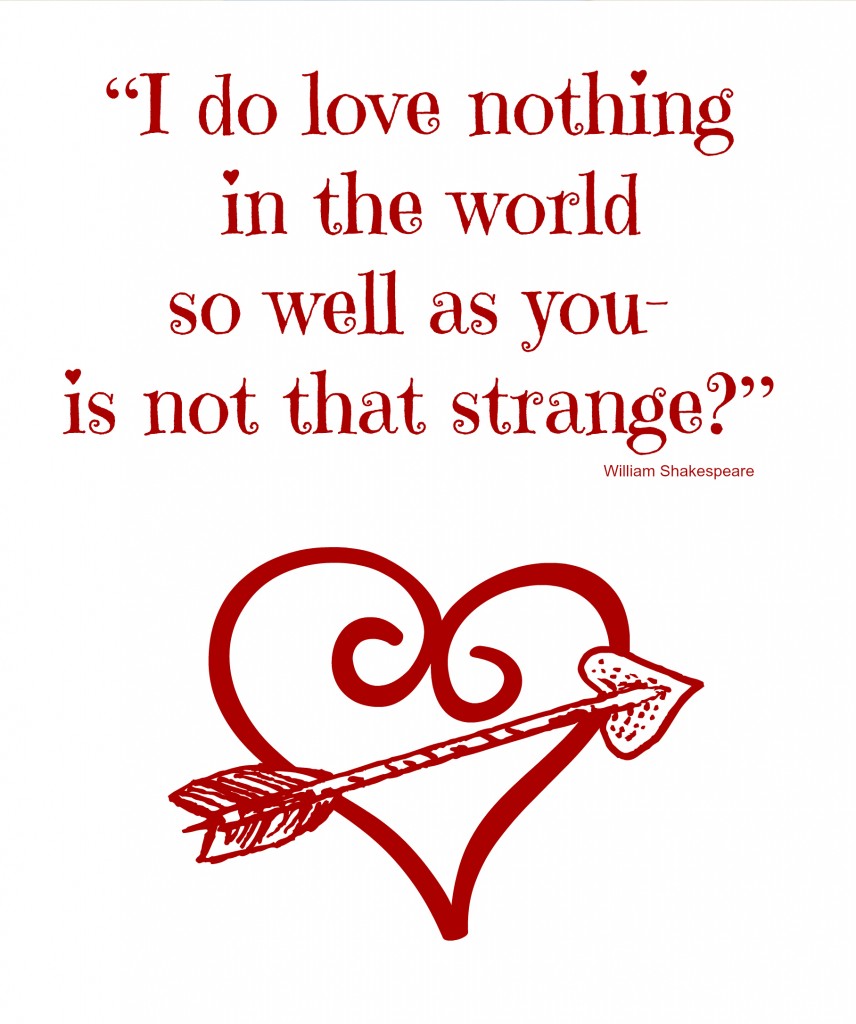 I printed it onto a large white piece of label (adhesive) paper I had.
You can use regular white printer paper/glue or glue stick if you don't have that.
I decided to use Emperor's Silk Chalk Paint®…simply because I had it on hand.
If I had had red spray paint I'd have used that instead.
It would have gone a bit quicker with spray paint.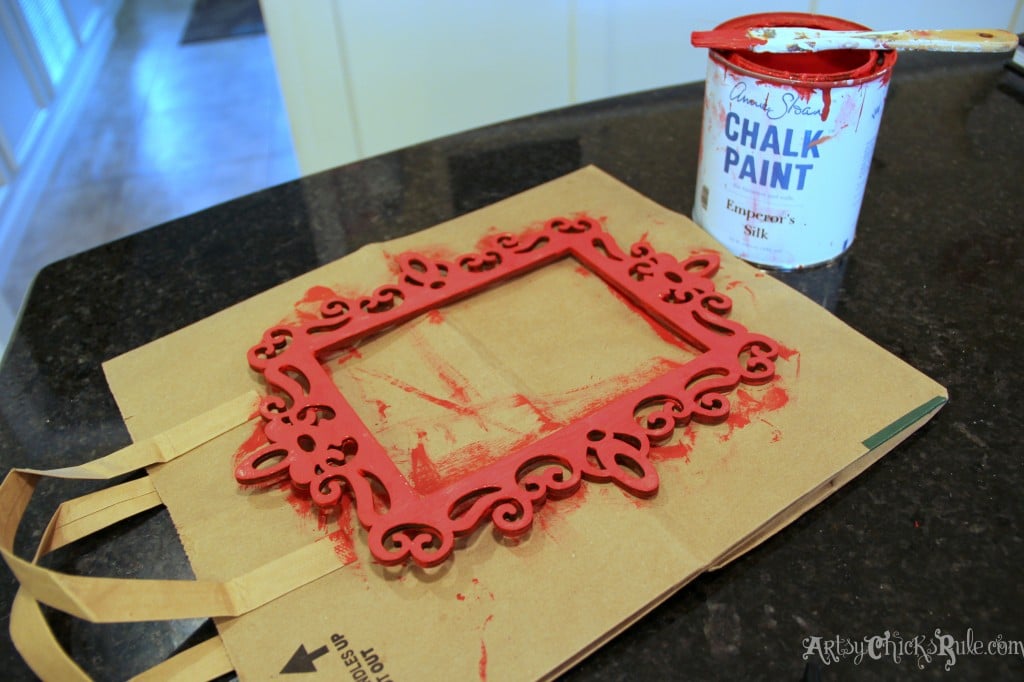 But this really was the perfect shade of red. Once dry, I sprayed with Minwax Polycrylic to seal.
I cut a Triscuit box to fit the back (just a bit larger than the opening) to attach the printed love quote to.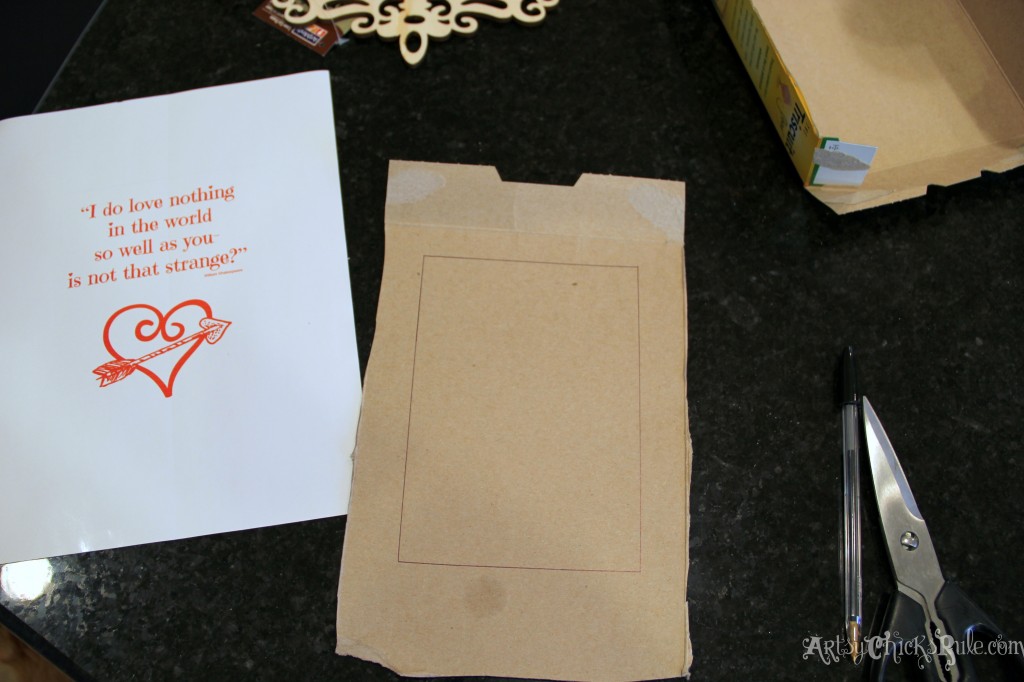 I traced the inside of the frame onto the cardboard.
I cut around that line leaving some space to attach to the back of the opening in the frame.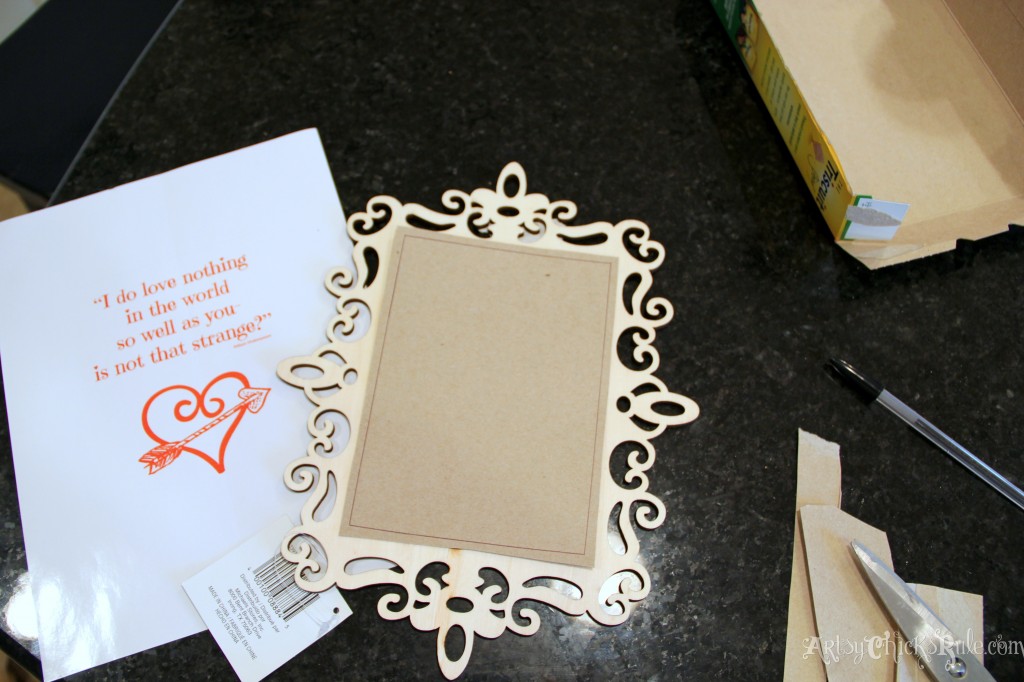 And painted it red to match the frame. (so it would look "finished" from both sides)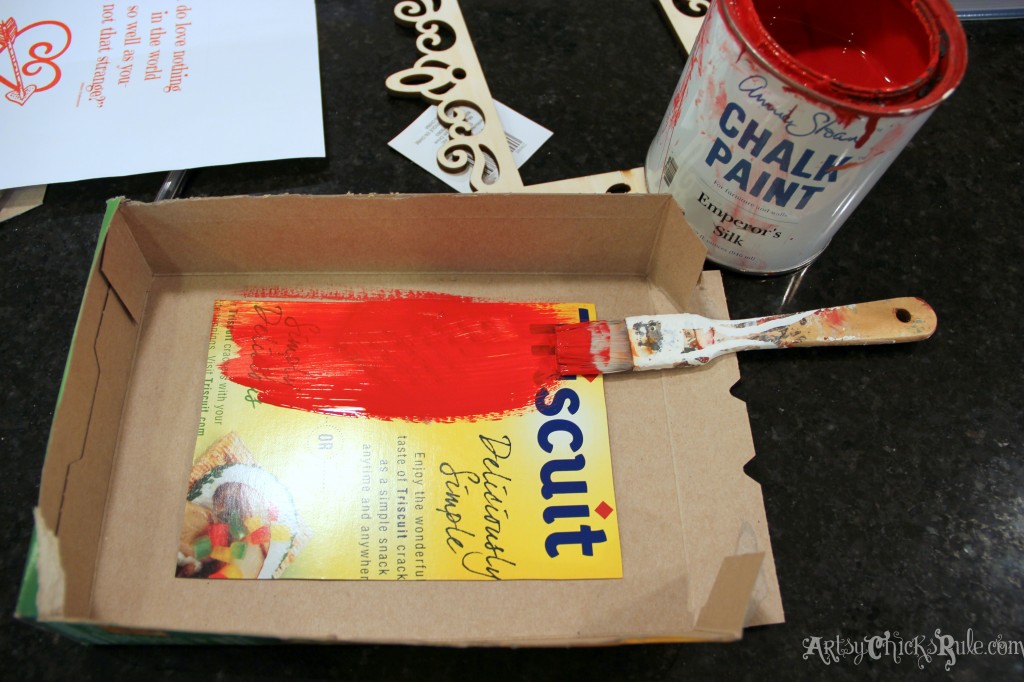 I held the printed graphic up to the opening in the frame and pressed lightly to make a "fold" where the edges were.
(making sure to have it lined up directly where I wanted it)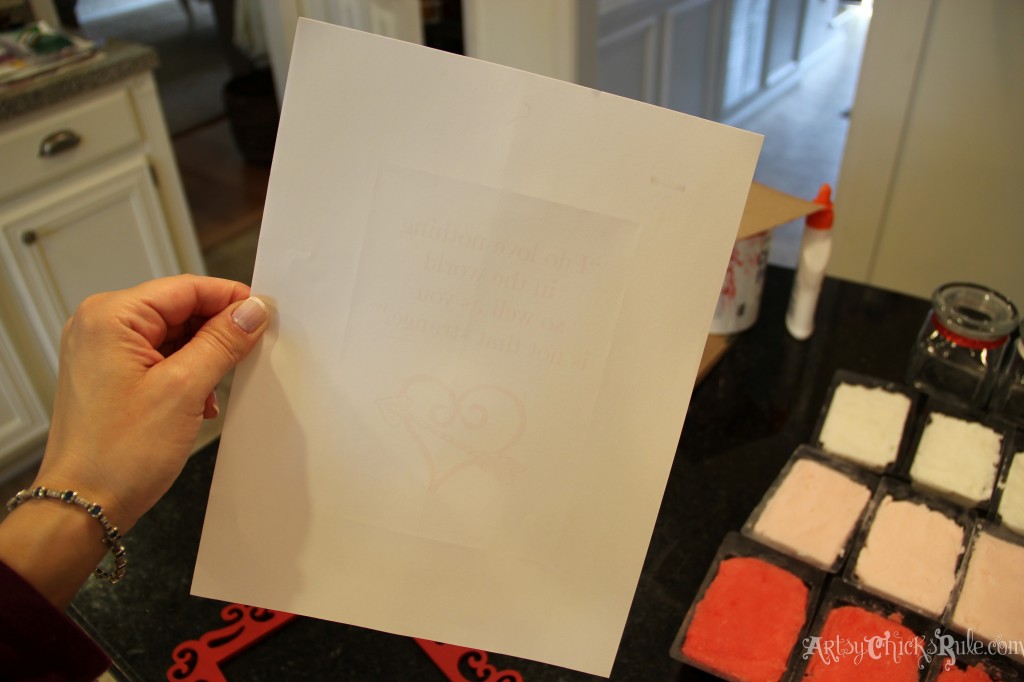 I cut around the "folds" leaving some space as with the cardboard.
I then peeled the backing and attached it to the cardboard.
I used a hot glue gun to glue it to the frame.
(this is the back)
A little messier with the glue than planned. Oh well. ;)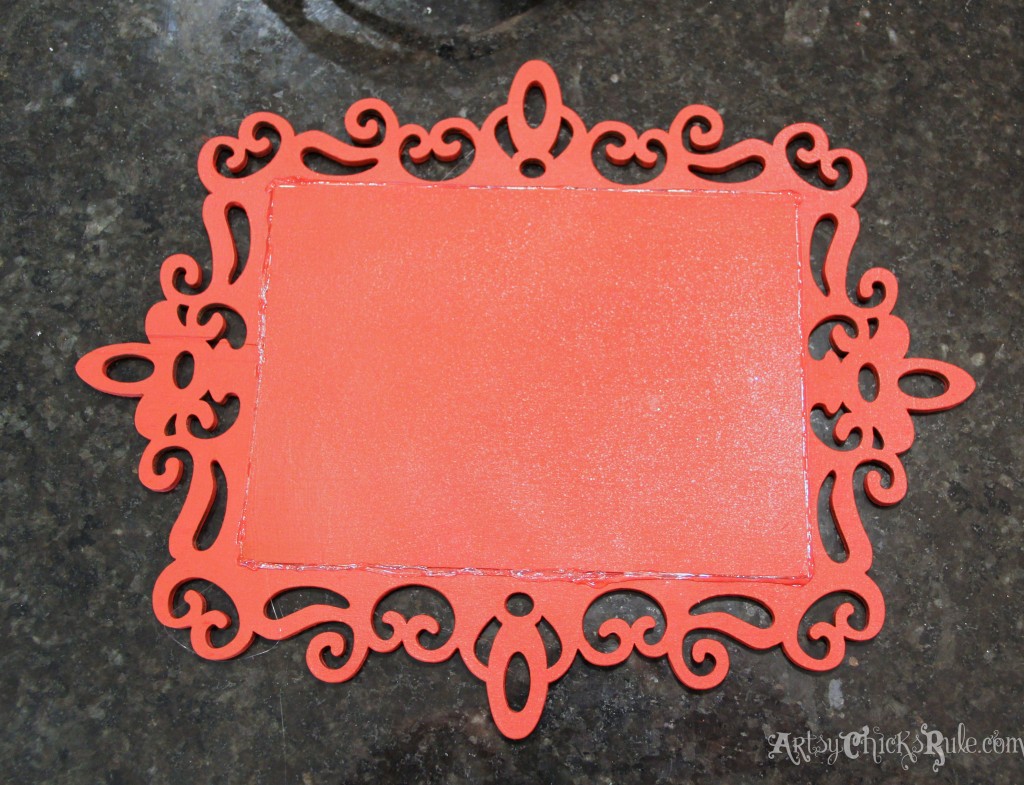 To dress it up a bit I used some items I picked up at Michael's for another Valentine's project I'll be sharing later this week….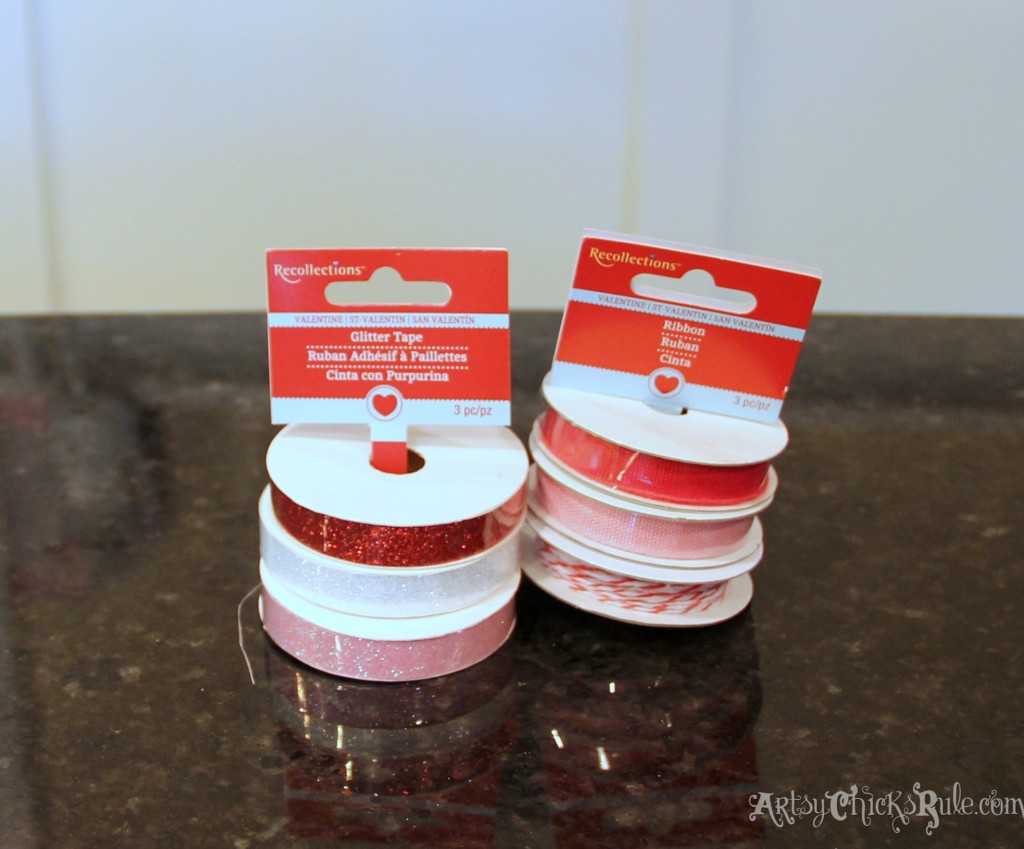 Sparkle tape and ribbon.
I used the white sparkle tape around the edge of the frame…..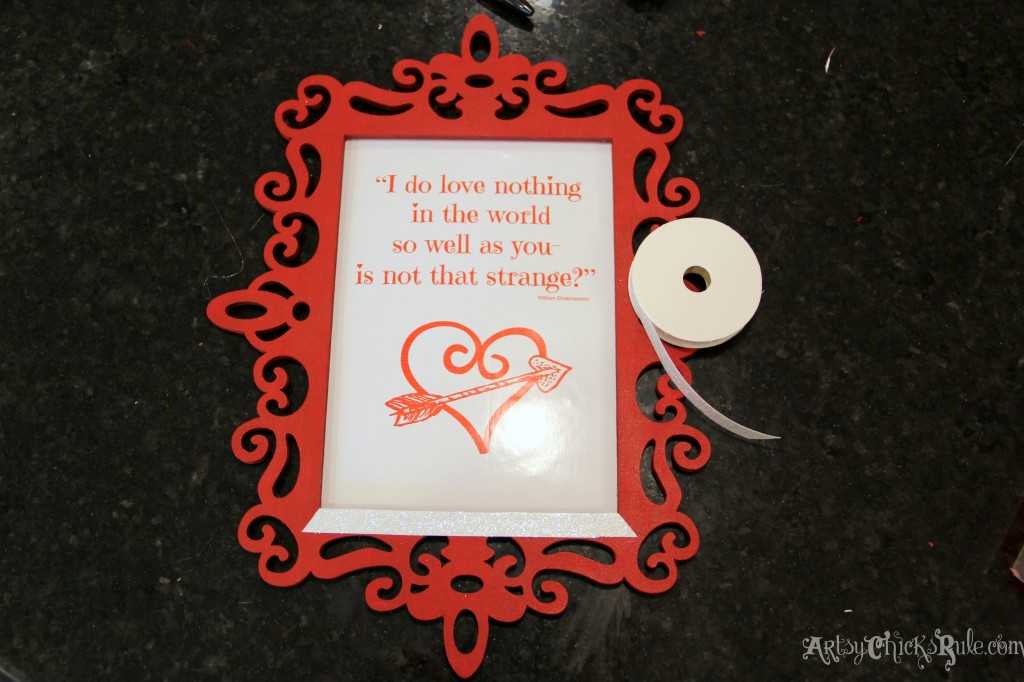 And then hot glued the tiny red and white striped rope around the edge of that.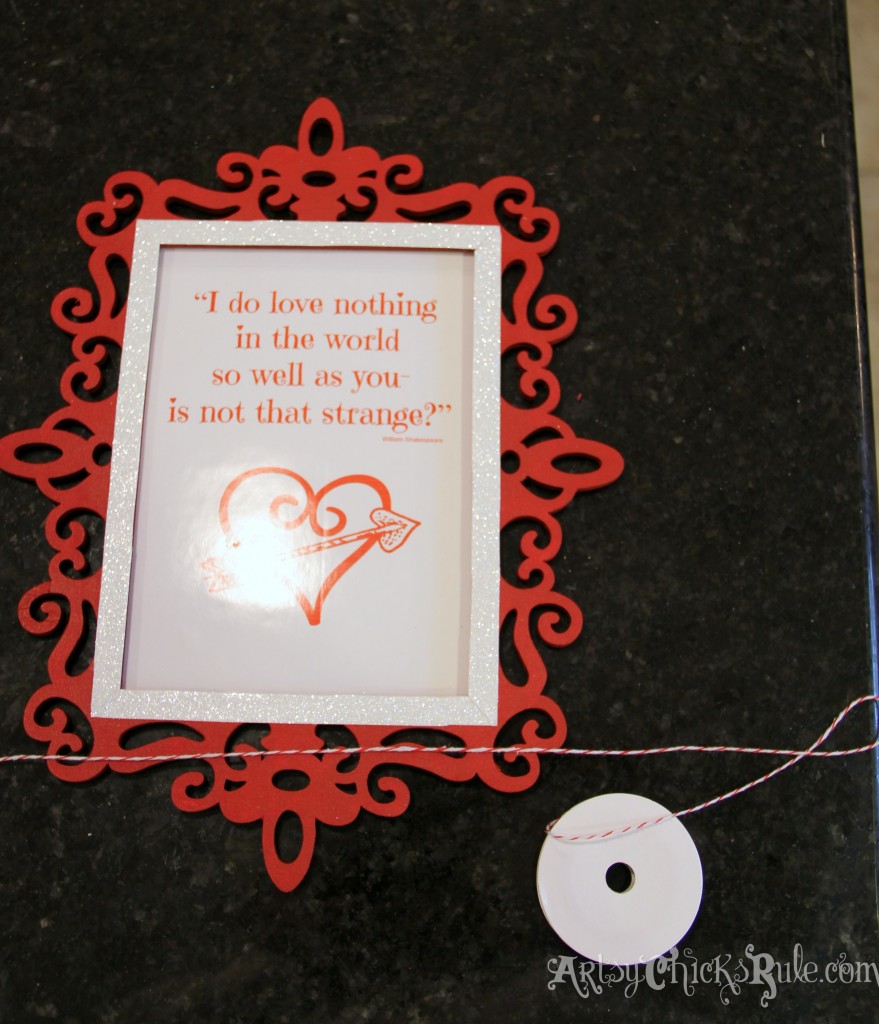 The red and white "rope" around the edges finished it off nicely….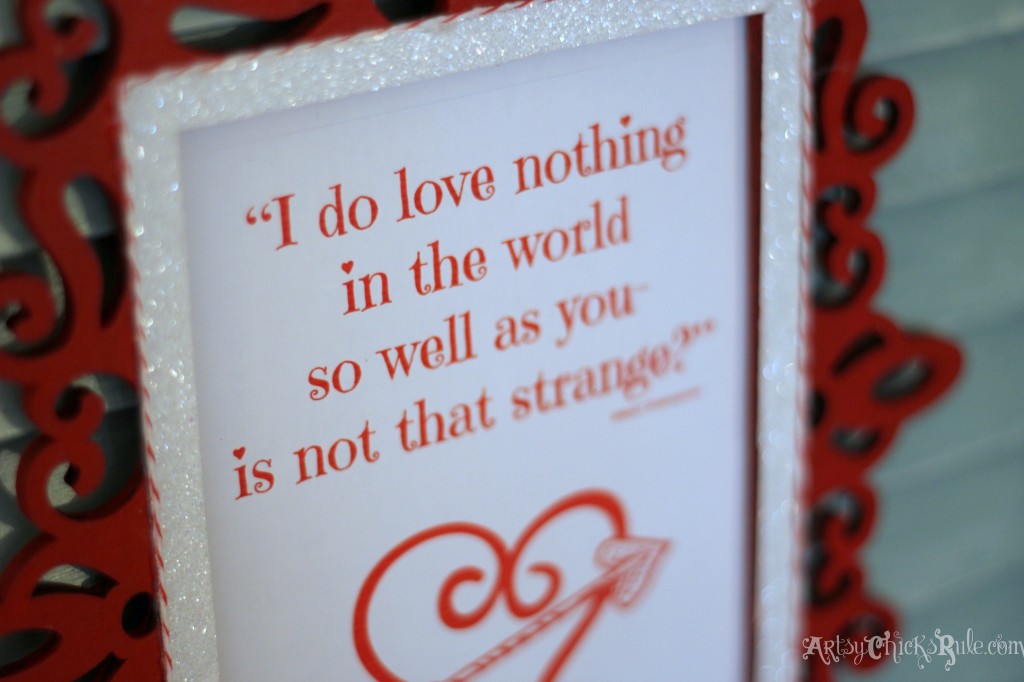 The sparkle tape added a little bit of bling too…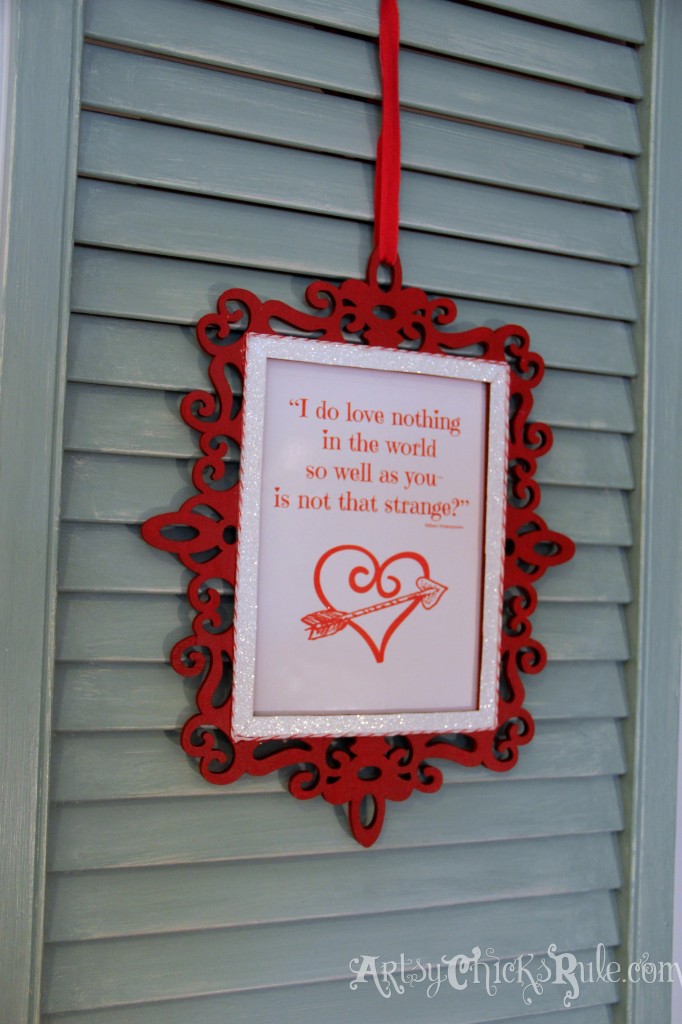 I used the red ribbon to hang it from the shutters I have in my Family Room…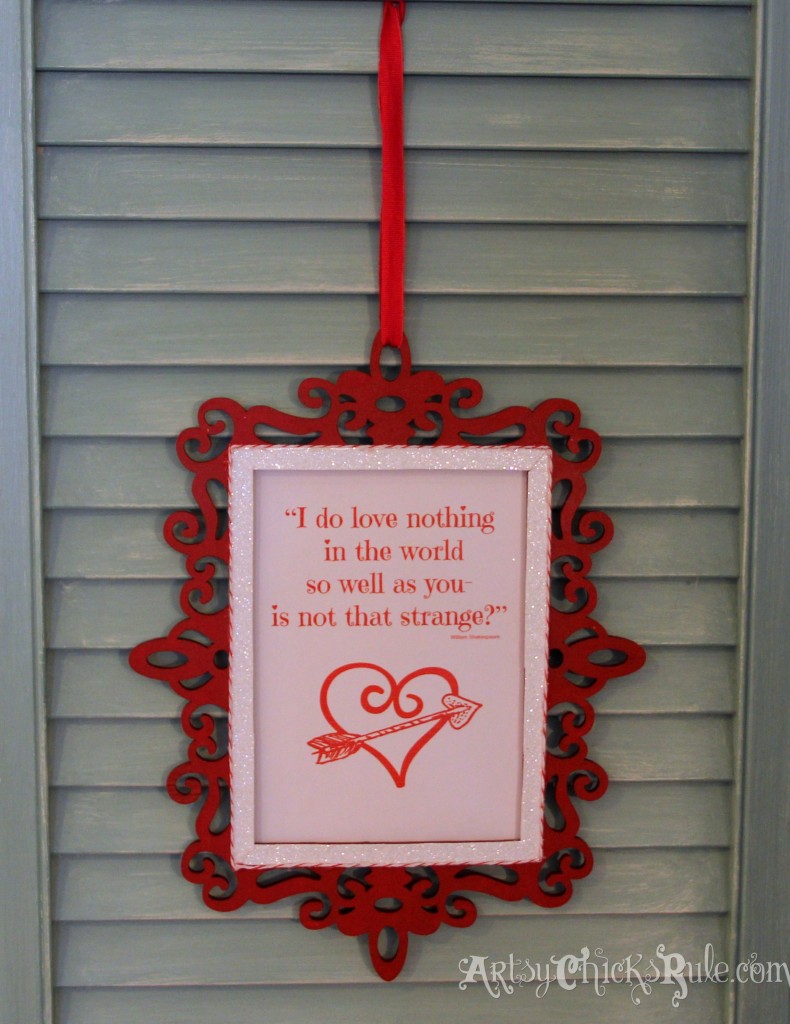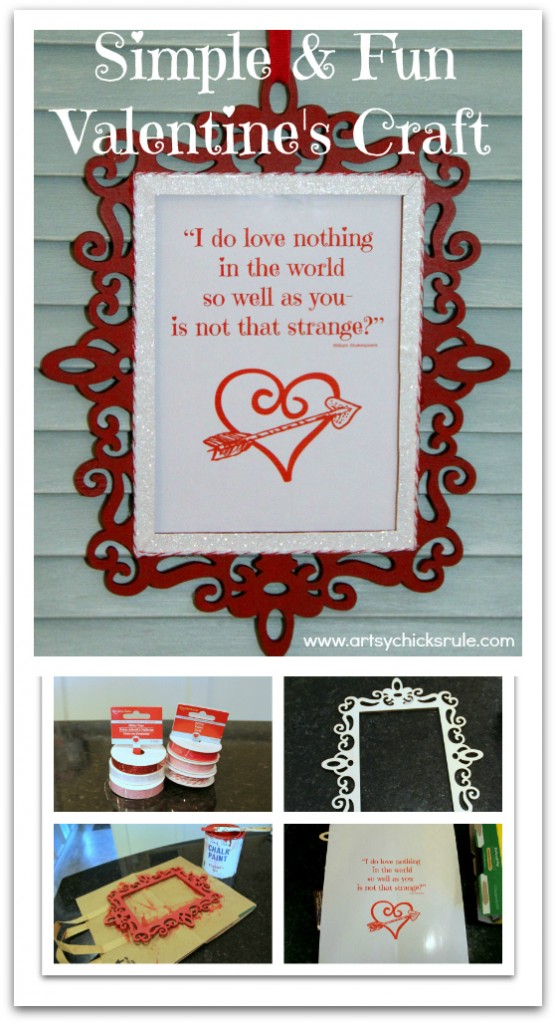 Pretty simple.
Want to see even more ideas on simple updates with Chalk Paint (that aren't furniture??)
Check out this post, here!
I already had everything on hand except for the ribbon and sparkle tape.
I like it hanging on the blue shutter but think it would also look great hanging over a mirror or on the front door.
It's kind of nice having a little red Valentine's love around the house.
Do you make hand made gifts or decorate for Valentine's Day?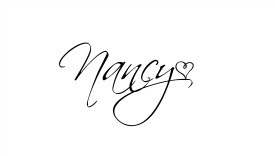 And please be sure to check out more Valentine Goodness at my friend's blogs below:
Monday, February 3rd:
Tuesday, February 4th:
Wednesday, February 5th:
Thursday, February 6th:
…………………………………………………………………………….