China Cabinet and Dining Table Re-New
This post may contain affiliate links. Please see disclosures here.
I posted about my Dining Room re-do last week and thought I'd write a few posts about the furniture in that room. I'll start with the actual Dining Room Set, since it is the main center of attention.
If you want to see a before and after of the actual room you can see it here. (and updated to add how the room looks now, here)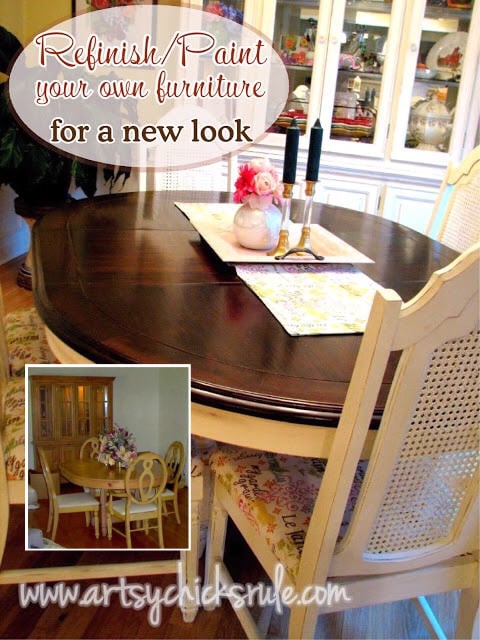 Some fun facts about the set……
We bought it in 1997. The seats have been recovered once. And it has been in 5 dining rooms. (yes we moved a lot….but we have been settled for over 8 years now, Yippee! No really, YIPPEE!, I hate moving.)
It was old, outdated and not what I really wanted anymore. I had been contemplating buying a new set for the last few years. My set only had 4 chairs, several of which had missing or broken parts. (arms, supports, etc) And I just wanted something different. And at least 6 chairs……..
I looked for awhile, off and on, but could not find what I was after. And if I came close, the price was more then I was willing to spend. And truthfully, I didn't want to spend anywhere near what a new set would cost. That just goes against everything in me.
So I decided to refinish the one I had instead. But that didn't fix the chair problem. And I had not come across 6 chairs on any of my thrift or garage sale runs.
Until, I came across these one day…..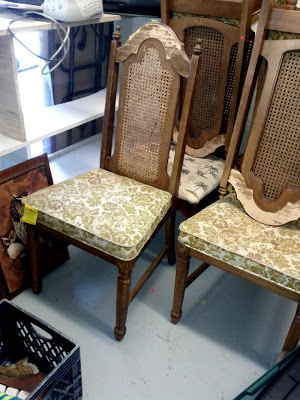 Pretty huh?? Not. And not exactly what I had in mind. But there were 6 chairs for a grand total of 35.00.
I know, they are ultra ugly. Intense vision needed here.
I did a bit of sanding to remove any flaking pieces. And had the little decorative knob thingys cut off the tops of the chairs. I didn't want those so hubby made 'em go away.
Thanks dear hubby!!
Cause not only do I not sew (that's another post) but I do not touch the saw!
No sew and no saw! Nope.
You can see below someone started to re-do these already. One chair was as far as they got.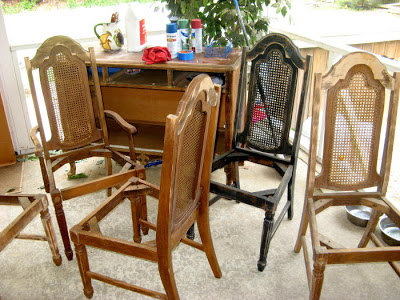 and after a little ASCP in Old White with a bit of dark wax…..(and a bunch of primer spray on that one chair to cover the black that kept bleeding through. Ugh!)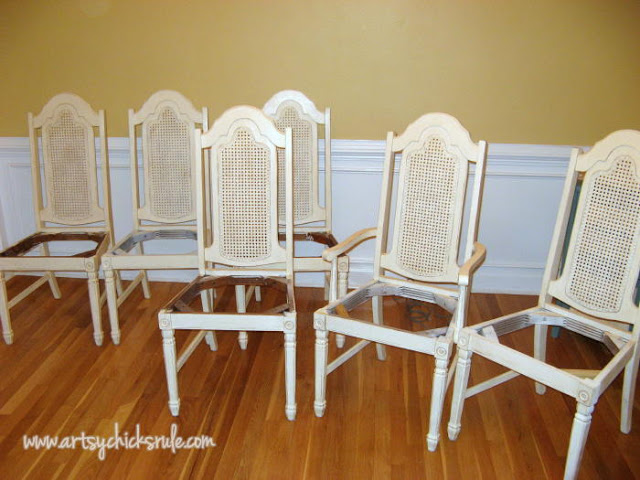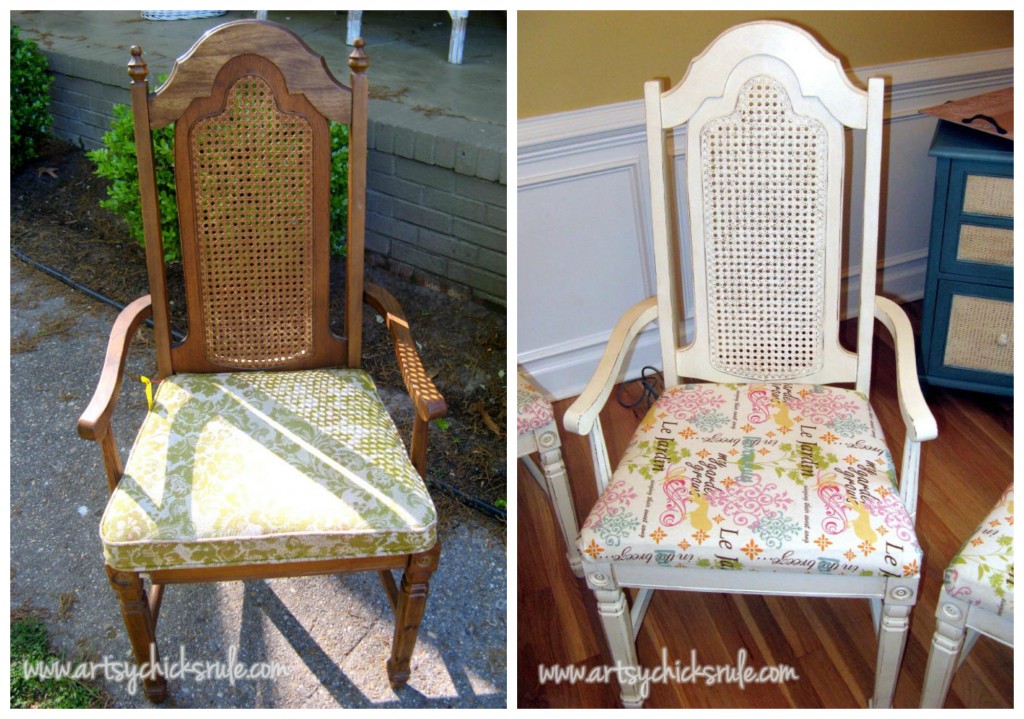 I recovered (and re-cushioned) the chairs with a really cute, colorful fabric I found.
Amazing what a little paint and fabric can do, no?
Next, the table and china cabinet. They were wormwood and full of holes. I didn't want holes so I filled them and went to work. They were everywhere….as you can see.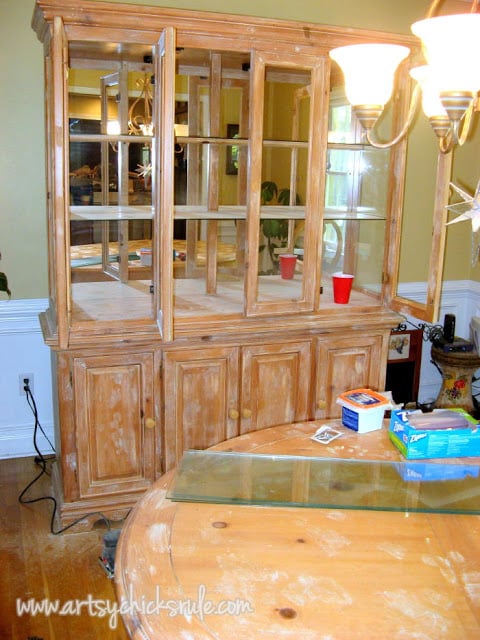 Please disregard the sander laying directly on the wood floor. I would not normally do that but that was next up on our list. Refinishing those wood floors.
You can see the newly refinished floors in the "after/finished" pictures.
That little "adventure" will be another post. ;)
So I removed the glass (of which I later broke 3….I put them in the corner of another room where they would be "safe"….and they were, until I stepped on the corner of them)
Five moves, no breakage, and I manage to do it while remodeling. Hmmm, only me.
Do you like my work "bench". The desk? We improvise when needed around here!!
It was later painted too so no worries.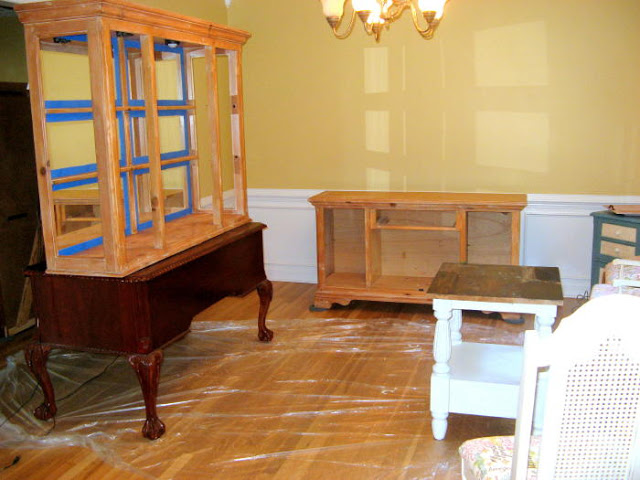 I sanded the top down to the bare wood….so nice and smooth…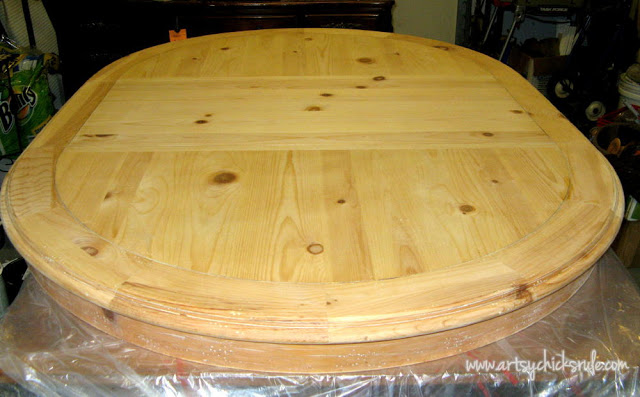 I applied Minwax Pre-Stain Wood Conditionerbefore applying any stain to help keep the stain more even. Then applied Minwax stain in English Chestnut first (on the left)…. and followed with Minwax Walnut over that. I finished up with about 4 coats of Minwax Satin Polyurethane.
I lightly sanded in between the coats for a super smooth finish.
Be sure to wipe away all of the dust before applying the poly!
*and a tip for the poly, move slowly when applying as to not produce tiny bubbles in the finish.
The finish came out so even, beautiful and rich. I am so very happy with it!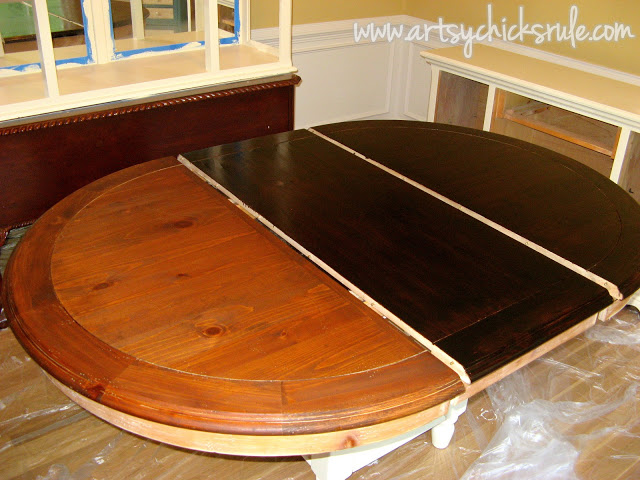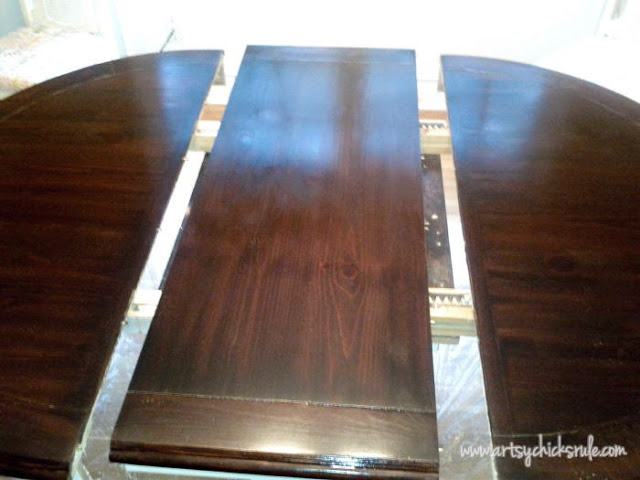 For the cabinet and table base, I used Sherwin Williams paint and primer. One of my other favorite brands! I put a coat of Adhesion Primer on first then put a coat of paint on.The color started out as "Creamy" (color name) but I blended in a little acrylic brown & yellow paint to warm it up a bit.
I distressed the paint with some sandpaper and then mixed a bit of Burnt Umber acrylic paint with water to use as a glaze. I used an old t-shirt scrap to apply the glaze. Wiping on and off where needed.
After the glaze dried I applied one coat of Minwax Satin Polycrylic.
I finished off the china cabinet with new glass knobs…….and 3 brand new glass inserts courtesy of the glass store.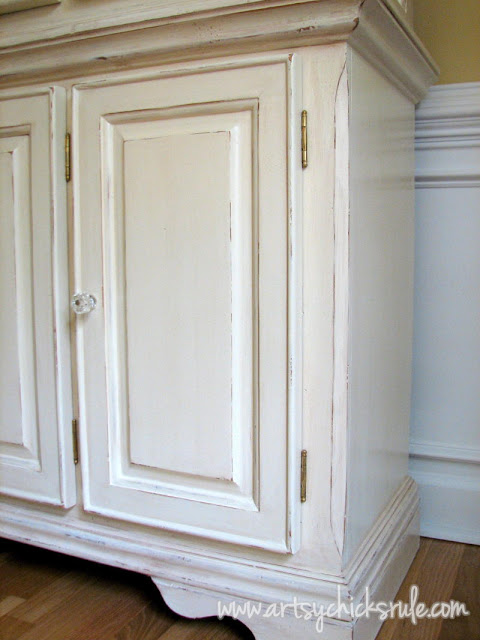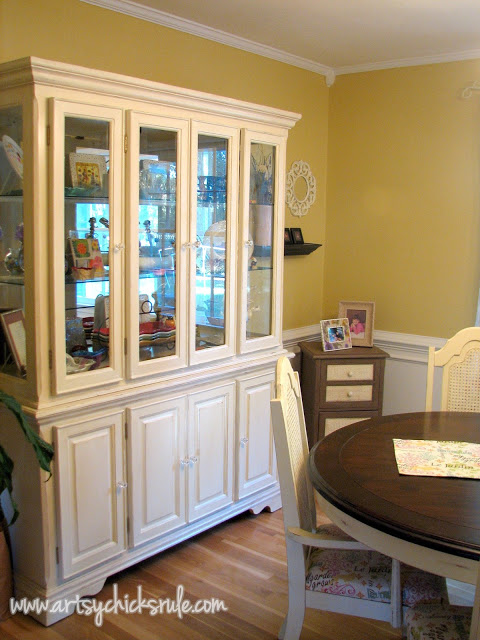 Again, the before in what is now my study….
(directly after moving into our current home, boxes, white walls, pink floral dining wallpaper and all)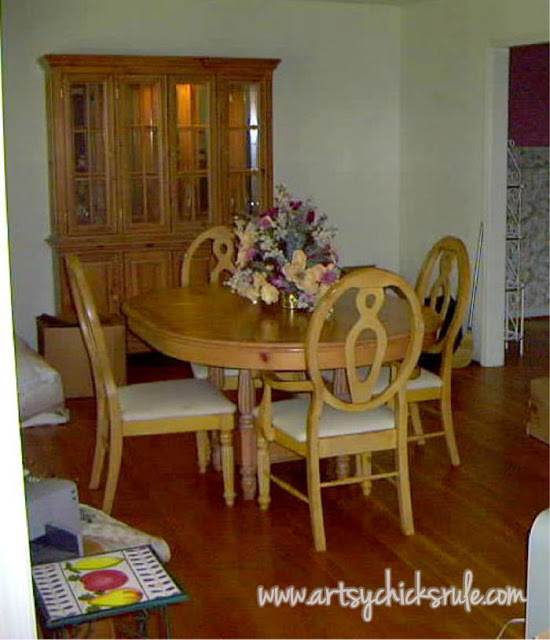 And now…..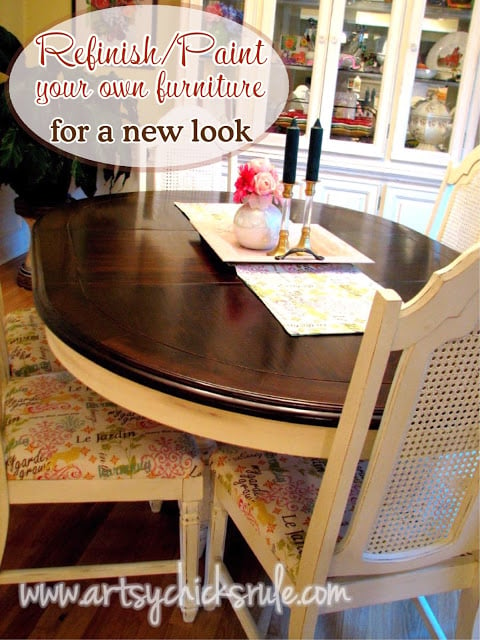 Looks like a completely different set!
And the best part is it was done "on a dime"!
Instead of spending thousands for a new set, I spent less then a 150.00.
Including the replacement glass.
And it feels like a brand new set.
I just LOVE that!
Do you have a piece of furniture you decided to refinish or paint instead of buy new?