Layered Chalk Paint Makeover (the simple how-to!)
This post may contain affiliate links. Please see disclosures here.
It's amazing how much depth you can create with layered Chalk Paint. And it's so simple too!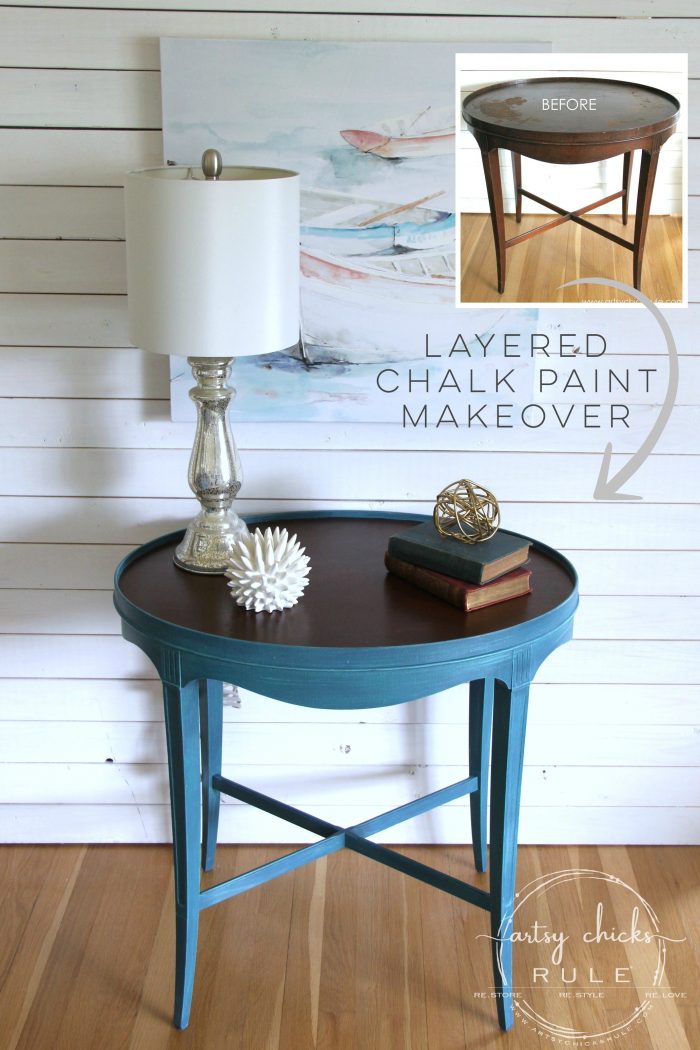 and how this sweet table started….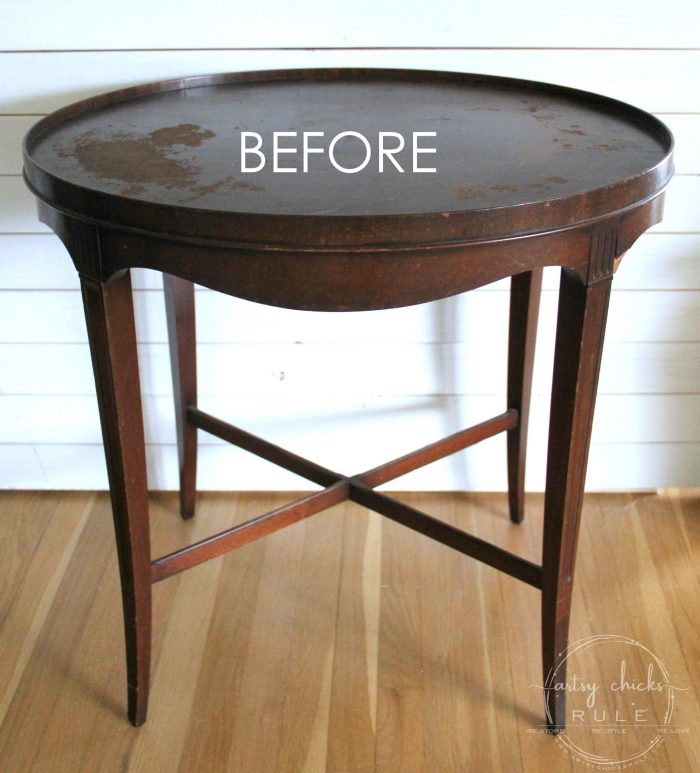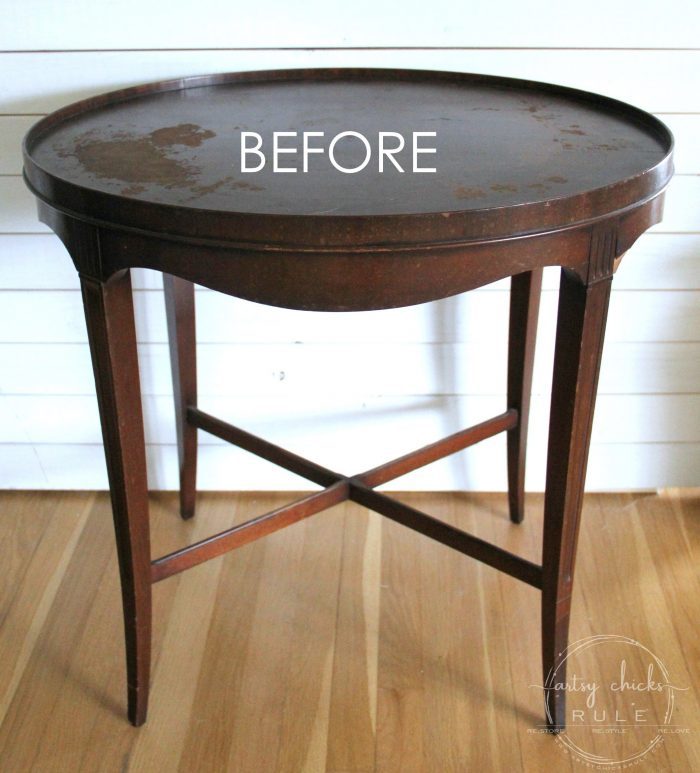 I'm sharing this sweet, antique mahogany table that got a layered Chalk Paint makeover plus my friends are sharing their makeovers for Trash to Treasure Tuesday, too! So stick around to the end so you don't miss any of them! :)
I found this little table at the thrift store for around $30. Beautiful, but in need of some love!
I had originally thought I'd paint the entire piece since the top was in such bad shape but instead decided to leave the top stained.
Pretty rough, huh?
And that top….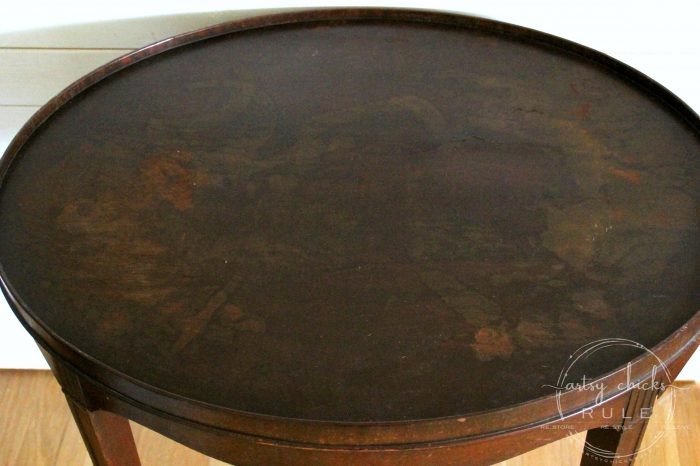 Maybe I should have just painted it! ;)
MATERIALS LIST
Best stripper (in my opinion)
Aubusson Blue Chalk Paint
Florence Chalk Paint
Provence Chalk Paint
Clear Wax
It was a mess!
But I thought, "I'll just get my fave stripper out and take all that junk off and it will be good as new!".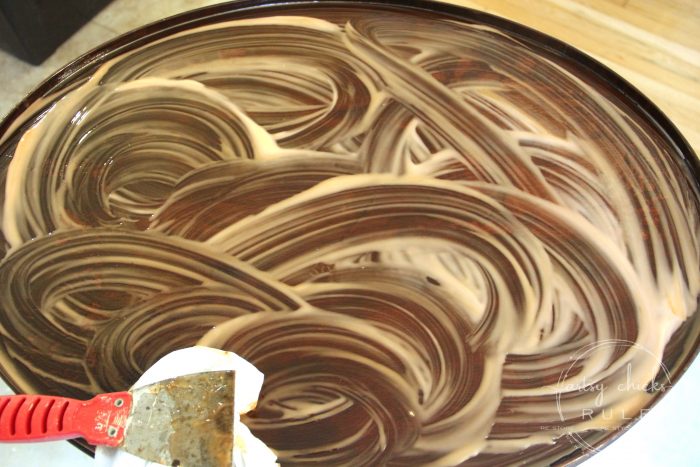 But it wasn't. Bummer.
Here's how it looked after two runs with the stripper.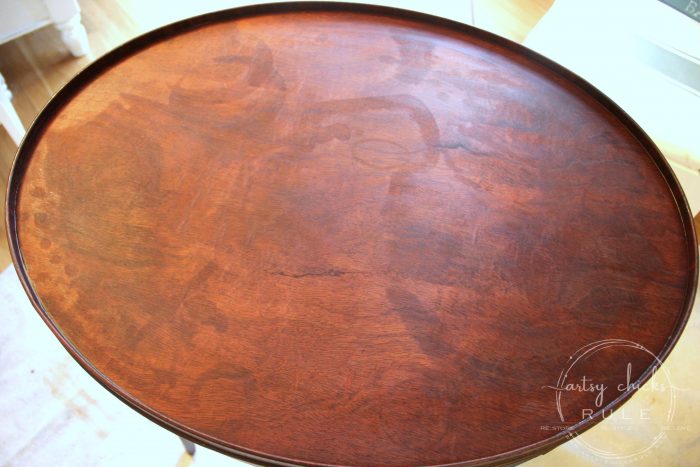 Yucky.
Better, but still yucky. Those stains had sunk down into the wood.
I could have just said forget it and painted it instead. (I considered it ;) )
But no, I really wanted to see that wood….so pulled out the ole sander and got busy finding the pretty wood underneath. :)
And here is what I found….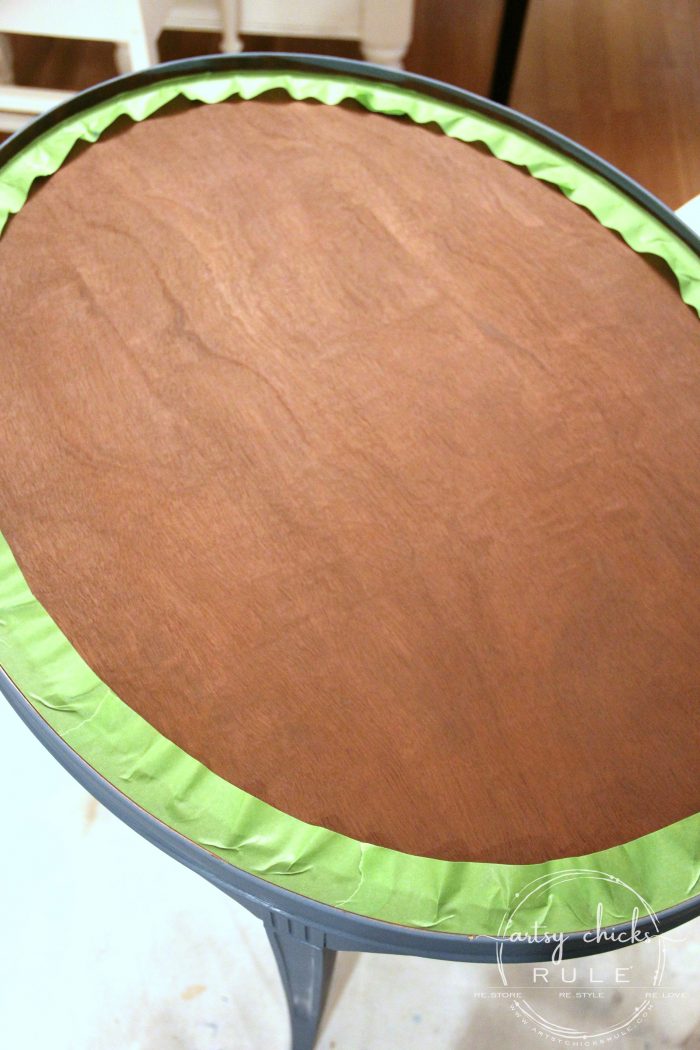 Yep, SO much better!
That, by the way, was taped up because I was putting my first coat of paint on. ;)
Let's talk a bit about that right now and we'll circle back around to the top treatment.
To create this layered Chalk Paint effect, I started by using Aubusson Blue.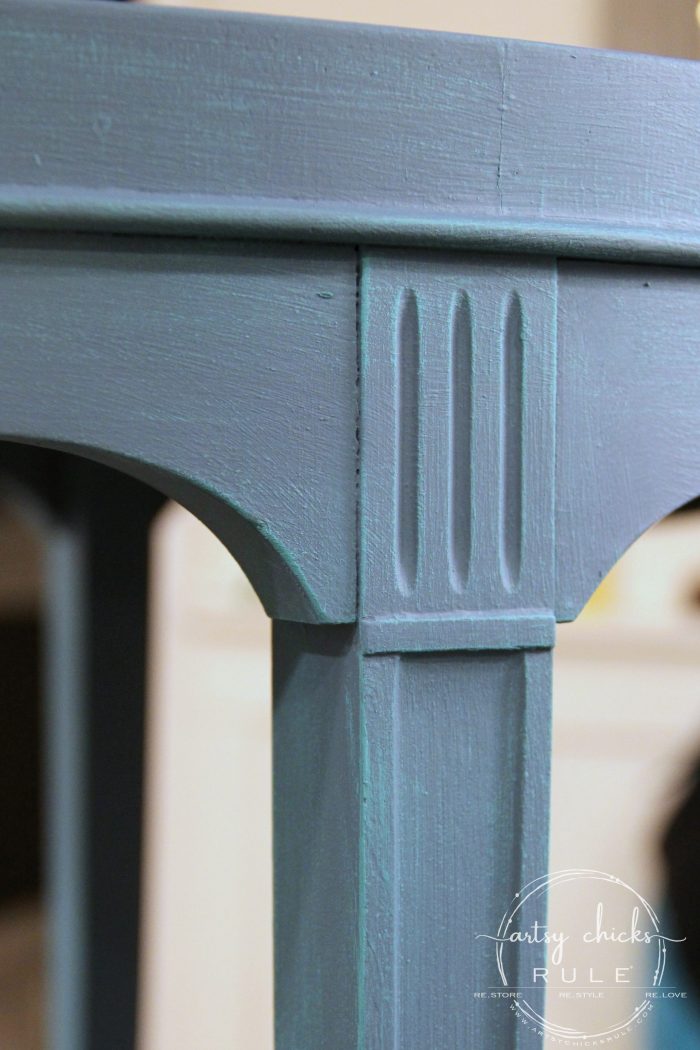 I did one good coat and then went back over, where needed, once it was dry.
Then the fun begins. :)
As you can see above, I layered a bit of Florence over top of the Aubusson.
It's pretty simple, really.

The main coat goes on like regular, than the following coats go on with a "dry brush".
That just means I use a dry brush, with very little paint, to apply the coats that follow.
My favorite brush to do "dry brushing" with is a chip brush, like this one.
I actually use those little brushes for a lot of things so always have them on hand.
Want to see a VIDEO on exactly how to dry brush? All the ins and outs, here >>> "How To Dry Brush – Video"
If you look closely, you can see the hint of paint left behind from the dry brush technique.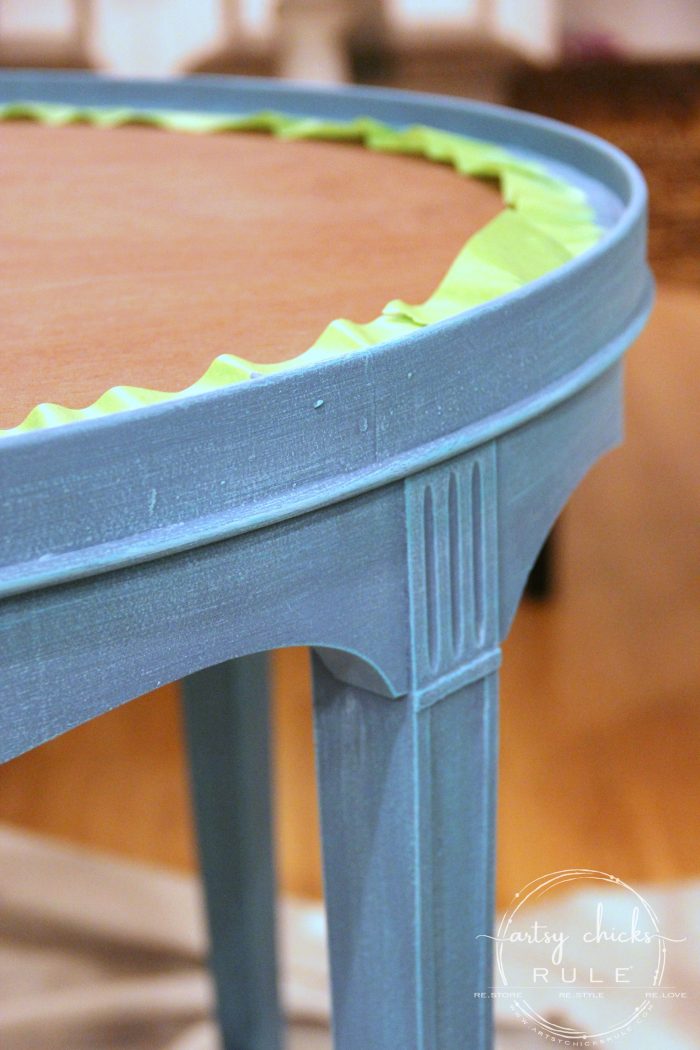 Next I added a bit of Provence over top of those other two colors.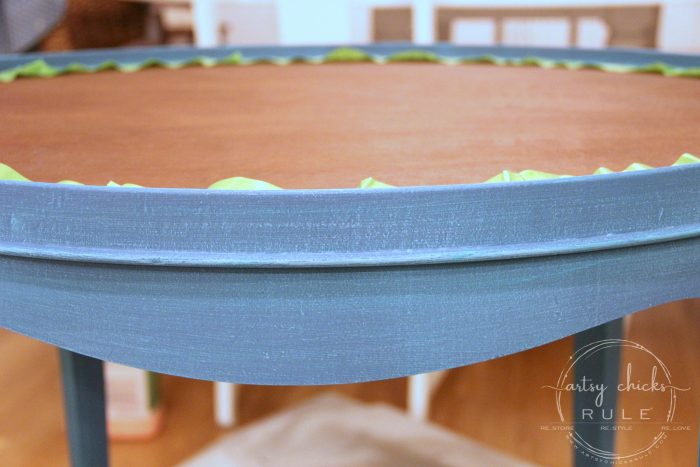 And painted the inside rim of the top portion.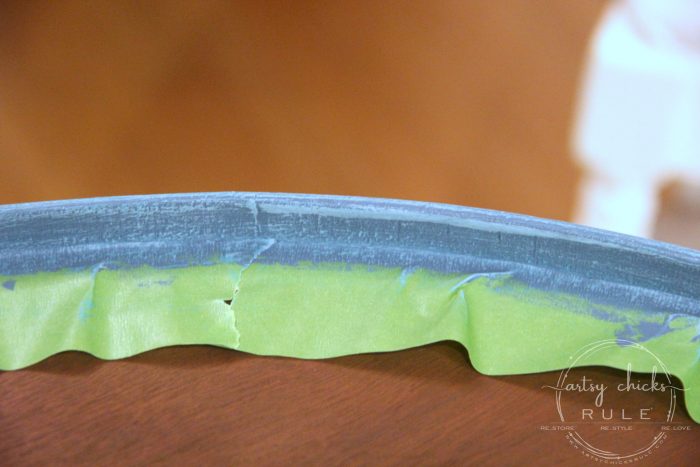 I just adore this combo!! The color is really amazing.
Seriously, I love it so much, I actually did another piece with the same colors.
You can see it here, French Round Side Table Makeover.
I should mention I had a bit of repairing to do with this table before I got started.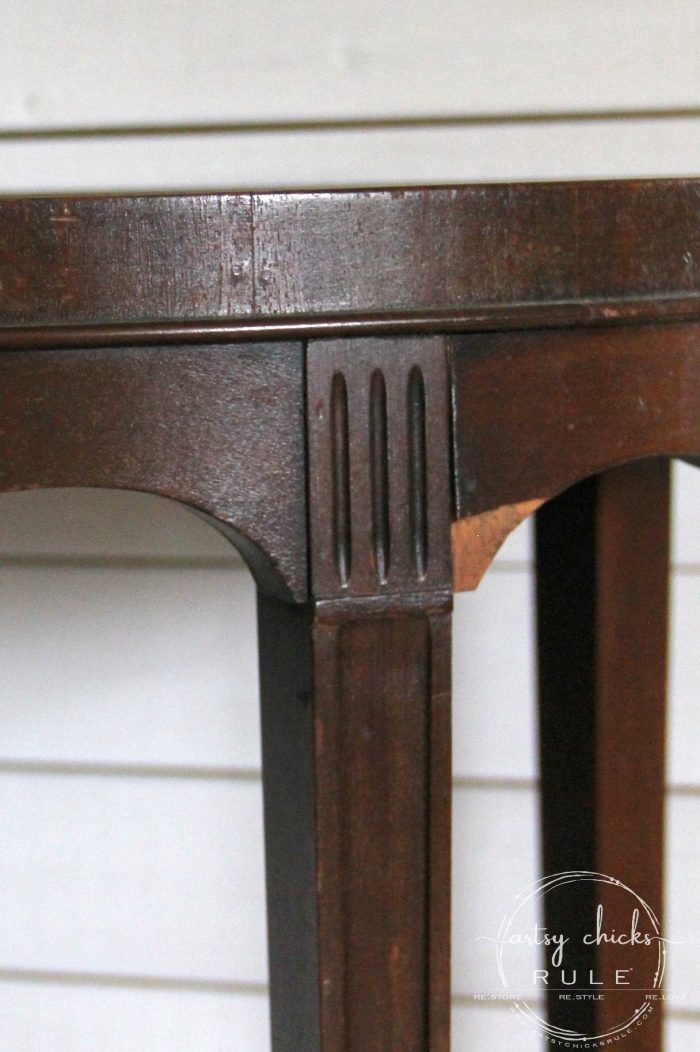 There was an entire piece of veneer missing above.
I had to create it with wood filler.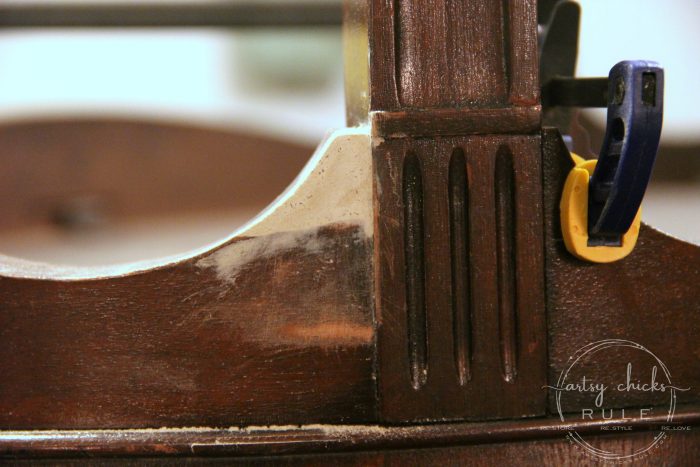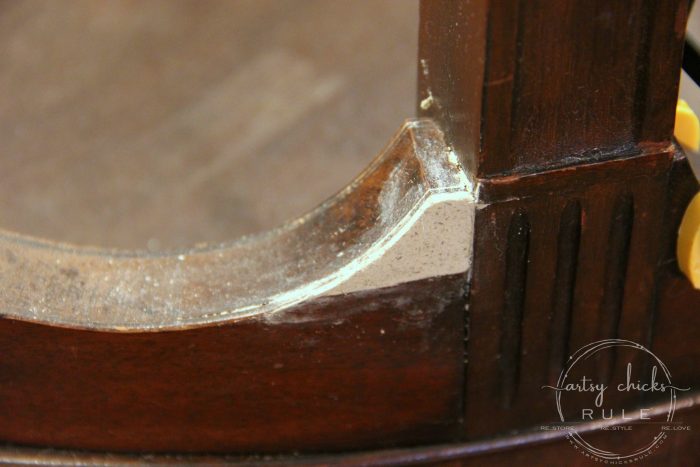 Which actually turned out so well, I have no idea which one it was now that it's painted!
Not only that, but almost all of the edges around the table had to be glued as they were also lifting and would eventually break as well.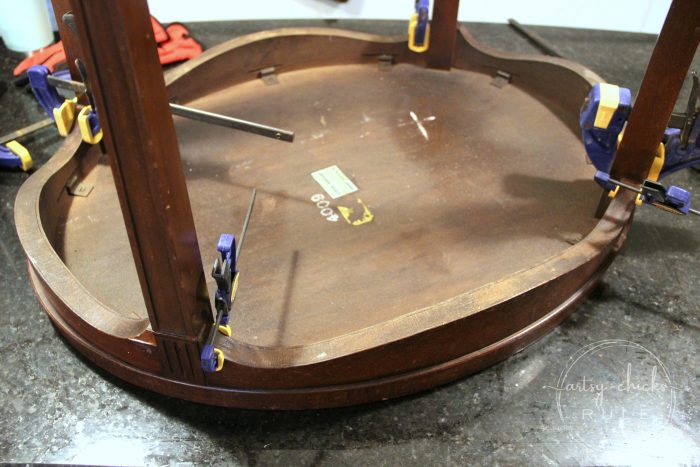 I then cleaned it up to get all the grime and "age" off of it. (wow, it was dirty!)
And given the entire thing a coat of Shellac. I didn't want any of that red/orange wood color bleeding through my paint.
Since I went down to bare wood on the table, I applied some Pre-Stain Wood Conditioner first.
Then I applied the Walnut stain.
Mahogany is a reddish wood and I didn't want it to look "red" so went with a stain that looked a bit more brown.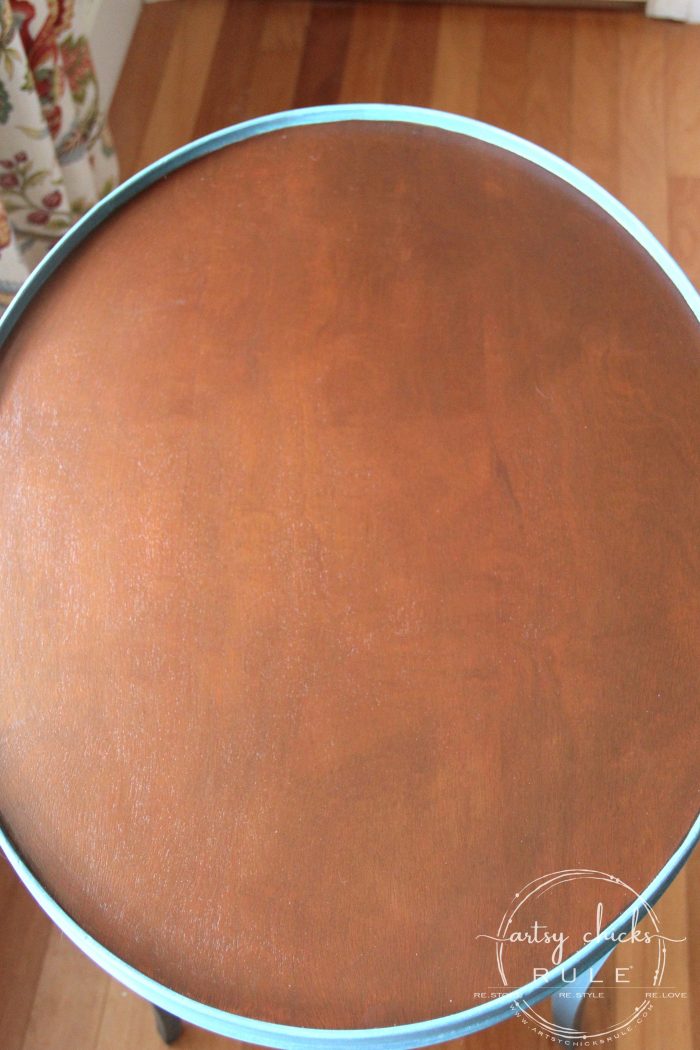 I love how it turned out.
I let it sit for about 48 hours and then applied 2 coats of high performance top coat.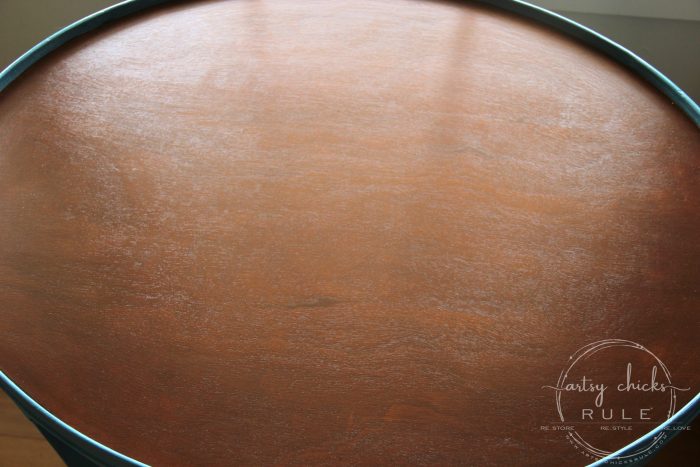 Gorgeous wood! So glad I didn't paint that top.
It was a little bit more work but it was worth it.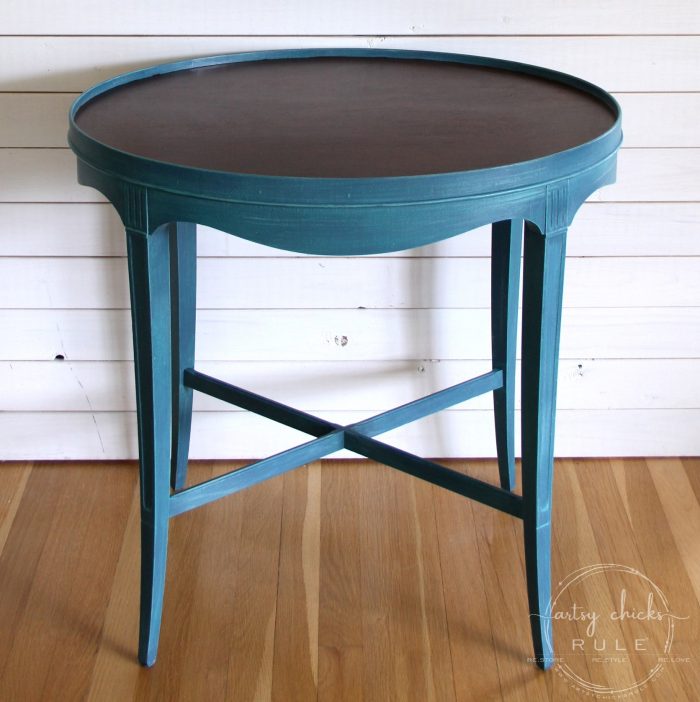 The base got a coat of Clear wax and buffed.
(Edited to add: I've since written a post on the top 5 ways to seal Chalk Paint, you can see it, here)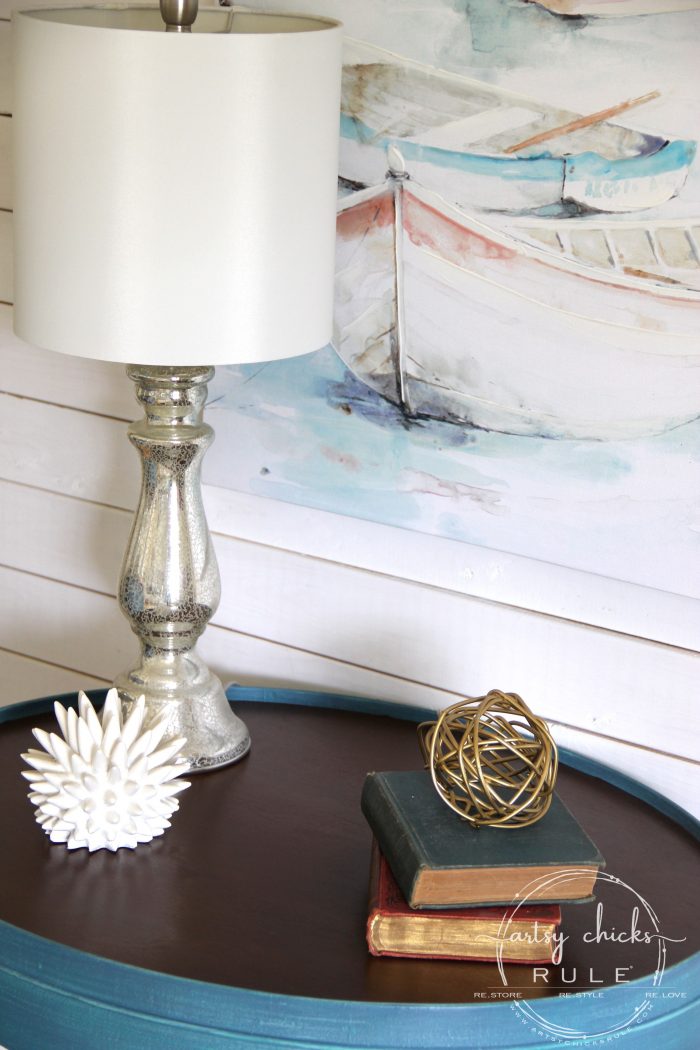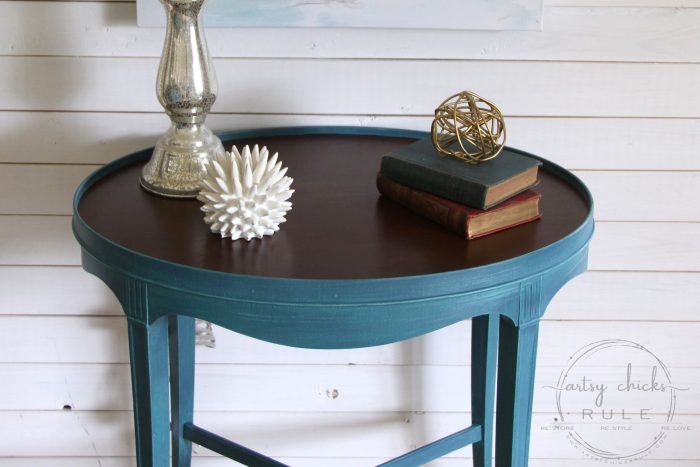 Want to know about 26 other chalk style paints?
I've got the low down for you right here! >>> 26 Types of Chalk Style Paint For Furniture
Some up close shots of that pretty layered Chalk Paint….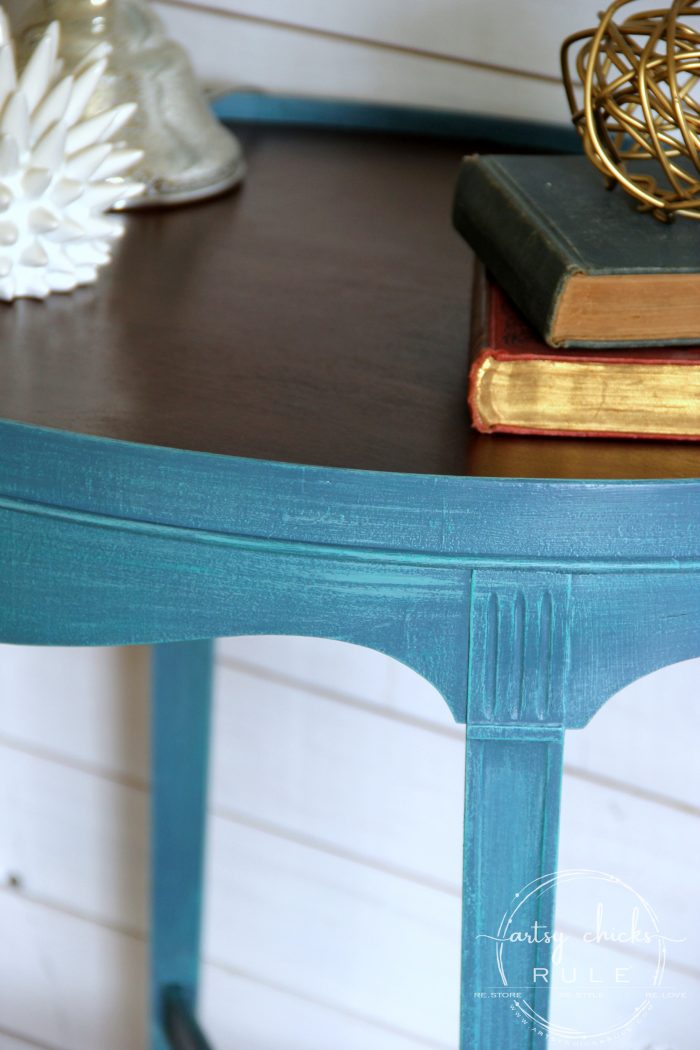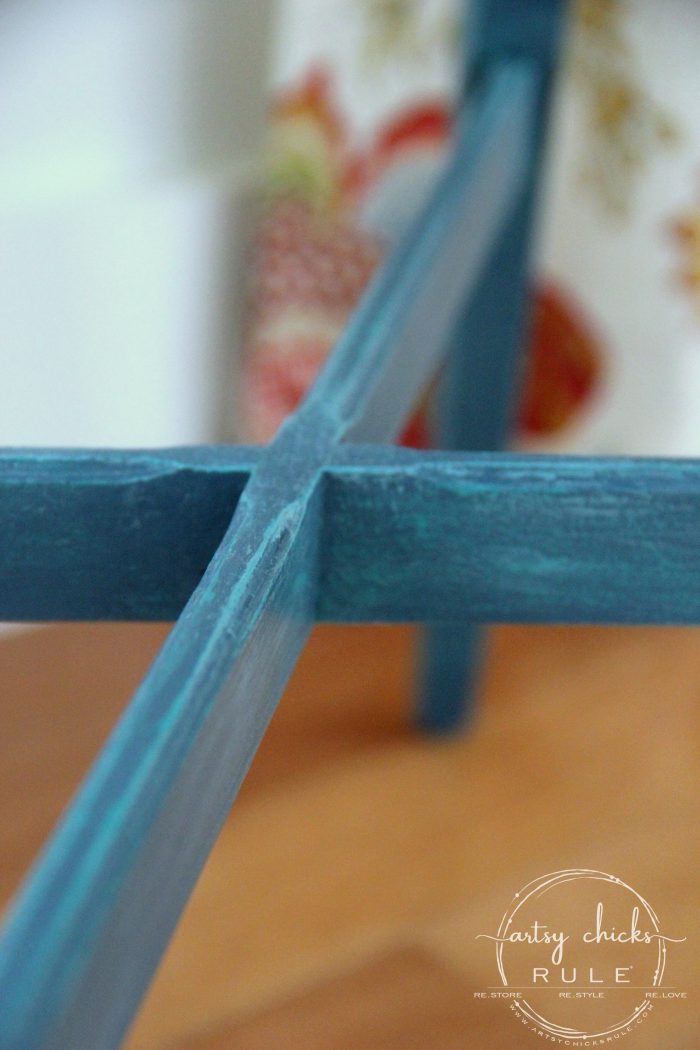 Isn't the texture of the layered Chalk Paint so pretty?
The colors go so well together. (and I just love this color with my curtains there in the background!)
Edited to add this post I wrote about the Pros & Cons of using Chalk Paint for Furniture, see it >>> here.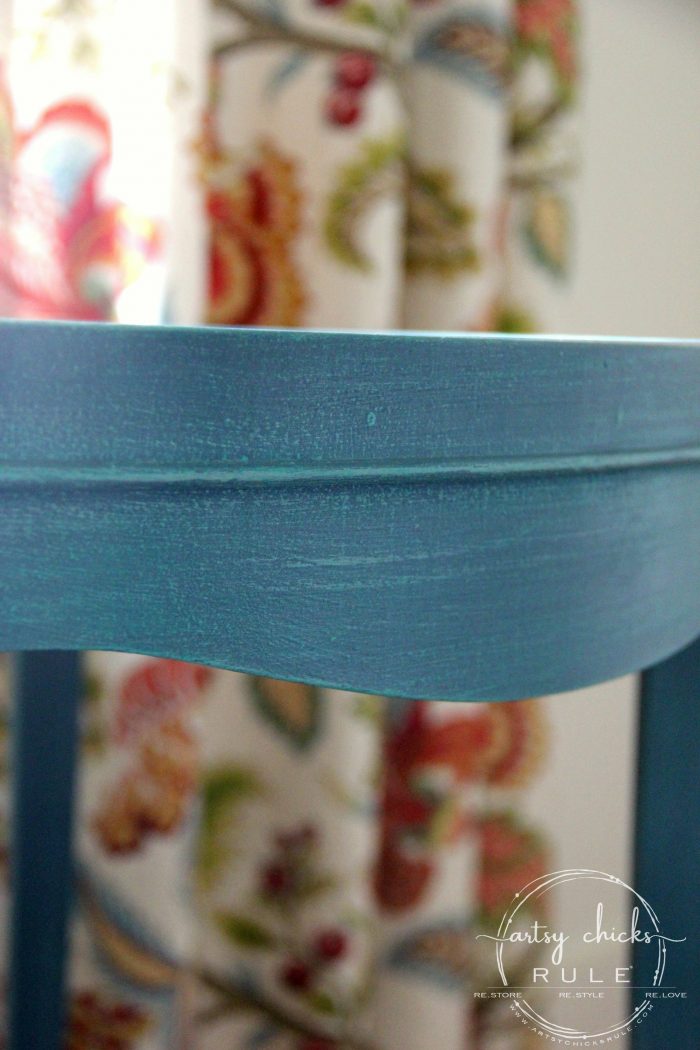 I just love what paint can do.
You can get this same look with any color and layered Chalk Paint. It doesn't have to be blues.
I think I may have to step outside of my little blue box and try a different color to layer next time.
Maybe green. Yes, I think I need to paint something green for spring!
But for now, let's just gaze at this blue beauty.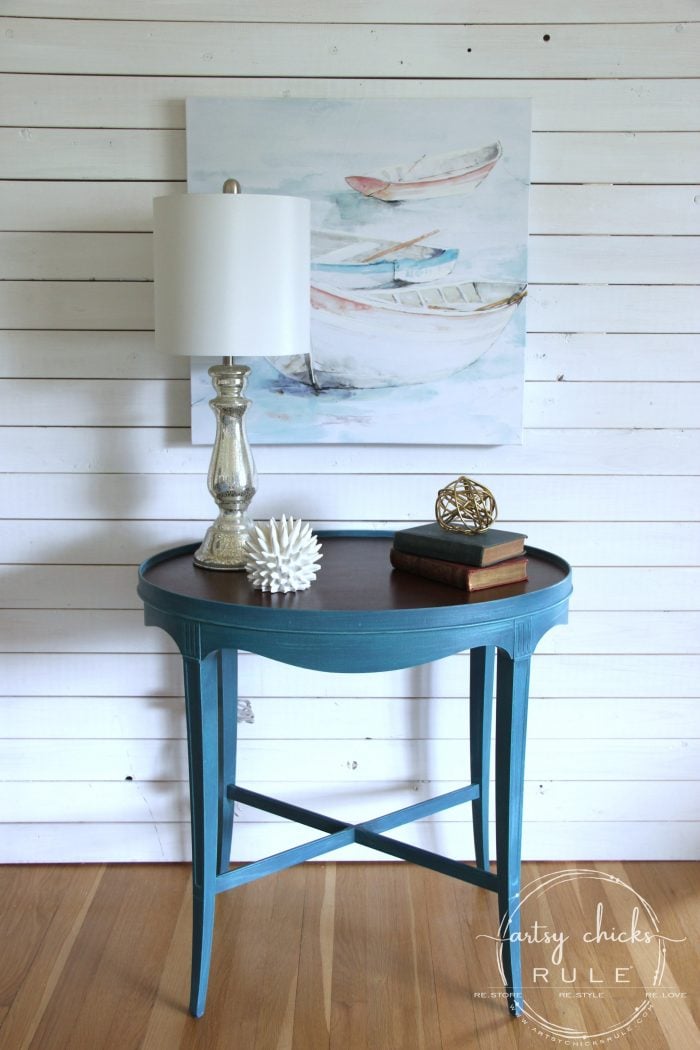 PIN it to save it!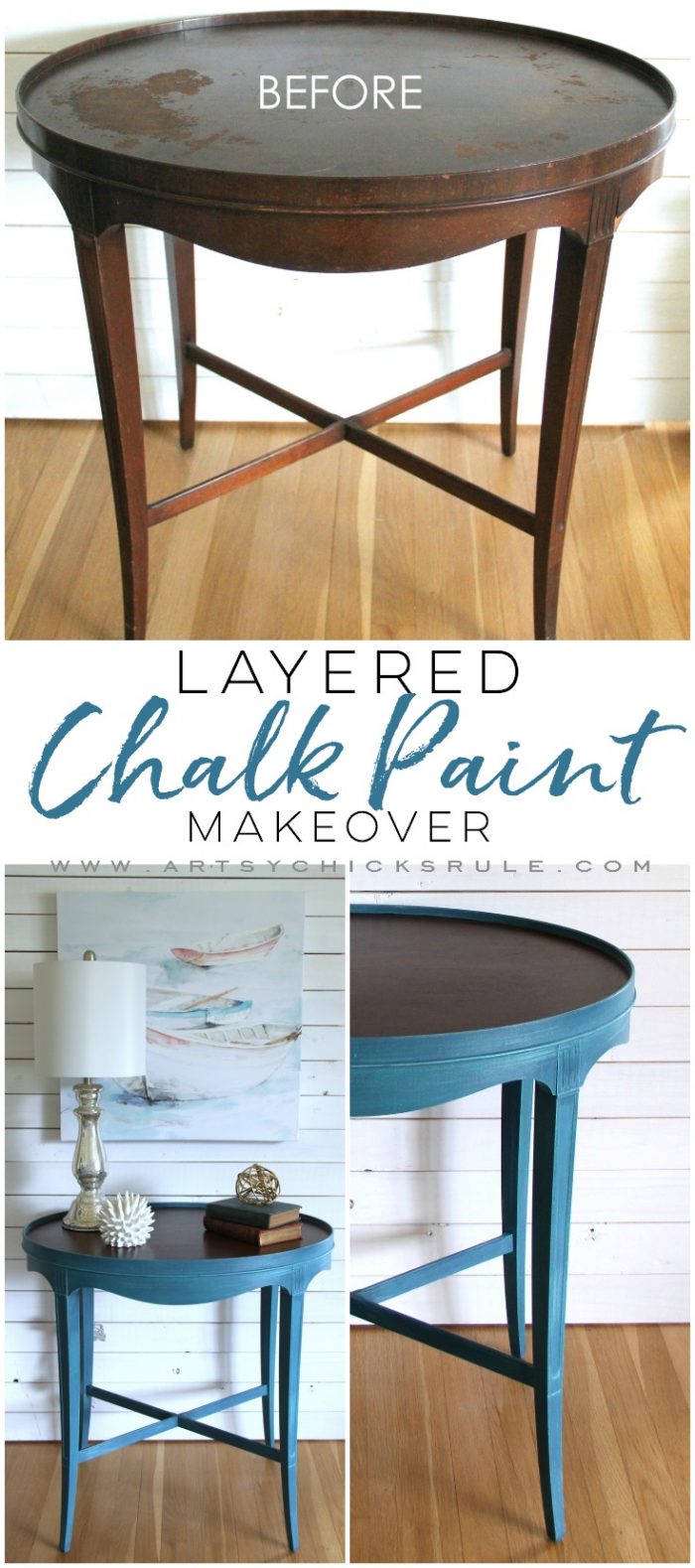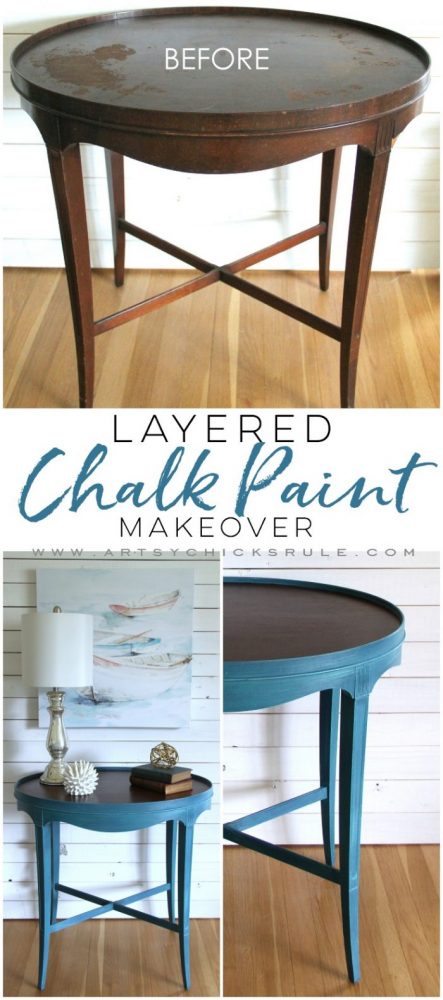 Wait!! Don't go yet….you've got to see the treasures my friends created out of their "trash" this month, too!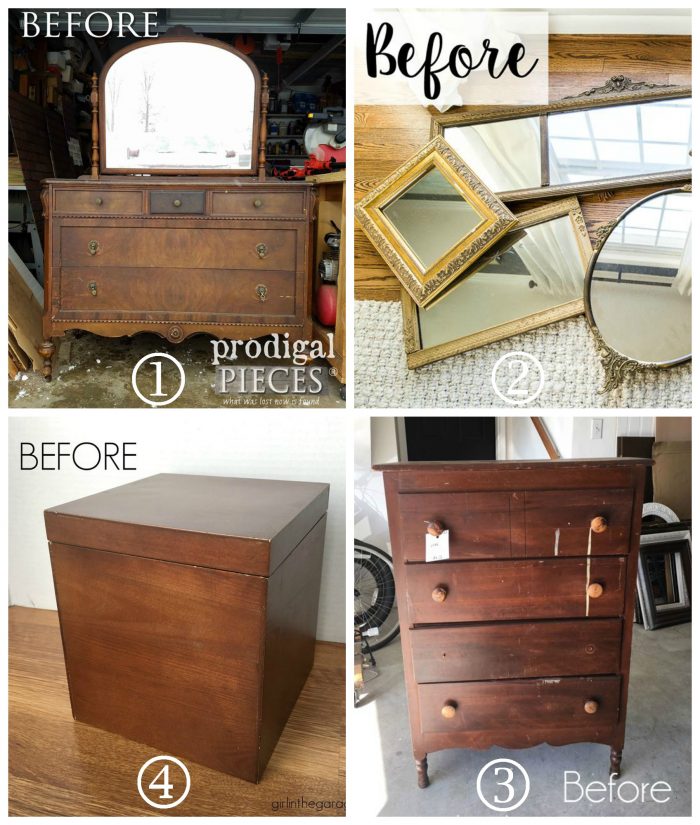 Want to see more Trash To Treasure Transformations? Click here.
Stay tuned for my latest furniture makeover below! (Yikes! This one got a much-needed makeover)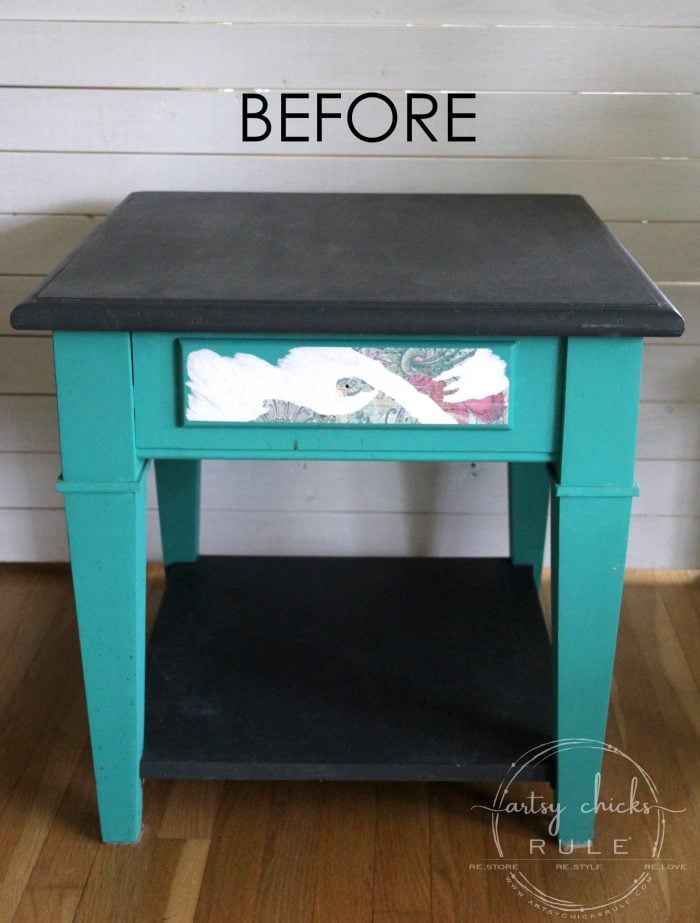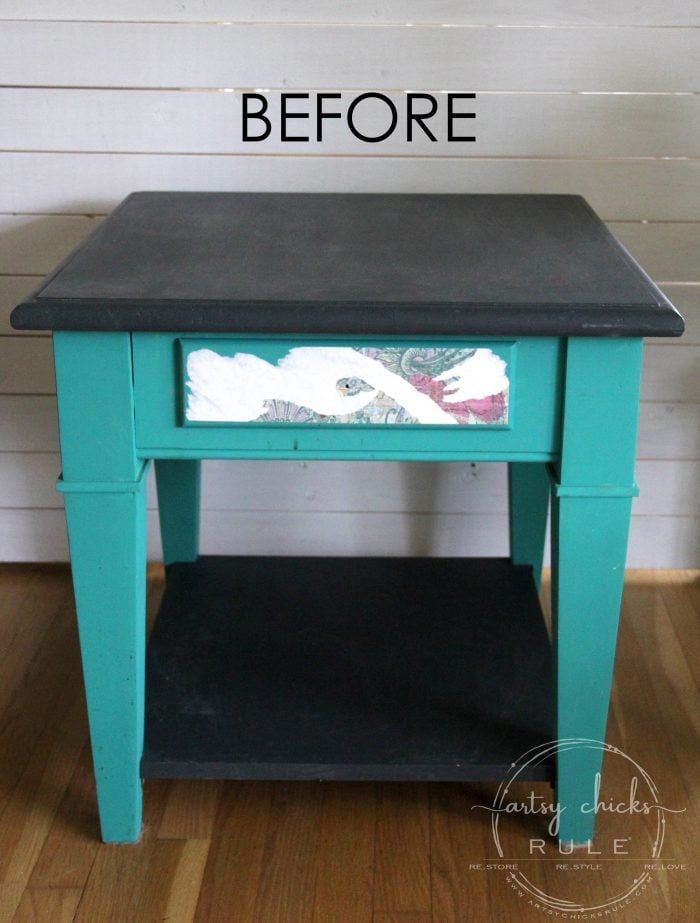 UPDATE!!! See it now, here!!
I'll see you back here on Thursday with some of the fun ways I use all of the printables I create for you guys!
I'm so excited….it was so much fun creating and crafting.
See you then!
xoxo