As promised in my last post, I'm finally going to reveal my kitchen cabinets I re-painted with Chalk Paint ®.
I thought it was about time since it's only been complete for at least 6 months now.
But so much has transpired since then…it's been tough to get around to writing about it.
Plus, I have this fabulous, wonderful, awesome camera that I am still a bit (a LOT) clueless about using. (Canon 60D) Help me, please.

And for the life of me, I could not get good pictures of my kitchen so I just kept putting this post off.
Poor camera…it has SO much potential and is wasted on me. But I will learn.
It's in my plan for the new year!
So, great photos or not, it is time to share.
And YES, that is indeed a photo of my ACTUAL kitchen (see the stove?
) from when we moved in–> and quite literally too…please excuse the mess on the lovely gold counter tops there.
I thought I'd give a little tease of what my kitchen looked like in the real before. And I promise, these are, in fact, the very same cabinets.
I will tell you how we made them look different (better) besides just painting them in an upcoming, full on, reveal.
Just wait until you see that. You will not believe the difference.
I almost don't and I lived it!
I had originally painted those dark brown stained cabinets with a cream colored latex (from Lowe's called "Milk Paint") inside and out.
I finished with a Ralph Lauren "tea stain" glaze (from Home Depot…they no longer sell it).
I had the whole "Tuscan" theme going on.
It looked fabulous and I got tons and tons of compliments on that makeover but after 9 years the glaze just looked "dingy" to me.
And I know they do to you too…don't lie.
YUCK
They needed some work too….after 9 years of use. I cleaned them very well and then re-caulked the wood trim we added (yep, that's what we did to make those flat, plain doors look better)
And then I painted them with Annie Sloan Chalk Paint.
I didn't want them stark white so I mixed up some of these 2 colors –> Old White/Pure White.
What a difference, right??
Since they are in the kitchen and will be handled a lot I decided to seal them with Varathane floor sealer (Lowe's) instead of wax. (yes, FLOOR sealer–and super tough stuff, love it)
The very same product we used when we refinished our wood floors last year.
I also used it to seal my Kitchen Island that I painted in Duck Egg Blue Chalk Paint. You can see that project –> here.
Yep. Painted them, sealed them, hung the doors all back up and was done. Yay!
Looked at them for one week until I could stand it no longer.
They were too yellow. Story of my life.
Too much "Old White" in the mix and not enough of the "Pure White".
I knew it would drive me crazy so I removed all the doors, etc, and repainted them in a "whiter" blend immediately.
(as you can see along the "whiter" edge in the picture below)
And that's the great thing about Chalk Paint®….no sanding, I just went right to it.
Thank goodness, right?
And in this (terrible quality) cell phone picture. You can see the two finished doors. One is yellow-ish and one is more white.
I know, don't even say it…or think it. It's a little crazy around here.
My husband does not even flinch anymore.
But just look…….
WORLD OF DIFFERENCE
So crisp and bright (and clean!) looking. Yes.
Like my little beverage (aka wine) cooler? That's where the 1970's trash compactor used to live.
This one was made for that exact purpose, sized to fit a compactor space.
Perfect!
But truly, what a dream it was to use the Chalk Paint. It was so easy.
TRUST me on that.
I painted them twice in less than 2 weeks, I should know.
And they have held up fantastically, I might add. (that's no surprise to me, btw, I just wanted to let you all know that)
Note: I didn't repaint the interiors because they were still in really good shape from the first painting.
I didn't "glaze" them so are a fairly good match to what I have now with the new paint job.
I used approx. 3/4 to 1 quart can since I didn't have to paint the insides. I also used a Purdy Brush
brush to do the job.
My favorite brushes of all time.
The knobs were bought 9 years ago when I painted the cabinets the first time.
I ended up not putting them on back then but decided I wanted to add knobs this go round.
I changed out the pulls on the drawers to these more "farmhouse" styled ones.
We will be installing my farmhouse sink (<– look) we got from Ikea soon….and replacing our laminate "handiwork" there with beautiful dark wood counter top.
(EDIT- Want to see what my husband recently installed for me –hint above–!? If you follow me on Instagram, you've already seen it!
)
Keep an eye out for that too! Can NOT wait.
We also added a false wall to the ends of the cabinet to create the decorative edge you see there with the fluting, etc.
These cabinets are 35 years old. We did a quick little kitchen reno when we moved in 9 1/2 years ago thinking we would replace these at a later date.
I honestly do not feel the need to at this point.
We had to do a little more handiwork to get the refrigerator to fit into the cabinets when we moved in. (removed and made that cabinet smaller where the shelves now are)
We originally kept one side open (the door for that side no longer fit) and left one door in place.
When I repainted this time I decided to remove the remaining door and create open shelves. (as seen in photo further down)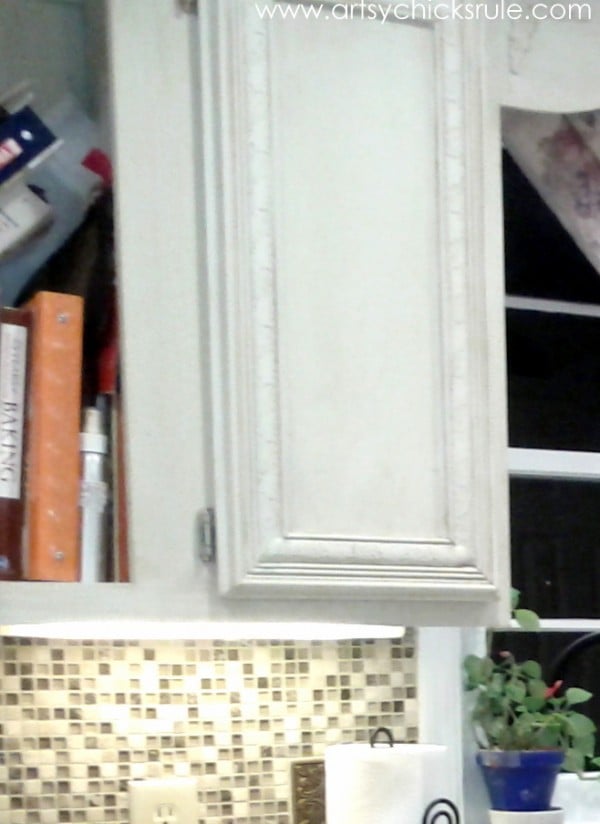 I love it this way….and love being able to showcase my blue Mason jars.
As you can see below, I also removed the doors on the cabinet above the fridge.
My husband built the pullout to match the other end of the cabinet (and to fill the gap between the fridge and dishwasher–there was a small cabinet there but had to be removed when we put the larger fridge in).
I don't use it. Ha…but it was a good idea anyway. And it looks nice when closed.
Oh I cannot wait to share with you all the before photos of this room…from this angle.
(and show you the new oven and cook top (both from Lowe's-details soon) that will replace that last white appliance)
I have officially painted just about everything in this house with Annie Sloan Chalk Paint at this point.
What do you think? Would you paint your kitchen cabinets with it?
You really like the "before" before best right?? No way.
Stay tuned…lots more to come!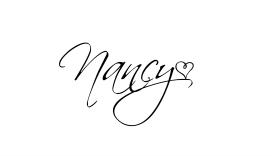 You might like this:
Chalk Painted Kitchen Island

Be sure to follow me on Instagram and Facebook if you don't already!
I always post projects and things I'm working on
long before it hits the blog…..
….plus lots of fun random daily things too.
Sharing with: Not Just a Housewife
*This post contains an affiliate link or links – which means I will earn a small commission if you decide to purchase by clicking the link. I only recommend products I use and love and the small commission I may make helps to keep this blog up and running. Thank you so much for your support! xo