SW Natural Choice or SW Pearly White (and more updates!)
This post may contain affiliate links. Please see disclosures here.
Choosing paint colors can be hard but once you pick the right one, it can make all the difference in how your home looks and feels! With so many to choose from, we finally narrowed it down to SW Natural Choice or SW Pearly White.
Today I'm sharing a few colors I picked out for the dining room, study and possibly, kitchen.
Okay, before we get into the paint, let me tell ya about that crown molding. Well, it came down.
It had those corner pieces, ( I have no idea what those are called but we really didn't love those) and it just wasn't done very well, so we finally decided to just bite the bullet and replace.
Here's a shot of it the day we walked through (before buying).
You can see the corner piece there I'm speaking of and the old pink wallpaper that's underneath, too!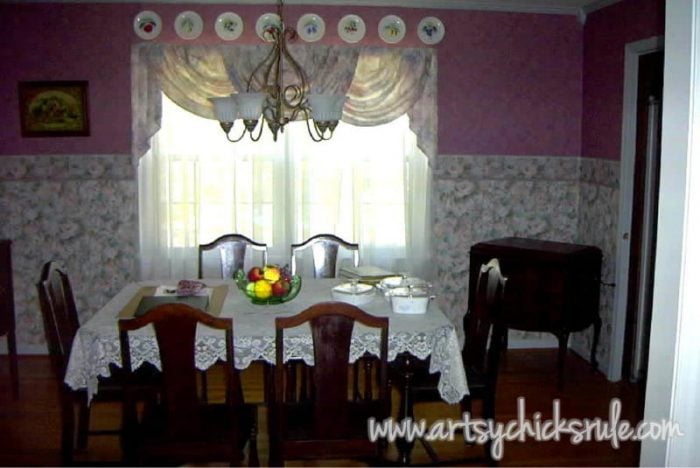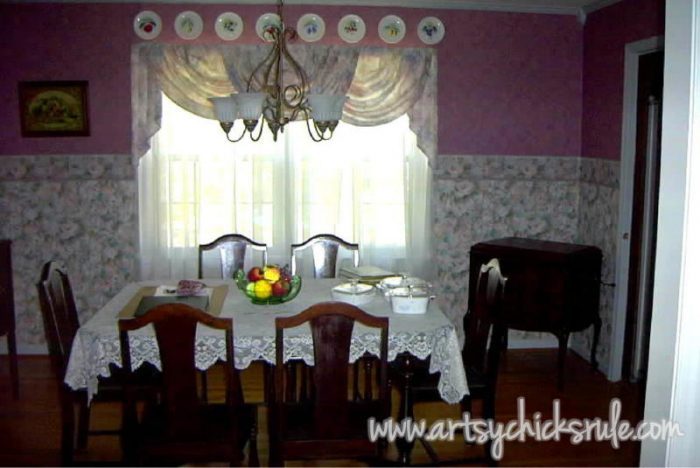 We're going to put up a wider molding this time. Can't wait!
Not only that, but I'm moving things around in this space a bit.
I think I'll be adding this yet to be made over piece……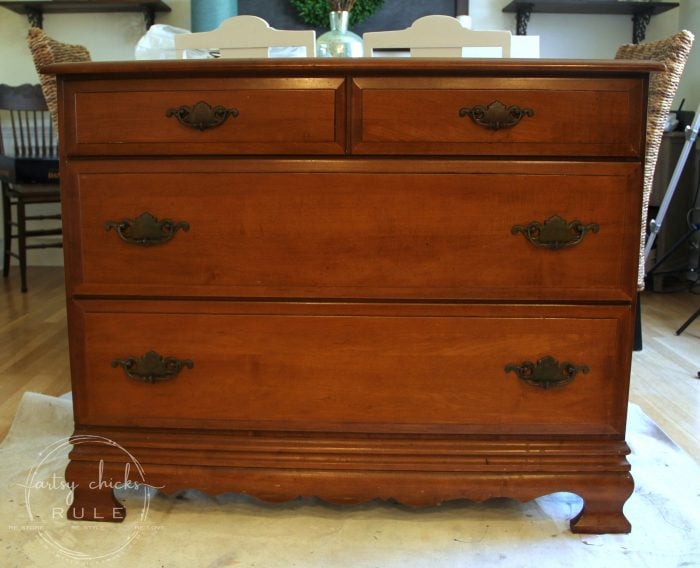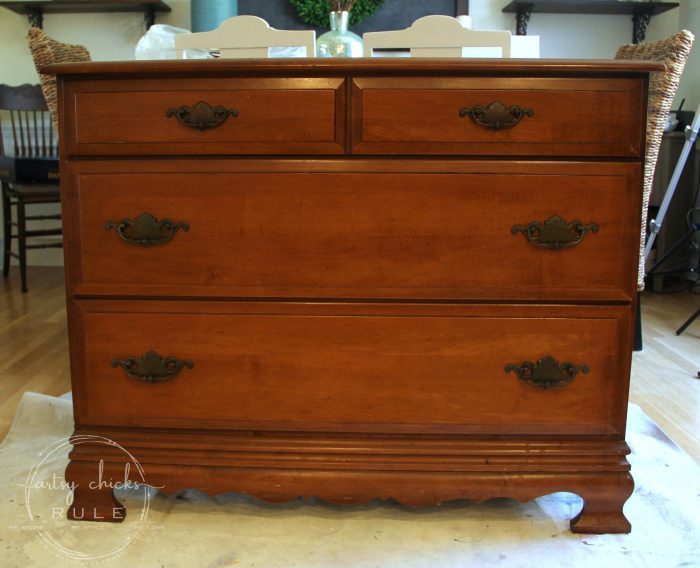 …to my dining room as my new "coffee bar". I know, it will be the 3rd one I've had/created!
But hey, I have a blog and I need to keep y'all filled with ideas and inspiration. That's my excuse anyway!
Here's the first one I had. (it was also a dresser)
I haven't decided how I'll paint/refinish this dresser just yet but I know it's getting new hardware…and it will be going over on the left where my thrifty gold cart is now.
And the gold cart is going over on the right where the current "coffee bar" is located. My knots nautical dresser is going upstairs.
The gold bar cart is going to be just that, more useful for that type of thing. So it's getting a little change up too. (usage-wise)
I love using dressers for coffee bars. The drawers are so great for storage and accessing that storage.
I love that this one has a couple of really deep drawers for taller items.
What do you think I should do with it? Paint it? If so, what color?
If not paint, stain? Weathered? I have an idea of what I want to do….but let's see what you guys come up with!
I also bought new artwork for the dining room where the farmhouse chalkboard is now.
This is the artwork I bought for the space….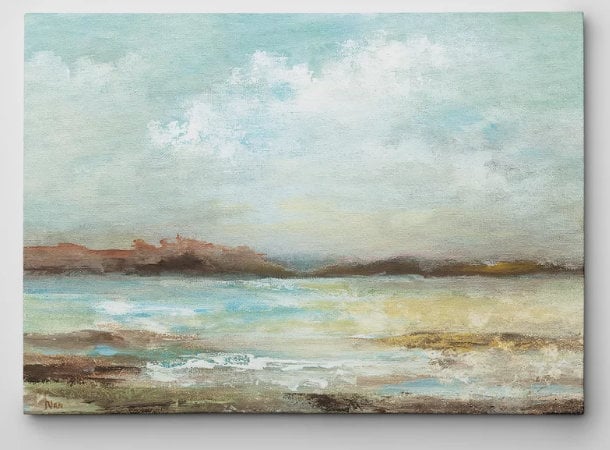 I love it and it didn't break the bank!
You can find it, here.
Hopefully, it will look good with the paint I chose. I guess we will see.
Now, speaking of paint, picking out paint is hard, y'all!! SO HARD.
It looks different on the wall than on the chip, it looks different at night than in the day, it looks different with lights on and with them off and it looks different in each room! Oh my.
BUT….we have found a winner.
I really wanted to keep things "bright and light and airy" so wanted to try to go as light as possible but still blend nicely with the Sea Salt in adjoining rooms.
And I wanted to step away from the yellow and warmth of the SW Navajo White that originally went with the SW Blonde I used to have in our other rooms.
I originally thought I'd use SW Spare White, which is the lightest color on the Sea Salt paint chip. That'd be an easy winner, right?
WRONG.

It looked like gray, dead skin to me or alien skin, something along those lines.
In my home and lighting, anyway. Ick, not what I was going for!
So back to the drawing board.
I narrowed it down to SW Pearly White and SW Natural Choice.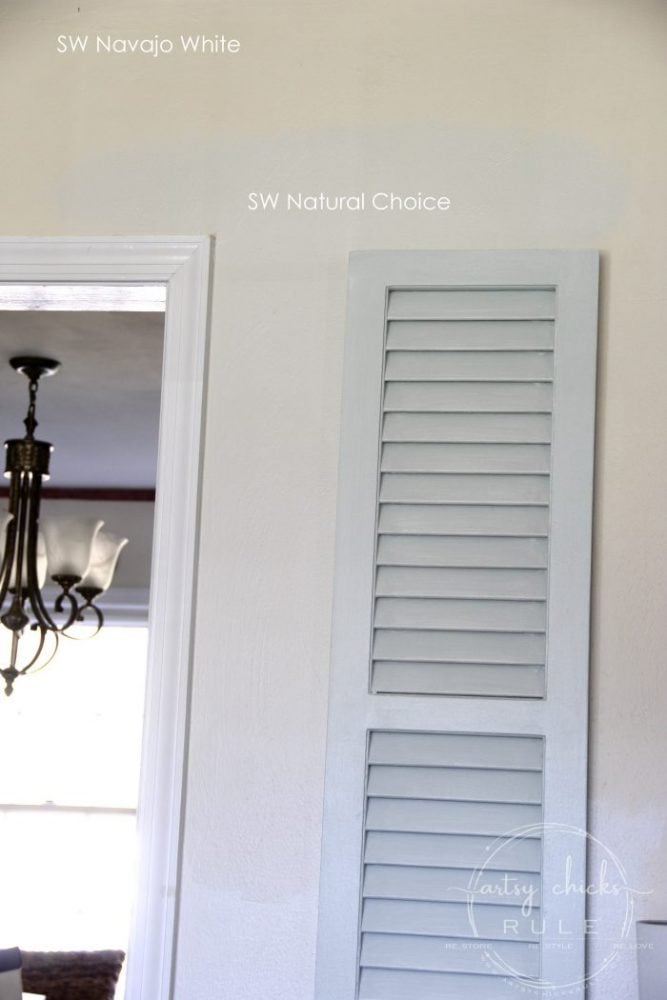 You can see a splotch of the "alien white", I mean Spare White paint, to the right of the shutter by my watermark.
Ew, no.
Just did not work in my home.
I repainted these shutters in Sea Salt, by the way.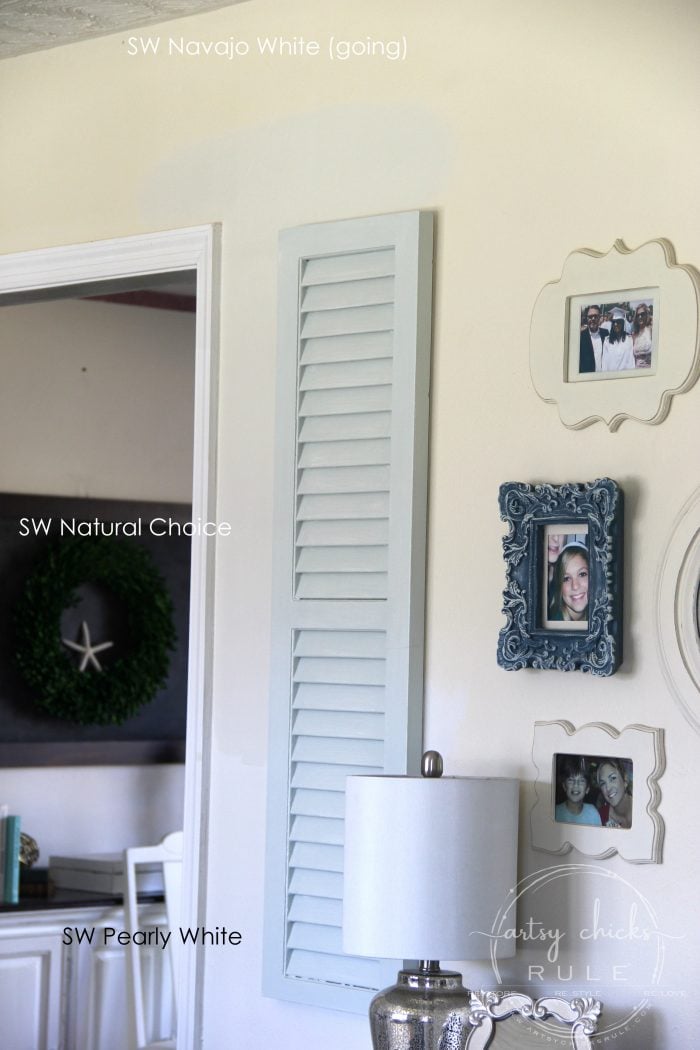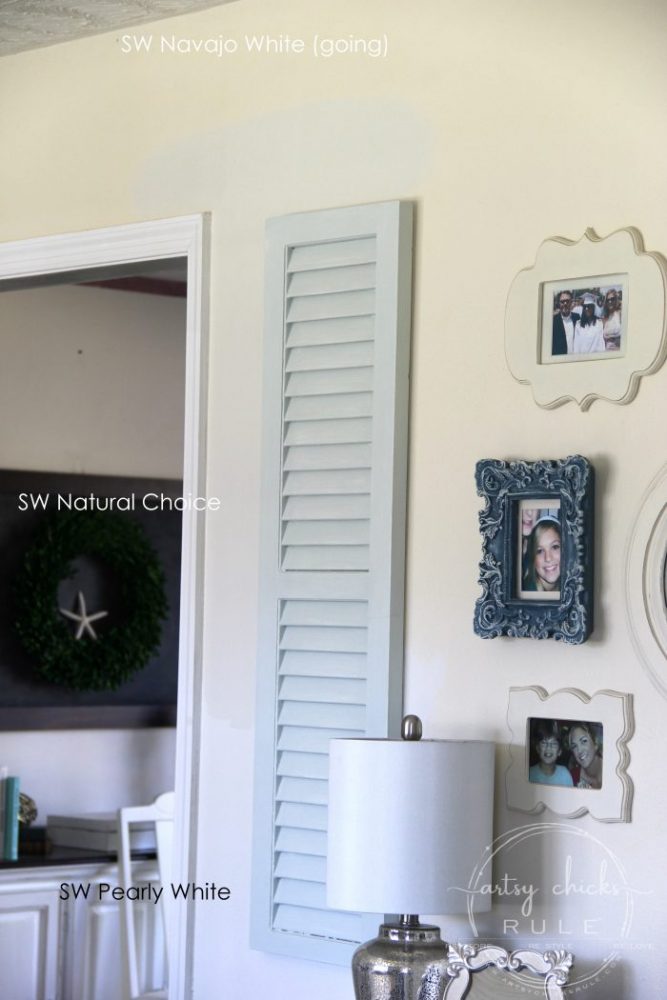 And…..the winner is…… SW Natural Choice!
………………………………………………………………………………………
UPDATE:… I decided to use neither. I went with PURE WHITE by Benjamin Moore. I think it's the perfect white. Not too warm and not too cool. Perfect!! You can see it in our kitchen, dining room, and morning room.
………………………………………………………………………………………
I loved the neutrality of it and that it didn't pull warm or too cool. It's a really wonderful neutral.
The SW Natural Choice, although, still nice and light and bright, gives a good contrast with the white trim, which my husband and I both like.
The SW Natural Choice just …. looked perfect.
And like my husband joked, it was just the "natural choice", obviously!! haha
Are you looking for a good neutral? Definitely check this one out!
As I mentioned in Tuesday's post, we are also replacing our 40+-year-old cabinets and the laminate countertops we installed back when we moved in.
Here's the style of cabinets we are planning to use…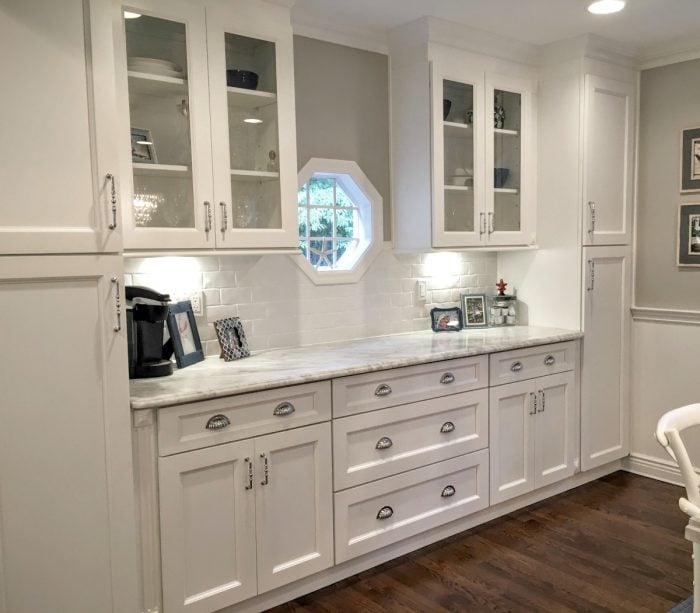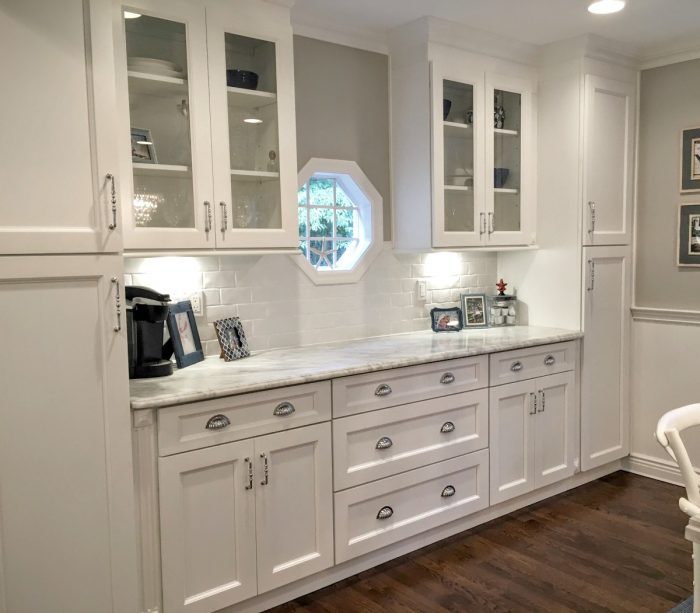 I can not wait to have new cabinets. I mean, I can NOT wait!
We plan to use the ready-to-assemble type to save since cabinets can be so pricey. (these are also RTA cabinets)
Thankfully we don't have a lot of cabinetry to buy for our kitchen though.
Plus we don't plan on replacing the island we built. It's in great condition and is only getting new paint.
I love this granite counter top but not 100% positive this is the one, yet.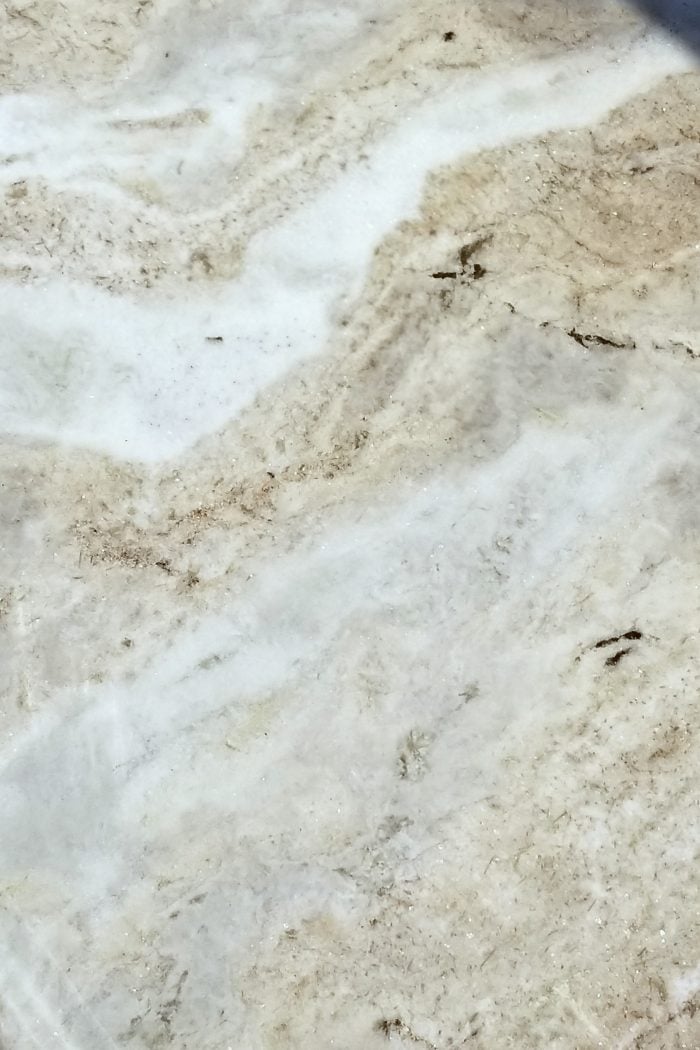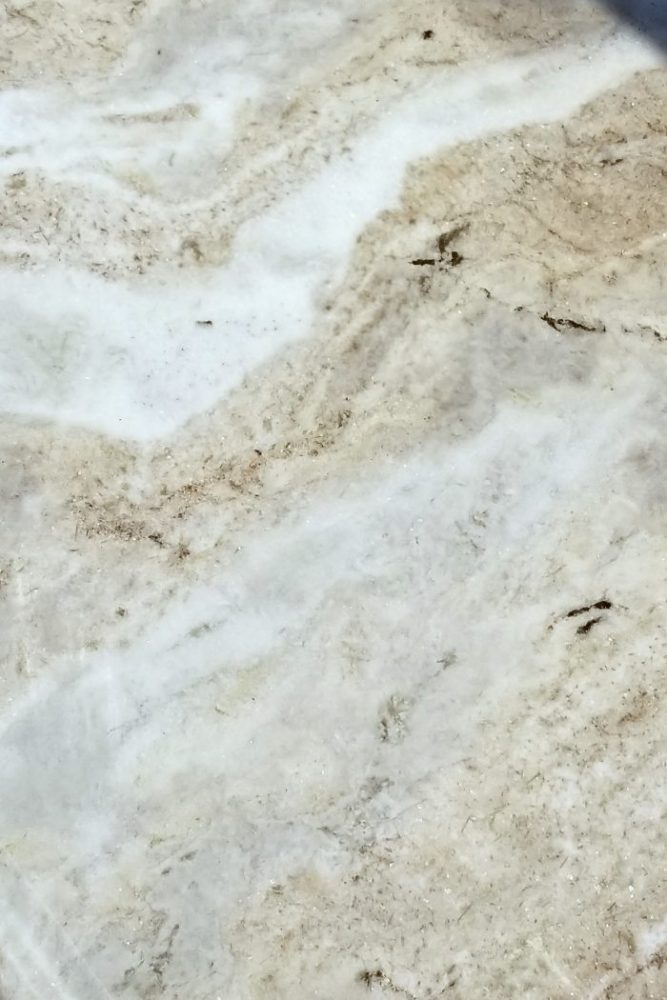 But the white swirling through it and the slight tan color would bring the white cabinets and brown flooring together.
I know marble and the marble look is all the rage right now, and something I absolutely considered. (and am still considering)
But I have to say, I am always just smitten with the variations in natural stone.
It's mesmerizing to me.
Plus, this particular piece had sparkly iridescence all over it. Can you see all the tiny little specks that look white? Those are sparkly little spots.
So pretty in person but I love sparkly things.
We put granite on top of the island when we built it and have always wanted to come back and replace the old laminate in the rest of the kitchen when we could but never got around to it. Maybe now is the time.
What do you think? Marble-look, style (not actual marble), or granite?
New appliances…yes.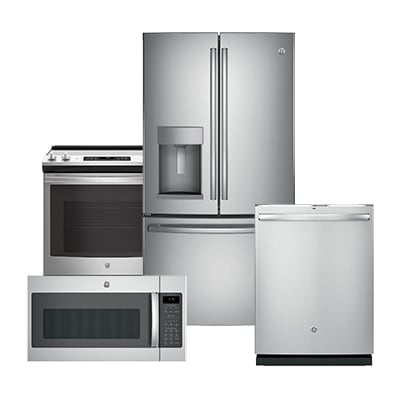 Stainless will go much better with all of the new changes. Like these from The Home Depot.
If we had not had to replace each appliance one at a time, we probably would have gone for stainless a long time ago.
Now …. onto flooring plans…..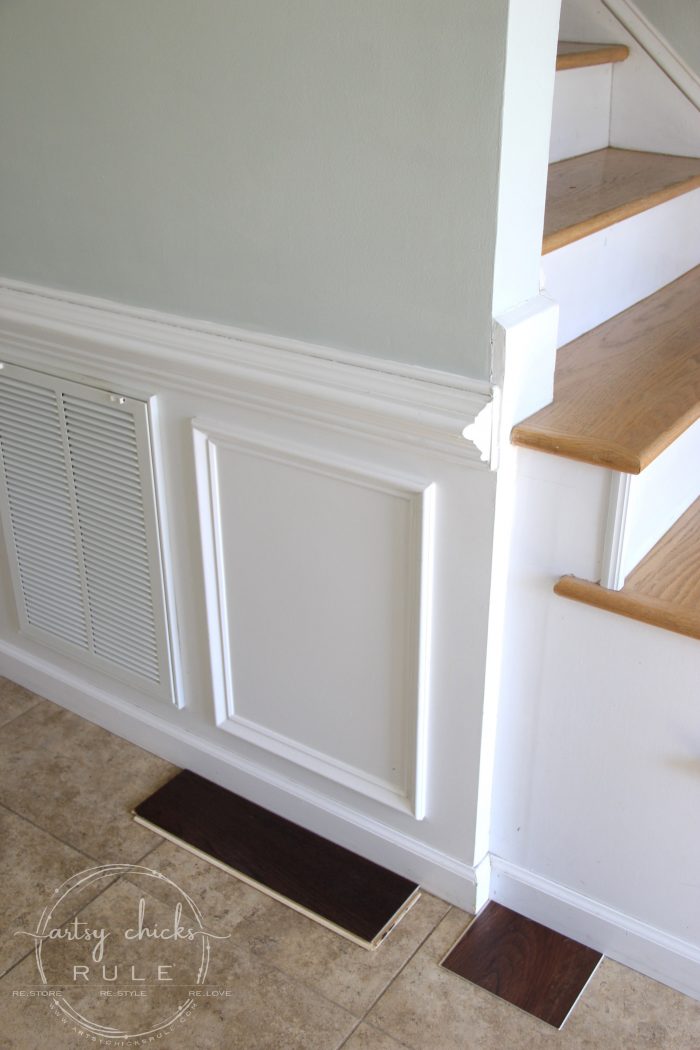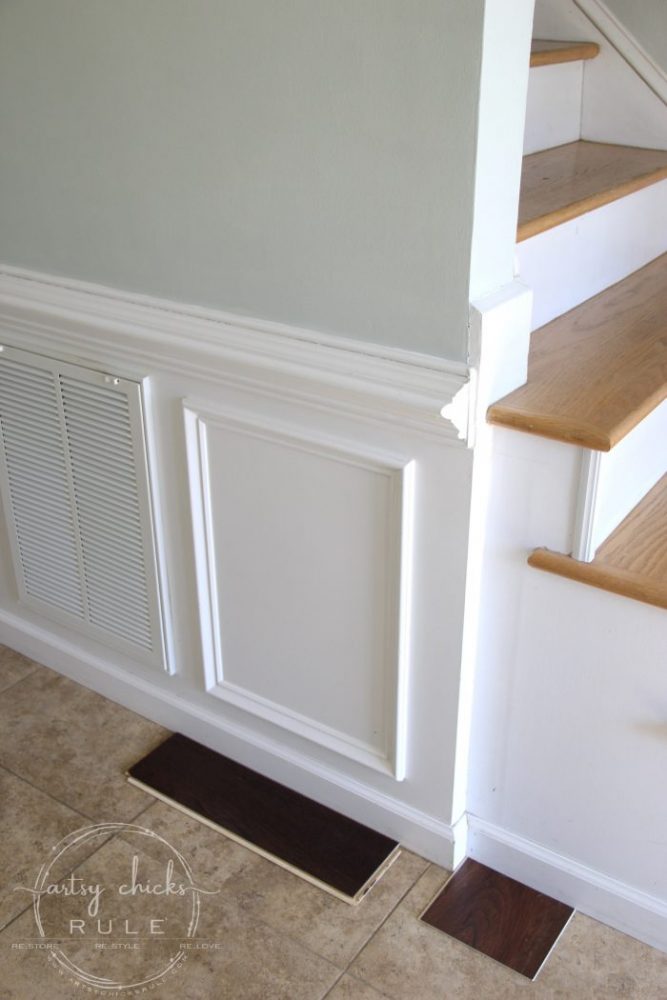 We are considering replacing the flooring in all the rooms in our downstairs so that it flows.
When you step into the front door, you see one type of flooring to the left (original oak, which we refinished ourselves years ago and it's again turned yellowish/golden, ugh), vinyl floor tiles straight ahead, we installed about 9 years ago, and engineered wood flooring to the right in the family room that we also installed at some varying stage of renovations.
I would LOVE to have it all be one type of flooring since the rooms are so connected and open now.
I know I don't want any orange-y, or yellow as I don't feel that would go as well with the colors in my home. I personally do not like the way those stair treads look with the new paint, etc. (see in the photo above)
I think a darker stain would look nicer but I understand that is a personal choice. Although, I don't want it quite as dark as the top one in the photo and I don't really love the "red" that appears in the bottom one of the two samples I have. :/
Actually, I really love the color of the flooring in the new cabinet photo I shared above. (which I just found as I was writing this post)
It's dark but not overly so. And doesn't that dark make a really nice contrast to all the white?
That's pretty much what I'm looking for that I haven't found yet!
I do know that the dark will be harder to keep clean as it will most likely show everything…like my Ryder boy's blonde hair! ;)
But I love the contrast of it with the Sea Salt and white trim/decor.
I also don't know if I want to do luxury vinyl for durability or stick with prefinished hardwood. Hmm, what to do?
Thoughts? Does anyone know of any flooring that might match what I'm looking for that you'd like to share?
I know I can get close to that color with finish on-site but that would be a nightmare since it's our entire first floor….and we live here. ;)
I'd very much welcome any ideas or thoughts you have on this.
So that's it around here. I'll be a busy, busy girl in the coming weeks (and months!).
Spring fever has surely gotten a hold of me!! ;) Lots of changes going on over here and I'm excited to share it with you as we go.
Plus furniture, whew…in the middle of all this painting mess, I have 4 pieces of furniture, yes 4, just waiting for some love!
I ordered some pretty tissue paper and may use some of it on one of the pieces…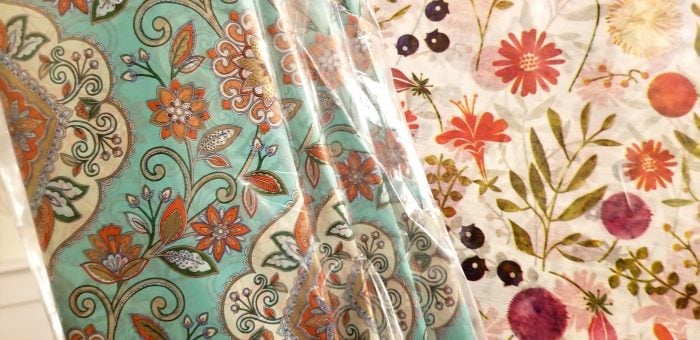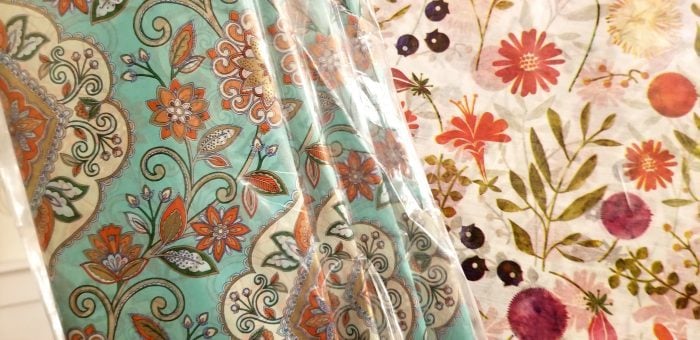 Stay tuned!
UPDATE: See what I used that pretty paper on, here!
Have a wonderful weekend friends….and woohoo for the time change this weekend! So ready for extra daylight! Bet you are too.
xoxo