Don't Love It Anymore?? Paint It! (and some home updates)
This post may contain affiliate links. Please see disclosures here.
Tired of your decor? Don't love it anymore? Try freshening it up with some new paint or moving it to a different location in your home before you buy new!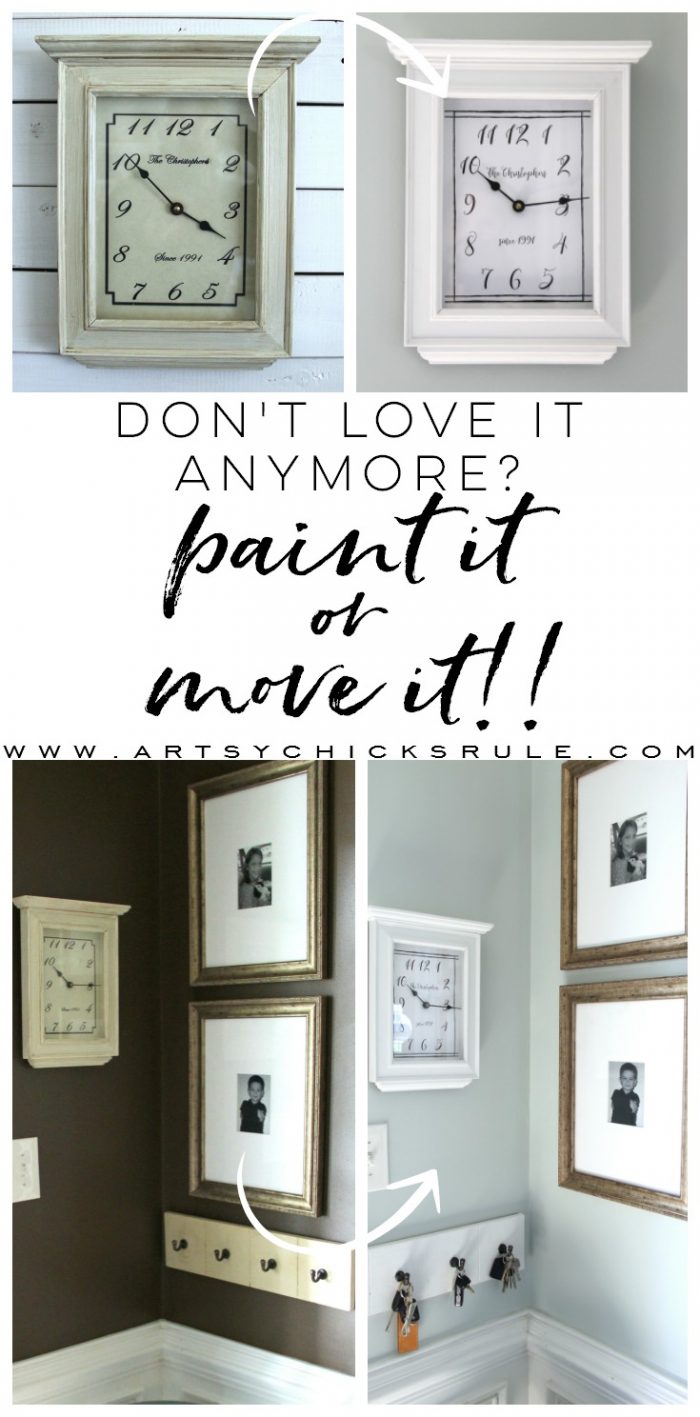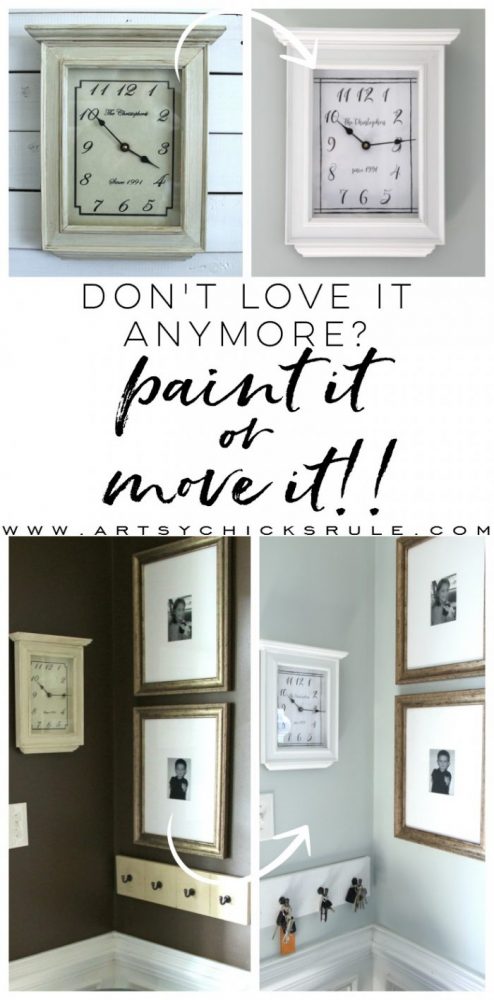 Today I'm sort of talking about "shopping your house" and "mini makeovers".
Sometimes we all get tired of our things and the way we have them arranged. And how about the paint on the wall?
Yes, that too.
But guess what? One of the very best ways to give your home a new look (and you, a lift!) is to change the paint on the wall. :)
Really. That's all it takes!
And guess what else? That usually leads to wanting to change some of the decor, too, right?
Yep, always!
But that's okay, you don't have to buy new. Sometimes, maybe, but not always!
If you follow along with me on Instagram, you might have seen my "stories" the last week or two.
If not, here's what I've been sharing……paint, paint and more paint! ;)
And plans for the house as well as even a survey or two asking for your thoughts on things.
I don't share photos there on the regular but I have been trying to pop on and share in the "stories" section about the day to day.
I feel like it's a great place to interact with you guys and we can "talk" back and forth about the things I'm sharing, etc.
And it's a place to share the "non pretty" Instagram photos. I love all the pretty but I sure miss the old days of just sharing what's going on "in the moment" over there. The stories is about the best way to do that now. But unfortunately, the stories only last 24 hours so they are easy to miss!
Anyway, let me catch you up on what's going on around here real quick.
You might know that we've talked about selling our house for awhile now. And we still plan to, just probably not for a couple of years.
We have decided (I *think* ;) …things are always subject to change!! haha) to stick around and do a bit more "fixing up".
Realistically, we really had too much to complete to even consider trying to sell this year. Plus, we have some other things that may be going on that might make it not an ideal time to move as well. Not only that, but we have had a time trying to find something we like, in the price range we want, etc, that wasn't just a lateral type of move in every way.
So we took the pressure off!! ;) No more plans to move….at the moment anyway.
I had sort of been in a bit of limbo, not really wanting to change paint (which I had been ready to do for a long while), change decor, etc. Only doing what we needed to do to sell. But since we have made this decision….it's go time! ;)
I have repainted the foyer, and am also repainting the study, dining room and kitchen. We are finally replacing our 40 year old kitchen cabinets and replacing the remaining laminate tops with granite.
We are considering replacing the first floor flooring to be the same all the way throughout the house. We ended up redoing them in sections as we gave the rooms makeovers over the years. And now that the house is pretty much an open floor plan, would love to have a flowing floor covering.
Our master bath/closet got a slight (well, more than slight ;) ) tweek in design and we will be getting back to that soon, too.
AND, my office is getting a MUCH needed makeover …. and becoming an office/small craft/project room. So excited…and SO needed!
My kitchen will be so happy it doesn't have to have the constant mess anymore. ;)
We do still plan to buy a beach cottage in the Outer Banks to fix up, sometime towards the end of this year, or early next year. After we have finished up most of the renos/makeovers here. We've got our hands full right now, so no mental energy going towards that at the moment.
But once we do purchase, it will hopefully be less stressful as we won't be living in it as we renovate and can do it as we have the time.
Grand plans, all of them! We will see how all that plays out, won't we? ;)
I surely hope it rolls along smoothly, and on "schedule".
I'll be sharing it all, right here, as we go. And over on Instagram in the stories, day to day.
Don't love it anymore? Tired of it? Let's talk about options for those kinds of things.
Like this old clock of ours….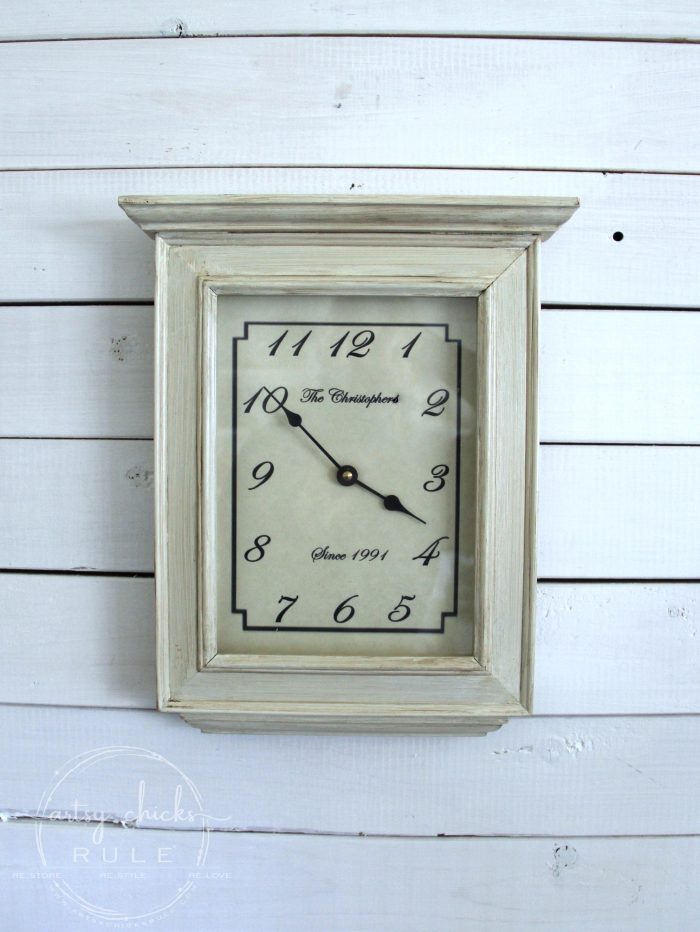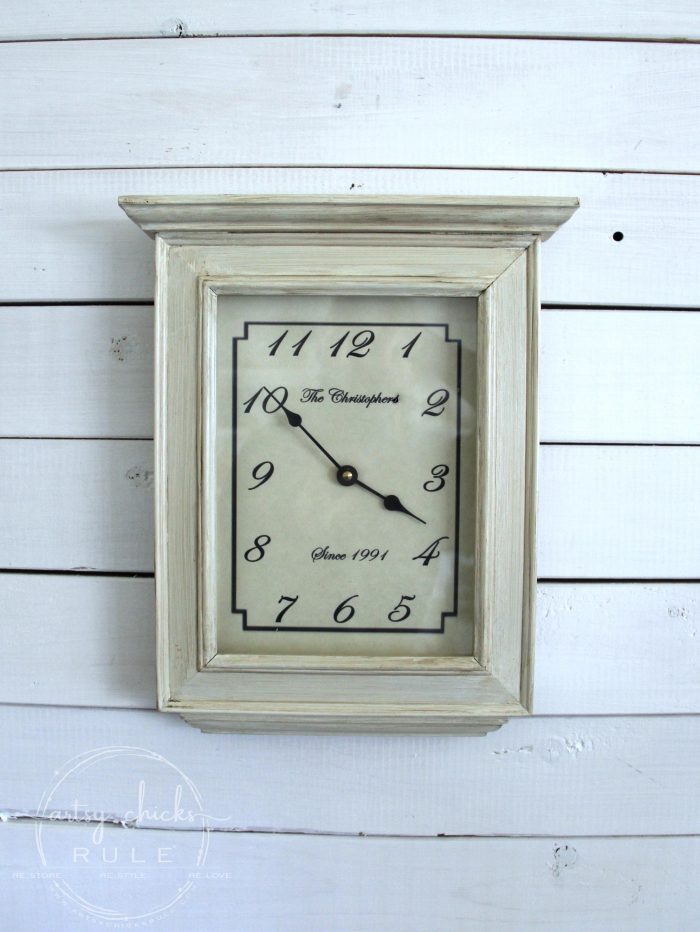 Believe it or not, this clock started out dark hunter green, just like these prints/frames I gave a makeover to not long ago.
Hunter green, magnolias, fruit was my theme/color scheme at one time and I really loved it.
When we moved in here, going on 14 years ago now, I changed my decor theme to a "tuscan" style with warm golds/maroons.
I painted our kitchen cabinets (<<<—you can see them here)a creamy off white and added a glaze for that "old world" look.
I still liked this clock and couldn't see getting rid of a perfectly good one so I painted it in the same exact way as the cabinets. ;)
I even went so far as to create a new, personlized background for it.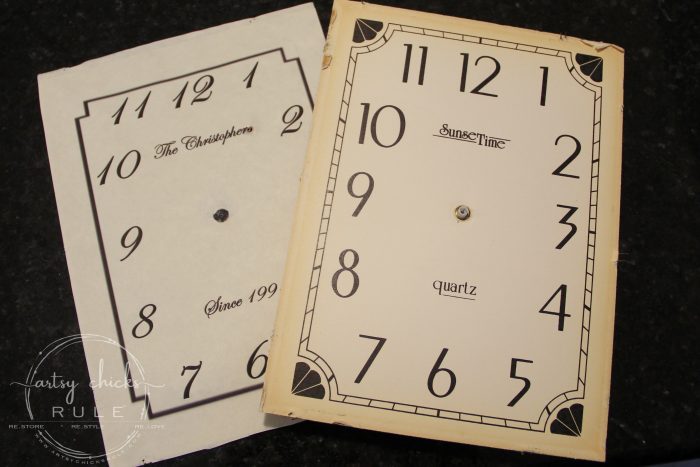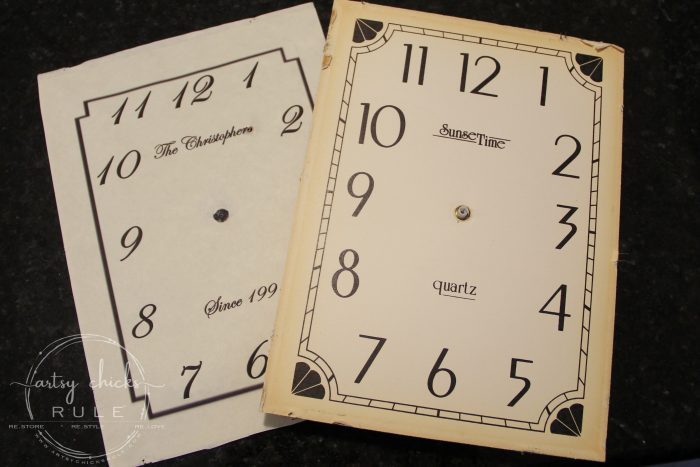 I simply designed it in some old program I used to have and printed it out on off white paper.
So simple!
See it in action, here….(although, I originally painted this wall in a taupe/sponged technique, I later painted it this dark brown color)…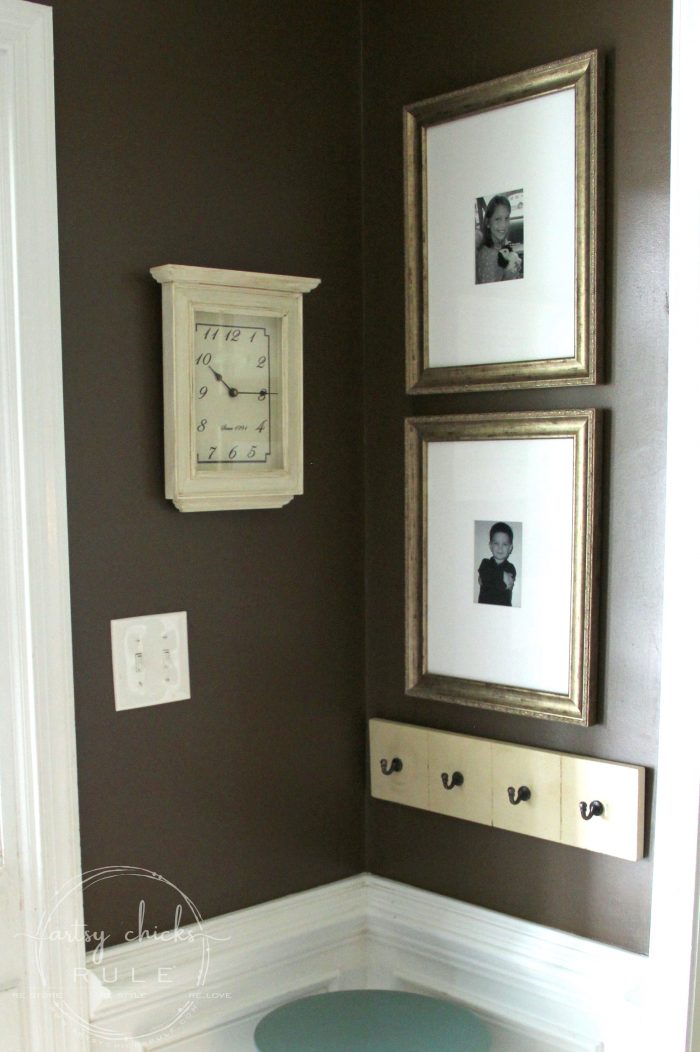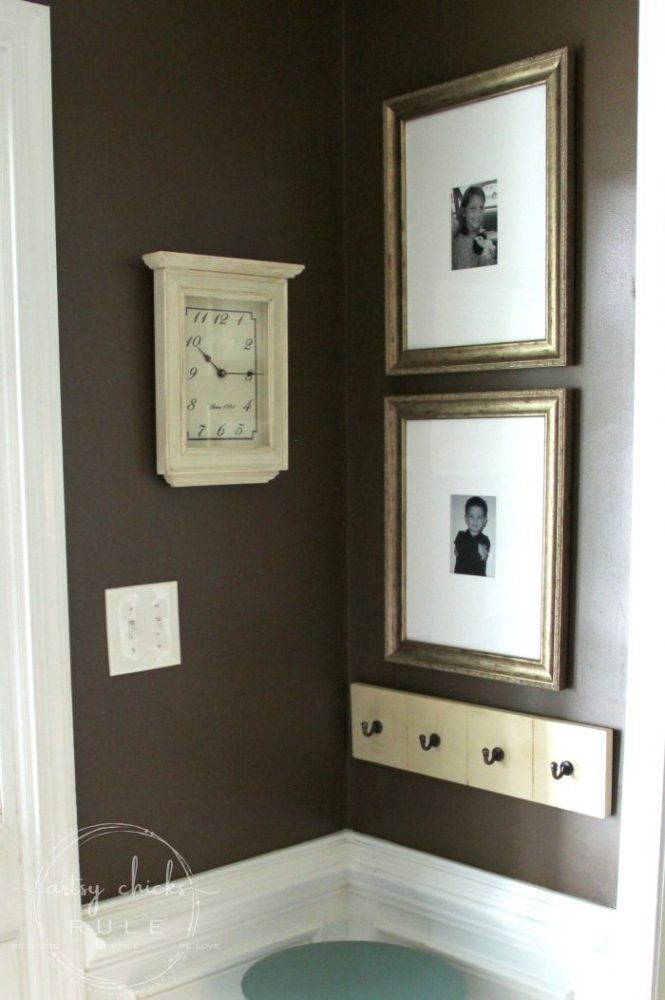 I simply painted the frame with one of my favorite white chalky paints…..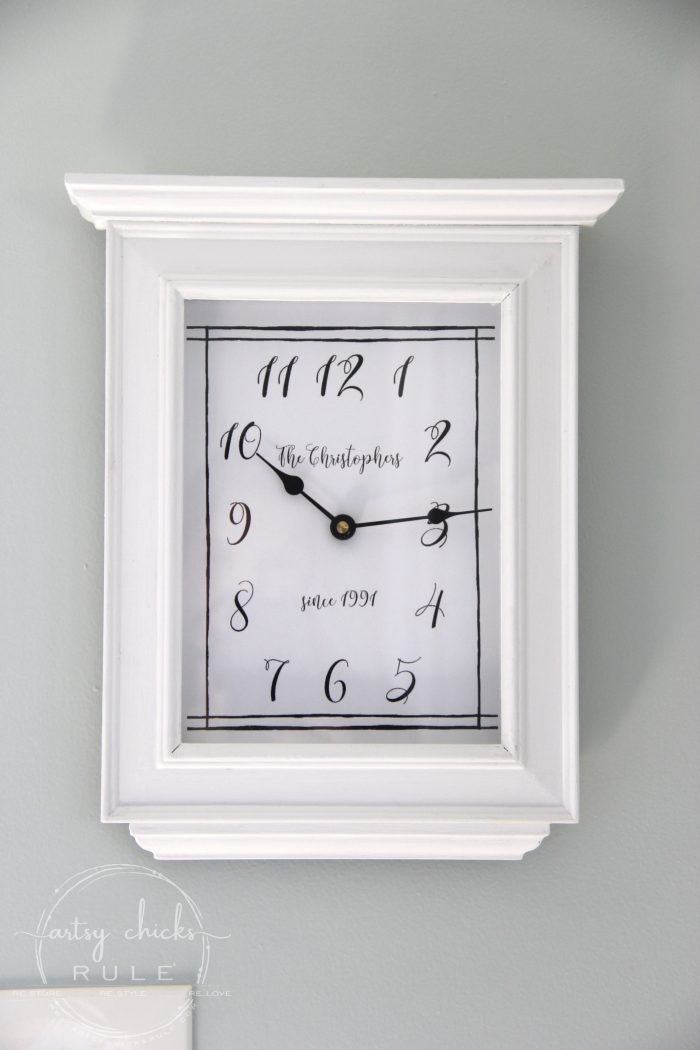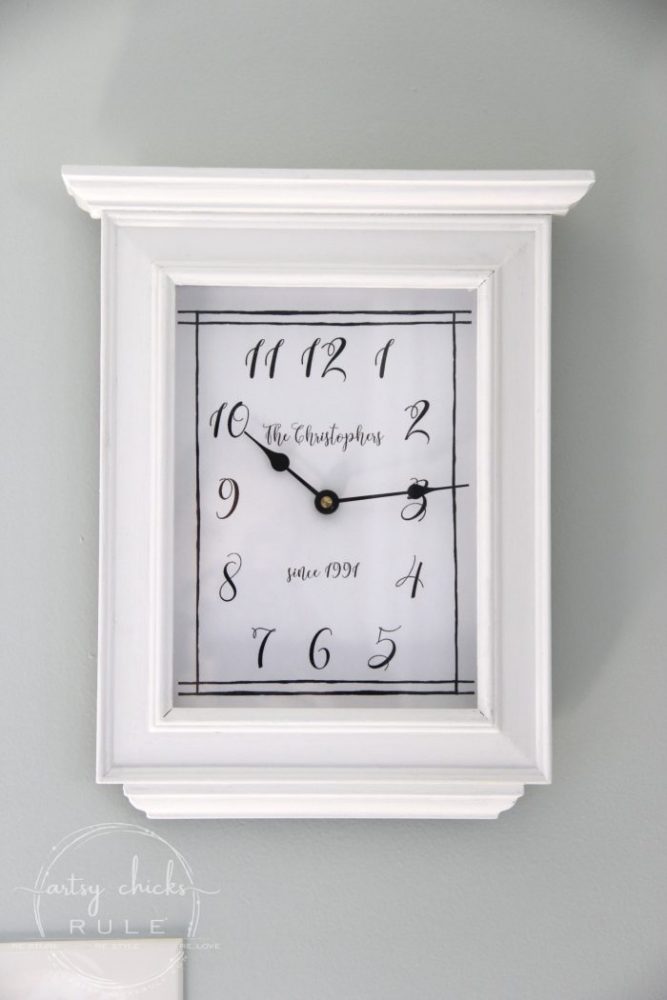 …and created a brand new design in Picmonkey, this time printed on plain white paper.
(how funny is it that is was 10:15 am when I took the original photo a few years ago….and 10:15 am when I took the new, finished photo? ;) )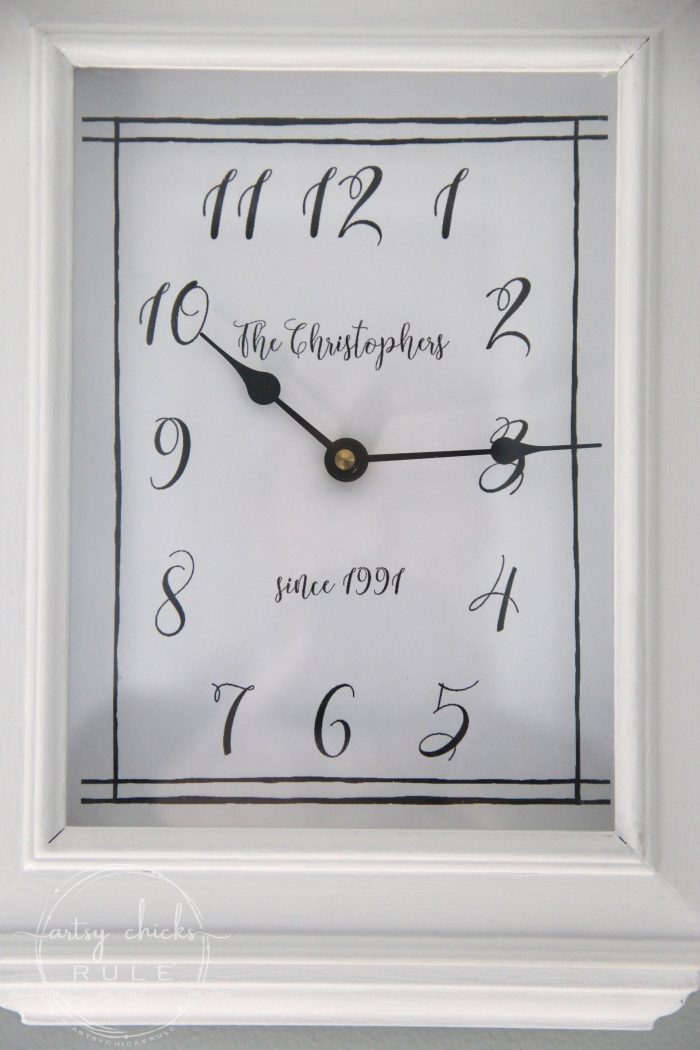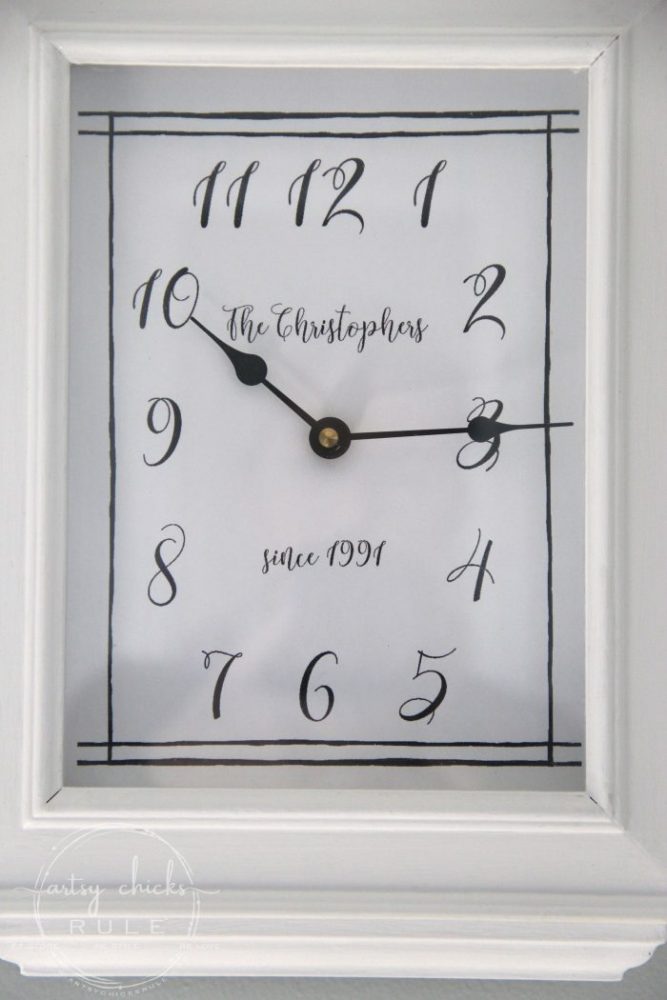 This little key holder I bought at Big Lots when we moved in used to be multi-colored.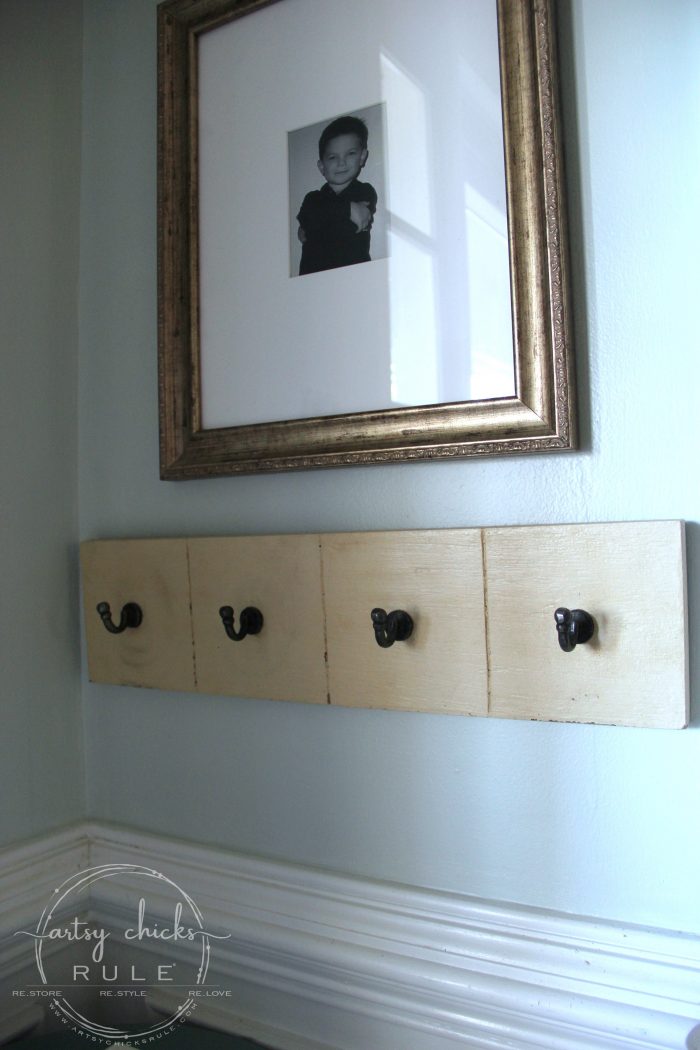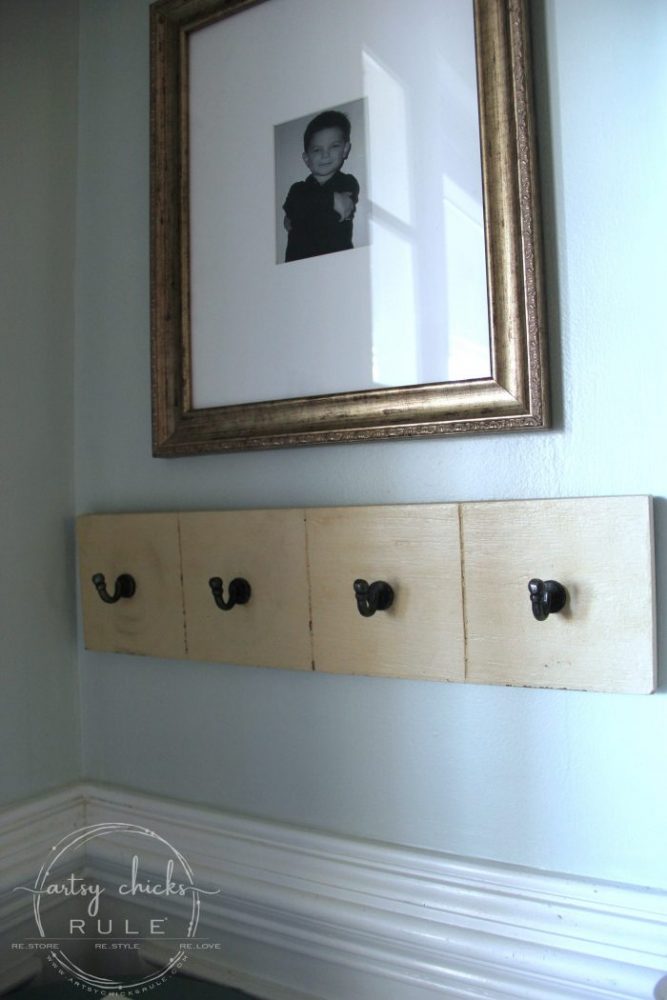 I painted it this color to go with the clock and every other "creamy" thing I had in my house at the time. ;)
Gosh, it just looks dingy, dirty to me now. So funny looking back at what we used to like, isn't it?
It got a new paint job too (with the same paint and both were sealed with HP Top Coat)…and I decided it needed a new space to live in.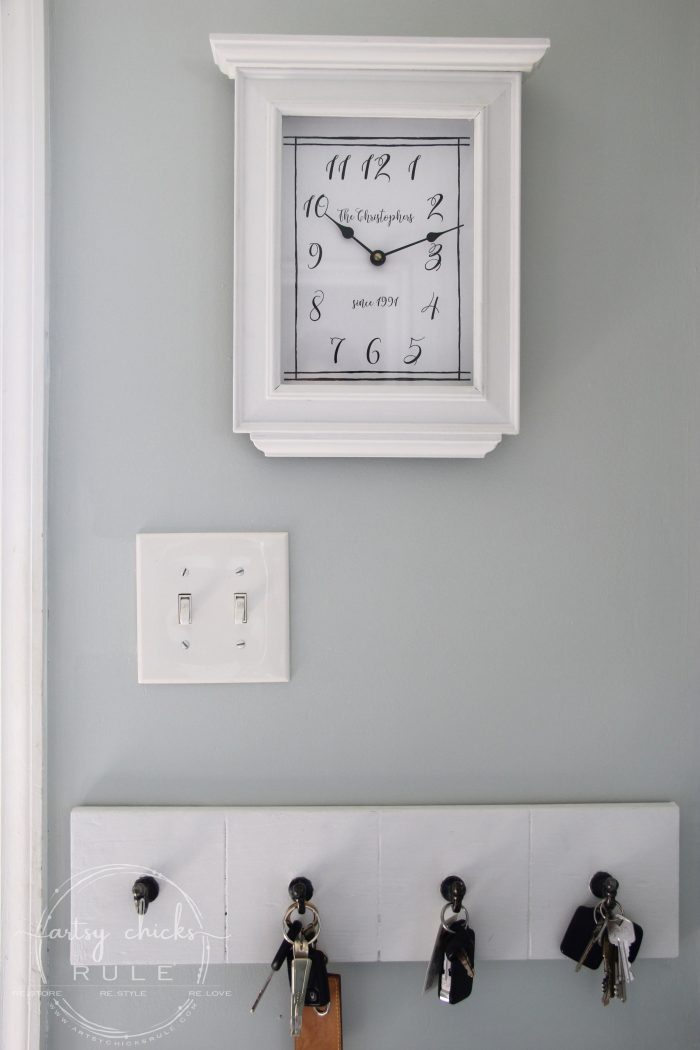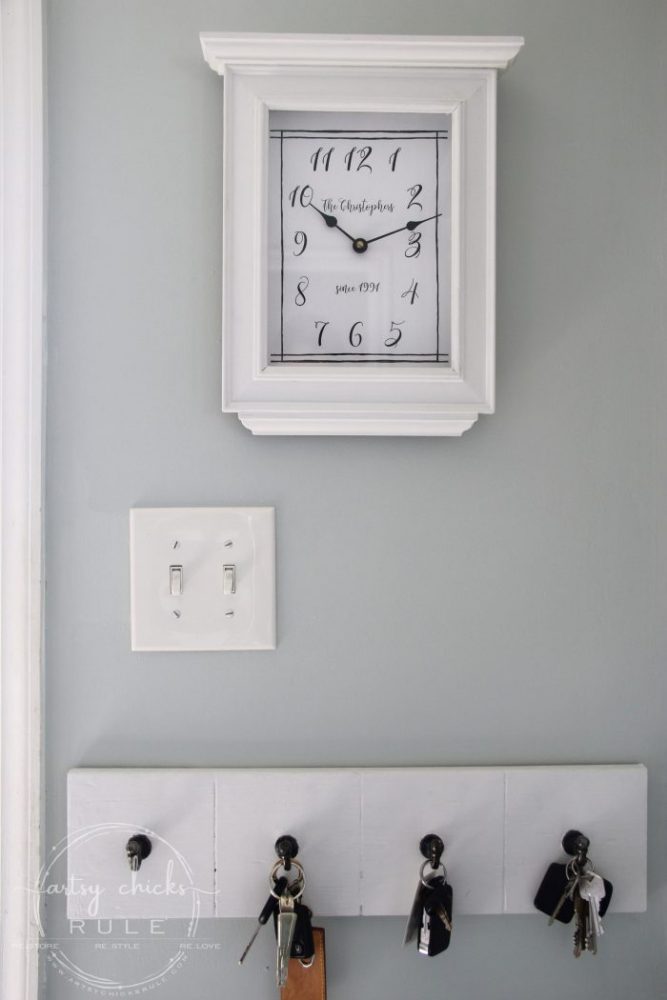 I moved it to the other wall underneath the clock which actually is a better place for it, in my opinion.
It's easier to grab and go since it's closer to the door. Not sure why I didn't put it there to begin with?
Who knows! But it's there now. :)
And here's what this little space looks like now. :) (and my cuties…who are no longer this age!)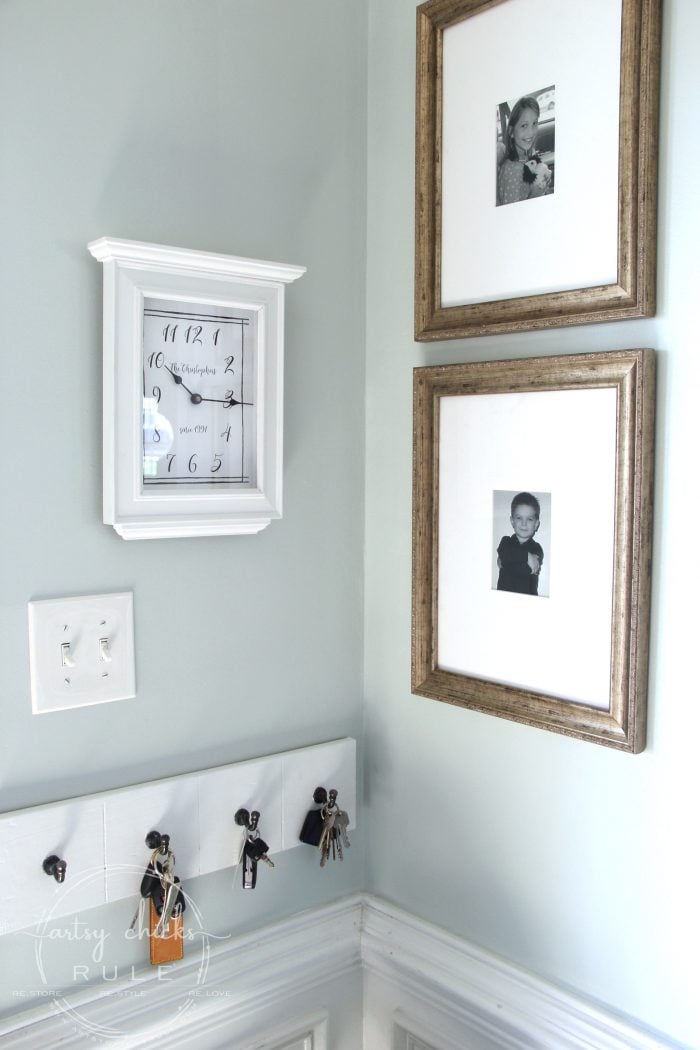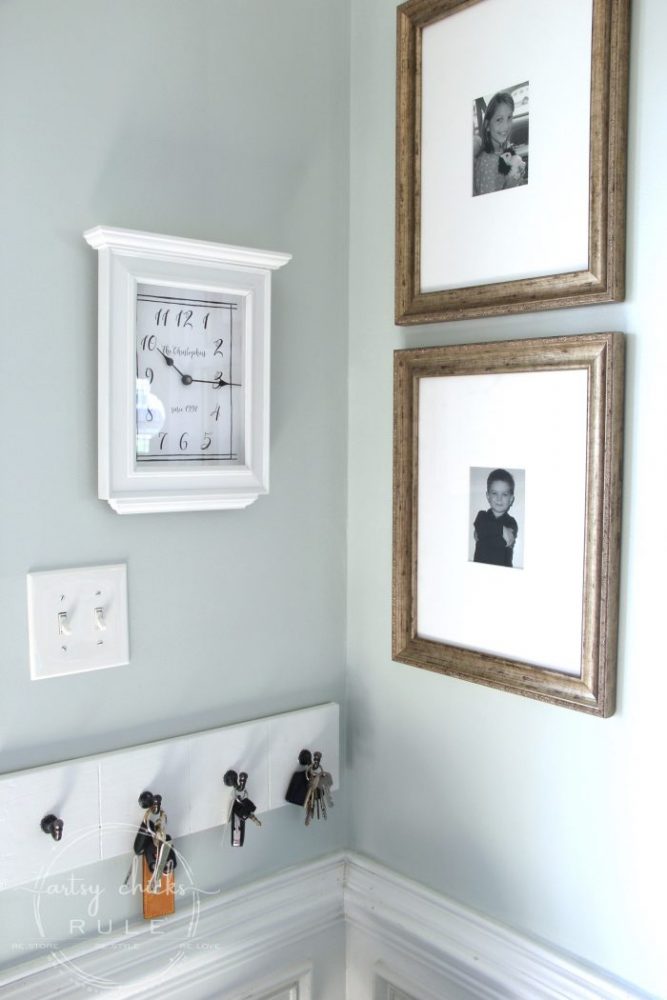 Want to see even more ideas on simple updates with Chalk Paint (that aren't furniture??)
Check out this post, here!
The foyer got my favorite Sherwin Williams Sea Salt for the win! LOVE how bright and airy this foyer is now.
I truly did enjoy the dark, dramatic foyer but it was time for a change. Plus, my decor had all lightened up so it seemed a bit off to have such a dark foyer anymore.
I'll be sharing a full makeover once I find a new cabinet for in here. I'm looking for something with a beautiful wood stain. (or something I can refinish)
And just a refresher of how it looked when we moved in….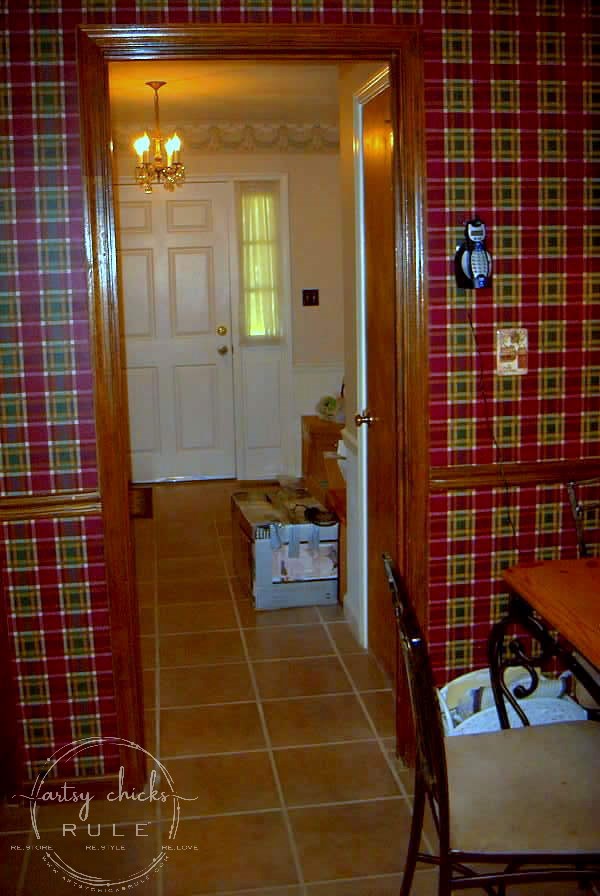 See the whole foyer makeover, here.
This little clock in my kitchen also got a mini makeover. I've not loved the color of it for a long while so decided it was time for a change.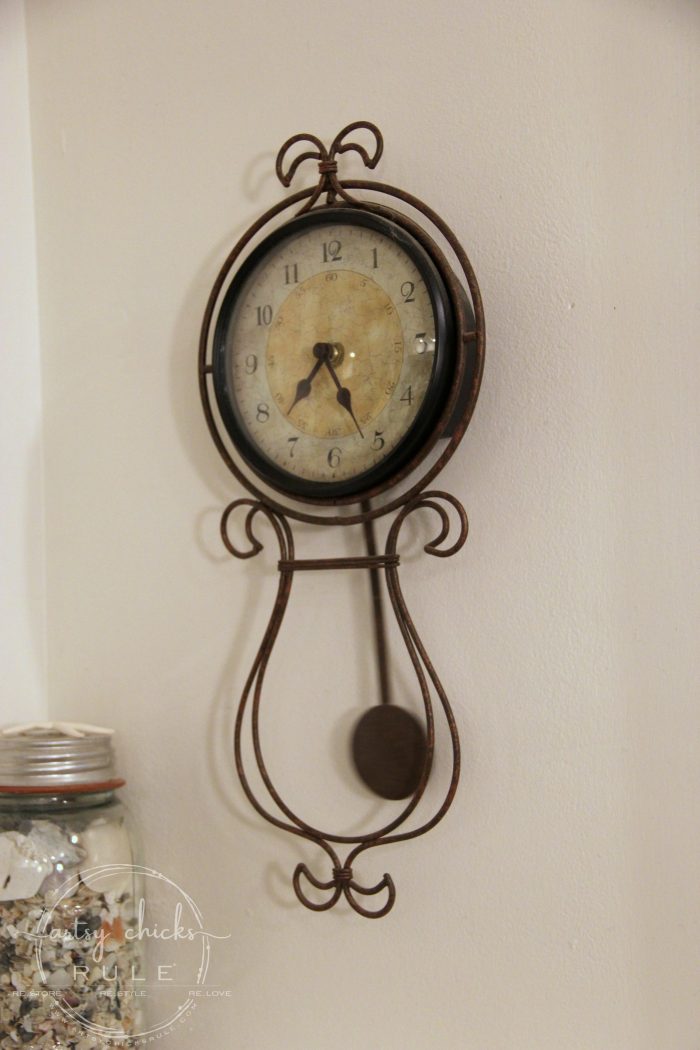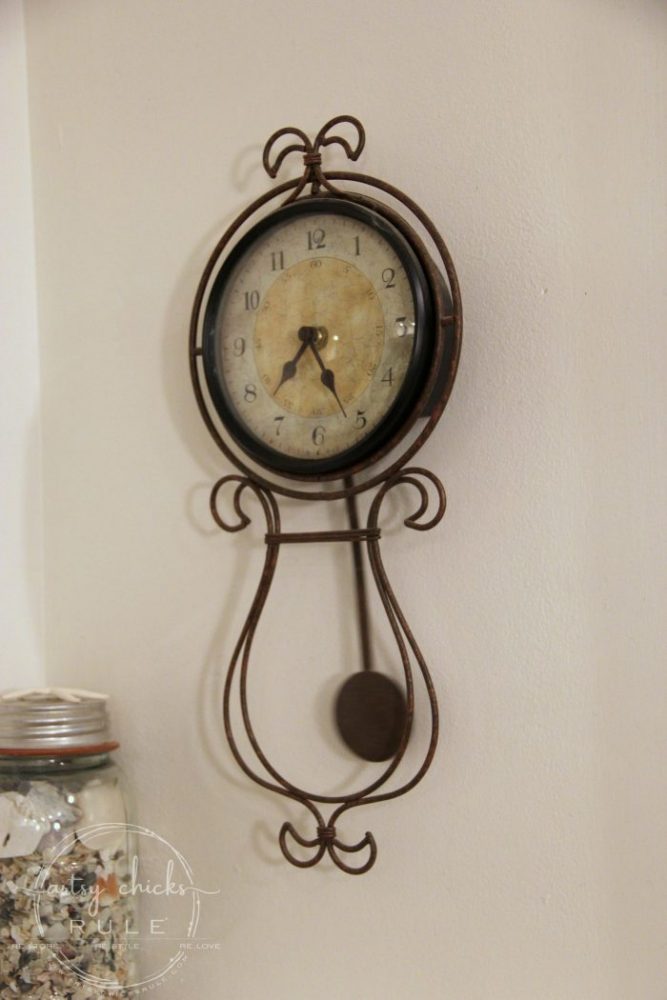 With a little Duck Egg Blue paint, distressed slightly.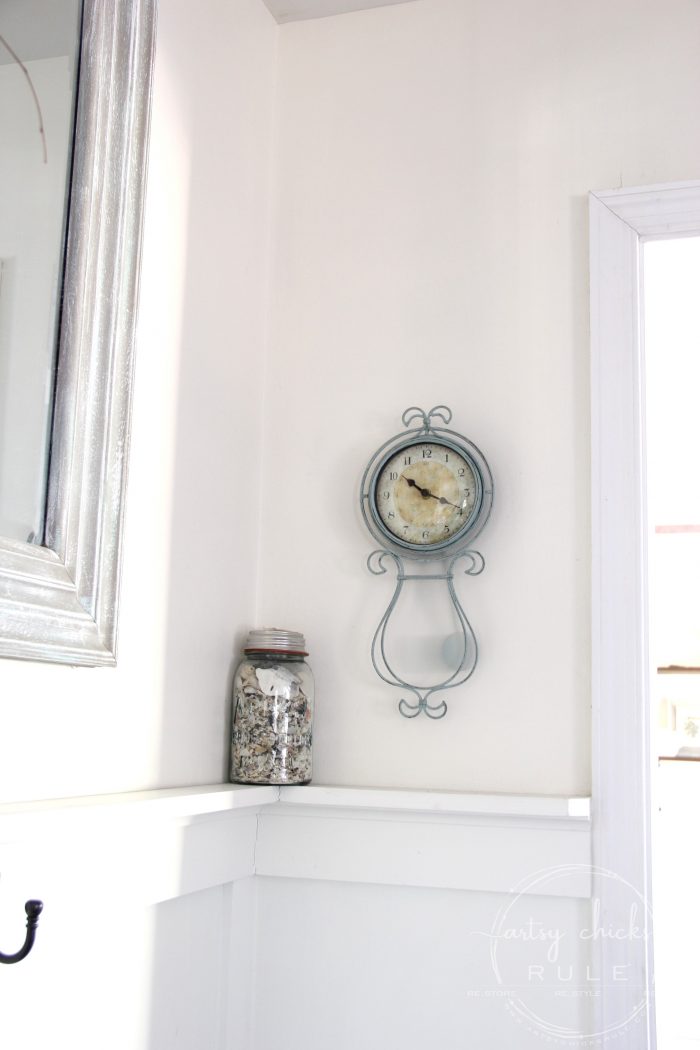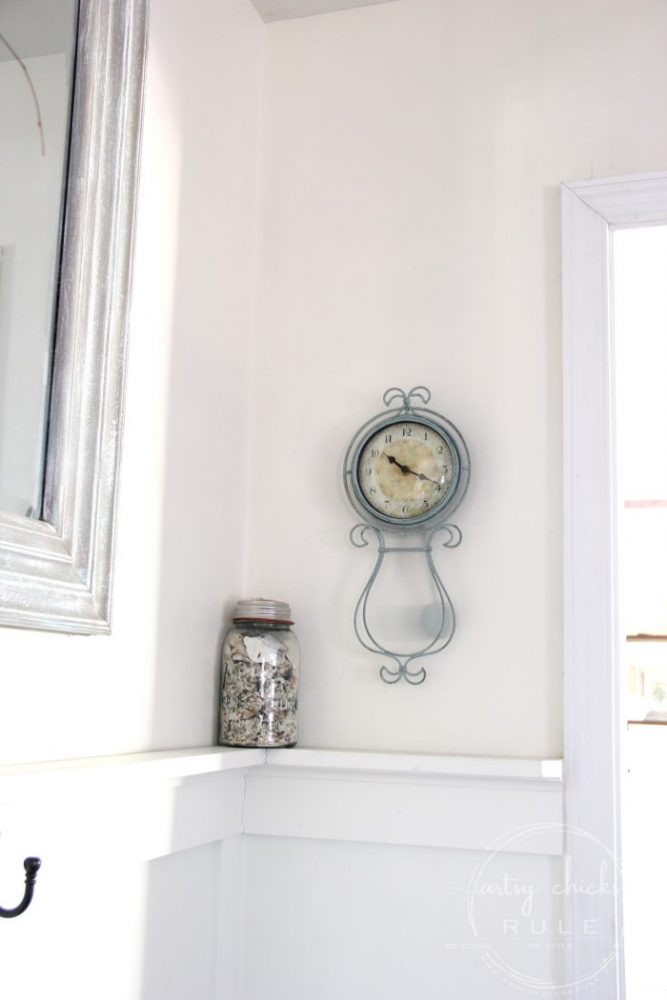 I'm now not sure I love the inside "gold" so that may get a change, too.
One thing always leads to another! ;)
Which leads me to my next post on Thursday! ;)
I'll be sharing more plans and paint colors for the dining room, study and kitchen.
Would love some input so please be sure to check back then!
Hope you all have a wonderful week!
xoxo