"Spring Has Sprung" Spring Floral Wreath
This post may contain affiliate links. Please see disclosures here.
One of the easiest ways to welcome in spring is with a spring floral wreath on your front door!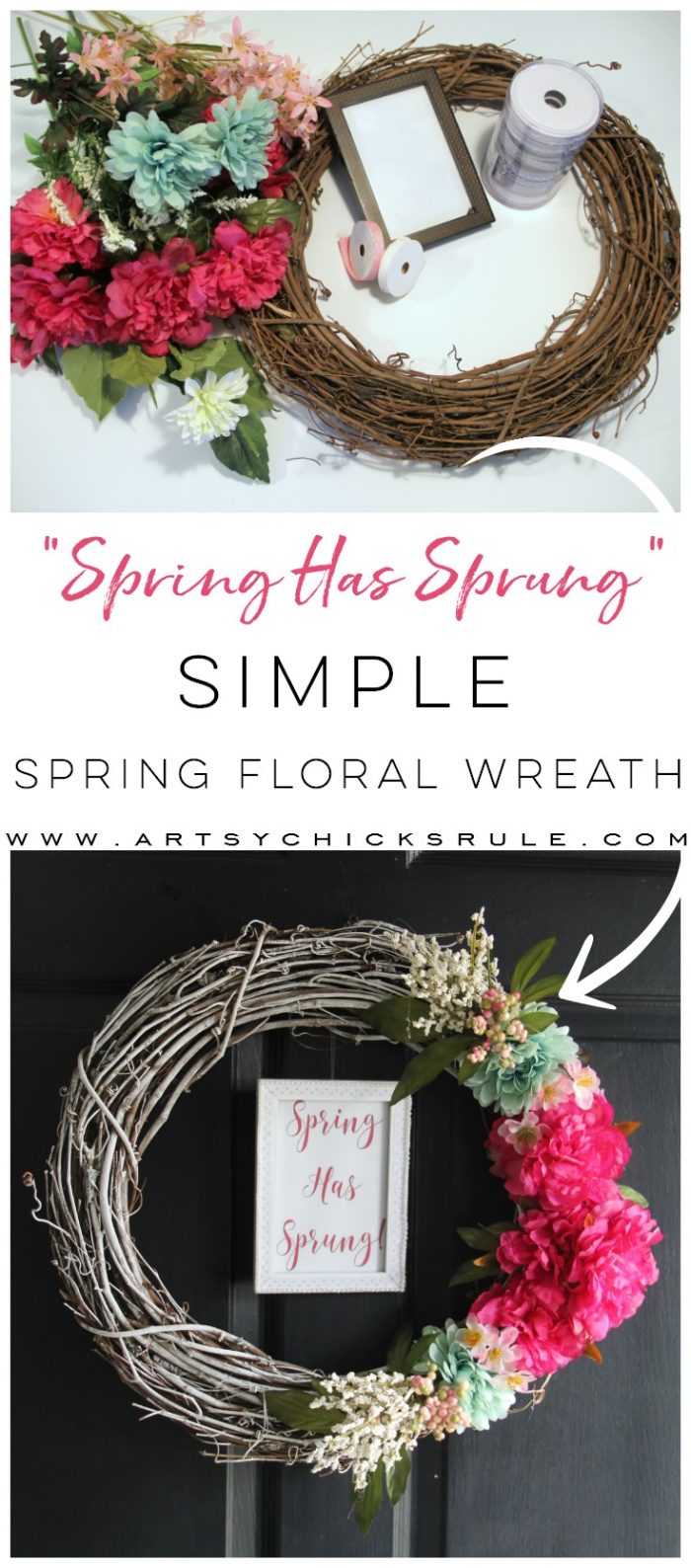 Today I'm sharing a simple spring floral wreath that I threw together yesterday afternoon. Sun shining, and I in full on spring fever.
I didn't buy one single thing for this sweet spring floral wreath. To make it anyway.
Everything used were leftovers from other projects, wreaths, etc, I've made in the past.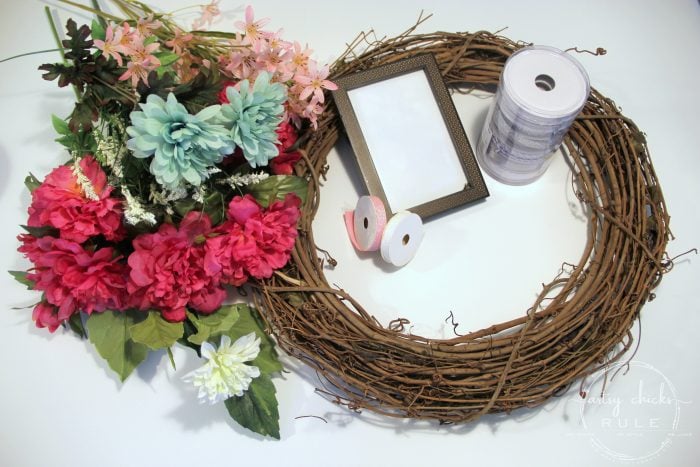 Ribbon from Christmas, an old frame that I had in a box with other old frames, a grapevine wreath that I bought last year, and old flowers leftover from previous projects.
I love those kind of projects, don't you?! So nice to have everything you need. That doesn't always happen so when it does, it's really nice!
Since this was going to be a spring floral wreath, I wanted to keep it light and bright. So I dry-brushed a bit of white paint onto the wreath first.
Once that was dry, I started arranging things.
I always start out my wreaths by laying the flowers, leaves, and such around to get a feel for the direction I want to go.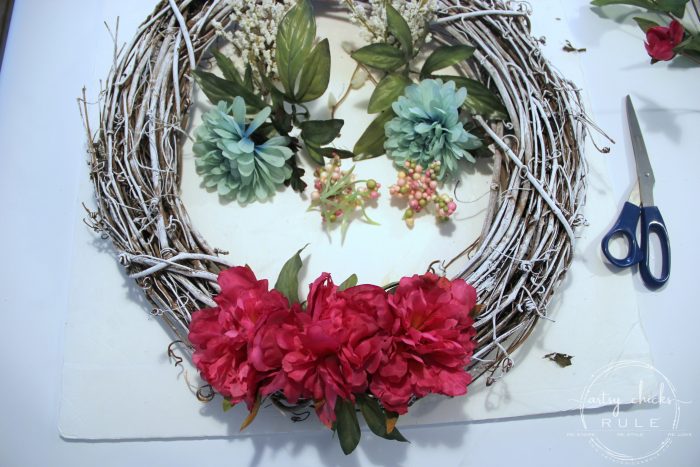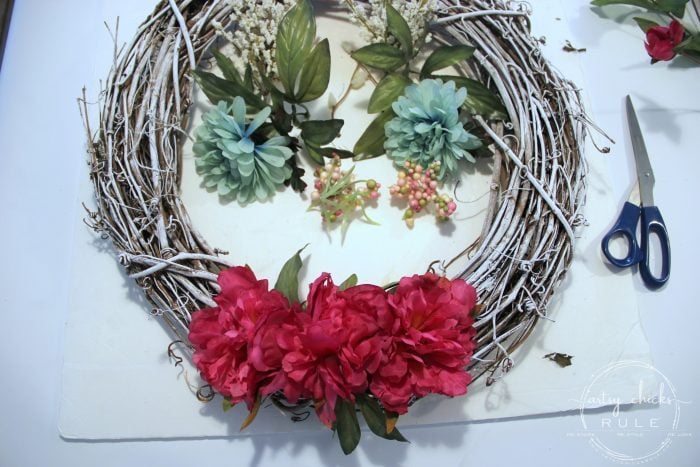 And just build upon it with the elements I've chosen…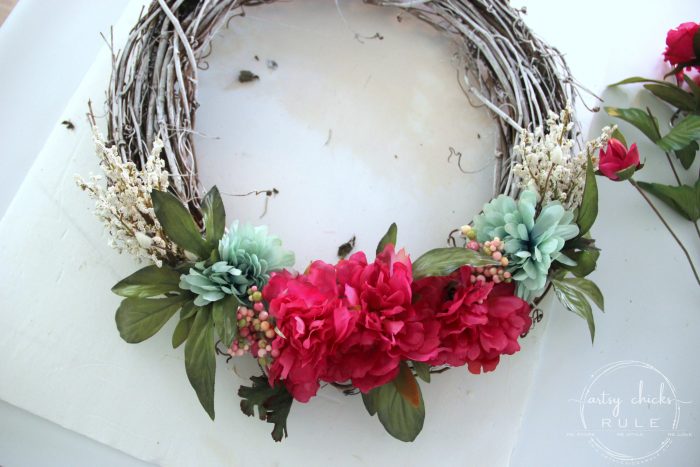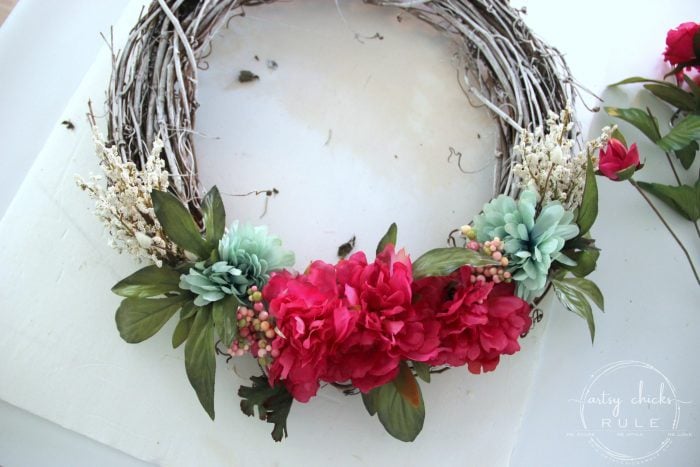 Once I'm happy with how it looks, it's time to glue.
I usually carefully remove and lay out the "design" and go back with the glue gun to put everything back into place permanently.
Remember the little frame that came outta my stash?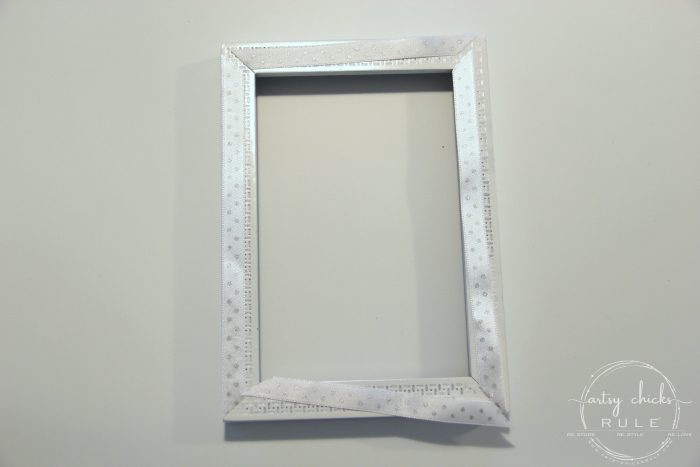 I spray-painted it white and added some of that polka-dotted ribbon I had.
I just laid it out and measured, then cut at an angle so that it'd line up nicely.
I used Mod Podge to attach it to the frame.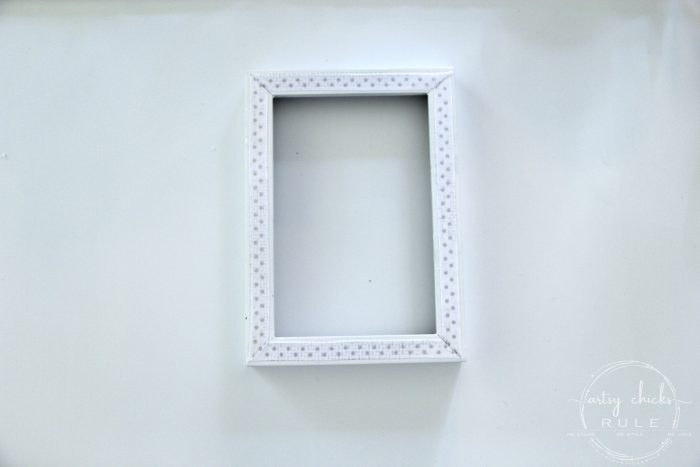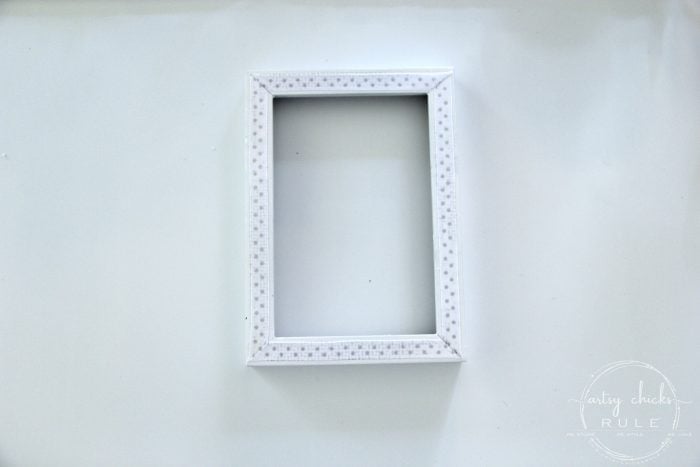 I then added a bit of the pearl trim to the edges. The same pearl trim I used on these Christmas Cards Repurposed during the holidays.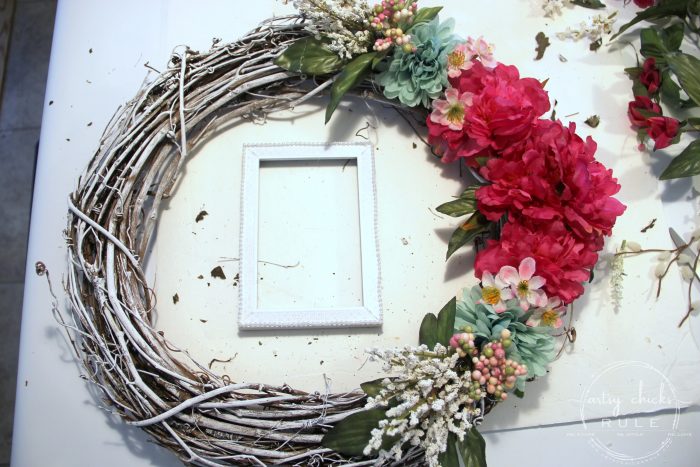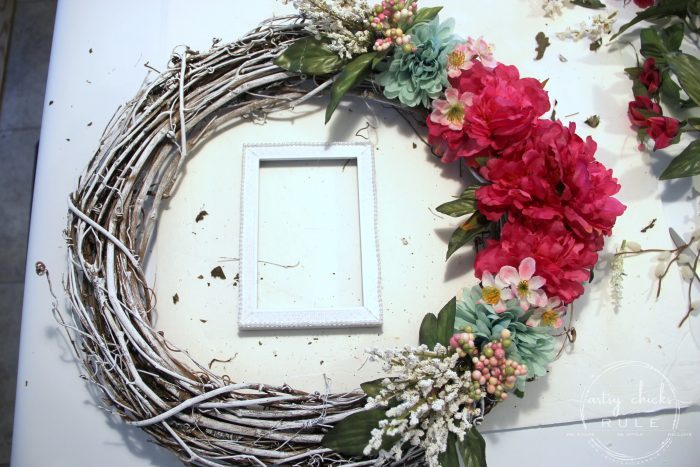 I thought about making the flowers at the bottom but decided instead to turn it to the side for something different.
I created a cute little printable to put into the frame…..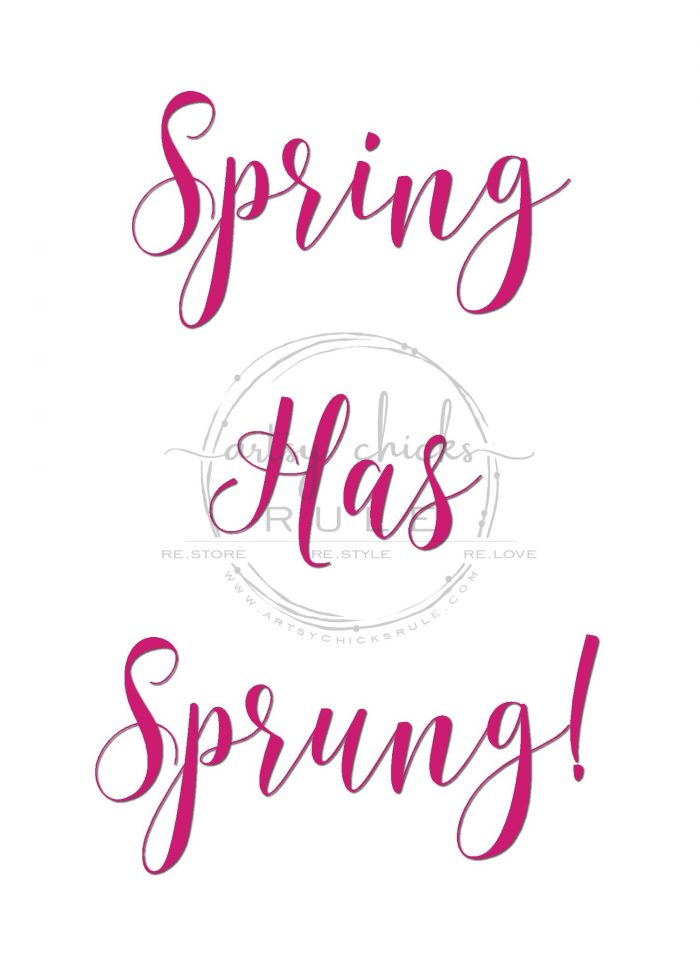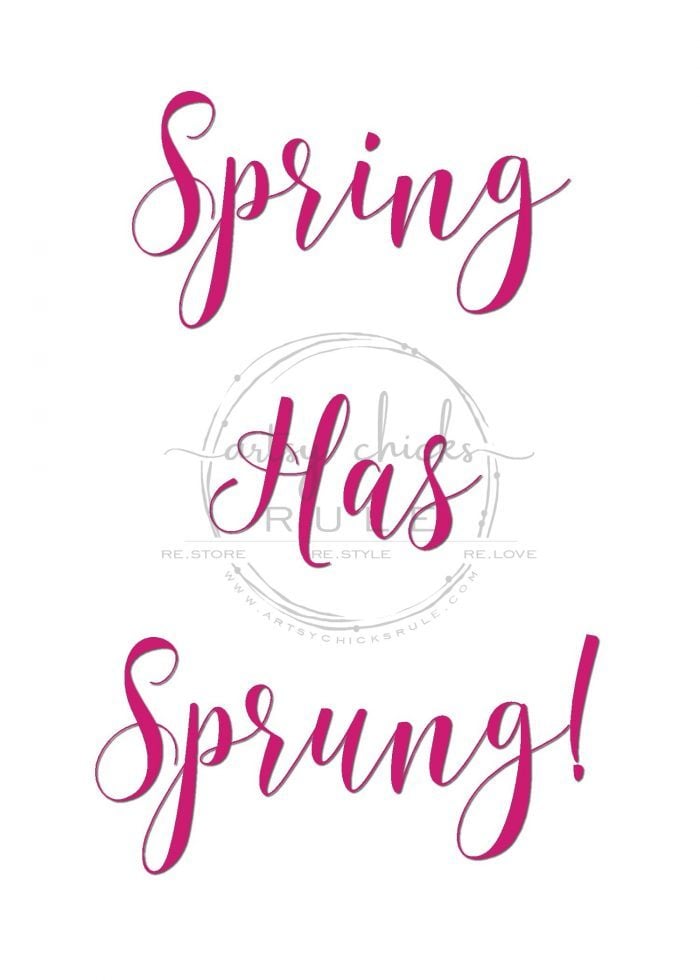 I just printed it out on my brand new (so love it!) printer to fit my 5×7 frame …..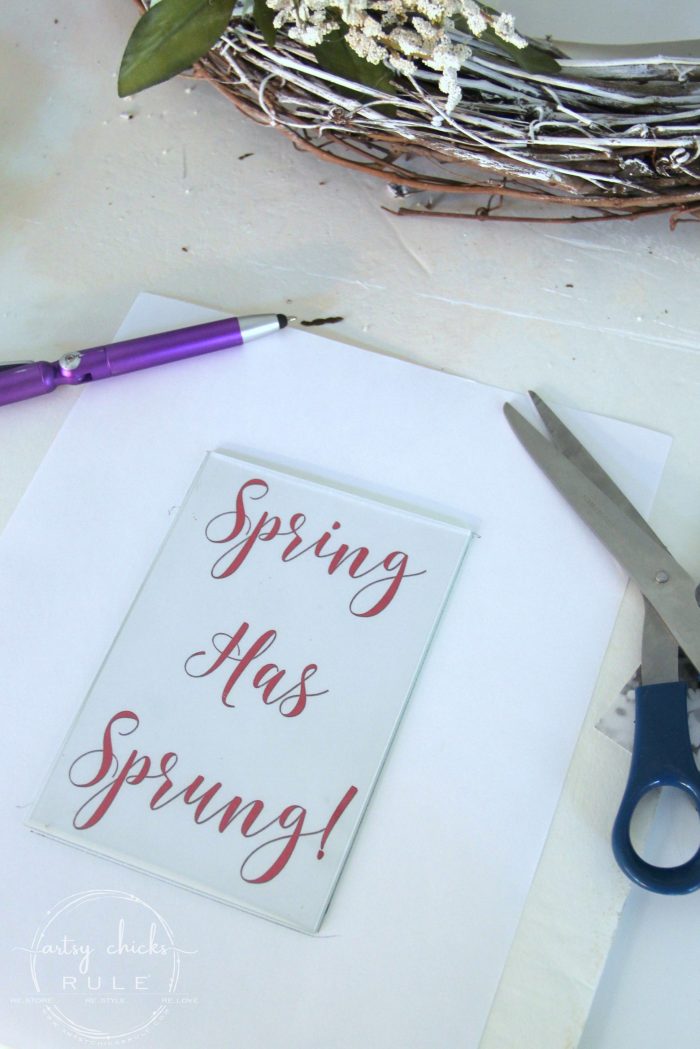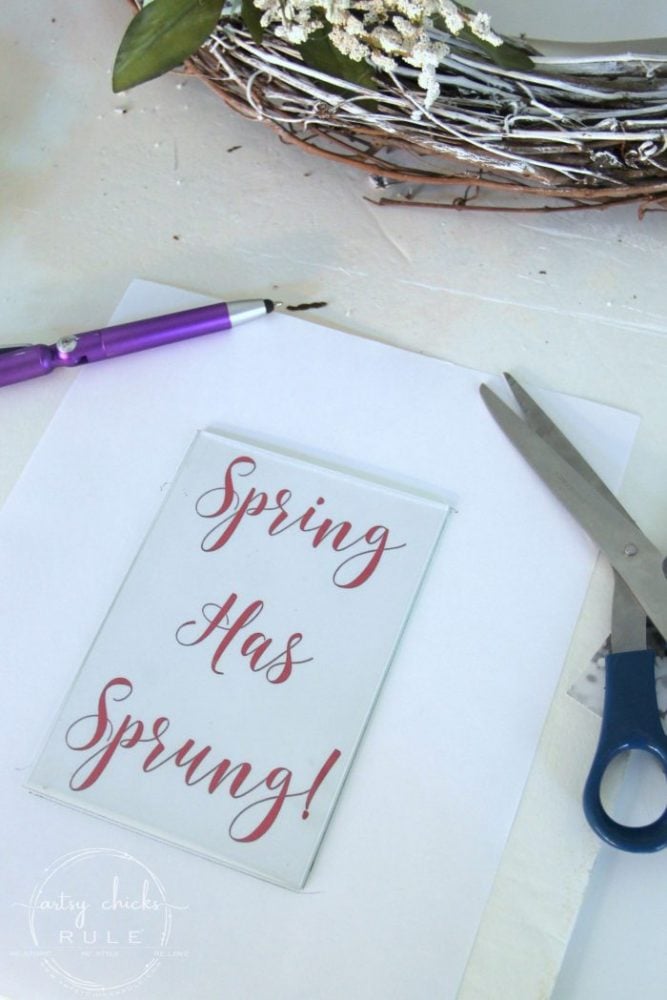 ….and then traced around the glass, cut and done!
To hang it on the frame, I used a fishing line.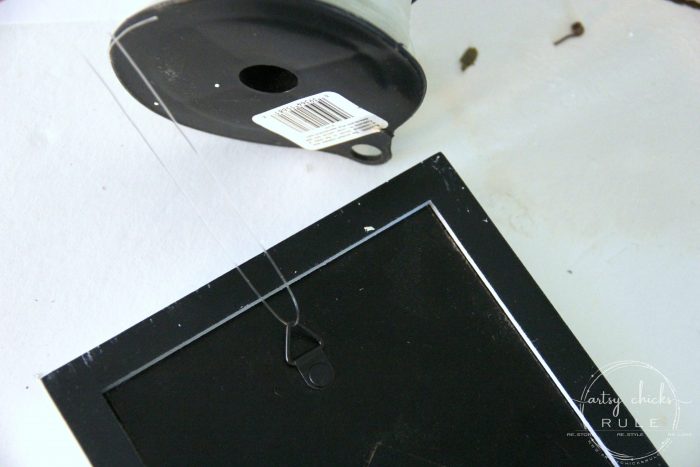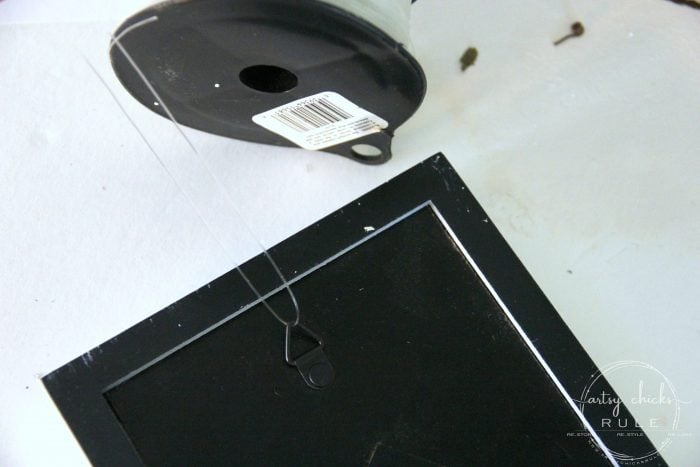 I love using fishing line because it's so hard to see and does a good job.
And here it is hanging in a few different places around my home.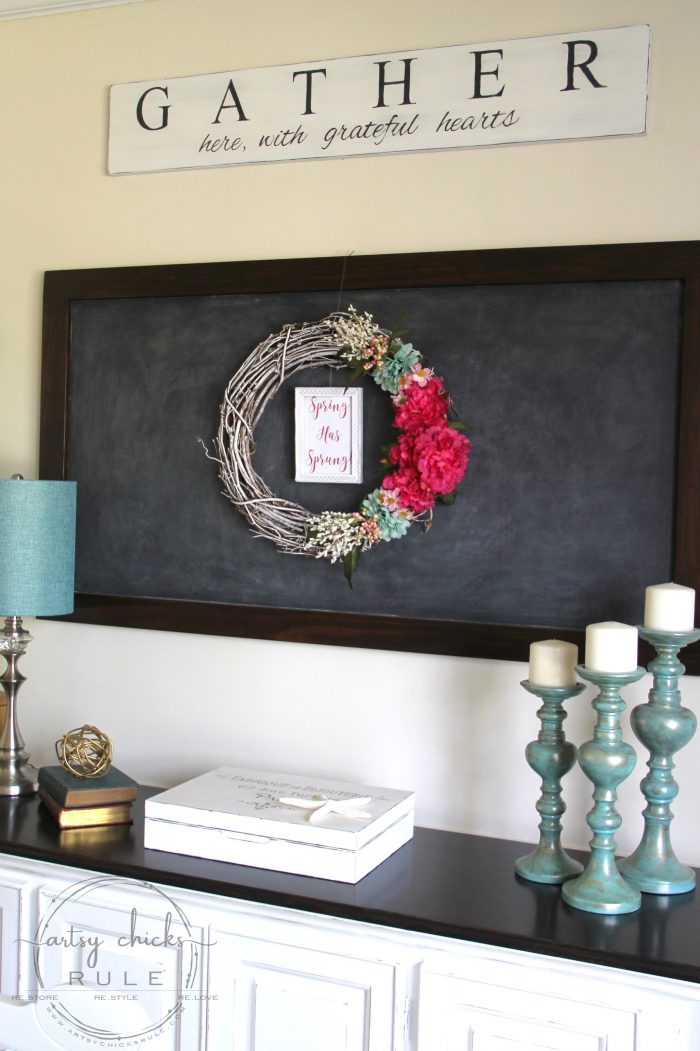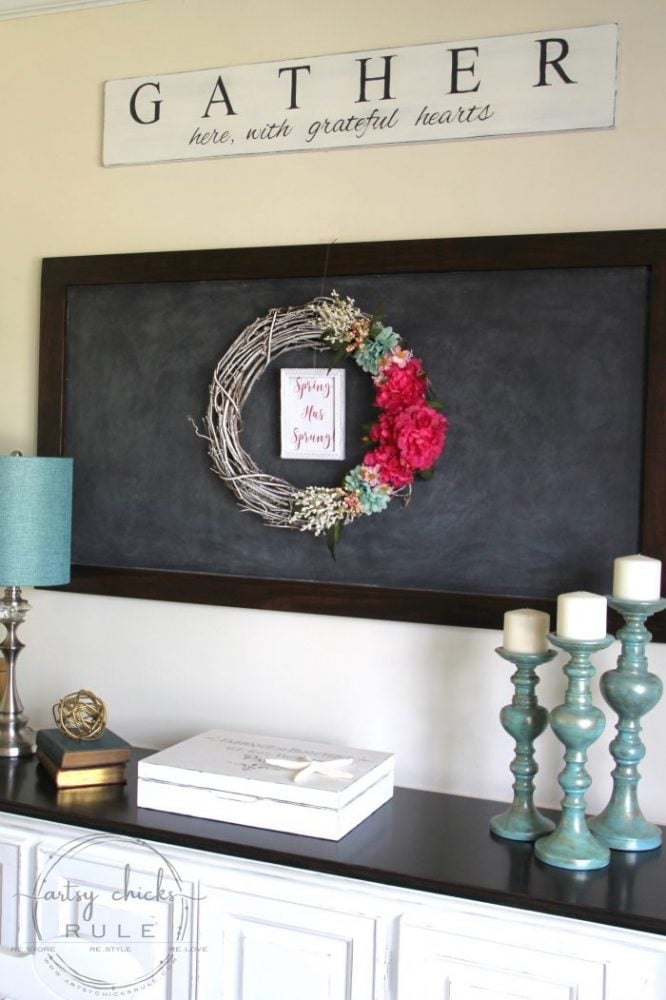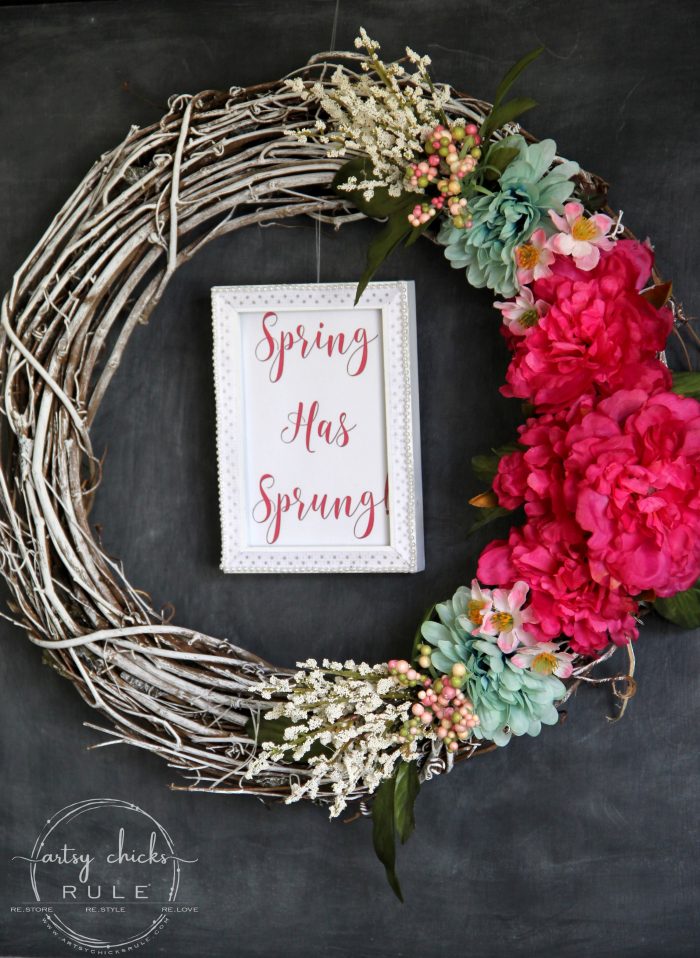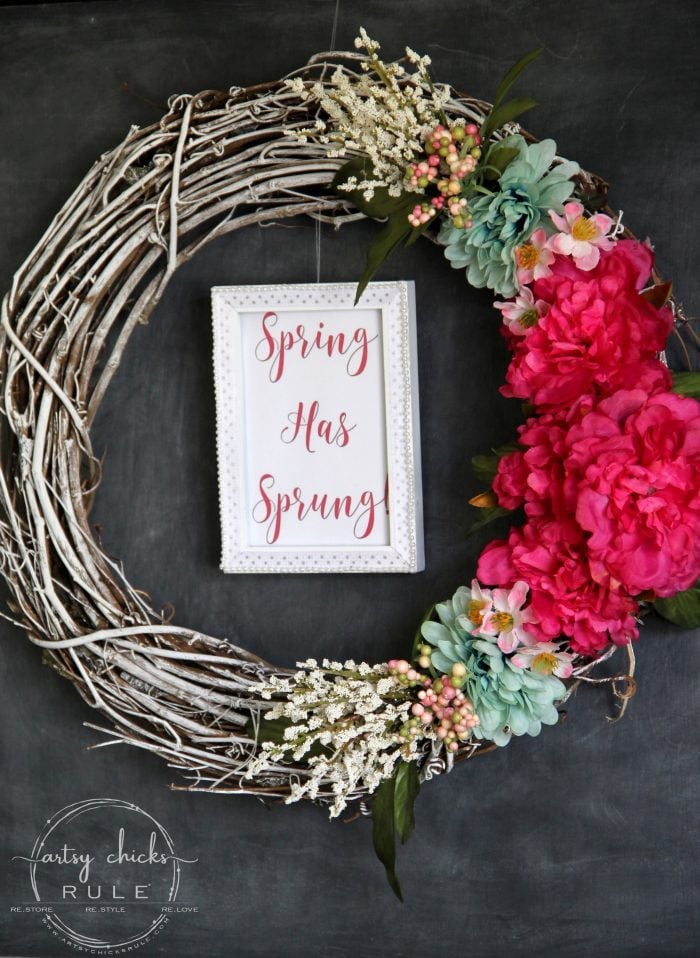 I have some changes coming for this room, by the way.
That DIY farmhouse chalkboard is going bye-bye.
I am also making some changes in the family room. I've already taken down my DIY farmhouse shutters and am thinking about some new artwork in there.
AND….if you follow me on Instagram, you might have seen my stories over there and what else I'm tackling!
I'm FINALLY painting my "chocolate" colored foyer. I loved the dark, dramatic look and the way it drew you into the lighter-colored rooms but I was just SO ready for a change….and more light and bright. So it's getting painted!
And I may have a few other changes in there before I'm done.
Okay, back to the spring floral wreath…..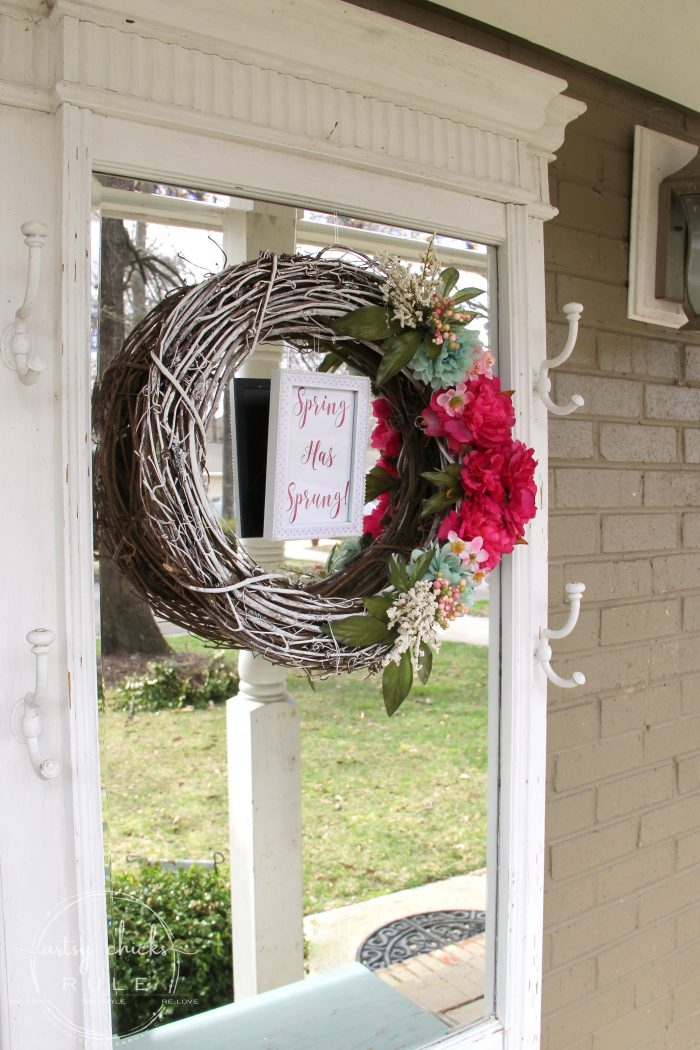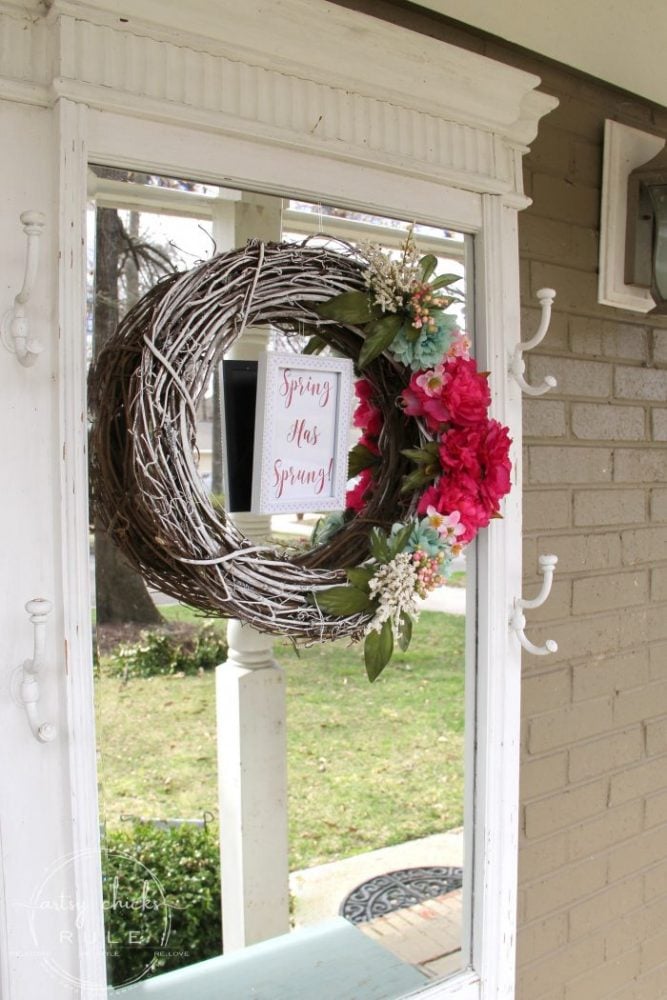 I tried it out on my hall tree on the porch.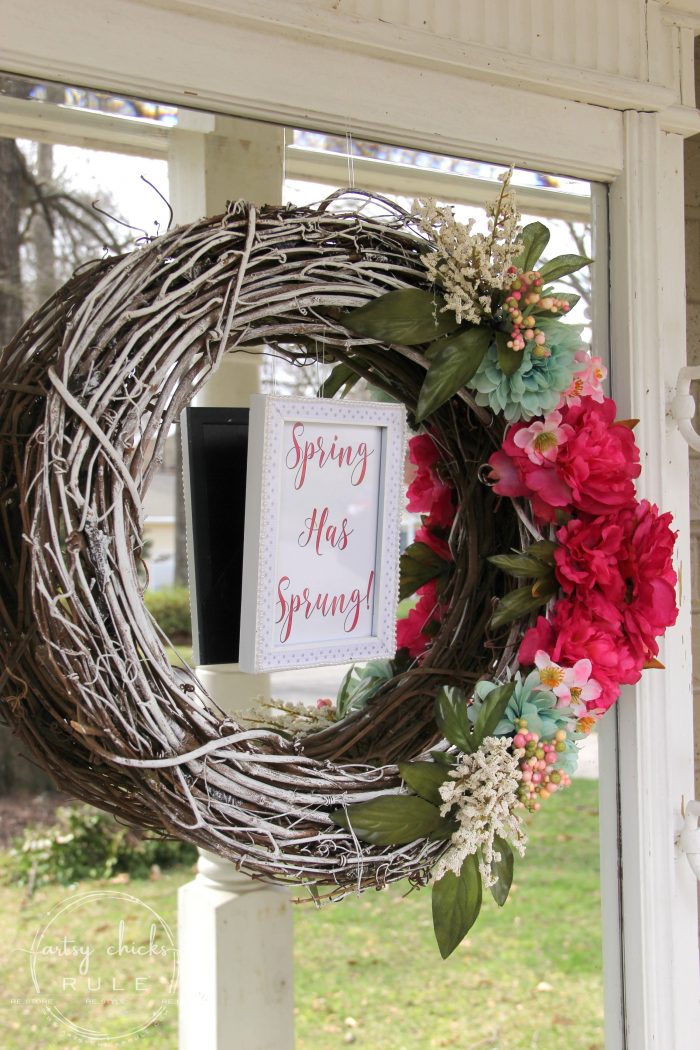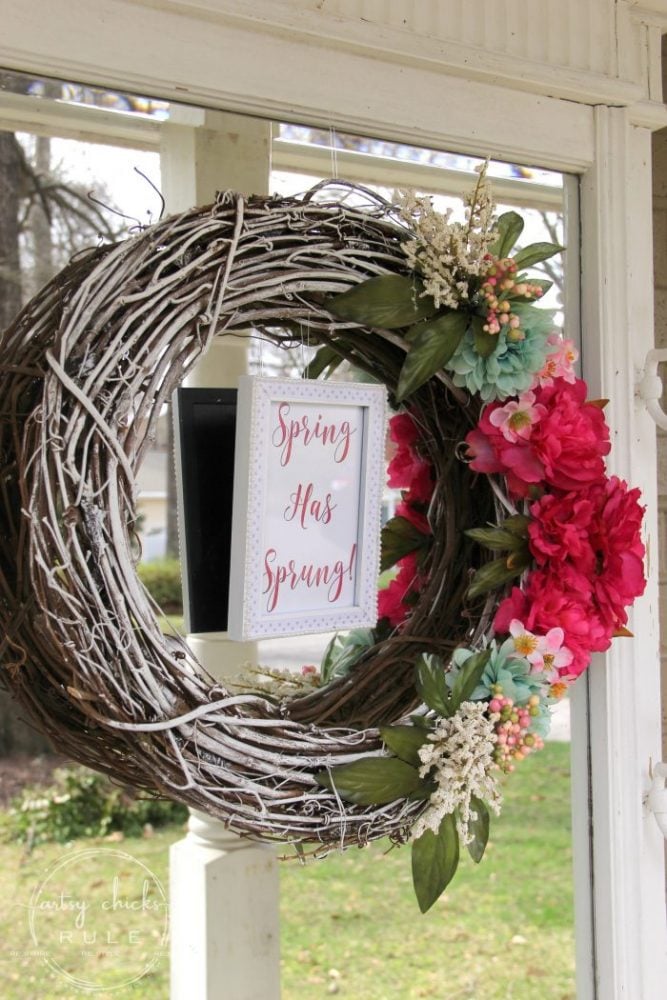 And on my front door….. where it stayed.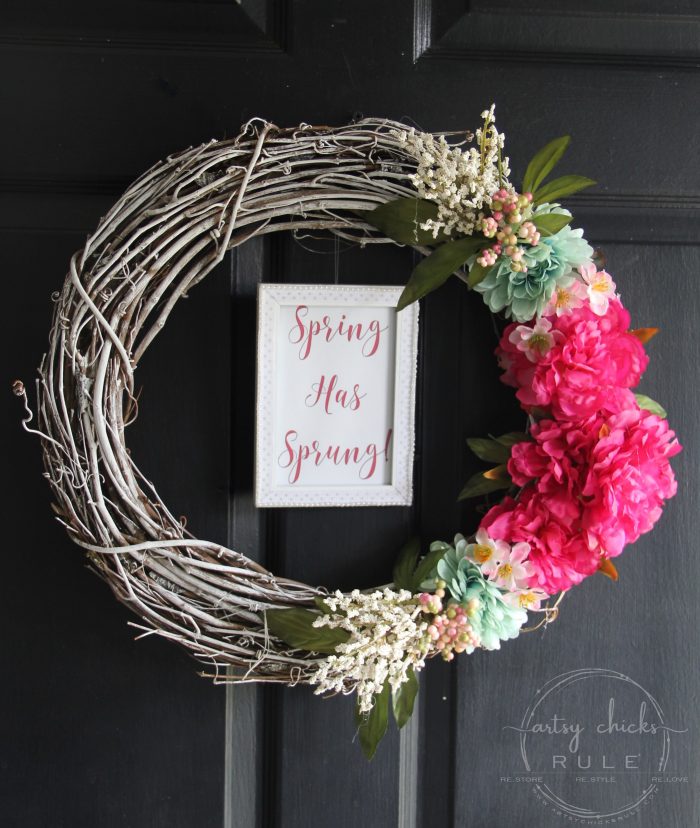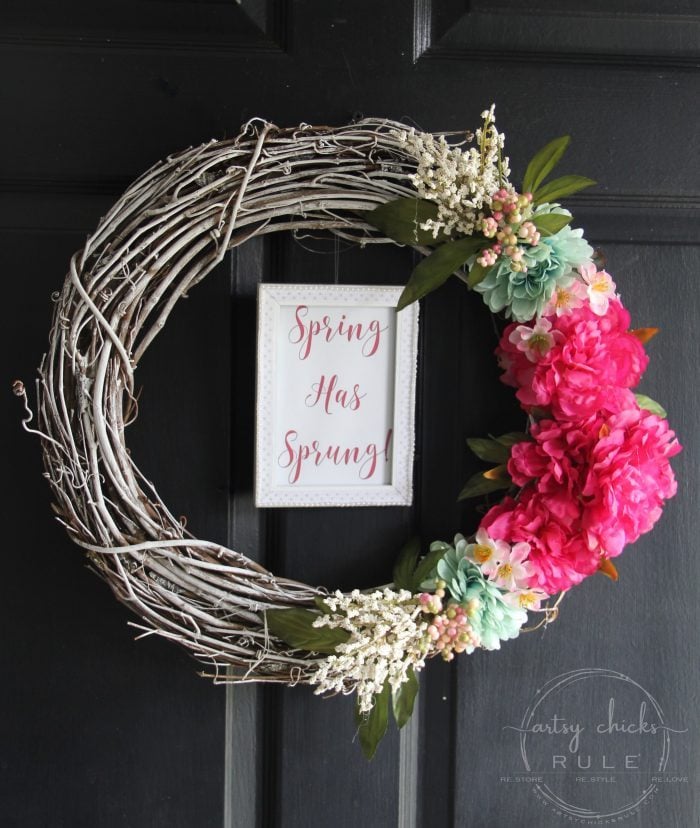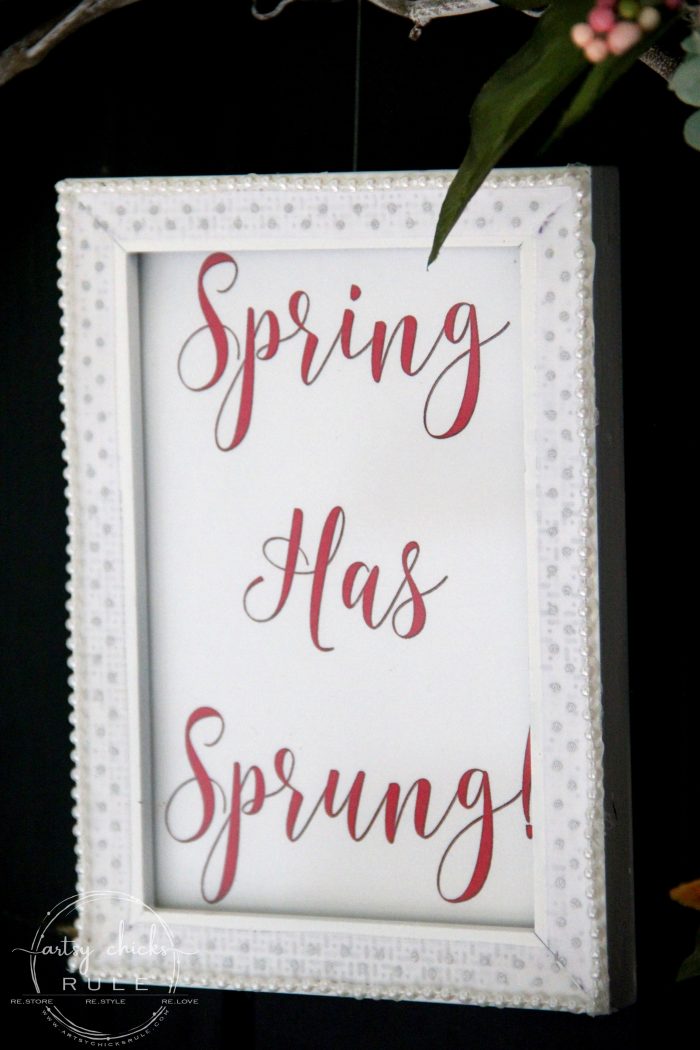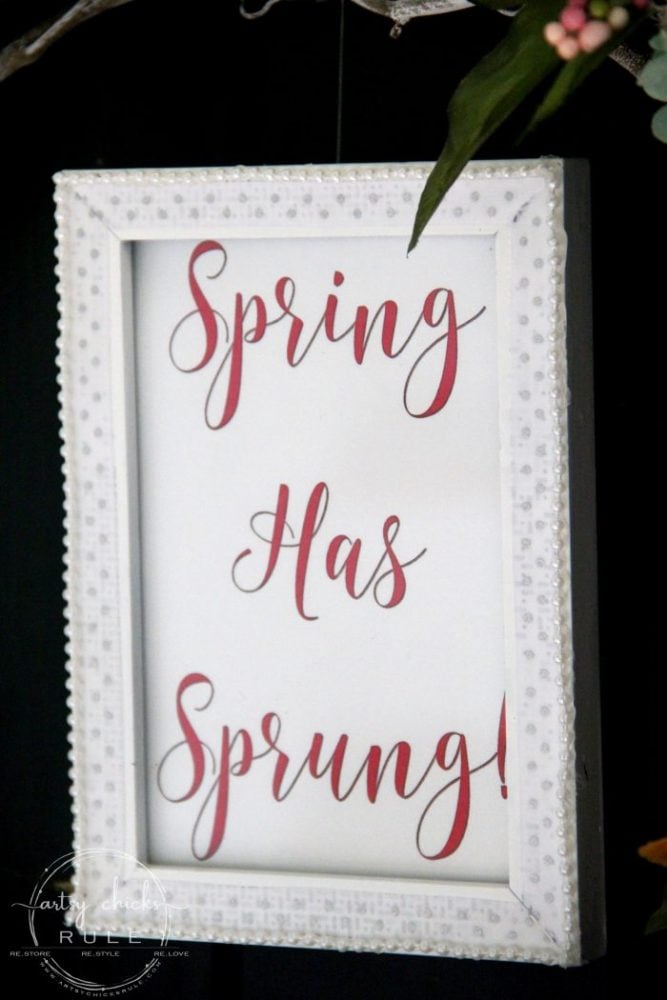 I love that when I have the door open, my sweet little spring floral wreath is in full view inside for us to enjoy!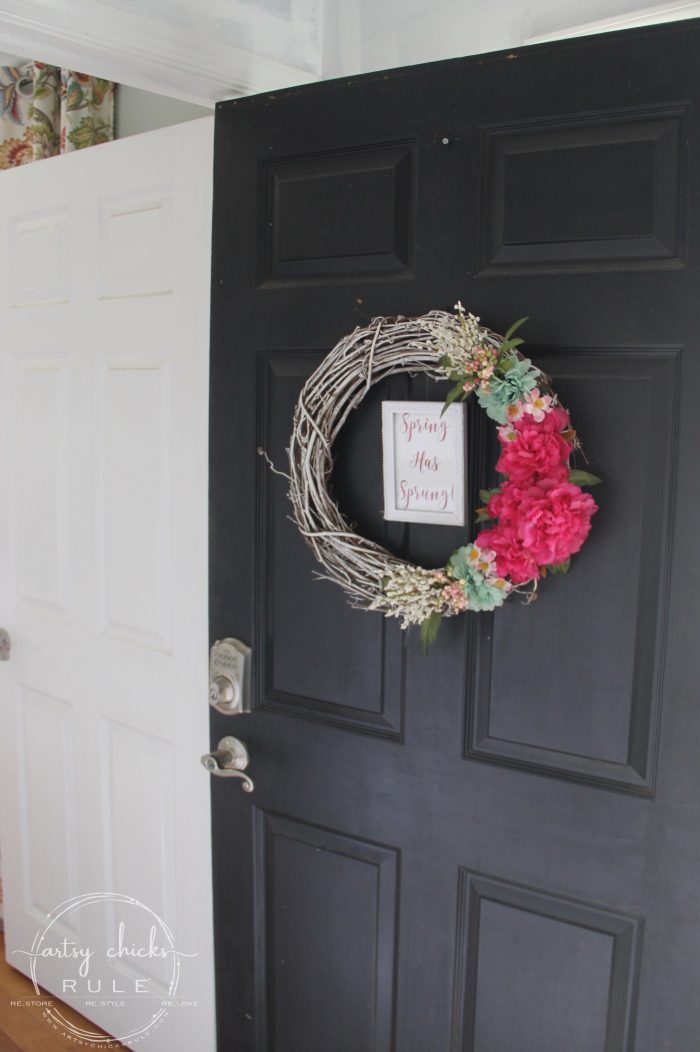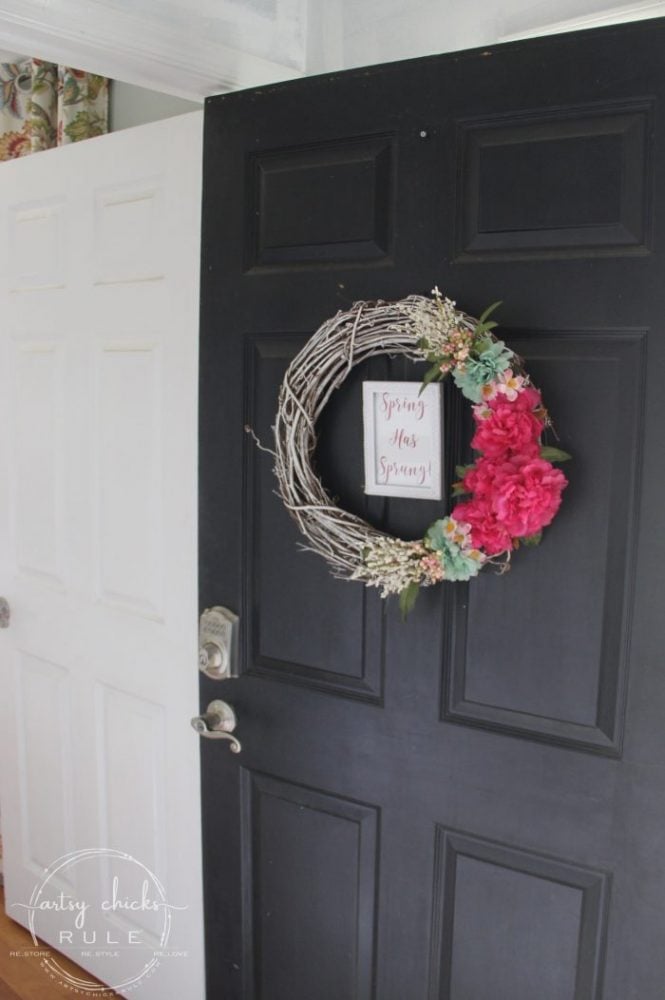 You can see the primer on the wall above! Brown is gone!
The new color coming soon…stay tuned.
I'm thinking about repainting that front door (it needs it!) and still thinking about some shade of blue…..hmm, that might get done soon too.
Lots to do before we can list…which we are still planning to do. One of these days! haha
I'm so ready for spring. And the time change coming soon….yes!
Bet you are too.
You might also like these wreath projects: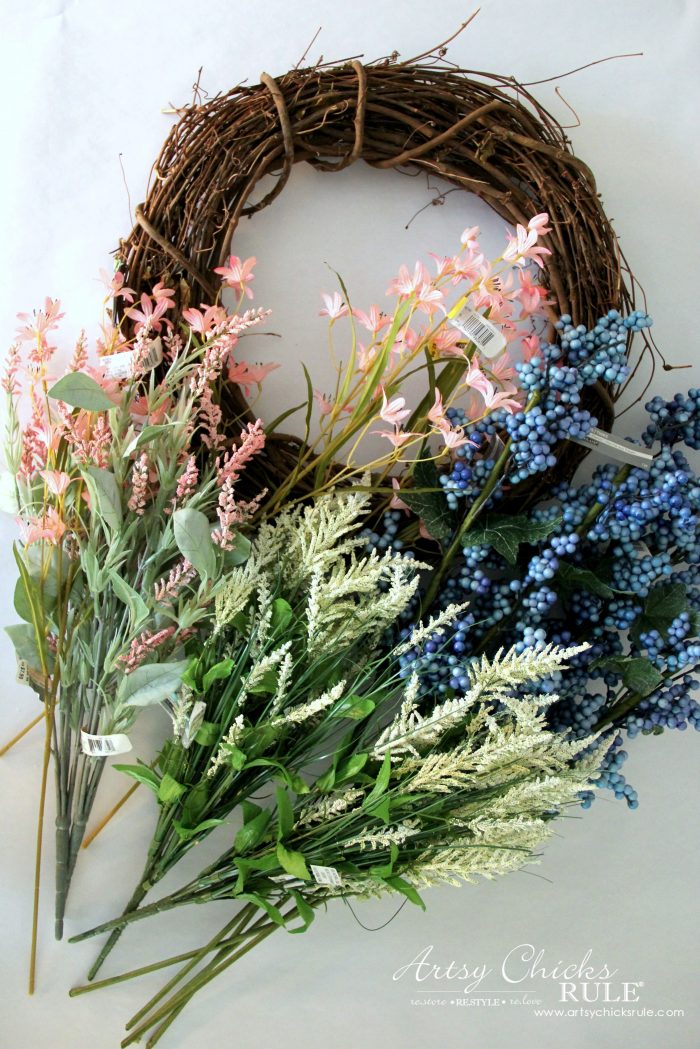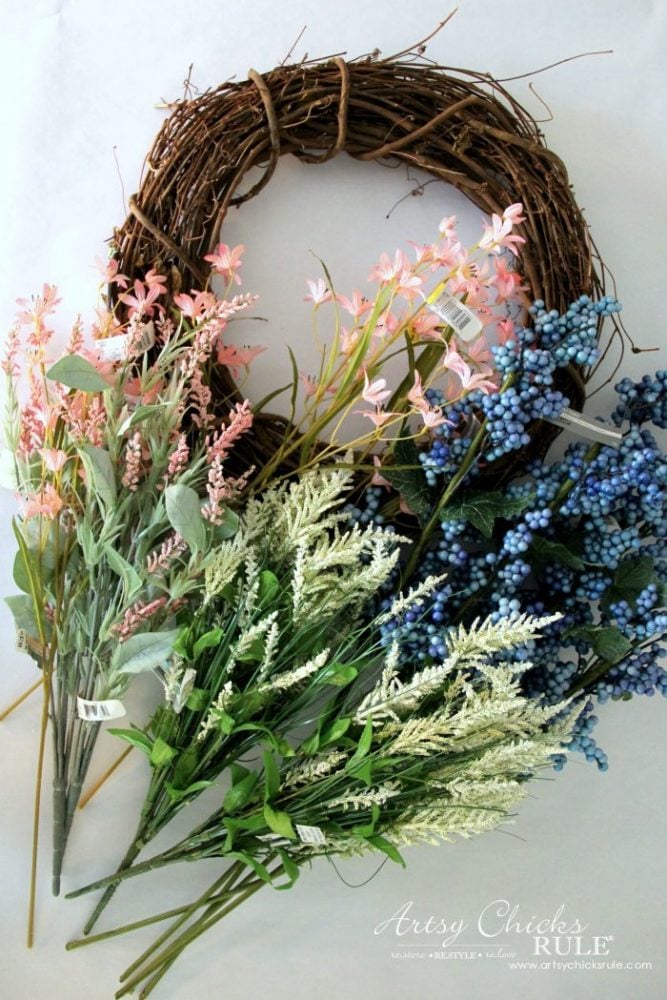 See it here, DIY Pink & Blue Spring Wreath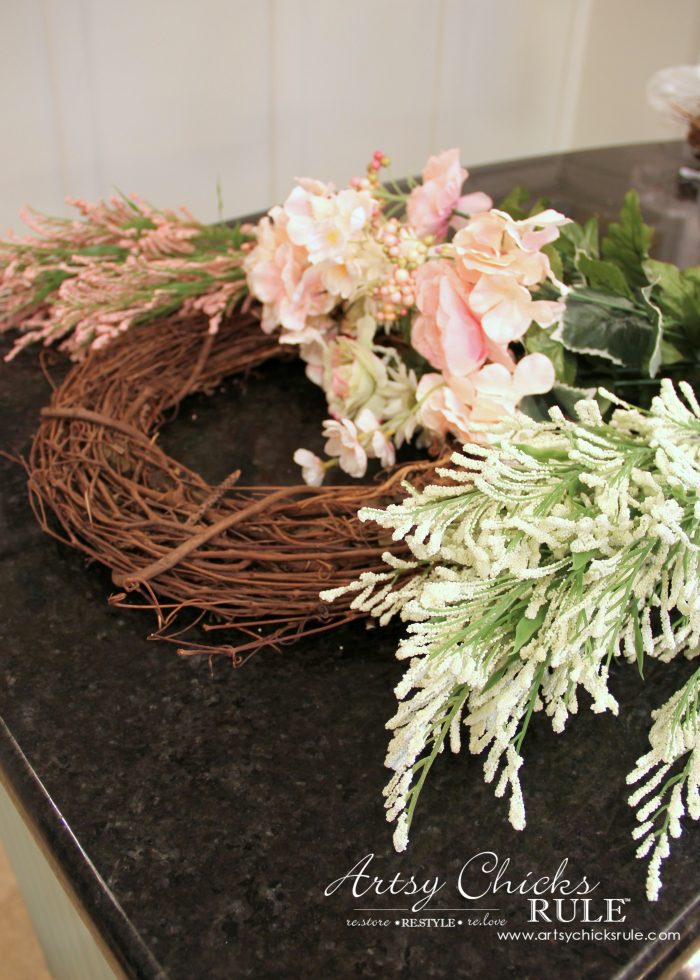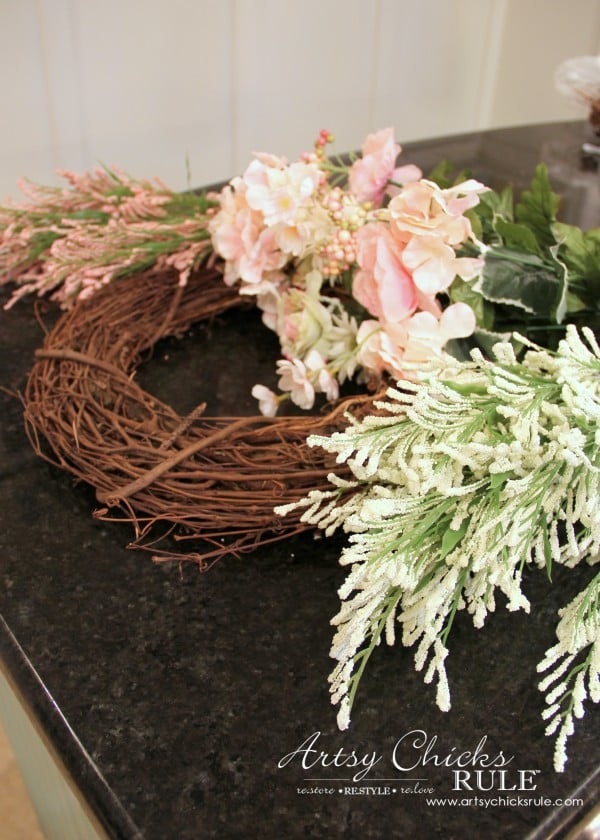 See it here, DIY Simple Spring Wreath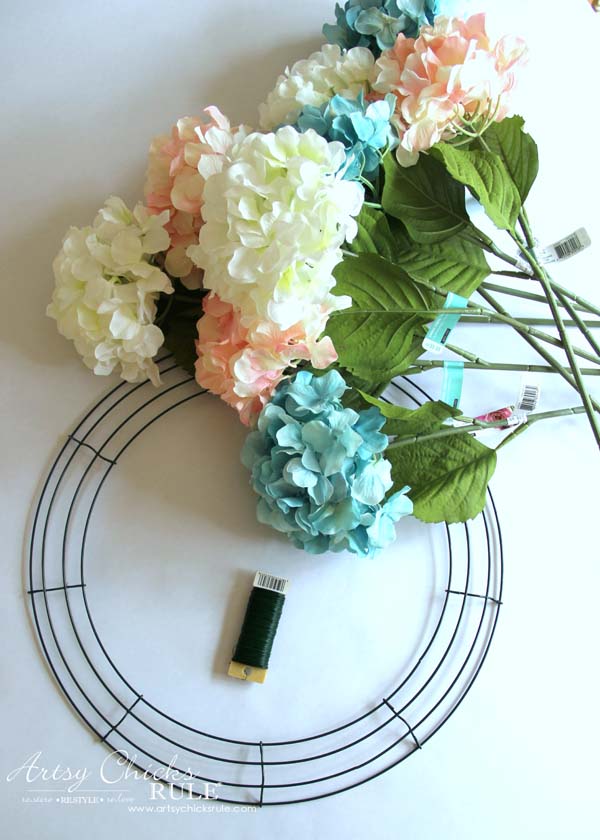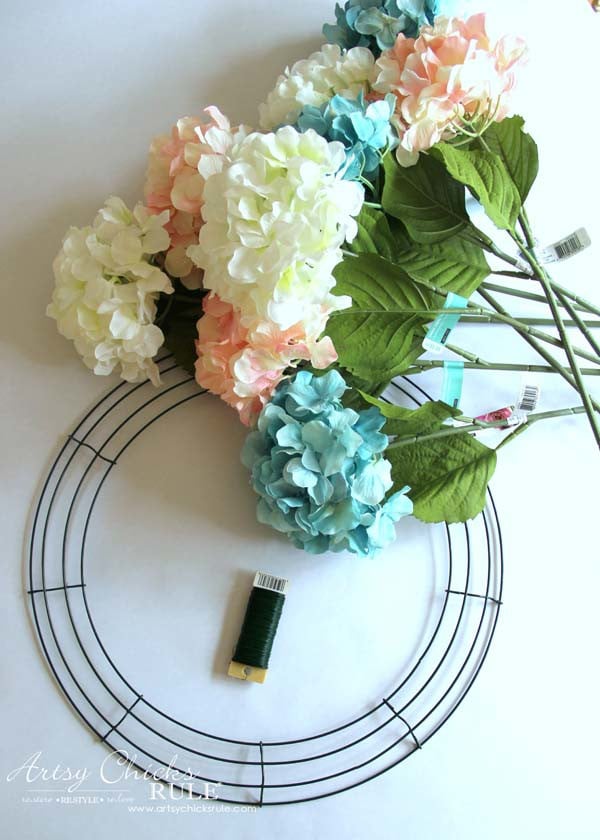 See it here, DIY Hydrangea Wreath
And lastly, before I go, I have to mention my sweet boy who is now 2 years old….today (as I'm writing, Feb 28 ;) ) !!
I can't believe it….time has flown by!
What a special blessing he is. Happy Birthday my sweet Ryder boy!
Have a wonderful weekend sweet friends!
xo