Summer Basket Wreath (thrifted Christmas basket)
This post may contain affiliate links. Please see disclosures here.
This sweet summer basket wreath adds a little splash of color to your home! Easily made with an old thrifted, Christmas basket.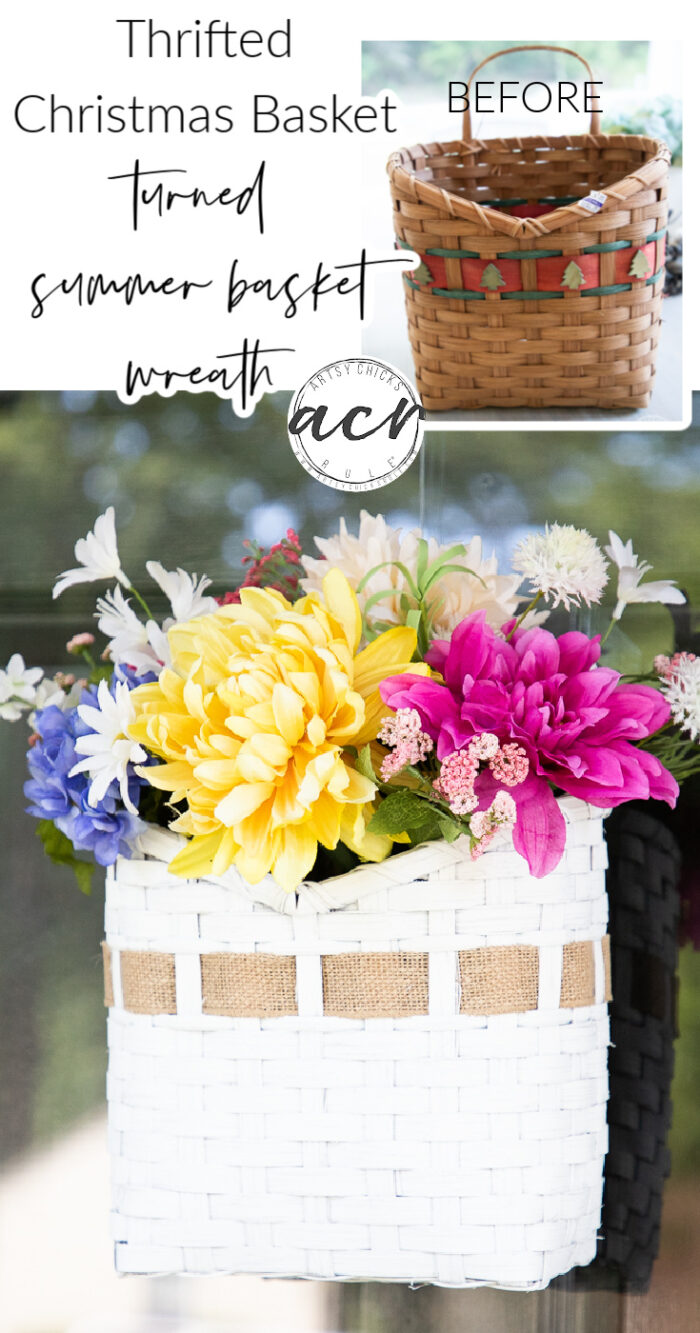 Hello and happy July, friends!
Wow, this summer is chugging along quickly, isn't it? Darn…slow down, please! Ha!
Before we go any further, let me first congratulate Alicia W. for winning my June Giveaway!! Stay tuned for July's. :)
…………………………………………………………………………………………………………………………………..
So, I got the urge to do a little thrift shopping last week and found this hanging Christmas basket.
AND…look what else I found and brought home with me…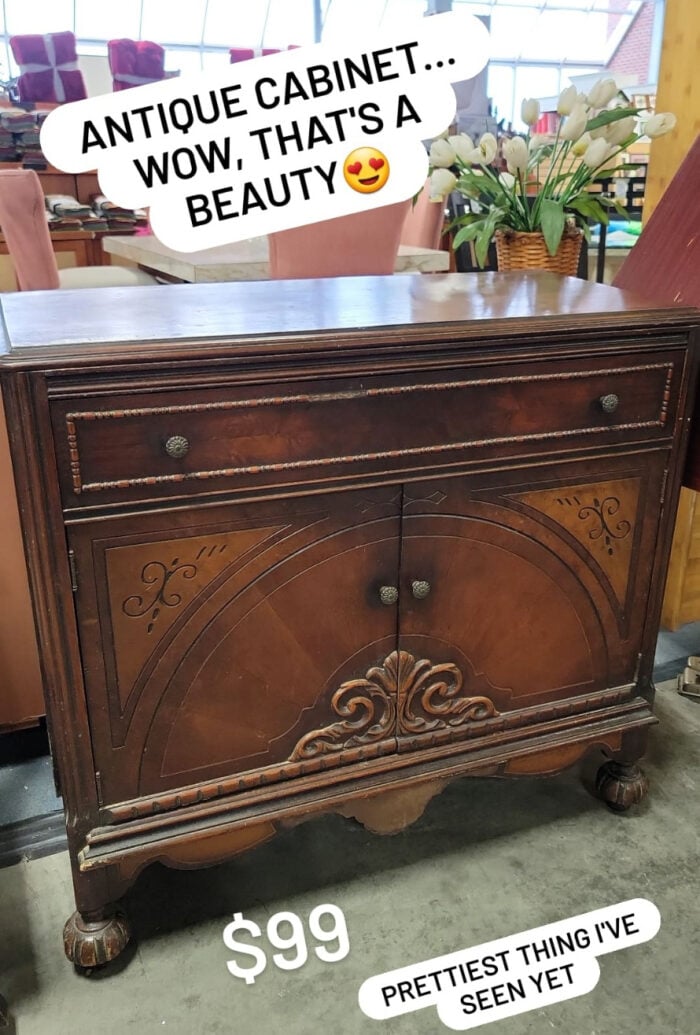 Yep!! I couldn't leave this one behind. Isn't it a stunner???
But WOW, there was some awesome furniture finds at the ReStore that day. I couldn't believe all the great things… I wanted to bring them all home.
If you follow along on Instagram with me you might have seen them as I "took y'all with me" when I went and shared all my finds.
I also picked up a small bookcase too.
I'll begin working on this beauty though soon. Stay tuned.
Now let's see what I did with this $4 basket.
Summer Basket Wreath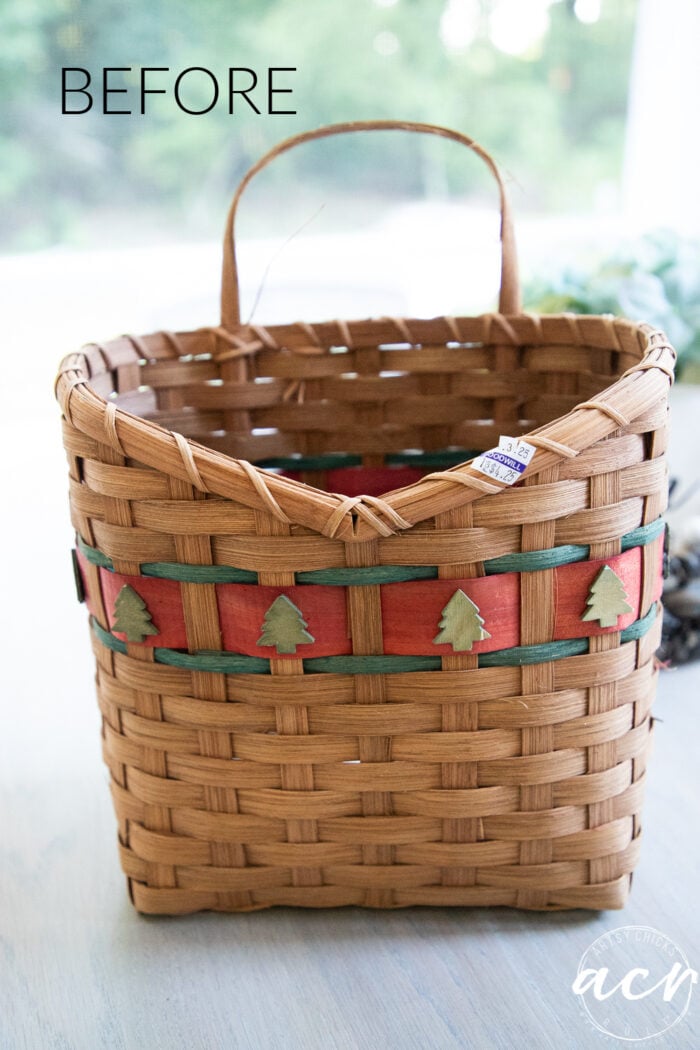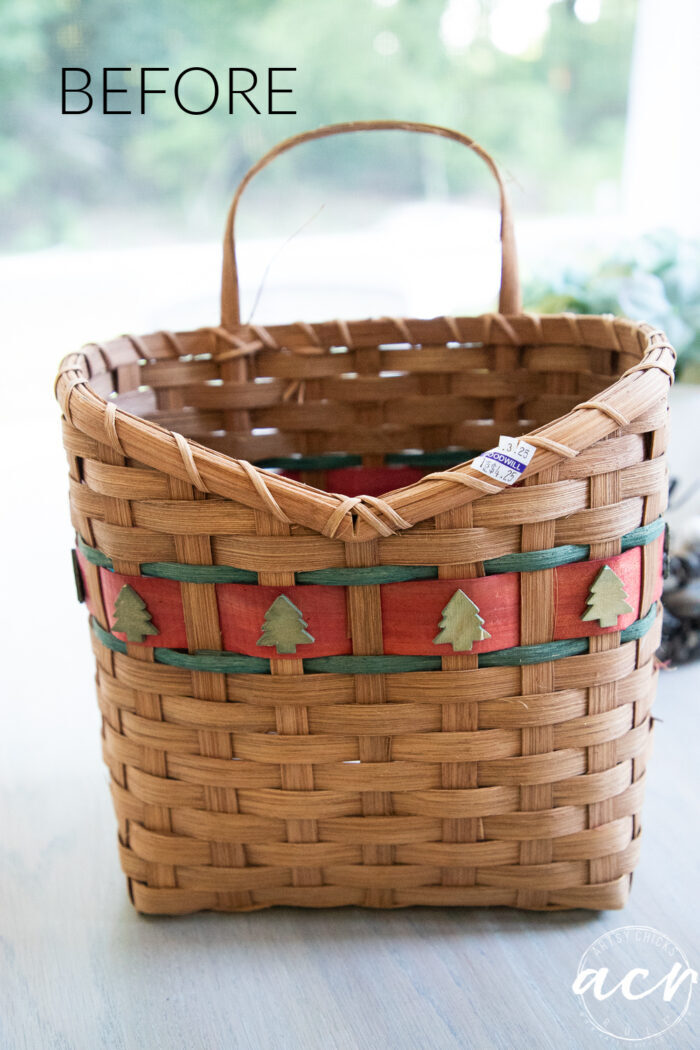 So here is the $4 Christmas basket I found. I knew immediately what I wanted to do with it when I found it.
And I figured I would just pop those Christmas trees right on off, paint it, add flowers, and done.
But…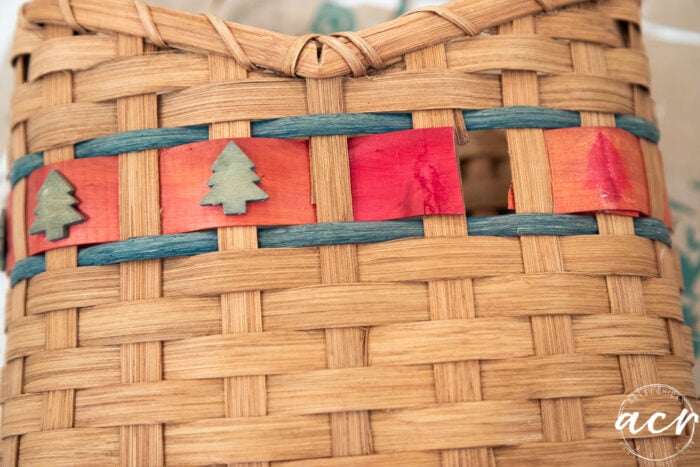 It had other plans apparently. haha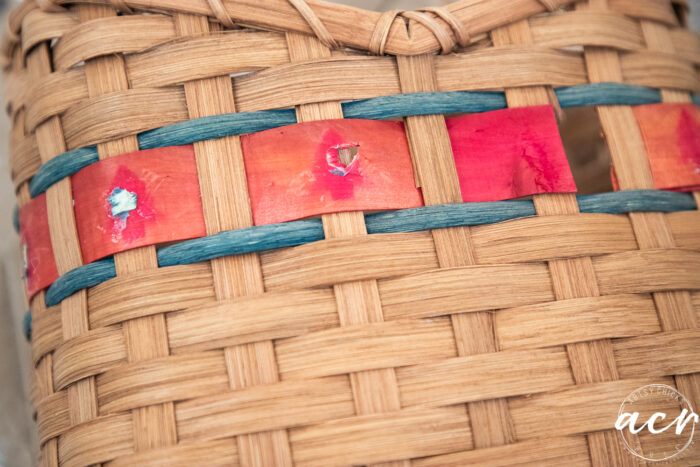 Those trees did not pop off as I envisioned. And that red was super brittle.
So out it came!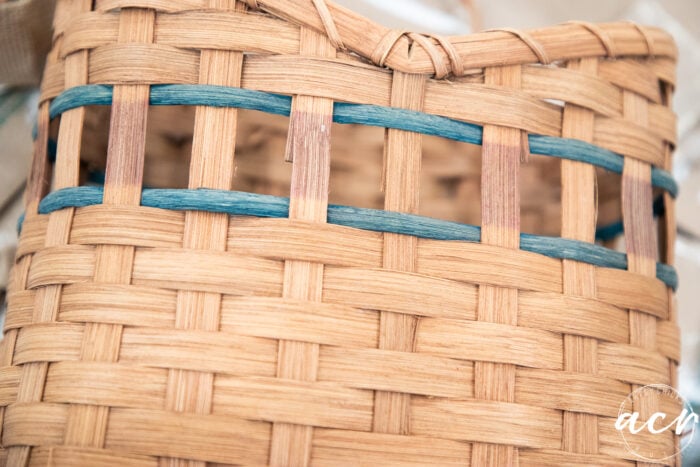 Ain't nobody got time for that! lol
I figured I could just put some pretty ribbon in there instead. But I didn't have any I liked for it…but I did have this…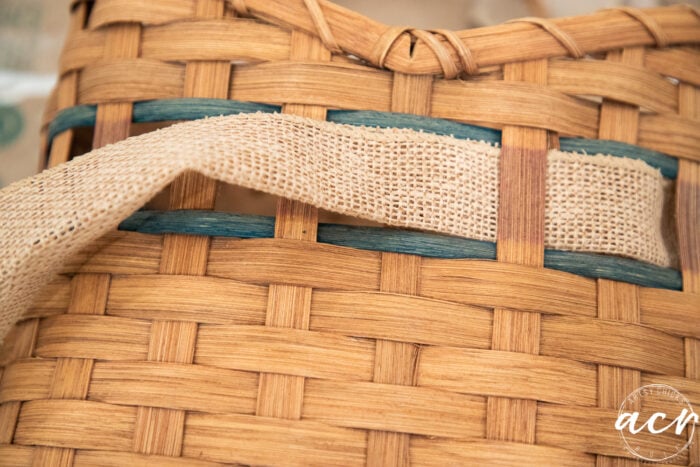 Yes, I think I like that but let's paint the basket and see. (this burlap ribbon is similar)
I sprayed it white with a flat white spray paint. (any flat type of paint will do)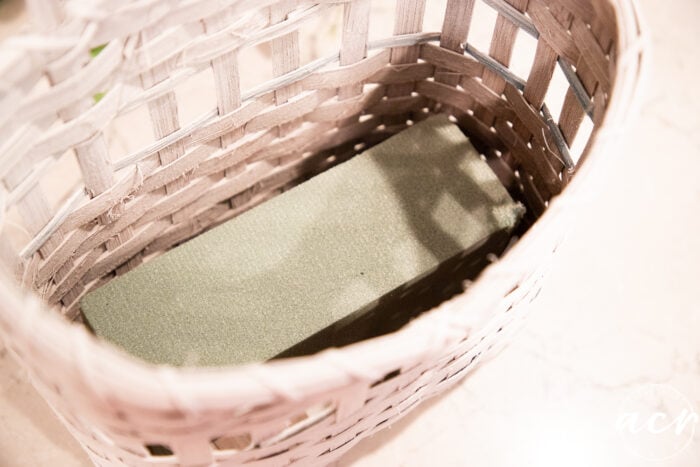 And then I pulled that green florist's foam from my stash to hold the stems of my faux florals.
I pulled out my bins and gathered florals I already had that said "summer" to me.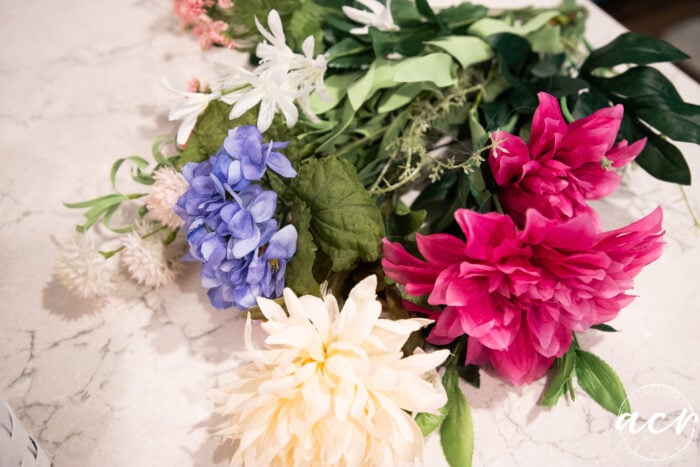 Colorful, whimsical, and a little wild flower-ish.
Then I just started arranging the flowers putting the big yellow one right in front and working around it.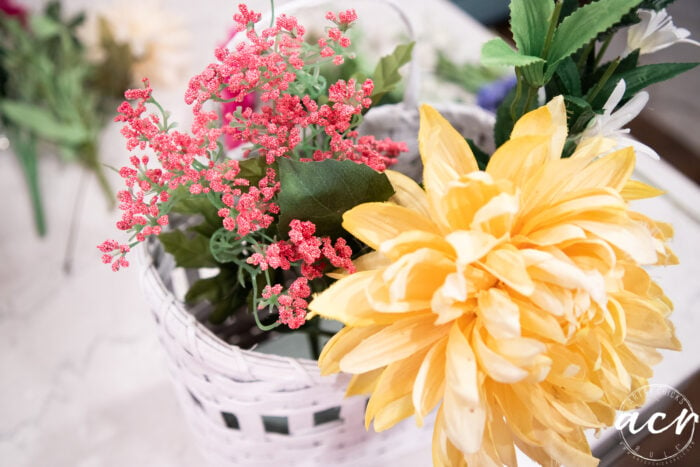 Once I was satisfied with how it looked I cut the burlap ribbon, folded it in half so it would fit…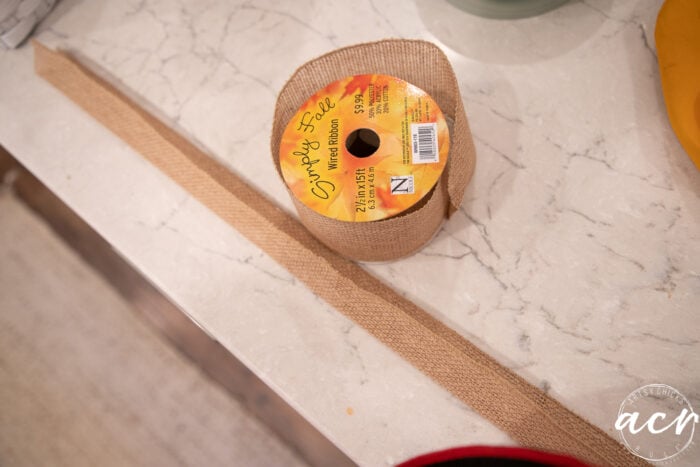 …and weaved it through the basket.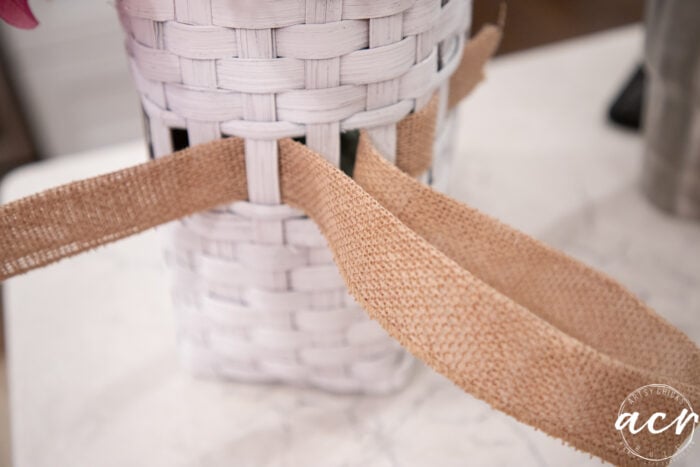 Simple!
Funnily enough that ribbon spool says "simply fall", haha, but who cares, I'm using it for summer.
To secure it, I tucked it in on the back…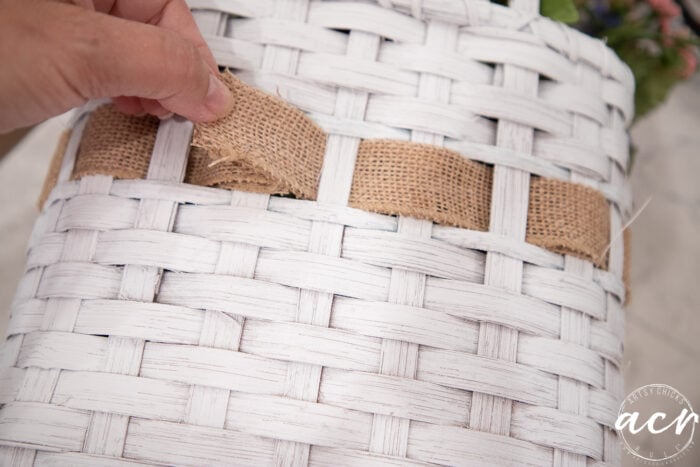 Here it is tucked and done. Can't even tell.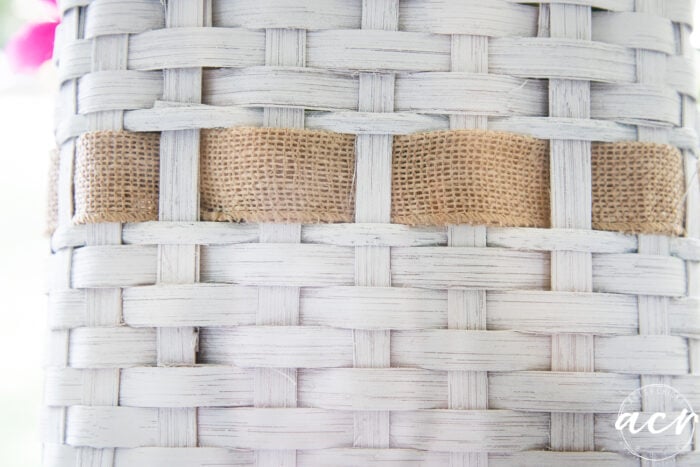 I love how the white matte spray paint didn't cover fully and glossy.
See how you can see the "grain" through it above?
I hung it on our glass storm door with a fishing line and a suction cup hook to hold it steady. (the fishing line for extra protection in case the suction unsucks!)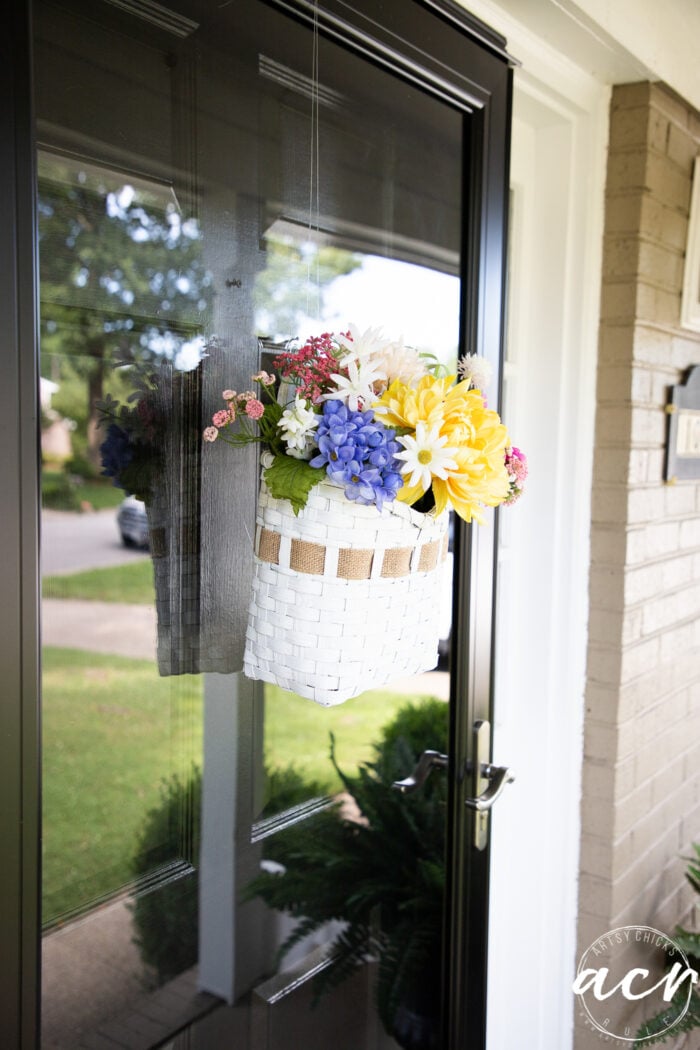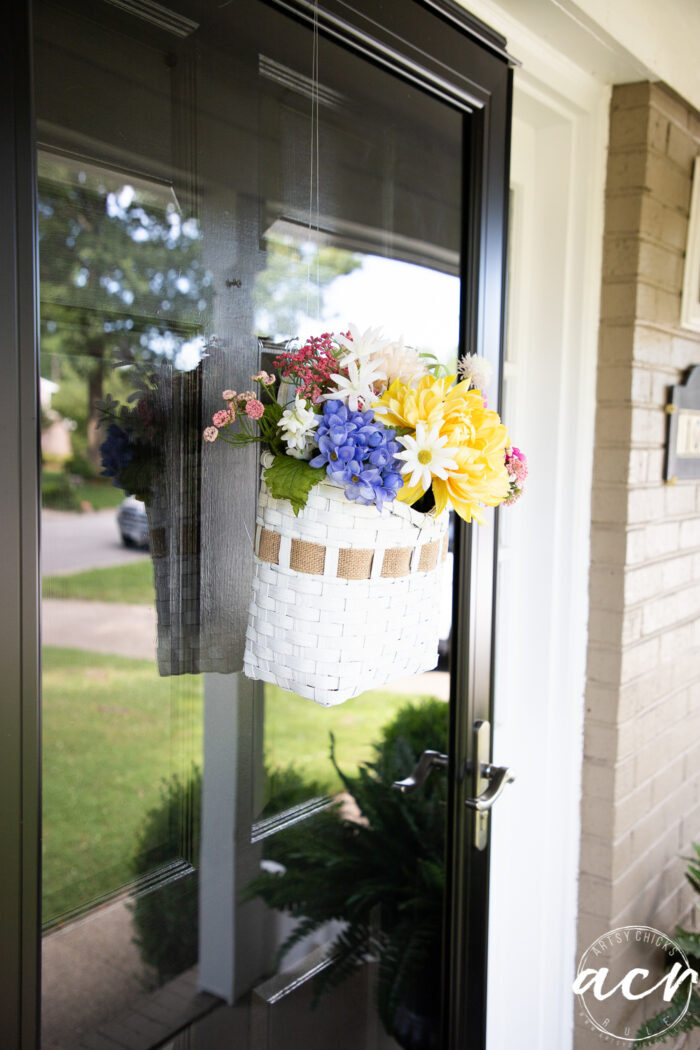 Up close of each side…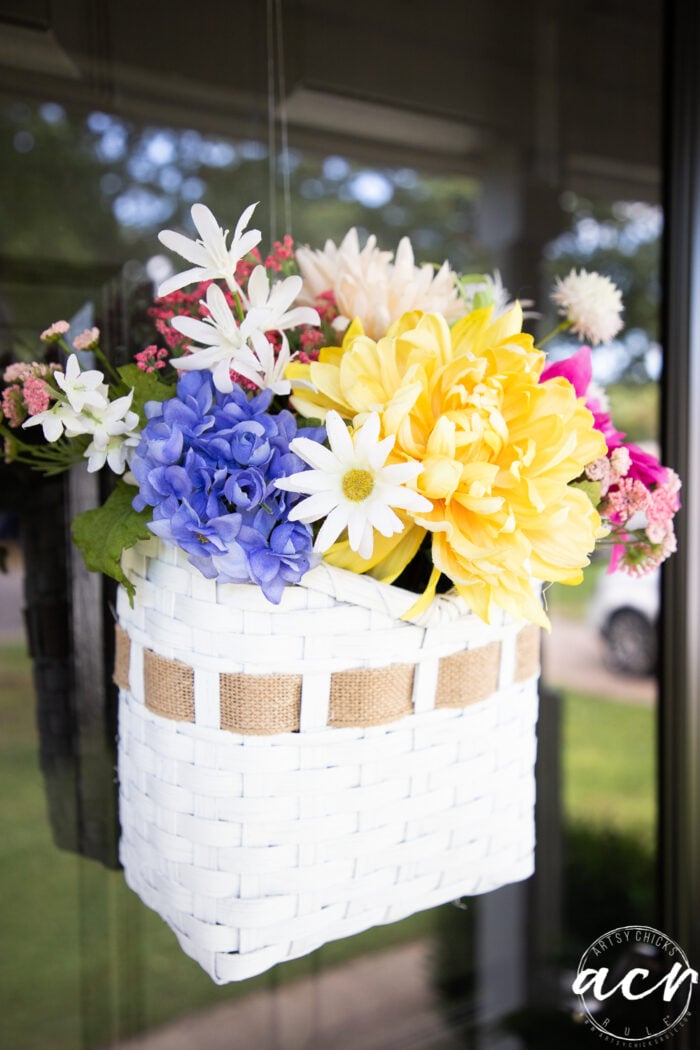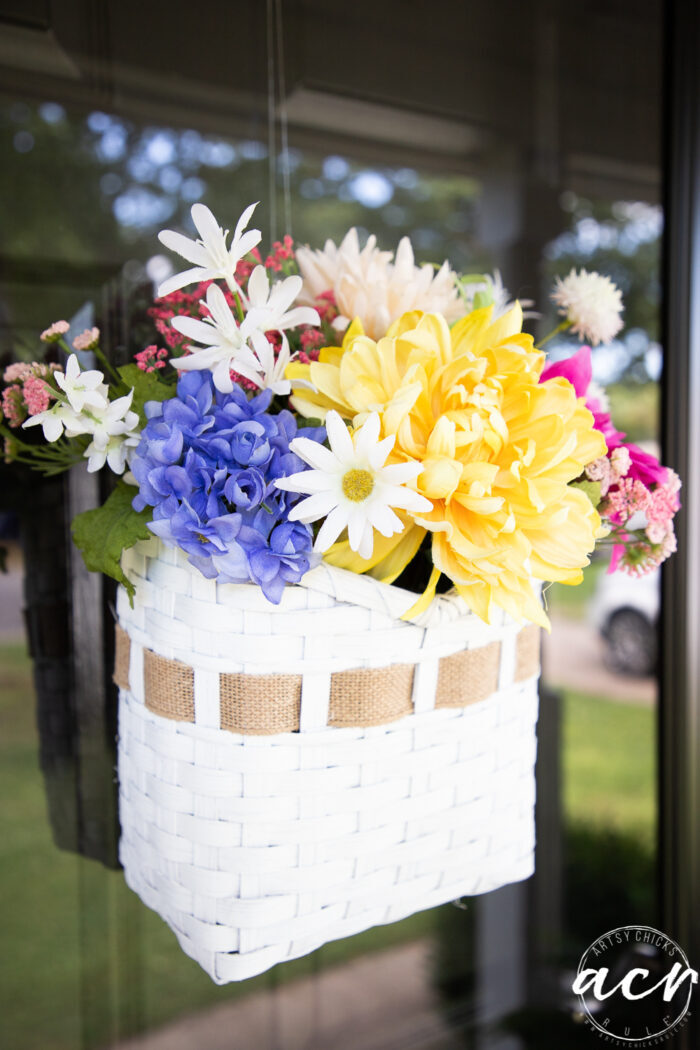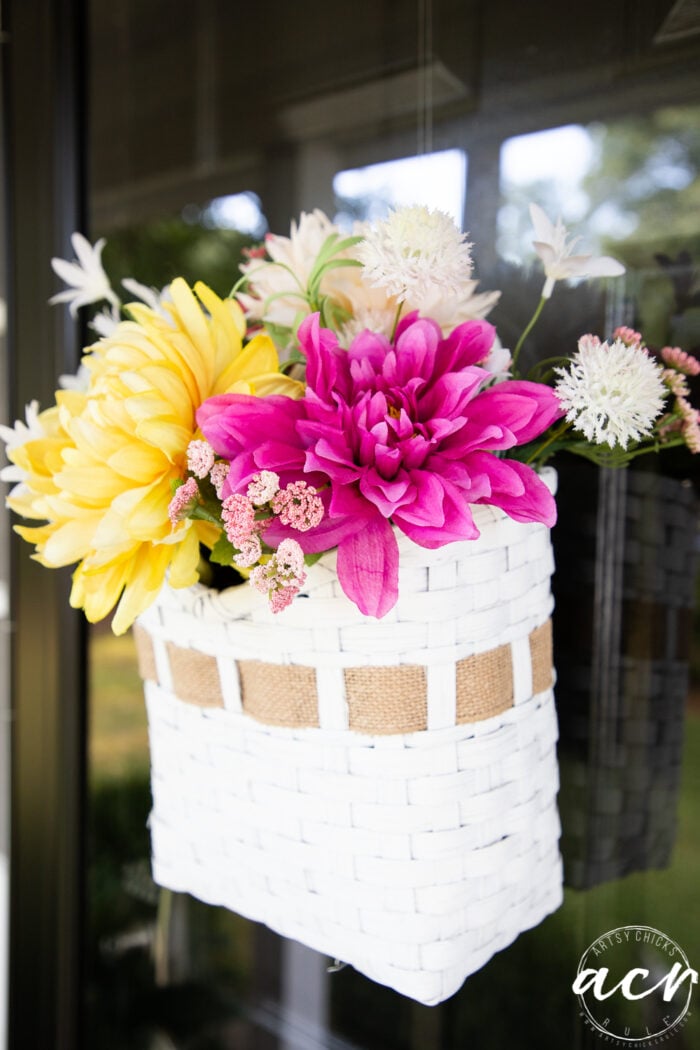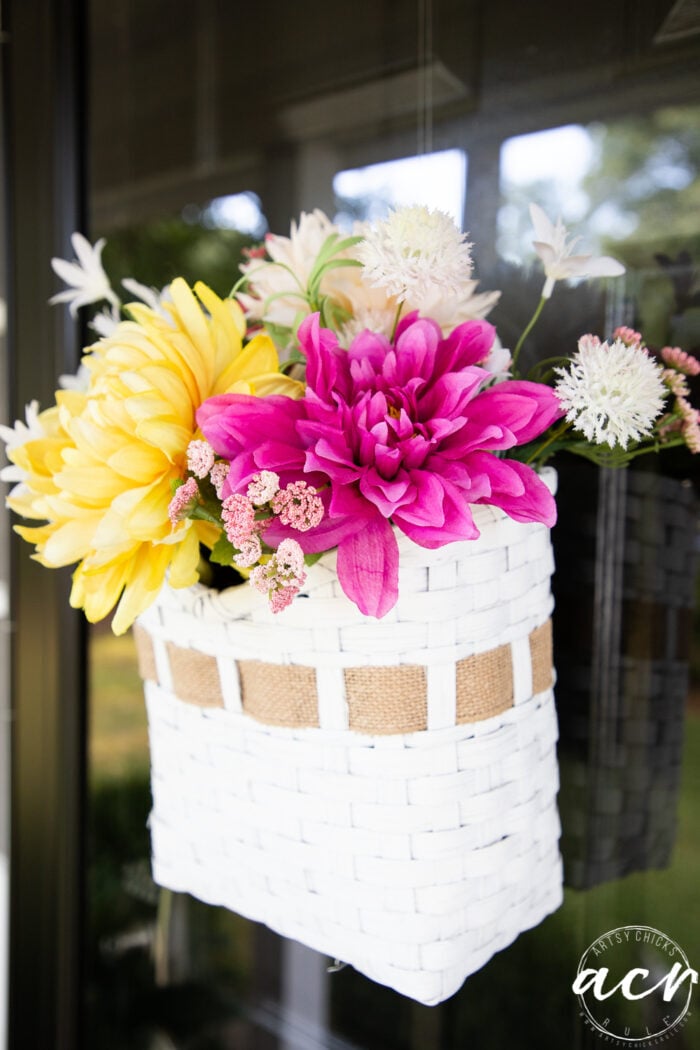 All things I had on hand.
Top view…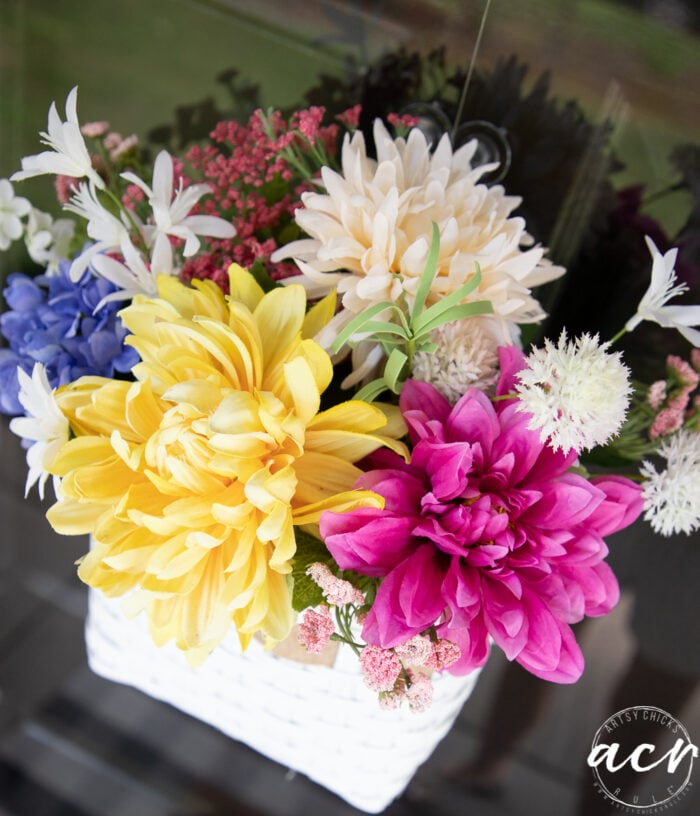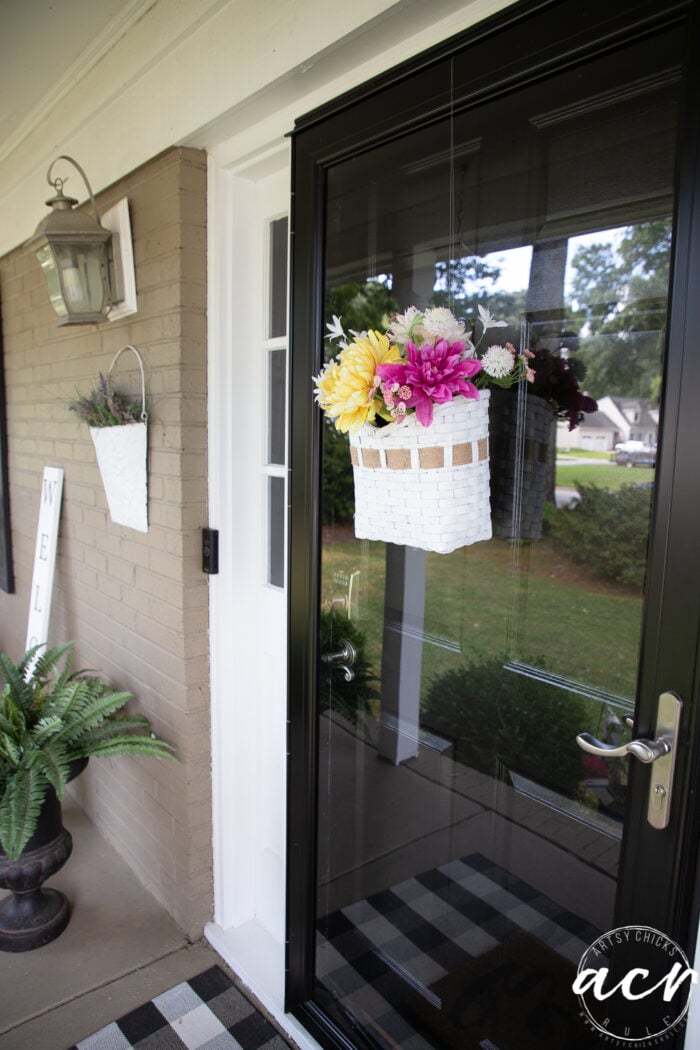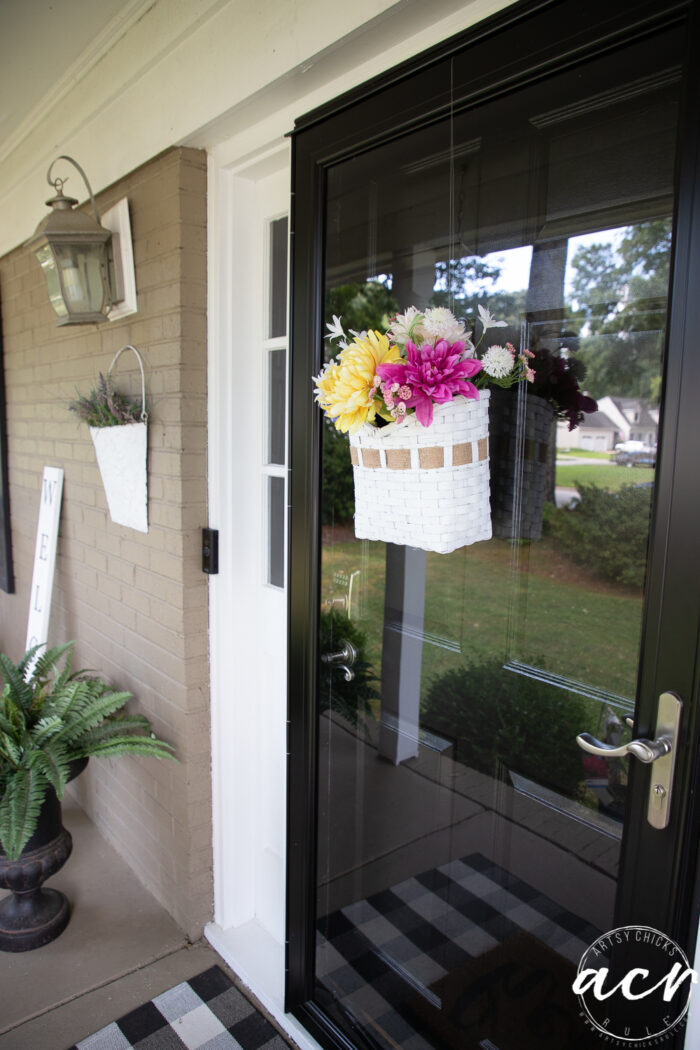 See that other hanging basket on the brick? I made that a while back but it's looking sad because there is a bird's nest in it.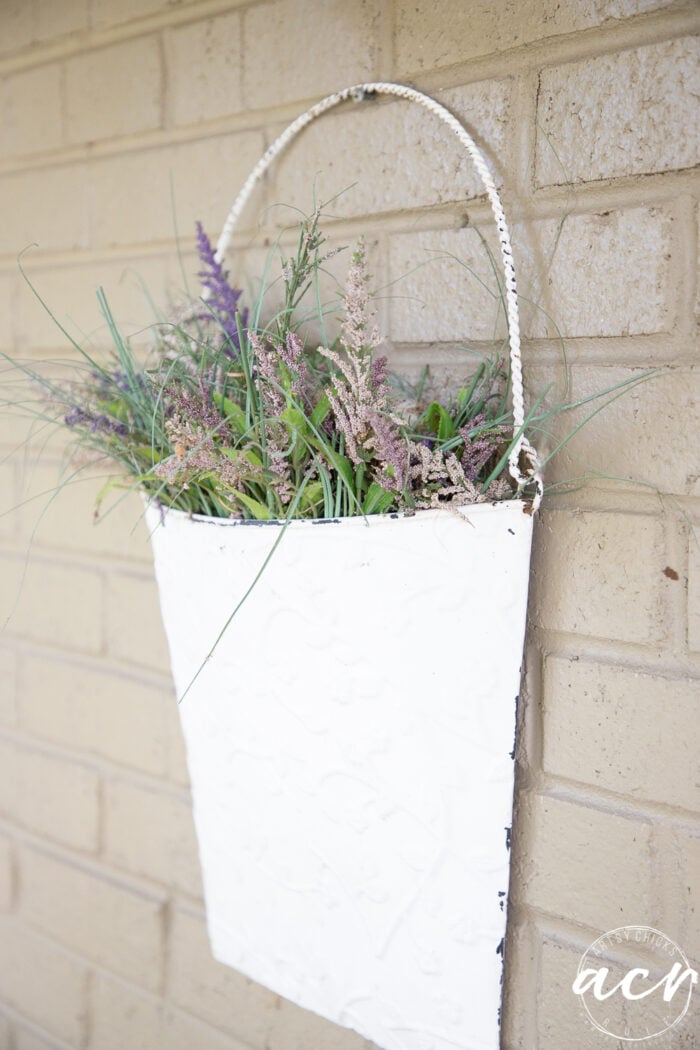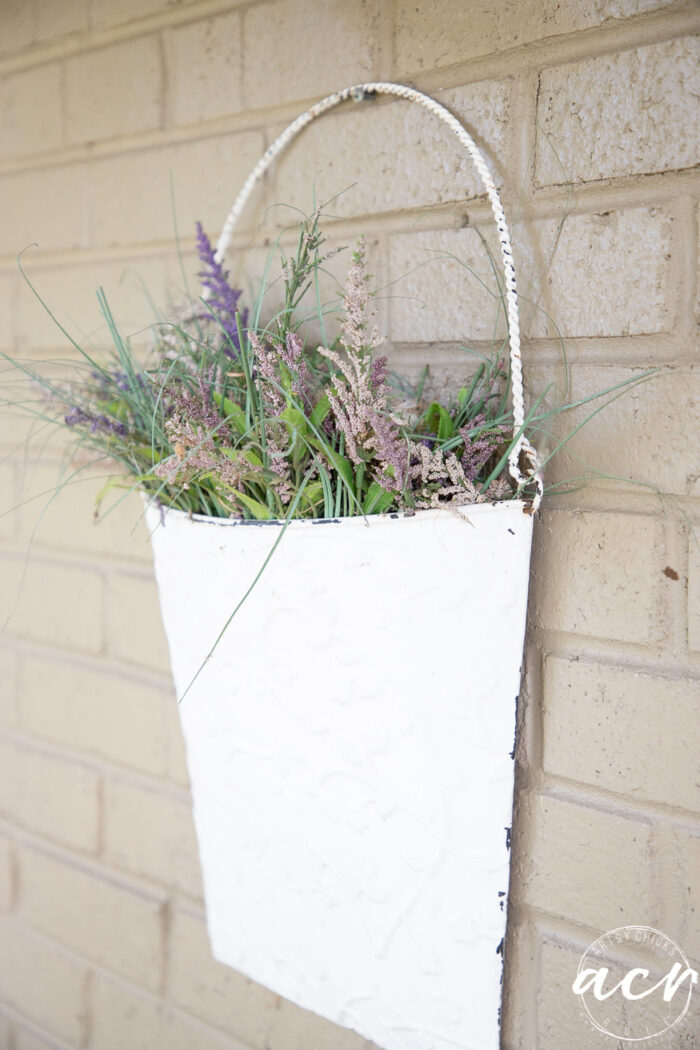 I need to redo it but have to wait…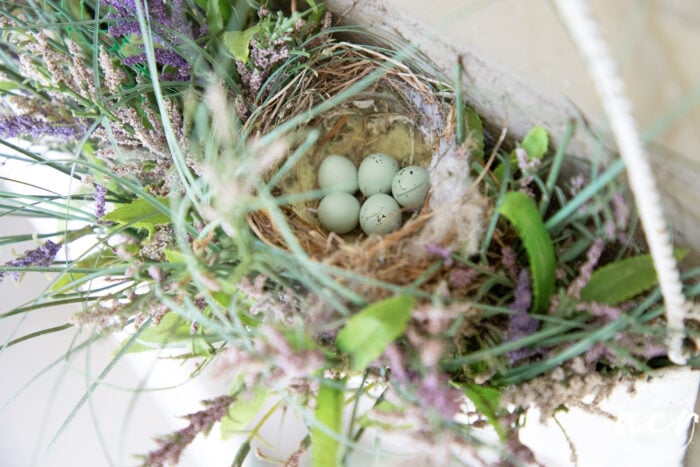 Aren't those the sweetest eggs?
I love having a colorful, happy new summer wreath basket up there.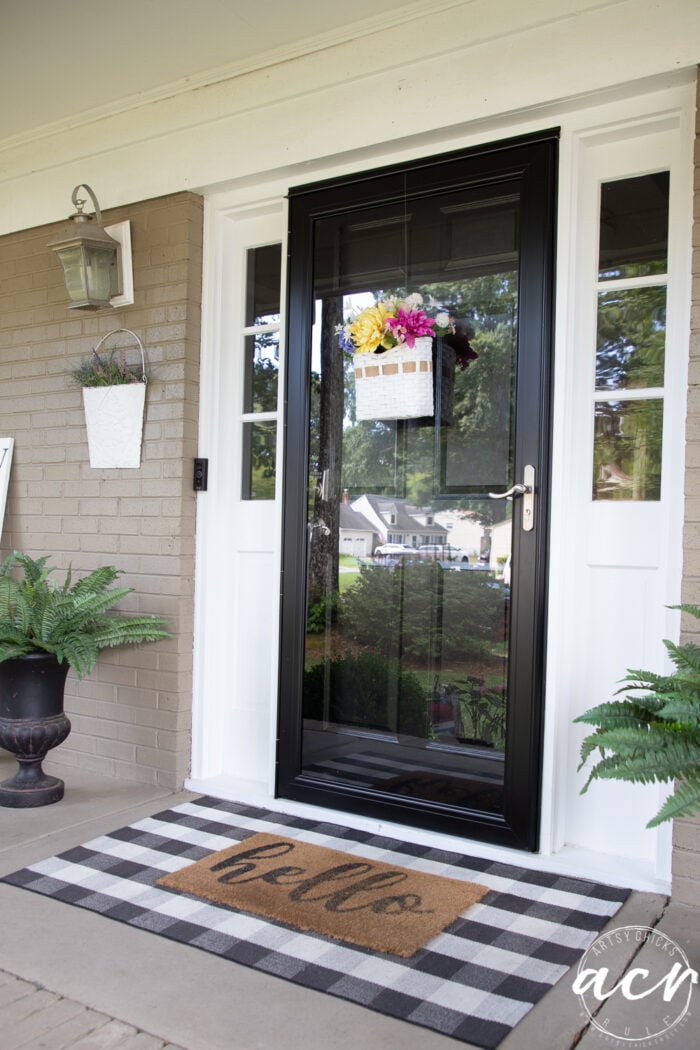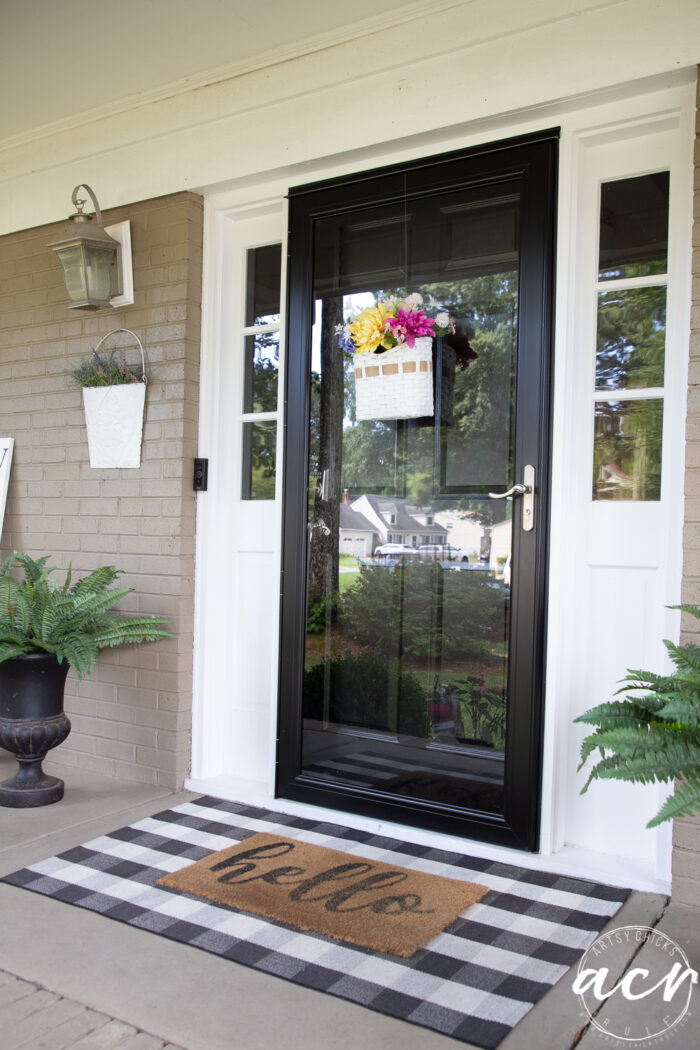 It adds a nice pop of color to our black/white/green porch.
Missed my porch decor post?
You can see it here >>> Black and White Porch Decor
Sweet, for summertime!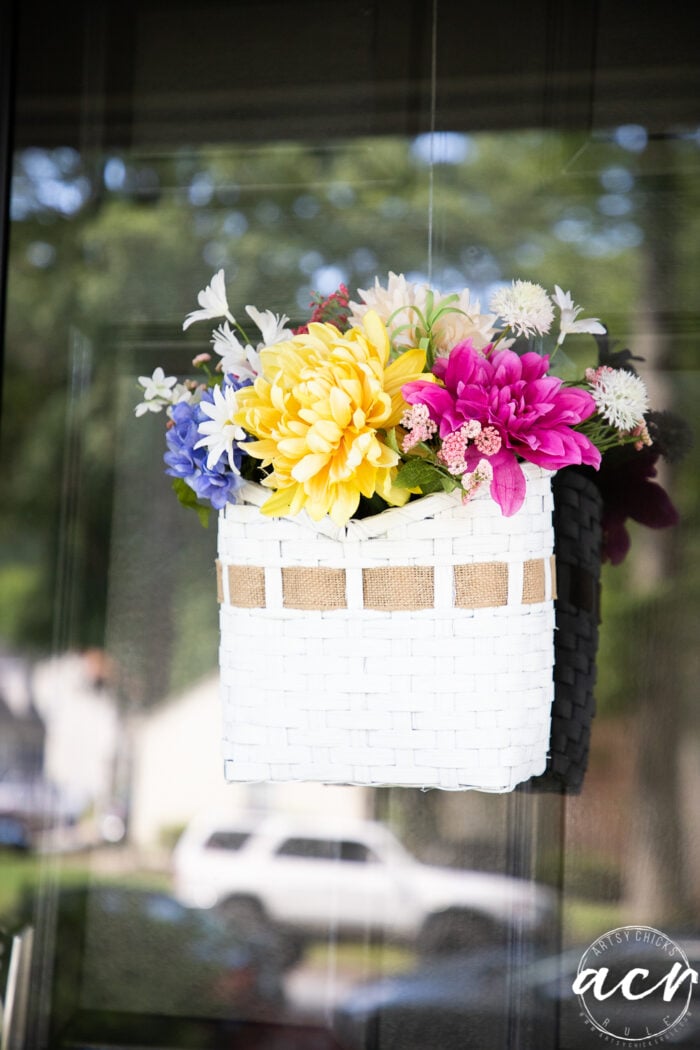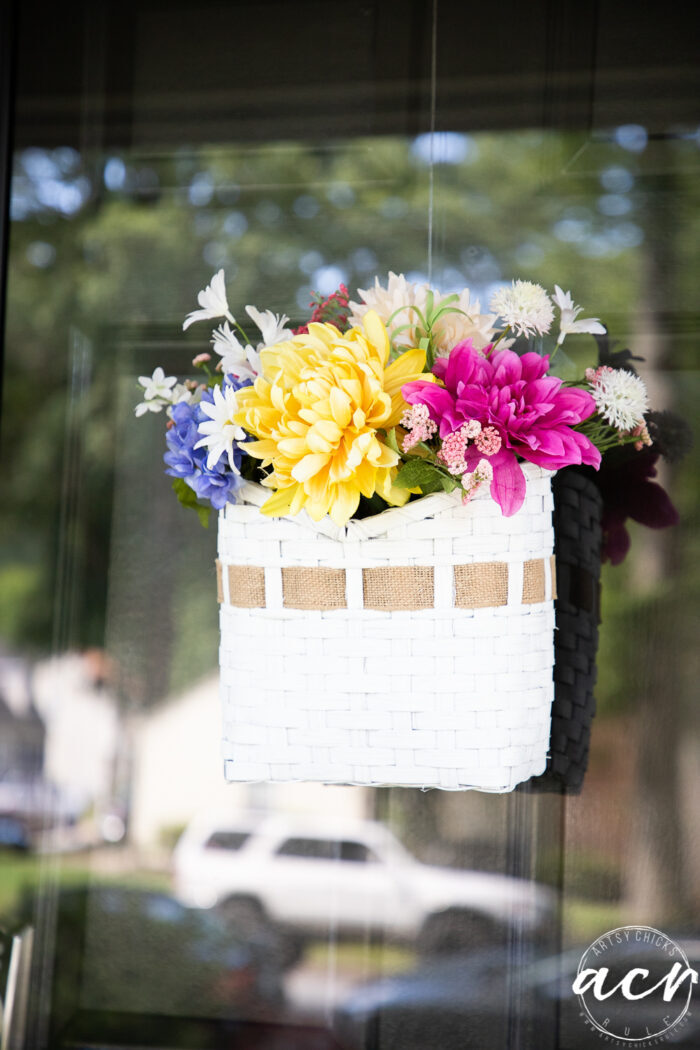 Pin it to save it!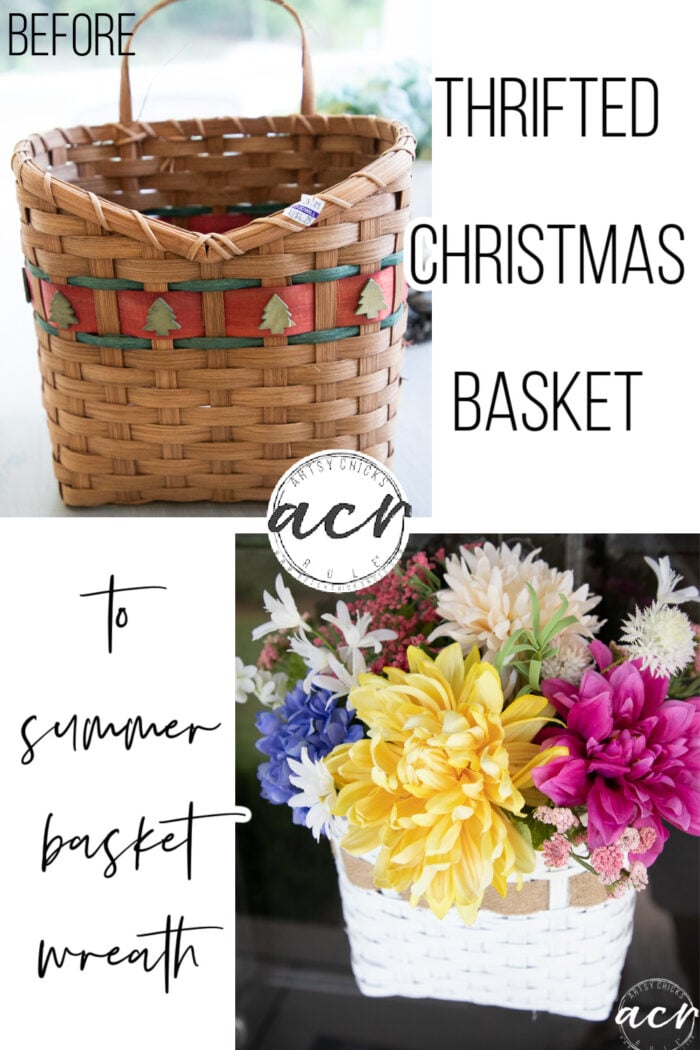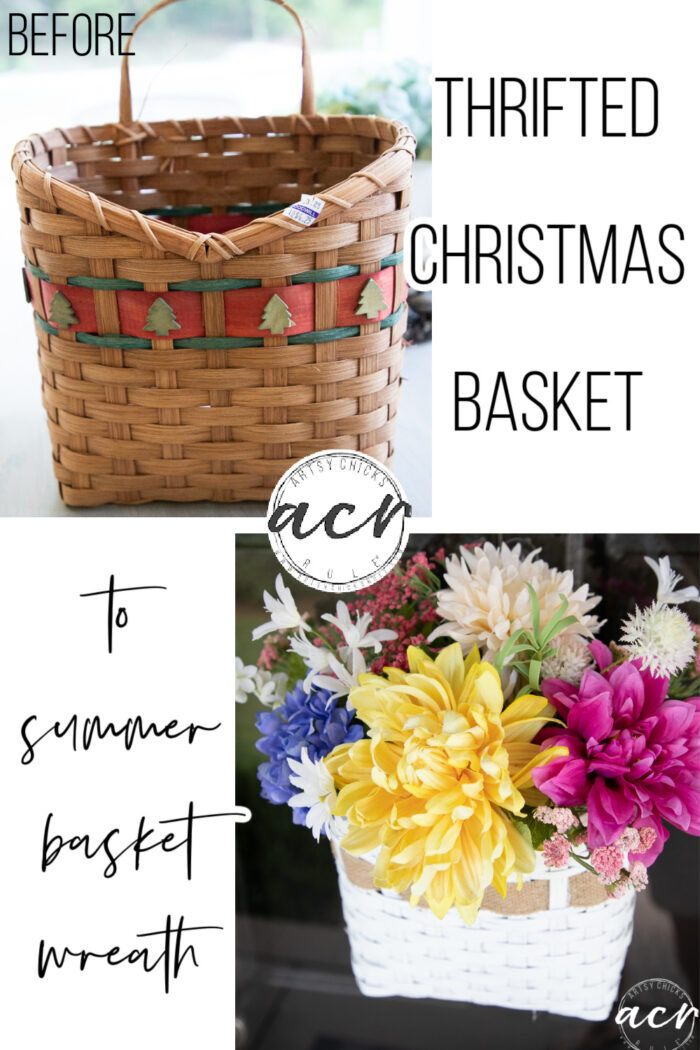 Have a wonderful week, friends! See you next time with this!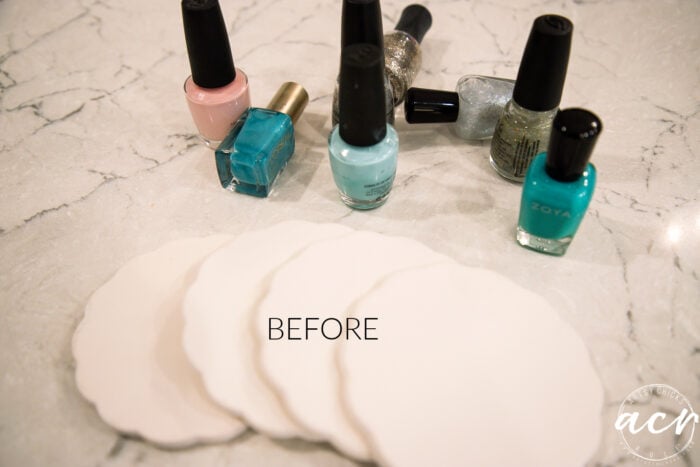 UPDATE!! See it now here!
xoxo