DIY Pink & Blue Easy Spring Wreath (perfect colors for spring!)
This post may contain affiliate links. Please see disclosures here.
The sweetest pink & blue, easy spring wreath for your home!
Hey Friends!
Well, we dodged the bullet! No snow, nothing but a little bit of rain and lots of sunshine for us….and really frigid temps!
Eww, brrr but better than snow, right? Did you get any snow this week?
I'm hoping the temps will get back to those awesome 60-70's soon.
In the meantime, I'm still rolling along with Spring, even if it is in my own mind right now.
Today I'm sharing a simple to make Pink & Blue EASY Spring Wreath…and I started with this…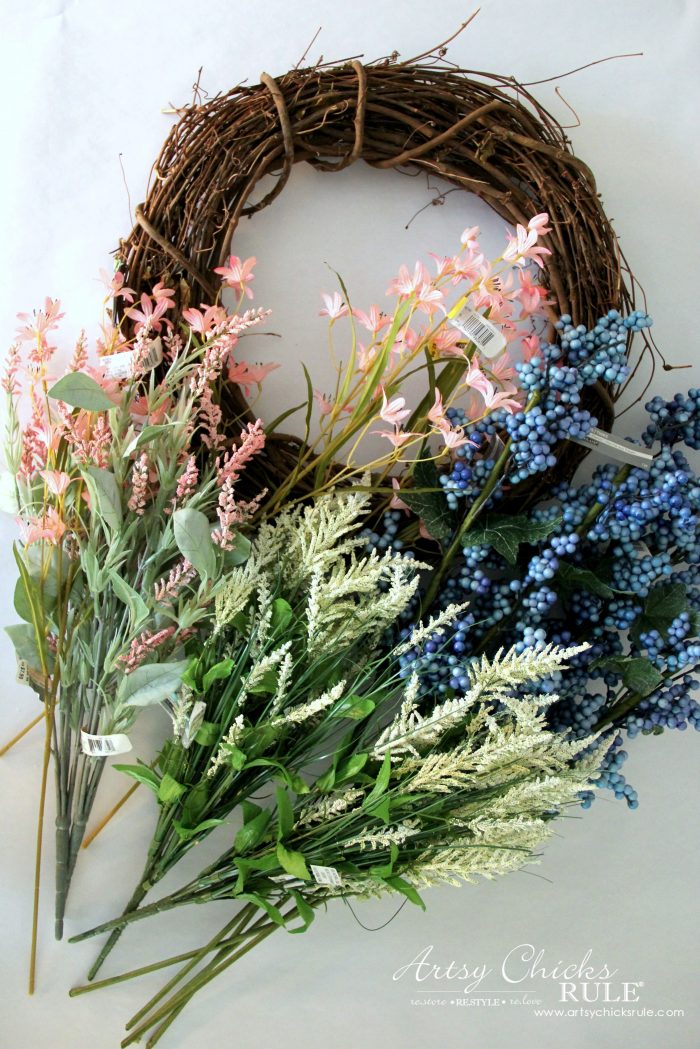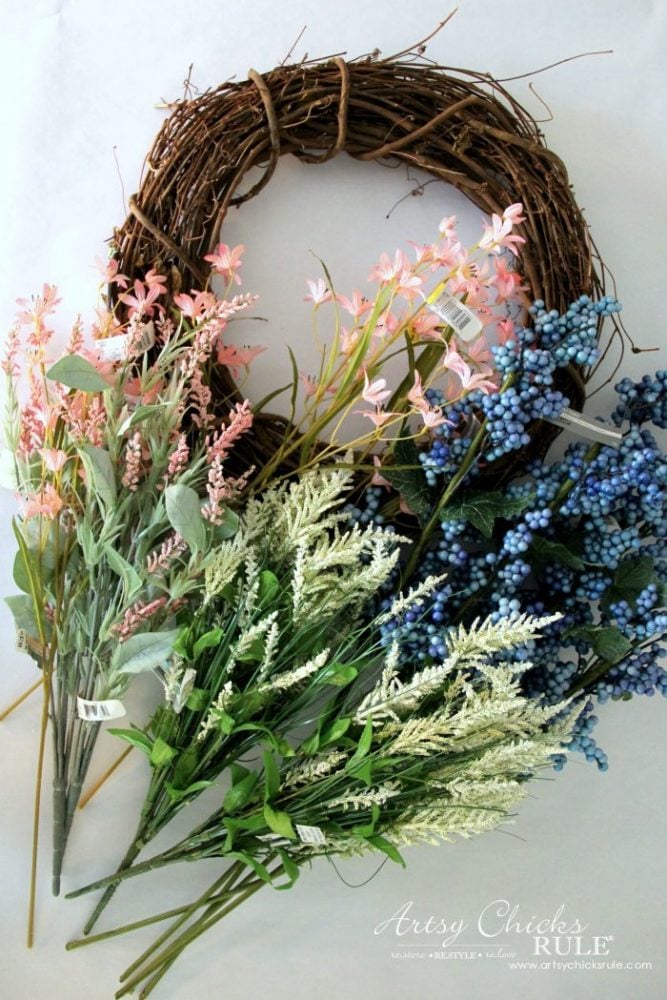 Now, let me be completely honest with you. Making wreaths have never been a strong point for me.
I am crafty as crafty can be but wreaths and flower arrangements? Not so much.
I just didn't feel I had it in me to create something pretty with those items.
BUT somehow I've made quite a few…and they aren't bad!
And you want to know what else? Every time I start a new wreath or floral project I pause and wonder how the heck I'm going to put it together to make it look acceptable. So I just get started…..and then it comes together somehow.
So, what I'm trying to say is, even if you don't feel confident in doing something, do it anyway!
You might just surprise yourself.
Here's how I made this easy spring wreath…..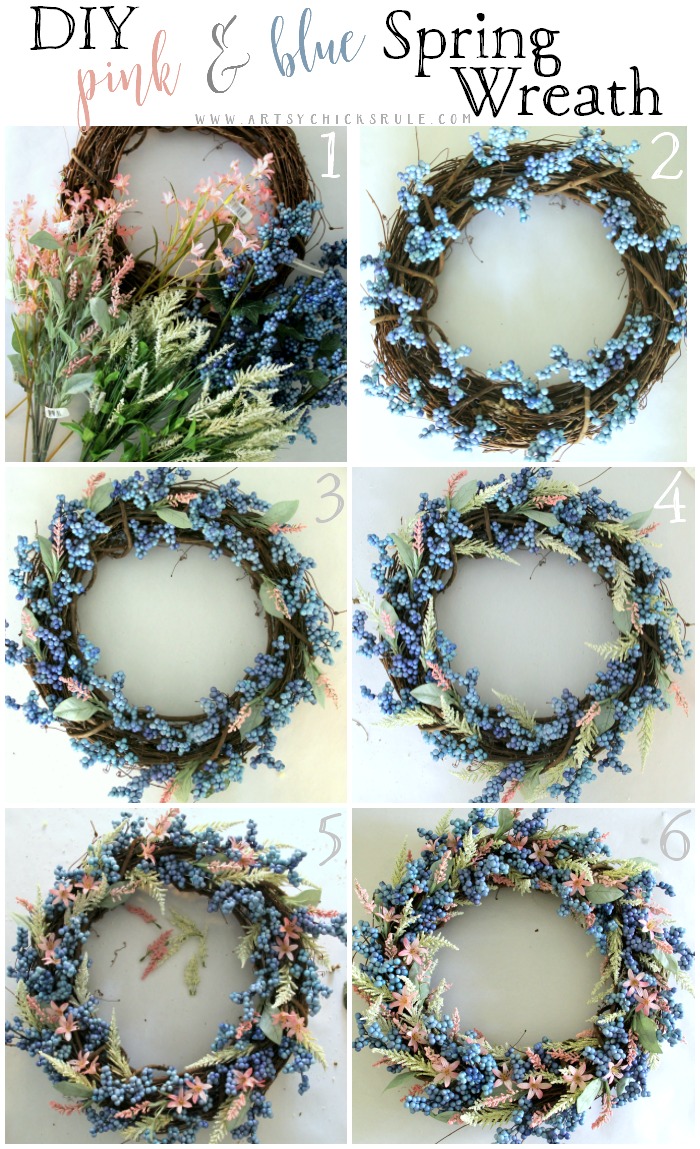 You can pin that for a compact little visual for later.
If you follow along over on Instagram, you have already seen this wreath.
I usually post things or at least a little snip of things I'm working on.
Okay, here is the step-by-step…..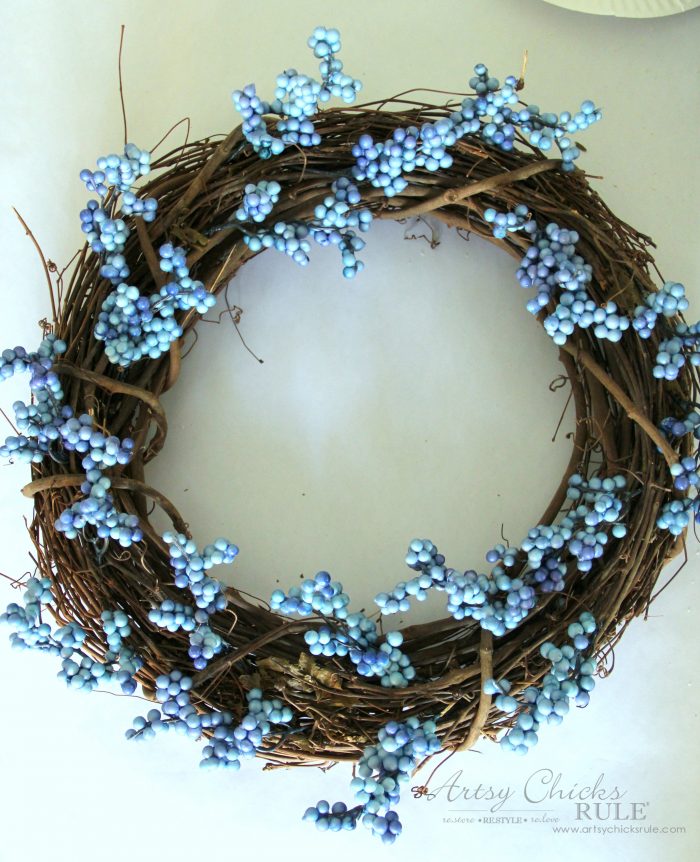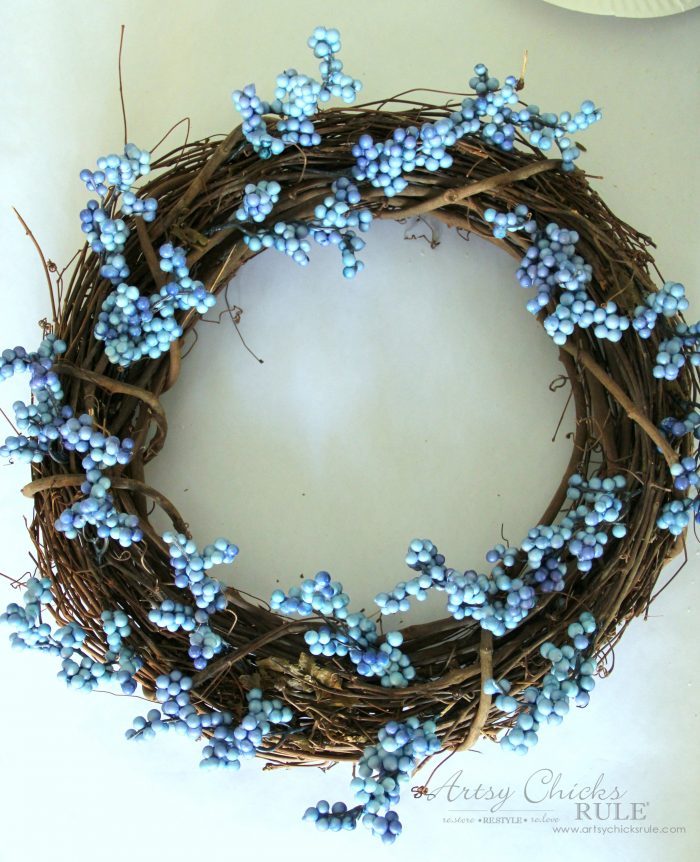 I started by adding the main component, these blue "berries" I found at Michael's before the holidays.
I had no idea what I'd do with them when I found them but knew I had to do something with them!
They were such a pretty shade of blue.
I went back to Micheal's a couple of weeks ago and got the rest of the items. (40% off floral plus another 20% off full purchase…I love when they have that promotion!)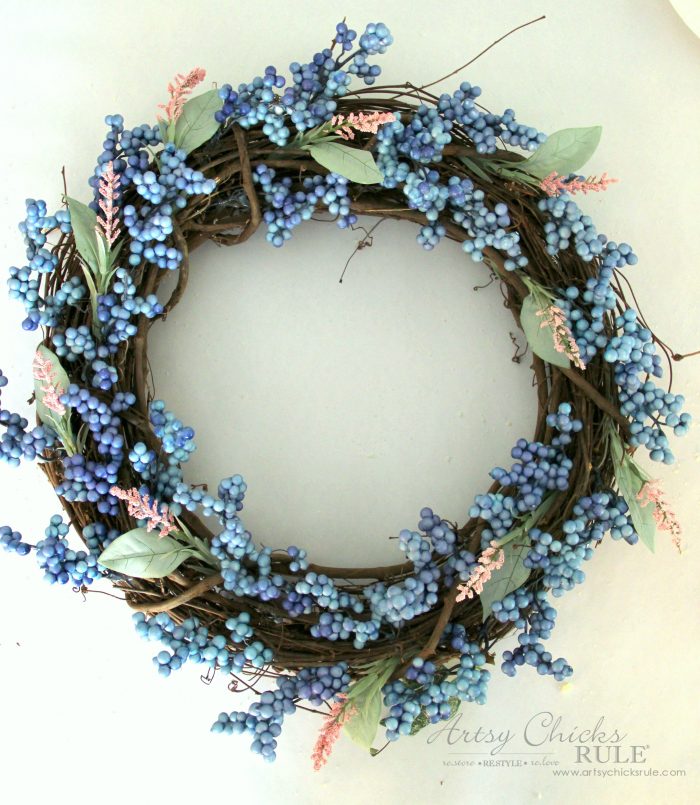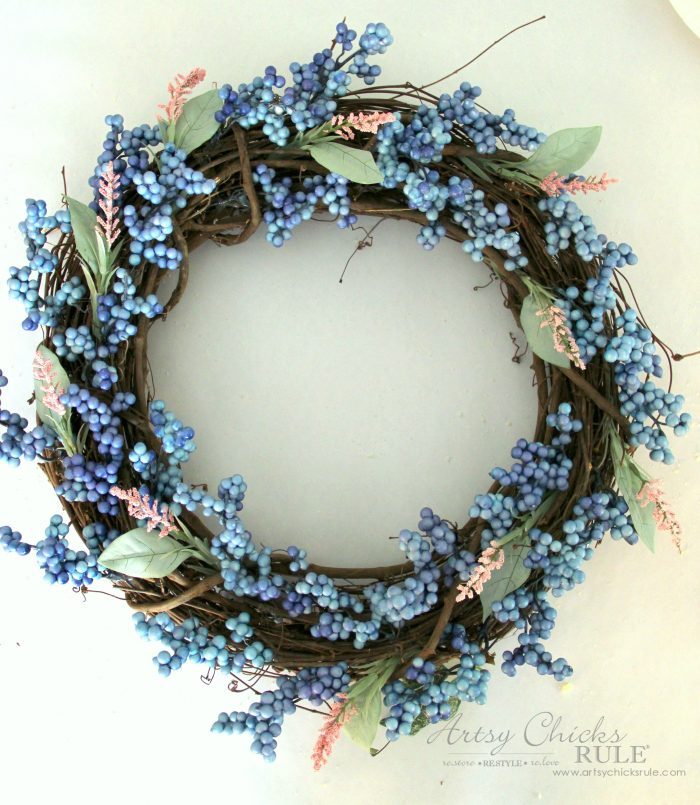 As you can see, I spaced the blue out around the entire wreath.
Then I pulled the stem/leaf/floral off the main bunch and placed them in and around in an orderly fashion.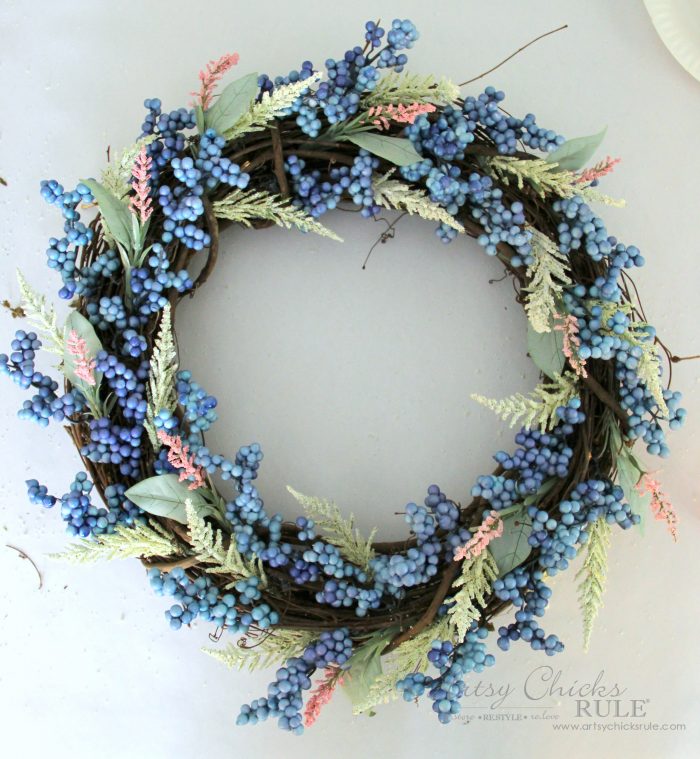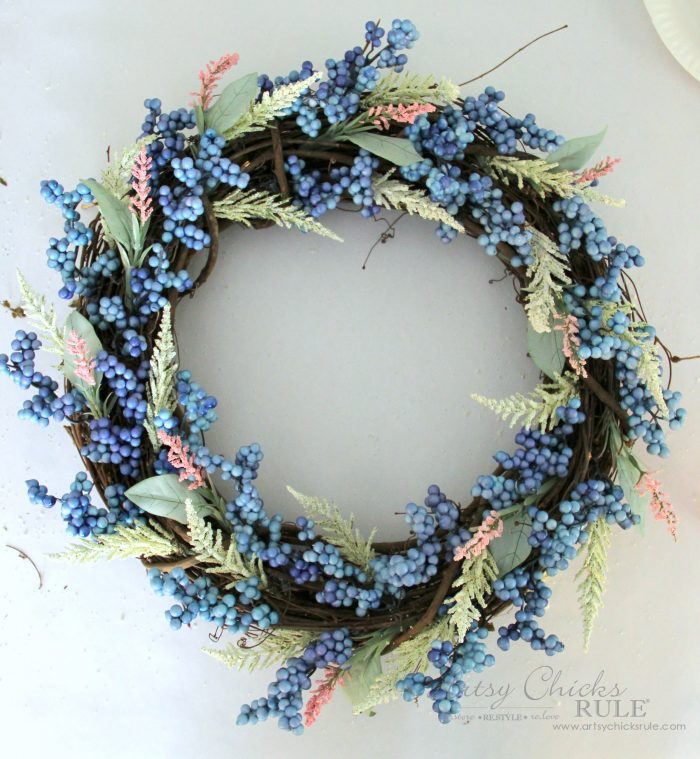 Next, I just did the same thing with the larger pieces of white.
Just randomly go around and place them. You will sort of get a feel for it as you move along.
Stand back and take a look at it from time to time.
Also, what I do a lot of times is I'll start placing things before I start hot gluing them in.
That way if I don't like how it's turning out, I can move things easily.
At this point in the process, I was happy with the direction it was going so starting gluing them in.
Next, I added the little pink flowers…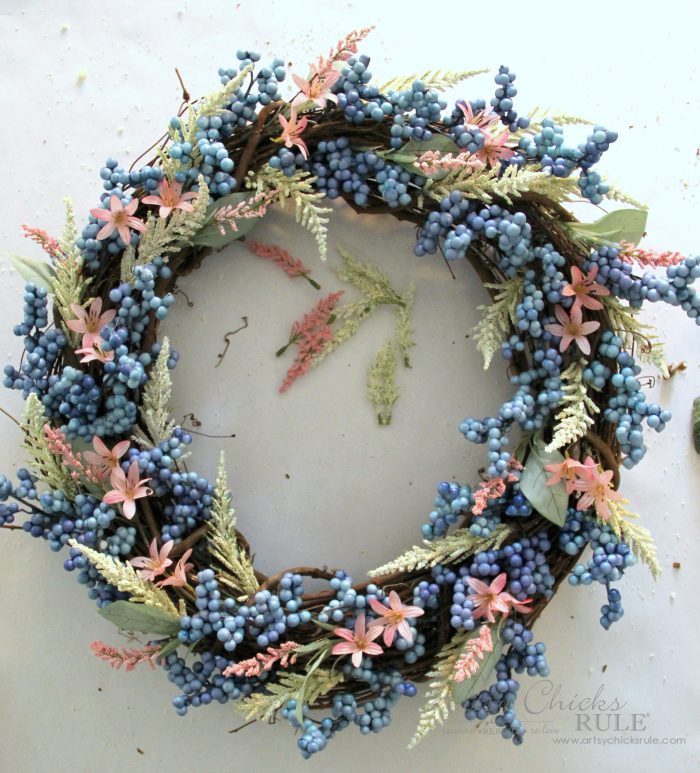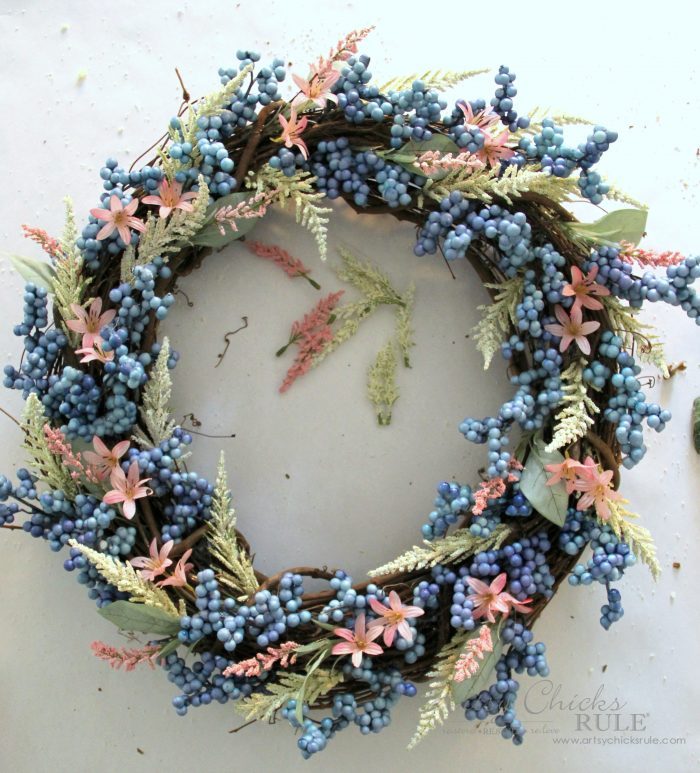 I placed them evenly around the wreath. As you can see, it is quite sparse looking still.
So, I took those smaller pink and white pieces (there was more outside of the photo) you see in the middle and filled in all over the wreath until I liked how it looked.
You can see below, I did quite a bit of filling in.
All around the inside, through the main portion of the wreath, and a few around the outer edges.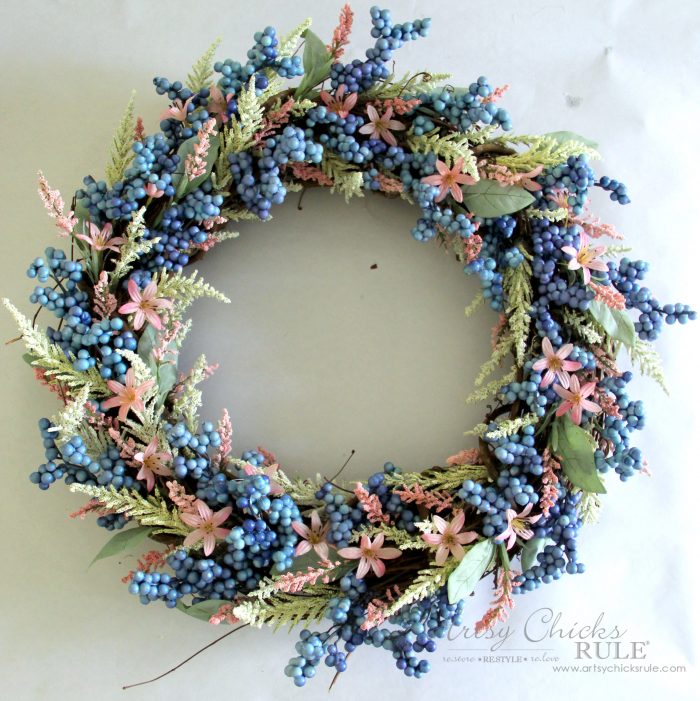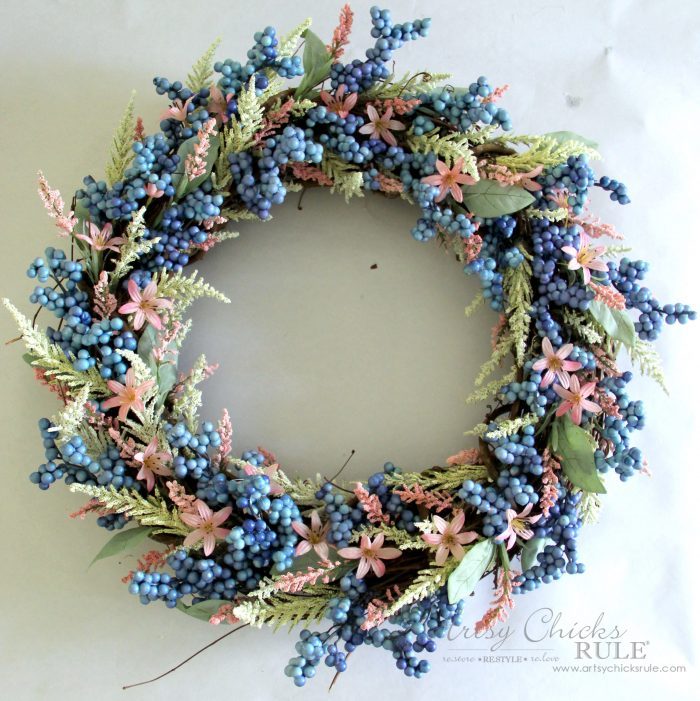 I also pulled those pink flowers apart a bit (they were on a stem of 2 each).
I'm so happy with how this one turned out.
There's just something about pink and blue that screams Spring to me.
And that makes me happy.
Here's my sweet pink & blue easy spring wreath greeting guests in the foyer…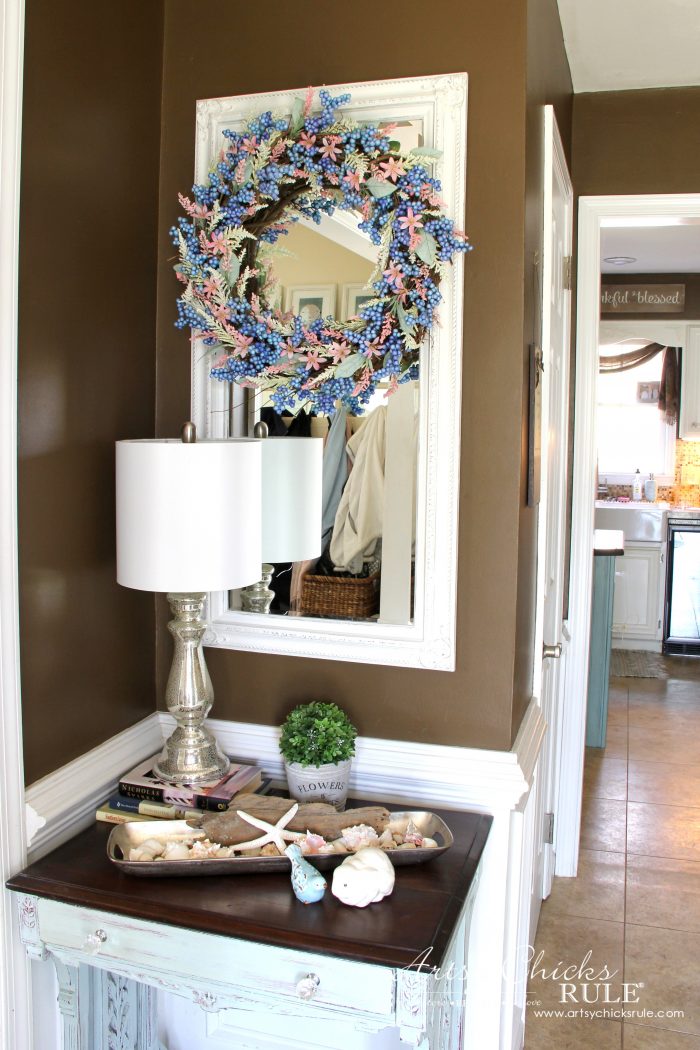 (That mirror used to be gold, remember? It got a little paint job but I never posted about it )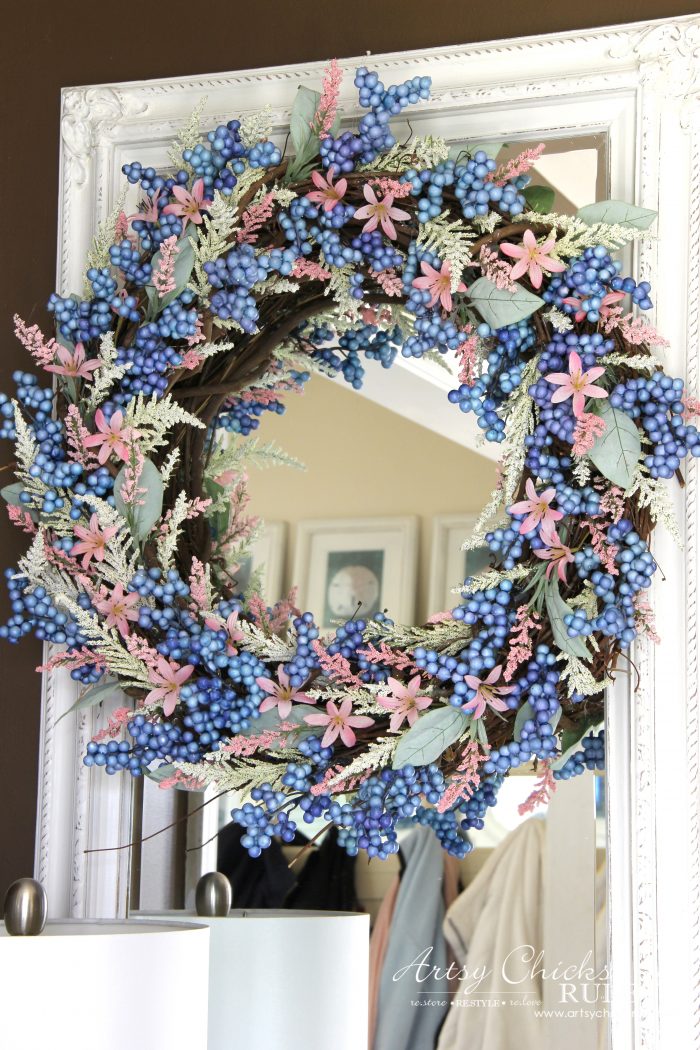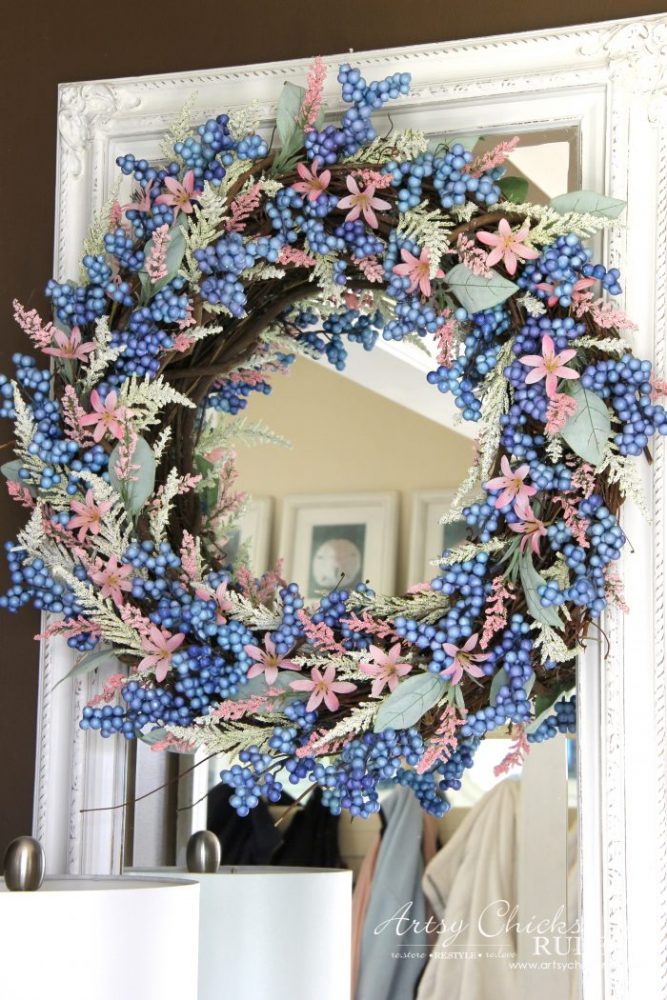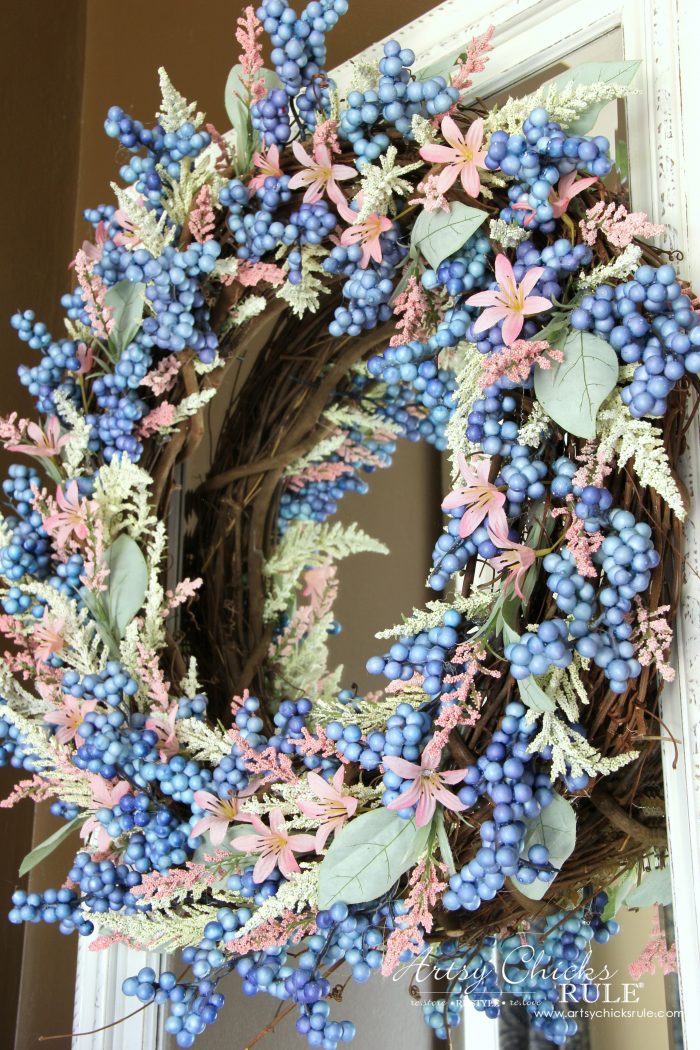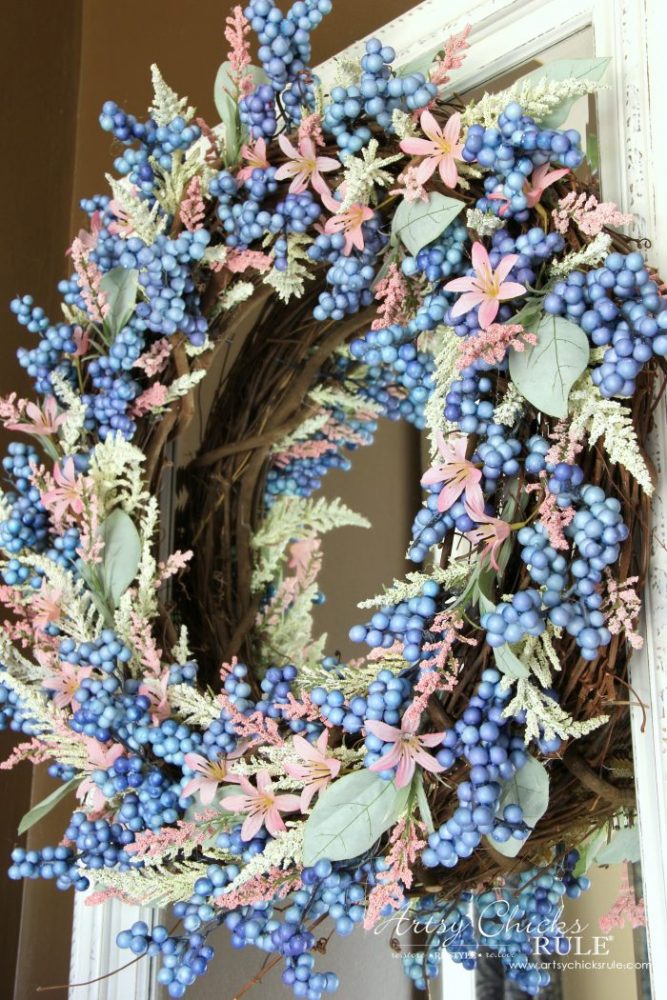 Love those blue "berries"…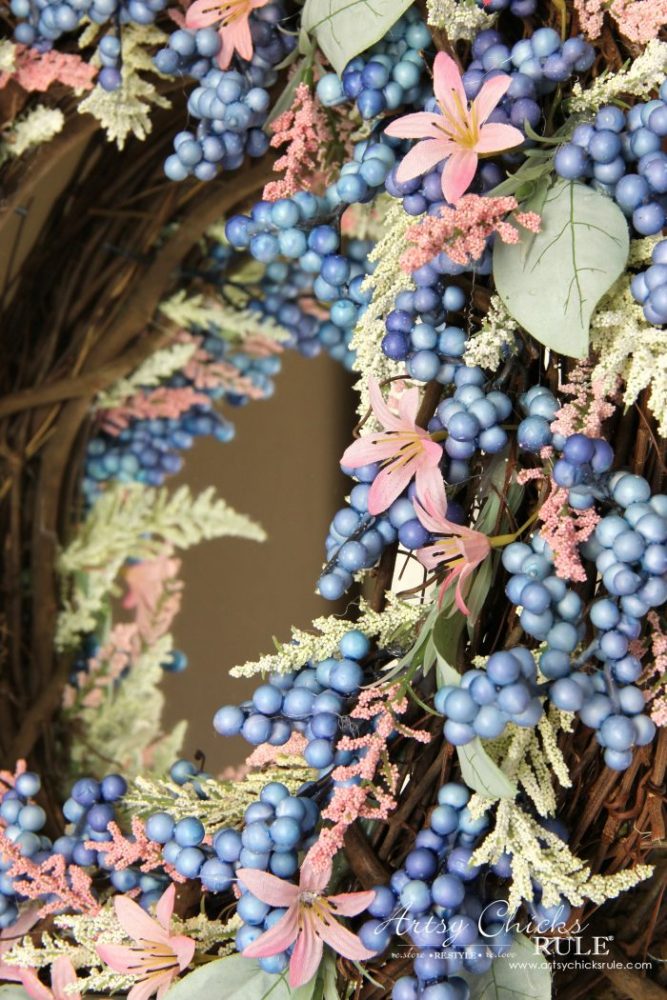 And on the hall tree on my front porch…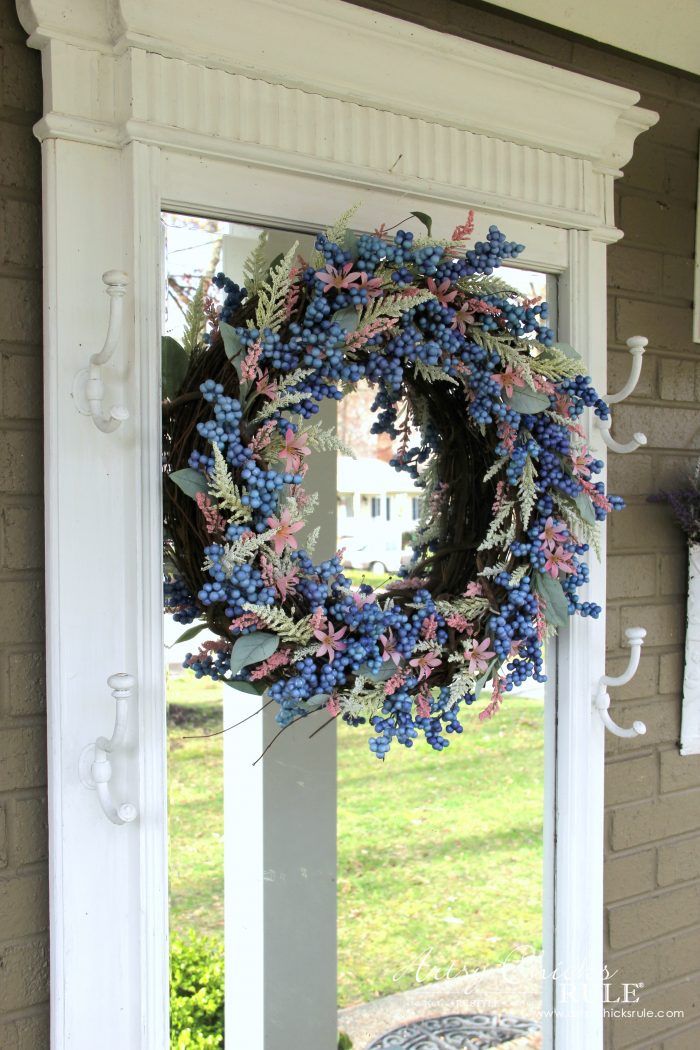 And where it ended up staying…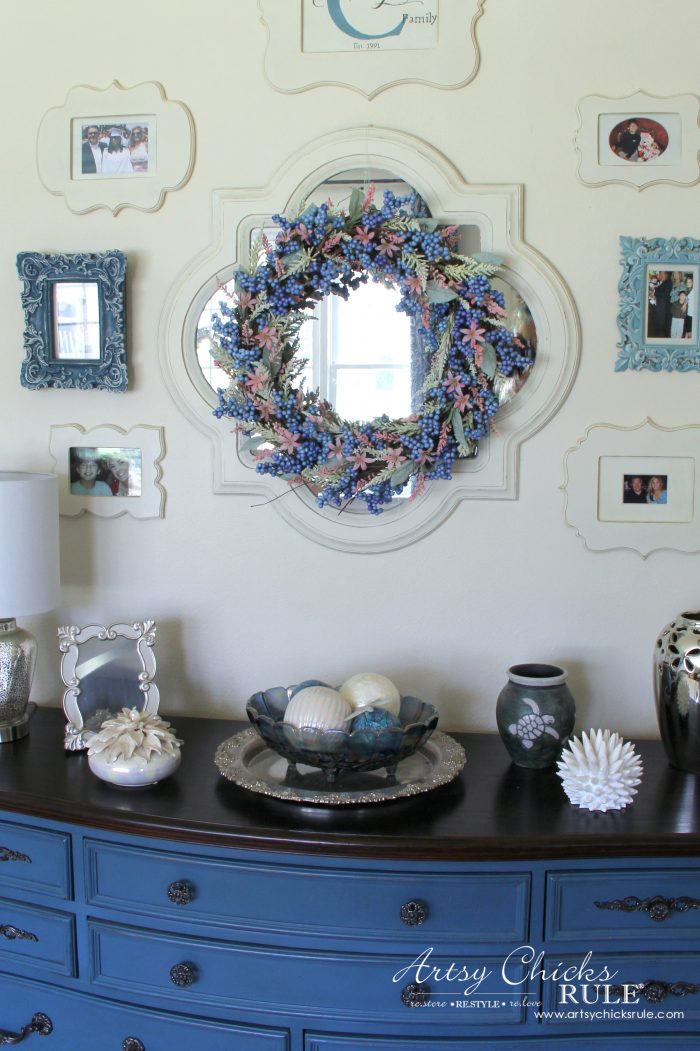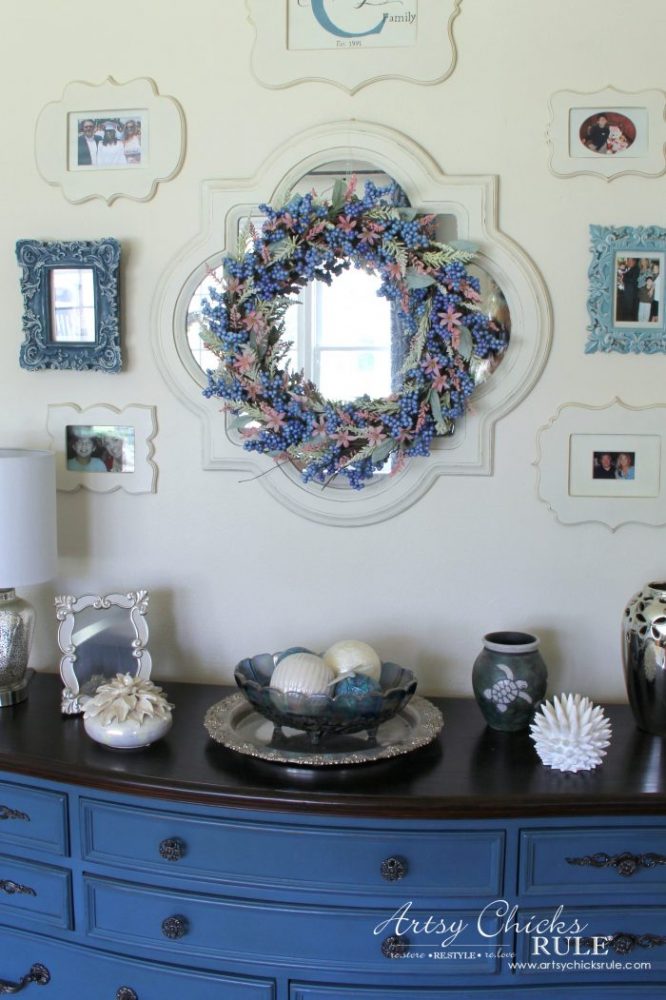 …on the gallery wall over my favorite Aubusson Blue dresser.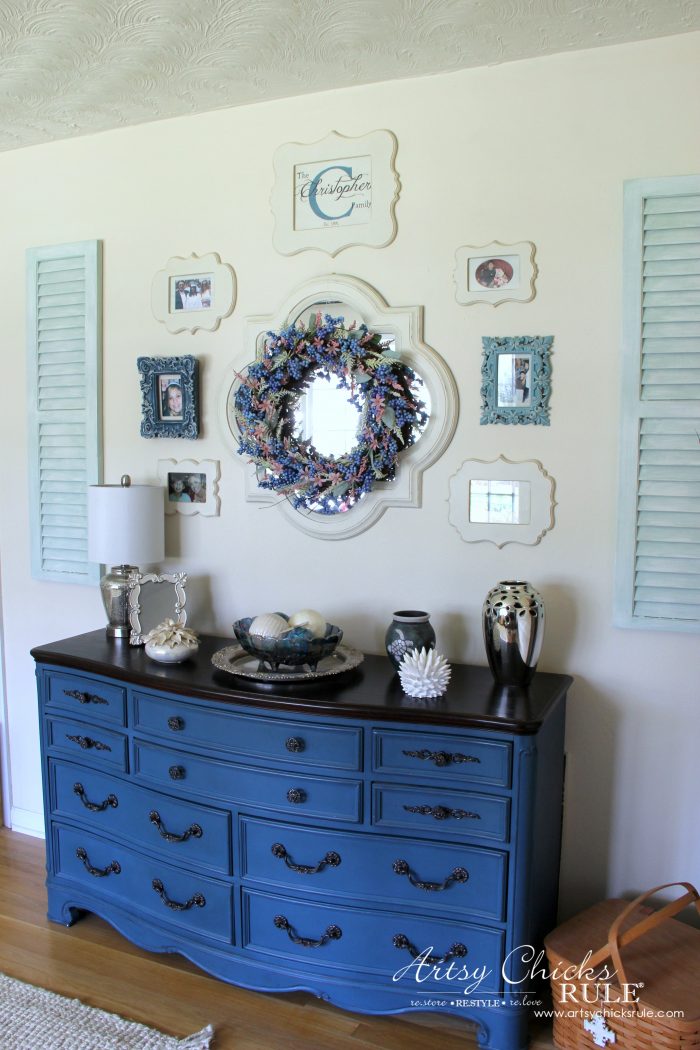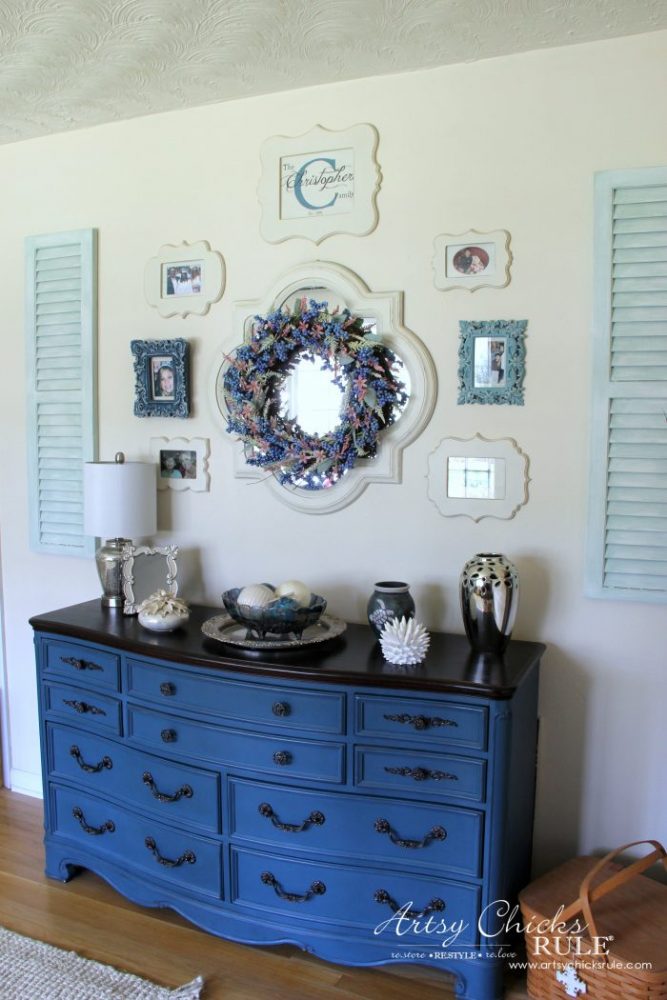 I still love those $3 Habitat ReStore shutters to this day!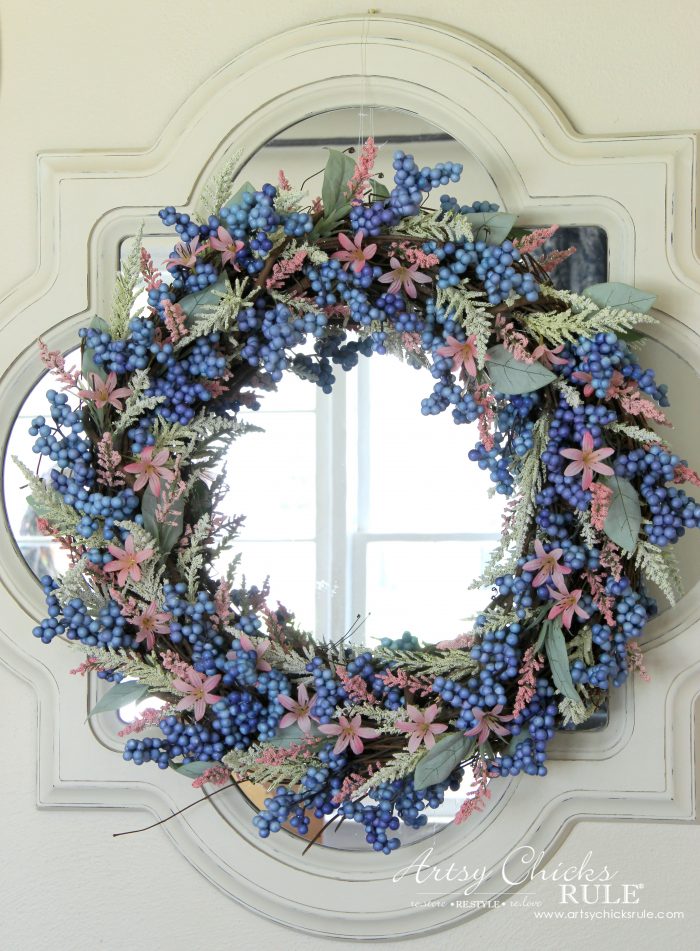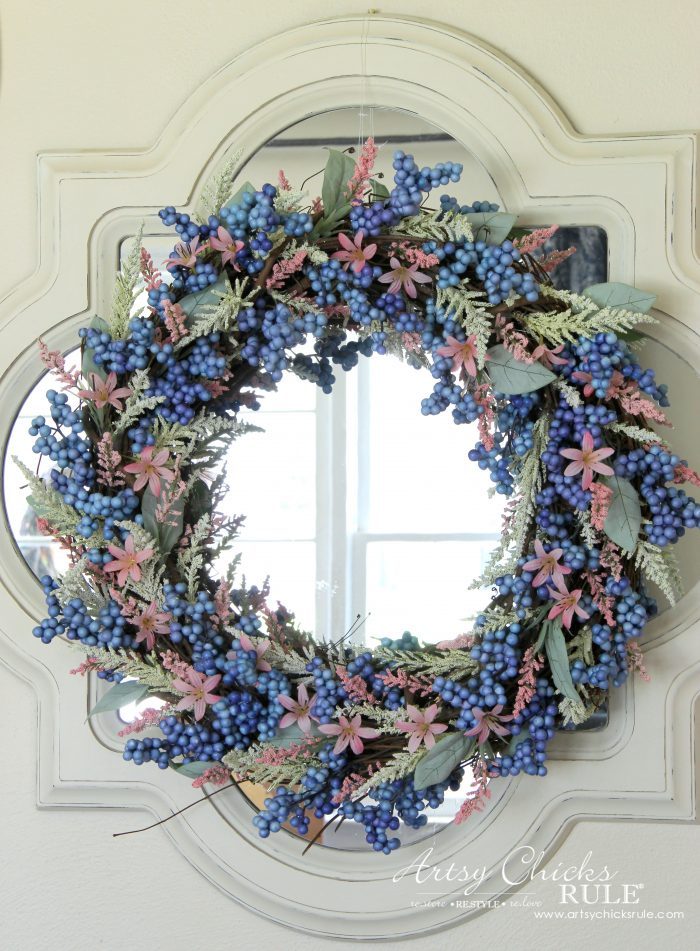 Very versatile! Except on my walls that are painted "Sea Salt by Sherwin Williams".
As much as I love the blue color of those berries, they just didn't look quite right with my paint.
BUT it looks perfect right here.
Welcome Happy Spring! That's what I see when I open my front door. Love that.
Do you want to make one too?
Hope you do!
Want to see some of the other Spring Wreaths I've made since starting the blog?
Simple Spring Wreath
DIY Floral Wreath
DIY Hydrangea Wreath
Green Berry Wreath
Don't want to make your own? I've got some pretties in this post for you! >> Spring Wreath Ideas
PIN this super easy spring wreath for later so you can come back to it easily.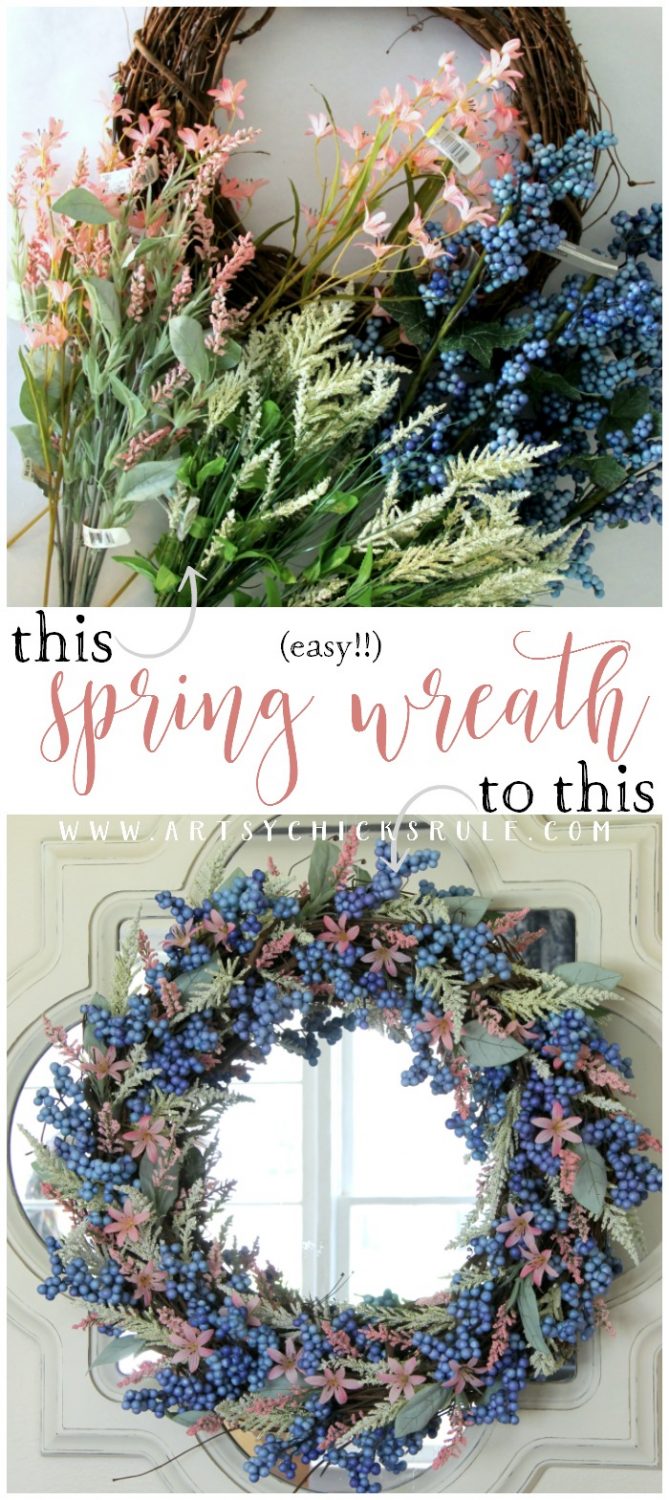 Any questions? Feel free to ask!
I'll be back next week with another furniture makeover.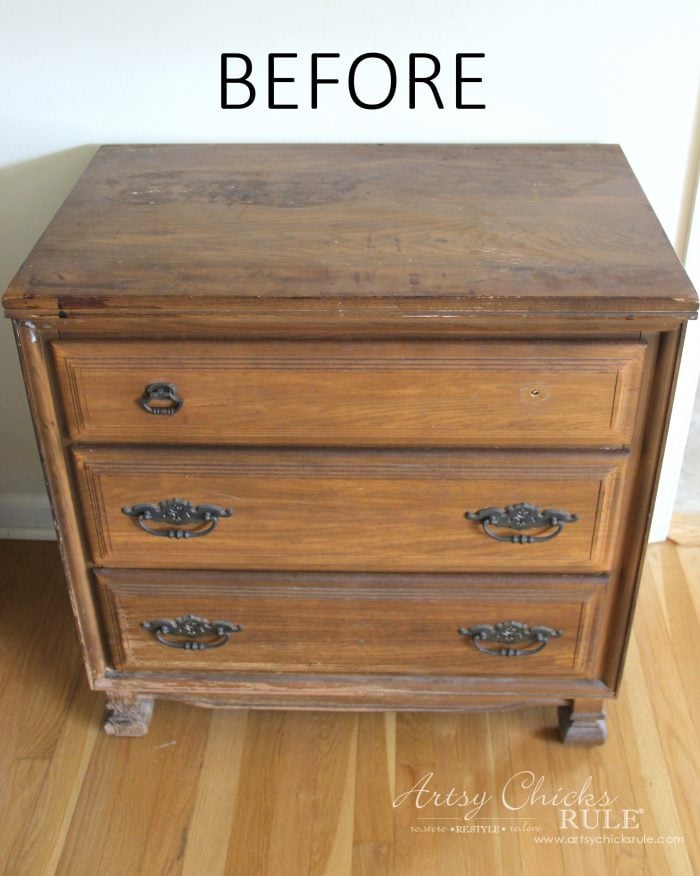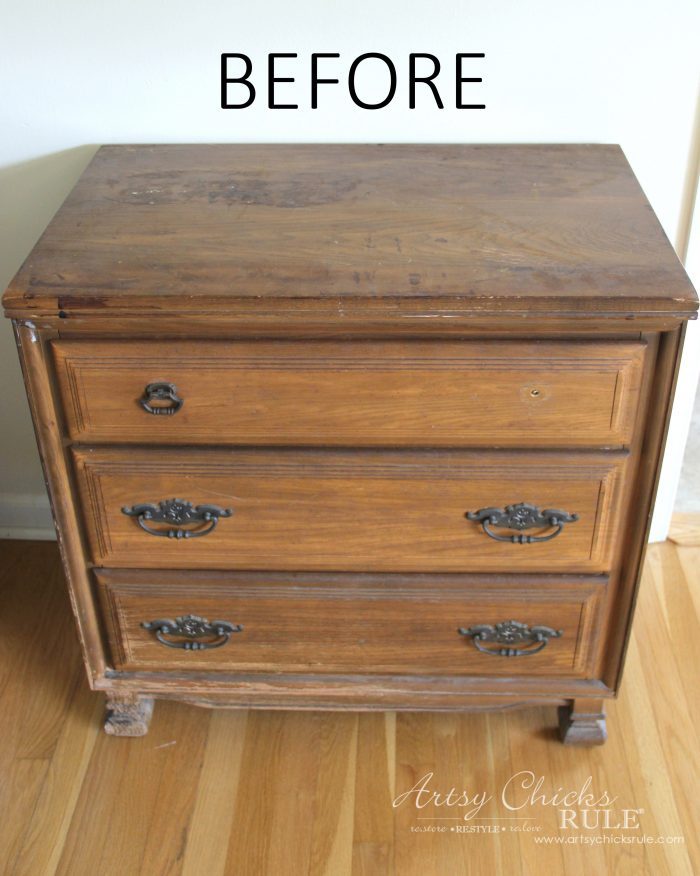 UPDATE! See it now, here >>> "Compass Rose Dresser Makeover"
See you then!
xoxo