$5 Thrifty French Script Table
This post may contain affiliate links. Please see disclosures here.
A $5 thrifty French script table? That doesn't even sound possible…but it is!
Hello Friends!
Are you ready for Trash to Treasure Tuesday?
We've got some fun transformations for y'all today and I'm sharing a $5 French Script Table Makeover.
It surely went from "trash" to "treasure"! Wait til you see.
I can't wait to see what my friends turned into treasures too.
I'll have their transformations linked up at the bottom of the page here.
But first, let me share with you what I found this week…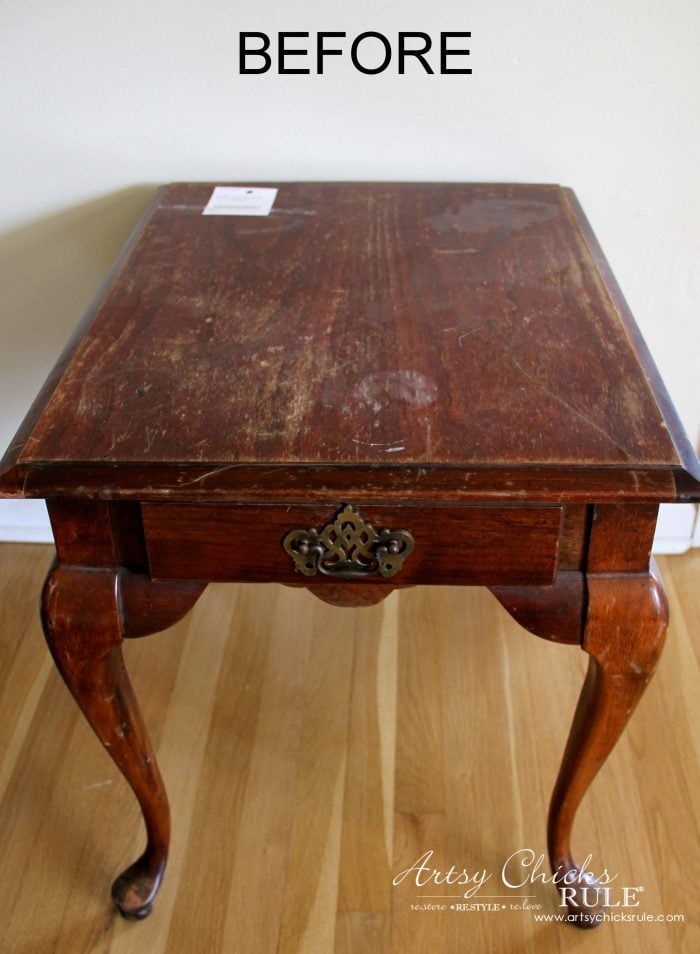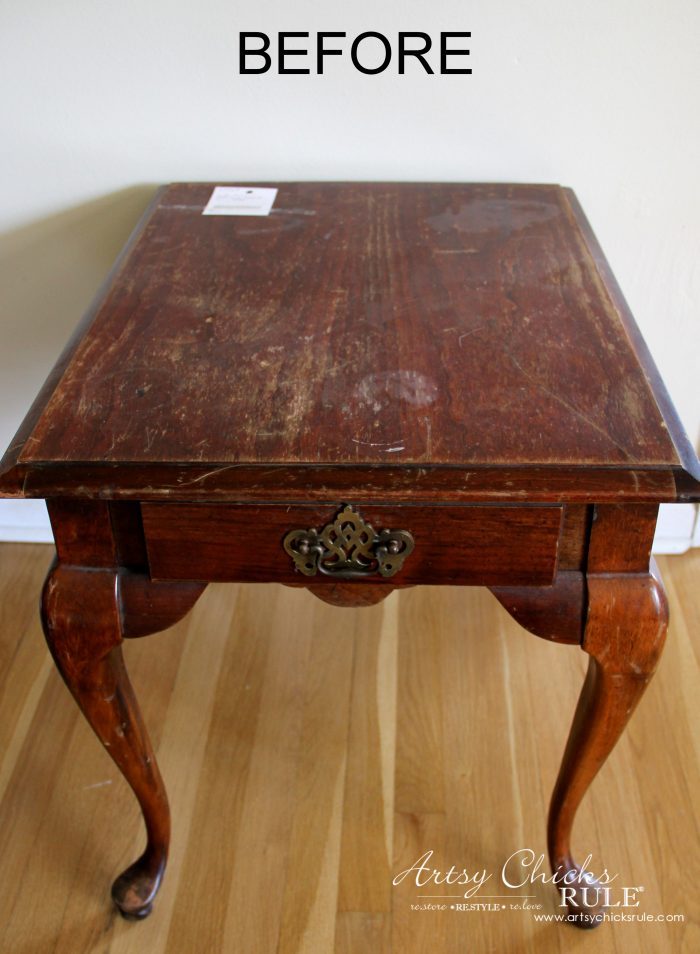 ….this little FIVE dollar is lovely.
Isn't that just crazy? This table is SOLID….but in a sad, sad shape.
But not anymore….take a look at my brand new thrifty French script table…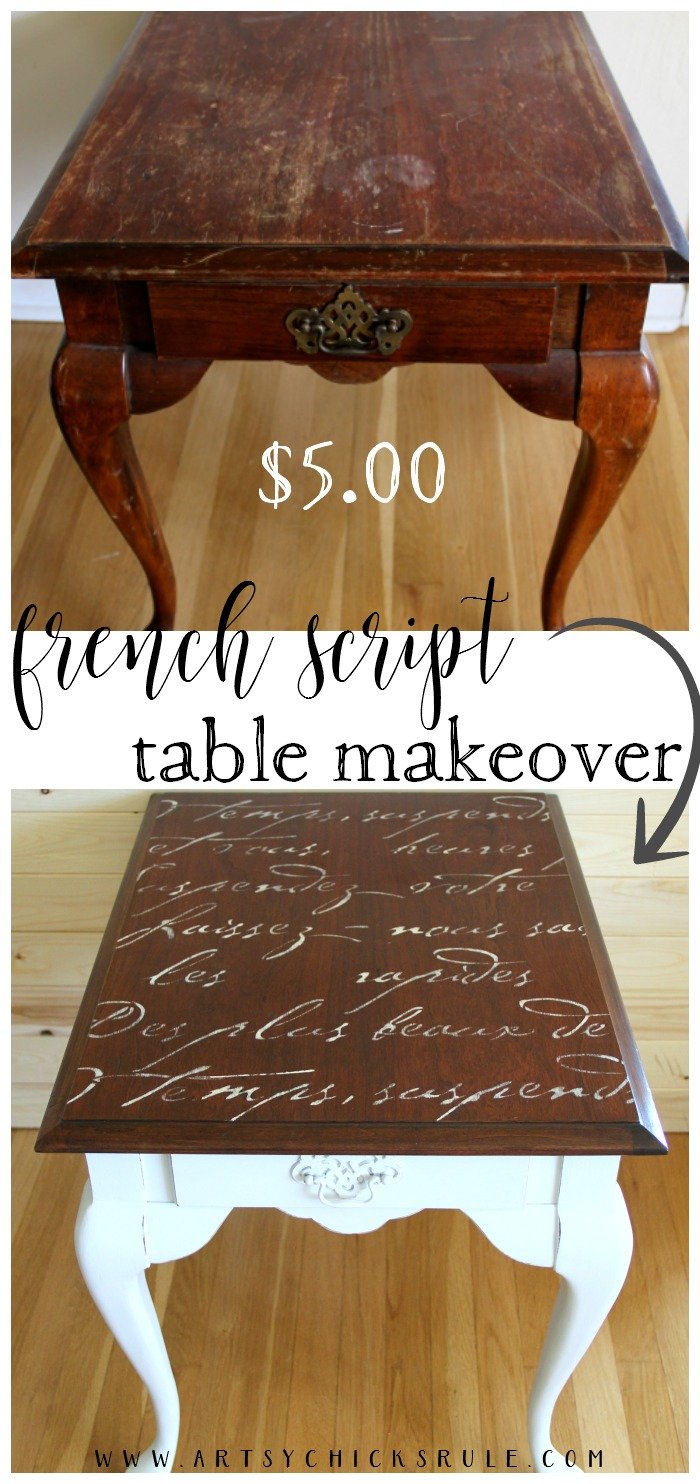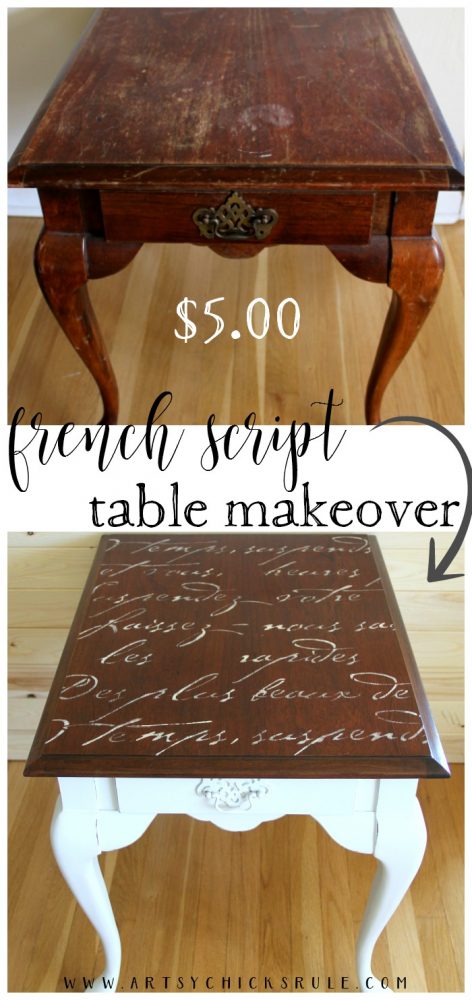 Amazing what a few products will do. I just love that.
I'll be sharing a few affiliate links to the items I used below.
I originally planned a heaving sanding on this awful top…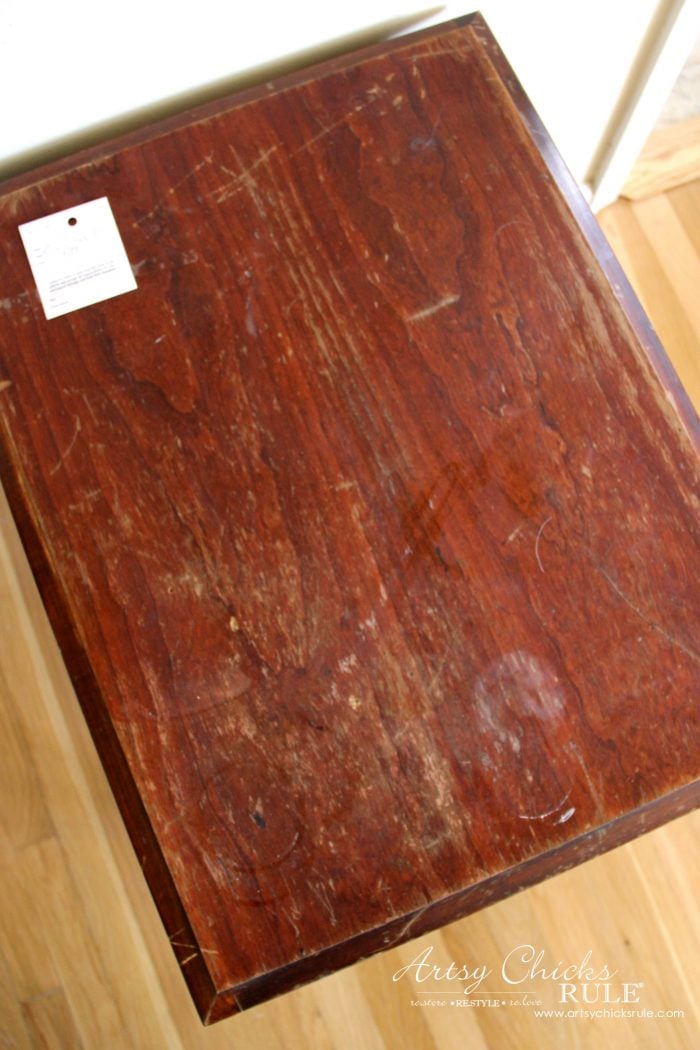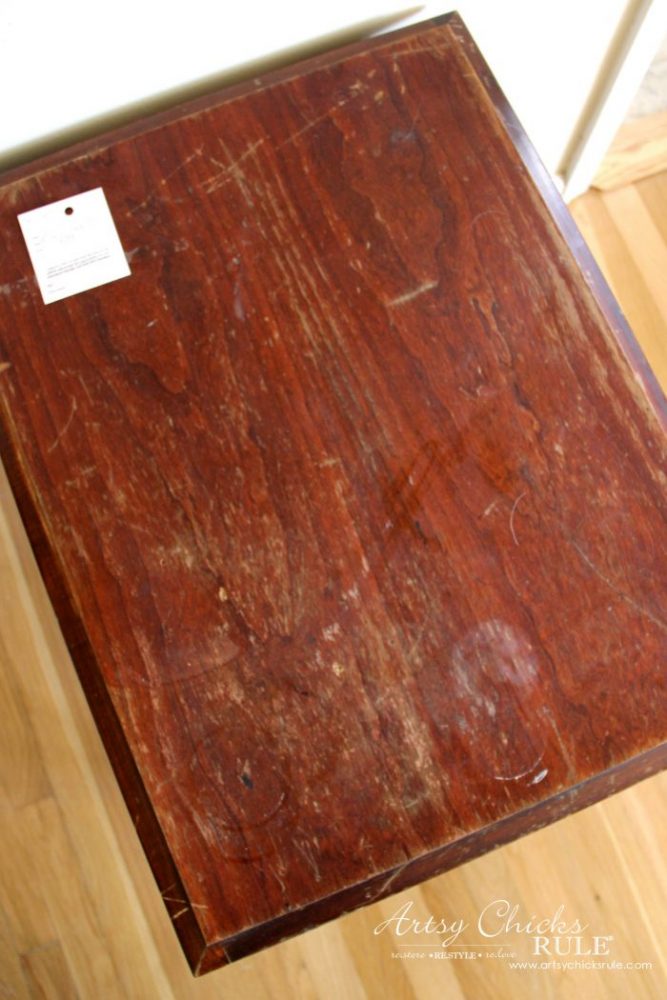 Yucko. It's not been loved well, has it?
Poor thing.
But I'm going to make up for all that abuse.
MATERIALS LIST
Sandpaper

Stain-able Wood Putty
I used my fave, Citristrip instead of sanding and it looked like night and day afterwards.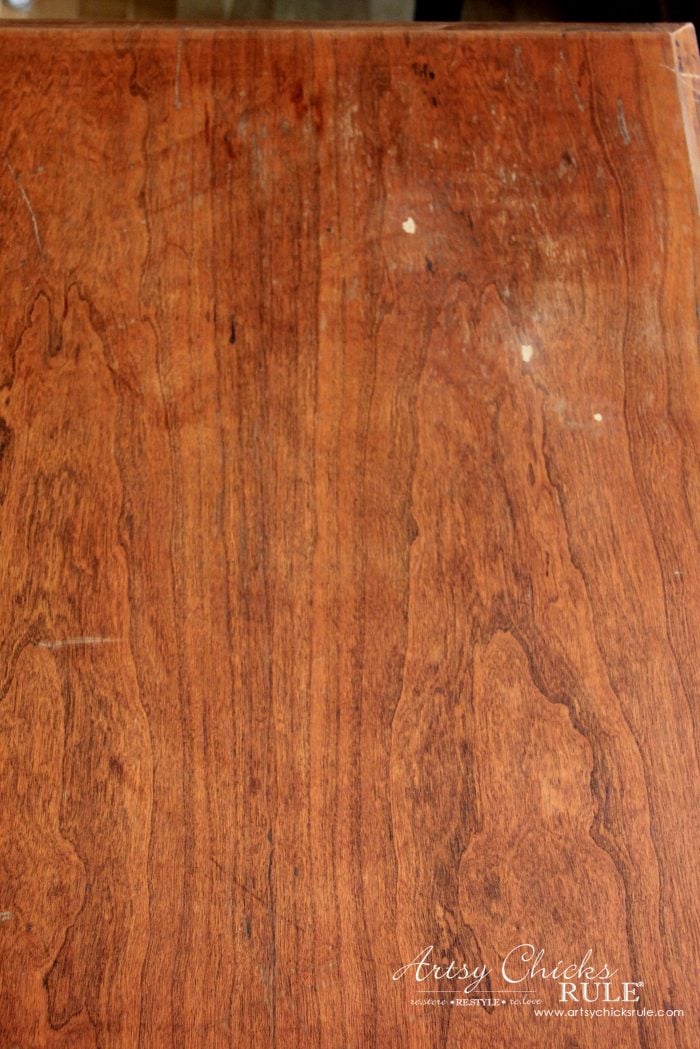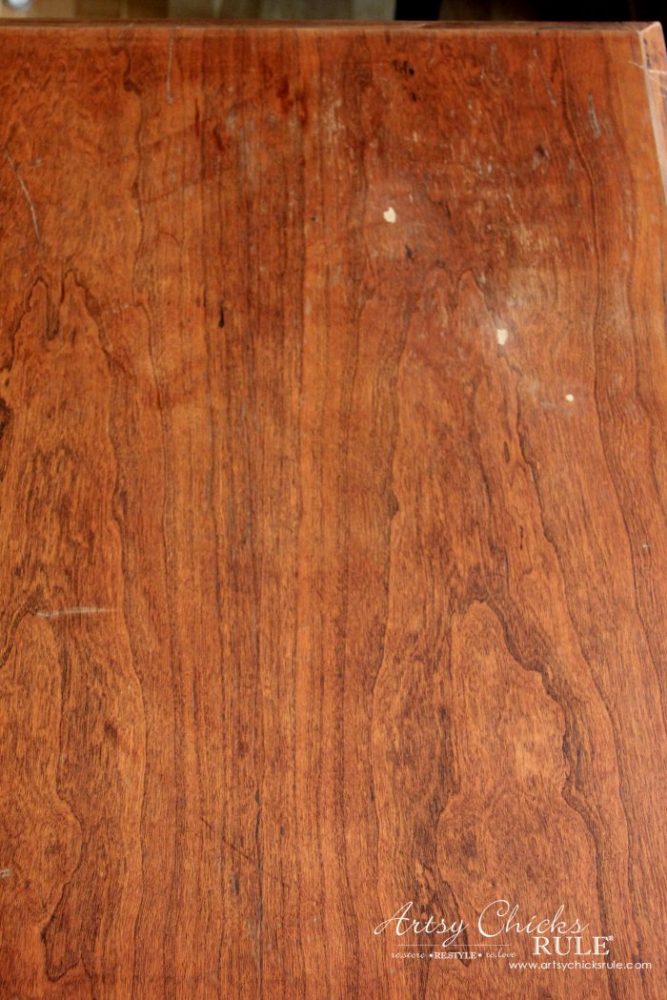 I did have to fill a few deep gouges with some stain-able wood putty though.
I didn't bother sanding (just light sand with fine sandpaper to smooth things out) since it looked pretty good and I sort of wanted it a bit "rustic" looking.
I applied pre-stain wood conditioner first. Then I mixed up two of my favorite stains, Java and Antique Walnut. (about half & half of each)
I rubbed that in and wiped away the excess…..and gorgeousness!
So easy too.
Want to see some of these projects in "live" time? Hop on over and follow along with me on INSTAGRAM. I'm always sharing in my stories as I'm doing projects, finding new furniture, fun finds….just all the day to day behind the scenes.
After that cured for a bit, I gave it one coat of poly, let that dry well, and started on the stencil.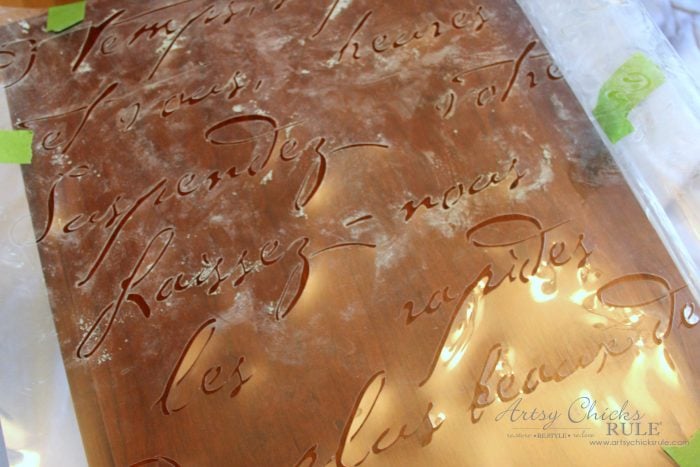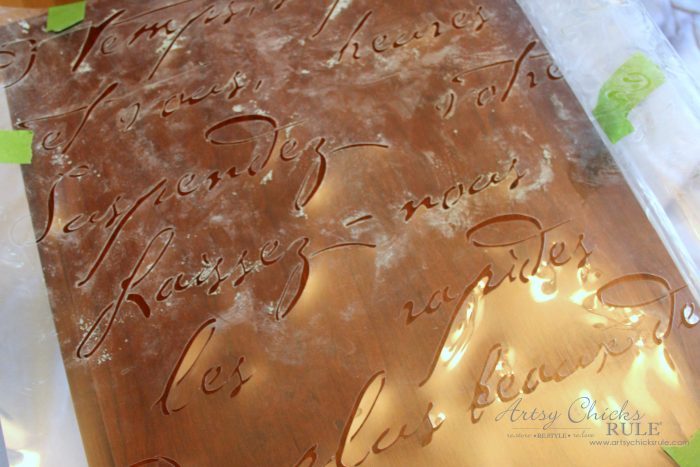 I gave it a coat of poly first for a few reasons.
I was using white and didn't want the stain to bleed into the white script.
I also wanted to be able to easily remove the script if I decided I hated how it looked.
Which was entirely possible since things don't always look in person like they do in my head!
For that same reason, I used Annie Sloan Chalk Paint for the stencil (in the color "Pure White") since I was sure I would be able to remove it before sealing.
Using a spray adhesive for stencils is the way to go for a project like this.
I didn't bother with it but it would have made the job easier.
Here it is just after I painted it in.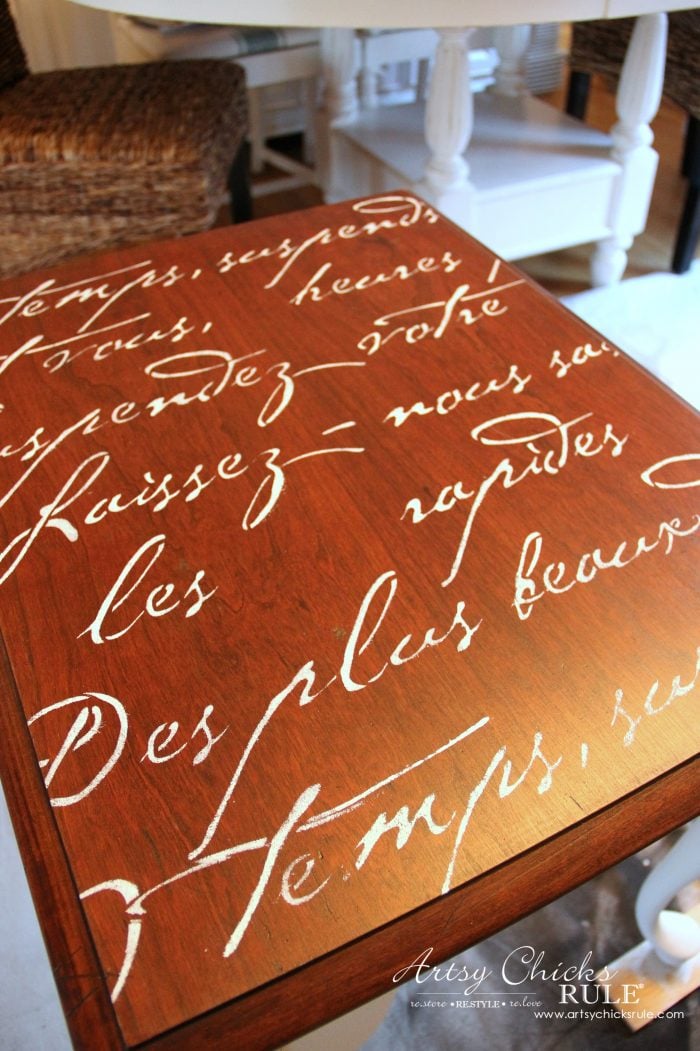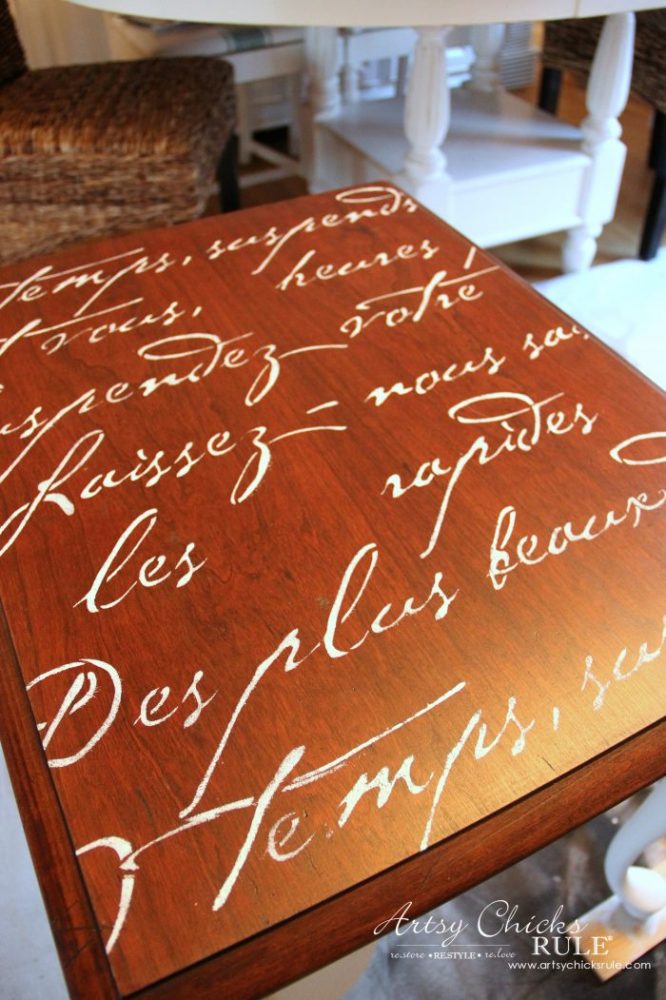 A bit bright and I wanted it a bit more subtle so I gave it a light sanding to soften it.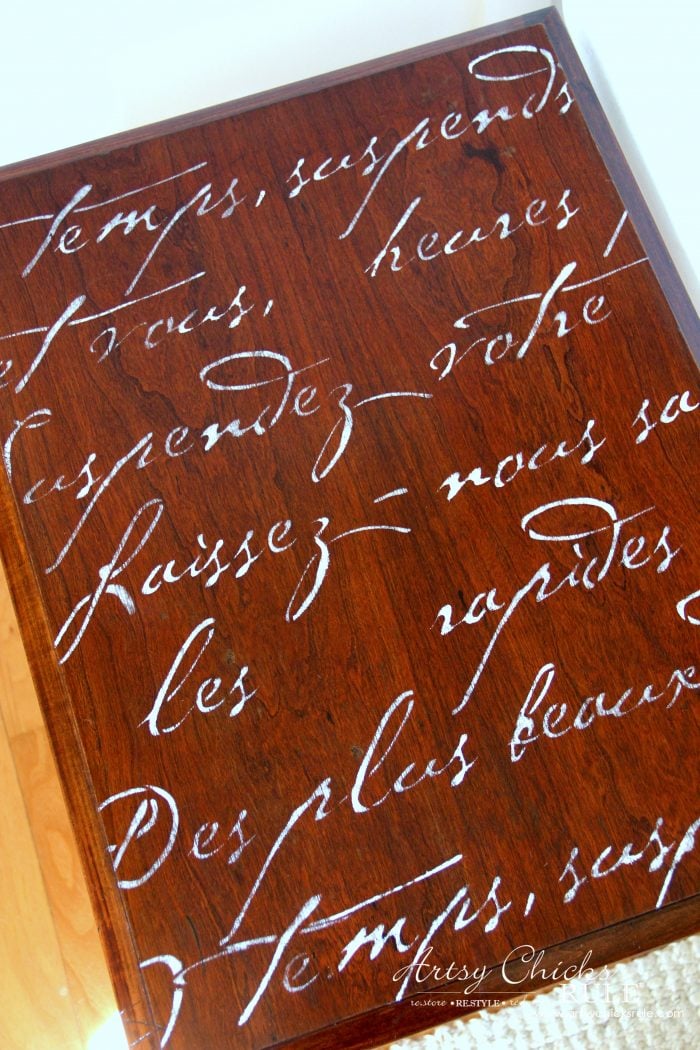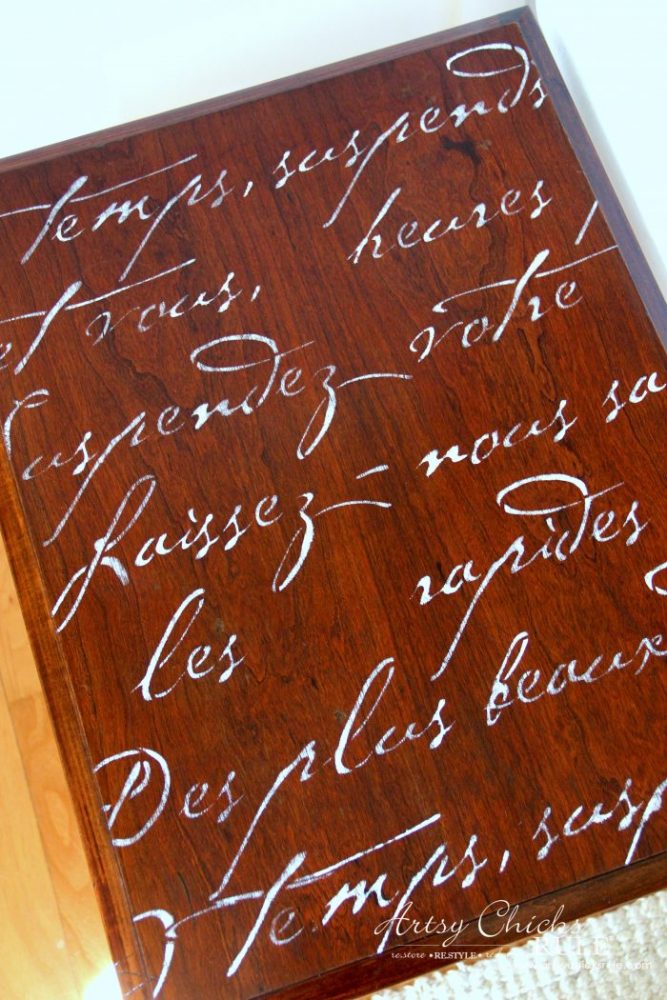 And 2 more coats of poly, drying well in between.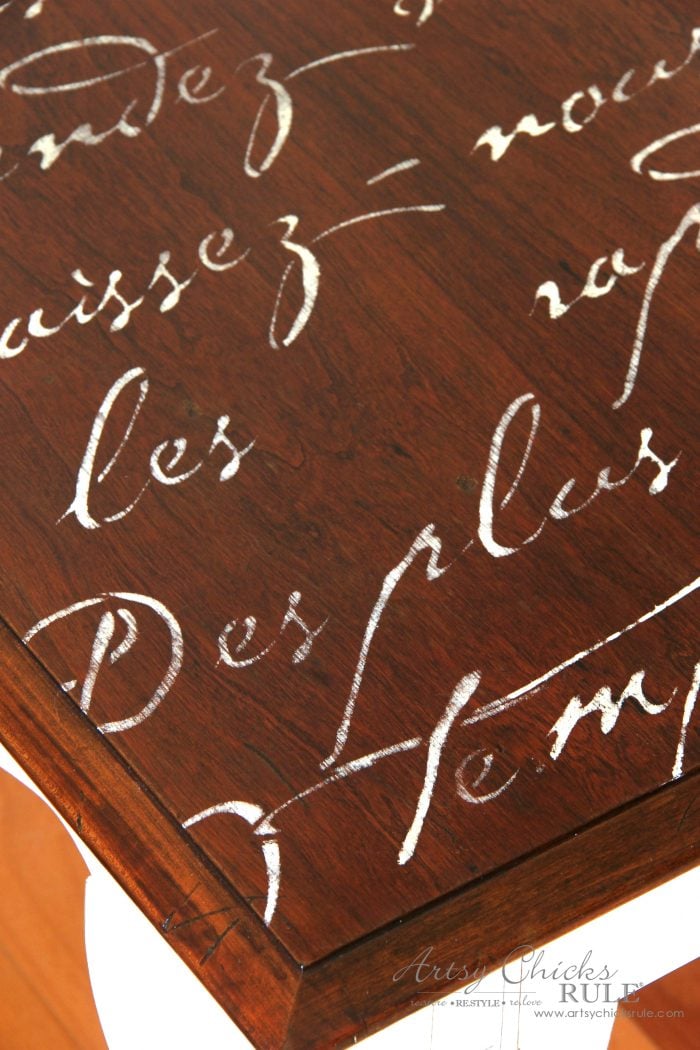 For the base of the table, I used Dixie Belle Paint in the color "Fluff", which I just loved.
The color and the paint. The folks over at Dixie Belle were kind enough to send me a few of their products to try out.
I have more I'll be sharing at a later date.
I can tell you this, the paint applied like a dream. Great coverage for a white too!
Before I share that, let me tell you what I did to "prep" the wood beforehand.
I just knew this table was going to be a problem "bleeder" so I gave it a spray of Shellac before painting.
The paint does not require much prep but for something like this, it is pretty much desired.
You don't want to go to all of that trouble painting and then have the dreaded pink stain showing through.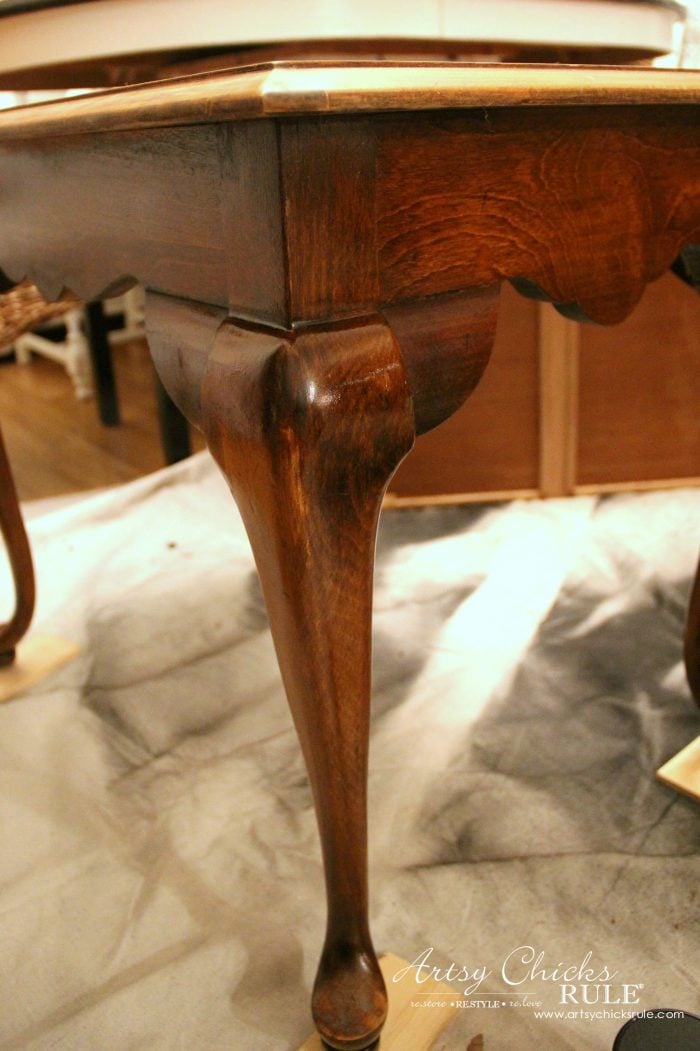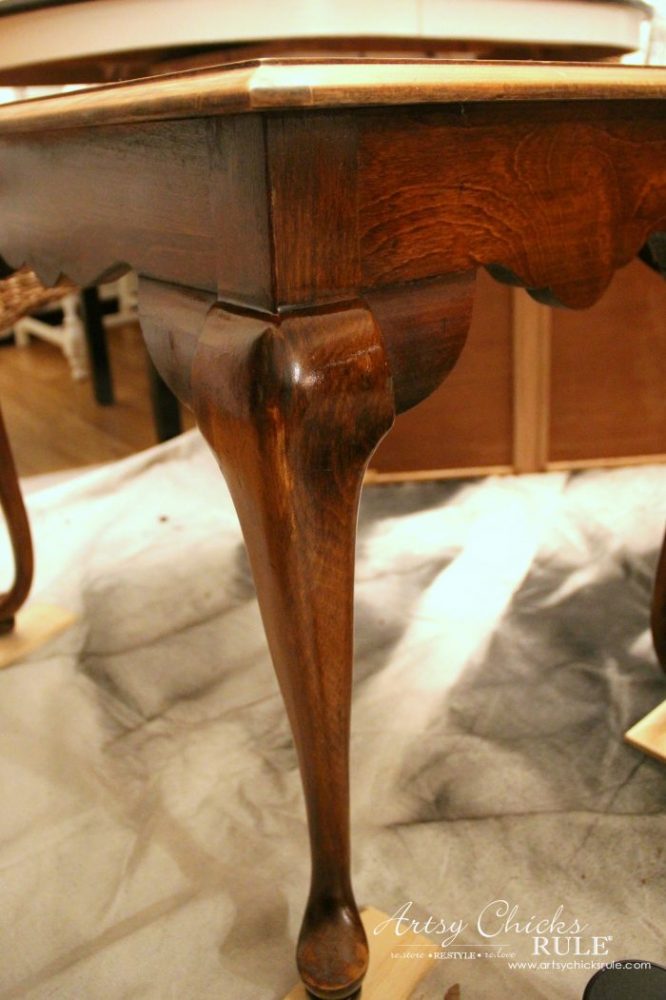 As you saw in the "before" photo above, this poor table was in sad shape.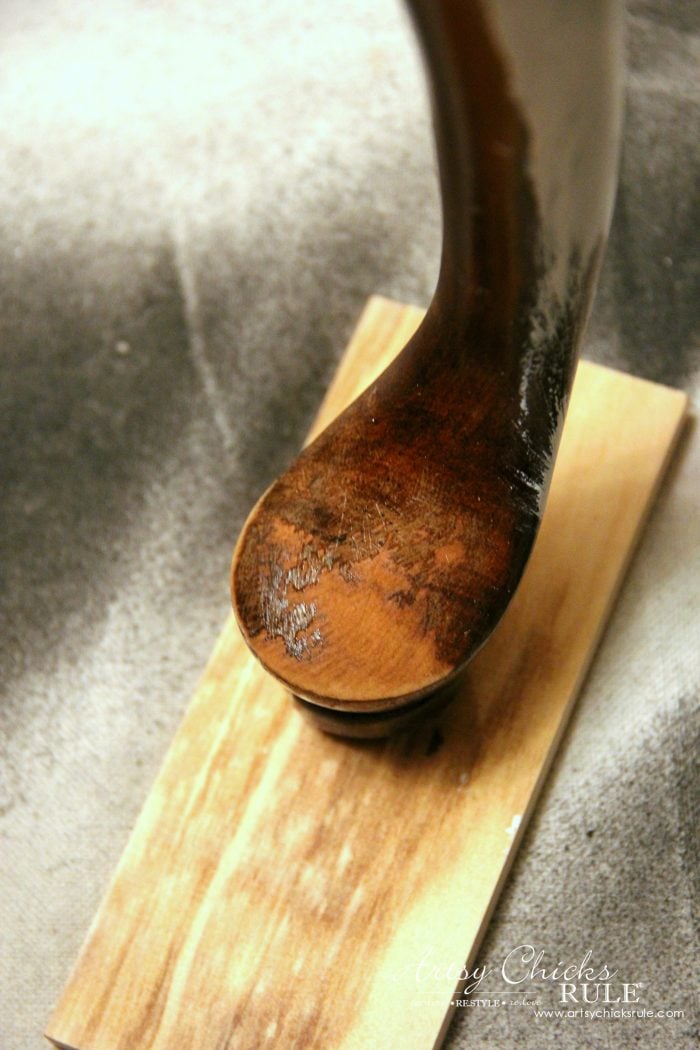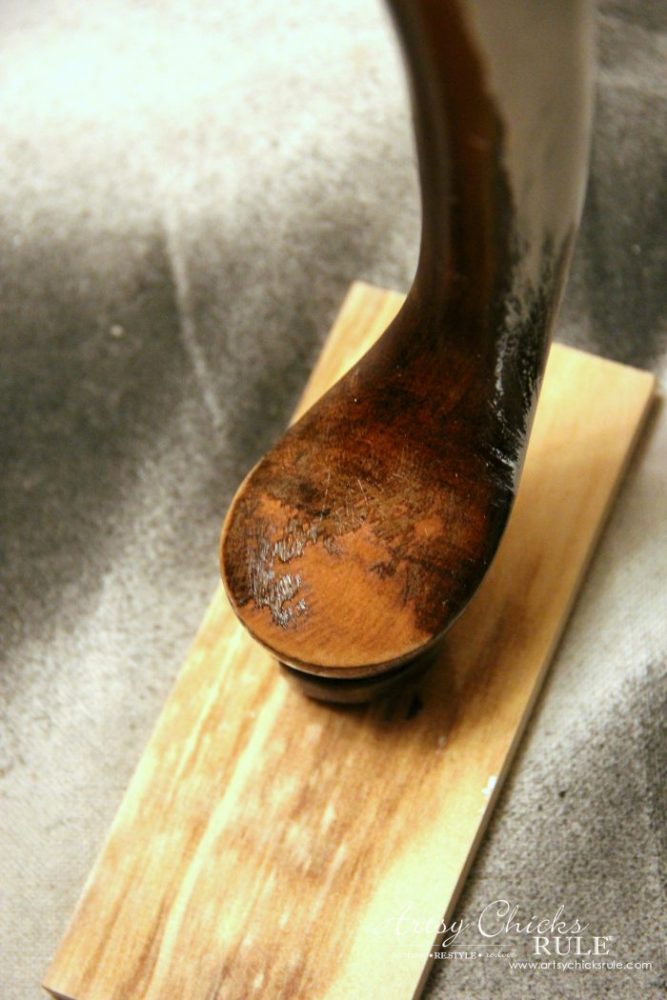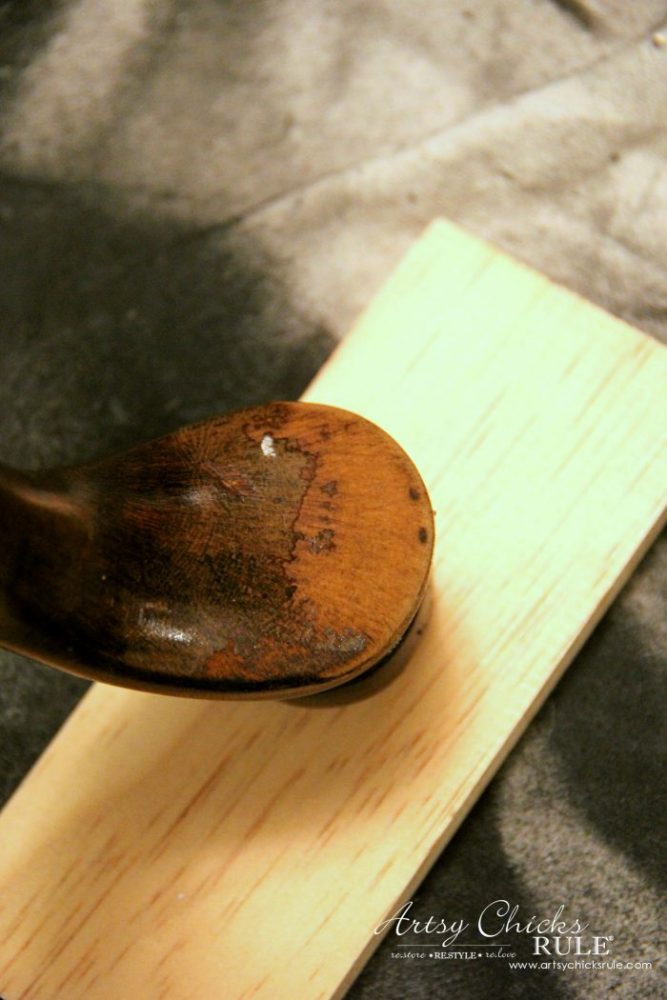 So refinishing the entire thing was not really something I wanted to do. (just the top, of course)
And below with about a coat and a half of paint.
I painted one coat on and then came back and brushed areas that looked like it may not have been covered as well. (which weren't many)
I'm highly impressed with the coverage of this product, especially in this color.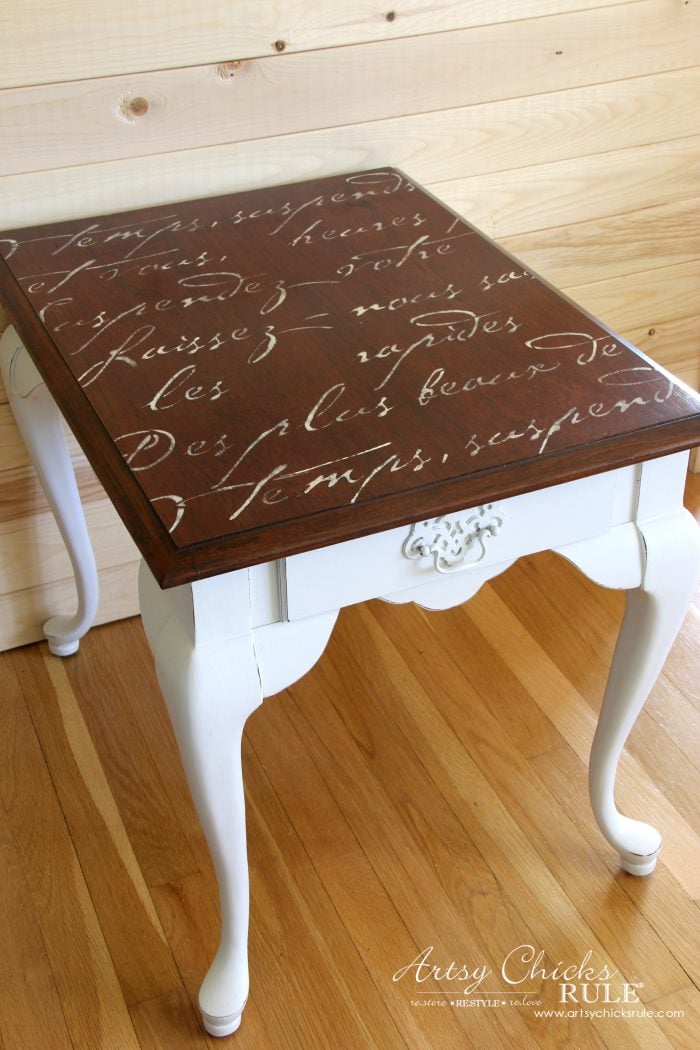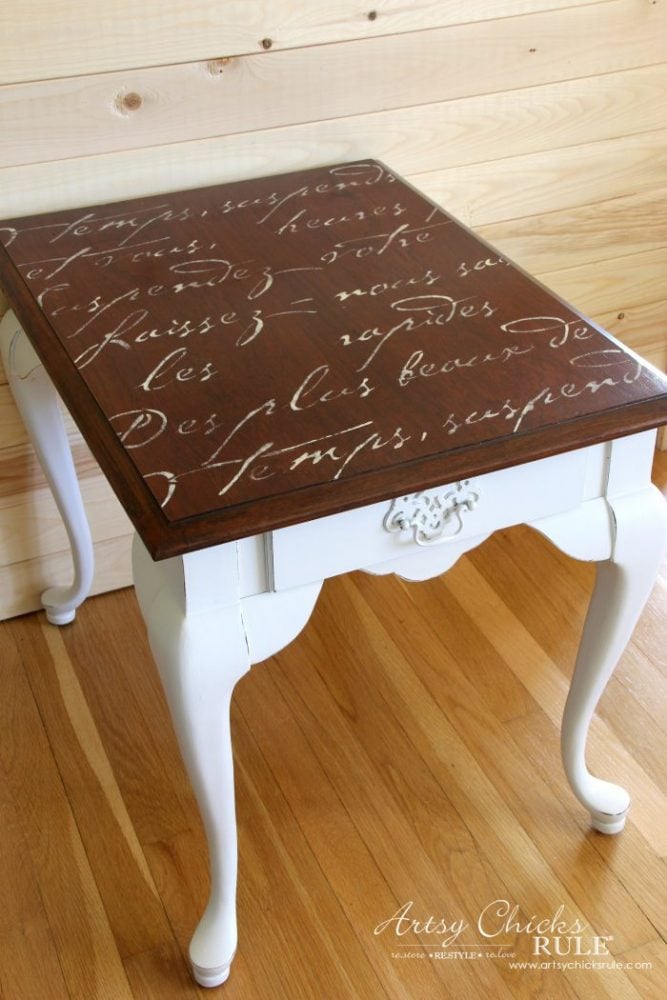 And although it is not necessary with this paint at all, I gave it a finish coat with my fave top coat. (linked in the materials list above)
I gave the edges of the base a little distressing.
Just a bit though.
And I also gave the inside of the drawer a little "drawer flair".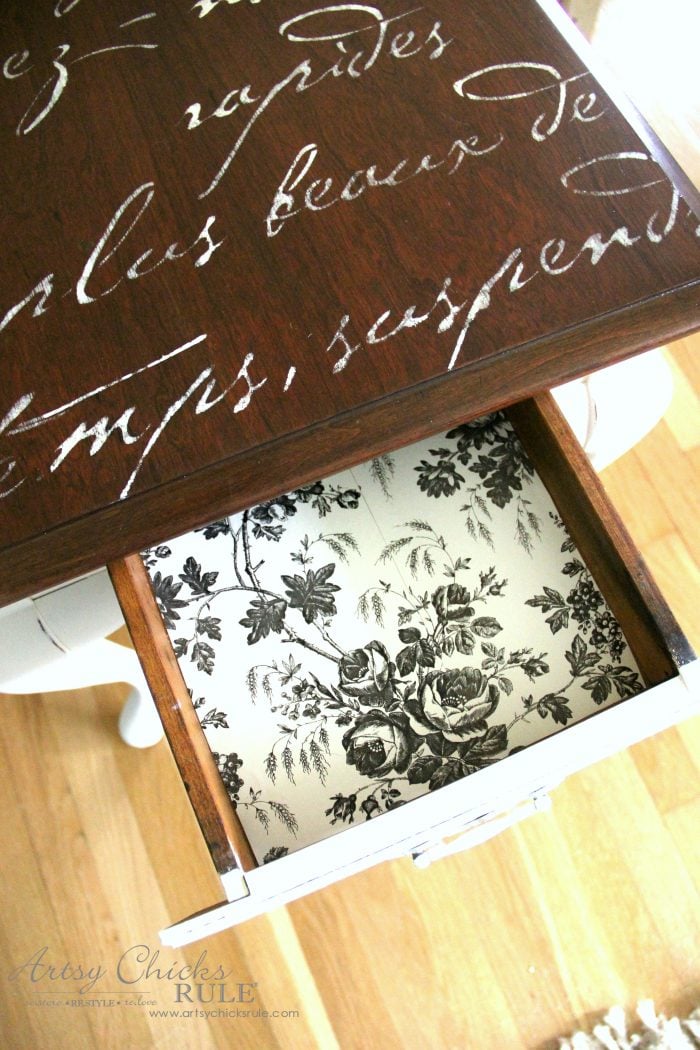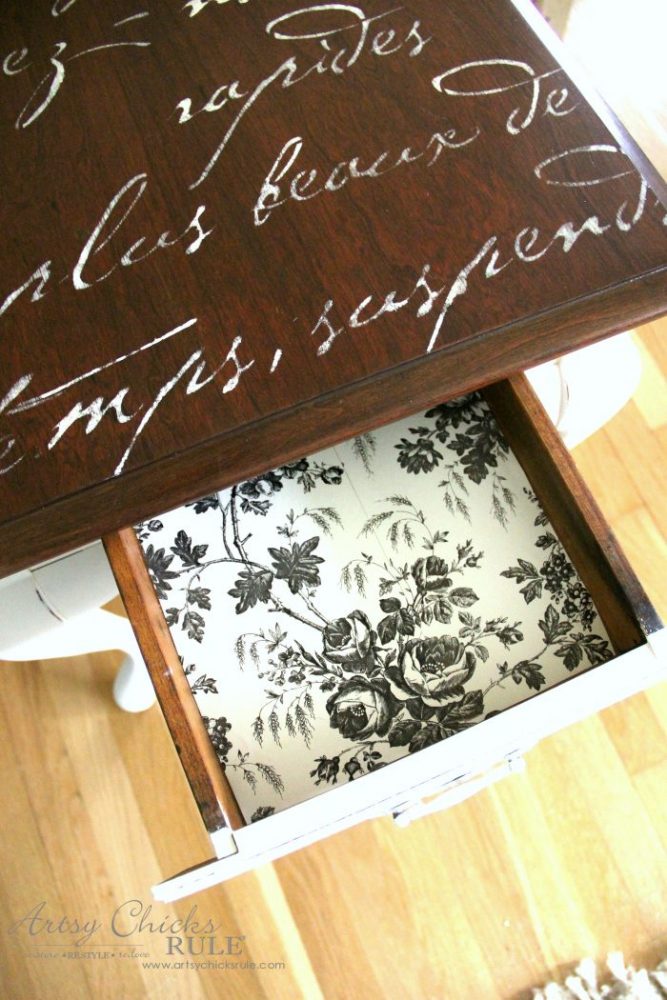 I had planned to use different hardware but decided this one looked perfect with the French script.
I did put it on the right side up this time though.
I wonder if the previous owners used the table forever with the hardware upside down…or changed it at some point, for some reason?
And in case you were wondering, I could tell it was upside down because the handle portion has a front and back.
The back has little nodules that stick out to make it lay properly against the rest of the metal hardware piece.
Well, that was on the top/front and showing! Turned it over and voila, no longer showing.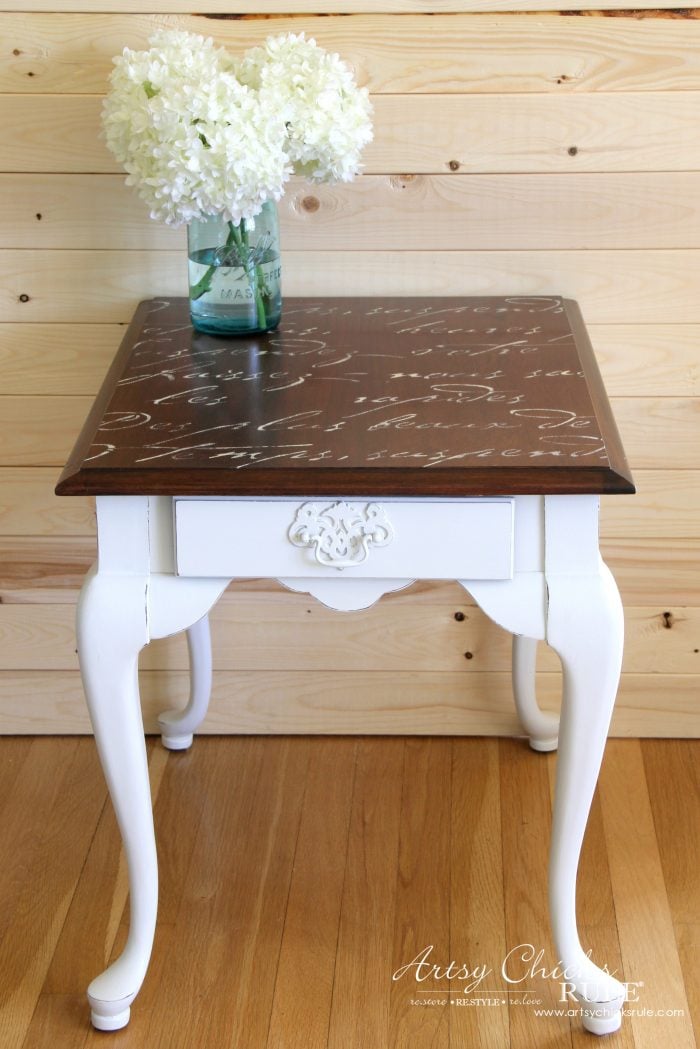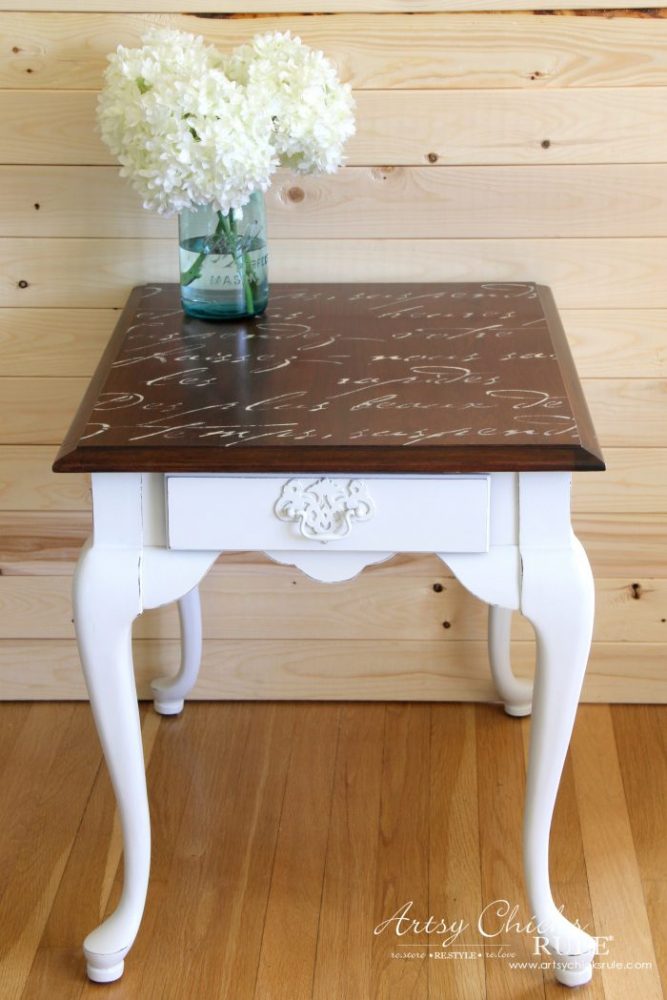 Aren't those faux hydrangeas so realistic looking? I got them at Michael's before Christmas.
I just love them.
OH! And do you like my "wall"?
My sweet hubby built that for me yesterday to take pictures of my pretties in front of it.
I still have some painting and weathering to do to it though.
I'm so excited!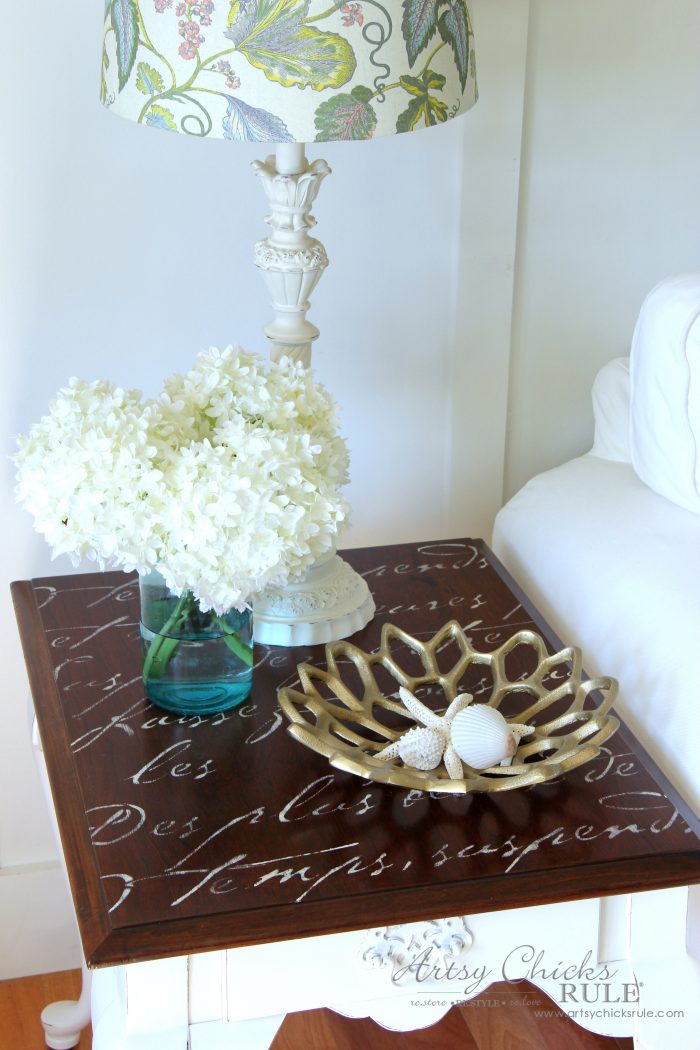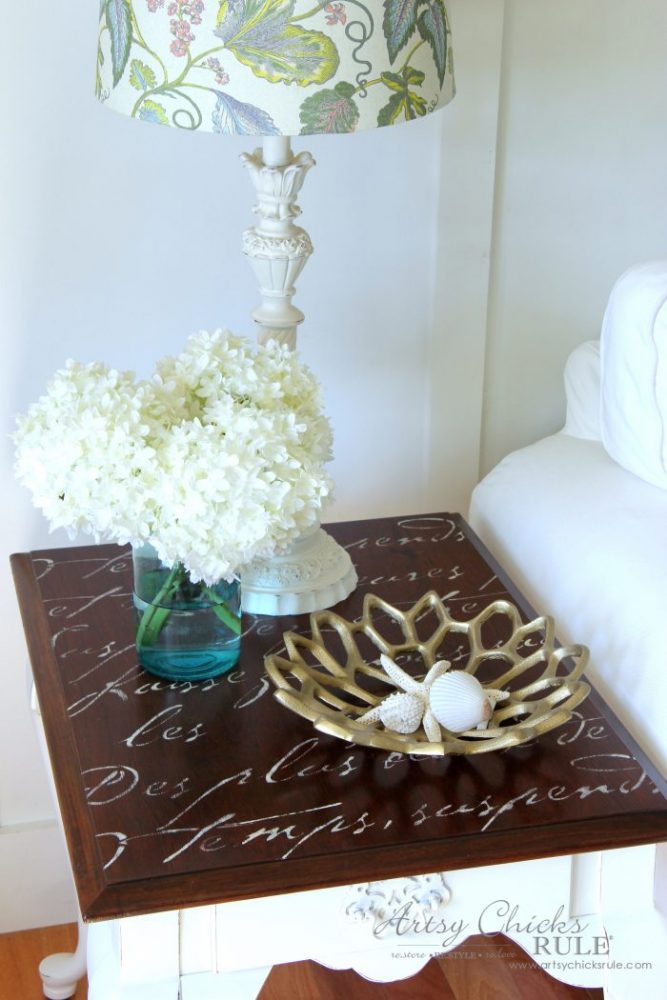 What a difference, right?
Oh, and I don't think I've shared with you all that I moved my DIY Coordinates Sign over here.
We had discussed either moving the whole artwork/shutters down or maybe putting something in that spot below to anchor the new couch.
Well, I am loving this here for now and I think it did the trick.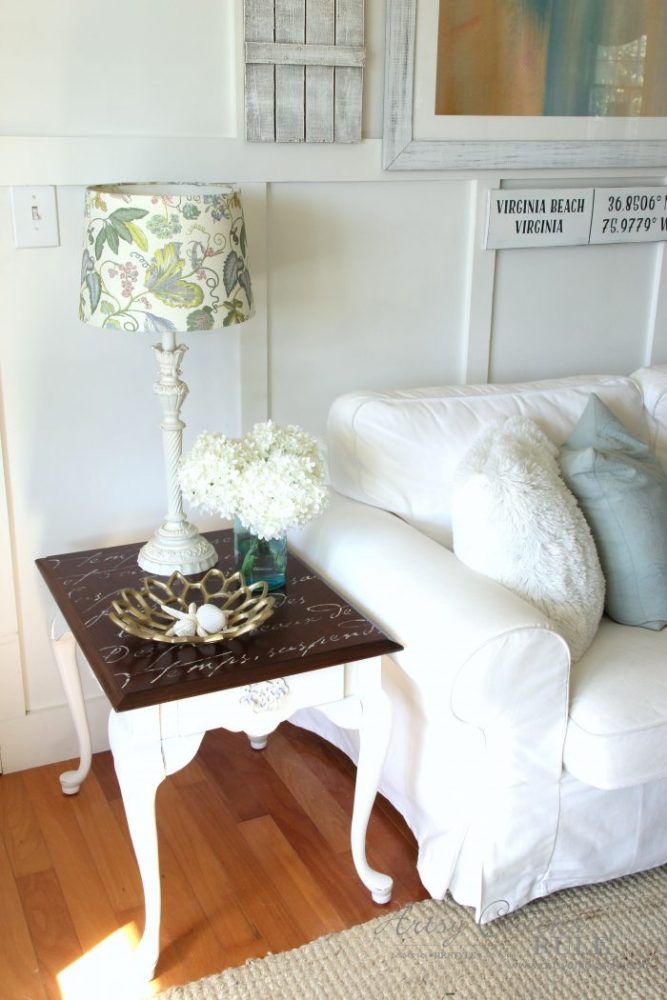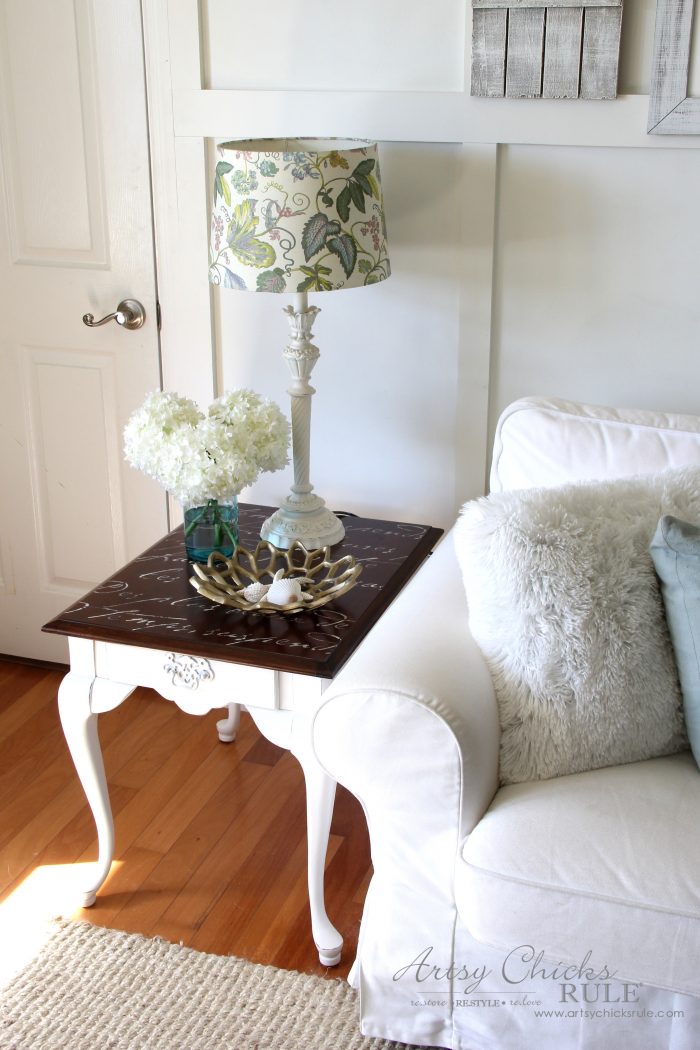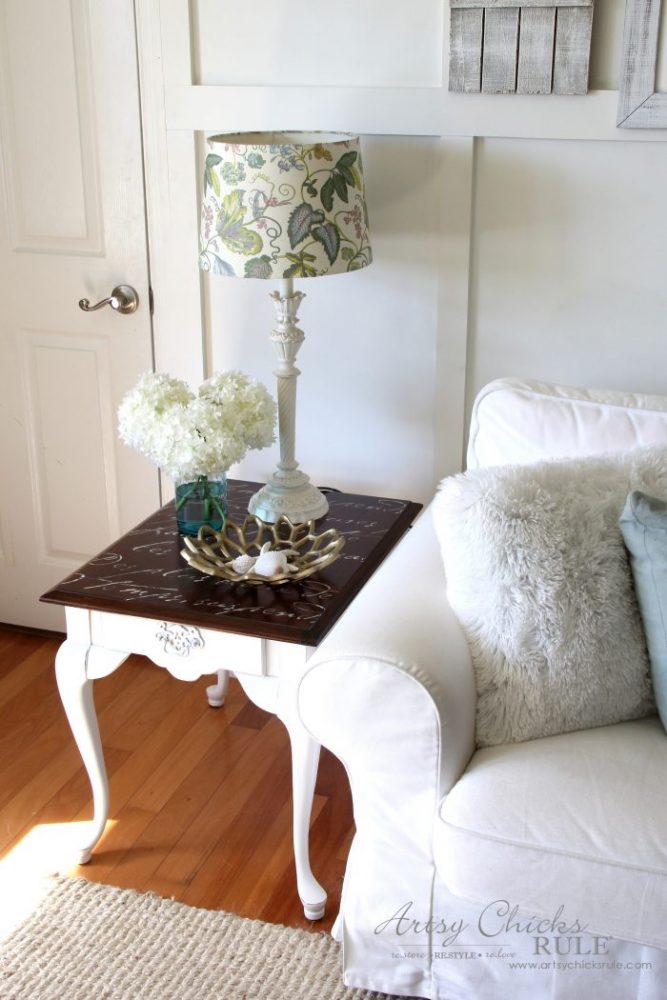 I'm really loving the contrast of dark wood and white.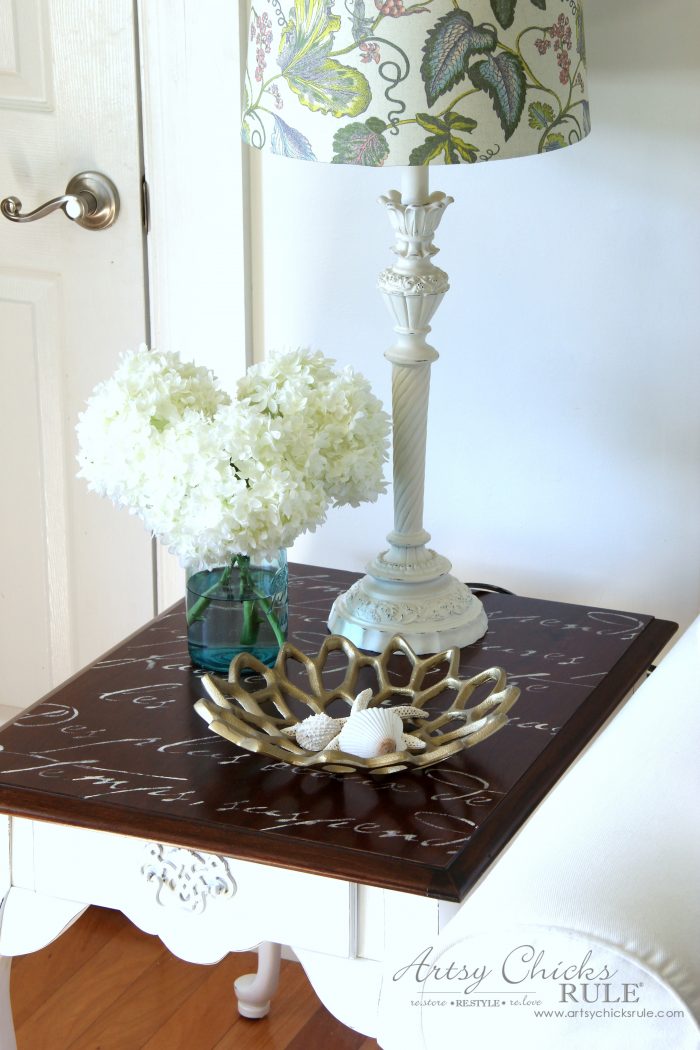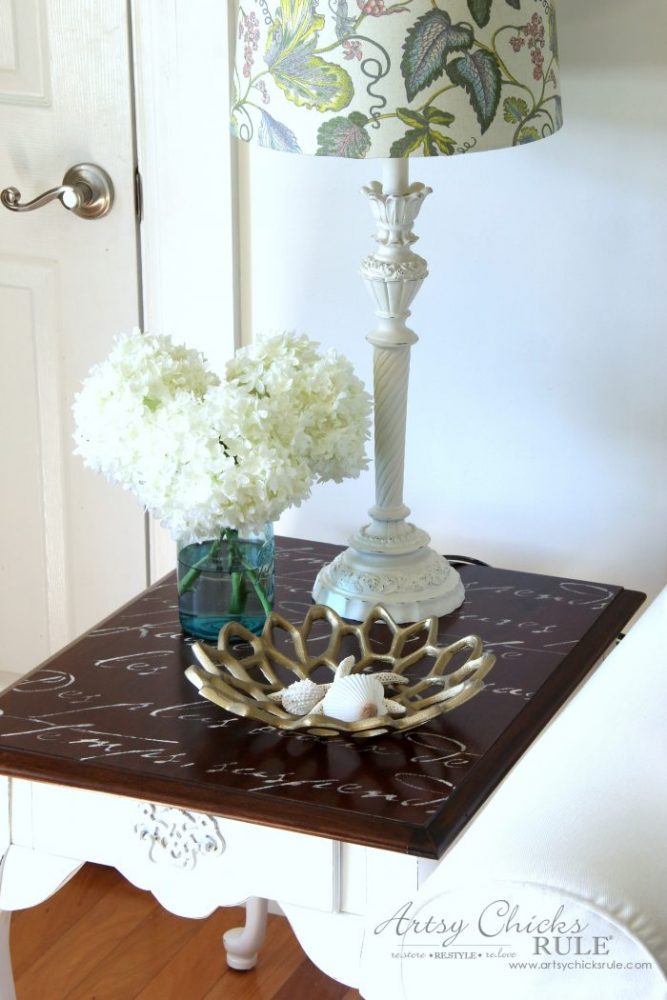 And I'm really loving it here in this space too!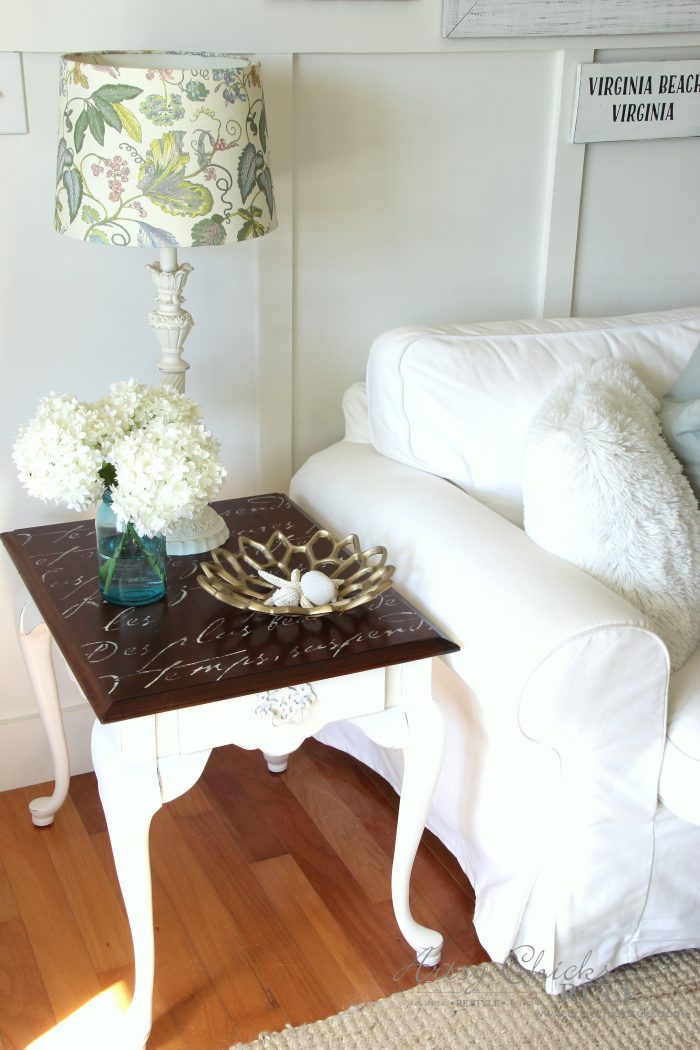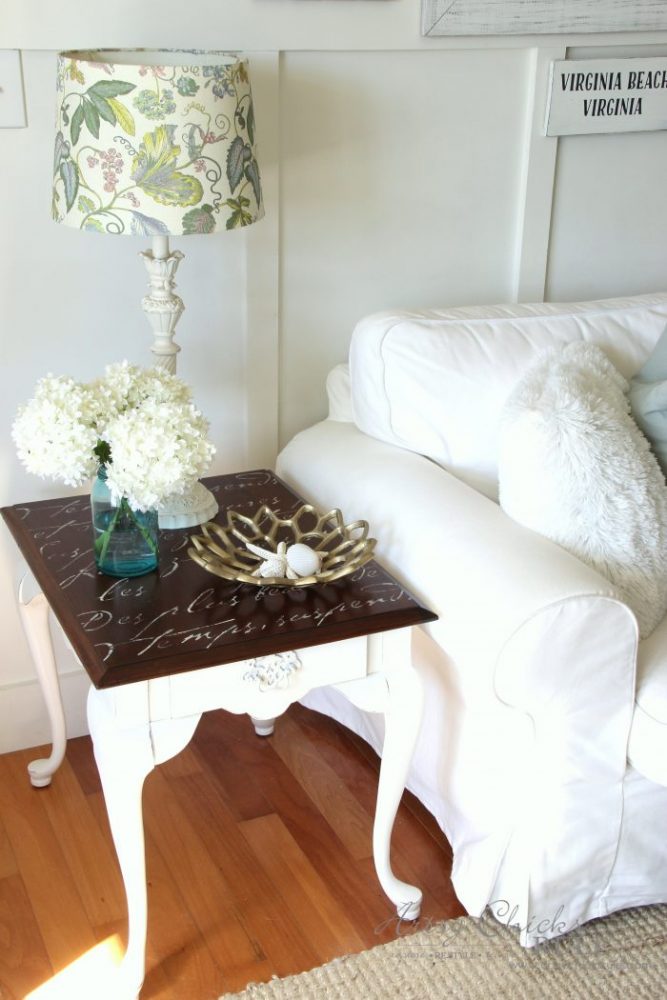 But my cute little DIY Tiled Framed Criss Cross Tables still have my heart…and this space in this room.
This was a pretty simple makeover. It all comes down to "tools" (products, etc).
With the right tools, you can do just about anything.
The tools for this were simple, Citristrip, paint, and poly.
I could have simply been done and left the stencil portion off.
Such an elegant, beautiful, well-made, solid wood table….for FIVE bucks!
Can't beat that!
PIN this for later so you can give a little French script table a makeover too!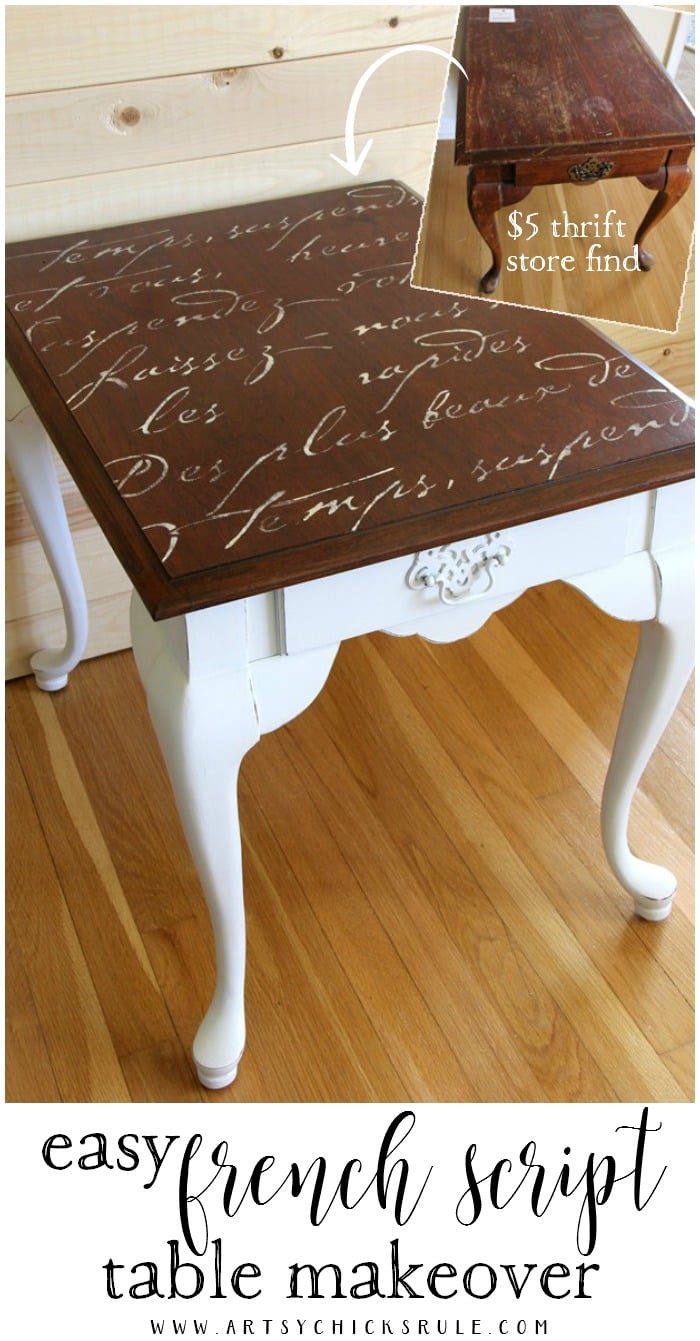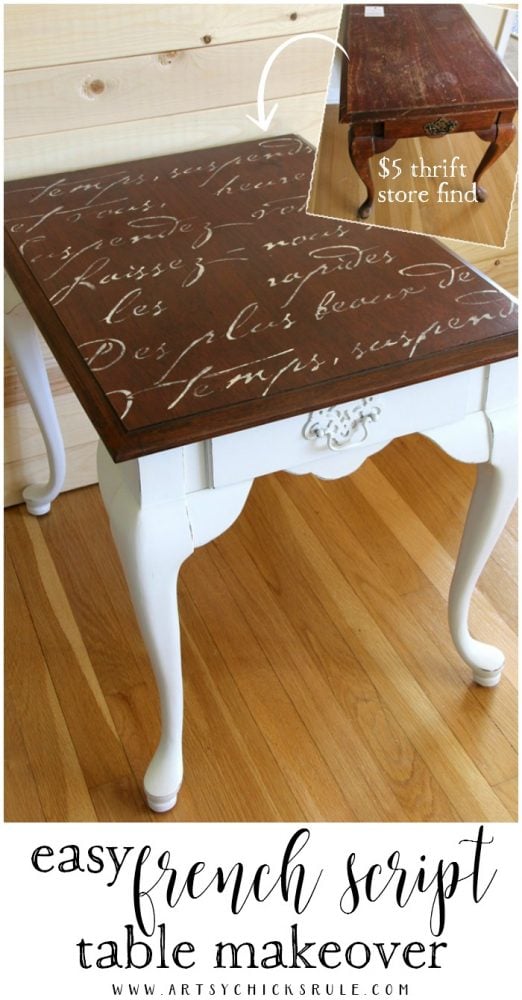 And now, more treasures below…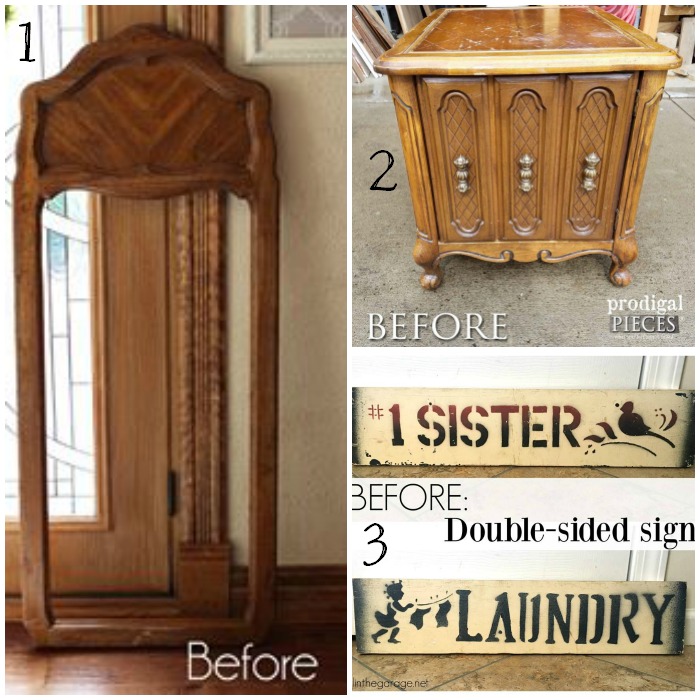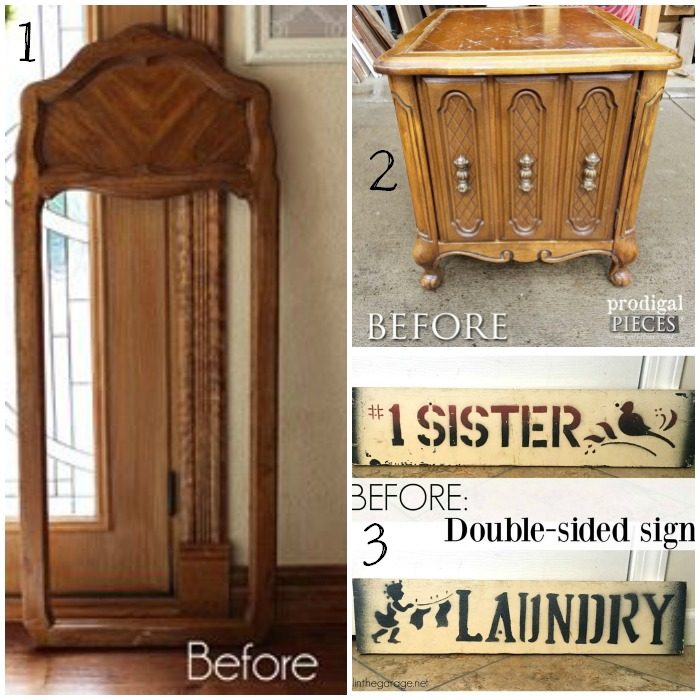 Lauren from Bless'er House had to bow out this month, but she'll be back next month!
I'll be back on Thursday with a brand new, simple DIY Spring wreath. (as they are now calling for snow showers the next few days…yuck!)
Winter has settled back in for a bit, I guess. At least the days are longer.
Stay tuned for my latest furniture makeover, this sad little chest…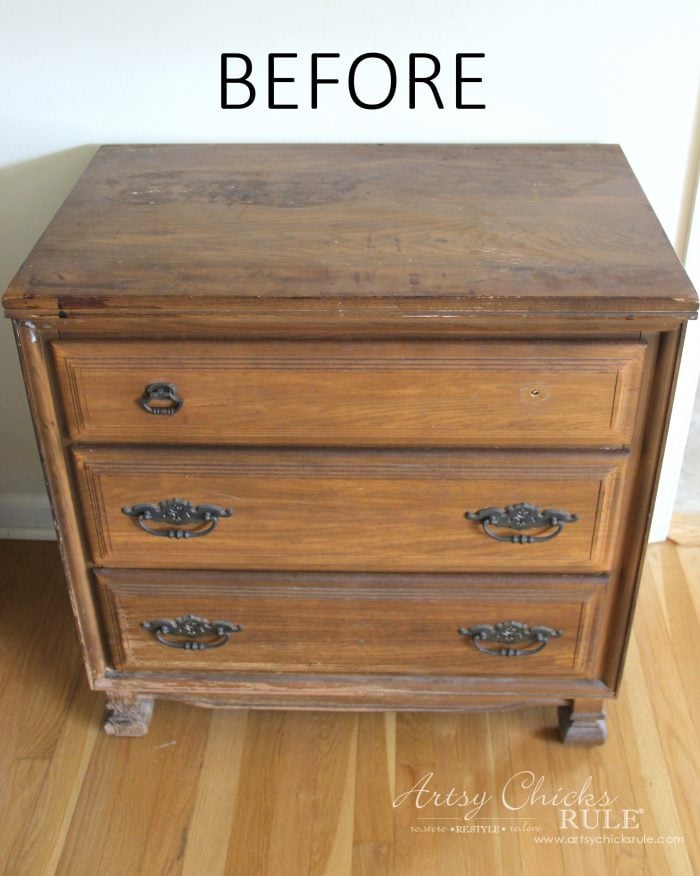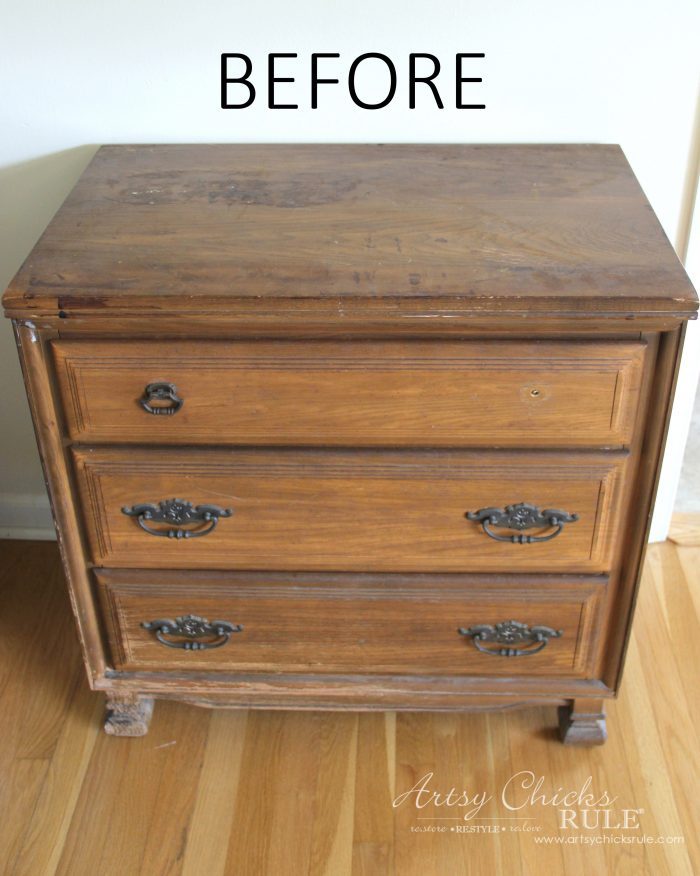 UPDATE!!! See it now, here!!
See you then!
xoxo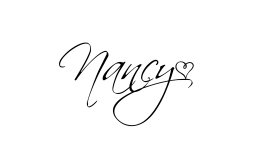 Want to see more Trash to Treasures?? Find them here >> Trash to Treasure Transformations