17 Easy DIY Christmas Crafts (anyone can do!)
This post may contain affiliate links. Please see disclosures here.
Today I'm sharing 17 super simple DIY Christmas crafts that anyone can do. Budget-friendly and fun, too!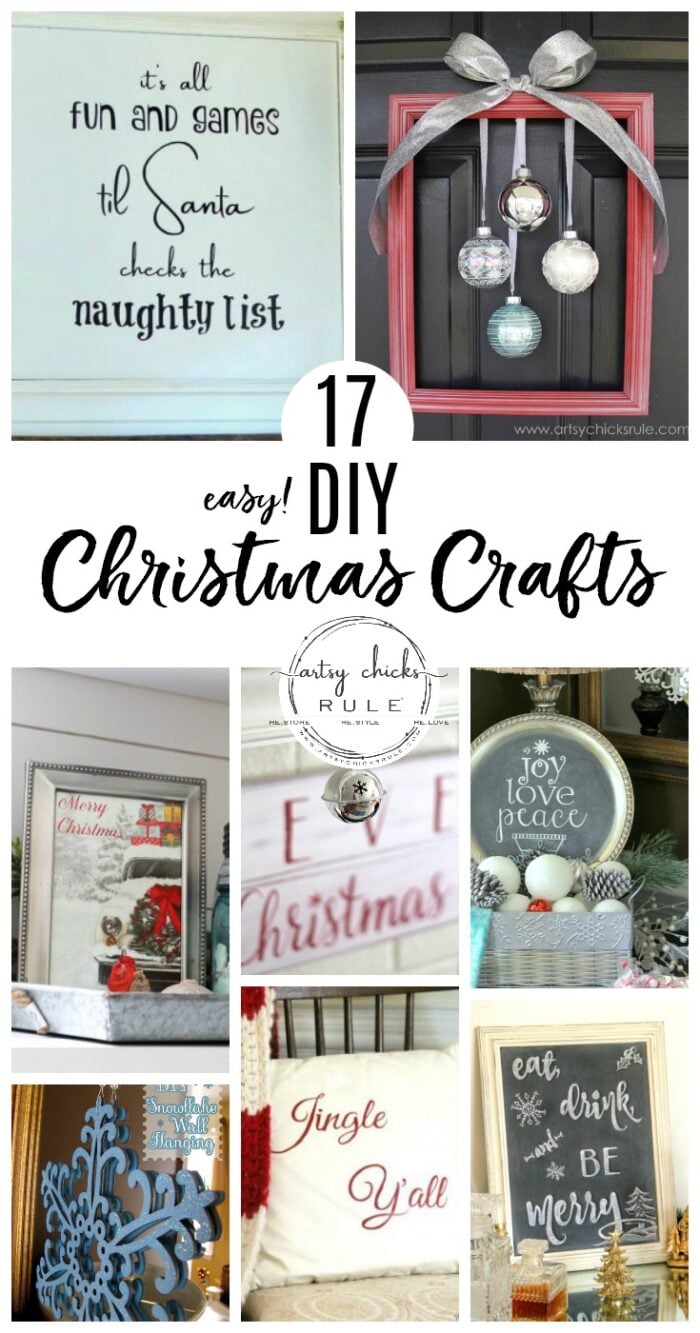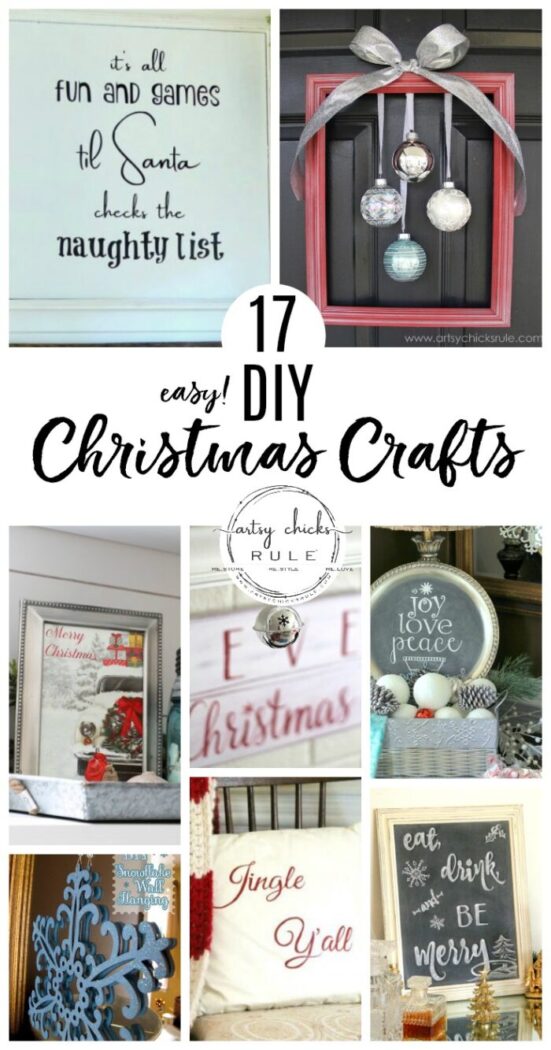 First, I want to say a big CONGRATS to Eileen A. on winning my latest giveaway! I'll be doing another after the holidays so stay tuned.
I think the holidays may be my favorite time to craft. It's just such a festive time and I can come up with endless ideas for holiday-themed ideas.
Plus, it's super budget-friendly too. That's always a win in my book.
And it's just FUN. Right?
Today I've rounded up a bunch of DIY Christmas crafts I've done over the years. Some of which are so old, you've probably never seen them!
I hope they will inspire you to get crafty this holiday season. :)
If you missed one of my latest DIY Christmas crafts, this holiday wreath…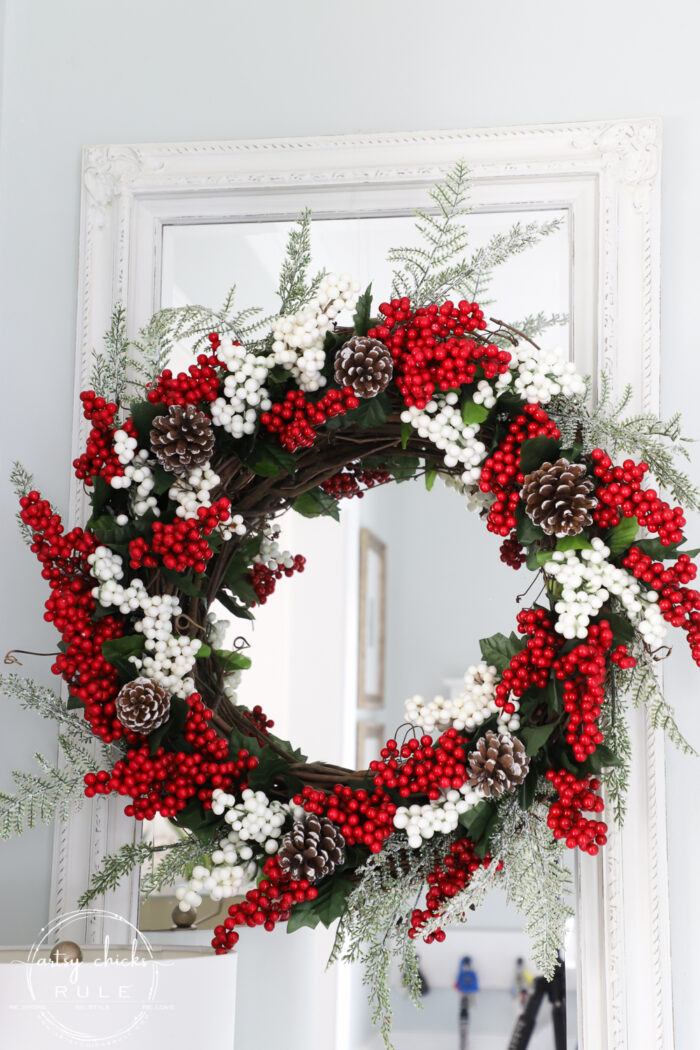 … you can read all about it, here.
17 Easy DIY Christmas Crafts
* Be sure to click over to see more! The links are below each photo.
Adorable Mini Wreaths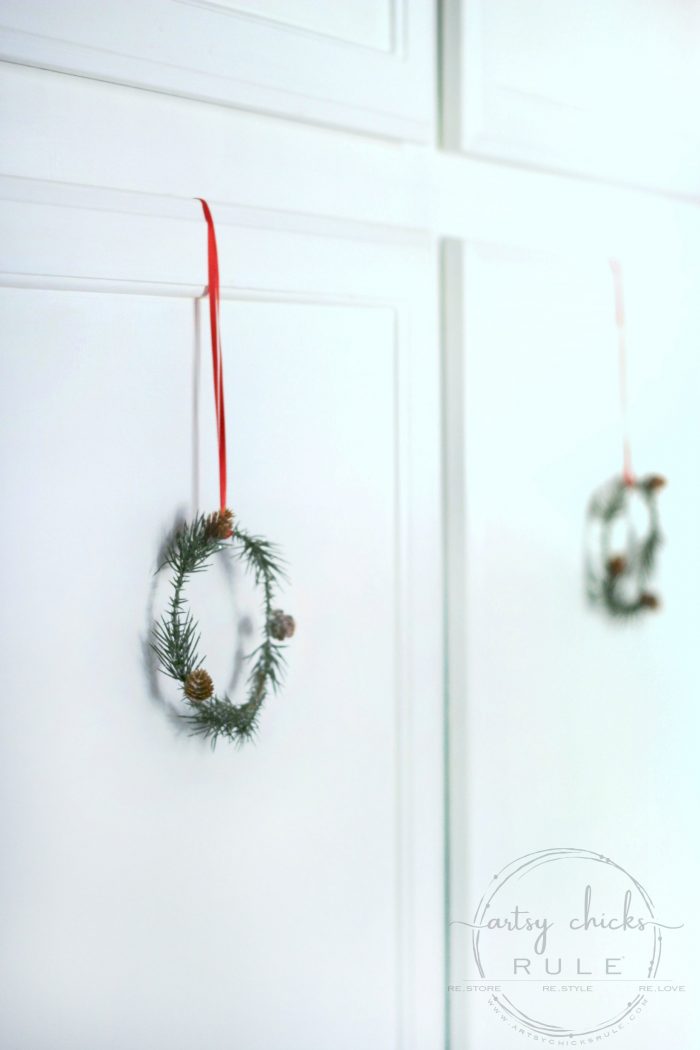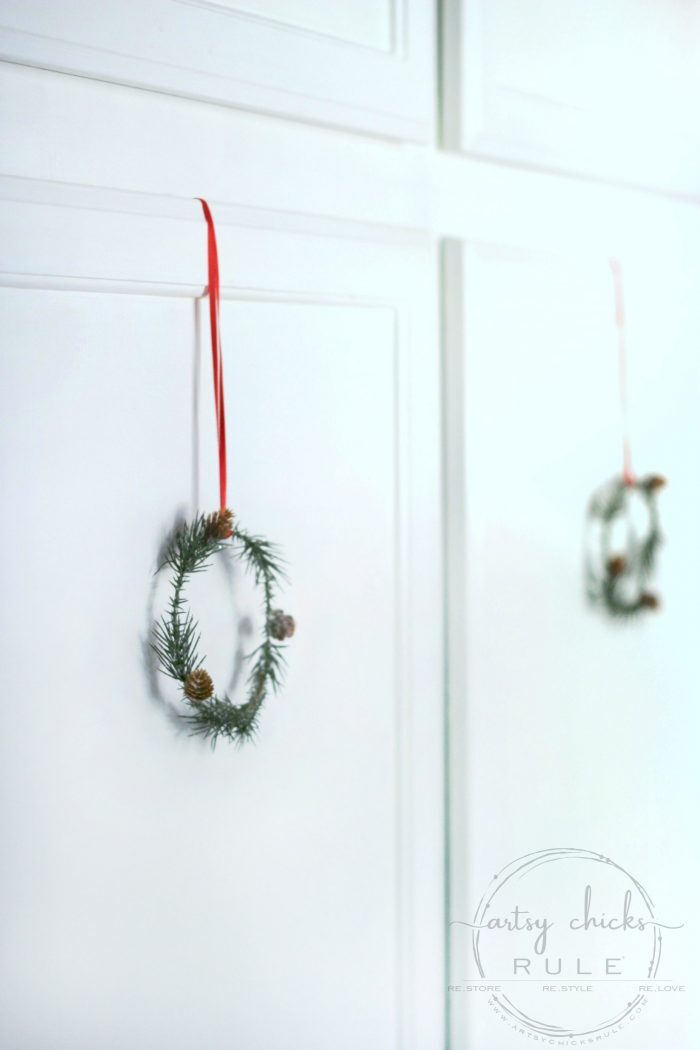 These cutie patootie mini wreaths look so adorable on your kitchen cabinets. (or laundry!)
And they are simple to make!
See how I made these, here.
Old Christmas Cards Repurposed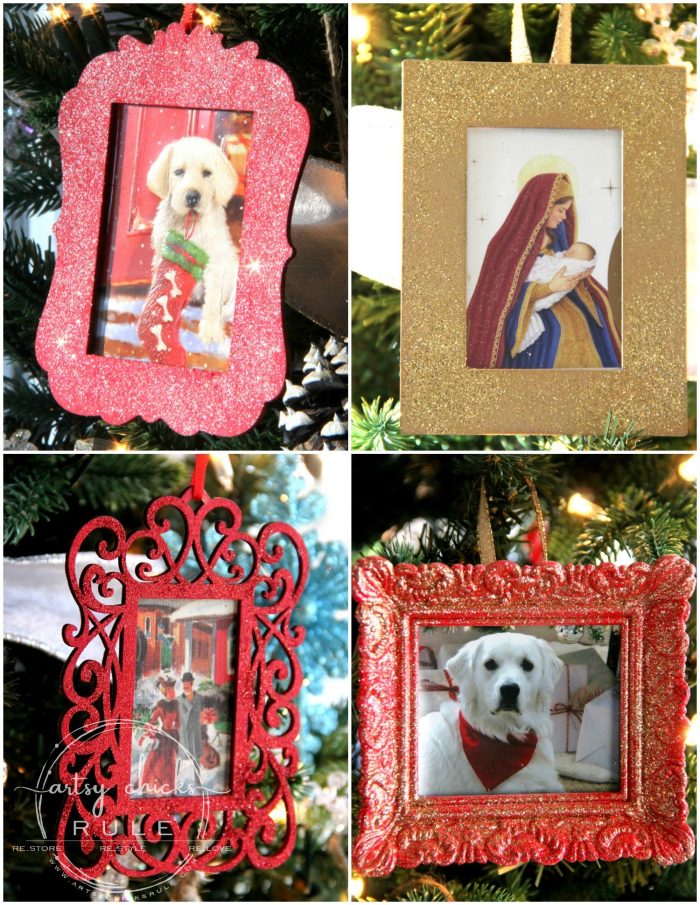 How about turning old Christmas cards into pretty ornaments?
OR bookmarks, OR pretty decoration for gift bags, OR…
See all the ways I repurposed old Christmas cards, here.
Christmas Card Decor Ideas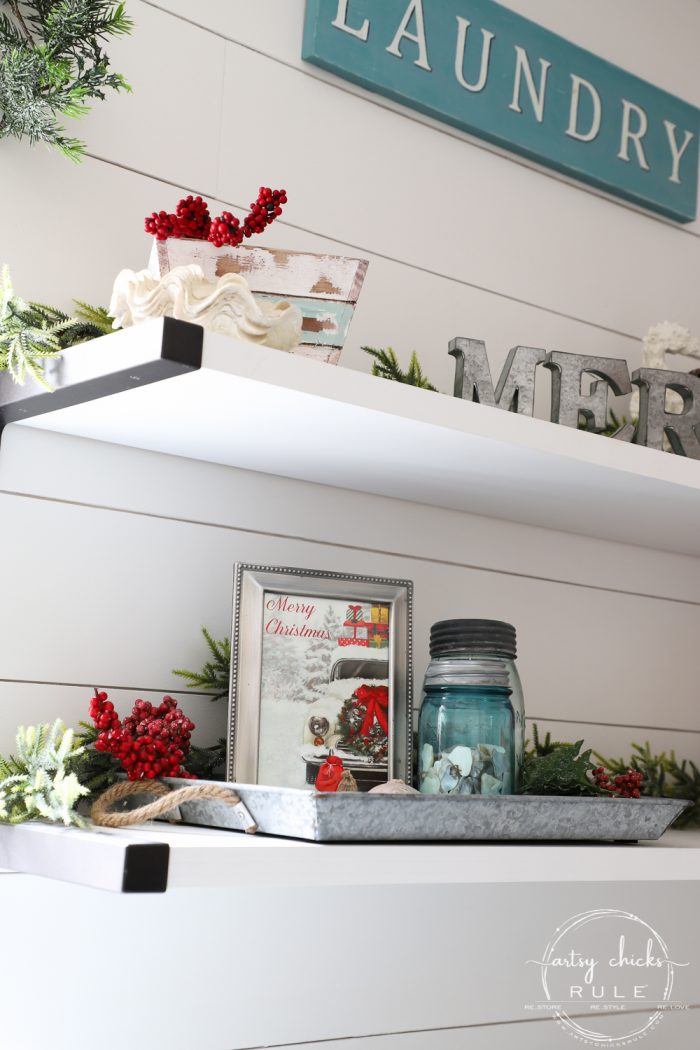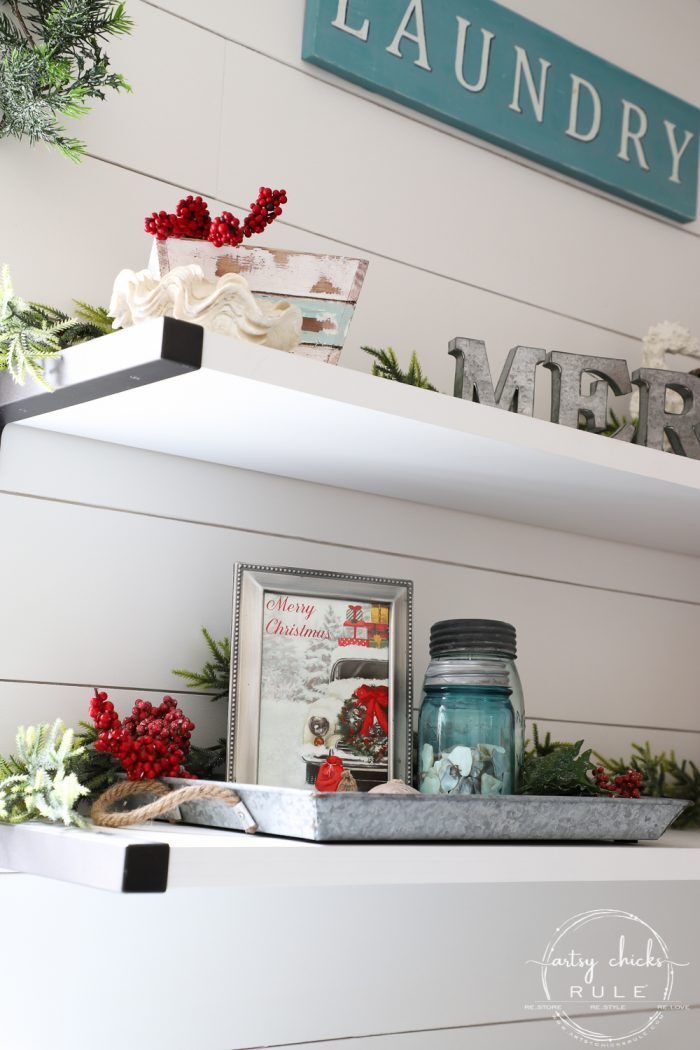 Even more ideas for adding budget-friendly, and pretty, holiday decor to your home with Christmas cards.
See them, here.
Sparkly Snowflake Wall Hanging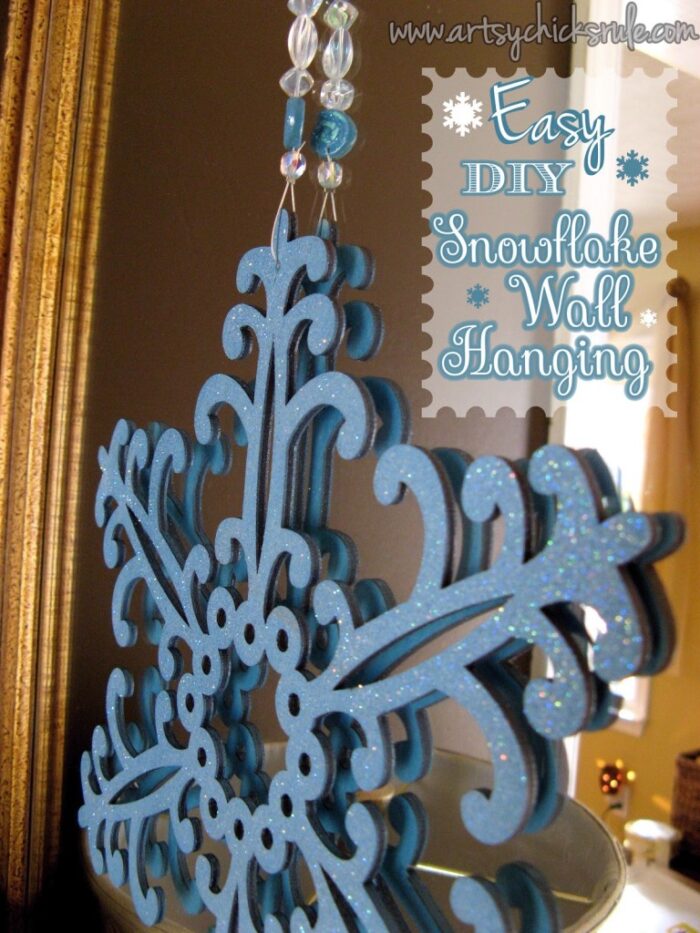 I made this "snowflake" wall hanging years ago. It's an oldie around here! But it was so much fun to make and I thought I'd include it in this list.
See the rest of it and how I made it, here.
Chalkboard Chalk Art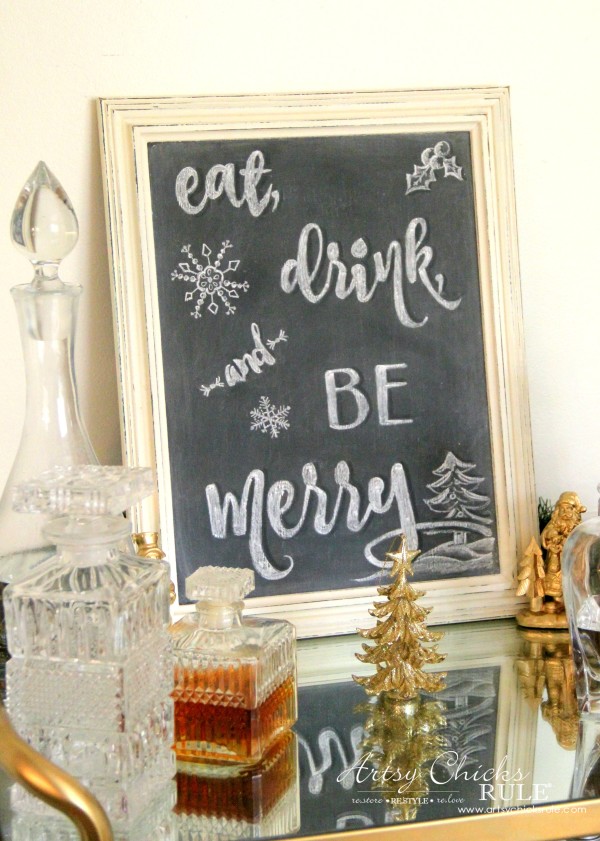 Chalkboard art for the holidays. I have somehow managed to keep this art intact (it's chalk and not sealed) for several years now.
Don't ask me how!! lol
See more photos and how I did it, here.
Turn An Old Mirror Into Christmas Art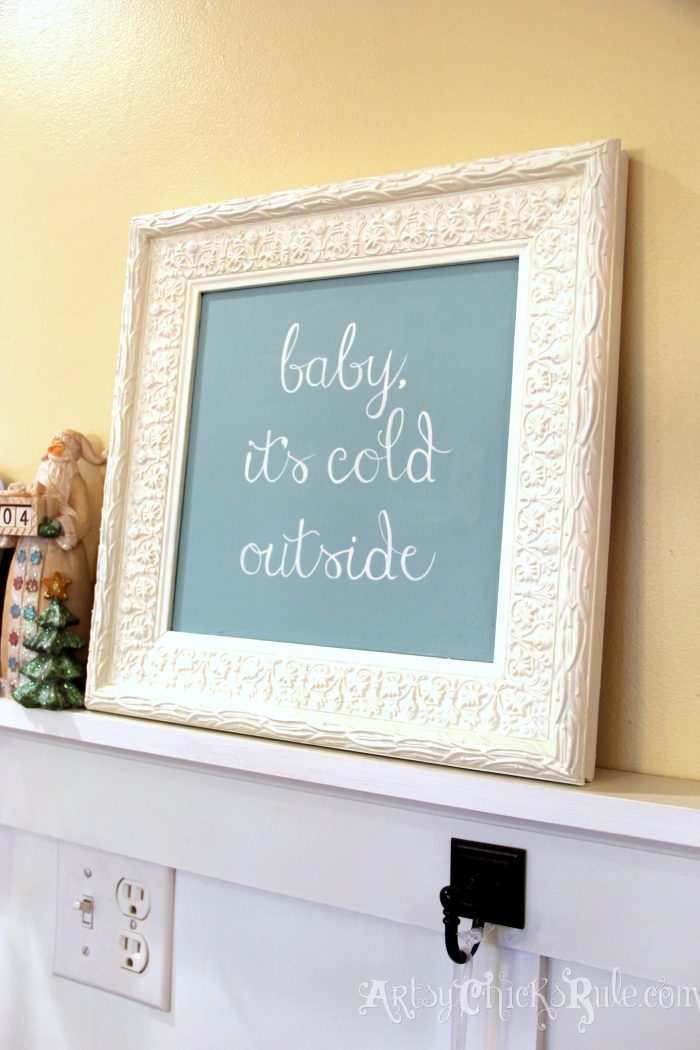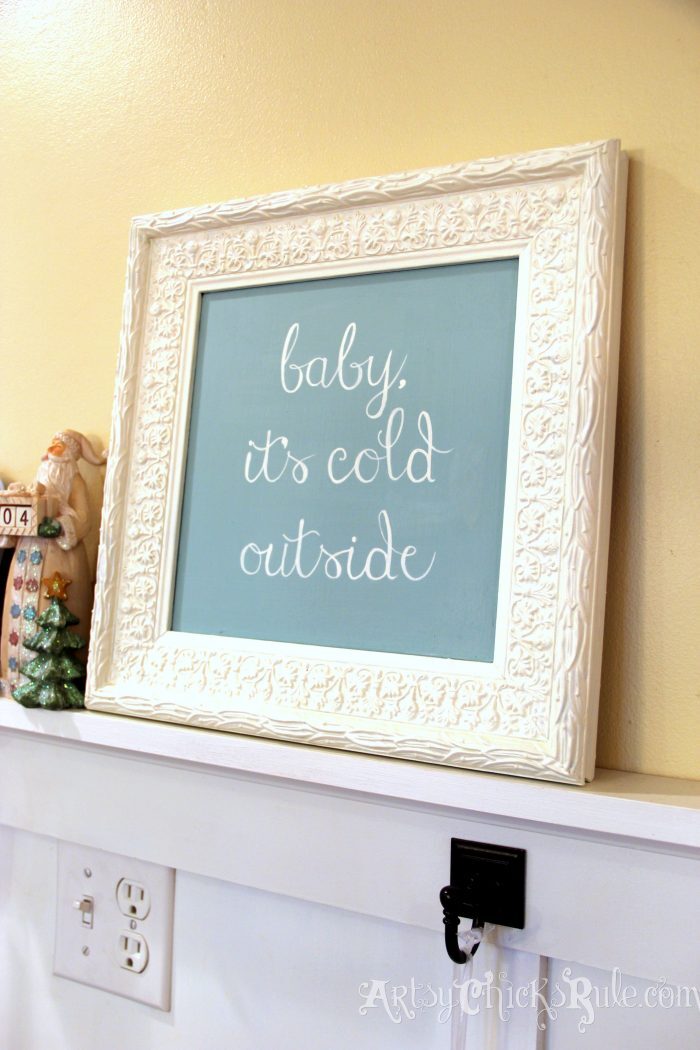 Yes, there is indeed a mirror under there. Easily brought back, if desired. (scrape with a razor)
I painted the frame and over the mirror with Chalk Paint and then painted the design over top.
You can see more of this project, here.
Painted Pillows For The Holidays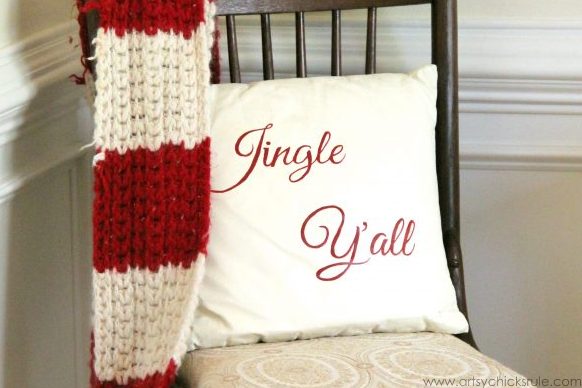 Have you ever considered painting a pillow?
I've painted several. This one got a complete makeover to include a fun holiday saying.
Get the free printable and all the details, here.
Simple Christmas Tree Tapestry (no sew!)
I saw this Christmas tree tapestry in a catalog and decided to make one myself!
It was actually easier than it seems. I made this one from complete scratch.
Go over and see the original inspiration and see how simple it was to do this one, here.
Make Your Own "Antique" Mirror (so easy!) and Christmas Sign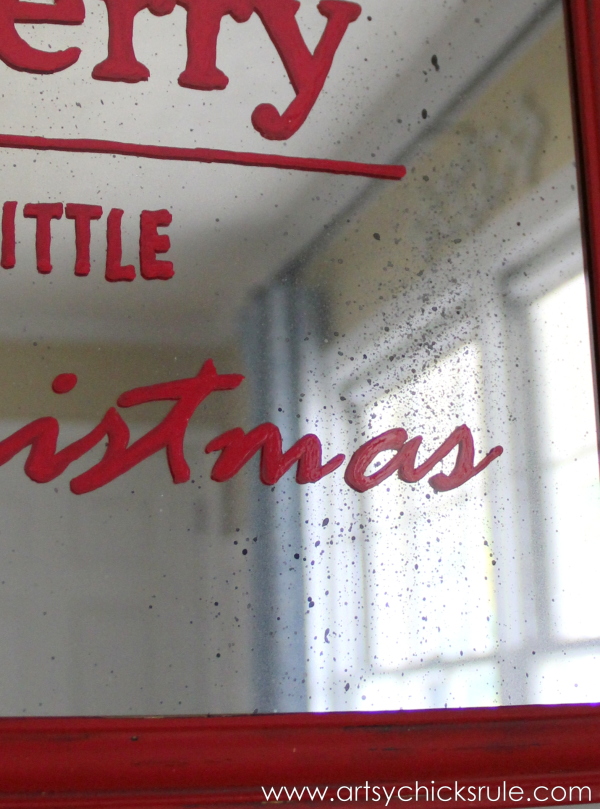 This is a holiday project but it's really all about that "antique" mirror effect.
I'm sharing how I turned a simple piece of glass in this frame, into an "antique" mirror.
No crazy chemicals required! See how, here, plus get the free Christmas printable too!
Framed Ornament Wreaths
Okay, when I say simple, I do mean simple. You can make this!
Get all the details on this thrifted framed ornament wreath, here.
Chalk Art For Old Metal Trays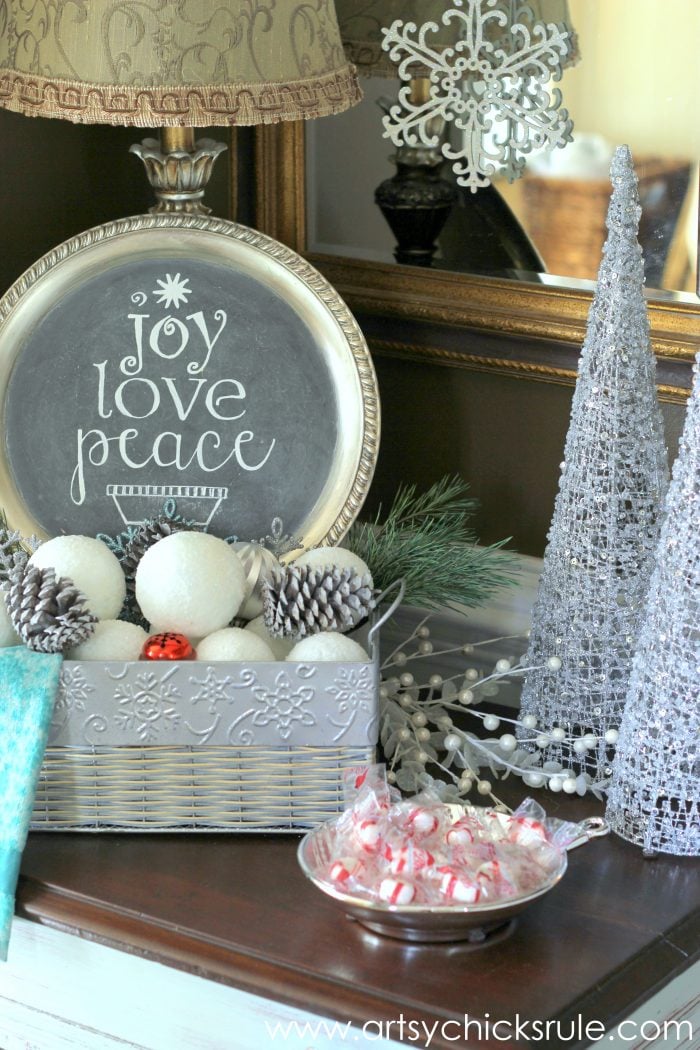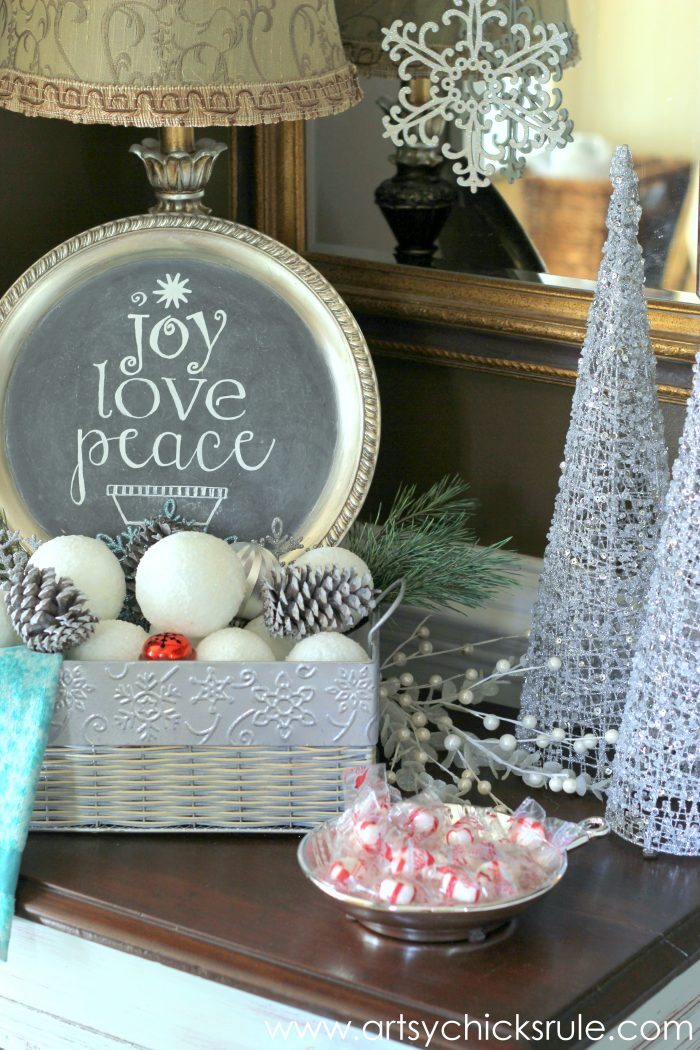 Turn an old metal plate/platter into a chalkboard Christmas sign.
See how I did this one, here.
Make A Sign Out Of Old Wood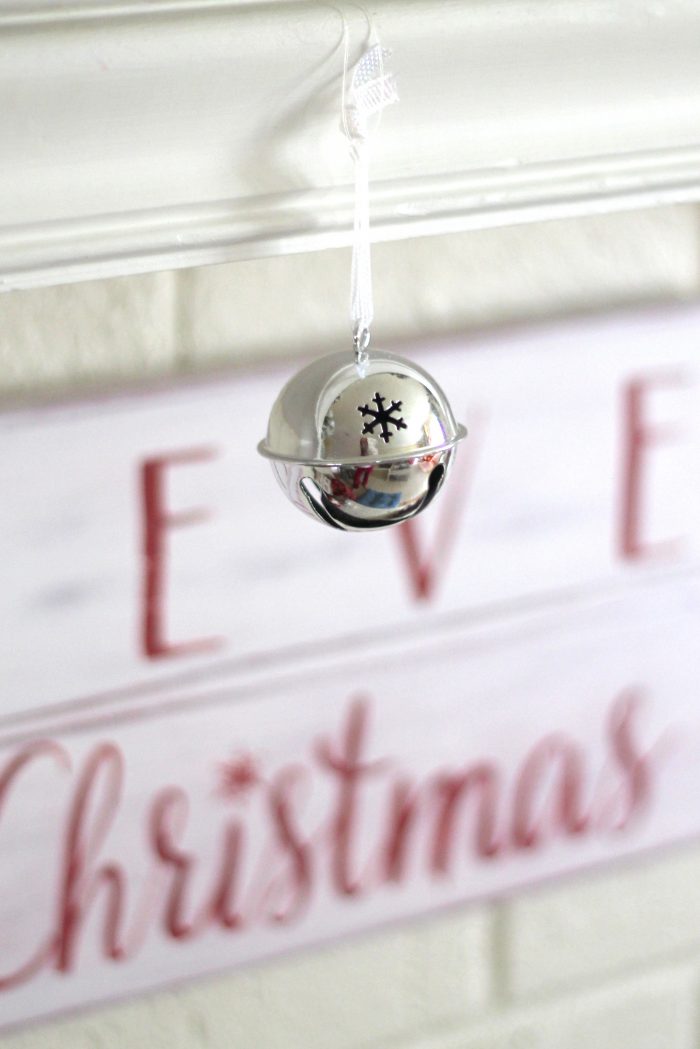 Create a festive Christmas sign out of old wood.
See this pretty red and white sign, here.
Christmas Sign…Without Removing Year-Round Artwork!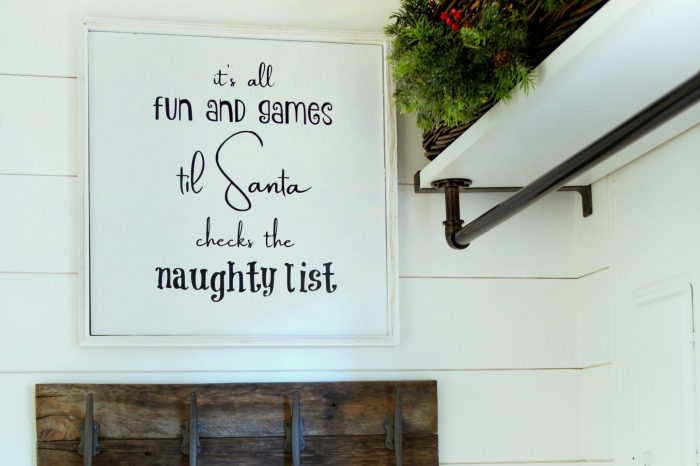 You don't have to remove pictures you have on the wall to make it Christmas-y!
Do this instead. ;)
Don't know what I did or what in the world I'm talking about? Check out how I did this sign, here.
And These Simple Crafty Ideas All In One Post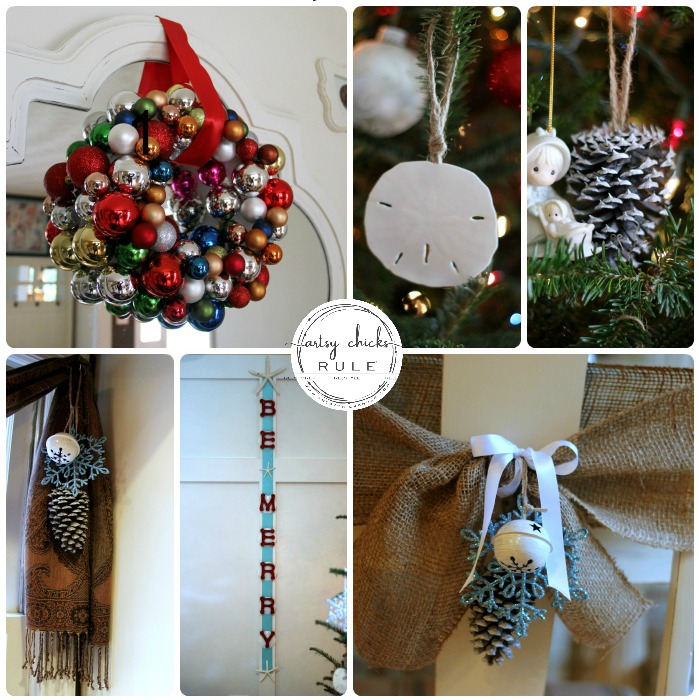 I put together this post back in 2013. I used some of these items for years. (and still use a few)
Simple ideas I love sharing with you. See them all, here.
I hope you enjoyed seeing all these simple craft ideas. I really do love getting crafty, especially during the holidays.
I may have one or two more new crafty things lined up to share soon. Stay tuned for em!
We spent the weekend at our beach house getting stuff done. Our new mattress was delivered and we also got curtains up on our main sliding door in the living room. SO happy about both!! lol (comfort and privacy…win-win)
If you follow along with me over on Instagram, you might have seen all the crazy from Saturday night. I shared in my stories as we were doing all the things over there…and a little "real life" too. ;)
If you don't follow, I'd love it if you did. It's so much fun interacting in a totally different way over there. :)
I'll see you back here on Friday this week…with the first of our holiday home tours. (oh goodness, I sure hope! lol I haven't finished decorating yet so we'll see! #wishfulthinking… maybe! ;) )
For my American friends, I wish you all a blessed and happy Thanksgiving day!
Happy week to all, see you back here on Friday!
xoxo