Dollar Store DIY Red Berry Wreath
This post may contain affiliate links. Please see disclosures here.
Fun and festive DIY red berry wreath made with items found at the Dollar Store! Budget-friendly (and oh so simple) holiday decor!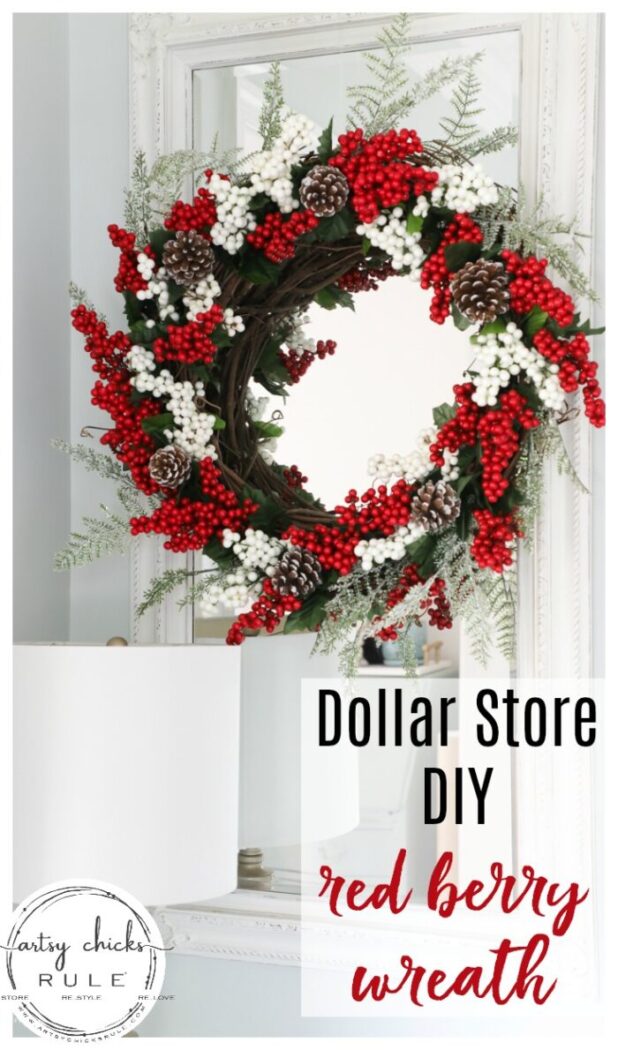 Hey friends!
Today it's all about the holidays….and budget decorating.
I made this wreath in about 30 minutes….and for about $13. Win!
But I have yet to decorate or do anything else even though I said I was going ahead with it. haha
We have just been too busy and out of town just about every weekend this fall for events and such. It's probably been the busiest fall we've ever had!
So, it's looking like I'm not really going to be that early this year after all.
However, I am getting to it tonight and tomorrow so that I can stay on schedule and share my home tour and ideas with you all the first and second week of December. (that's still late in blogland but oh well, I try! ;) )
Okay and before we move on, let me just say a huge THANK YOU to all of you who responded and commented on my giveaway post. Although I have not been able to respond back to all of them, I have read every single one! I loved reading about all the things you enjoy seeing here. So very helpful!!
I am going to go back over them and make a list of all the things you like around here and all the things you'd like to see more of. And then I am going to implement more of those into the new year. I'm so excited about this coming year and the things I have planned! Stay tuned. :)
And now it's time for a little Dollar Store crafting…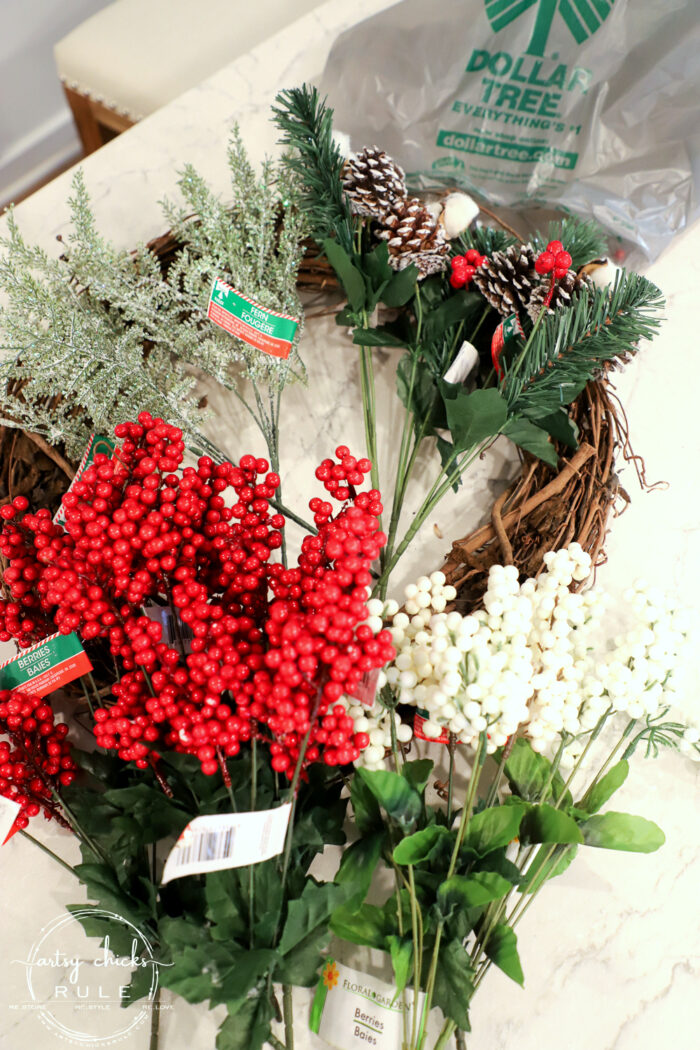 DIY Red Berry Wreath
I stopped by the Dollar Store a few weeks ago and picked up these items. I spent $13.
I already had the grapevine wreath as I used to have it hanging over my antique window in our bath.
I no longer use it in there so I decided to use it for this red berry wreath.
As I always do, I started by sticking the berries (or whatever I'm using) in and around the wreath.
I decided to keep the greenery on the stems since I wasn't doing a "typical red berry" wreath.
This one is going to have white berries, pine cones, and other greenery sprigs as well.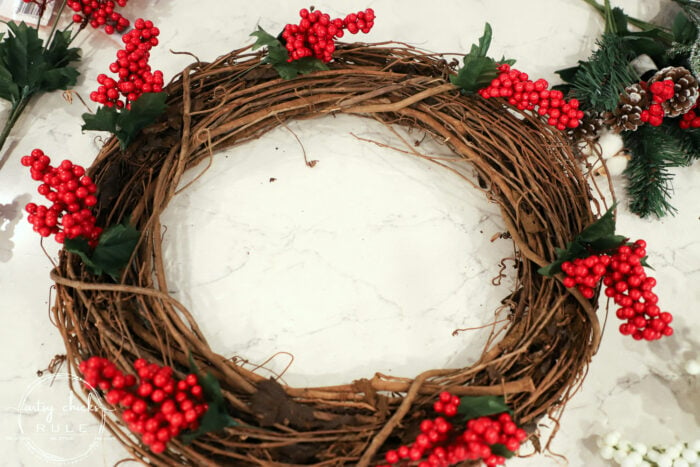 Next, I added in another layer of red.
After that, I started sticking in the white berries.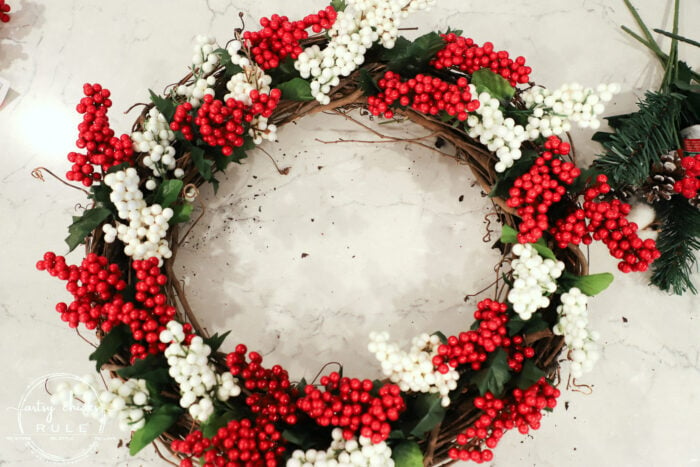 When I cut the stems off of the main bunch, I left them fairly long so they would stay in the wreath well.
I usually go back and hot glue them in after I have it all laid out.
I didn't bother this time since they all seemed to be staying in so well.
After I had placed all the red and white, I cut the sparkly green stems apart and placed them evenly around the edge.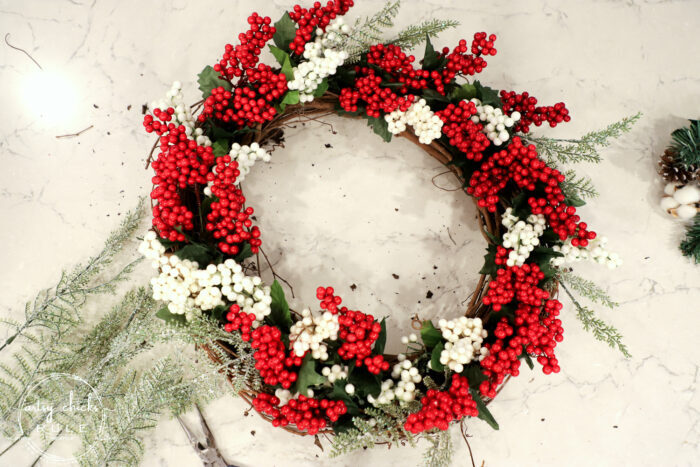 Looks good just like this but I wanted to add those pine cone stems too.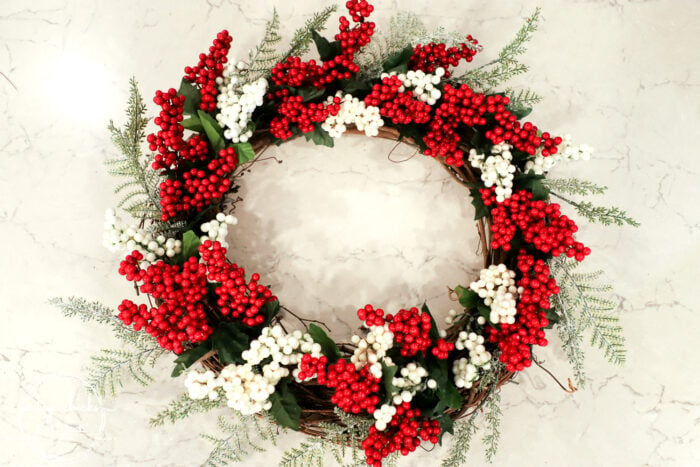 I simply added them around the wreath, evenly spaced.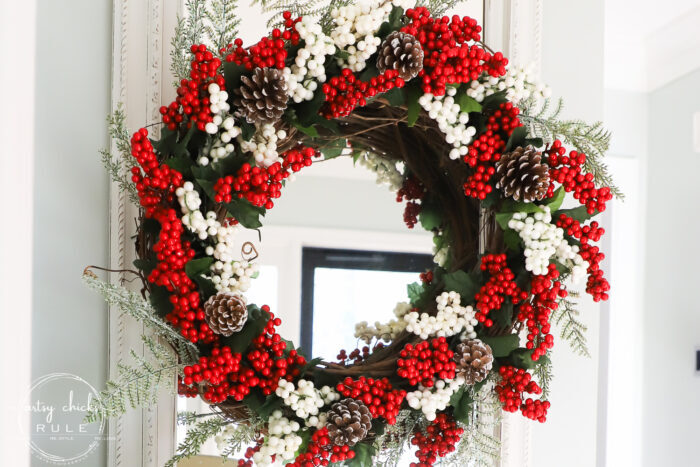 I didn't have to glue those either since they were attached to a stem.
I love that this project was SO simple and quick to do! (and majorly budget-friendly)
My favorite kind. :)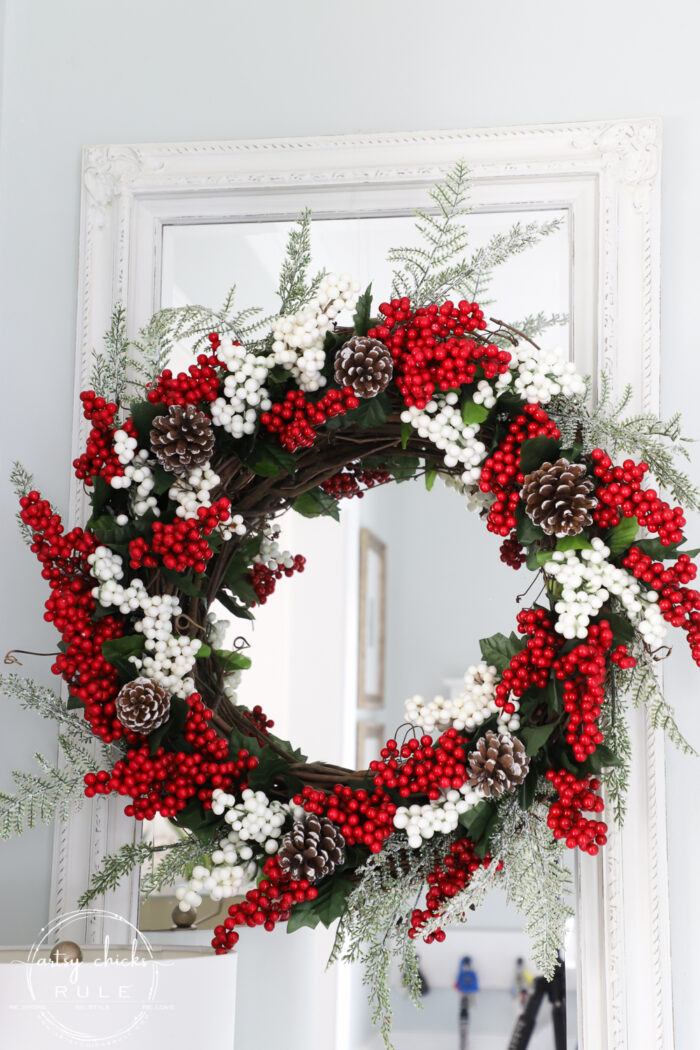 I could probably put a few more stems of red in and around to fill it out more but I'm happy with it as-is.
If I get back over to the Dollar Store, and they have more of these, then I might pick up a couple more.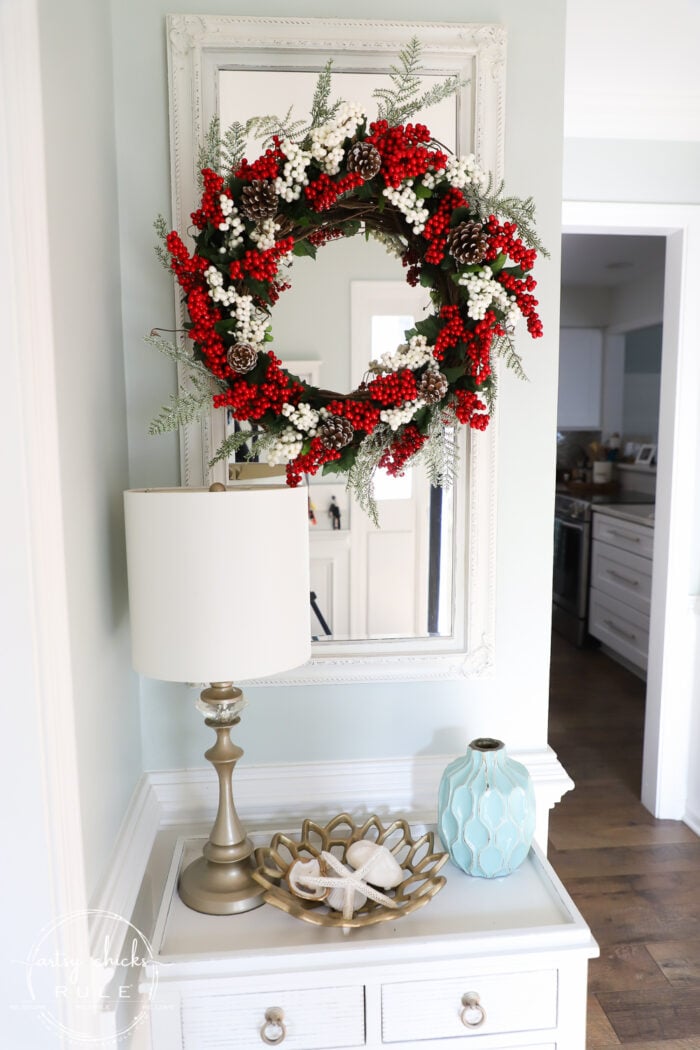 Otherwise, this is it!
Up close.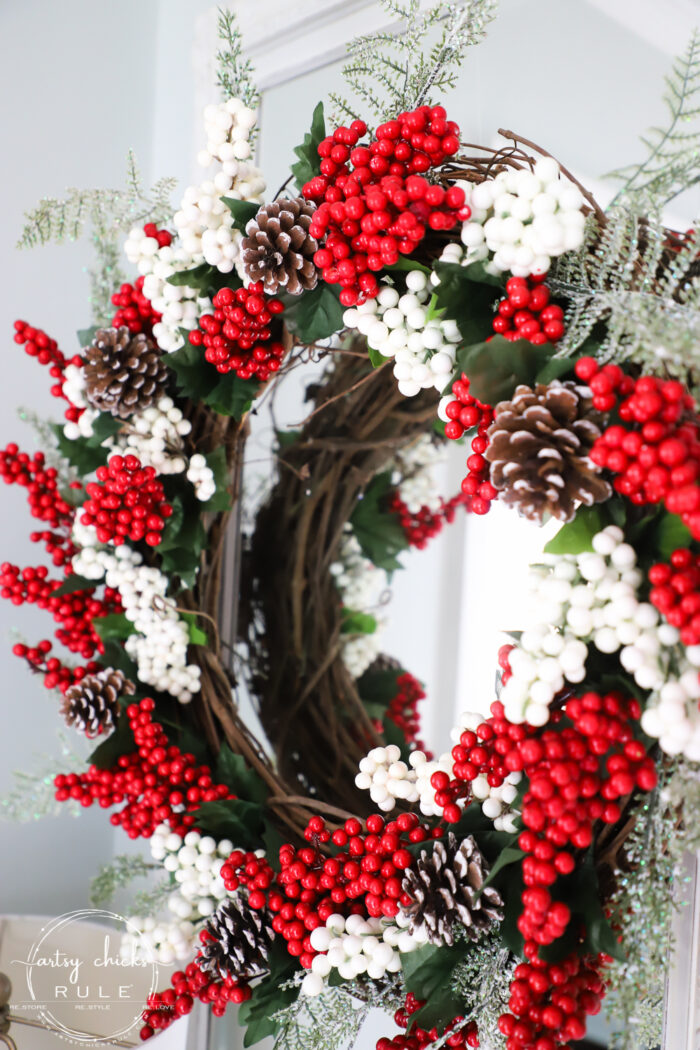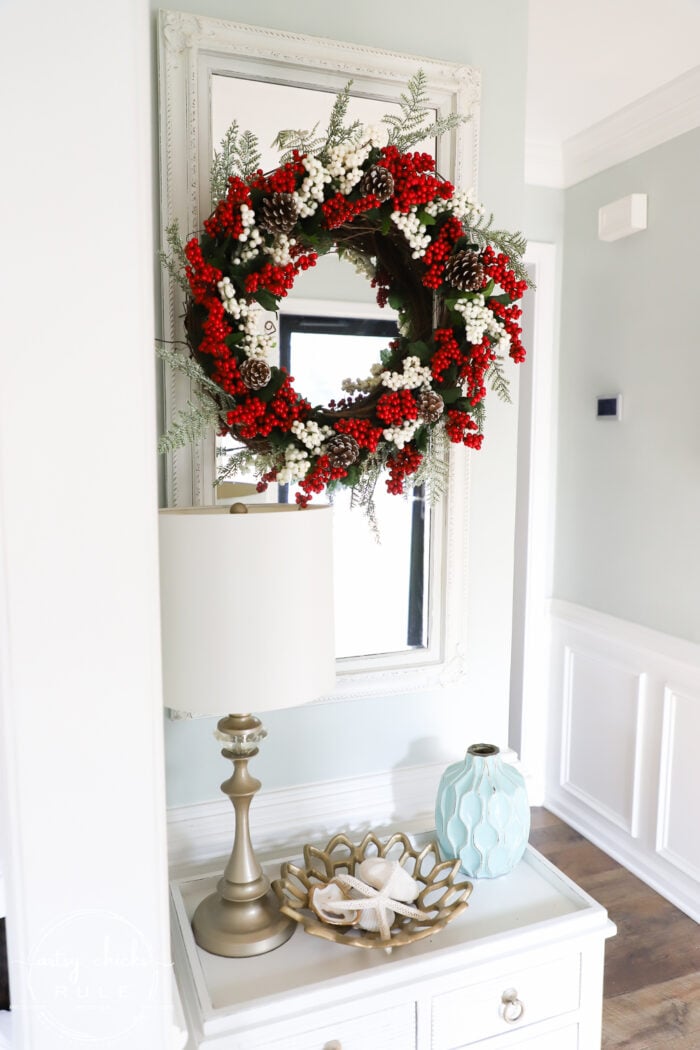 And I do believe this is where it might stay.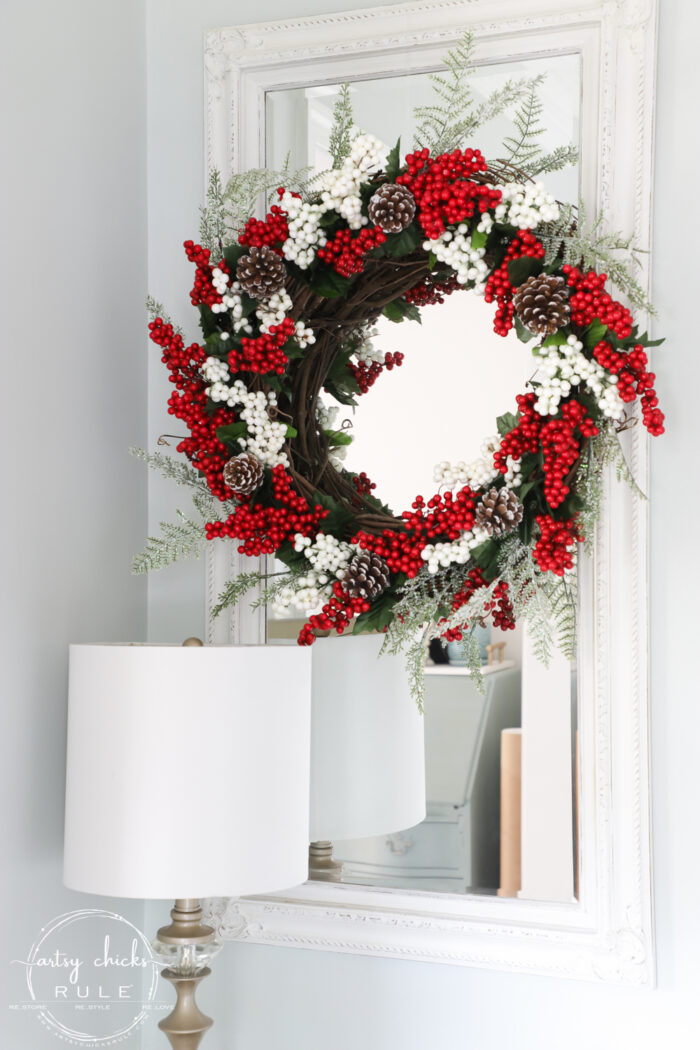 We will see.
I have some different plans for the colors/decor I'm using in each room this year so it may have to be moved.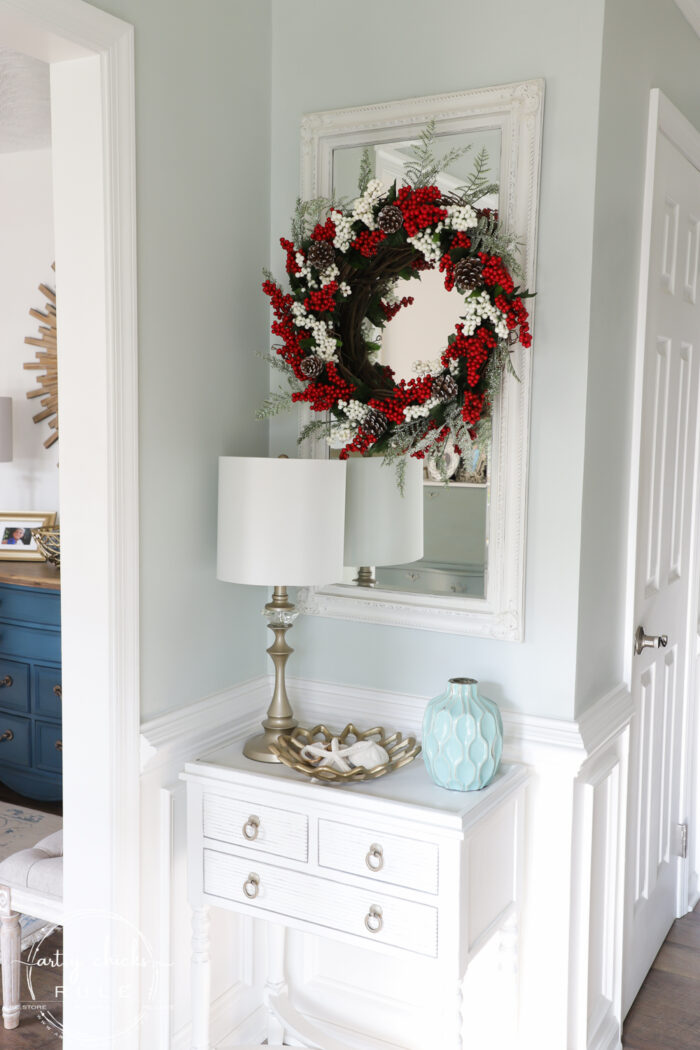 I'm actually really excited about the changeups (from last year) that I have planned for this year.
As soon as I finish writing this post, I'm pulling the boxes in the house!
Oh and I have to admit, I did turn on Christmas music as I was making this red berry wreath yesterday.
I resisted till now but I had to, it just felt right. :)
Once the decorating commences, it's Christmas music night and day!
Same for you??
Hop on over to your local Dollar Store and see what you can find.
I need to go back over anyway to see if there's anything else that may have come in that might spark an idea or two.
PIN this to save it!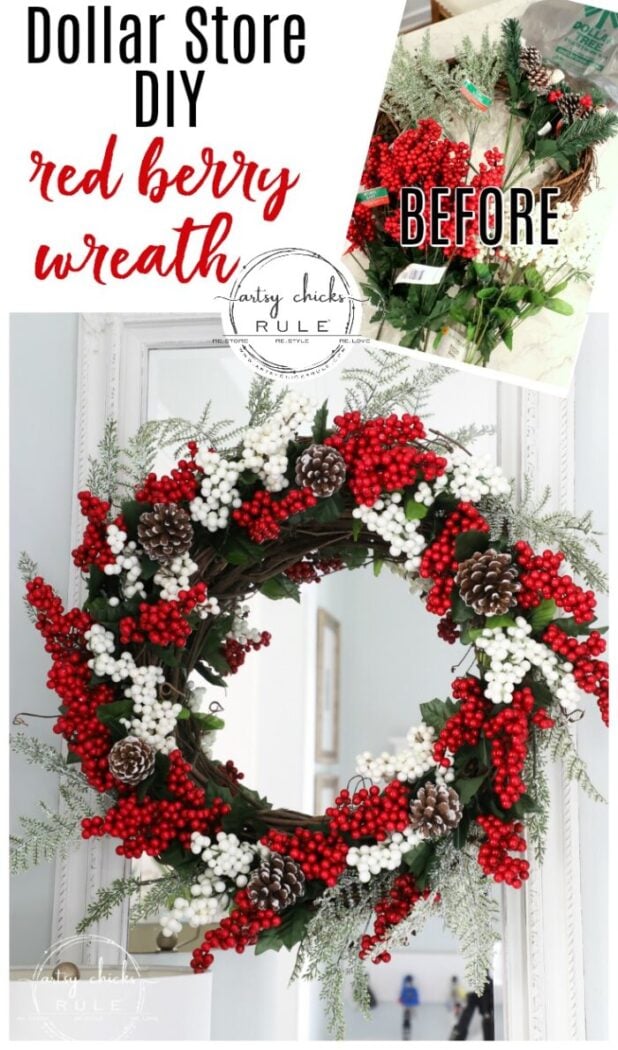 Have a wonderful & happy weekend, friends!
xoxo