Unique Summer Wreath Idea
This post may contain affiliate links. Please see disclosures here.
Coral colors and gorgeous big sunflowers just scream summer to me. Throw them together into a watering can and you have a fun and unique summer wreath idea!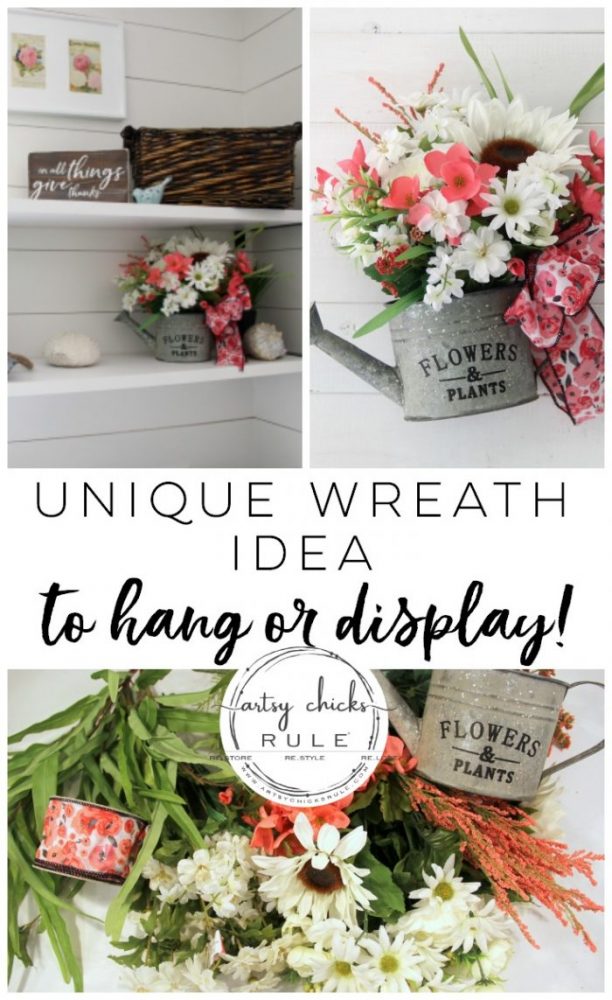 Hello friends! I'm so happy the warm weather is here to stay…finally! Sunny days and pretty blue skies, although, I think "April showers" hit us in May.   It's been nothing but overcast and rain for about 2 weeks, it feels like.
I suppose we needed the rain but we are waterlogged and I'm ready for some happy sunshine.
No sunshine? No problem, I'll just make something happy and summer-like to get me through, right?
My sweet friend Krista, who blogs over at The Happy Housie, organized the "Seasonal Simplicity Summer Series Tour". I'm excited to be joining in with her and a bunch of other talented bloggers sharing our pretty summer wreaths today. (they'll be linked at the bottom so be sure to take a look for even more inspiration!)
Let me start by saying, I am a crafty, artsy, creative girl but I never was one who considered myself a "wreath maker". That was not something I really ventured into doing until I started the blog. Out of all the crafty, creative things I've had my hands into in my life, that was not one of them.
I wasn't really sure of my wreath making abilities the first time I made one for the blog, but I think it turned out okay.
You can see it here >>> Simple DIY Spring Wreath
Actually, I think all of the wreaths turned out pretty decent, here on the blog.
Which is exactly my point.
If YOU also feel intimidated, like I was, and don't think you can put one together nicely, trust me, you can.
Here's a few others I've made over the years here since:
I have made quite a few now.
So, since these were all mostly traditional-style wreaths, I thought I'd mix it up and do something a little quirky for this one instead.
A unique summer wreath idea that I think will be fun to hang…or even just display.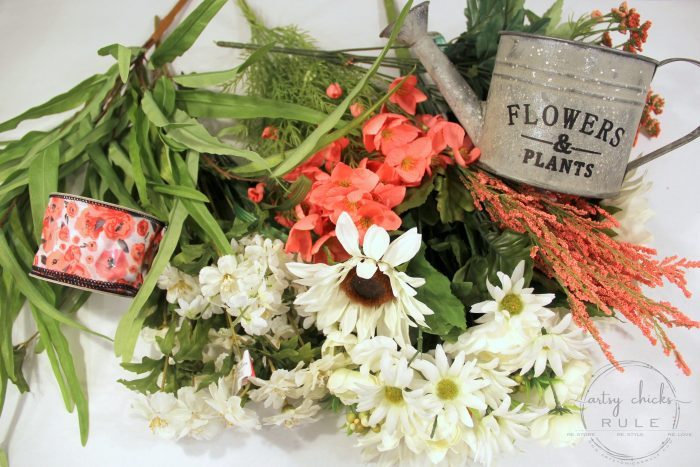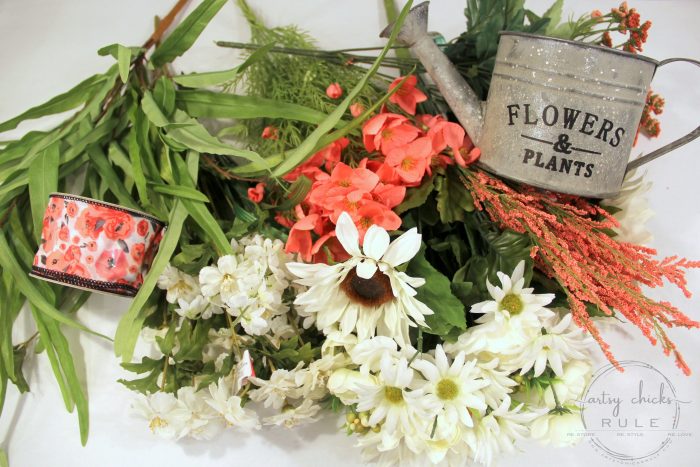 I started out with these supplies I picked up at Michael's.
I knew I wanted something a bit different so I was really happy to find the watering can. I could just envision filling it with wildflowers for a really unique summer wreath idea!
Most of the "wildflower" types of flowers were purple, yellow, etc, and I wanted something a bit less colorful. But I still wanted it to feel summery.
The coral and white colored flowers along with the white sunflowers and pretty coral ribbon I found were exactly what I had in mind.
Since I was using a vessel, this watering can, I used floral foam in the bottom to secure the stems.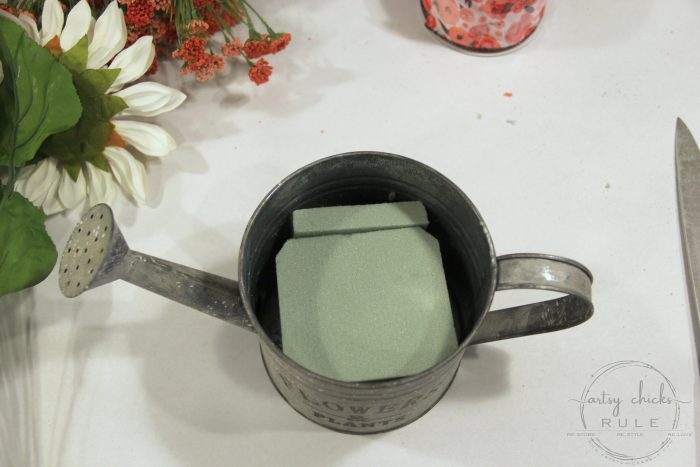 I didn't cut it large enough so instead of cutting a whole new piece, I just added another smaller piece to secure it.
Then I just started adding flowers.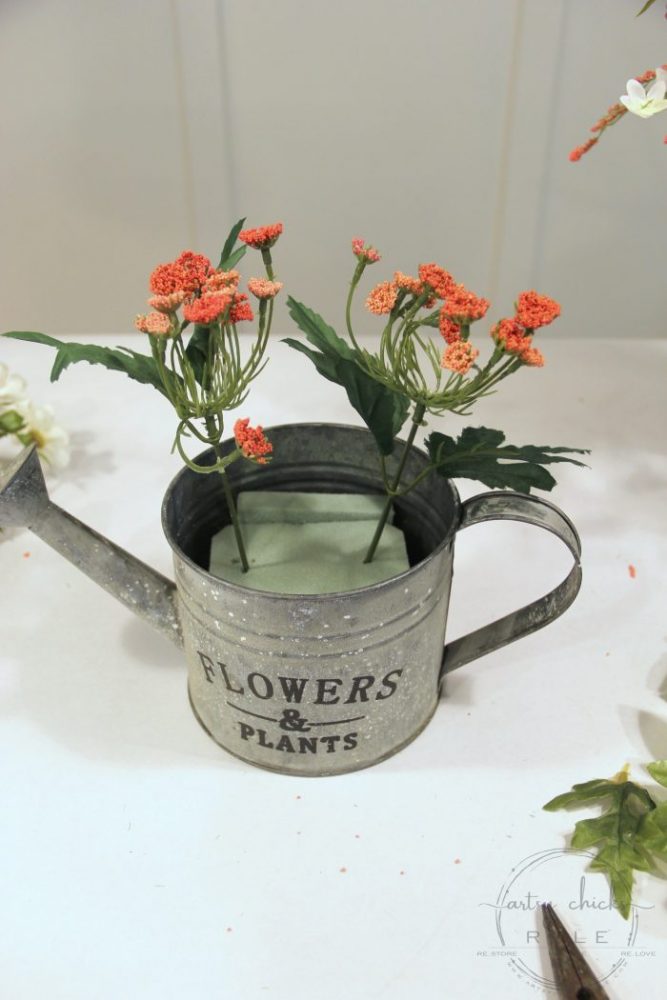 I have a hard time photographing this part since I kind of just go with the flow as it comes to me.
A little here and there, etc.
But that's really all it is. Add a stem or two, add more, don't love that, remove it and go again until you do.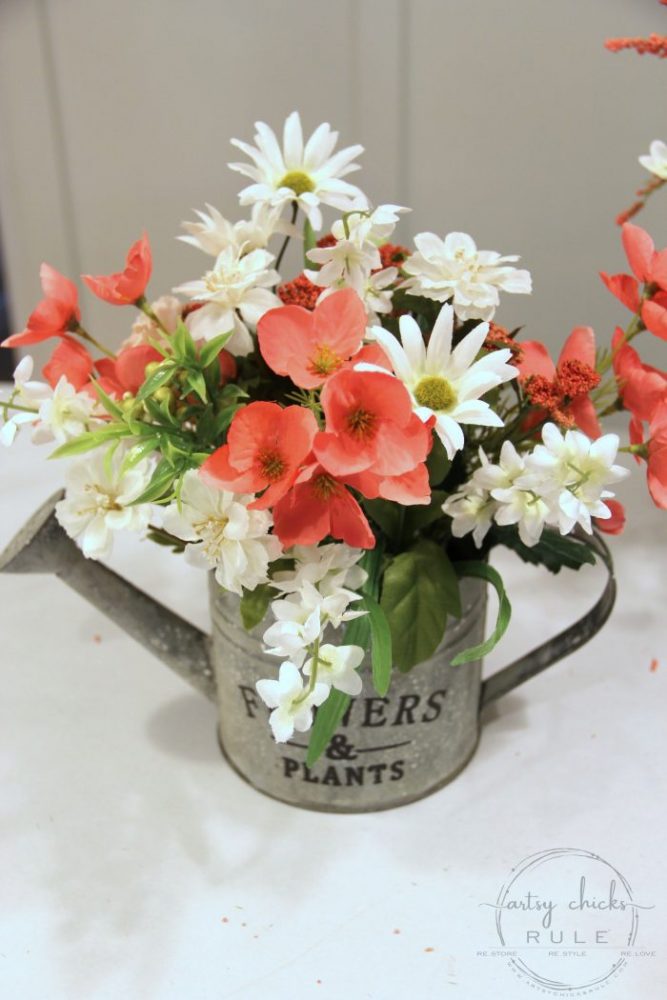 And you can't really go wrong with this somewhat "wildflower" look because you sort of want it to look like an informal gathered bunch of flowers.
Then I added a sprig or two of the coral …sprigs  … and another big white flower in the middle, finishing up with the big, pretty, white sunflower, which I just love!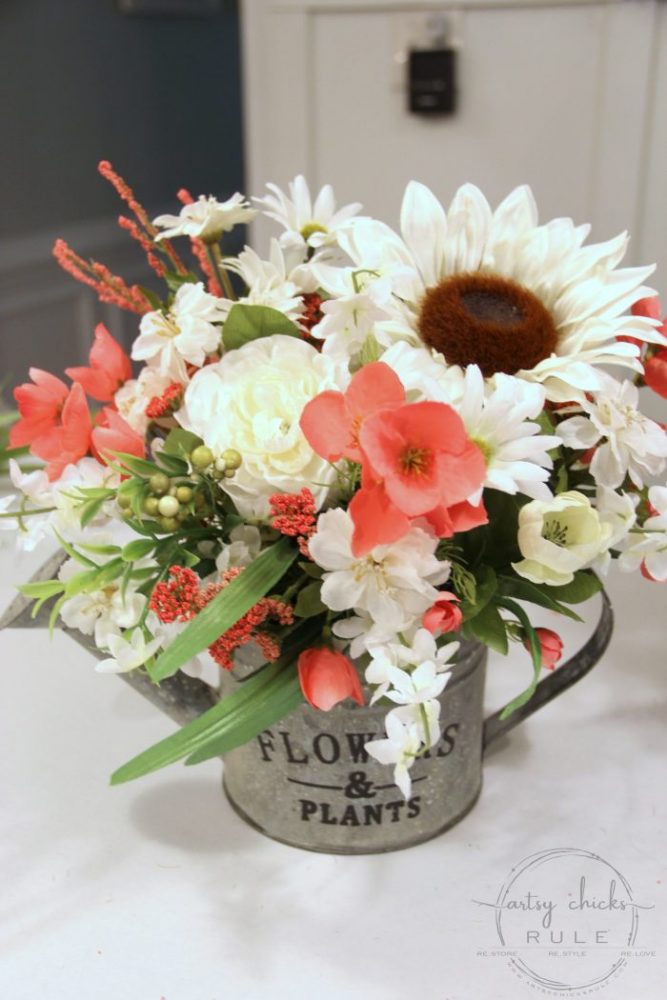 The final touch? A pretty coral-colored bow.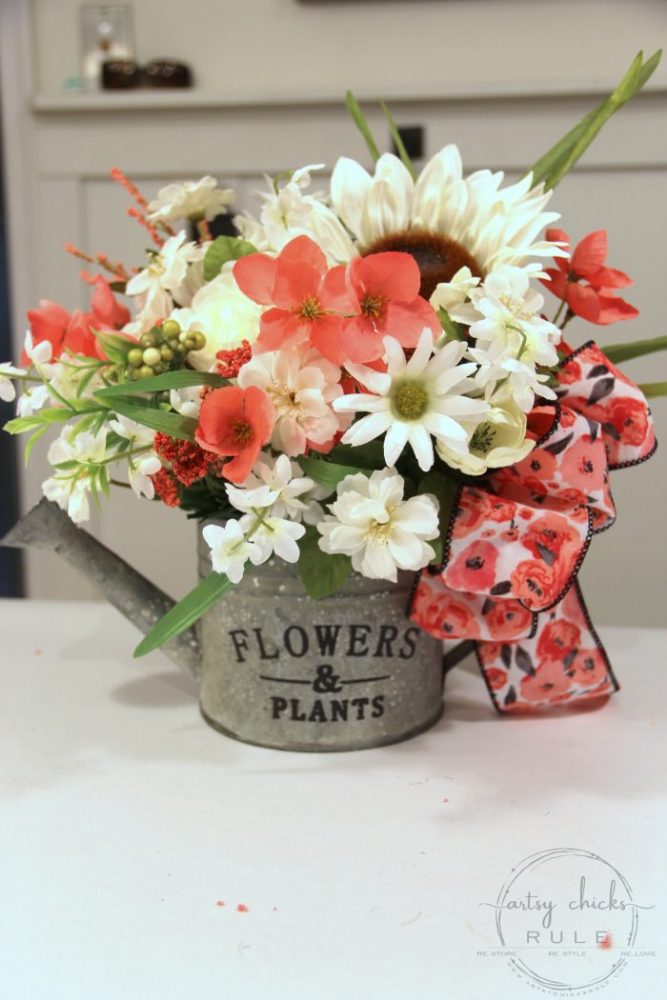 I would also not consider myself a pro.
I just wing it when it comes to bows. This one was basic and simple.
Doesn't this just say summer?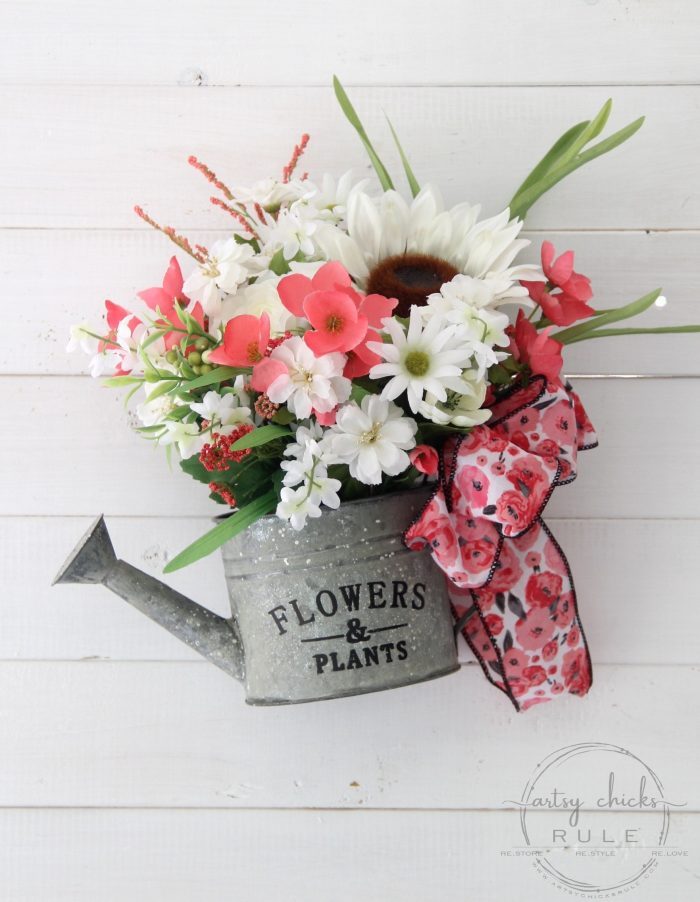 I had fun trying it in all the different places in my home. (Which is half-boxed up at the moment! Operation overhaul is still underway.)
On the mirror in my foyer…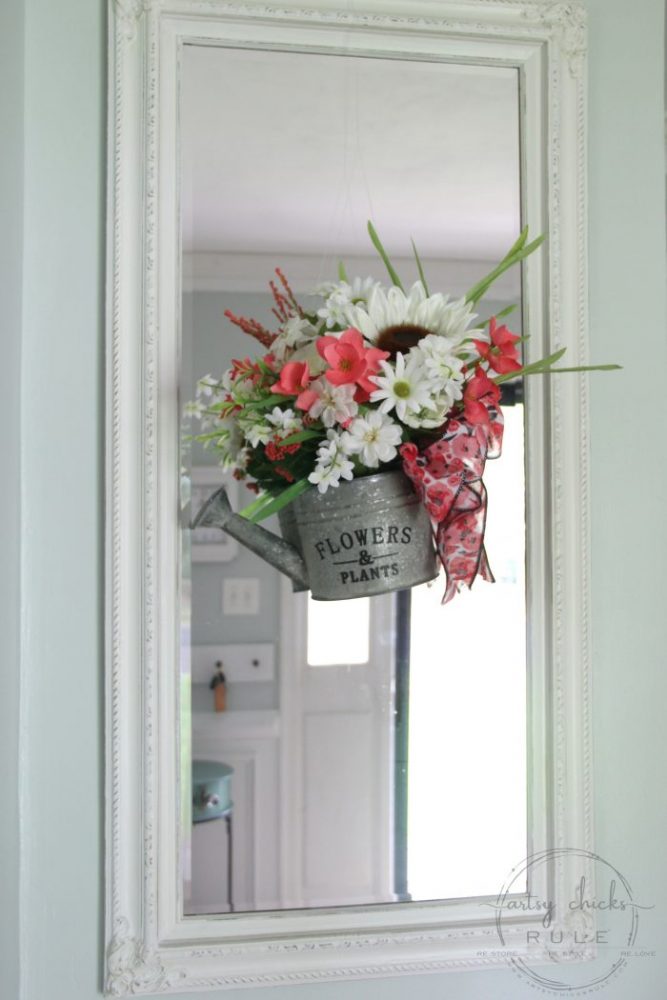 (of which you can see a sneak peek of something new in here….crown molding going up!)
I love to use fishing line to hang things as it's mostly invisible once up.
On the mirror in my family room…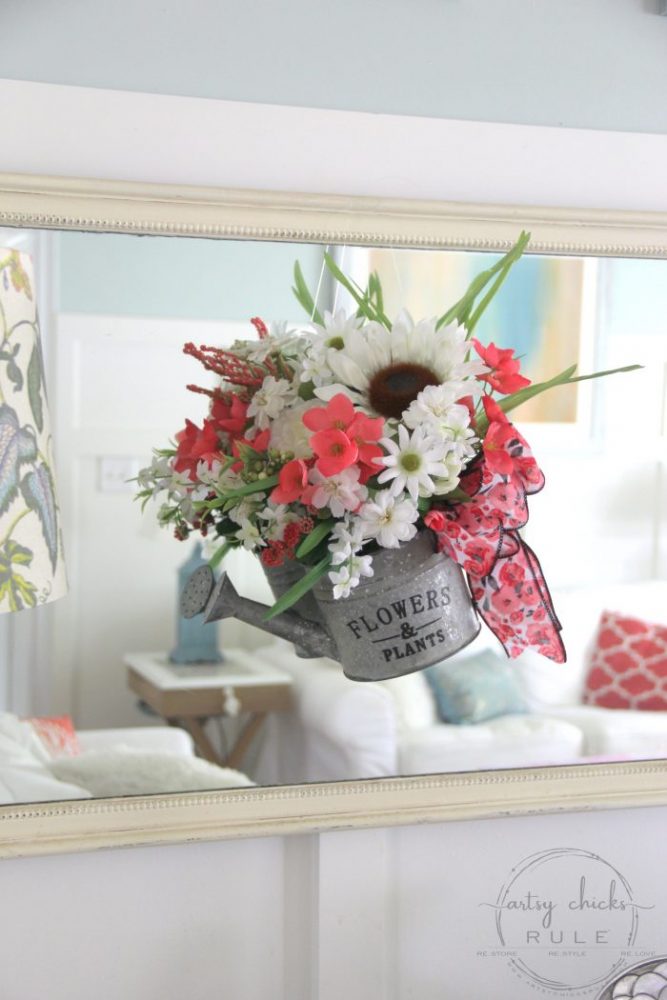 I made sure all the boxes, and mess, were out of view.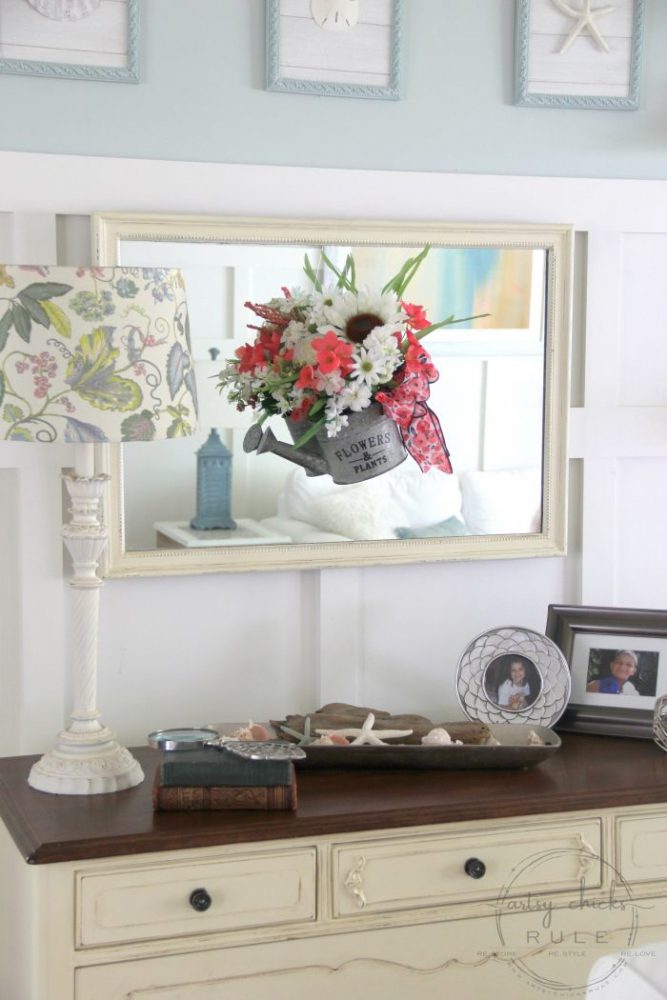 This dresser and mirror are going in the reno also. I have other plans for this space.
Stay tuned!
I even used it as a floral display, instead of hanging, it in my laundry room…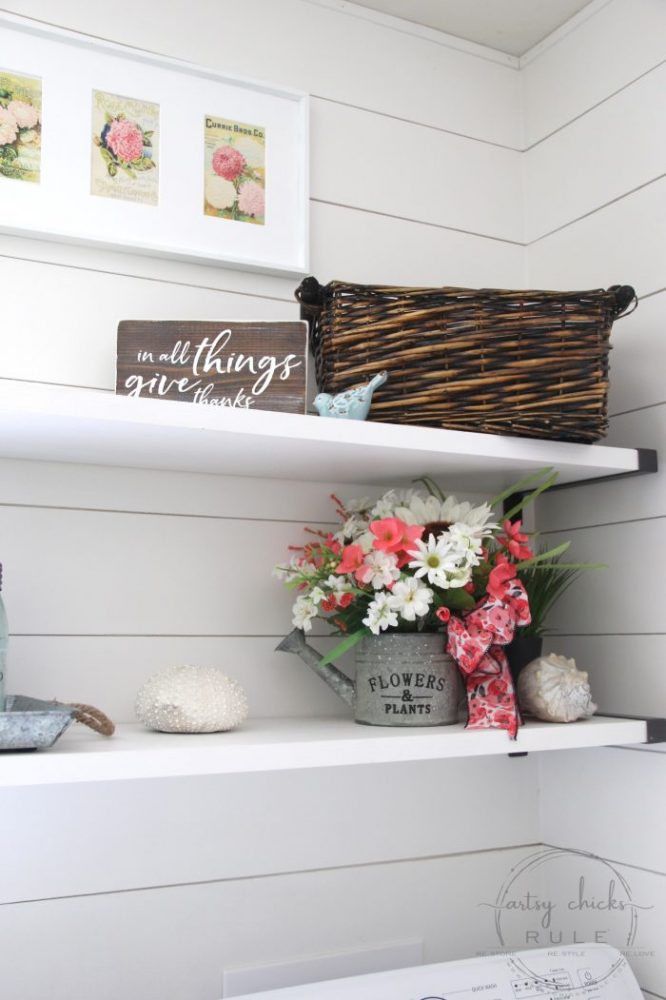 I love that this quirky and unique summer wreath idea can be hung or displayed.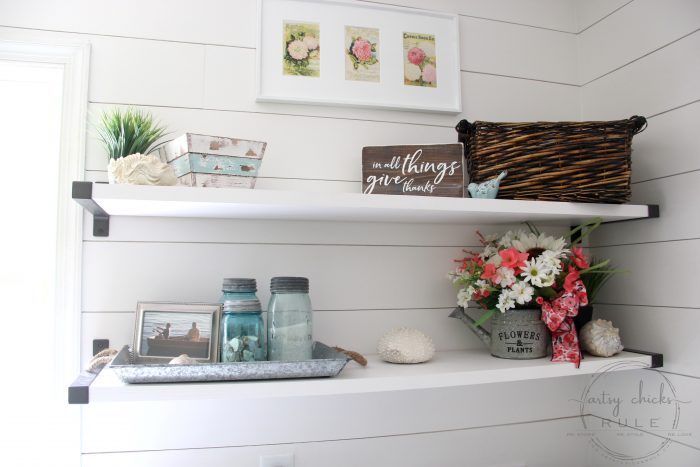 Get those framed botanical prints (and others) here >>> Botanical Art & Free Printables
On my front door…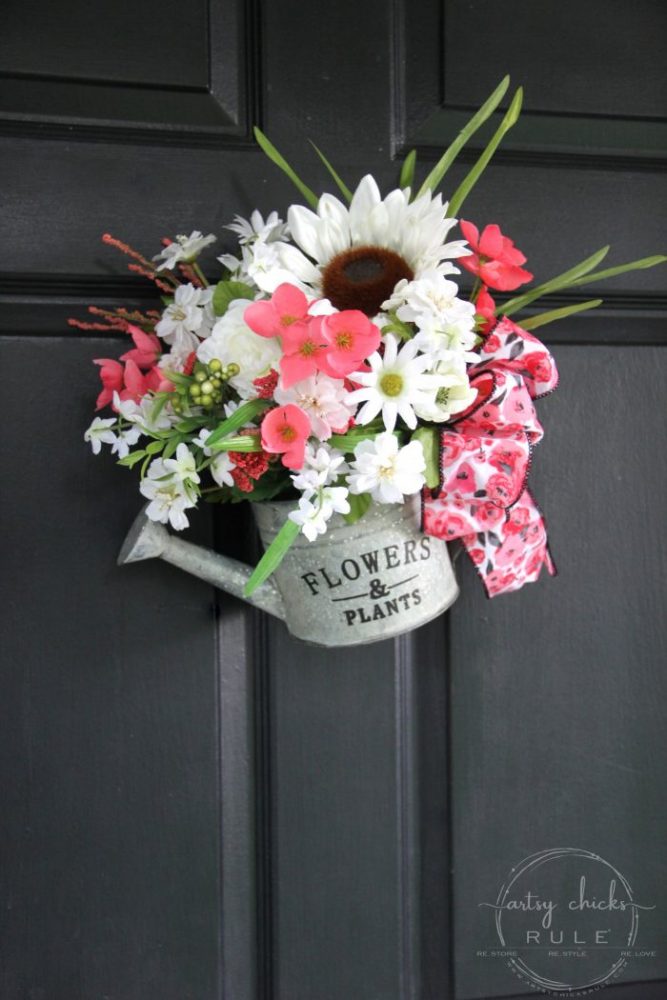 …which is also getting overhauled, as in, replaced in the big makeover.
On the hall tree, on my front porch…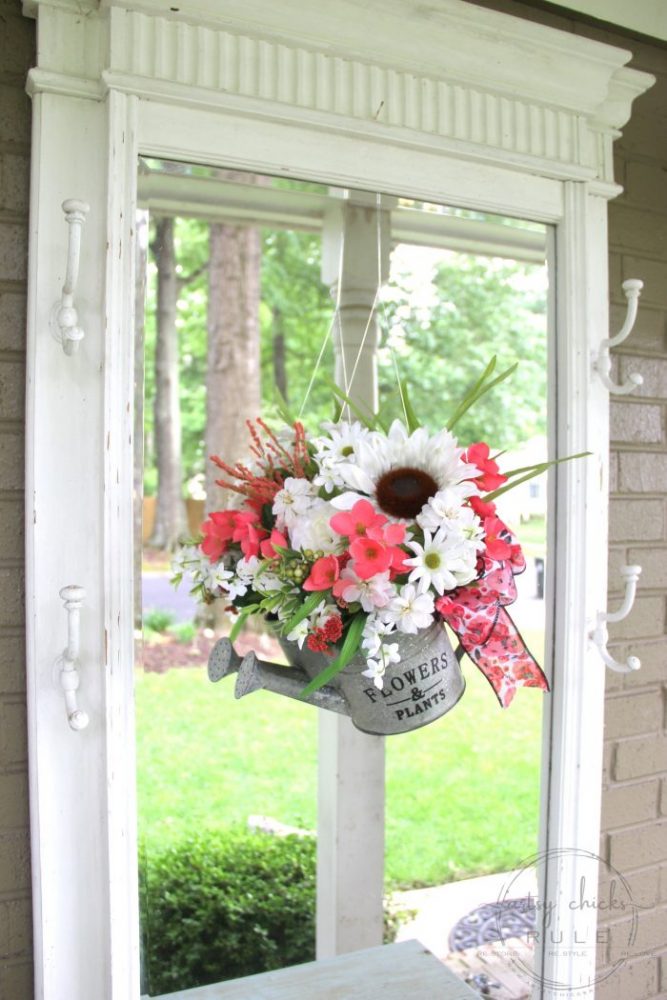 If you are new here, yes, I have a hall tree on my front porch. Why not? ;)
It was a thrifty find ($35) that I rescued, painted, and have used out here for years.
You can read all about it here >>> Front Porch Decor – $35 Hall Tree
Simple and sweet and really easy to put together. And a fun, quirky, unique summer wreath idea too!
I hope this has inspired you to make something pretty for summer, too.
Or, if you've never made a "wreath", get busy making one…or two!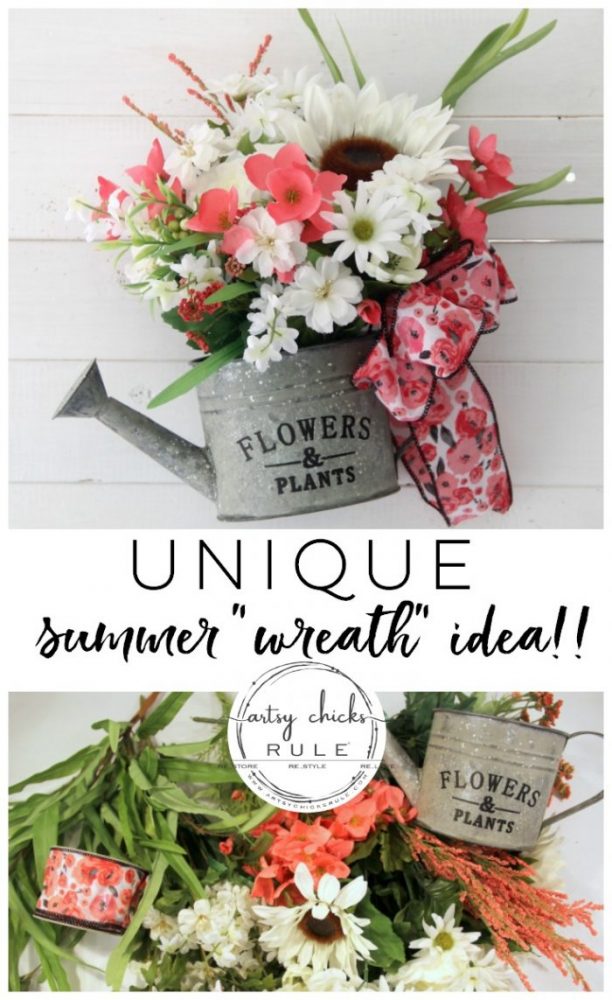 Be sure to go check out all the beautiful wreaths my friends have made below.
I'm so excited that the Seasonal Simplicity series is back again, and this time it's to celebrate Summer! Today I've joined up with a talented group of bloggers to kick of this series by sharing a beautiful DIY or Craft project with you all! Enjoy the inspiration and ideas…
The Happy Housie / The DIY Mommy /Confessions of a Serial DIYer / Zevy Joy
Finding Silver Pennies / Happy Happy Nester / Tidbits / Vinyet Etc.
A Pretty Life / Artsy Chicks Rule / Town and Country Living / Newly Woodwards
Southern State of Mind / Craftberry Bush / Summer Adams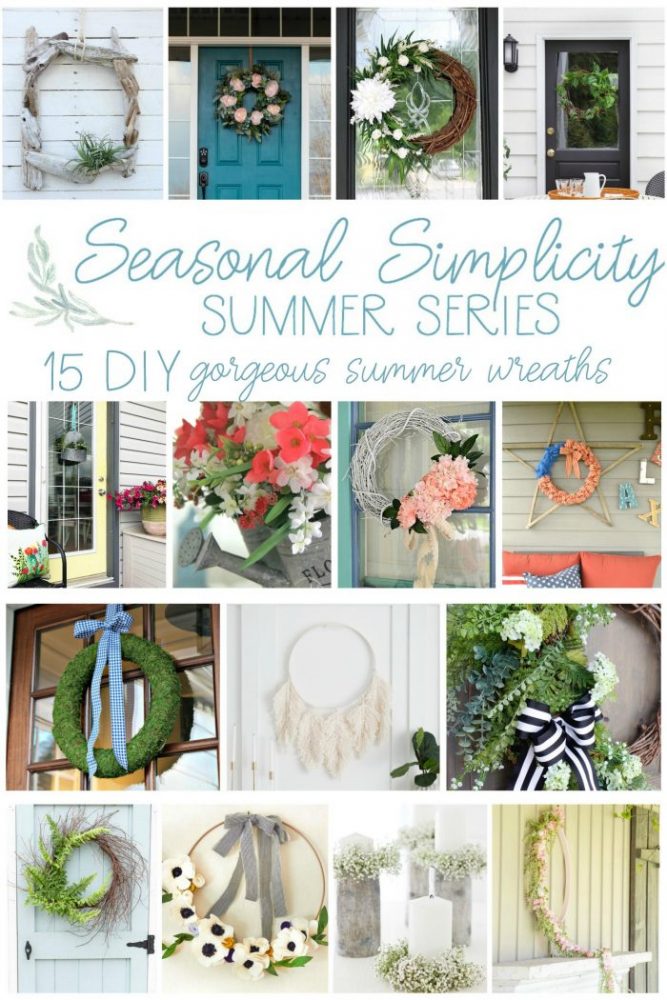 ……………………………………………………………………………………………………..
I hope you enjoyed all of the pretty inspiration for summer!
Have a wonderful weekend, friends! I'll see you right here next week, back on my regular posting schedule with 10 DIY Home Improvement Projects…You Can Do!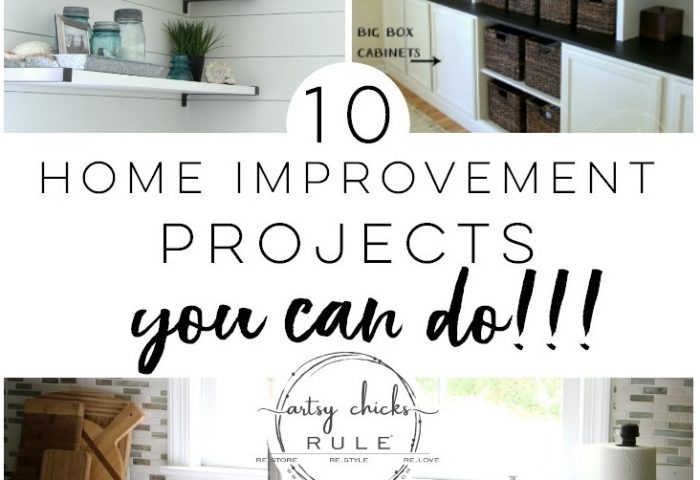 Update: See it now >>> here!!
xoxo