DIY Fall Wreath (Fall Themed Tour)
This post may contain affiliate links. Please see disclosures here.
Love more traditional colors for fall? Here's a DIY fall wreath you can make in an afternoon with all the vibrant colors of fall (and it smells good too)!
Last updated 9/3/19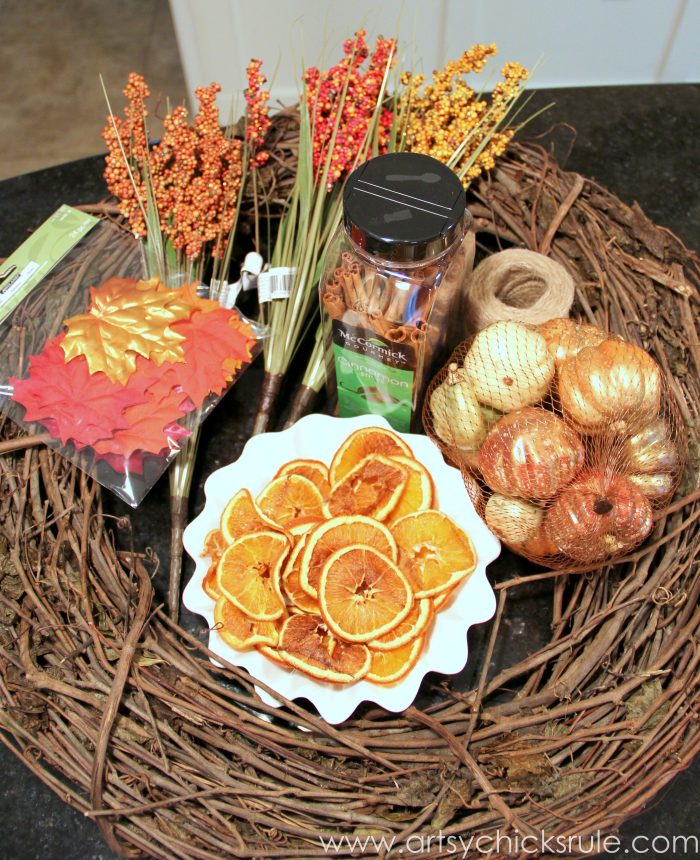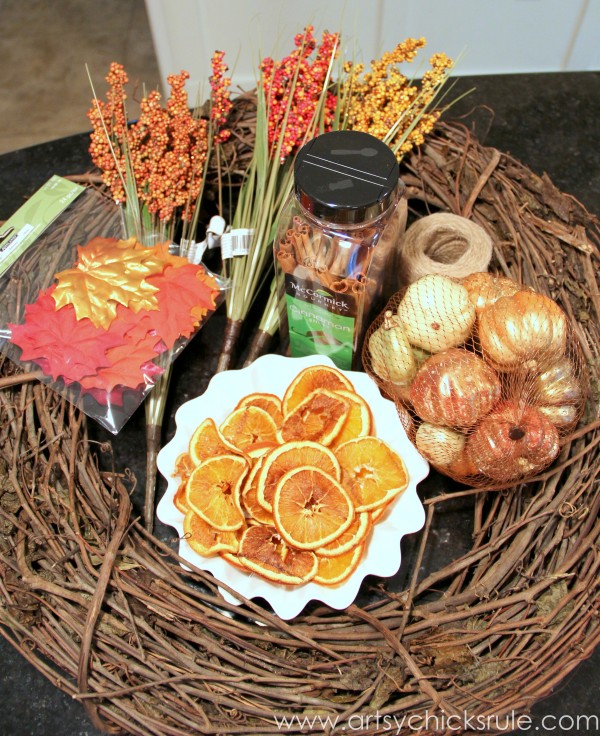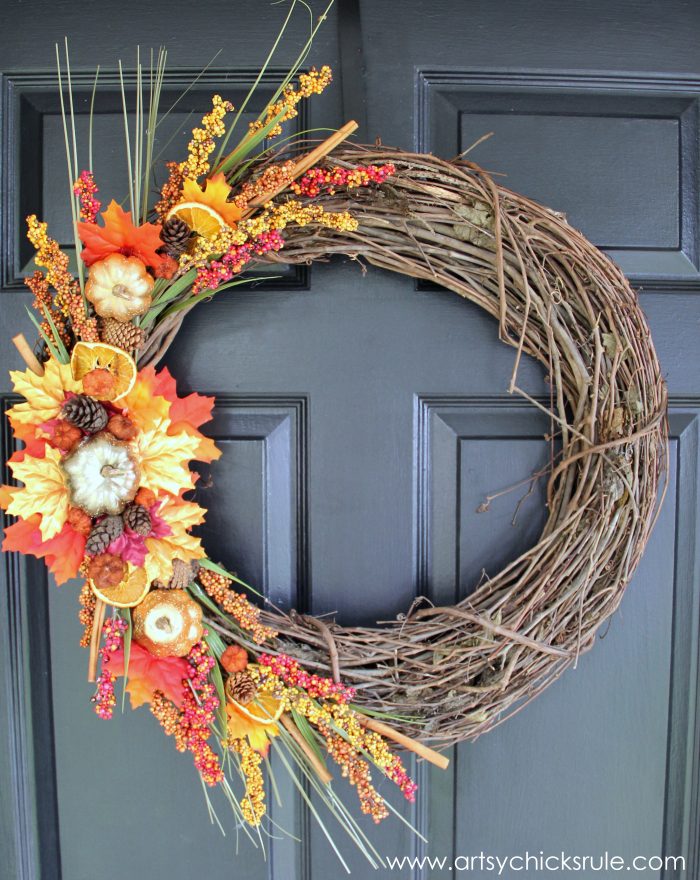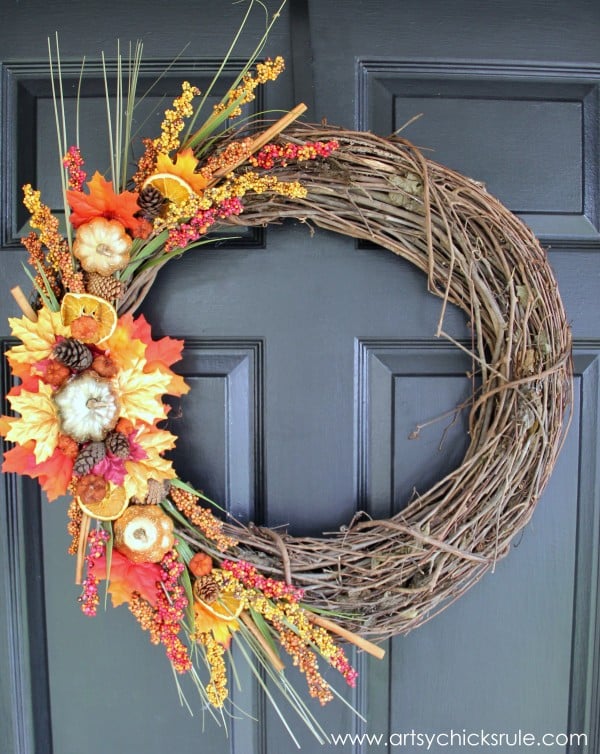 You guys ready for FALL??
All decorated up? Ha! Me either…I'm resisting. Which isn't hard considering it's hot and humid still. :)
BUT it is about that time.
So I joined up with a bunch of other bloggers to create something for fall in a themed tour.
I decided to create a DIY Fall Wreath. I'm a crafty girl and make all sorts of things but I honestly can not remember if I've ever made a wreath.
How crazy is that?
Seriously, I have done every crafty thing you can think of in my lifetime.
But not a wreath. Hmm.
I had an idea of what I wanted it to look like…but not a clear vision.
But as things usually do (usually!) it came together and I ended up with this.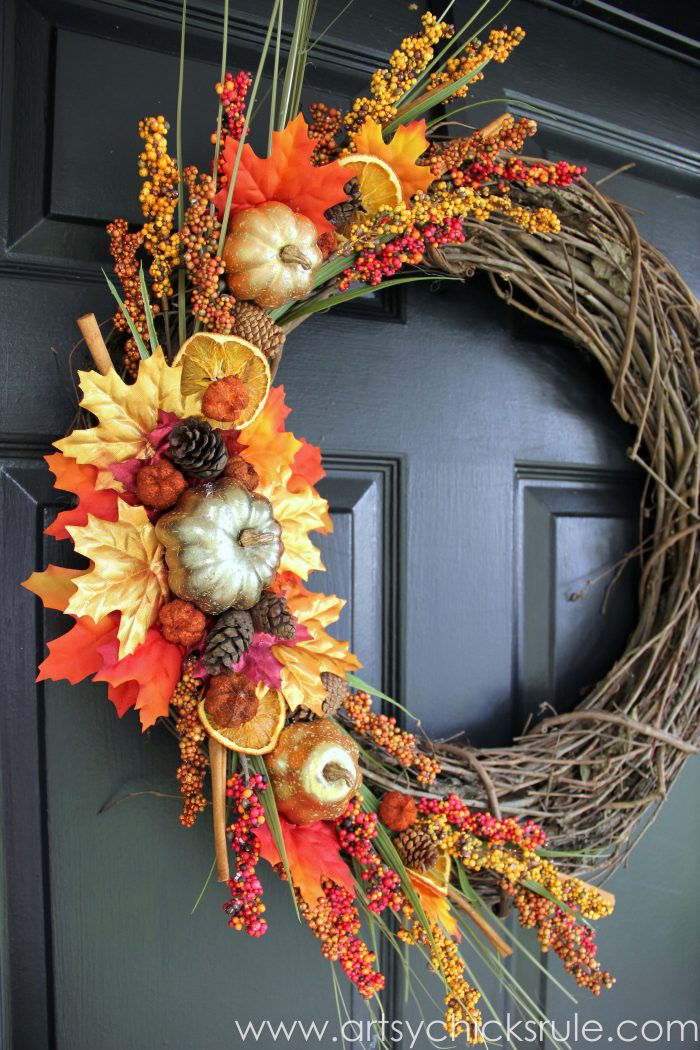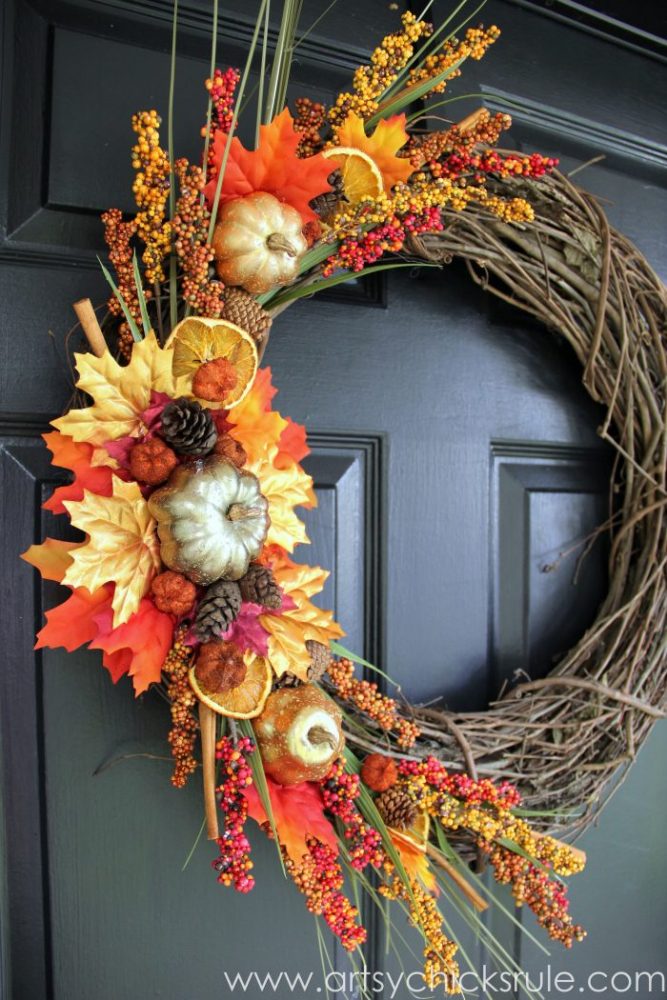 Not too shabby for a first-timer! ;)
You would have laughed had you been here during the making though.
Talking to myself the whole way through…working it out. I entertain myself often. ;)
But truthfully y'all, it was not hard. And it was kinda fun.
I think I want to make more.
Here is what I started with:
Picked this all up at Michael's in case you want to duplicate this. (great when you can get it when they are 50% off!)
And here are some similar items online:
MATERIALS LIST
Fall Sprigs & Green Sprigs
Pumpkins (similar)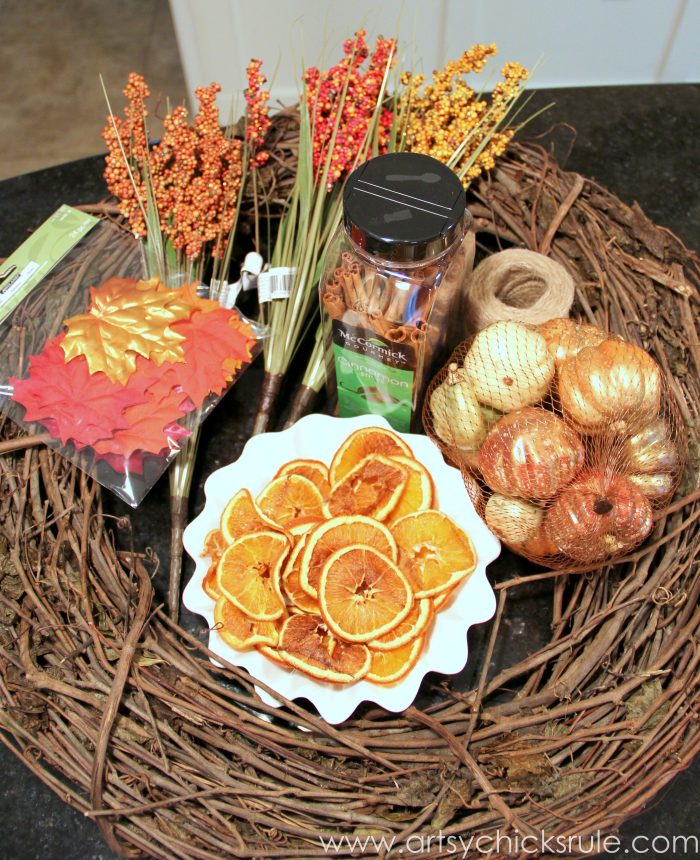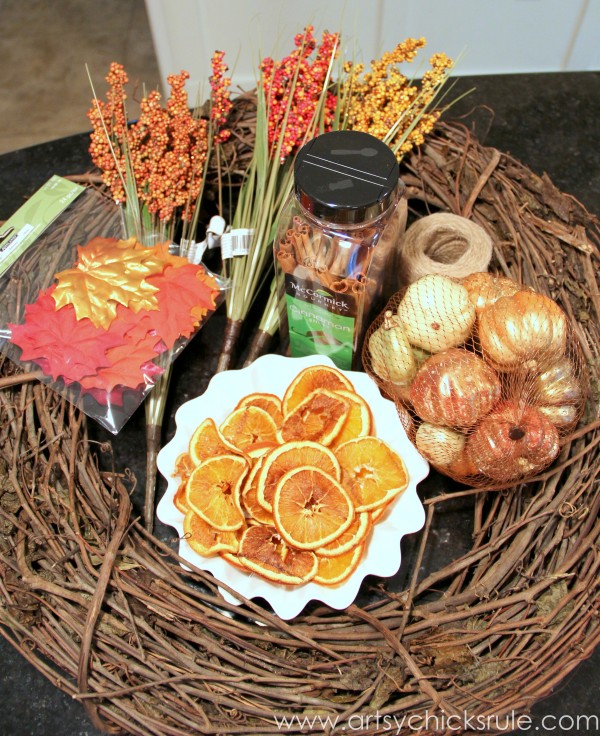 See the dried oranges??
I made those.
No, I have no tutorial for it because (1) it was simply slicing oranges and laying them on the oven rack at 200 degrees until they were "done"….and (2) I don't think I ever want to do it again. lol They didn't turn out as quite as expected but I used them anyway.
But hey, I did it, right? And it was doable, it just took forever!
I wanted to add those and cinnamon sticks because those are some of the things I think of when I think of Fall.
I had originally thought I'd tie twine around several (same with the cinnamon sticks) and add them to the wreath that way.
But that didn't look good.
So here's how I started.
Wreath….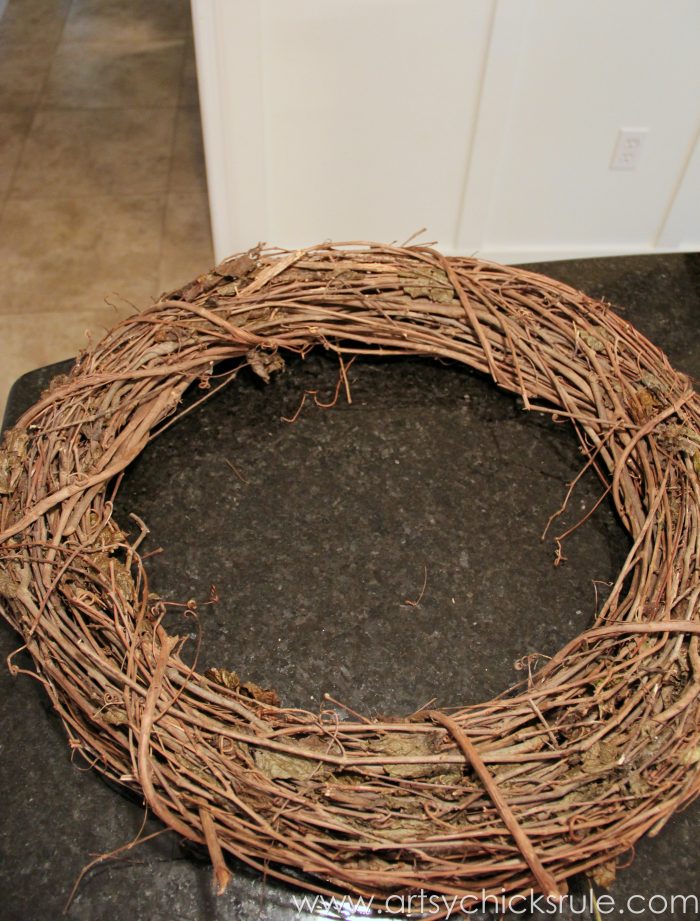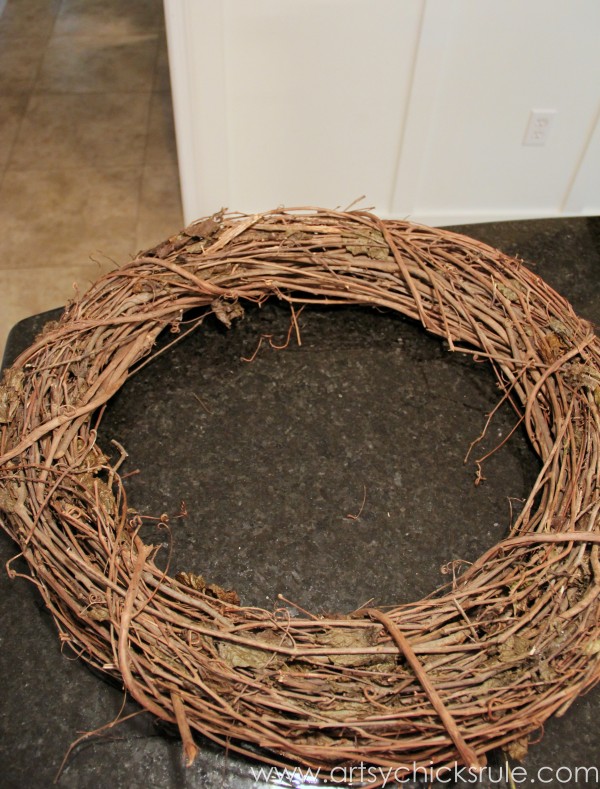 …with a wonky side. I decided to put my "stuff" on that side to hide it.
I unwound the greenery from these bunches…..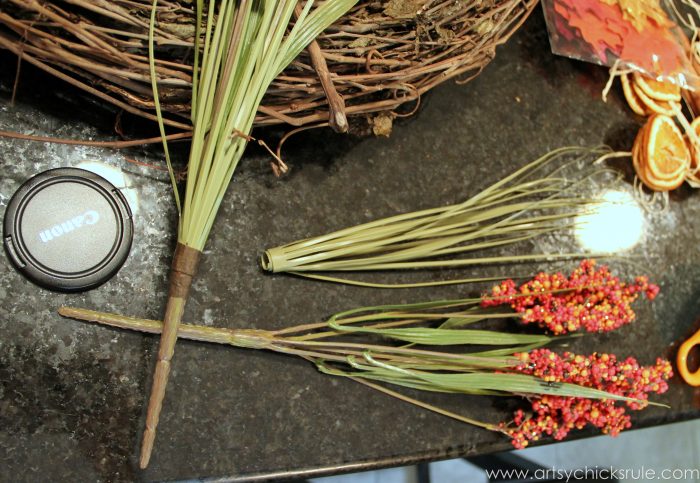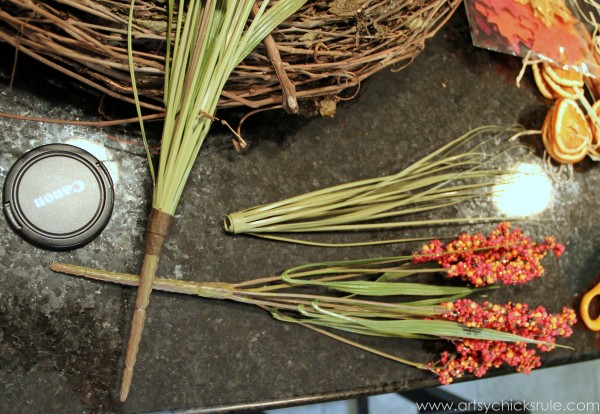 …and separated all the sprigs from each other.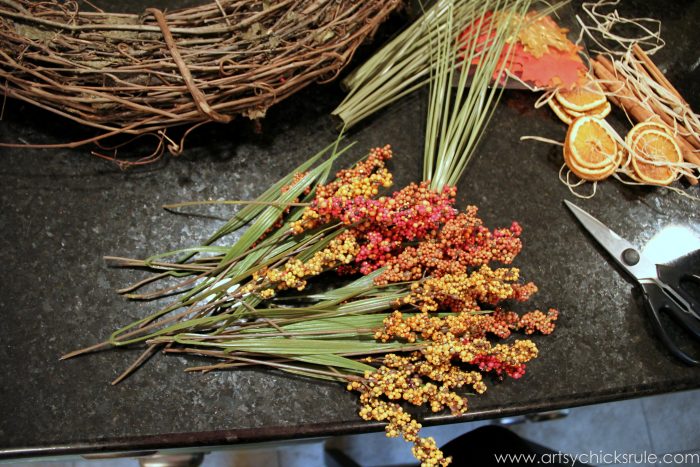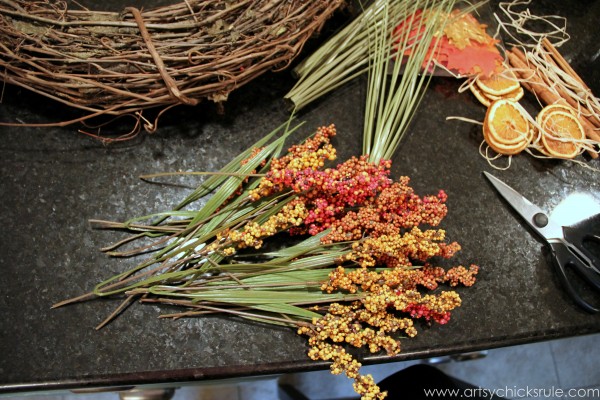 See my sweet oranges and cinnamon all tied up with twine?? (original vision)
Then I inserted the sprigs and greenery evenly on the "bad" side of the wreath I was trying to hide.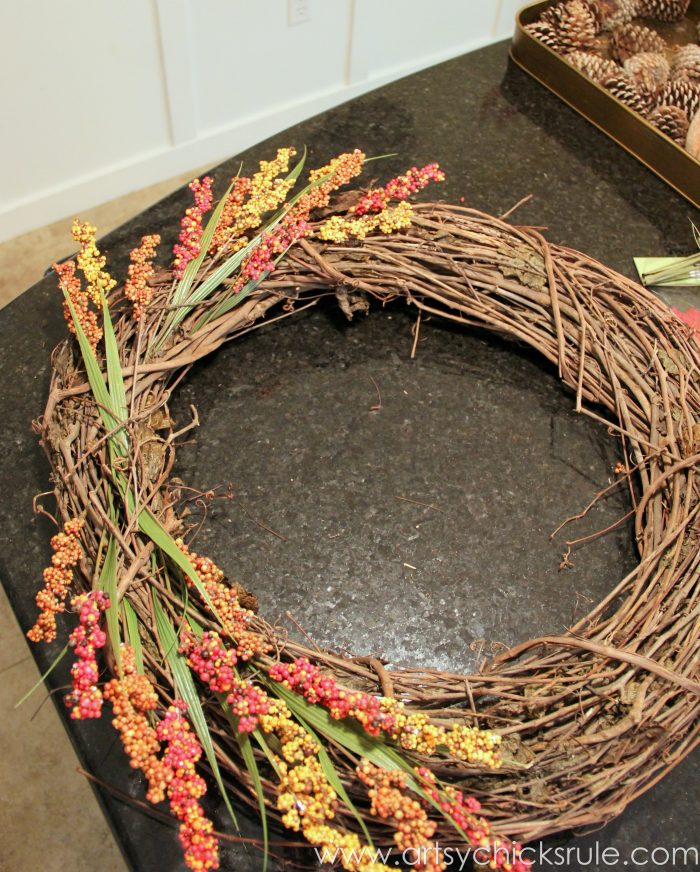 I literally just stuck it all in until it looked the way I wanted it.
Then I cut the greenery into sections and added a bit of that in too.
I started building the rest by adding 3 small pumpkins and a few of the leaves I bought.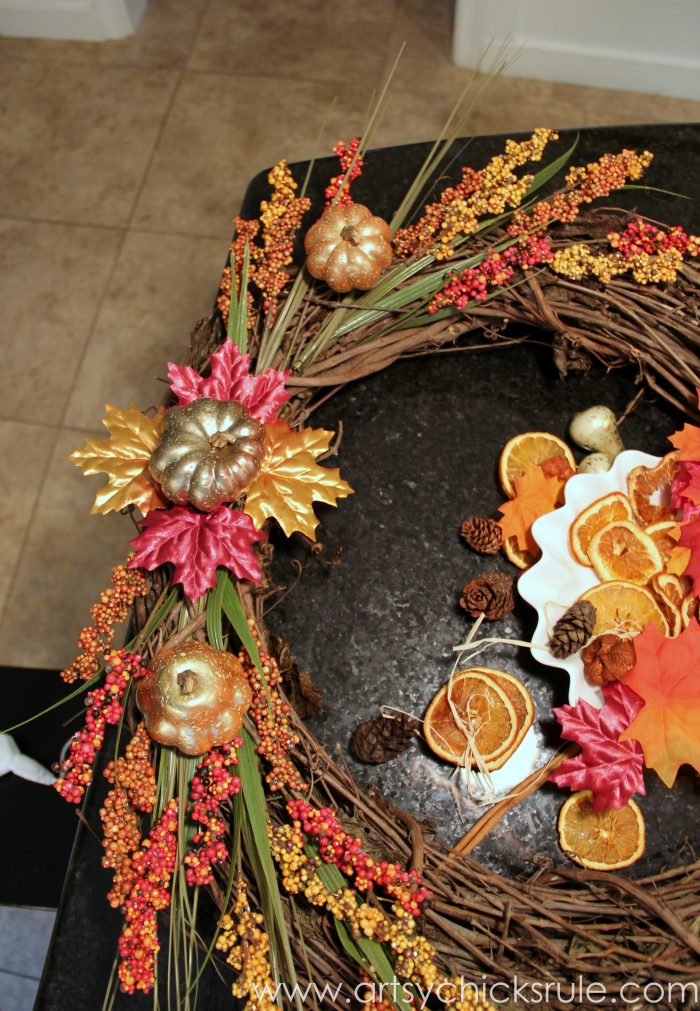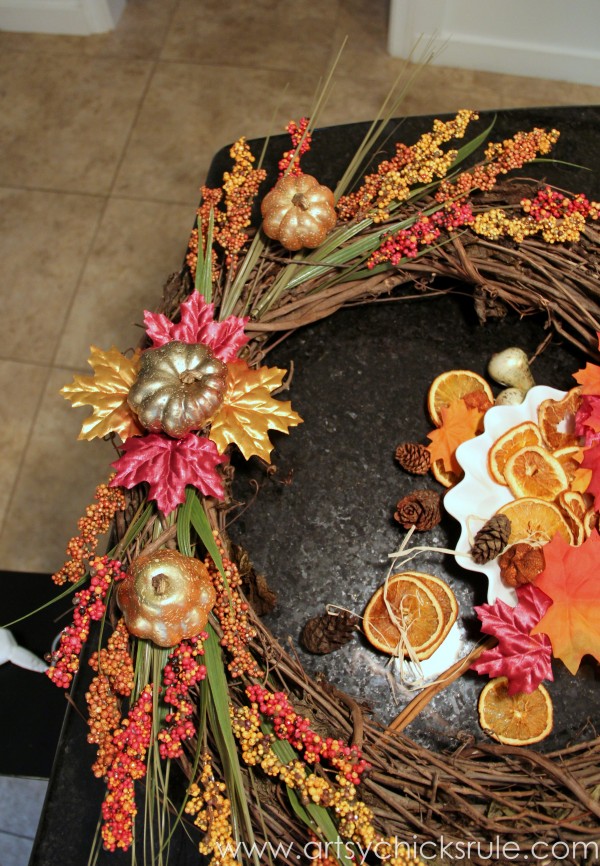 See my working stash in the middle?
I laid things here and there on the wreath before I hot glued them to see how it looked first.
Which was a good thing because I did change my mind a couple of times!
Next, I added 4 orange slices …separately, not twined as I had originally planned.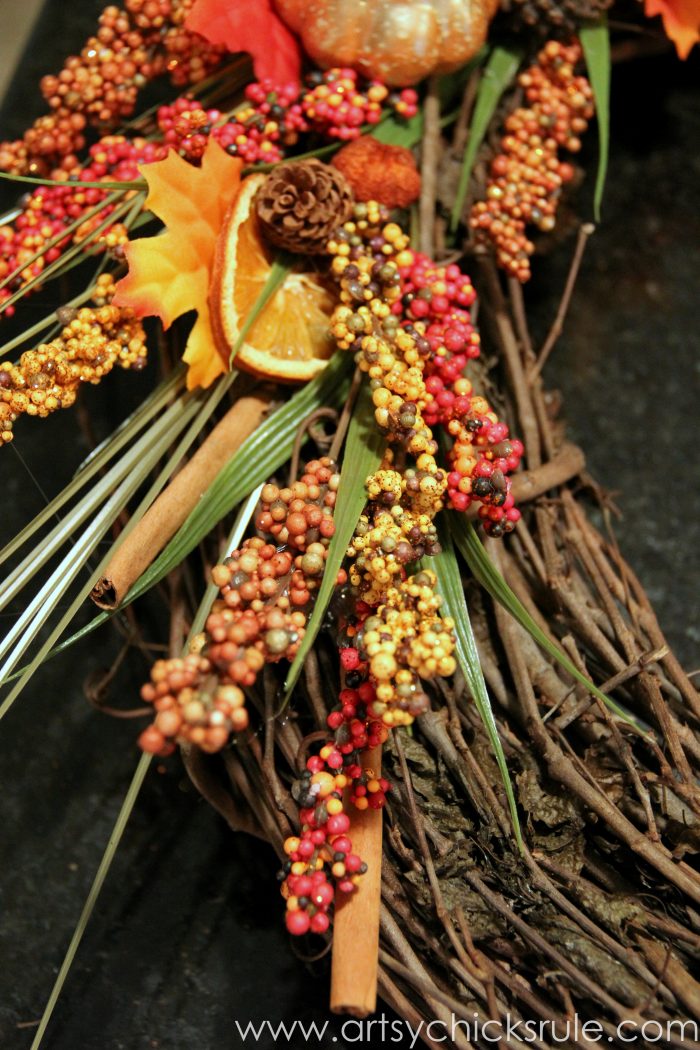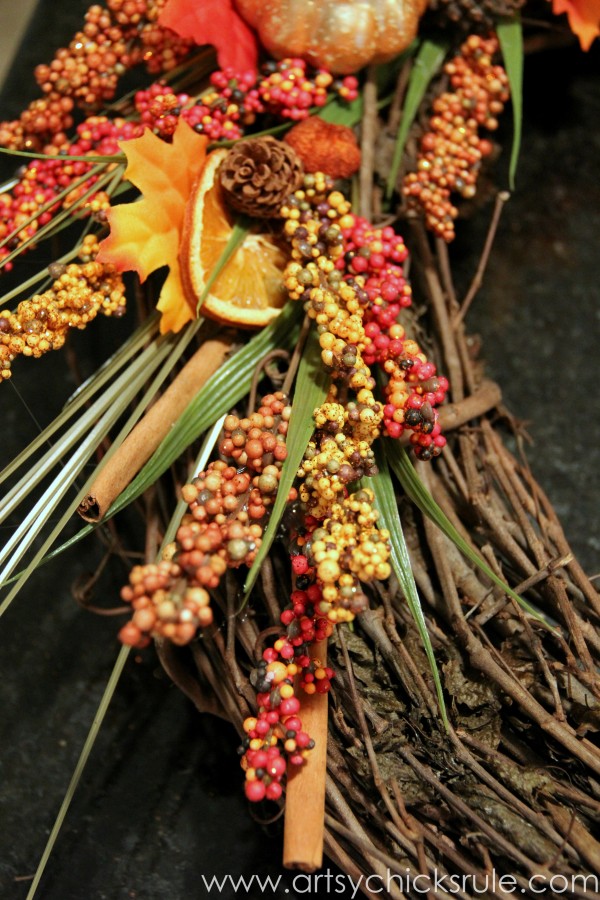 I also stuck in a couple of cinnamon sticks near the orange slices.
I didn't love the orange slice just sitting there so I added a leaf behind it, a small pine cone and orange seed pod(?) on top.
Much better.
Next, I added a few small pine cones in various places and started layering additional leaves to the center area as well as behind the other 2 pumpkins.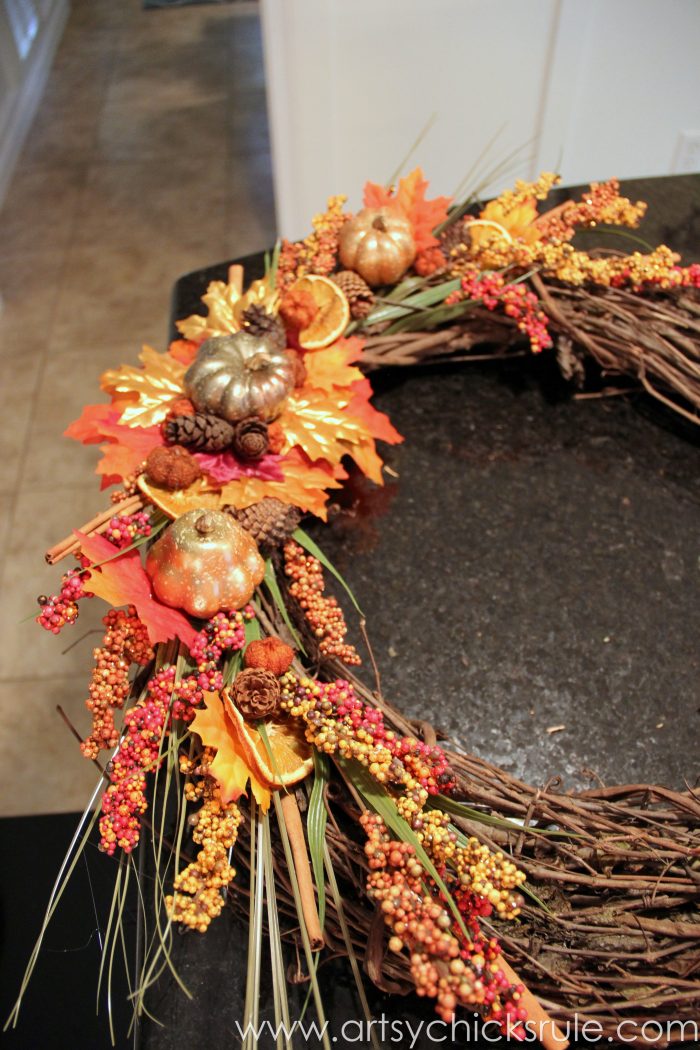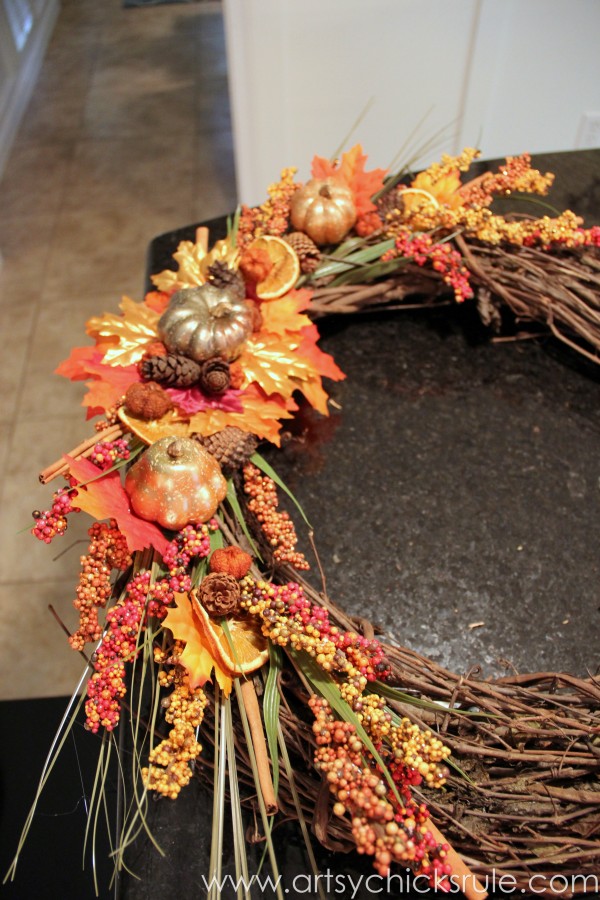 I think I hid the "wonky" pretty well.
A few up close detail shots of what and how I added things….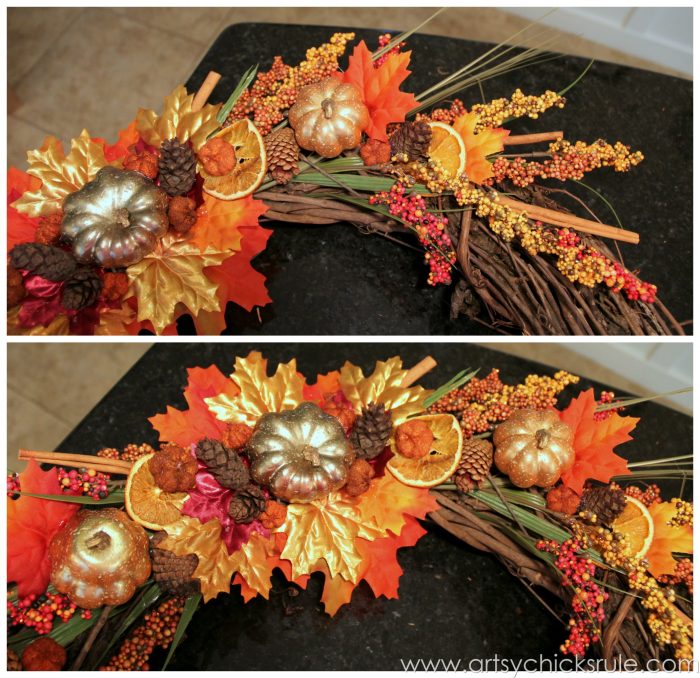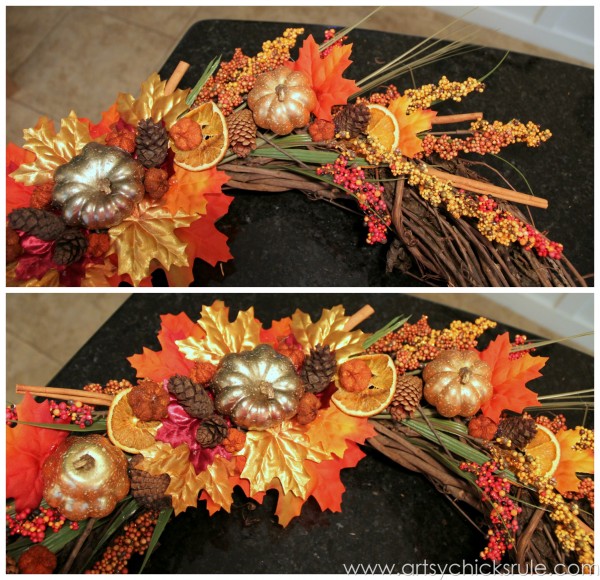 and really up close….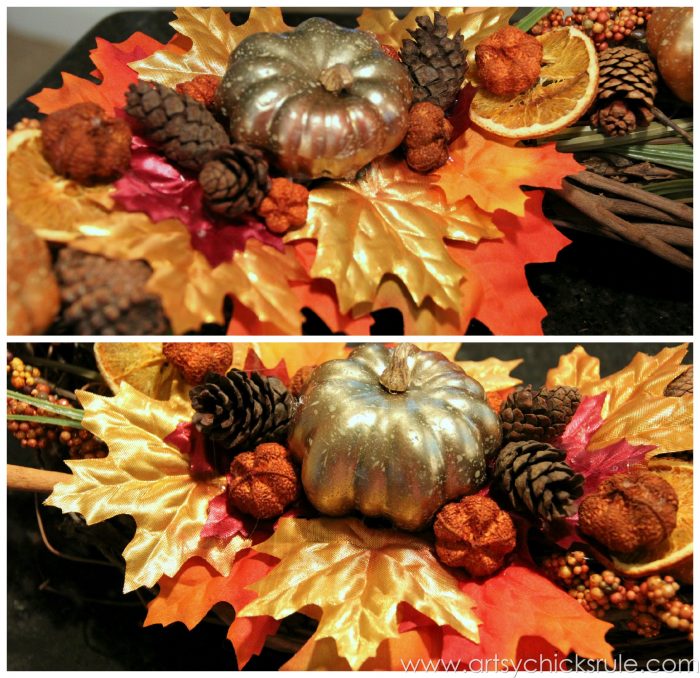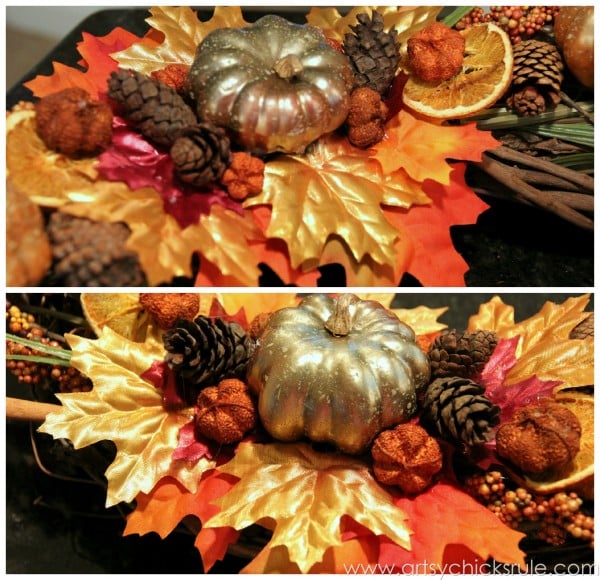 So it actually smells like Fall with the addition of cinnamon sticks, orange slices and tiny pine cones that came scented with cinnamon.
YUM.
That's what I smell every time I come to my front door.
Perfect.
Too bad I can't keep it here.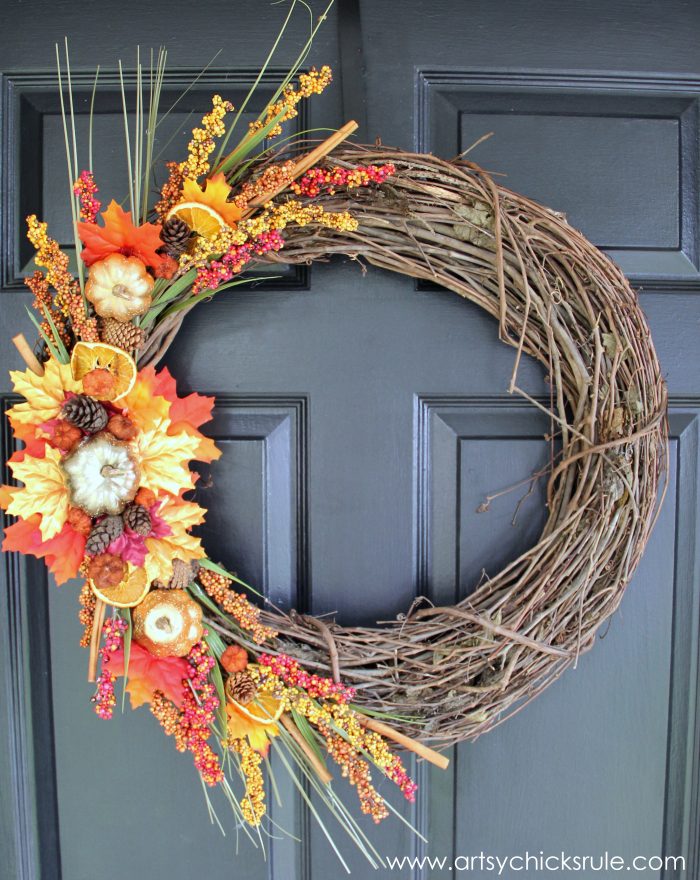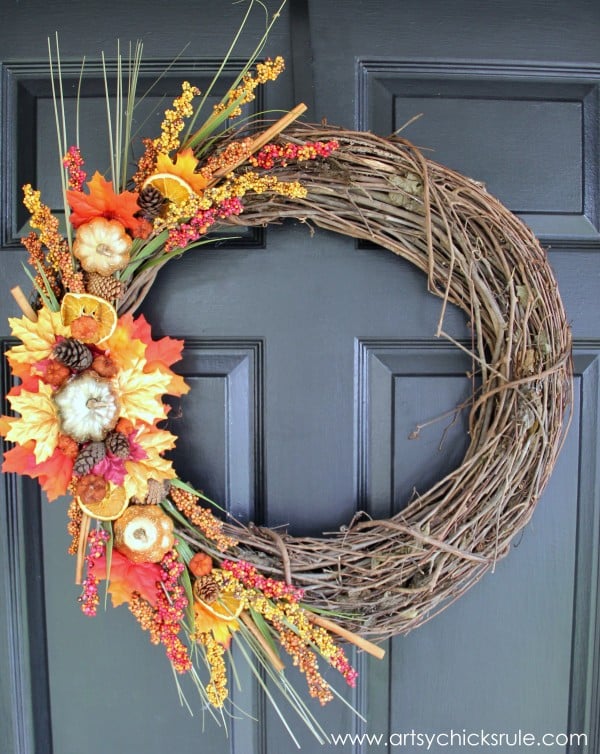 I can't put too many things on this door because of the other door we have in front….the glass outer door.
It's too tight a fit for most things.
So this is where I have it hanging instead. Which actually works pretty well and you can see it much better from the street too.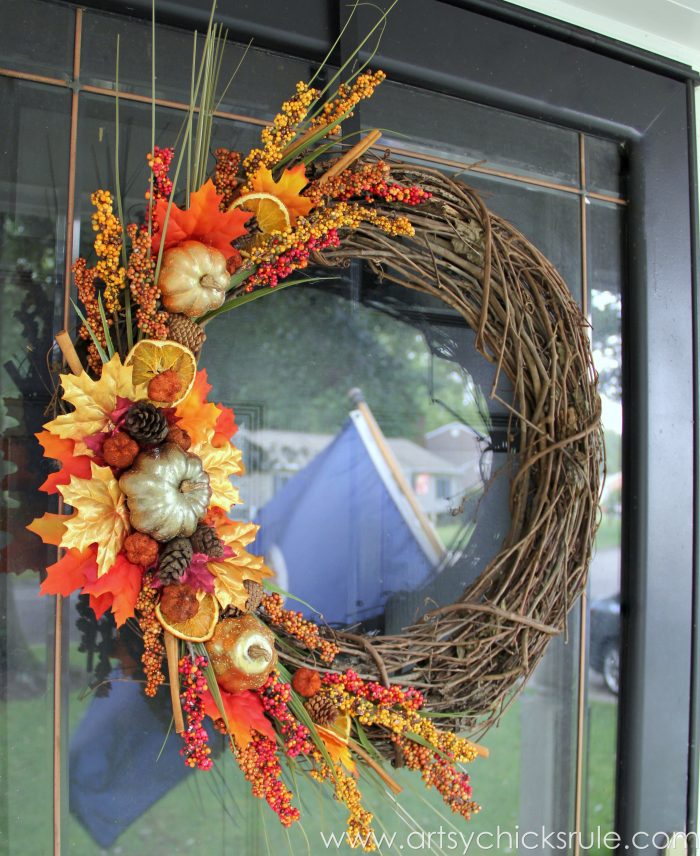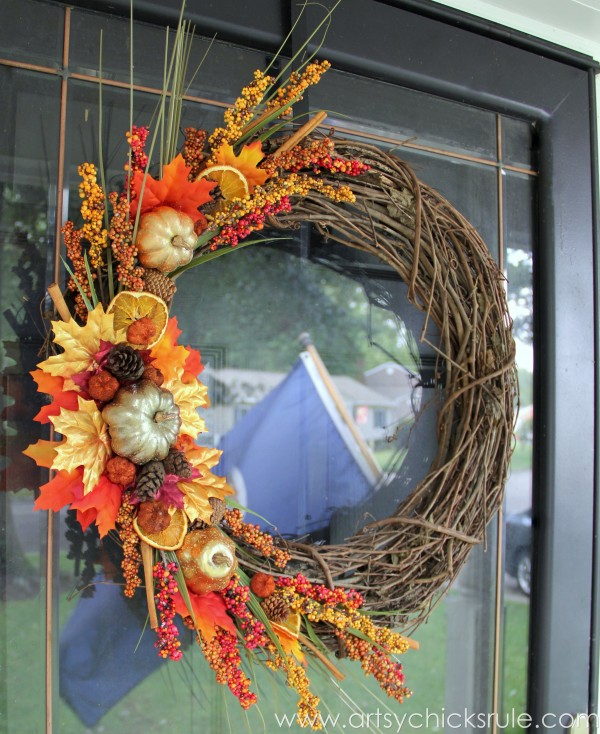 I even kind of like it on the inside of my door!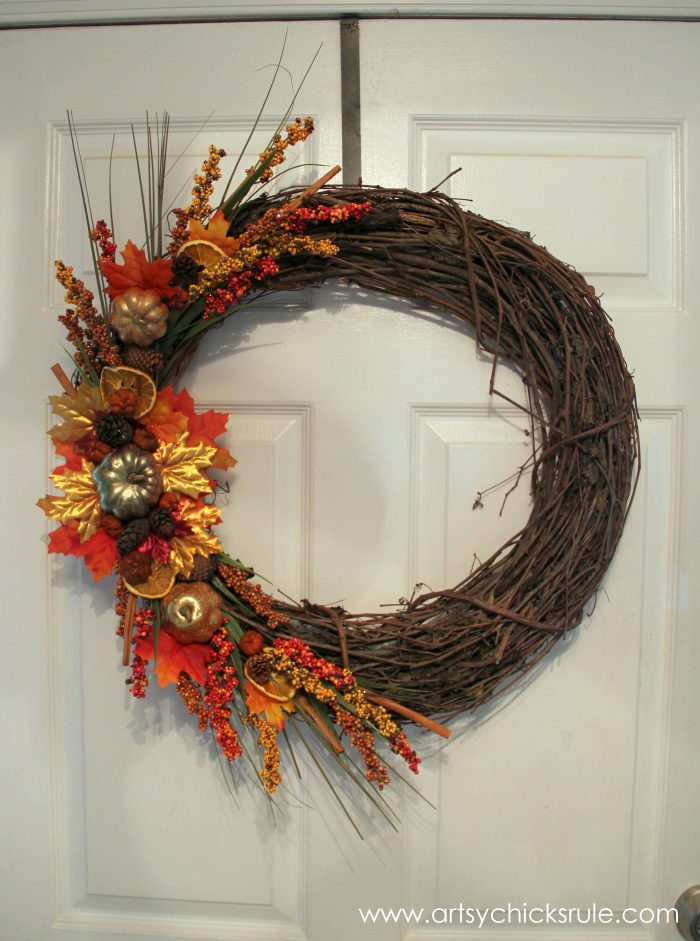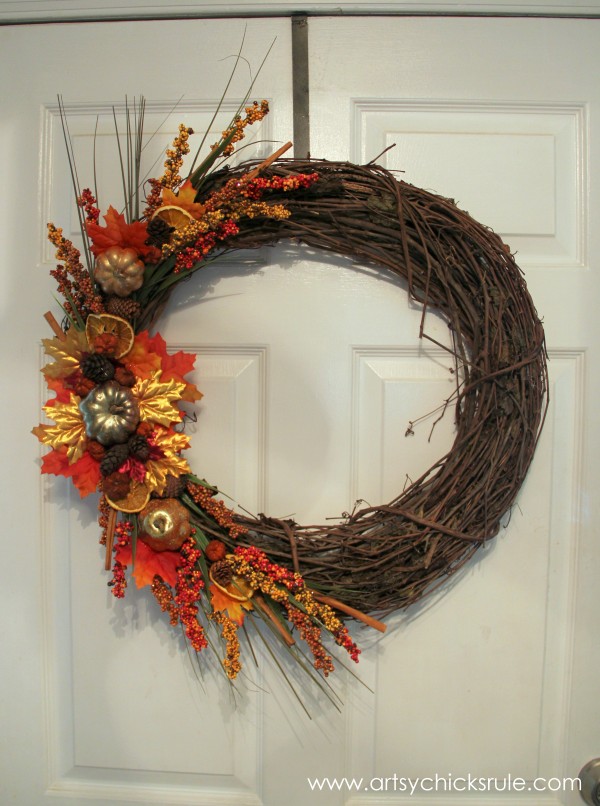 I've never hung anything on this side but it sure is nice to be able to enjoy the "pretty" from this side.
I might have to change that!
Have you ever made a wreath?
This was a first for me (I think, I am OLD now so the memory fades…I could have at some point and forgotten!)
Anyway, it's totally do-able…….and also fun to create it exactly how you want.
PIN this DIY FALL WREATH (traditional colors!) to save for later!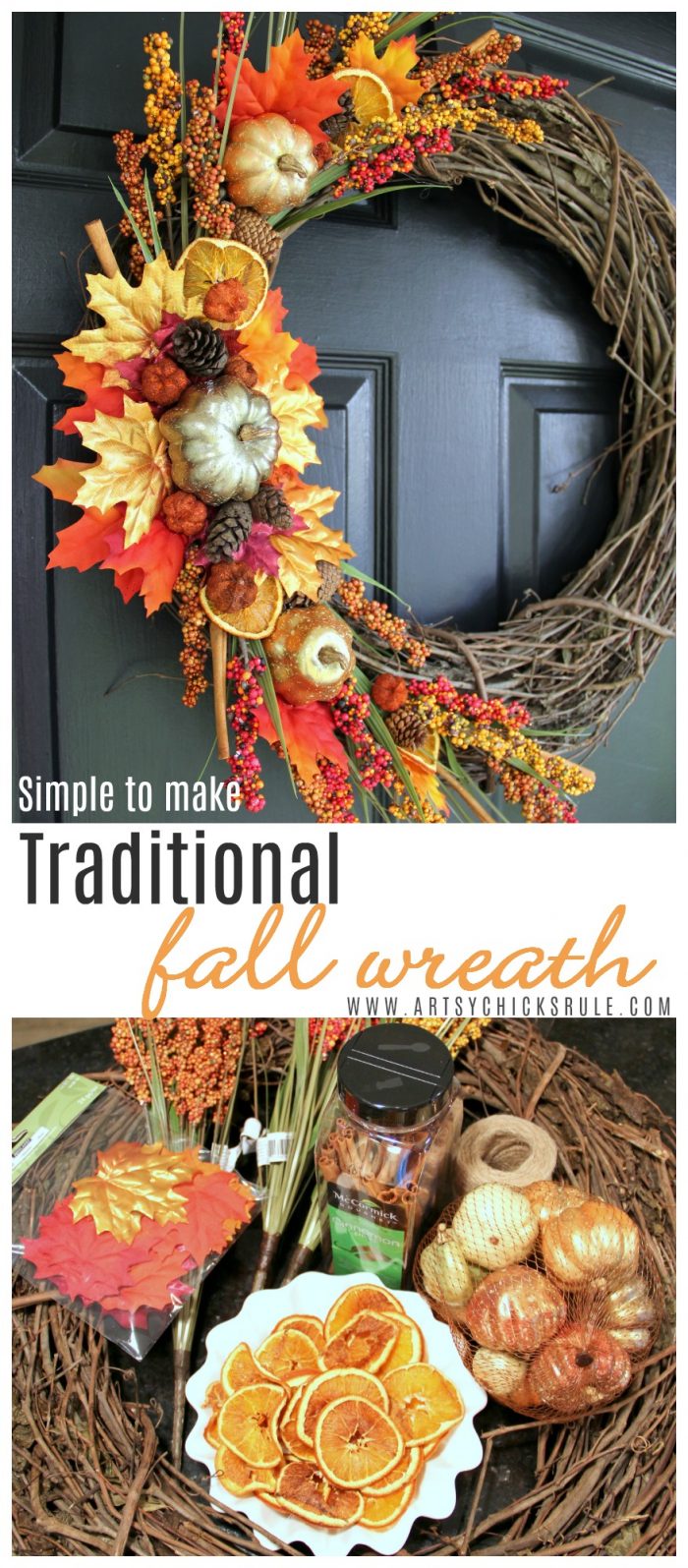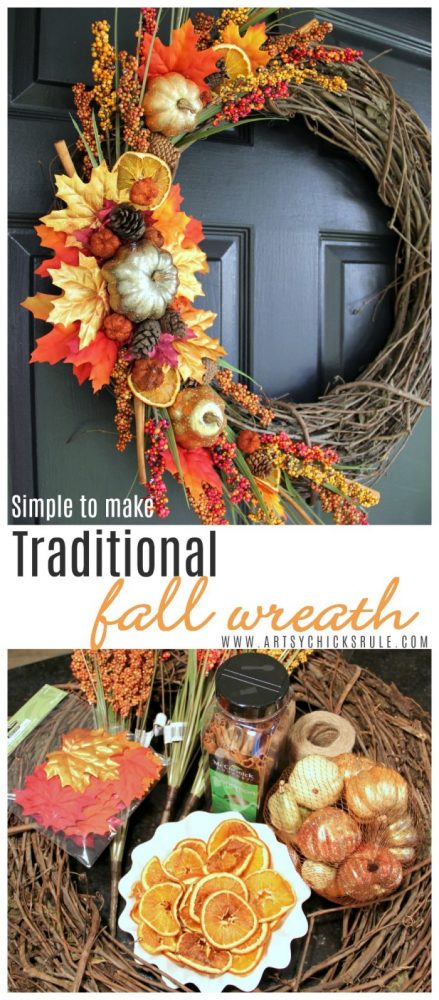 I've been sharing all the lovely FALL DECOR from the tour over on my Artsy Chicks Rule Facebook page all week!
Be sure to take a look below and visit all my friend's blogs to see their lovely Fall items!
See you all next week with MORE Fall goodness. My front porch decorated and a fun (and super simple!) fall DIY chalkboard art tutorial. If you follow on Instagram, you've seen a sneak peek already!
Want to see another DIY Fall Wreath idea?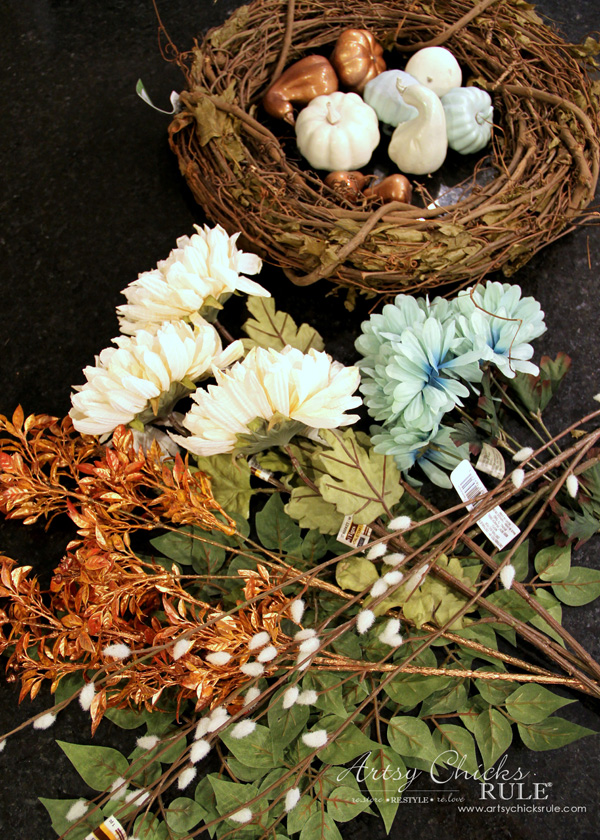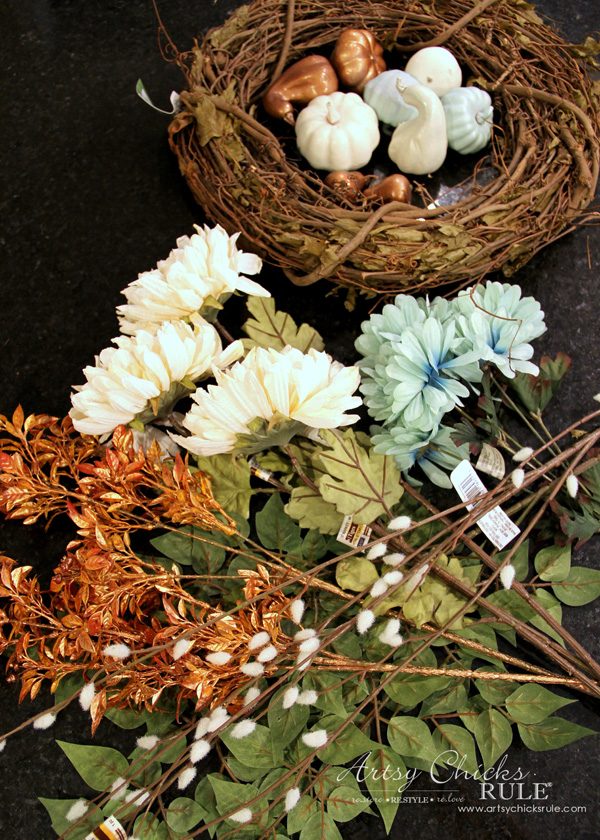 Click here to see how to make this Coastal DIY Fall Wreath, too.
Don't forget to visit my friends below and get inspired to decorate for fall. :)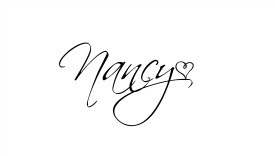 I'm including a few affiliate links for wreaths. See my full disclosure here.