"Happy Fall Y'all" Chalkboard Art Tutorial
This post may contain affiliate links. Please see disclosures here.
Happy Fall Y'all!!
Does it feel like Fall yet?
I've got my porch decorated for Fall so I suppose it does.
I'll be sharing that with you all shortly.
But first I'm going to share with you something I made for Fall this year.
This "Happy Fall Y'all" Chalkboard Art Sign…..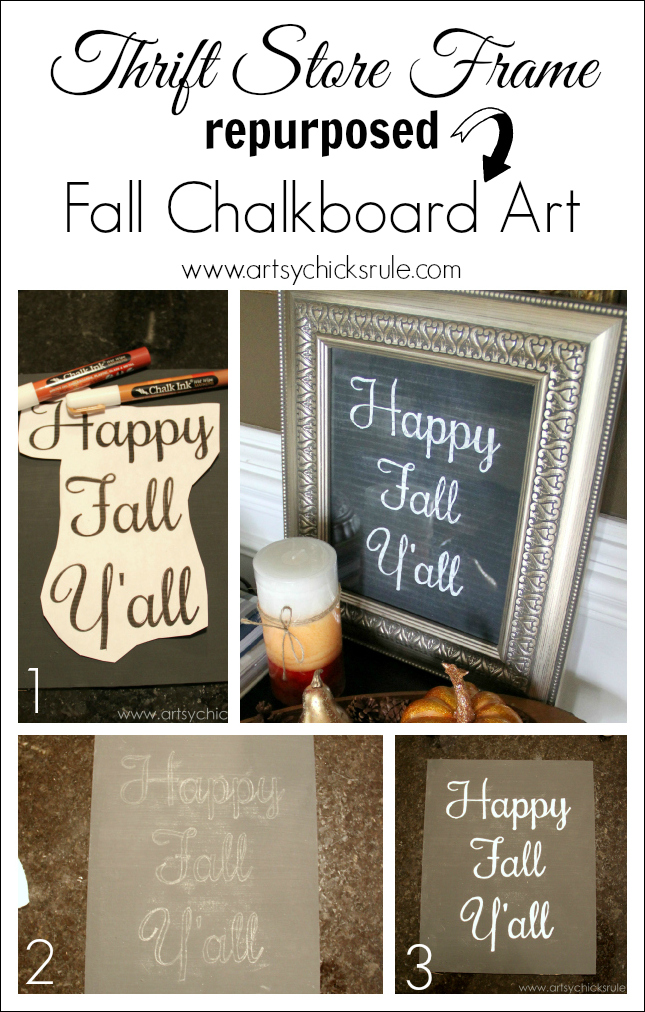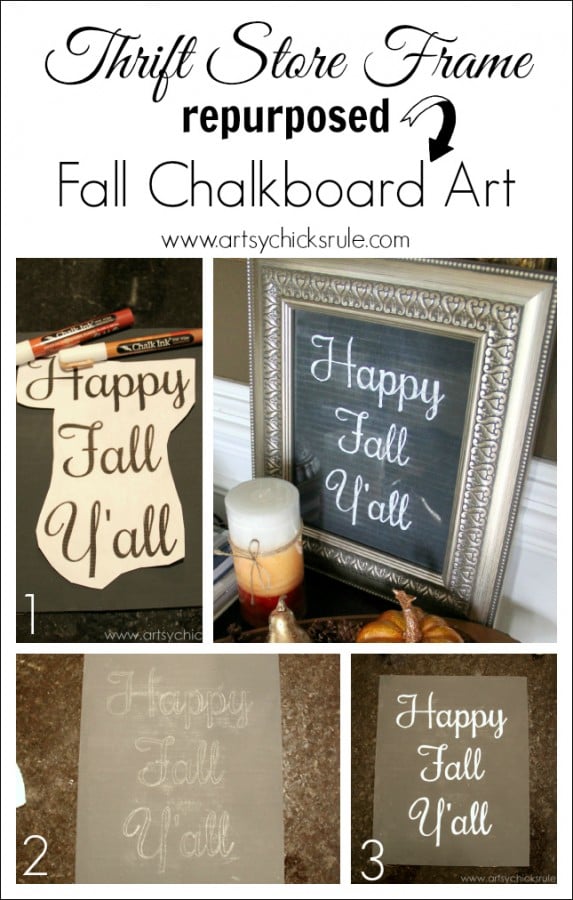 SOOO easy.
Really.
I had this old frame I bought at the thrift store awhile back.
I have no idea what I paid for it now but it was probably in the $1 range.
I don't pay more for them usually.
I pulled it out and was going to paint the glass with black Graphite Chalk Paint®…. like I did on this "Holiday Art" sign –>here.
But as I was pulling out the glass I saw the piece of cardboard that is always in the back of the glass and changed my mind.
I decided to paint it instead and put the clear glass over top for a different look.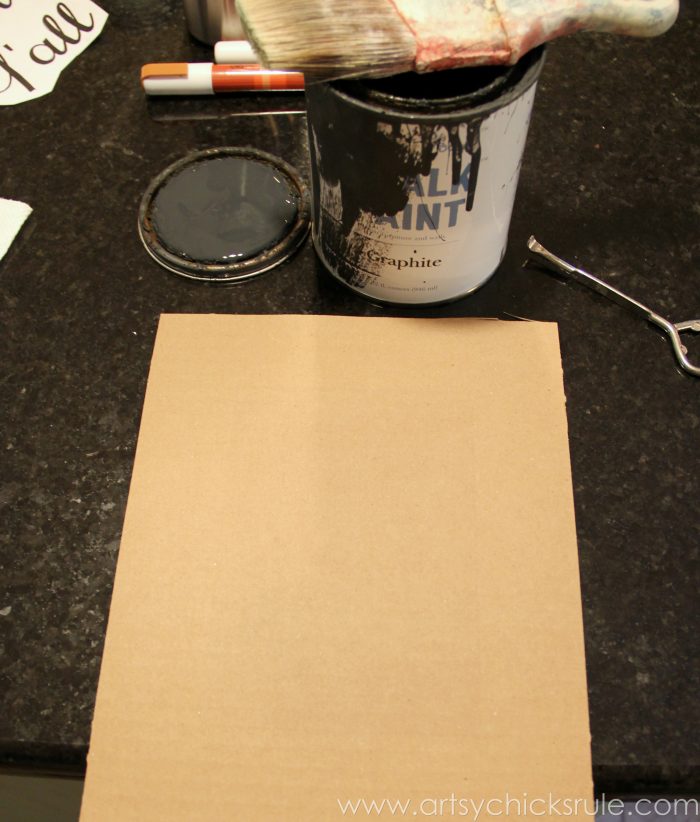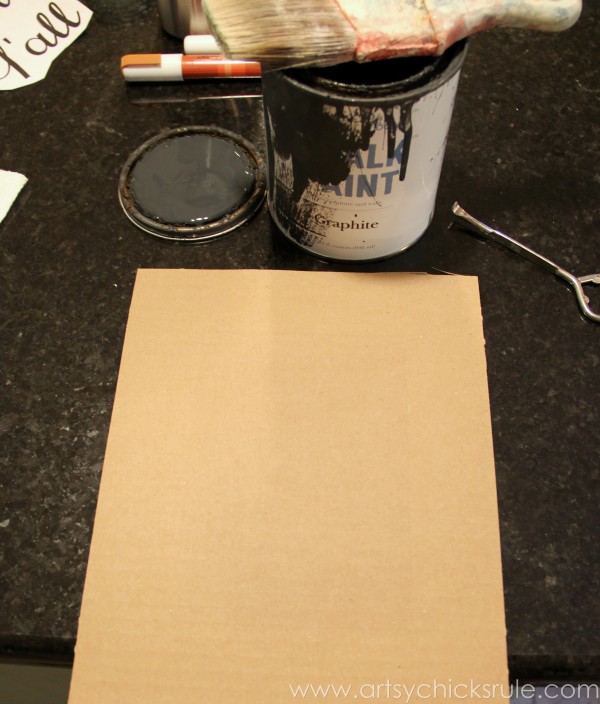 Crazy simple, see? Paint the cardboard, let it dry.
I created this graphic in Picmonkey for the "chalk" writing.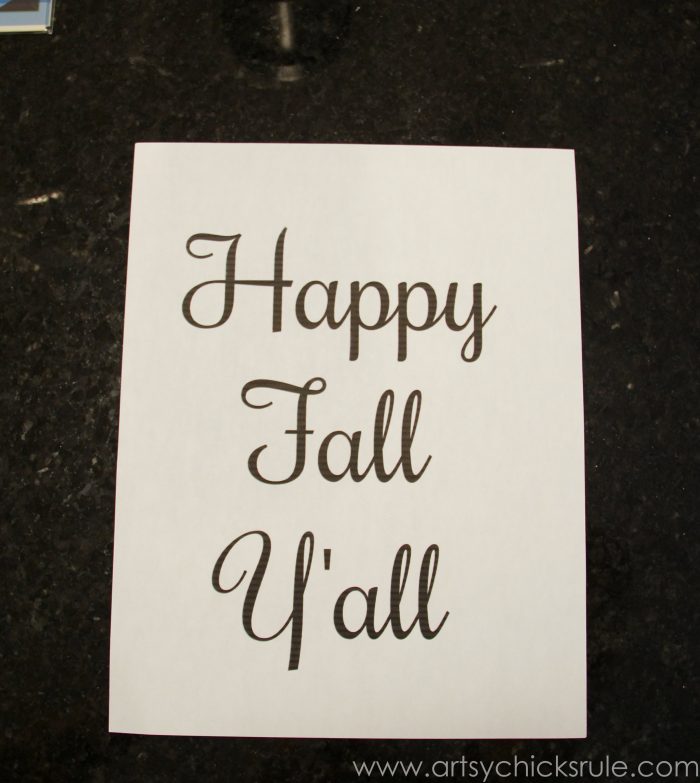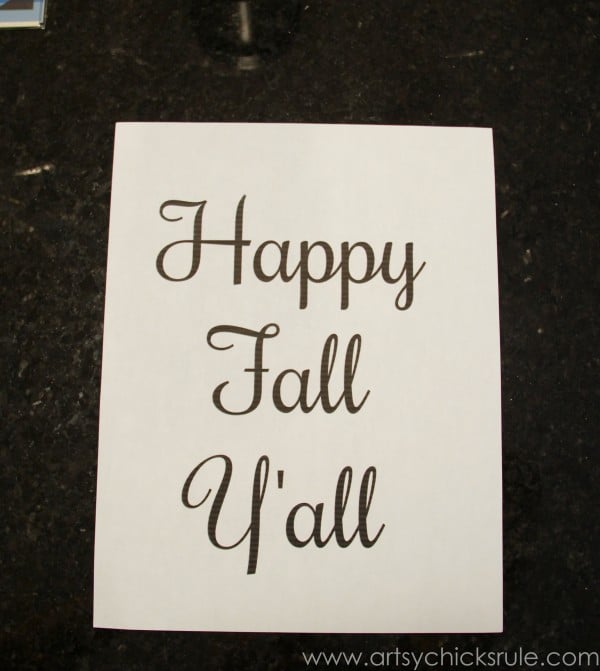 After my "chalkboard" (cardboard painted with Chalk Paint®) was completely dry I transferred the graphic.
I just shaded the back of the lettering with white chalk and placed it where I wanted it on the "chalkboard" and traced the outline of the letters.
(I trimmed around the lettering so I could place it more accurately)
I'm including a few affiliate links for you. You can see my full disclosure here.
Then I painted it in with these fabulous pens.
I've used them a few times now. Like this "Sandy Toes & Salty Kisses" sign I made recently.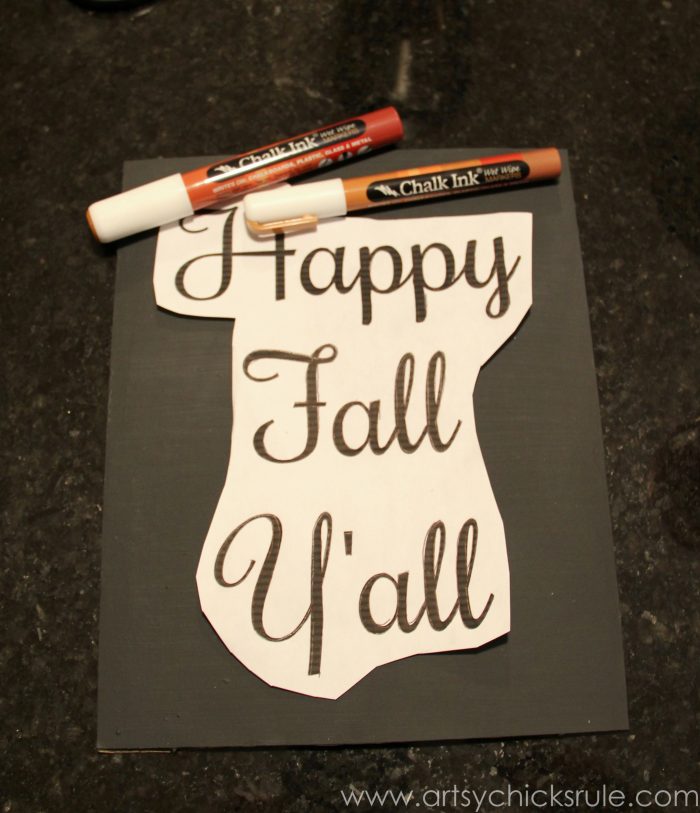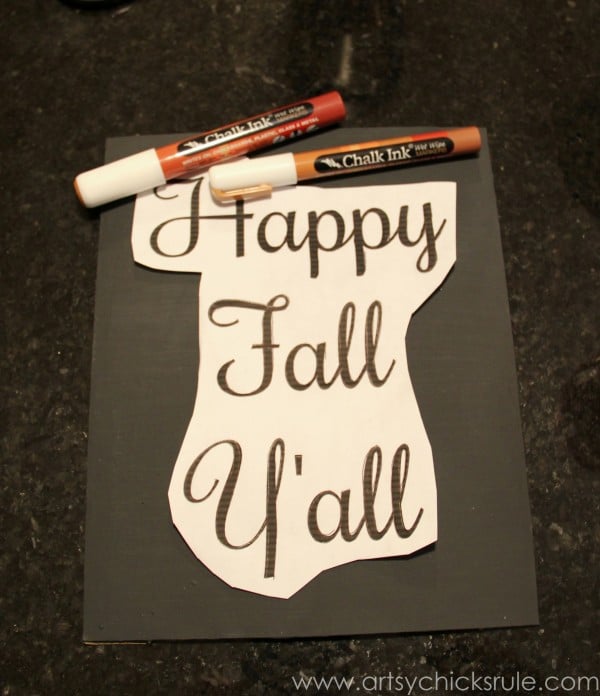 Now that you have an outline all you have to do is paint the inside.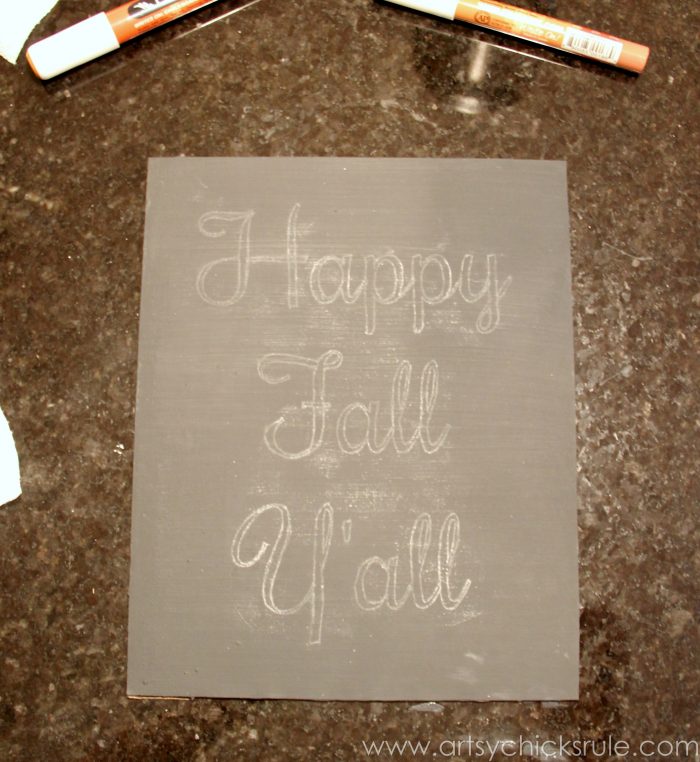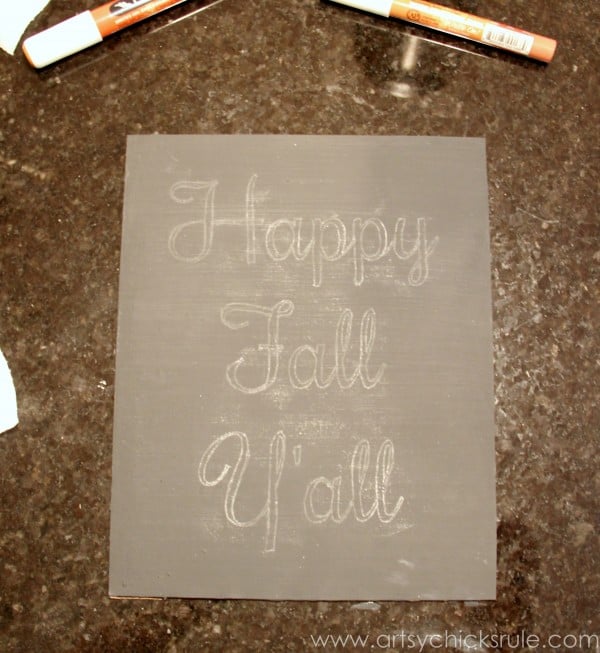 Really can't get much easier than that!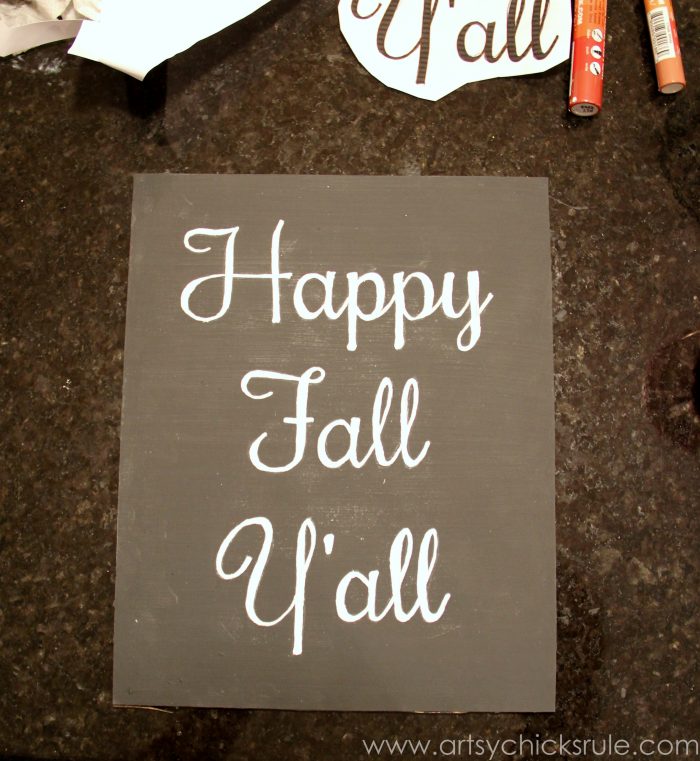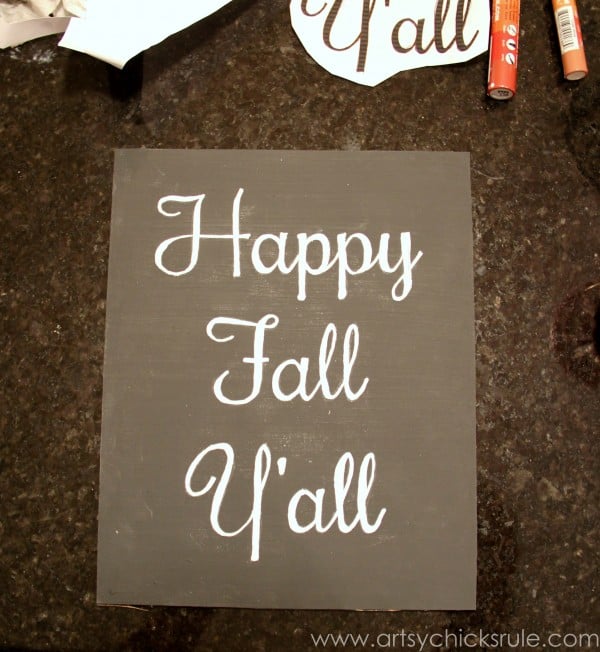 I lightly sanded it to give it a "washed" effect.
Which, if you notice, revealed the corrugated cardboard marks…which I kind of like the look of actually.
(Good thing, right?? ;) )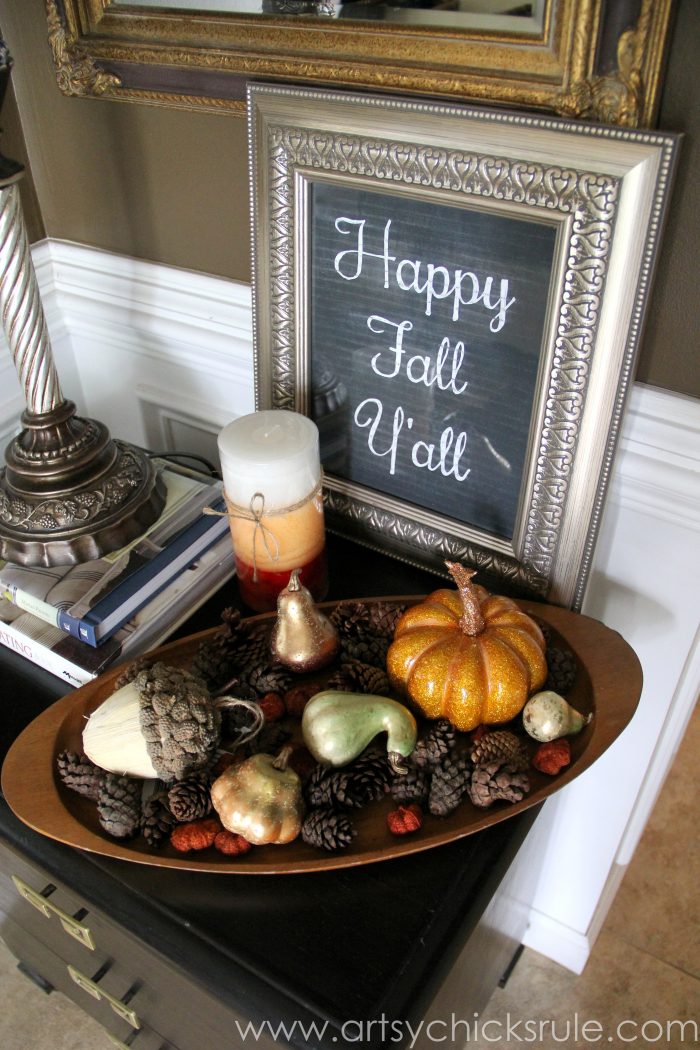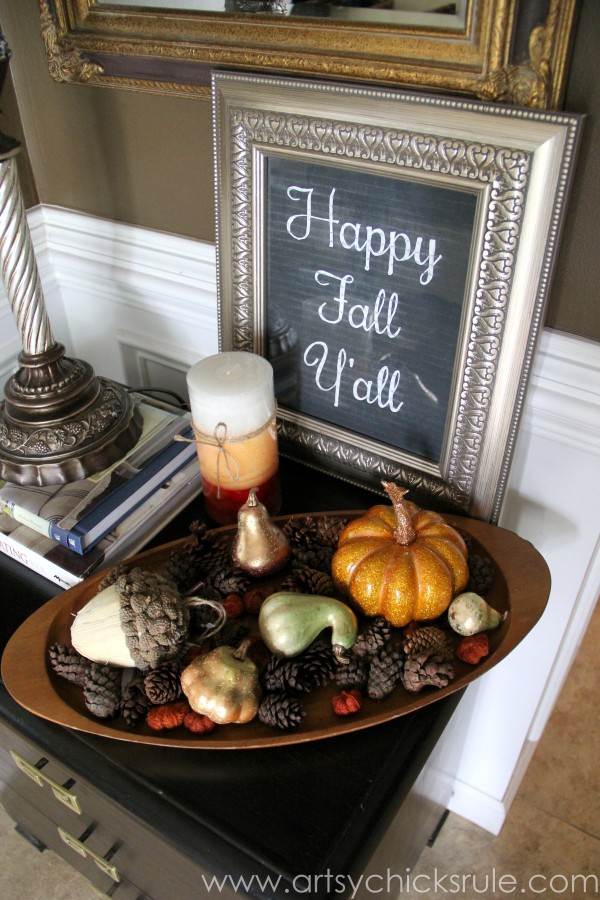 I tried it here in the foyer first….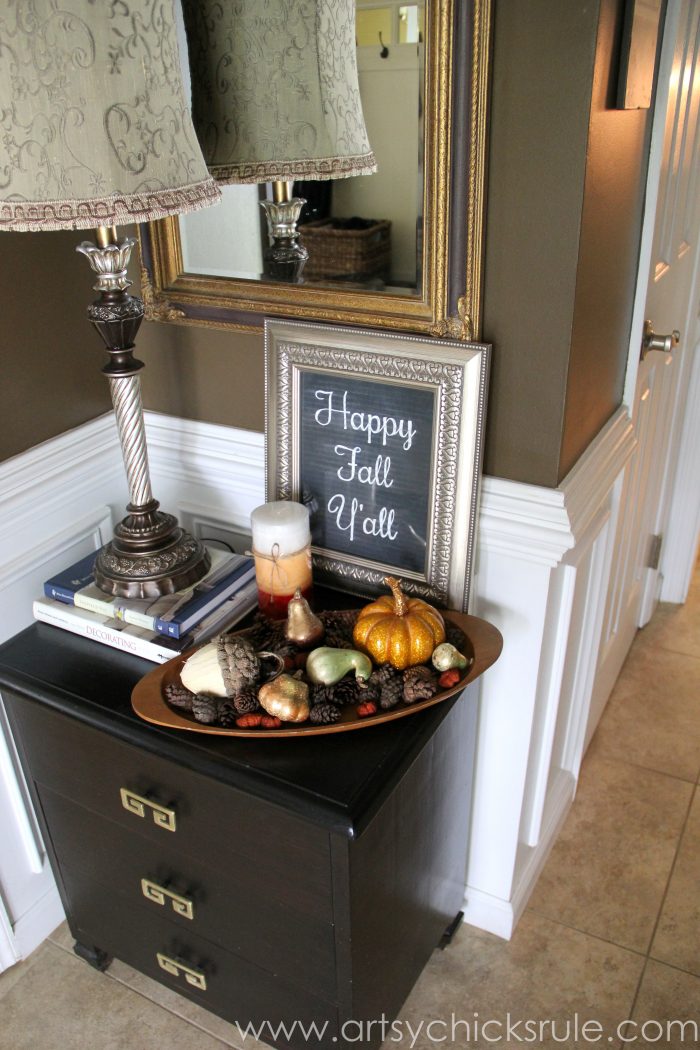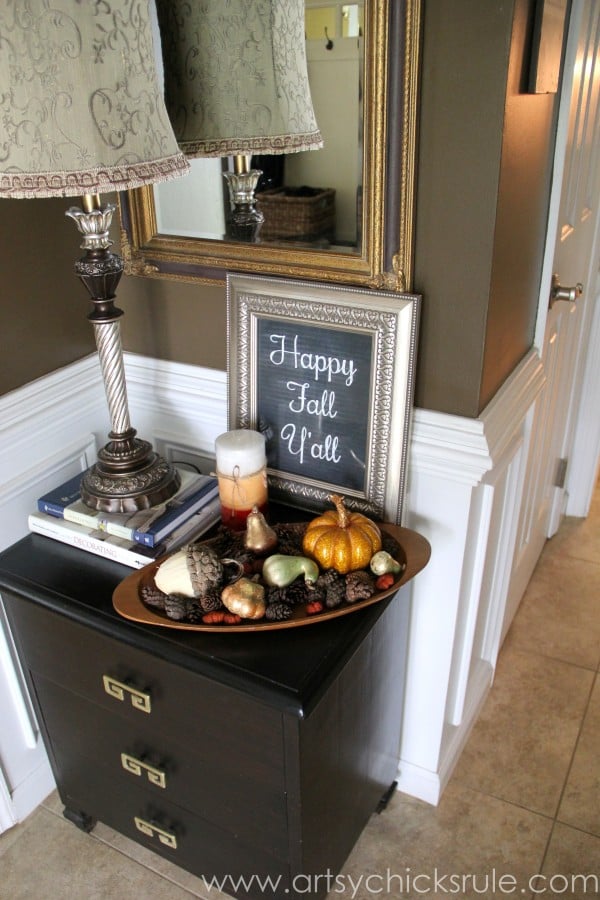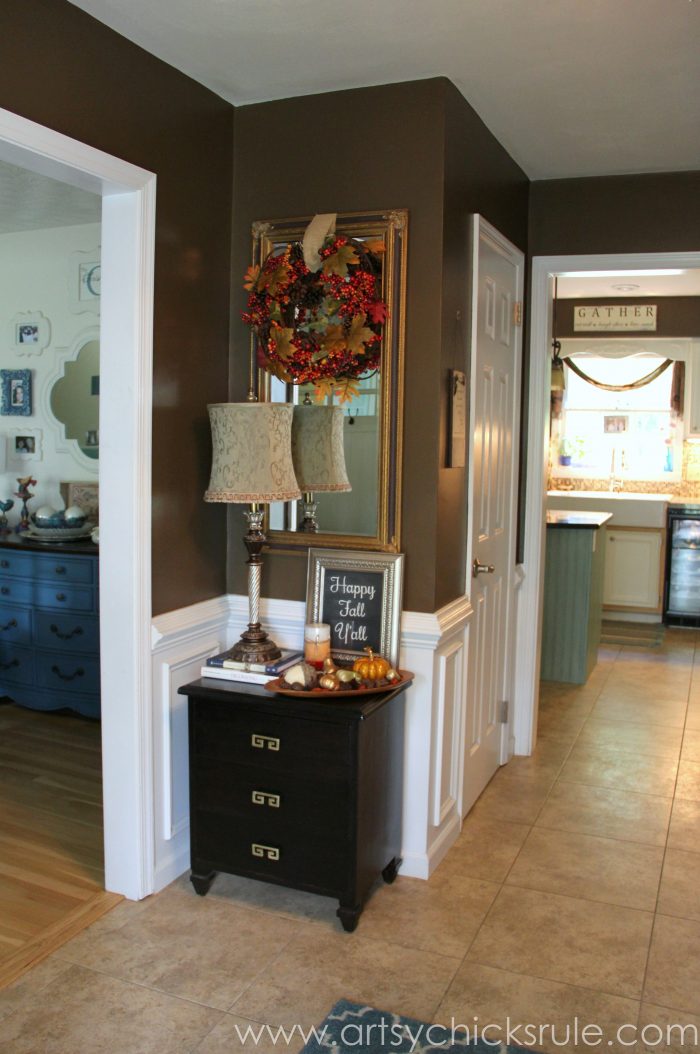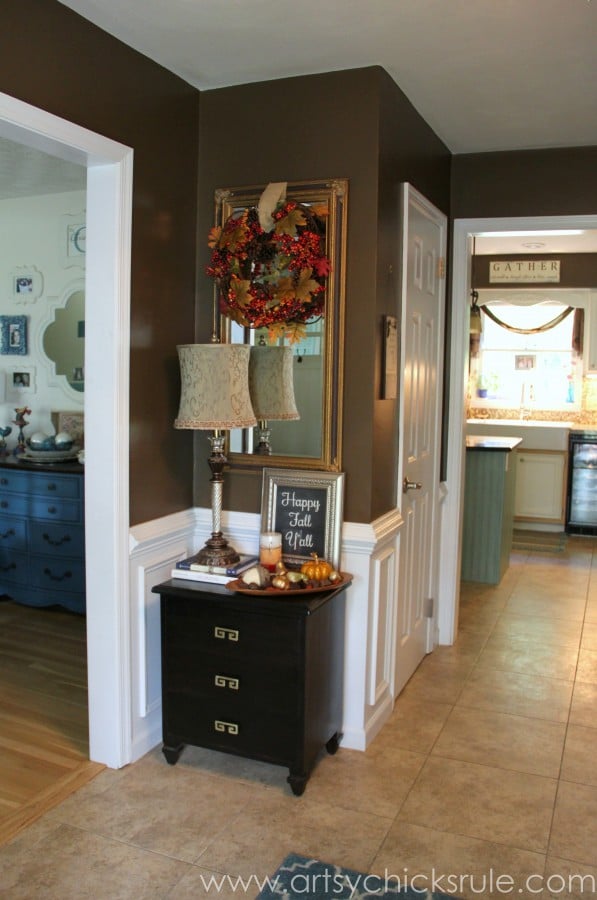 And I did like it there…but in the end decided to put it here.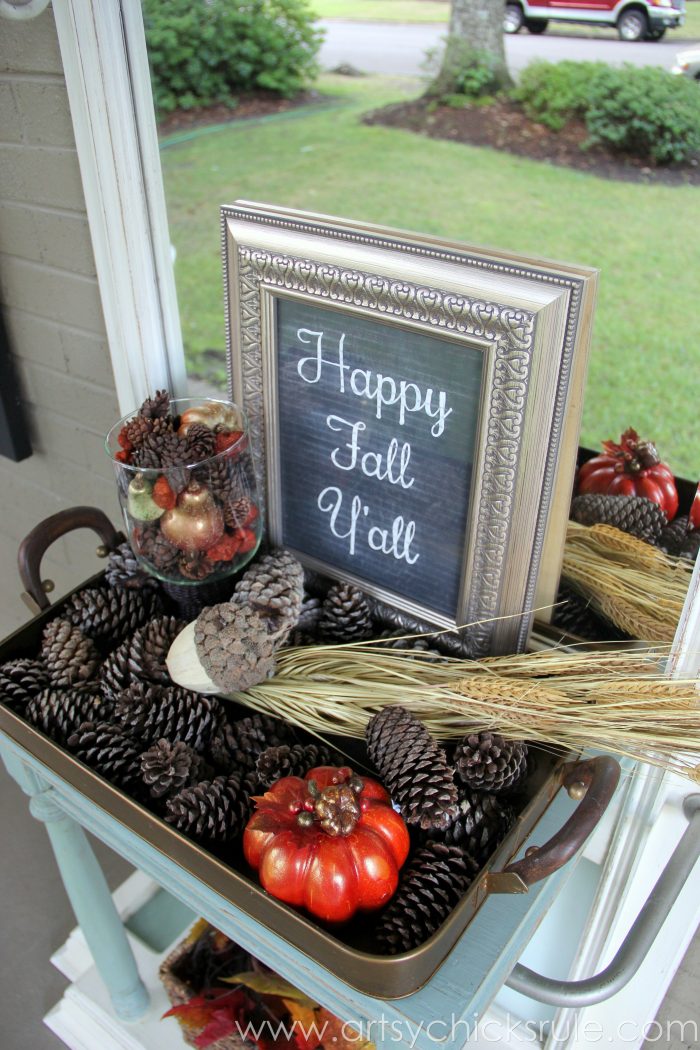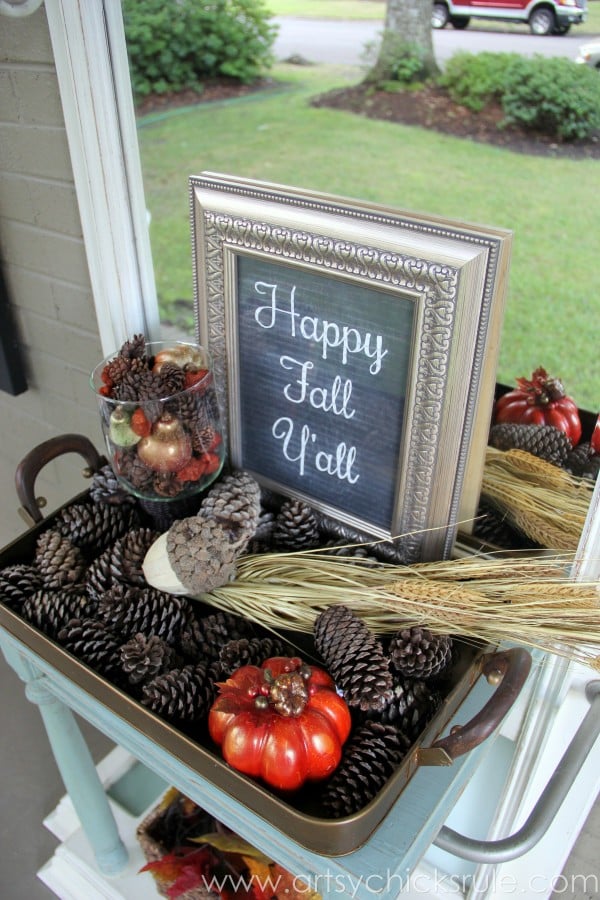 Outside on my hall tree, on the front, porch so everyone can see it.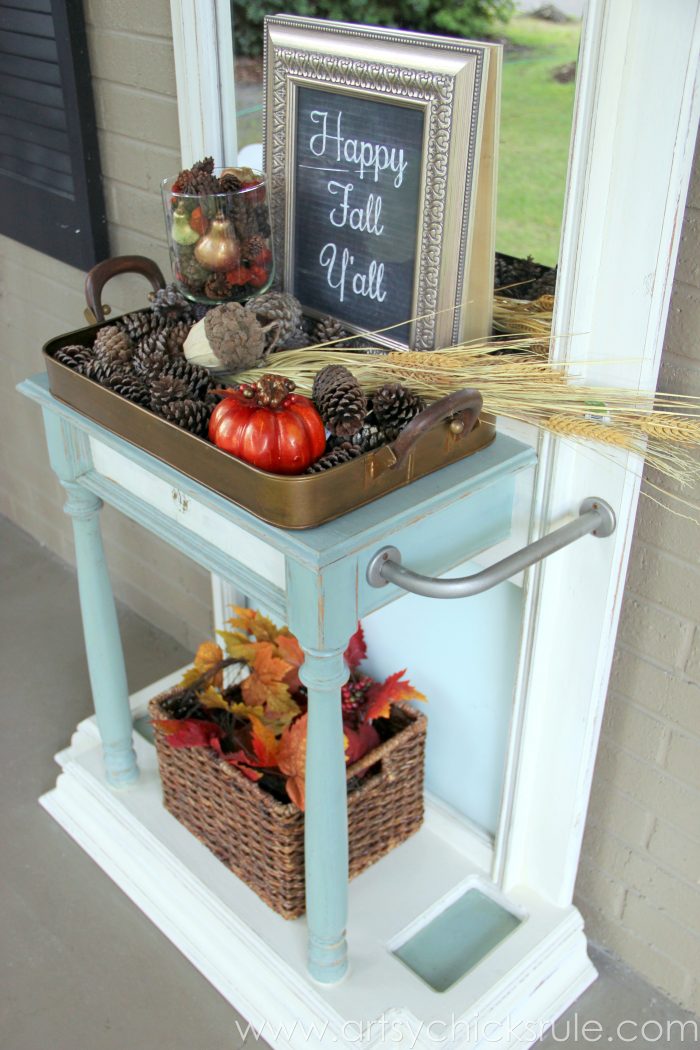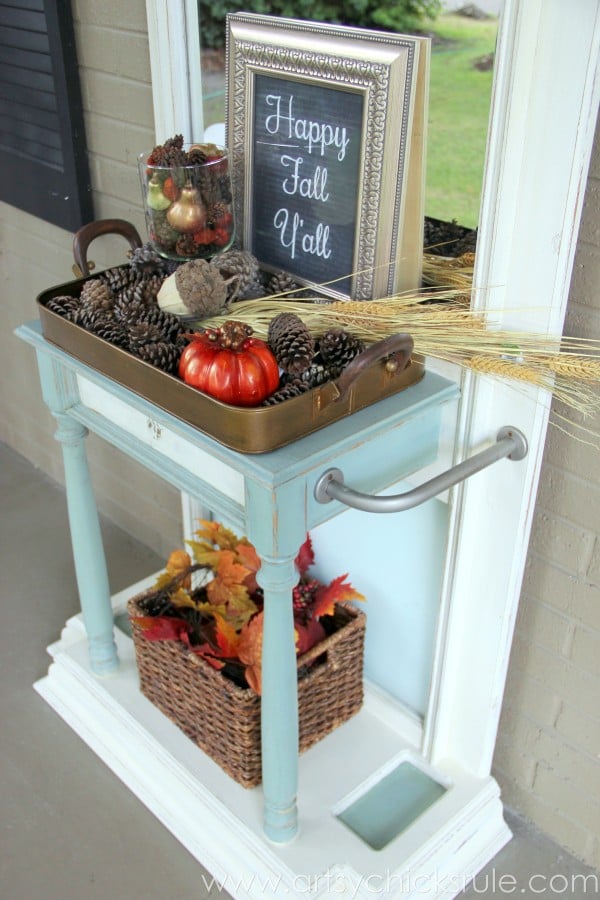 I've really enjoyed decorating this silly, non typical porch decor item since I painted it and put it out here.
You can read about all of that in this post here–> $35 Thrift Store Hall Tree to Porch Decor.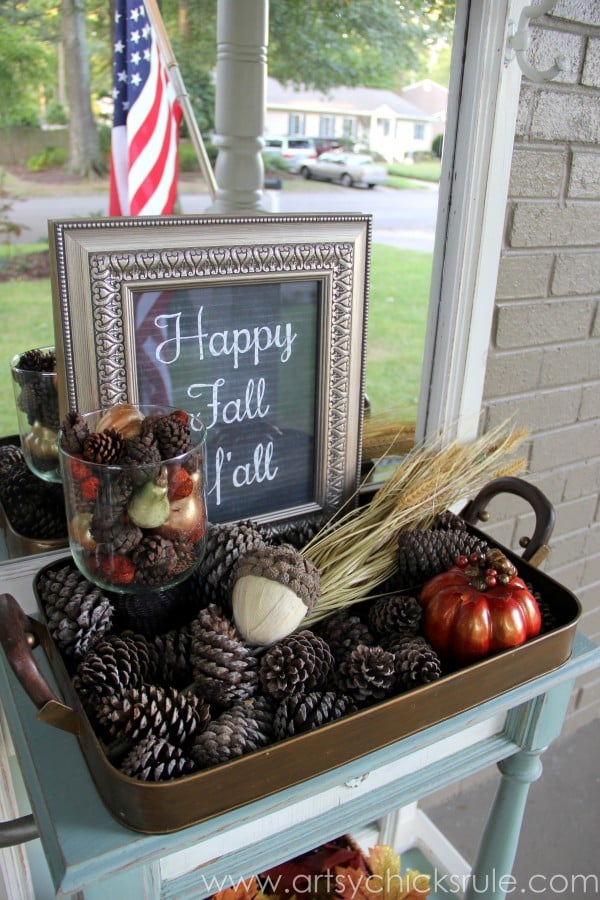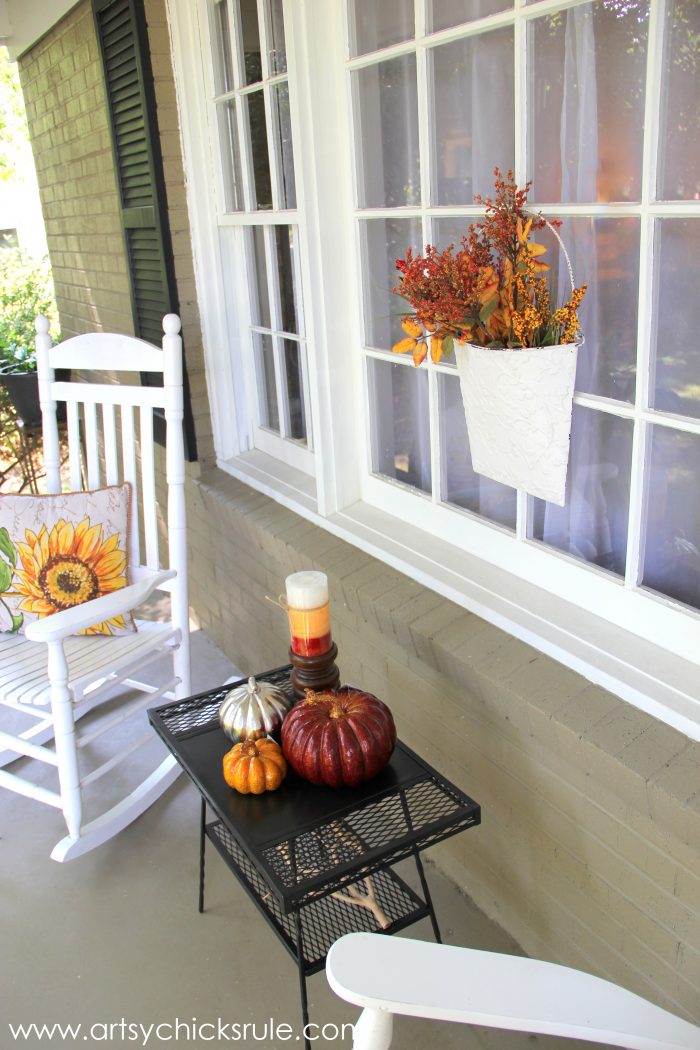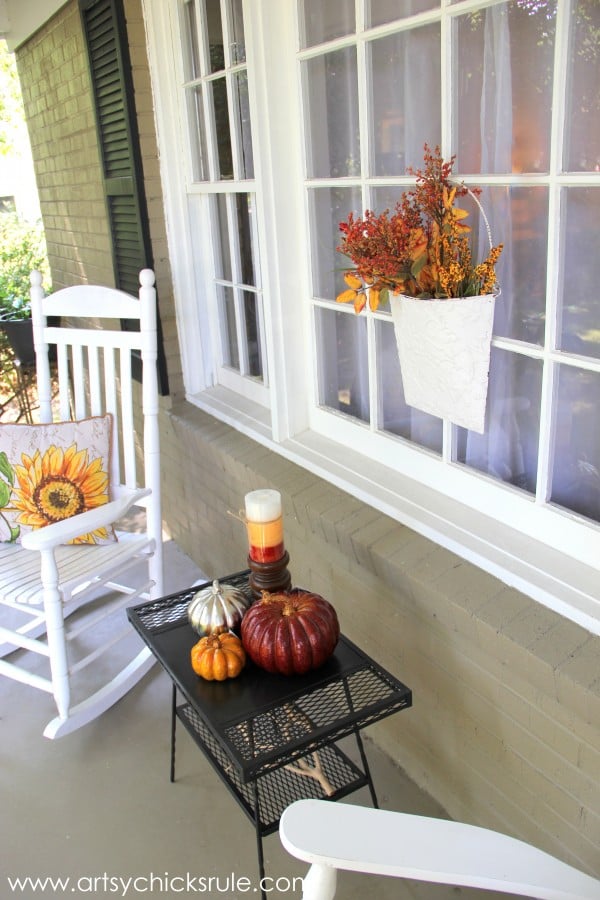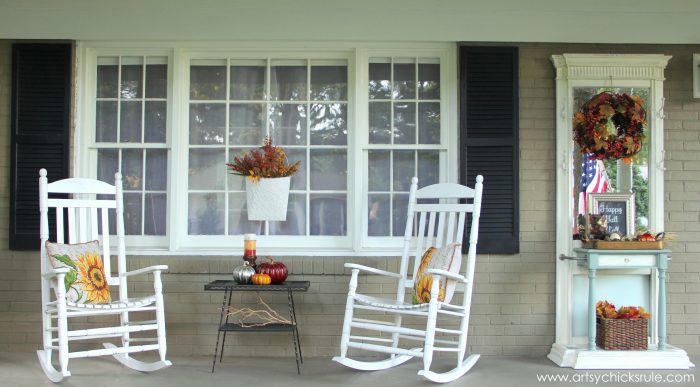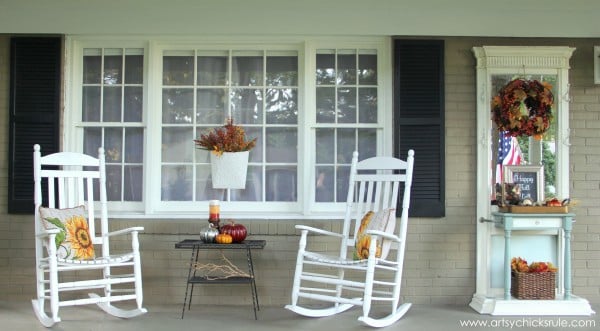 All festive and ready for Fall over at my house now. :)
So, do you think you might make a sign like this?
It's so easy and you can have it say anything you want. That's the best part.
Make it your own…you decide!
And I promise, it only took me about 30 minutes from start to finish. If that.
It's do-able and adds such a fun touch to the decor. (and you know me and my signs! ;) I love them, you can see an entire collection I put together here –> "10 Thrifty DIY Signs" )
I'll be sharing a fun little furniture makeover and my entire front porch a bit later.
Oh..and don't forget about the "Best of DIY" Link Party coming up this Friday evening!!
You don't want to miss that!
See ya then!! :)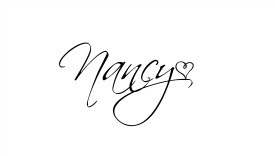 I'm including a few affiliate links I think you may like. See my full disclosure here.