This post may contain affiliate links. Please see disclosures here.
Using an old thrifty find, plus fall florals from the store, make this non tradtional fall floral centerpiece simply!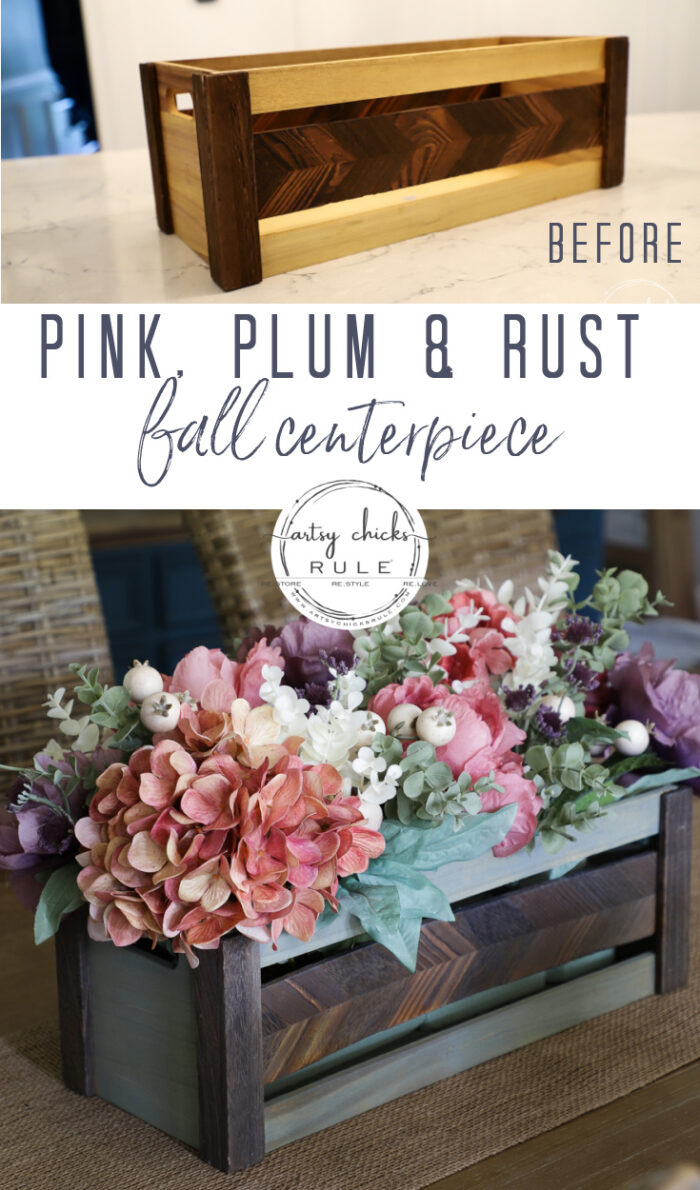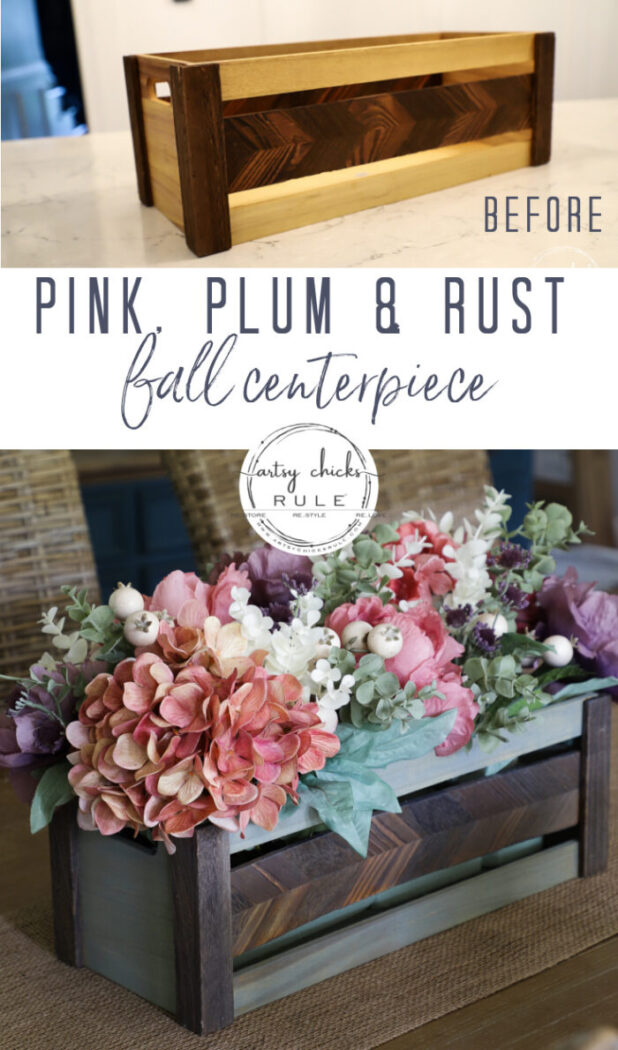 Hello lovely friends!
I hope you've had a great fall week so far. It's still been fall-ish feeling around here so I made this fall floral centerpiece, went to Micheal's and bought a few more fall florals, then onto The Home Depot for even more fall goodies for my front porch. Fall is definitely in the air!
Today's fall project is more of a non-traditional fall decor. You know, not the typical orange and browns.
I will sometimes use those colors but the last couple of years I've been on the plum, ivory, rusty-pink kick. What's your favorite fall theme? Are you more traditional with the oranges, etc?
I'm on the hunt for some white pumpkins for my porch but haven't found any yet. I may have to paint some orange ones. haha
This fall floral centerpiece was SO simple to throw together. I literally did it in about 3o minutes or less, painting and arranging.
The box I used is part of my recent haul.
Moving right along. I think I counted about 5 more items left to do… 3 baskets, the wood floor shelf and the 4 barstools (counted as 1).
Fall Floral Centerpiece
Here's how this little box began…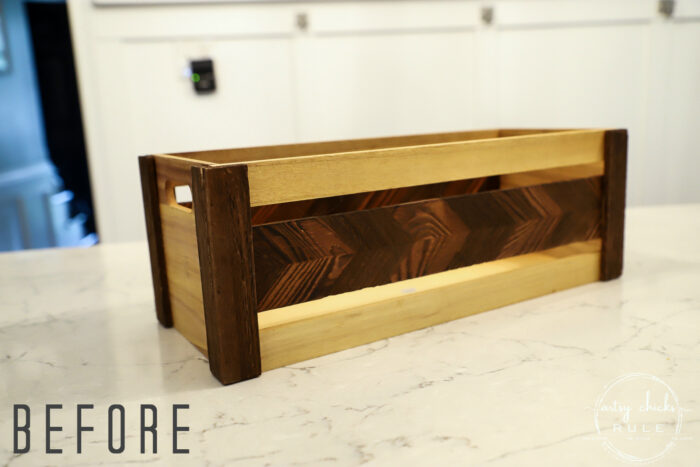 $3
Since I was making this into a fall floral centerpiece, I decided to pull out my "greenish" hued water stain.
You can find it >>> here. (I had it mixed in store, Riverbed)
Green for fall, right?
I wasn't so sure I was loving it as I began, haha.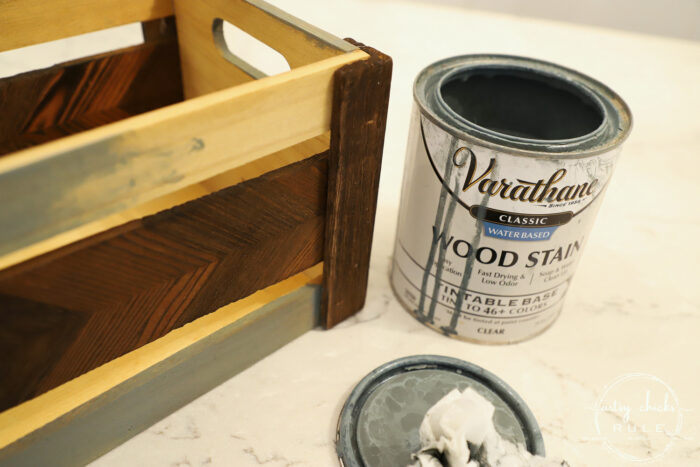 But once I covered up more of that the yellow-y wood, I knew it was the right choice.
Then I wasn't loving the dark brown. So I decided to rub a bit of the green stain on it too.
And wow, it very nicely changed the tone.
You can see below the difference between the front brown piece and that back brown piece. See the difference in tone?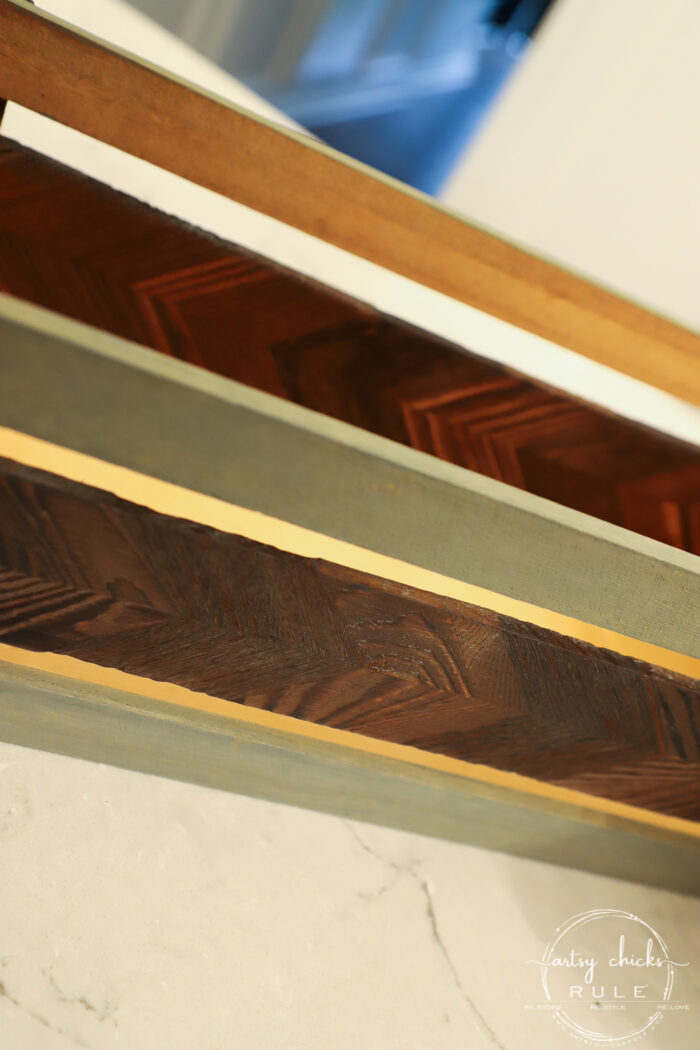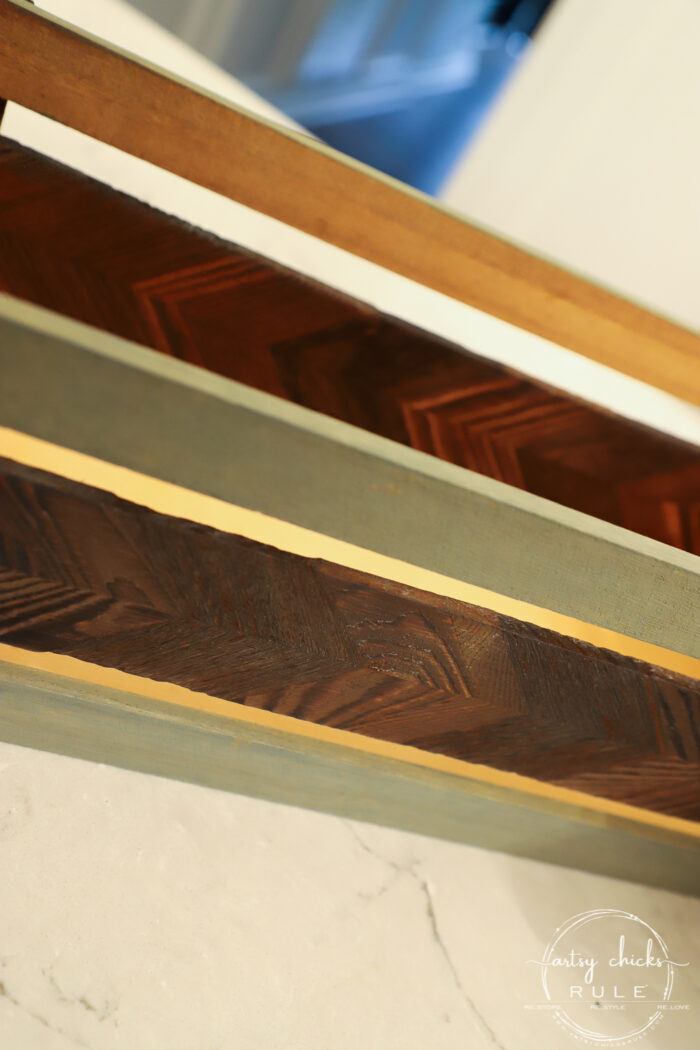 I love how paint and stain can so totally (and simply) transform things.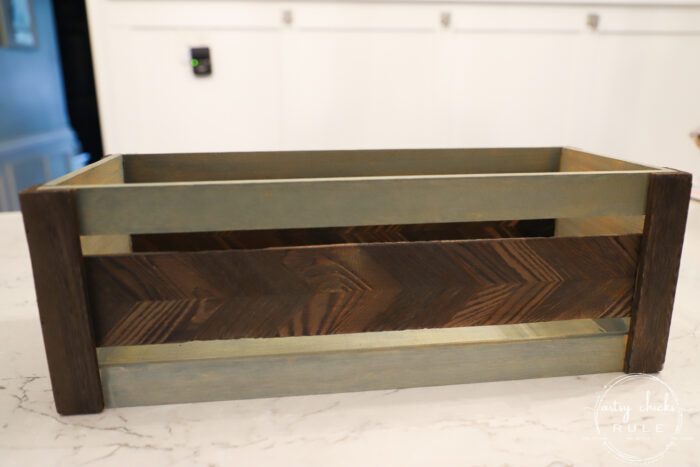 Once I had covered all areas, I began the floral arranging. (I didn't put any kind of sealer on the stain, by the way)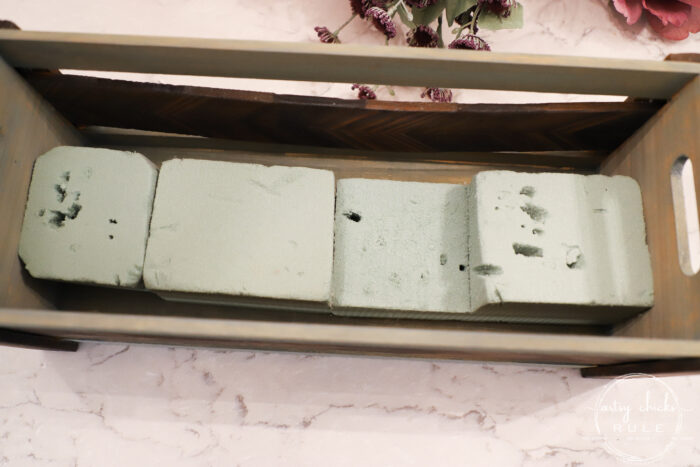 I found some old floral foam blocks in my stash and just used those. They fit snugly down into the base.
And then I just started sticking in the flowers. That sounds simplistic but it's the truth.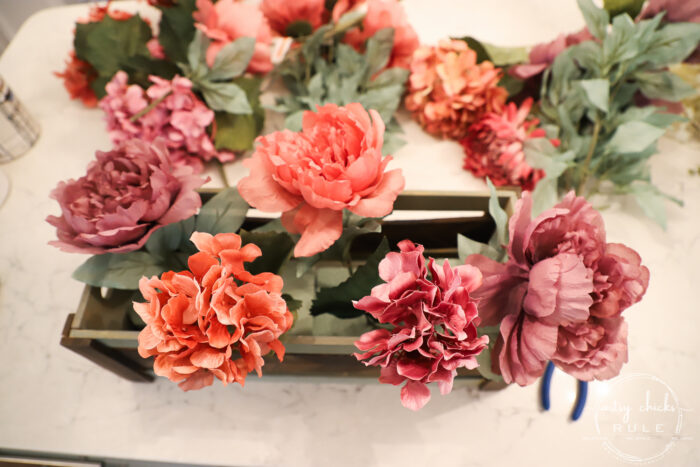 I will usually begin with some of these larger flowers and randomly spacing them about.
Then I start adding in the other things like these white sprigs.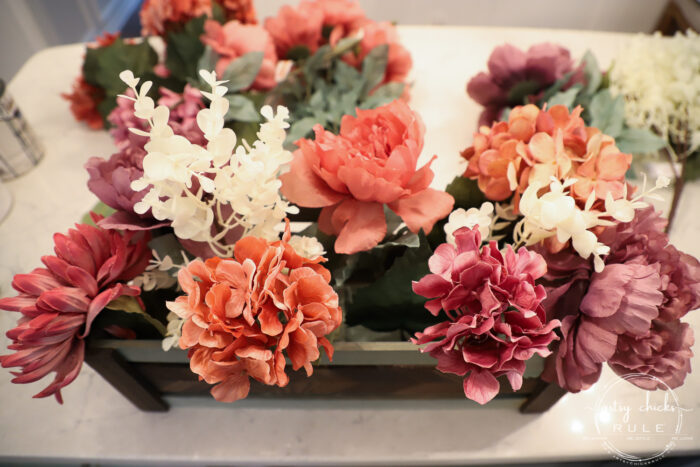 And then adding more of the additional things. (the small purple flowers and green sprigs)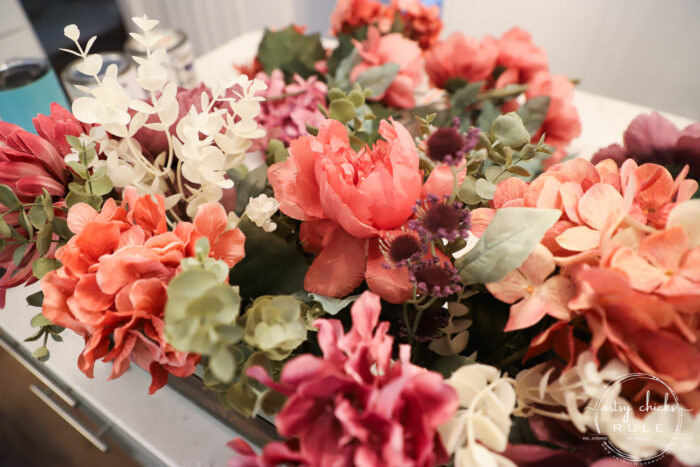 Until it starts to fill up the entire space.
I will stand back and look at it, turn it around and look at it. Filling in where needing or adjusting as needed.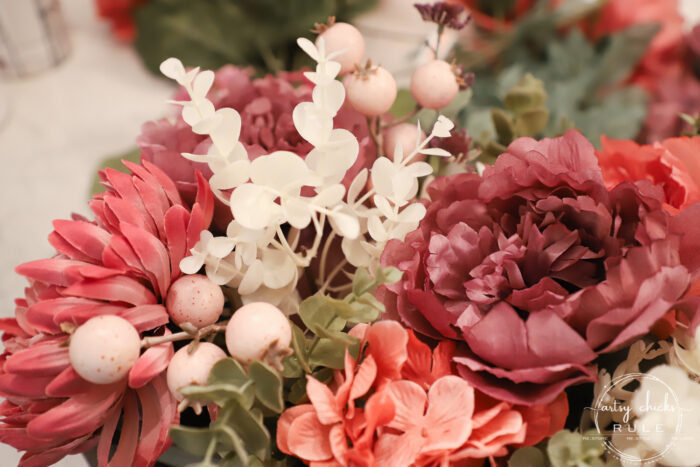 Lastly I added those large round ball sprigs.
As you can see, I like a less traditional fall decorated home. Plum, rust, ivory and green are my thing.
I have done traditional and loved it but it's not my favorite. I've also used blues, rusts and ivories too and love that as well.
To me, there is just something about rich plum for fall. I love it.
And that is literally it. I think the fall floral arranging part took me about 10 minutes if that.
So easy!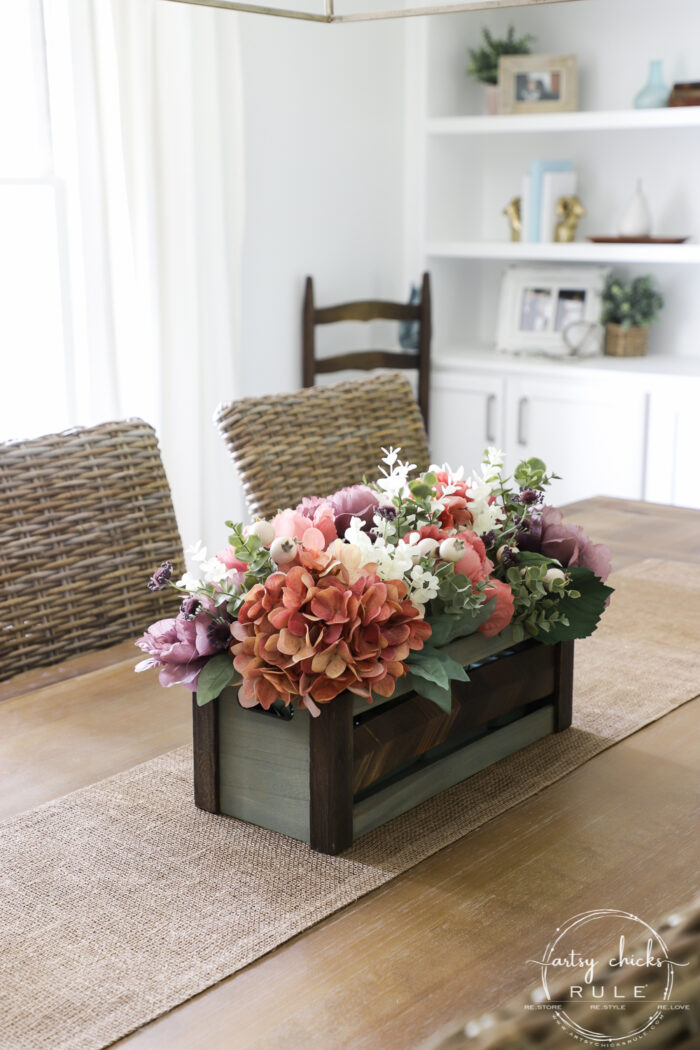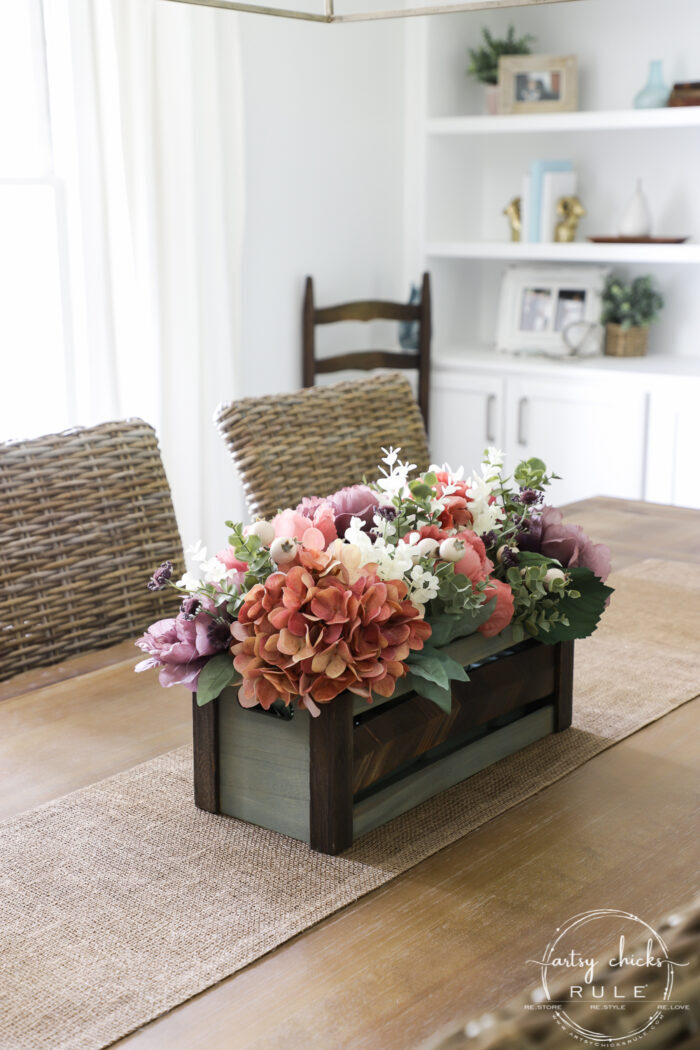 That is one side…
And here is the other, flipped around…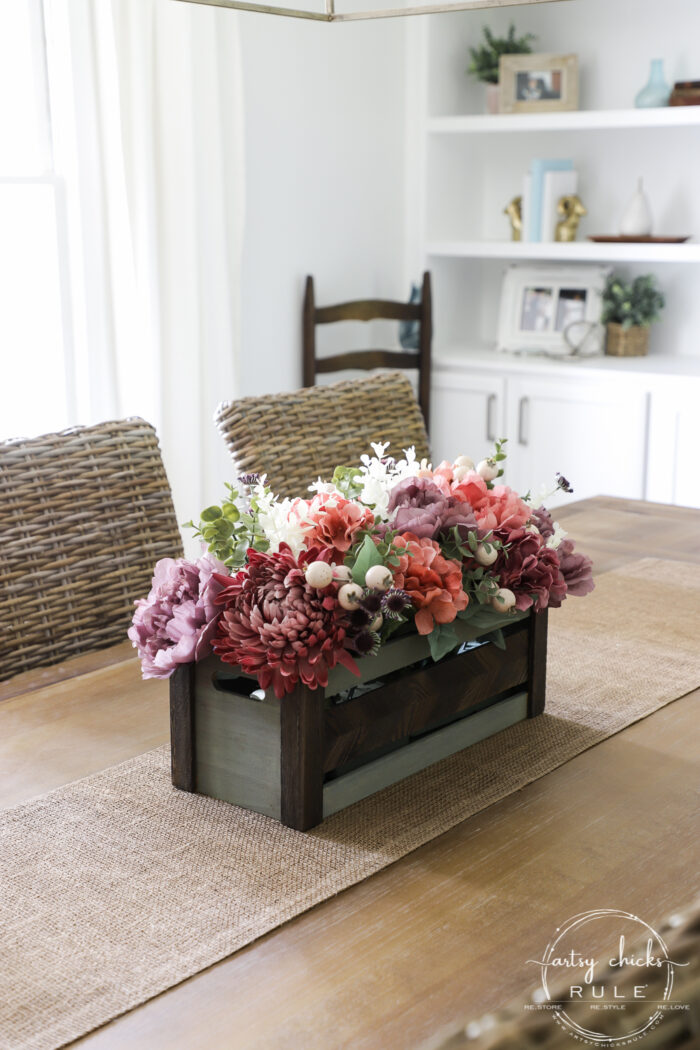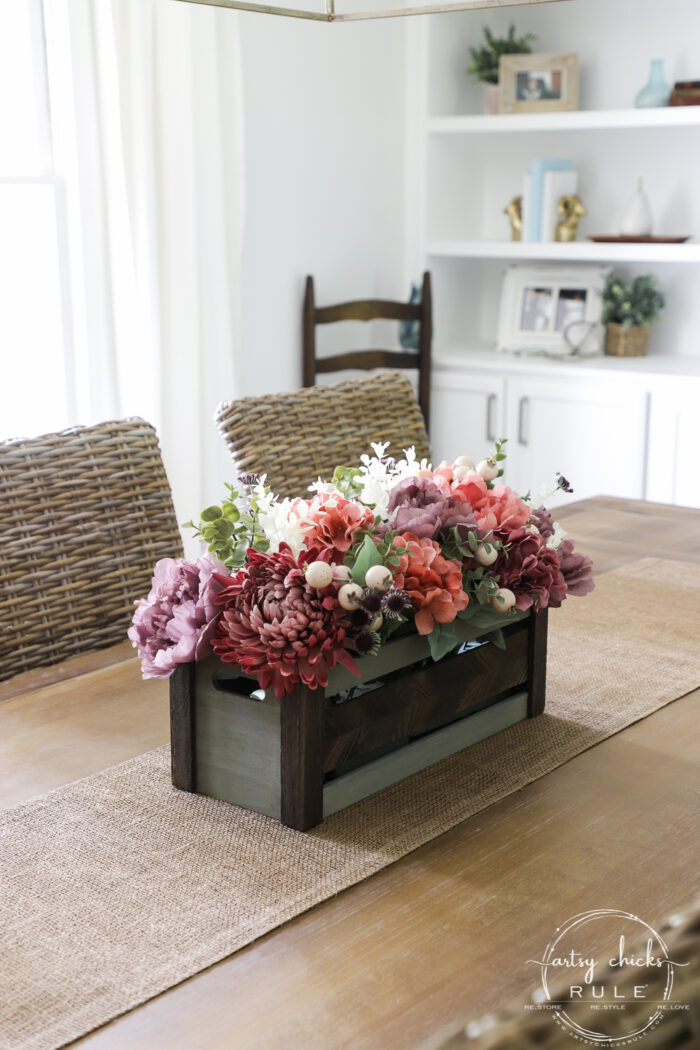 I really love the green on the box too.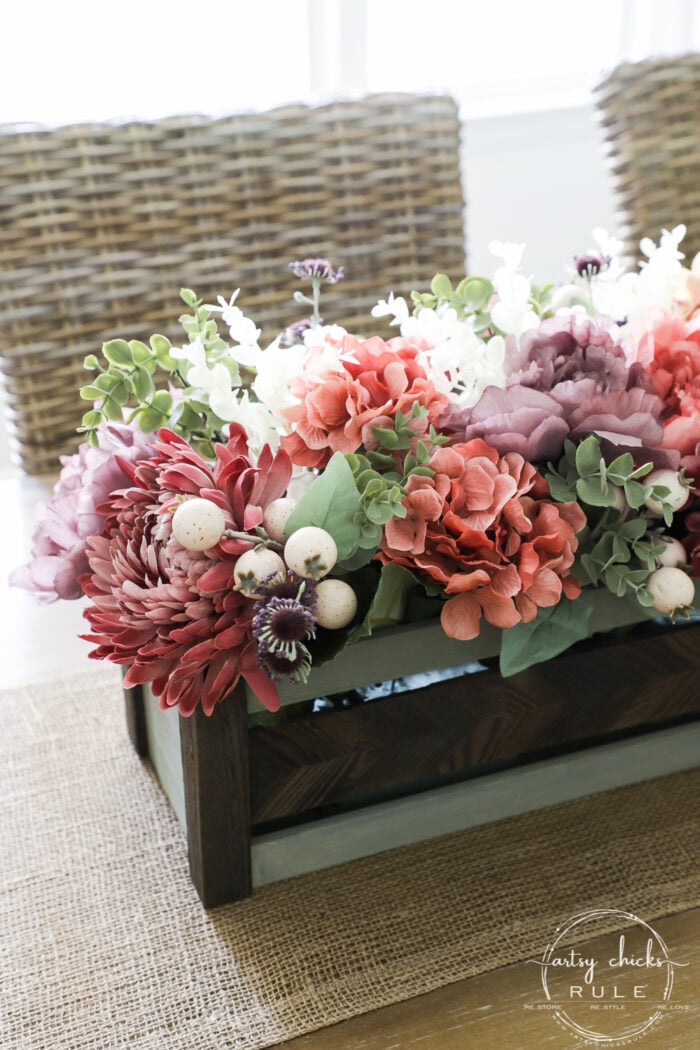 That was a good choice for fall, after all.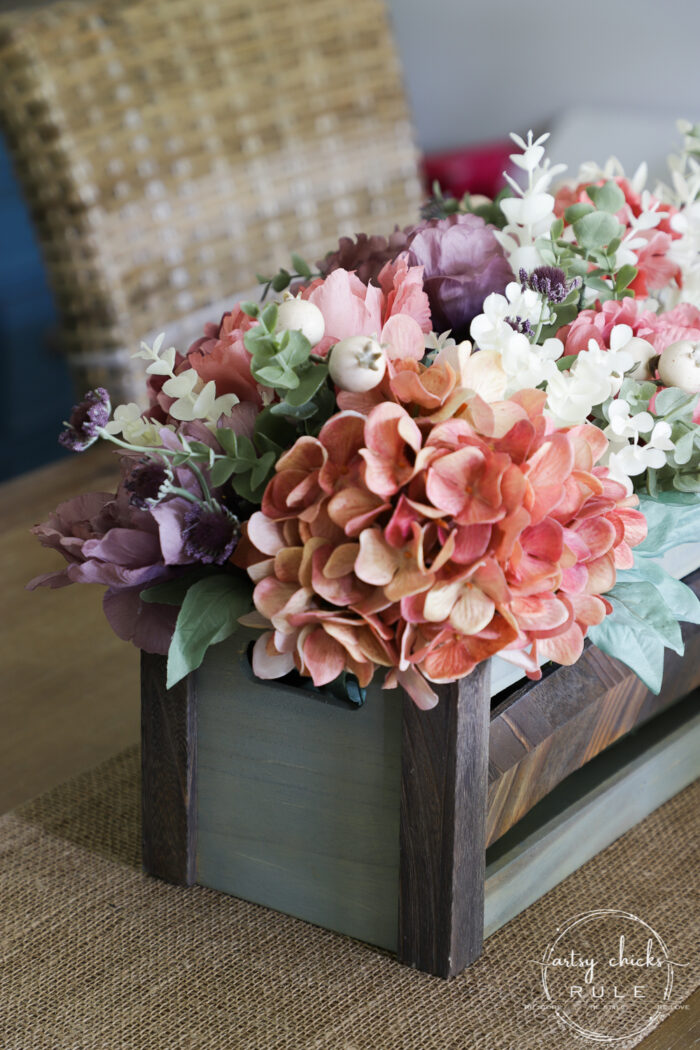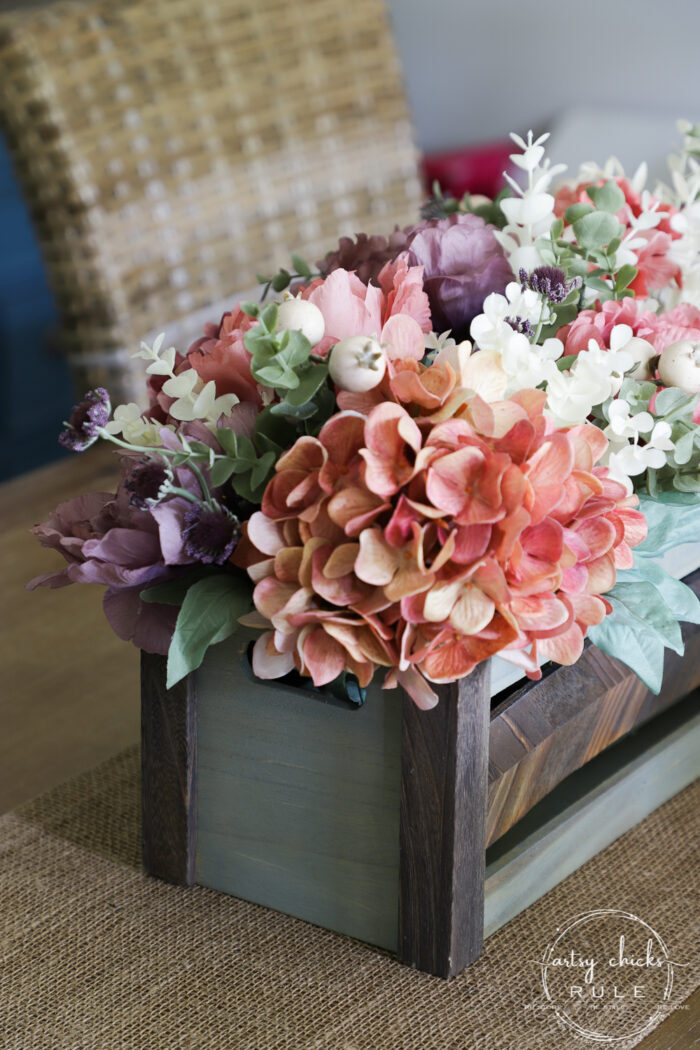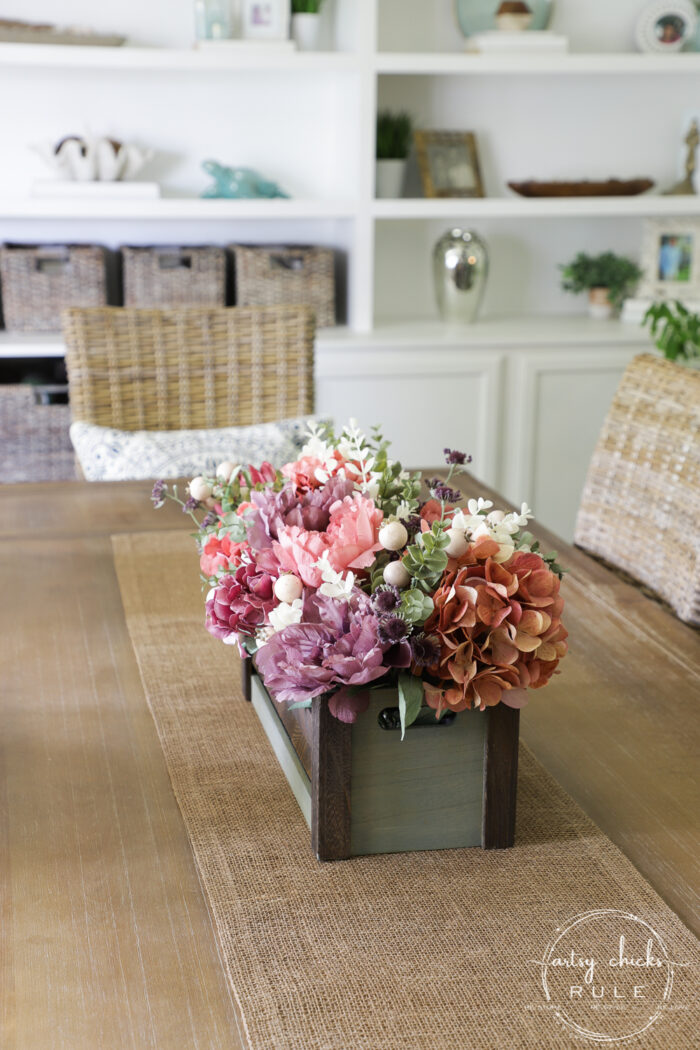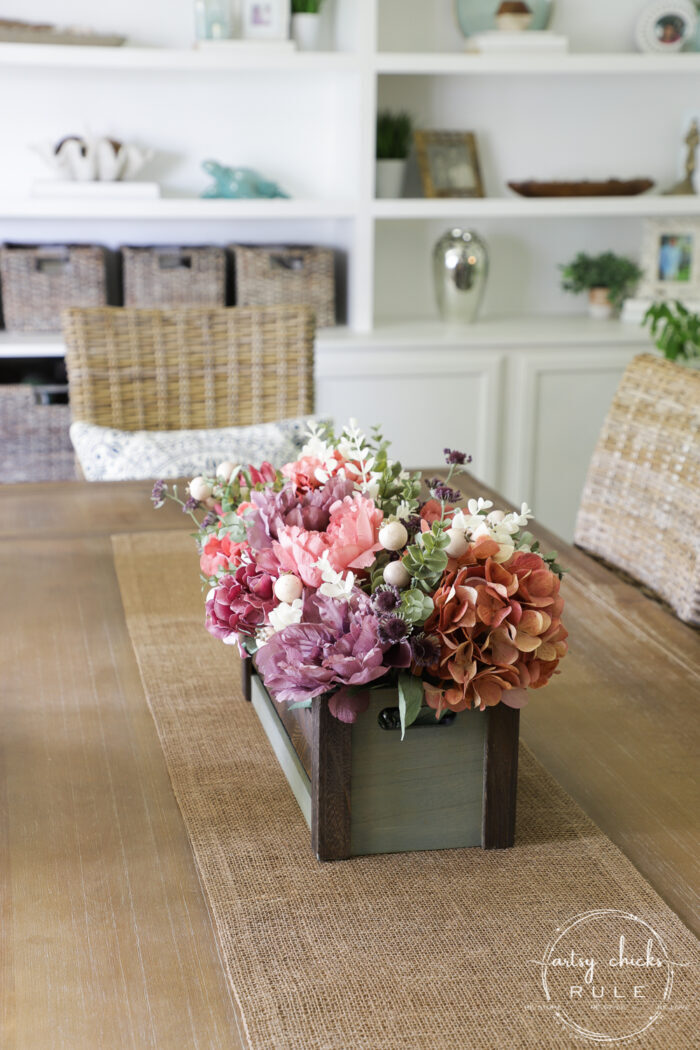 As I mentioned above, I actually just went over to The Home Depot and bought some planters for our front porch, some white and plum mums, a new rug, and more to decorate our porch. I don't share a lot on our porch for the blog because we have a really old front door/side lites that needs replacing so it's not the prettiest.
But I am hoping we will finally be putting in a new door soon. It's been on our very long list of "things to do/replace" for years.
With that though, I am going to try my hardest to get something pulled together that's pretty that I can share with you all. I also am planning to make a new wreath out of some of these same flowers and a few other things to go along with it. Maybe I'll have it so full you won't even notice the ugly old door stuff! lol
Here's a top view if you wanted to recreate this one.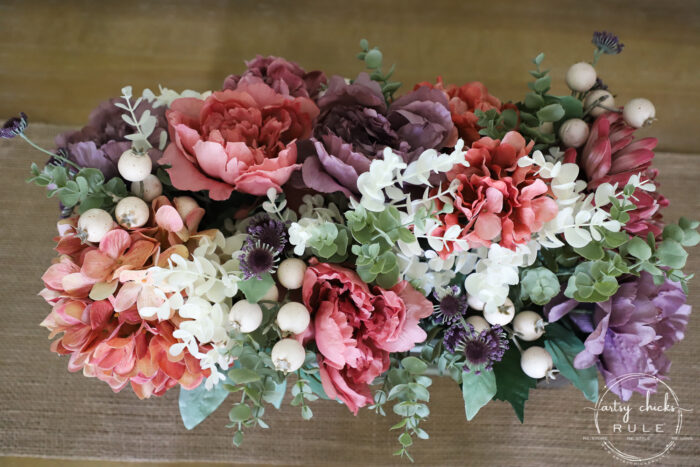 Here's a few other projects that I've done that are also "non-traditional":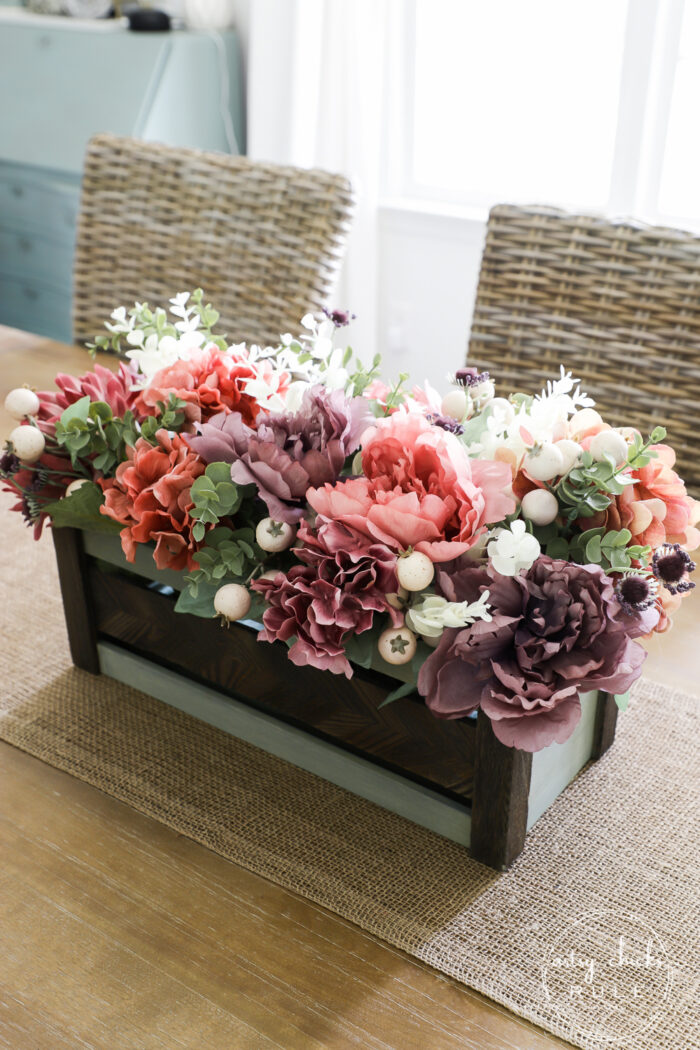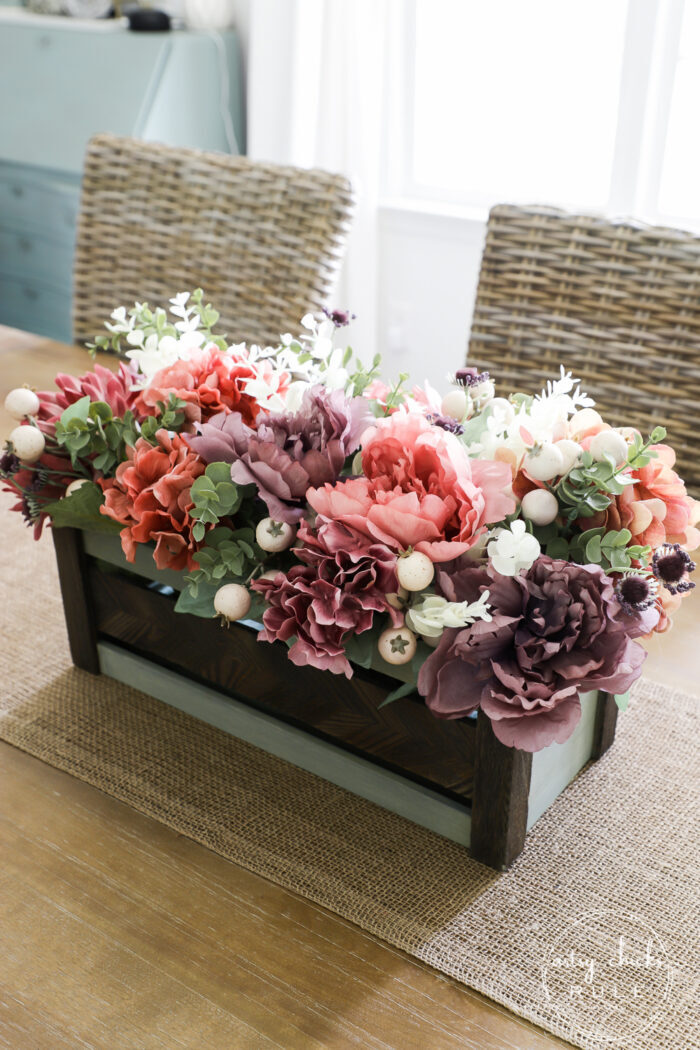 Go grab you something up at the thrift store to make a fall floral arrangement too! You can sometimes even find old wreaths or flowers to pull from at thrift stores too.
When I bought these fall florals at Micheals's, they were all 40% off. I just went again the other day and now everything is 50% but it's getting sparse. Hop on over there soon if you haven't already!
PIN it to save it!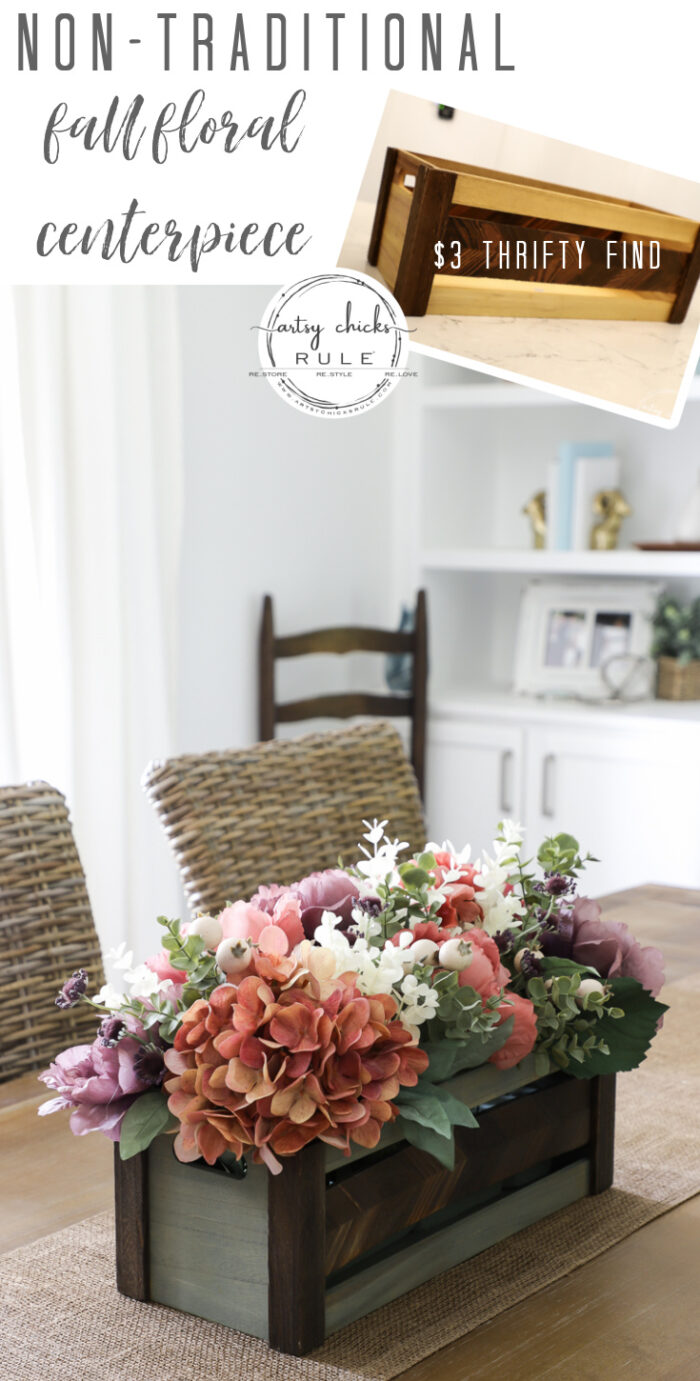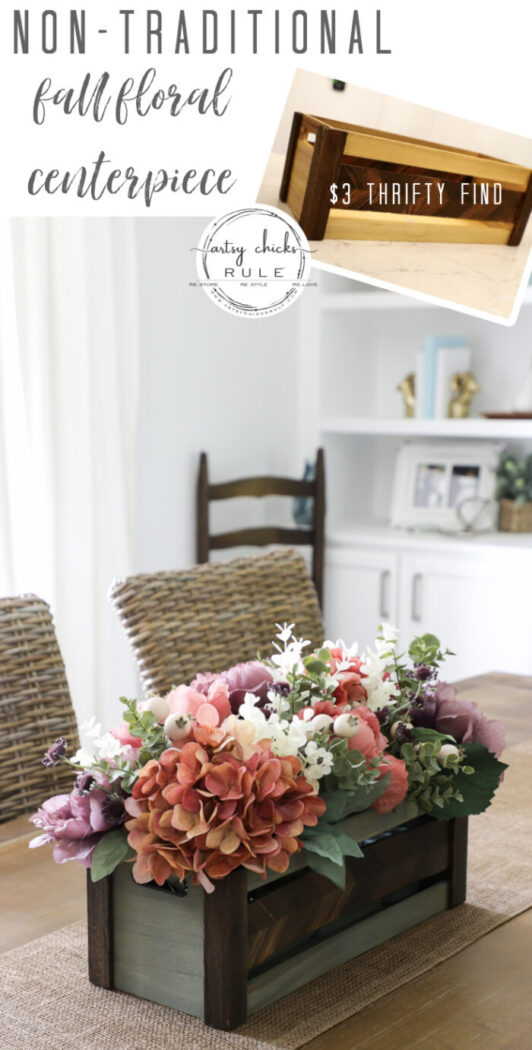 Missed any of the rest of the haul's makeovers? Check them out here:
I hope you have a wonderful and blessed fall weekend! Stay safe, friends!
xoxo