Rust, Ivory & Plum Fall Wreath
This post may contain affiliate links. Please see disclosures here.
Rust, ivory & plum fall wreath. No need to stick to the traditional brown and orange…step out of the box a little with plum and ivory too.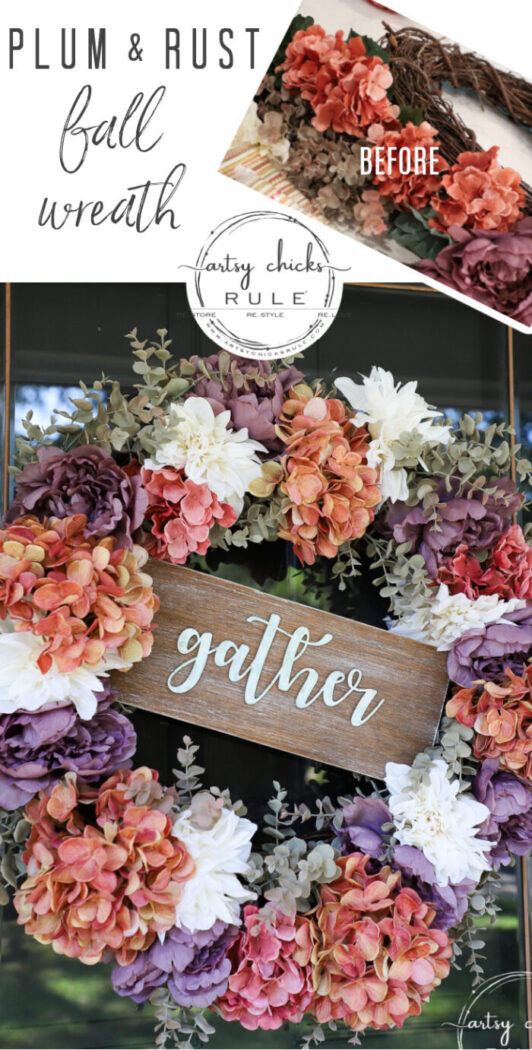 Happy Thursday, friends! I hope you are all staying safe and enjoying the fall. The temps are all over the place here. We went down to the 60s and then back up to HOT…and now going back to the 60s for a few days. Which is perfect for fall decorating. It's sort of hard otherwise. Don't you agree?
This pretty rust, ivory & plum fall wreath is a nice change from the orange and brown you typically see in the fall.
I wanted to do something similar to the fall centerpiece I did last week.
Missed it? You can see that post and project here >>> Fall Floral Centerpiece
I used many of the same flowers in this one except I added in some ivory ones too. And a little bit lighter, more faded out green sprigs.
As you know, I am working on a fall porch for this year. I will be sharing that next week. I need to find a few more pumpkins to finish up out there.
You'll be surprised to know that I used white pumpkins….and orange! lol I love the plum and white but wanted to throw a tiny bit of orange in for more of a traditional fall look outside. And why I added more of the rust color in the wreath I made. I didn't at first…I went back after I thought it was done and changed it up.
Because everything is always a work in progress. Don't love it, change it up.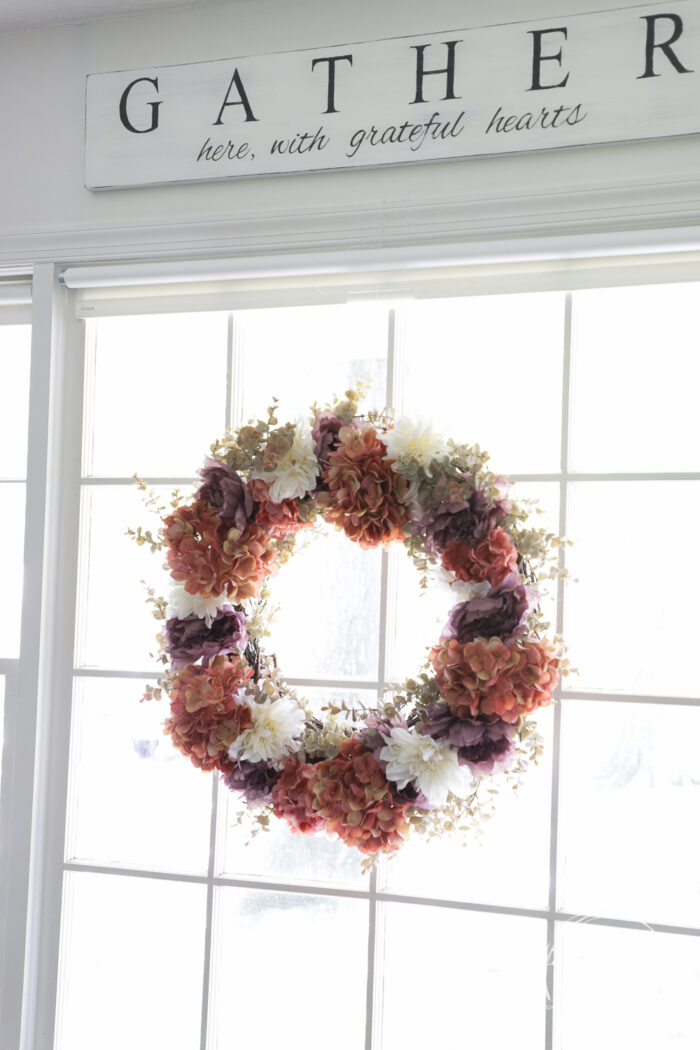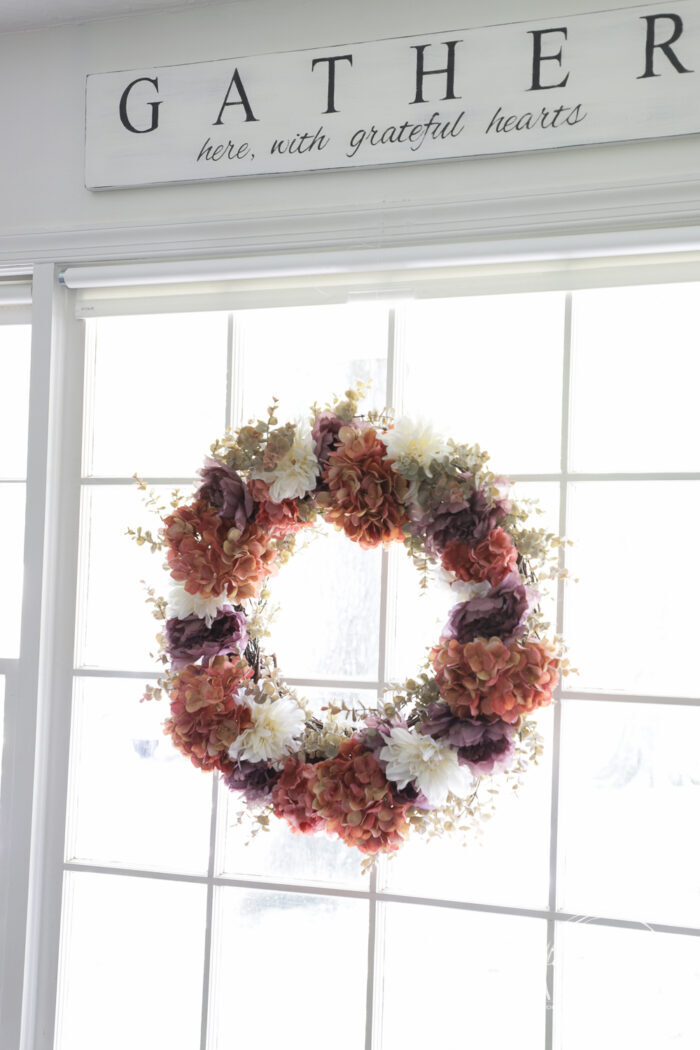 Rust, Ivory & Plum Fall Wreath
I had an old grapevine wreath in the garage so pulled it out to make this wreath. BUT it was huge.
So I made a huge wreath! ha!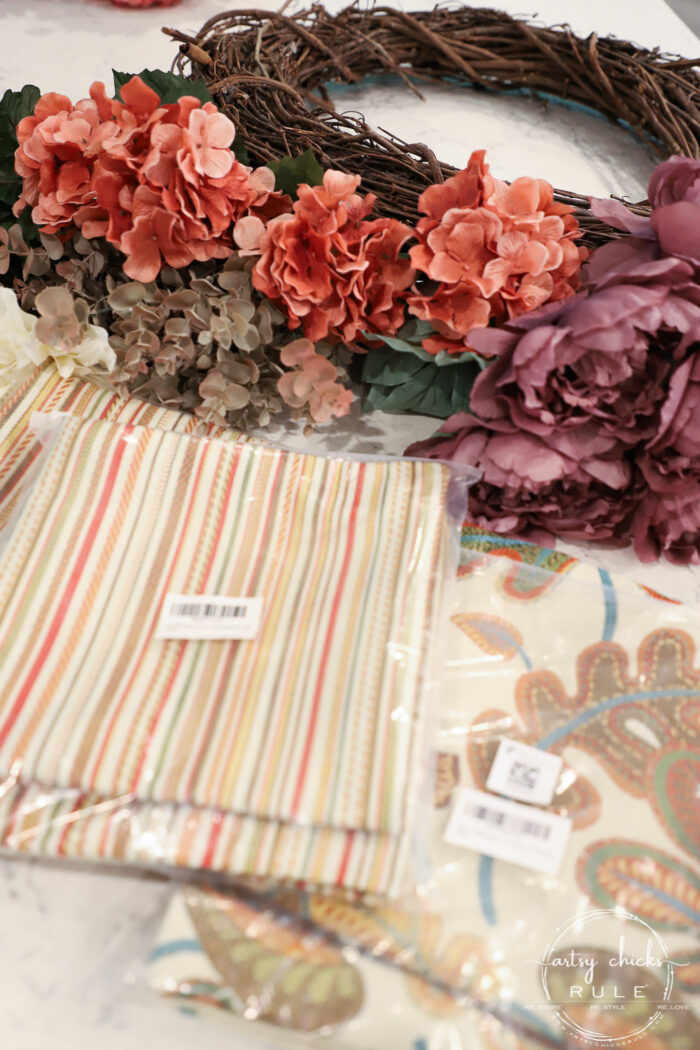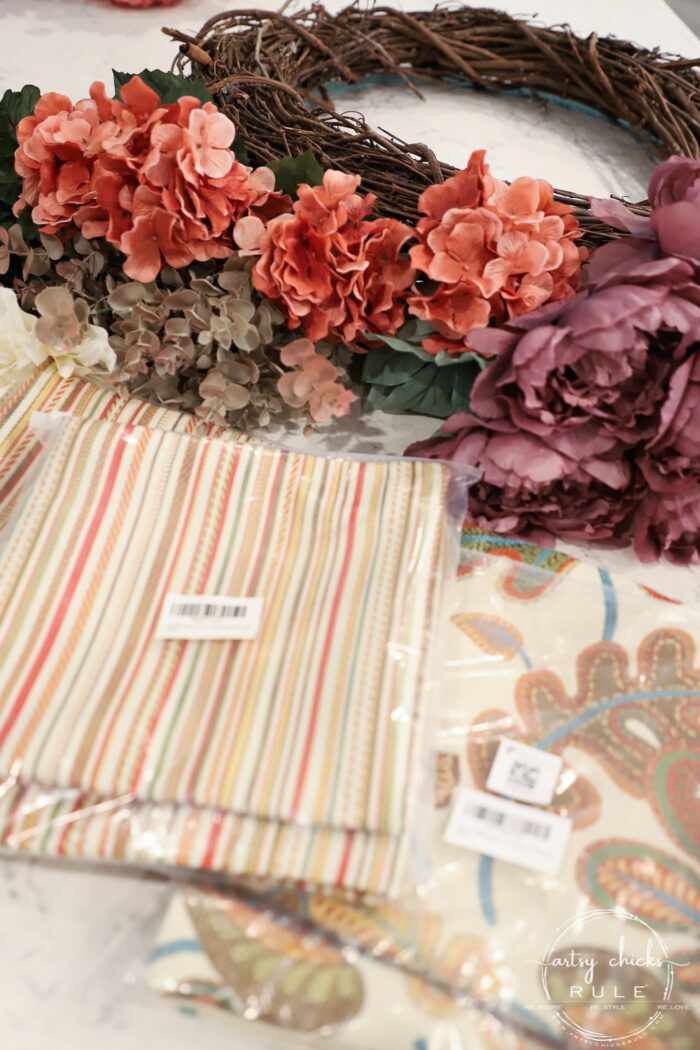 And those colorful things in front of my project-to-be are the pillow covers I bought for my outside pillows.
I'll be sharing all of that next week but wanted to show what I was working with.
Wreaths are so much fun to make. I actually really enjoy making them. BUT did you know that I never made one until I started the blog??
I have been crafty and creative and doing all kinds of things artsy and crafty my entire life…but I never made a wreath.
I was intimidated the first time but it worked out. So I made another, and another and well here we are.
Here's the first one I ever made >>> DIY Fall Wreath
I've made a bunch since, just search "spring wreath, fall wreath, green wreath, hydrangea wreath, etc. to see them.
I took photos of my steps. I usually just start playing around with things before I glue them in.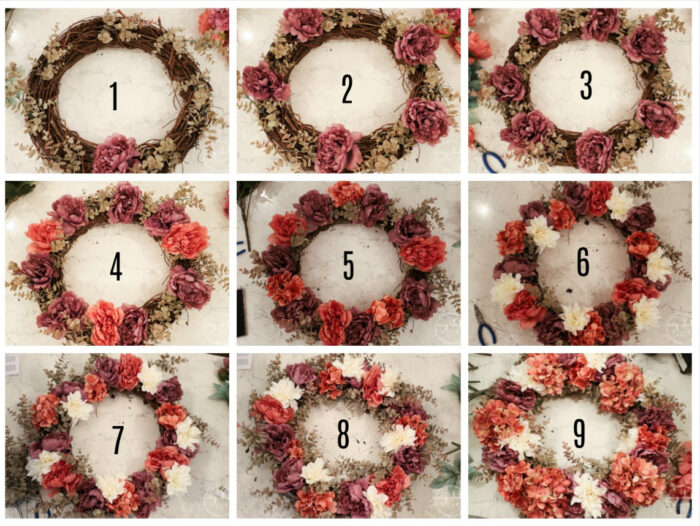 For this one, I started with the green sprigs evenly spacing them around. (1)
Then I started adding the plum (2,3).
Next, I started adding the rose/rust colored flowers. I didn't want it too matchy-matchy so randomly positioned everything. (4,5) (I removed some of them further down, as mentioned because I wanted the larger, more rust-colored flowers instead)
The ivory flowers got placed next(6). After that, I came back with more of the greenery and added it on the outside and inside of the wreath. (8)
And lastly, I pulled a few of the rose/rust colored smaller flowers and added the larger rust-colored ones which did two things…it filled up the spaces better and added more fall-ish orange to the wreath.(9)
Block number 8 was the original "done" photo…and now number 9 is. What a difference those larger flowers make plus I feel like it looks a little more fall-like too.
So, this is a great example of reworking things sometimes when they don't turn out as expected or how you want them.
I actually hung this on the front door and thought, hmmm, no, that's not right. It doesn't look "fall" enough. And why I decided to add those other flowers.
Now it looks perfectly fall. And it will go great with the plum, white and orange mums I bought. :)
Here it is on the big dining room window.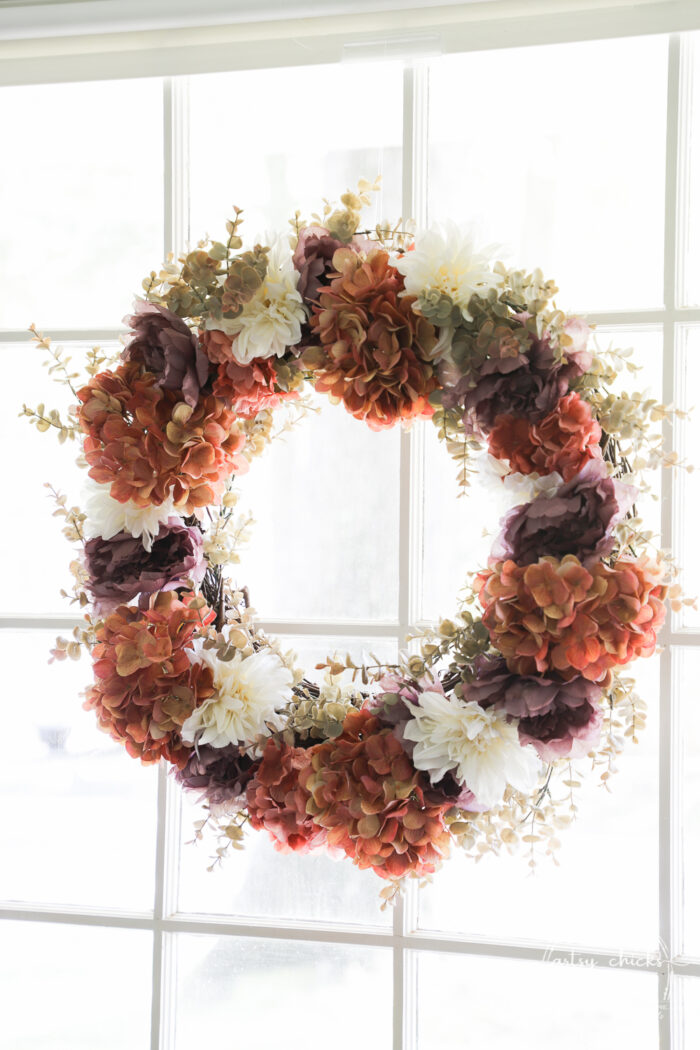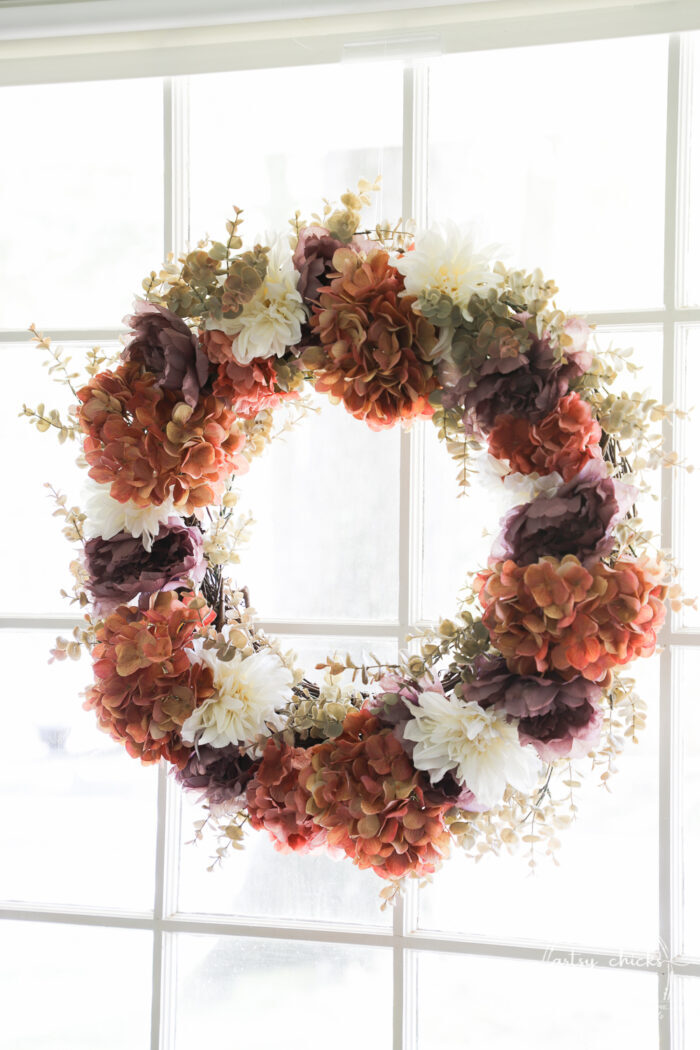 I like to move things around and show them in different places to get a better feel for them.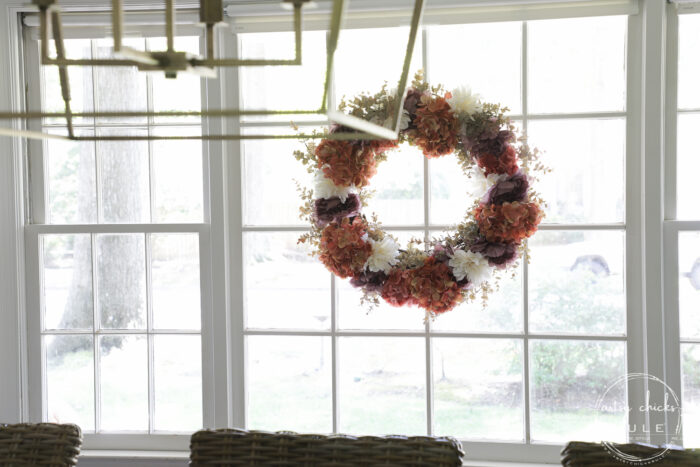 In the kitchen on my DIY faux weathered wood mirror.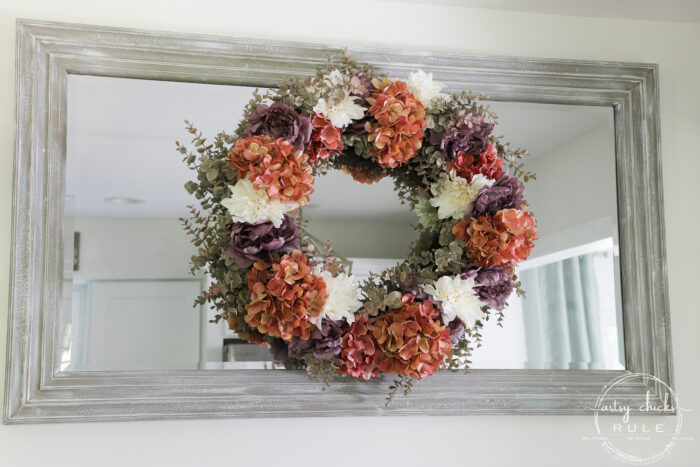 Told ya, it's a big one.
And I love it! I think this may be my most favorite wreath I've ever made. Not kidding.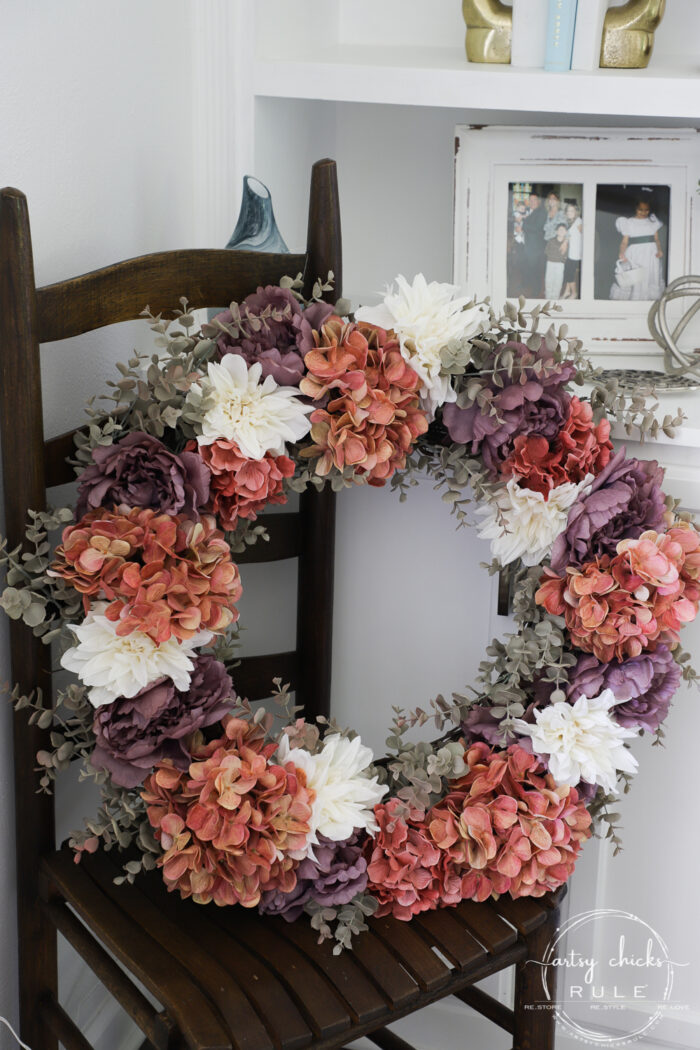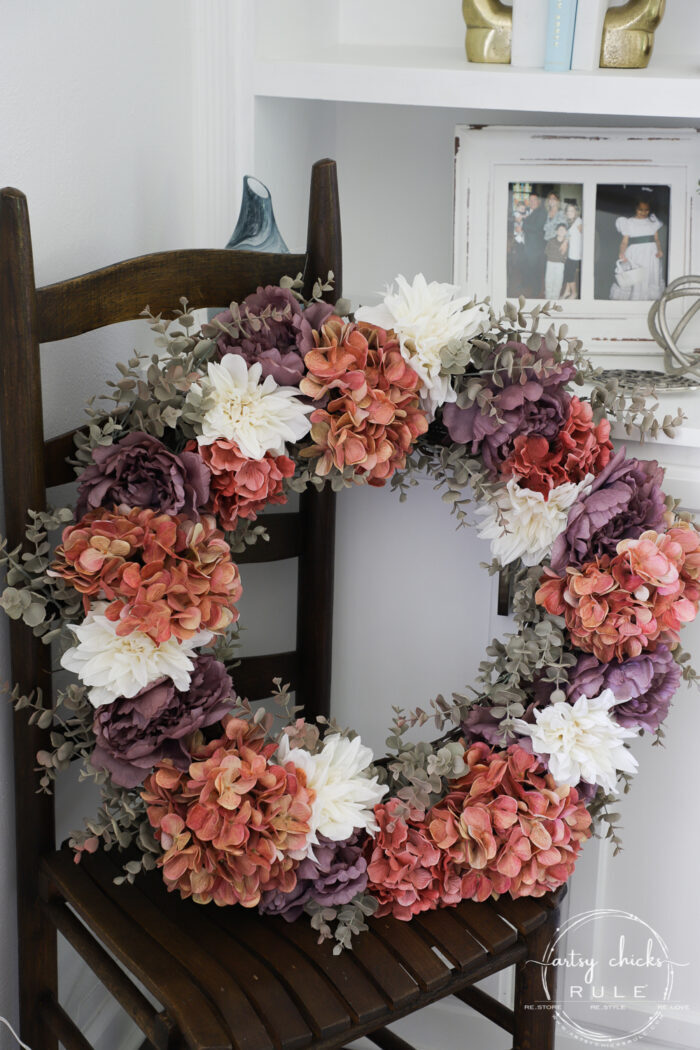 Here it is sitting on my favorite chair makeover…simple as it was. You can see it here >>> $8 Ladder Back Chair Makeover
You can see a little better in the outside lighting how the smaller rose/rust colored flowers are really more pink than orange.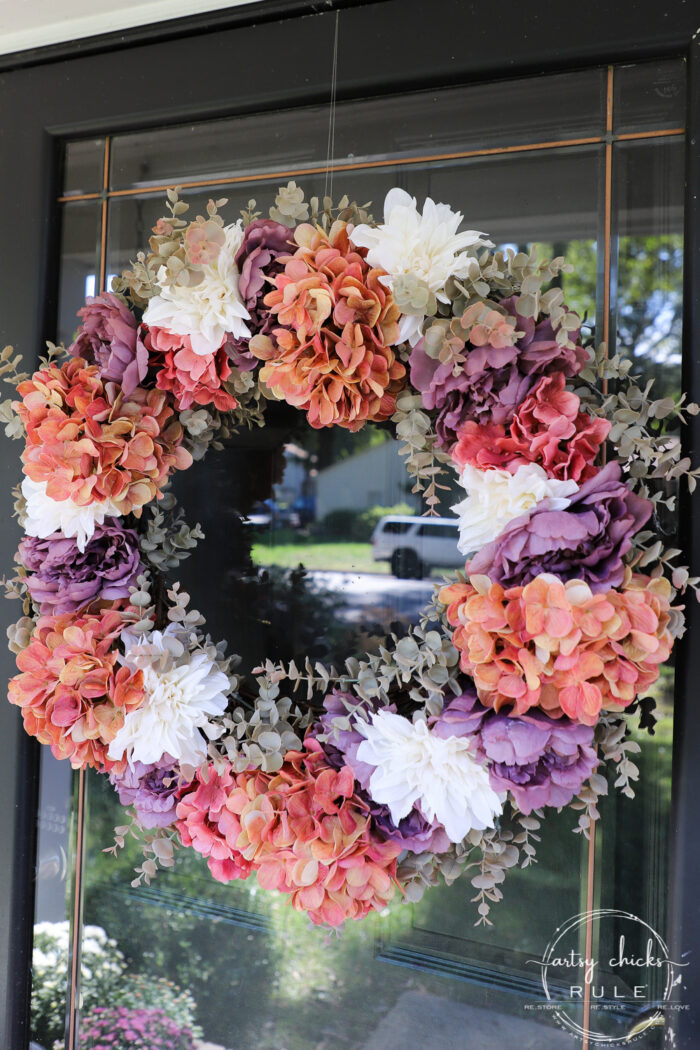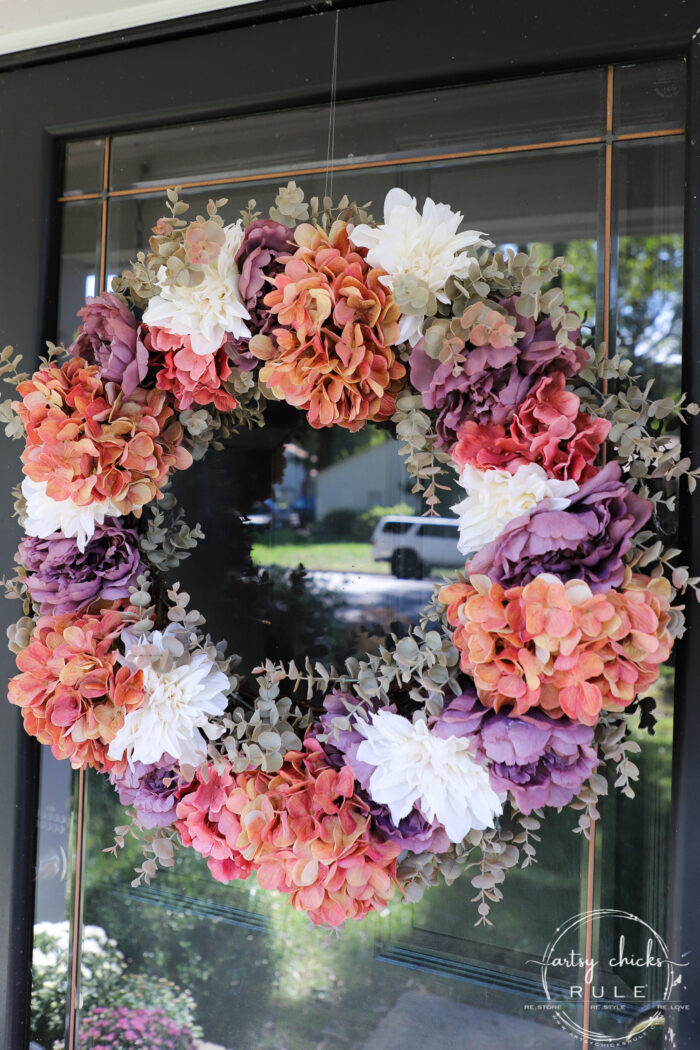 See the reflection of the mums in the corner there? White, plum, and the orange haven't bloomed yet. I'm hoping I can catch them all pretty and bloomed at the same time for my photos. lol We'll see!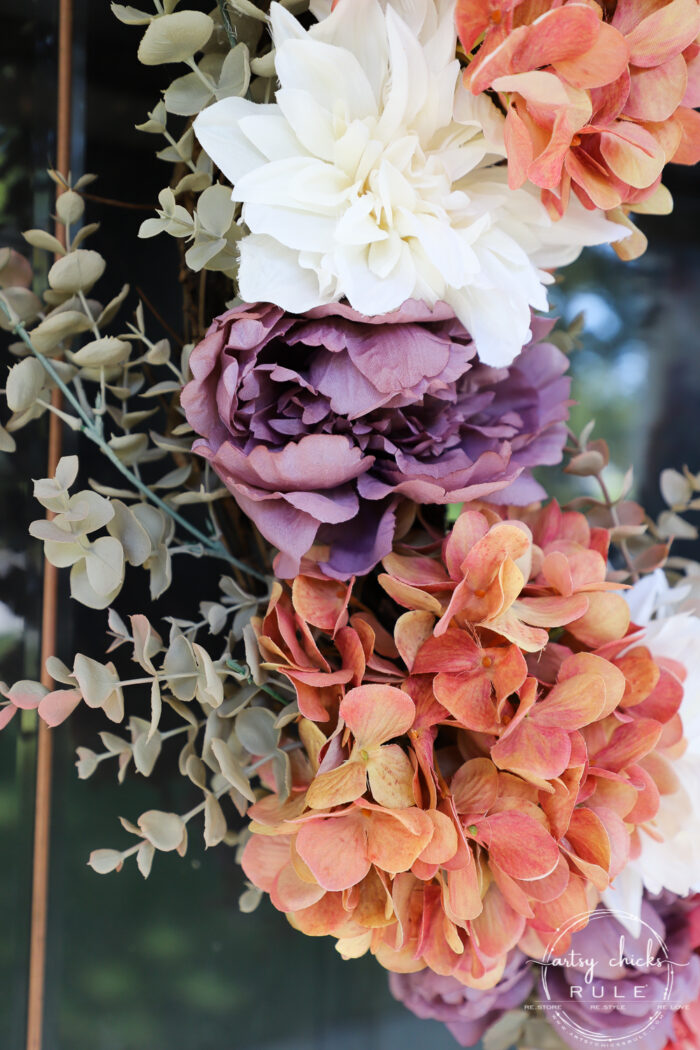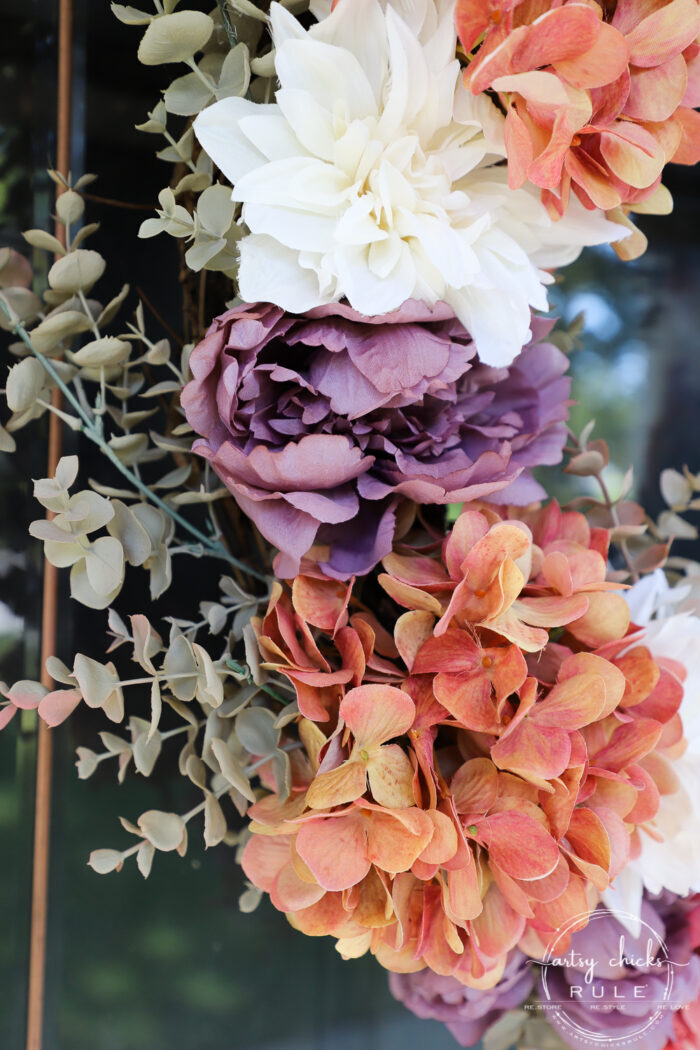 And then I decided to add a little sign in the middle…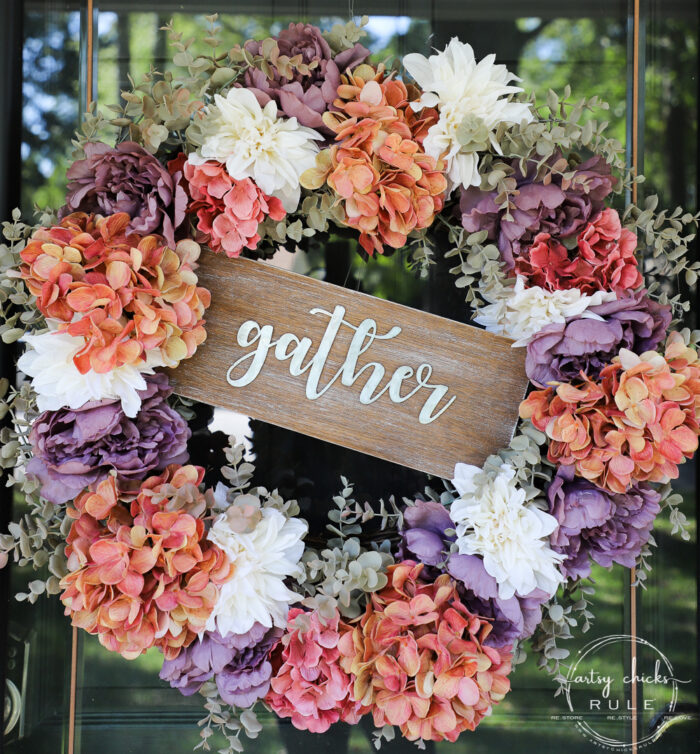 This one I made a year or so ago. You can see all the details on it here >>> Dollar Store Metal Gather Sign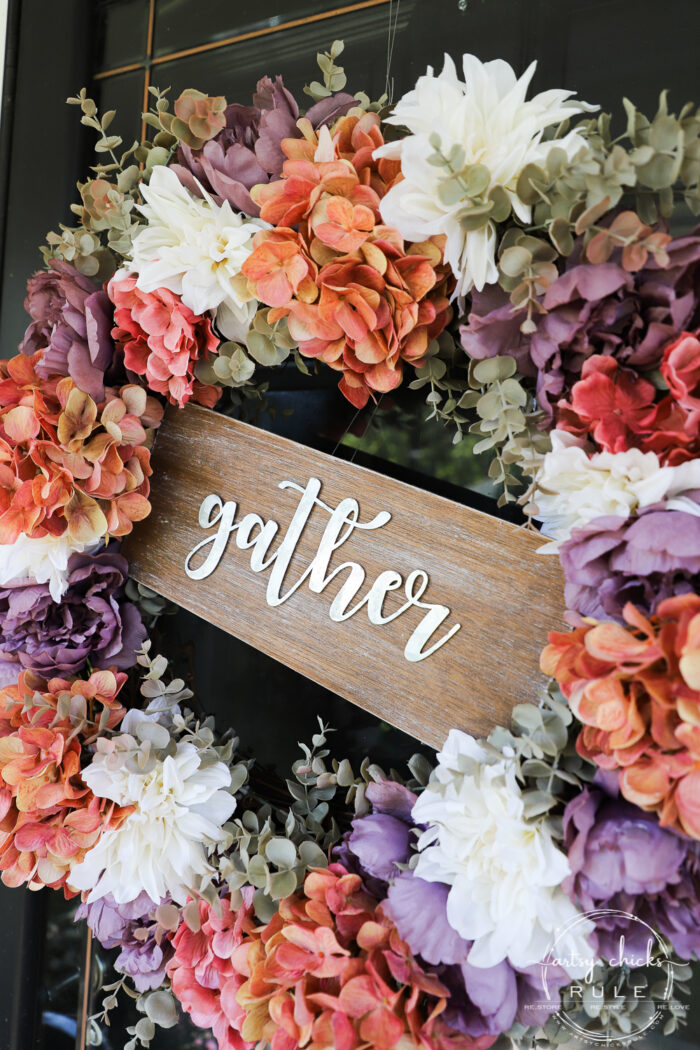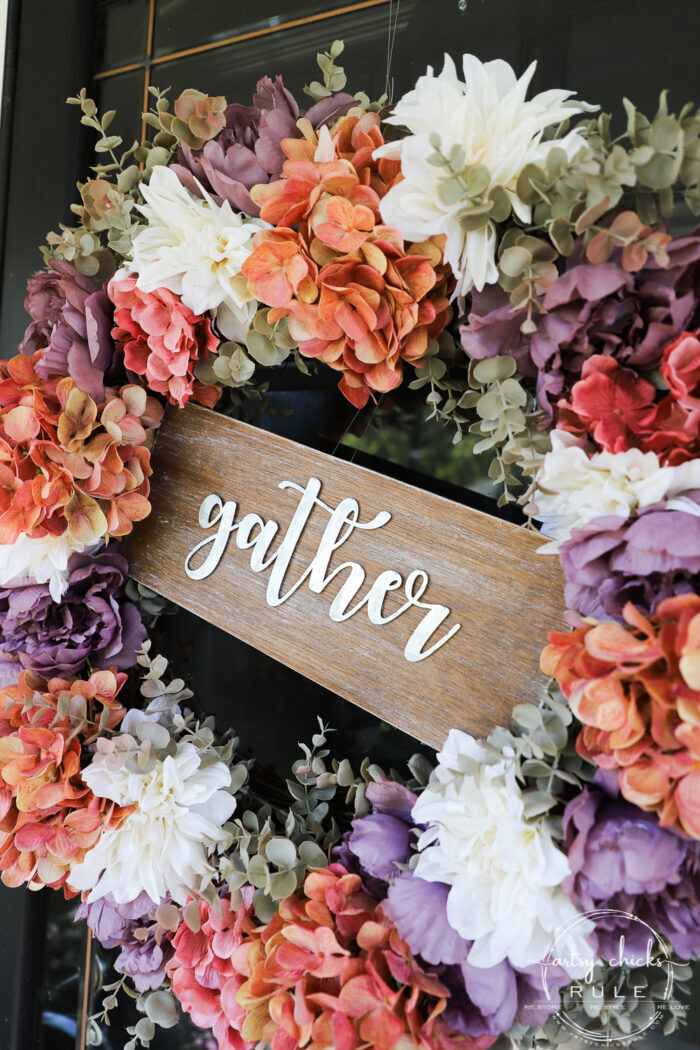 Watcha think? With the sign or without??
Have you decorated for fall? Do you go all out or just a little? Tell me below.
I don't do a lot and usually don't do a bunch on my porch. This is by far the most I've ever done for fall on my porch. But it's mainly because our porch has needed an overhaul for a while. (the front door…like forever though ;) ) I'm thinking about painting part of the porch floor but not sure what color? Maybe a stencil? Not sure. AND did I mention we need a new front door? haha We need a new front door & side lites badly. It's rough and definitely showing its age. (40+ years)
Maybe I'll be able to share a reveal of that before 2020?? Haha…wishful thinking but hey, you never know!
I'm not sure I could handle one more thing at this point so maybe not. :p
PIN it to save it!