Coastal Living Room – Before & After
This post may contain affiliate links. Please see disclosures here.
See this COASTAL living room go from dated, dark, and dreary to light and bright and airy!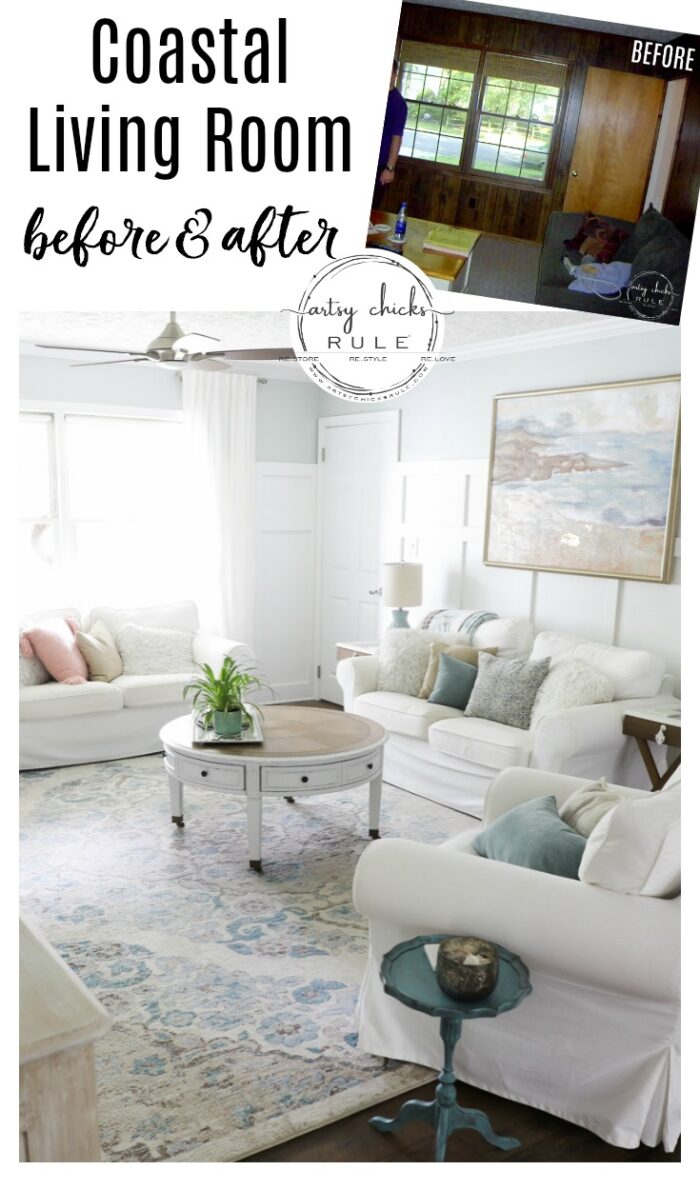 Hello friends! Happy Thursday! I know I said I'd be back with another makeover from the haul but I thought I'd share an updated look at our coastal living room. The last one I did was years ago and our decor has changed much since then. So today you will get to see all the "before" photos too.
And I'm also sharing this first because a couple of the haul makeovers I've done are photographed in here so I thought I'd share this before I shared those.
Here is my disclaimer: (haha)
When I took these "before" photos we had just moved in, literally within days of moving in. AND who in the heck knew I'd be writing a blog and sharing our lives and home, etc, with the world some years later?? I mean who even knew what a blog was back in 2004? I suppose there might have been some early versions starting out but I didn't read them! lol So don't judge the mess. ;)
Honestly, I am thankful I took the photos I did and only did because we knew when we bought this house it was to be a "project" house. It needed lots of work and updating. So I took photos…but sure wish I had taken even more.
So let's see how this coastal living room of ours has changed since the big move-in day back in June of 2004.
Coastal Living Room – Before & After
Light and bright and airy.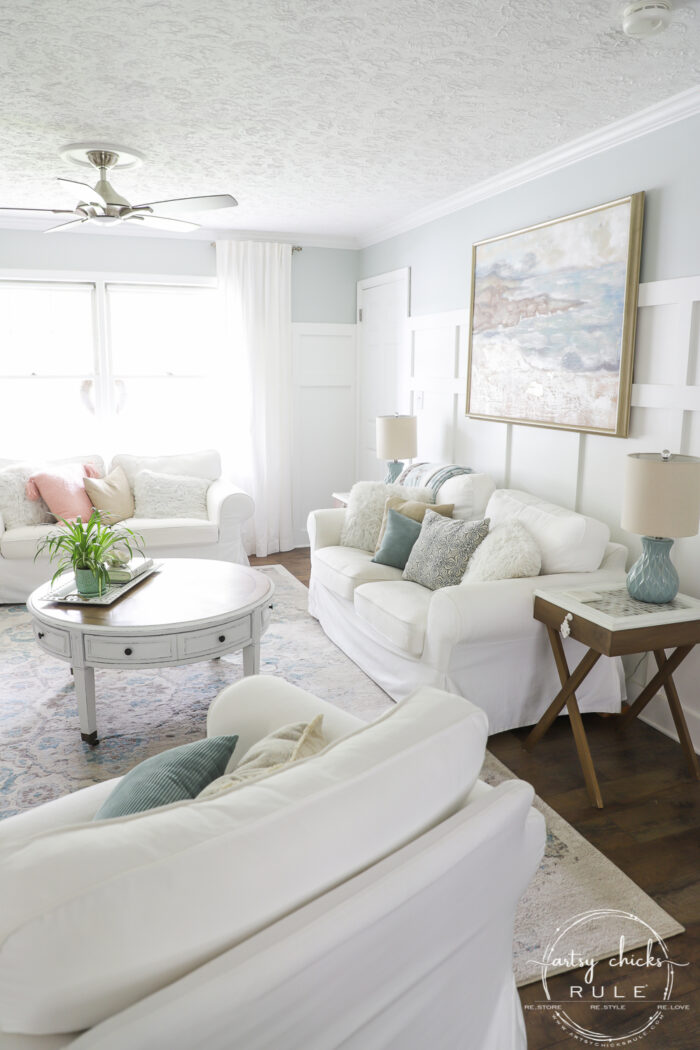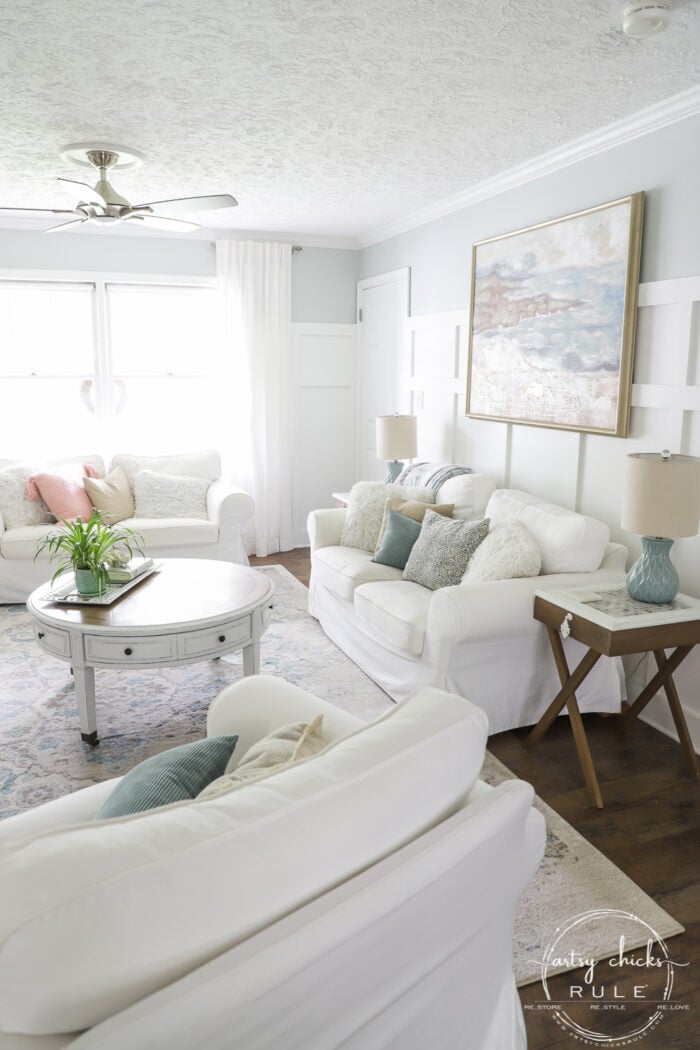 I'm planning on changing out the slipcovers soon for a little bit different look. I love the white but am ready for a small change.
Stay tuned for that.
And before I go further because I always have questions about it, the furniture came from IKEA and is the Ektorp slipcovered series. (and we've been pretty happy with them)
Okay, basically the same view as the above photo…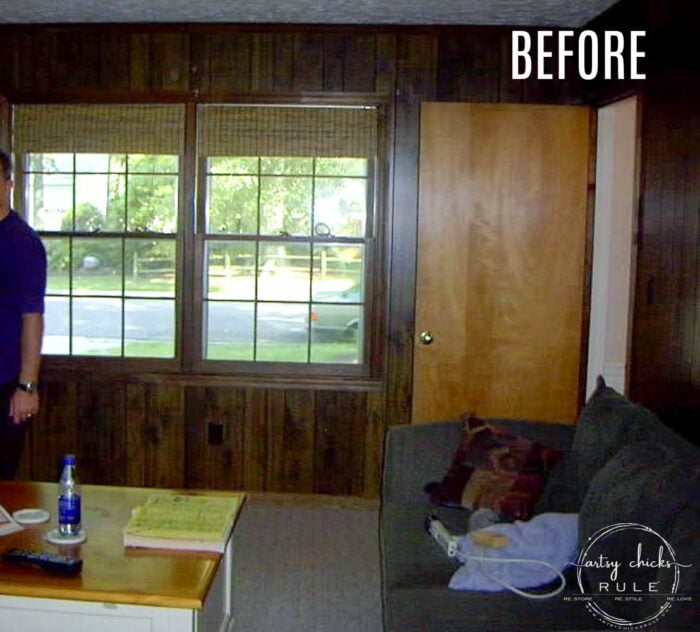 As you can see, we had these style of doors in our home along with gold hardware.
We changed out all the doors and the hardware.
We also took down the dark brown paneling (there was drywall behind, thank goodness) and added board and batten some years later.
You can find that tutorial here >>> "Faux Board & Batten Tutorial"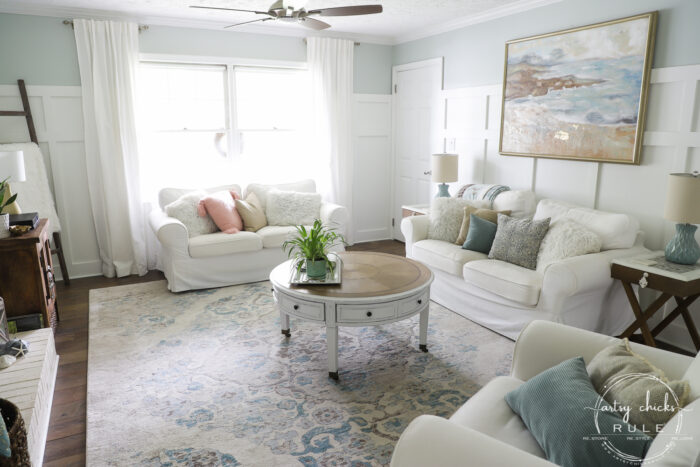 And if you follow along on Instagram, you might have seen me talking about changing out this rug in my stories.
Well, I moved one of the loveseats back so I could get the rug up and liked where it sat. haha I was like, hmmm, I've never had the loveseat or any couch next to the window before. I like it!
And wow, the living room feels super roomy now. Which meant the rug I bought was too small (I was arranging it differently so the smaller rug was set to work…until it didn't lol)
Anyway…long story short (I can't ever ;) ) … I decided to keep this rug here and enjoy the big, roomy feel this room now has.
The new rug is not going to waste though…it is going up in our master remodel instead.
Love the rug?? You can find it right >>> here.
So the chair that has been in the corner for forever, is now on this side of the room.
I actually love having that corner empty now.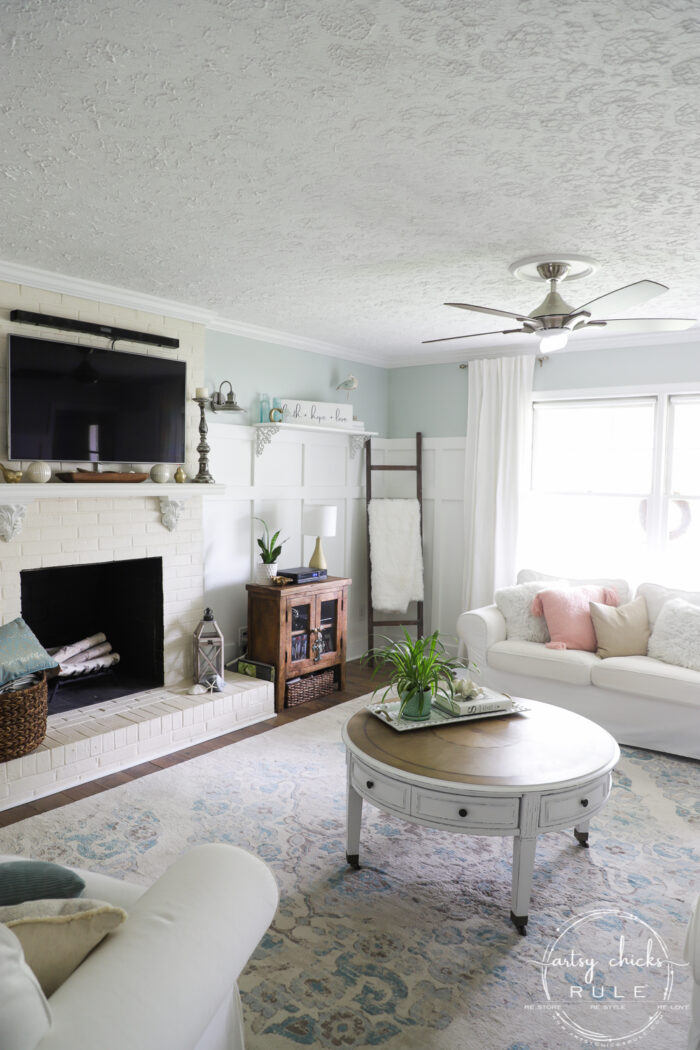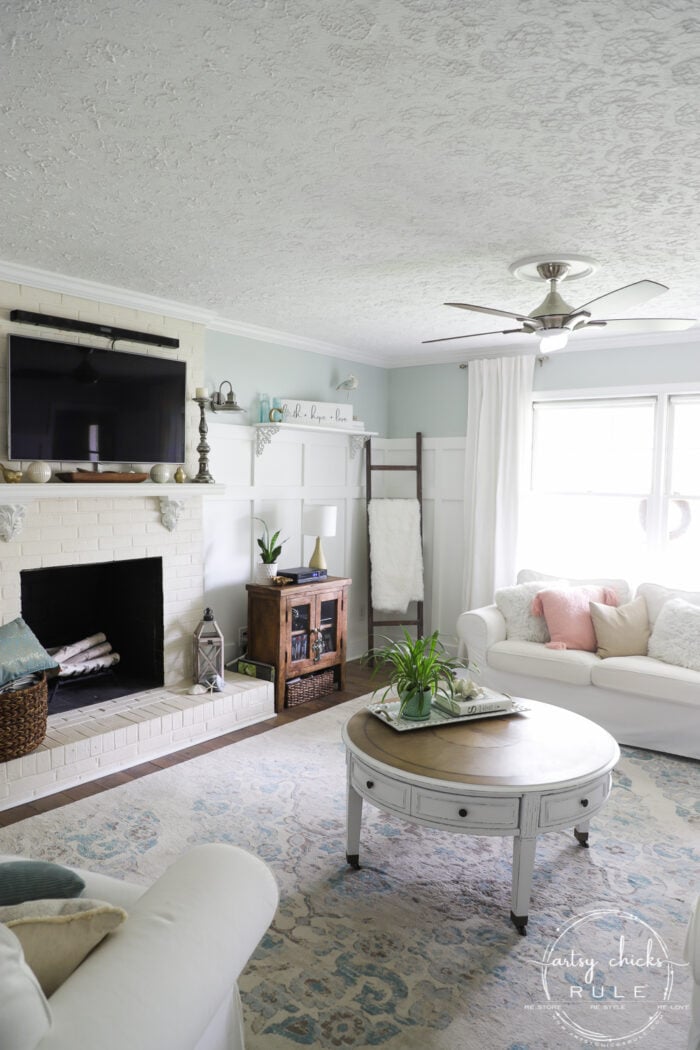 This is an odd-shaped room. It is very hard to get furniture to fit nicely in it.
We used to have the tv in a big entertainment center on the opposite wall where the other loveseat sits.
I love, love, love having it over the fireplace as it saves so much space in here.
Love the coffee table?? See the makeover details >>> here.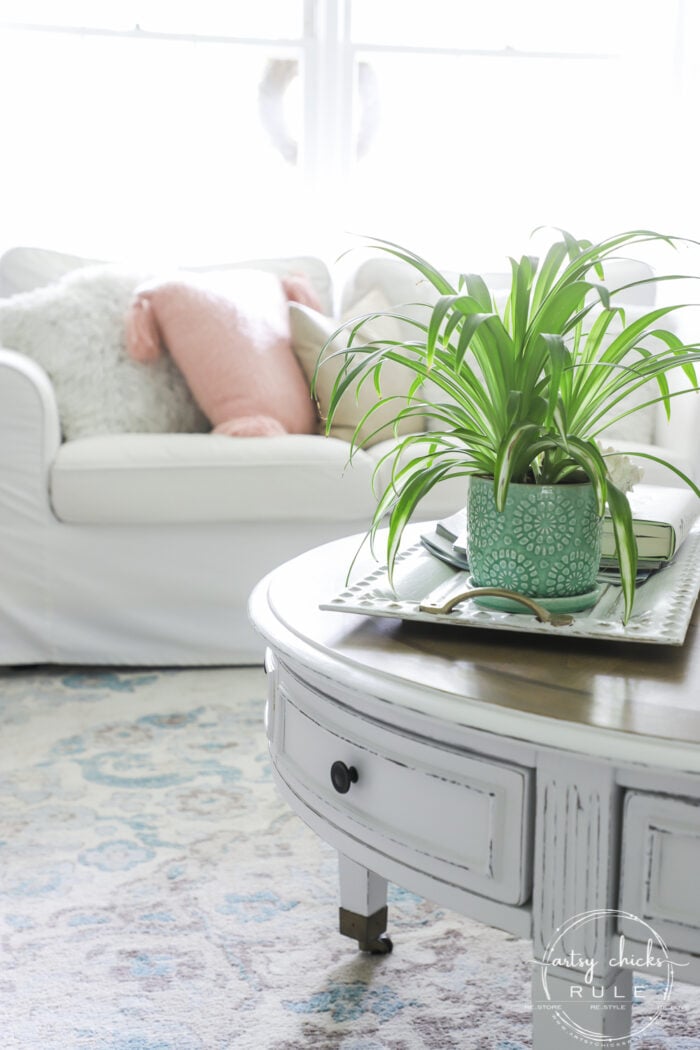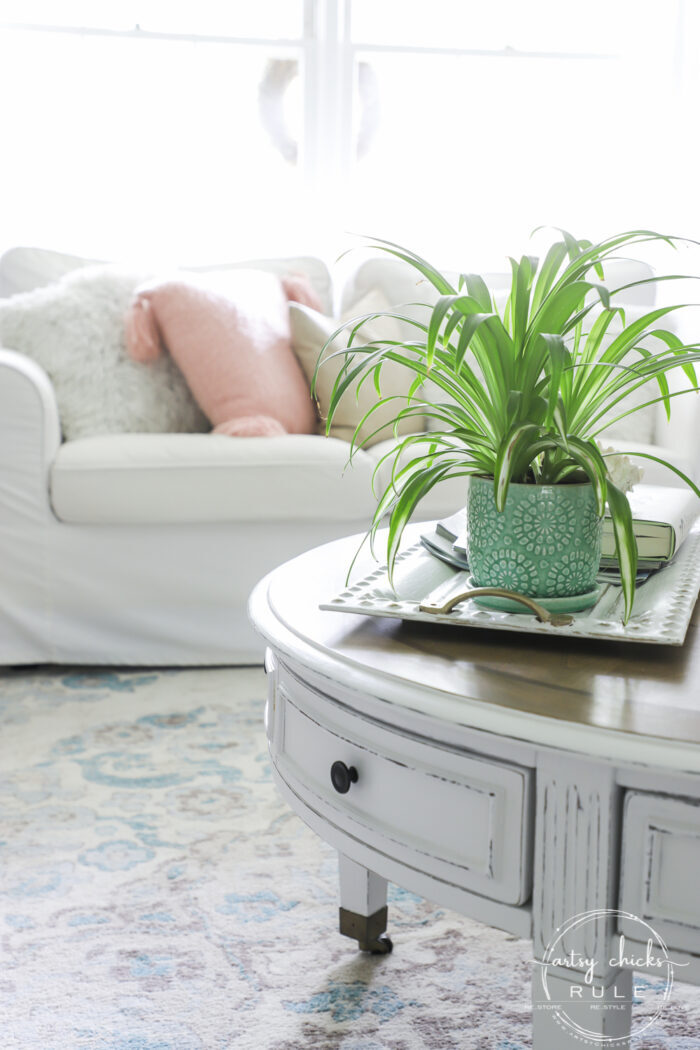 Another view of where the chair is…and to also show all this extra space we have back on this side of the room.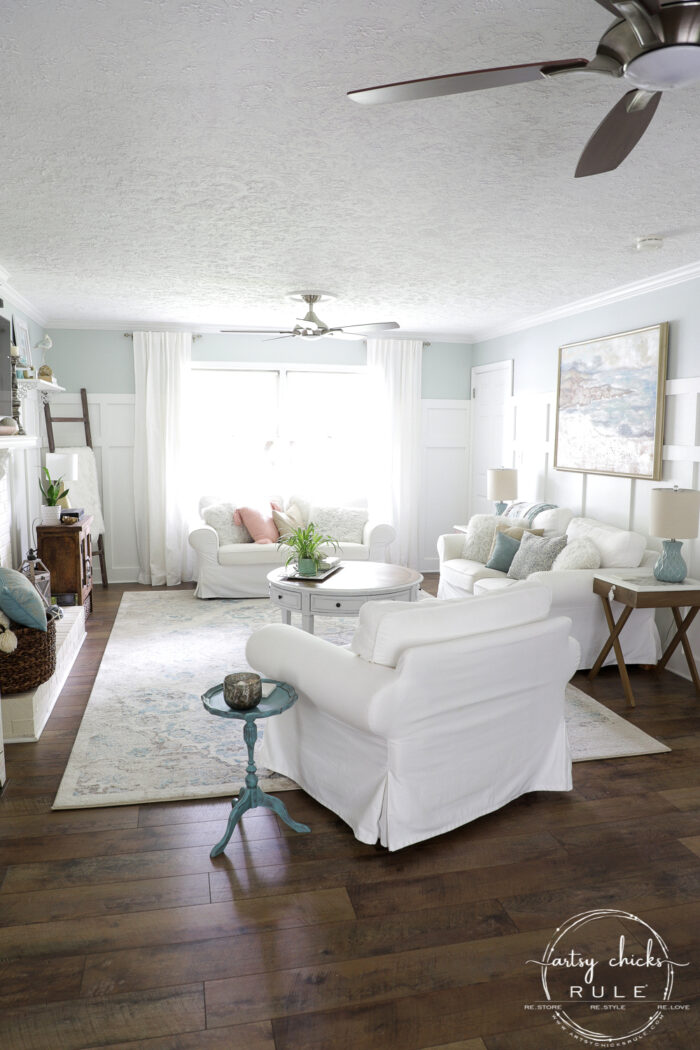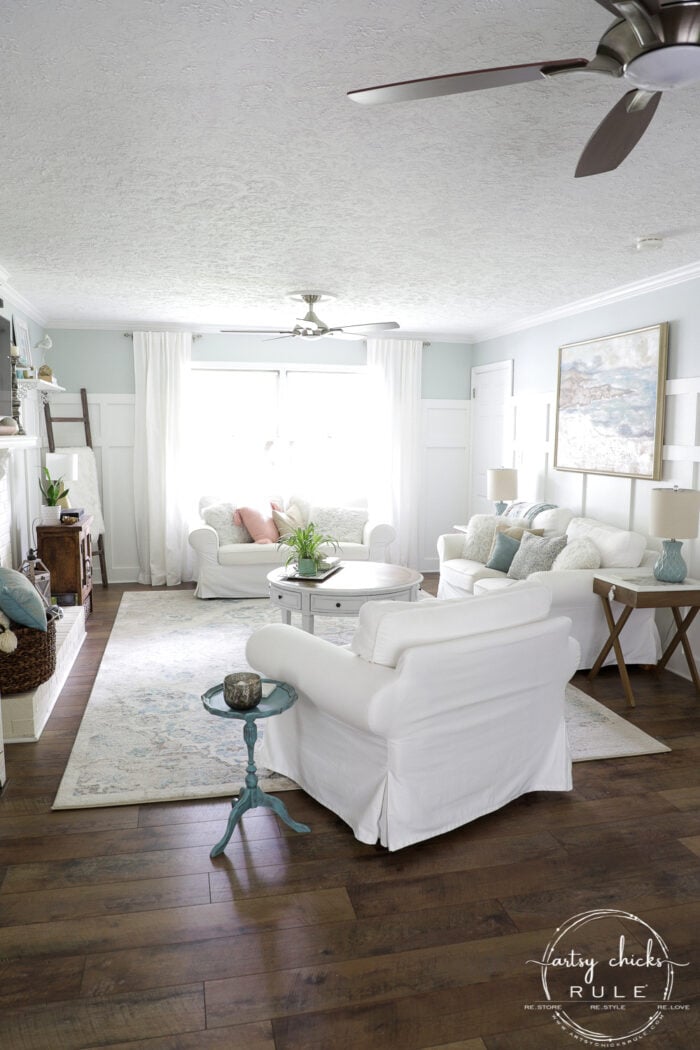 Not really usable space the way it's designed.
Love that floor?? (we do! ;) ) You can find out all about it >>> here.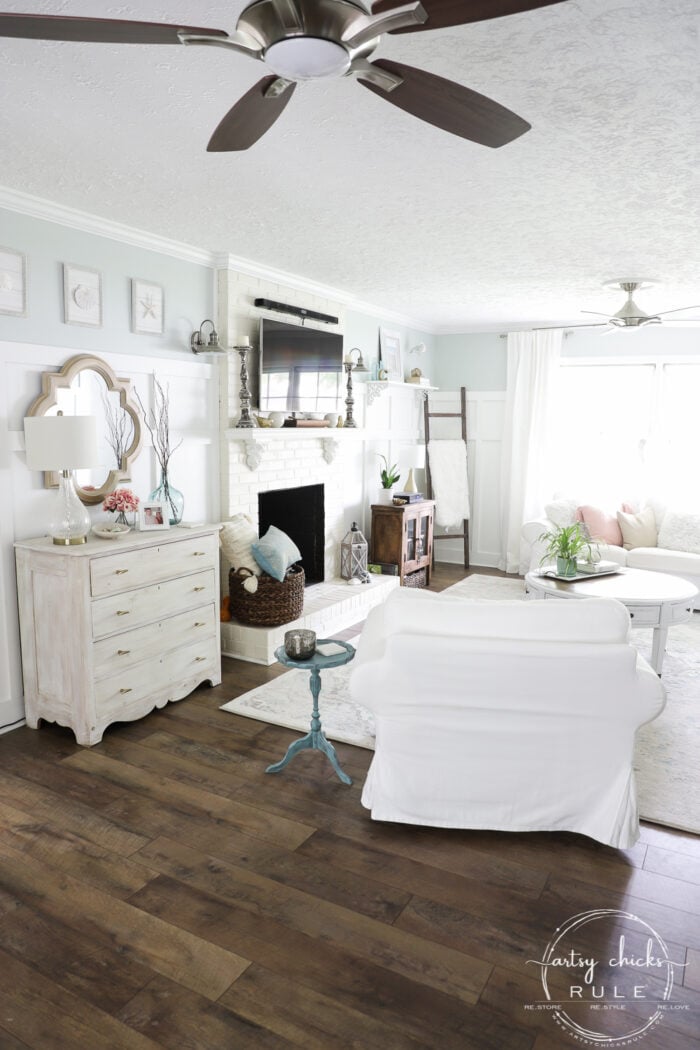 We love it so much and have been so happy with it, we are actually using it again in our beach house. (a different color though)
Now looking towards the back of the room…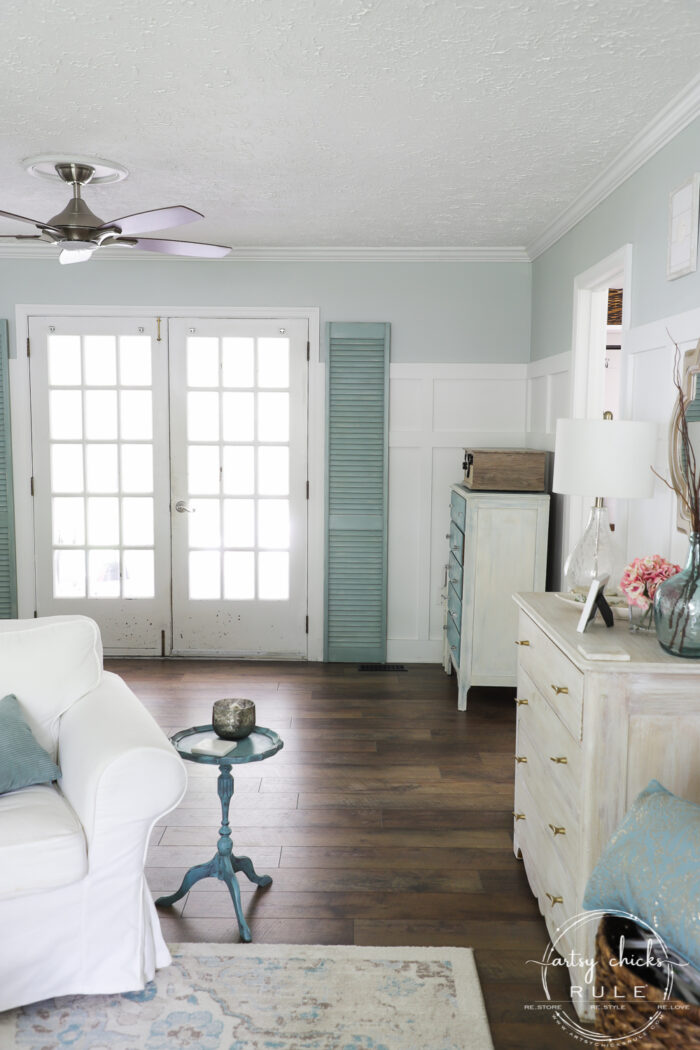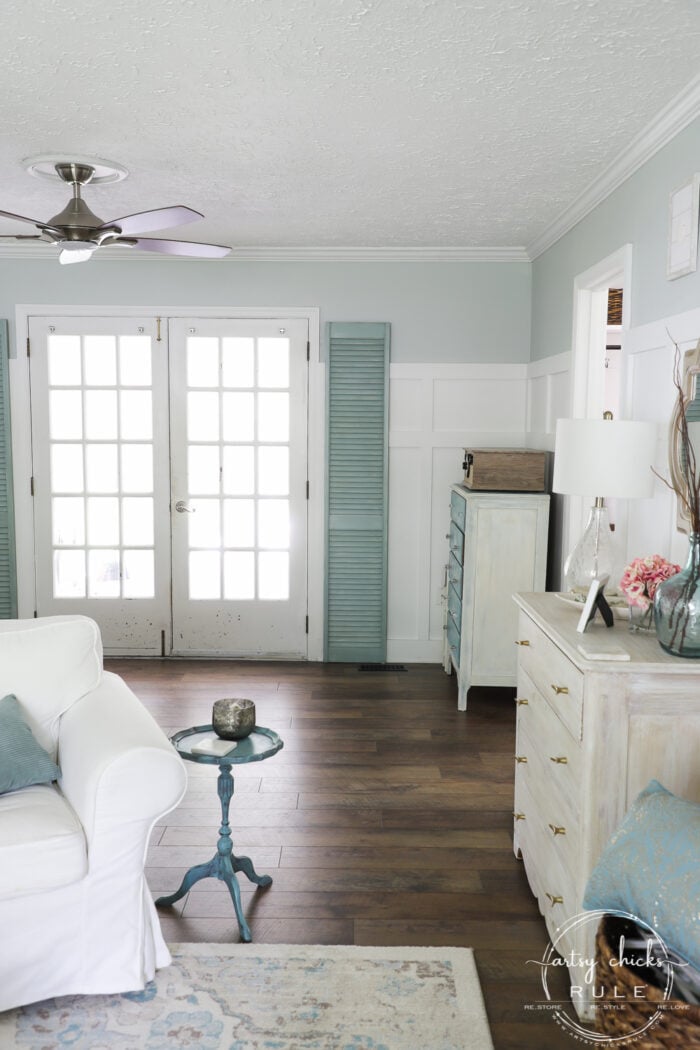 Those french doors are a little beat up (they are original…and got painted) and are getting replaced soon. (those and the front door both)
I still love those old "shutters"… actually bi-fold doors I found out thrifting years ago.
You can read all about them >>> here.
Here is what this side of the room looked like before…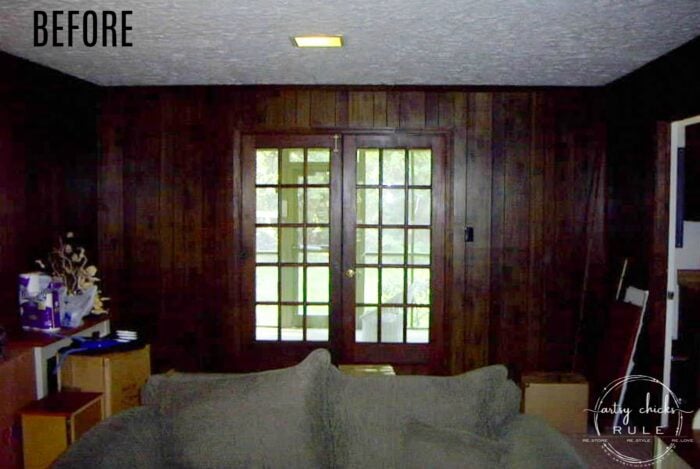 Yep! The cave as I used to so lovingly call it. haha Not!
We finally replaced those old 70's ceiling lights with these fans recently. Much better.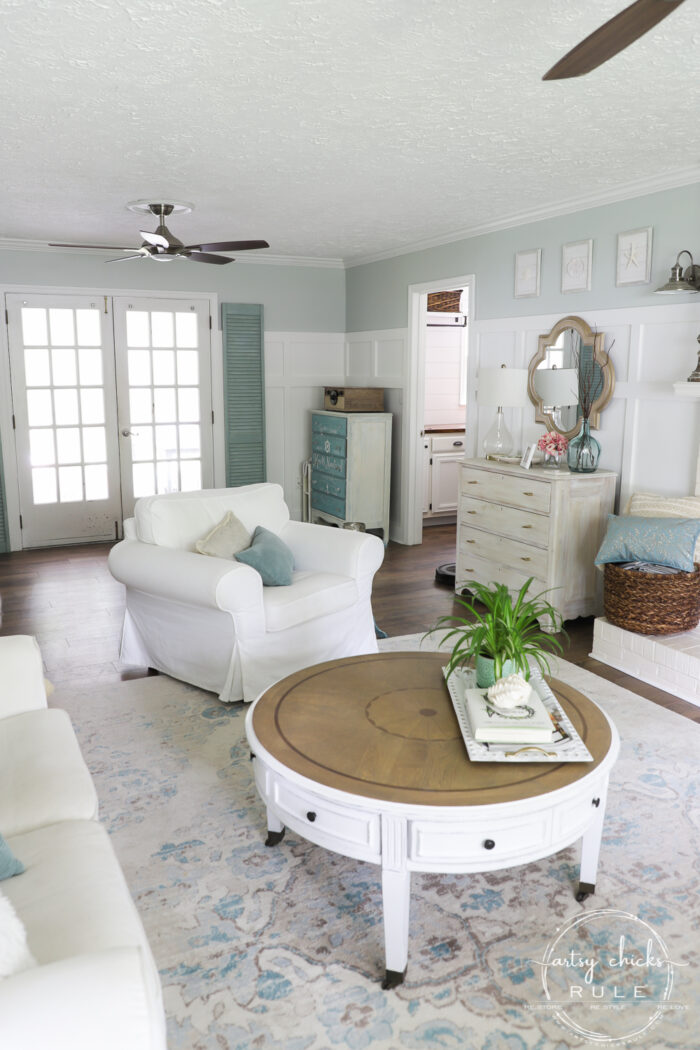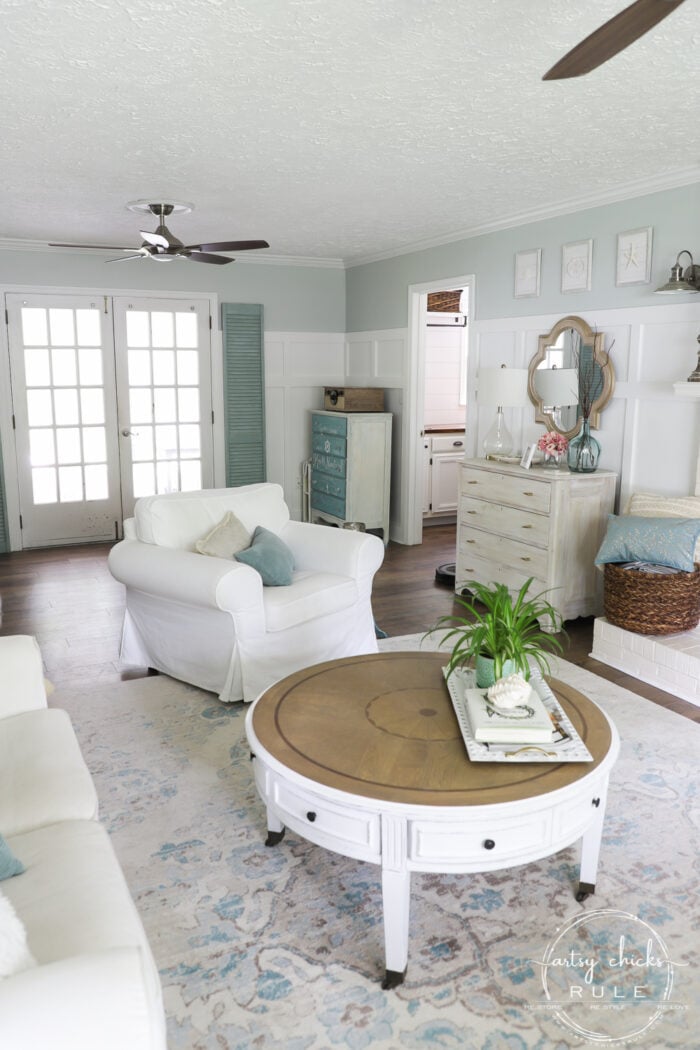 Isn't the difference amazing?? Wow…just so dark before…and now light and bright.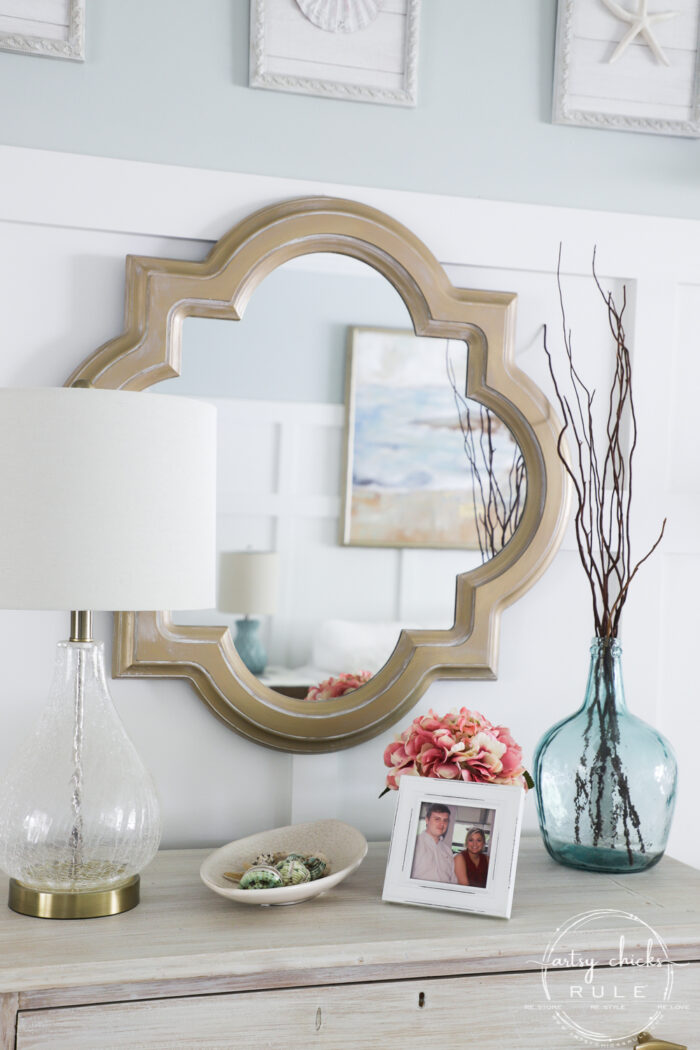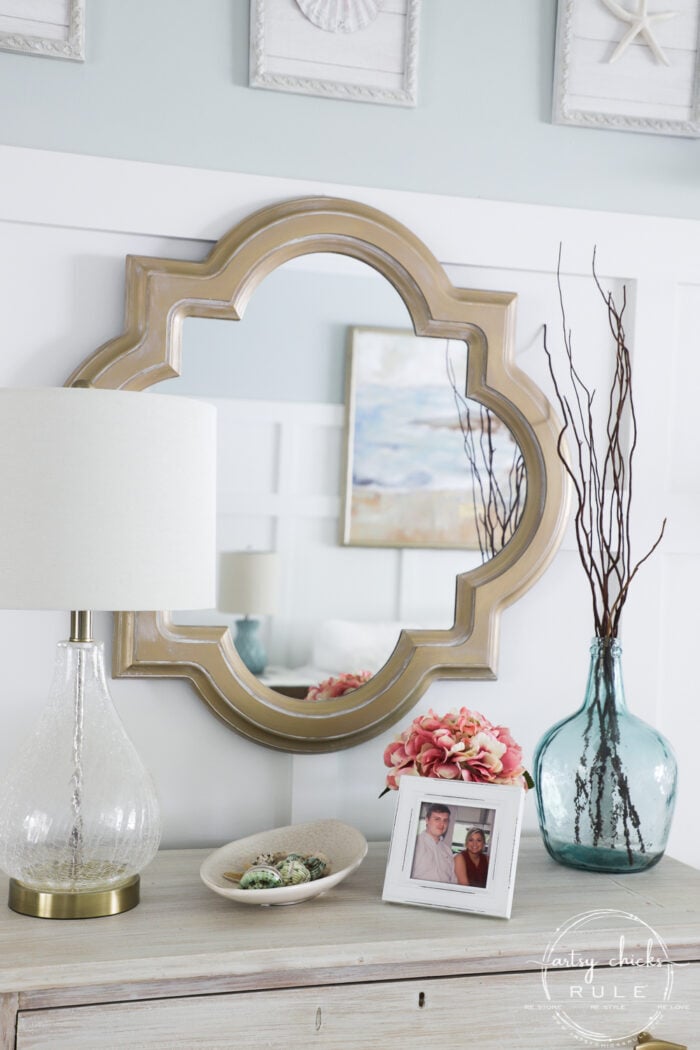 Love using old dressers. They are great for storing things in. This "white stain" dresser used to be in both of my kids' nurseries.
So sweet and meaningful piece. You can find all the details on it >>> here.
In this corner below, I am using one of my favorite older furniture finds made over.
Another old dresser I love using for storage. As a matter of fact, I wrote a post all about that and shared mine and what's inside them.
Wanna see? You can read all about it >>> here.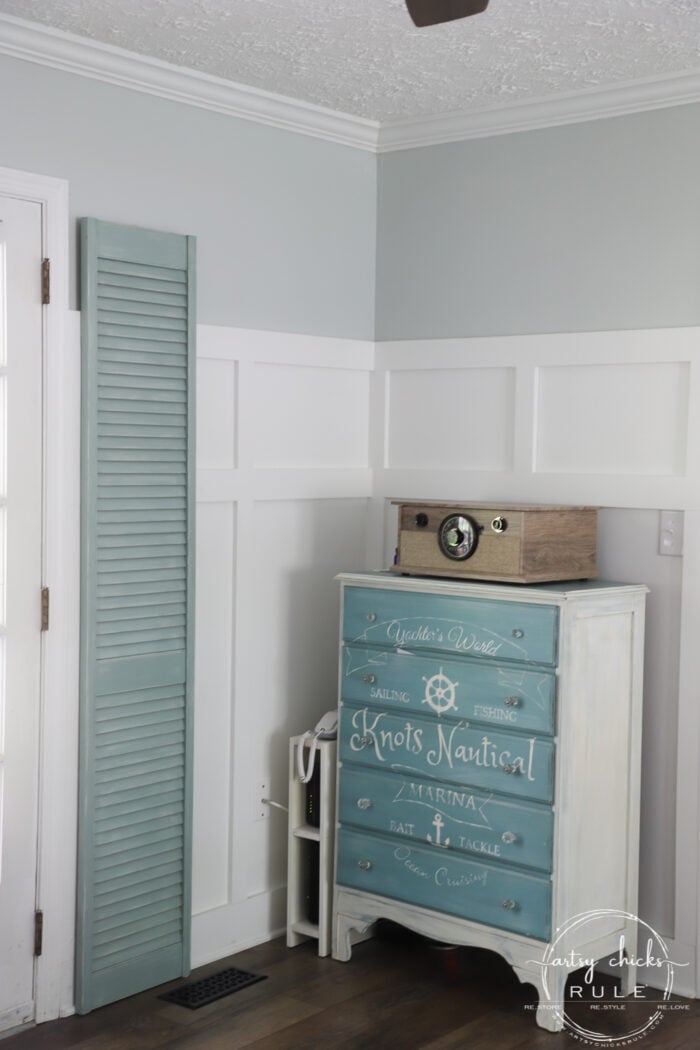 I use the top drawer of this one for my essential oils, the second for extra water and drink cups (with lids, etc), koozies.
The 3 bottom drawers are kitchen items like waffle makeover, extra pans, etc.
Want more info on the chest makeover and the graphic? Check out this post >>> here.
Looking back this way is also light and bright…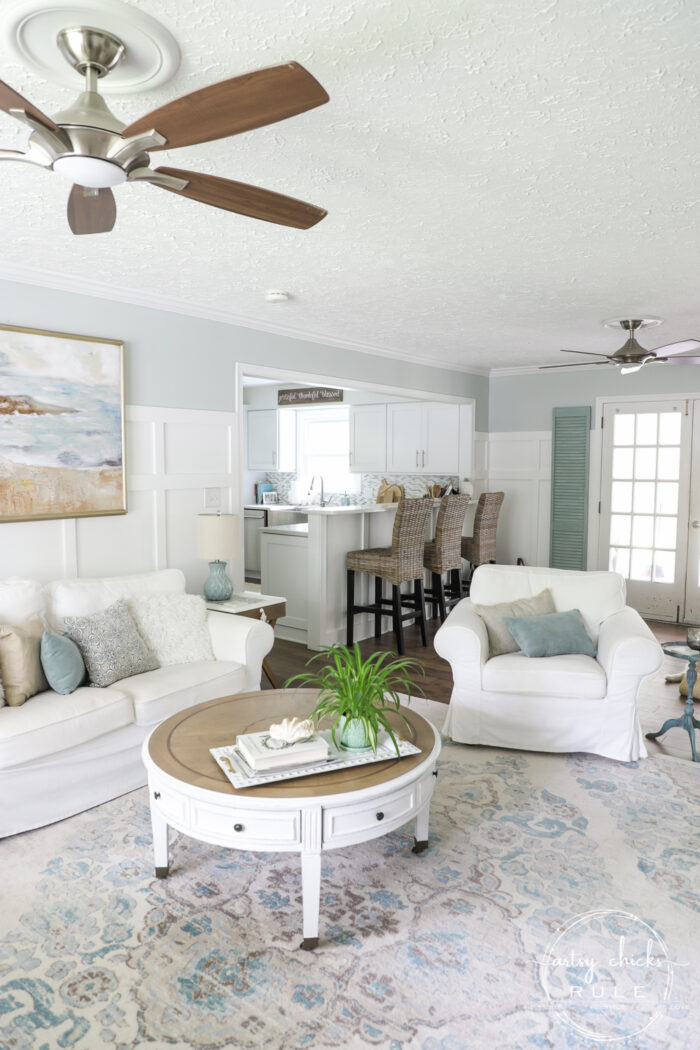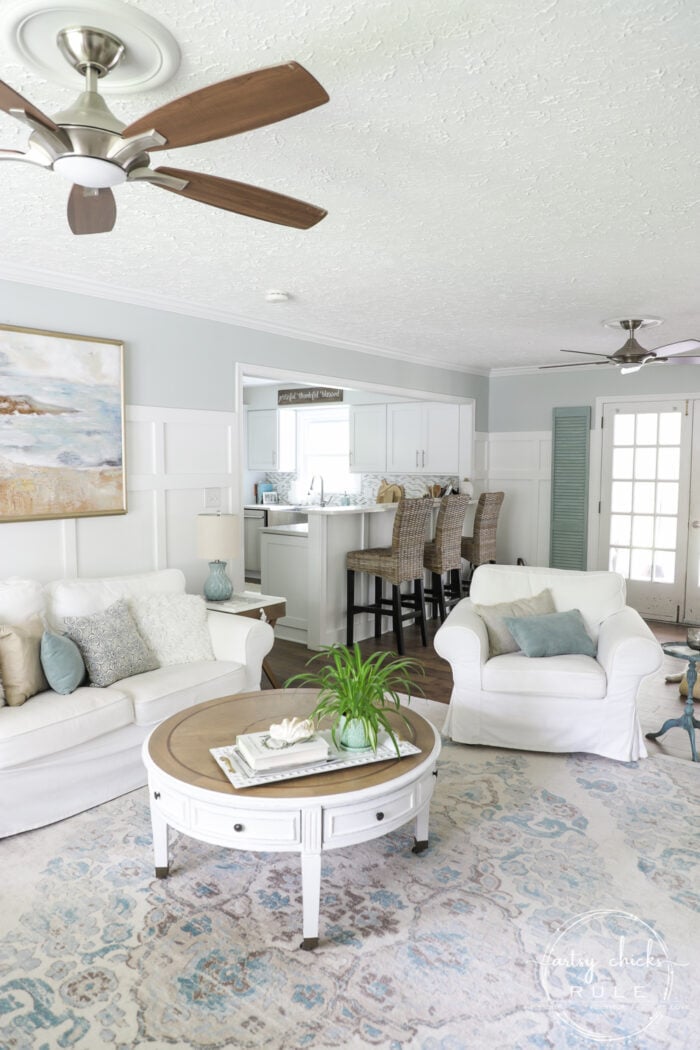 …but it didn't use to be…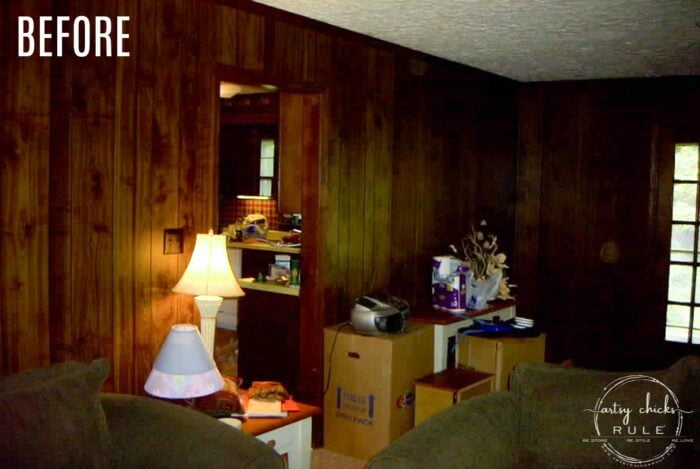 With my dark brown kitchen and gold countertops with red plaid wallpaper.
All gone, thank goodness!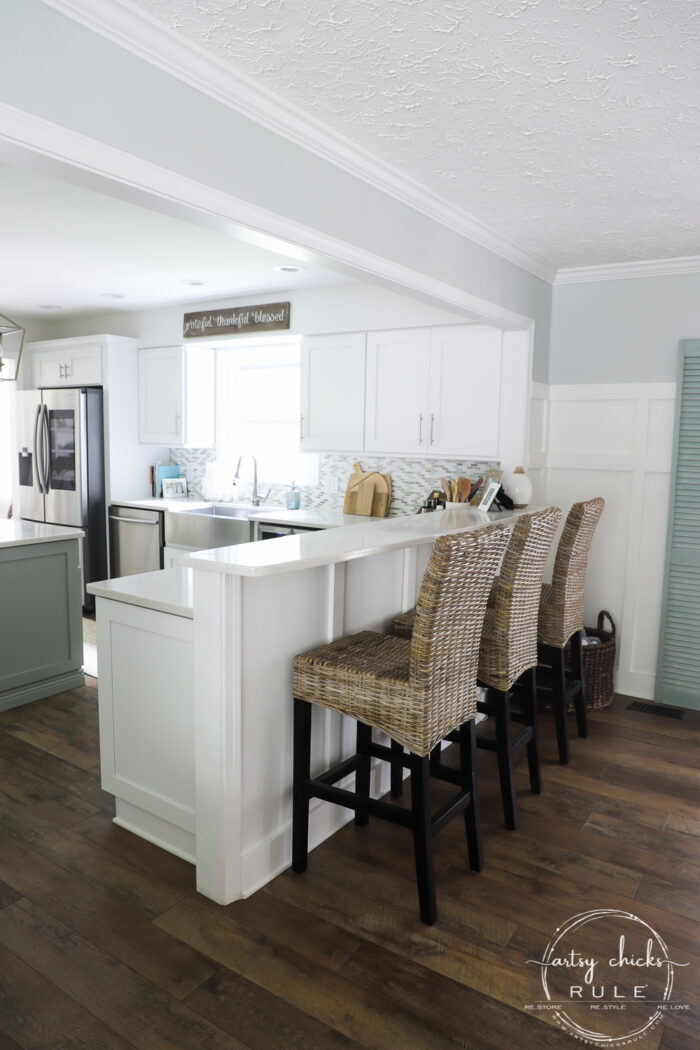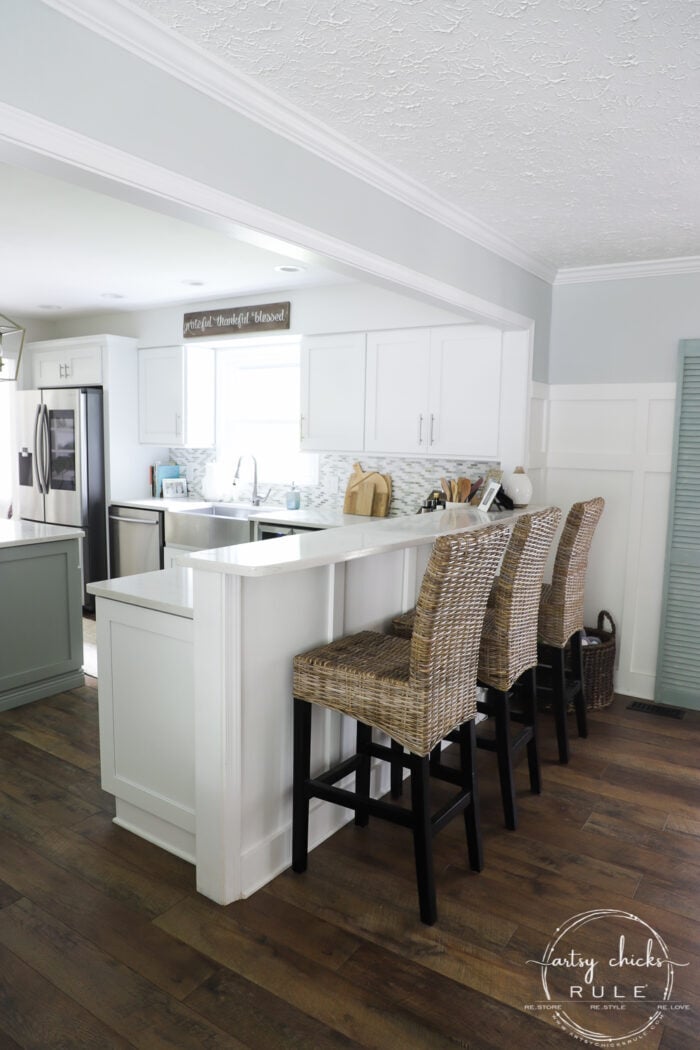 By the way, our wall color paint in this room is Sea Salt by Sherwin Williams.
The color on the island is on the same chip, Oyster Bay. It's just a bit darker than Sea Salt.
Love both colors.
But I mean hello??
We can look all the way to all three rooms now. There used to be a wall with a door over there too.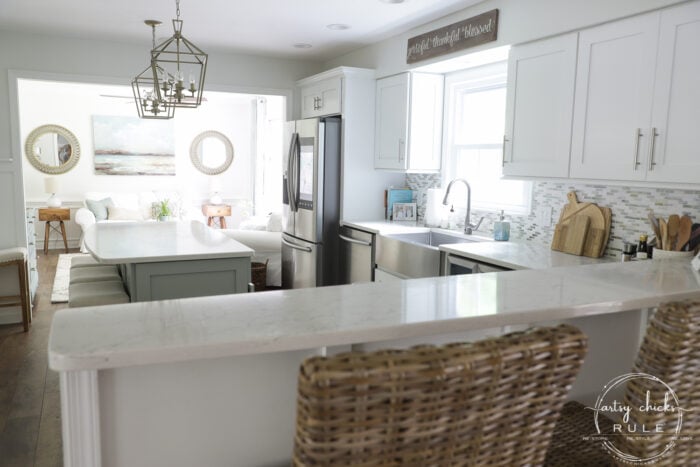 Want to see before and afters of our kitchen remodel??
You can see the whole remodel >>> here.
Here's another view.
Boom box…you know it's been a minute since this picture was taken. lol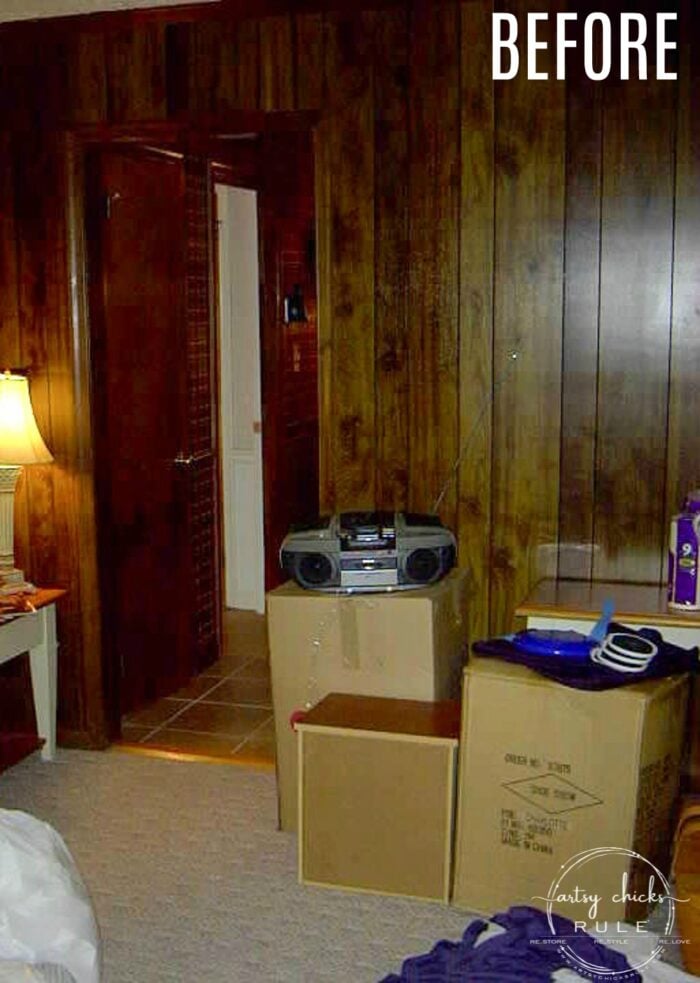 There was even a door over there going into the kitchen from the foyer. We literally took that one off the hinges within hours of entering our home for the first time. haha There were doors everywhere downstairs. They meant to block every single room off, if needed, I guess.
And the same view now…
This shot below was after we'd pulled down the dark paneling and started prepping the walls. Almost immediately after moving in.
We hated how dark and dreary this room felt so it was one of the first things we did.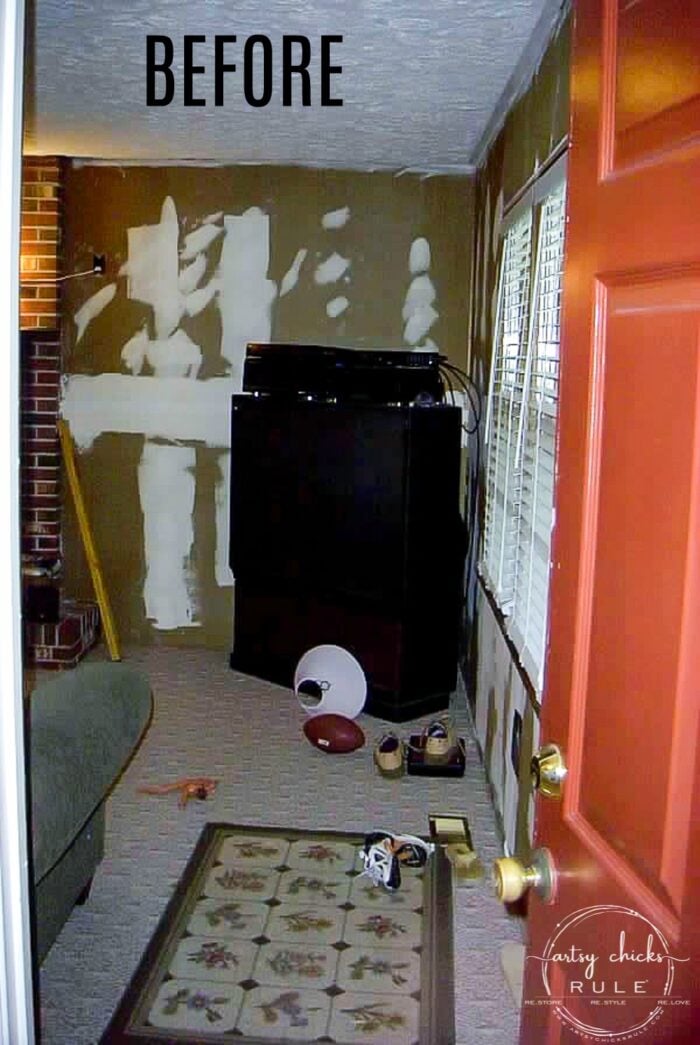 Naked GI Joe on the ground (lol), football, kids shoes…random lampshade (?…no idea). Awww….miss those days!
But with Ryder and his toys, it feels like not much has changed. haha
And what this view looks like now…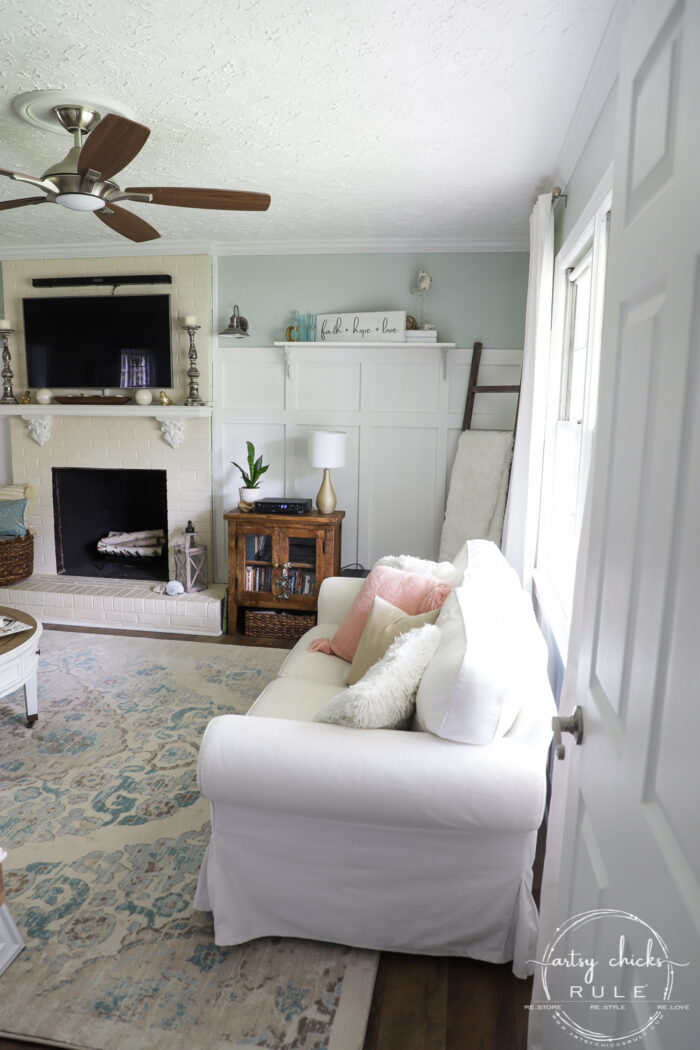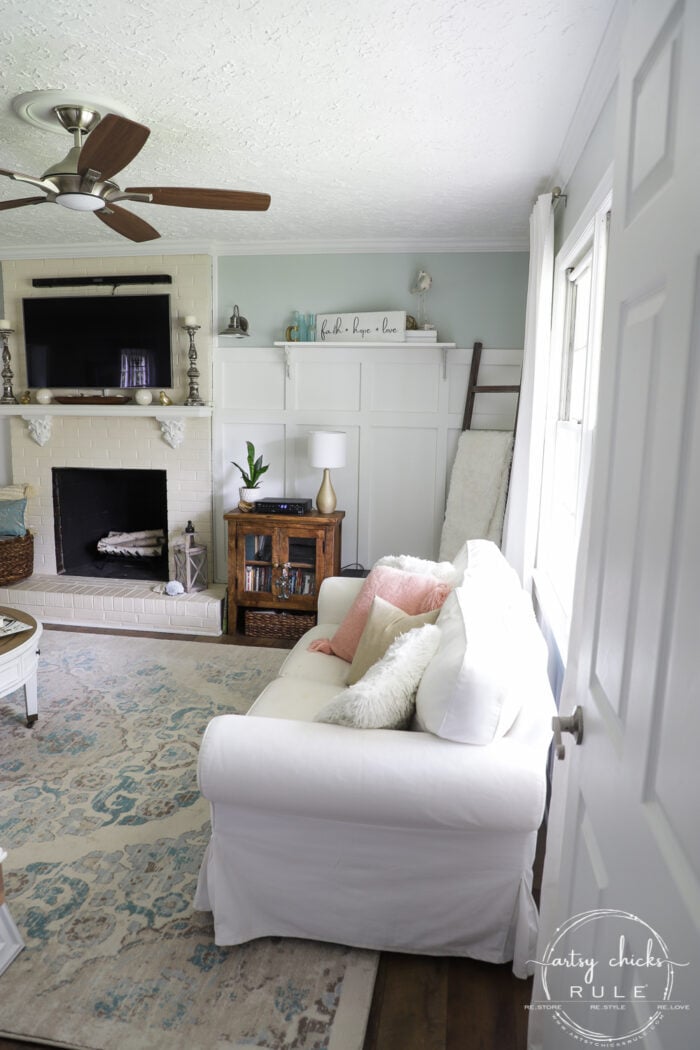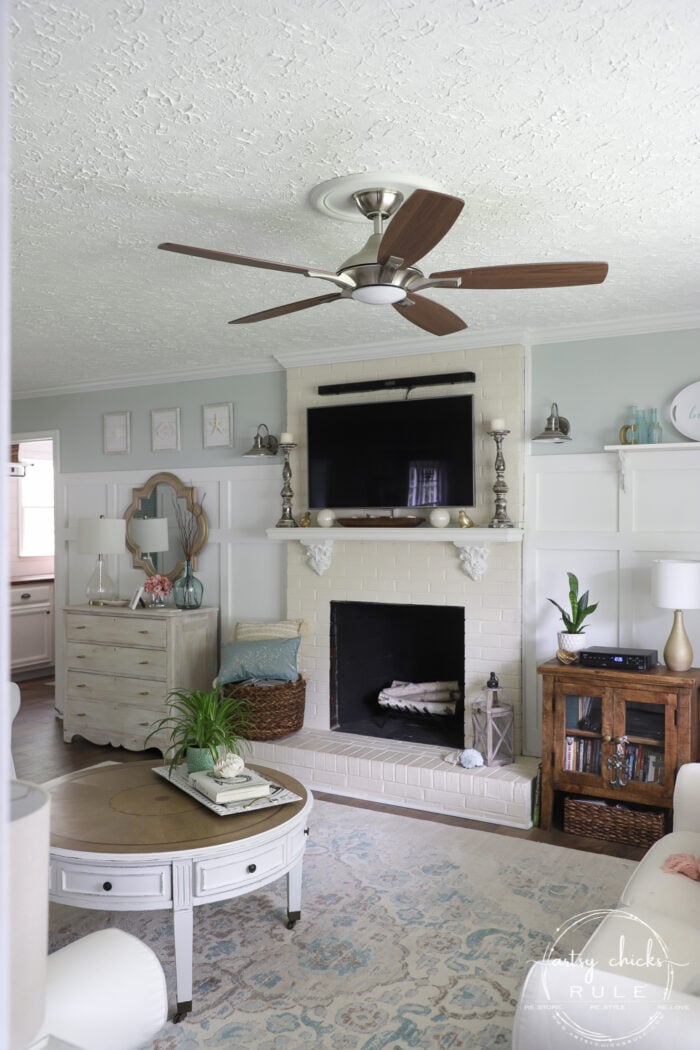 And this view, the fireplace before…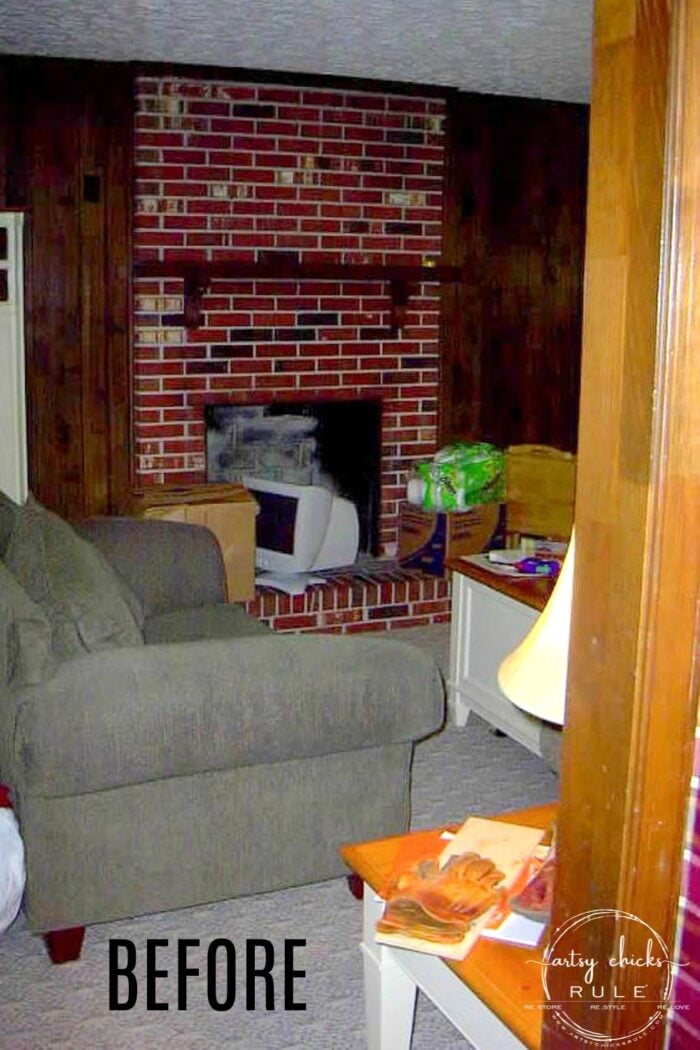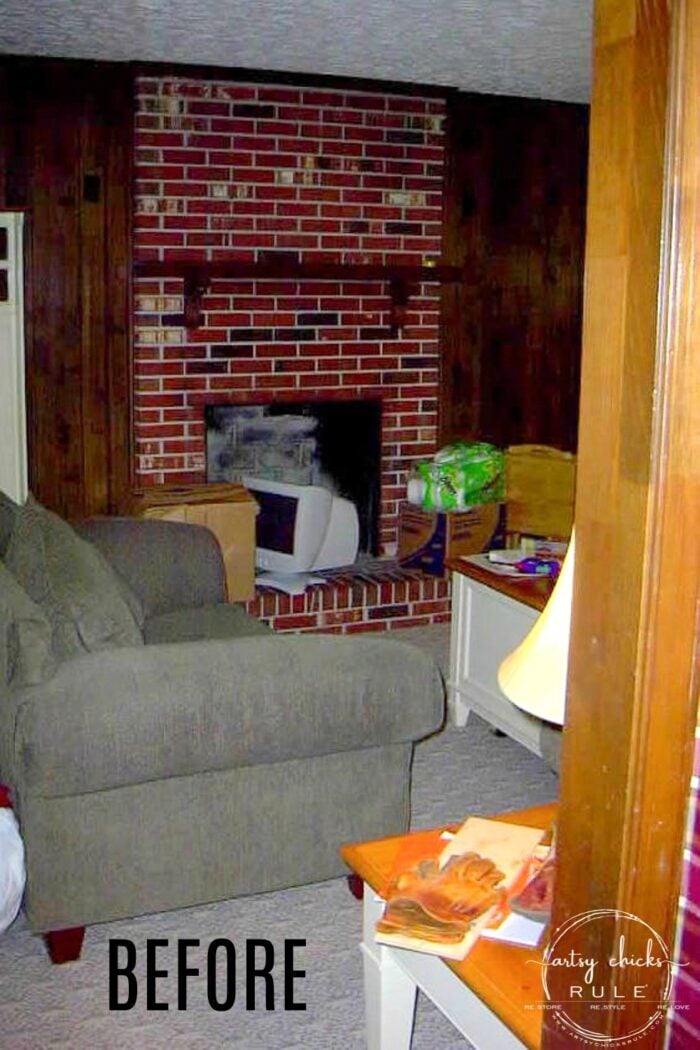 And now…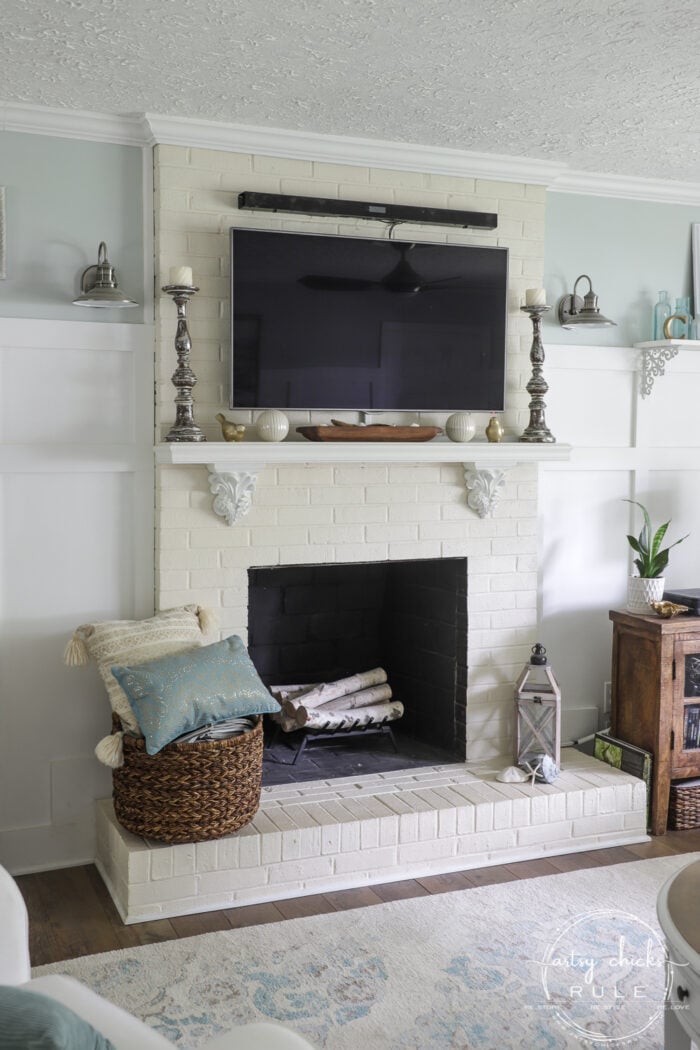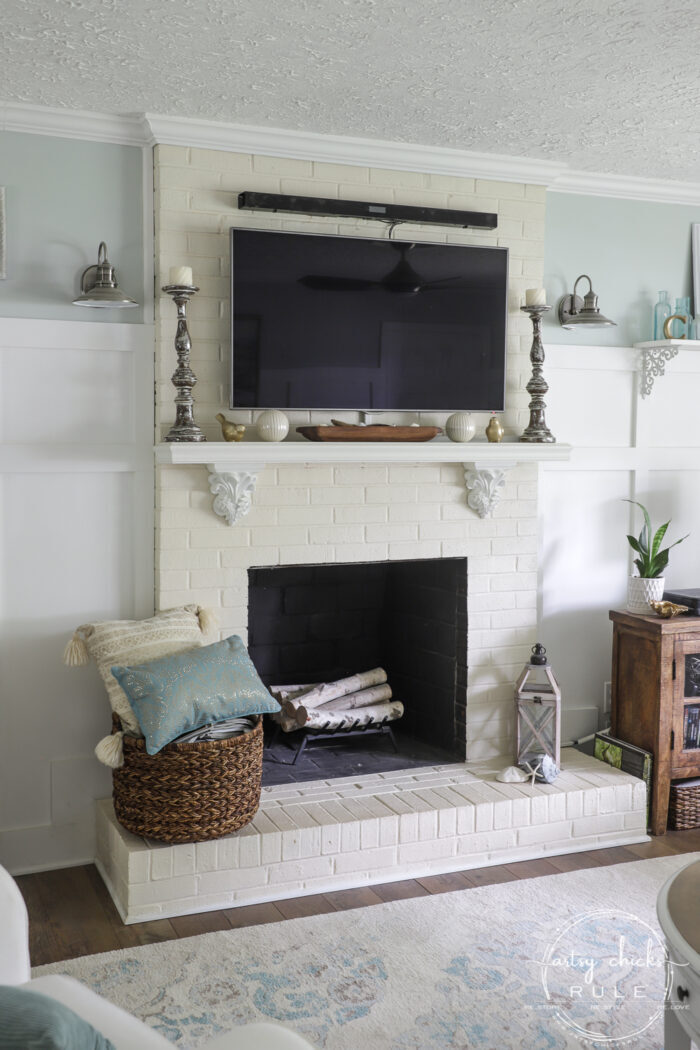 Yep, I painted the brick. This is the second color I've painted it and need to paint it again as it doesn't really go in here any longer. (it's yellow-ish because I used to have yellow walls)
I haven't tackled it yet because I'm not sure what I'm going to do yet. I think maybe shiplap up top? Or maybe stone or tile on some or all? Or maybe repaint it decoratively (distressed with some color showing through)? I just haven't pinned that down yet but it needs a re-do for sure. Keep an eye out…I'll get to it someday soon.
And I can't finish up this post without sharing my favorite helper, companion, sweetest boy, Ryder…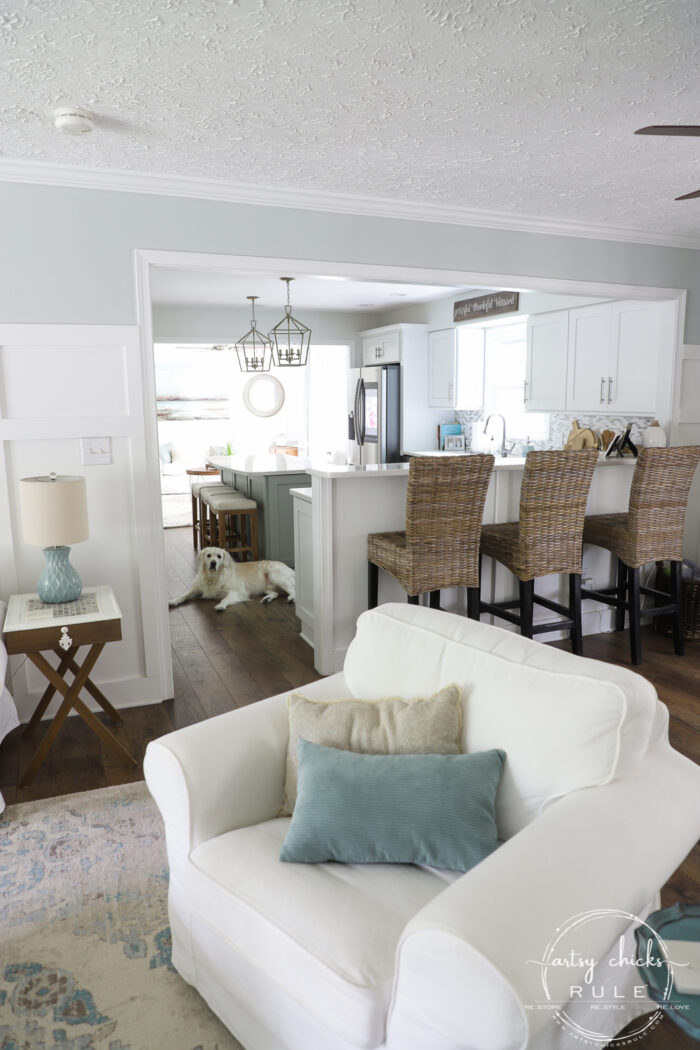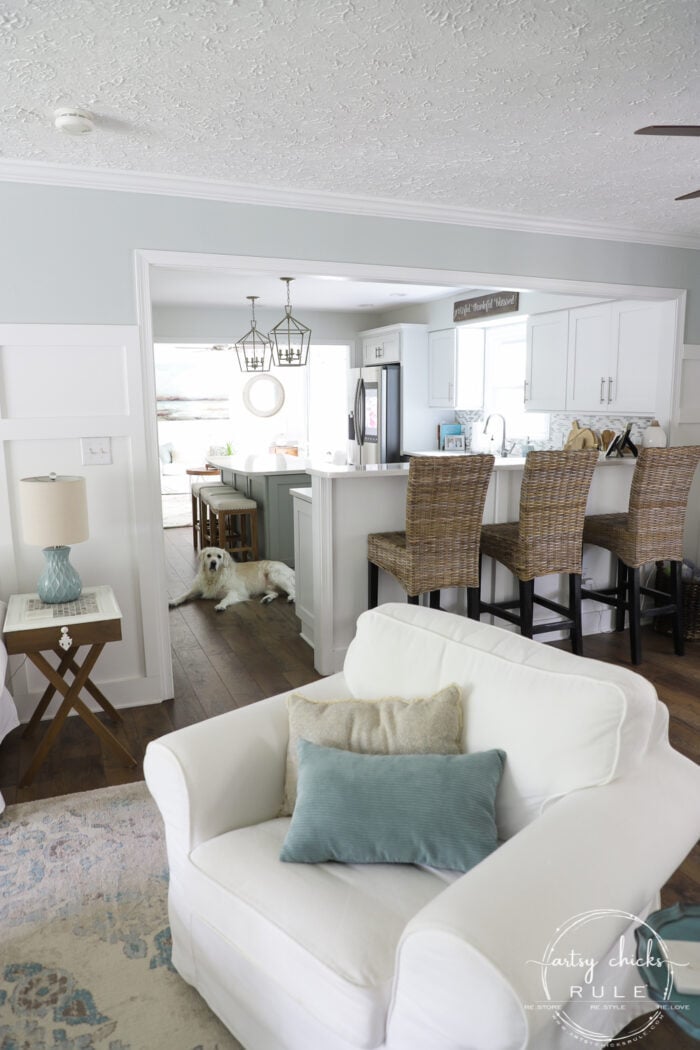 (you might've caught a paw or two in some of my other photos lol…)
I hope you enjoyed a look back today. It's fun to take a look back to see where you started…and where are you are now.
Are you doing a makeover, remodel, etc?? Be sure to take pics even if you don't think you'll care down the road. It's nice to see how things used to look. And hey, sometimes you even capture treasures in the old photos. (like naked GI Joes and kids shoes…lol…I laugh, but it makes me all warm and fuzzy inside to see that)
I also hope that by sharing our coastal living room with you it provides you with inspiration for your own home. Maybe the motivation to get started or even just seeing how different a place can look. We didn't do all of these quickly or all at one time. These remodels/changes were done over the last 15 years of living here. It was a process, for sure. But we did it, and we did it ourselves (we were no experts, by any means) and so can you! Just baby step it. Paint that room. Change your decor that you've been wanting to change. Add some new pillows. It doesn't have to start out large and in charge. That can be overwhelming. Tackle a small project and build on that.
And you don't have to spend a fortune to decorate or redecorate your home. A lot of the things I've used to decorate with came from thrift stores and have been very budget-friendly for us.
PIN it to save it!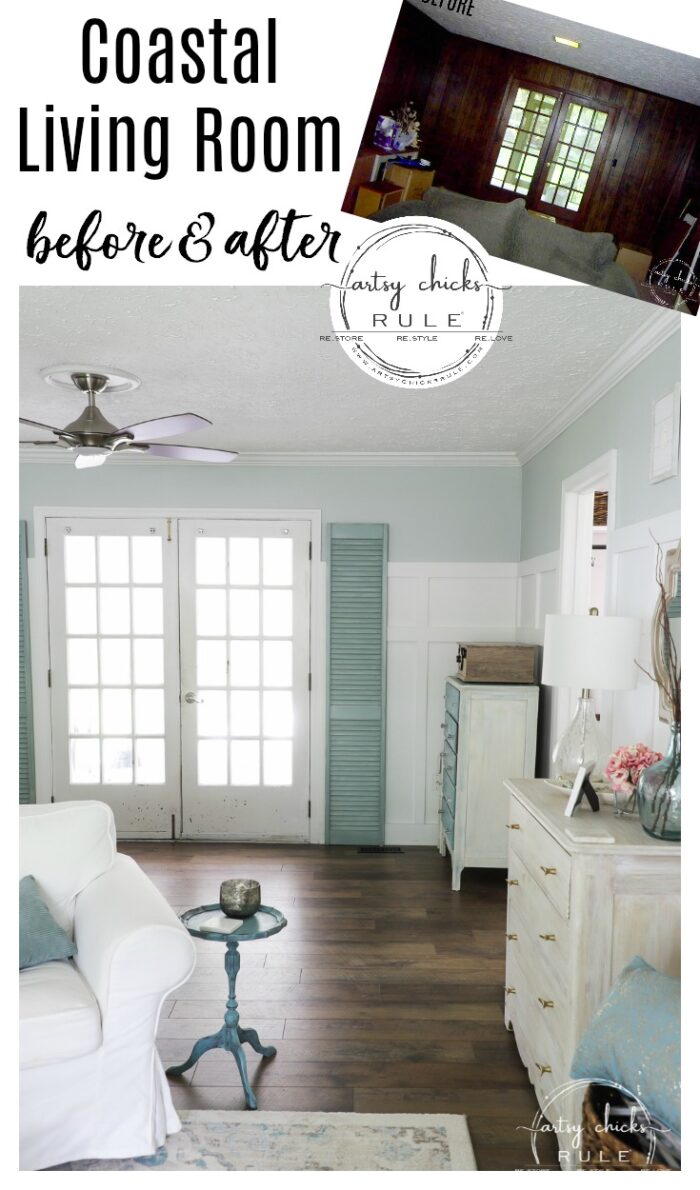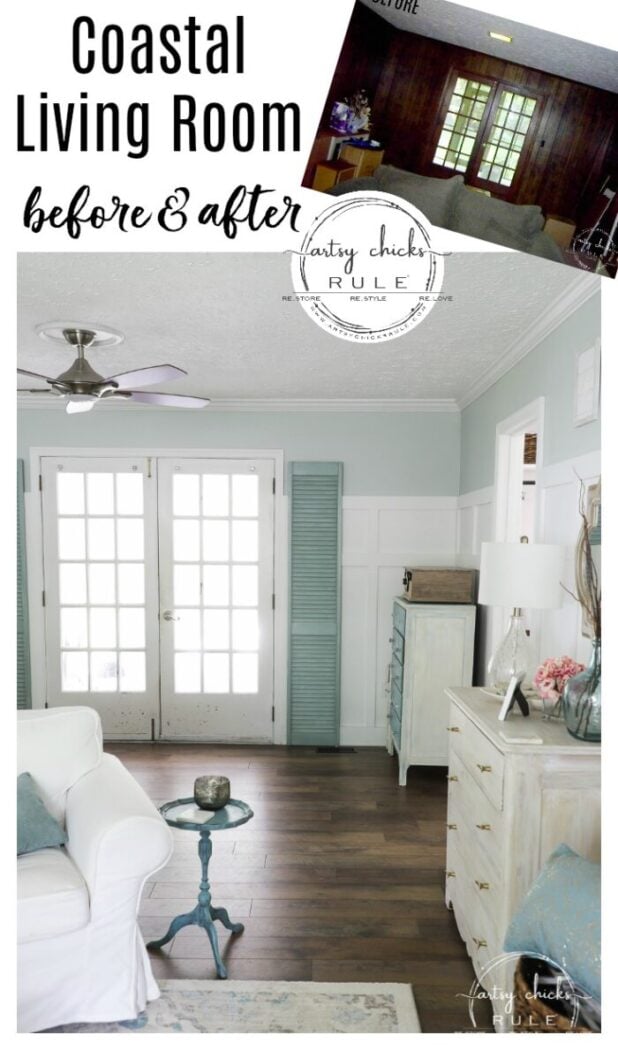 See something you want more info on? A dresser, table, picture, whatever?
Maybe some of my decor?? Shoot me an email or ask in the comments below.
And also check out my >>> "Shop Our Home" page for some of the things here.
You might even want to check out my "Shop My Store" for other items I've bought to use in our home. (and just some of my other favorite things too)
I hope you have a wonderful and blessed Memorial Day weekend!
Stay safe, be well, and enjoy!
xoxo