Chalk Painted Antique Side Table (easy "antiquing" technique!)
This post may contain affiliate links. Please see disclosures here.
I created a simple finish on this Chalk Painted antique side table that gives a softly worn, aged appearance. So easy to do!
Here is what this poor, sad little Chalk Painted antique side table looked like to start…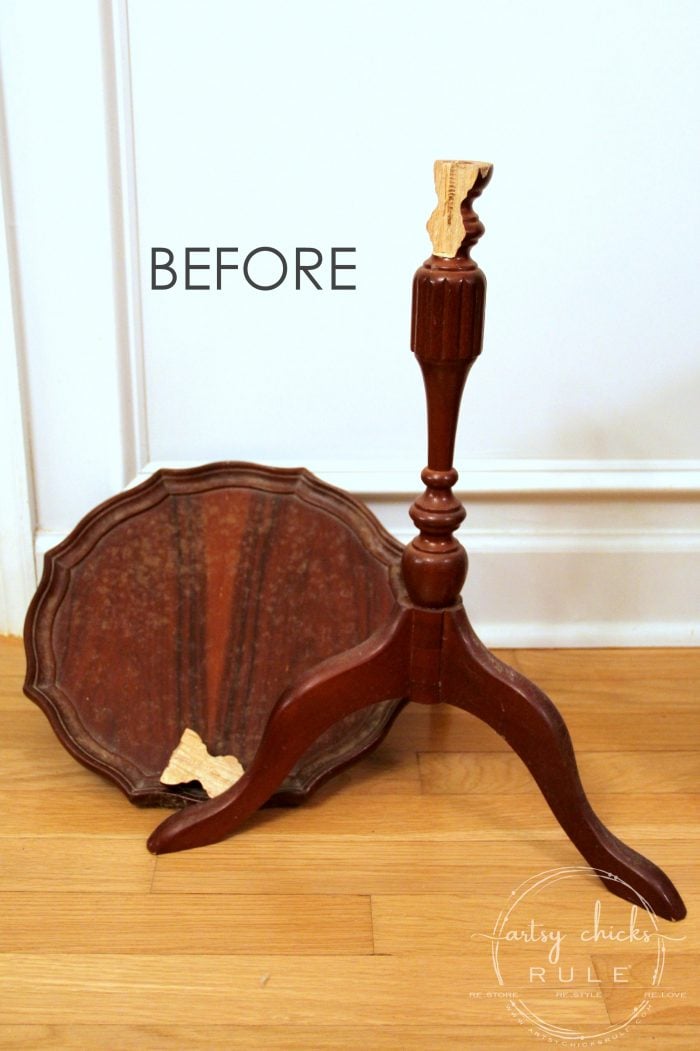 Hey friends! Happy Trash to Treasure Tuesday.
Be sure to read all the way to the bottom to see my friends' makeovers!
Today, I'm sharing this chalk painted antique side table…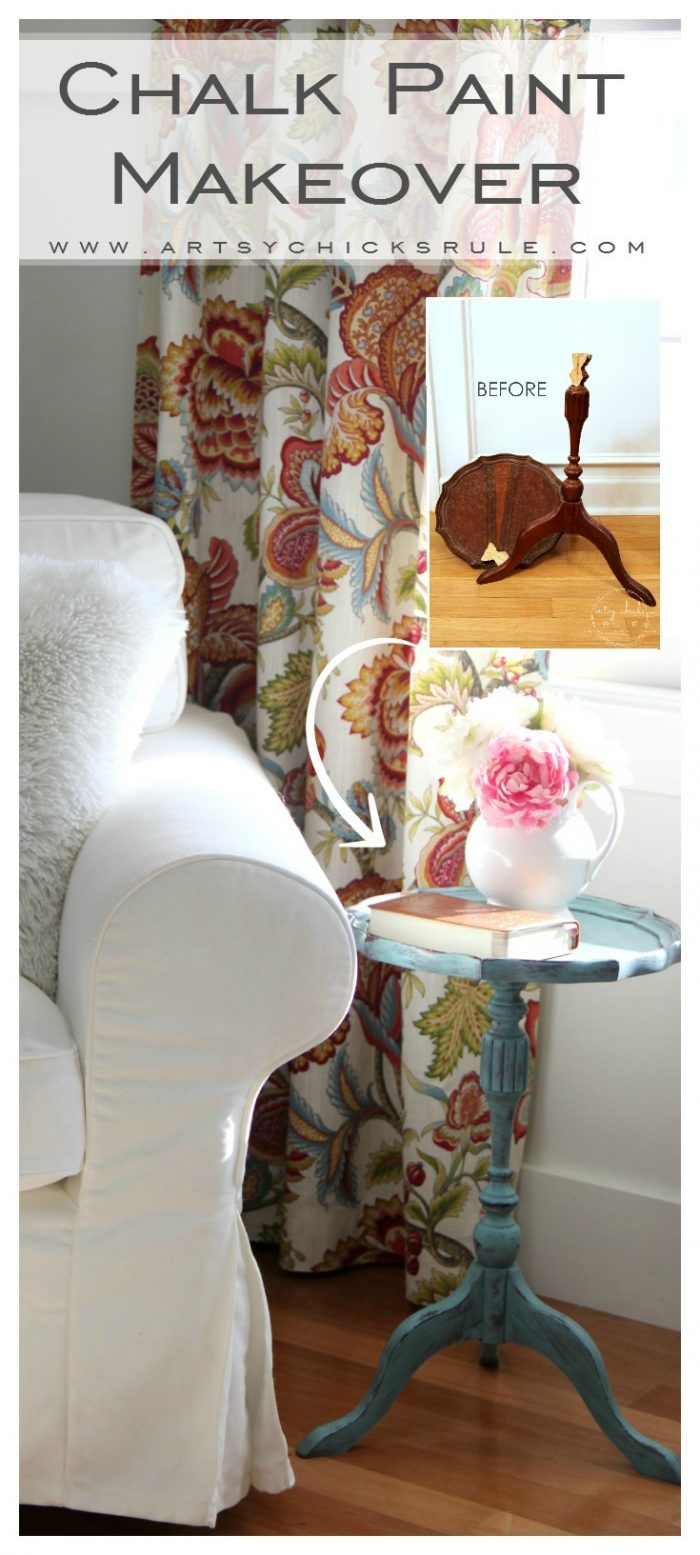 This one spent a long time in my garage before I finally pulled it out for a makeover.
Sometimes I'm just not inspired by a piece, you know? And if that's the case, I usually just let it go until it hits me.
But I finally decided it was time for this one to get some much-needed love.
It wasn't broken when I first got it but I believe it was cracked and ready to go.
This is one of the reasons it sat so long.
But honestly, it was an easy fix. SO easy!!
I would typically use wood glue for repairing wood but since this was part of the table that needed to be very sturdy, I used my very strong E6000.
That stuff is just a beast.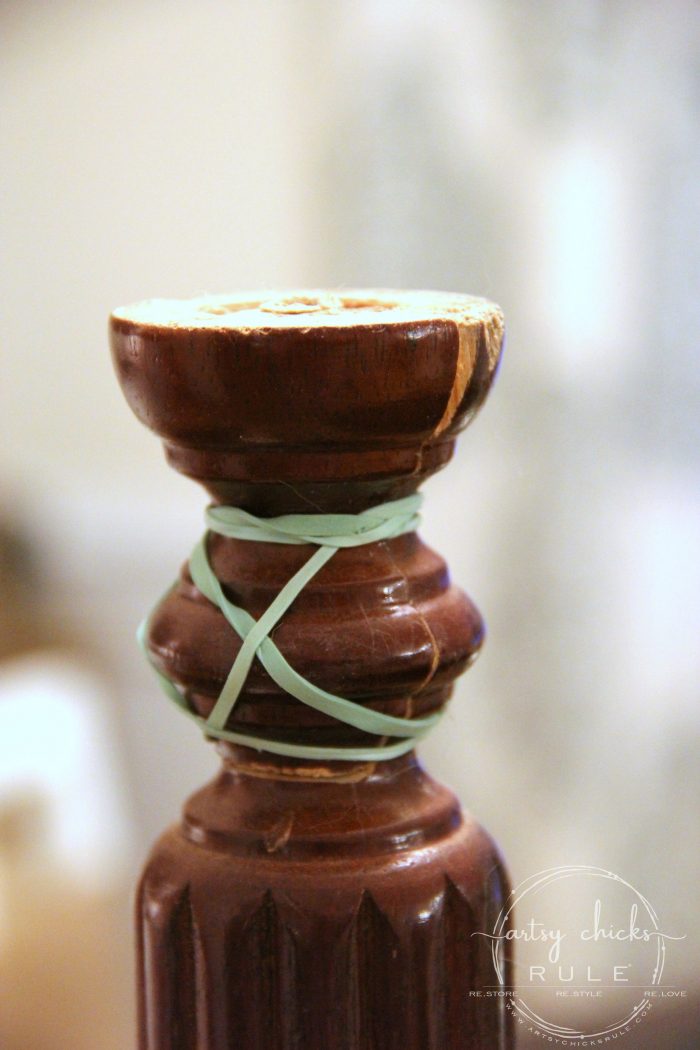 I used a rubber band to hold it tightly together until it dried/cured.
Here's the full list of supplies I used for this makeover.
MATERIALS LIST
Provence Blue Chalk Paint (this one is similar)
Clear Wax (with some brown mixed in) I used Annie Sloan
The tabletop actually had a threaded bolt that attached it to the base. I decided to go ahead and glue that too.
It's very sturdy now.
I used wood filler to fill in the missing wood chips and the seal line.
All good and you'd never know.
I decided to paint this one……BLUE! Surprise!
My husband saw it and said, "Don't you ever paint anything gray?" I said, "Huh? Why? I don't really like gray." haha
So he said, "Well, don't you ever paint anything other than blue?", "Um, nope, why?" haha, kidding, I do, but I do love blue, obviously.
I actually used the very lovely color of Provence (Chalk Paint) for this one. I just adore that color.
Now let me tell you about the fun finish I gave this one.
But first, want to know about 26 other chalk style paints you can use?
I've got the low down for you right here! >>> 26 Types of Chalk Style Paint For Furniture
Alrighty, I didn't want it to be perfect or really just flat looking.
I wanted it to have a bit of character.
So as you can see above and below, I did a very thin first coat.
I used an awesome Chalk Paint style brush which worked well for this.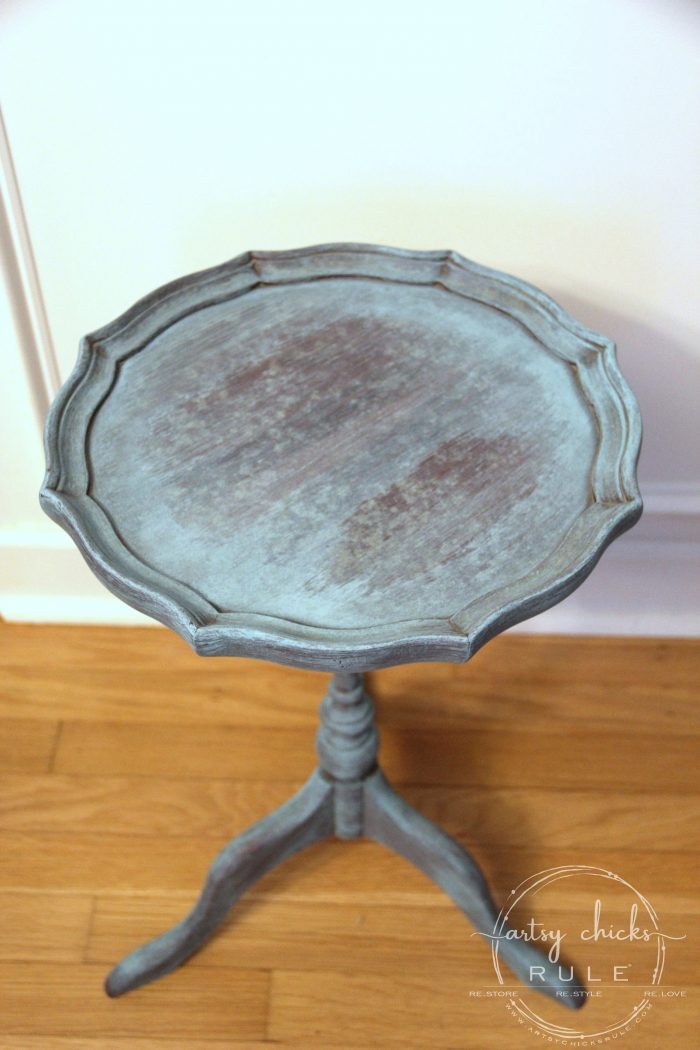 I let that dry well and then did a second pretty light coat.
I painted in sections and used a lightly damp paper towel to wipe some of the paint away, focusing mainly on the edge areas.
Which gave me this look…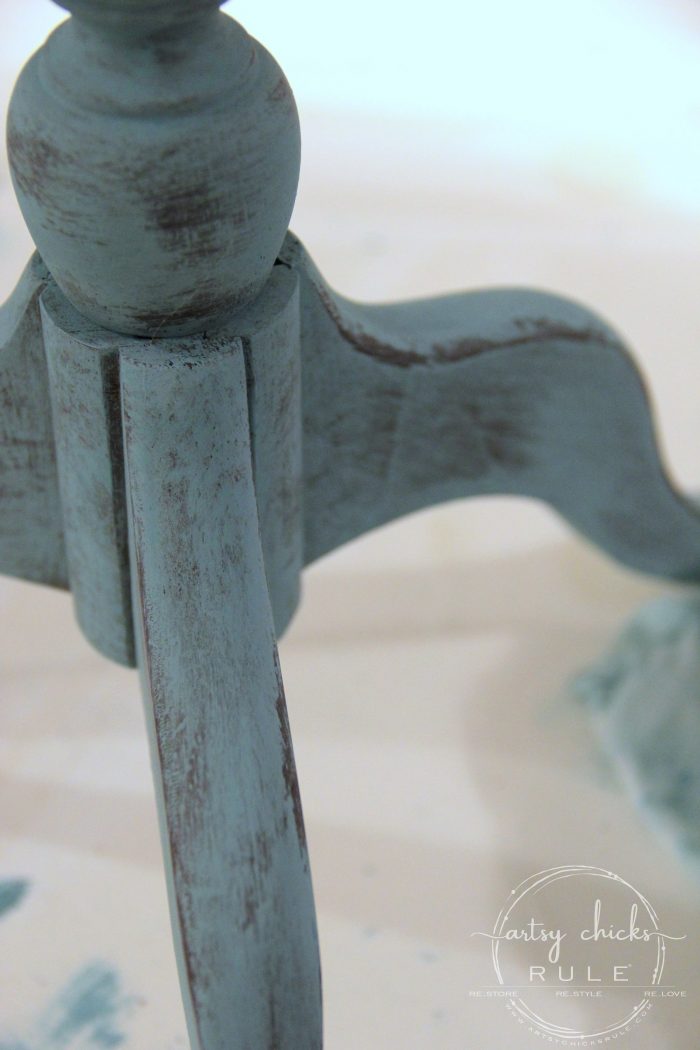 I did wipe the whole area, as you can see, however. I wanted to sort of get down to that first "bare" coat of paint.
That was the look I was going for.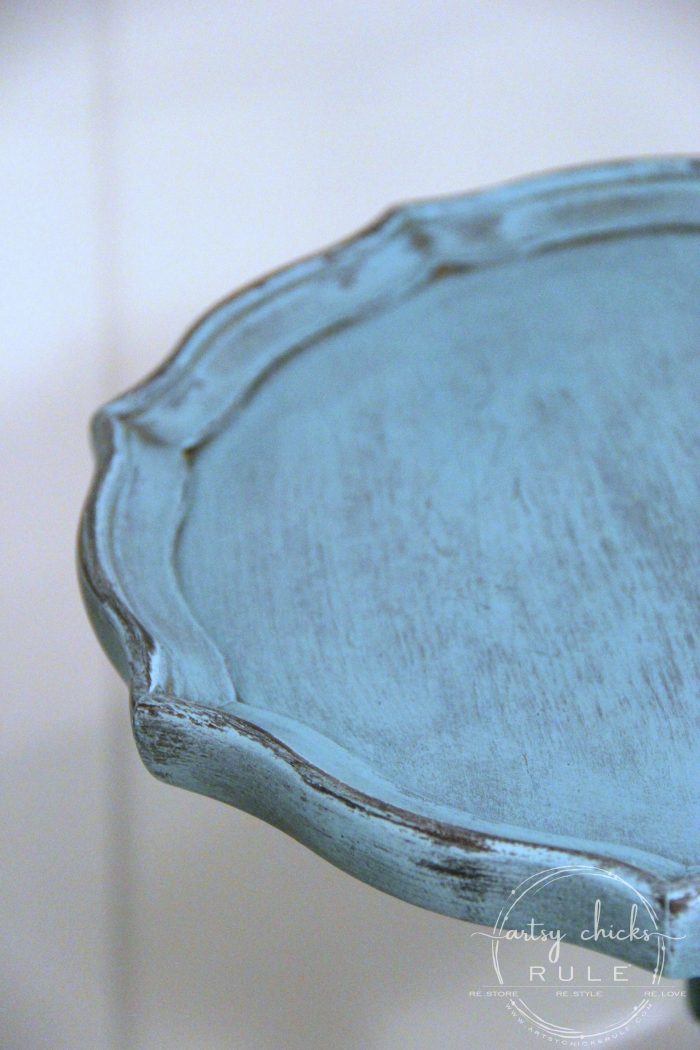 I had thought I might use black wax but instead decided to use some wax I already had mixed up.
I would say it was mostly clear with just a touch of dark brown.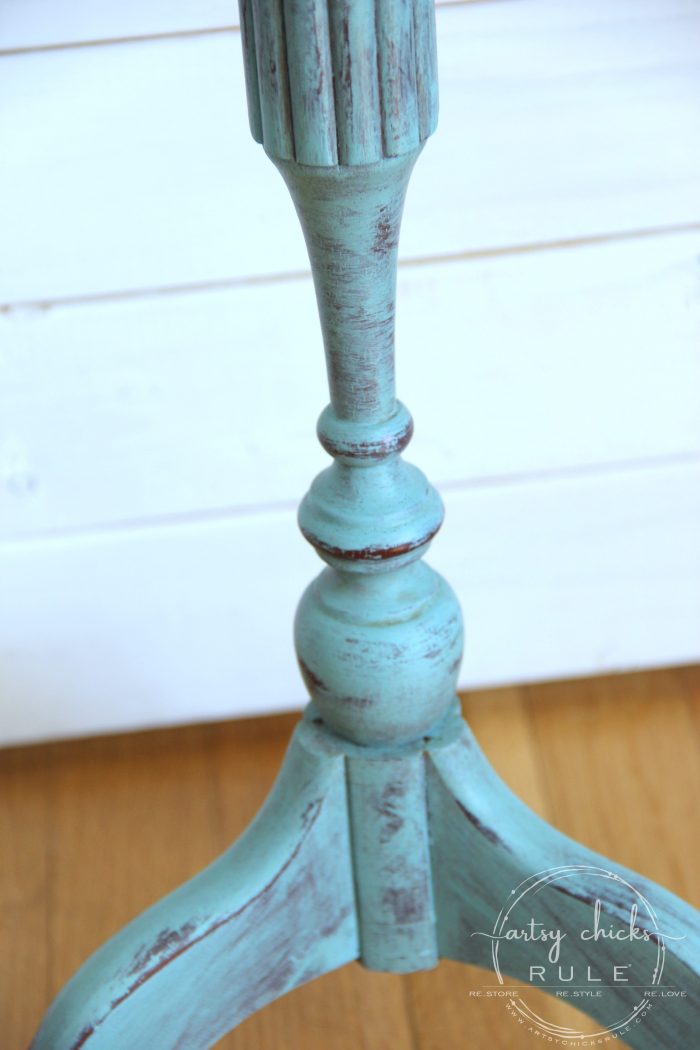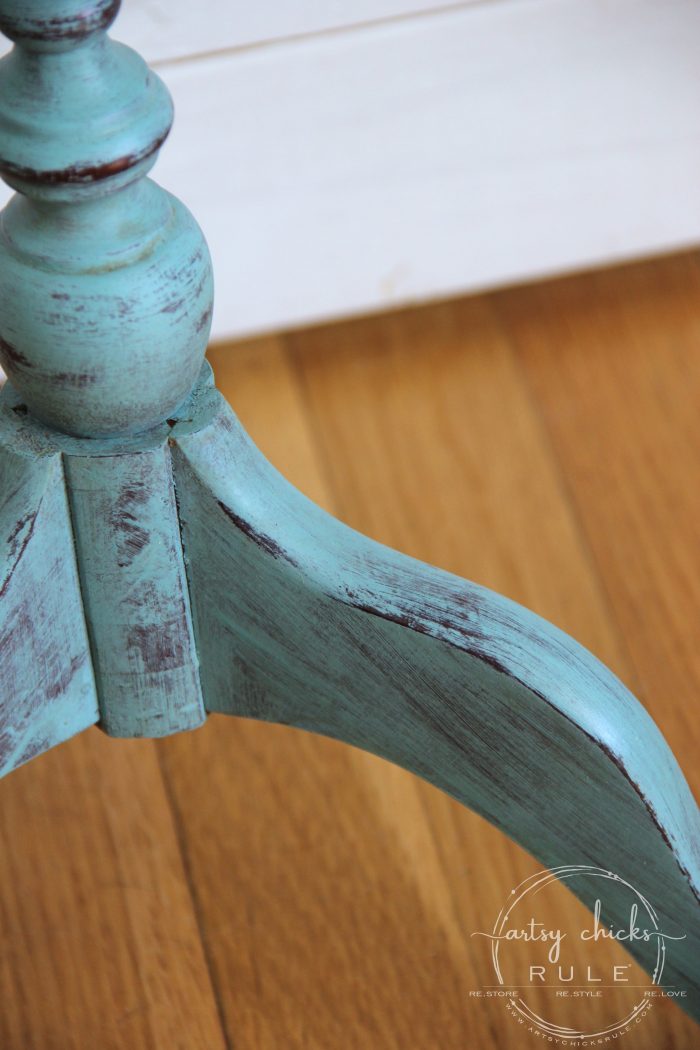 It looks messy but I kind of love the relaxed look of this one.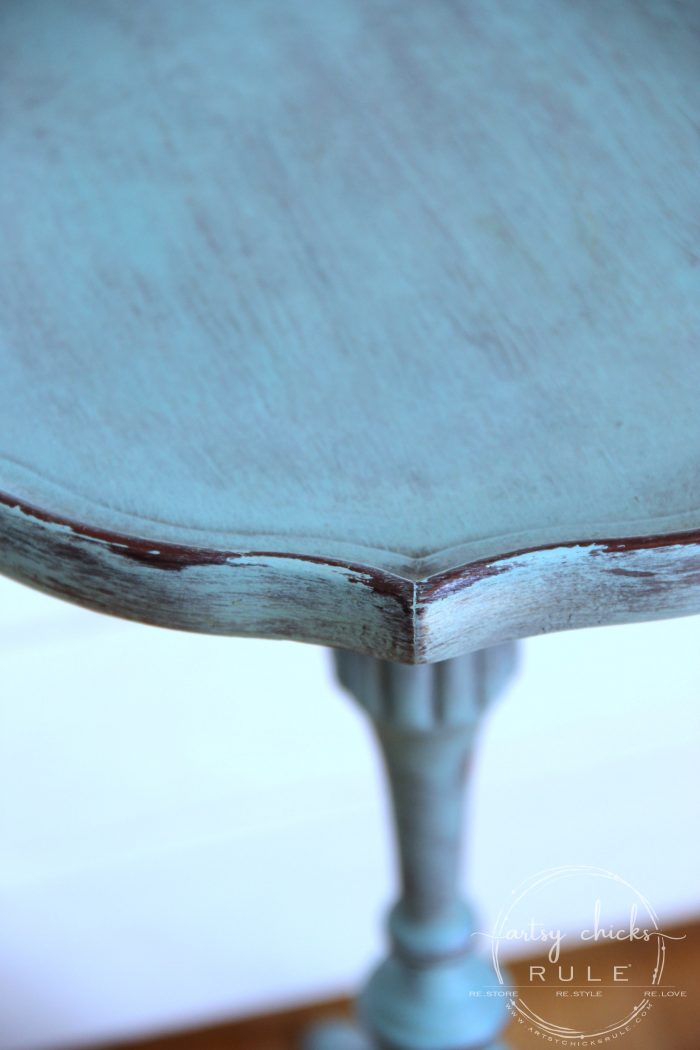 So, not only are the edges distressed, the entire painted area looks a bit worn too.
It's really easy to do….just wipe on, wipe off.
And if you mess up, guess what? Just add a bit more paint and go again.
There really is no way you can "mess" this up because that's sort of the look you are going for anyway!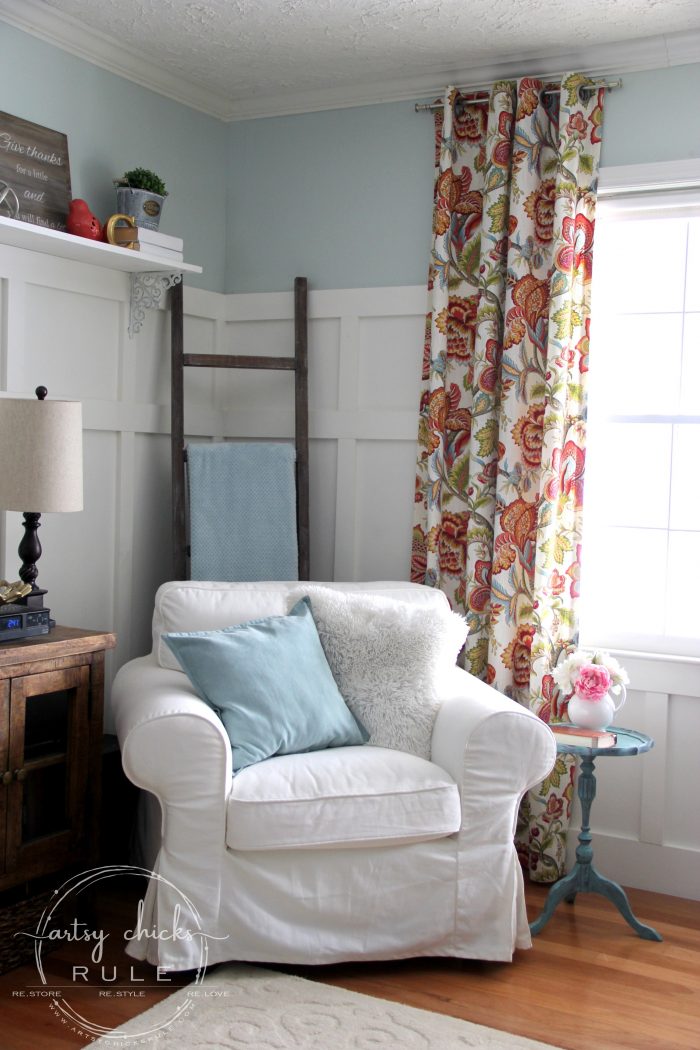 So cute!!
And the story of my life right here…..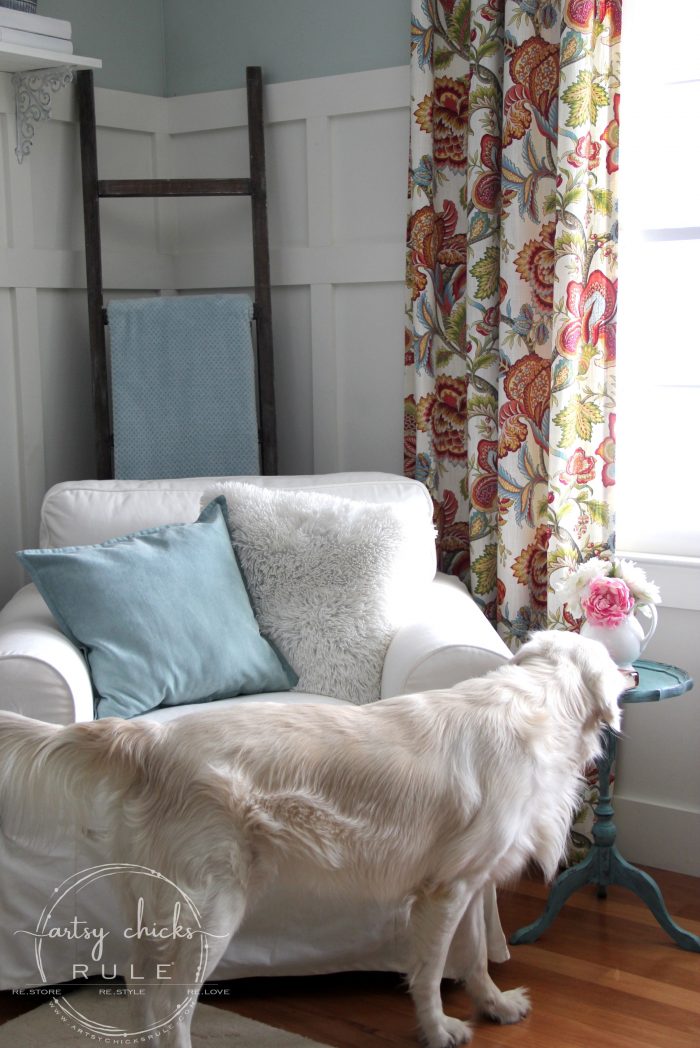 …..haha, hi Ryder.
He is such a nosy little thing. What's this? Something new? Let me sniff it and make sure it's safe.
And again with Ryder out of the frame.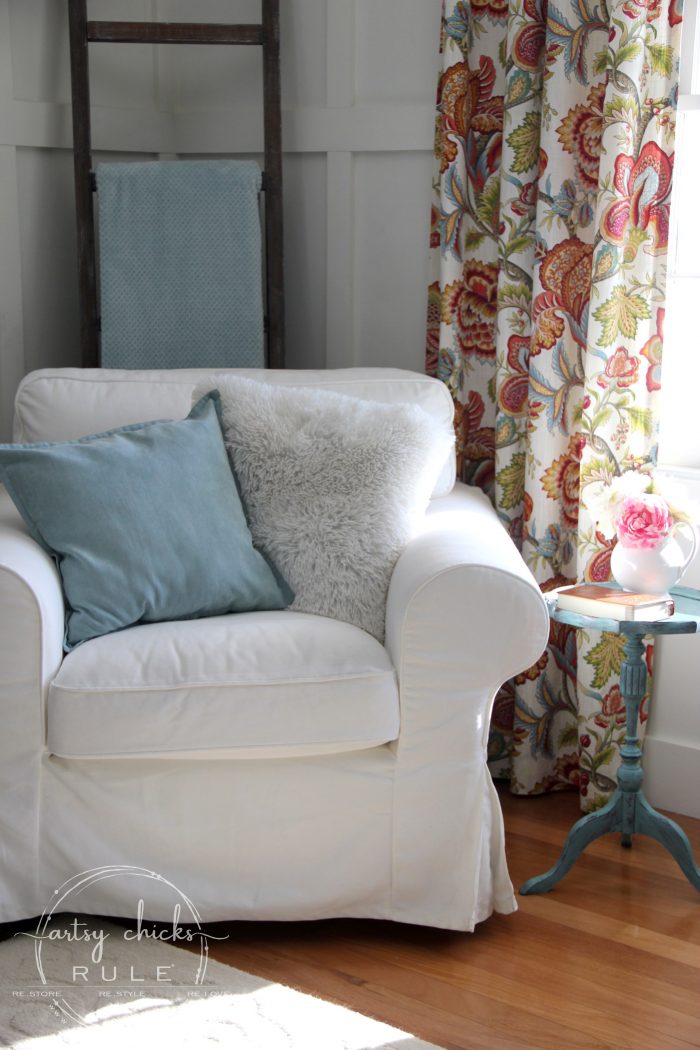 I might have to try this ultra-distressed look on a larger piece sometime.
I really like it a lot.
And it's kind of fun to do….plus you can not mess it up!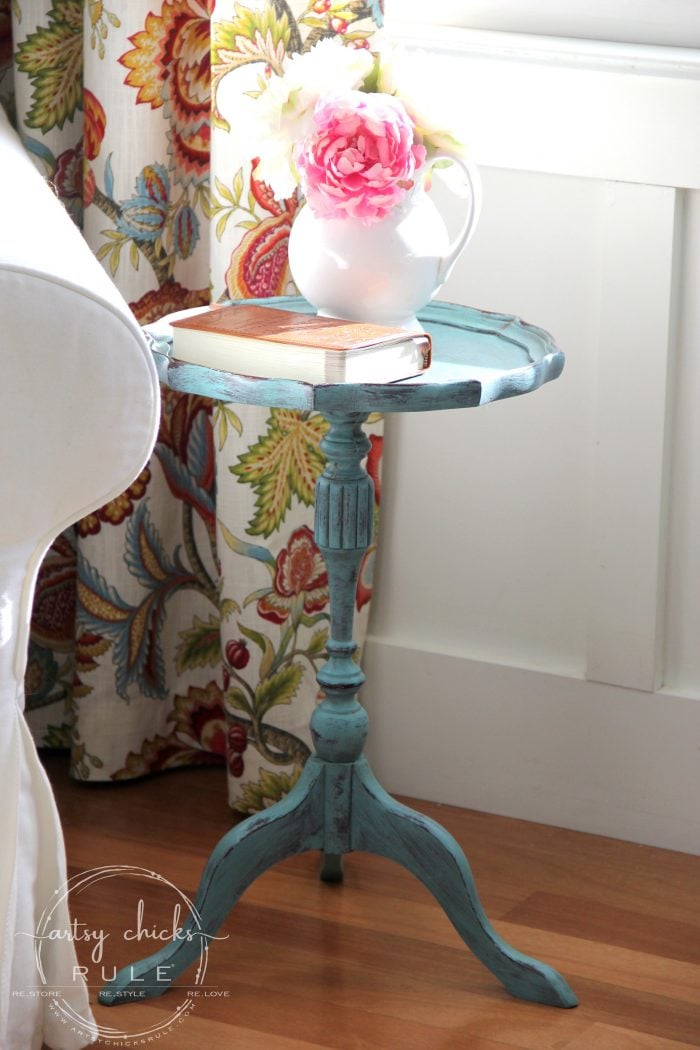 Plus that color. I mean really.
Is it, not the most gorgeous?
This little Chalk Painted antique table and finish are so fun and pretty. I think so anyway!
I love how it pulls the blue out of my colorful no-sew curtains there, too.
Love it? PIN it to save it!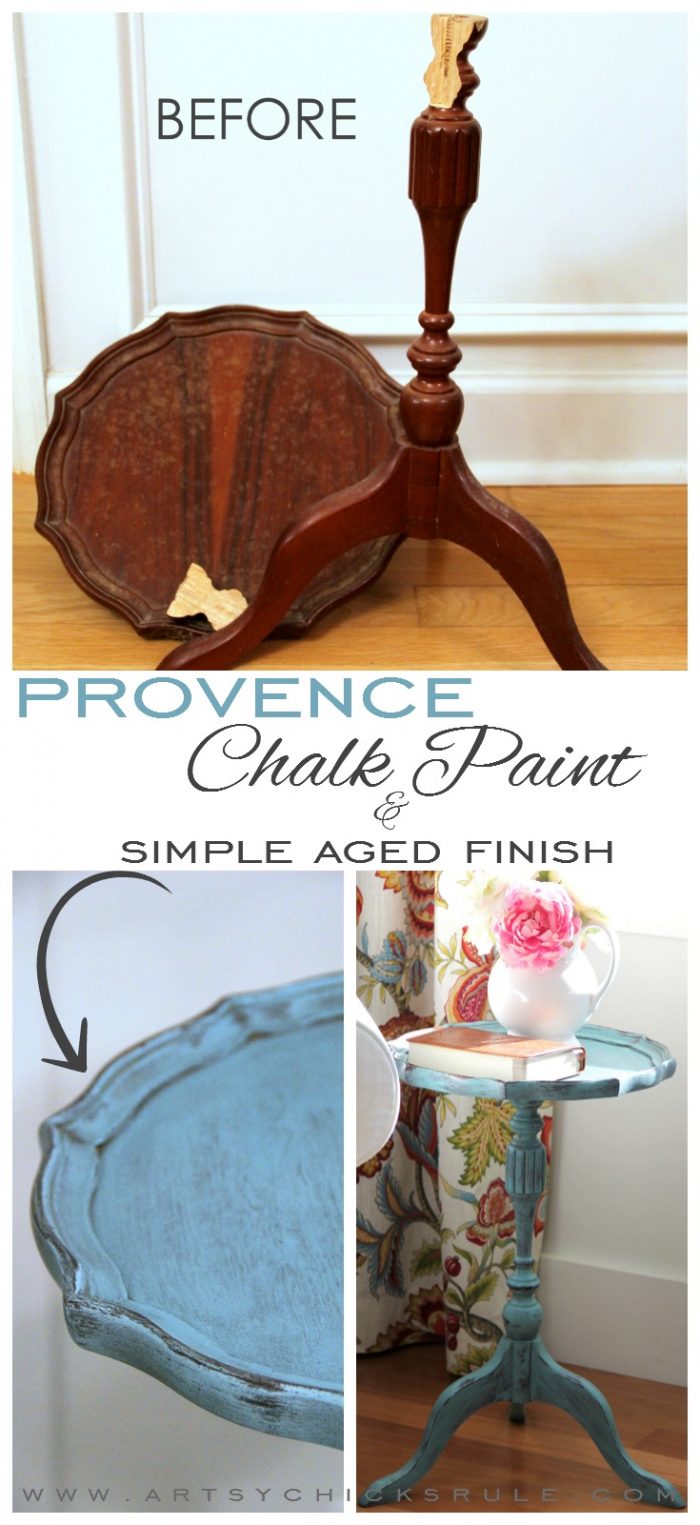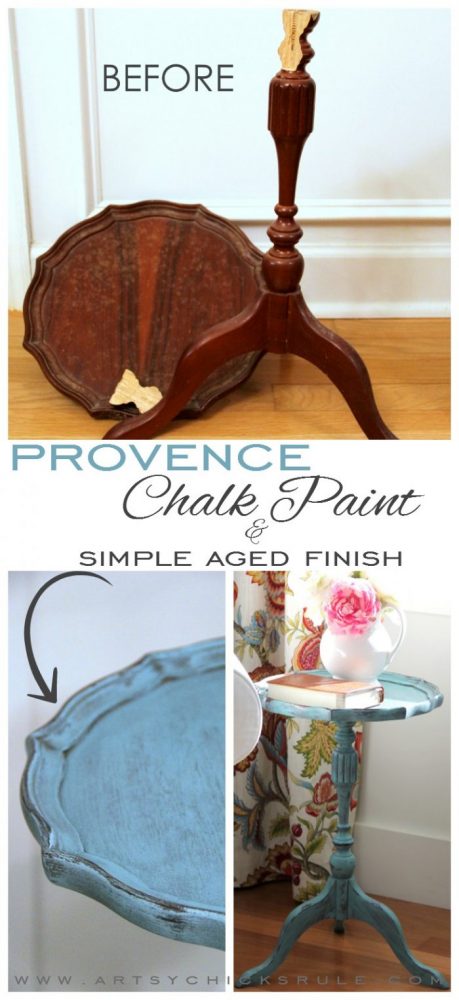 Look at all of these beauties! I can't wait to see what they did with these.
You can see what they did with them right now…..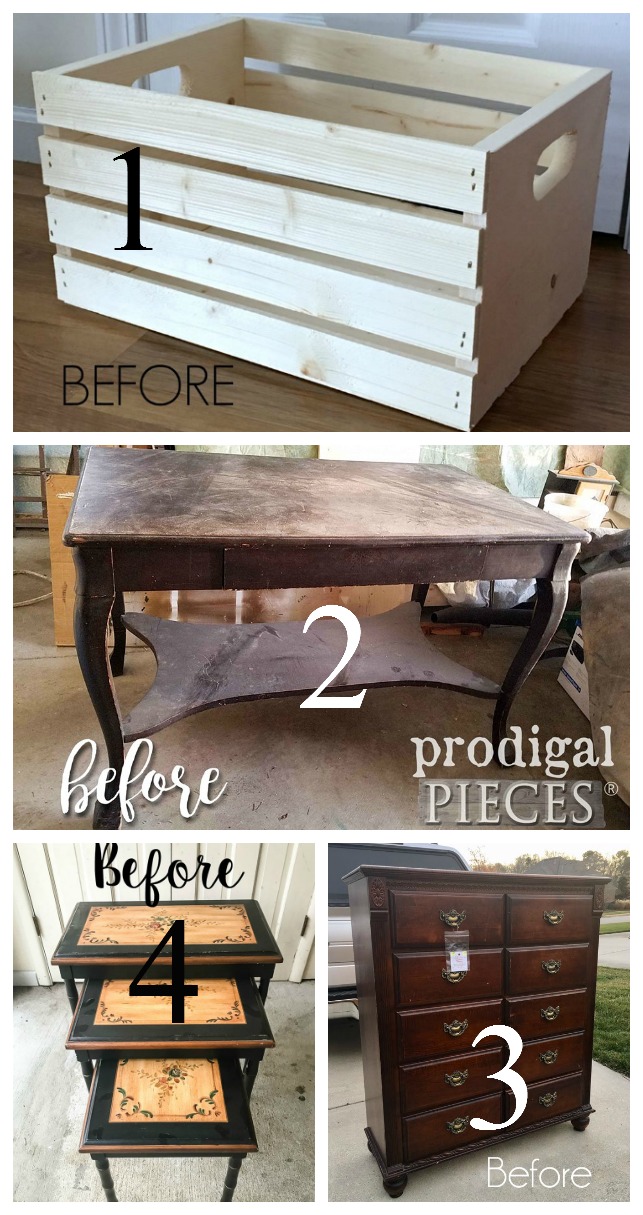 Want to see even more Trash to Treasure makeovers? Click here for the full gallery.
I hope you enjoyed this month's "Trash to Treasure Transformations".
I'll see you back here later this week…..with a whole new transformation! (and layering Chalk Paint!)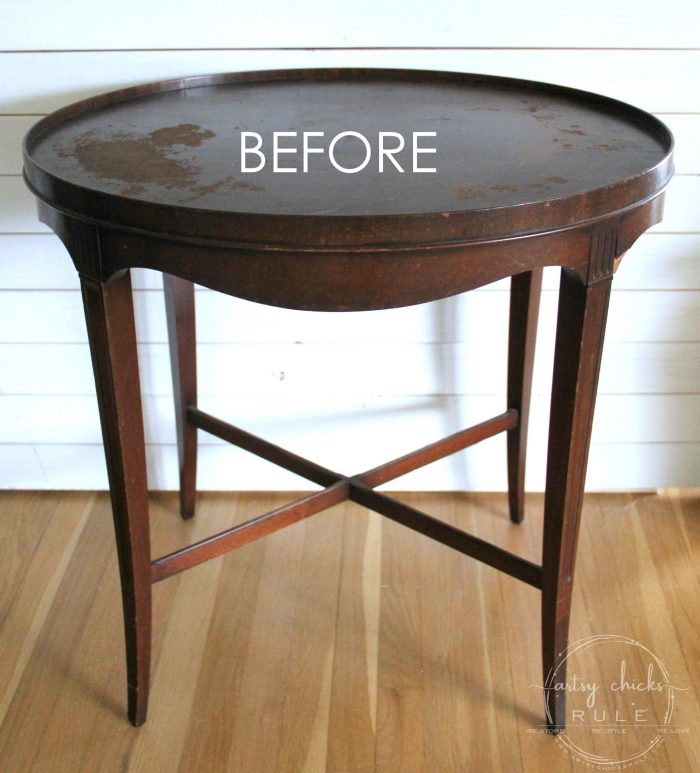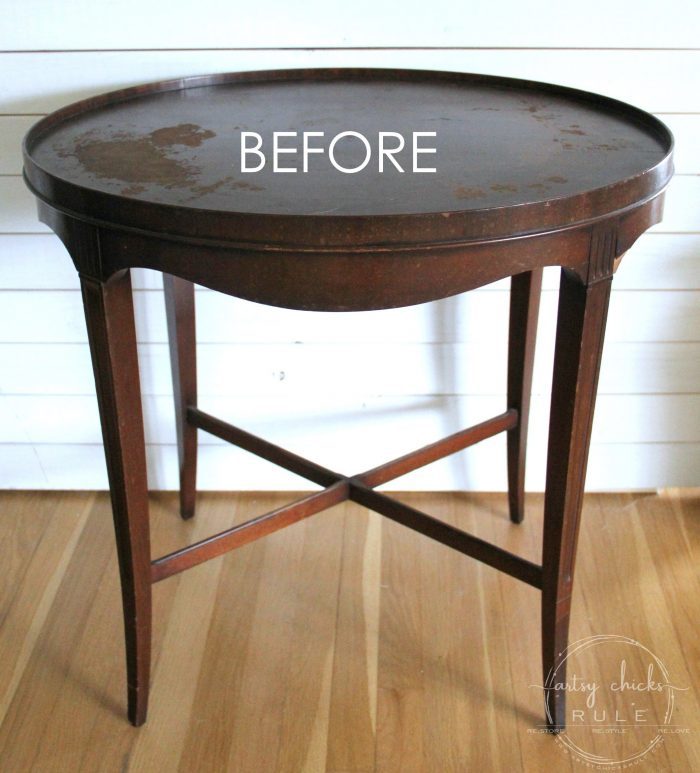 UPDATE!!! See it now, here!!
xo