Simple Spring Floral Arrangement (with thrifted box!)
This post may contain affiliate links. Please see disclosures here.
Using a thrift store find to make this simple spring floral arrangement today!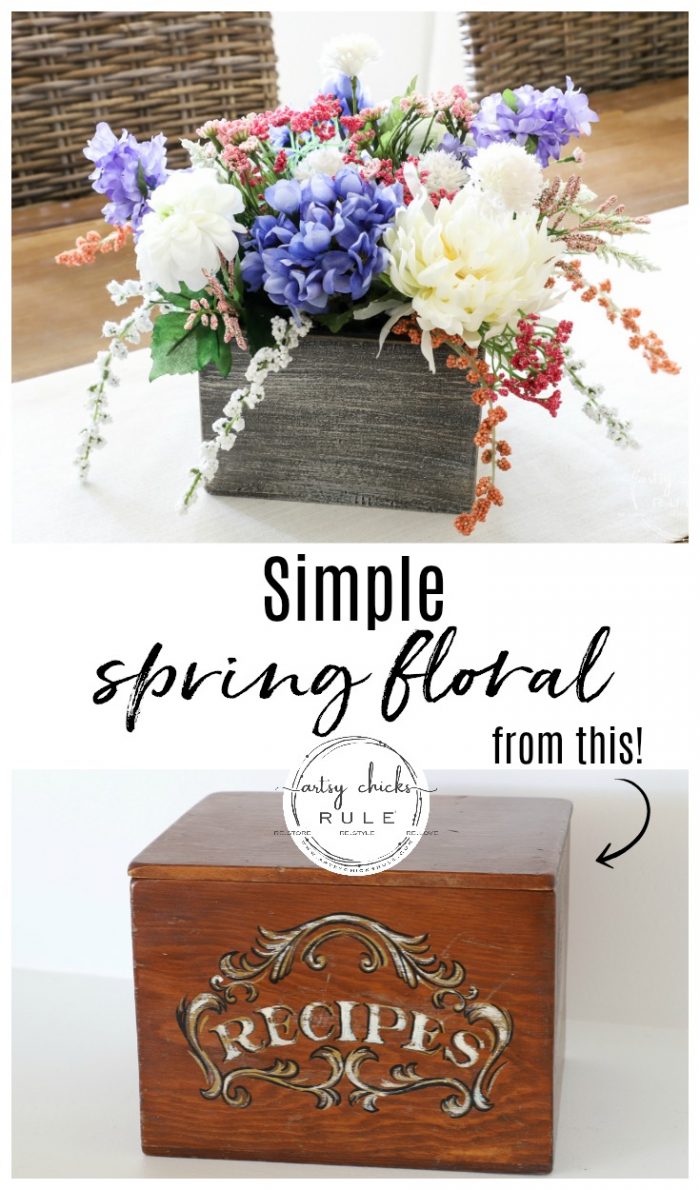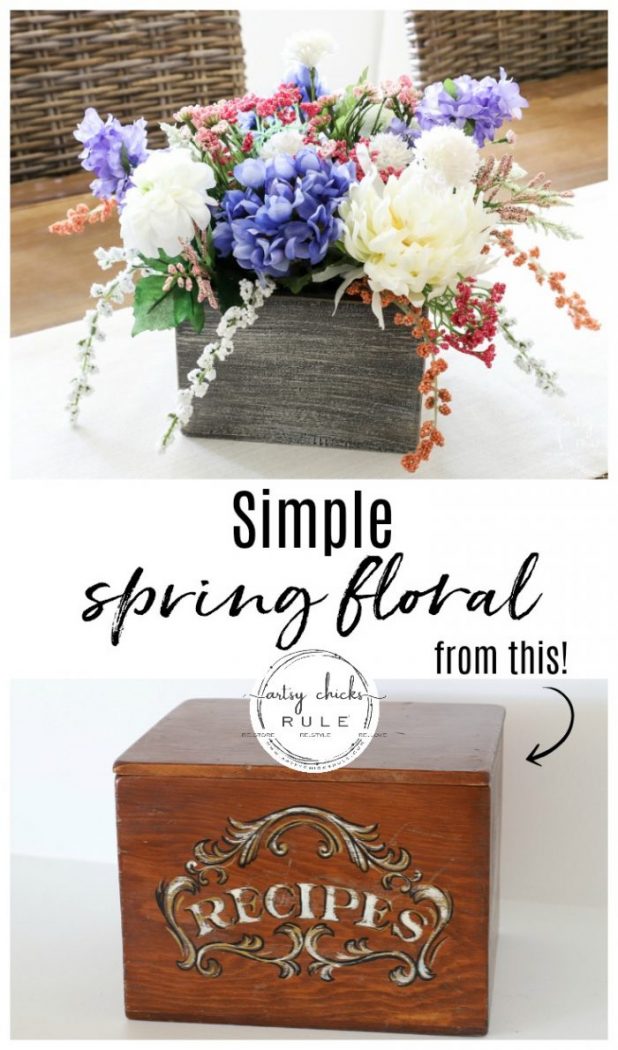 Spring, where are you?! It's cold but at least the rain looks like it has stopped….for now anyway.
Has it been raining a bunch this winter where you are too? So much rain.
Thrilled to see the sun and hear the birds singing today. Even they're happy!
I know it's only early March, but I just could not wait any longer. I had to make something "springy" with colorful flowers to bring some happy spring into our home.
I stopped by Michael's last week and picked up a bunch of pretty flowers that were buy one, get one free. (basically 50% off everything)
Best way to buy them besides finding them at the thrift store and reusing them. Which is even better if you can find some decent ones.
Simple Spring Floral Arrangement
This little thrift store find was the perfect container for them….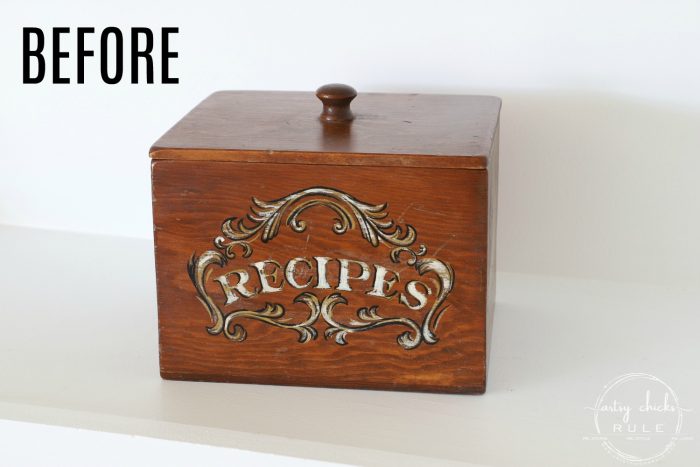 An old recipe box.
I don't use a recipe box anymore so wasn't sure what I'd turn this one into.
Then decided it'd be perfect for the flowers I bought.
I had originally considered using the top along with it in some way.
You know, like attached to the side or something.
In the end, I decided to just leave it off. I saved it though, so you never know where it might turn up later!!
I began by painting it black.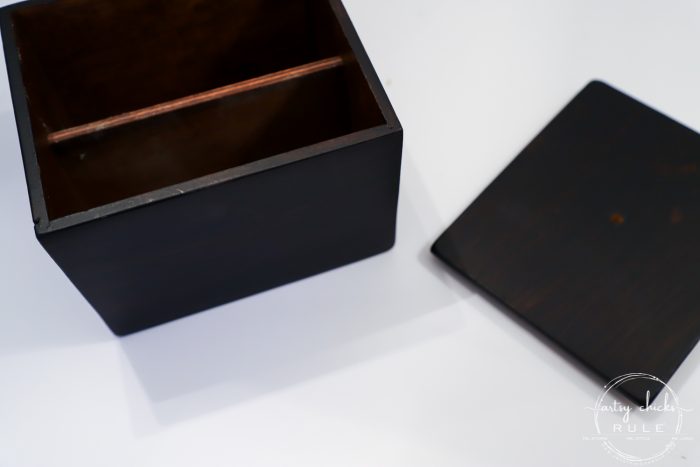 Then used the same technique to give it a weathered wood look like I did in this post.
It's pretty simple. Just a layering of paint.
Once it was done, I sealed it with one of my favorite sealers, here.
Then added some floral foam to the box and began adding flowers.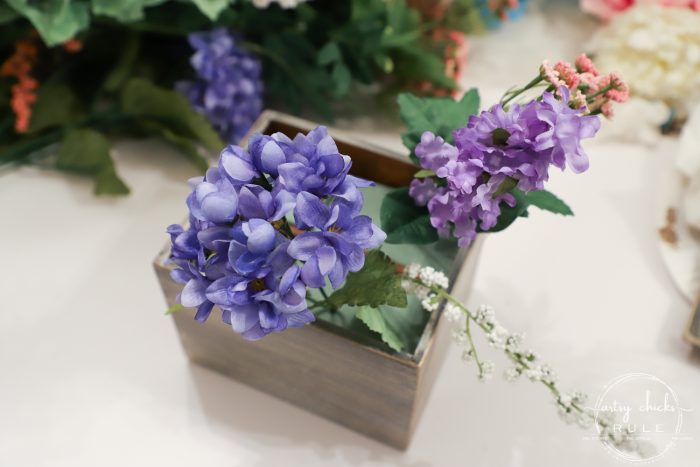 I don't really have a plan for this, just adding them in here and there, until I like the way it looks.
I did keep the long ones around the bottom sides.
Kind of flowing out around the edges.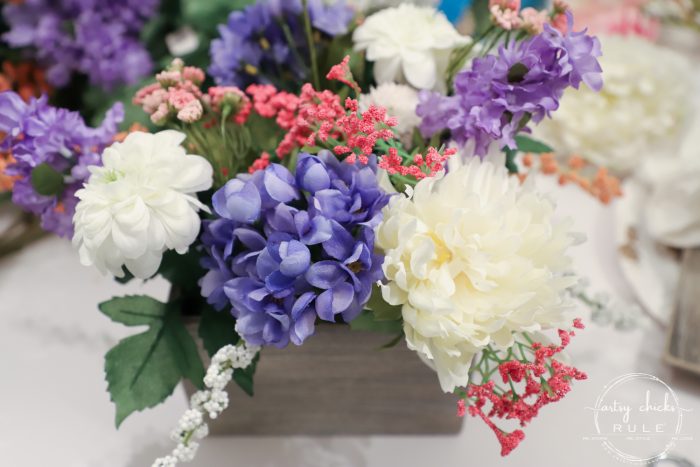 I just keep adding until I'm happy with how it looks.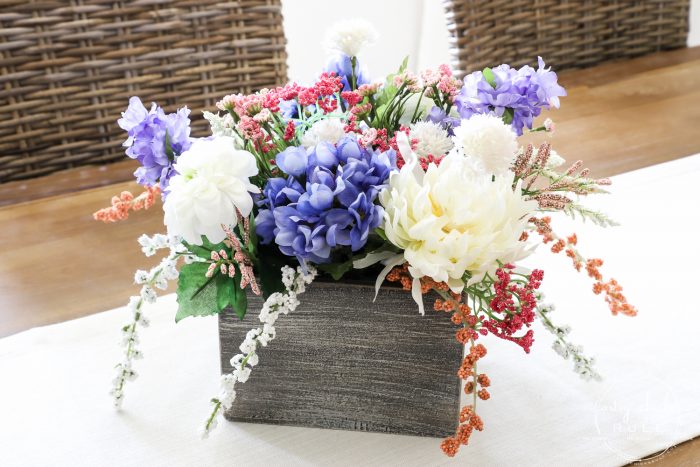 I make a lot of these kinds of things here on the blog, wreaths, etc, but it's not really my thing.
Painting furniture, doing other crafty things, etc, etc…but flower arranging, not so much.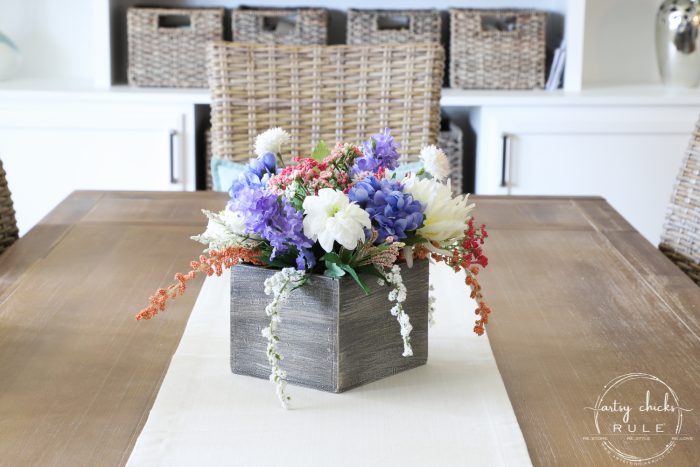 But that's the whole point.
I don't think you have to be a flower-arranging whiz to be able to do it.
Just move them around until it turns into something pleasing to your eye.
I like it on the table in the dining room. Brings some happy spring right on in.
I may even have to add a few touches of spring to my styled bookcase shelves back there too.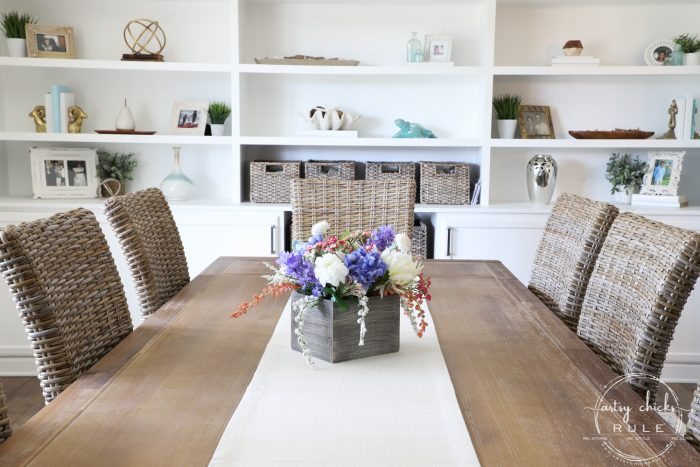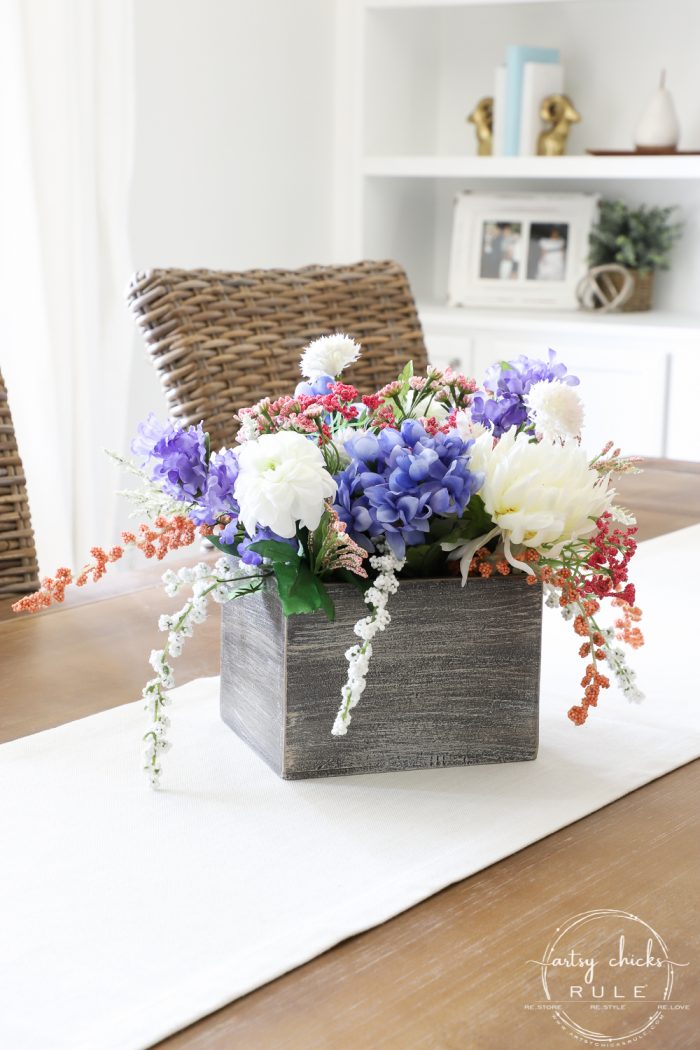 But I also might use it in my family room…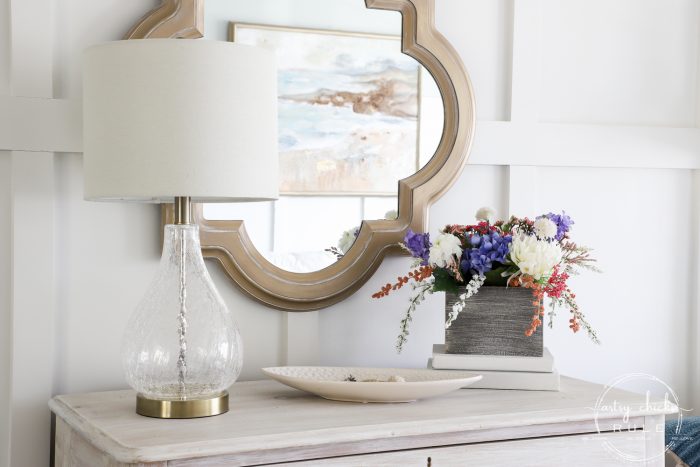 Or maybe I'll just have to make more than one. ;)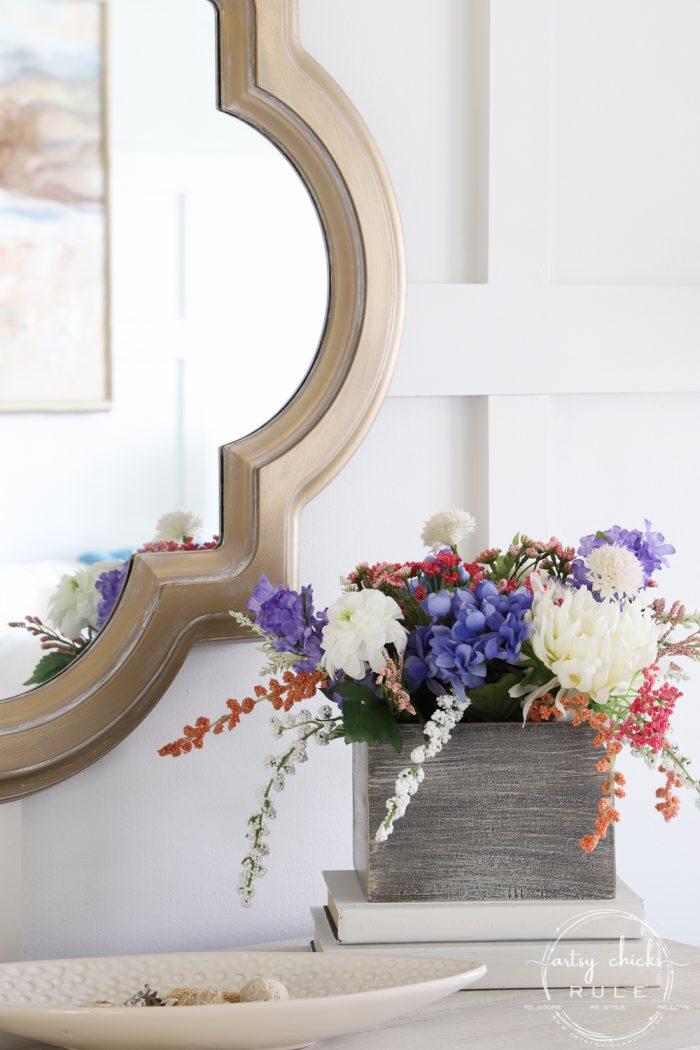 I love all the happy colors in this one.
Here are a few more spring floral arrangement projects I've done over the years:
So, are you as ready for spring as I am??
I can't wait!
And we get one step closer this weekend….changing the clocks. SO excited for that!
Baby steps to warmer weather. Yes!
PIN it to save it!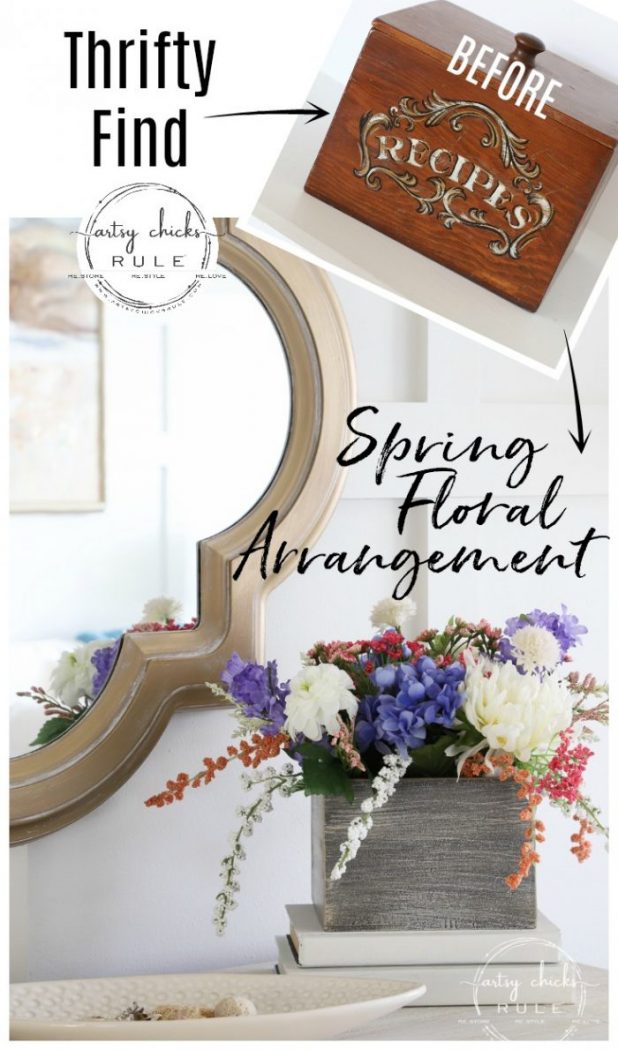 Check out what I did with this old frame next time!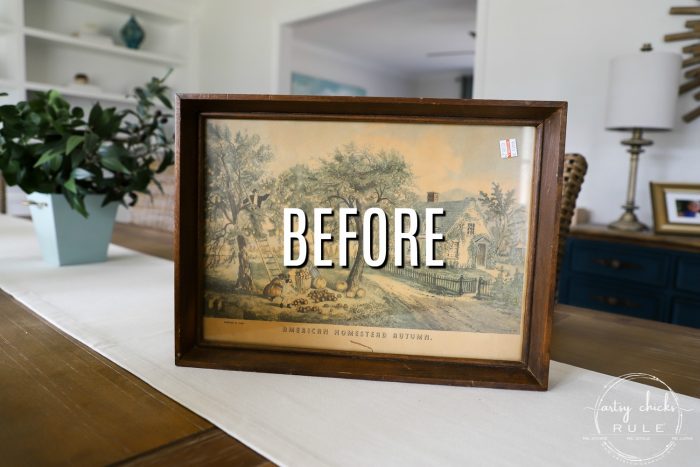 UPDATE!! See it now here!!
Hope you have a wonderful weekend!
xoxo