Pretty Floral Arrangements For Fall (thrifty makeover!)
This post may contain affiliate links. Please see disclosures here.
Thrift store finds are the best budget-friendly way to decorate for fall. These pretty floral arrangements for fall are the perfect addition to any decor!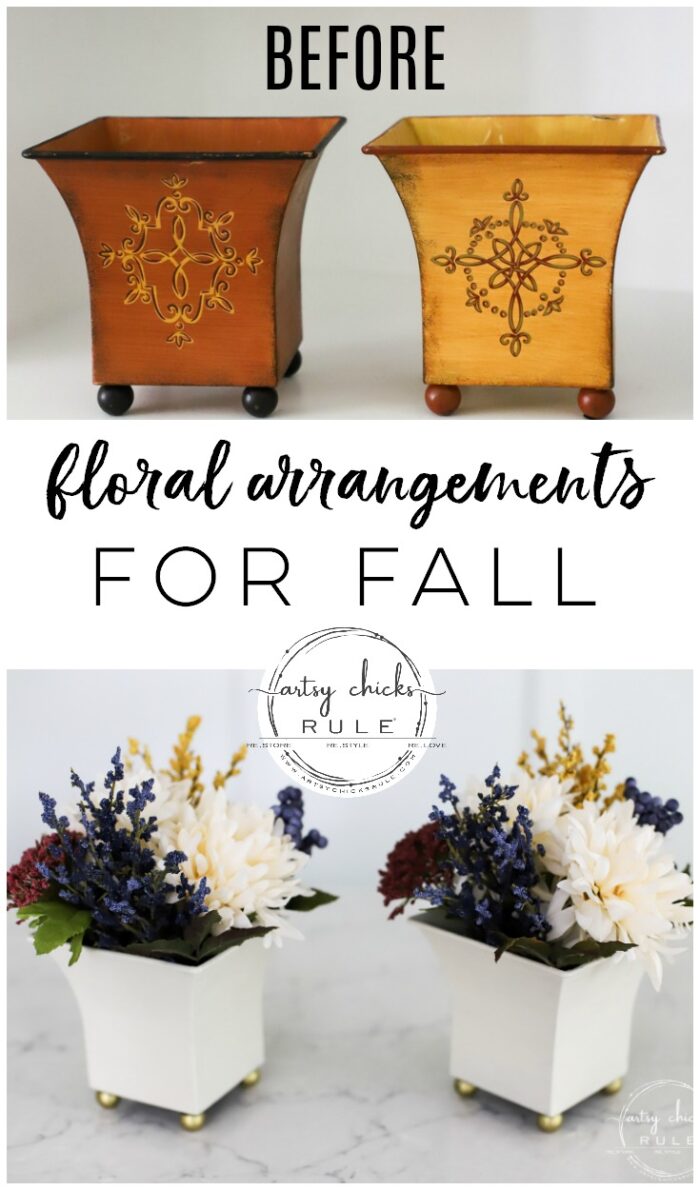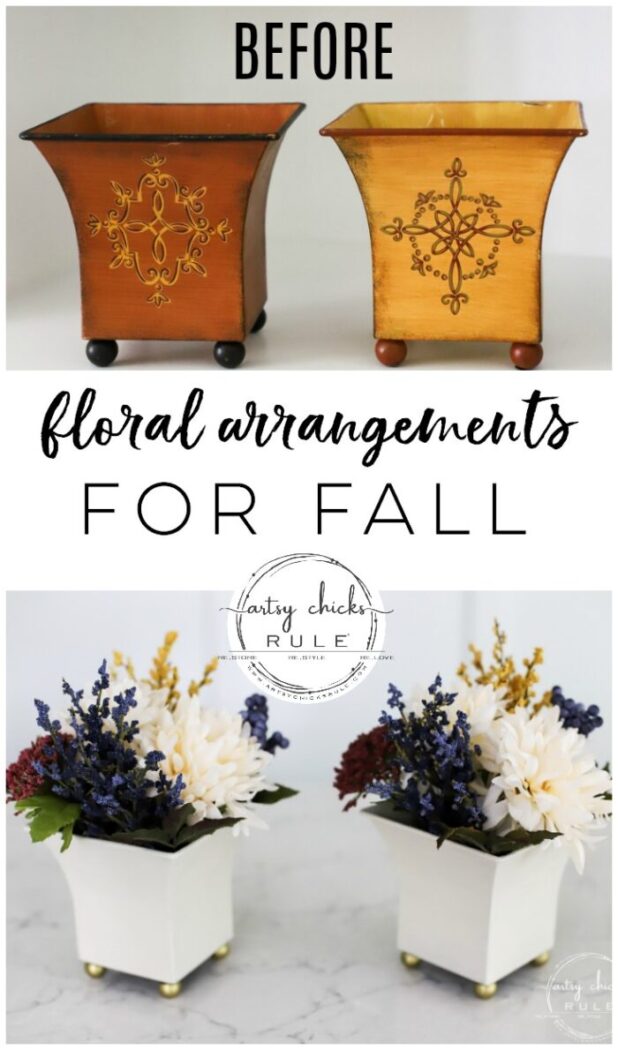 I've got another "Southern Living at Home" thrifty makeover for you today!
I found a few pieces from them on my last thrift store haul.
Along with the gold bucket, or wall pocket, as someone said it was called.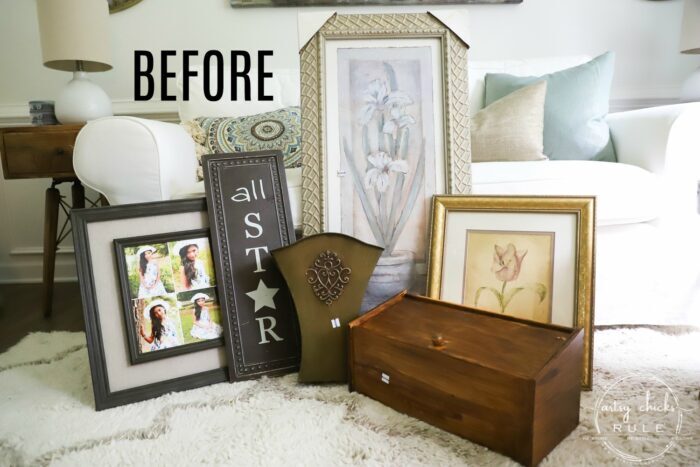 I gave that one a makeover last week.
So far out of that grouping, I've done 3 makeovers:
Be sure to check those out if you missed them.
Today I'm sharing these lovelies.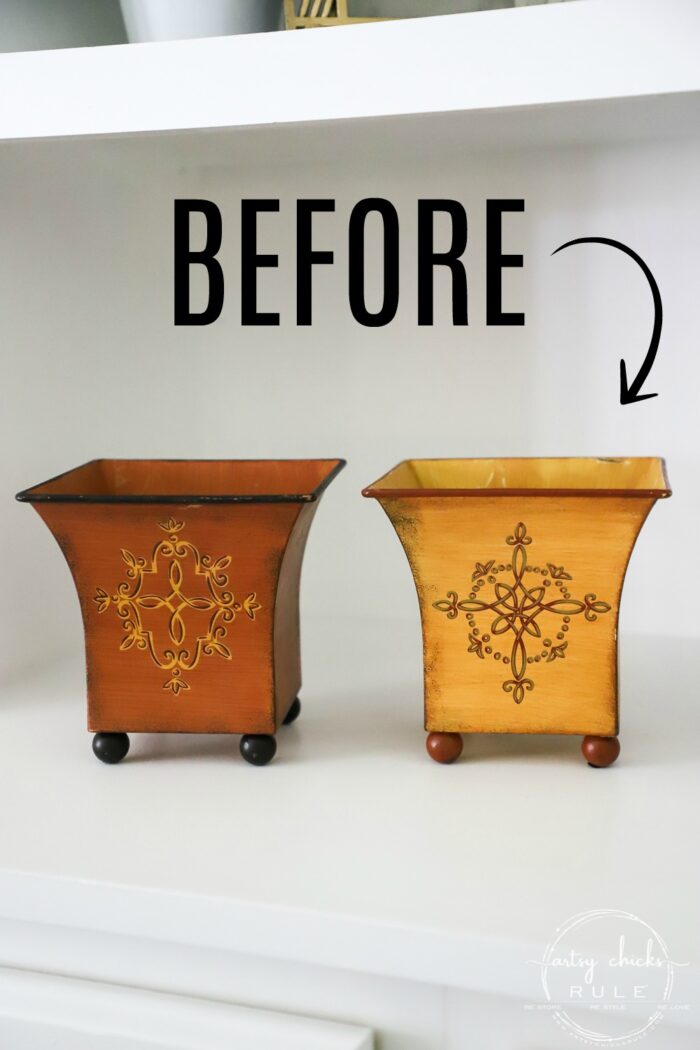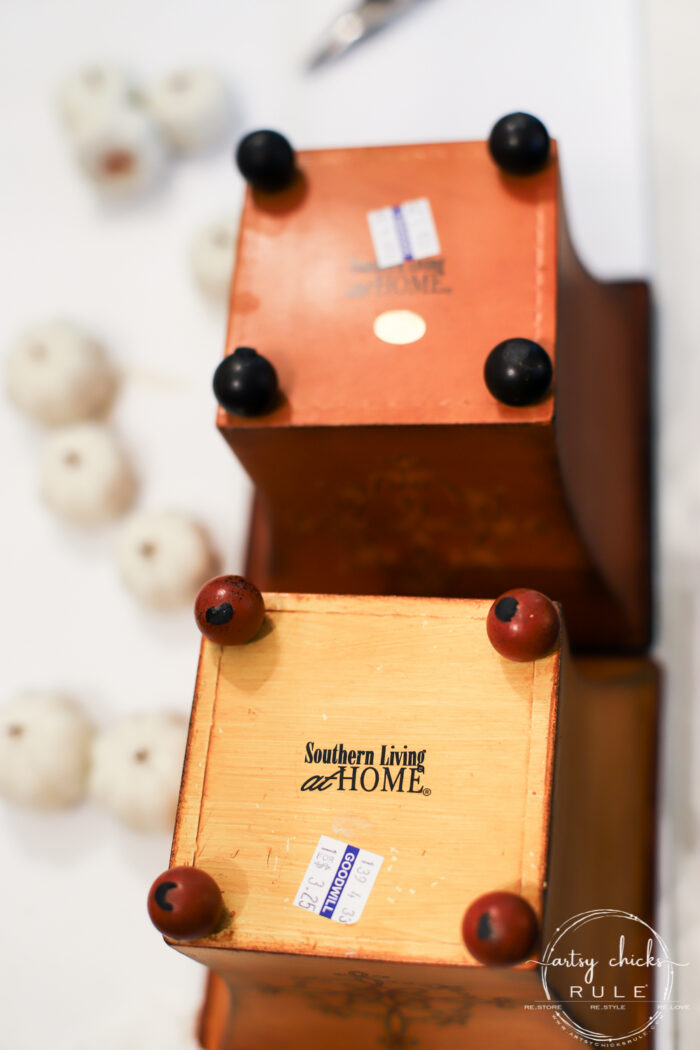 Pretty Floral Arrangements for Fall (made out of thrift store finds)
I started out by spraying them with Oil Rubbed Bronze spray paint because I thought I wanted them that color underneath.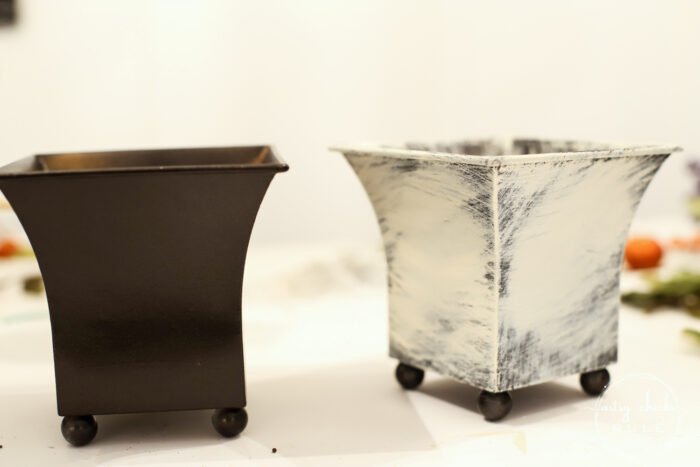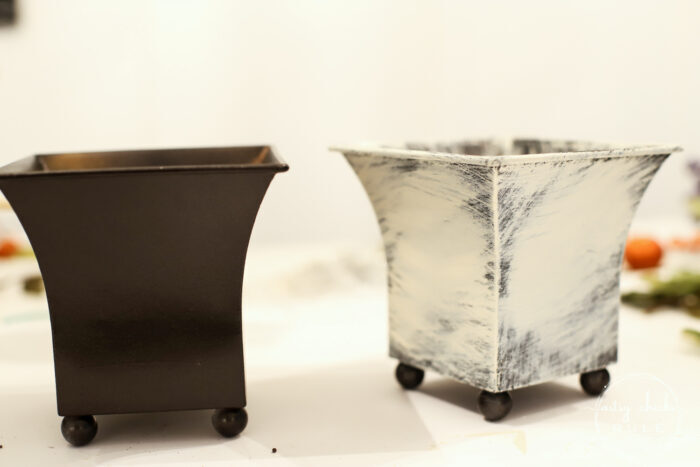 I also thought I'd do that heavy dry brush you see there on the right and leave the feet brown.
NOPE.
So I painted it fully.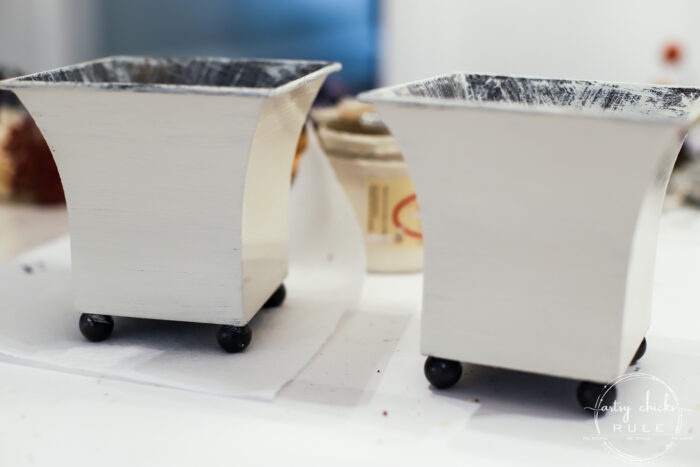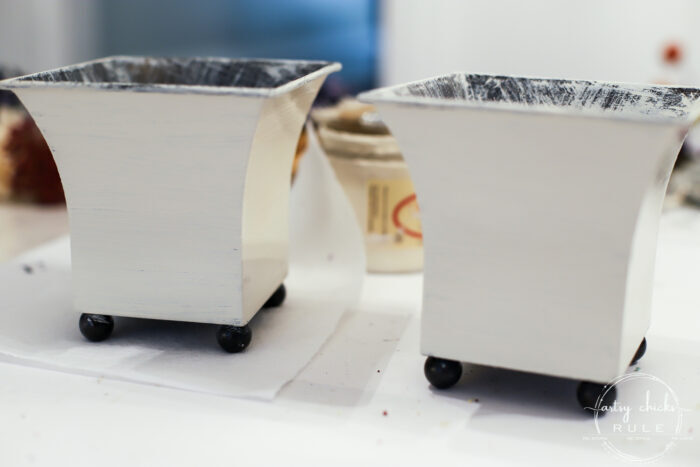 Better but wasn't loving the brown feet.
So I used some gilder's paste to make them gold.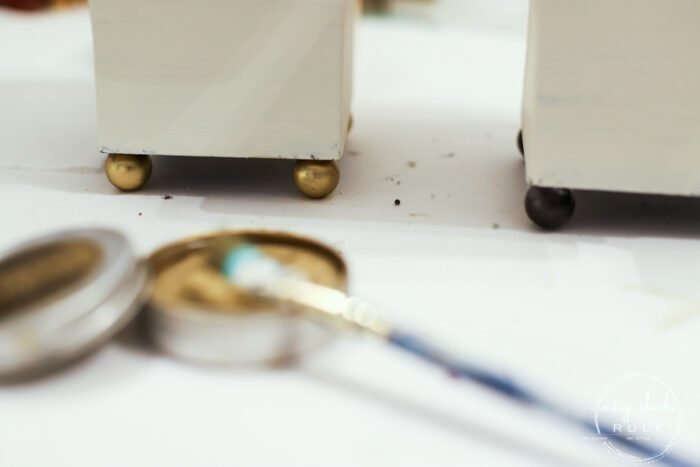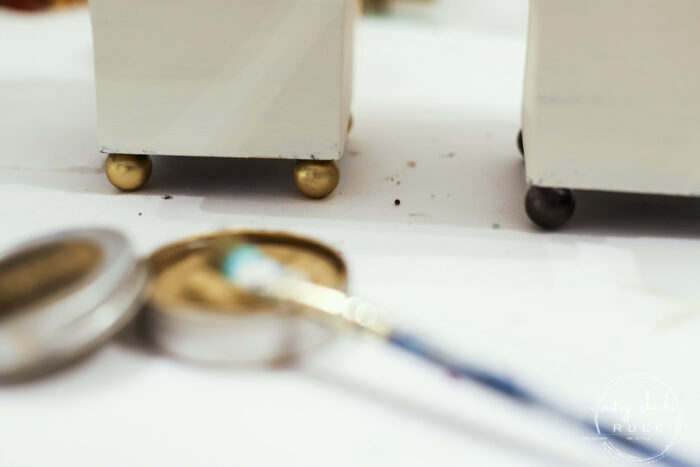 Yessss.
Whew, I went through a few phases before I got to where I wanted to be with these! ;)
But that's okay, that's how it goes sometimes.
Before we get too far along, let me share with you the products I used.
MATERIALS LIST
Fall Florals (I got mine at Michael's 40% off)
I shoved some floral foam down into my containers. (you'll notice I didn't' paint all the way down, I didn't feel the need since I was using them with the foam and flowers.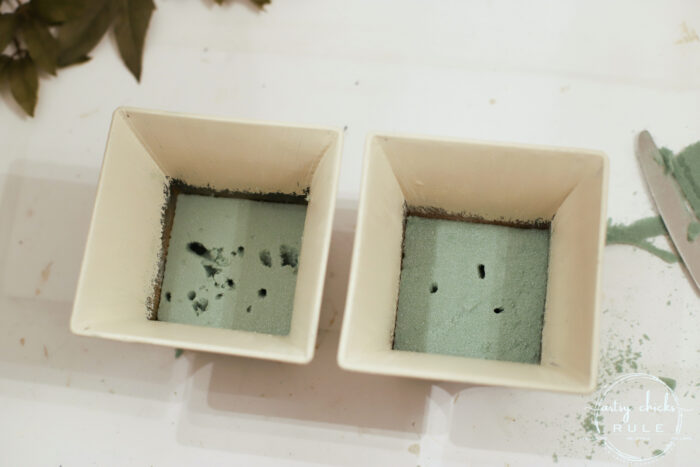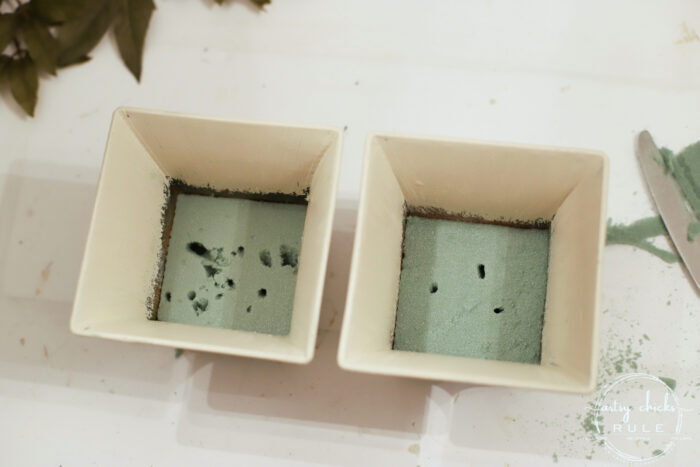 Then I literally stuck in about 6 varying stems of color/flowers.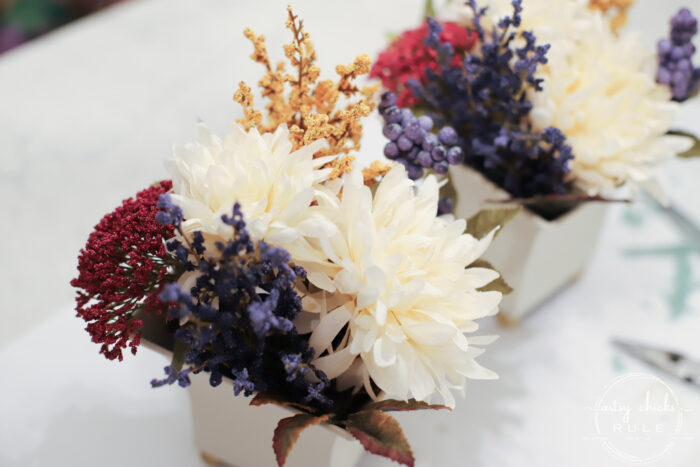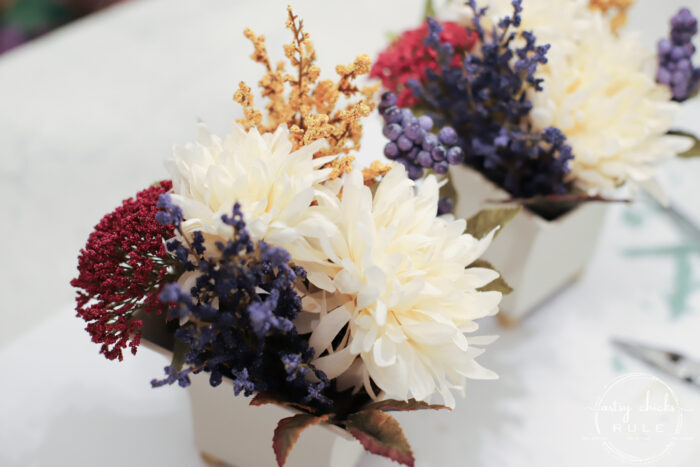 These sweet little floral arrangements for fall are using the same florals I used in my "floral bucket" last week.
That is it. Done.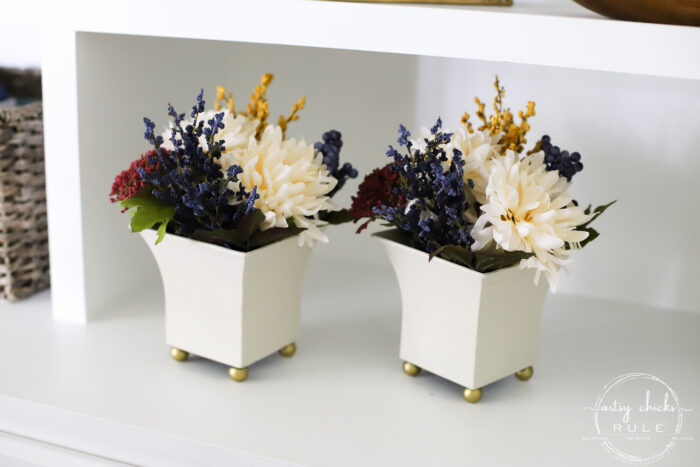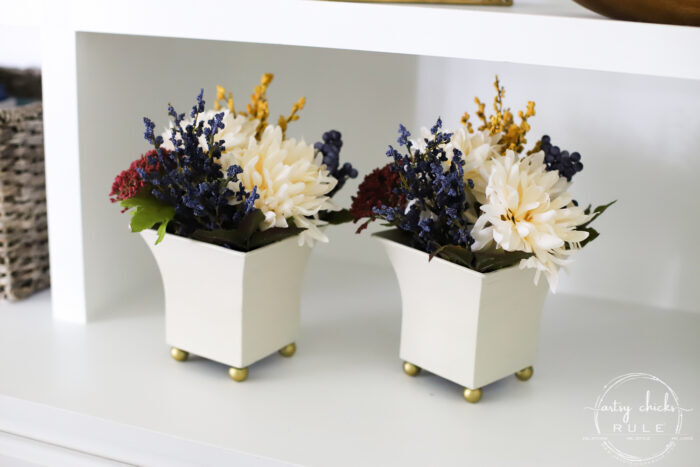 So darn cute. And simple.
I absolutely love those little gold ball feet. So glad I went gold on those.
The way these are made, you can turn them around to show the colors you like best.
I will share photos of them turned several ways so you can see how they look.
With the ivory flower prominent.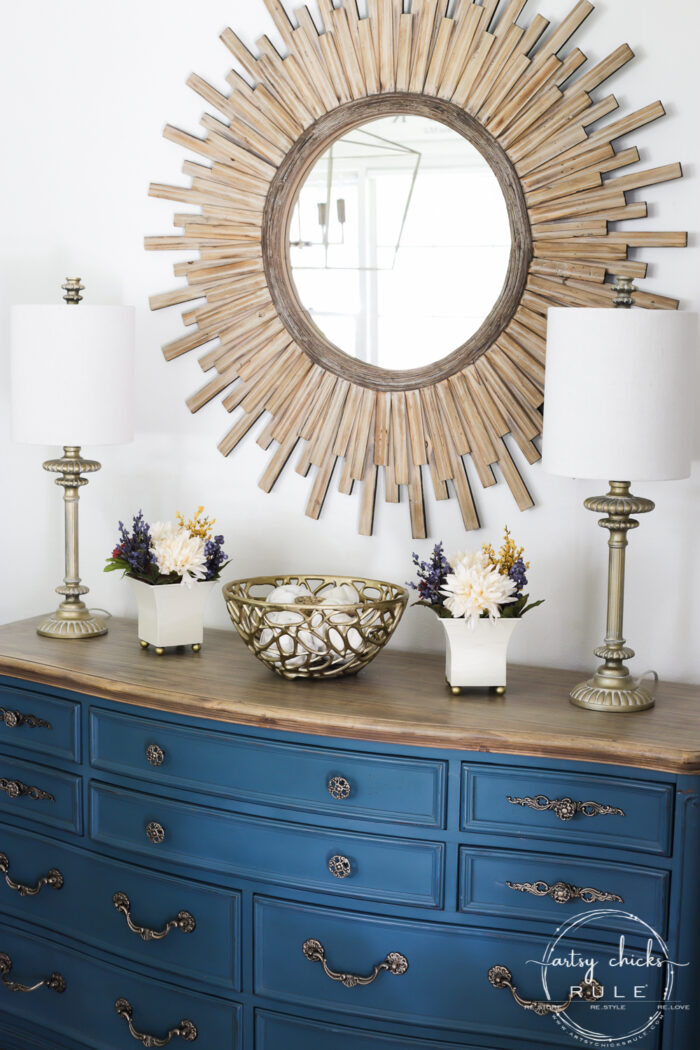 With the maroon front and center.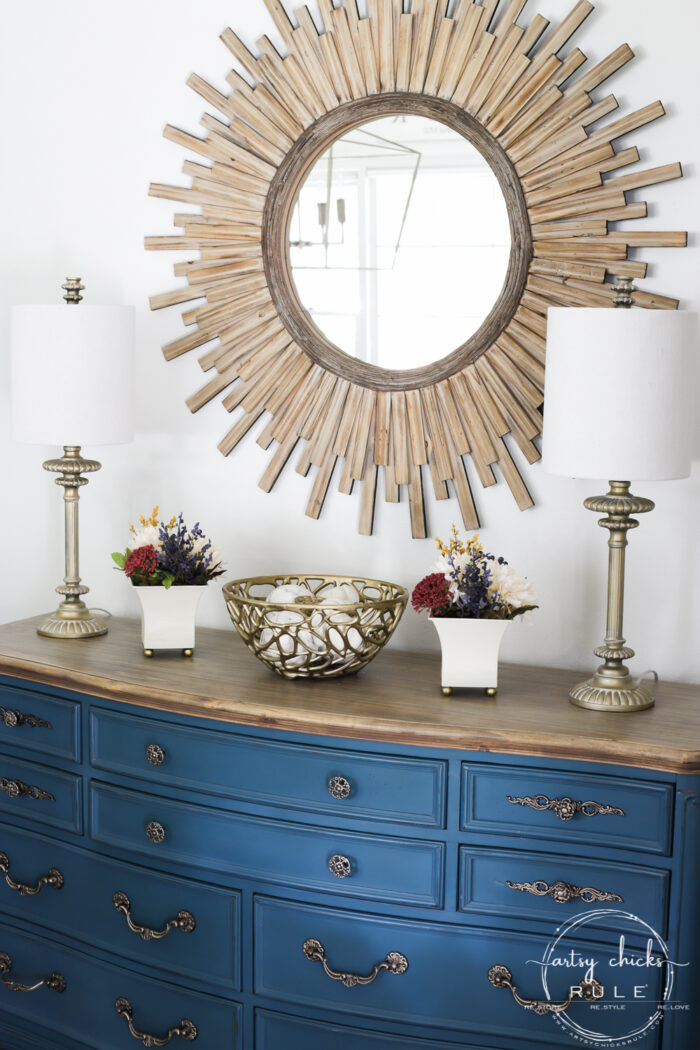 Love that they are sort of versatile like that.
I can't decide which way I like them best.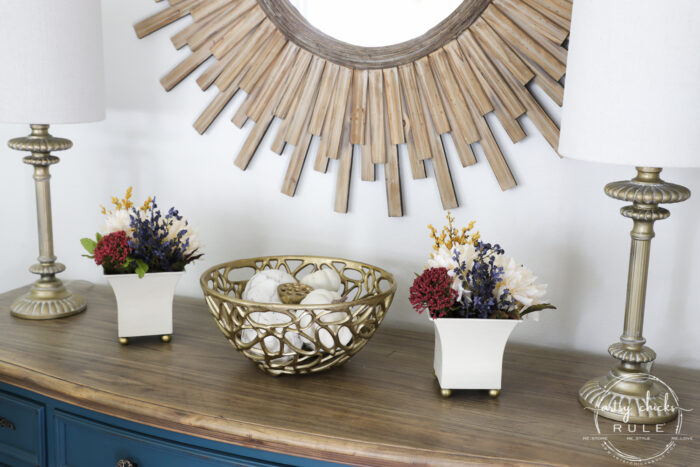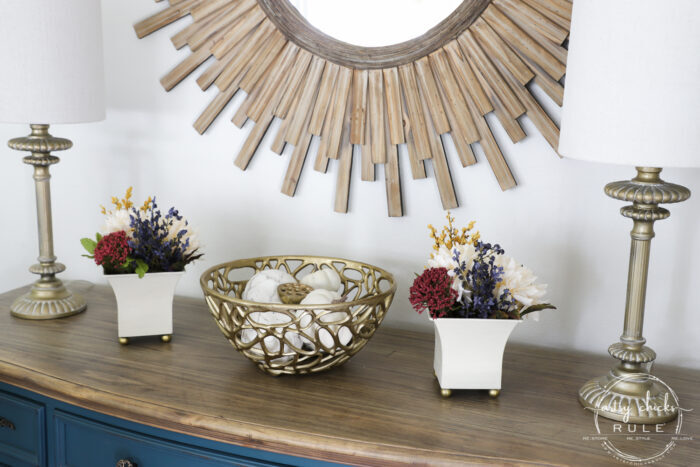 For info on my pretty blue dresser makeover, click here.
For info on any of my decor, check out my "Shop Our Home" tab up top or click here.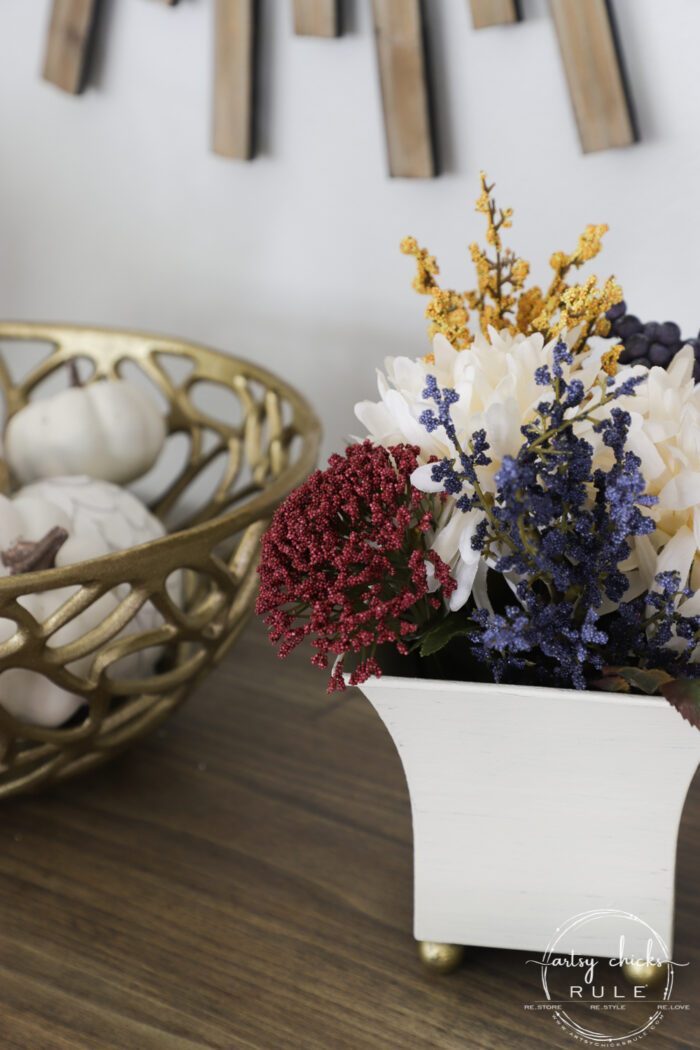 Love those colors for fall.
Here it is in our family room.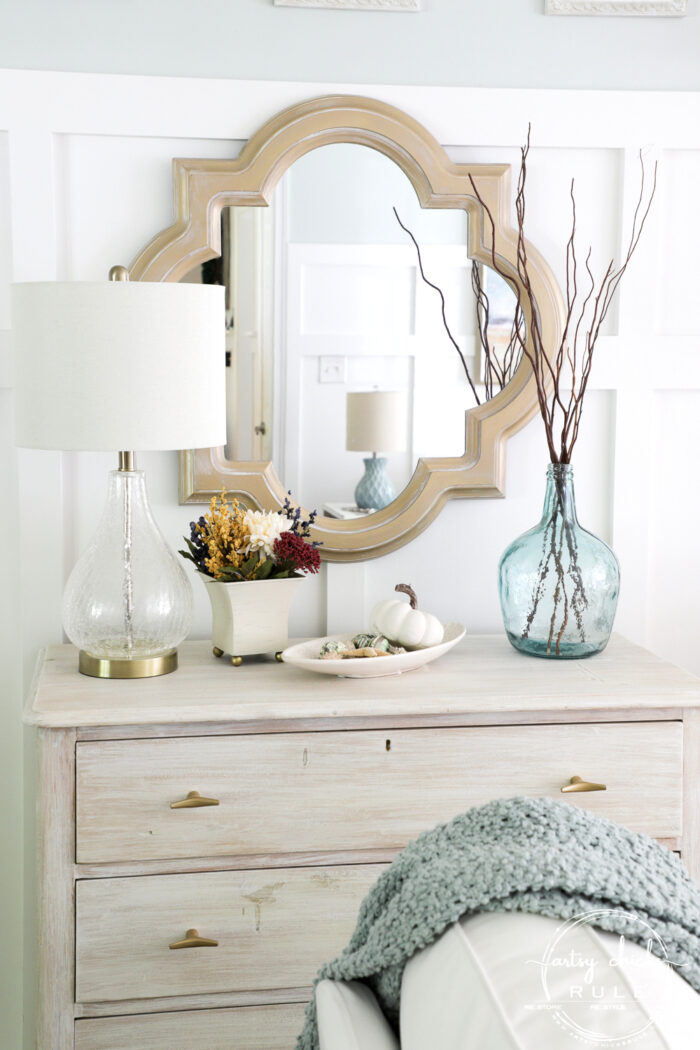 Such a pretty fall addition in here.
Details on the white stain dresser makeover can be found here.
This time with the gold upfront and center.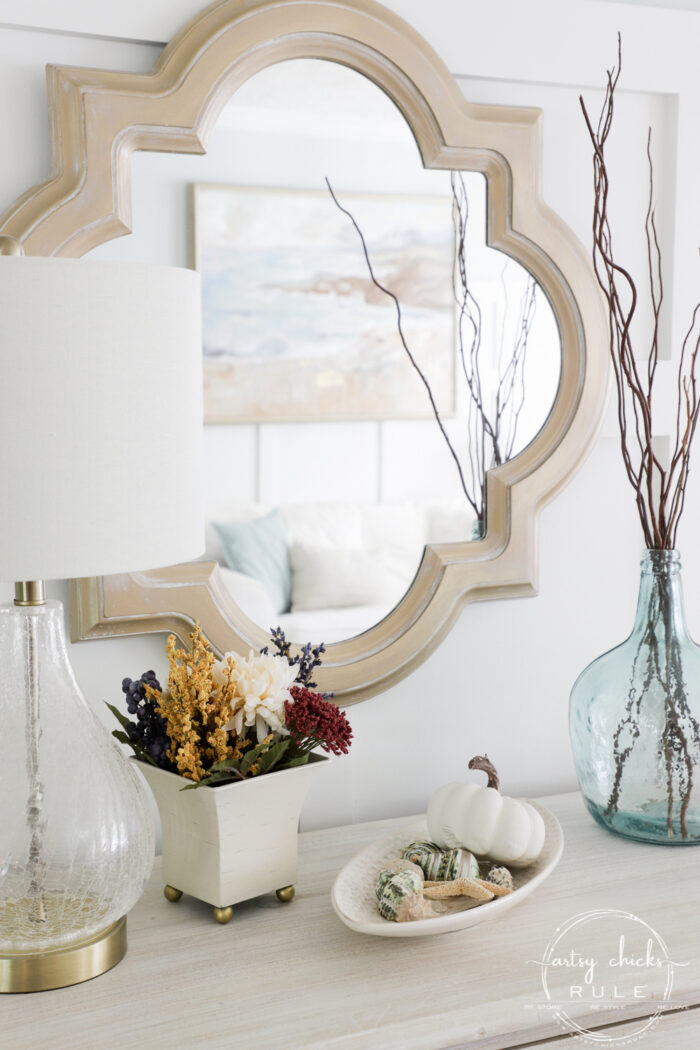 The branches in my aqua jar are perfect for fall too.
Turned around with the ivory flower in front.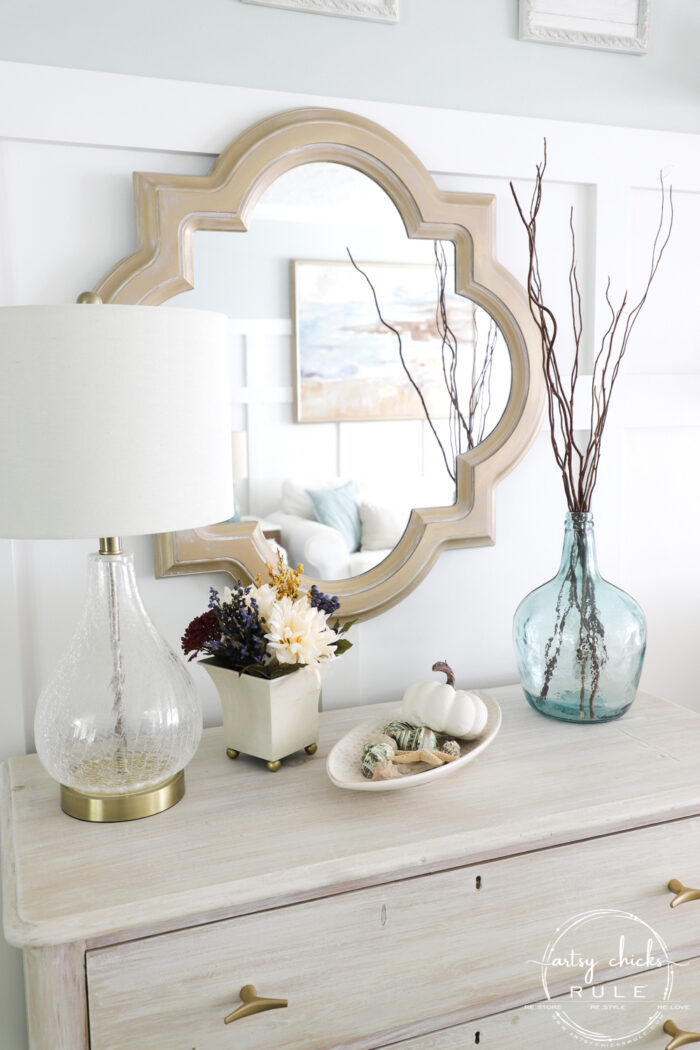 This way might just be my favorite.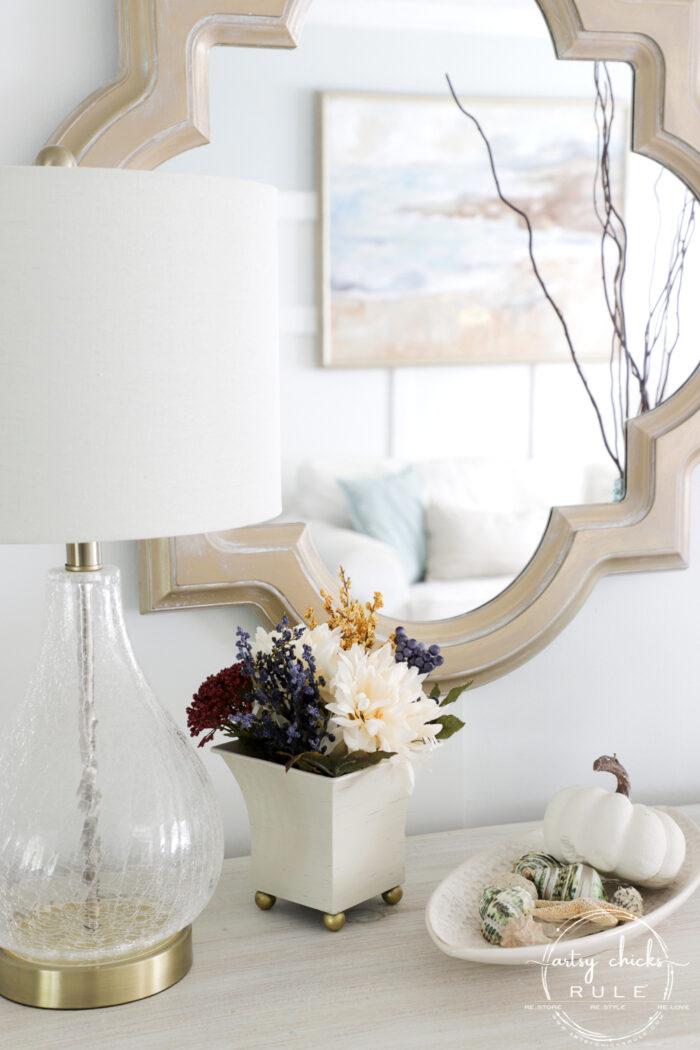 Purple and maroon up front.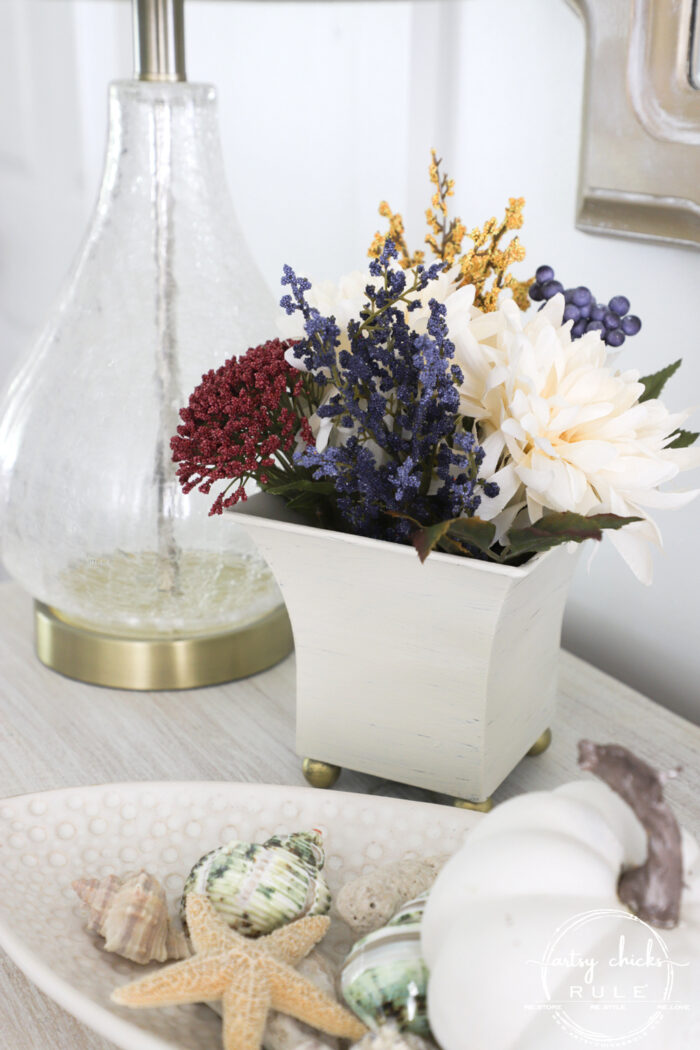 All 3 ways here…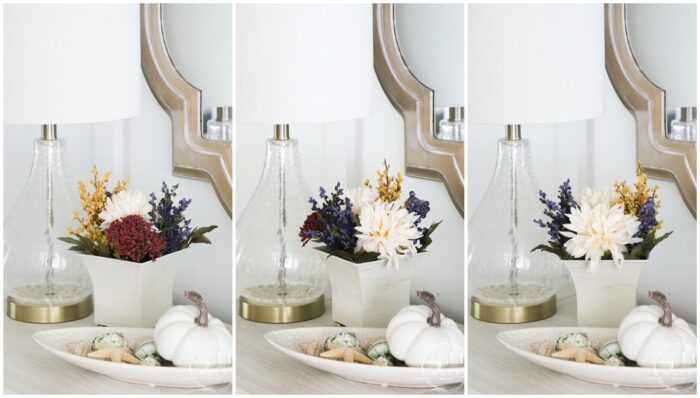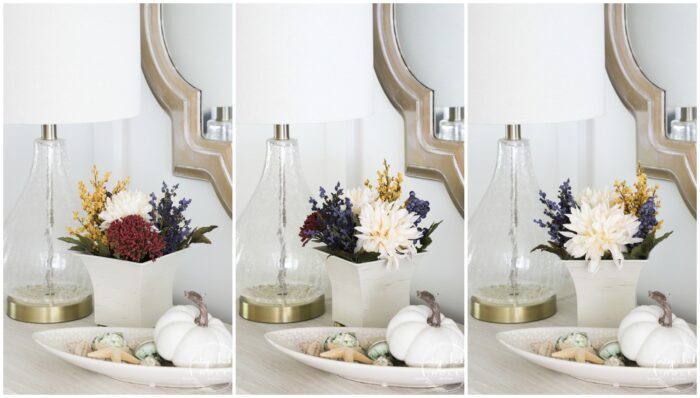 Which way would you display it?
UPDATED to add: I meant to add mini white pumpkins to these fall floral arrangements. Here are a few photos after I added them.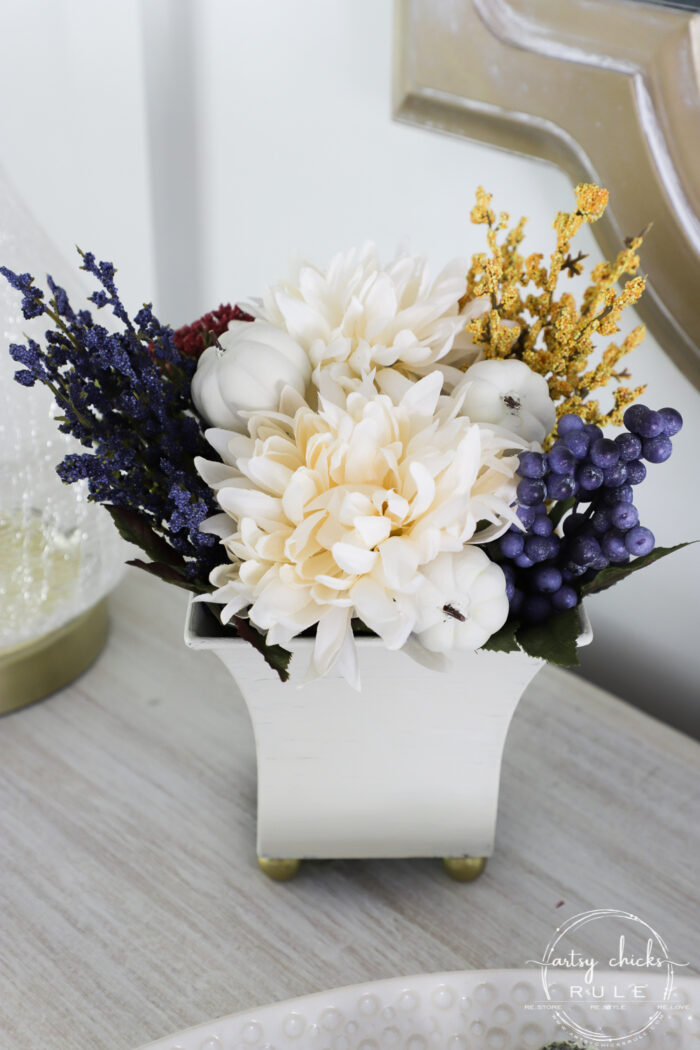 So you get the idea. This is the way I intended them to look for fall.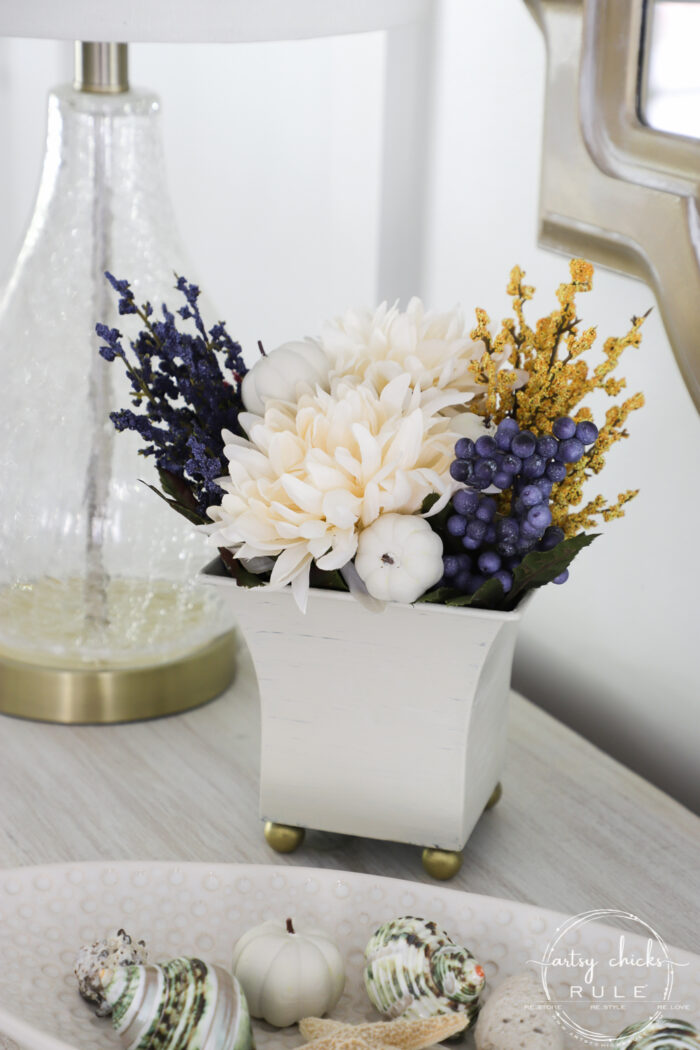 Here it is in our foyer.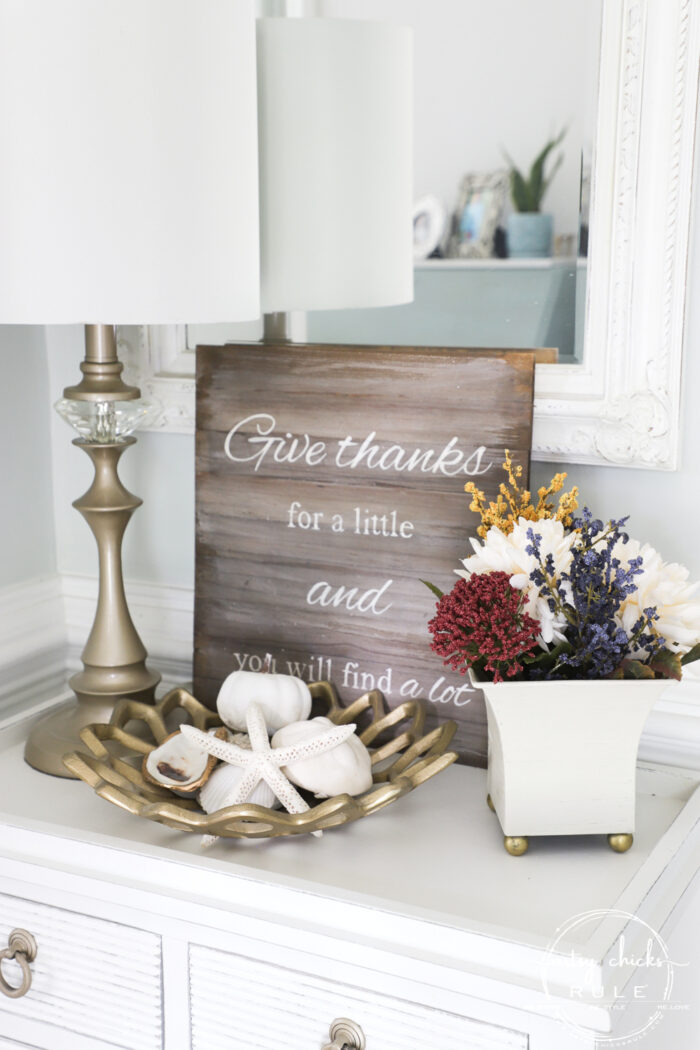 And ivory and purple in front. Love!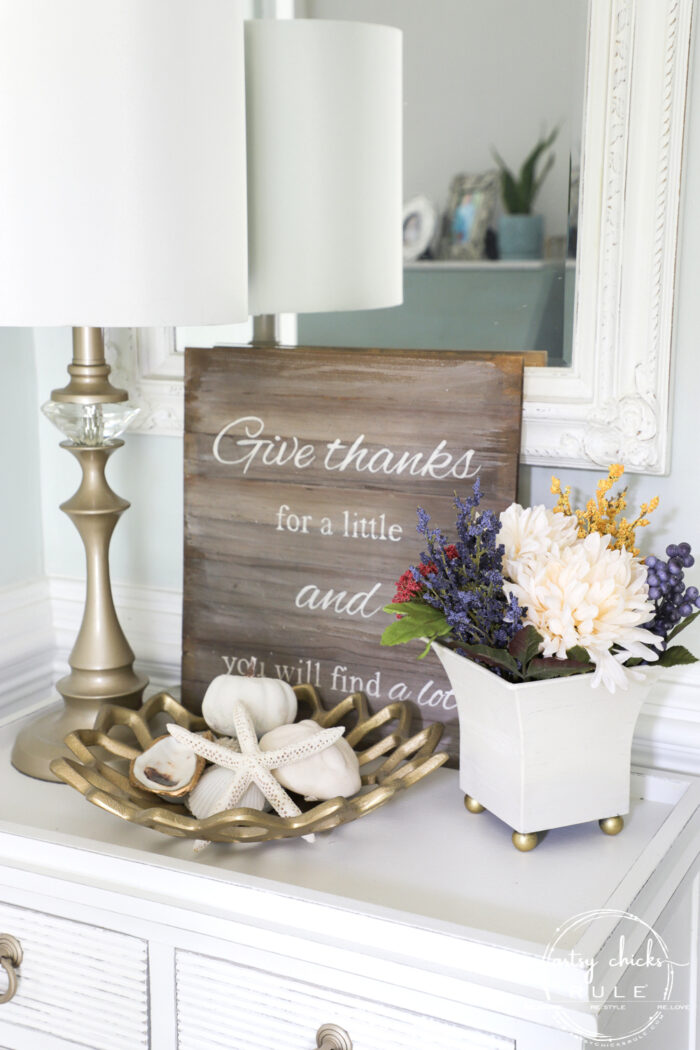 Want to make that sign?? You can!
Click here for all the details on that.
So as you can see, even though these are a "pair", I'm not using them that way in our home.
They would, however, look really nice on my dining room table with something pretty in between them.
Maybe a big white pumpkin. Yes.
I might just have to do that and take a shot of it and update this post.
Now run on over to your local thrift store (or stores) and see what you can find to decorate for fall with.
I would bet you 100% you can find at least one thing. (most likely many more)
Most of all, have fun and enjoy the process of creating something beautiful for your home. :)
PIN it to save it!!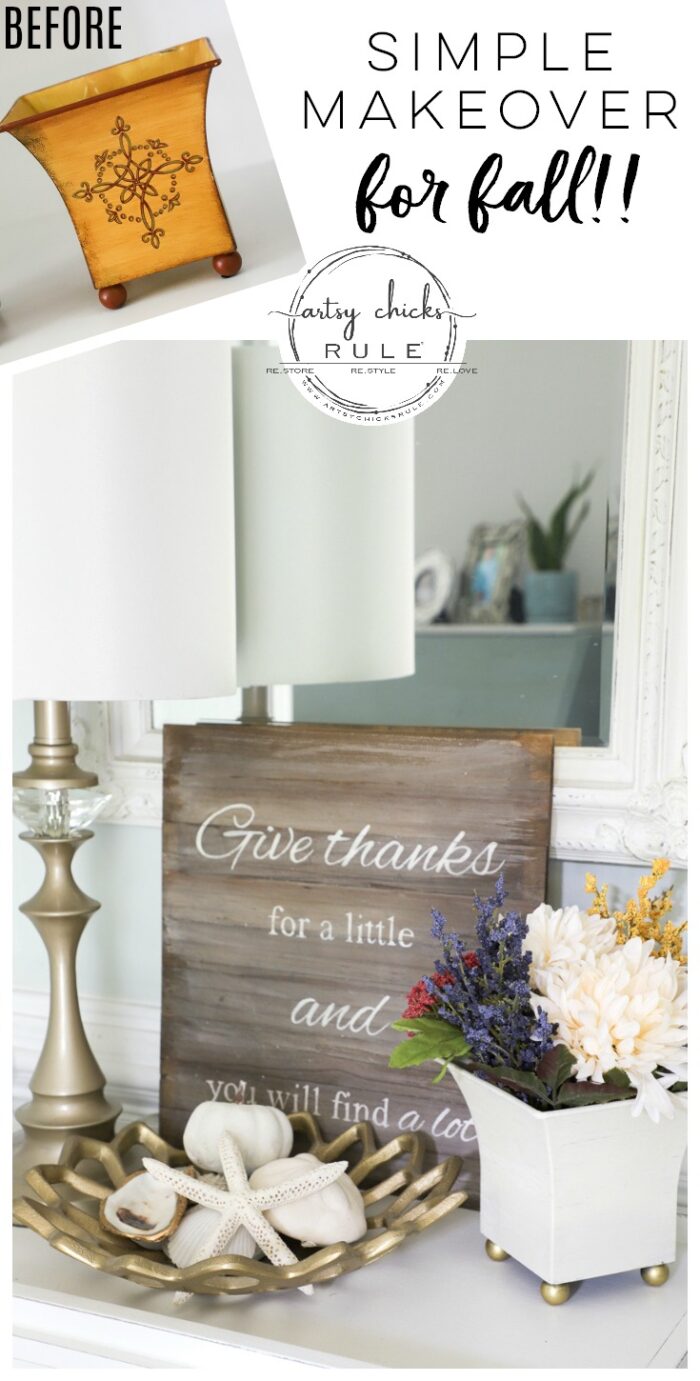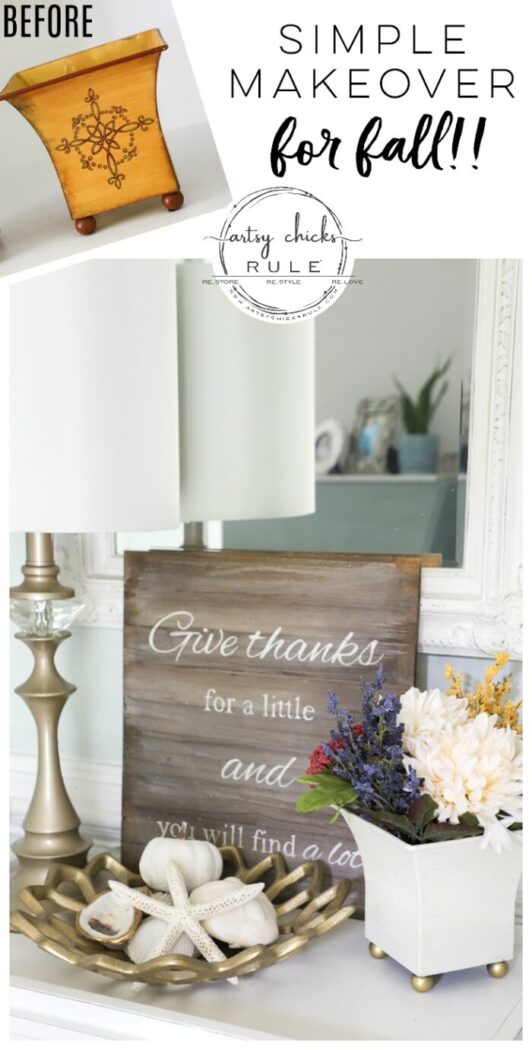 I hope you have a wonderful weekend, friends!
I'm off to Carolina this weekend for a family reunion. Can't wait!
xoxo