Purple & White Pumpkin Wreath
This post may contain affiliate links. Please see disclosures here.
Purple and white pumpkin wreath to ease your way into fall! Simply add some rust-colored sprigs as it starts really feeling like fall.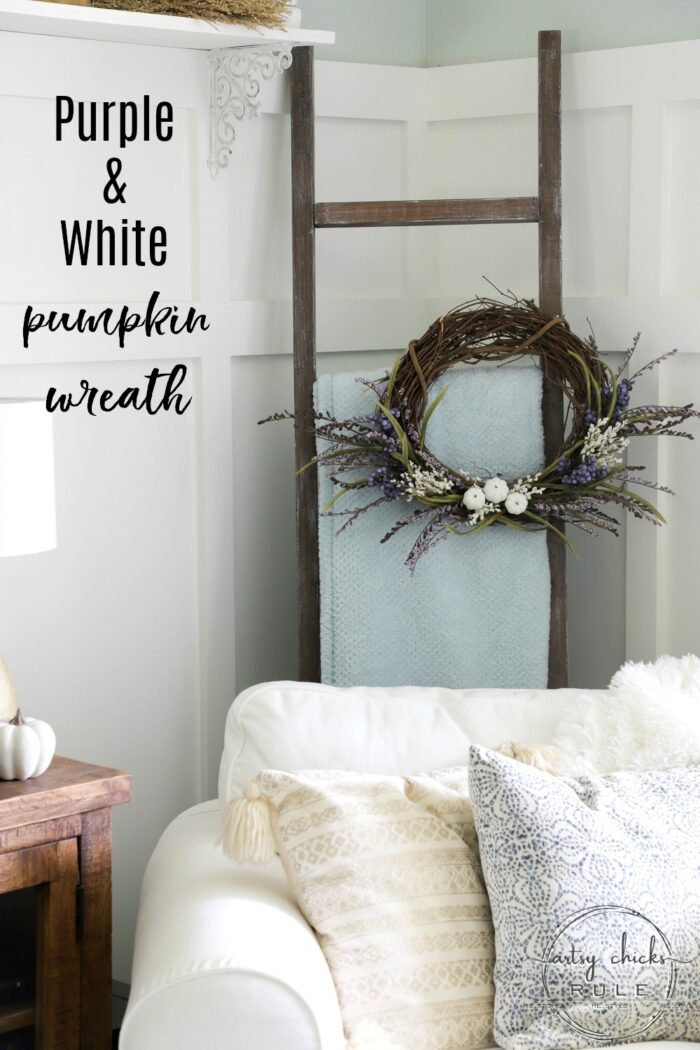 Happy brand new week, beautiful friends! I hope you had a great weekend.
It's still feeling like summer around here but I wouldn't know because it's all work, work, work in this house. haha
We've been working like fiends trying to get this bath/closet remodel completed so mostly all work and no play for us.
I've got an update about it at the end of this post so be sure to scroll all the way to the bottom if you want to read about it. :)
Even though it's still feeling summertime, I'm sharing a little more fall today.
A purple and white pumpkin wreath. I know, non-traditional again.
I am easing my way into fall, y'all.
It's hard to think about fall when it's still sweltering outside! So until it starts feeling like fall, I'll keep most of the rust and orange colors away.
The great thing about any of the things I made is it is easy enough to simply add a few sprigs of orange or rust color to them.
Like today's purple and white pumpkin wreath.
Rust/orange goes with just about any of the colors I've used.
But until then… ;)
Purple & White Pumpkin Wreath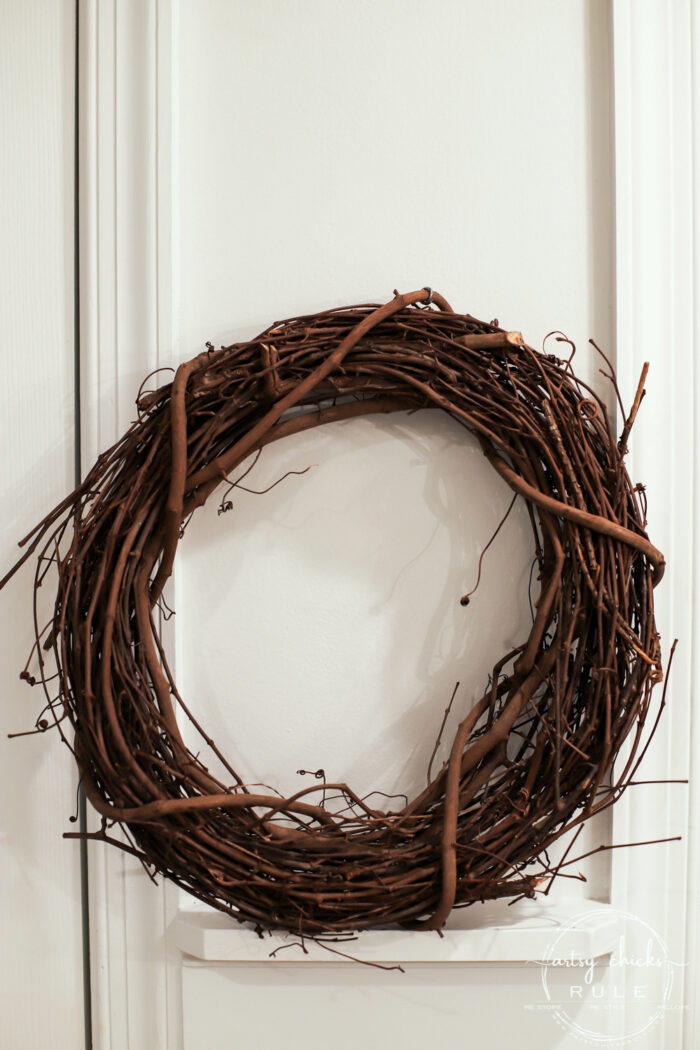 I found this grapevine wreath in my stash and decided to make something pretty for fall.
I had plenty of leftover florals from the last two projects I'd completed for fall.
If you missed any of those, you can see them here:
I shared these adorable pumpkins on a stem on my Instagram stories but I can't remember if I showed them to you here but here they are.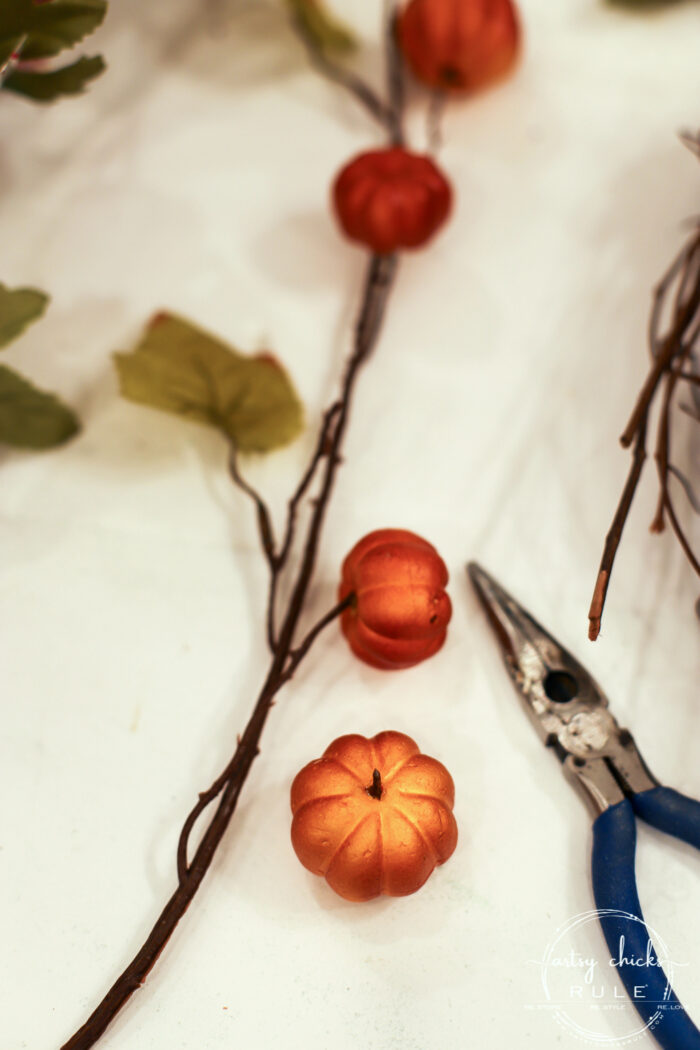 Aren't they adorable???
Simply cut them off and it creates the cutest little baby stem.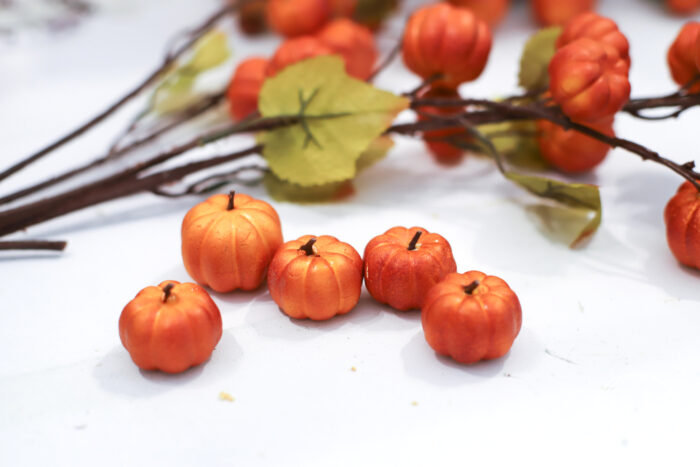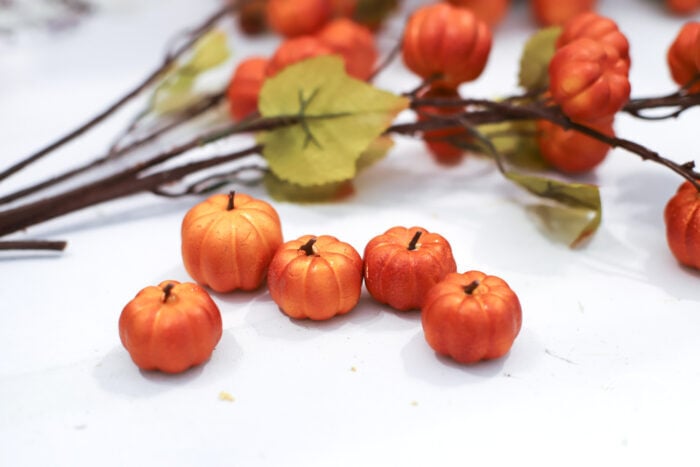 I painted them white for this project but I have plenty leftover that are still orange to use further into Oct/Nov.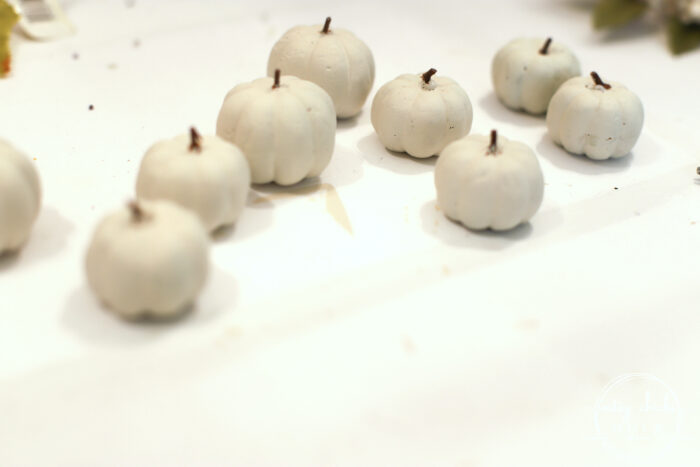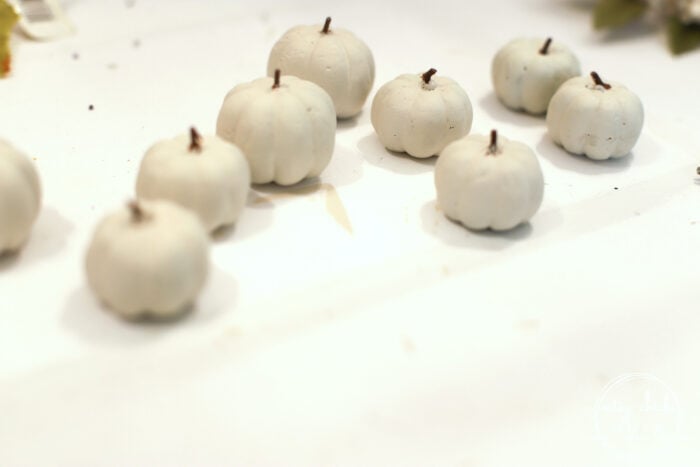 And oh my gosh, should I tell?? haha
Yep, I'm gonna!
I was working on several of these projects at one time, as well as working on our bathroom remodel. (too much for this old brain apparently! lol)
Do you see all the pumpkins I painted above? Surely more than the three I used on this white pumpkin wreath!
Well, um, I had planned to put the other white pumpkins in my pretty fall floral arrangements I did last week….and I forgot! Ugh!
I didn't even realize it until I was writing this post and pulled that photo in. Duh.
Dang, I'm so mad I forgot to do that.
Oh well, I can still add them but the photos on here won't reflect it unless I take more and add them.
Maybe I'll do that. I'll let you know if I add new photos so you can go take a look.
I will sure be glad when we finish that remodel! ;)
Okay, back to it here.
So here is what I had to work with for this wreath. (plus I also added some purple berry sprigs)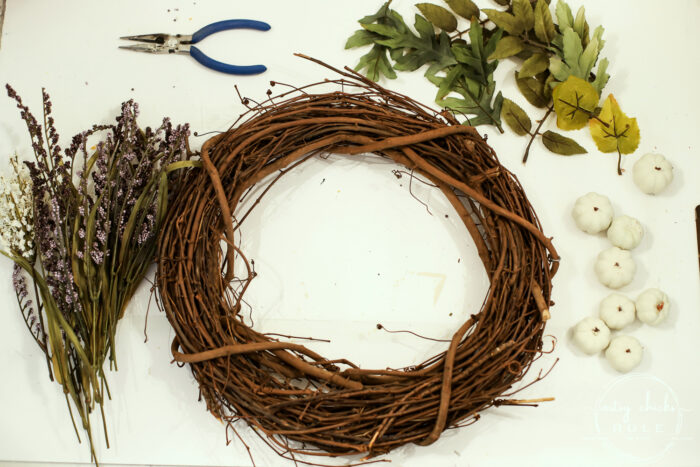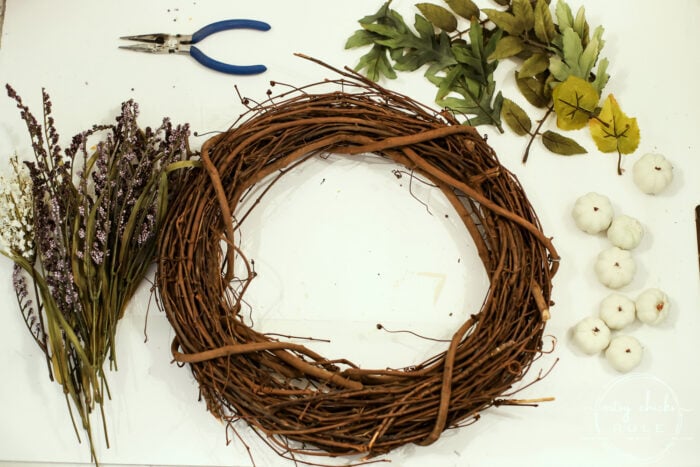 The stems are easy. I simply stick them in the wreath without glue.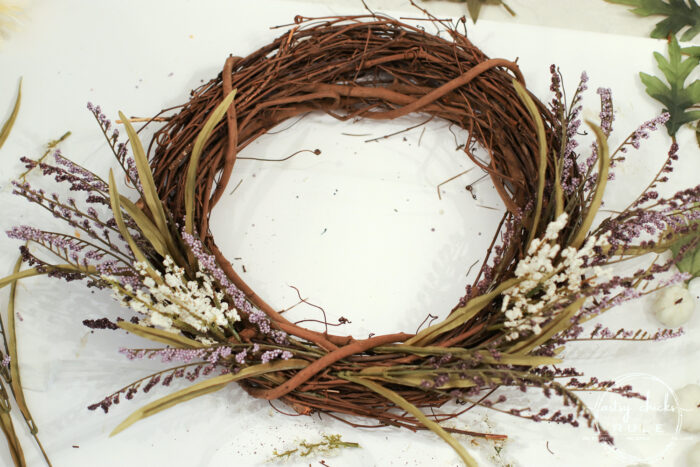 I like to do that whenever I can in case I ever want to change them out, etc.
As you can see, I just evenly distributed them on either side of the center bottom area.
Then I hot glued 3 little white pumpkins to the center of the wreath.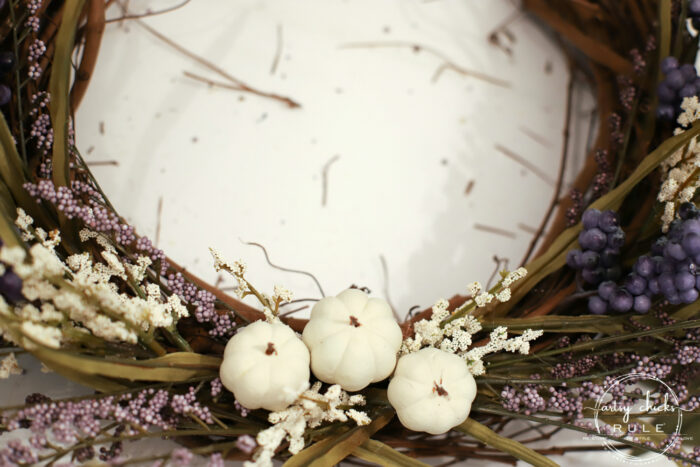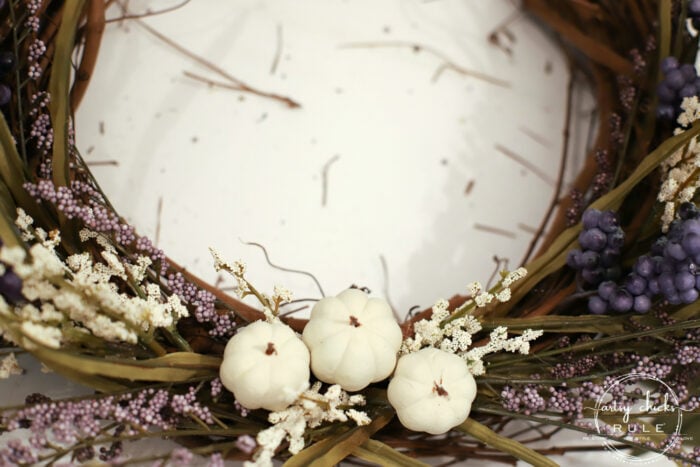 Done and finished.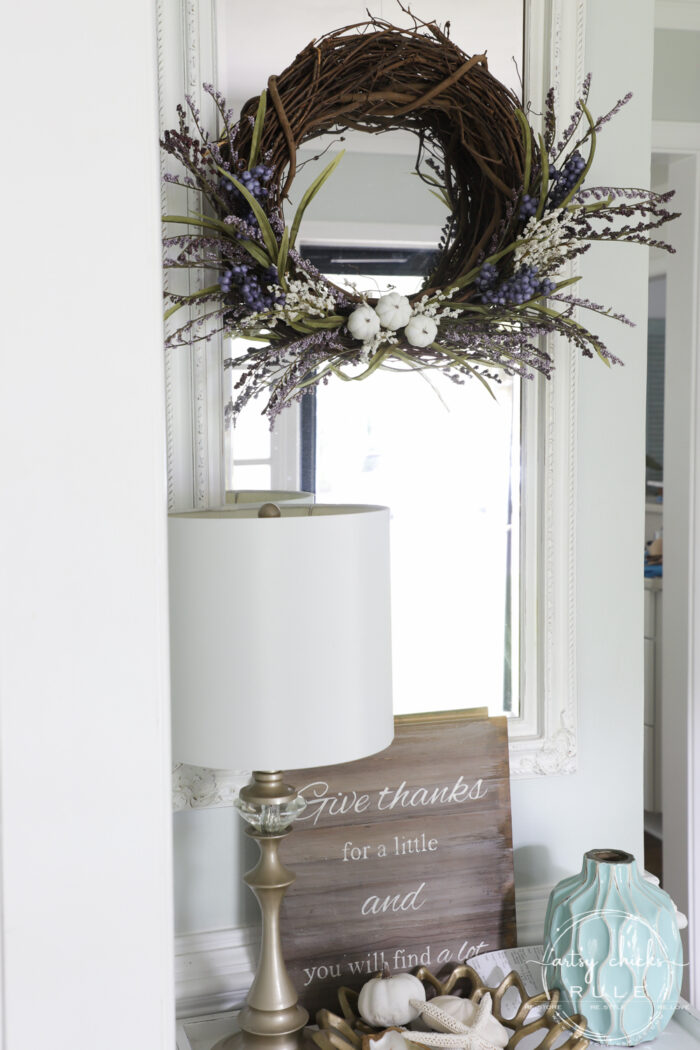 I like it here on the mirror in the foyer.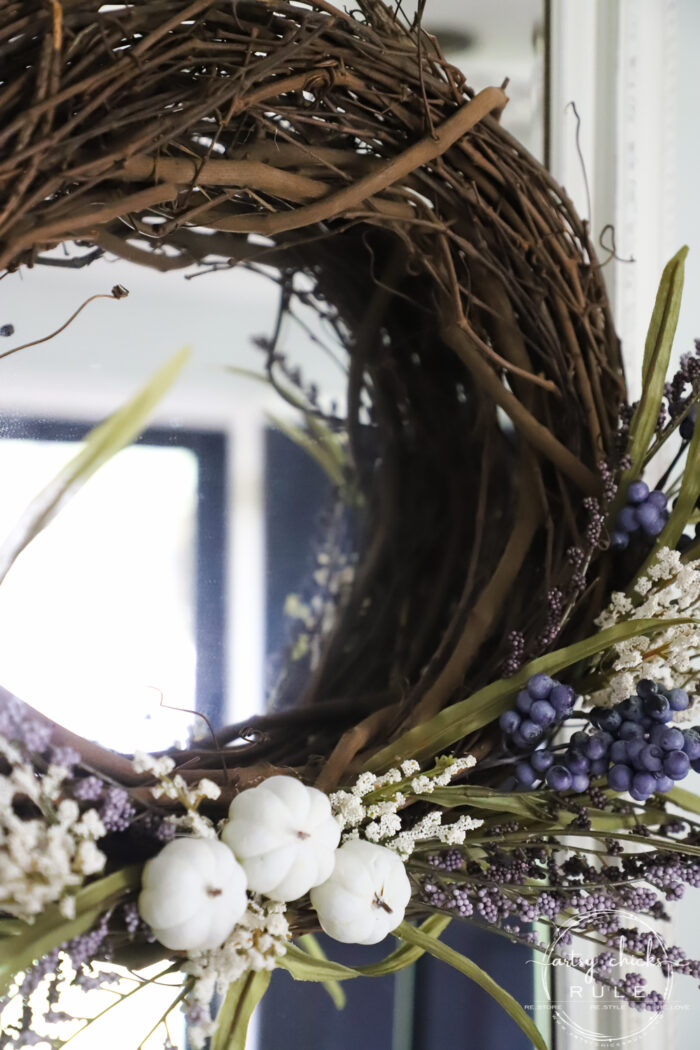 I usually don't add that DIY "give thanks" sign until a little closer to Thanksgiving but I don't care, I wanted it up now.
I love that saying.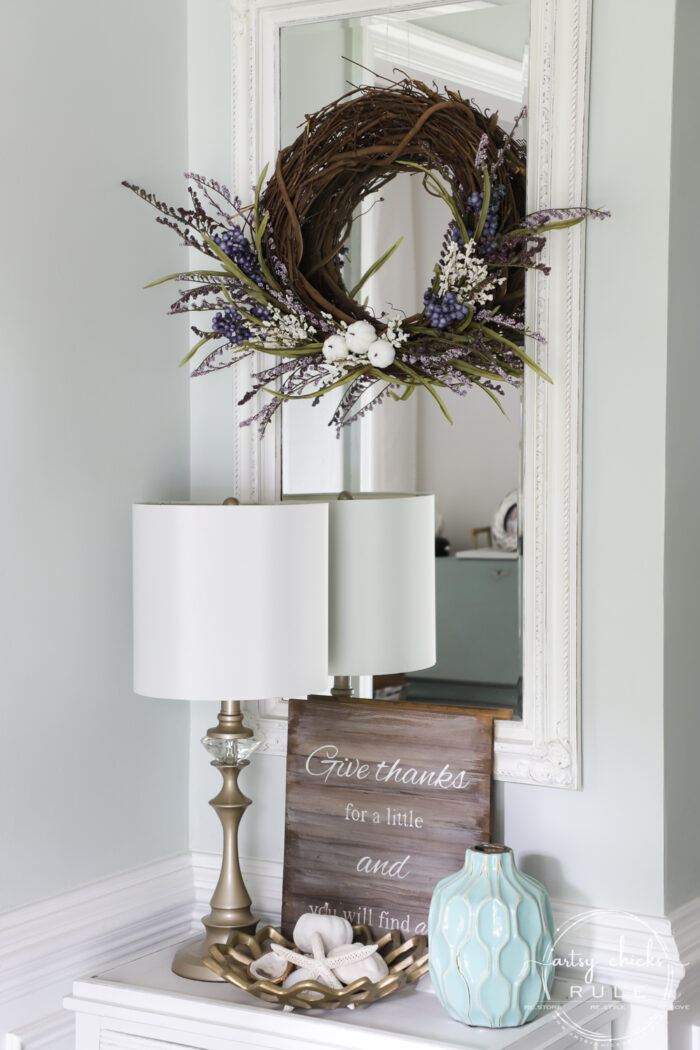 You can get all the details on the "give thanks" sign, here.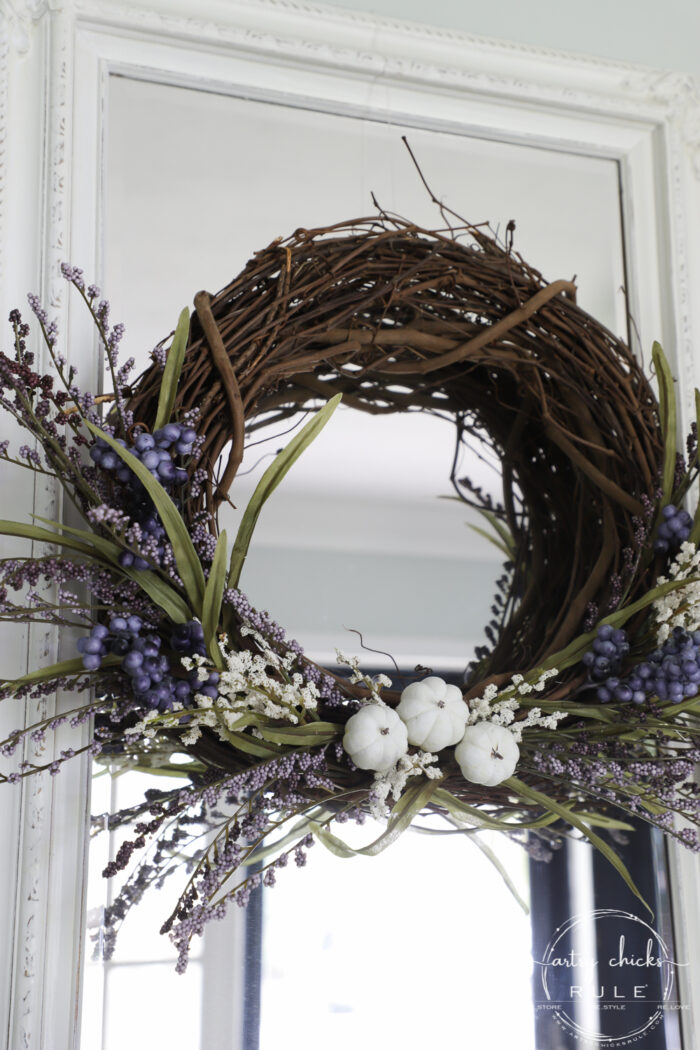 I could also hang it here in my kitchen.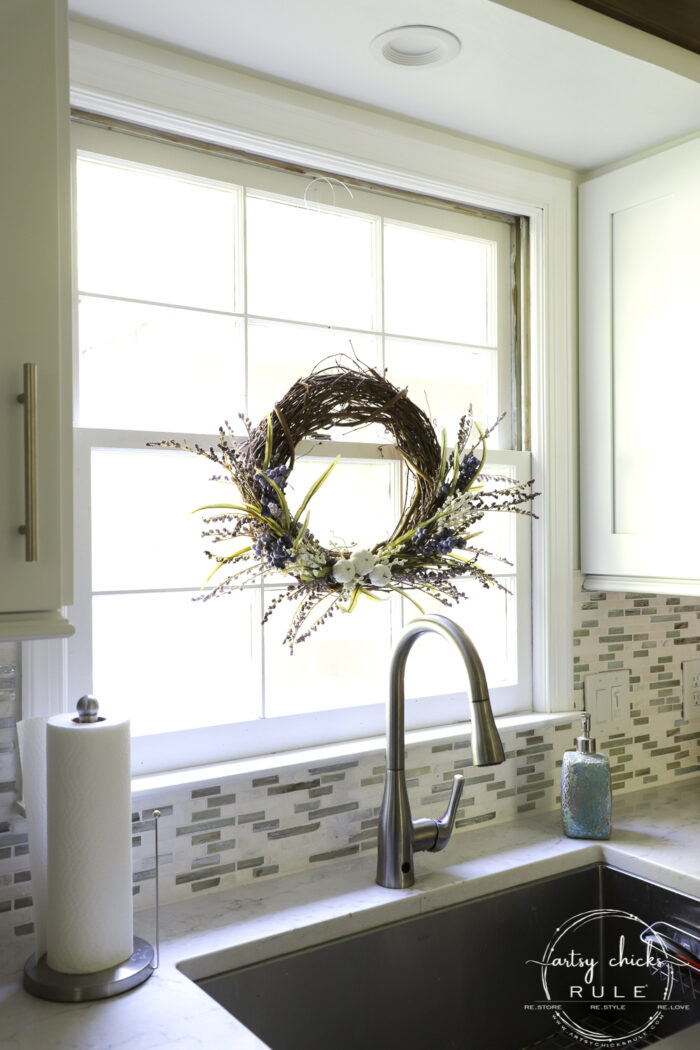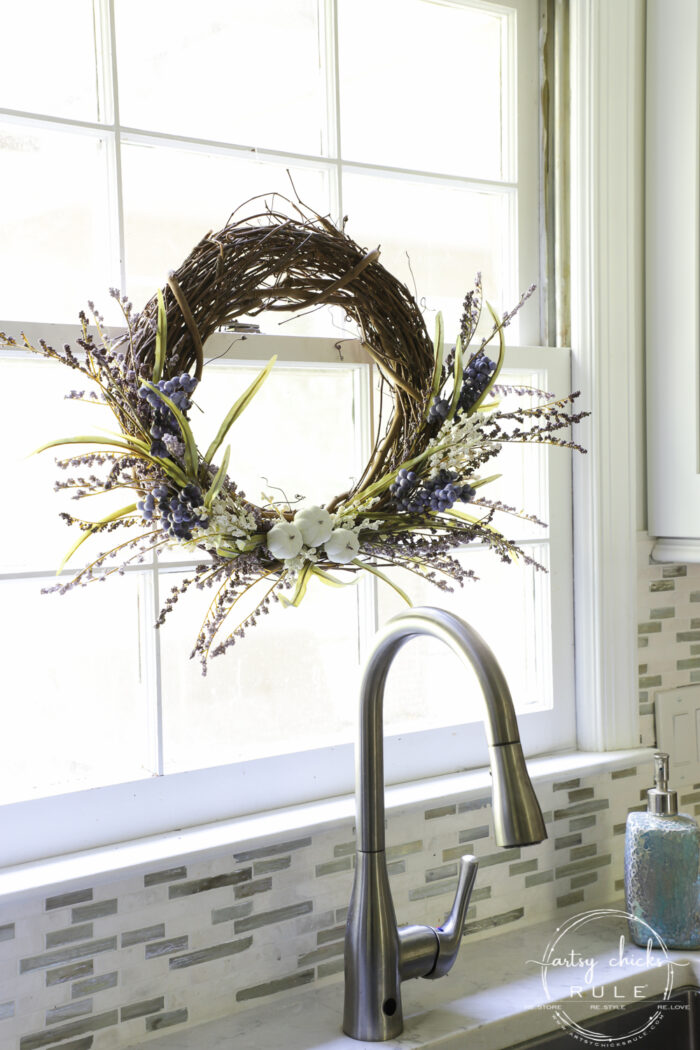 Tiled backsplash info, here.
But this is where I put it last…and it stayed and is still here.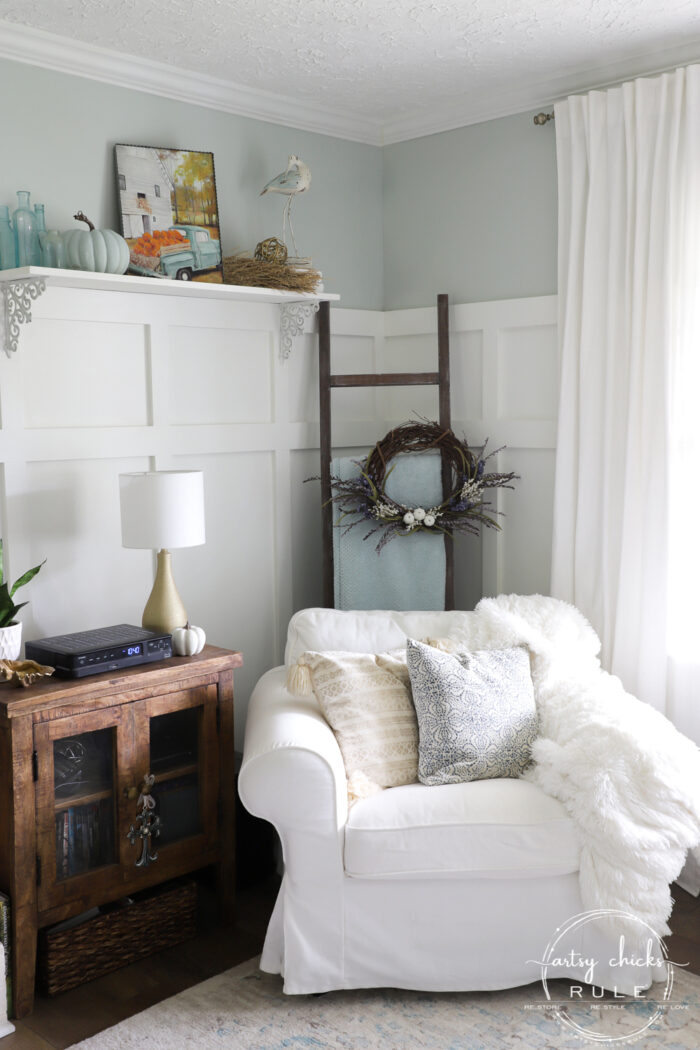 I love it on my little $6 DIY ladder. (details on the DIY ladder, here)
Our DIY "faux" board & batten info can be found >>> here.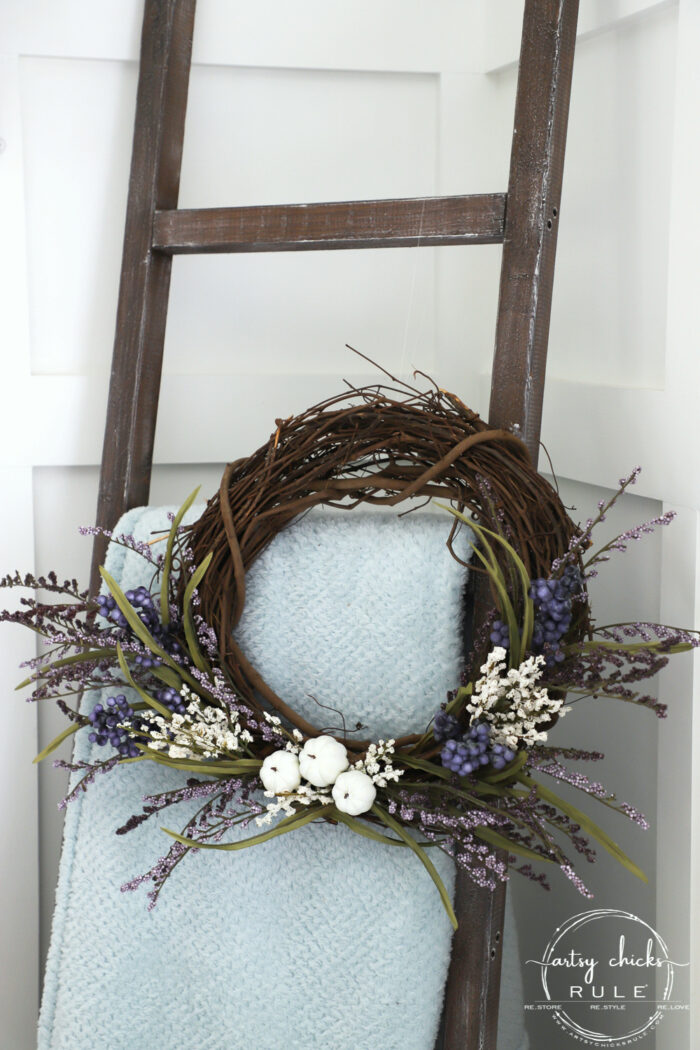 I pulled my gold tasseled pillow out from last year's Christmas decor because I thought why not?
Gold can go for fall too, right?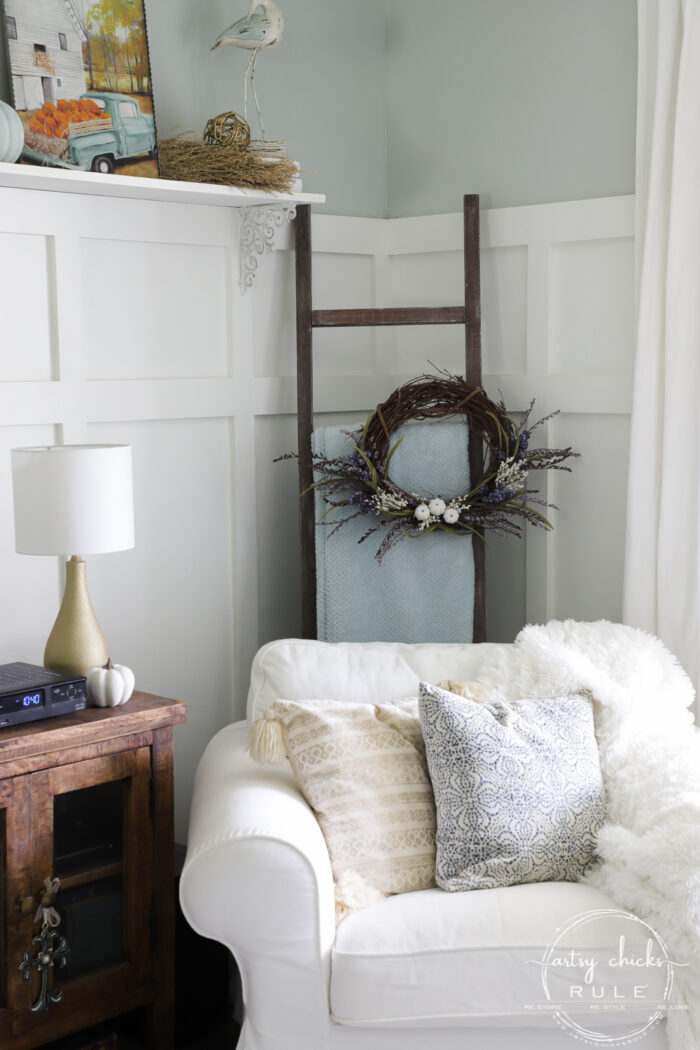 I've got it hanging on with fishing line. My go-to hanging material.
It's like magic. ;) You can just see it there if you look hard.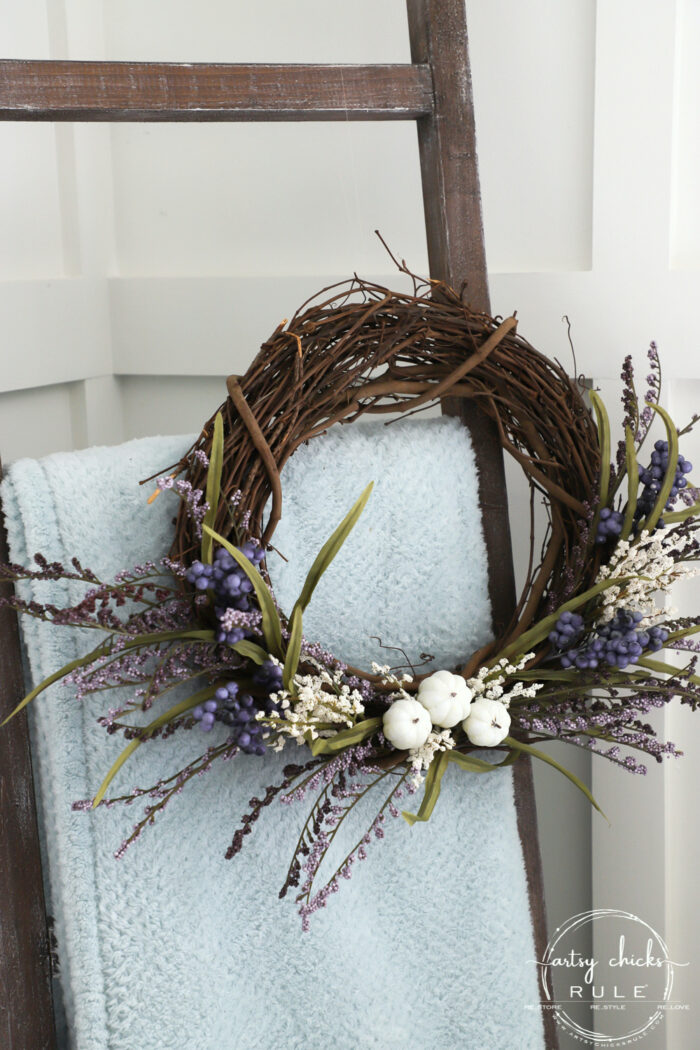 But you can't see it here! Which I love.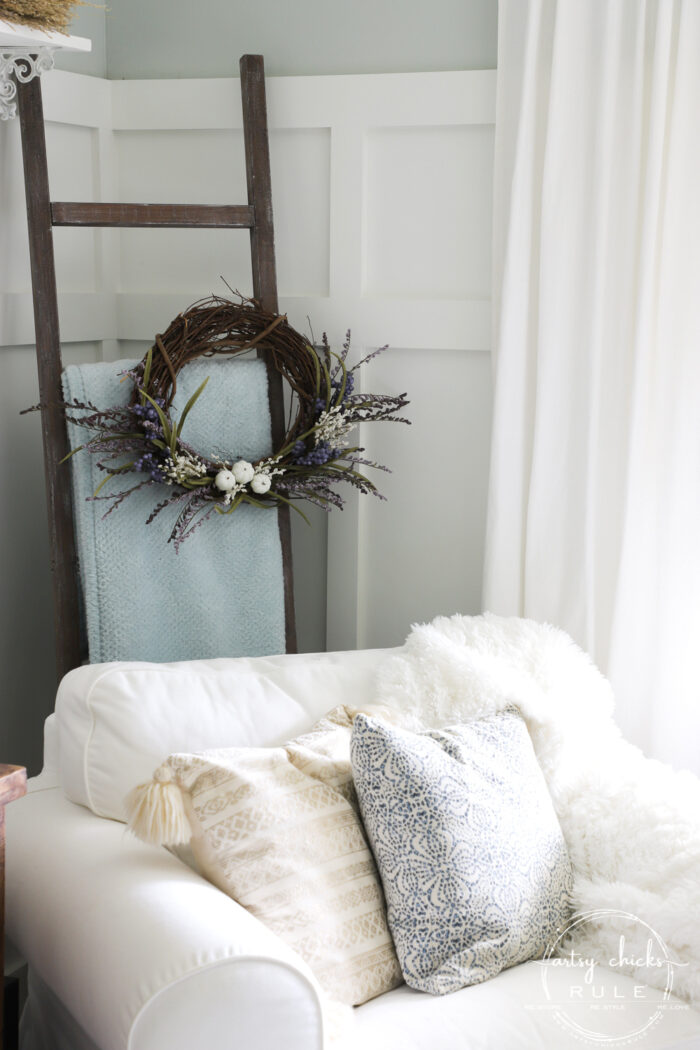 So, I'll be adding baby white pumpkins to my fall floral arrangements and I'll be adding sprigs of rust to everything I made soon enough.
And maybe a few rust-colored pillows too. I saw some at HomeGoods a couple of weeks ago and I'm still kicking myself for not going ahead and getting them.
Always how it goes, isn't it?!
PIN it to save it!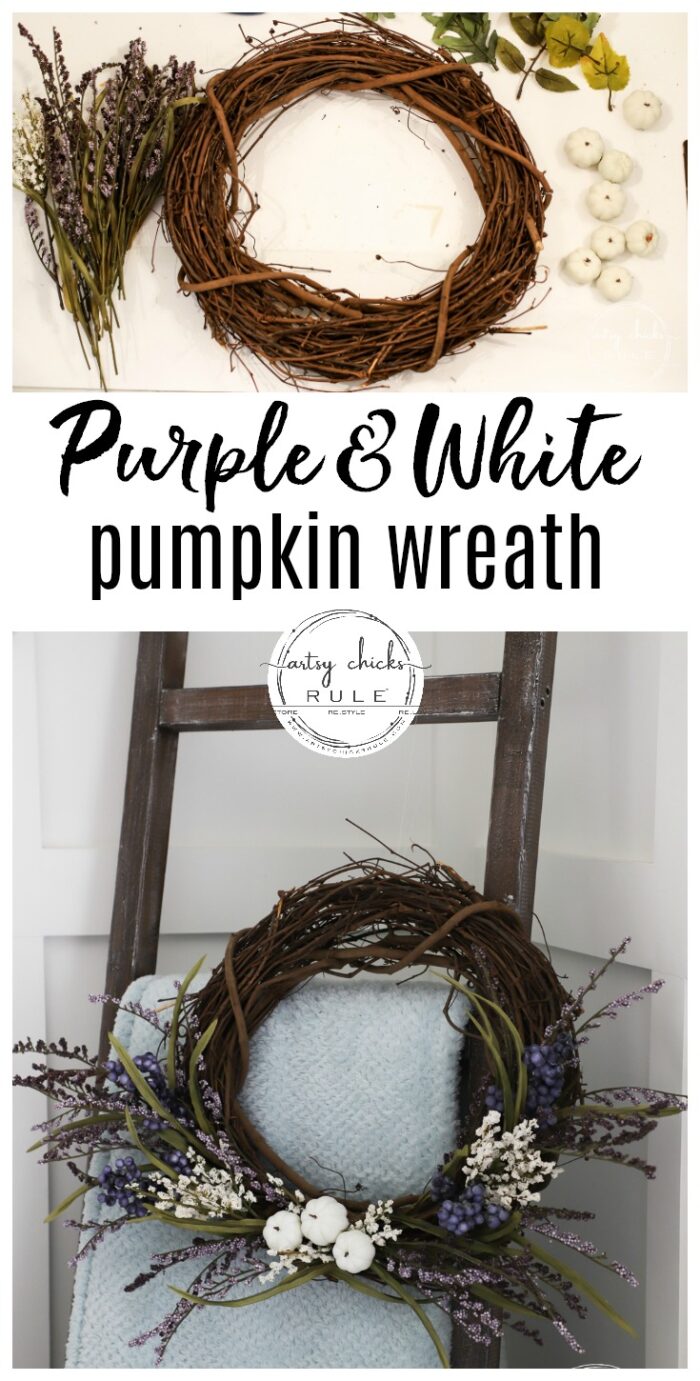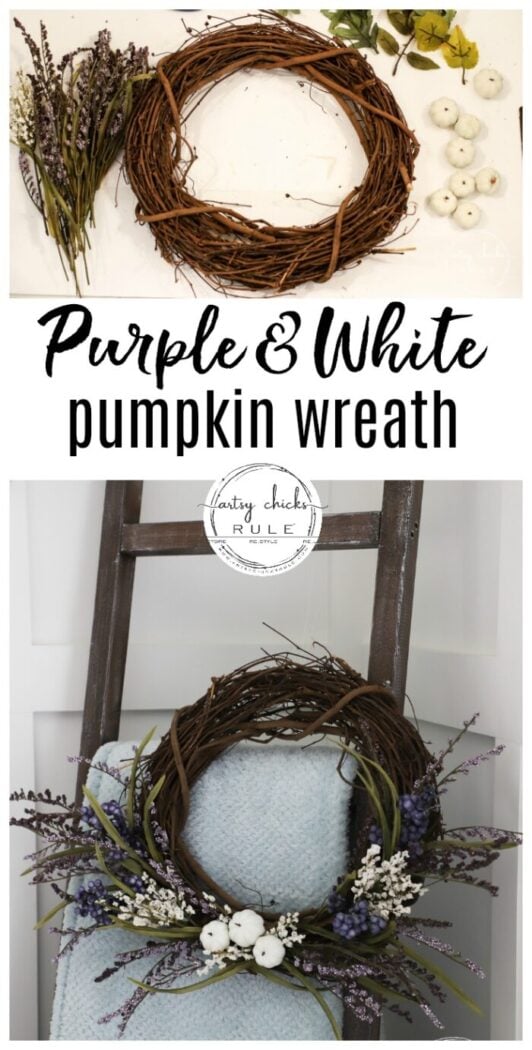 I finished up painting the shiplap in our master bath on Saturday evening.
We also went to IKEA and got most of our PAX system. (we had to order a few pieces from another warehouse) So we started putting that together on Sunday.
I share all of what's going on every weekend over on Instagram so be sure to follow along over there if you are interested in seeing all about it!
I'm going to set up a stories tab with all the stories I've shared about it (since they only last 24 hours) so you can play catch up…one of these days. I promise! lol
I spent all day Sunday working on projects for the blog so I'll be sharing them all over the next few weeks. Stay tuned!
Have a beautiful week!!
xoxo