Floral Decoupage Shelf Makeover
This post may contain affiliate links. Please see disclosures here.
This beautiful floral decoupage paper completely transformed this tired old shelf. The added hooks gave it even more function!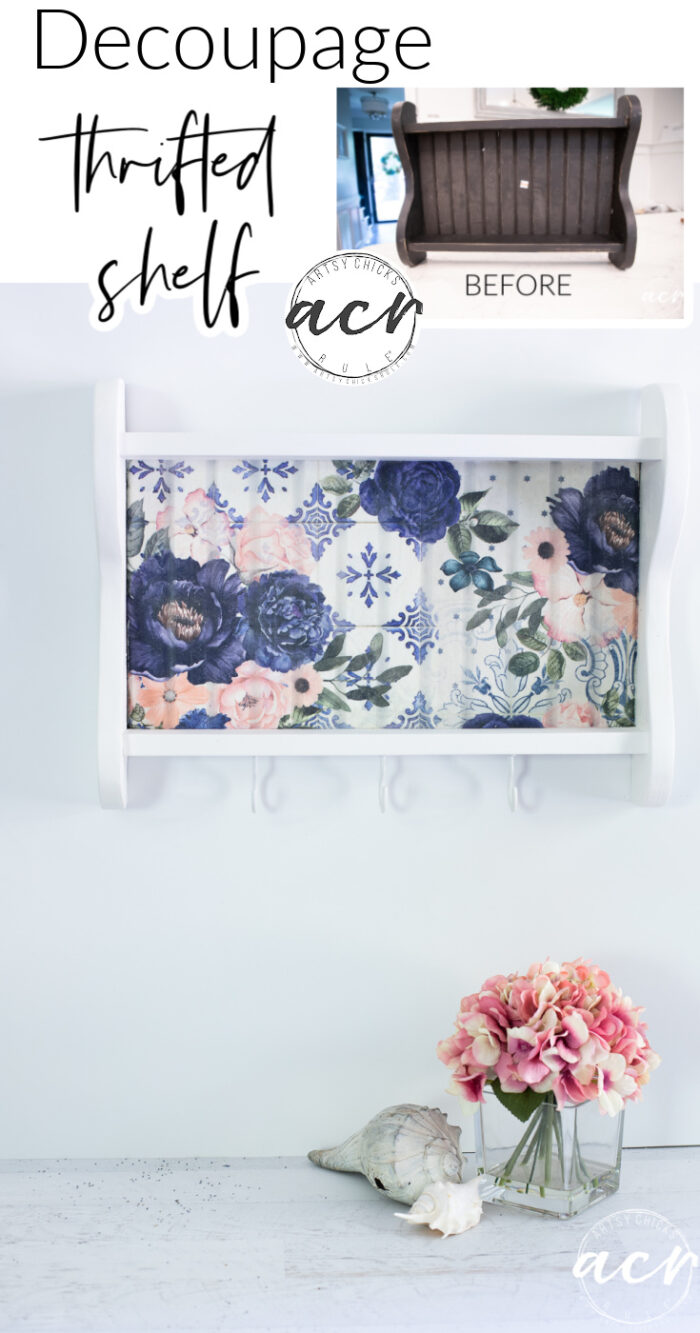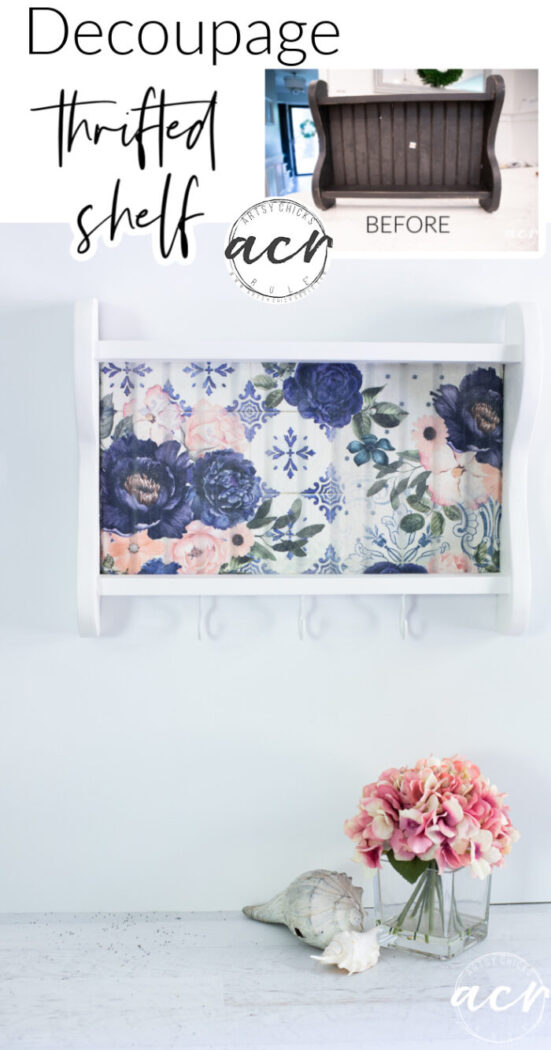 Hello friends!
How is your summer going? Rolling on by, isn't it? I sure wish it would slow down as I am not ready for fall (and winter…ugh!) yet.
If you follow along over on Instagram with me, you might have seen what we are up to now. Haha! Yes, we are indeed ripping out again. What? You thought we were done with our house?
Ha!! Always never done, right?
Well, here's the deal, we gave our hall bath a makeover very soon after moving in oh, 17 ish years ago. So, it was in need of another (a better one this time). So we are recoating our tub and pulling the plastic surround we put up (after removing old dated tile way back when) and I am going to do tile the walls as I did in our master shower.
Fun, fun!
Not really wanting to do it but we really hated to have to list our home with every other single thing fairly newly redone…except this bath. So here we are. ;)
Follow along here (if you aren't already) to keep up with us on that.
Today I am sharing a pretty floral makeover using decoupage. Decoupage is so fun and such a great way to completely change something up, besides paint, of course!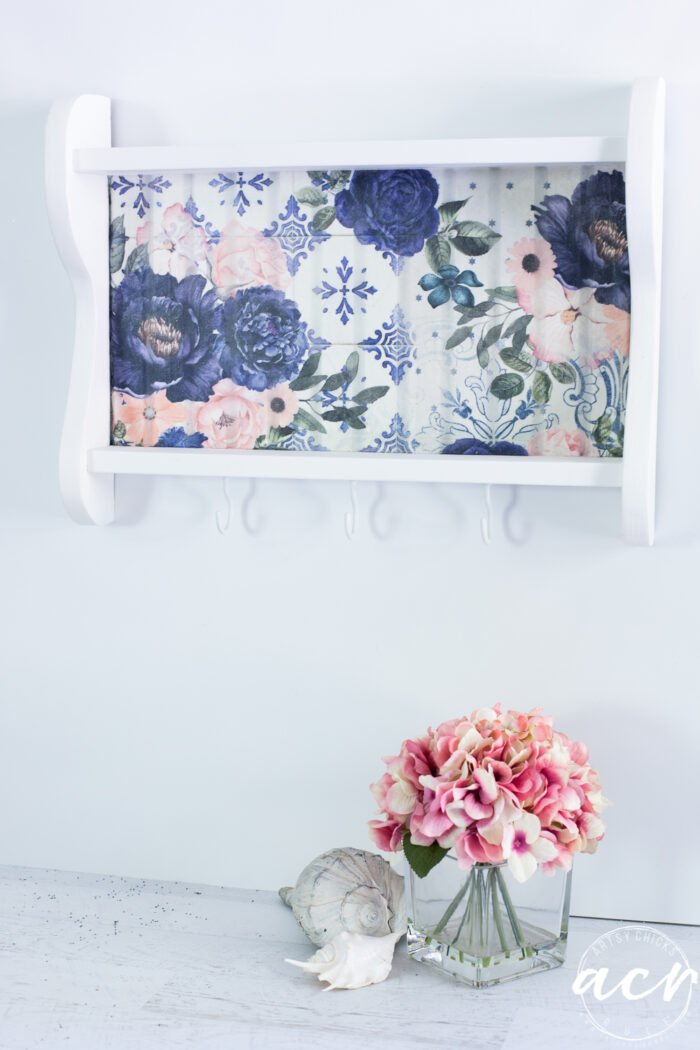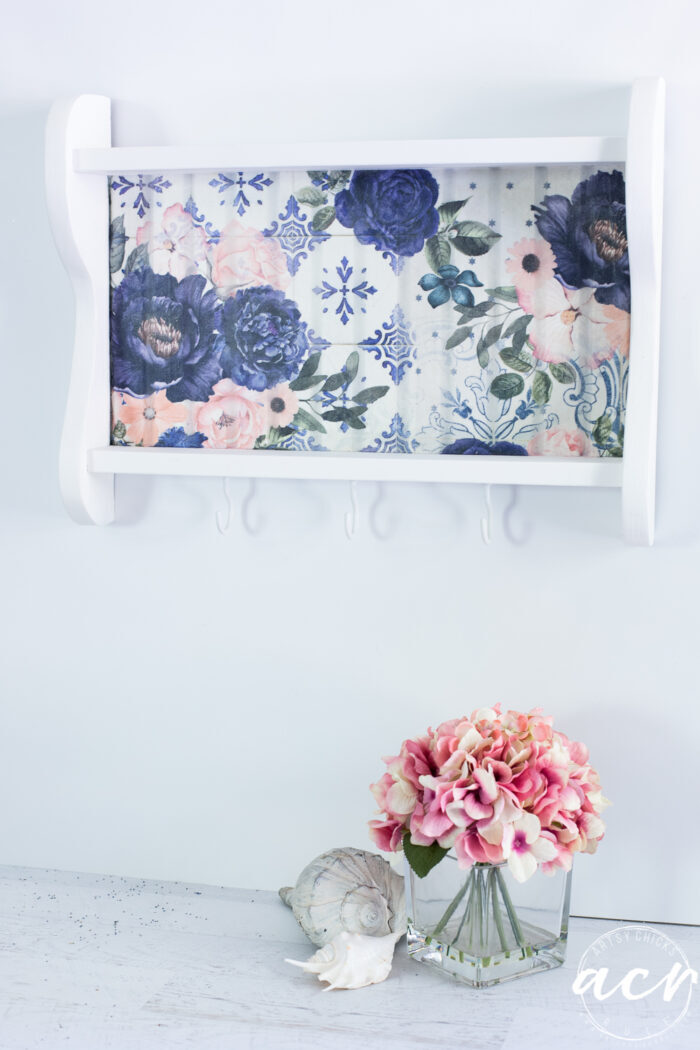 And it's Trash to Treasure Transformation Tuesday too.
So my friends are also sharing their goodies today too. So don't forget to scroll all the way to the bottom to see theirs.
My trash to treasure is this part of my latest haul…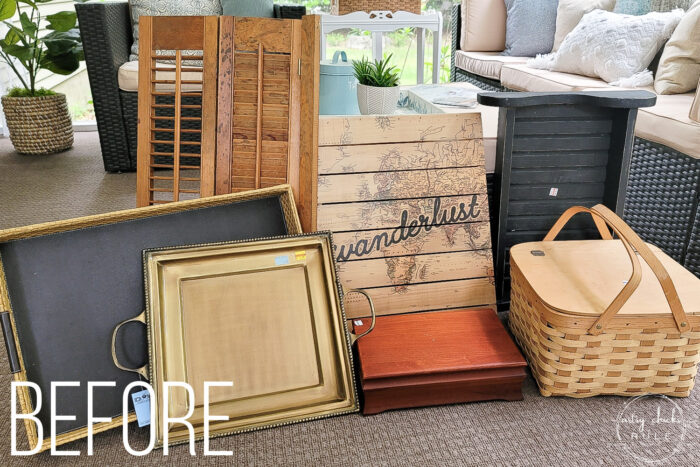 You can see the others I've completed from this haul here:
Floral Decoupage Shelf Makeover
And this shelf is the last of the bunch. (because I found out the basket is a collectible so I'm going to leave it as-is)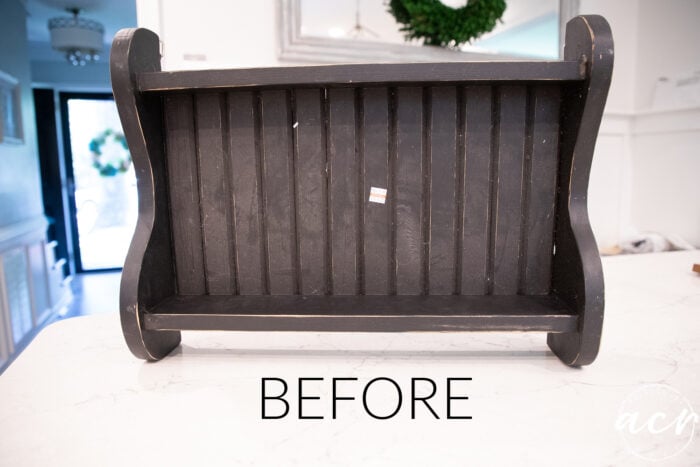 I considered several different options for this one. I had thought I'd do some "beachy" type wording on the slats then decided against it.
Next, I thought I'd paint it a deep rose color and use a pretty rose/cream tissue paper on the back.
I started down that path but wasn't loving it so switched gears. (I do that a lot don't I? haha)
So I sprayed it white with a satin finish white spray paint (any brand will do) and used this pretty blue tissue paper instead.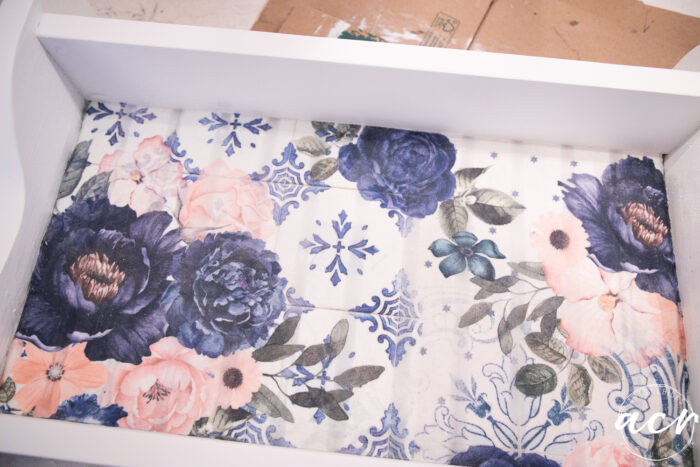 I thought I might try to push the decoupage "fabric" down into those slats but it wasn't working well so I just went straight across instead.
I used Mod Podge underneath and on top to seal it.
Here's all the things I used for this project:
Simple!
Next, I added the white hooks on the bottom to hang these, as desired.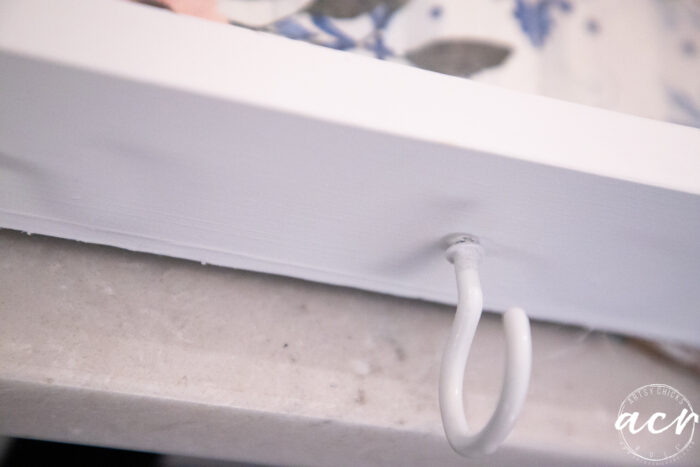 And that's it! Done!
It'd be pretty in a girl's room to hold here perfumes (top shelf), earrings/rings (bottom shelf), and necklaces/bracelets (hooks).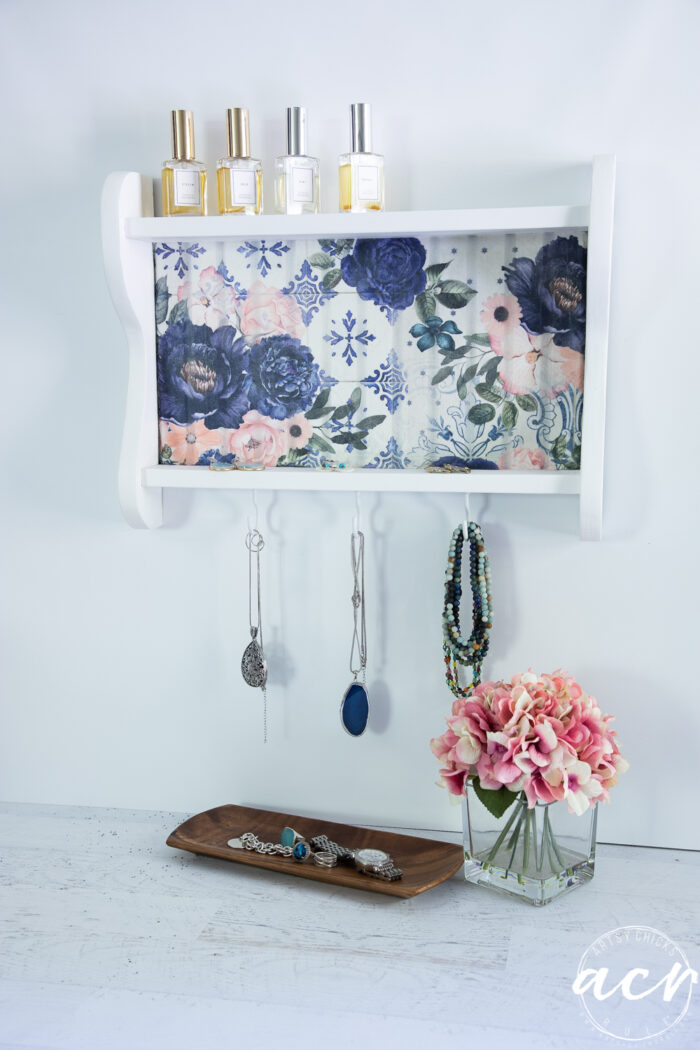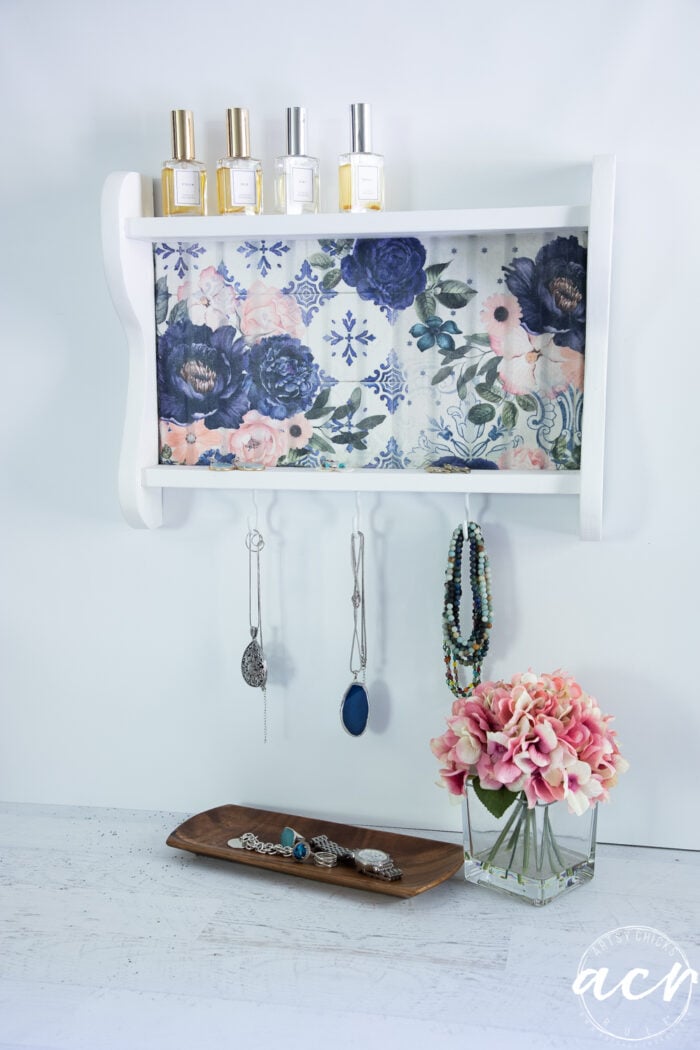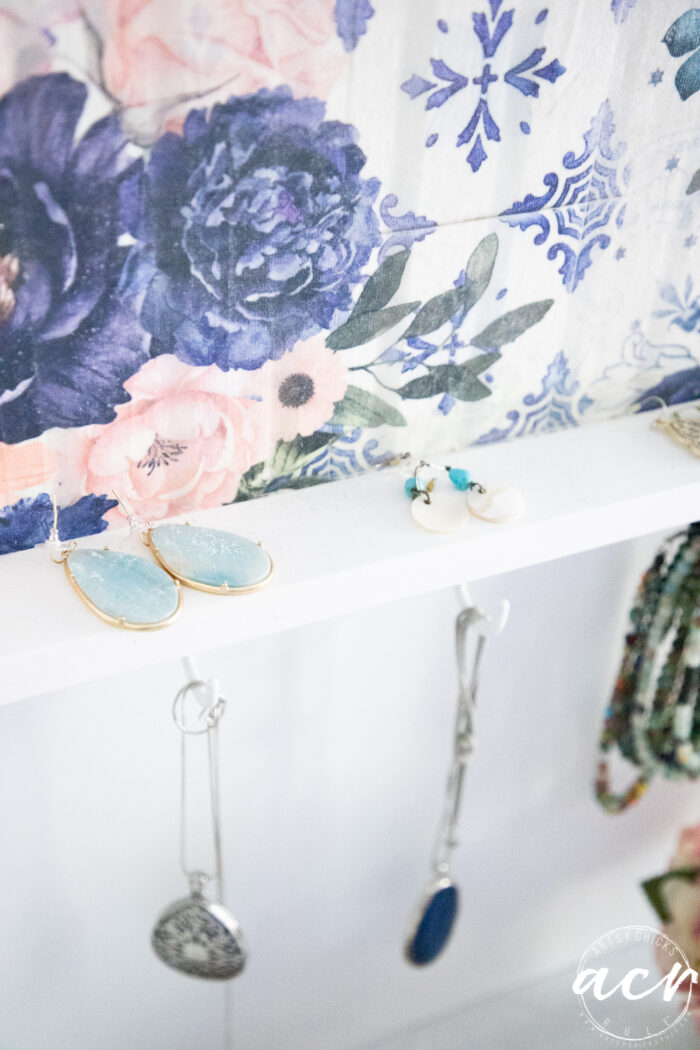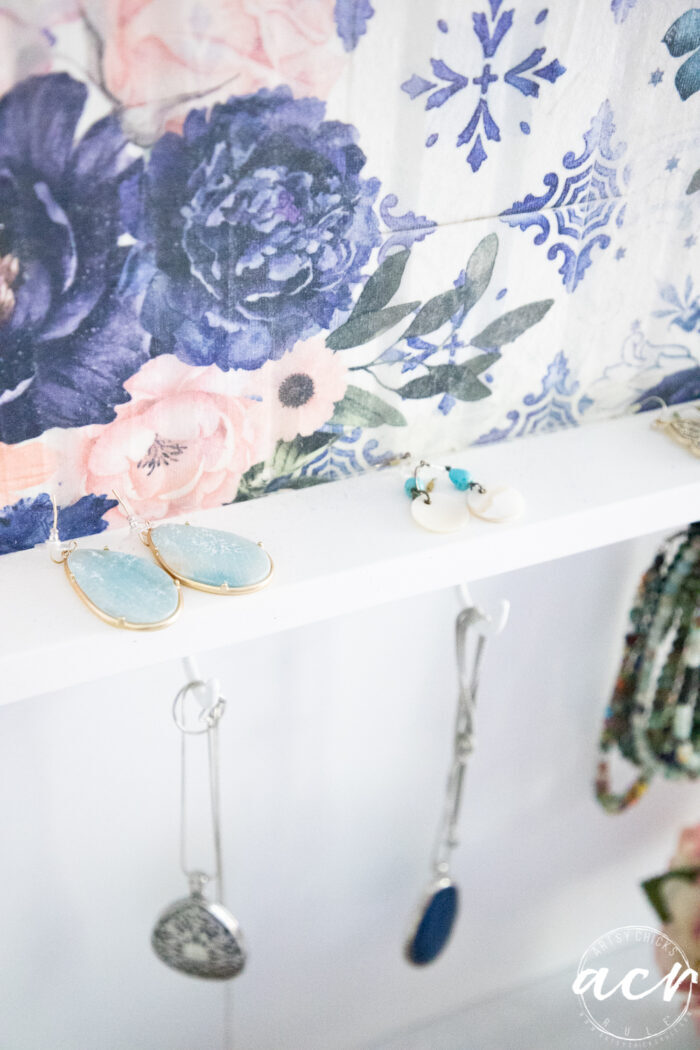 By the way, this decoupage paper is really a little more like fabric and along with the Mod Podge, is actually pretty stiff.
I say that to let you know in case if anyone was wondering about the spaces behind the paper where the slats are. It is very sturdy and does not dip in at all.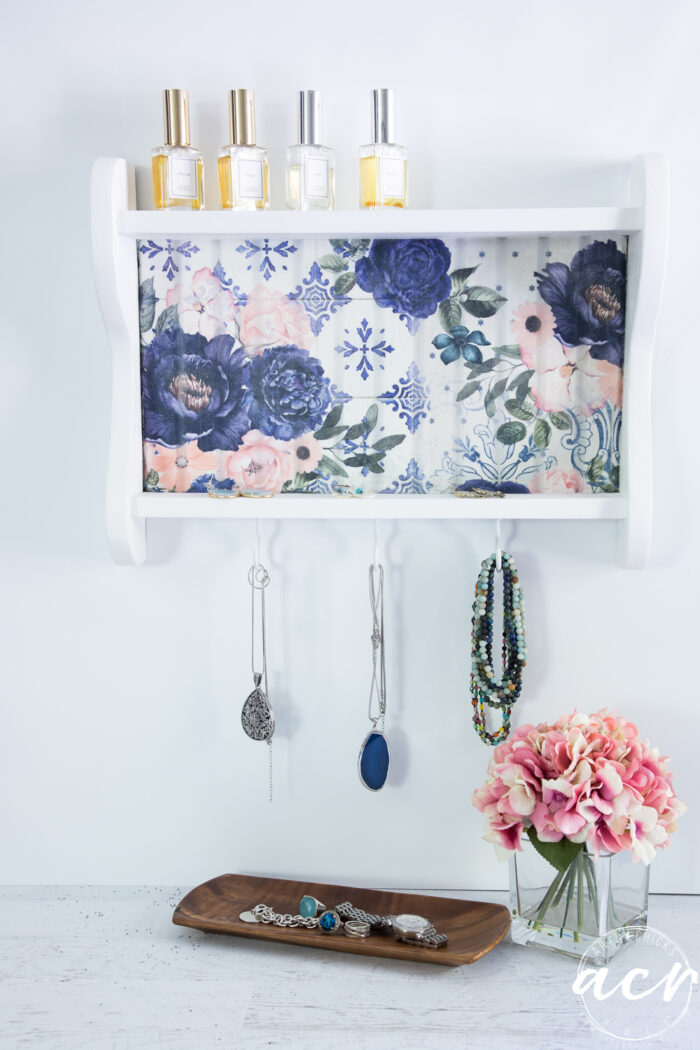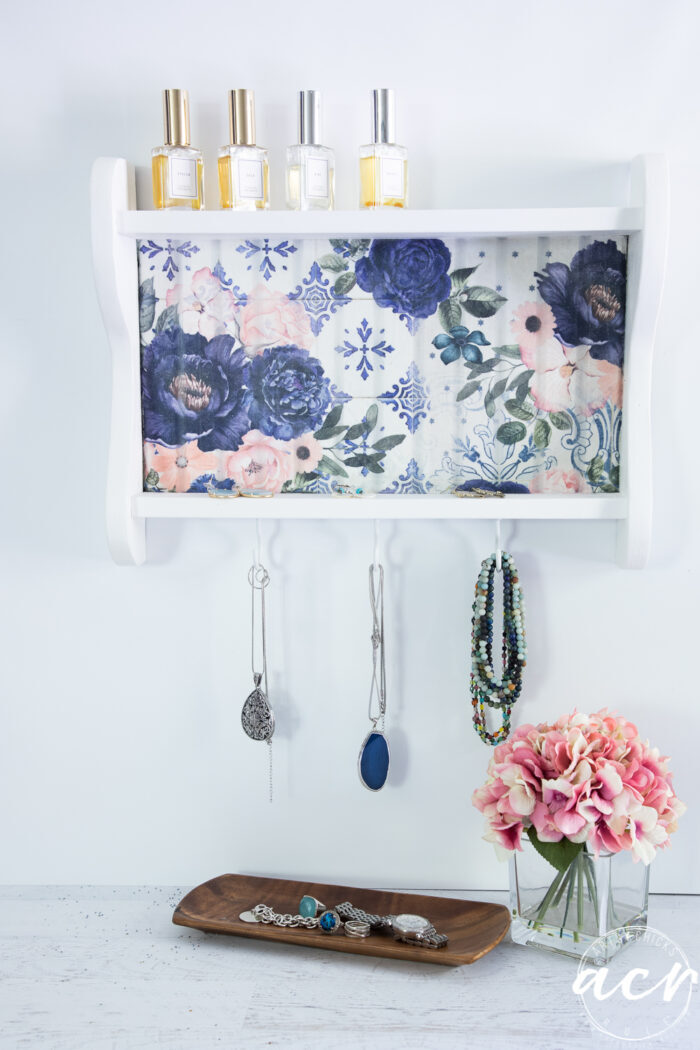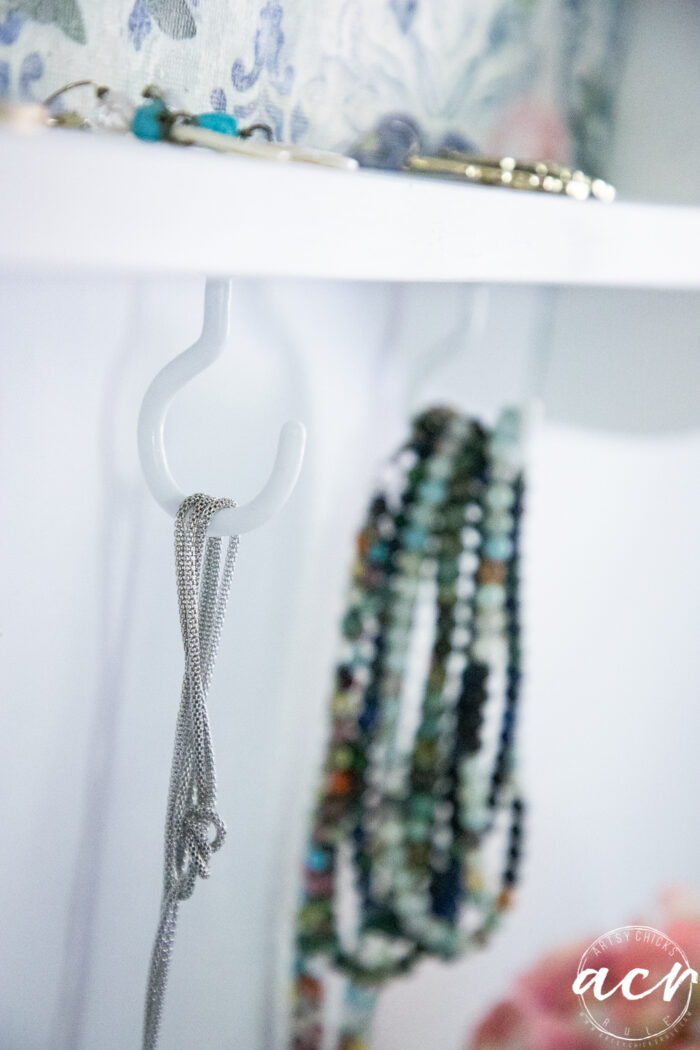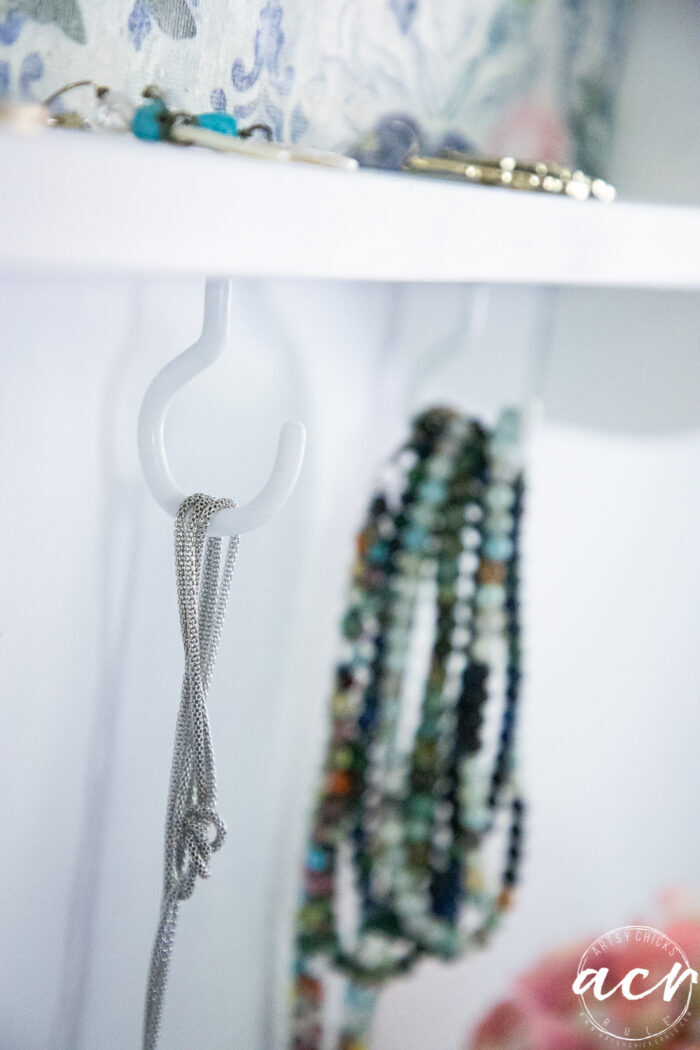 It doesn't have to be used for jewelry, it can be used for scarves, keys or anything really.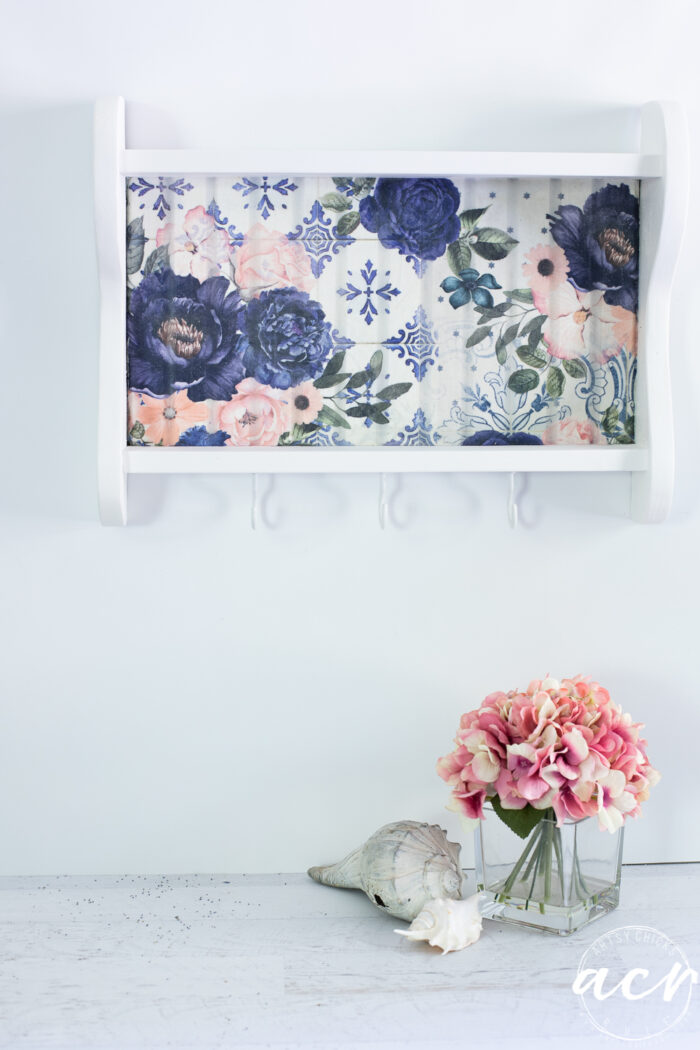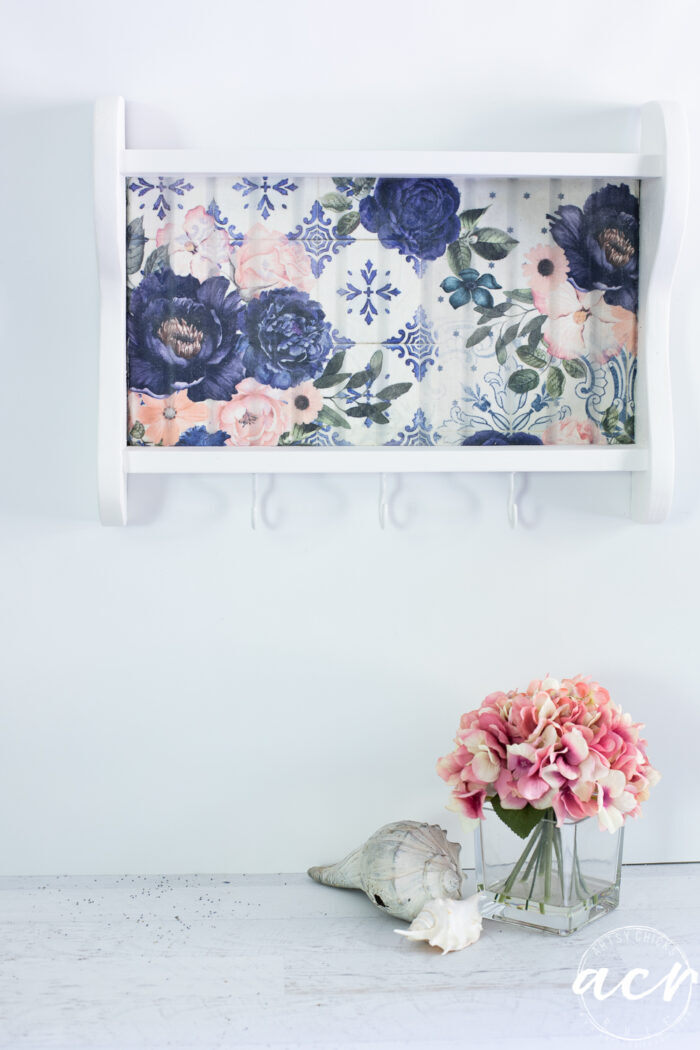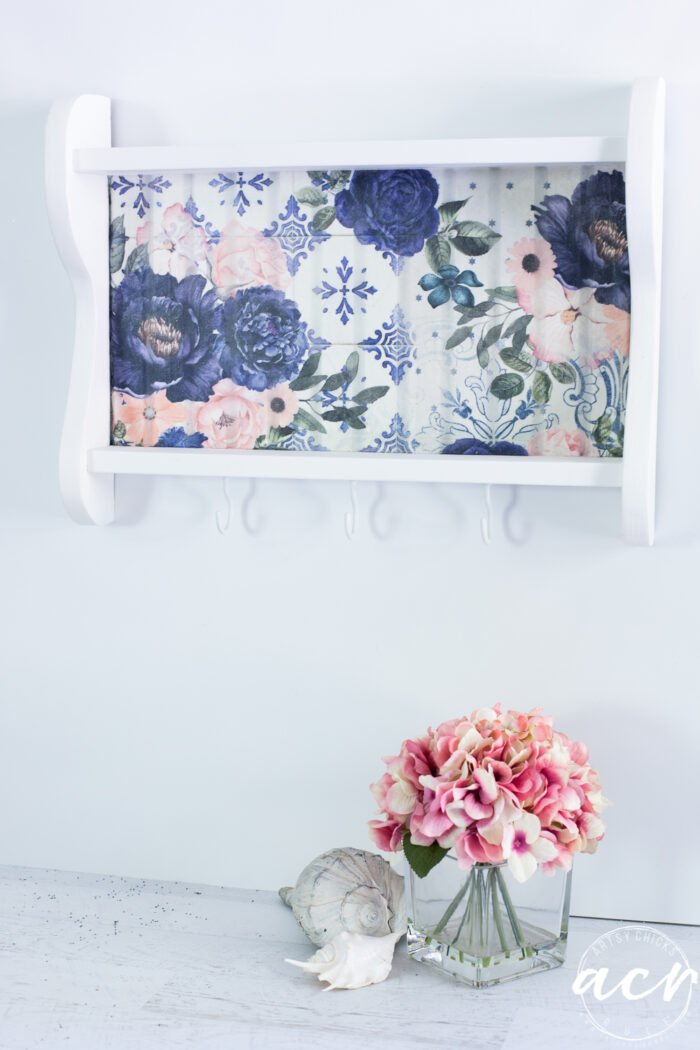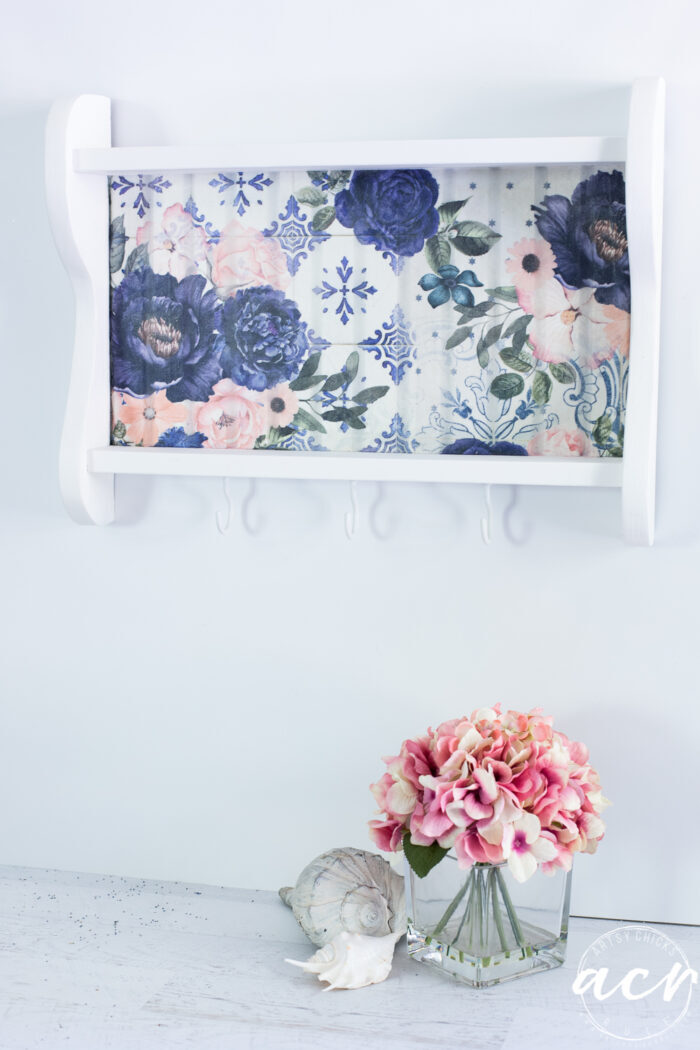 Completely different look though, huh?
PIN it to save it!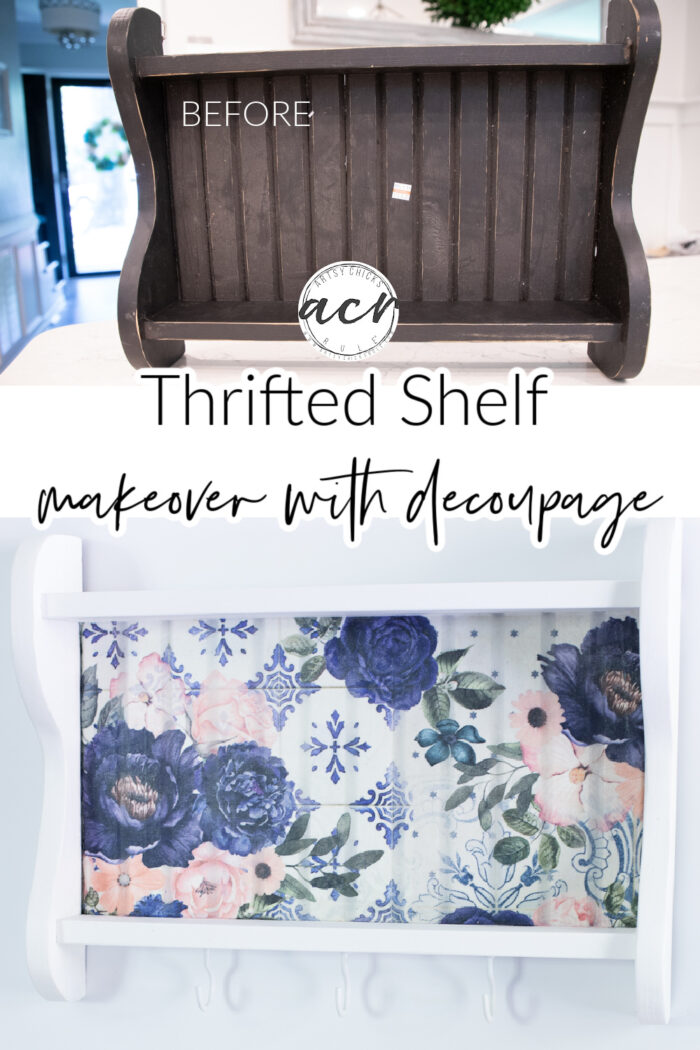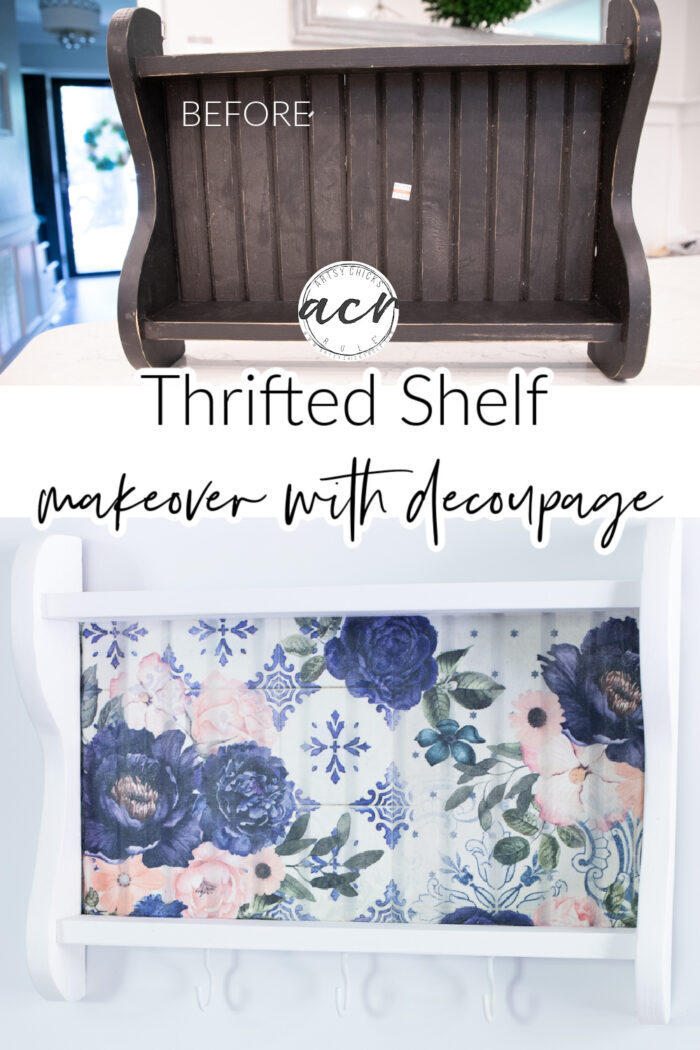 Don't forget to hop on over and visit my friends too!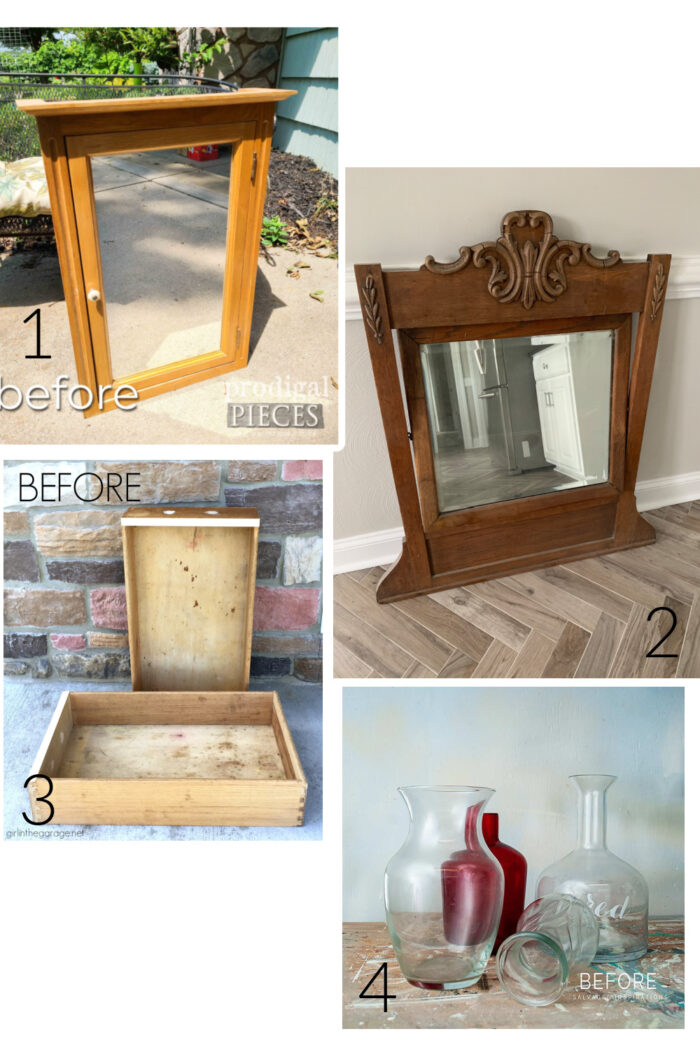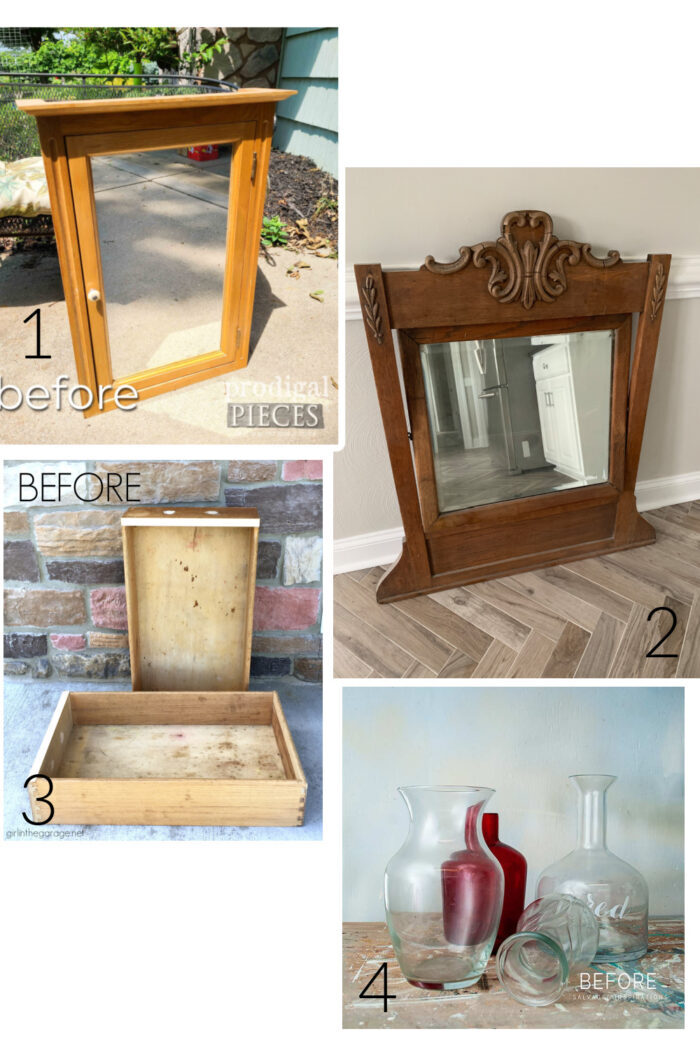 ………………………………………………………………………………………
Have a wonderful week, friends!
See you on Thursday!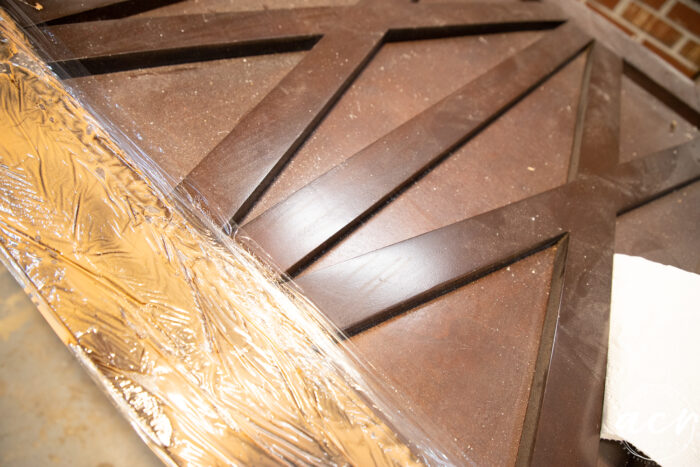 UPDATE!! See it now here!
xoxo