Cozy Christmas Living Room (and laundry!)
This post may contain affiliate links. Please see disclosures here.
Create a cozy Christmas living room (and home) with sweet, sentimental touches, pops of red, cozy throws, and pillows!
Wow, has this month flown by, or what?
Are you all ready for the holidays?? I am just about done and have only a few more presents to wrap, yippee!
We've been hard at work on our home now that the flooring is done at the beach condo. We still have some work to finish up over there but we are taking a much-needed break.
Ha! But spending the time working on our main home instead.
We are finishing up our windows finally. I am SO thrilled about that. If you follow along over on Instagram you may have seen me post about that the other day. I shared the big picture window (and 2 smaller side windows) that we were replacing that day (in the dining room). That one was a little more work since we were changing out a stationary window and changing the size of what was going back in (with 3 moving windows). So not a simple pull out and replace. But my hubby is the man. lol He did a great job, as usual!
We are hoping to finish up on the last few things around here so we can start looking for a new home again. If you've been around here awhile, you might remember we were planning to try to move several years ago now. Unfortunately, we needed to finish up some of the remodel work, etc, (like the master bath and windows, etc) and really couldn't until that was done. Well…we are almost there! So the search will be on again. YIPPEE!
While my husband was working on the windows, I was going through all of our closets/cabinets, etc., and purging/organizing. So hopefully once we get on with the move it will be so much easier since I've gone through everything already. All that will need to be done is pack.
The garage is next on our list for purging/organizing! Ugh, not looking forward to doing it but can't wait to have it done.
Yes, we will be sad to move from here because this is where our kids mostly grew up and the house we've lived in the longest, so it will be tough. But we are both ready for a change…and some one-story living! lol
…………………………………………………………………………………………………
So this is why I didn't really go all out for Christmas this year decor-wise. I was honestly just tired from the weekend warrior living we had been doing since Sept. But you know me, I started pulling stuff out and I couldn't help myself. More came out than I had planned. But I did keep it mostly simple because I still have boxes and boxes of decor I didn't use.
And I have 4 trees but only put up 2. Well, I had only put up one…in the morning room. Then moved (while decorated…only me!!) to the living room. Then it felt like the morning room was sad and empty so I got my hubby to pull down the small, skinny tree and I decorated that for the morning room.
A day in the life with me! haha
I had planned one post for this but I ended up taking more than I thought I had to take. So, I'll be sharing the living room and laundry today and the kitchen, dining, foyer on Sunday.
I was feeling like creating a cozy Christmas living room (and home) this year. Not necessarily one that was "magazine worthy" so it might not be too exciting this year. ;) But I really feel like I needed to just relax and enjoy instead. It's been a year…as you well know! We all need a little cozy, happy, feel-good right now.
Cozy Christmas Living Room (and more)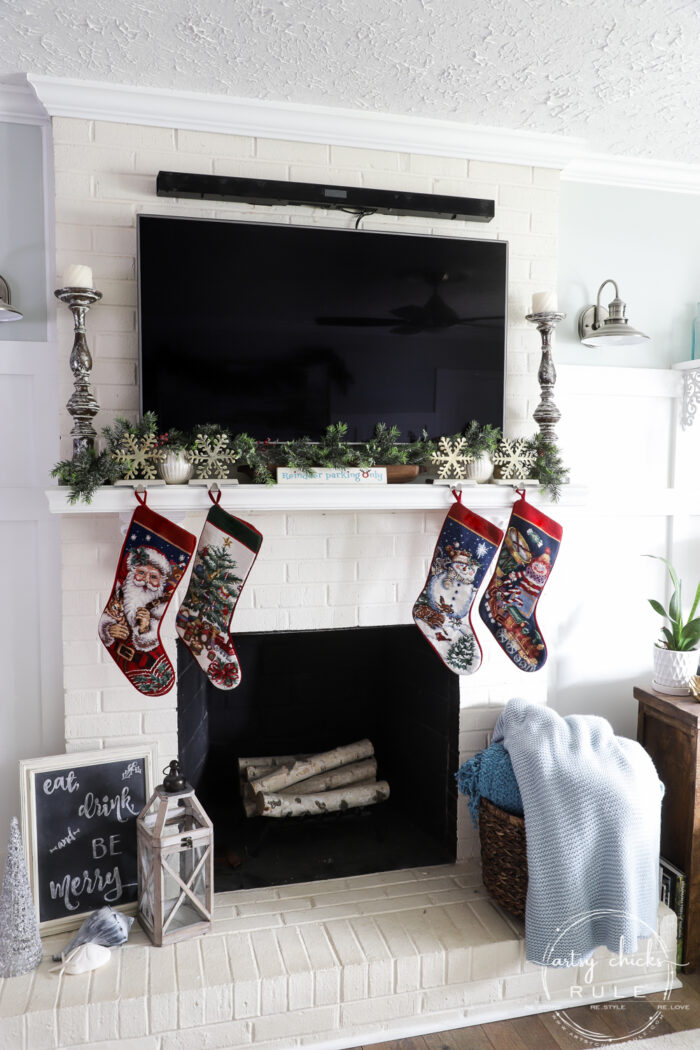 I even pulled out our old stockings that we've had for forever. I haven't used these for some years opting for "prettier" ones but my kids love these. And they just exude cozy Christmas to me.
The "eat, drink and be merry" chalkboard sign I recently shared again with you all. Somehow I have managed to keep that chalk art on there without messing it up all these years. Careful packing, I suppose.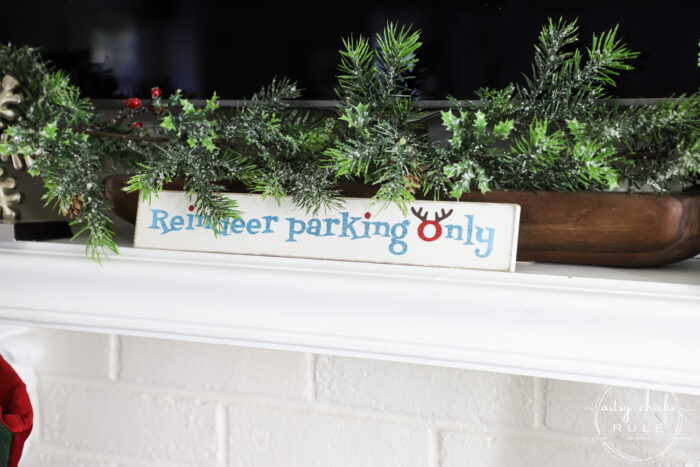 And hello, Santa! I have to have him up to watch over us and remind us to "believe", right?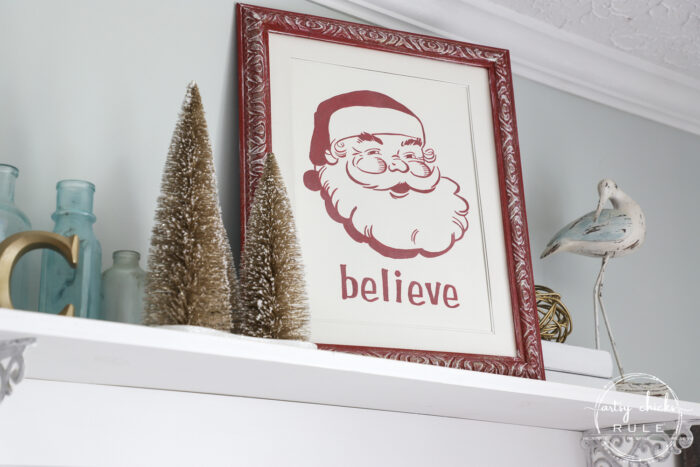 Lots of red in most of our rooms for that very cozy Christmas feel.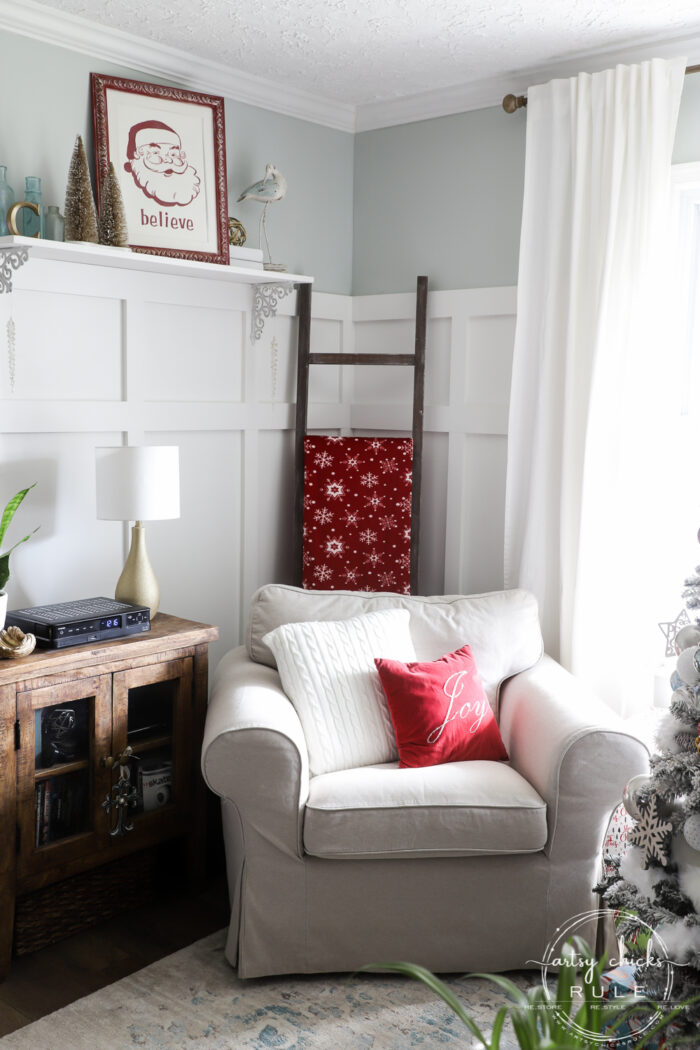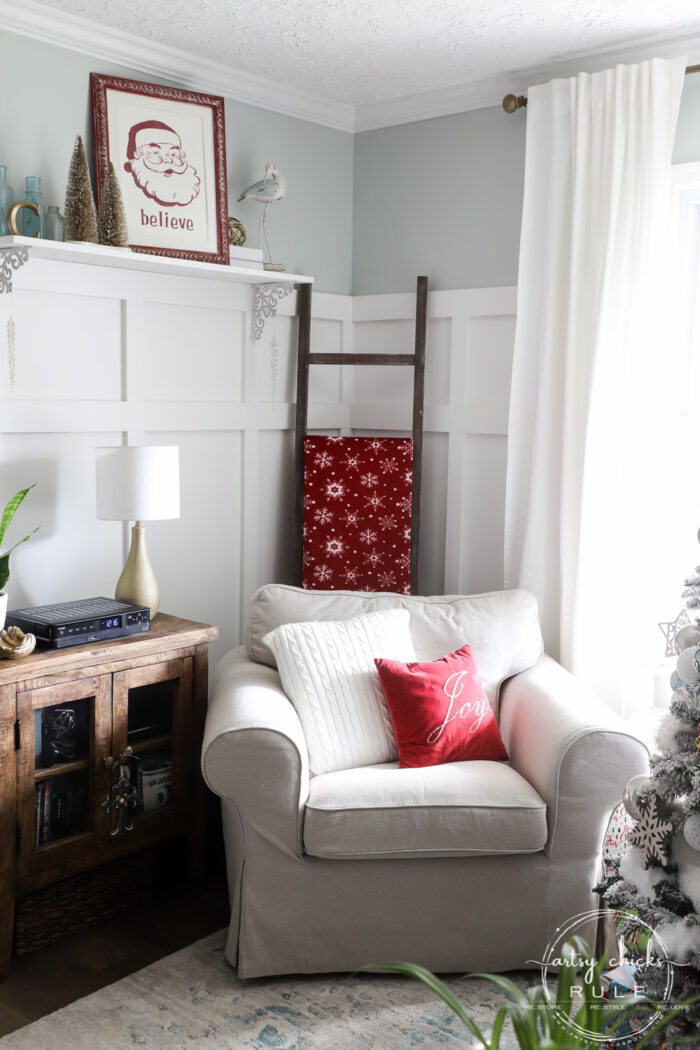 Sweater pillow covers, here.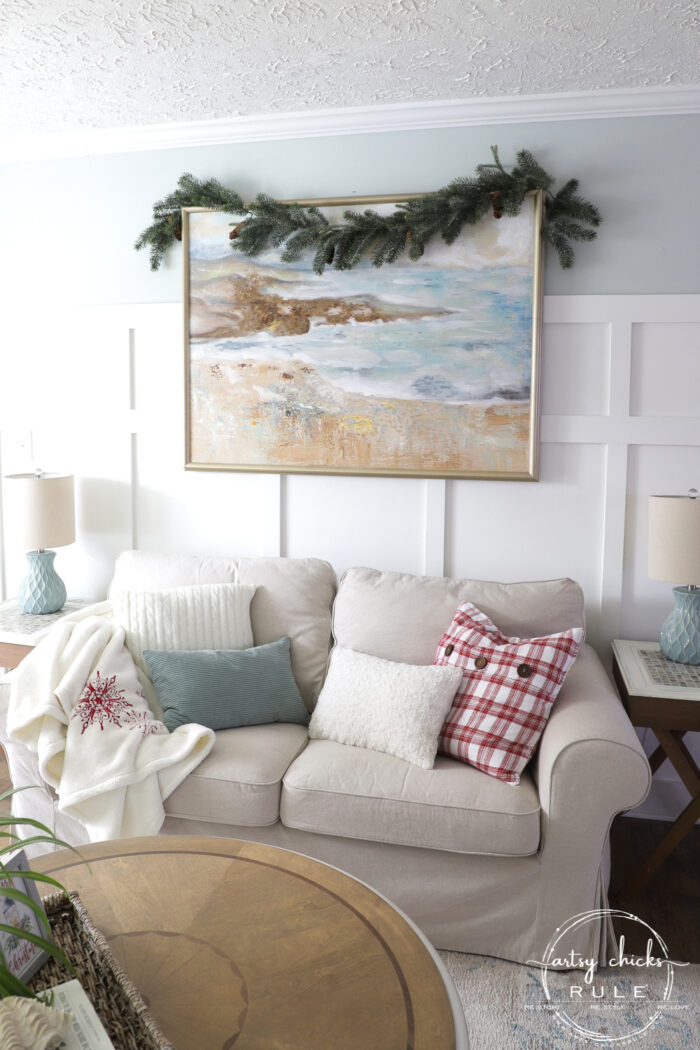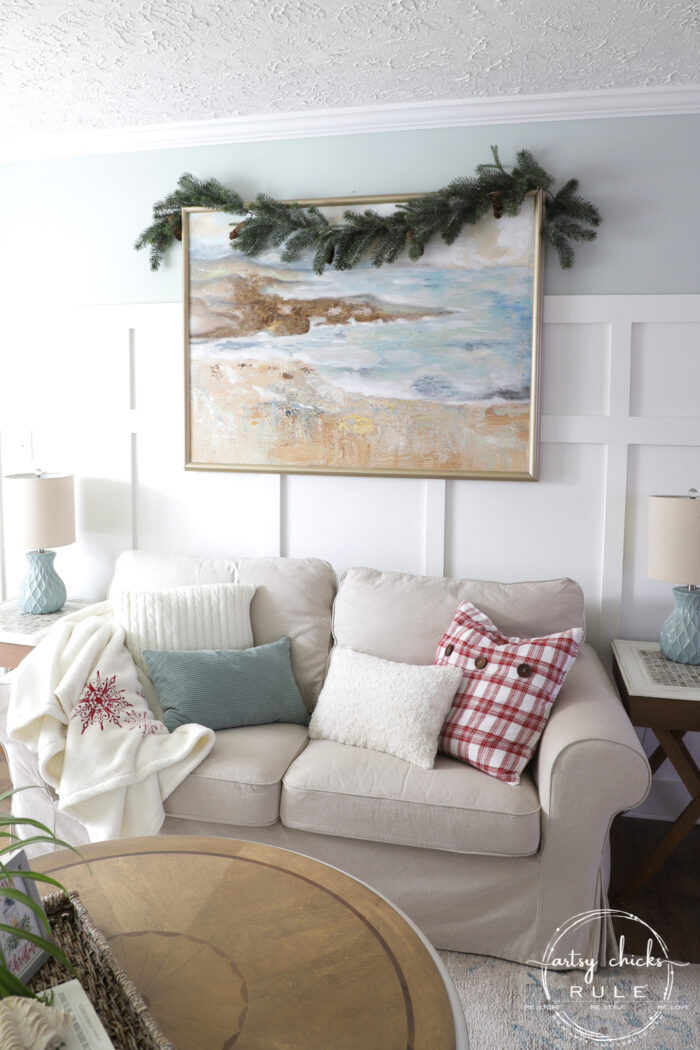 Super soft, fuzzy pillow covers, here.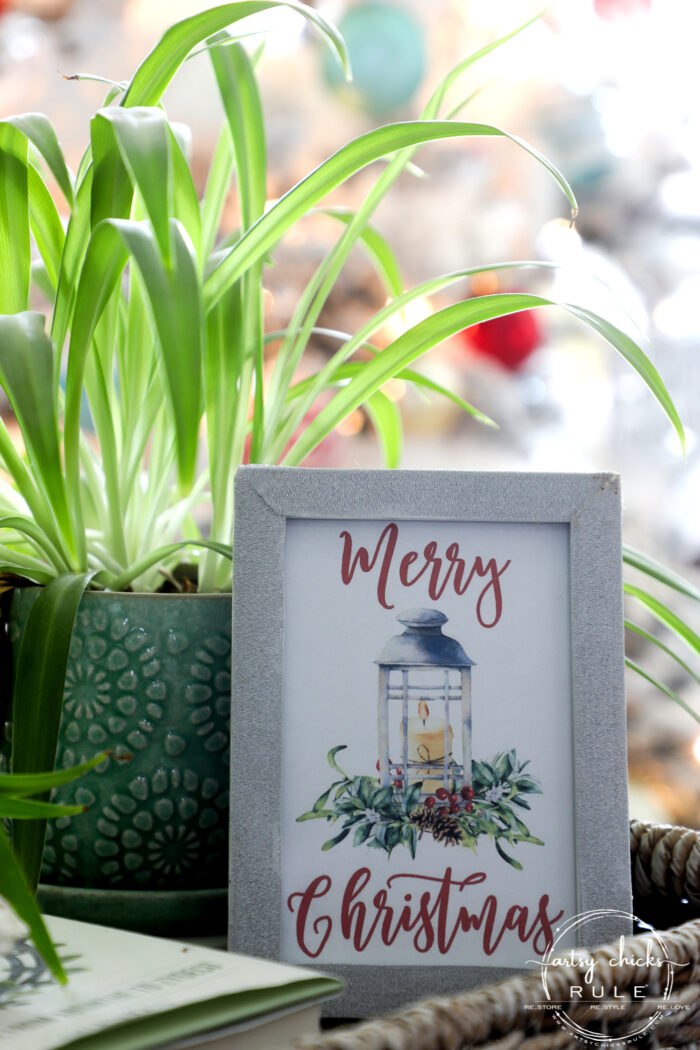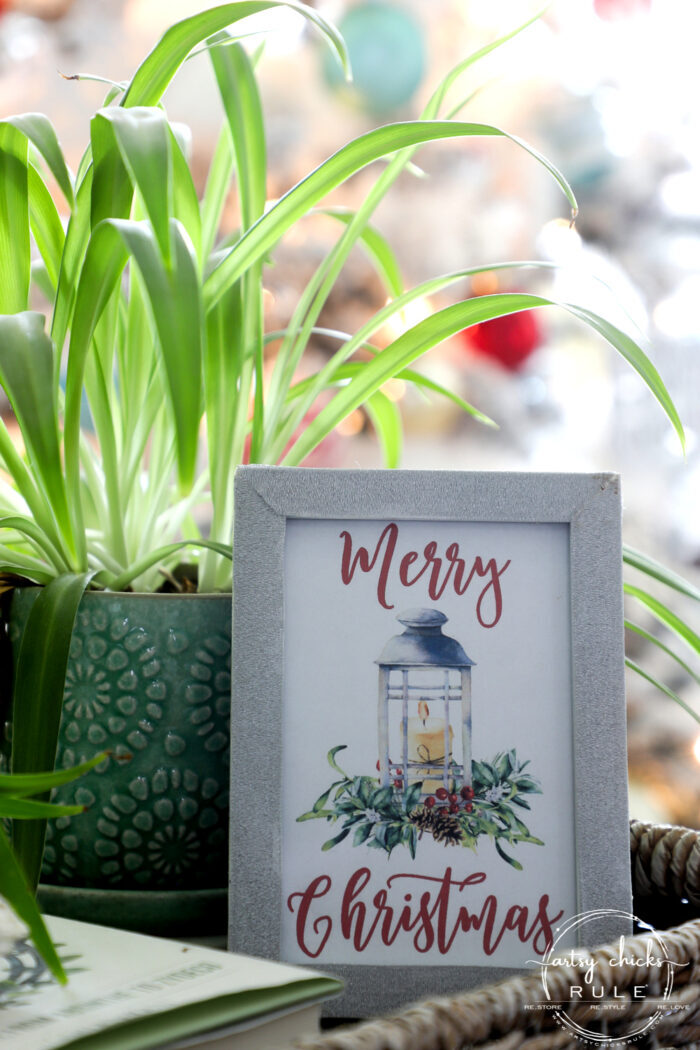 And this "Merry Christmas" printable I made for you guys a couple of years ago.
I usually have a "traditional red" room, blue and gold and then white.
Since I wasn't putting up all the trees this year I just kind of used whatever I felt like on this tree.
And of course with my snowy white additions. (see all the ways to add "snow" here)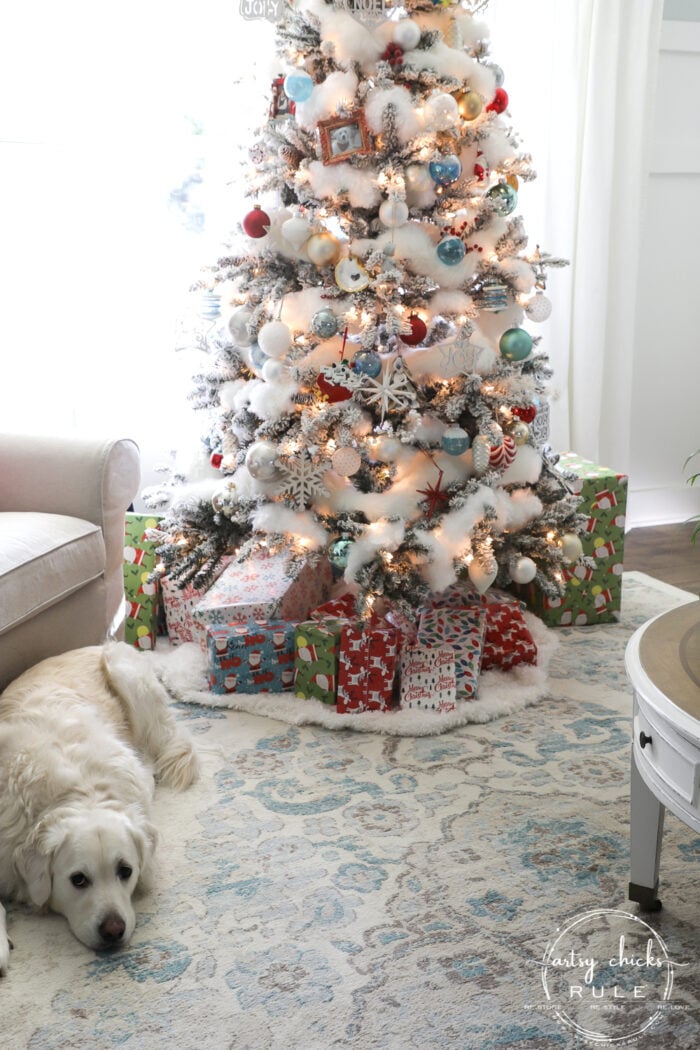 Oh hey, Ryder. Love you, sweet pup.
You can find our area rug, here.
Love this one.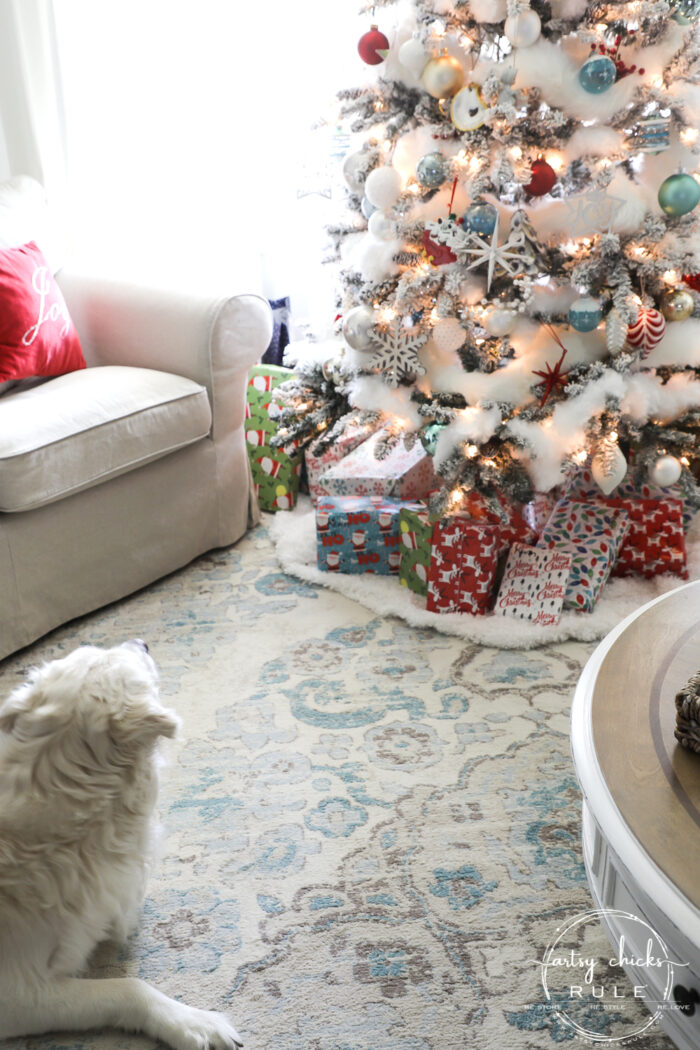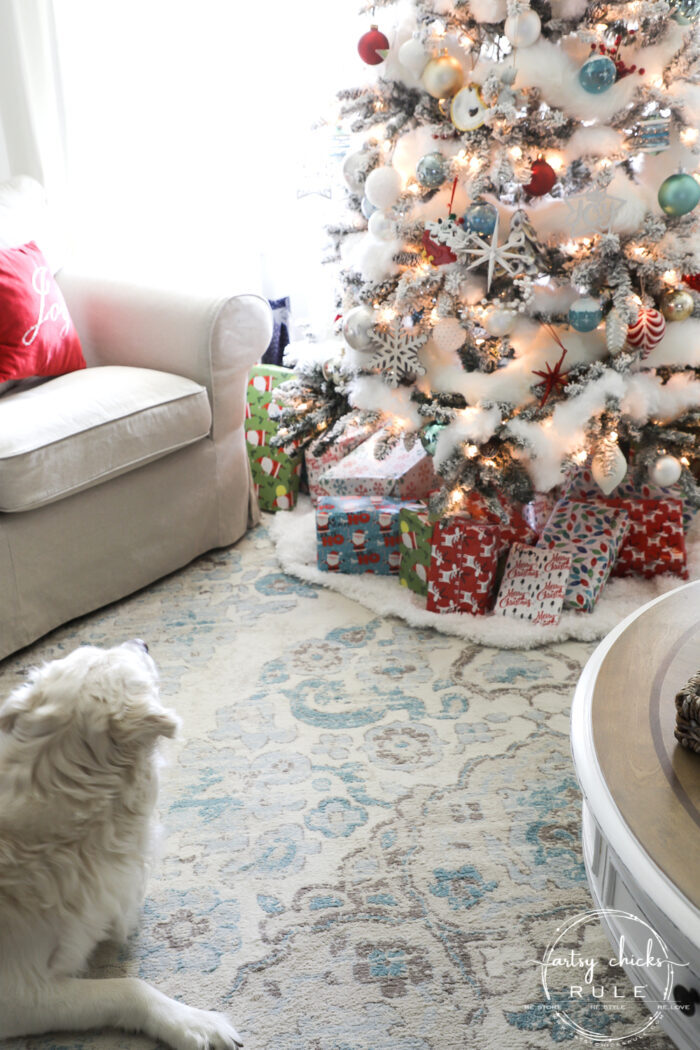 Looks like he is gazing at the tree. (truth…Daddy is knocking on the window outside, lol)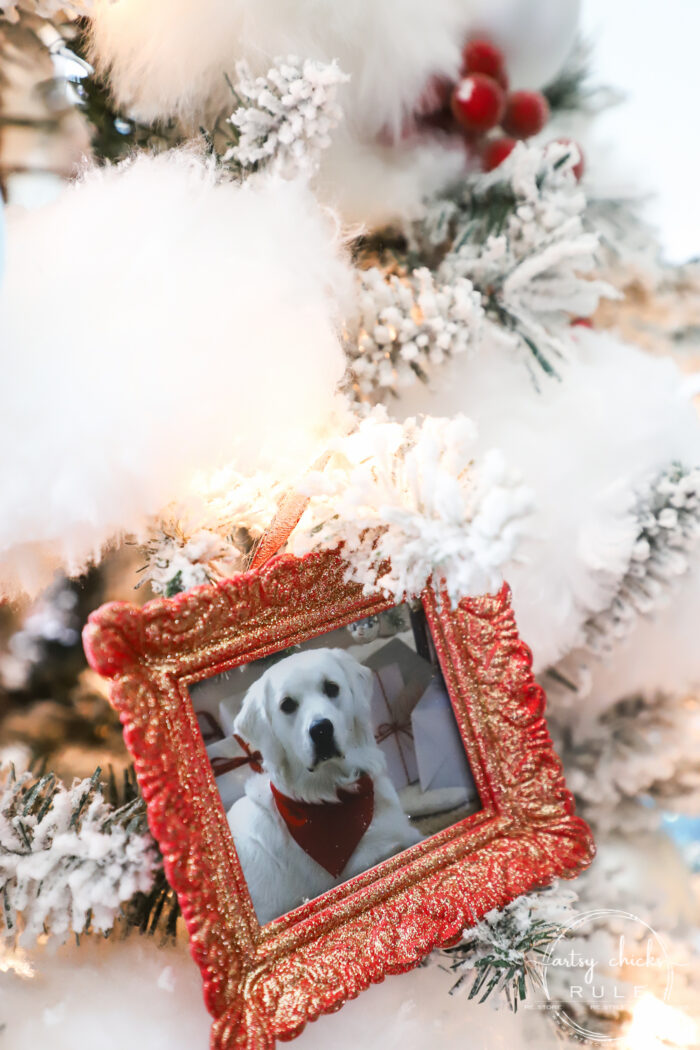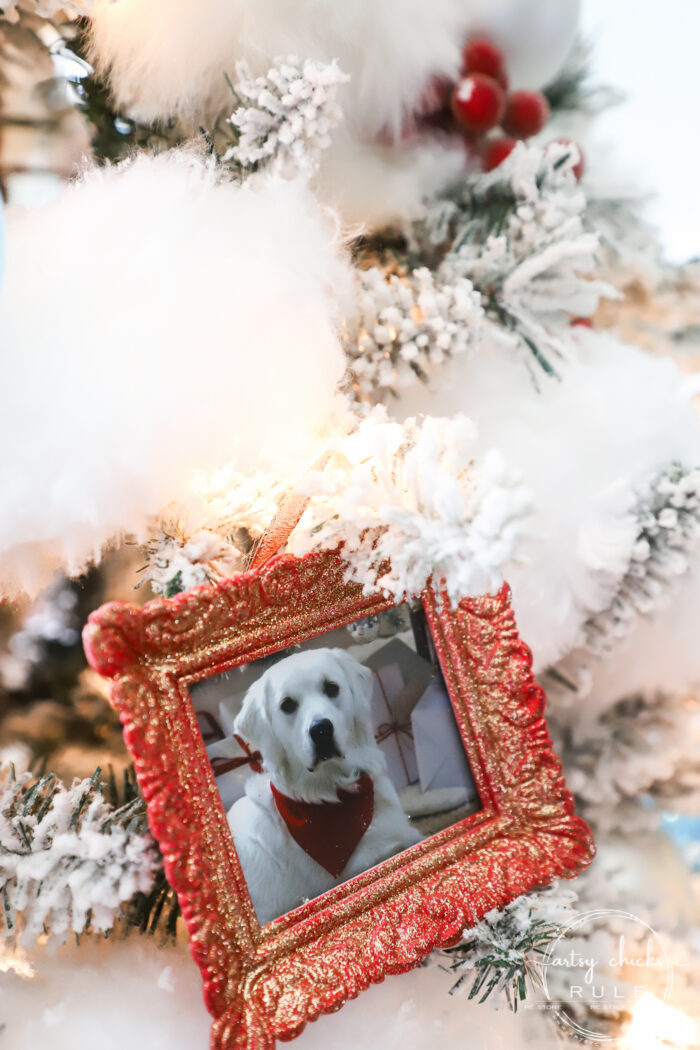 This is one of the "Christmas card art" I made one year. It's actually a Christmas card I sent out that I turned into this little ornament. I shared all kinds of things you can make using old Christmas cards (they are too pretty not to!) in this post, here.
Plus added some very sentimental ones too…like this popsicle stick Christmas tree…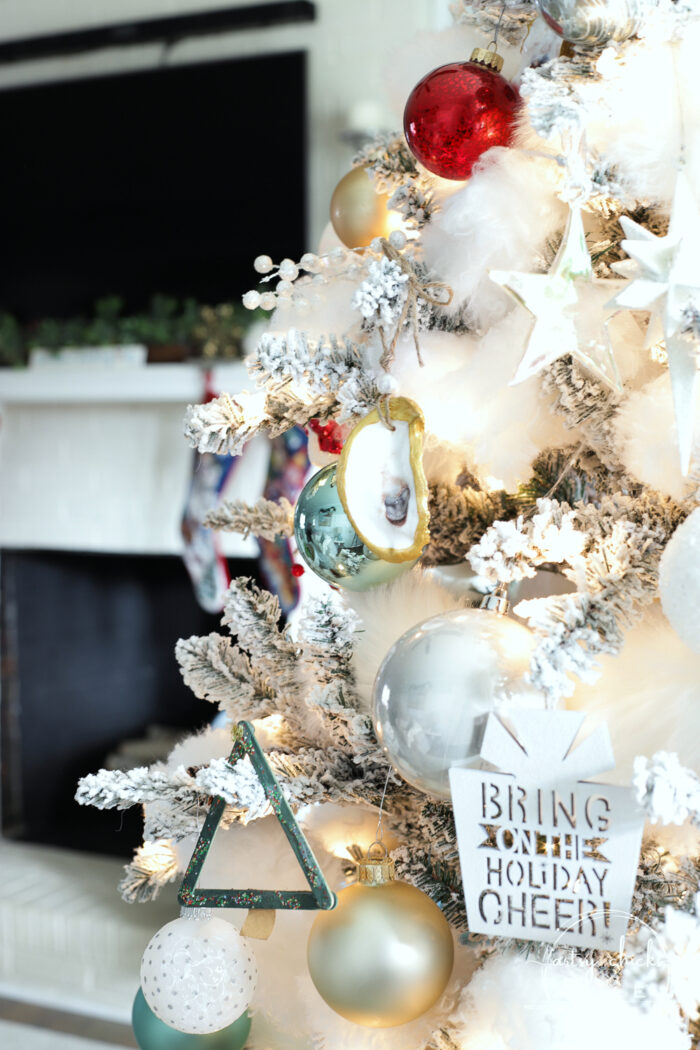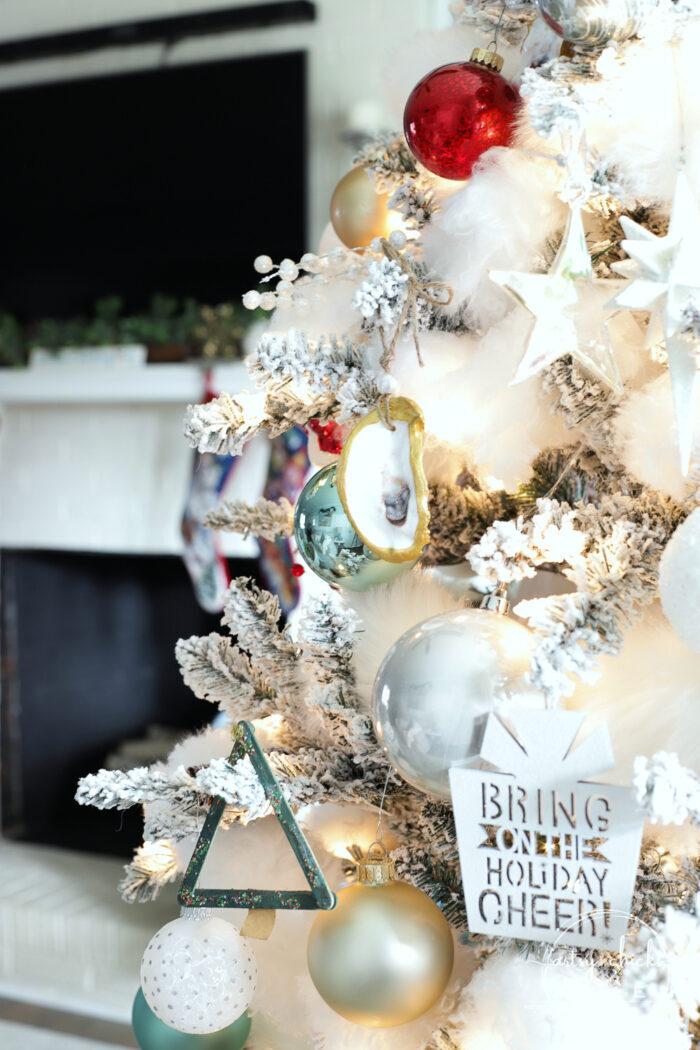 And our now one-eyed lightbulb Rudolf my son made one year…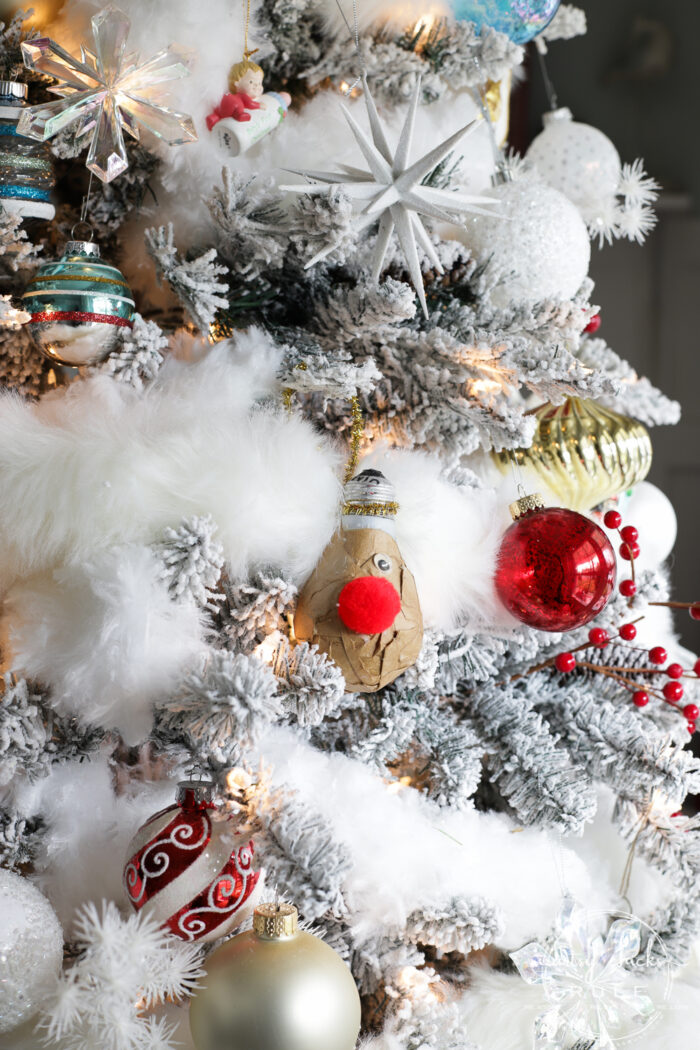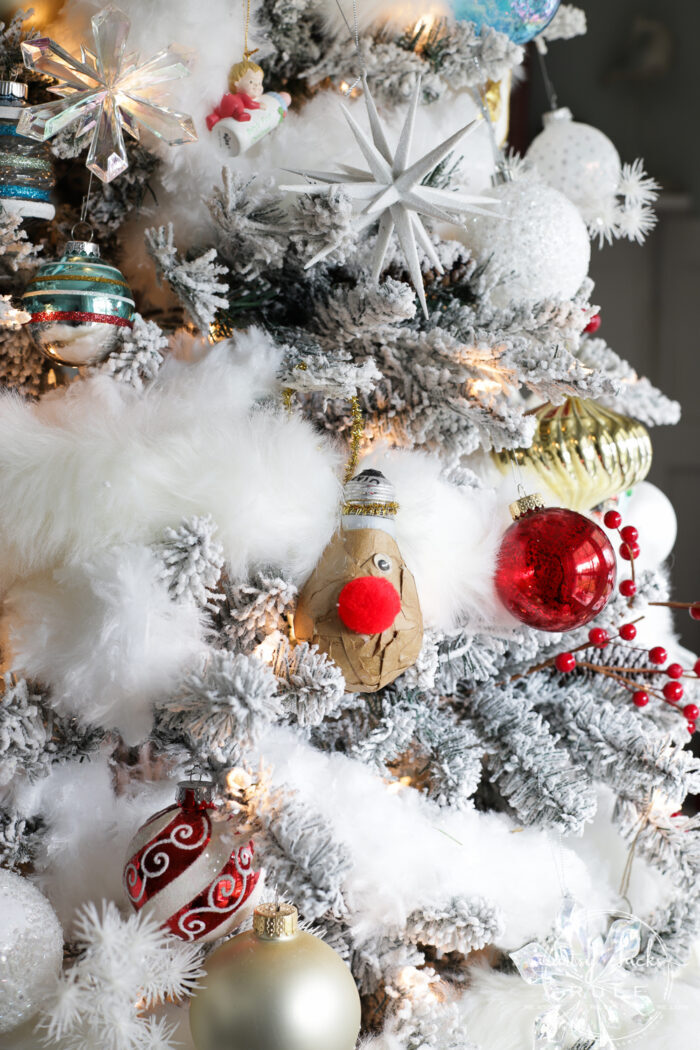 But he's still hanging in there, one eye and all! haha
And of course, my two babies who are now grown. (goes so fast)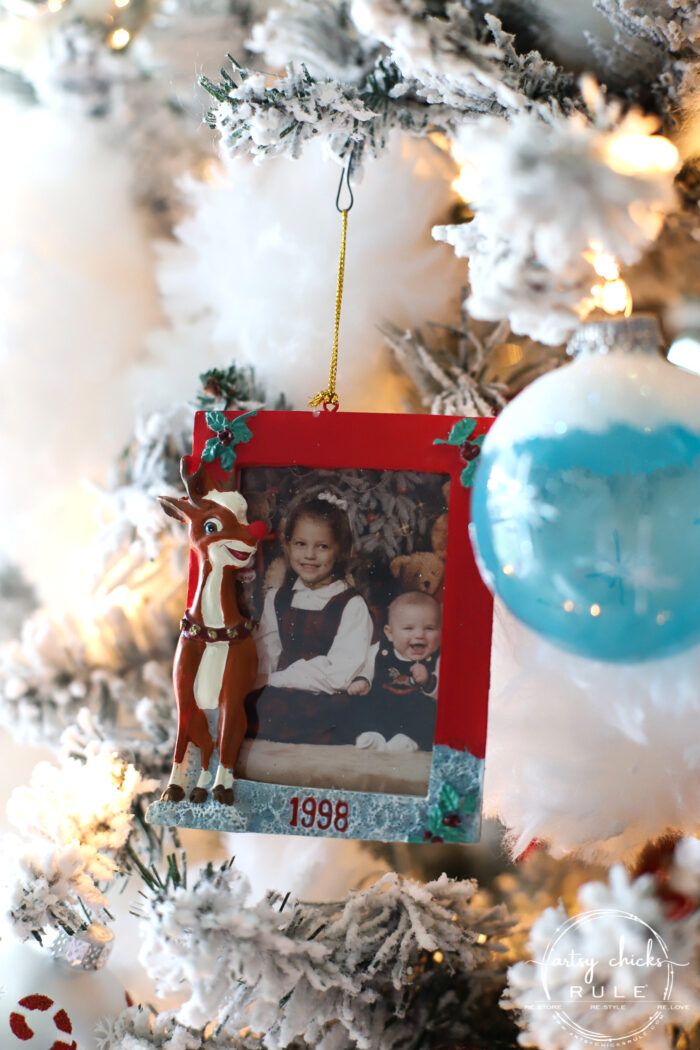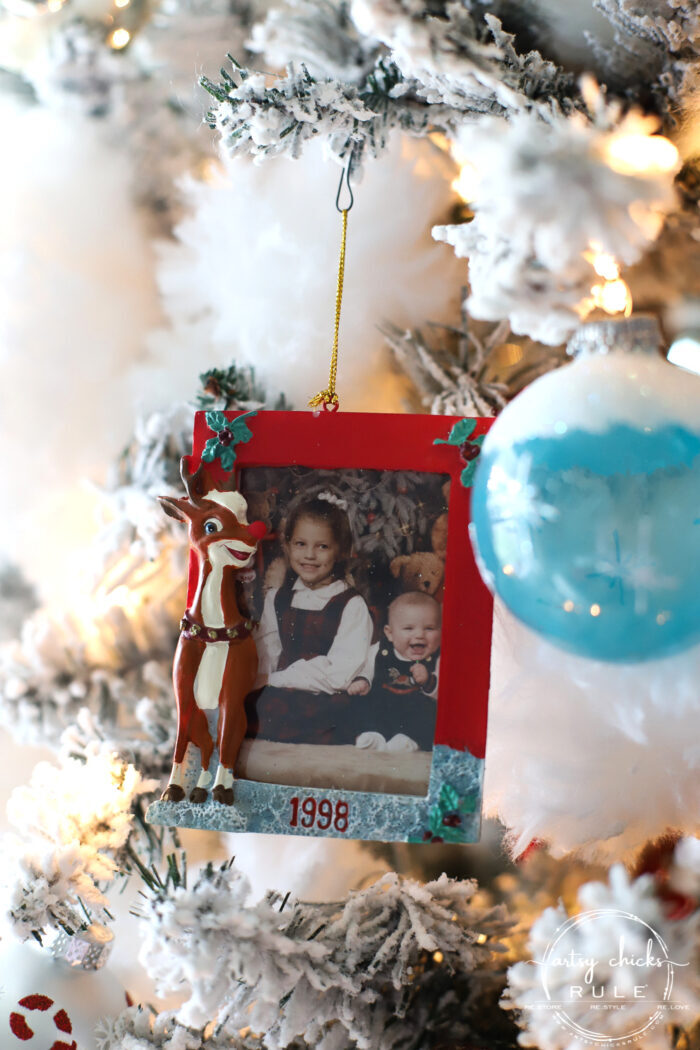 Treasure every single moment! You'll look back and wonder where the time went.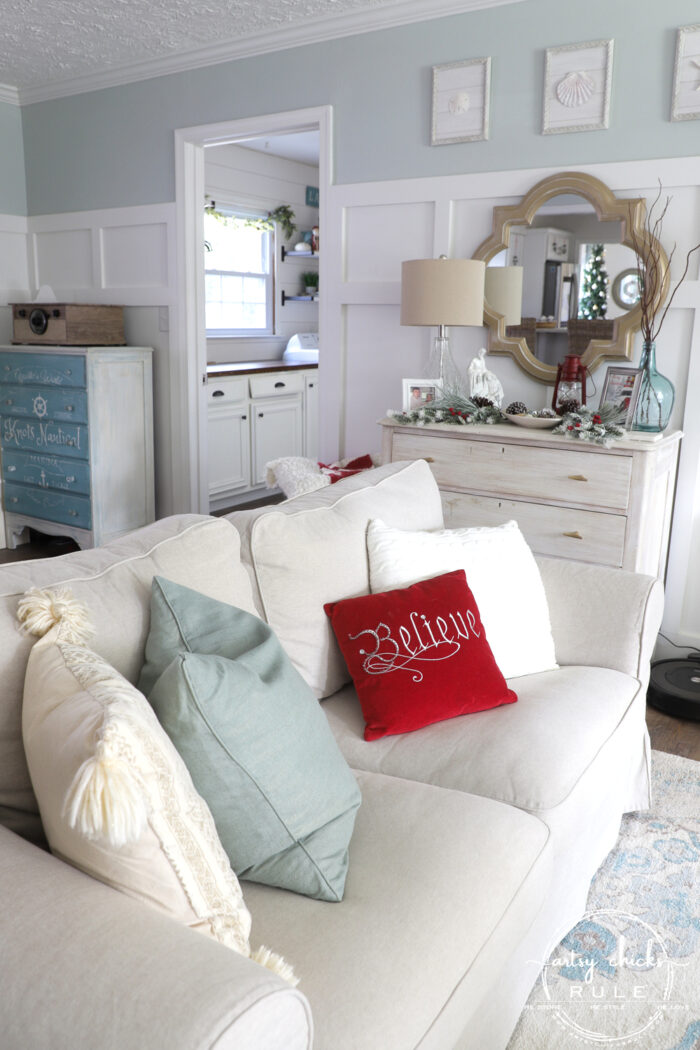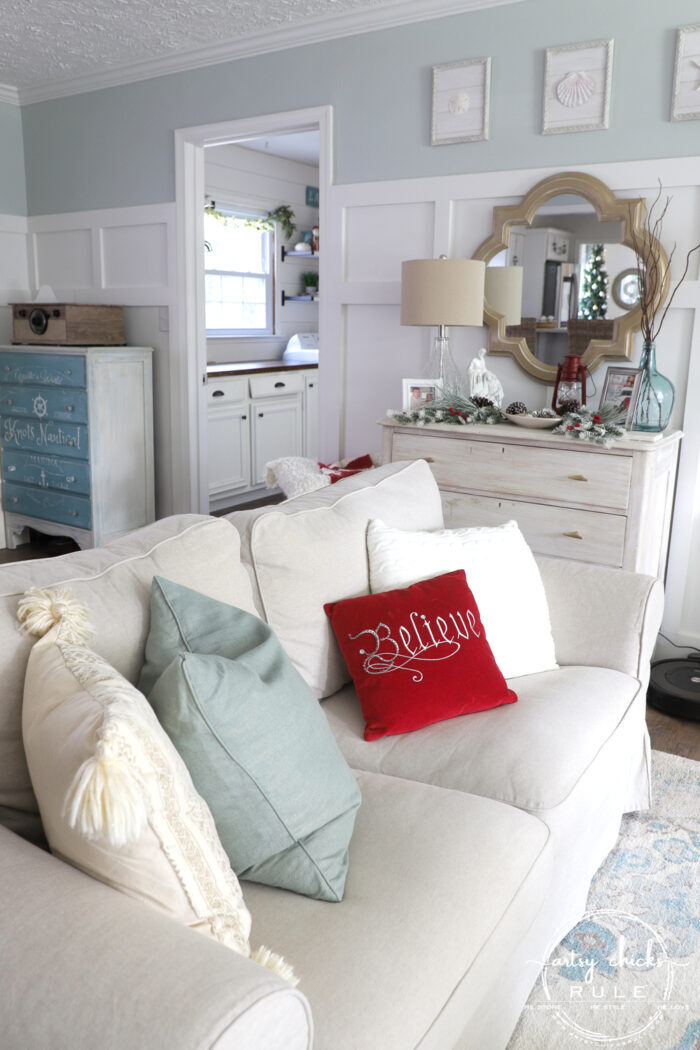 Pops of red everywhere.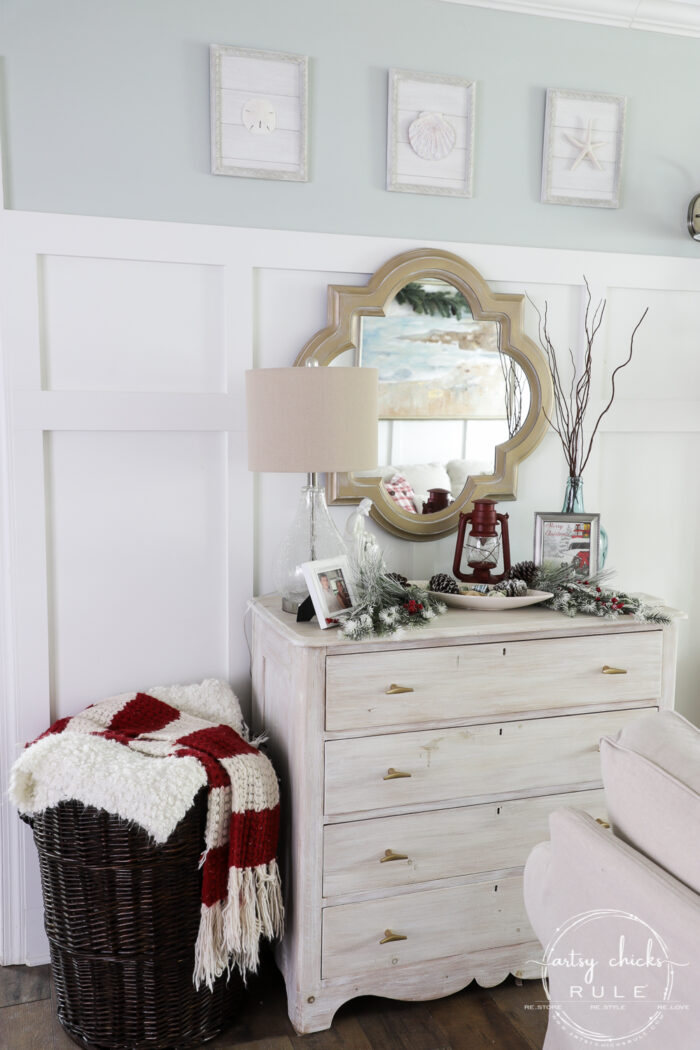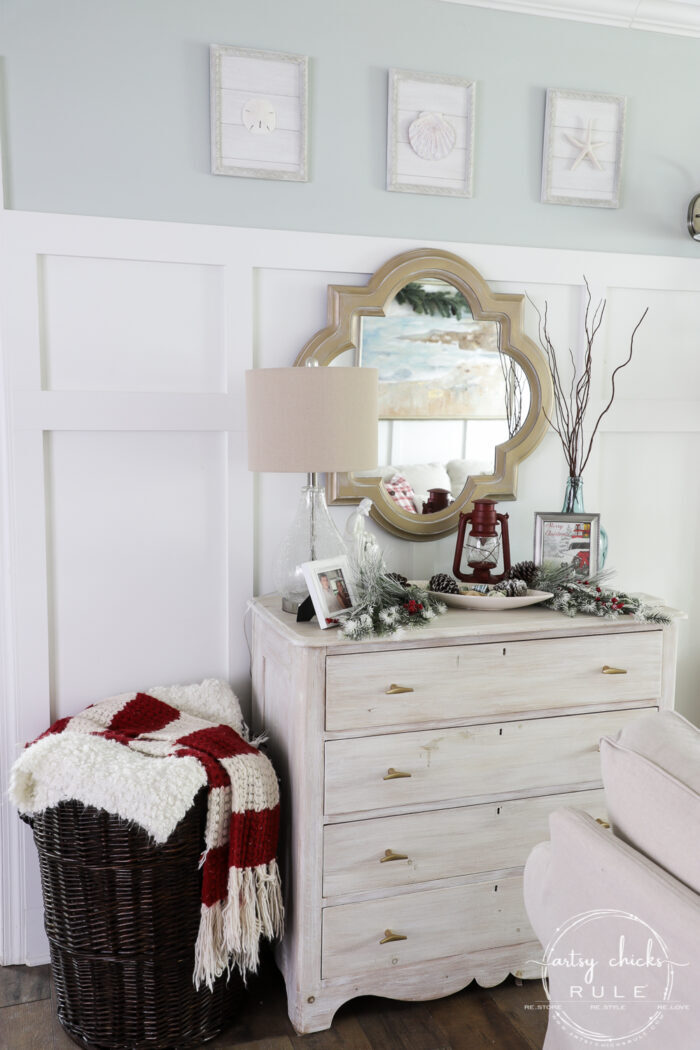 That basket I made over has not moved since I took those pictures. I threw some pillows and blankets in it and thought, yes, a great place to put those extras, so it stayed.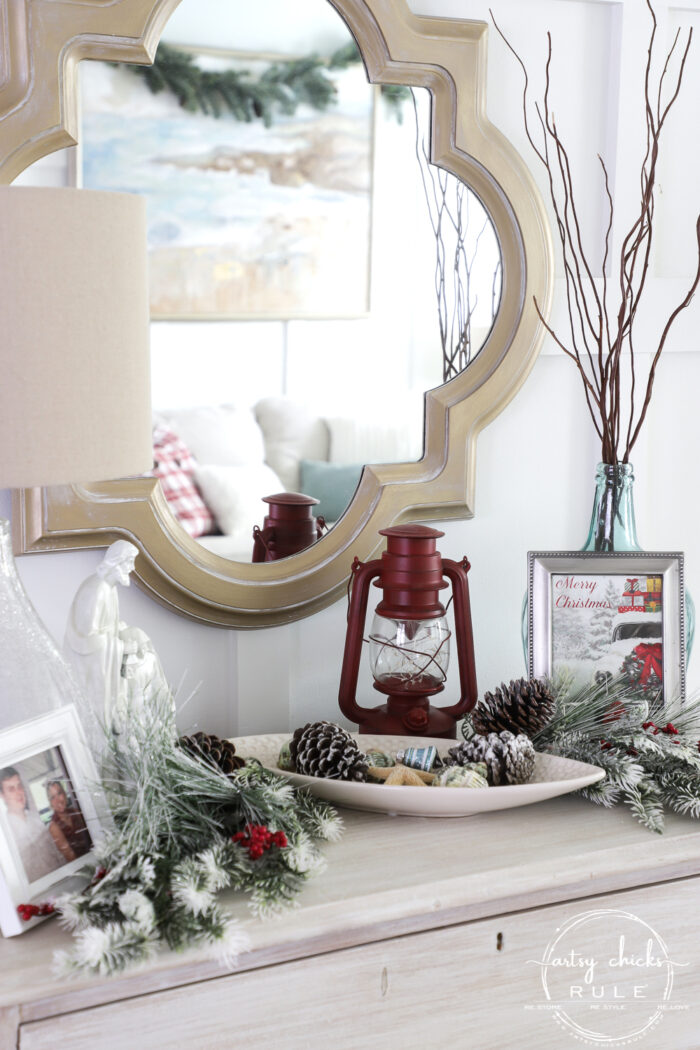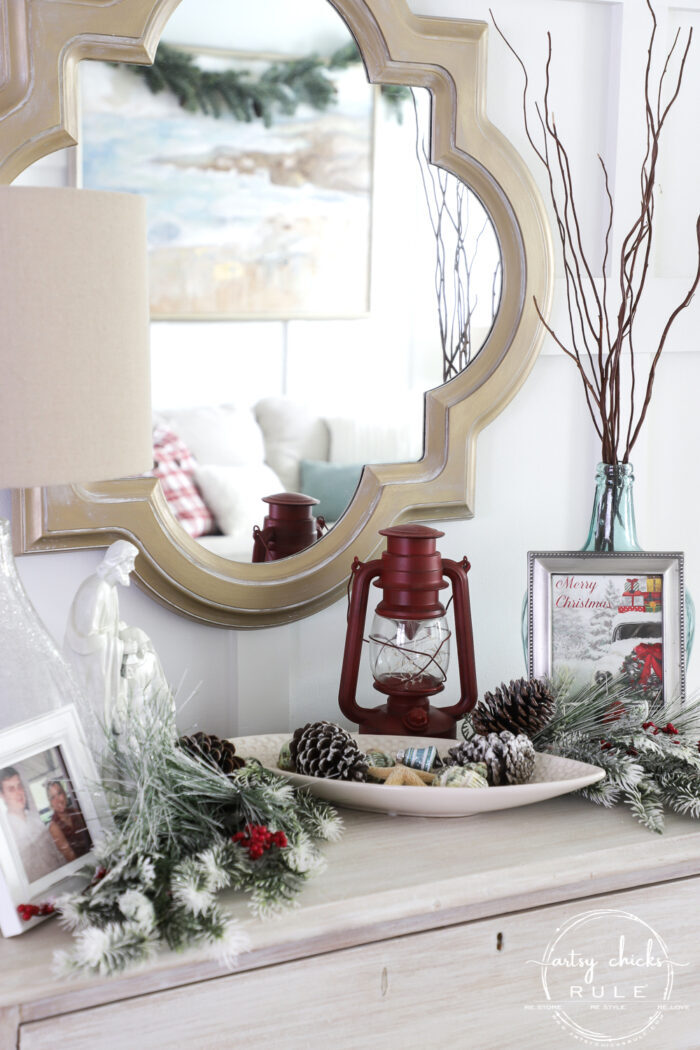 I just love all the red. To me, that feels like Christmas.
The picture of the car there is another fun project I shared using pretty Christmas cards as holiday art.
You can see that post, here.
And the cute lantern I got at Wal-Mart several years ago that still lights up. Yay!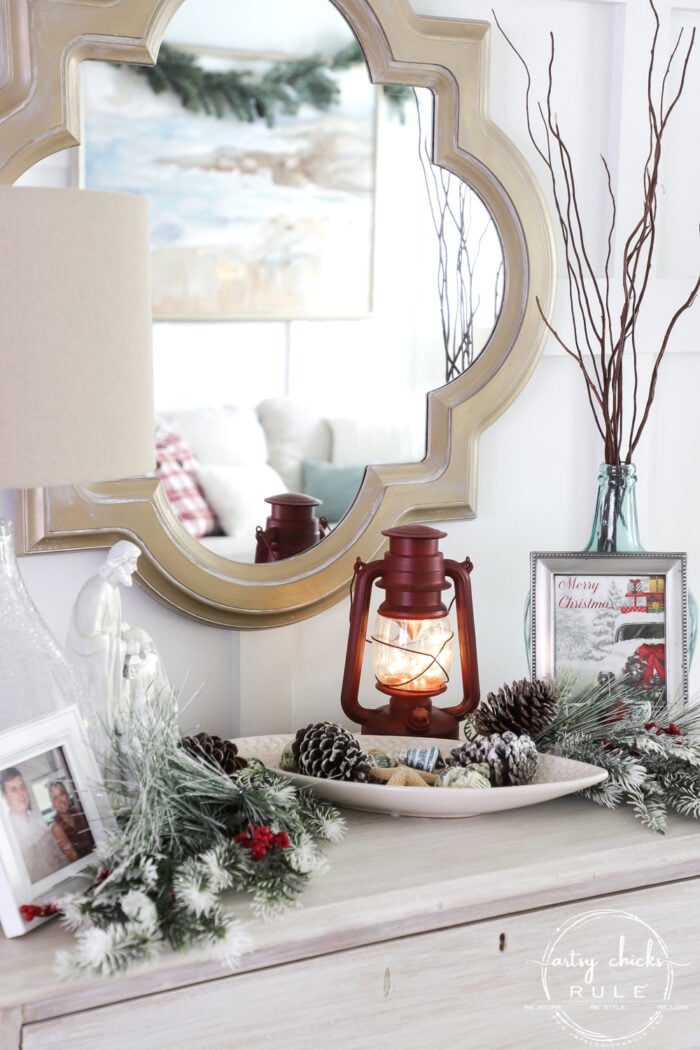 And I always hang these little thrifty wreaths on my "bi-fold doors turned shutters". They began as little wreaths that I painted white and stuck some berries in. I sometimes hang an ornament or star in the middle.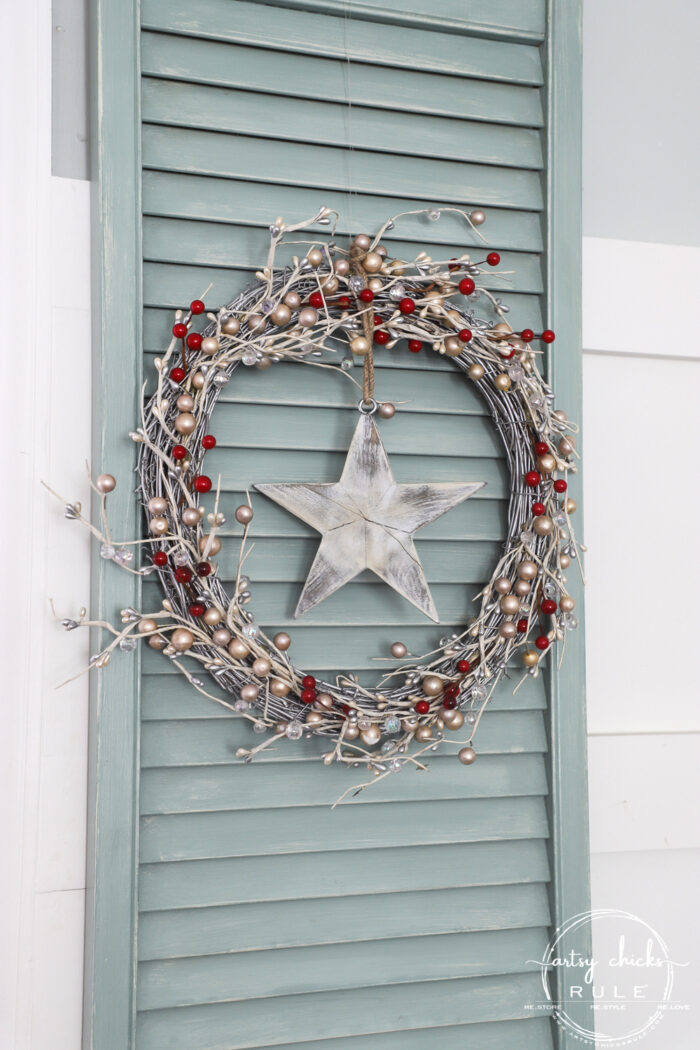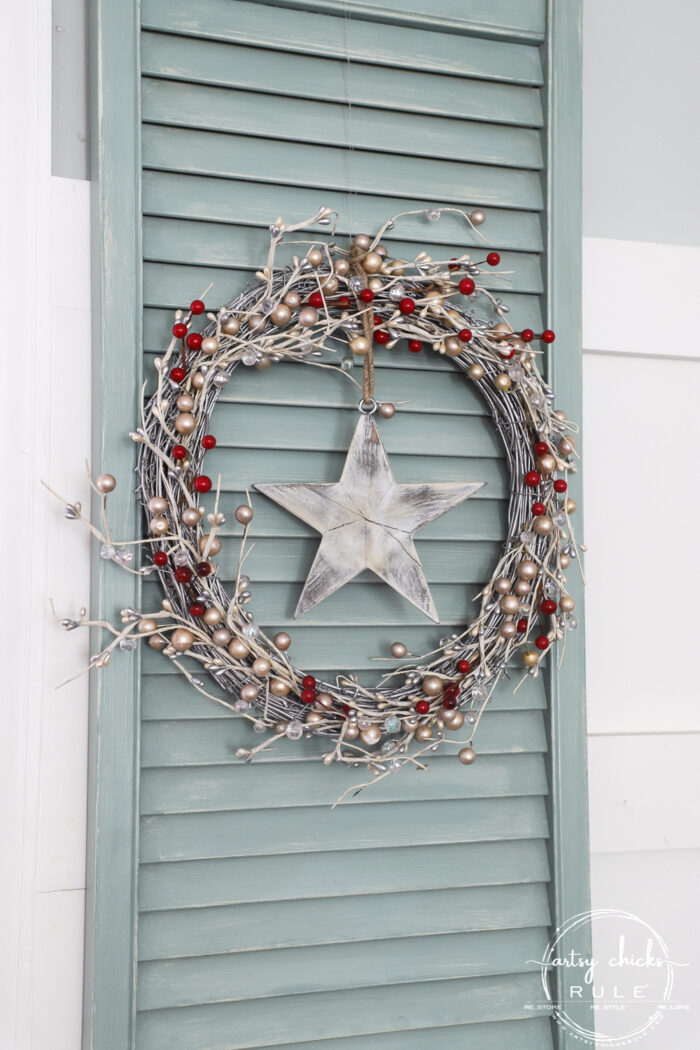 And on into the laundry room. I have to decorate in here too, of course!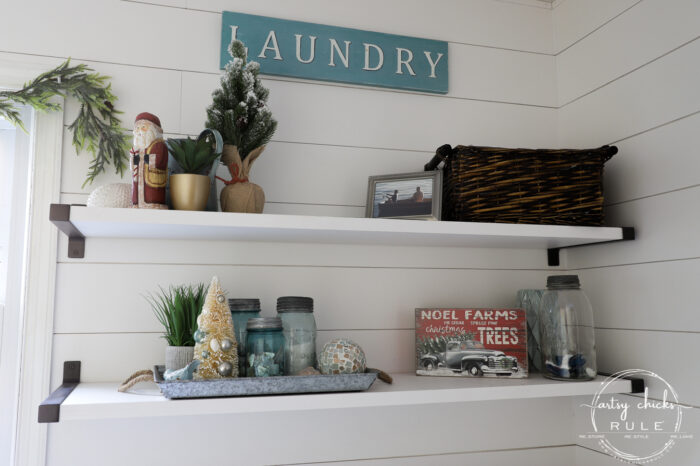 Is it weird that the laundry room is one of my favorite rooms in this house?
Ha…I'm not some laundry fanatic but it's true, I love this room. I didn't say I love to do laundry but I do love when it's done! ;)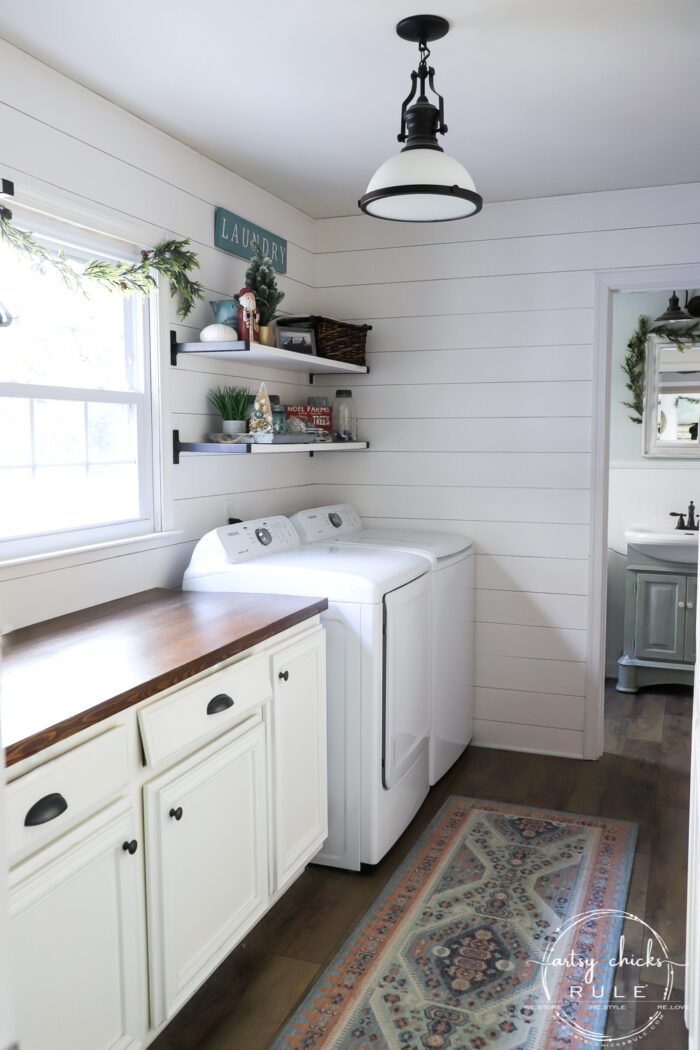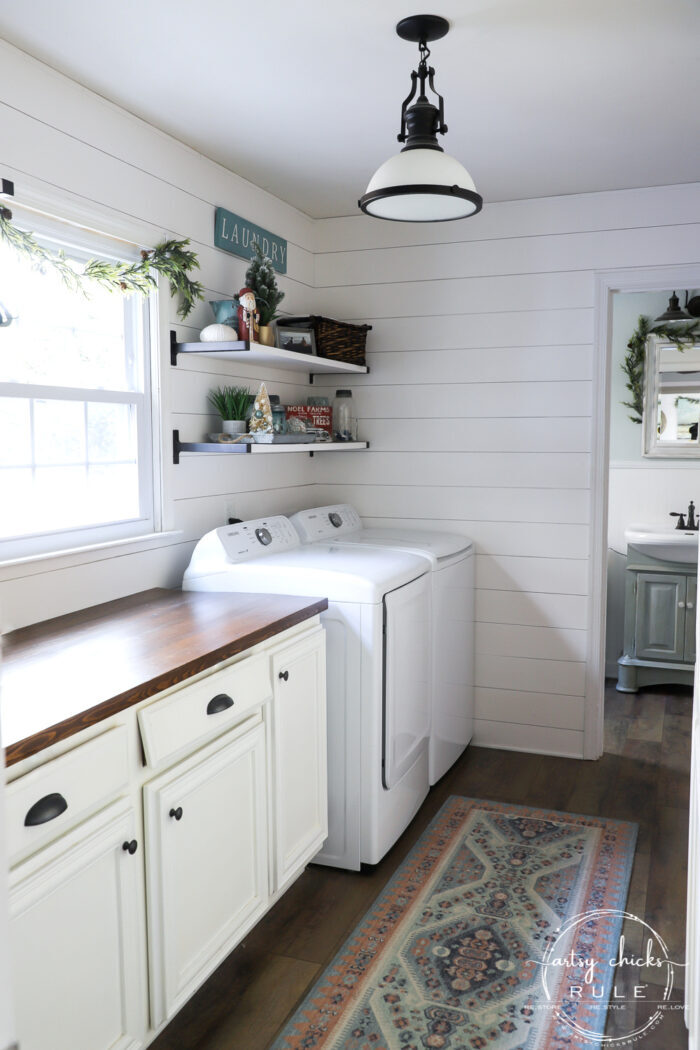 And don't mind that broken drawer. As you might remember (or not remember), we built on to the existing cabinet in here and so these are original. The cabinet is in good shape so my husband is putting new glides on with soft close on the drawers. AND I am going to order the same doors that we used on our kitchen island makeover to replace these drawers and door fronts on the left and the cabinets on the right. (out of the picture)
It's going to be a nice little refresh for the laundry room. I'm excited to get it done. (and it will look so much better too)
We are actually using the same fronts on our new closet build (for my husband) in the master bedroom. Almost done with that. I've been working on the bedroom again recently so hope to share it soon.
PIN it to save it!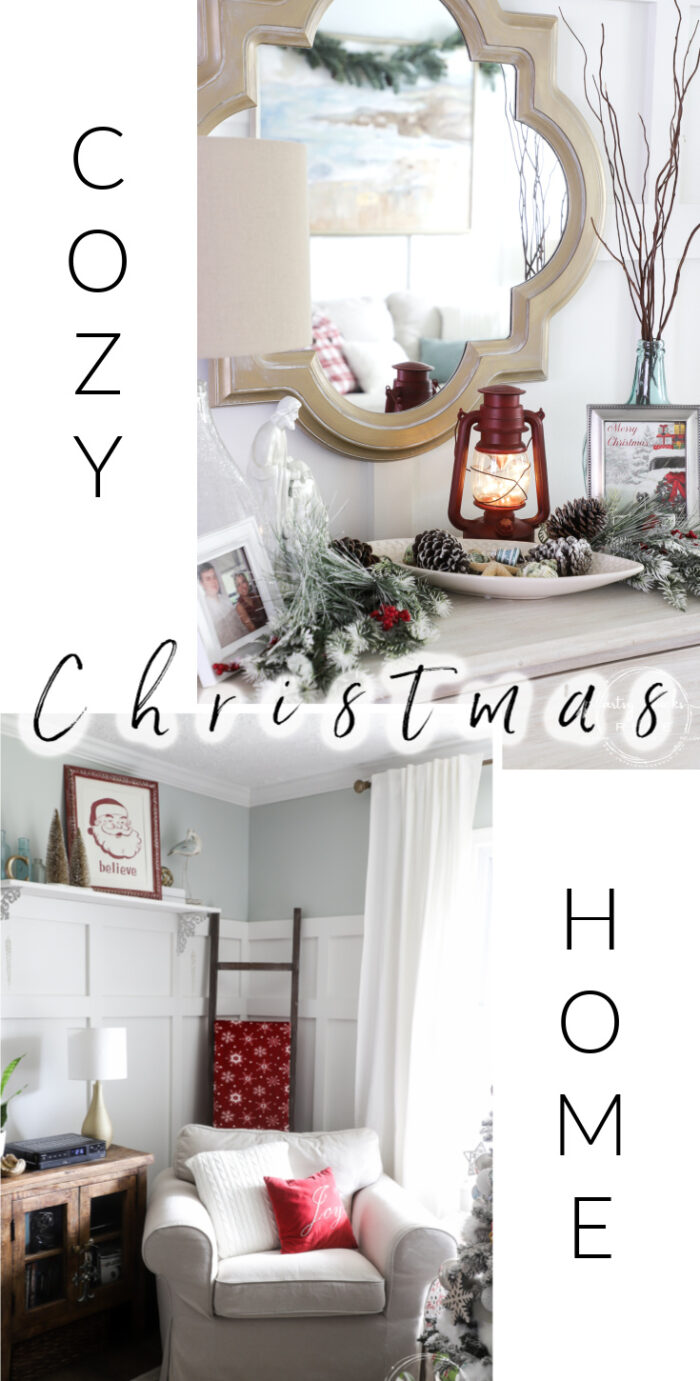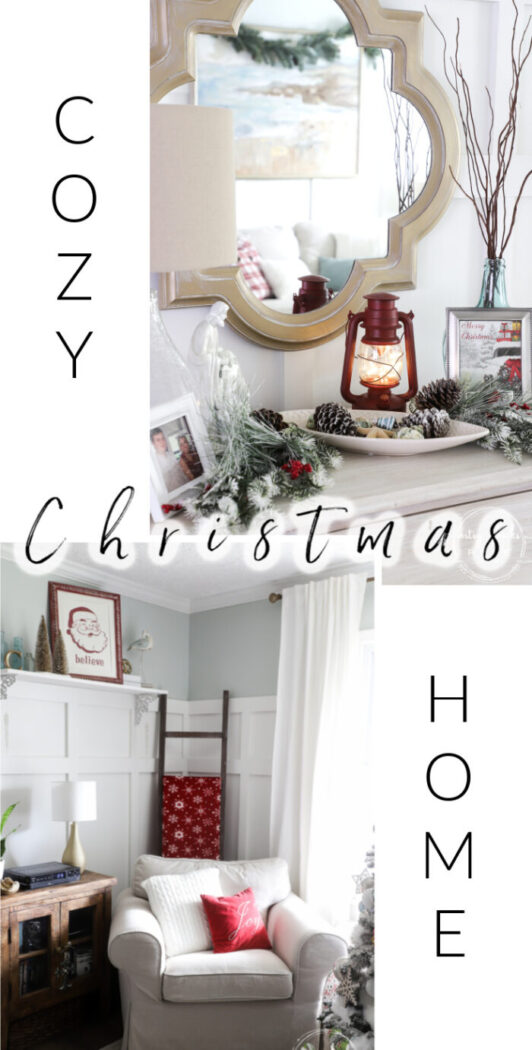 I'll be right back here sharing the kitchen, foyer, dining room, morning room and even a sneak peek of the front porch on Sunday.
Stay tuned for that! In the meantime, I hope you are enjoying a very relaxed and very cozy holiday too. We all need a little bit of that right now.
Hugs!!!
xoxo