Cozy Christmas Kitchen (foyer, dining & morning room)
This post may contain affiliate links. Please see disclosures here.
Creating a cozy Christmas kitchen (and home) with simple touches of red and treasured collections for a relaxed, homey feel.
Hello beautiful friends, and happy Sunday before Christmas!
I hope you have been having a wonderful time leading up to this wonderful time of the year, despite all that's going on in the world.
It's hard sometimes but we have to try to find the joy in every day. It can be a tough time of year for many. (and even more so this year)
I hope to bring a little joy to your days with my posts and projects. A moment away, to forget for a bit all that is going on. Or to think of something else for a time anyway. Plus, I just truly love to inspire you to do all those crafty, decorating, or home DIY things too!
As promised, today I'm sharing our kitchen, dining room, morning room, foyer, and a little peek at our very simply decorated front porch.
If you missed part 1 of our "cozy Christmas" home, you can see it, here.
Cozy Christmas Kitchen (and more)
Welcome!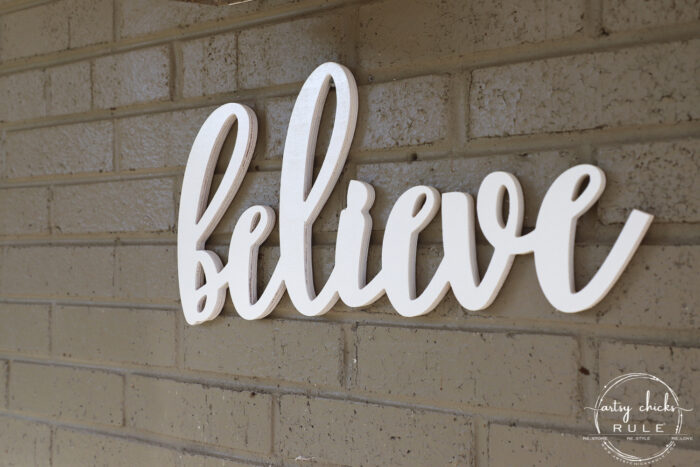 You are first greeted with this wood cutout "believe" sign. I got it at Michael's if I remember correctly.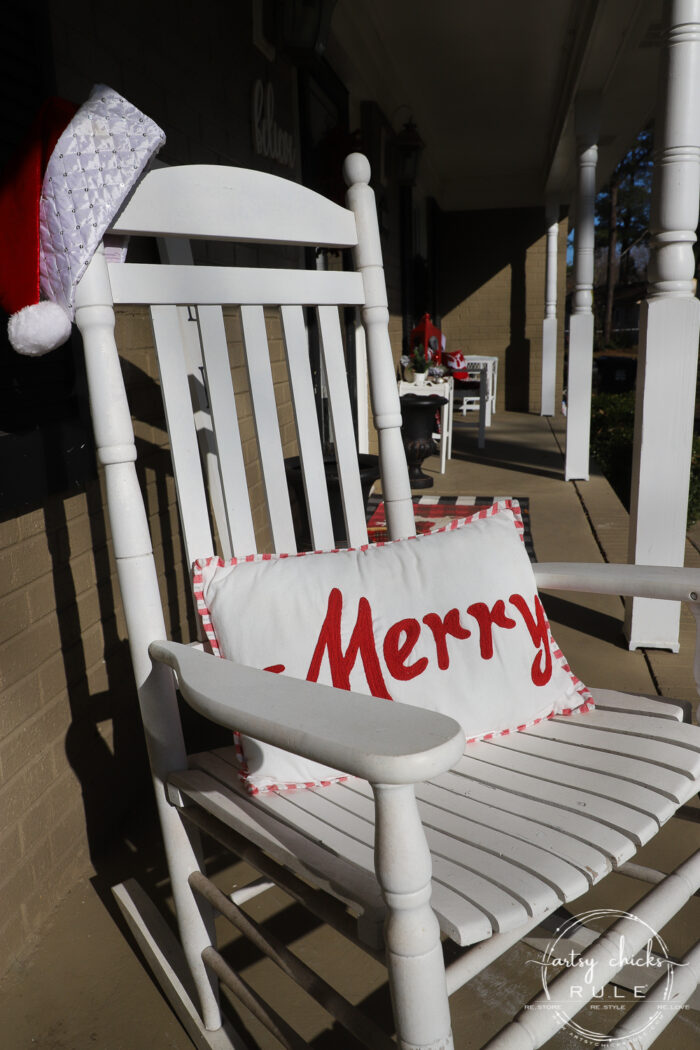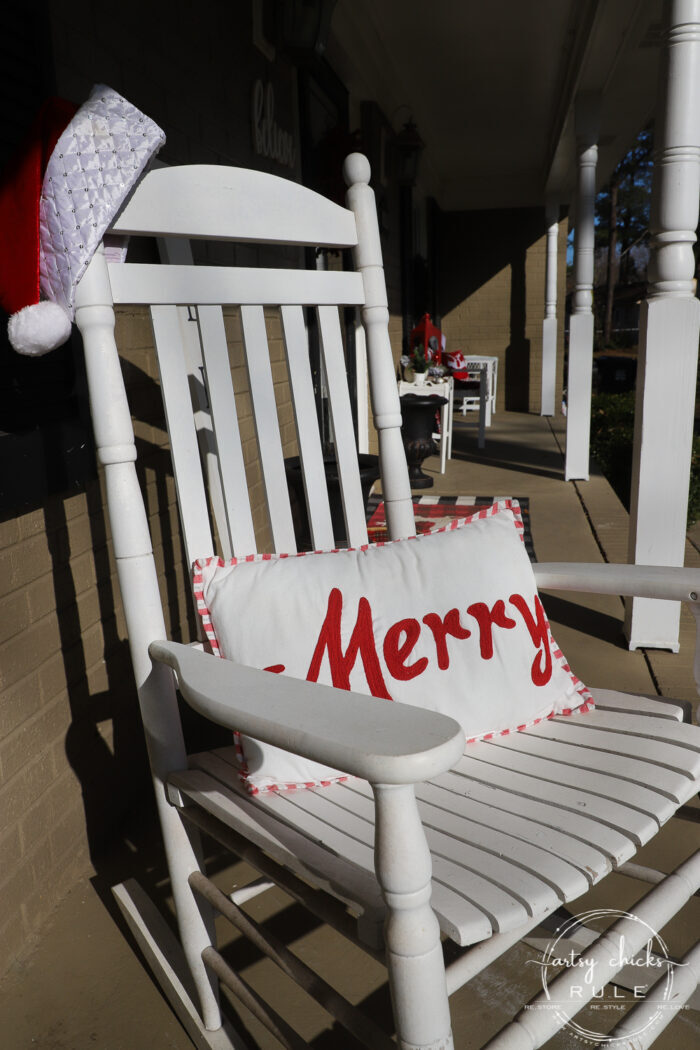 And this year I used my red berry wreath outside on the front door.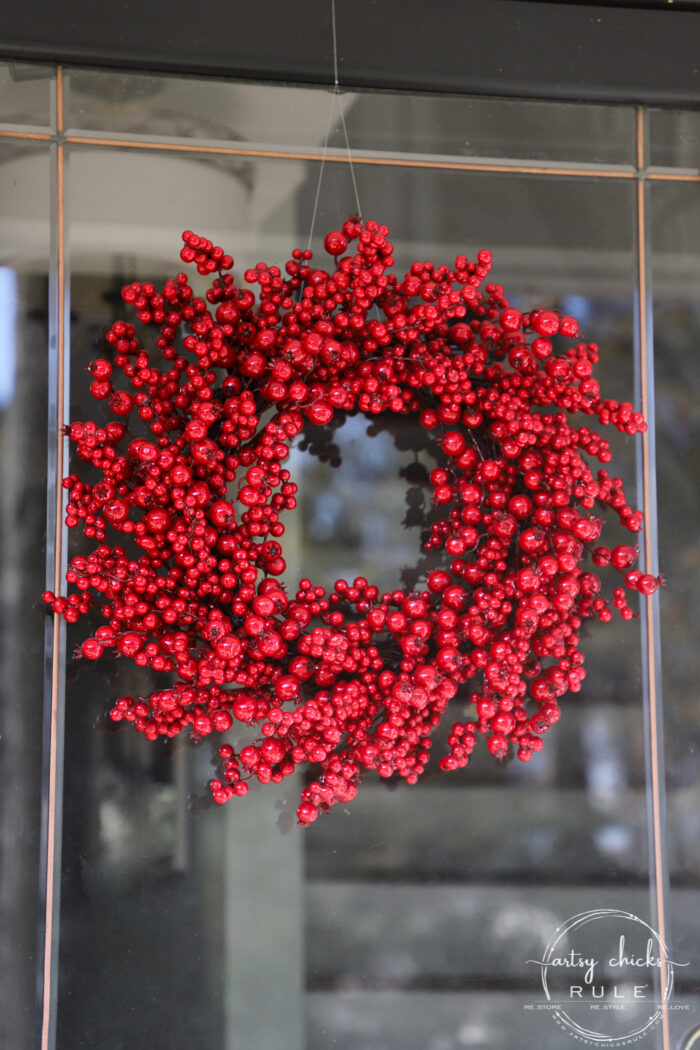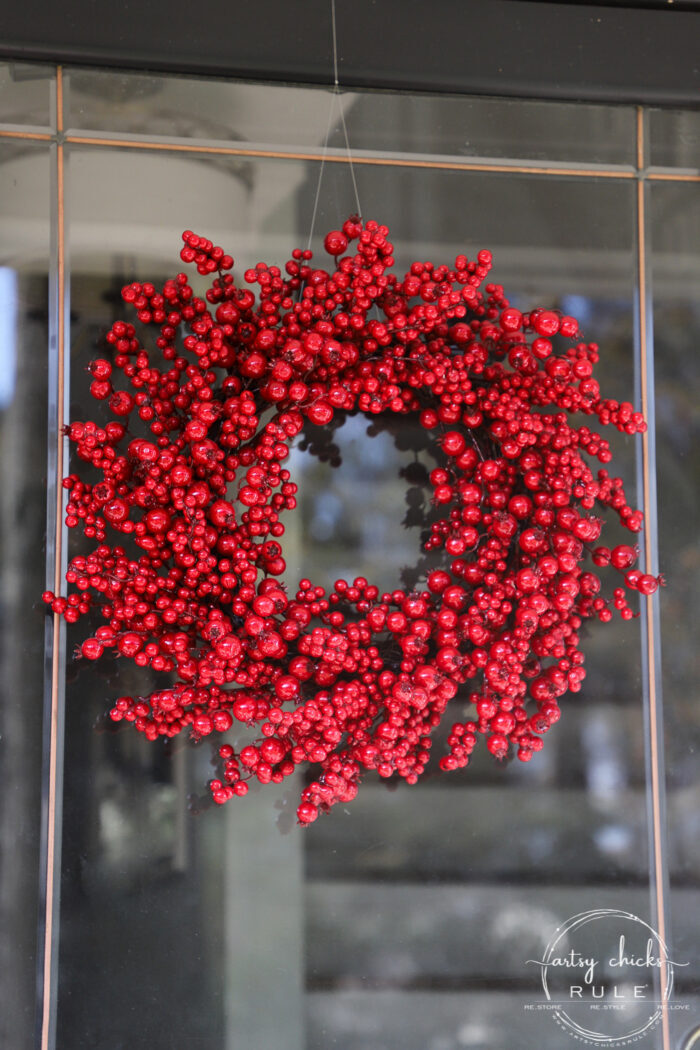 The foyer…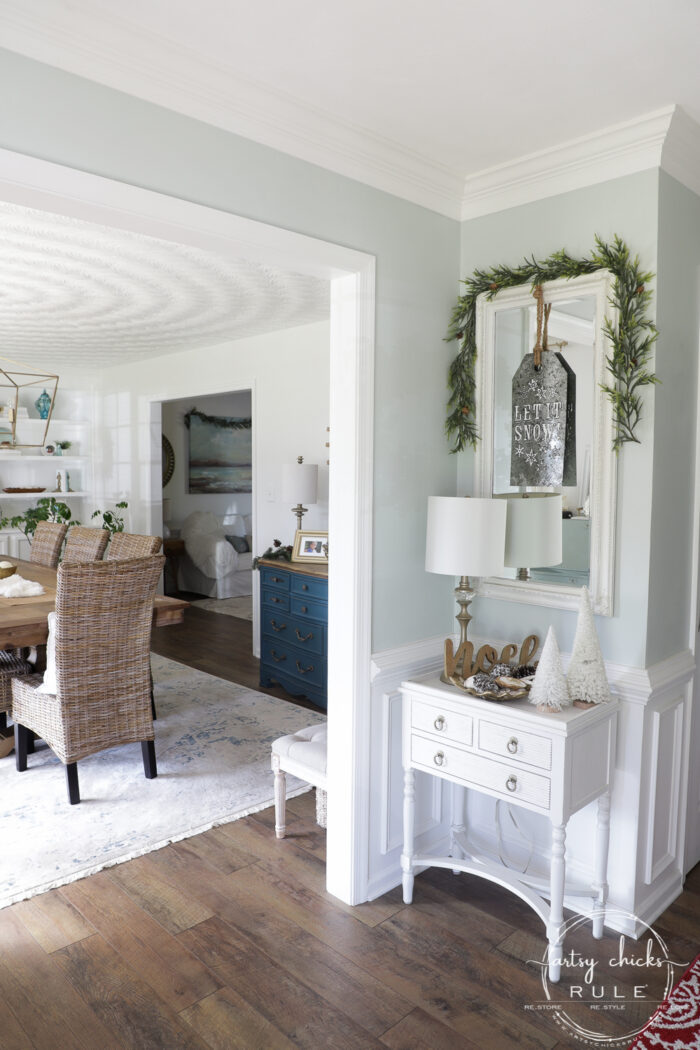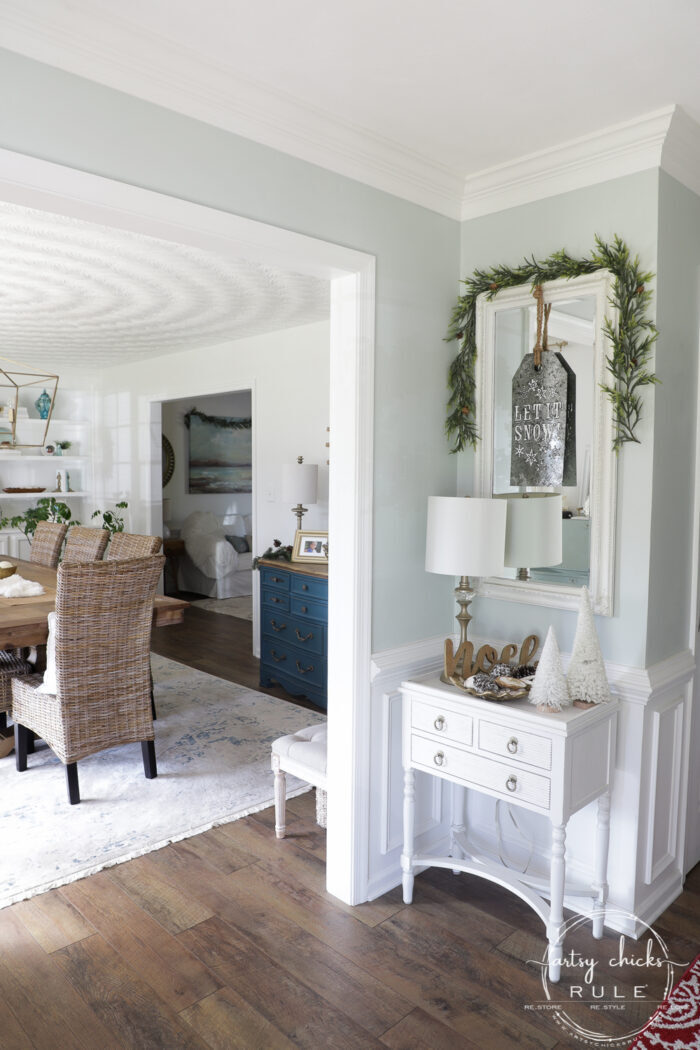 I have the red rug runner right here in the entry. I didn't get a good photo of it but you can see it just there.
So, you are greeted with bright and festive red from the get-go!
(crown molding tutorial, here)
I kept it mostly simple in here otherwise.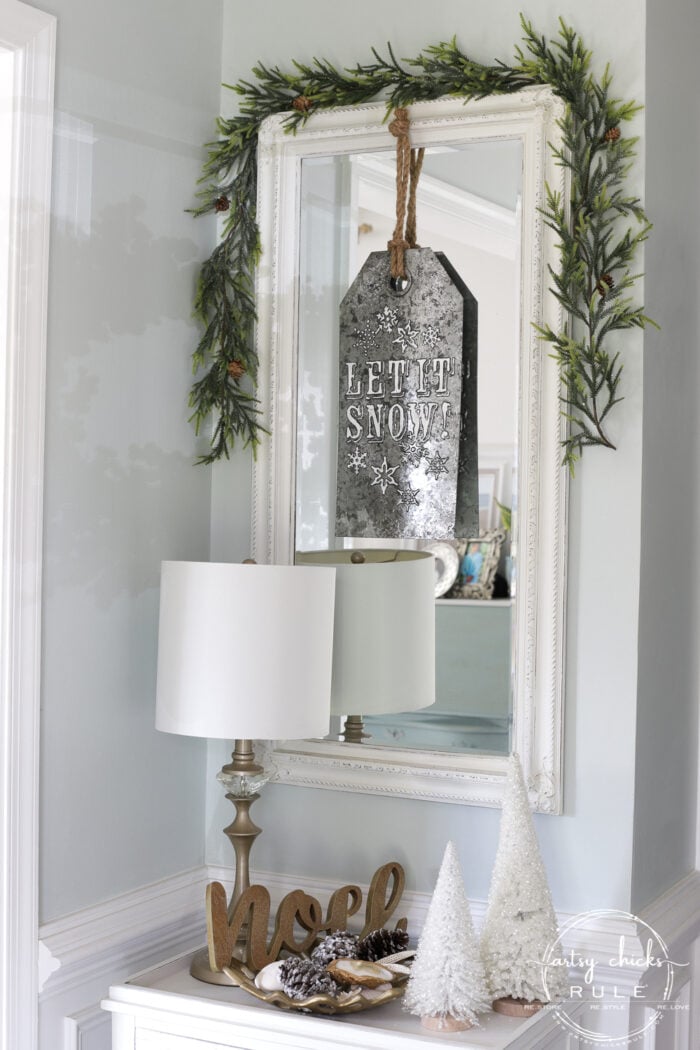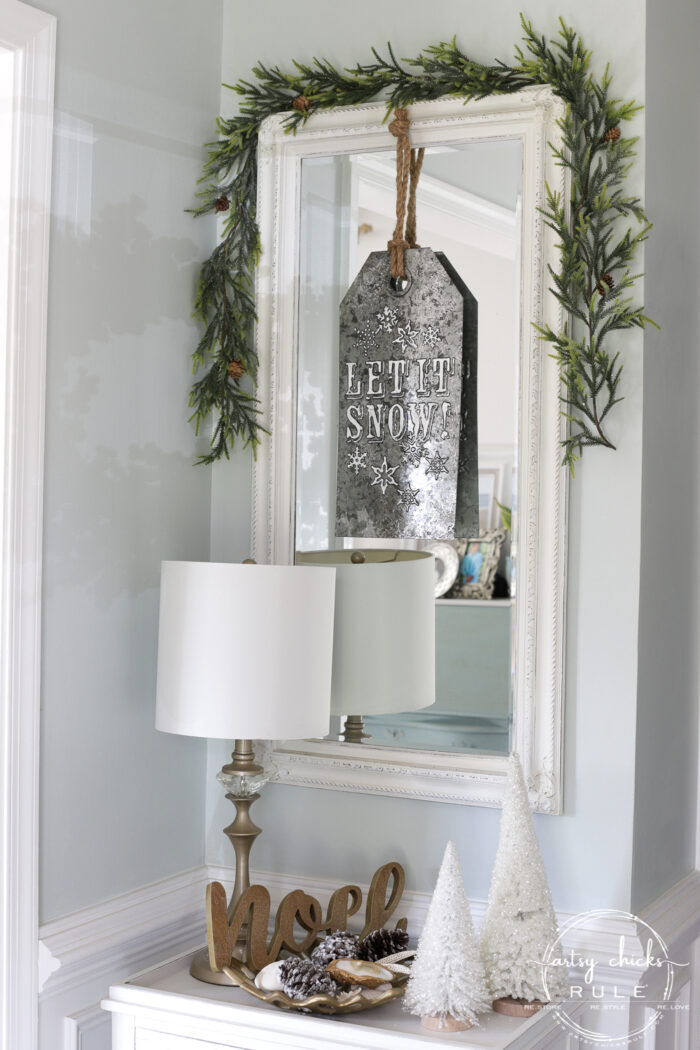 The dining room also stayed very simple. But I did do a little.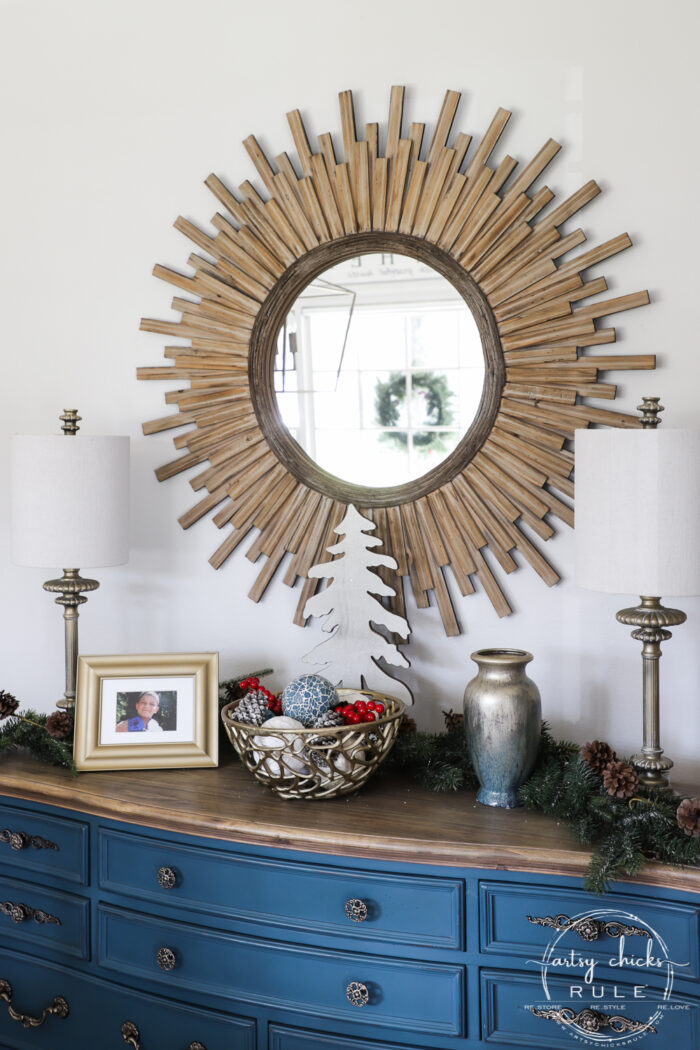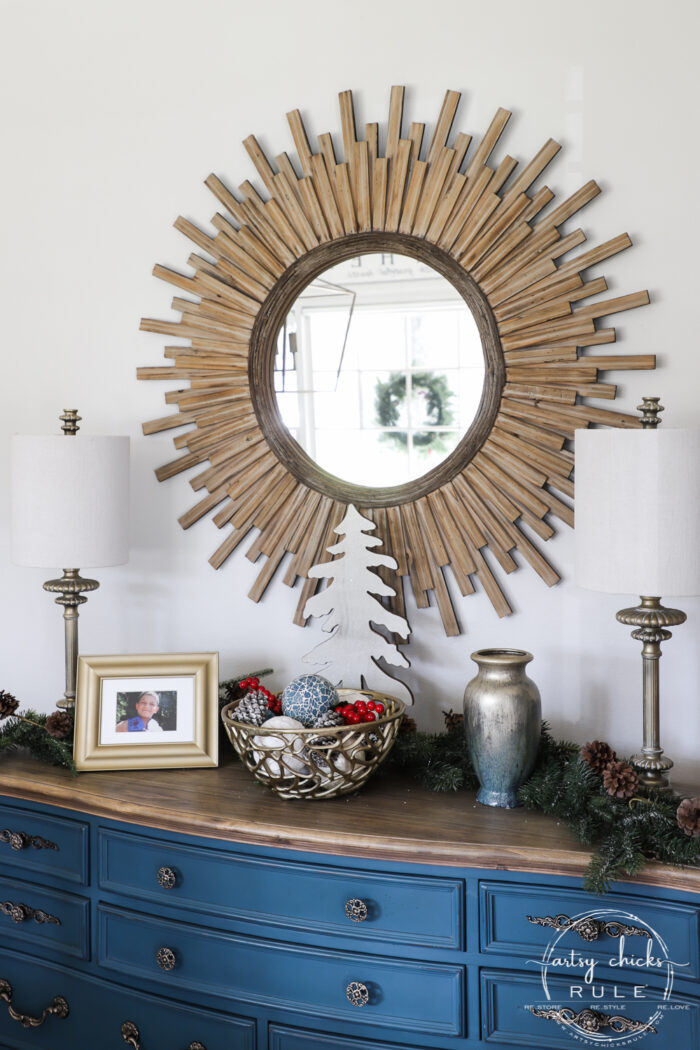 (our Aubusson Blue dresser can be found, here)
Any items you might see and like can be found on our "Shop Our Home" page.
I put a little "snowy" runner on the table with a few snow-covered pine cones in the bowl.
I also added a few things to our "built in bookcase" back there.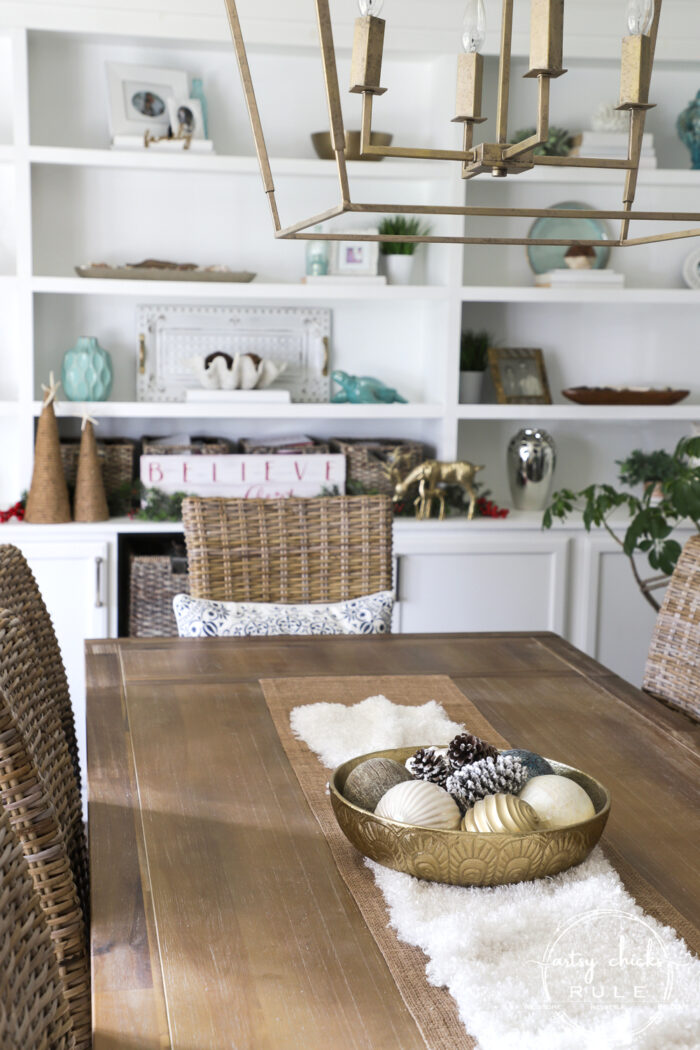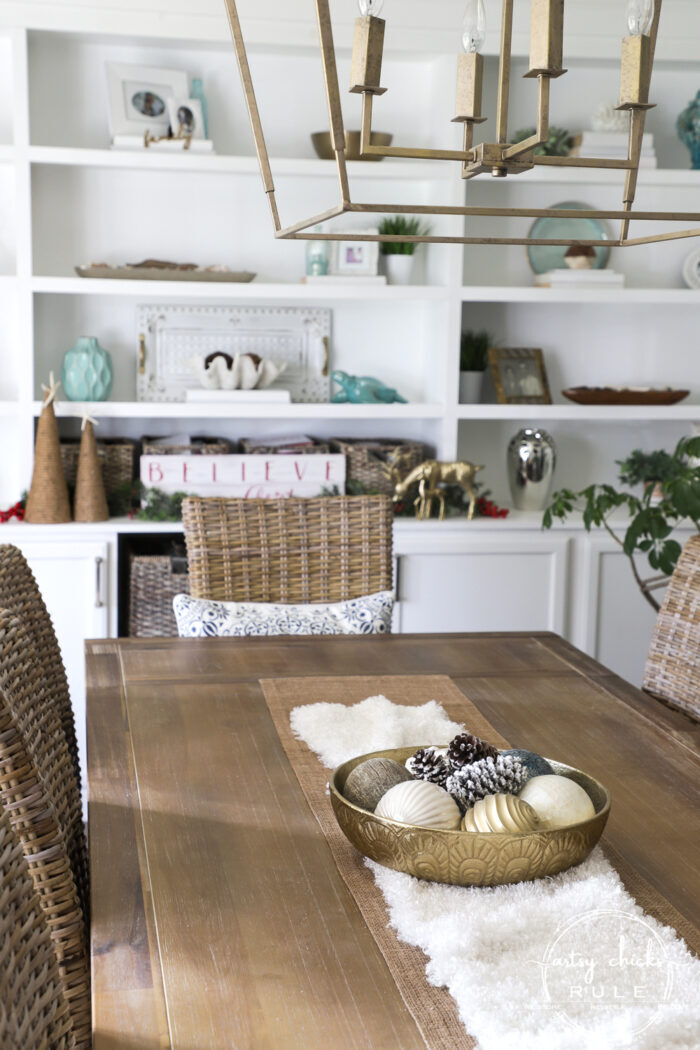 Ignore all the junk in the baskets. Clearly, I actually use them. lol
And clearly, they are on the list for some of that purging and organizing that I mentioned in Thursday's post.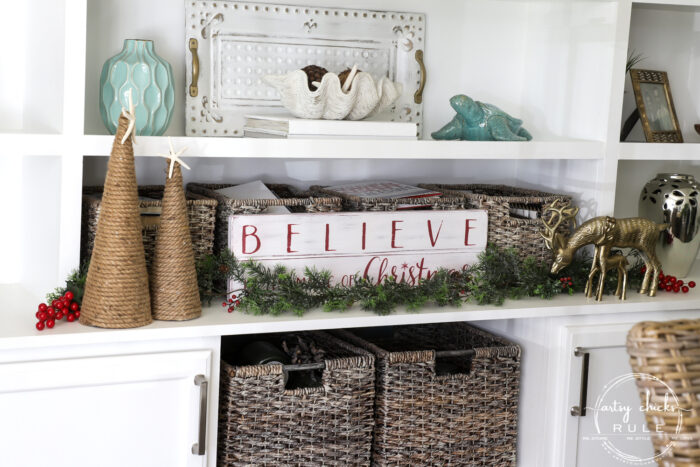 The morning room started out with red but after I moved the tree it seemed off so I changed it up a little.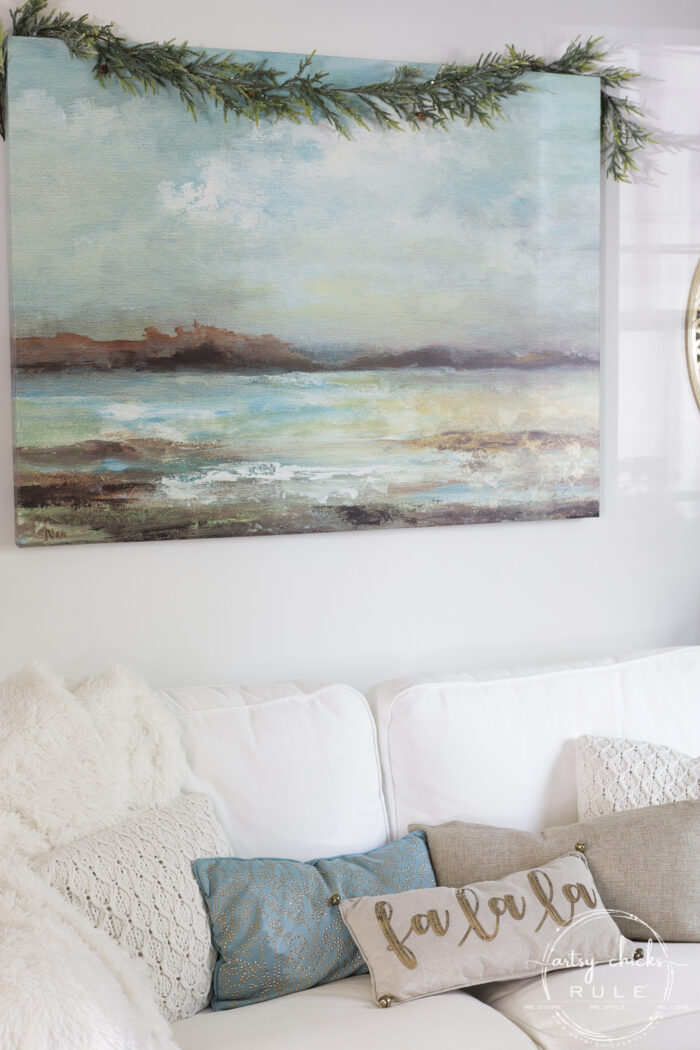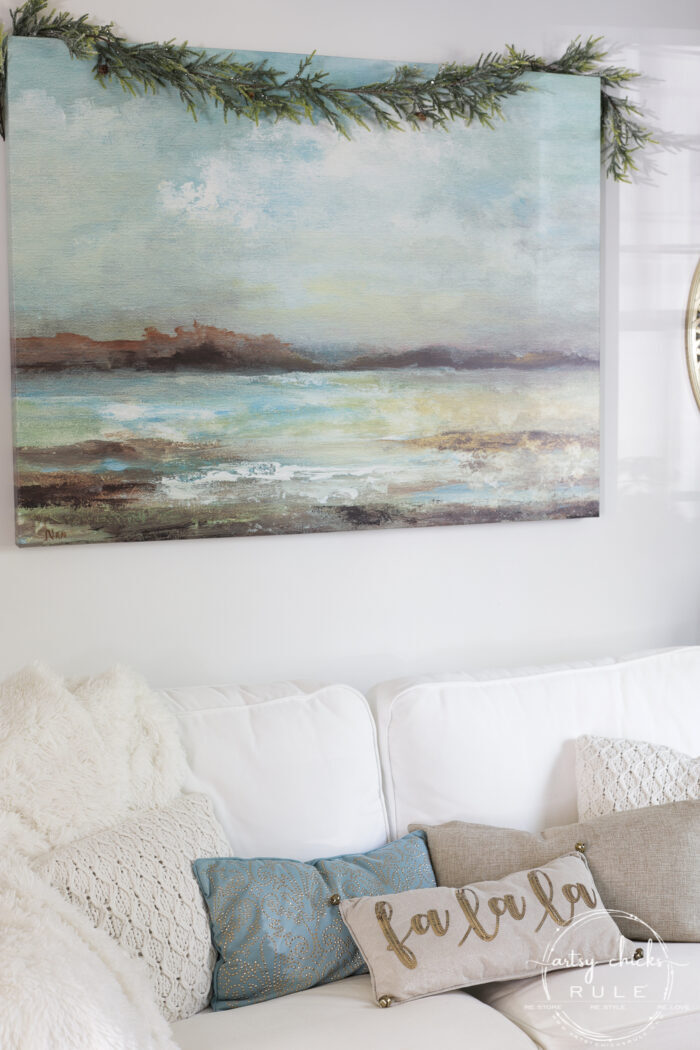 I ended up keeping this room mostly neutral.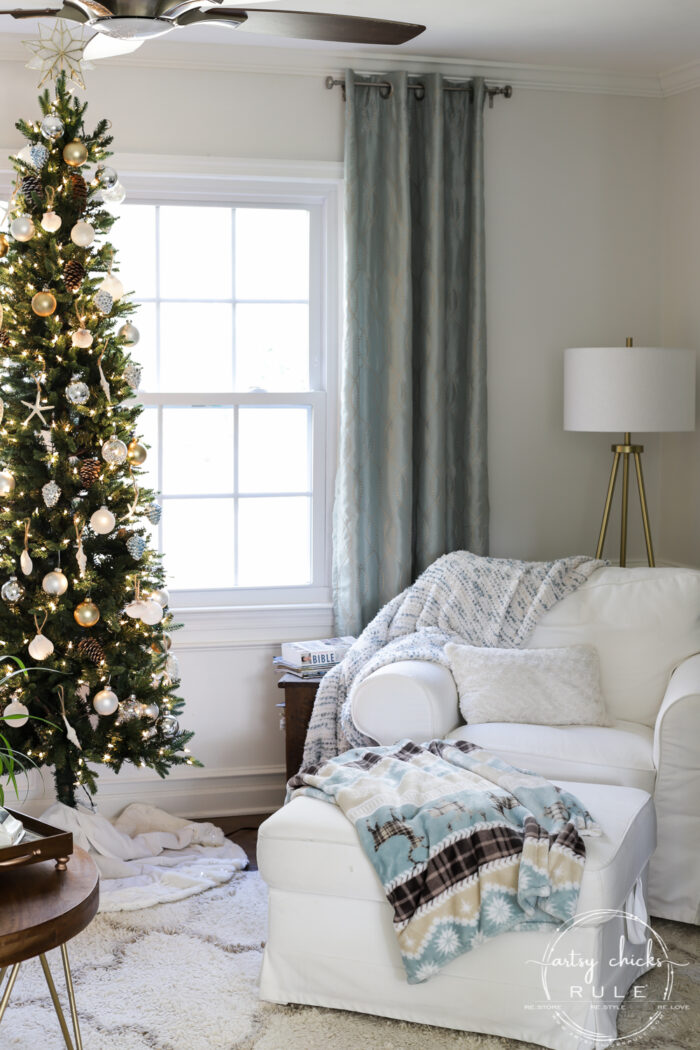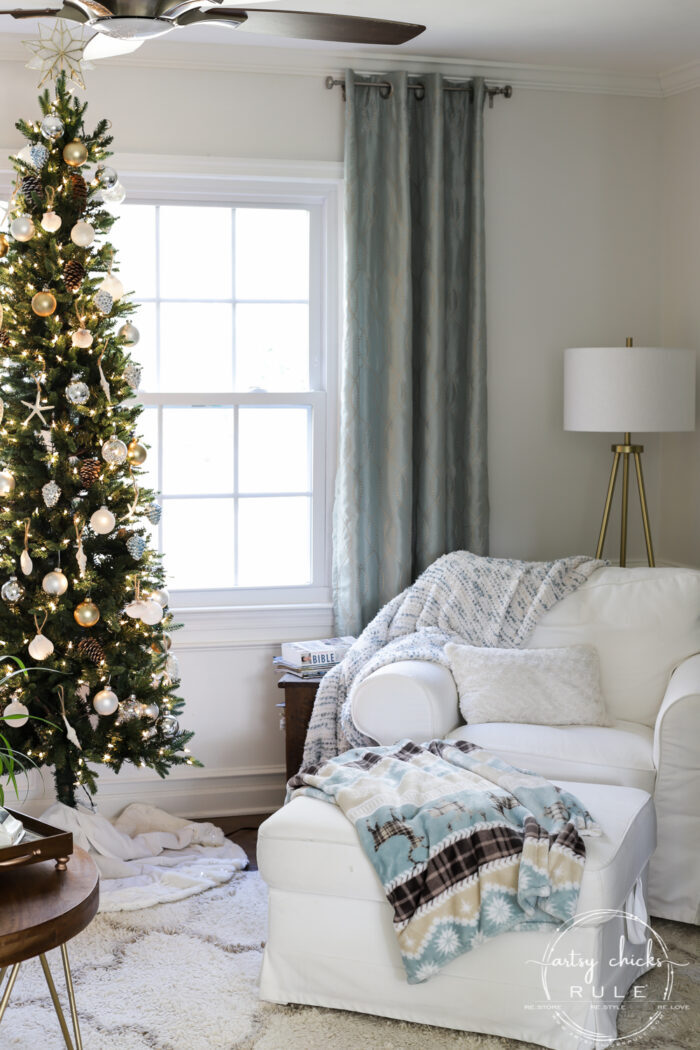 And that second little skinny tree I mentioned. I tried to use whatever white/gold/silver/aqua ornaments I had.
Plus, I added the seashells/starfish to this one. I really love this skinny little tree!
That aqua and brown blanket is my favorite. It's the softest and I usually keep it out all winter. But unfortunately, it's currently unavailable on Amazon.
Bummer!
The coffee bar got a few festive touches.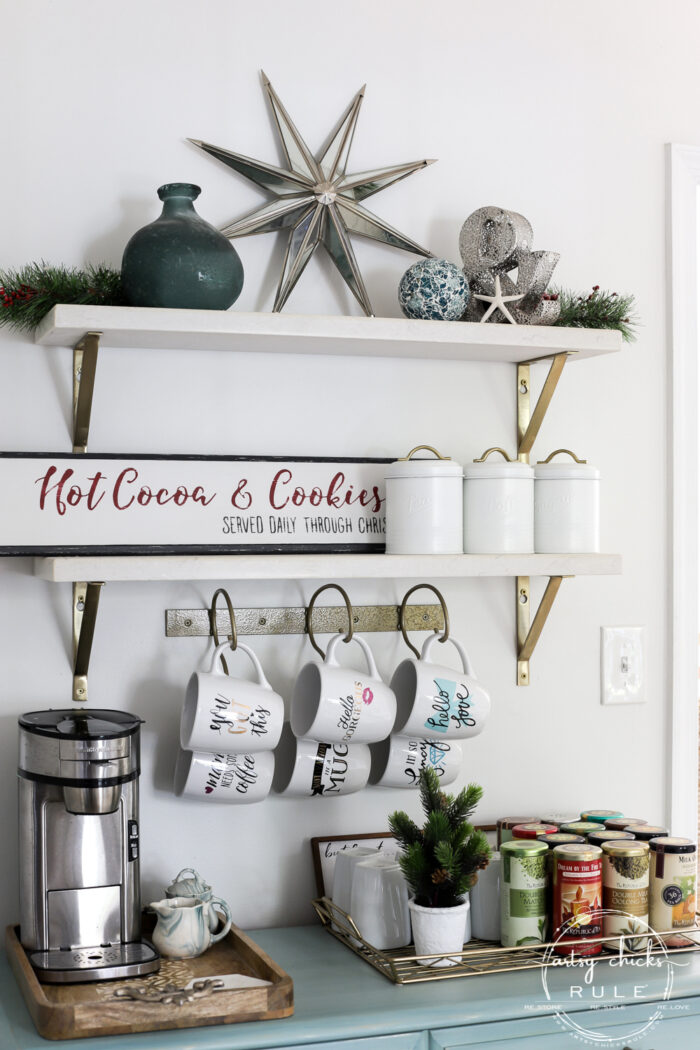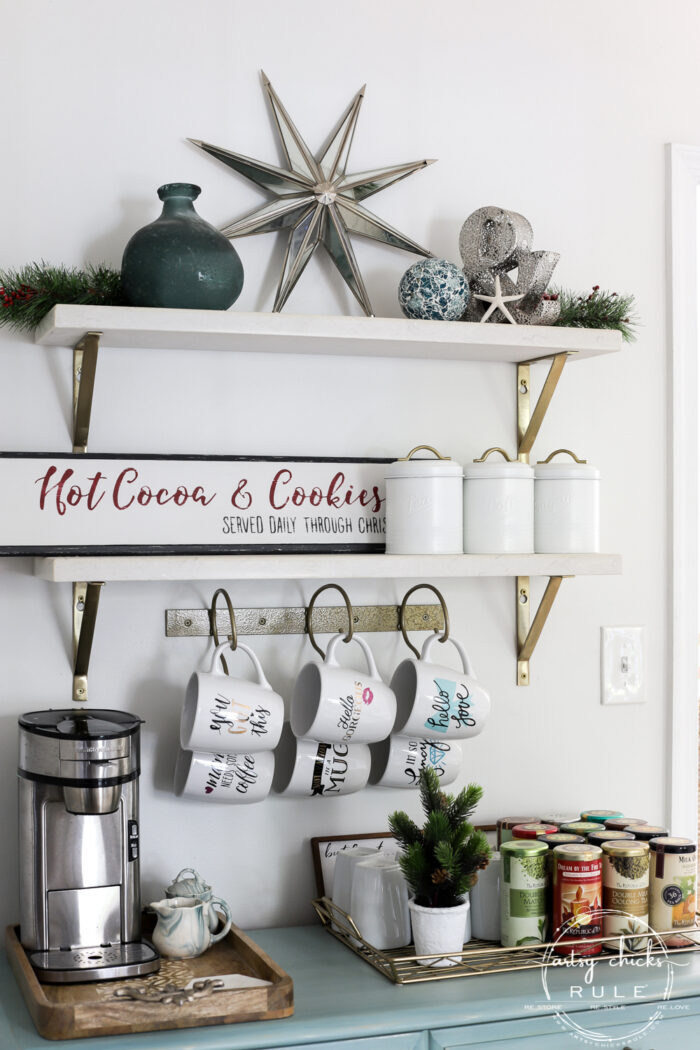 That "hot cocoa and cookies" sign was actually an old drawer front from our kitchen remodel.
Looking in from the kitchen…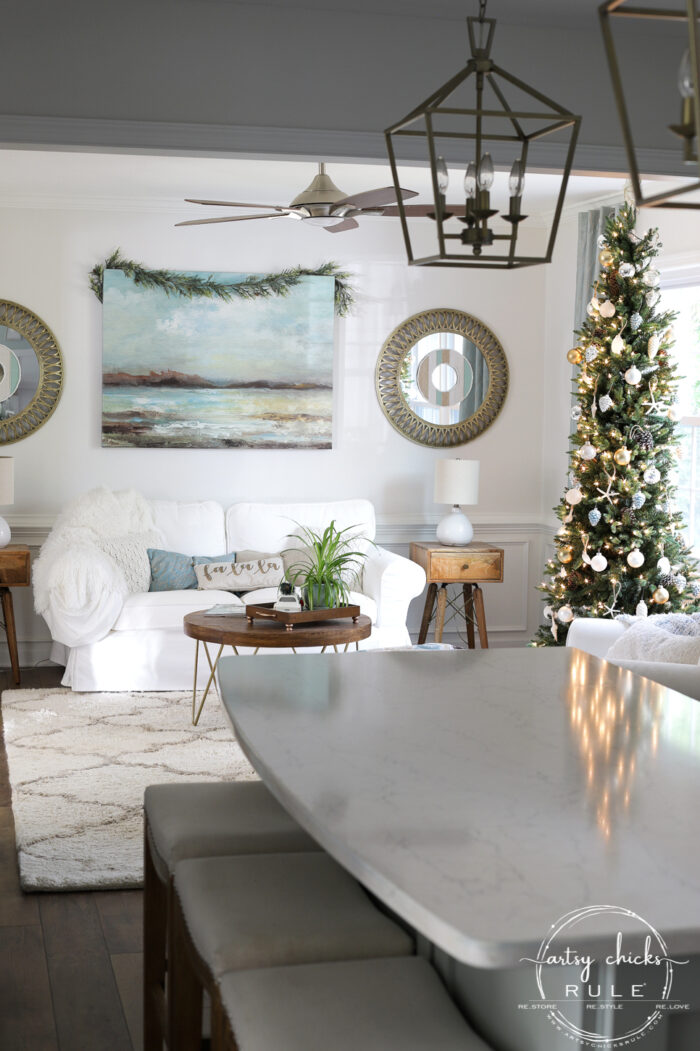 The room is happy again with the little, skinny tree. (and me too! )
Cozy Christmas kitchen…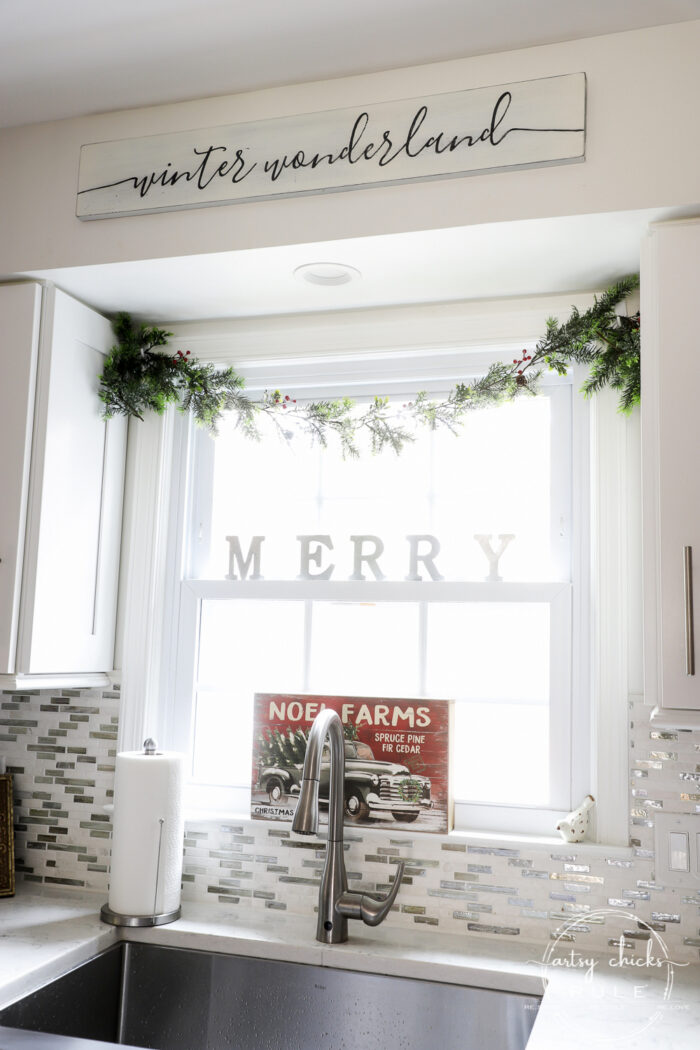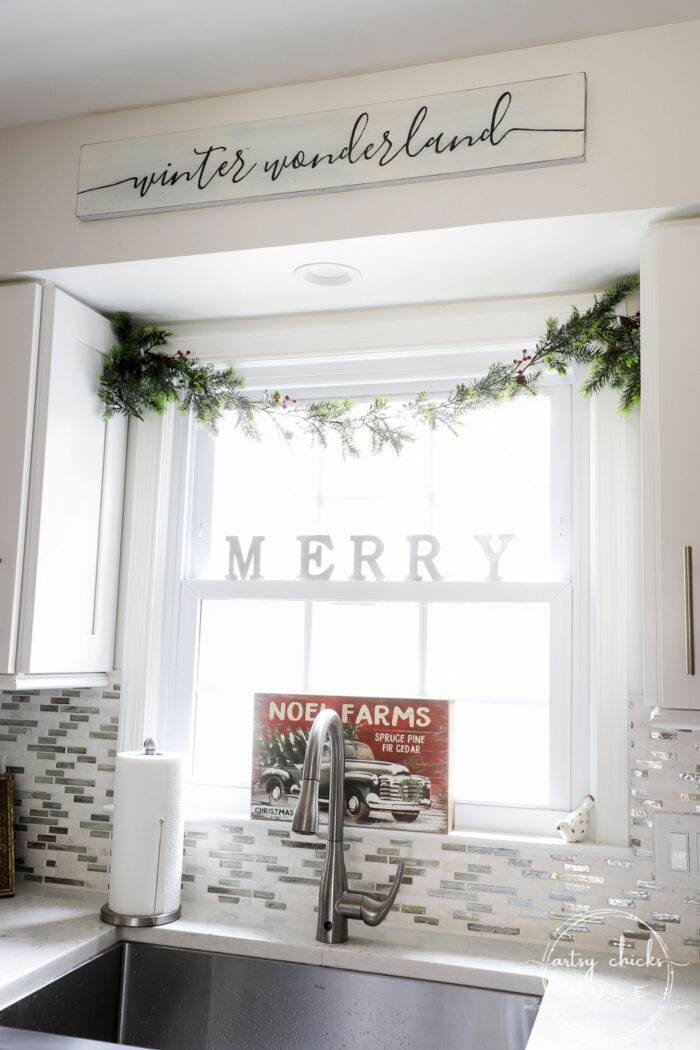 Winter wonderland…hahaha…nope! But that's okay, I can pretend.
(you can find the sign, here)
The mini wreaths were a fun addition and I've used them every year since I made them.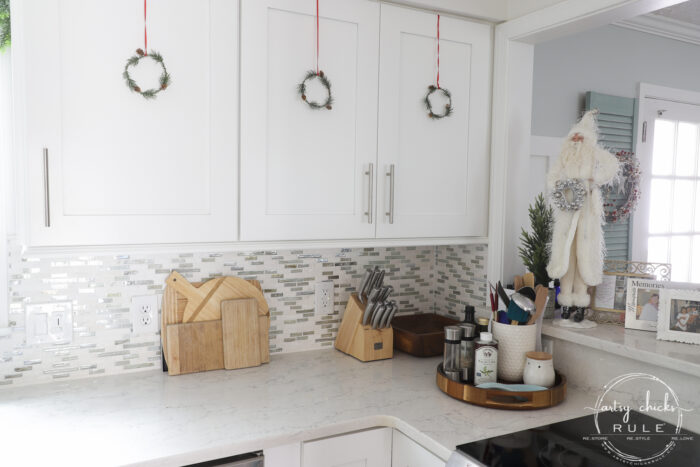 And I of course had to put out Sassy Santa.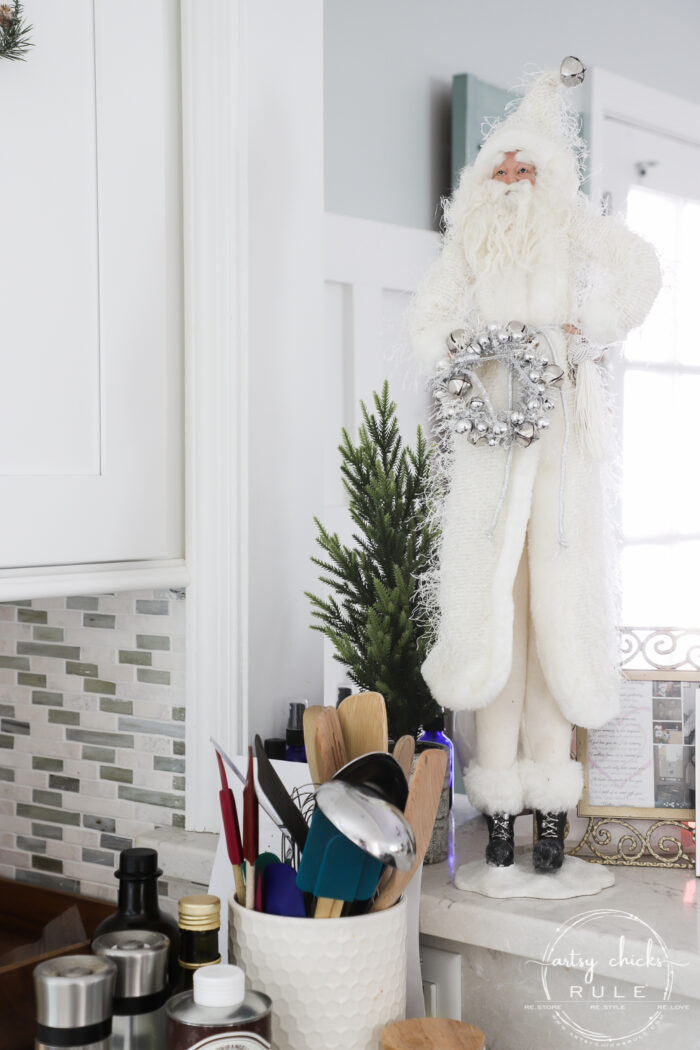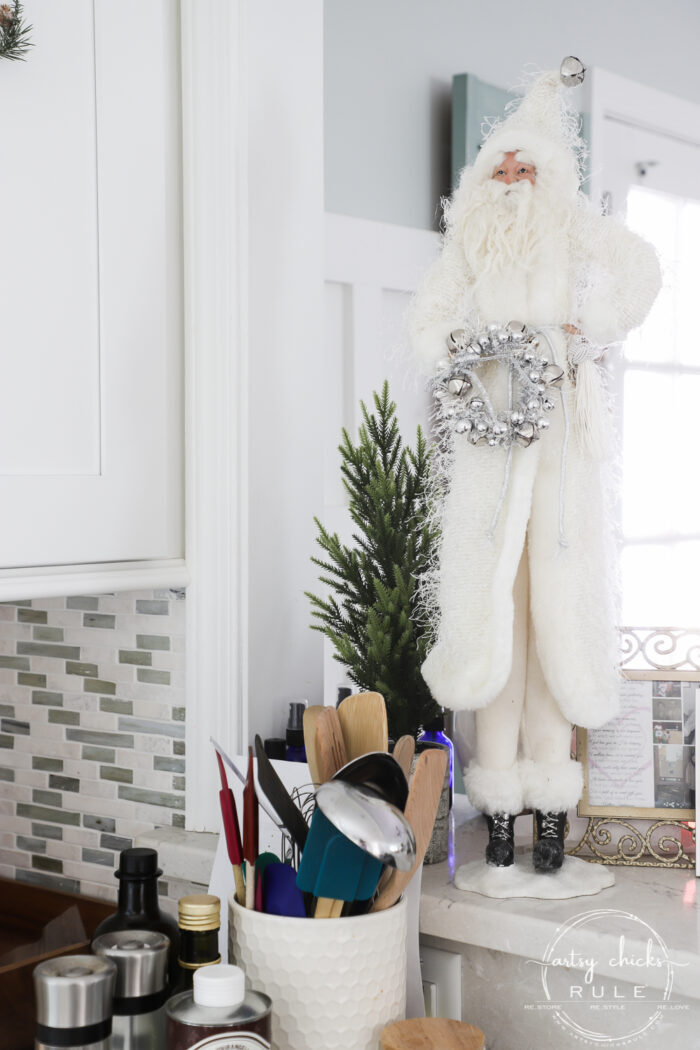 I LOVE him. He's so darn cute.
He's watching over all the kitchen goings-on this year. haha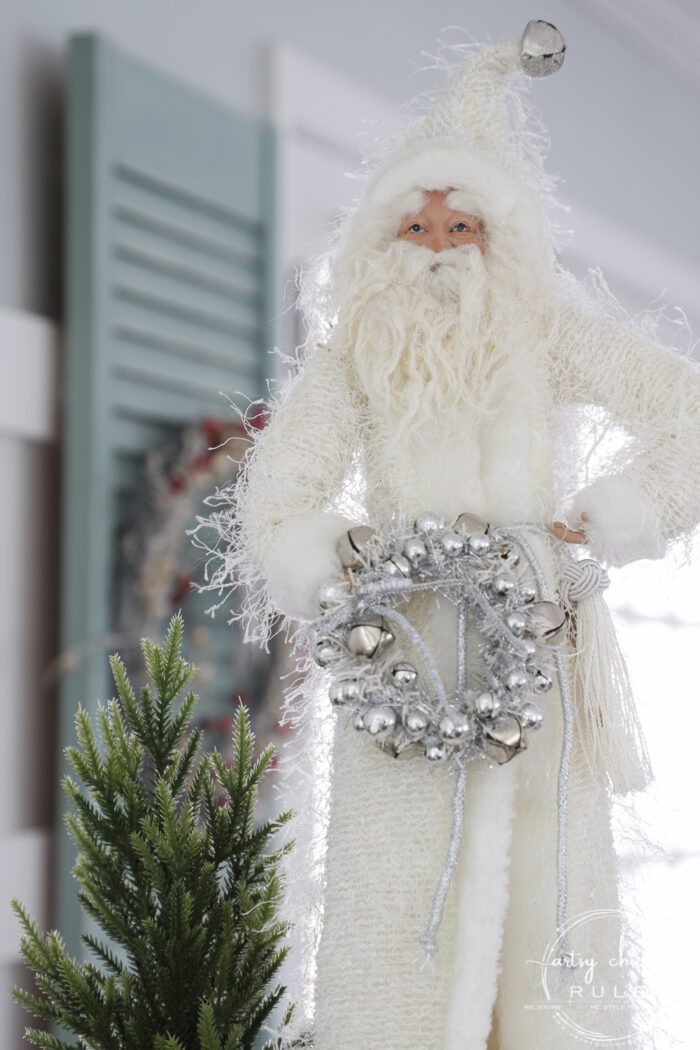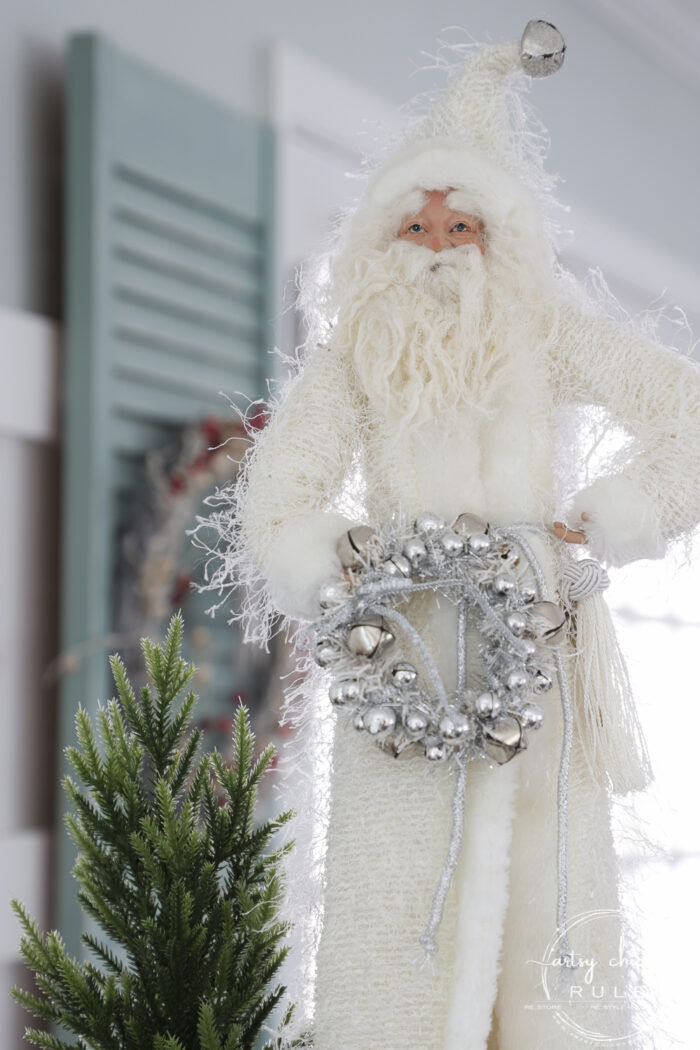 Hi Santa, we're being good, promise. lol
I hope you enjoyed touring our cozy Christmas home this year.
Comfy, simple, and cozy…which is exactly what we needed this year.
PIN it to save it!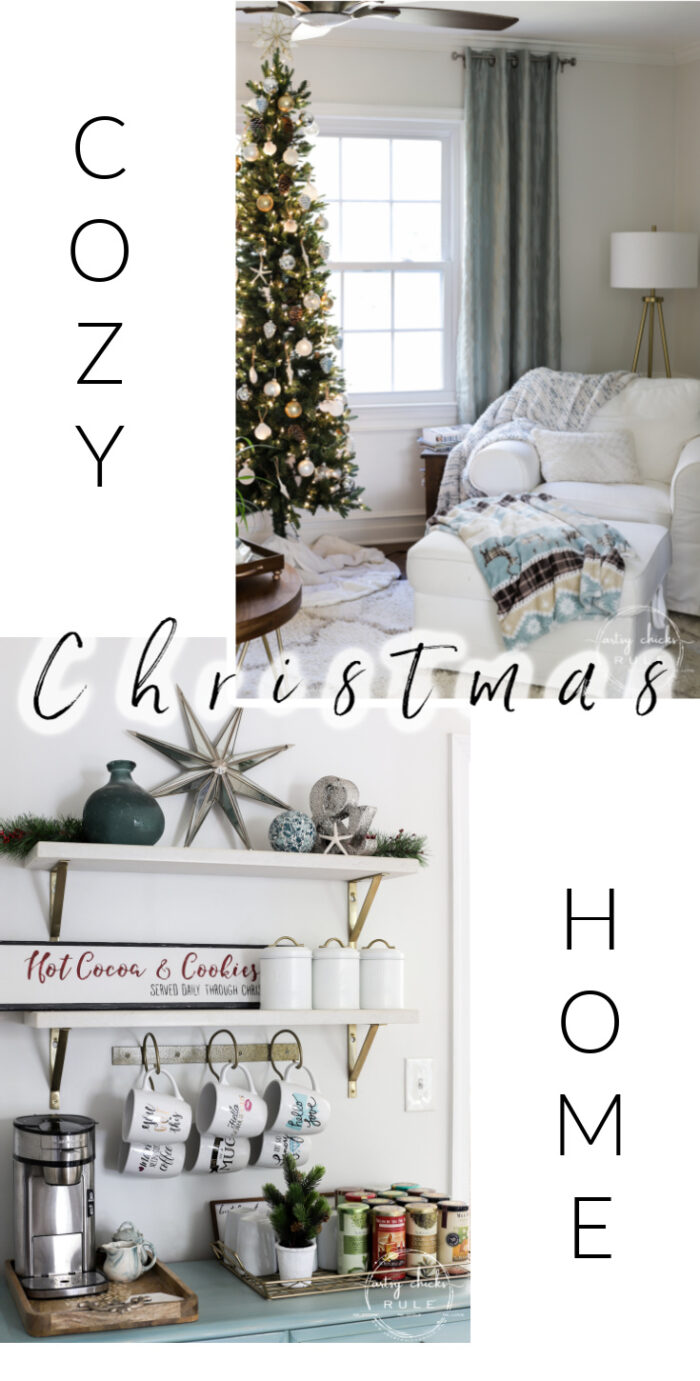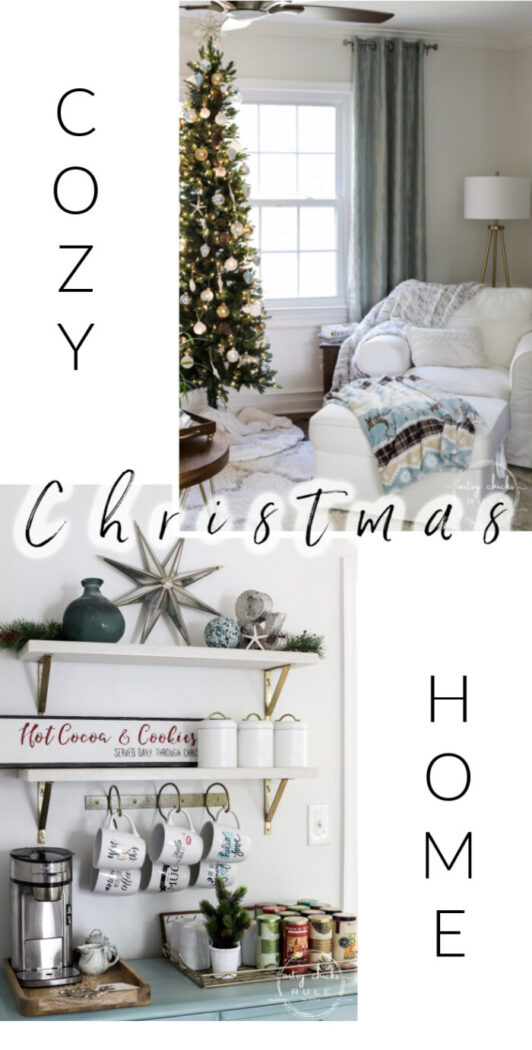 I'm thinking about doing a "night time" tour because I just love sharing how different things look at night.
If so, I'll be sharing that on Tuesday.
Have a blessed and "JOYfull" week, my friends!!
xoxo