Merry Christmas Printable (free download!)
This post may contain affiliate links. Please see disclosures here.
This Merry Christmas printable is the perfect addition to your decor! It can be used in so many ways too!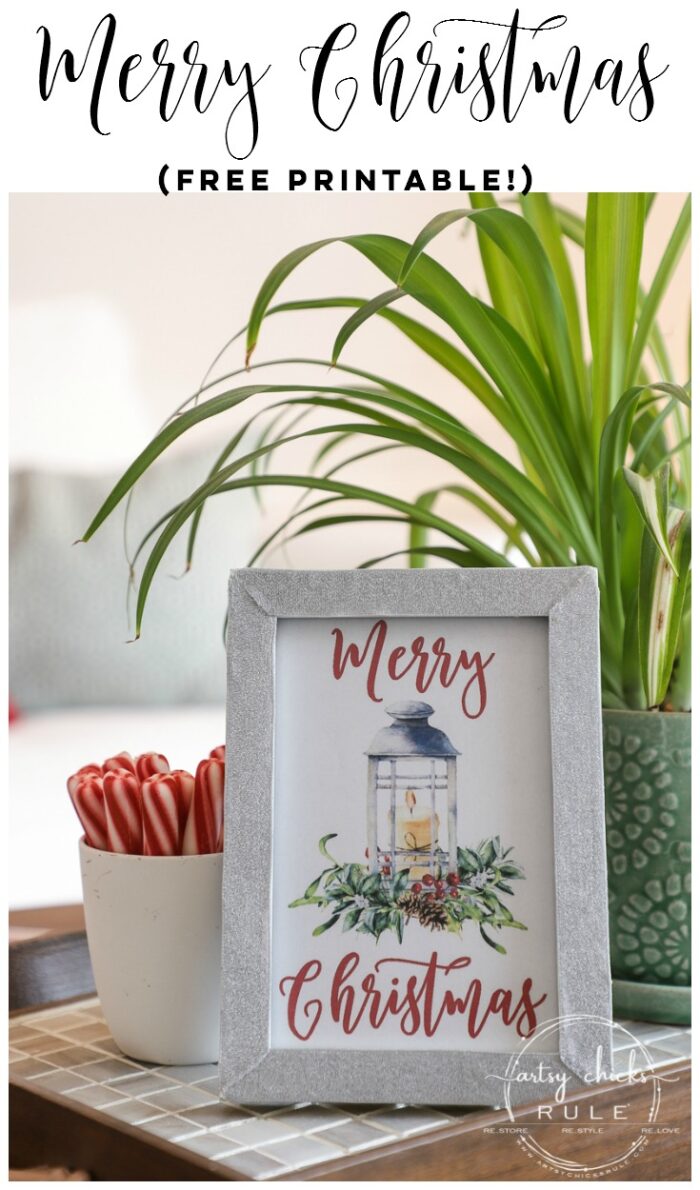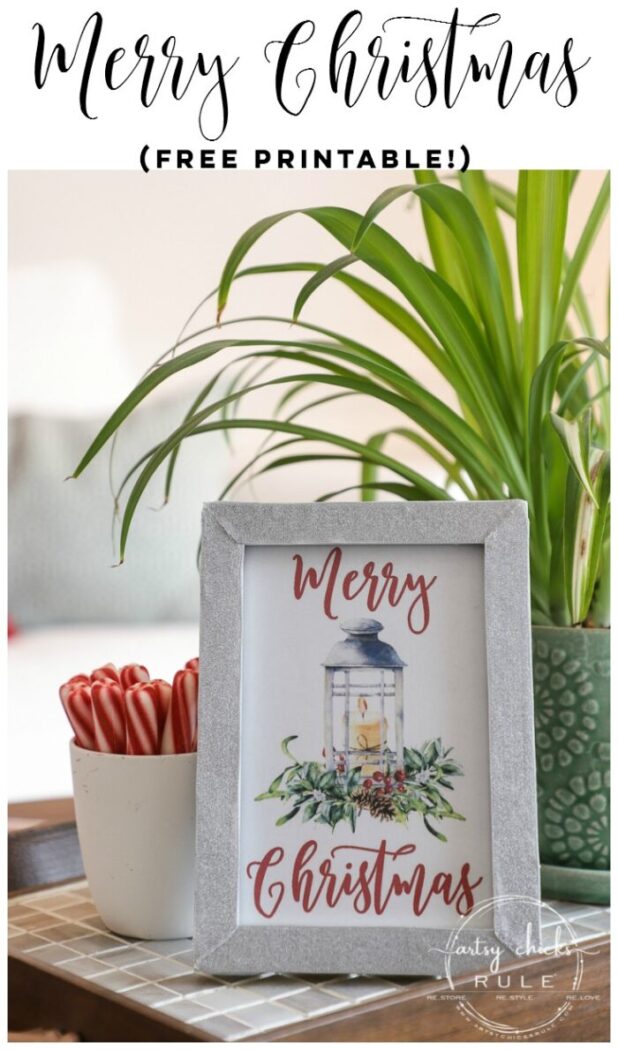 First things first…a big congrats to Nancy A. on winning the French basket I am giving away.
Not only that, but I stuffed it with a few goodies, just for her! (not craft related, hey, it's Christmas, it's more personally gift related :) ) I can't share what because she hasn't gotten it yet. Where's the fun in that?!
But be on the lookout for even more fun in the new year. I think I'm going to make this more of a regular thing. AND be sure you're subscribing to (and opening ;) ) the newsletters I send you because I am going to do some of the giveaways there only, not here on the blog.
And guess what else?! My blogging bestie, Christy, over at Confessions of a Serial Do It Yourselfer is hosting a giveaway right now too! Get on over there and enter to win all the goodies she is giving away. You can visit her giveaway, here.
…………………………………………………………………………………………………………………………….
It's almost here!
I can't believe how fast time flies these days. It will be spring again before we know it. (I hope!! ;) )
But truly, 9 days till Christmas?? Wow.
I thought I'd share one last Christmas "crafty" post with y'all while there's still a little time to get your crafty on.
This is a cute little printable that you can simply print out and stick in a frame. It adds a fun little festive punch anywhere you put it. Or you can even make a pillow with it, hand towel, gift cards, invitations or more. Lots of things you can do with printables.
As a matter of fact, I created a post on just that in case you need a few ideas. You can see it here >>> Creative Ways To Use Free Printables
Here's what I created for you…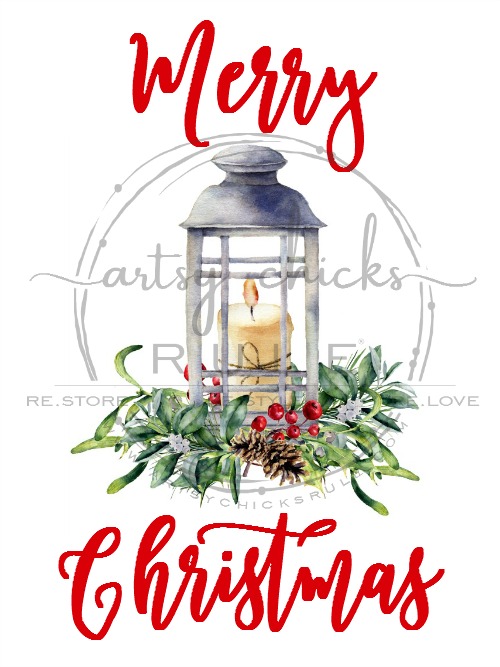 I love creating printables and graphics but they do take some time to do it. I also pay for some of the elements I use to create them. But with that said, I offer them FREE to all my subscribers as a "thank you" for following along on this crazy, crafty ride with me! :)
If you are already a subscriber, you can click here, enter your password (it can be found near the top of all my emails to you) and download this or any other graphic I've created over the years. (over 100!)
If you aren't yet a subscriber, you can click here or the pink box below to become one to gain access.


Merry Christmas Printable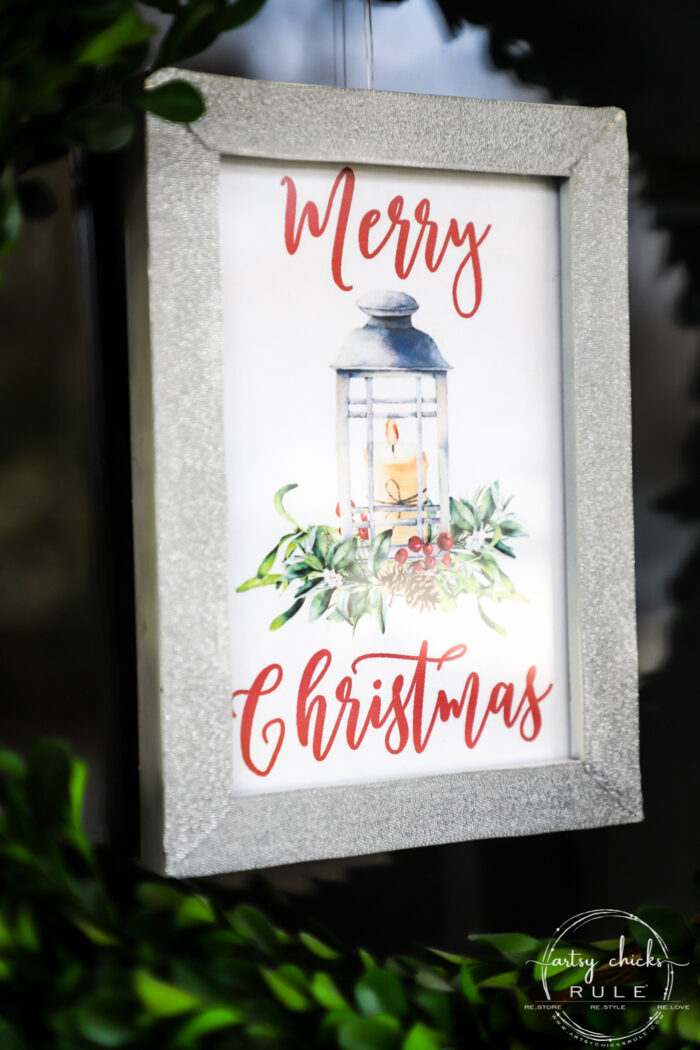 Pretty simple but sweet.
Hanging on our front door…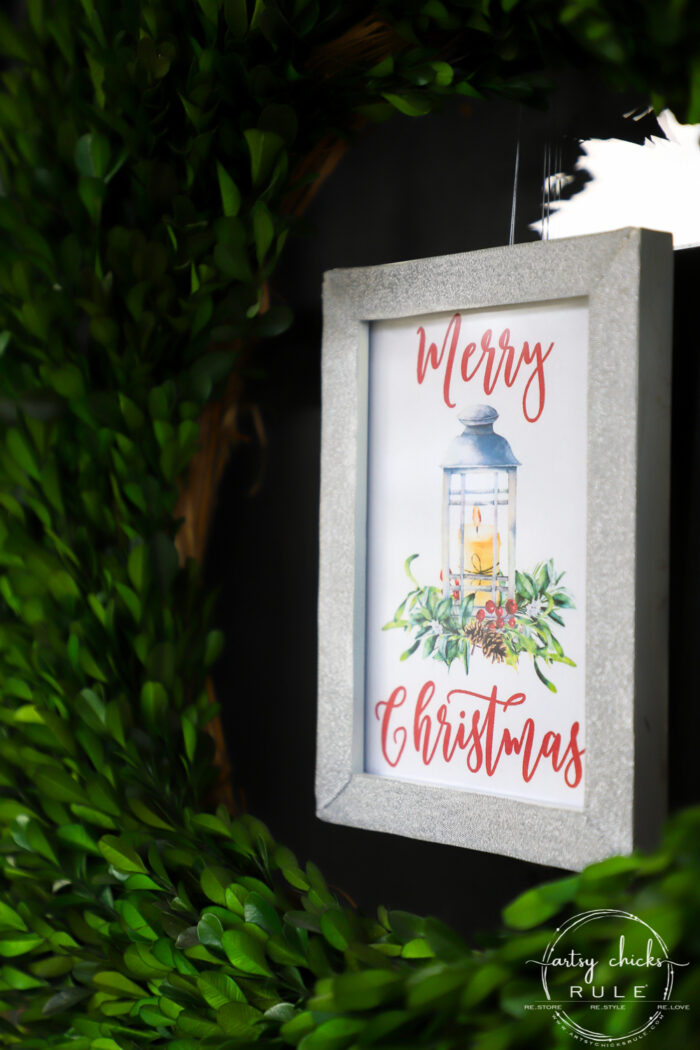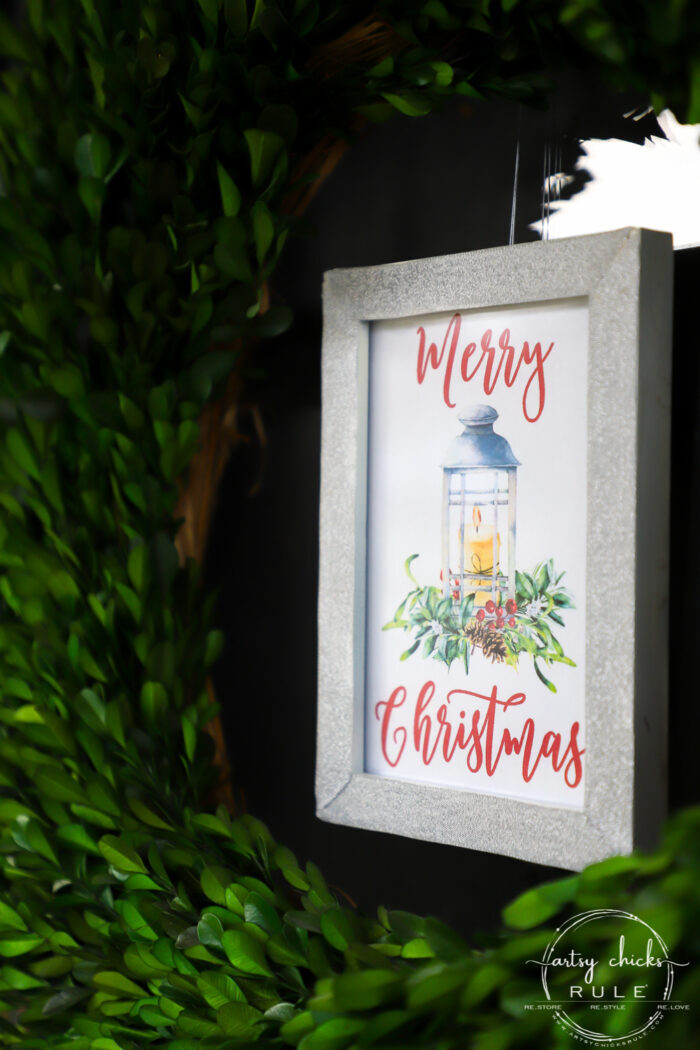 I simply printed it out on my computer and popped it in a frame.
The frame got a little fancied up too though with a sparkly silver ribbon.
Find a small frame at the Dollar Store (or thrift store) and add sparkly ribbon to the front with glue…instant glam!
I love hanging these small framed prints inside of wreaths, like this boxwood wreath below.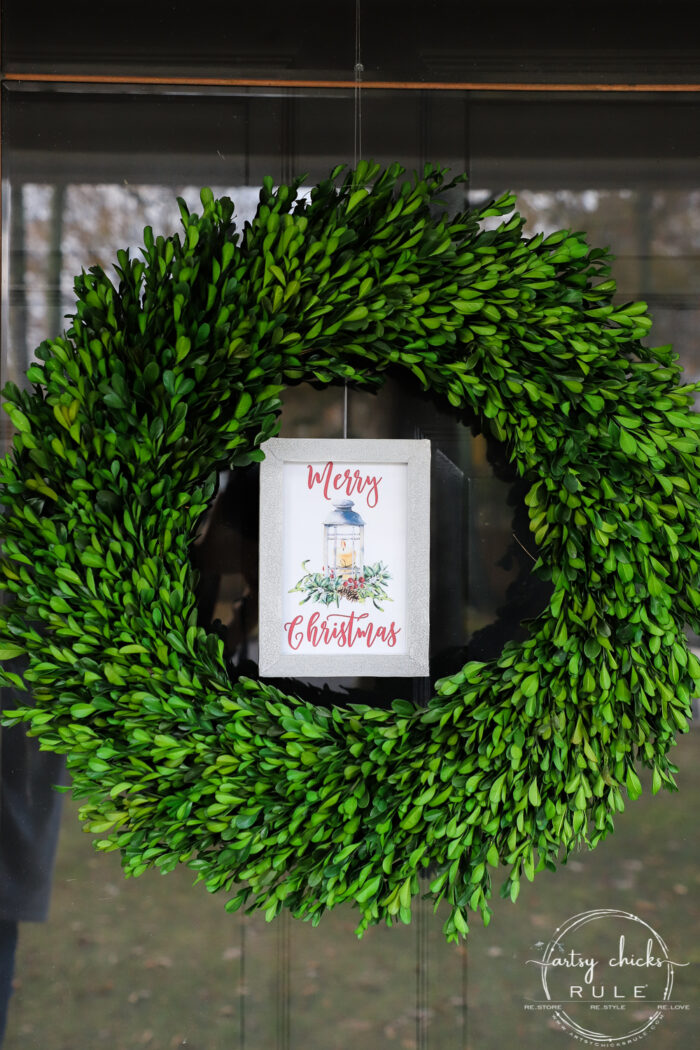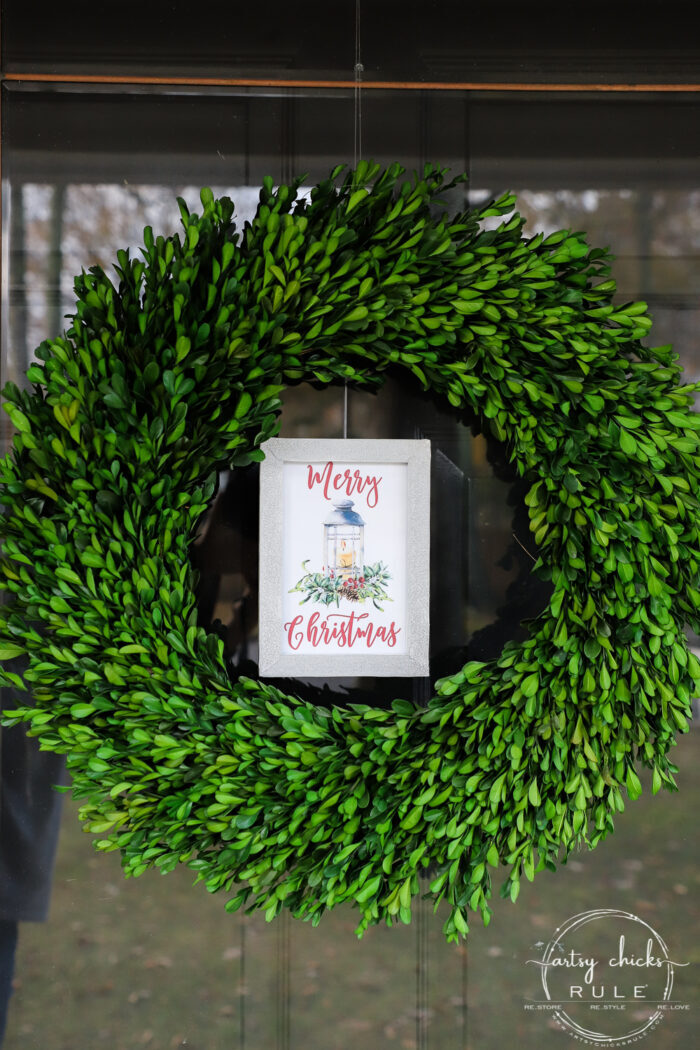 This is one of my favorite boxwood wreaths. You can find it, here.
I think the rich green color is just perfect for the holidays.
Here it is on the mirror in our kitchen.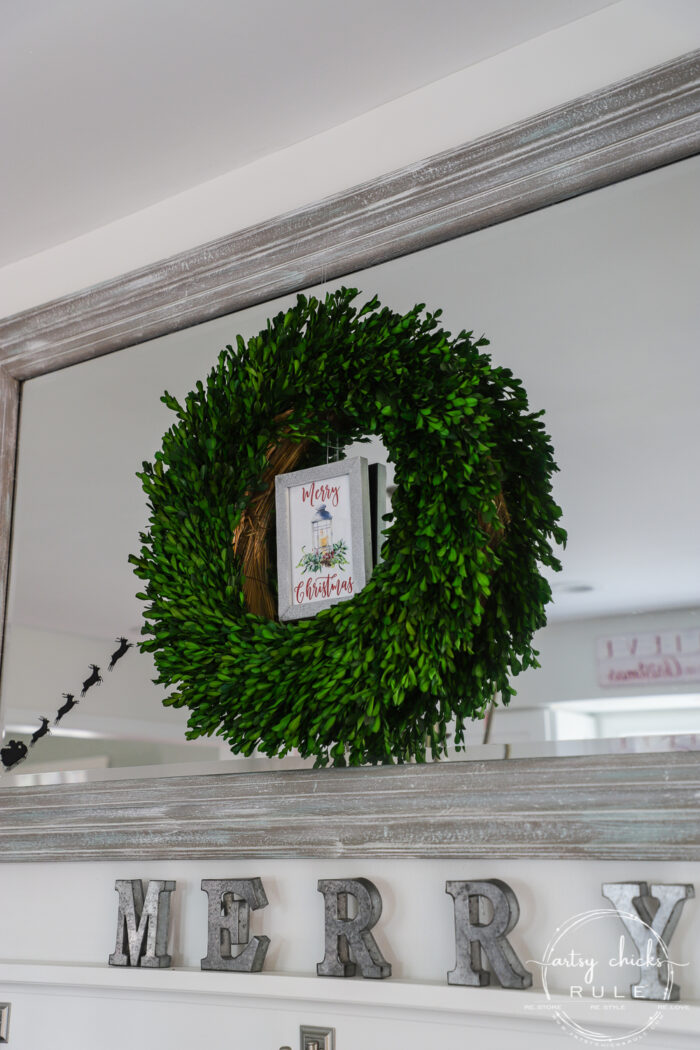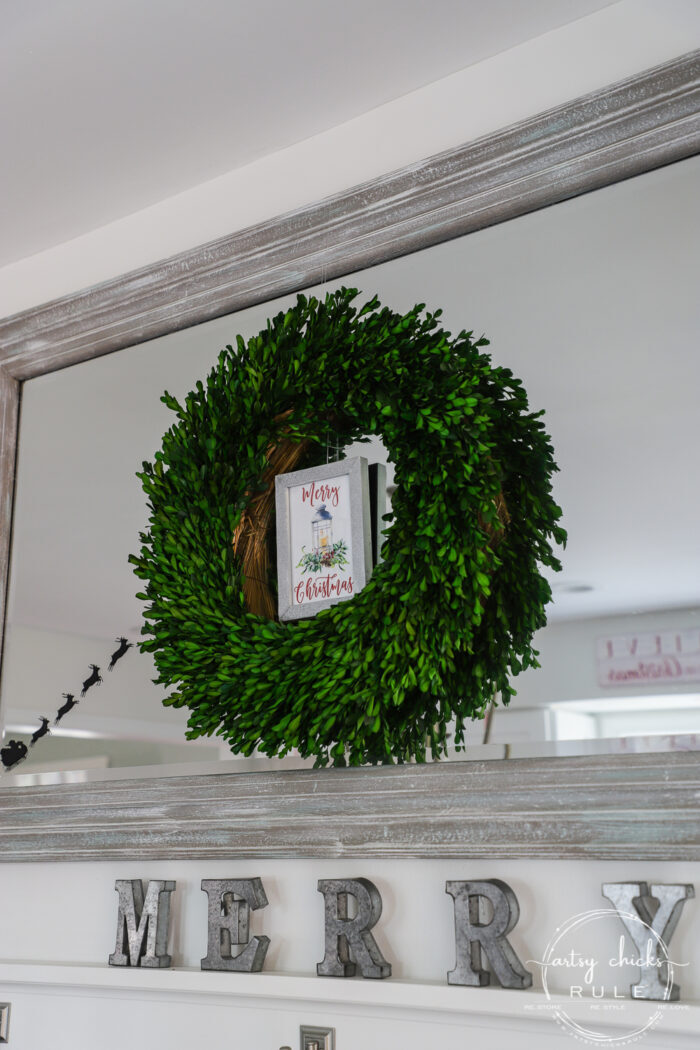 Do you see the Santa sleigh and reindeer over there?? Those were the cutouts of the vinyl stencil I made for >>> this project.
As I was pulling them out, I stuck them up on the mirror thinking I may use them somewhere else since they weren't getting all mangled up as I removed them (as the skinny letters usually do) and it would be a shame to just throw them away. But then I ended up just leaving them there!
Then I moved the Merry Christmas printable over to the morning room and hung it on the window frame.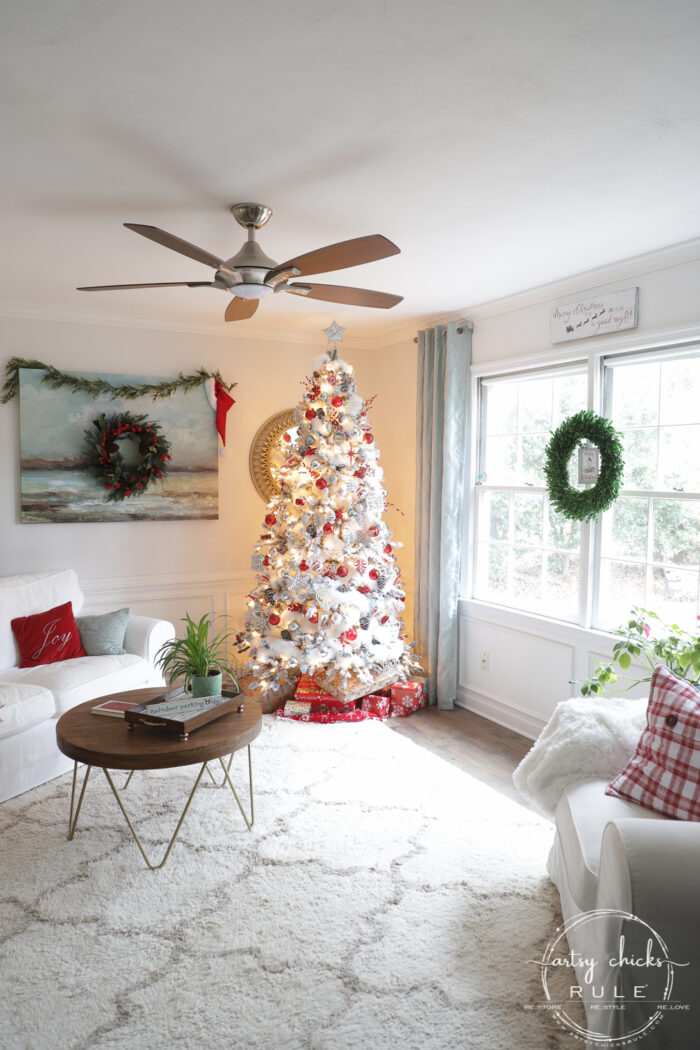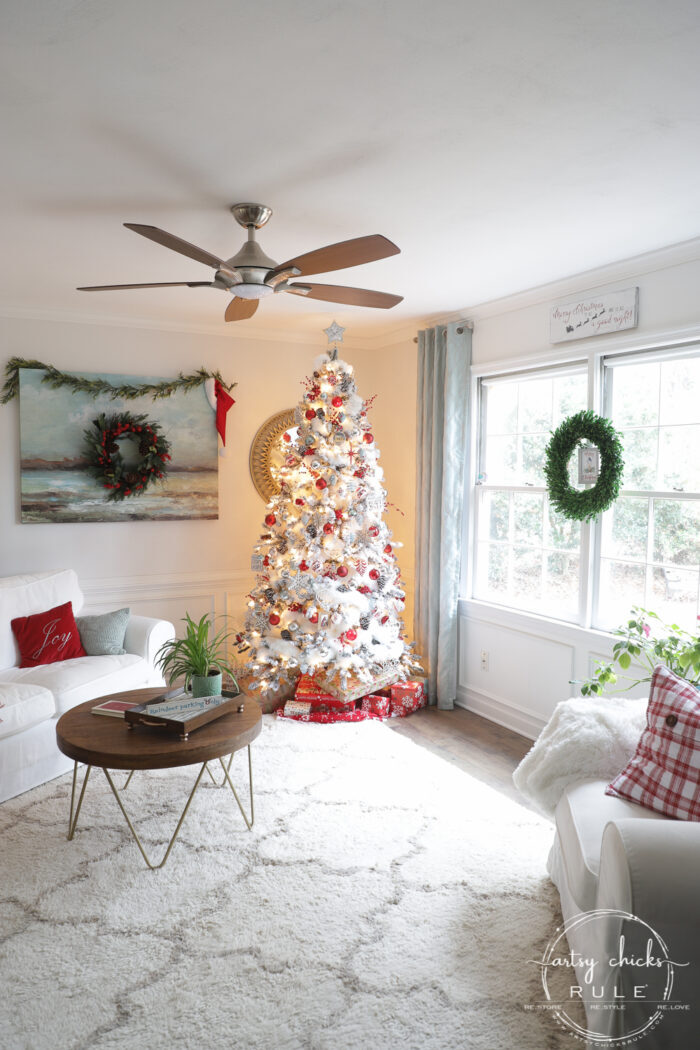 For those that might ask, I always use good ole (almost invisible) fishing line to hang all my wreaths, etc. (I put a tiny, tiny nail up in the top of the window frame trim)
Works great!
I kinda love it here.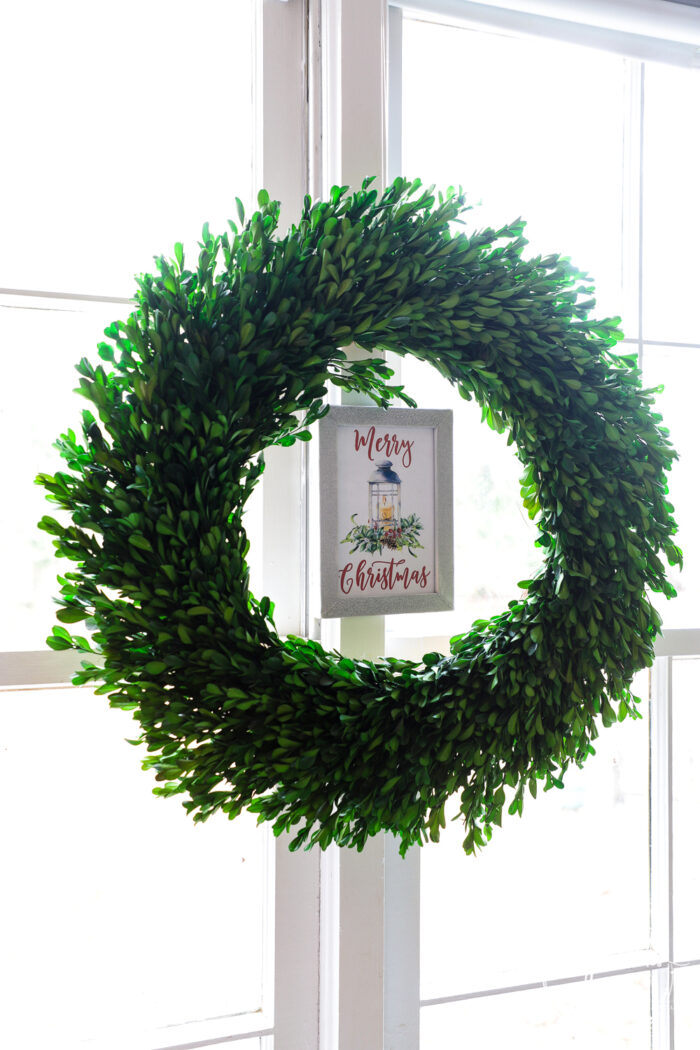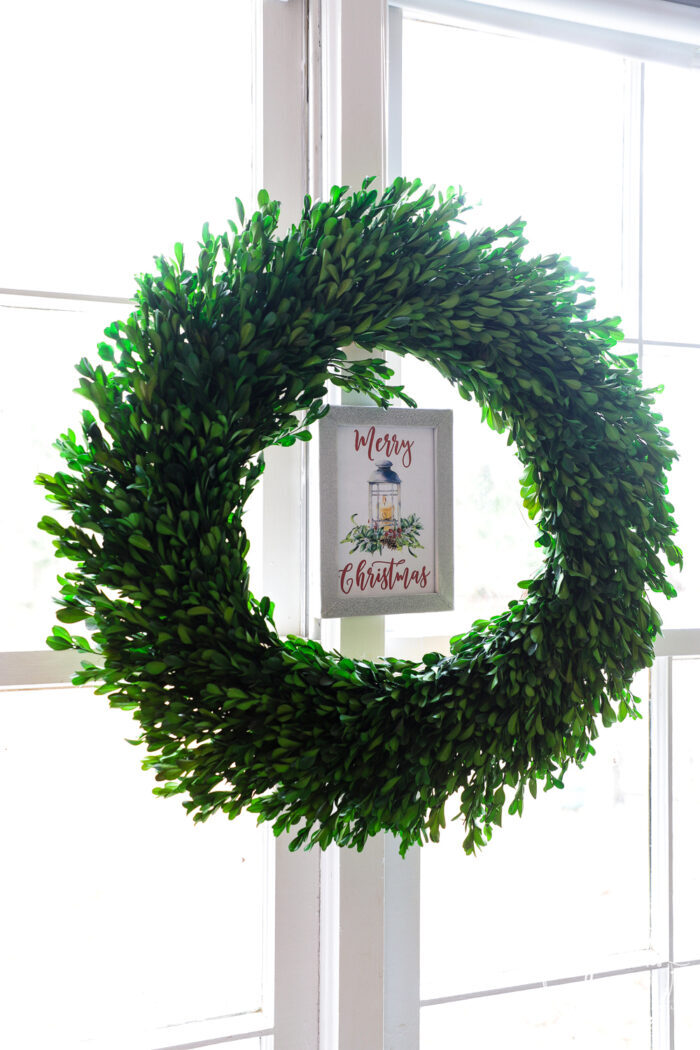 Or maybe just on the small coffee table, here…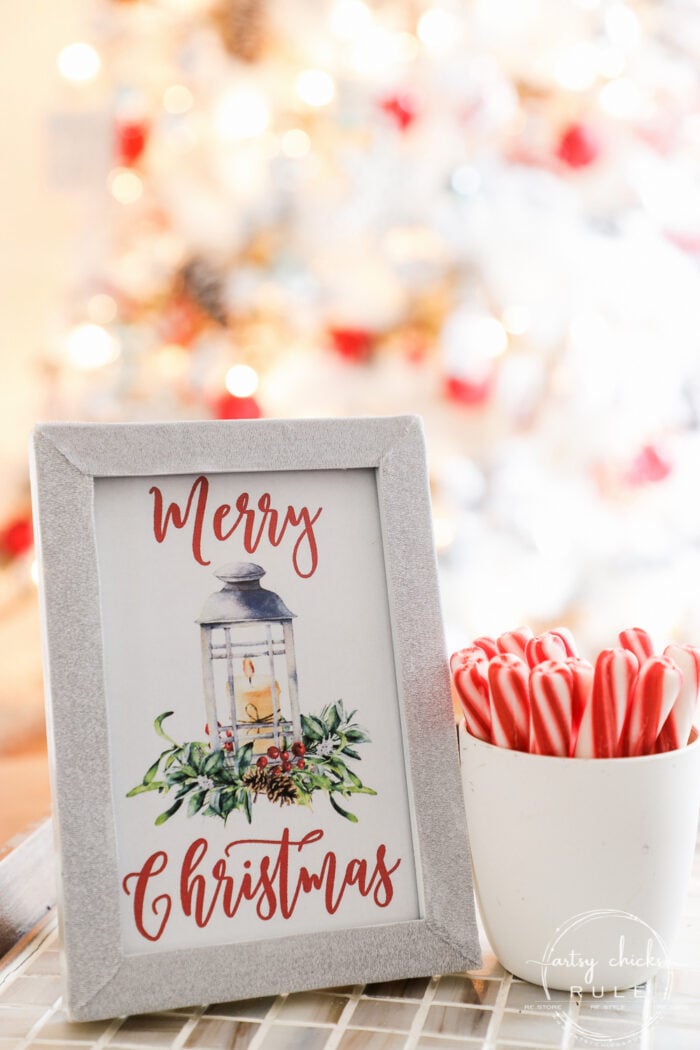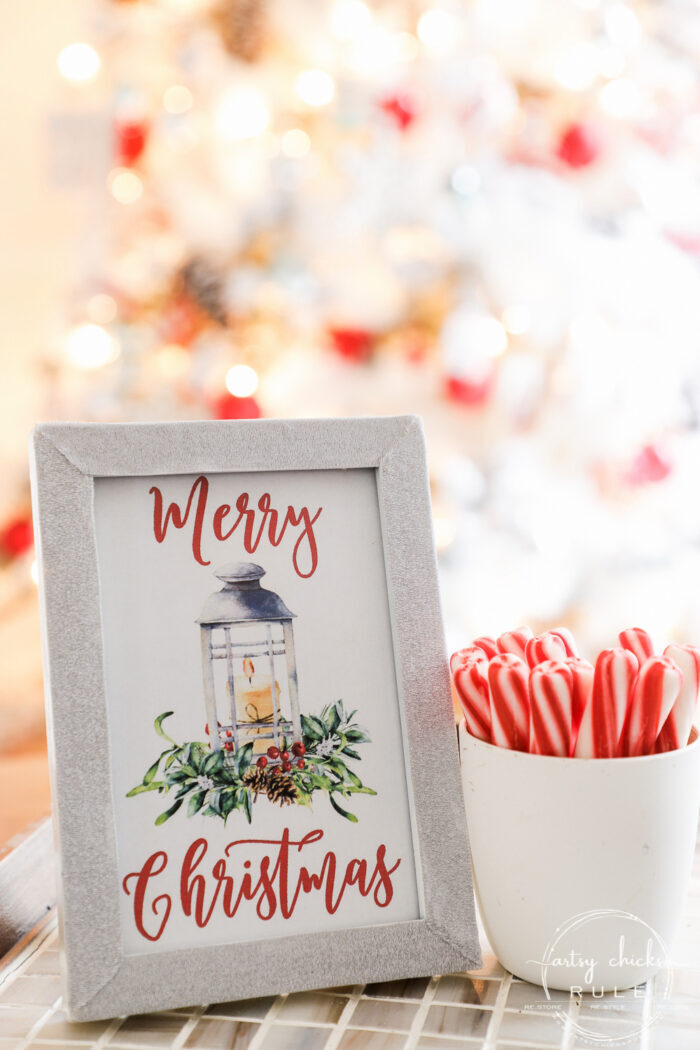 Or how about in the foyer?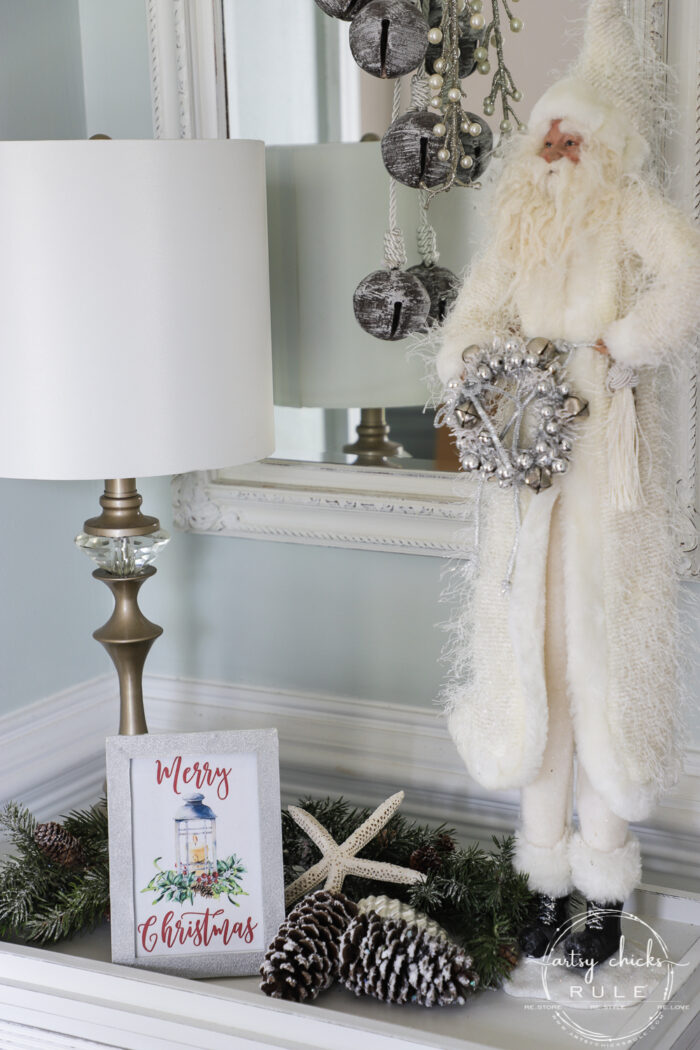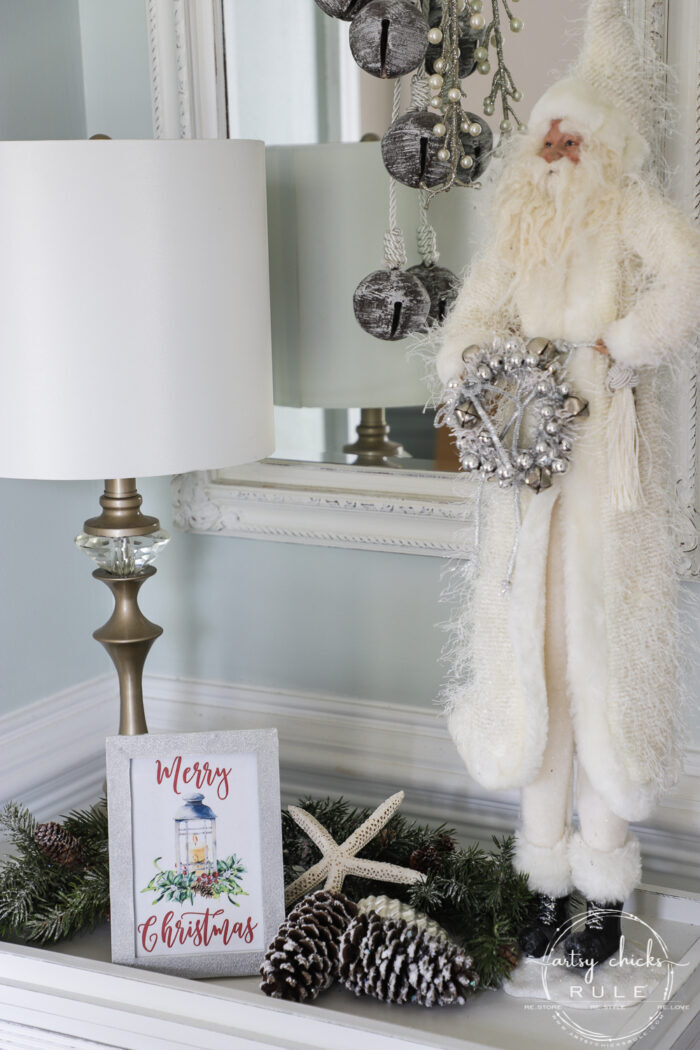 So cute with Santa and also welcoming guests as they come in. But I already have the "Noel" wood display here.
And so again it got moved. ;)
To the kitchen, here…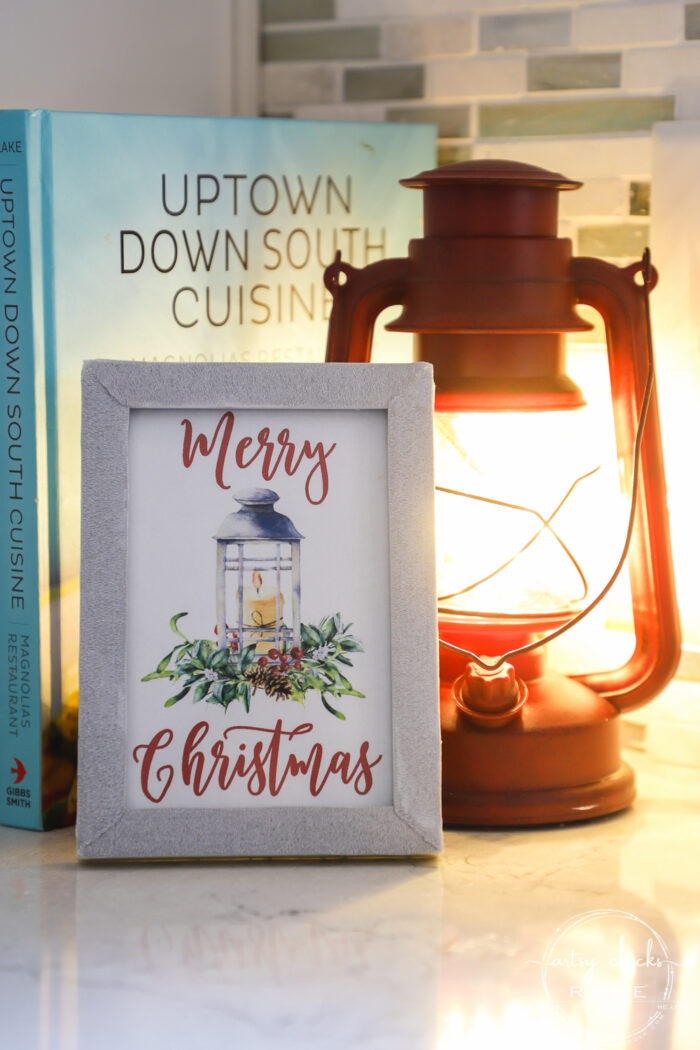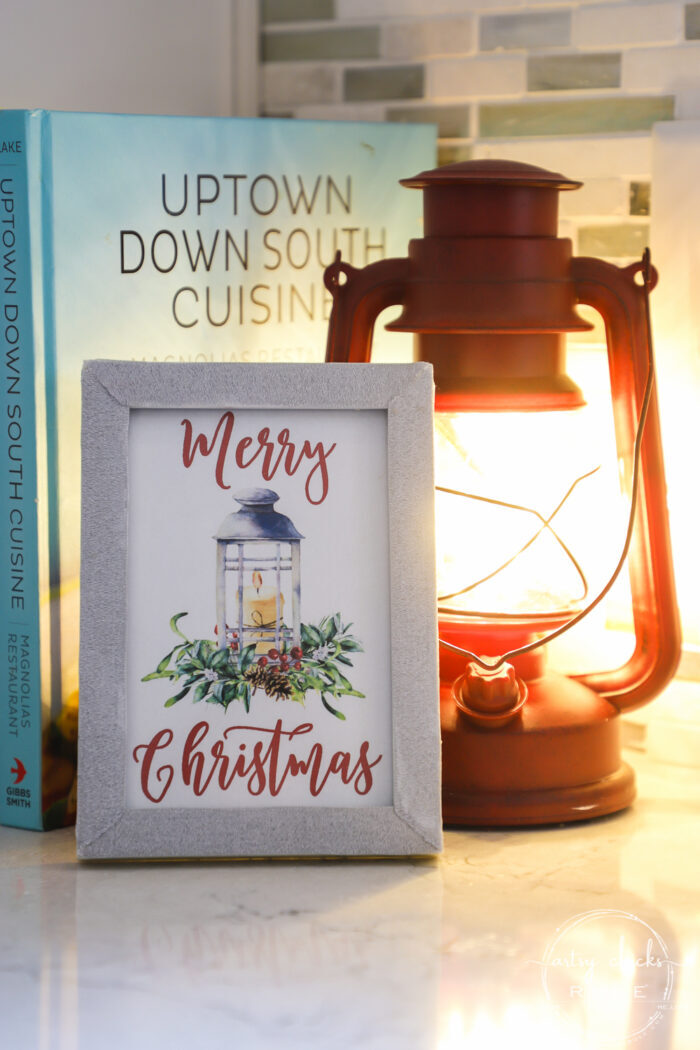 Sitting in the corner by this adorable lantern I got from Walmart a year or two ago.
This is where it will stay.
But you get the idea! Lots of places you can use it and this is only one way, printing it out and framing it.
As I mentioned above, there are so many other things you could do with it too.
PIN it to save it!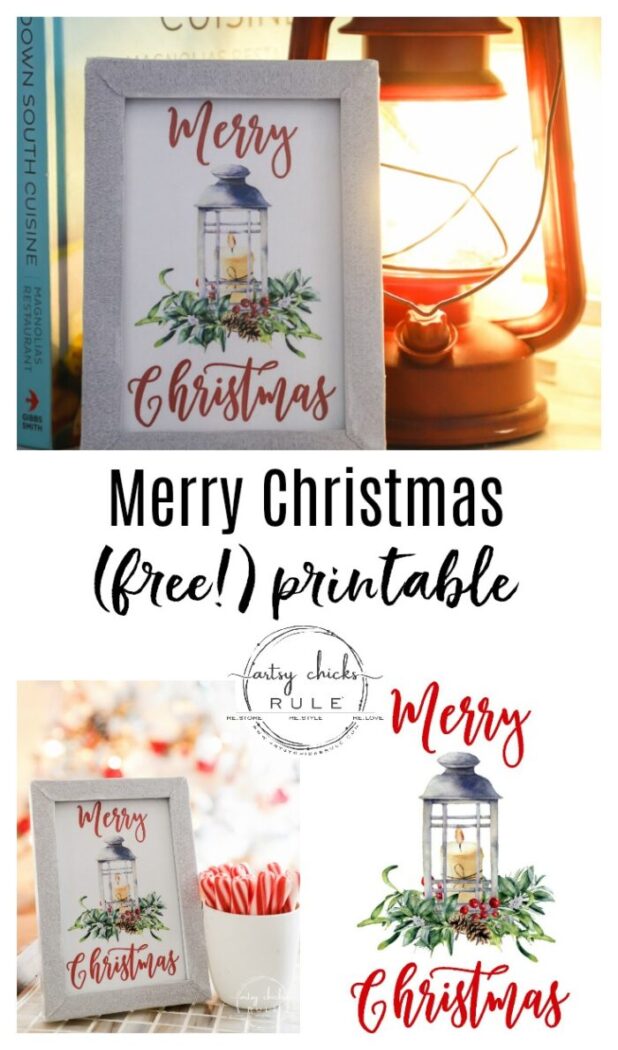 I hope you will enjoy using this free Merry Christmas printable in your decor this year. (or as a card, pillow, towel, invitation, etc!)
I'll see you back here on Thursday with my nighttime Christmas home tour.
Have a wonderful week!
xoxo