Traditional Red Cozy Christmas Decor (morning room and kitchen)
This post may contain affiliate links. Please see disclosures here.
Cozy Christmas decor in traditional reds creates a warm, nostalgic and welcoming space! Simple ideas to create a holiday space you'll love!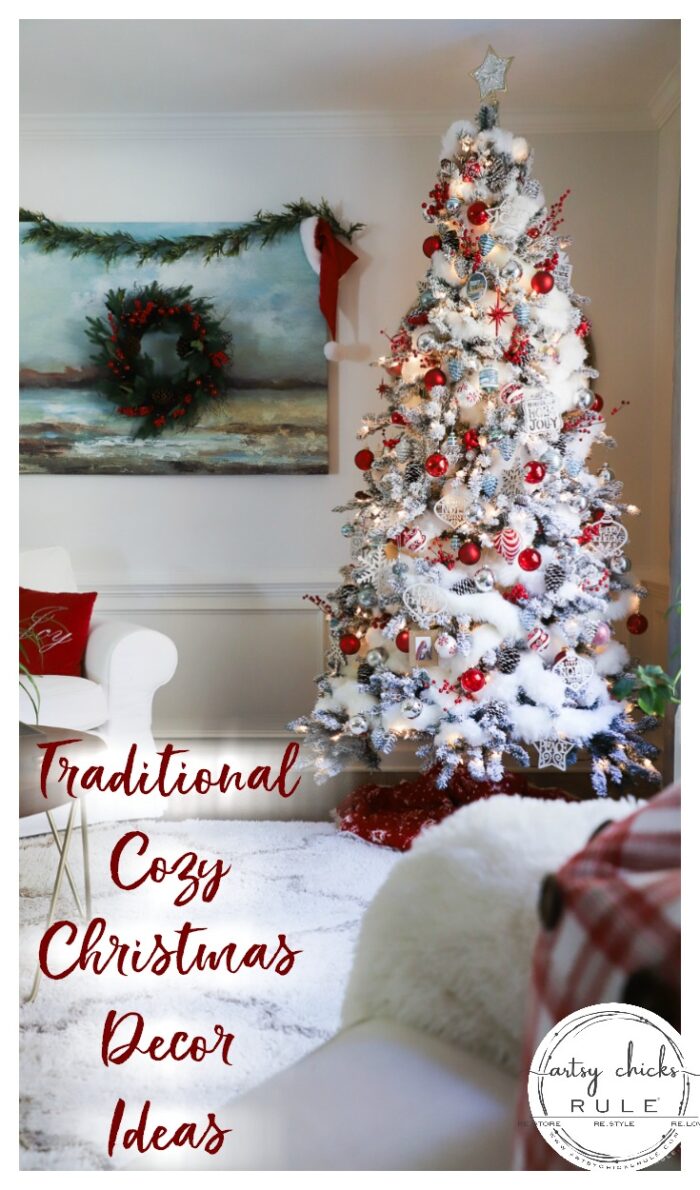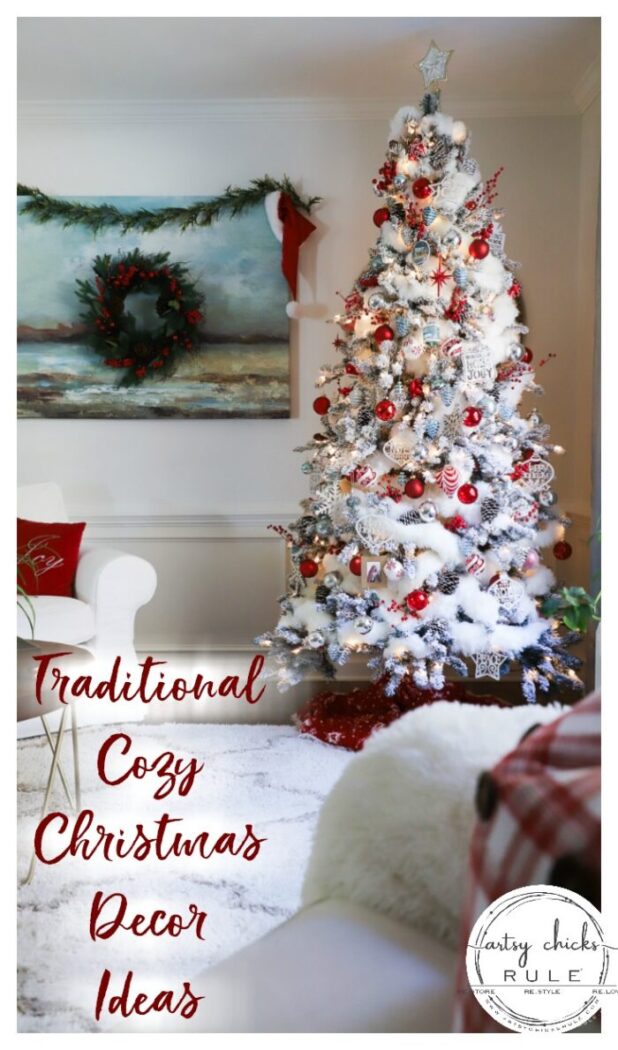 Hello, my beautiful friends!
As promised, I am back today sharing Christmas tour #3 with you all. This one is my traditional red, and oh so cozy, decor.
All of our 2019 holiday home tours, here:
UPDATE: I recorded a live tour (walk-thru) of our holiday home over on Instagram. Those stories only last 24 hours but I made its own tab to stay. You can see it, here. (click the circle that says "Home Tour")
I'll also be sharing a nighttime tour like I did last year. (you can see last year's, here) I haven't taken the photos for that yet but I'm thinking I will share it sometime next week.
I love a nighttime tour because it gives a completely different look and feel than regular daytime photos.
I am also going to do a video tour and share it over on Instagram. (I may save it and share it here too)
Yesterday I stepped way out of my comfort zone and turned the camera around to talk to y'all over on Instagram. I took you shopping with me! I am planning to do more and more of that but it's a bit nerve-wracking coming out from behind this blogging curtain! lol It's safe and cozy back here but I know I need to push myself to do things like that, so I'm trying hard.
So…if you are interested in seeing more of that, and all the other random I share over there, be sure to follow along with me here>>> My Instagram.
Hopefully, it will lead to more than just me turning the camera around to talk to y'all, but also me feeling comfortable enough with it so that it may lead to doing other crafty, fun things live, etc. Sort of like the blog here. I remember when I was almost as scared to take that first leap too.
And here I am! :)
Now let's talk red, cozy Christmas decor!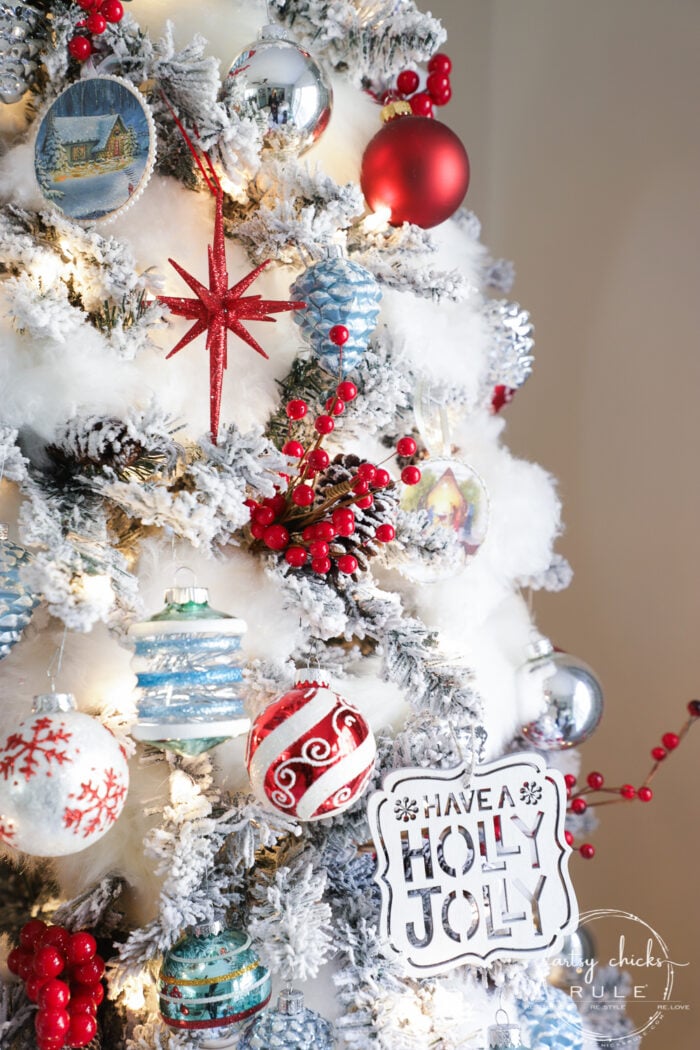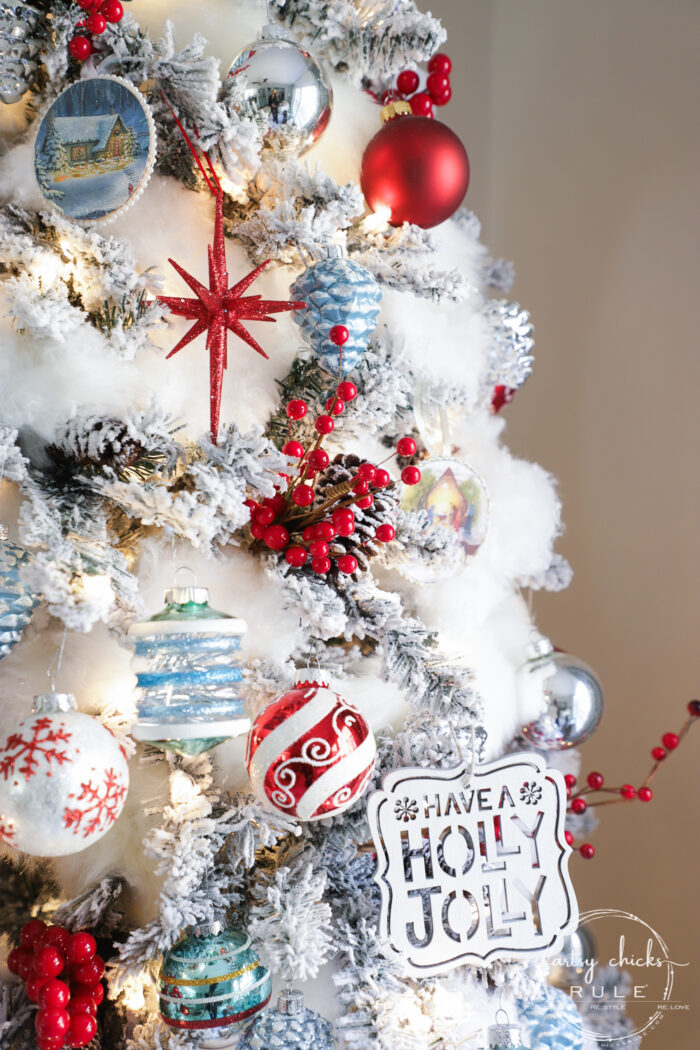 Traditional Red Cozy Christmas Decor Ideas
We'll start in the kitchen…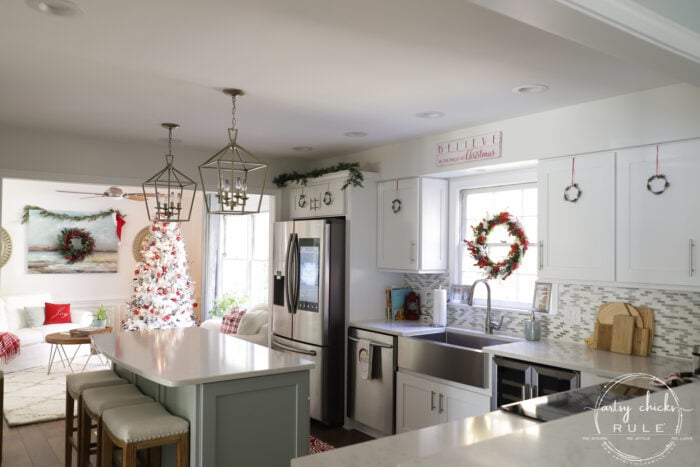 This is looking in from the family room. You can see all the way through to the morning room.
There is the Dollar Store wreath I made and shared here on the blog. I love it in the kitchen on this window.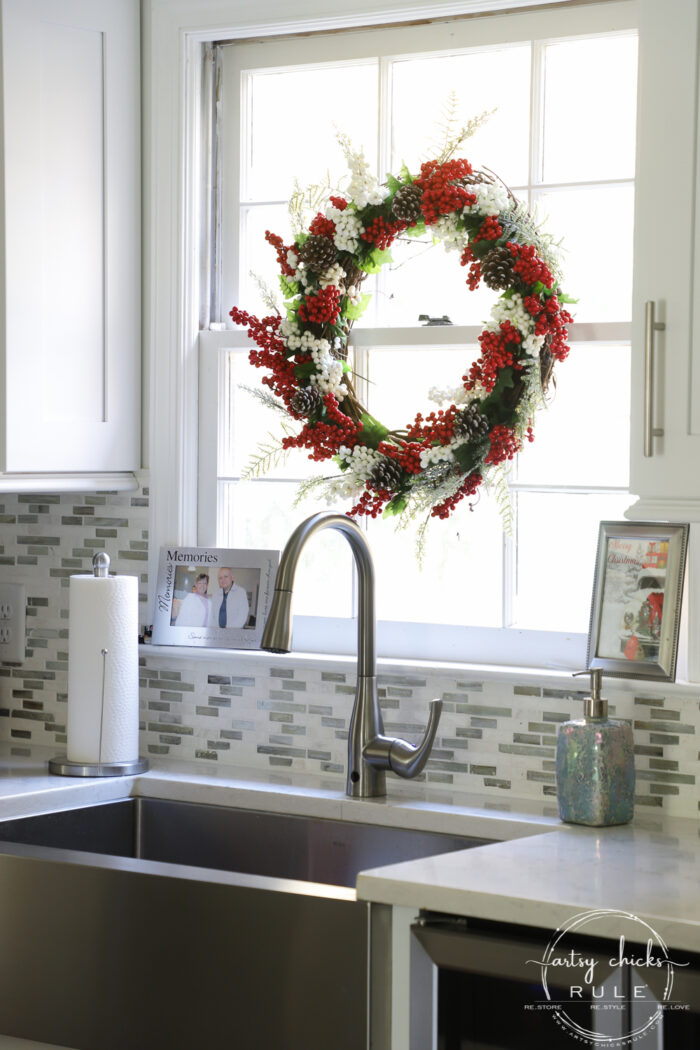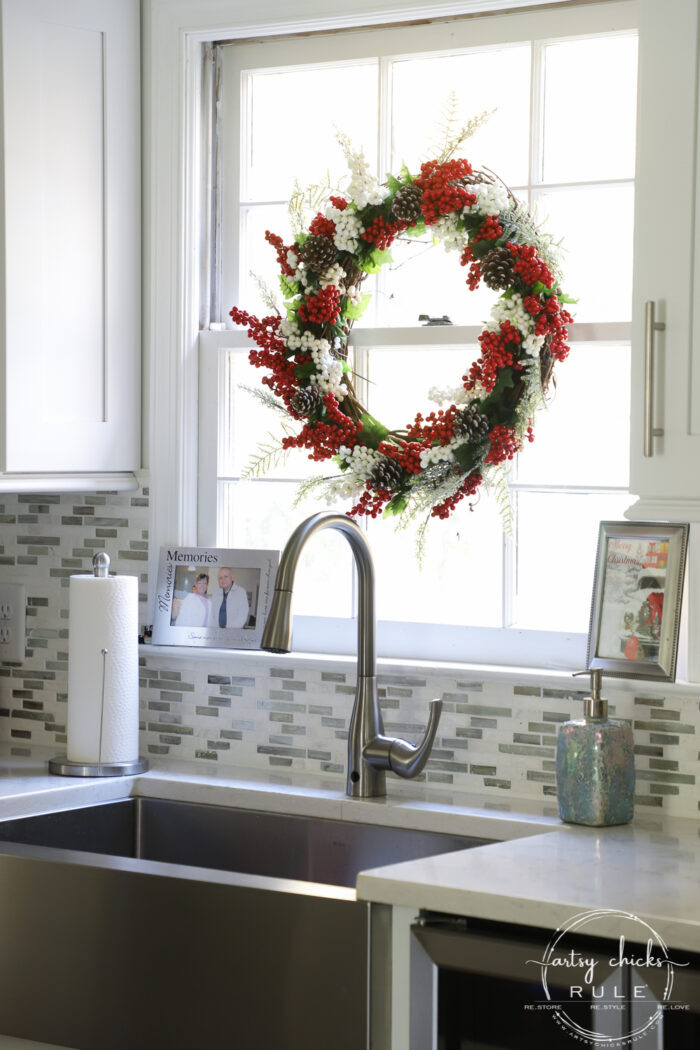 The colors are perfect for the decor in here.
On the right of the window sil is a Christmas card that I just loved and so I framed it. I gave some other ideas of using old cards in decor, here.
The mini wreaths hanging on the cabinets were SO simple to make, you can find those, here.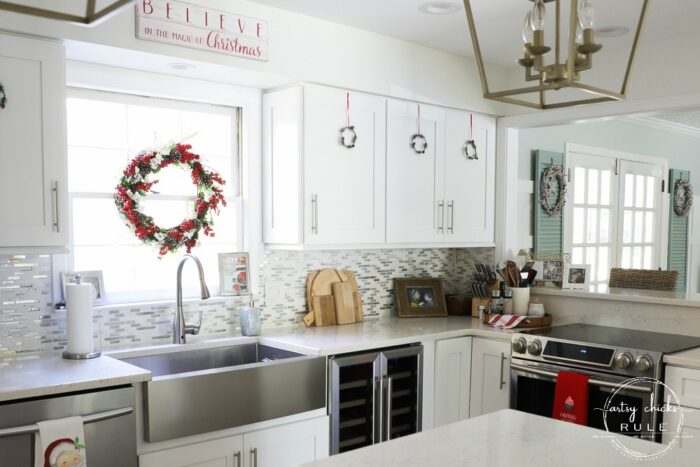 Little touches, like holiday hand towels hanging from the oven and dishwasher add to the coziness of the space.
I took down the "Grateful, Thankful, Blessed" sign I usually have here and replaced it with the "Believe" sign, which can be found, here.
You can find the tray and salt and pepper shakers on my "Shop Our Home" page.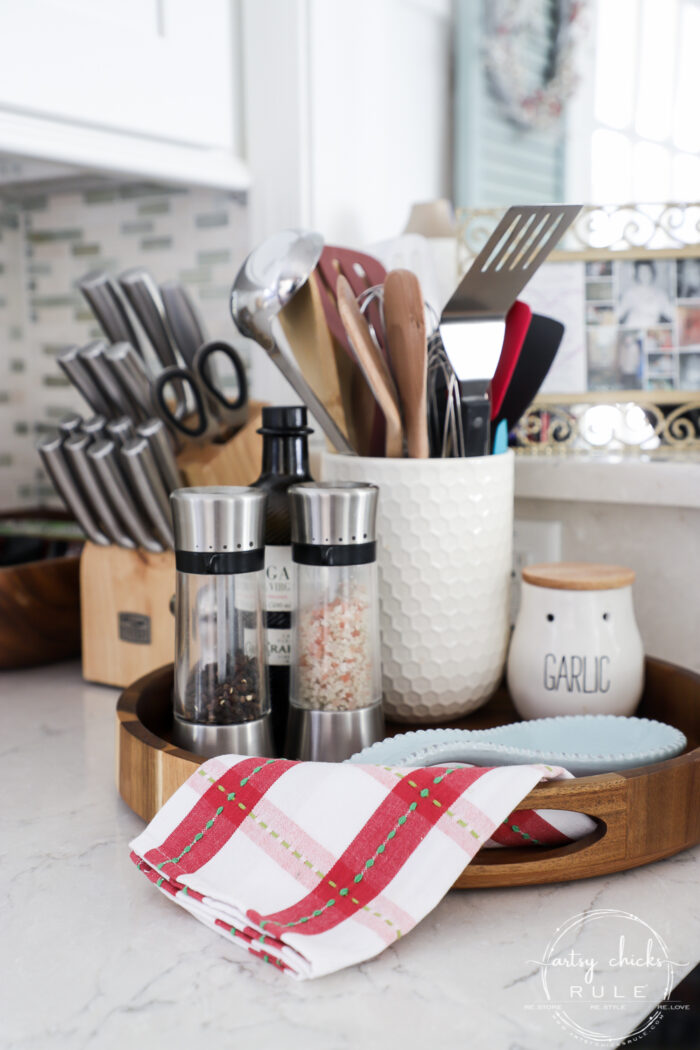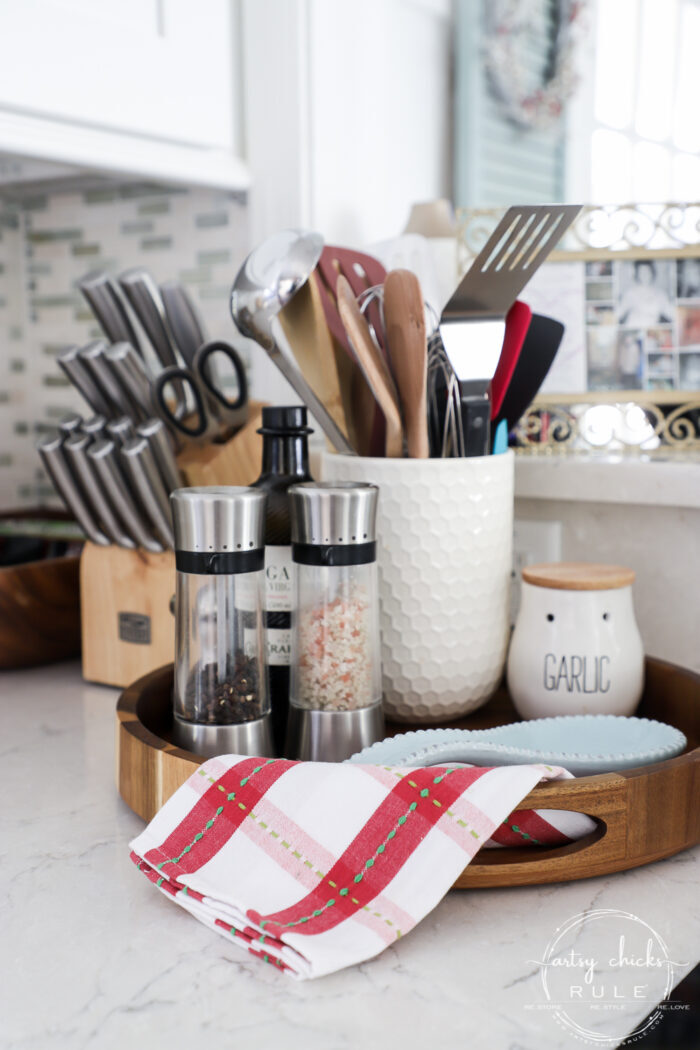 I simply added a red plaid towel here.
Over the big mirror on this side of the kitchen, I hung a red berry wreath. I believe I picked that up from TJ Maxx last year.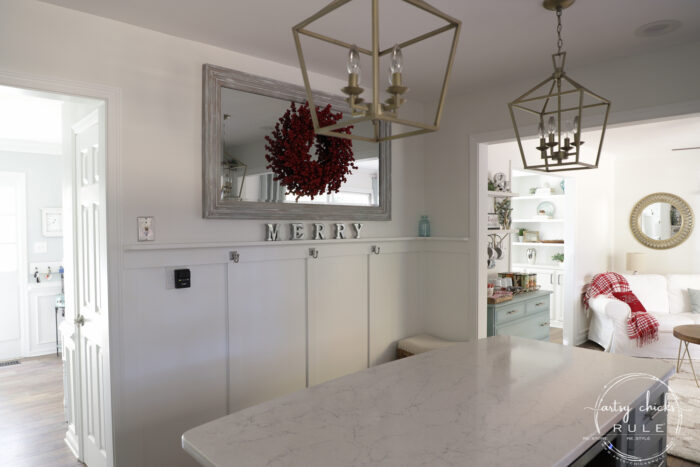 The metal letters were in our laundry room for the last 2 years.
I decided to put them here this year.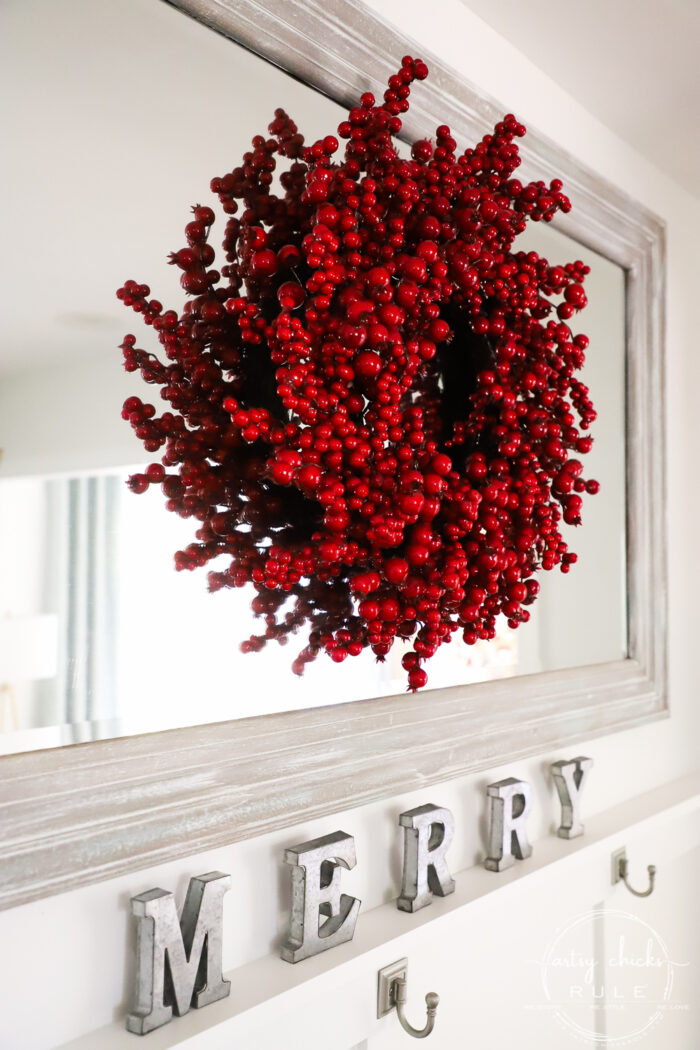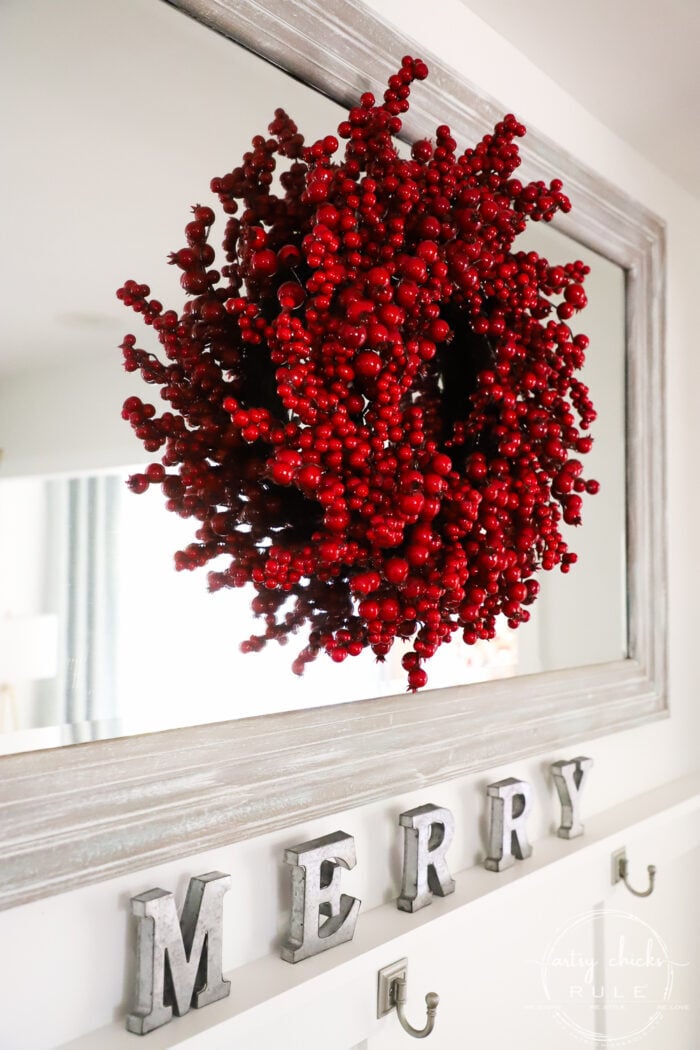 And this rug was also in the laundry room last year. I love using it in the kitchen this year instead. (I got it at Target but it looks like most sizes are mostly sold out now)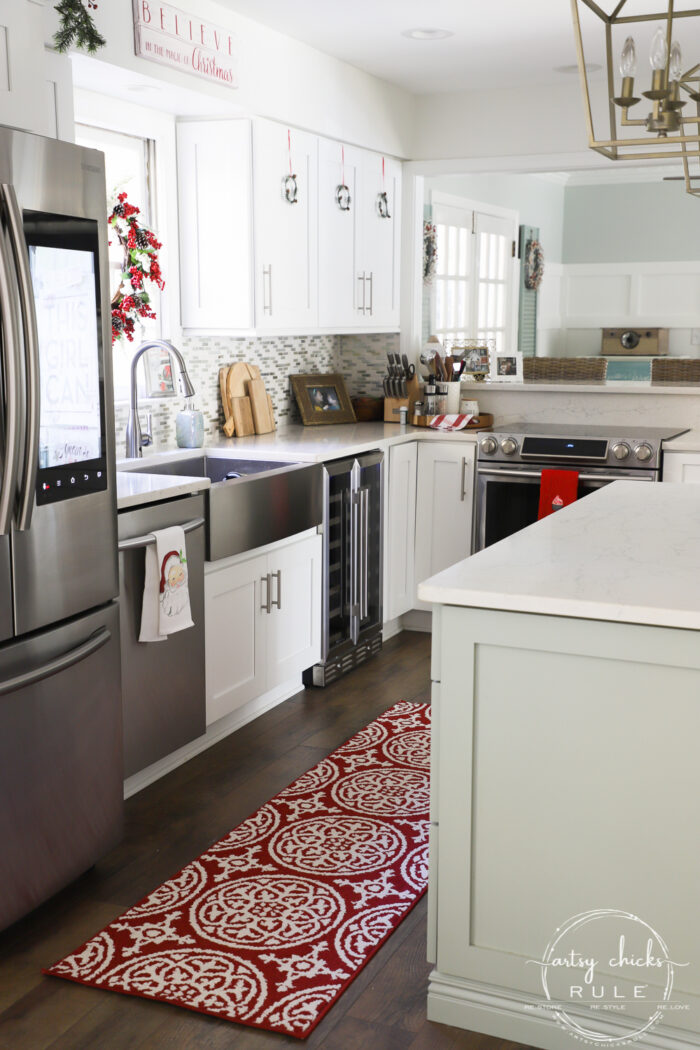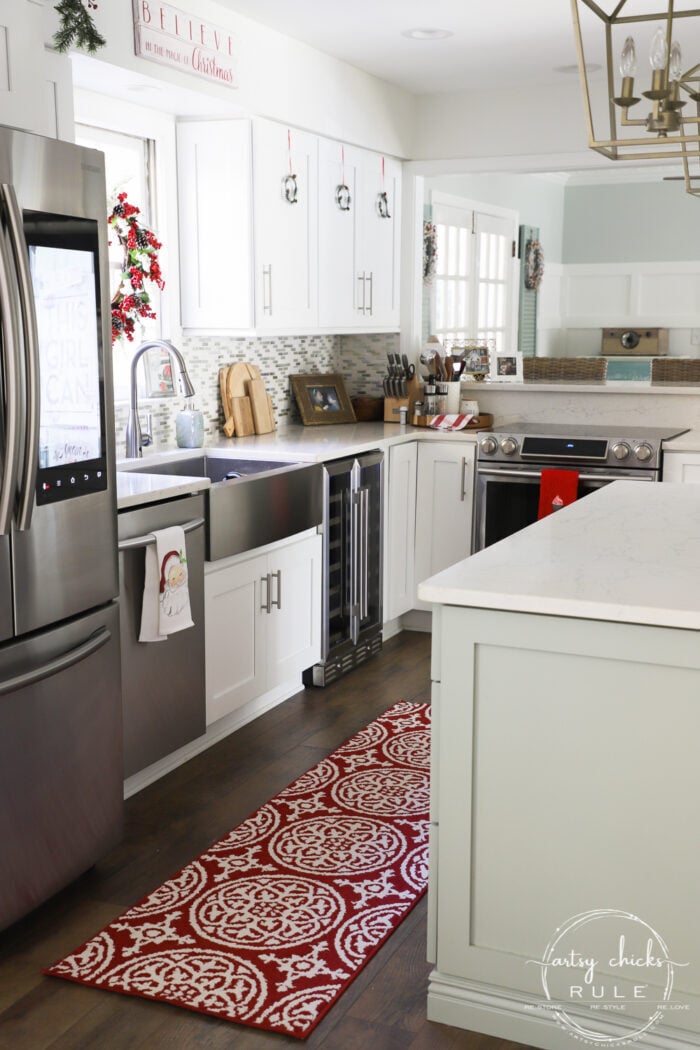 It makes the space feel so festive.
From there we head into the morning room.
I moved the couch and took one of the side tables and lamps out of the room so that I could put the tree in the corner this year.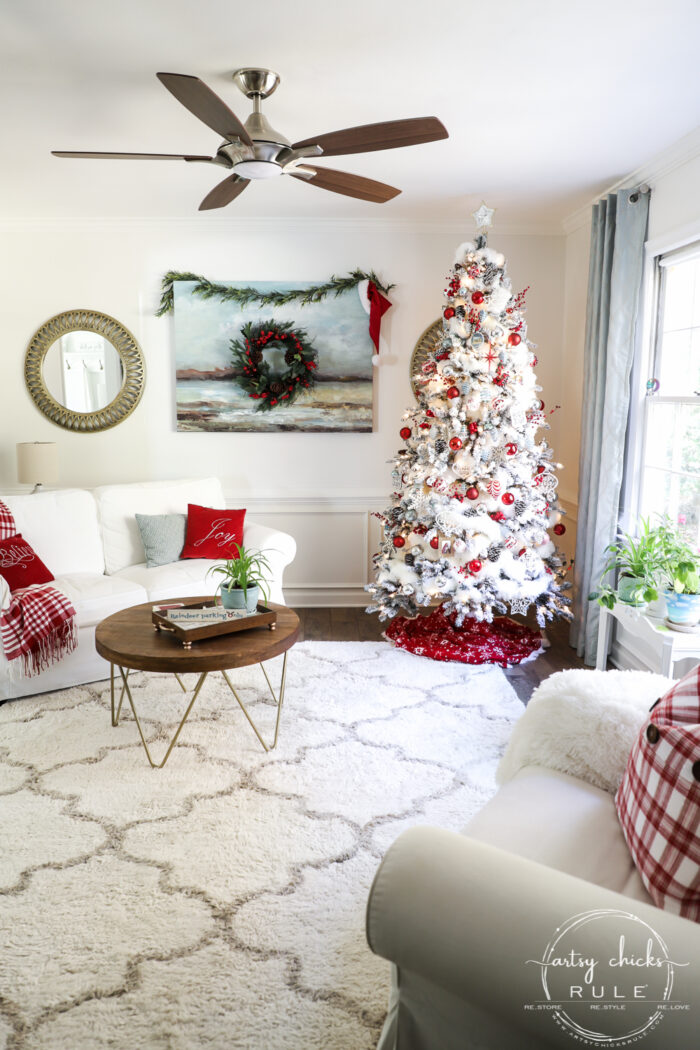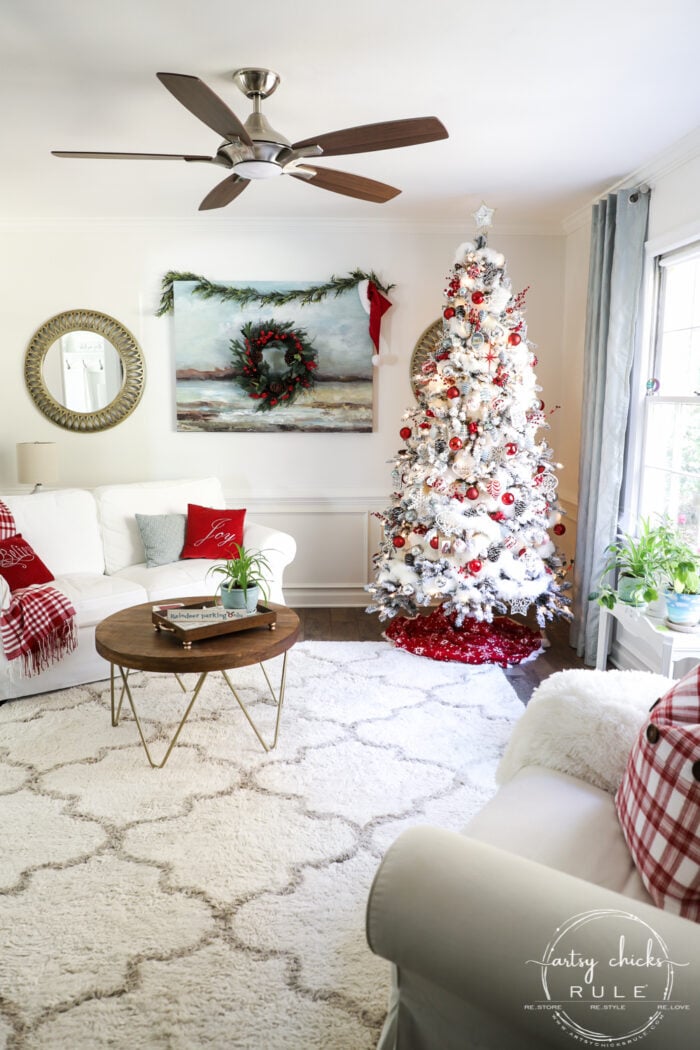 Lots of red and oh so cozy. We are enjoying this room so much. As a matter of fact, all of the presents are under this tree. We will have a super cozy Christmas morning right here this year.
To the left is our "hot cocoa/coffee bar" (tea for me! ;) ).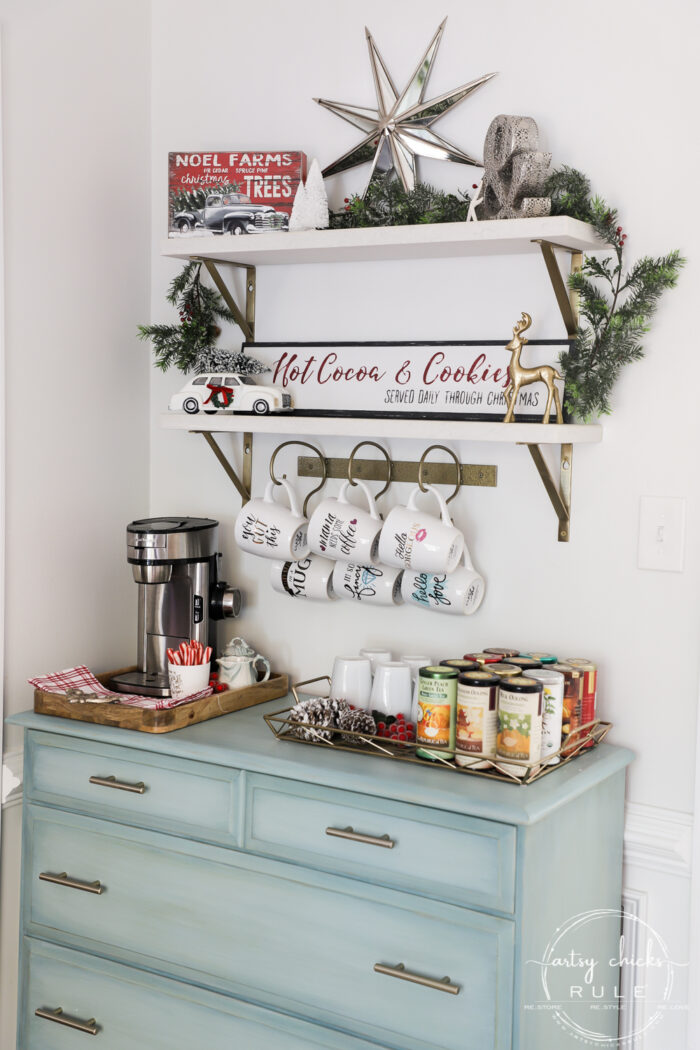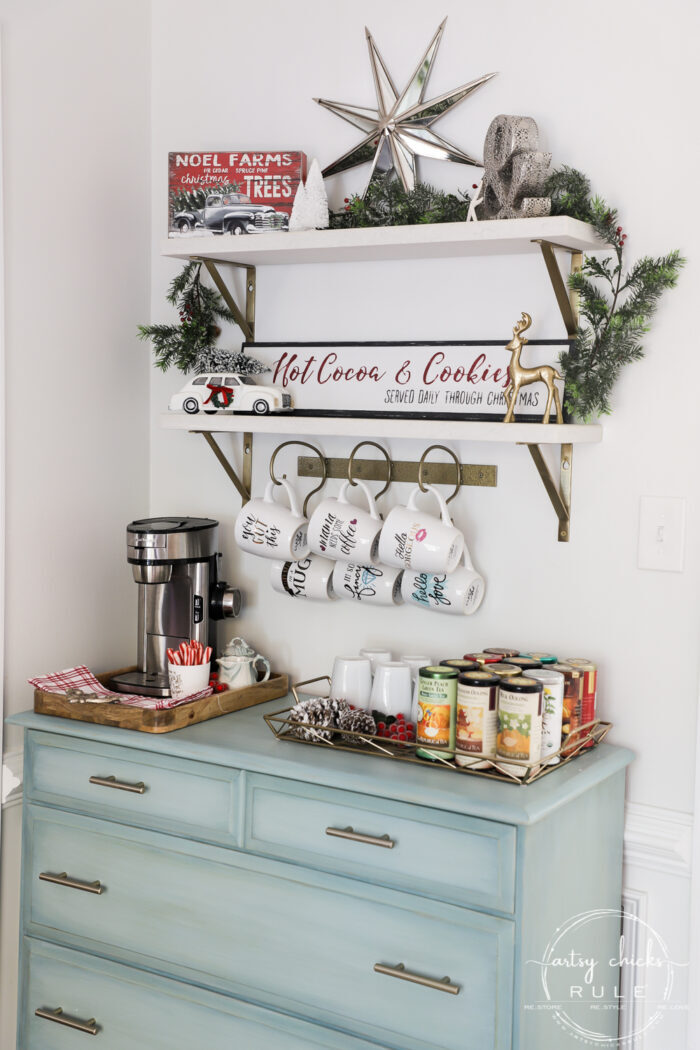 The Hot Cocoa sign can be found, here.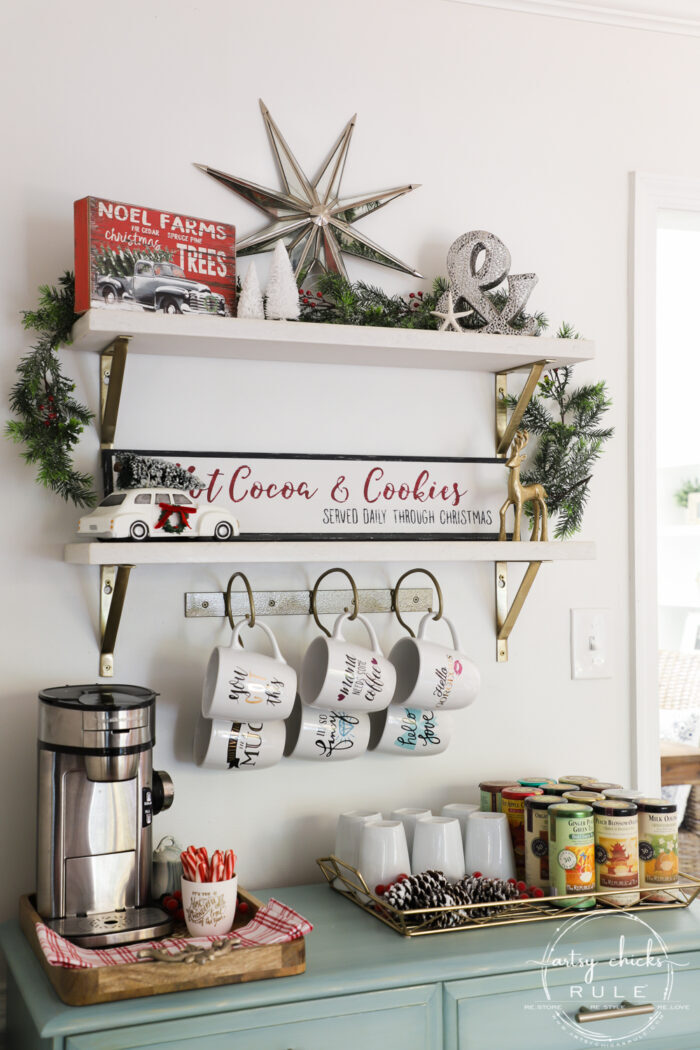 Candy canes, frosty pine cones, red berries all make for cozy Christmas decor.
And this dresser is another of my favorites! I just love the pretty paint technique I did on this one.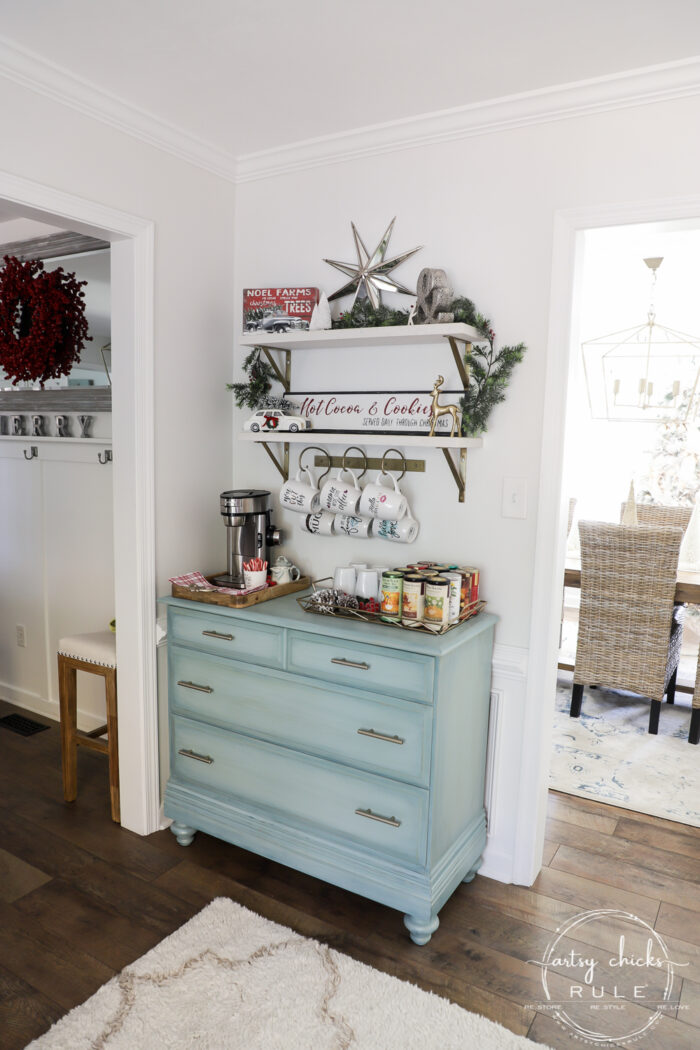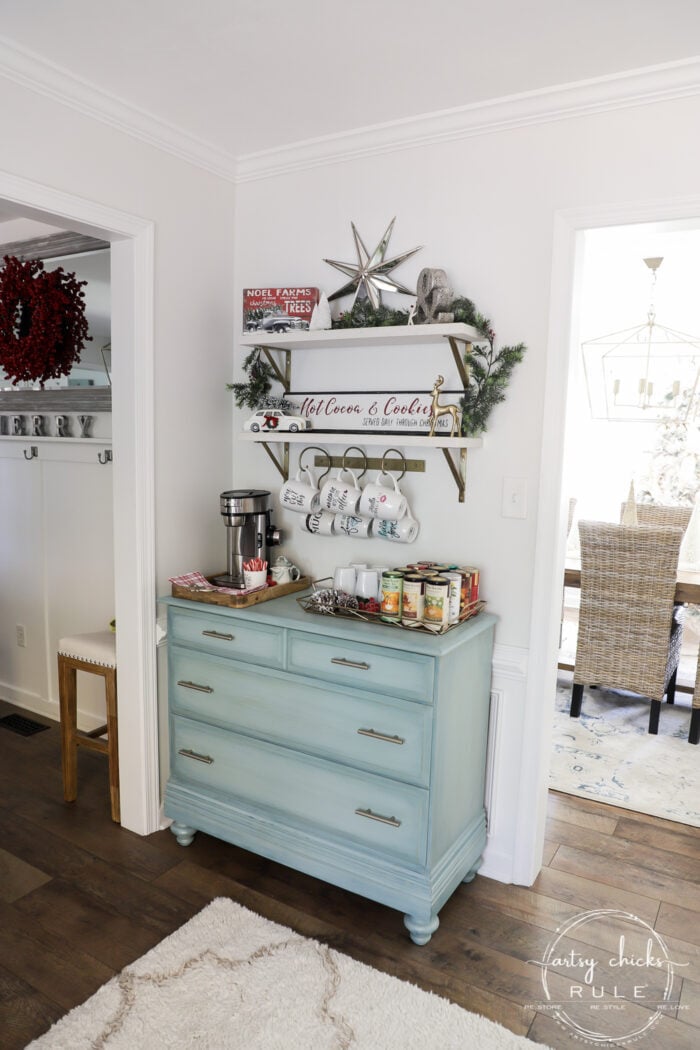 You can read all about it and the other changes we made to it, here.
Looking back into the kitchen. I love how much more open, bright and airy this house it now, then when we moved in.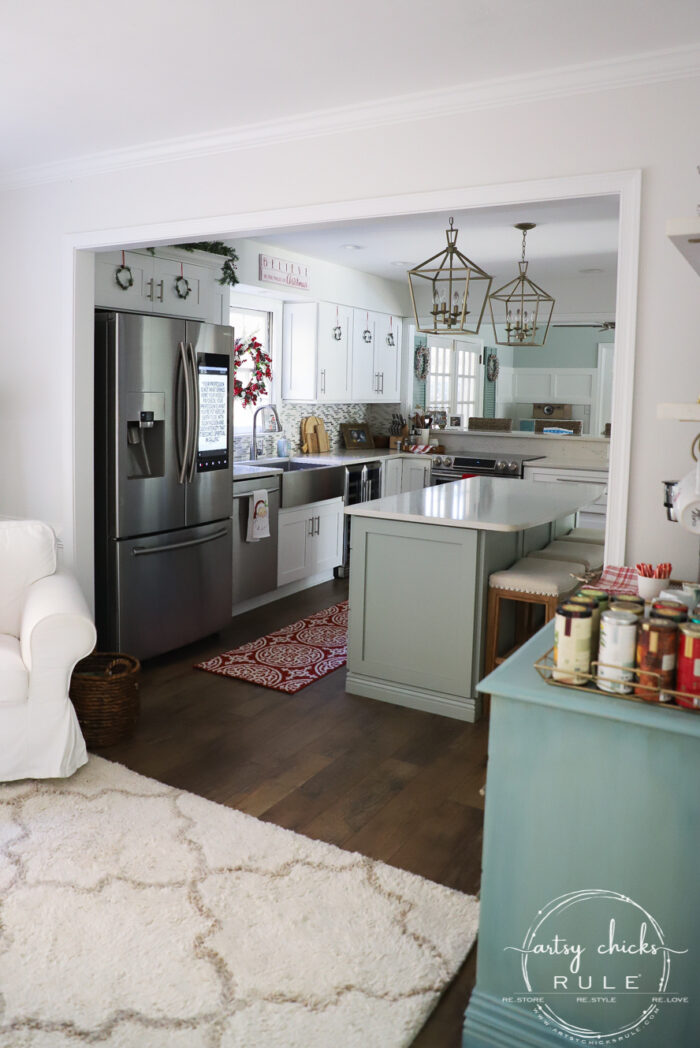 Looking in from the dining room. (if you've missed our kitchen makeover post, you can find it, here)
I hung a simple garland over the artwork along with a wreath. The Santa hat on the corner is one of my favorite things to do. One year I think I had Santa hats on 3 different things inside and several on our porch outside! haha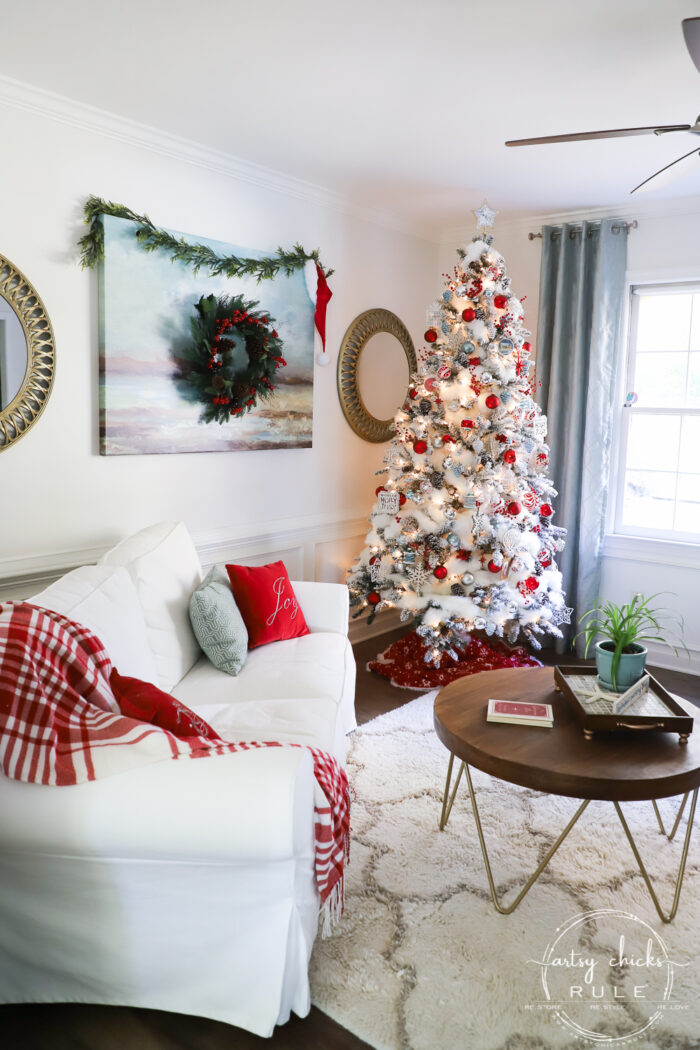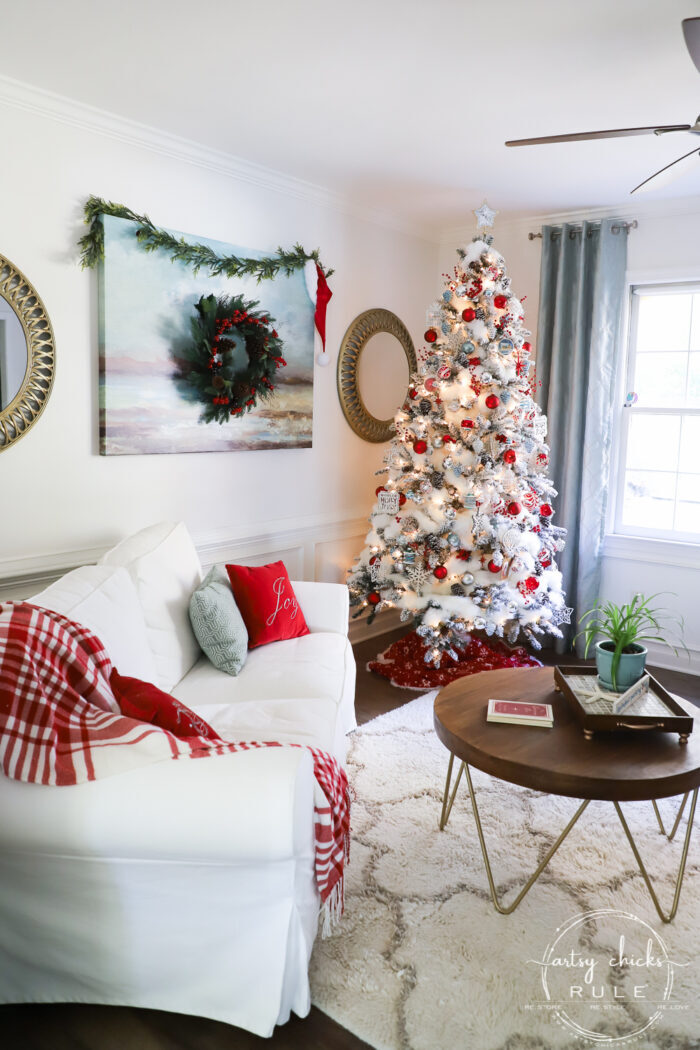 It feels so welcoming here to me. I love to just come in and sit.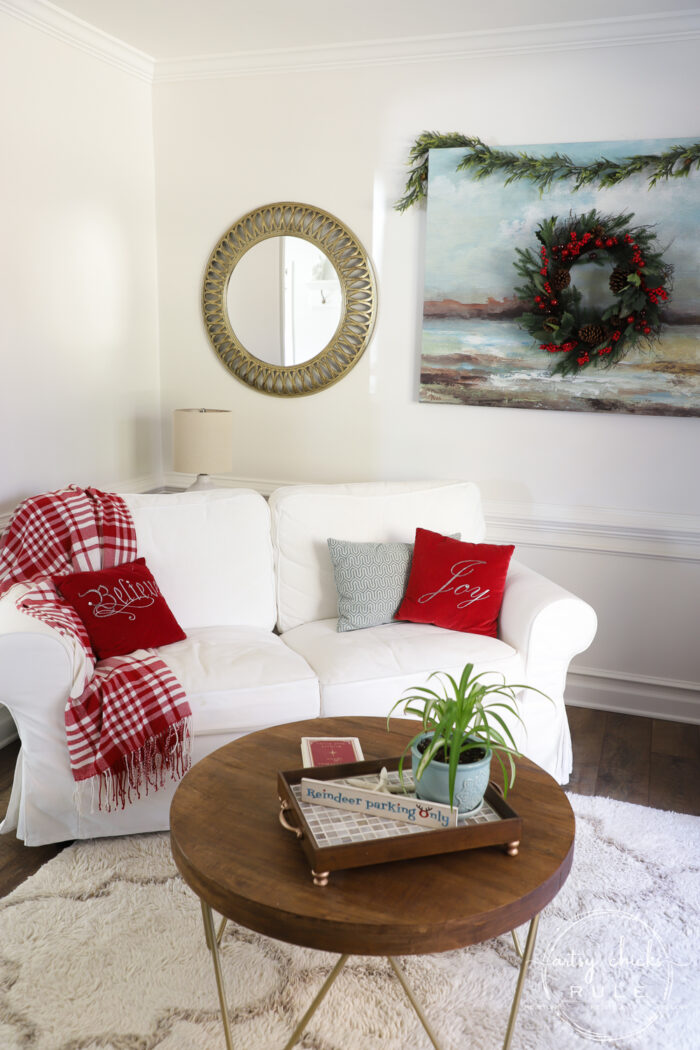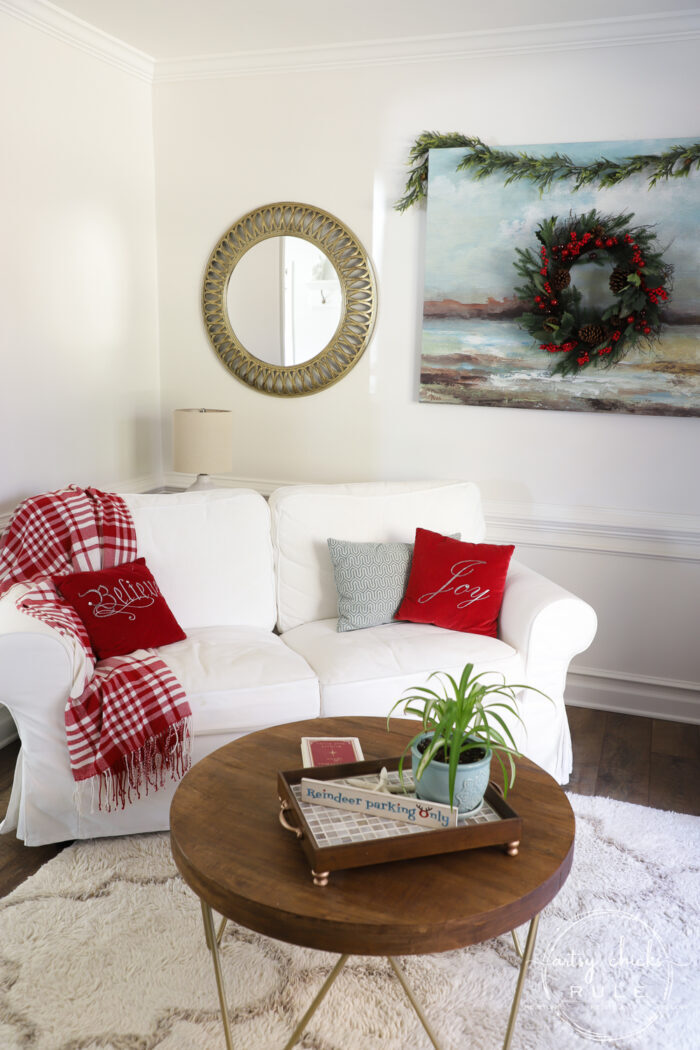 This little reindeer sign was on my tiered tray I gave a makeover to last year.
I didn't put it up this year but it was so darn cute last year! You can see it, here.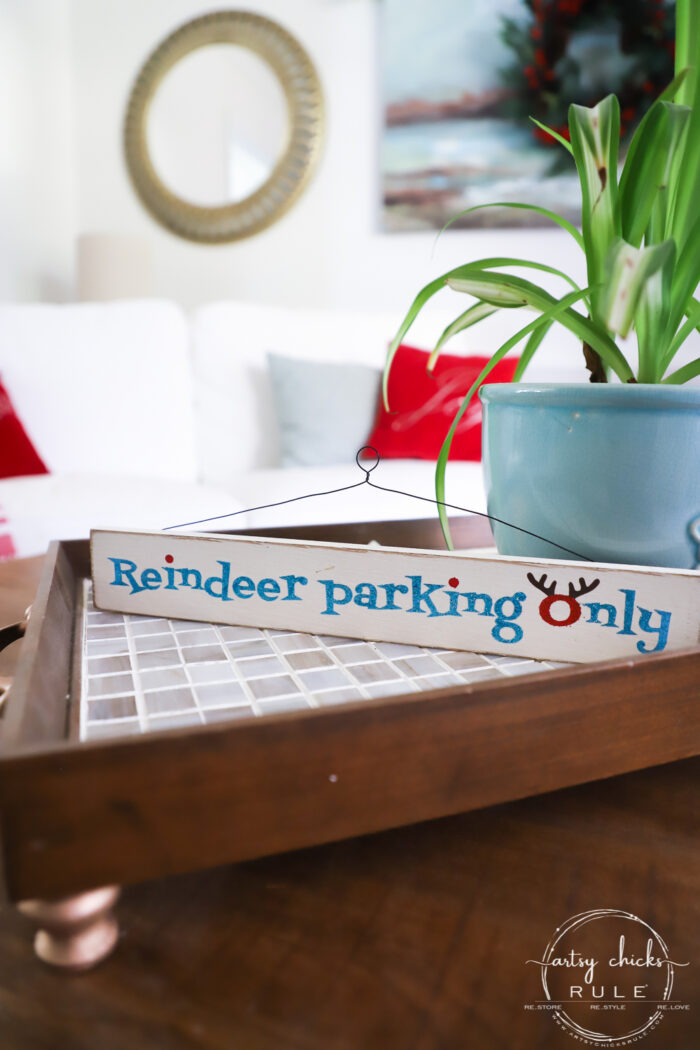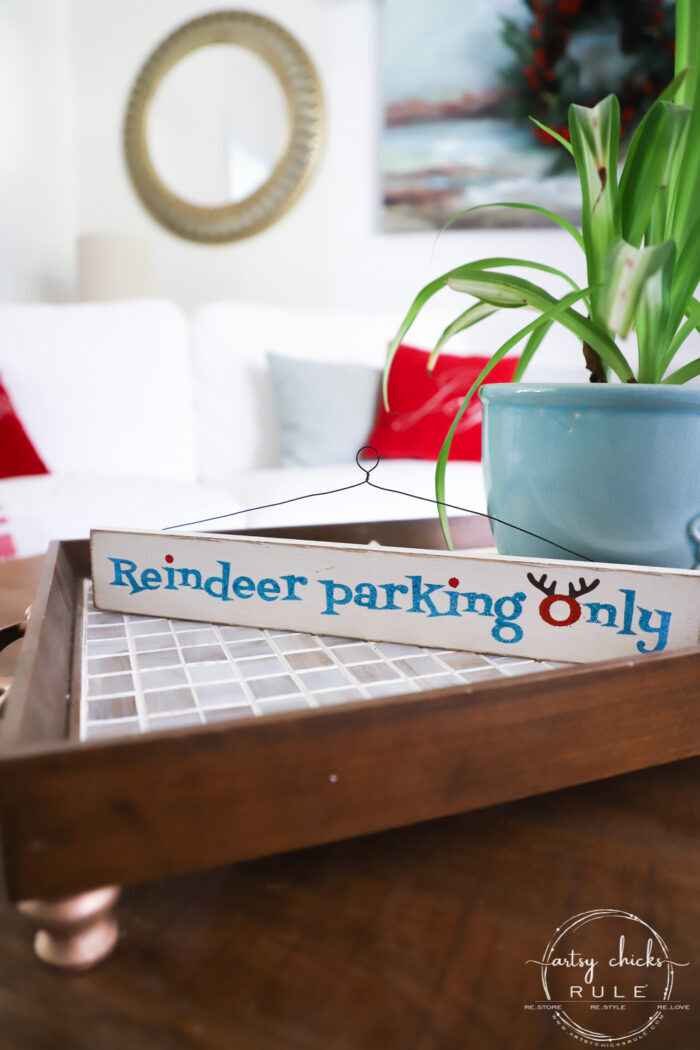 Up close of the tree.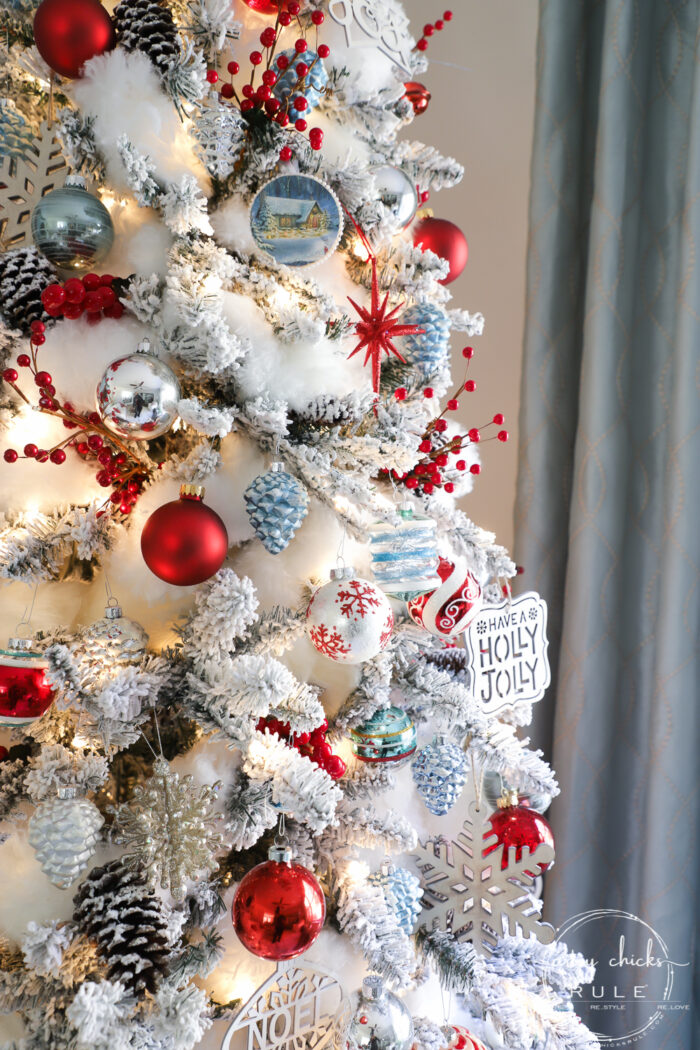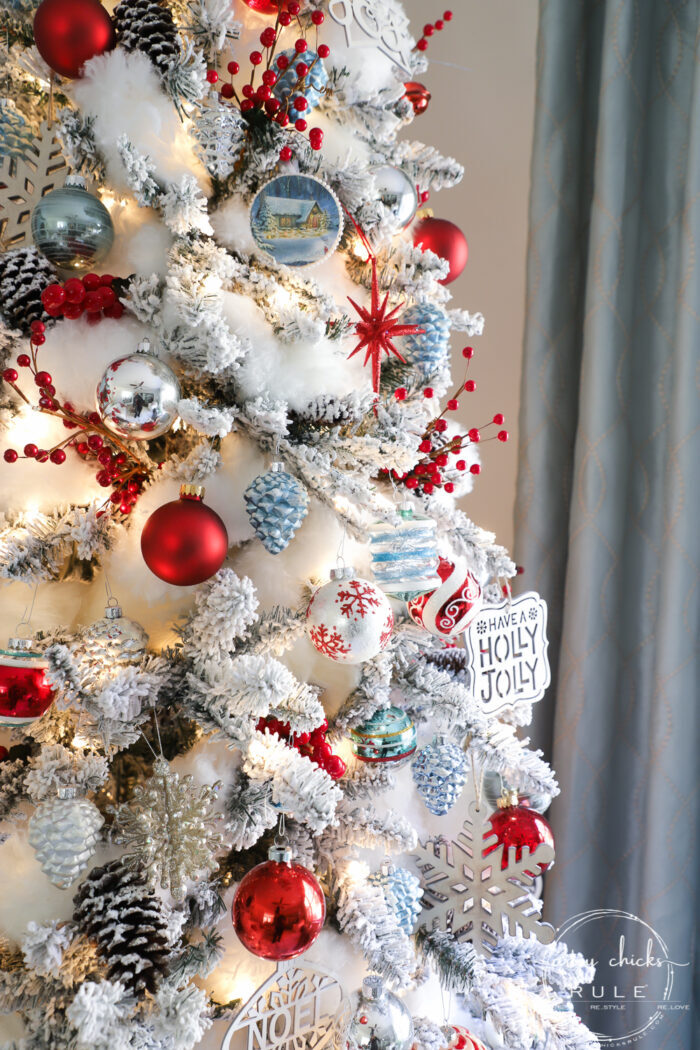 A few of the ornaments on the tree are ones I made out of old cards a few years ago.
I wrote an entire post on 3 or so different ways you can use old cards and that was one of them.
You can see the rest of them, here.
And all that snow.
I added varying things on each of my trees to get a "snowy" look. This one got dusters from the Dollar Store. Want to see my other ideas? Check out this post here where I gathered several other inexpensive and simple ways too! >>> Create a Snow Covered Tree (5 simple tips & ideas!)
And oh yes, I took another photo of this room with my brand new sign up there. (if you missed it on Tuesday, you can see it, here)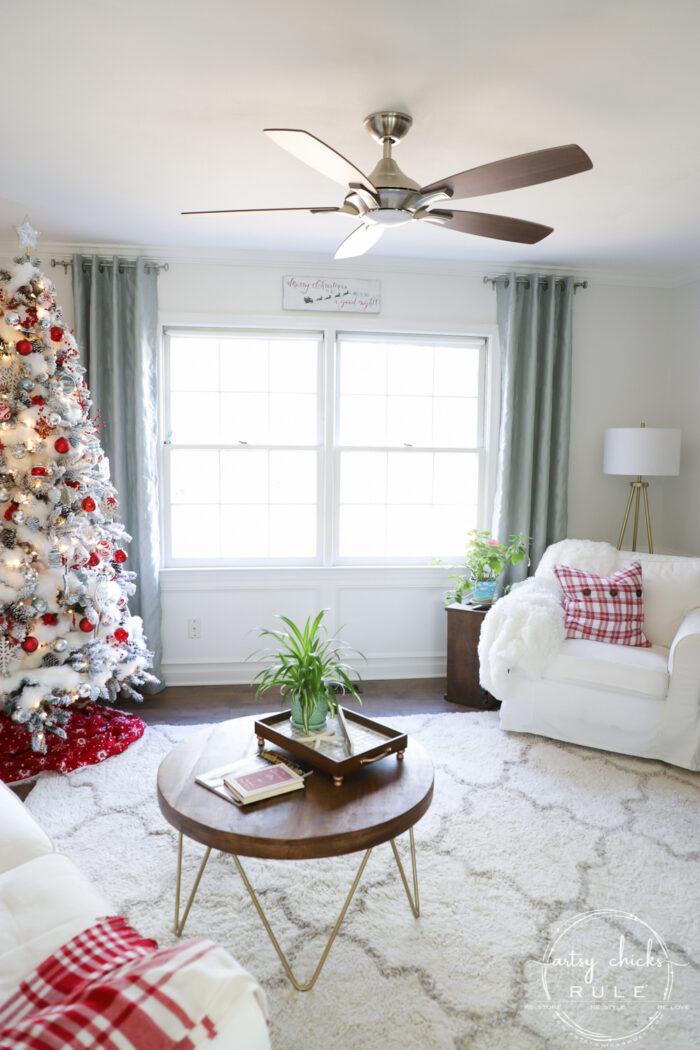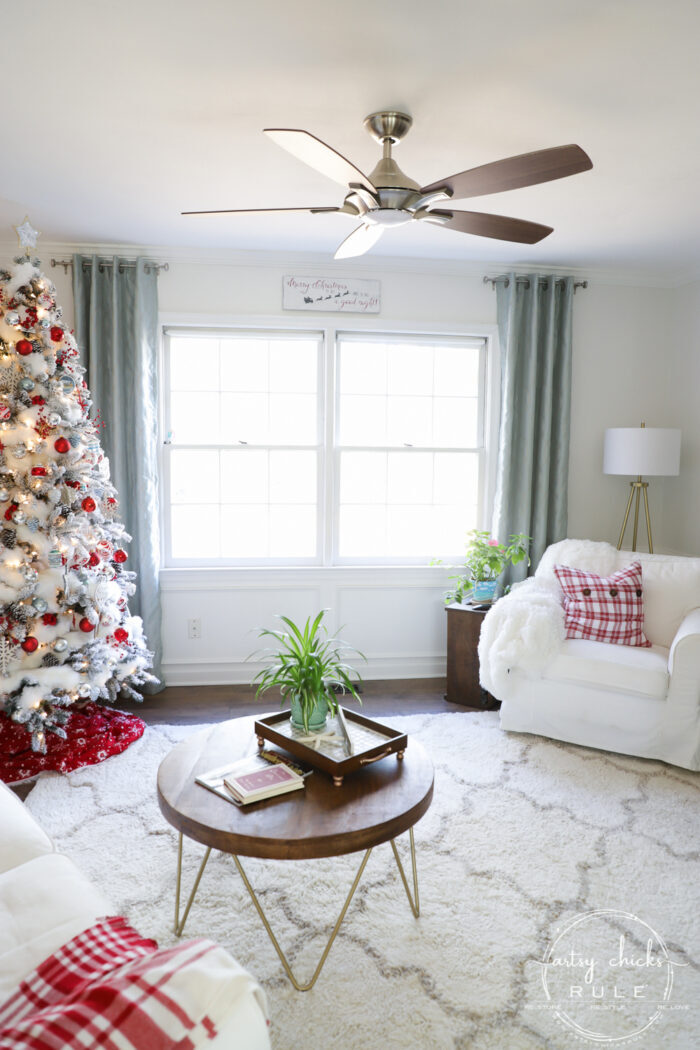 I put it up over this window using 3m strips. (so easy that way!)
With the red writing and the feel of the sign, I just felt it would go in this room best.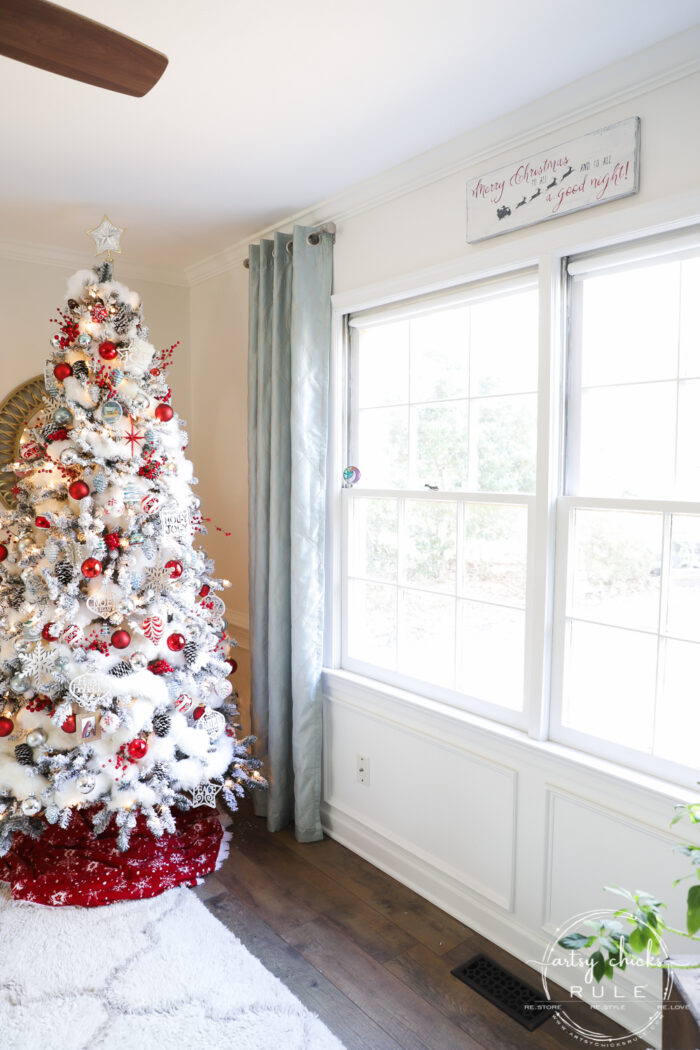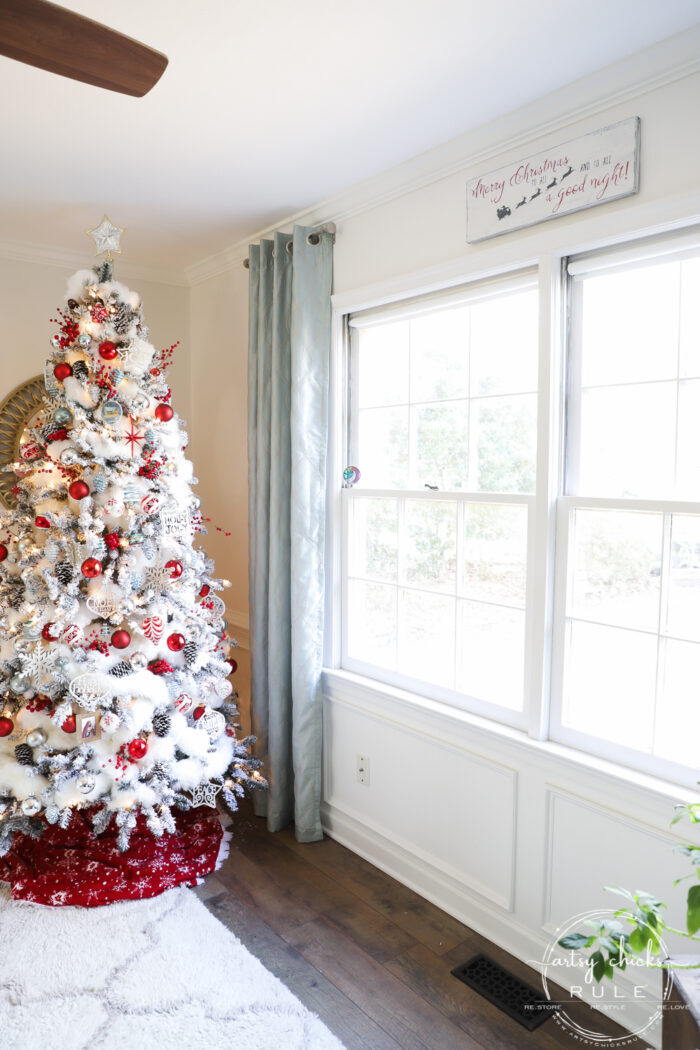 That tree skirt is actually just a blanket I've wrapped around the base. Works great!
So you get a little bit of something different from one room to the next. The "white" dining room and foyer, the "blue & gold" family room and the "traditional cozy red" in the morning room and kitchen. I love them all for different reasons. They all call to me! So it's hard for me to do just one theme.
I love that I have the 3 trees and can do a little something different in each room. But next year, I think I might do something different…as in all the same! ;) We'll see. That's a year away and I'm sure I'll change my mind 10 times before then. hee hee
I hope you enjoyed touring our kitchen and morning room today. I'll be sharing another tour next week, this time, nighttime. :)
PIN this to save it!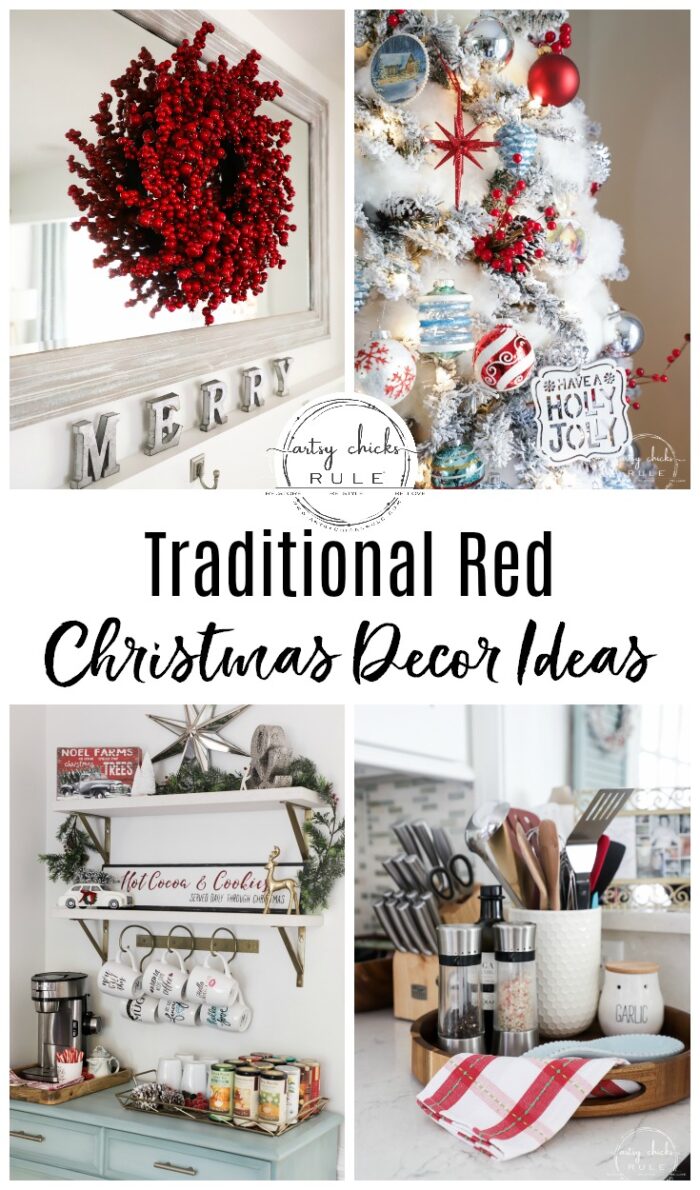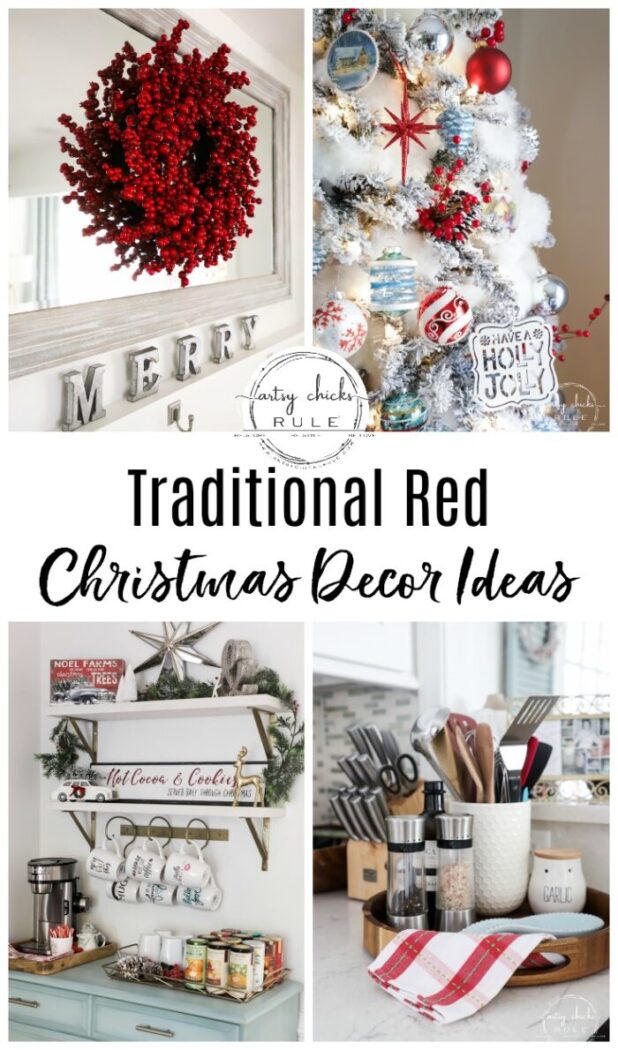 Have a wonderful weekend!!
xoxo