Merry Christmas To All Sign (made out of scrap wood!)
This post may contain affiliate links. Please see disclosures here.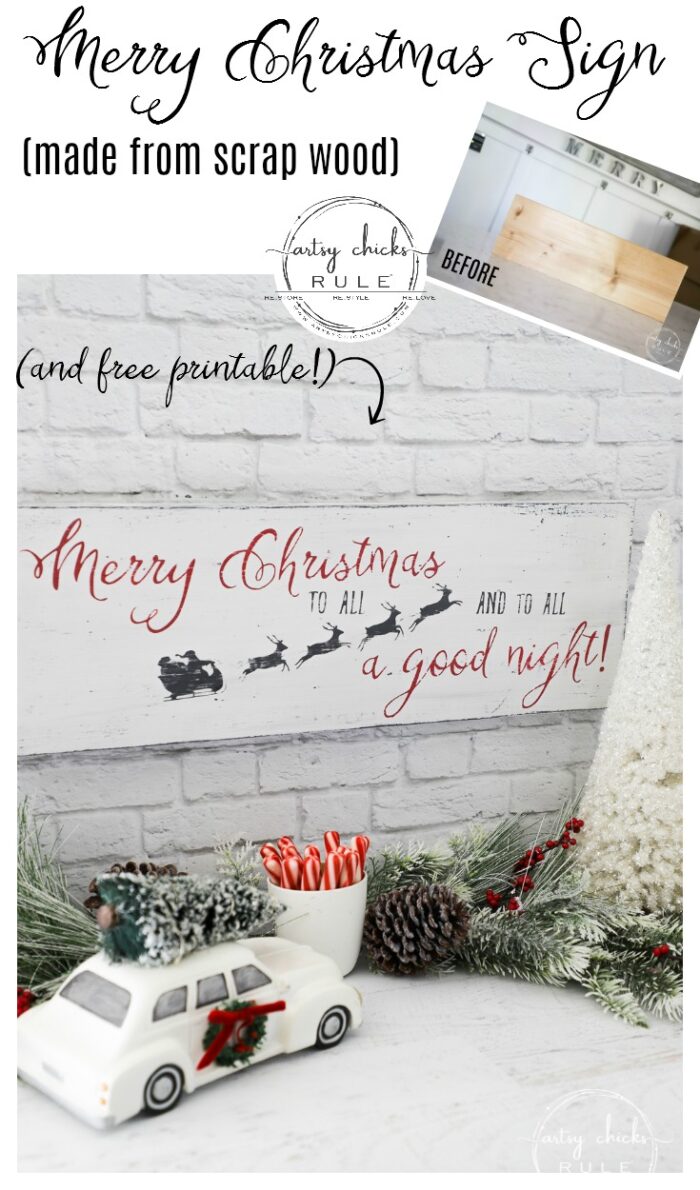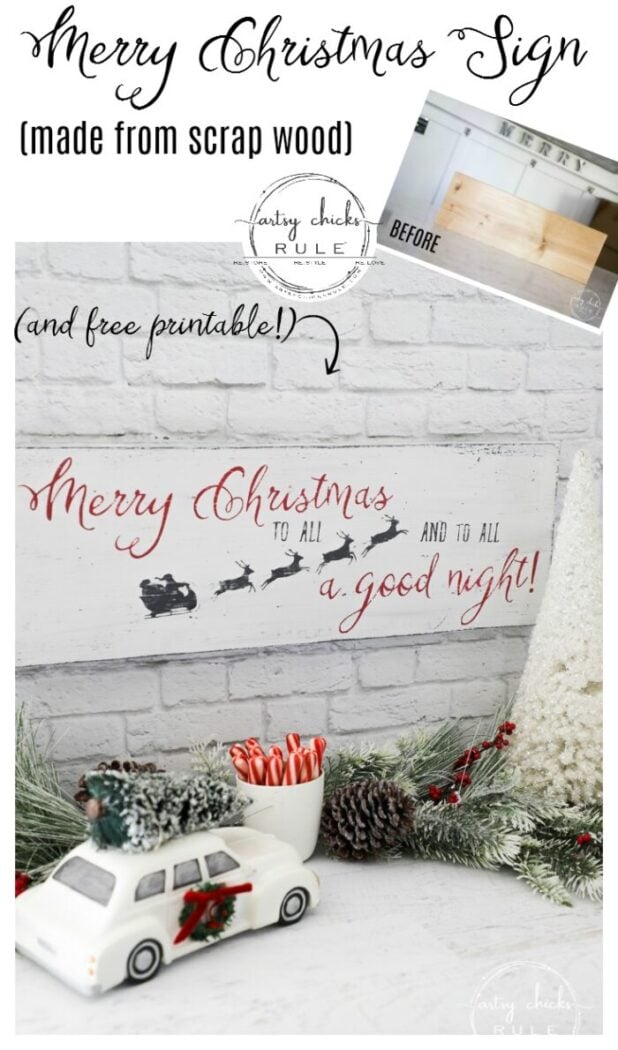 It's the last Trash To Treasure of the year! I sure do love when these girls and I get together and share our "trash" we have turned into something wonderful!
I hope you enjoy it as much as we do. :) (don't forget to scroll all the way to the bottom to see their makeovers too)
Today I'm sharing a sign I made out of a graphic I designed a while back. I never made anything with it and since it's the holiday season, I thought it was high time!
Also, in case you missed it on Sunday, I am GIVING AWAY the old basket I turned French basket last week. You can see that project, here. If you haven't entered, get on over there and enter right now! ;) Click here to visit the post with the giveaway information and entry. (I'm also including a little gift inside the basket, from me to you.)
Merry Christmas To All Sign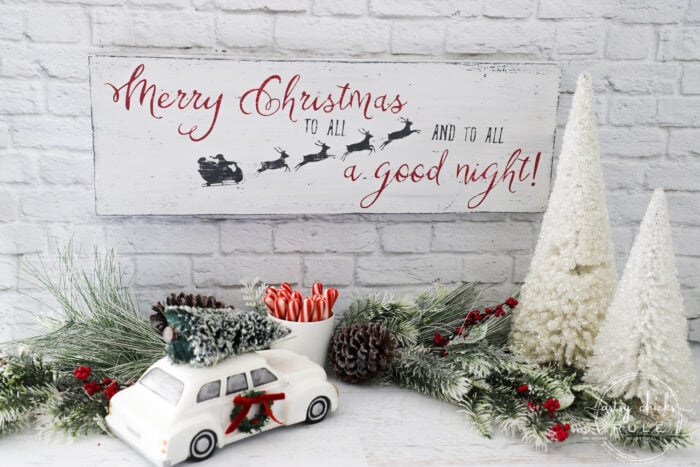 So since I'm finally getting around to using this graphic, I just needed something to put it on. I went through our old "trash" stash of wood in the garage and found this board.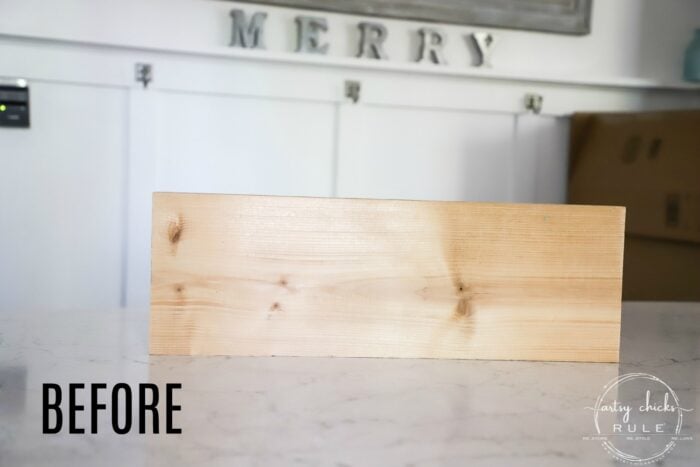 It was just about the right size but a little rough around the edges.
So I sanded it all smooth and added some wood filler on the front where there were some imperfections.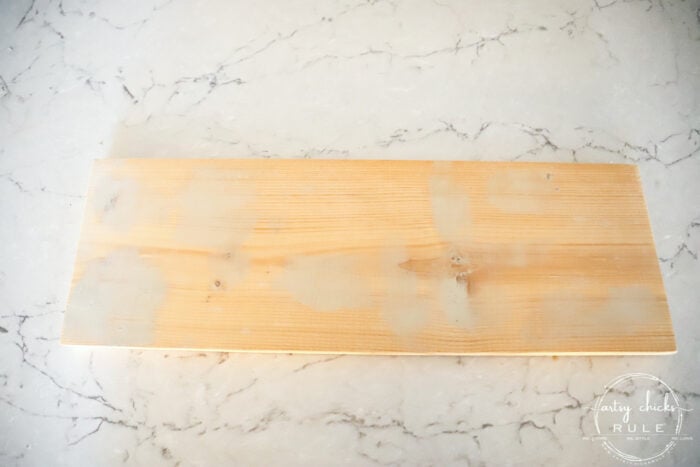 Sanded nice and smooth, I then sprayed it black for the base.
Once that was dry, I used white paint over top.
MATERIALS LIST
Scrap Wood
Black Spray Paint
Red Paint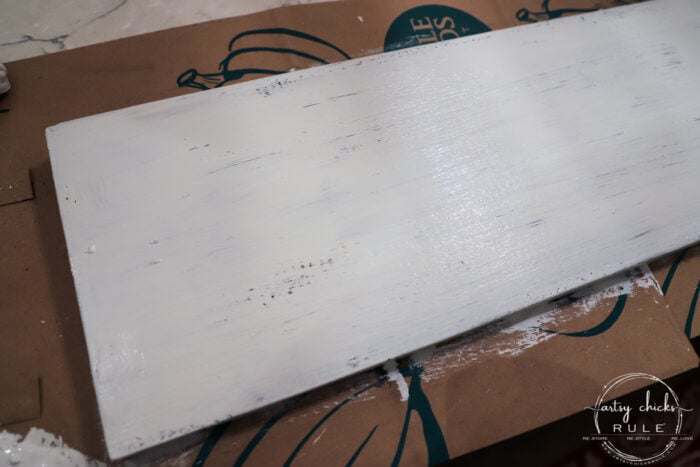 I didn't cover it fully. I wanted some of the black to show through. Plus I planned to do a little distressing on this one anyway.
I was kind of going for an old Christmas sign look.
I cut out this "Merry Christmas To All" graphic I created on my Silhouette Cameo.
(Don't own a Silhouette?? You don't have to, to do this project. Check out all the other ways you can transfer graphics here >>> My Favorite Transfer Methods)

I also created this one in case you wanted it without the Santa sleigh and reindeer.

You can get them both in the printables library.


If you are already a subscriber, you can access the printables here. (Don't remember your password? Take a look in any of the emails I send you, scroll to the bottom and you will always find it there.)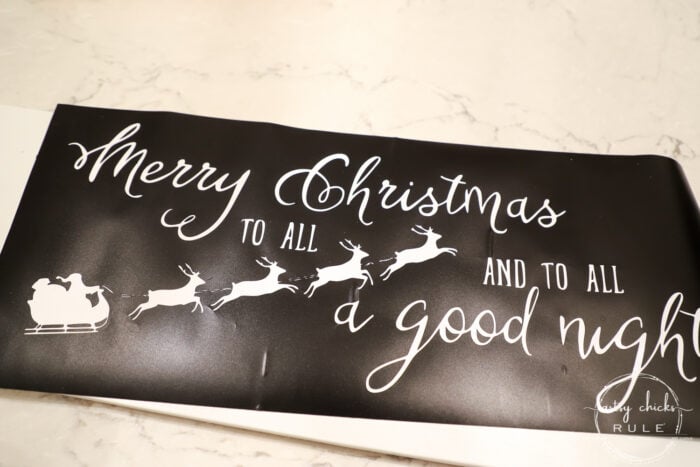 This picture is after I removed the cutout pieces. I didn't want to use the vinyl letters for this one, instead I am using it as a stencil.
I attached the transfer tape over the top of this.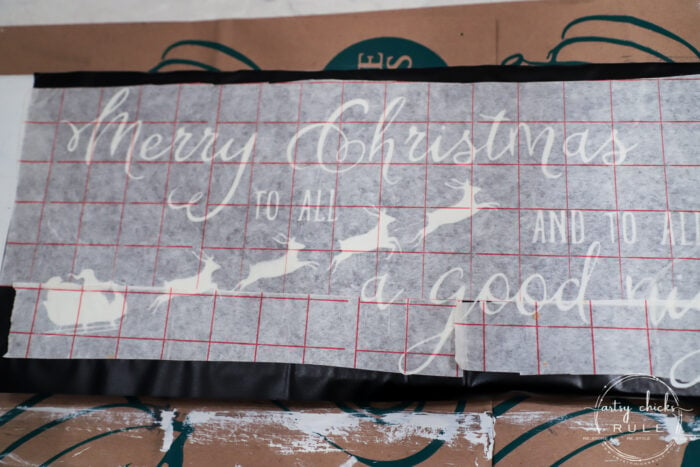 Then I peeled the back of the vinyl off …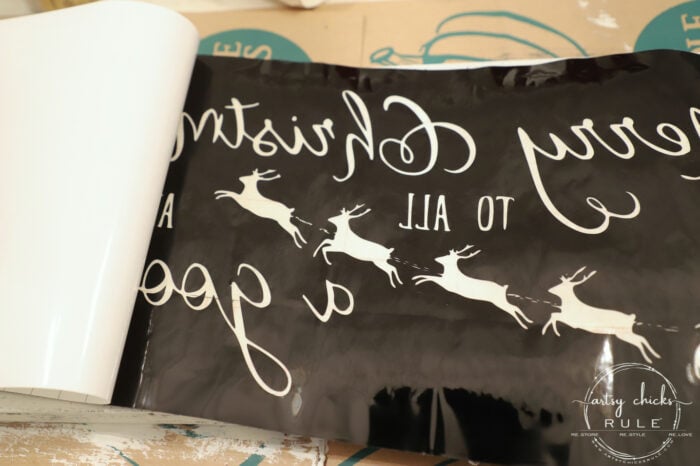 …and attached it to my painted board.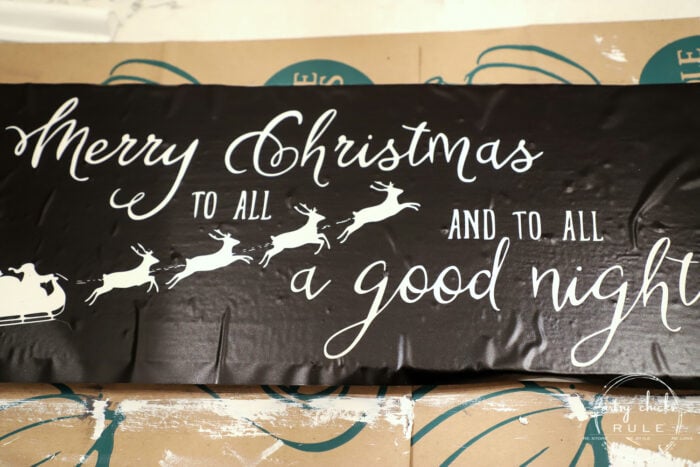 Be sure to smooth out any air bubbles especially around the lettering.
And then I painted it red and black.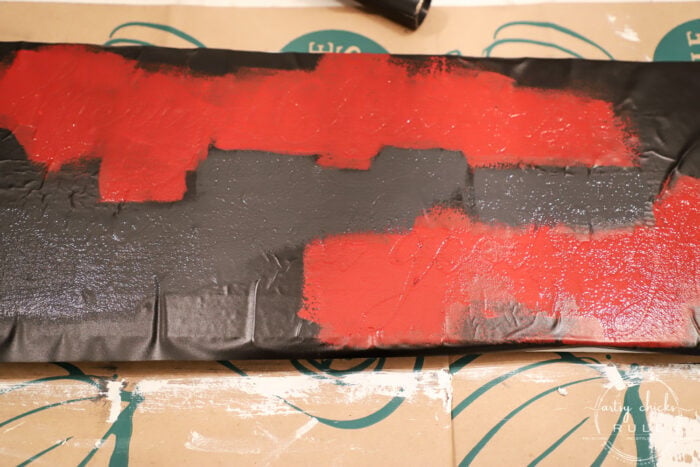 And had a big ole fail!! lol
I have to tell ya'll because sometimes it doesn't go so well with my crafting either! ;)
I don't know what went wonky but the edges were just terrible and the vinyl was messing it up as I tried to remove it. This was an older piece of vinyl I had and it was leftover and the perfect size. I don't know which kind it was but I don't like it!! haha So I pulled out my tried and true and cut a new piece. But I did have to sand a bit and repaint all layers (black, then white) to do this project over. Boo!
But hey, this stuff happens sometimes.
Doing it all over again just sucks the fun right out of it. lol BUT you can't throw the towel in every time that happens because then you miss out on this…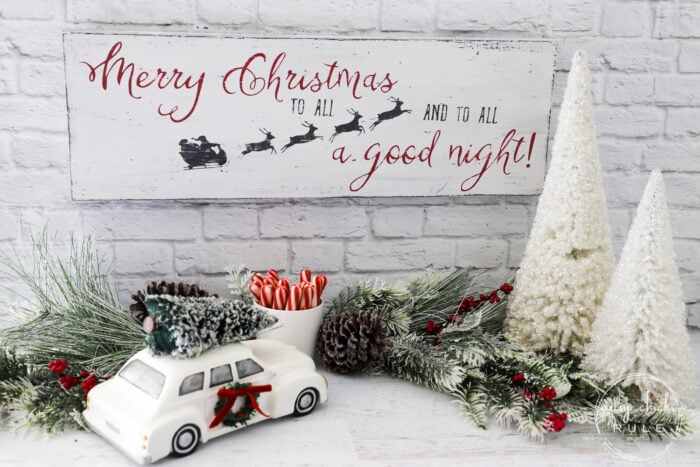 Sweet.
Worked like a charm the second go-round! Thank goodness.
Once it was dry, I sanded it a little to distress it all over.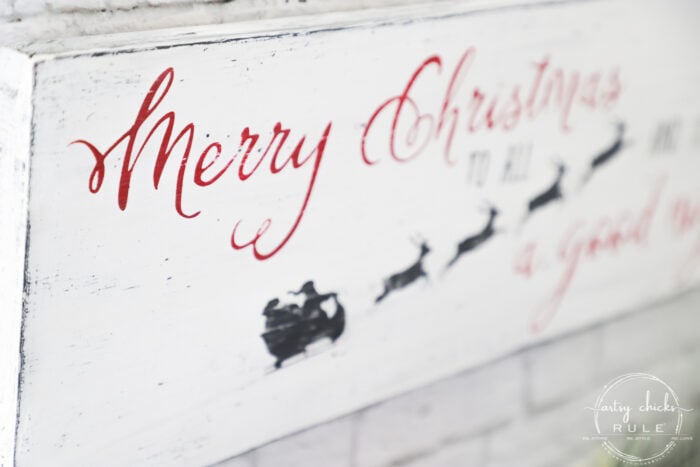 And then sealed it using a flat finish. I wanted it to look a little old so didn't want any shine.
I love this finish for that. No shine at all.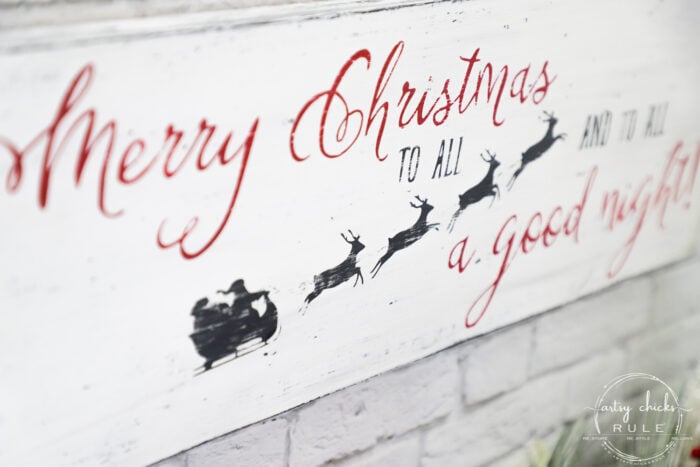 I think the distressing goes perfectly with the old Christmas-y time look I was after.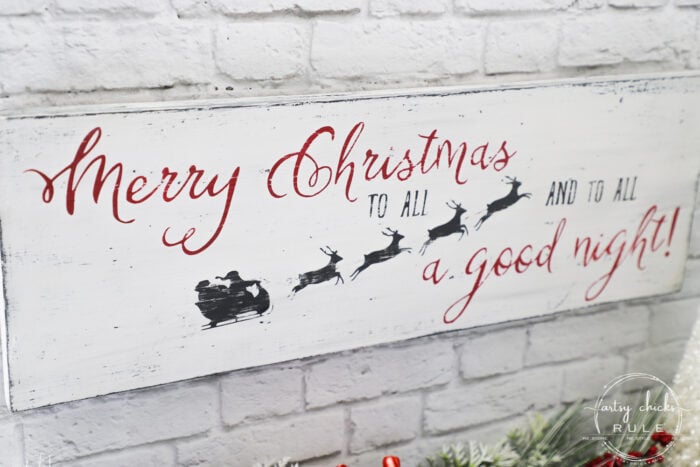 I tried it out in several places in our house…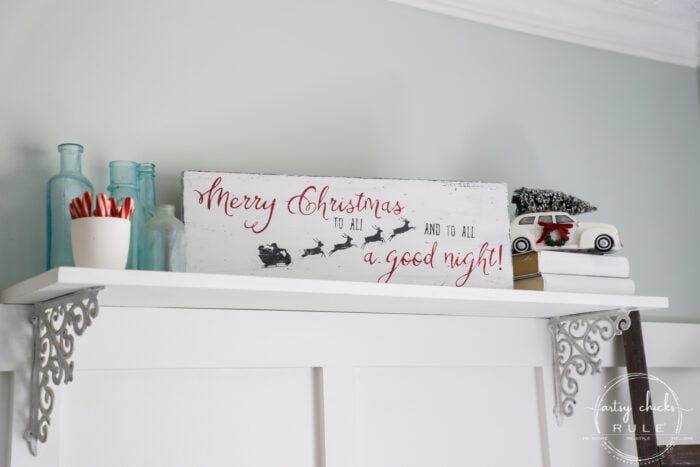 …here on the shelf in the family room.
And also in our kitchen, here…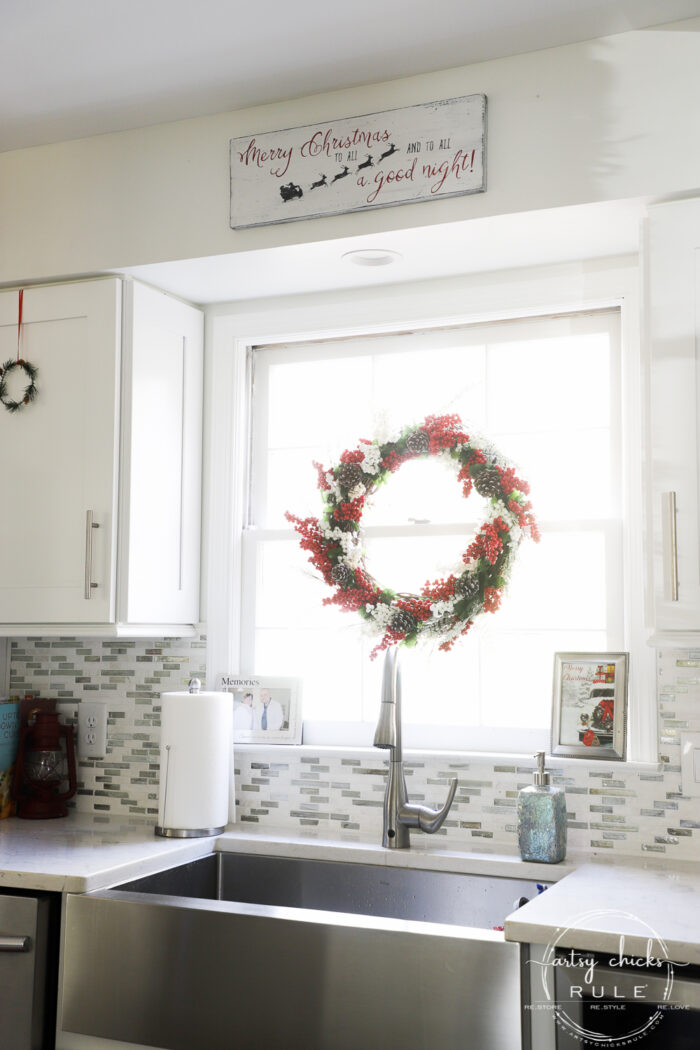 Do you see where my Dollar Store wreath ended up?? Right here on this window.
If you missed that project, you can read all about it, here.
But in the end, I decided to use the new sign in my morning room since I already had other decor in both of those places above. (and the morning room is decorated in red which this sign goes perfectly with)
Who knew an old scrap of wood ready for the trash heap could look so darn cute?!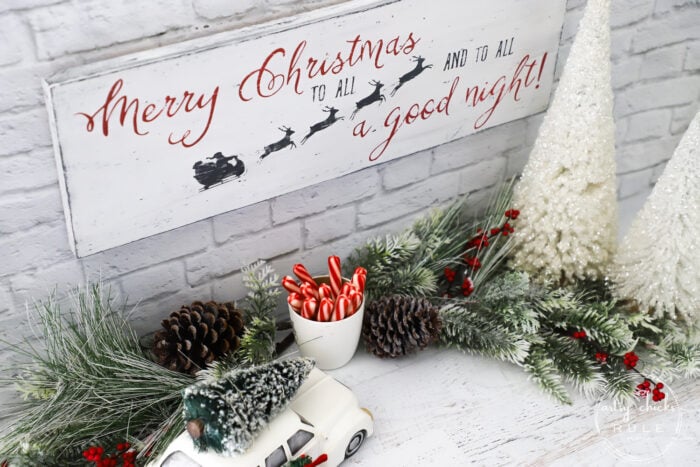 It just takes a little paint. :)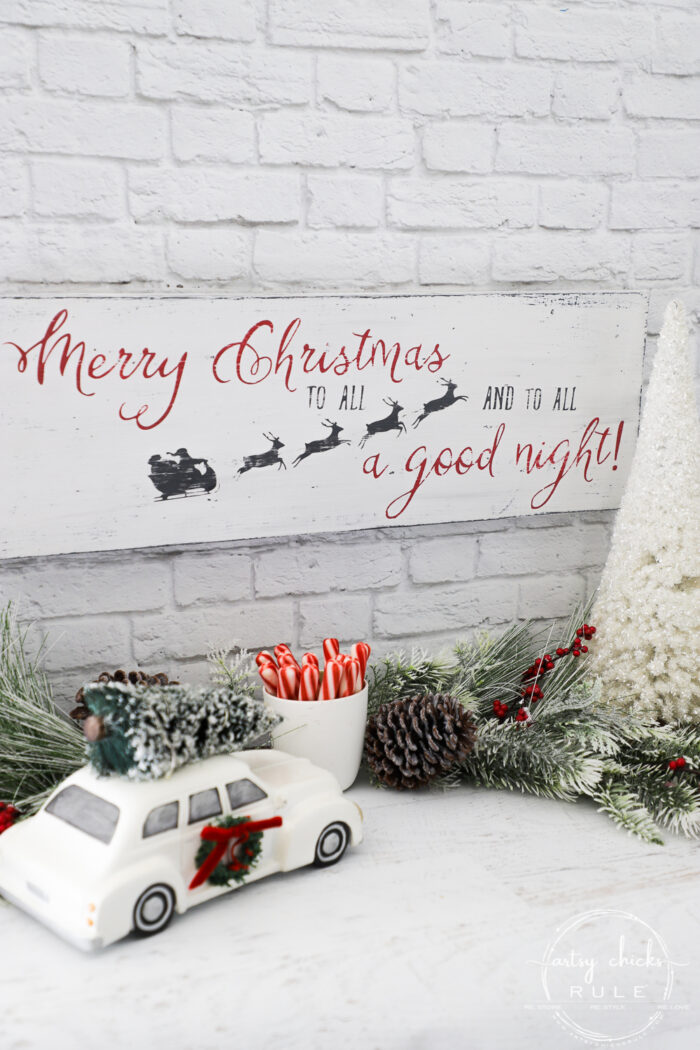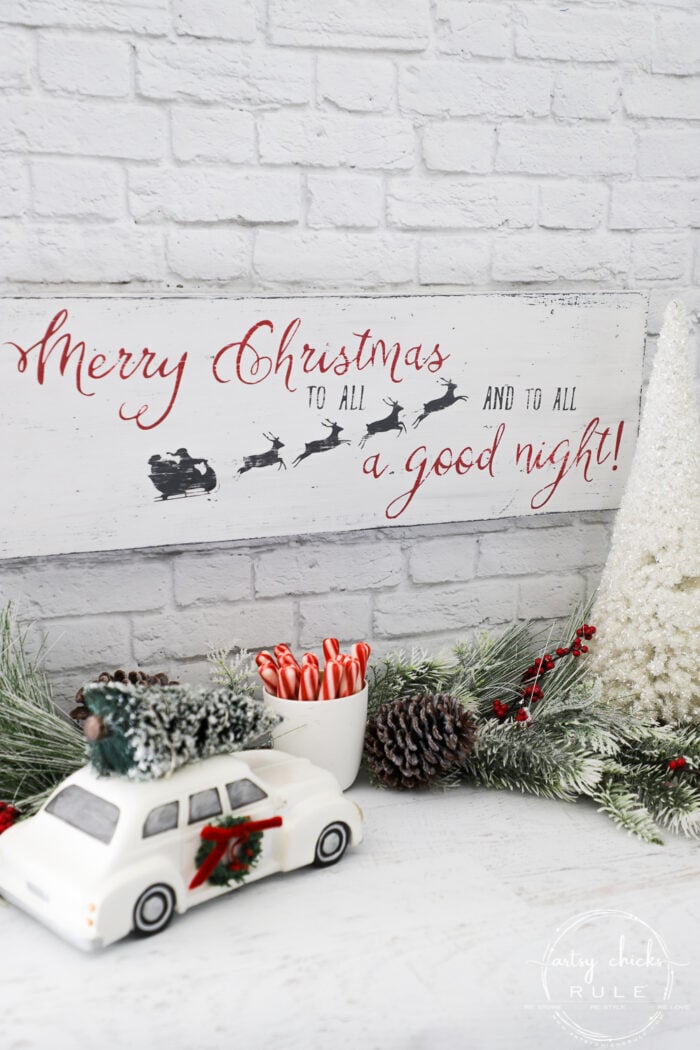 By the way, I hang these up using 3m strips. They are perfect for these kinds of signs and work really well.
Especially for holiday decor that you will later remove.
This would be so cute used in so many different ways.
On a tea towel, pillow, a sign like this, or just print it out and frame it.
Need more ideas on how I use printables?? I created an entire post of ideas >>> See it here >>> Creative Ways To Use Free Printables
Also, you aren't limited to the way I've designed the graphic. You can print it out, cut it out and move it around.
For example, if your project is more long than it is wide, you can move the "Merry" and the "Christmas" over top of each other, etc.
Lots of flexibility!
PIN it to save it!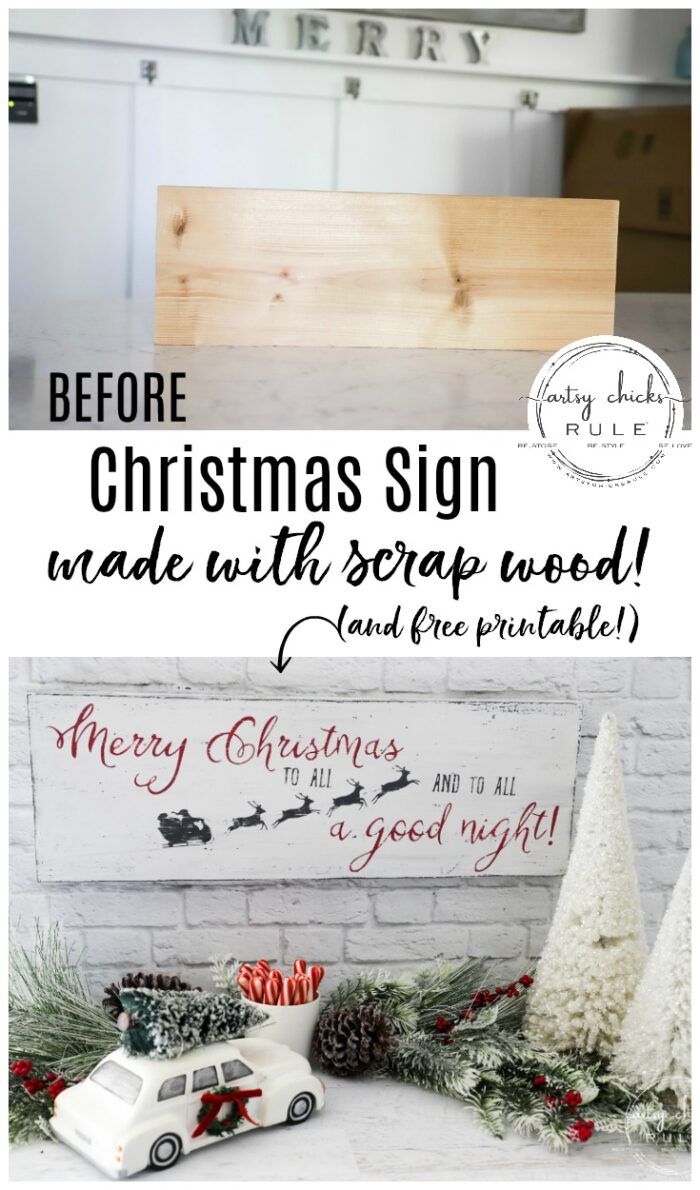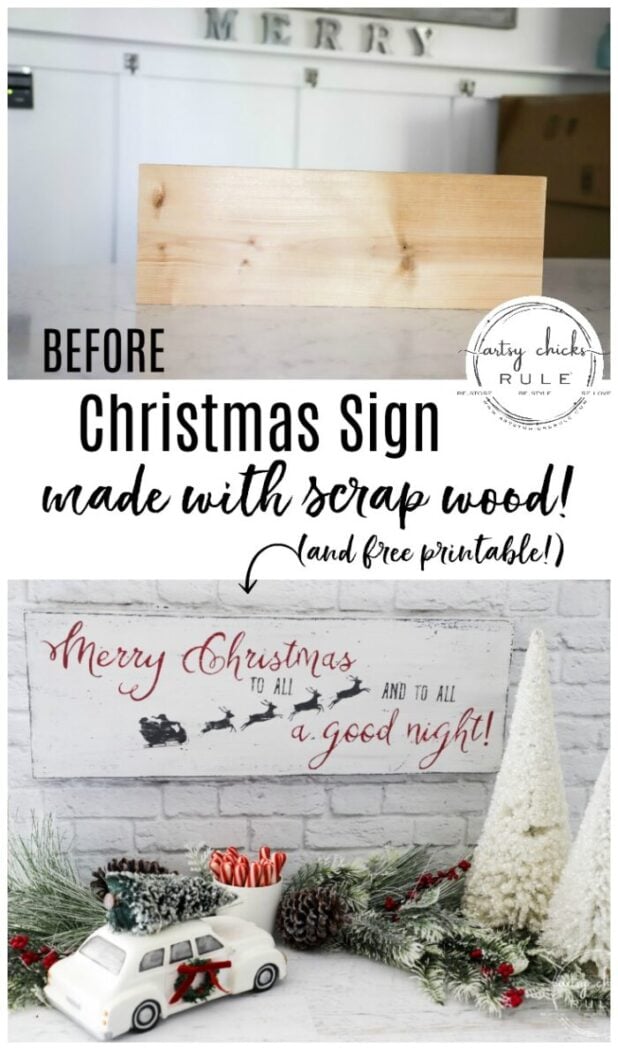 Hop on over and check these out!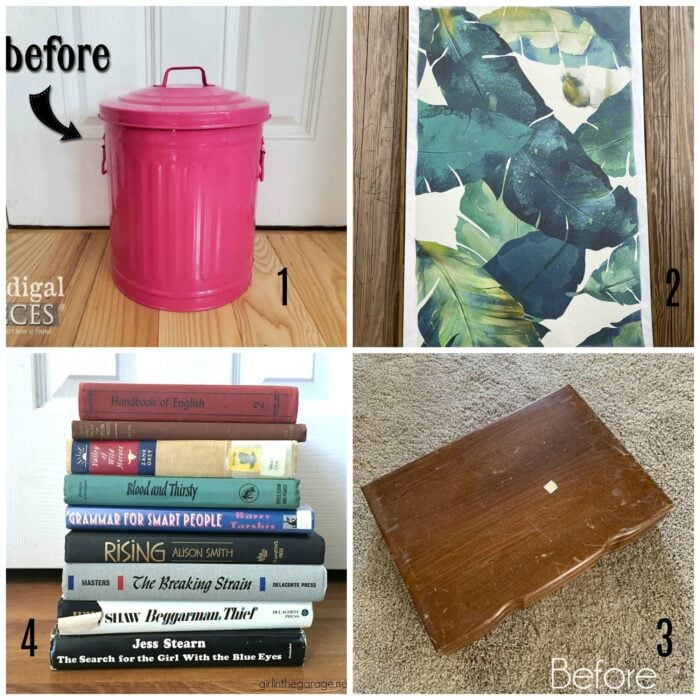 If you want to see even more Trash To Treasure Inspiration, check out this link >>> here.
And don't forget, hop on over to enter to win the basket I made over last week, right >>> here.
I will see you all later this week with Christmas tour #3, my traditional red, cozy kitchen and morning room.
Have a beautiful week and I'll see you then!
xoxo