11 Yellow Furniture Makeovers (adding color to your decor!)
This post may contain affiliate links. Please see disclosures here.
Add a little pop of color, and bring some spring inside, with yellow! Check out these yellow furniture makeovers for beautiful inspiration to get you started.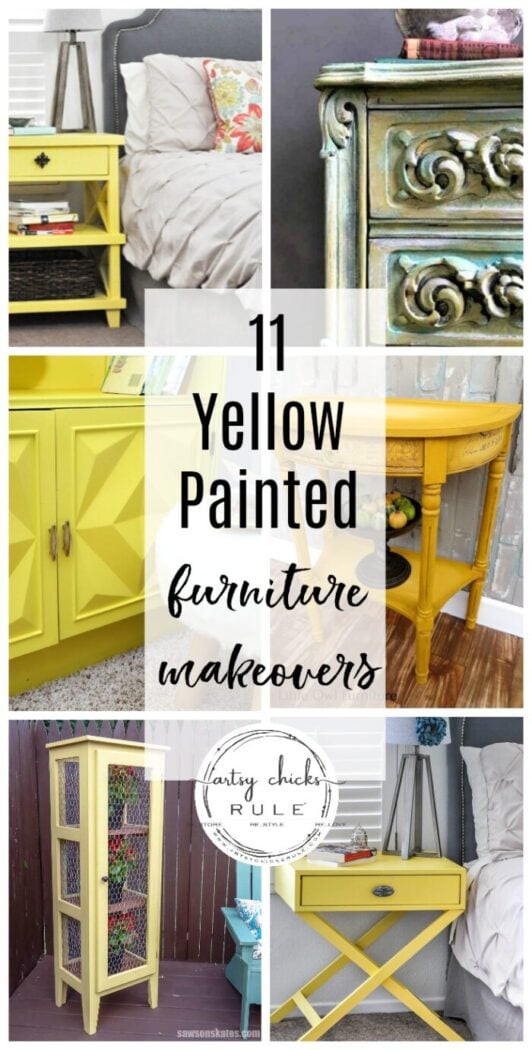 Hello beautiful friends! How are you holding up? Hanging in there?
Today we are talking about YELLOW. It's spring and what better color is there that just says … "springtime", than yellow?
It' such a happy color and it is fun to add to your decor for a nice change-up. I used to have "yellow" paint on my walls. (as is evidenced by many posts and photos here on this blog, like this one…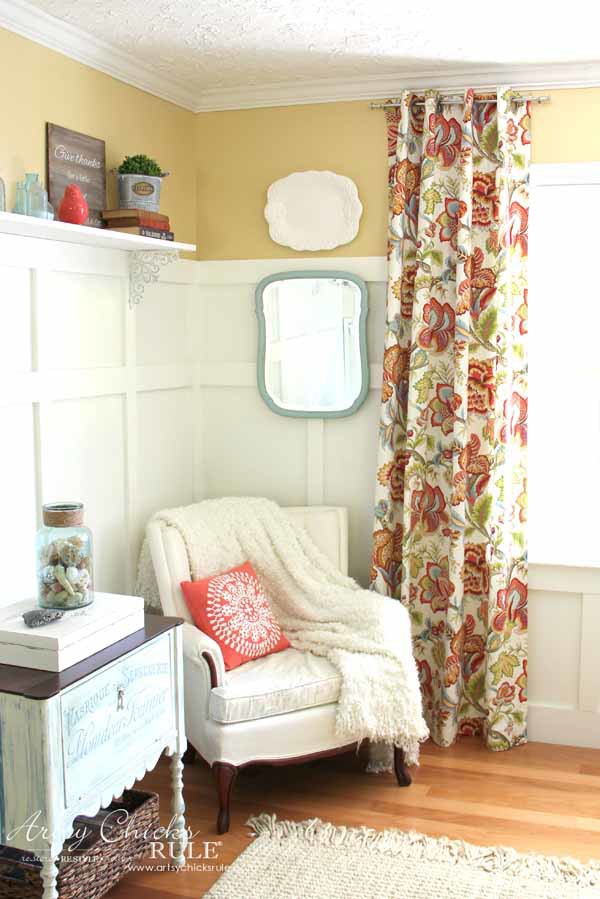 We really enjoyed it as it really was a really happy feeling color.  But as things go, there comes a time for change.
What I never did much of though, was paint furniture in yellow.
No worries there, though, as a bunch of my friends have!
And I'm sharing them here with you today. Be sure to scroll all the way to the bottom to catch the rest of the "color series" I'm sharing.
Hop on over and visit my friends below to find out more about each piece. The links to each project are below each photo.
Have fun and enjoy!
……………………………………………………………………………………………………………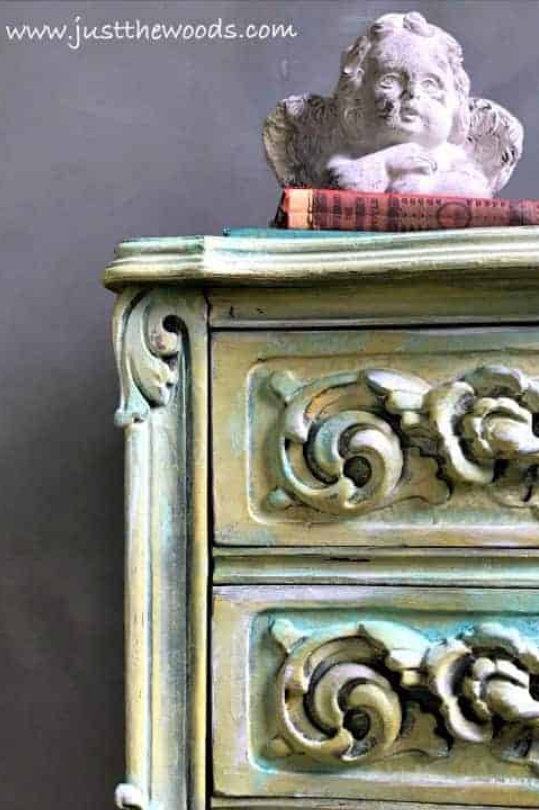 This one is a super fun (and artsy! :) ) take on yellow painted furniture.
Check out how Kandice created this look, here.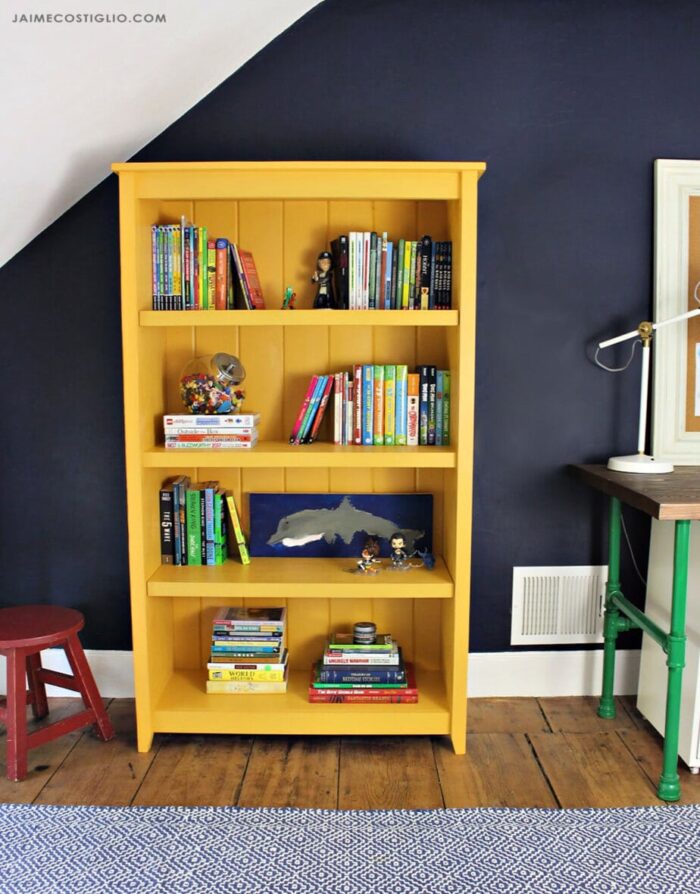 Bright and vibrant is this yellow. Love it along with green, red and navy for a kid's room!
See how Jaime built this one, here.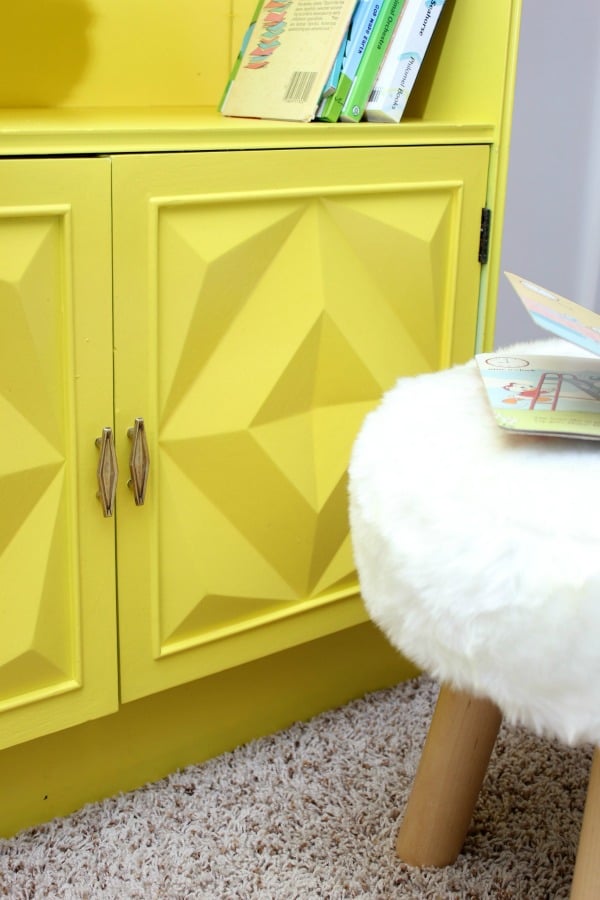 Another sweet bookcase painted in yellow for a child's room. Love this happy color!
See more and get all the details, here.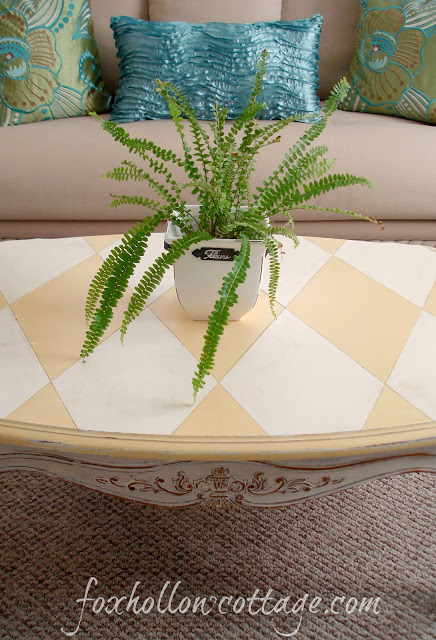 How fun is this Harlequin pattern?? I love it and the soft yellow too.
Want to learn how to create this same look?
Check out how Shannon did it, here.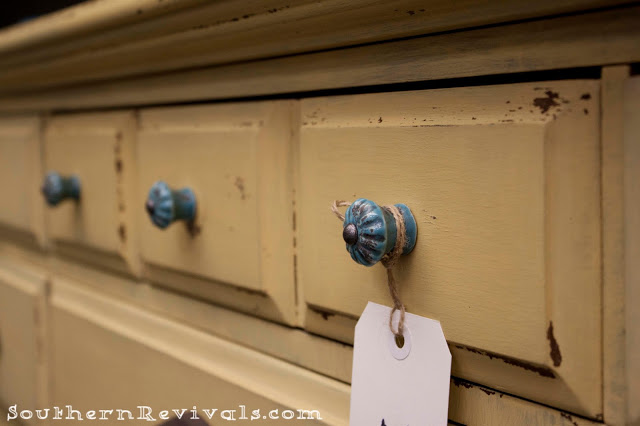 Loving this dresser makeover and all the new hardware too.
See how Jamie painted and distressed this one, here.
Yellow on an accent piece is a great way to add some color to your room.
See how Anika built this one from scratch, here.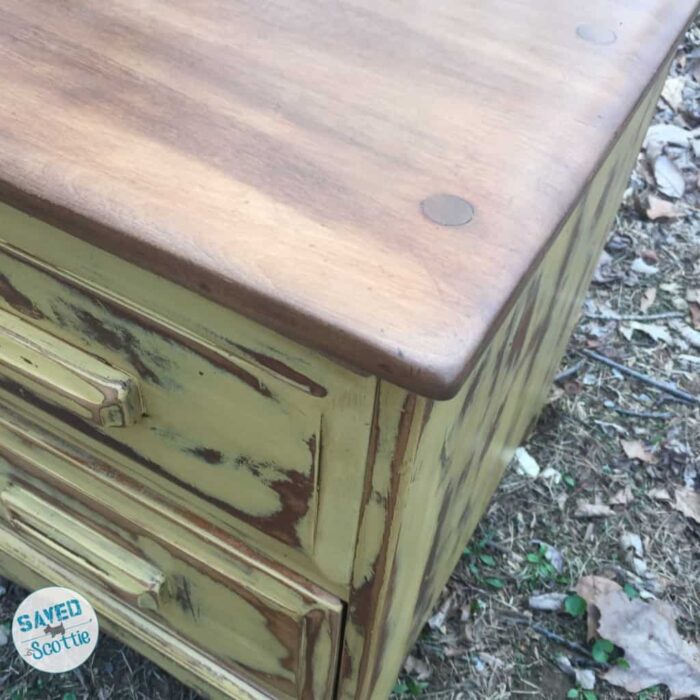 Love that super distressed look? Then you'll love this yellow one!
Check out how Scottie did it, here.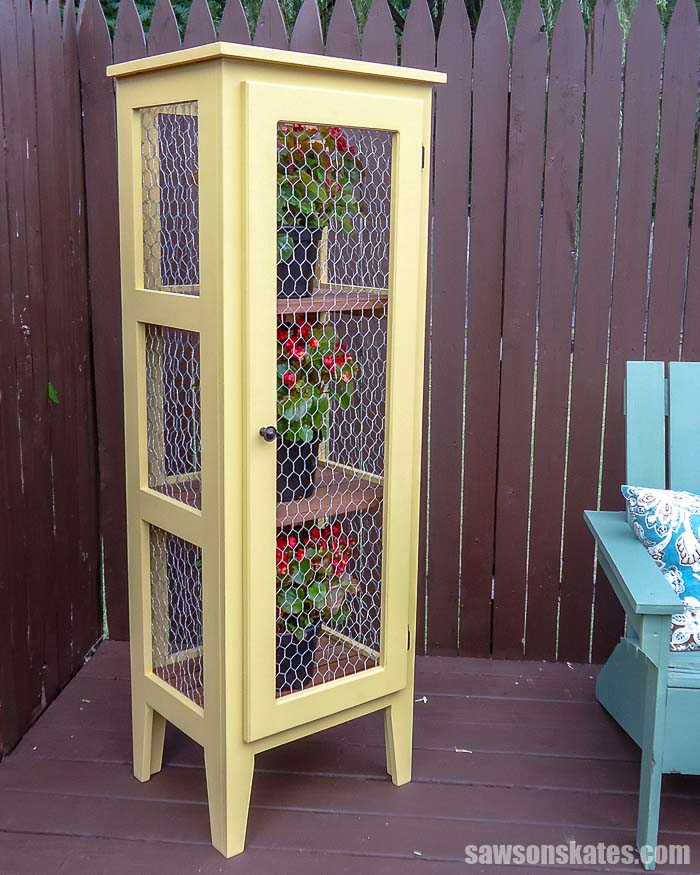 I loving this one! What a neat idea. Want to see how to build this from scratch?
Check it out, here.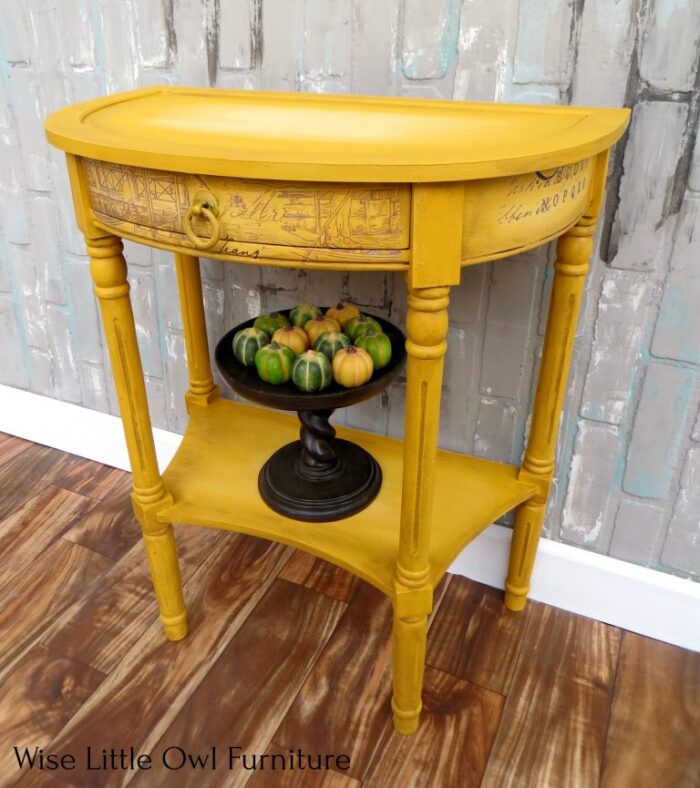 You know I love this one with the transfers. Yep!
See more and get all the details, here.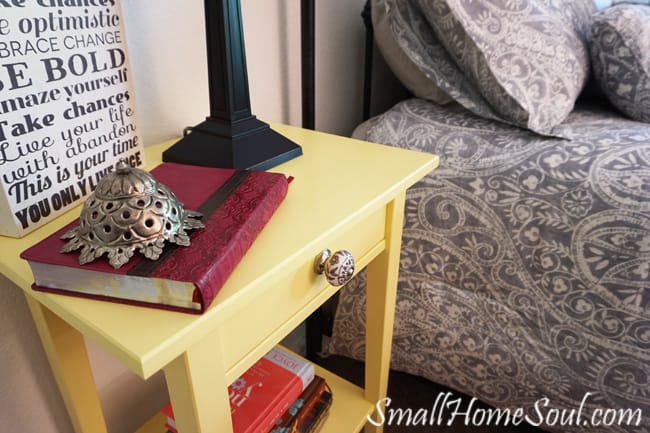 Not ready to make a big commitment on yellow? Try something small like a nightstand first.
It's a great way to add a pop of color.
See more, here.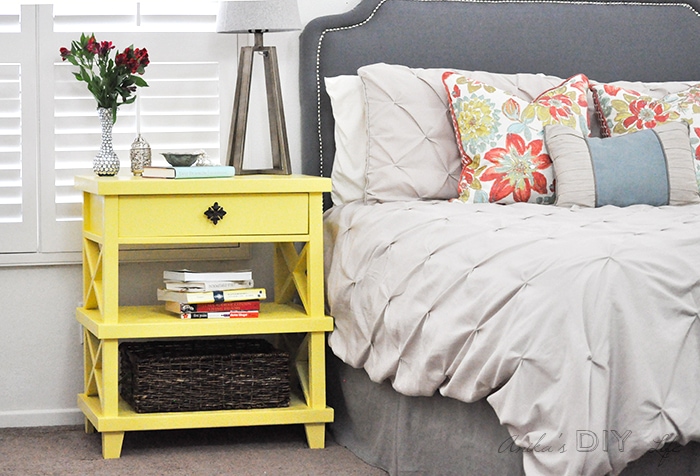 Another fun build by Anika. Loving the colors here, what a happy room.
Want to build one just like it? Check out how Anika did it, here.
Well surprise, surprise! I didn't have anything to share of my own that I've painted yellow. Bummer.
Again, just as with the purple furniture, I'm going to have to change that.
Here are a few of my YELLOW paint picks:
PIN it to save it!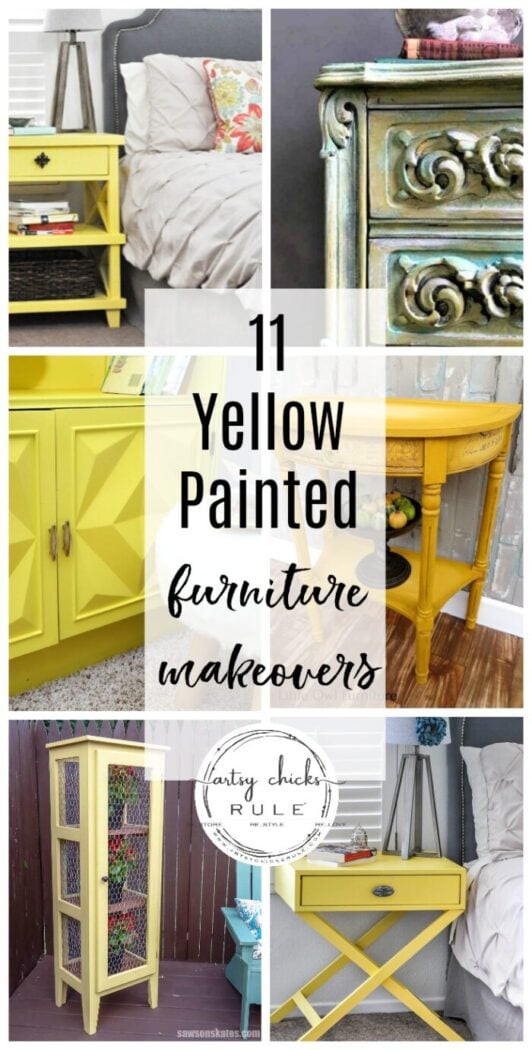 I hope you enjoyed today's yellow furniture makeover post. Yellow is a great color to add in small doses. (or big, if you want a big punch of color) For those that want to add a little happy or color pop, you could even add some yellow in with maybe a small tray, or yellow painted frame, etc. No need to go big if you are not ready or don't want that much color in the room.
I know one thing, I have got to get some yellow going here on the blog. haha I can't believe I haven't done anything in yellow yet. But I'm thinking I may have to…with a soft, pale yellow shade…soon. :)
If you missed any of the other colors in the "color series" you can see them here:
I'll see you back here on Thursday, have a wonderful and safe week!
xoxo