Gold Stencil Coffee Table
This post may contain affiliate links. Please see disclosures here.
Give any old coffee table a glam new look with a gold stencil! From blah to beautiful!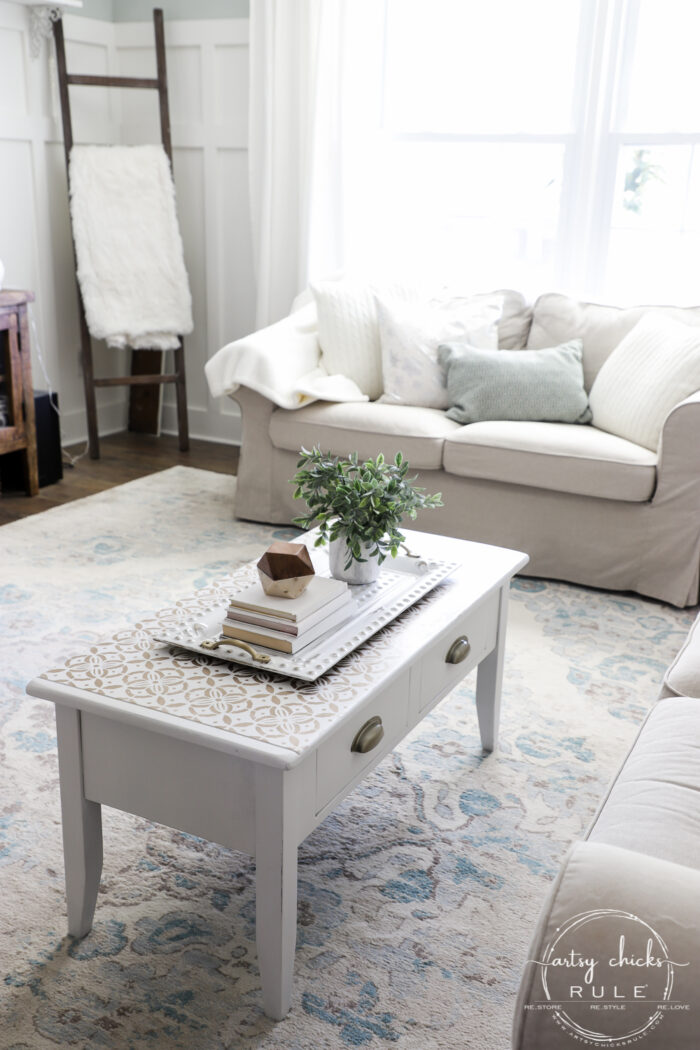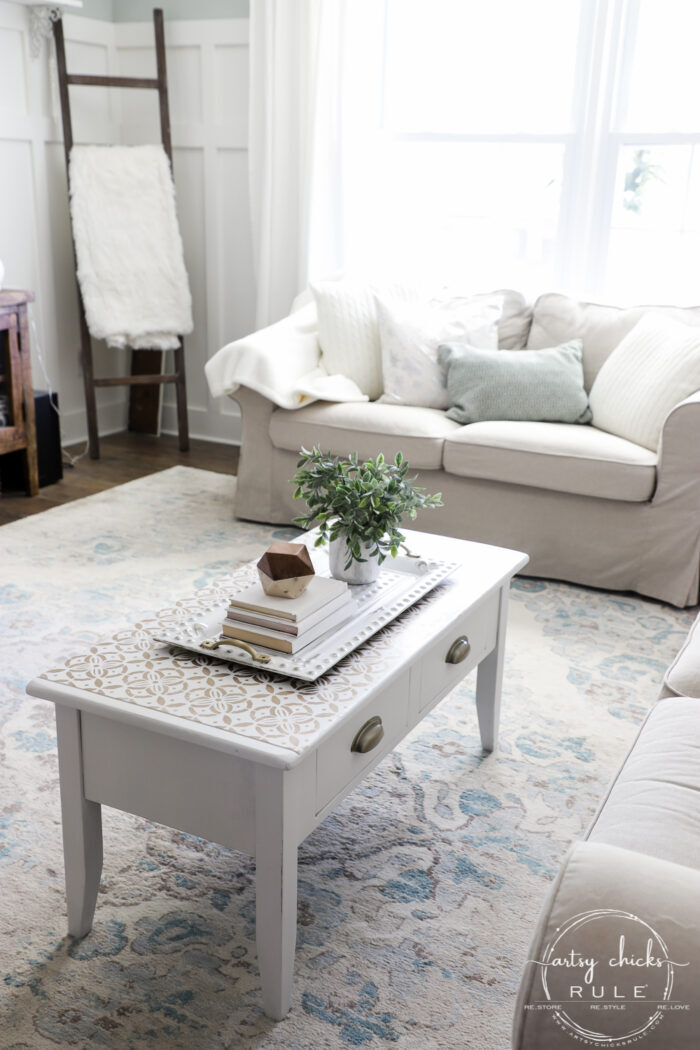 Hello friends!
I hope you had a wonderful weekend!
If you missed last week's post, I am hosting a giveaway for my 8 year blogiversary. There's still time to enter if you haven't yet!
Hop on over and enter >>>here.
Today I'm sharing a makeover from one of the pieces from the beach condo. There are several things that are coming out(or have already come out) and are not going back in! ;) Today's project is one of them.
Remember this coffee table??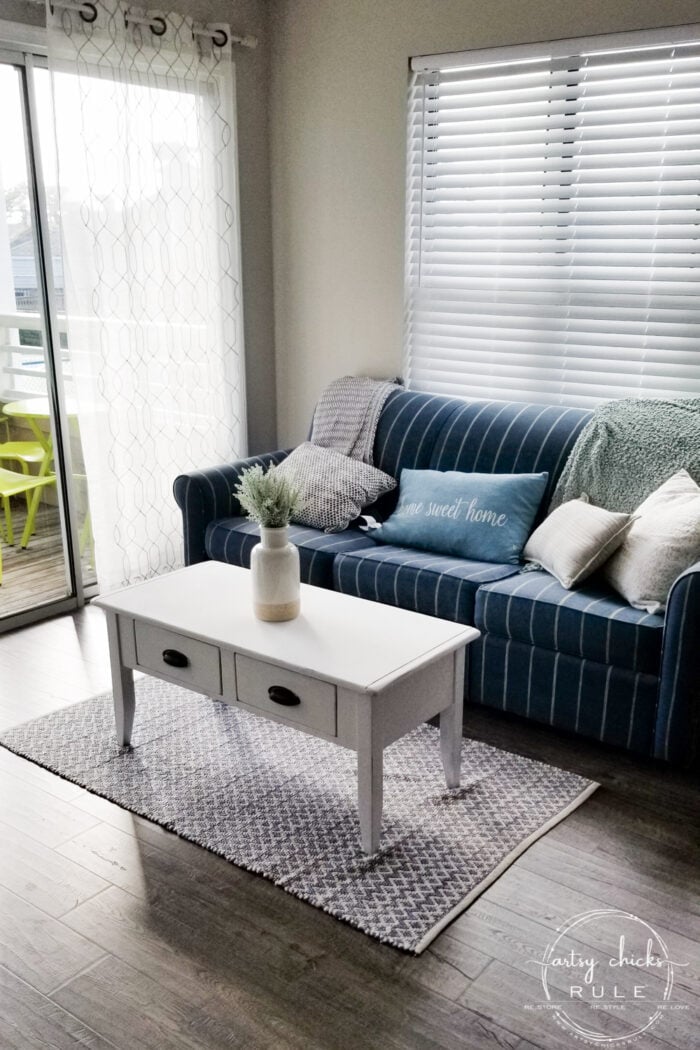 Well, it got a brand new glammed up look.
Gold Stencil Coffee Table
Here is another shot of it "before"…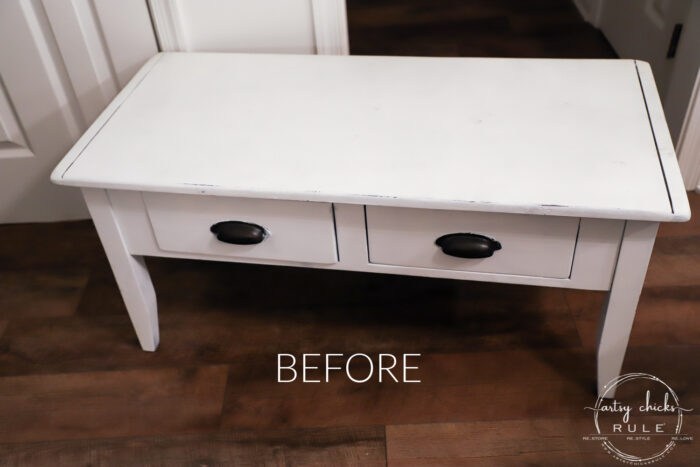 I think someone may have painted a coat of chalk paint over it quickly to change it from blue to white. It wasn't a great paint job and it didn't look like they even sealed it. Such is life when someone is staging a home to sell, I think.
So, I just went back over it with another coat of the chalk style paint I like to use. (linked below)
Once that was dry, I used a pretty stencil to create a gold stencil top design. I measured the table and began in the very center.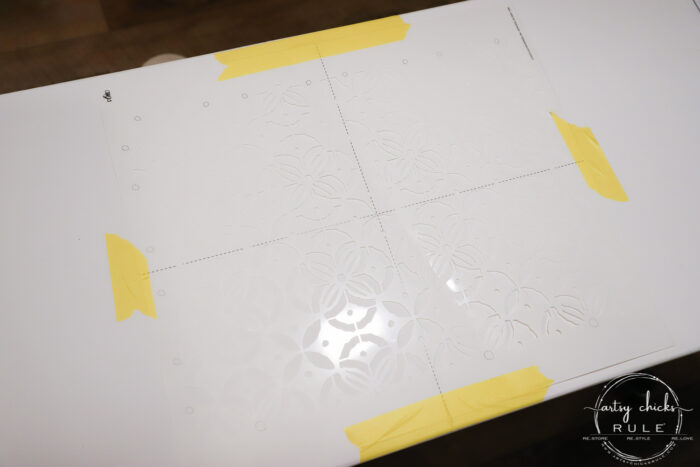 I love using a small foam roller for stenciling. It works so much better than a brush.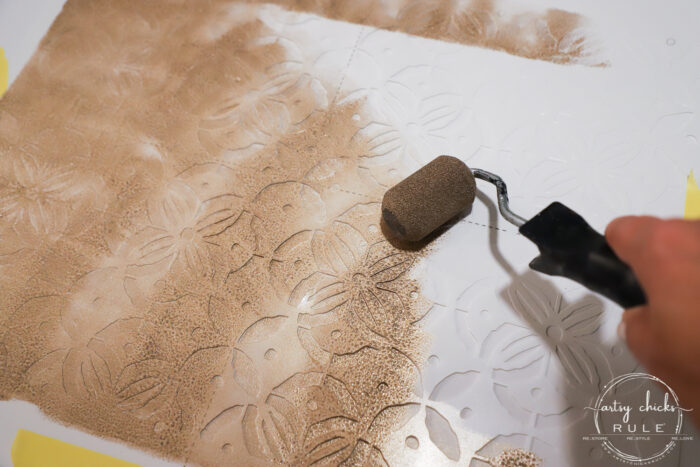 I worked my way from side to side…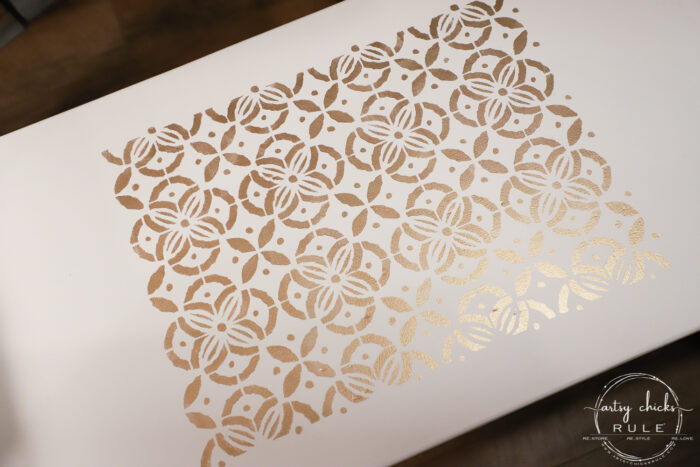 And then went back and did the skinny portions all along the edge on both sides.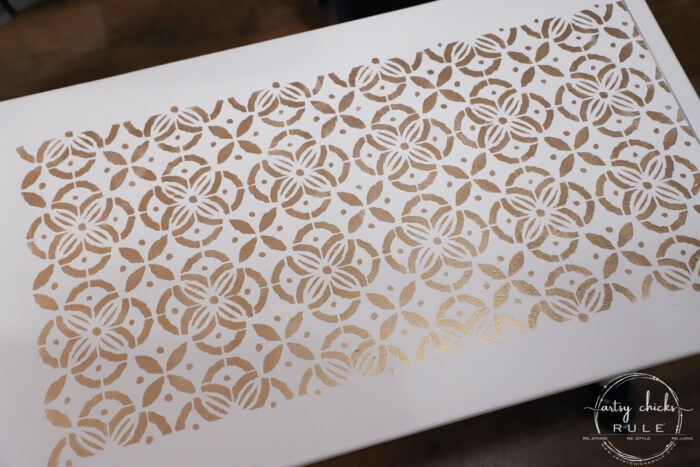 Simple!
Once it was dry, I put a coat of Gator Hide over the whole thing. (2 coats on the top)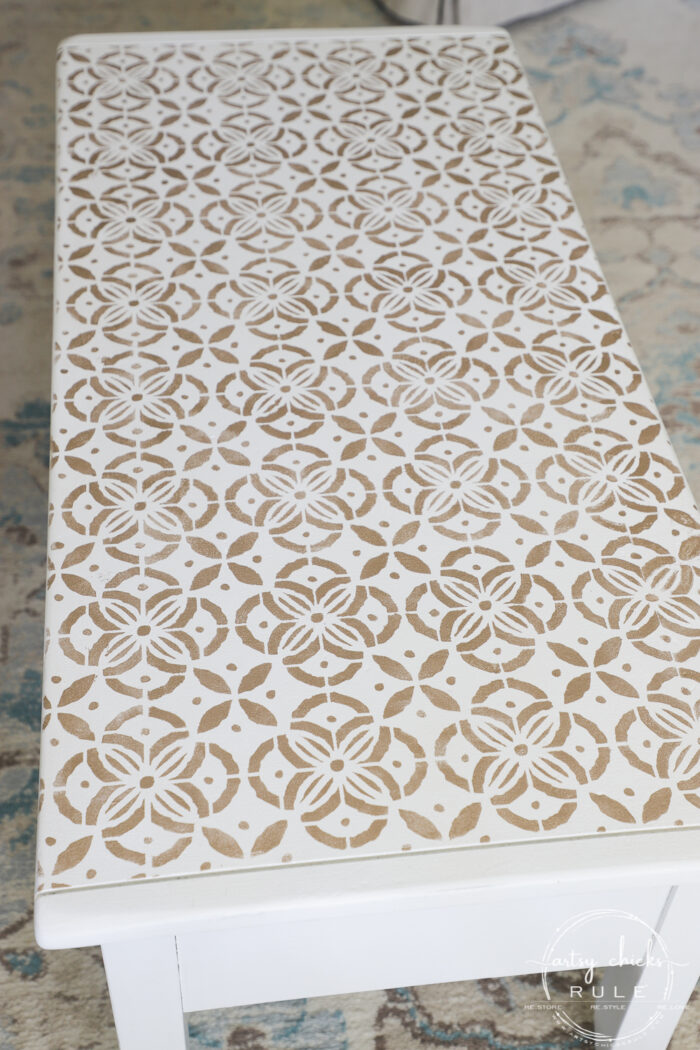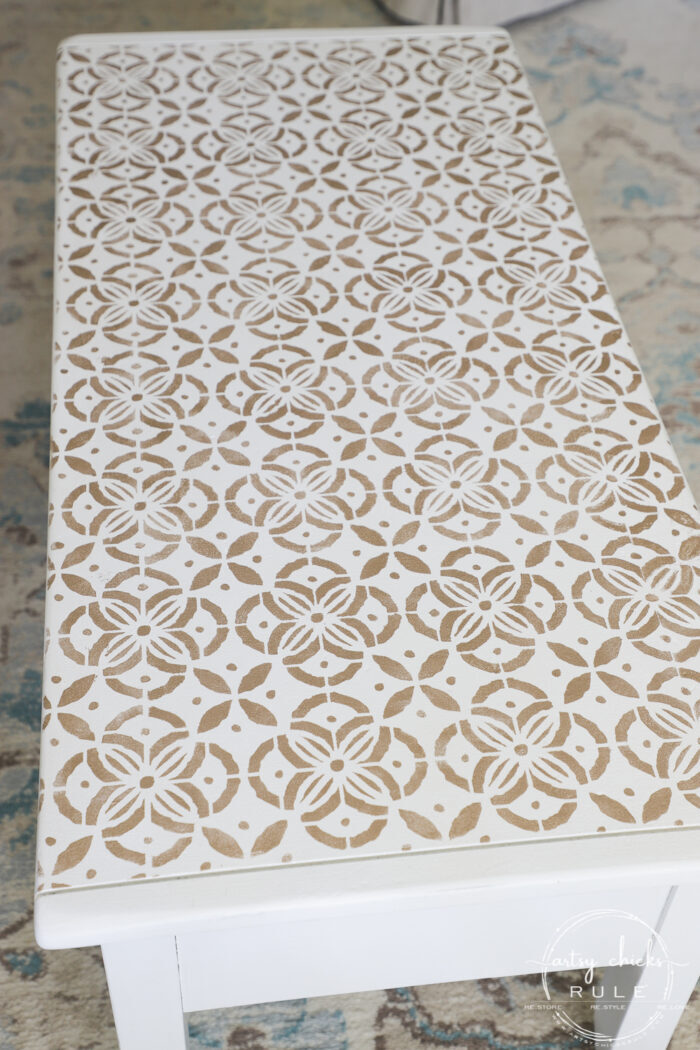 And I sprayed the hardware with something that looked similar to the paint I used, Champagne Mist. (as mentioned, everything is linked above)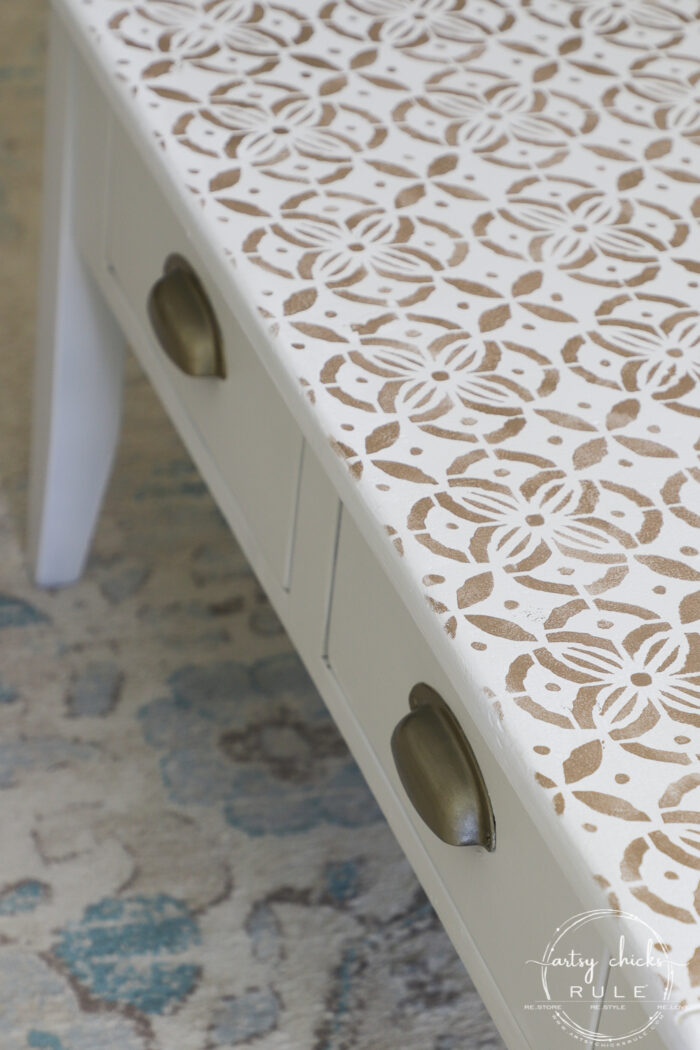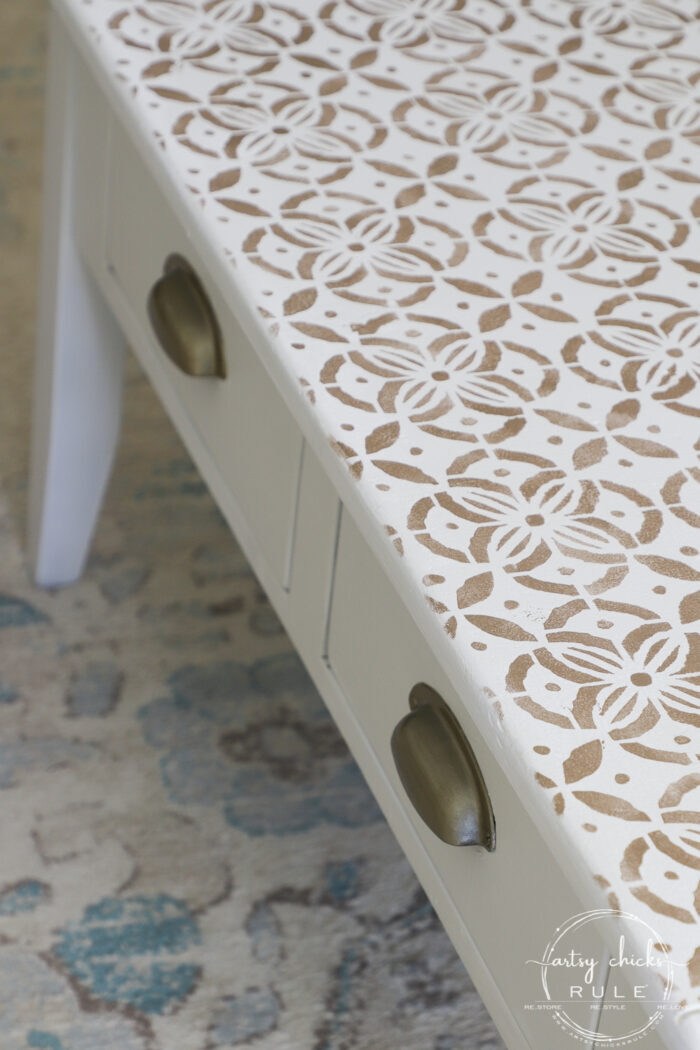 I'm really happy with how it turned out. Because, you know, it's sort of a basic table. Nothing too exciting about it.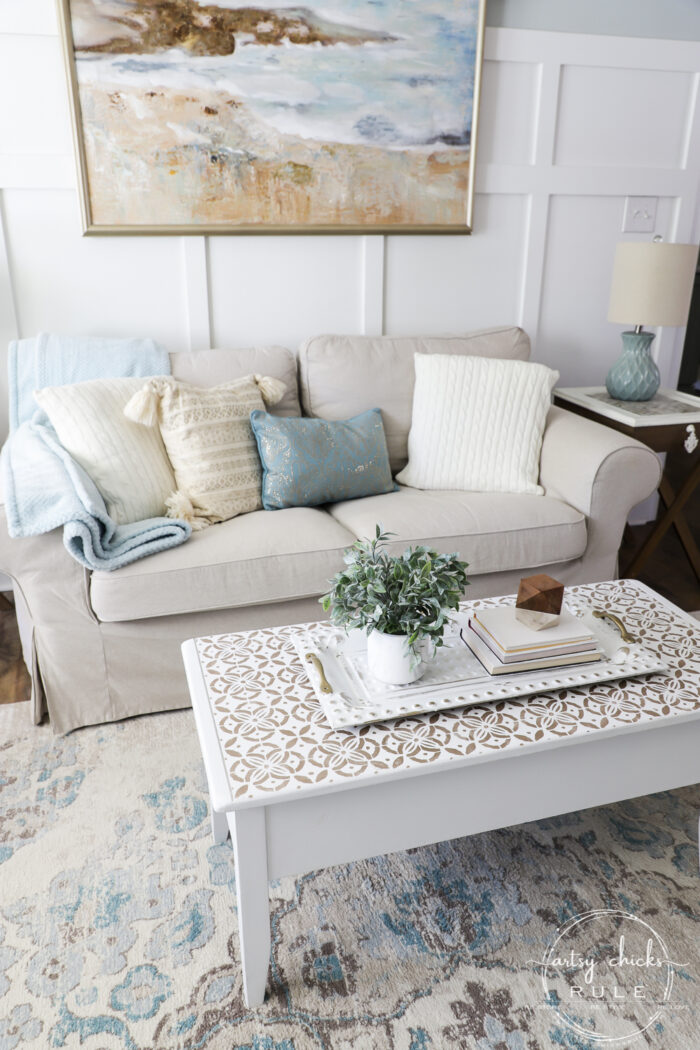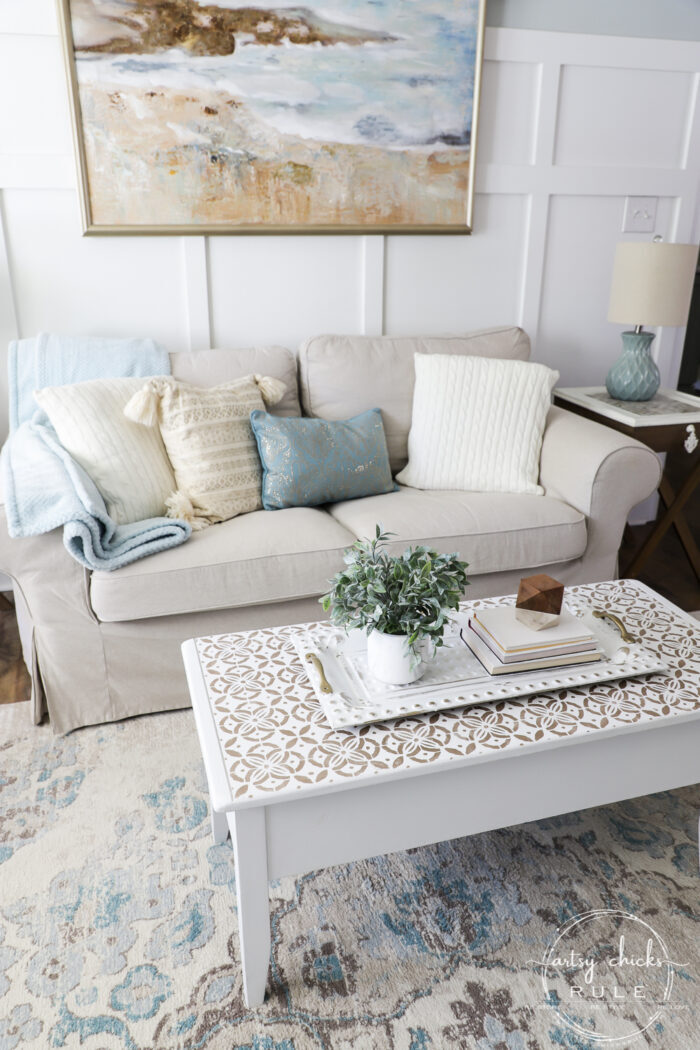 But now it's got some glam and I love it.
Want to know about 26 other chalk style paints?
I've got the low down for you right here! >>> 26 Types of Chalk Style Paint For Furniture
Oh, and here is a link to the rug, I always get asked about it. It's SO reasonable and we love it!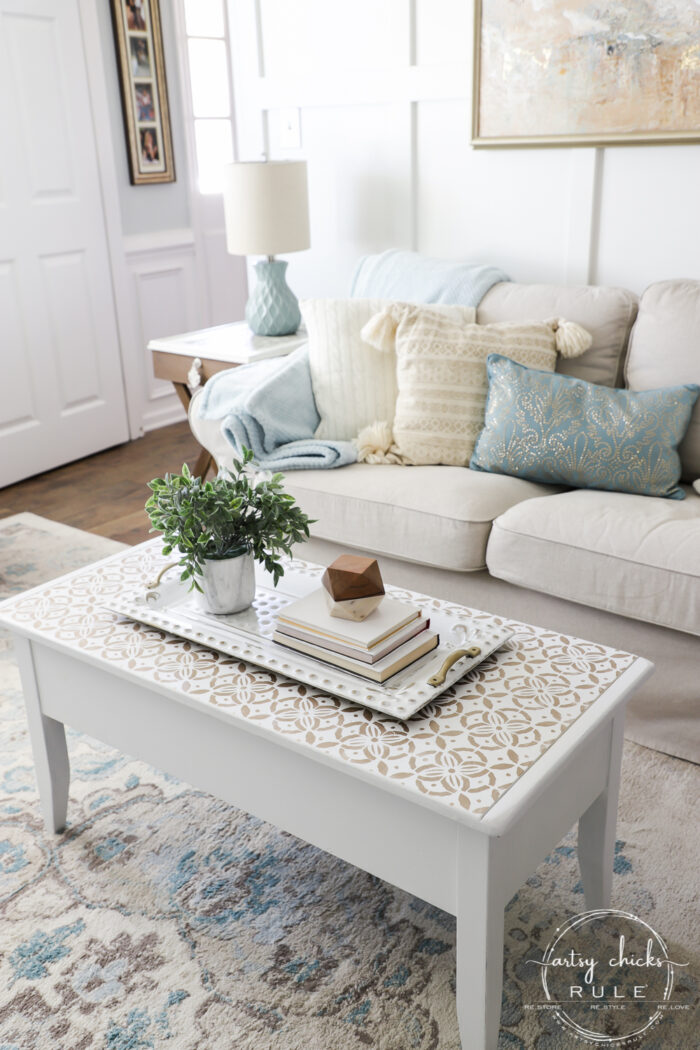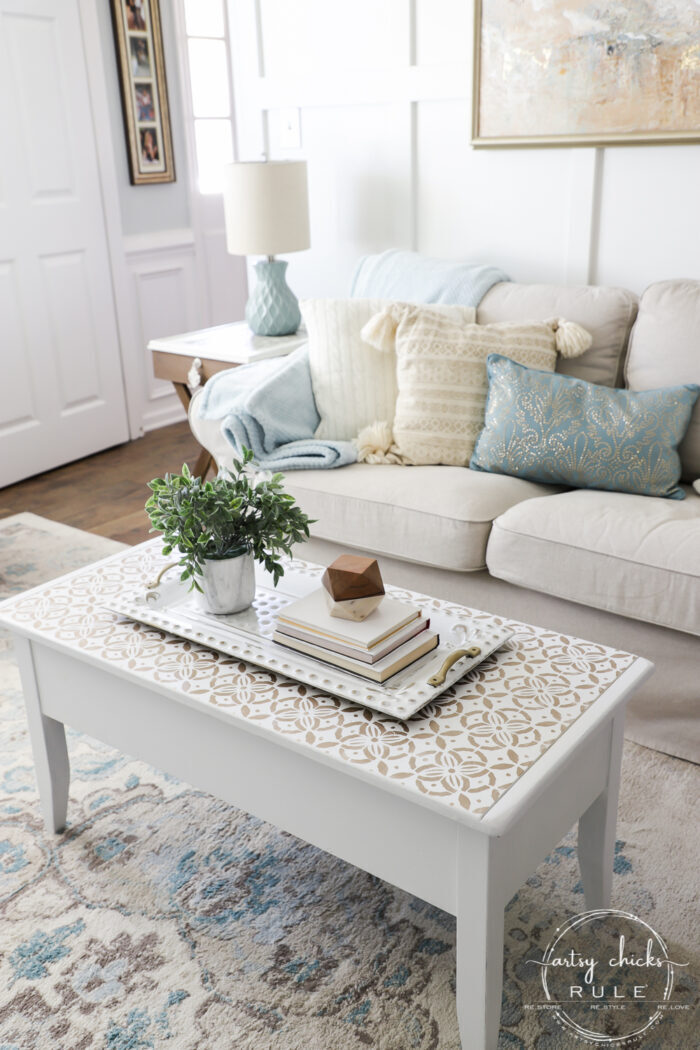 Close up…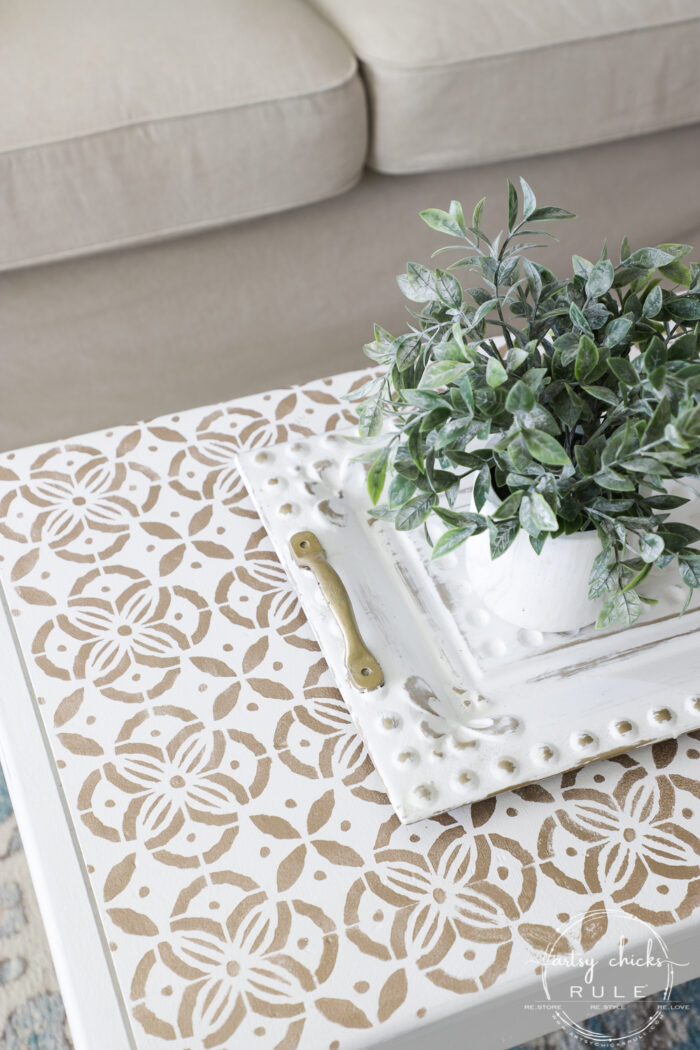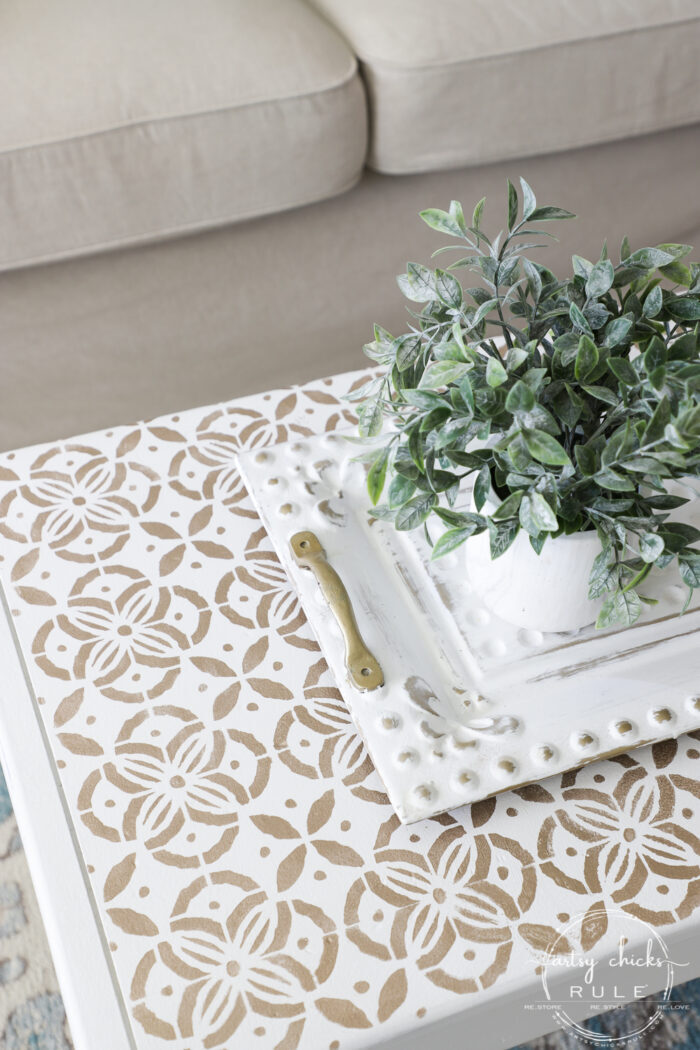 Curious about chalk paint?? I wrote an entire post devoted to all the pros and cons of using it, here >>> "Pros and Cons of Chalk Paint For Furniture"
Remember that tray?? I gave it several makeovers over the years…here is the latest one.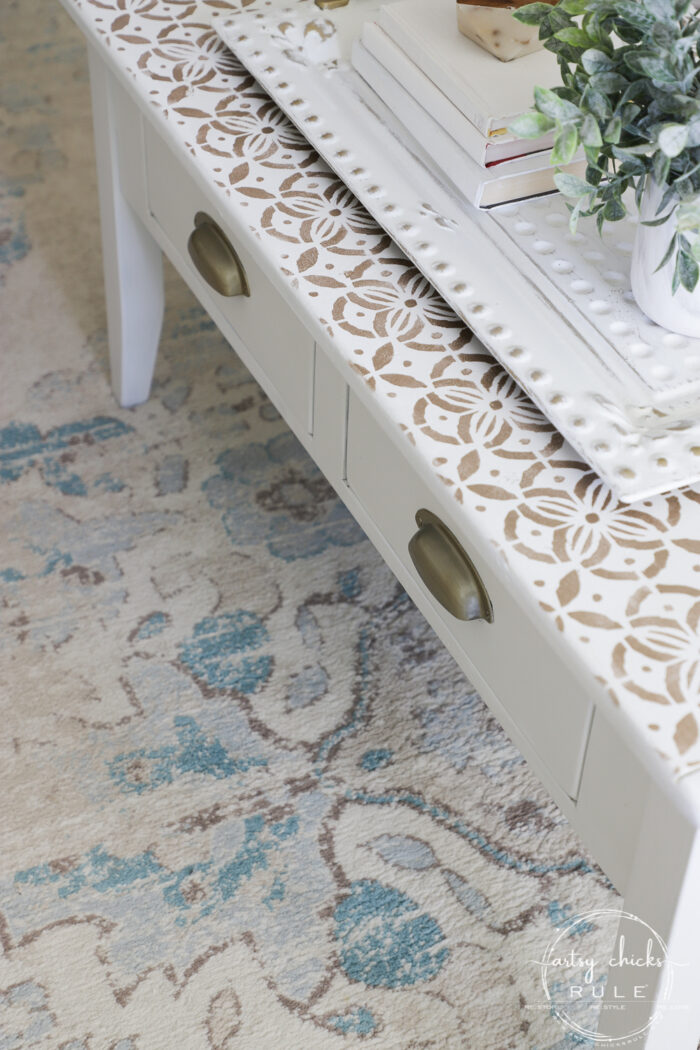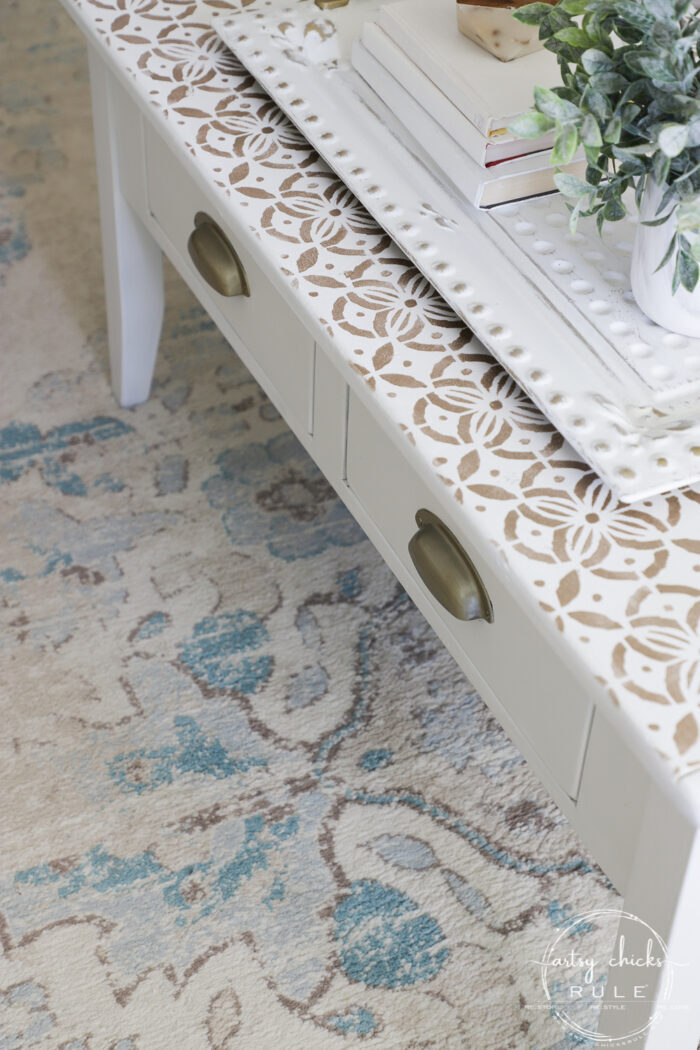 This table was sort of a rustic washed-blue underneath and so were the drawers so I just left them as-is.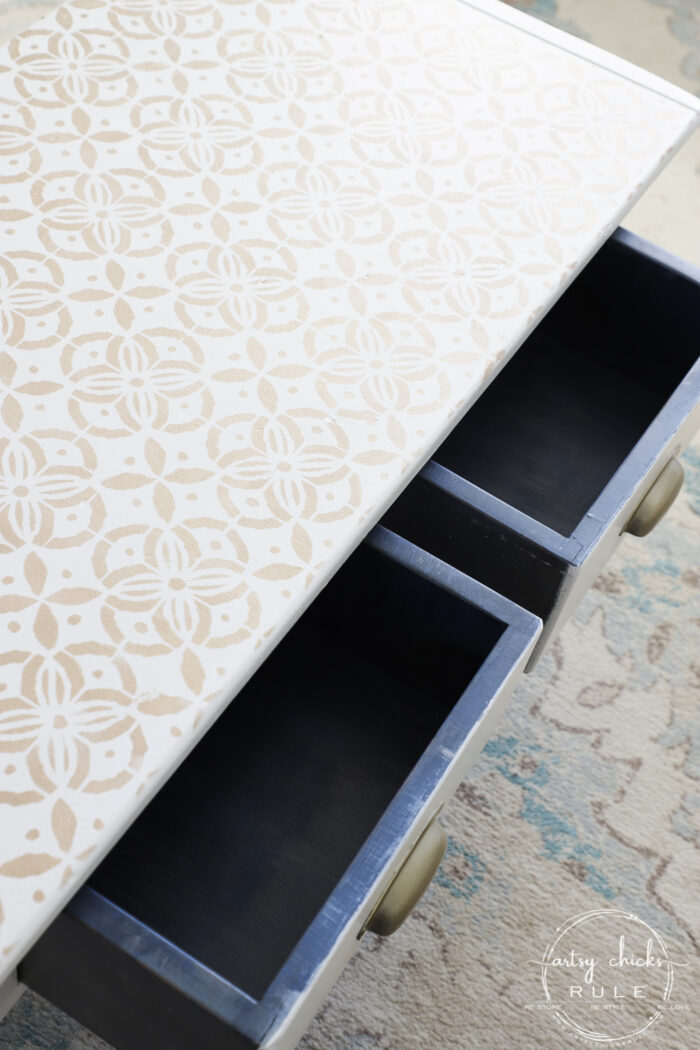 And check out this little sneaker peeker… I see you, Ryder…lol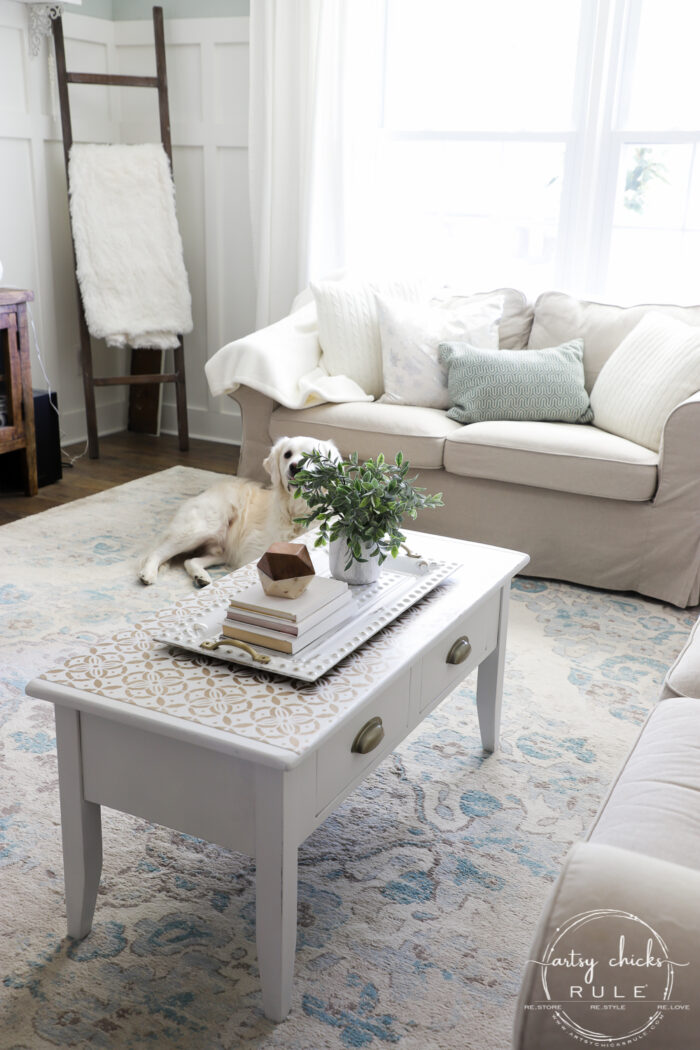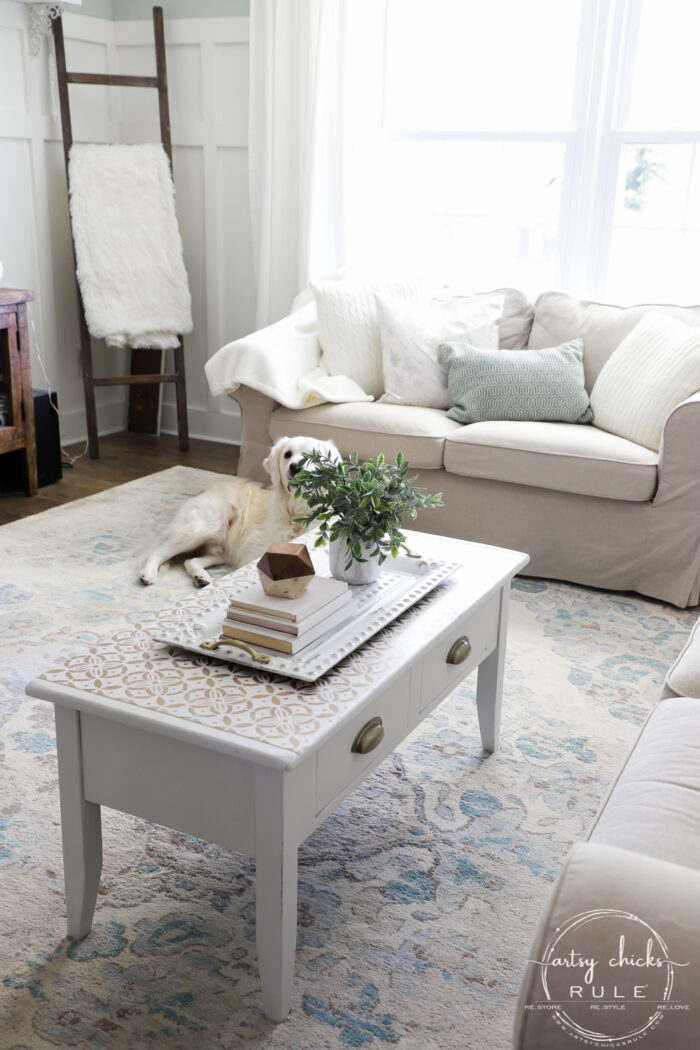 You cutie, you.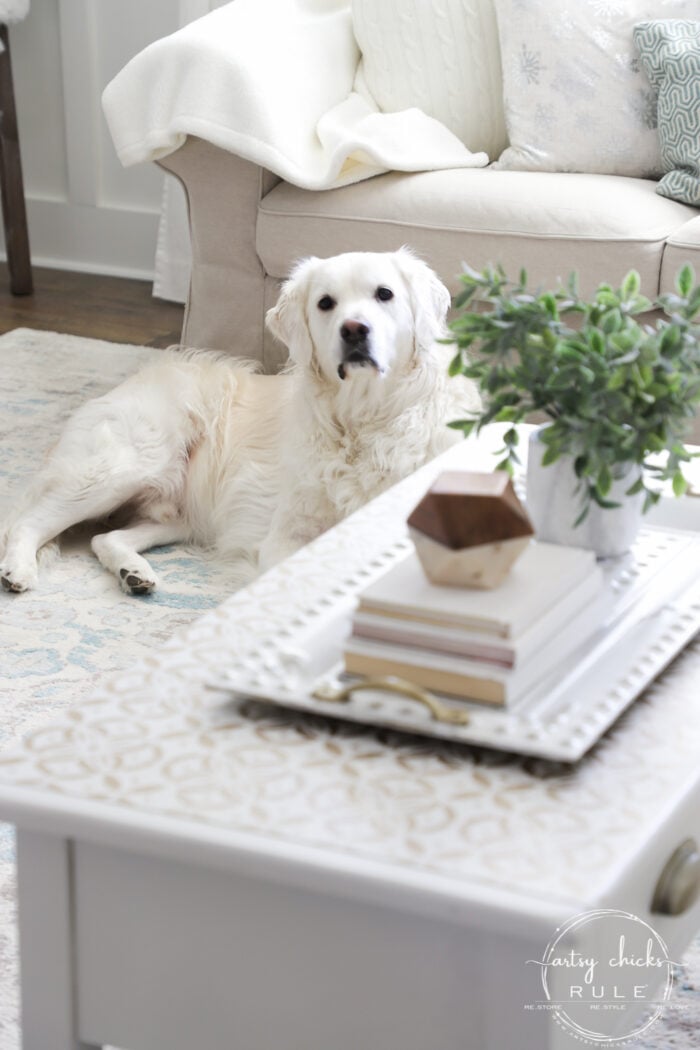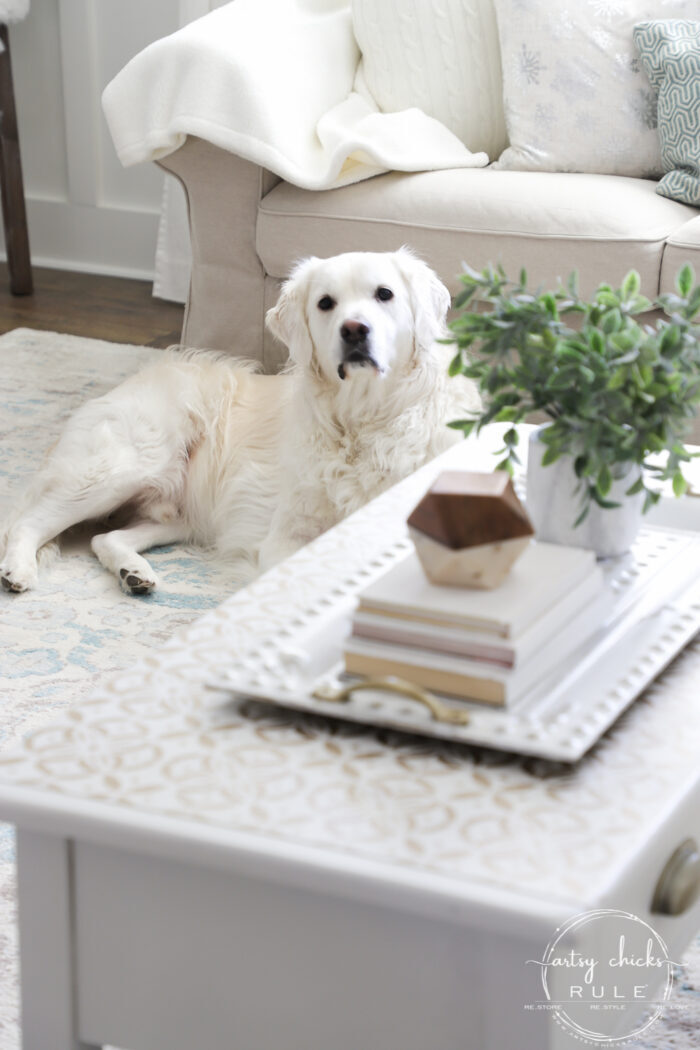 This was a pretty simple makeover but a fun way to knock it up a notch! All it takes is a little paint (and stencil!). :)
PIN it to save it!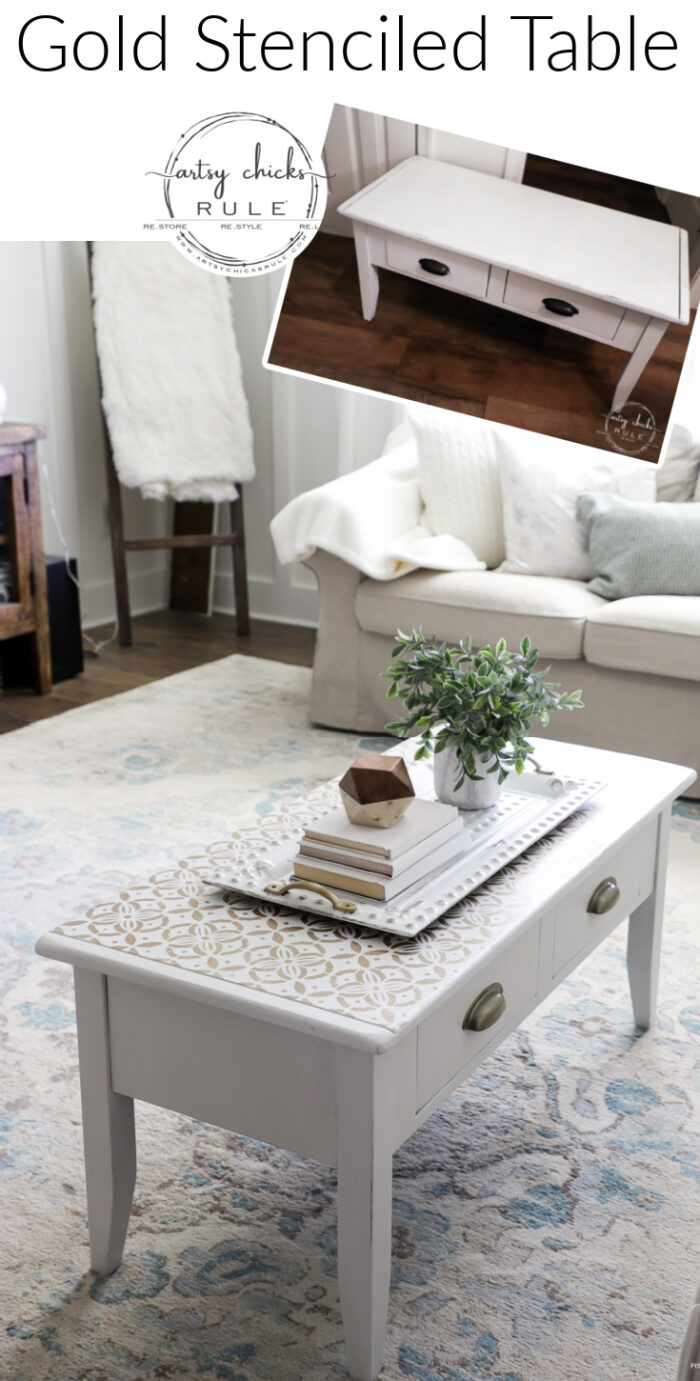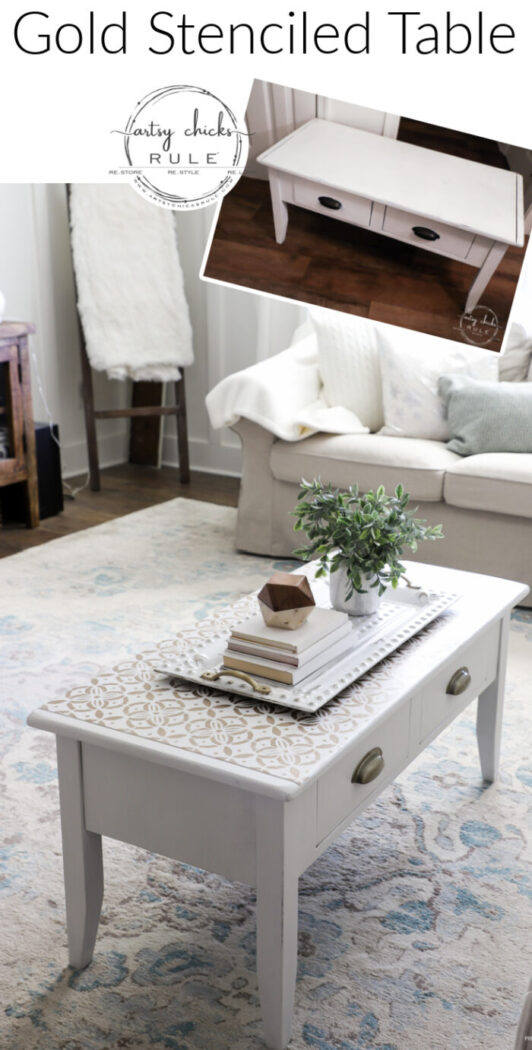 We are headed to the beach condo to start the install of our new flooring. Missed that post??
You can see it right >>> here.
So, I'm not sure what I will be sharing on Thursday because we will be in the thick of it. lol
Be sure to follow along with me on Instagram so you can catch a snippet or two. So excited!
I'm messing around with these next…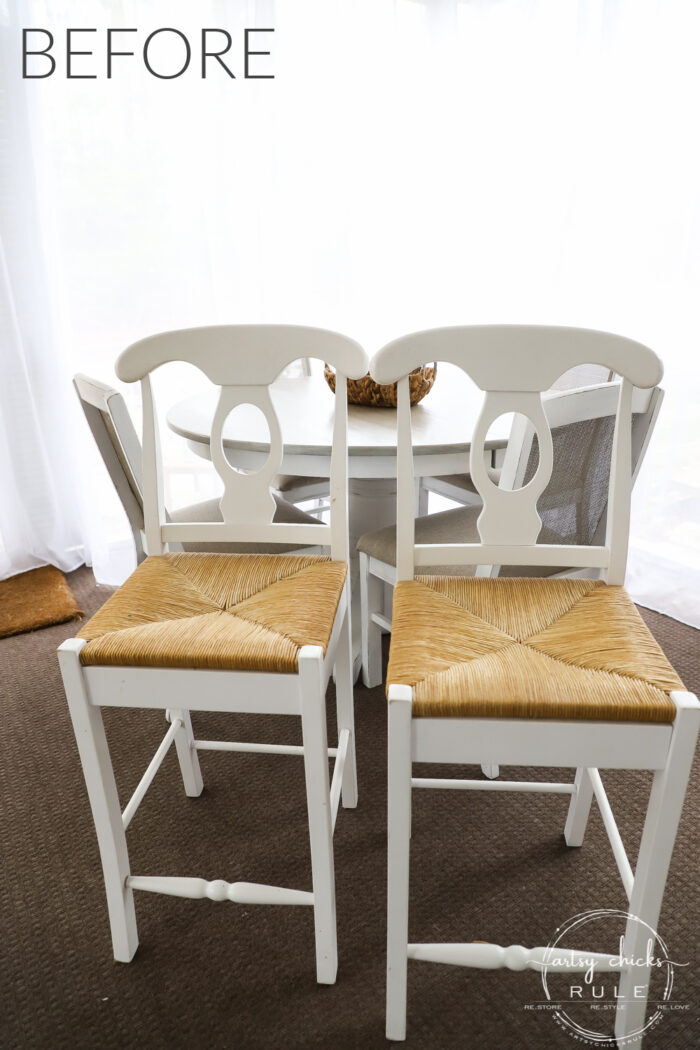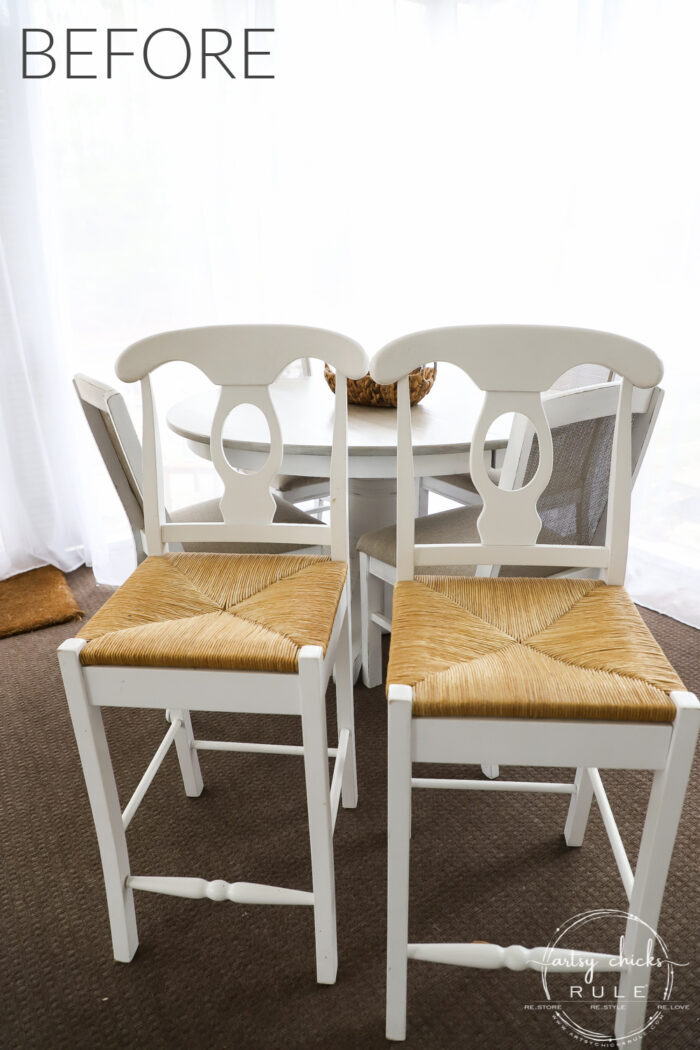 UPDATE!! See them now, here!
I am going to try to get out one day (will depend where we are on the flooring install) and do some thrift shopping at the thrift stores down there for a change to see what I can find. If I can get that done in time, I'll share that haul with you all on Thursday. :)
xoxo