8 Year Blogiversary Giveaway (some of my favorite things)
This post may contain affiliate links. Please see disclosures here.
In celebration of my 8 year blogiversary, I'm hosting a fun giveaway with some of my favorite things!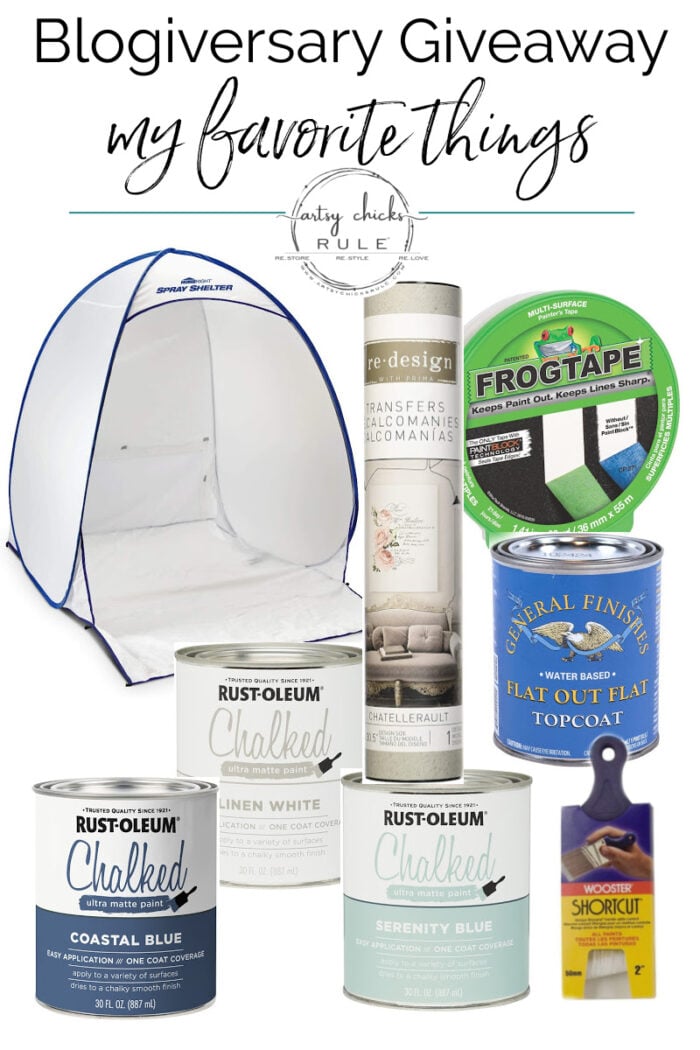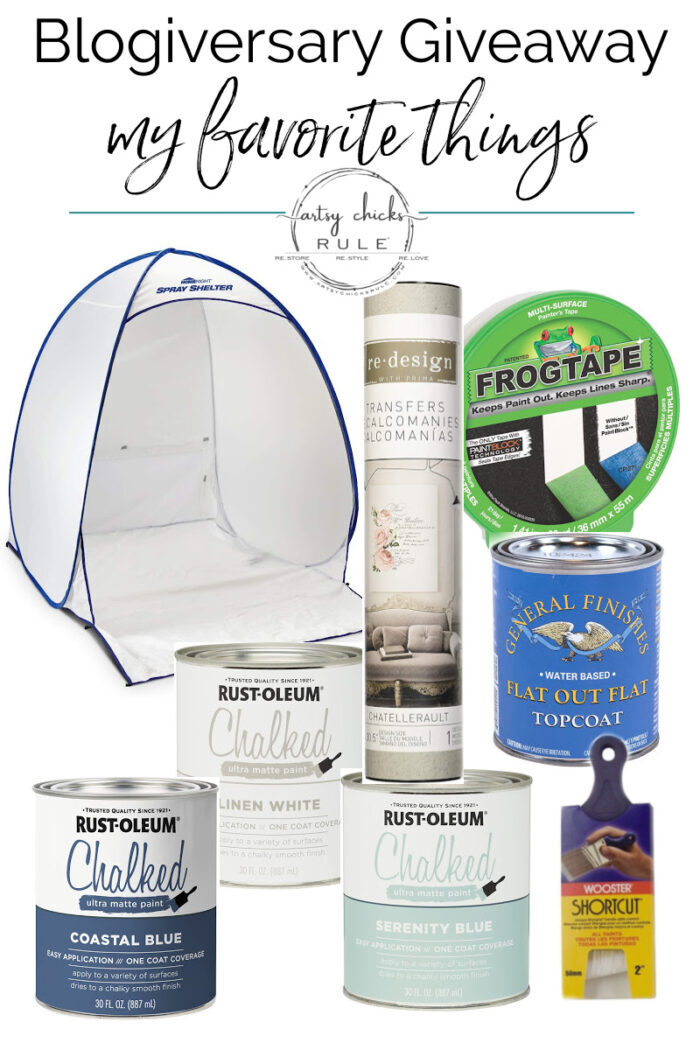 Hello, my beautiful friends!!
Guess what?
It's my 8 year blogiversary and in celebration of that and to say THANK YOU to all of you who have been here and stuck around with me (and all of you who might be new around here too) I'm hosting a giveaway with some of my favorite things. Things that I think you will love and will come in handy with your crafting, furniture making over, and project doing.
But guess what else?
That's not all.
My blogging bestie, Christy, over at Confessions of a Serial DIYer is also having her 8 year blogiversary. She and I both started our blogs within days of each other, the same year, and we both live right here on the coast of Virginia not too far from each other. What are the odds of that?!
If you are new around here, Christy and I get together every few months and go thrift shopping, film it, create a video, and share it with you all here. It's lots of fun and I hope we can get back to it soon! (you can see our latest one >>> here)
Be sure to scroll all the way to the bottom after you enter my giveaway because I'm linking to her giveaway too! So…you have 2 giveaways to enter today! Woohoo!!
I absolutely love being able to share all of the thrifty makeovers, thrift store scores, furniture makeovers, home DIY, decorating, and more, with you! The good, the bad, and the ugly. Haha! And the fails too because they are important for many reasons. I can't believe I've been doing it for 8 years. Time flies when you are having fun, right?? That's a whole lotta furniture makeovers and thrifty finds, isn't it?
I am thrilled to share what I'm giving away to one lucky winner below. (pictured above and below also)
A Few Of My Favorite Things
I am sending this directly to you from Amazon.
If anything is out of stock by the time it comes to ship to you, I will pick something equally wonderful to go in its place.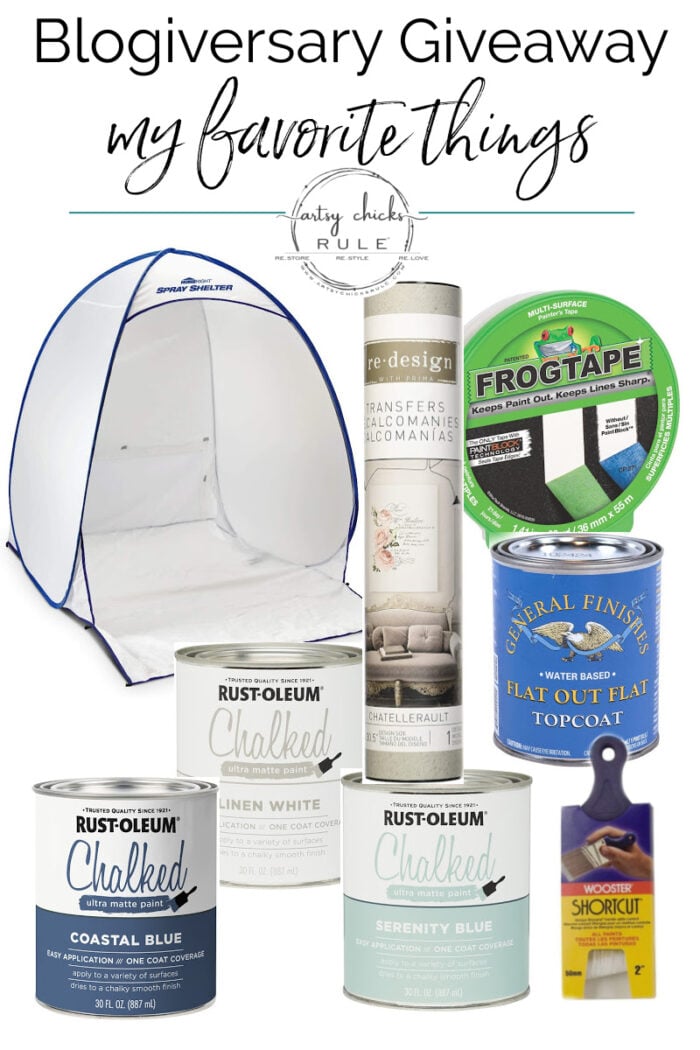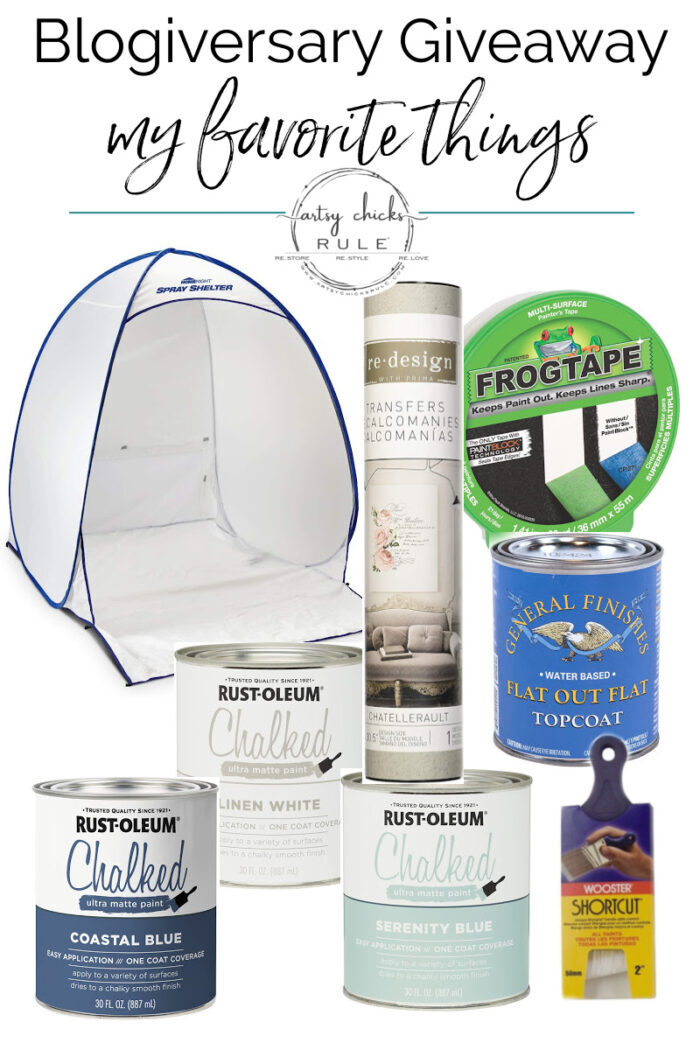 (This giveaway is not sponsored by Amazon or any of these manufacturers, it is a gift from me, to you!)
Here's how you enter:
To enter, just fill out the Rafflecopter below. Enter all or as many as you like for more chances to win.
Once the contest is over, the Rafflecopter will choose a winner at random.
That's it!
(if you have trouble with the Rafflecopter box below, you can visit this link to enter instead, "8 Year Blogiversary Giveaway")
The giveaway ends Thursday, November 19th at 12:00am EST.
After which, one winner will be chosen at random and notified via email.
You will have 48 hours to respond. If not, another winner will have to be chosen.
You must be 18 years or older (and a US resident) to participate. Void where prohibited.
…………………………………………………………………………………………………………….
Don't forget to go enter Christy's giveaway!!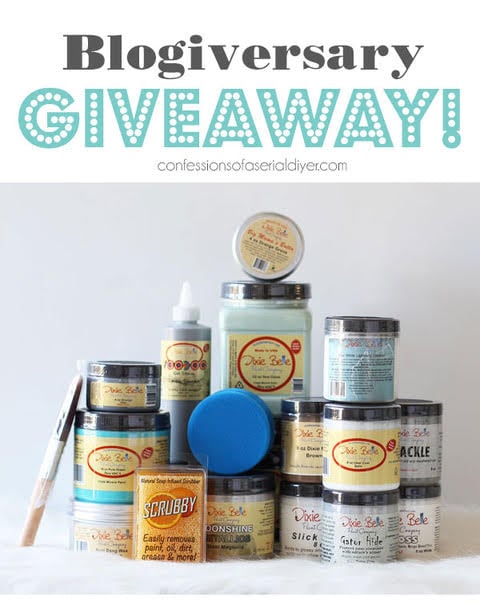 She's giving away Dixie Belle goodies to 3 lucky winners… enter here.
Good luck everyone!!
Hope you have a wonderful weekend!
xoxo