Flower Box with Napkin Decoupage
This post may contain affiliate links. Please see disclosures here.
Hello friends!
It's Trash To Treasure Tuesday…wow that came up fast! I think February is going to fly by just like January did and I'm okay with that because I am beyond ready for warm weather.
We've been busy little bees working on our hall bath remodel. If you follow along on Instagram, you know we hit a snag on the vanity. Boo! But I will make it work.
I can't wait to share more. Be sure to follow along over on Instagram to keep up with our makeover there, I'm sharing as we go!
The downstairs half bath is done! Yippee! I will be sharing it next week since I have a special post to share on Thursday…my birthday is tomorrow and it's a biggie (ha!) so I thought I'd do a giveaway for you all to celebrate it. :) Be sure to come on by to enter to win! (Not a follower yet? You can follow me right here so you won't miss a thing >>> I'm in!)
Okay, let's talk T2T. I'm sharing this fun little find I recently picked up from the thrift store. I'm sure it's all prepped and ready for a Valentine's kind of thing with the "amor" but I skipped right on past that to spring, well, because I'm ready! ;)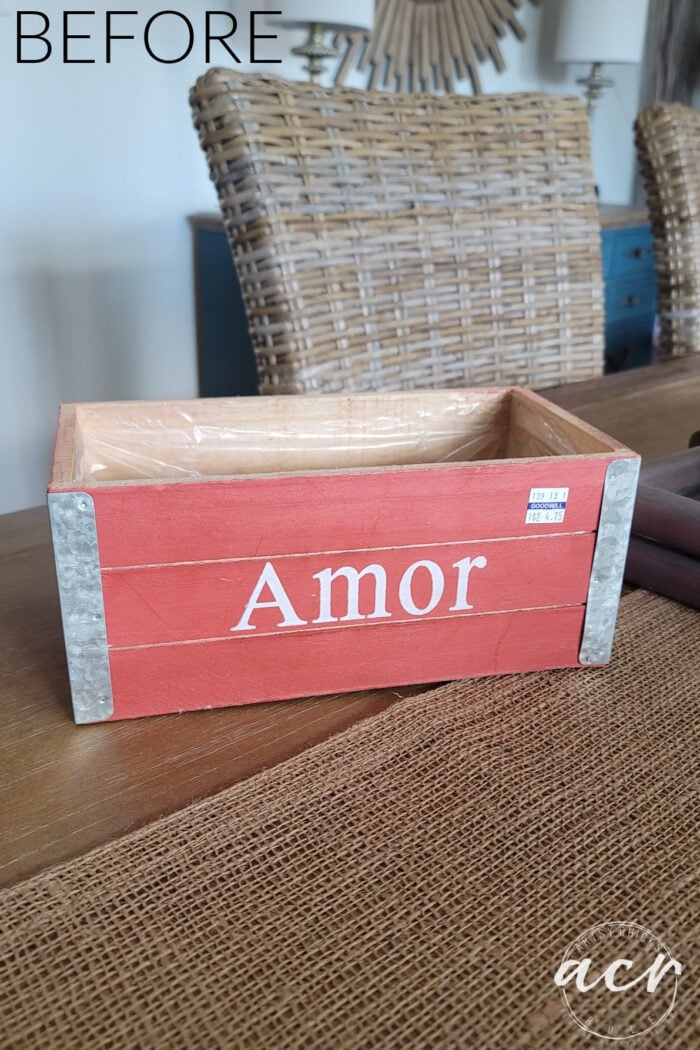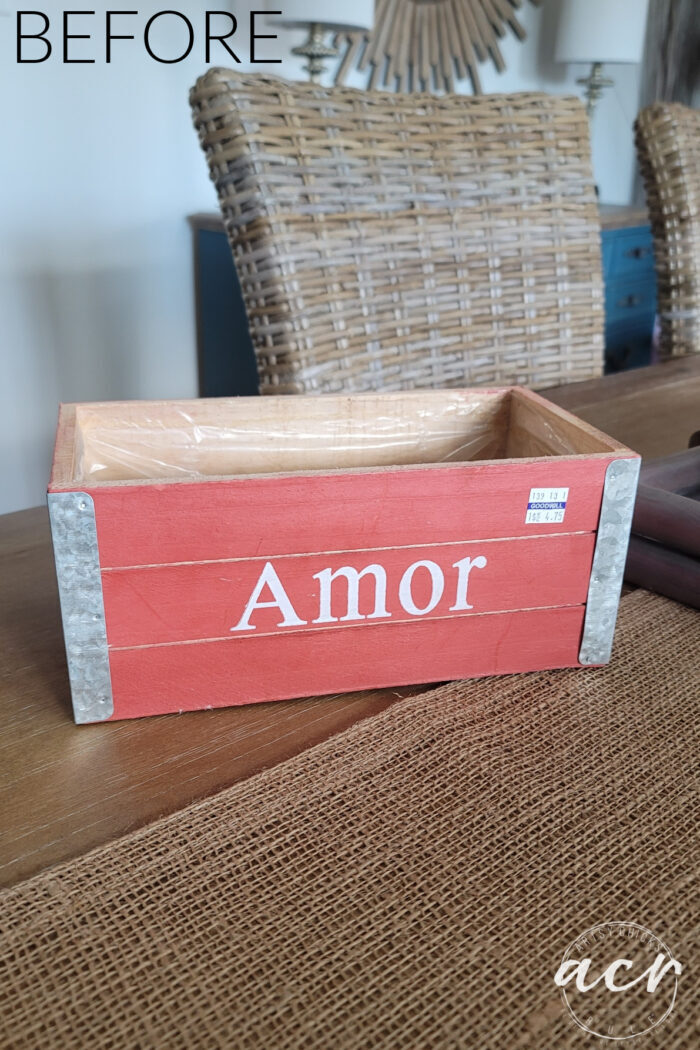 Cute little box, right?
But I knew exactly what I wanted to do with it when I saw it.
I found these sweet "springy" floral napkins on Amazon and thought they'd be perfect for it.
I'd make a little flower box for spring.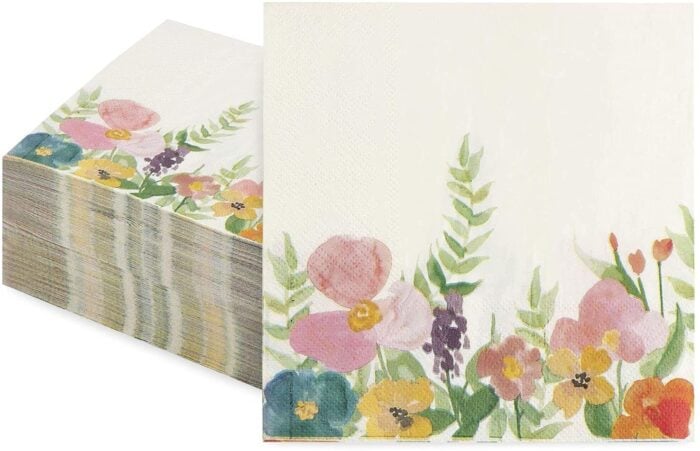 You can find them, here.
Aren't they sweet?
So I sprayed one coat of primer on the box. Then painted a coat of Cobblestone. (I LOVE this color)
You can find it, here.
Here's how I would lay the napkin on the box.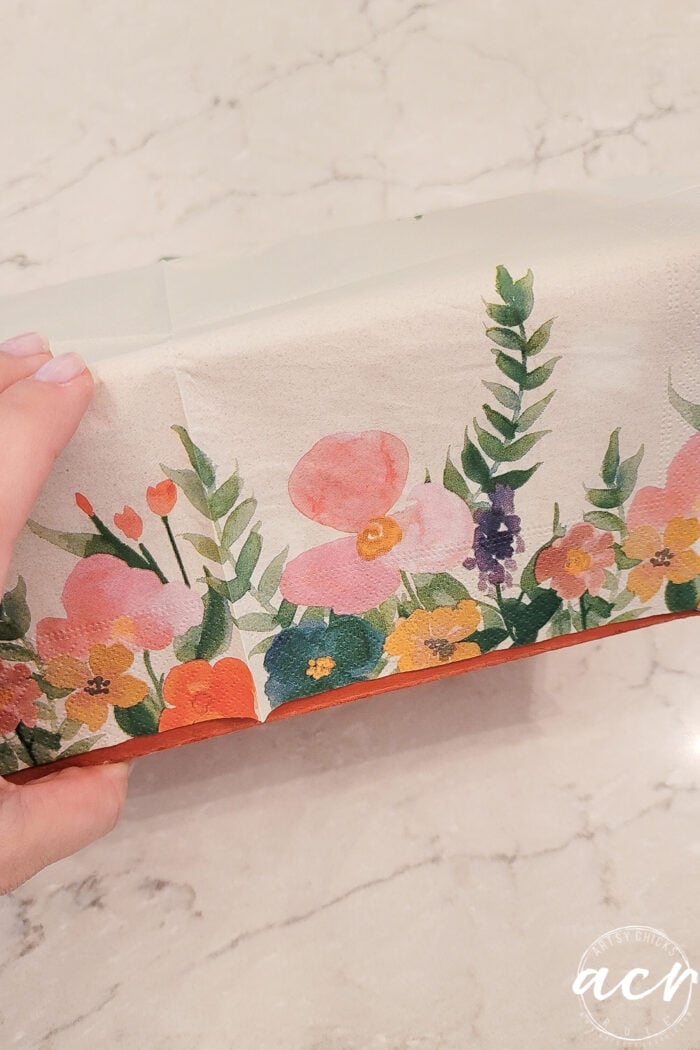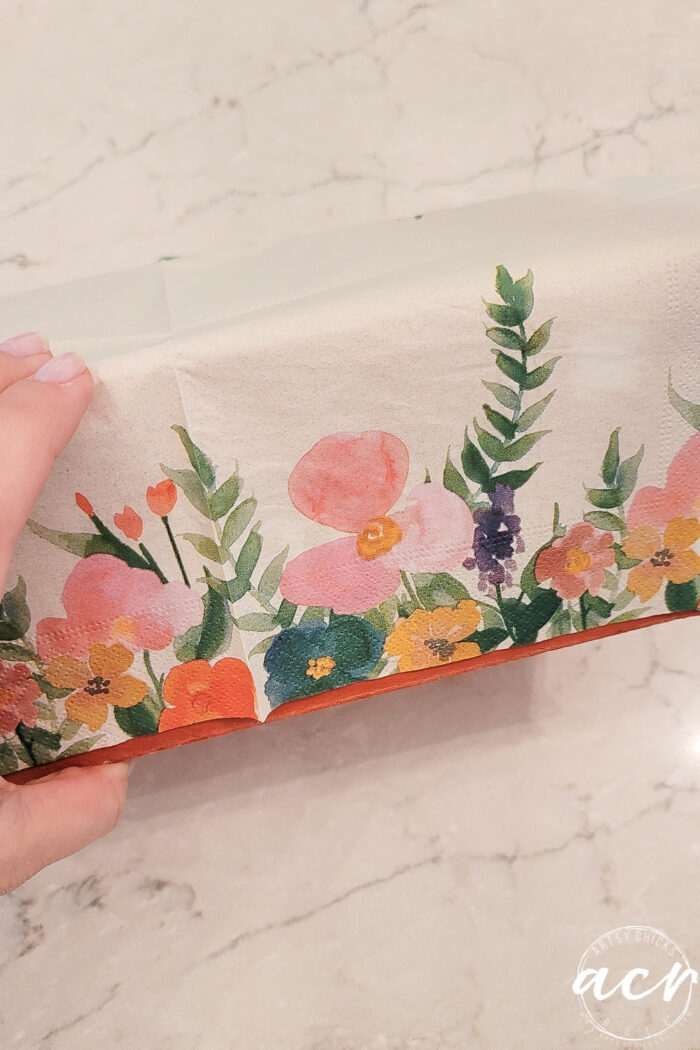 I applied it with this product >>> Fusion Decoupage & Transfer Gel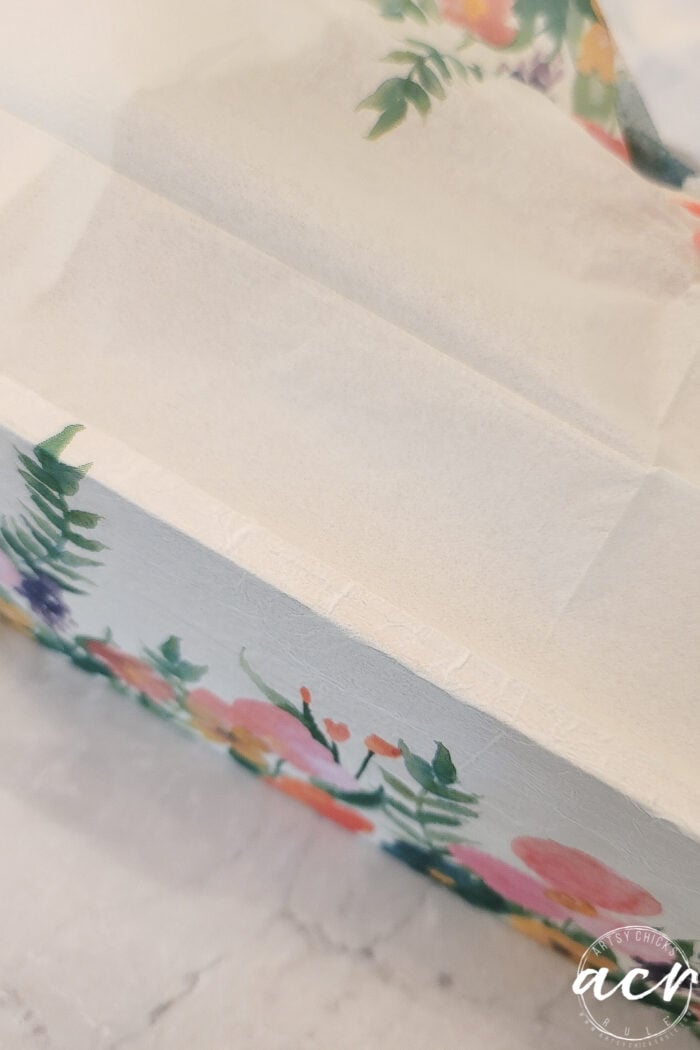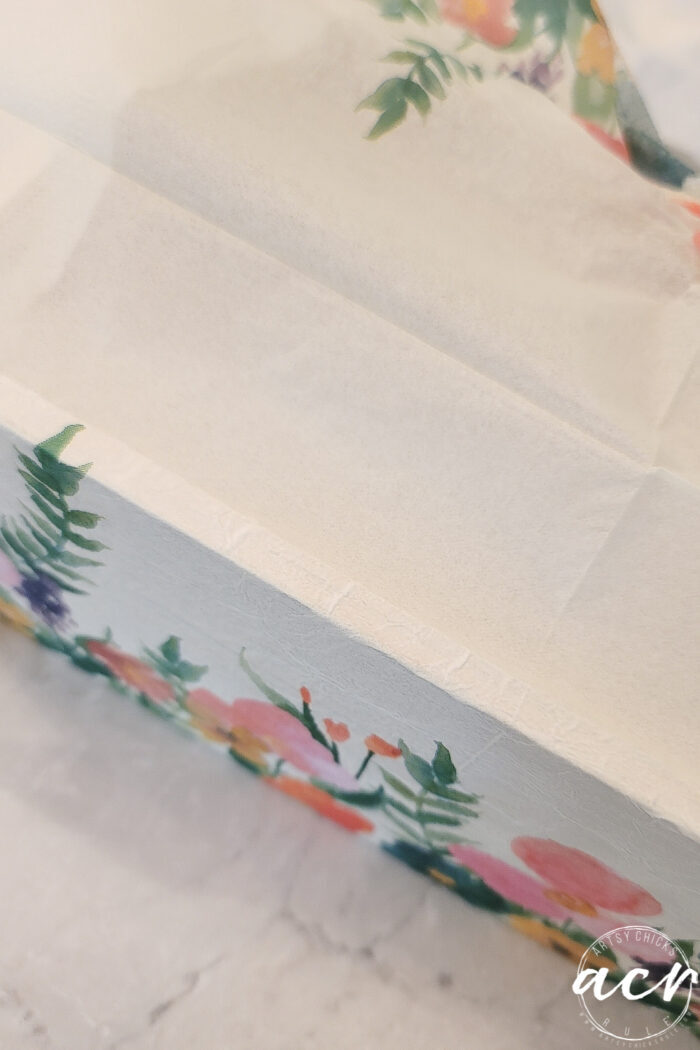 And even wrapped it over the top edges.
Here's a little trick… wait until it dries and then use sandpaper to "cut" it where you want to remove.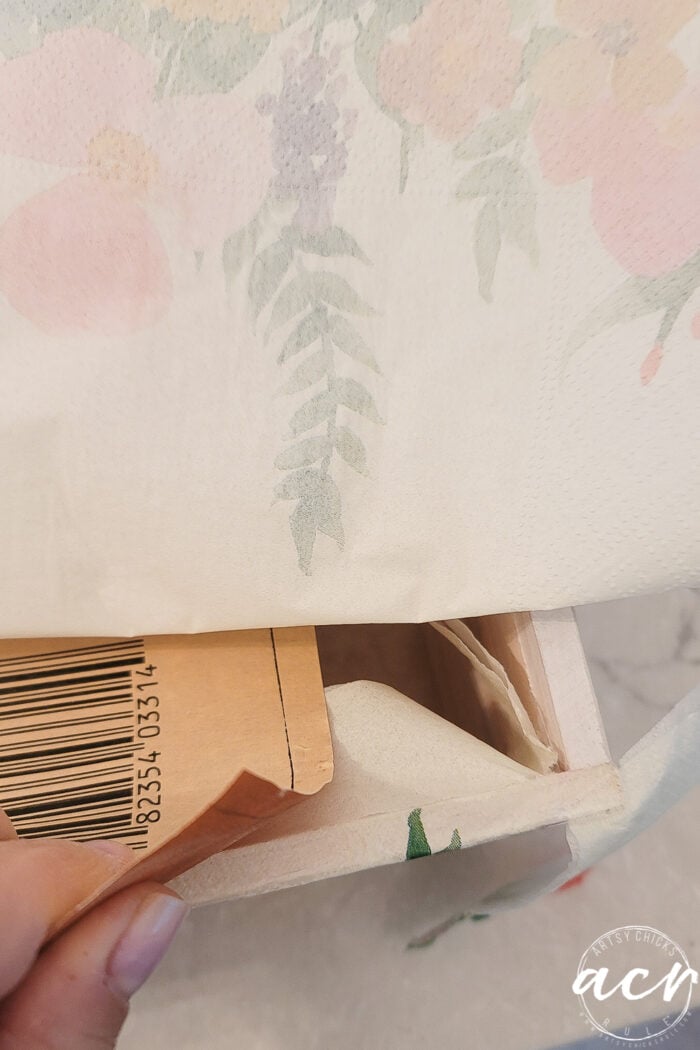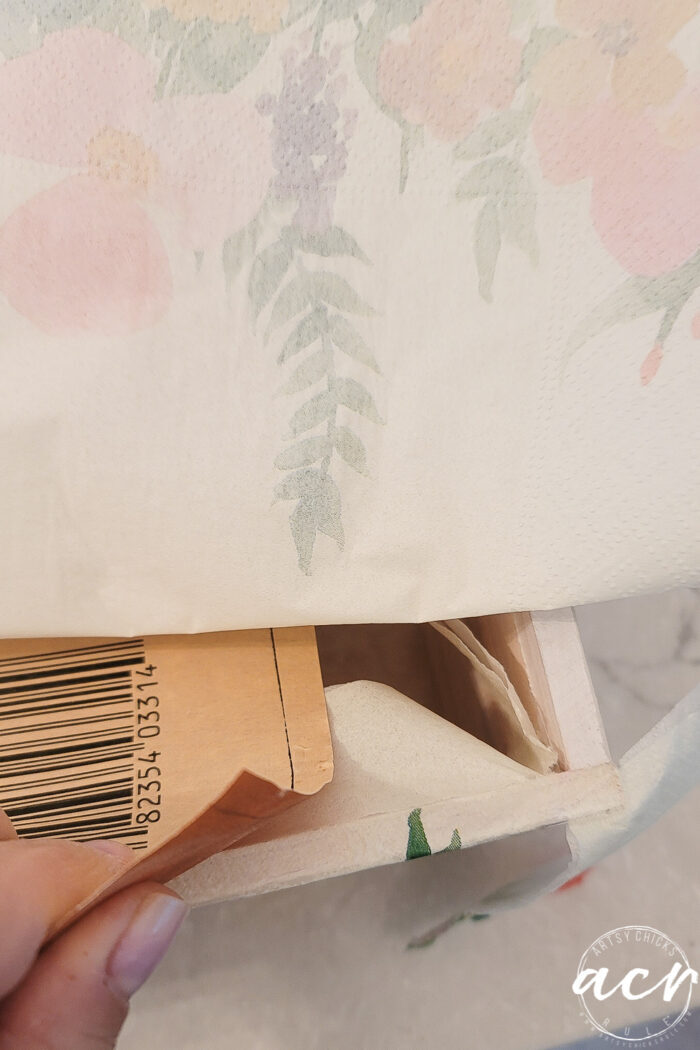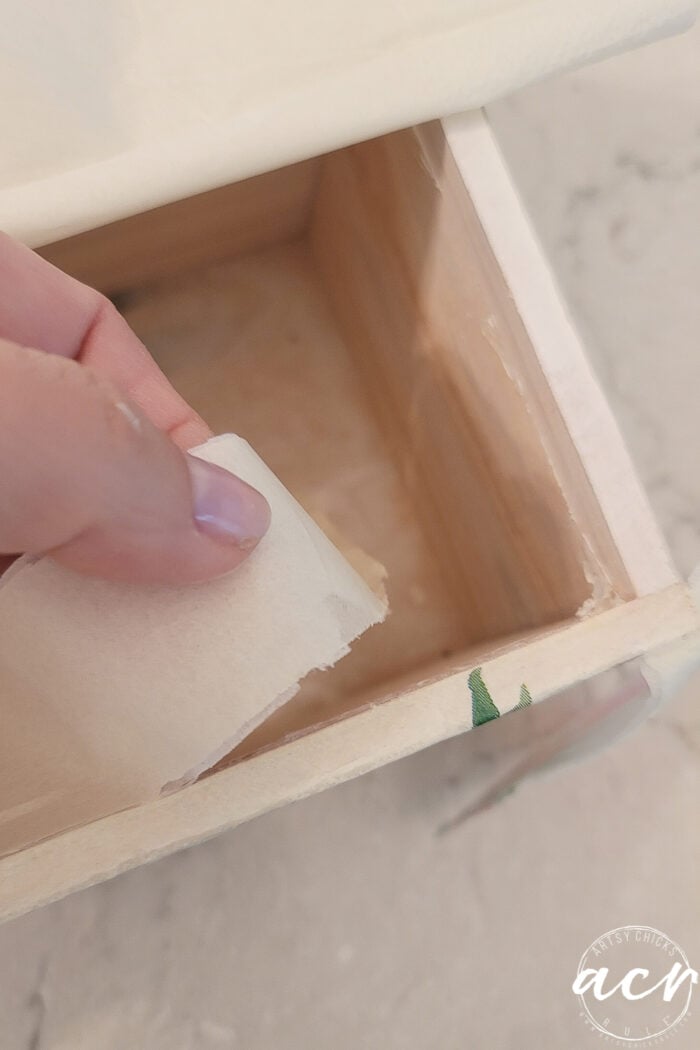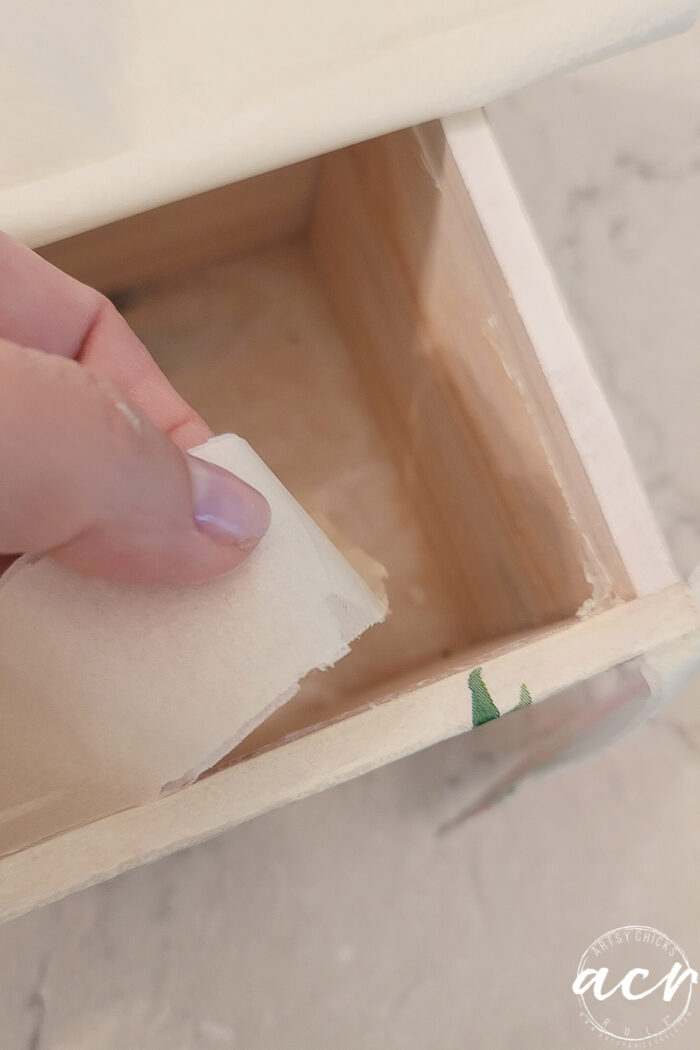 It makes it so easy!
I usually seal with a top coat but didn't this time. You can though, I usually use >>> this.
And that's it! Done!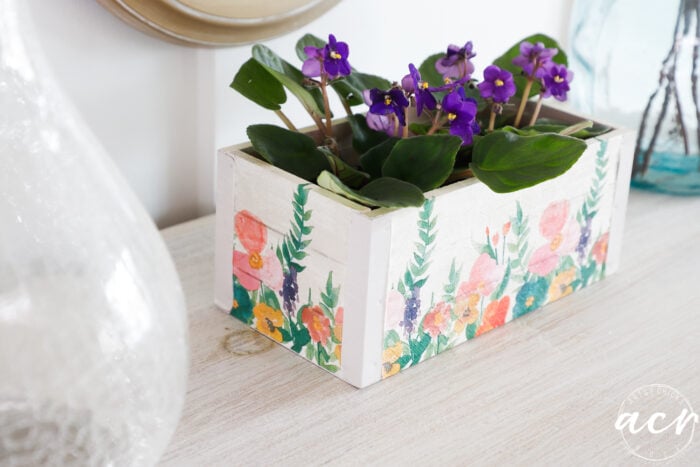 I hopped on over to The Home Depot to find some "spring" flowers only to find there was almost nothing to be found. Boo!
Too early I guess.
I did find these sweet little African Violets though.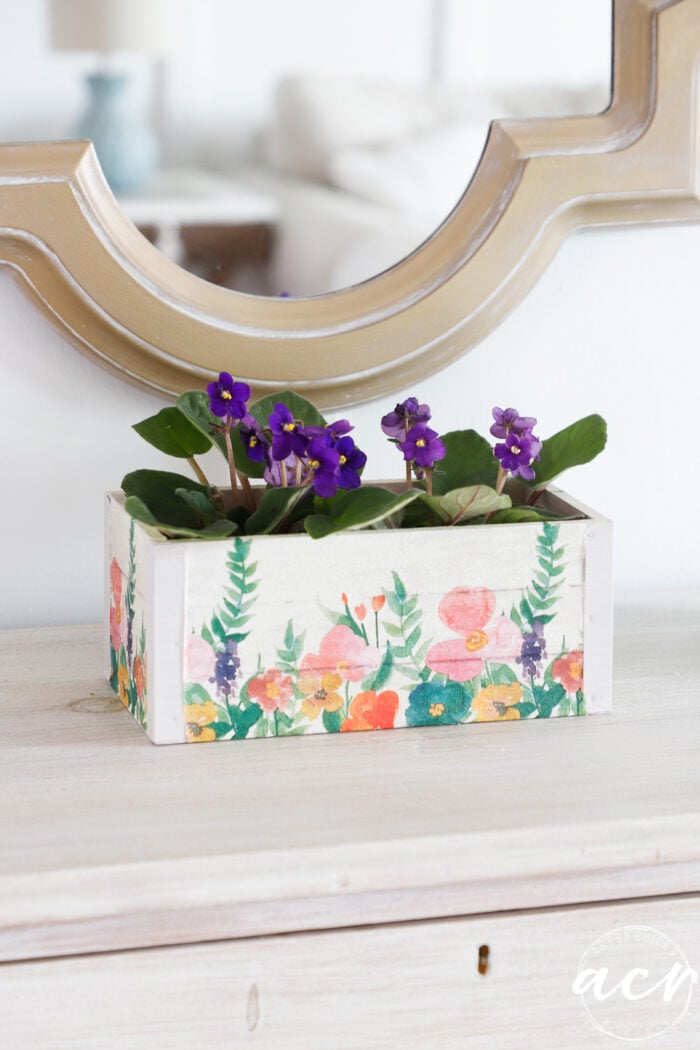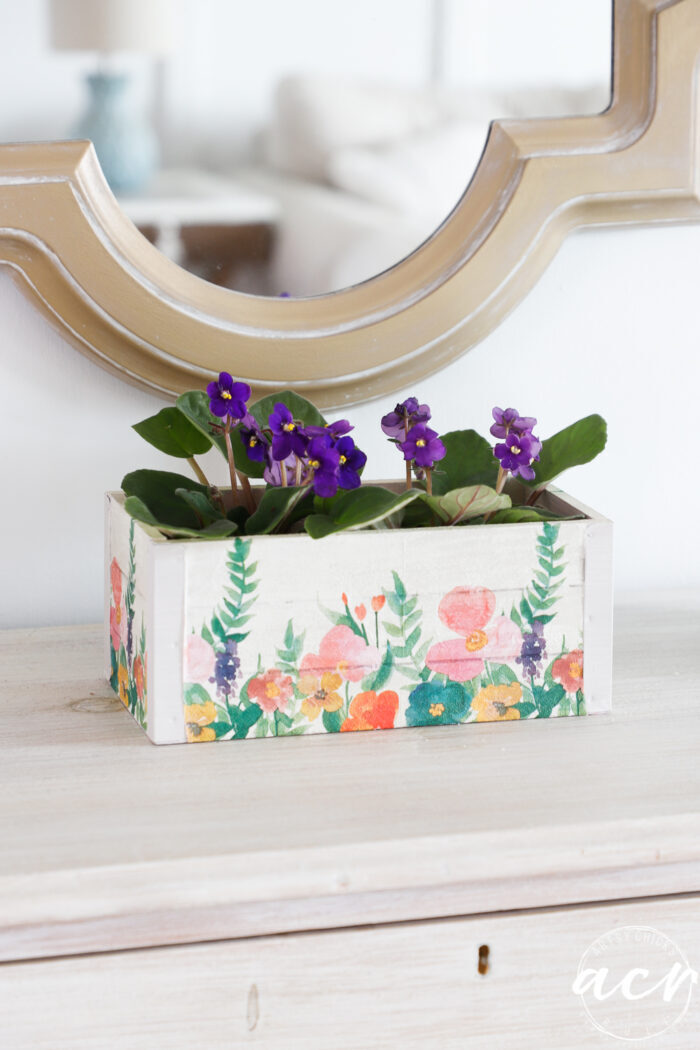 How cute is that?
So spring-ish. I can NOT wait.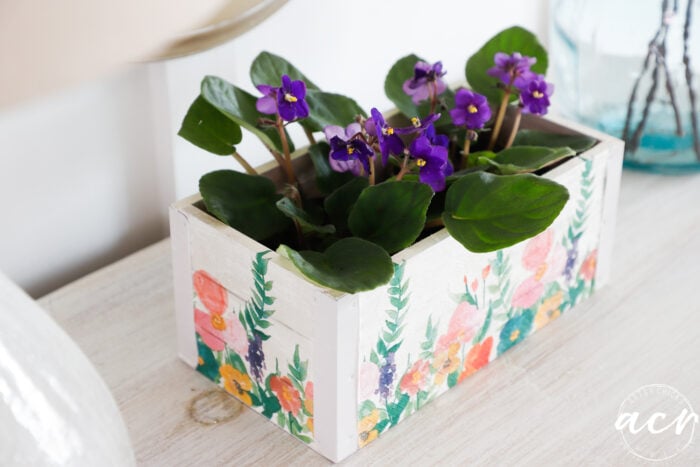 As you can see, I left the metal (but painted with Cobblestone) edges plain. I love how it looks.
Now a little up close of the napkin decoupage.
If you think you can do it without any wrinkles, think again.
That's just the nature of it. You will have wrinkles, some more, some less.
But that's just the beauty of it.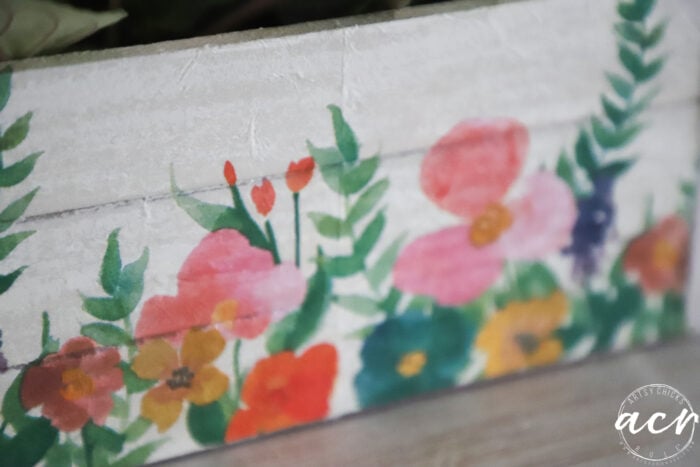 Napkin decoupage is so much fun. The design possibilitles are endless.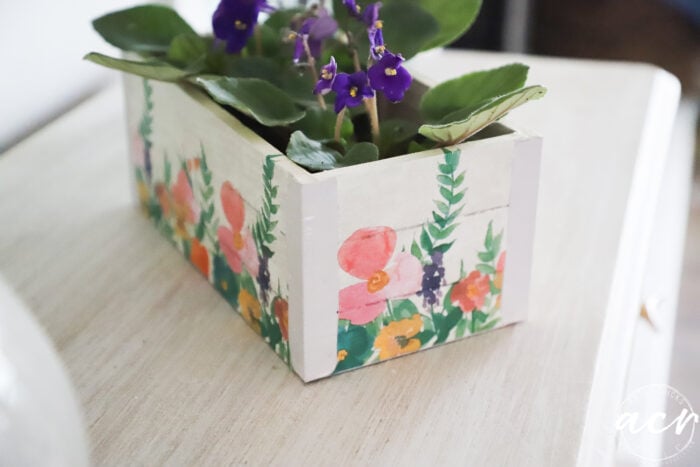 I think this napkin was made for this box, don't you?
Check out these other napkins projects too: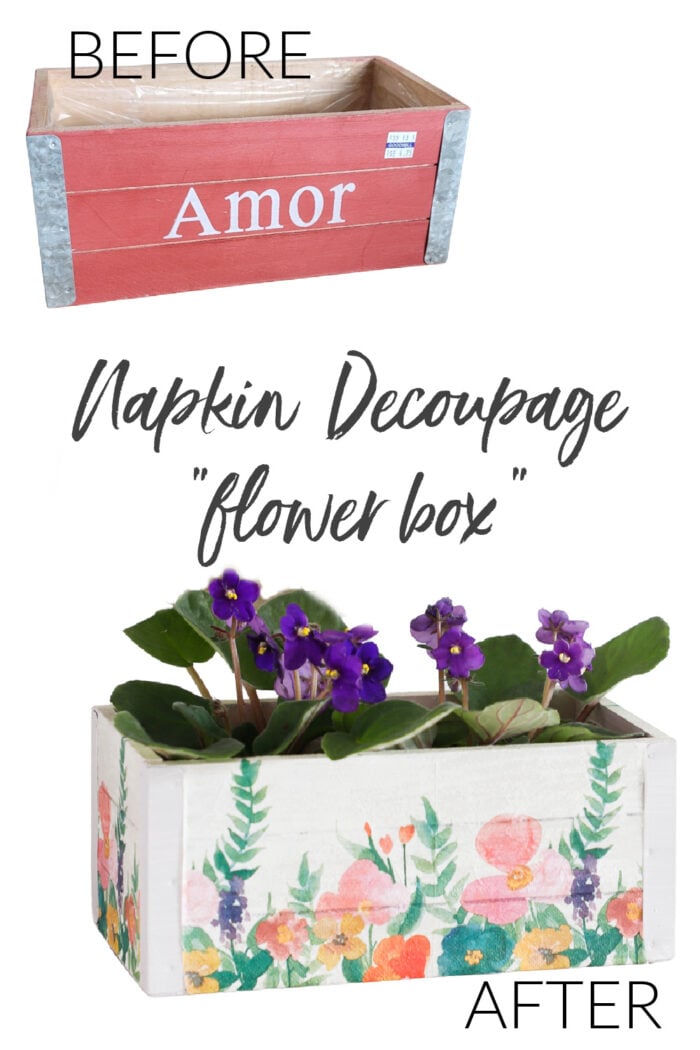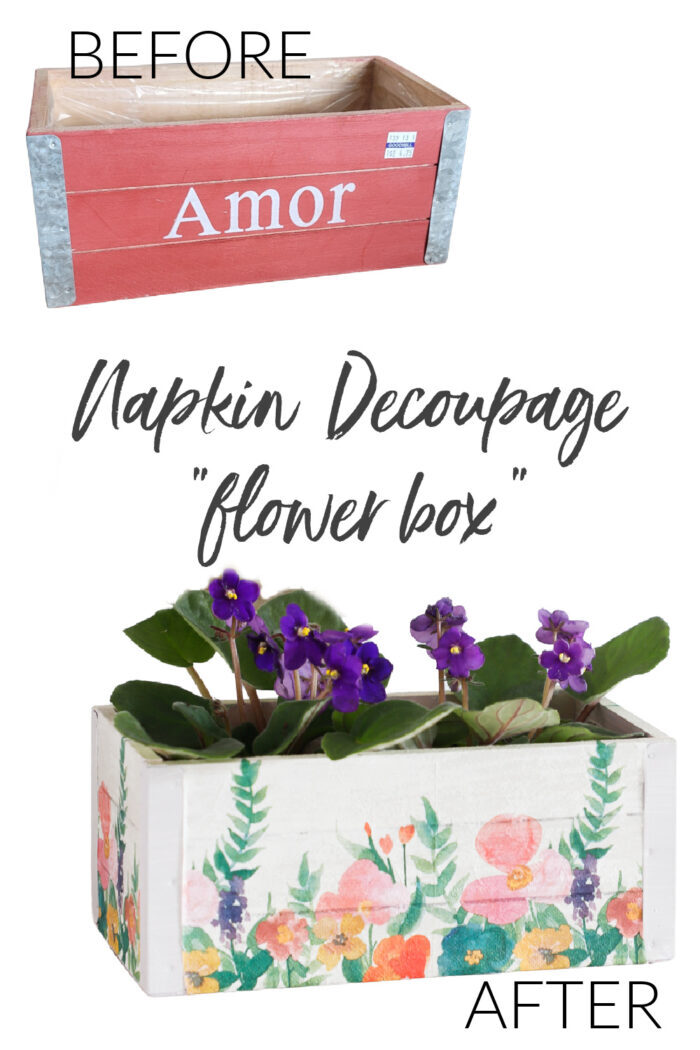 Don't go just yet!
I've got more for ya!
Check out my friends Trash to Treasures below…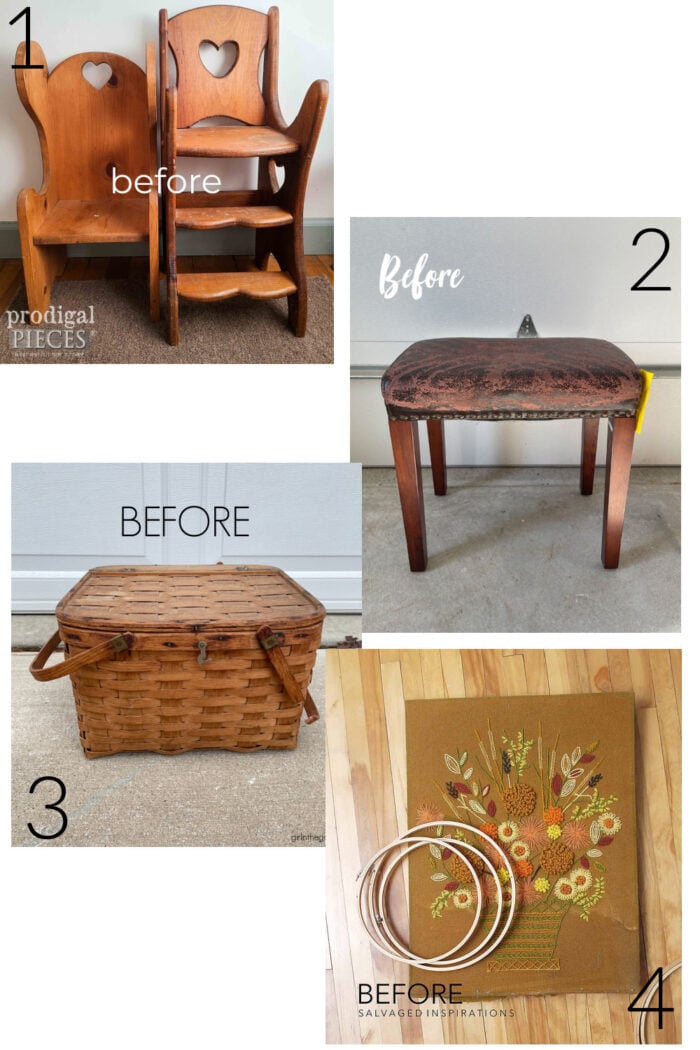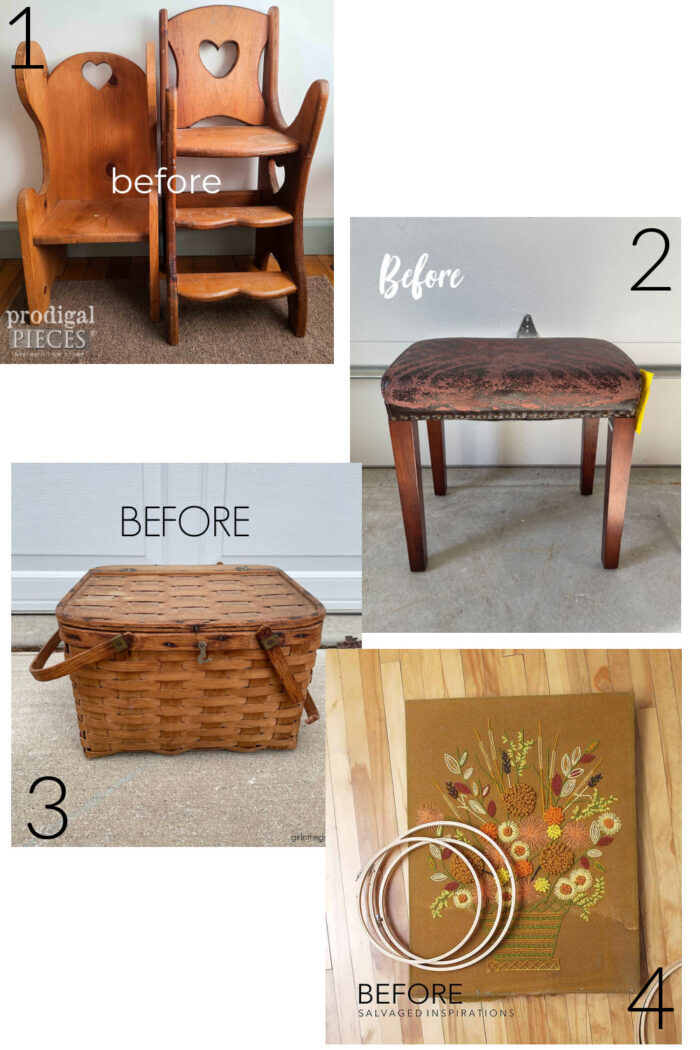 I hope you enjoyed all the makeovers today! Have a blessed week, friends, I will see you right back here on Thursday! :)
xoxo