Napkin Decoupage Pumpkin Sign (and free printable!)
This post may contain affiliate links. Please see disclosures here.
Simple napkin decoupage (and free printable) to create this adorable pumpkin sign for fall!
Hello friends!
How beautiful is this time of year? Even though I am a through and through summer girl, I am enjoying a bit of coolness in the temps. We are still feeling summery most days though.
Trying to enjoy the days before they get too cold. (boo!)
I still have not added any pumpkins to my decor (porch) but I did create a cute pumpkin sign!
And again with napkins.
Another napkin decoupage and fun craft.
If you missed the other napkin decoupage fall craft I created recently, you can see it here >>> Sunflower Decor For Fall
Napkin Decoupage Pumpkin Sign
If you remember, I found these napkins at Marshall's recently and I knew I had to create some cute fall crafts/decor with them.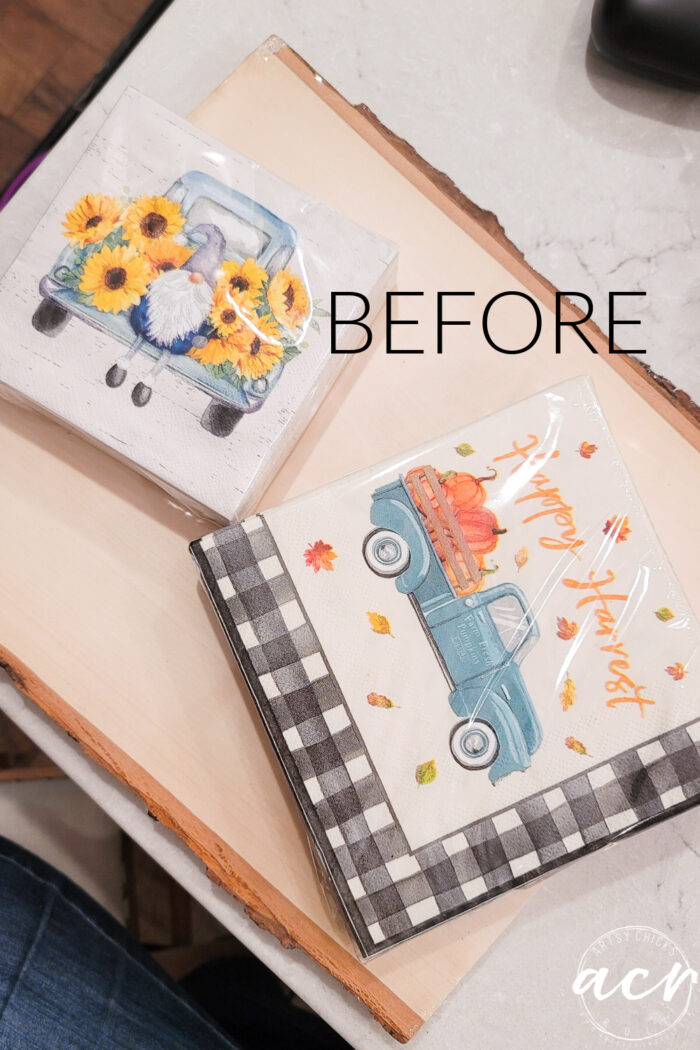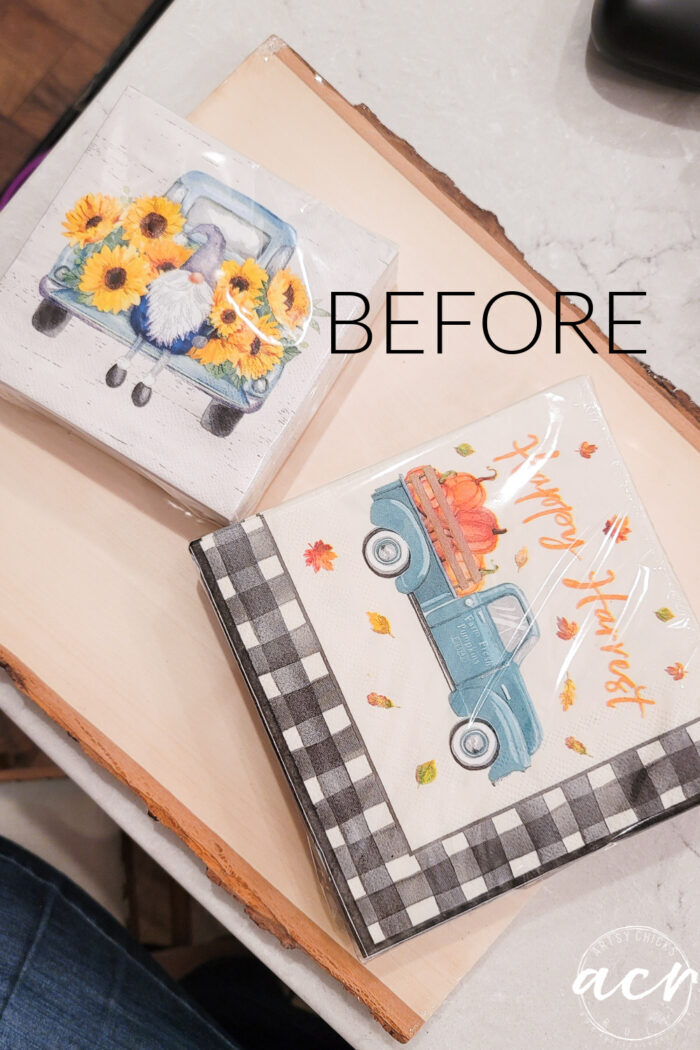 The "slice" of wood tree base was found at my local Taylors Do It Center.
I thought it would make the perfect rustic backdrop.
I began by cutting out some of the napkin designs and laying them on the "tree slice" to see what I would do.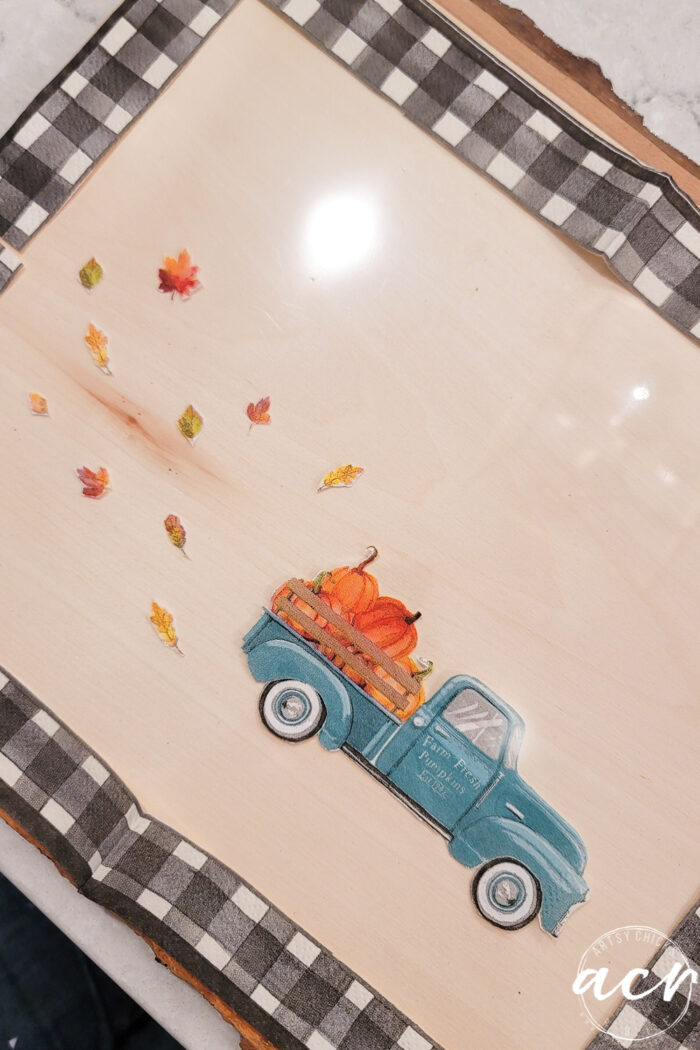 I sort of liked the idea of the truck driving away and stirring up the dry leaves on the ground behind it.
The border of the napkin was the perfect frame for the outside too.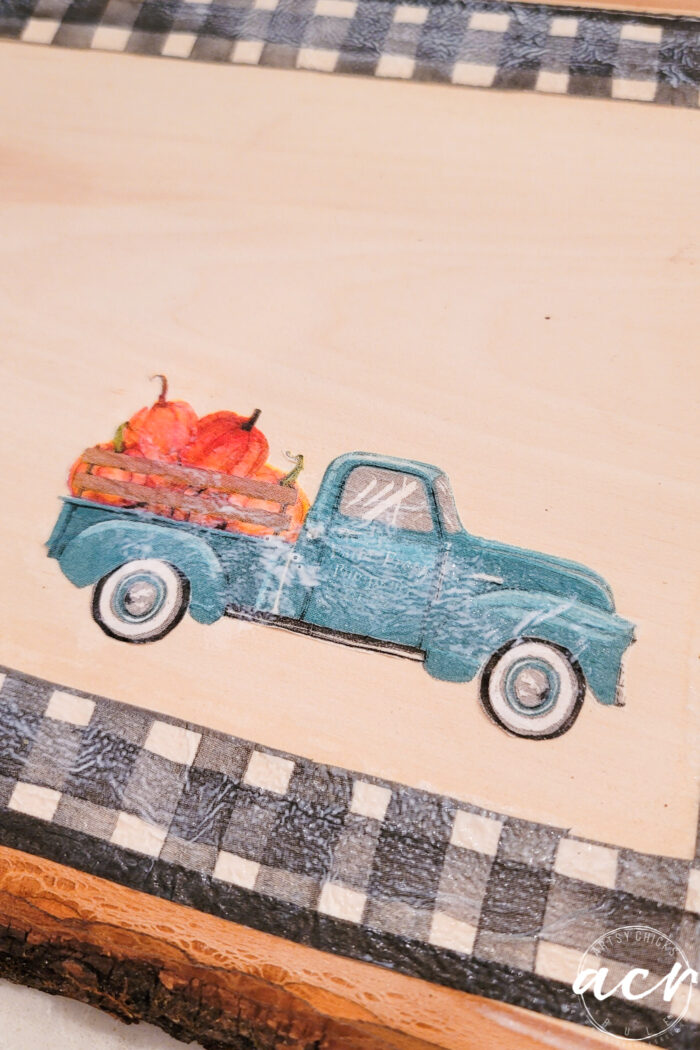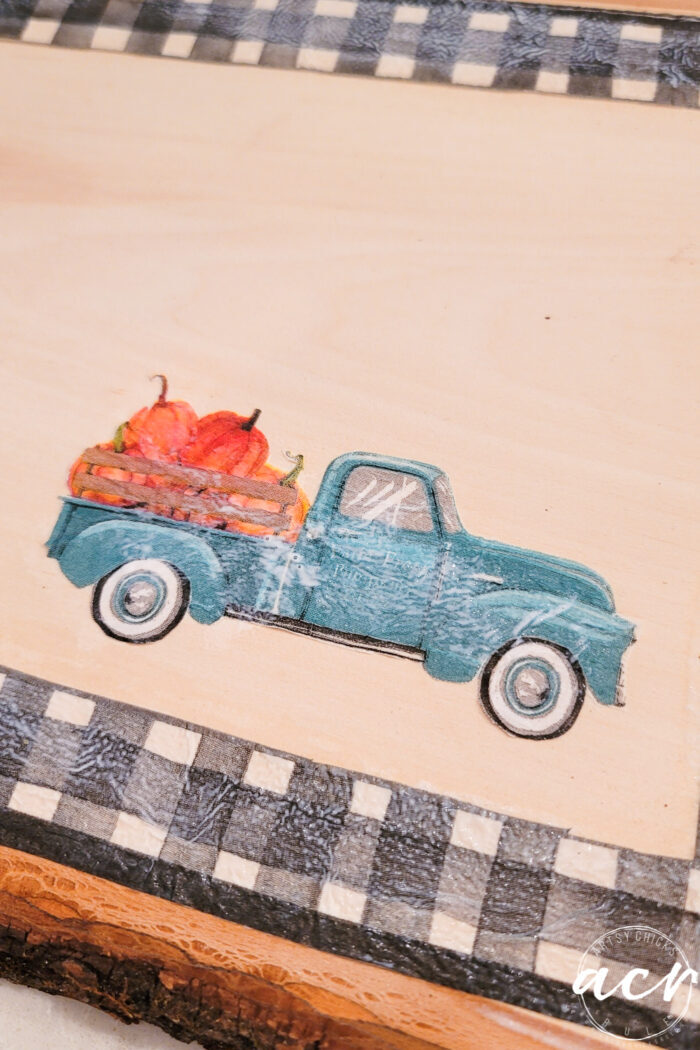 I pulled out my Mod Podge and applied the napkin carefully to the wood.
I had already done this project but one of my readers (thank you, Cecilia!) mentioned you can use plastic wrap over top as you are smoothing it out to keep from ripping the delicate paper, etc.
What a great tip!
I did the same with the small leaves I cut out.
Then printed out the wording I created for the sign…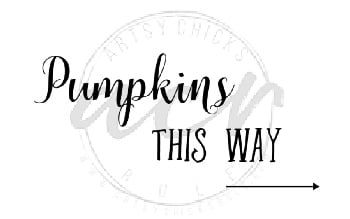 You can download this free printable here…


If you are already a subscriber, you can click here, enter your password (it can be found near the top of all my emails to you) and download this or any other graphic I've created over the years. (over 100!)
If you aren't yet a subscriber, you can click here or the pink box below to become one to gain access.
I had originally thought I'd just transfer it by tracing it onto the board and in doing so the ink from printing would transfer the design.
However, the wood was pretty soft so this didn't work out well. (it usually works nicely but you need a nice hard base to transfer it onto)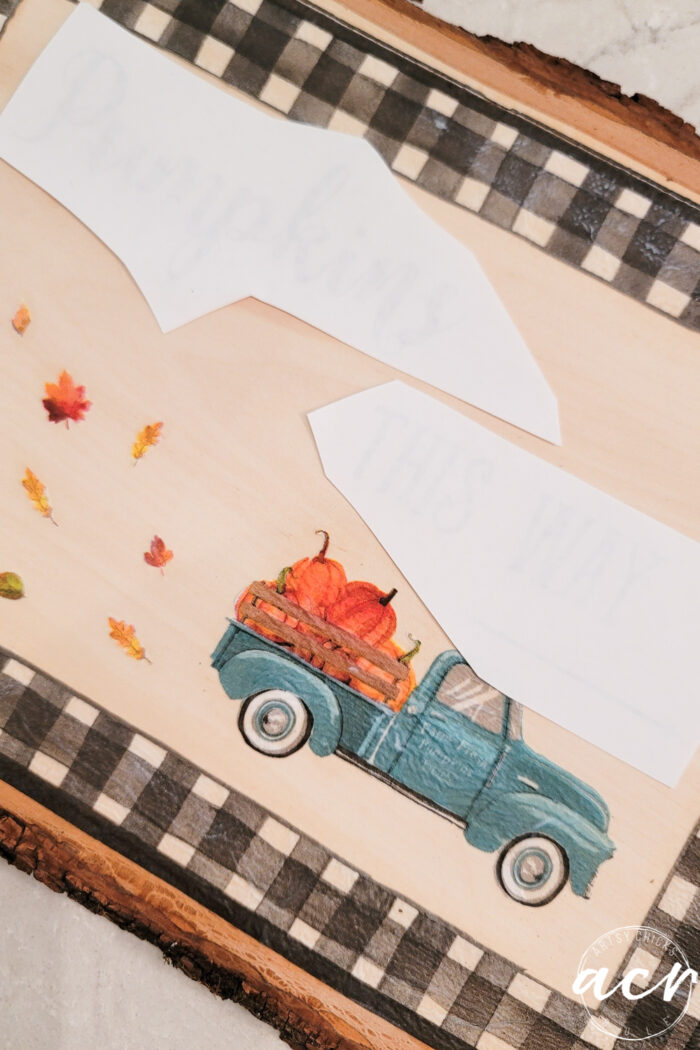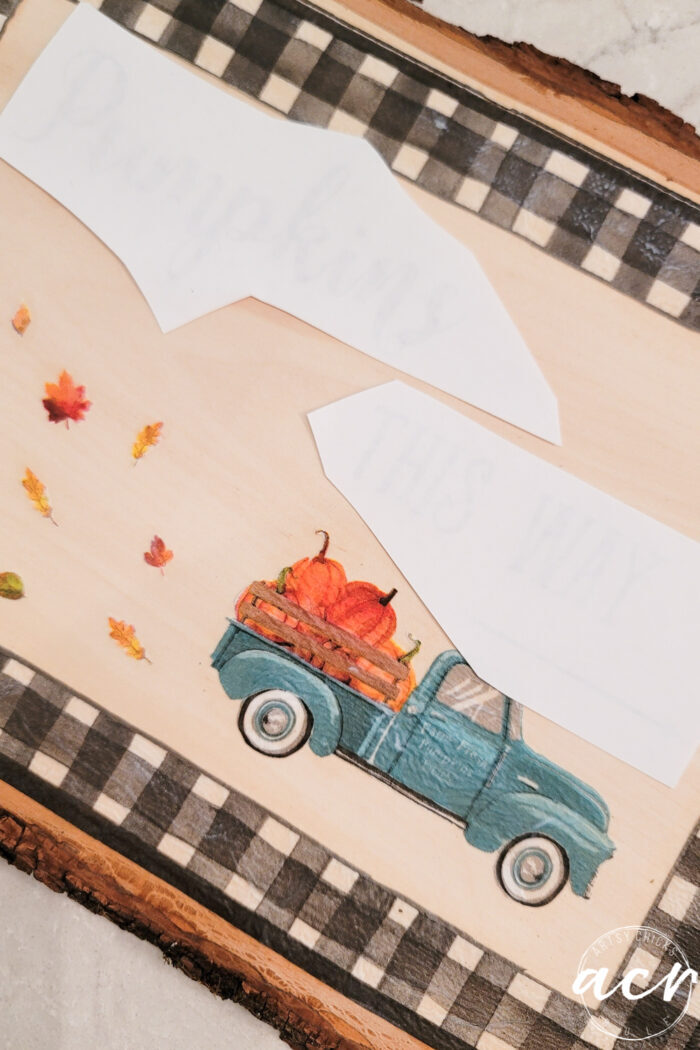 Want to know other ways you can transfer?
Check out this post here for multiple ways >>> How To Transfer Graphics
So instead, I used some carbon transfer paper.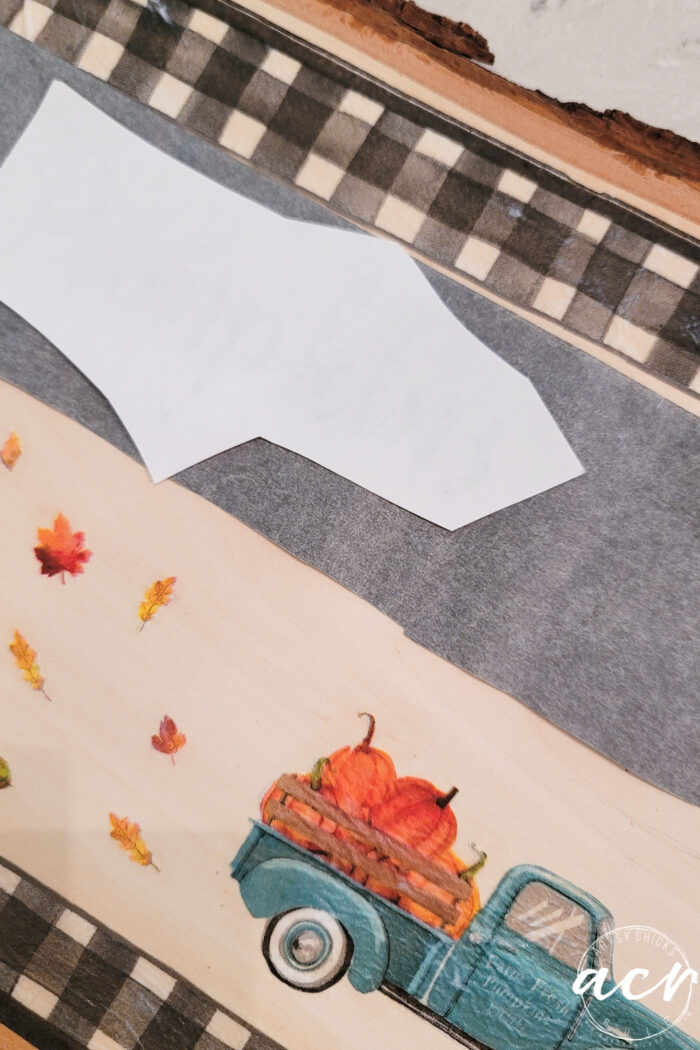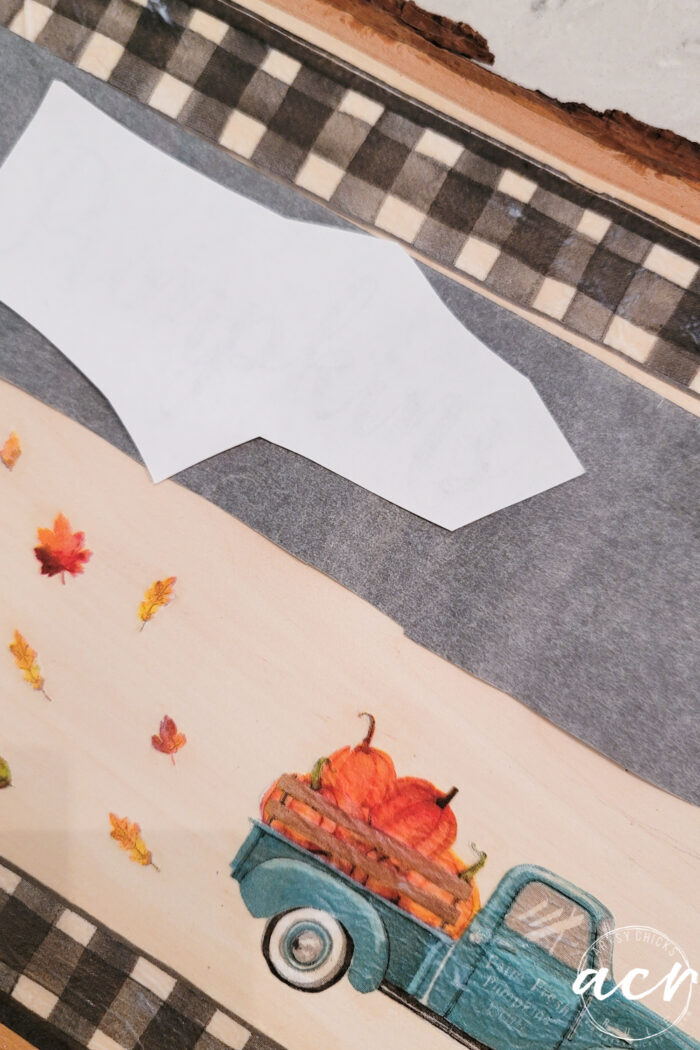 Which always works wonderfully!
(Ideally, I'd have printed it right side up and traced that way, but since I already had this printed I just winged it…trying to see it through the backside)
And here is what you have after tracing the letters onto the board.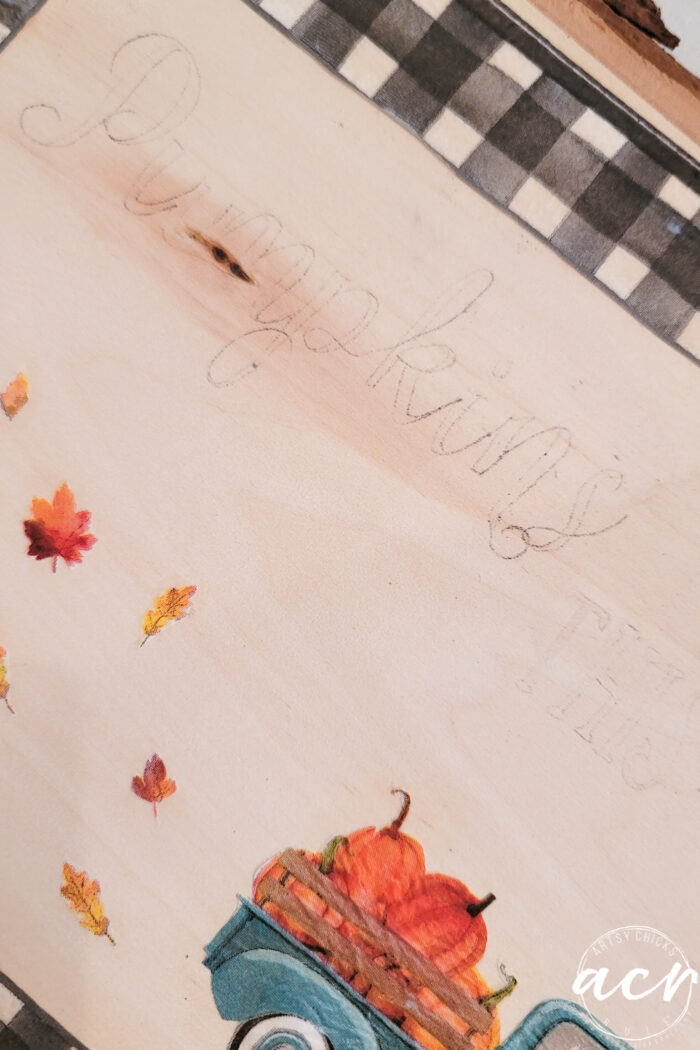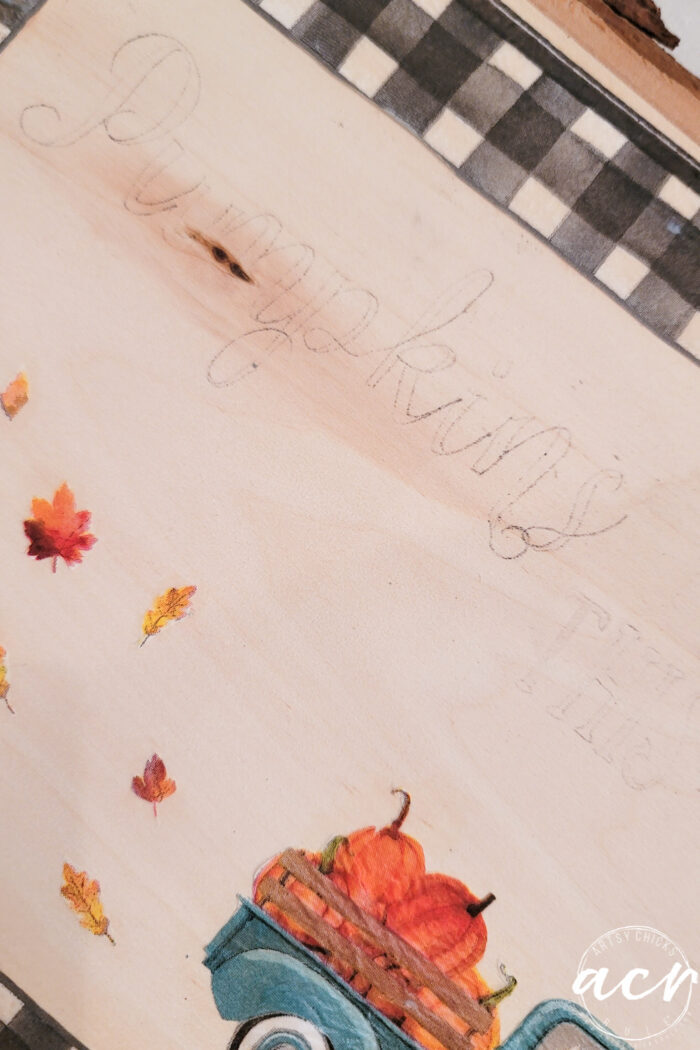 I simply hand-painted it in…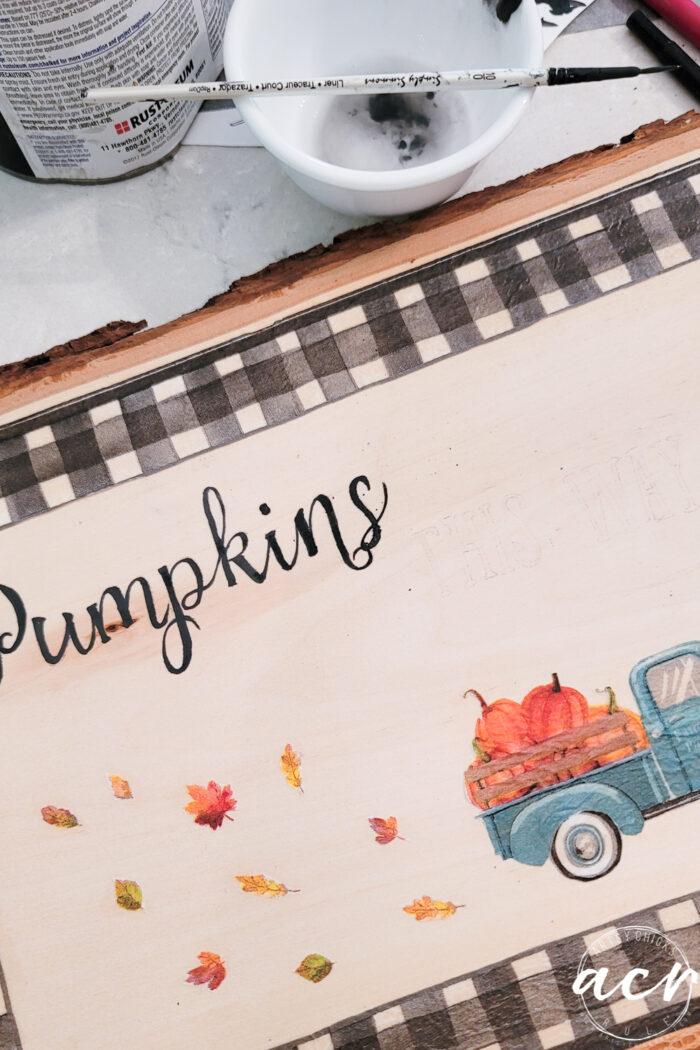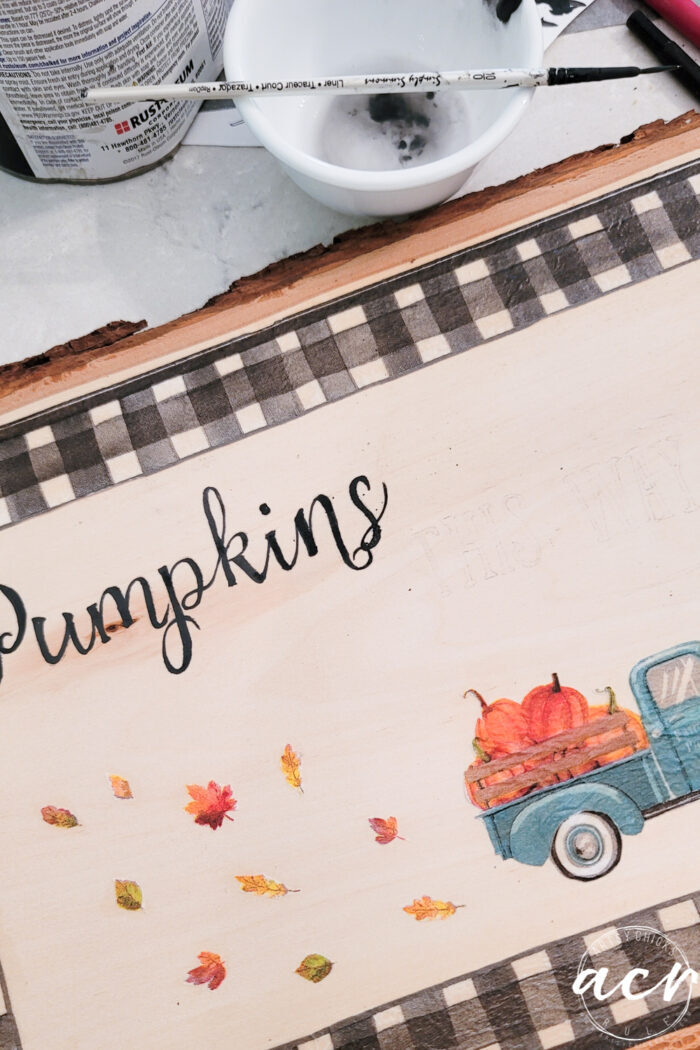 …and done!
Once it was dry, I applied one coat of Flat Out Flat (linked above). I like that because it is not shiny at all.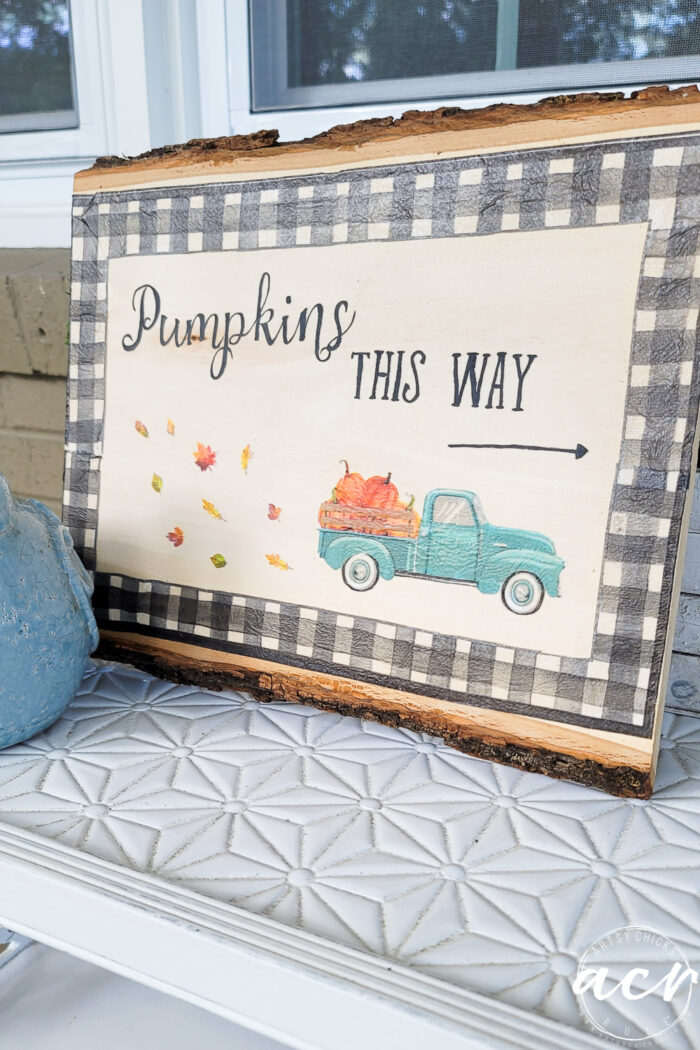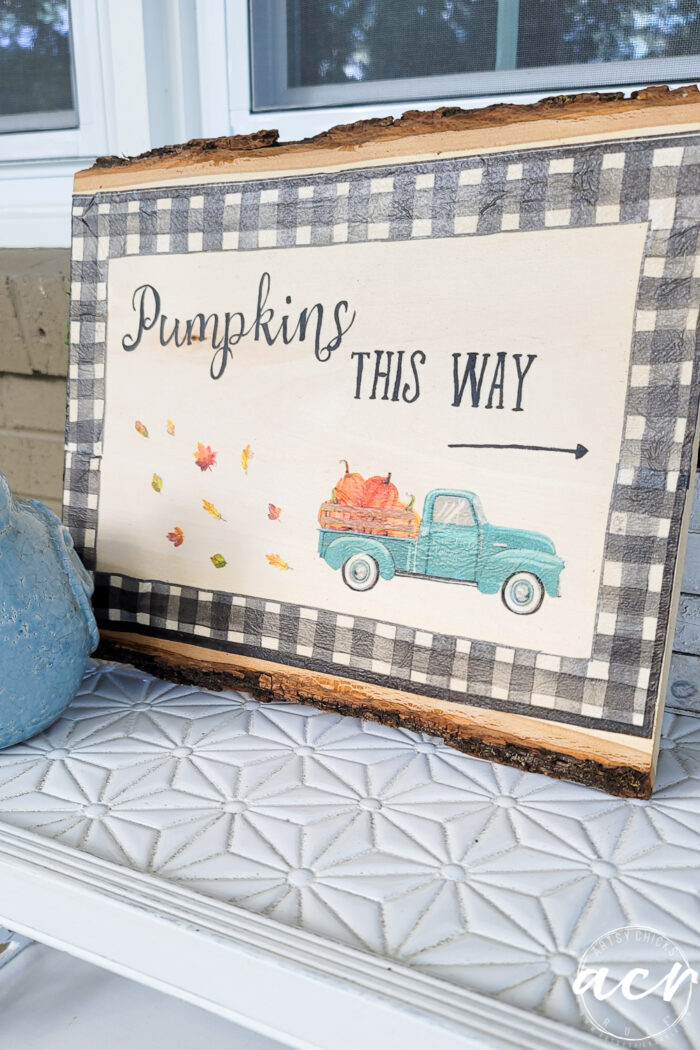 Cute!
Now all I need are a few pumpkins on the shelf below.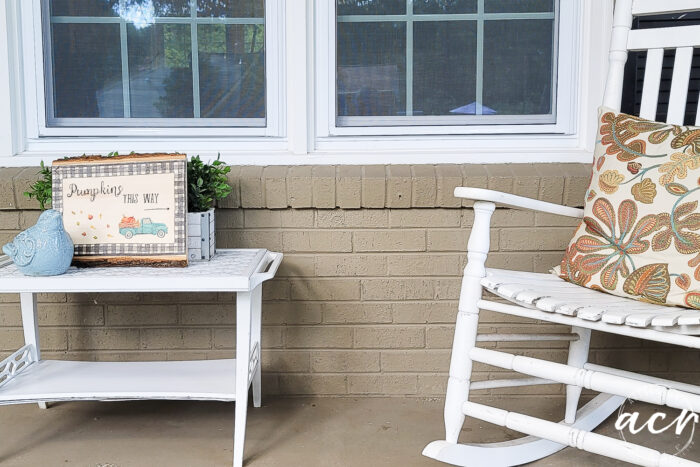 I already switched out my black and white pillows from my summer porch to these.
I love these pillow covers. They are the perfect colors for fall and so pretty. (I have striped ones on the bench on the other side of the porch in the same colors)
You can see them in this post here >>> Fall Front Porch
Pillow covers can be found here and here.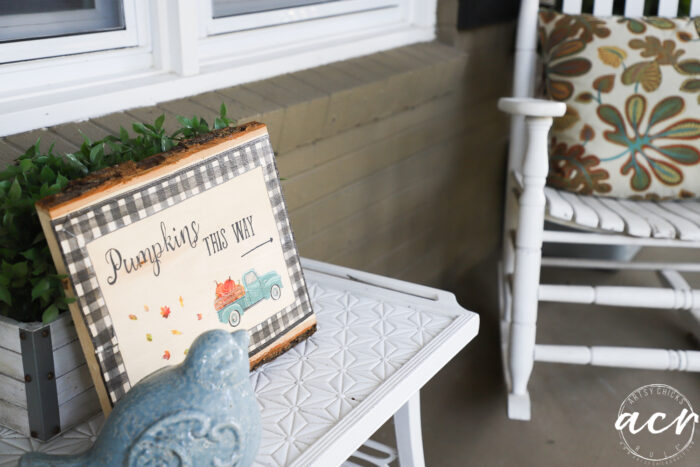 Remember that tiled table I made over??
See it before and get all the makeover details here >>> DIY Tiled Tabletop Makeover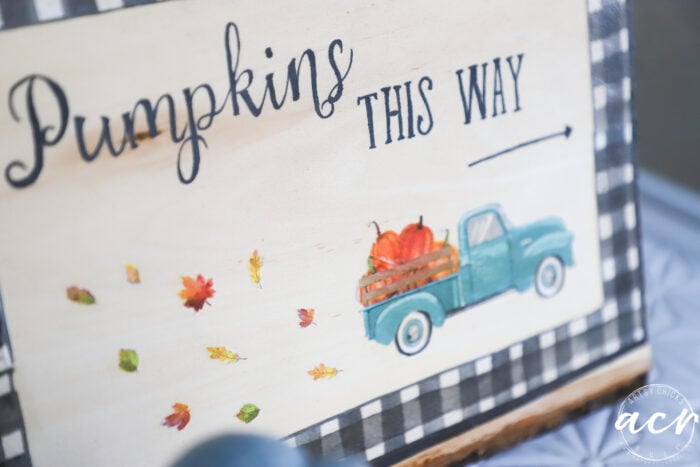 I'm a sucker for an antique aqua truck and pumpkins in the fall! (or any time :) )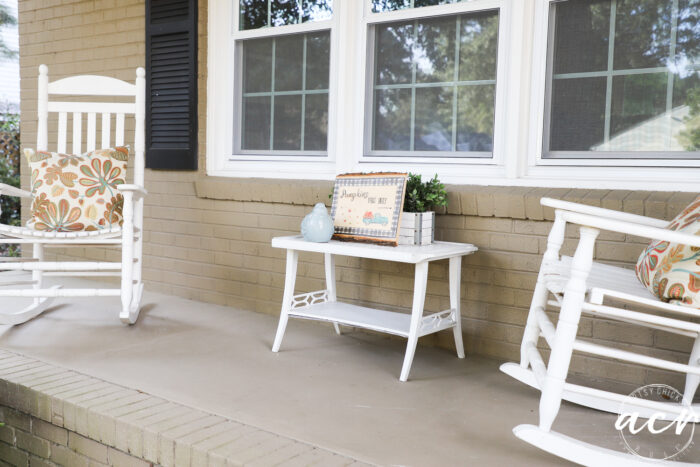 Just a touch of fall up here.
Soon I'll add pumpkins too. :)
PIN it to save it!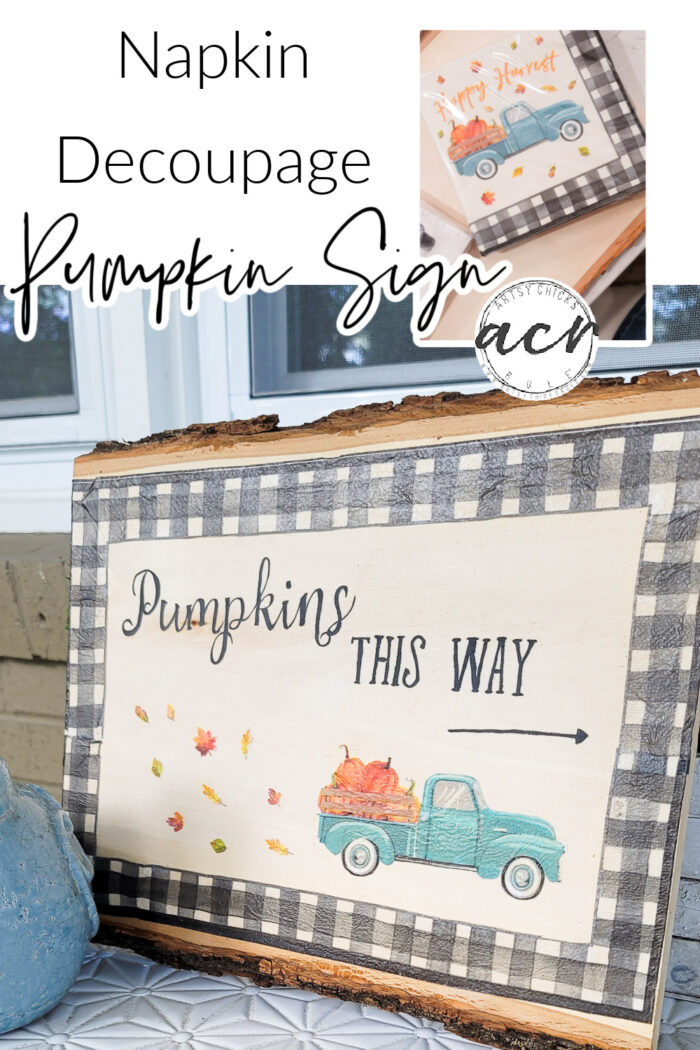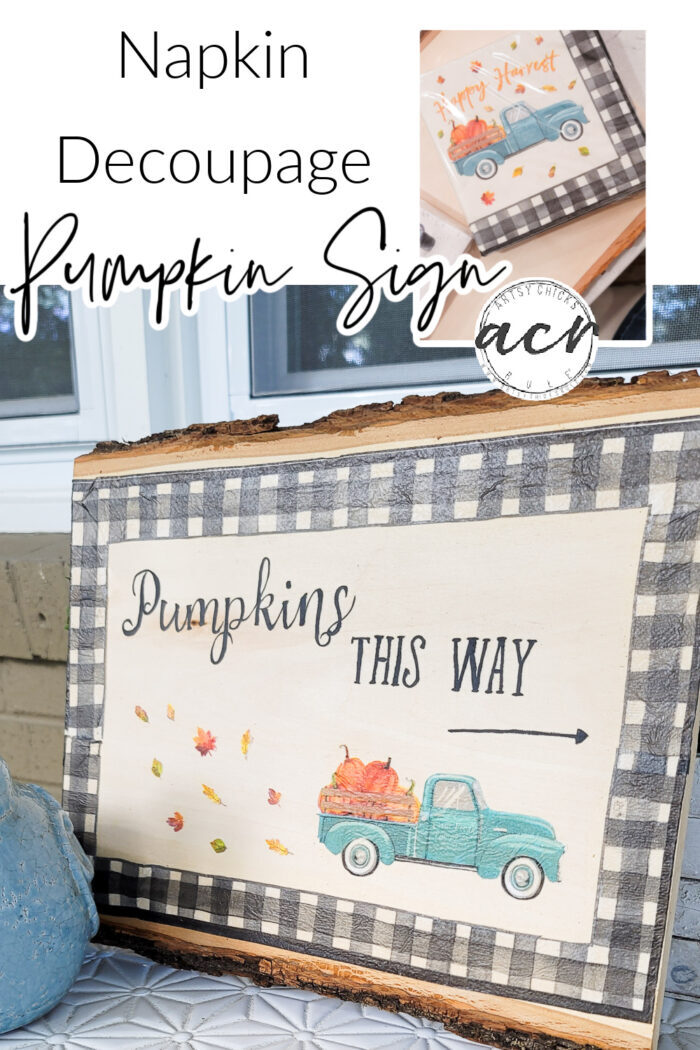 I hope you have a wonderful weekend! I'll see you next time with this!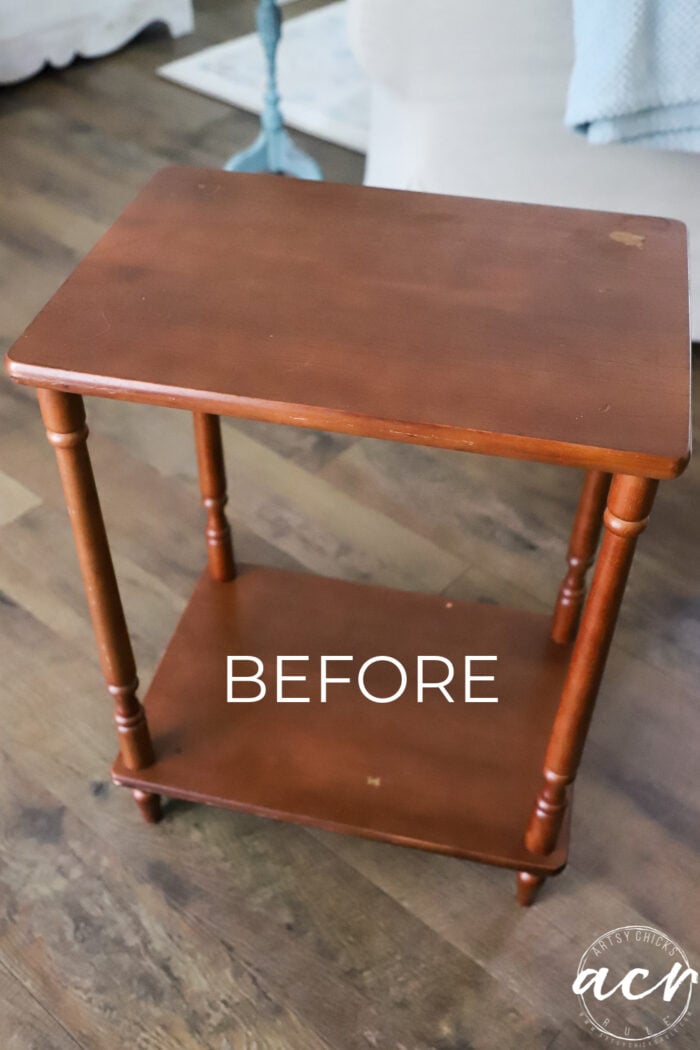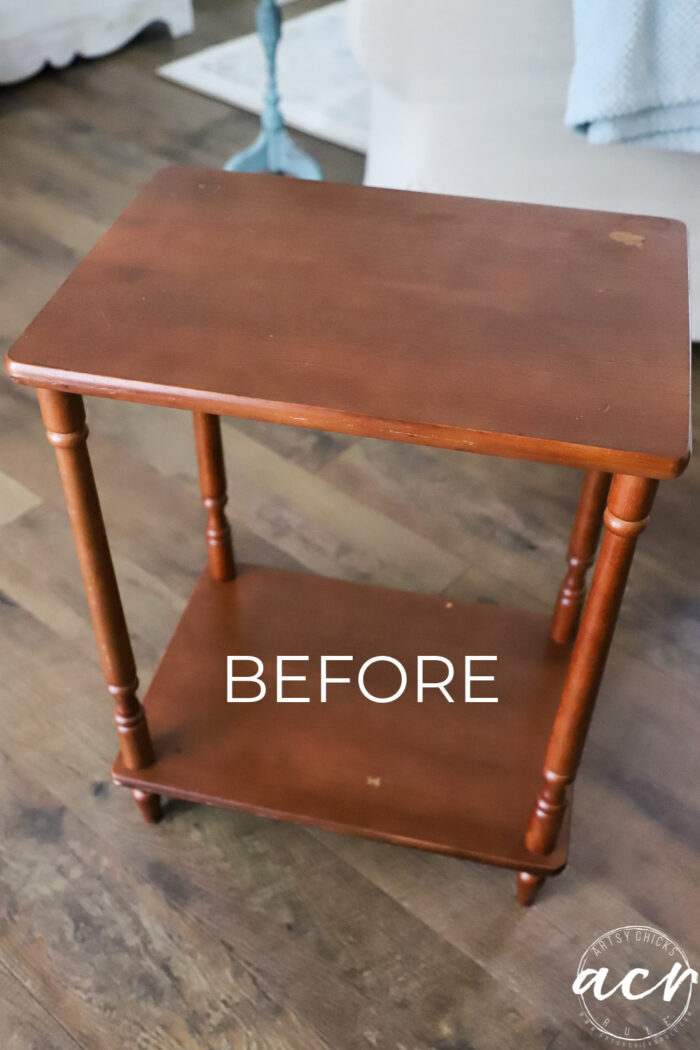 UPDATE!! See this table now here!
Enjoy those fall temps if you are having them.
xo