Coastal Style Side Table Makeover
This post may contain affiliate links. Please see disclosures here.
This old "throwaway" table got left behind…but I brought it back to life with a whole new look. Driftwood stain for the win!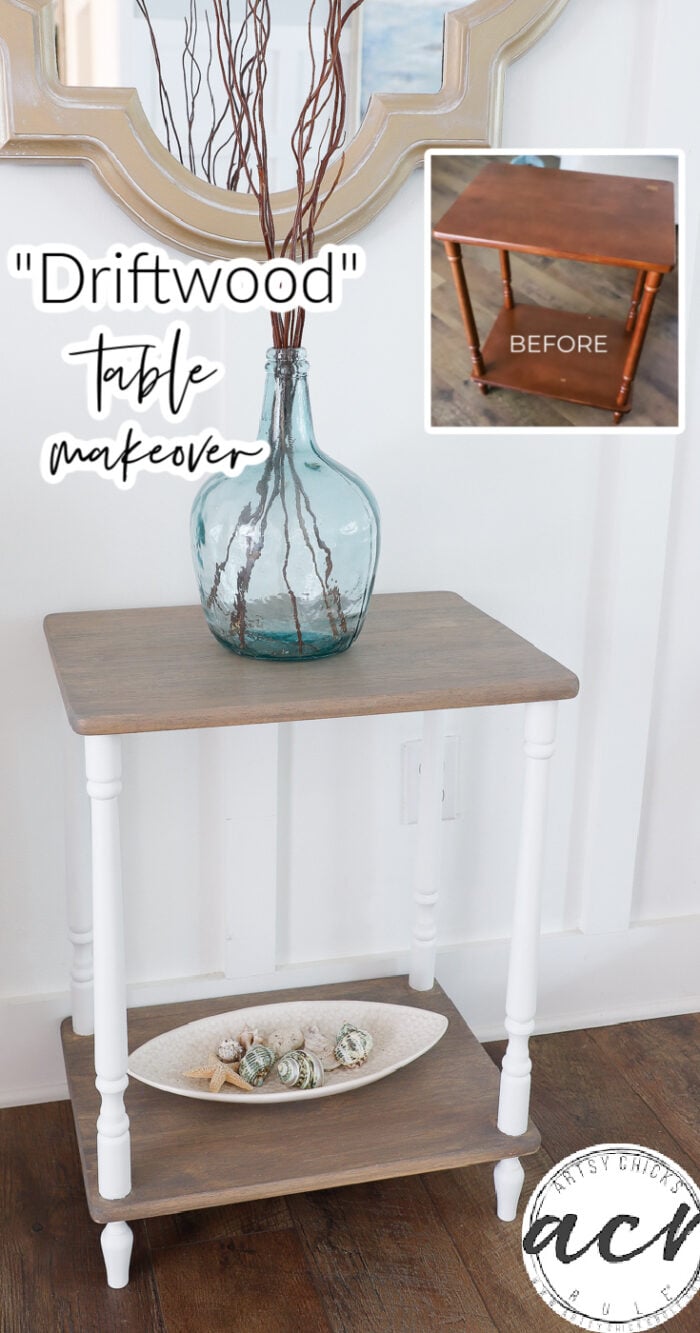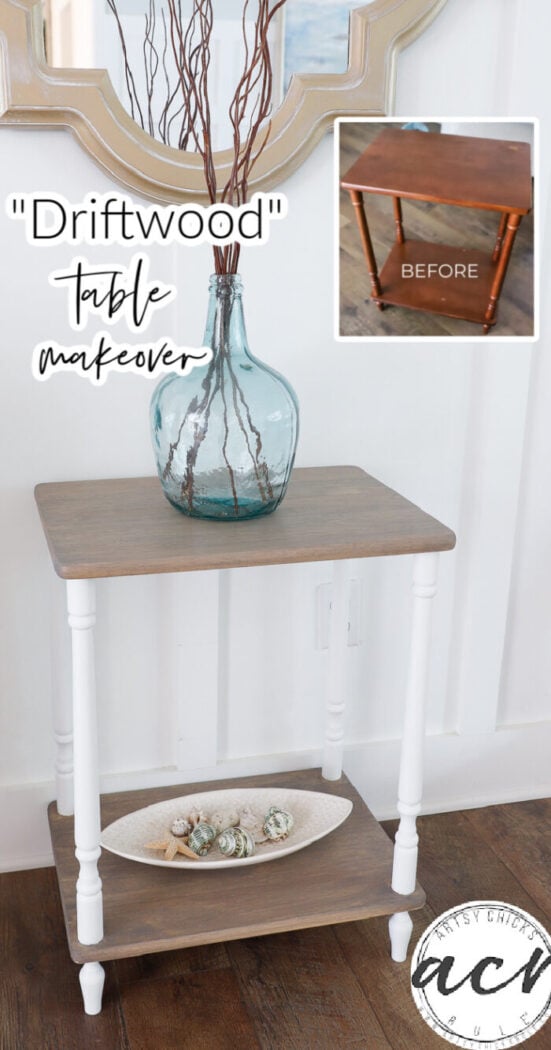 Hello my wonderful friends!!
I am so happy you are here today. It's Trash to Treasure Tuesday and my friends and I are doing our regular monthly share of old finds turned "brand new" beauties.
So be sure to scroll all the way down to check out my friends' makeovers before you go. And if you are coming over from one of my friends' pages, welcome!
But before we get to today's project, let me first say THANK YOU for all of the sweet well wishes, congrats and orders on my new online shop!! I am just so excited to finally have it LIVE. It's been a months long labor of love. I hope you will enjoy shopping it as much as I enjoyed filling it up with all kinds of goodies.
If you missed that "big announcement" post and all the details on my brand new store, you can read all about it and visit it >>> here.
Now, let's talk about this old, sad table.
Oh but wait, I also want to mention October's giveaway…I will be sharing that on Thursday so don't miss it! (New here? I am hosting a giveaway every single month of 2021…search "giveaway" in the search bar to the right to see some of my past giveaways)
Coastal Style Side Table Makeover
Here's how it began…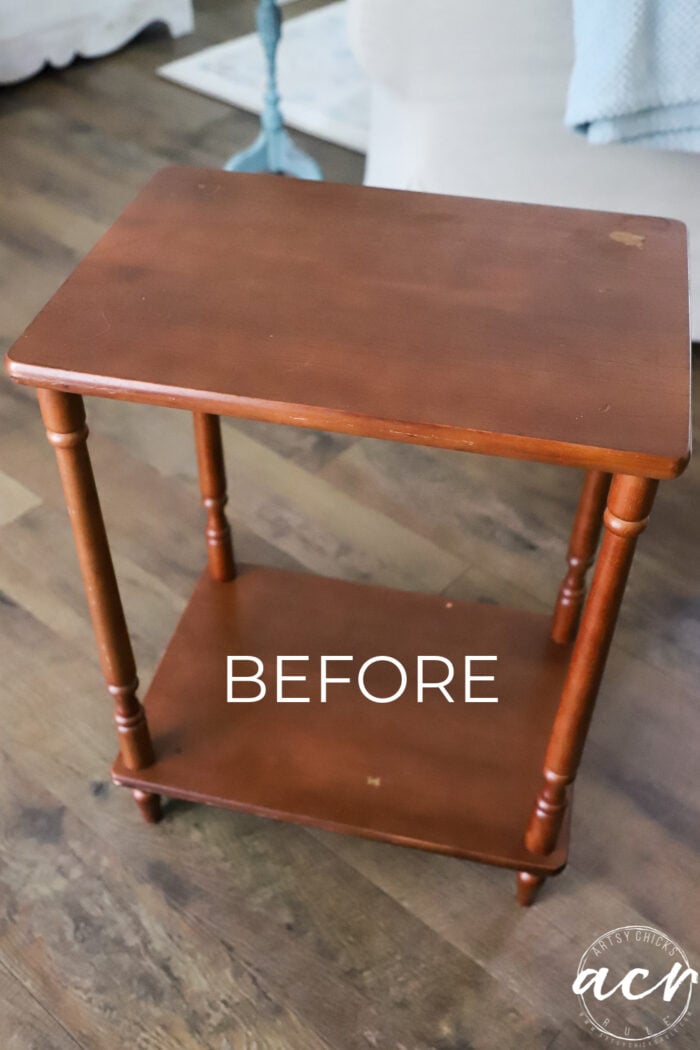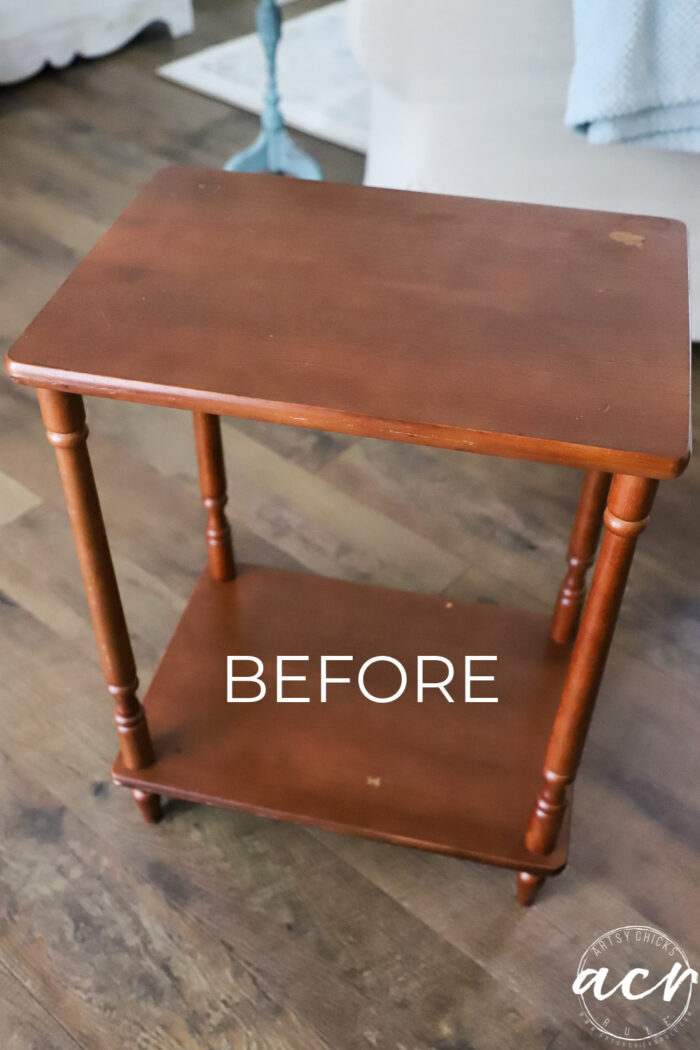 I think I paid $10 for it. Solid wood and very sturdy.
Which is good because I plan to use it as a bedside table at our beach condo.
I had been looking (and looking) for the perfect pair but no such luck. So when I came across this I thought it might be the answer.
So instead of replacing the matching (to the dresser I already gave a makeover to) nightstand here…
…I thought I'd just give this nightstand the same look instead.
If for some reason this little side table is shorter than this nightstand (uneven lamp height on each side will make me crazy) I will just add a book or two under the lamp until they are even.
The bottom will get a basket filled with books and/or magazines.
I'll share more photos in this post once we take it down to the beach.
I began by sanding off that old red/orange finish.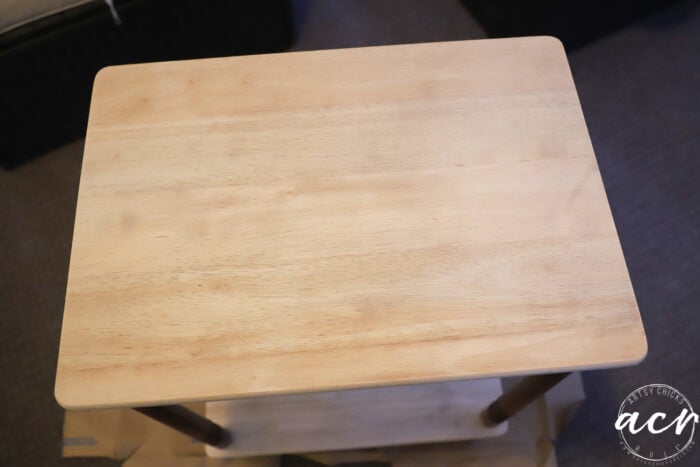 On the top and the bottom.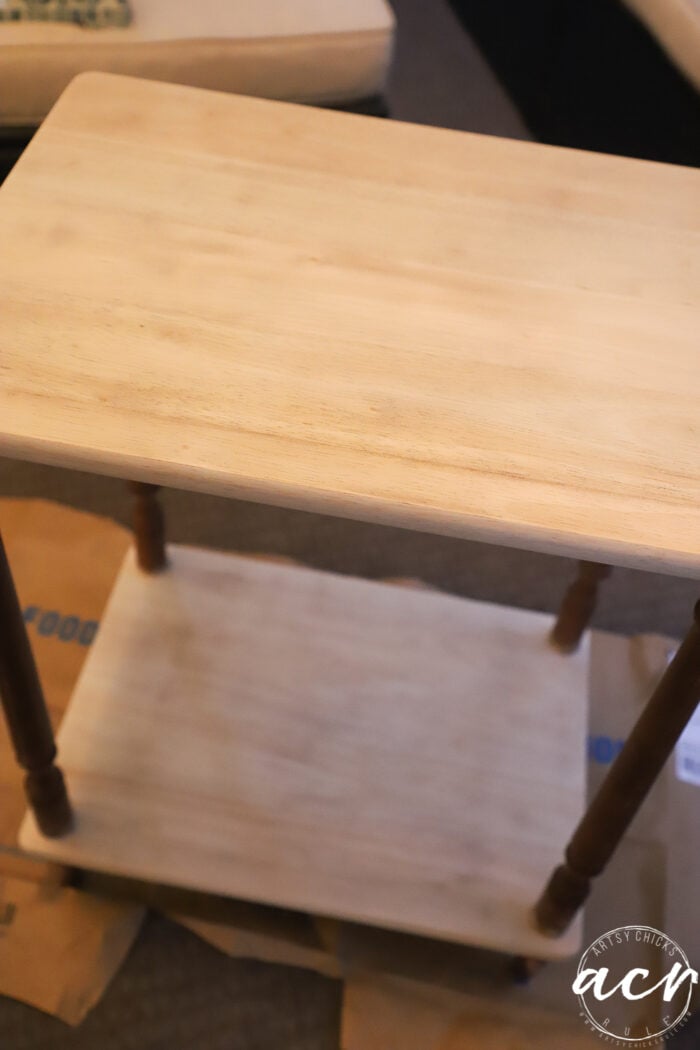 But not the spindles.
I wanted a little contrast so I painted them white.
Then I applied the Driftwood stain (linked above) to both top and bottom shelves.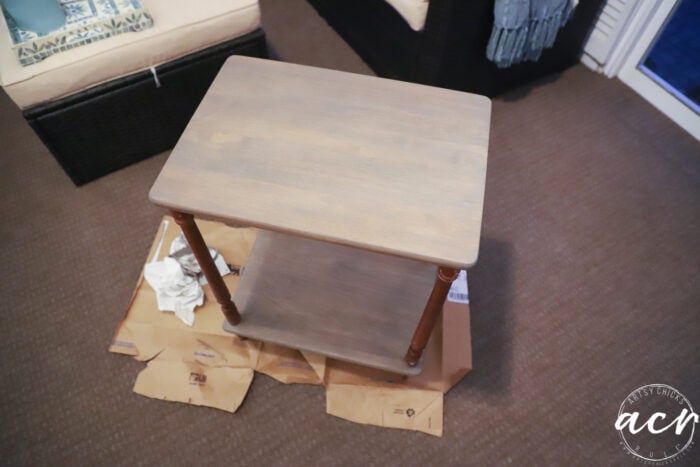 I haven't always done this when using the Driftwood stain but I decided to use Wood Conditioner before applying it this time.
Once the first coat was on, I let it sit overnight and then I applied a second coat of the Driftwood as I wanted it a bit darker.
Then I painted the spindles/legs with the Casement color. (also linked above)
I left it to sit over the weekend and then applied one coat of Gel Topcoat. It's so simple to use.
I just apply with an old rag, wiping it on and removing the excess.
The Driftwood stain doesn't need a topcoat but since this was probably going to be having drinks and such sitting on it I wanted it to have some extra protection.
I love how it turned out and think it's going to be perfect for the condo.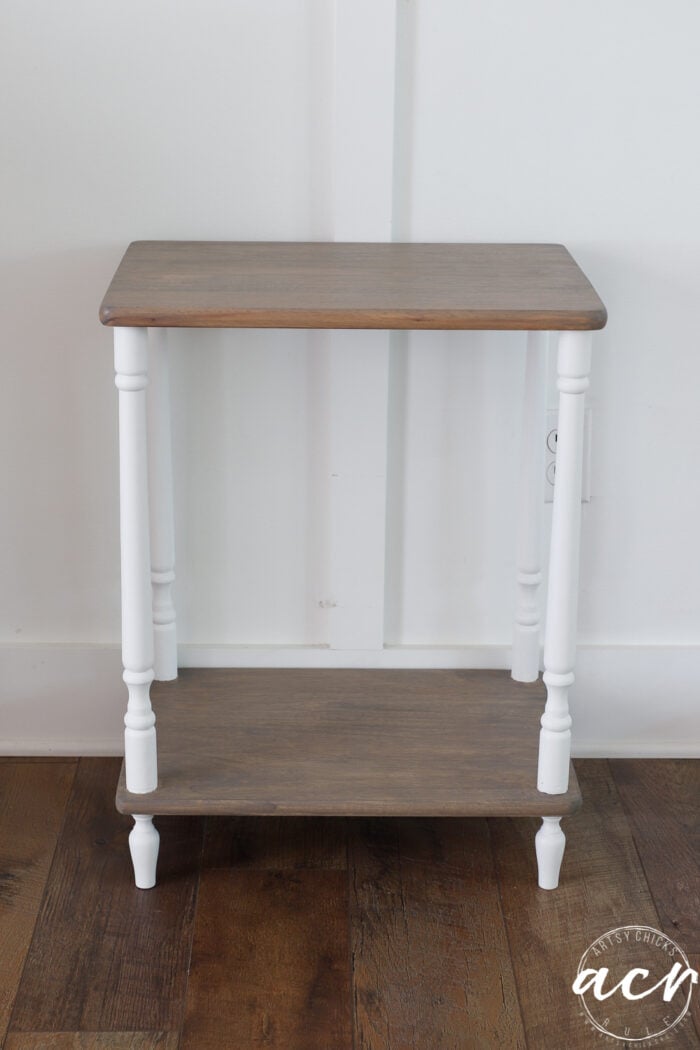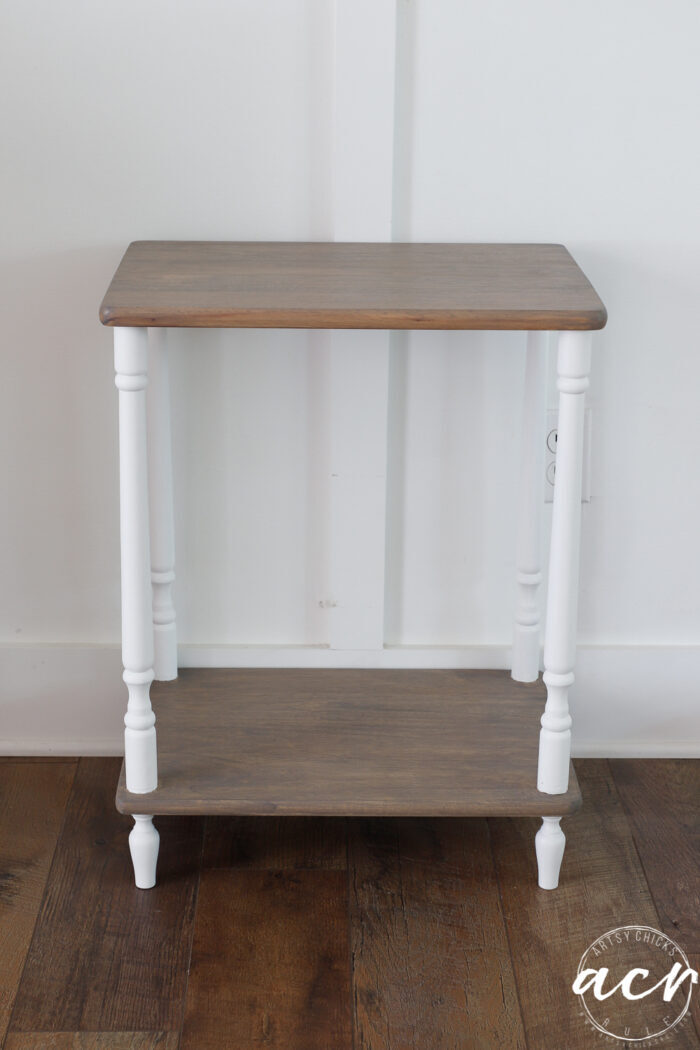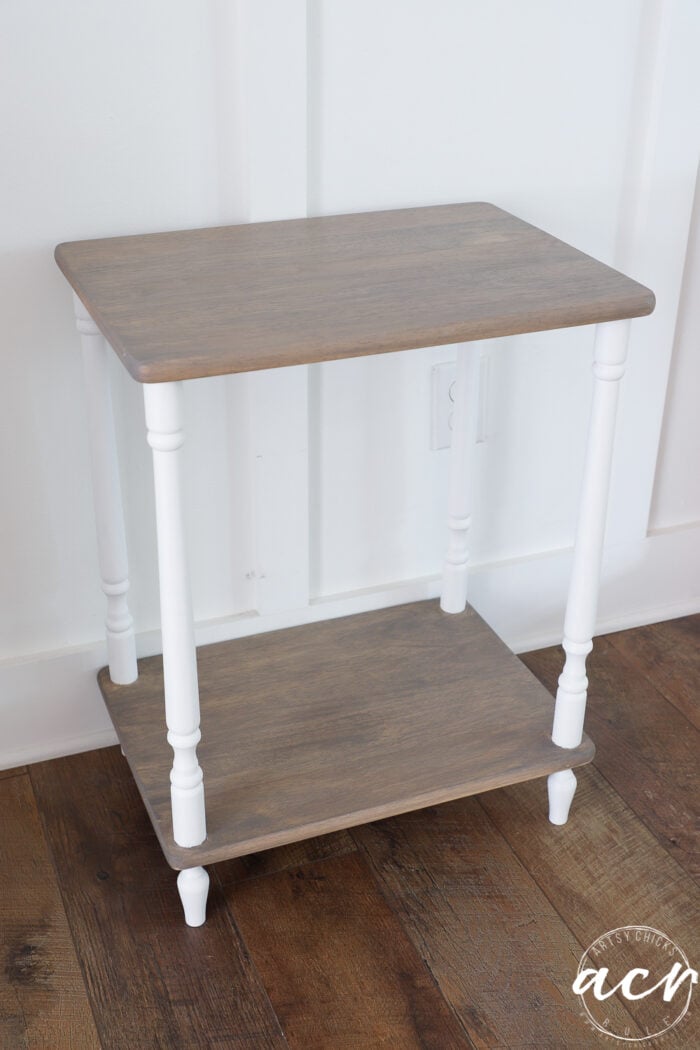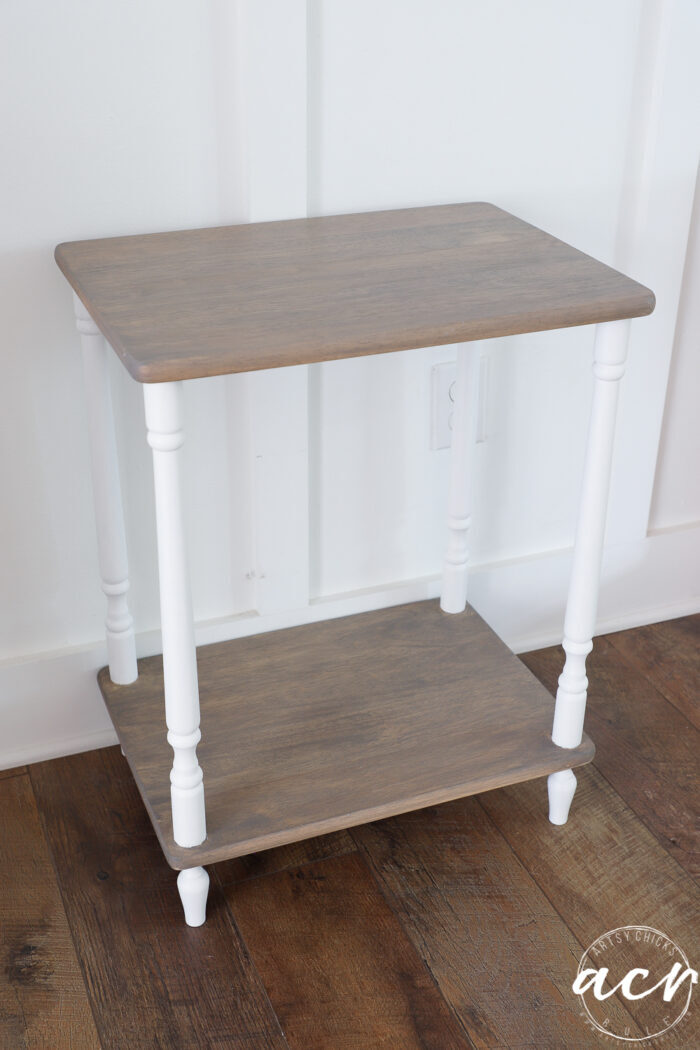 Isn't the contrast great?
I think it's going to look fabulous with the brand new headboard we made too.
Very different from how it started, huh?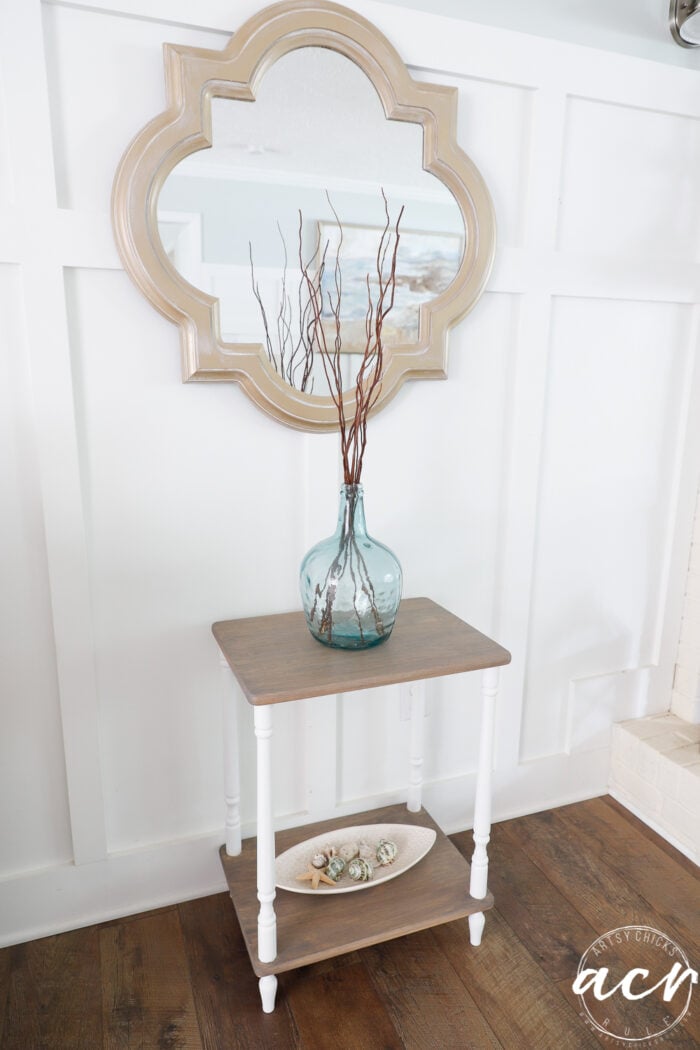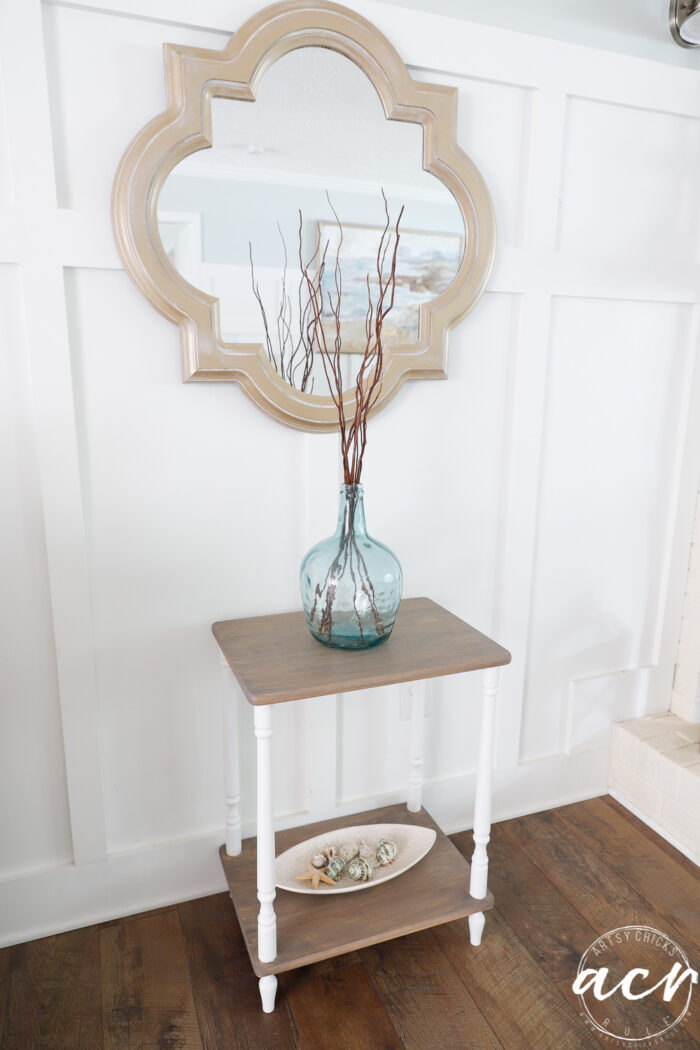 I love seeing the transformation of these sad, old furniture pieces.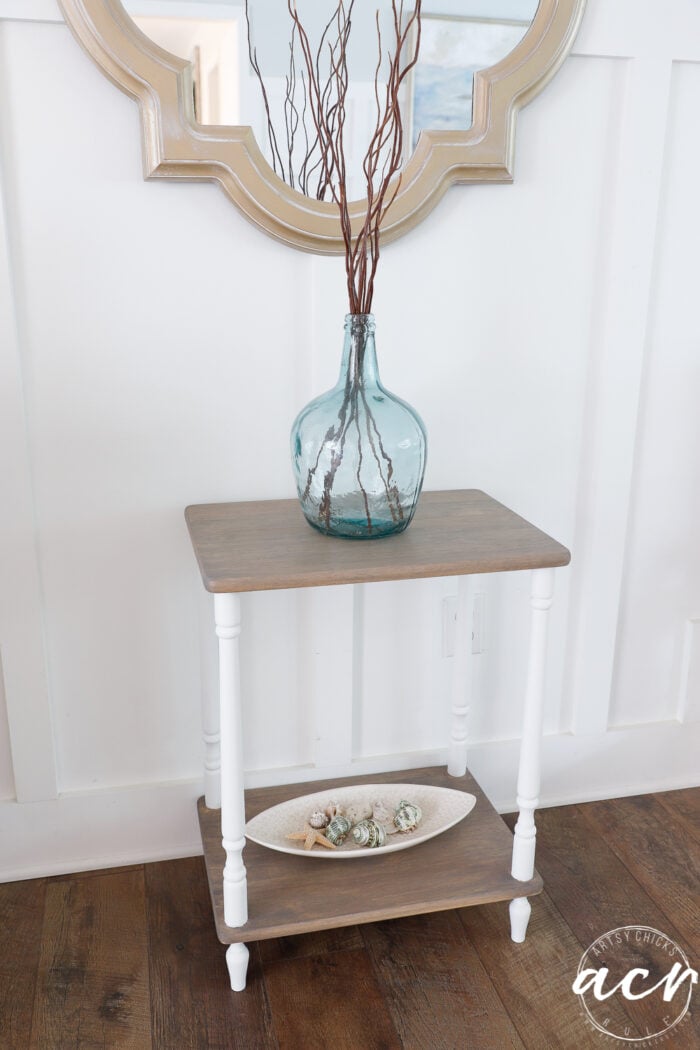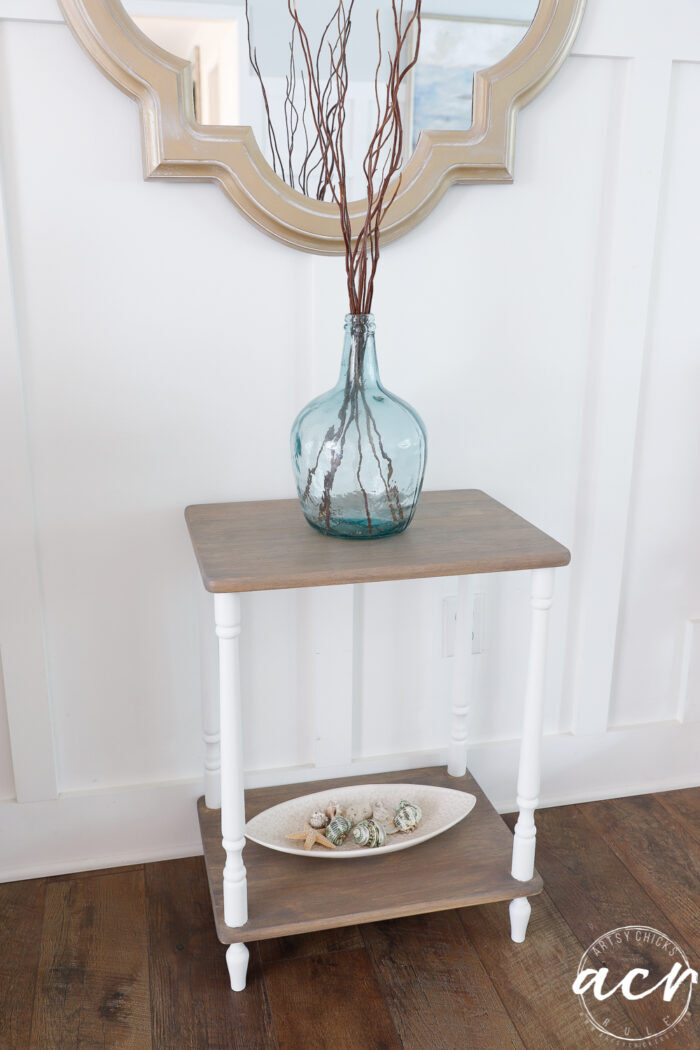 Up close of that finish…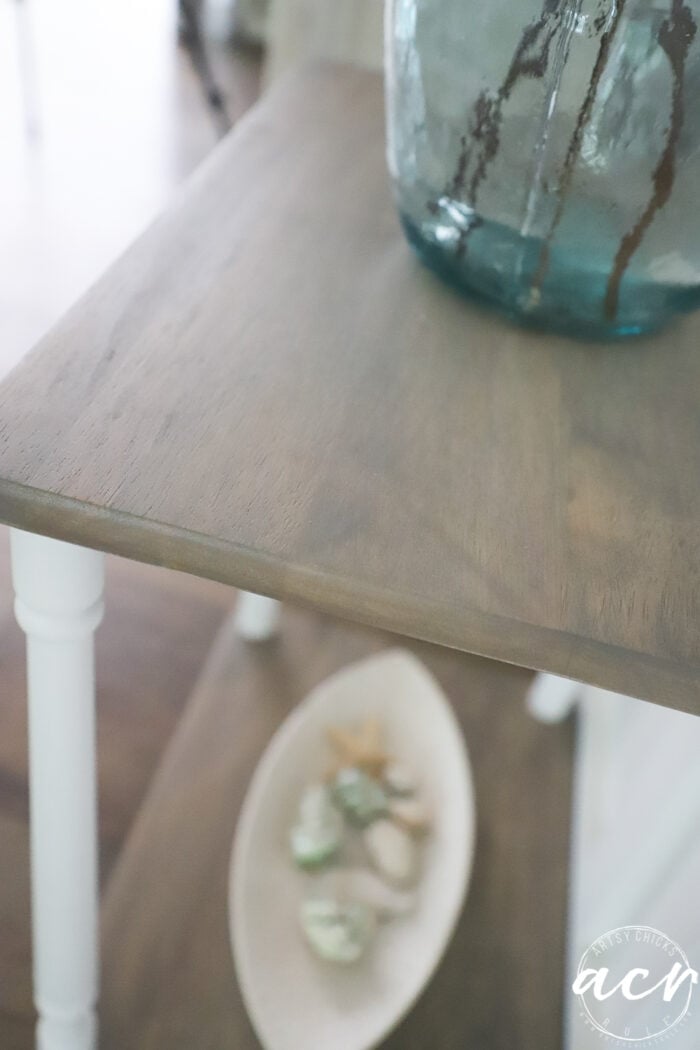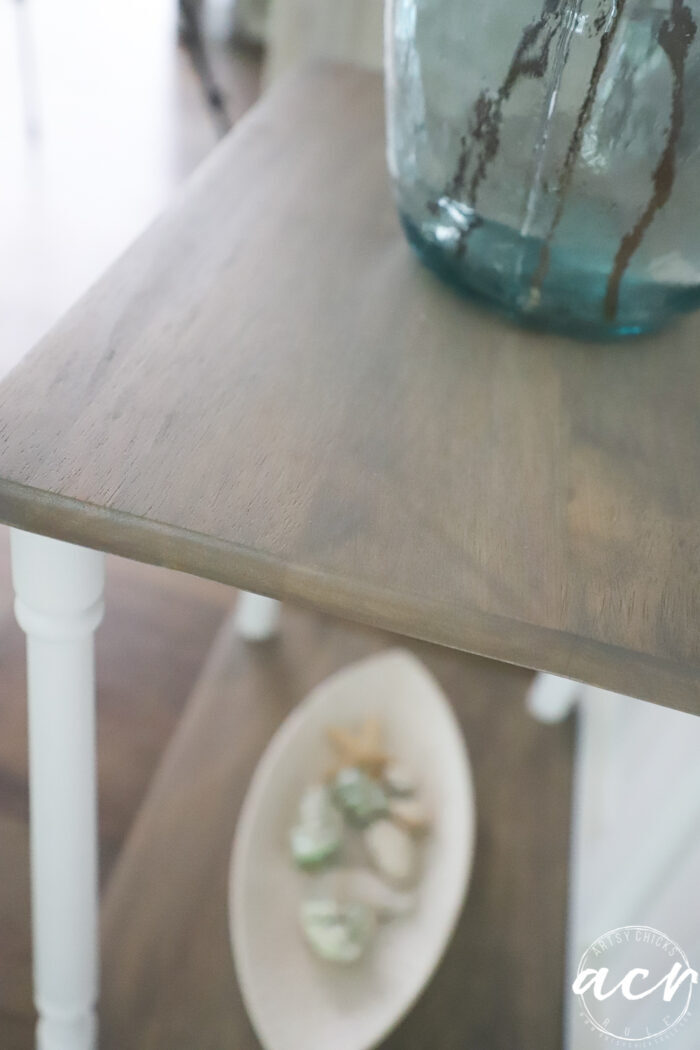 So good.
And that Driftwood is my absolute favorite although there are quite a few different ones to choose from.
You can see them all >>> here.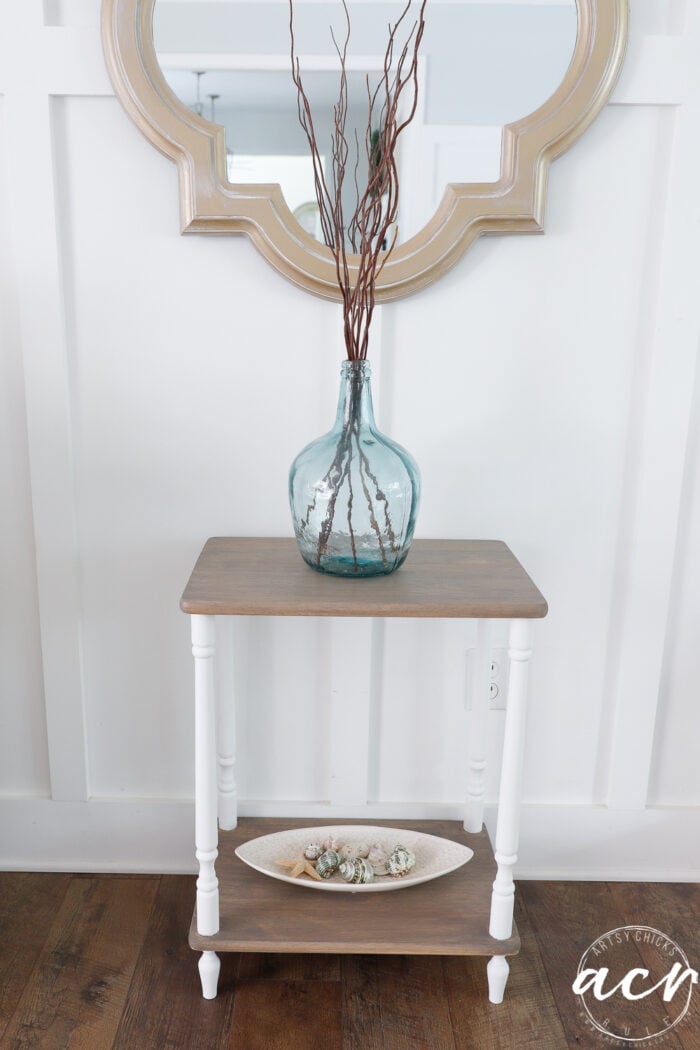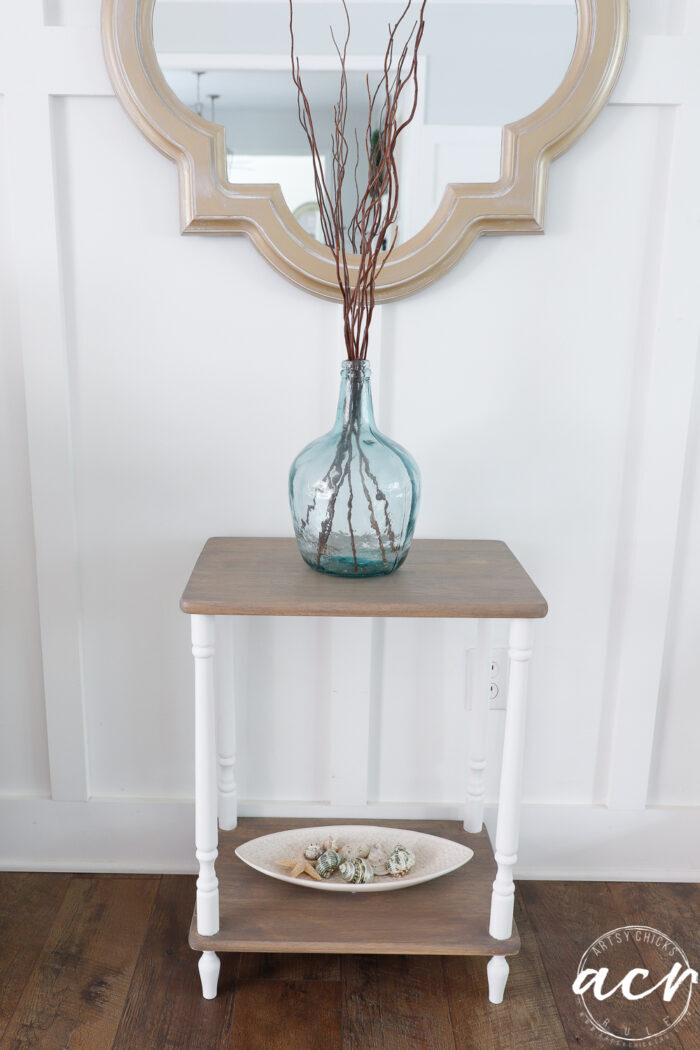 Stay tuned for more pictures soon! I'll add them once I move this to our beach condo and get some new photos of it there.
PIN it to save it!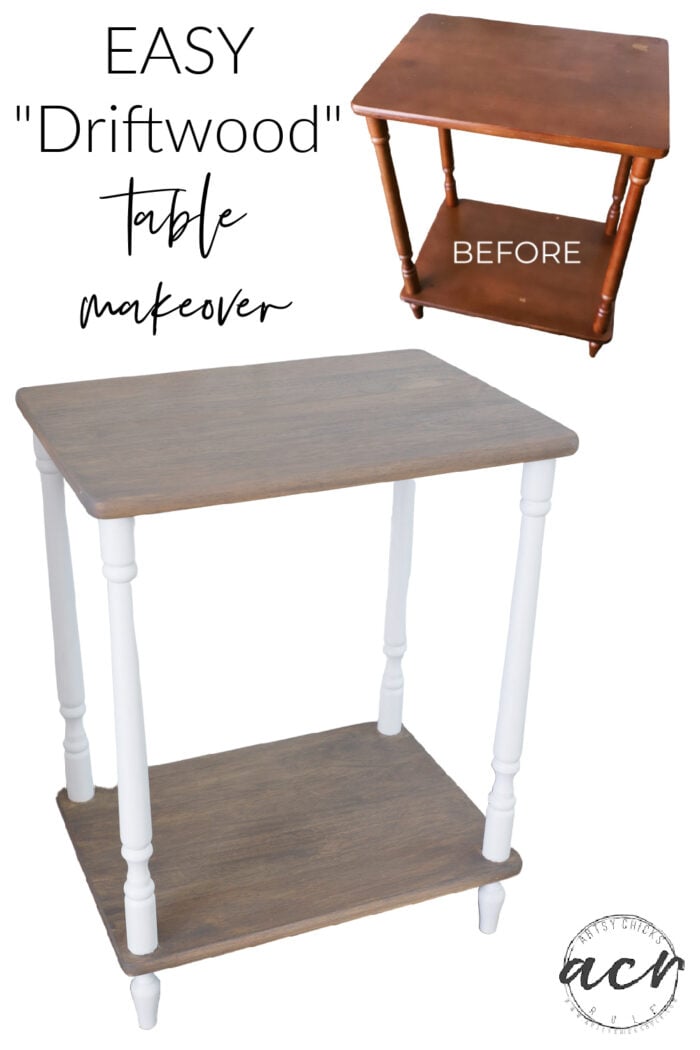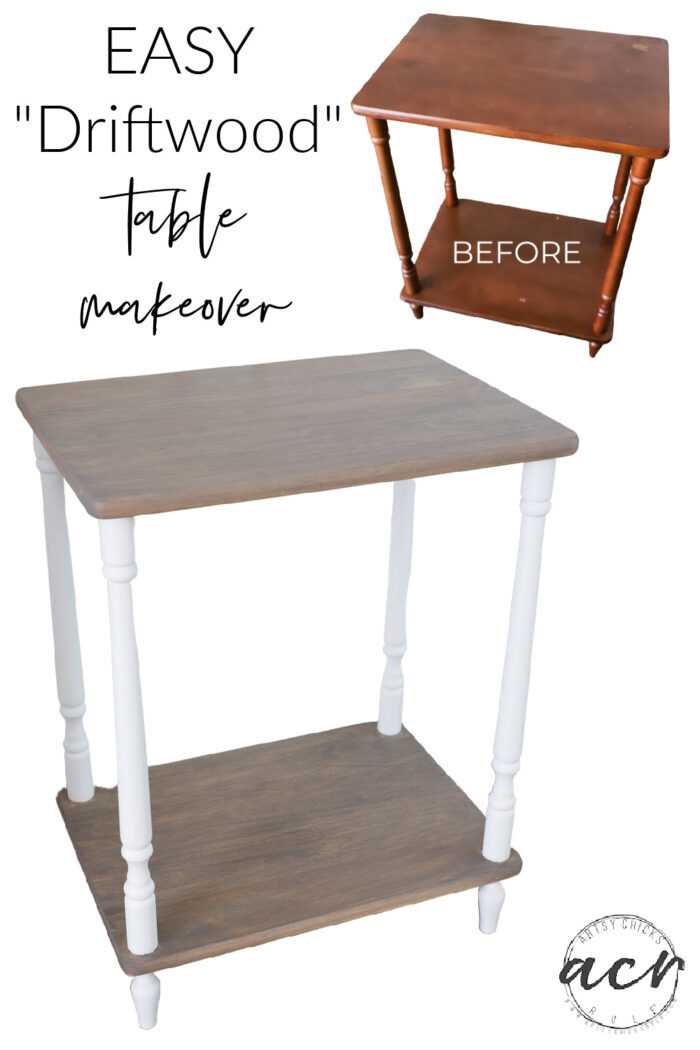 Don't forget to hop on over and visit my friends below!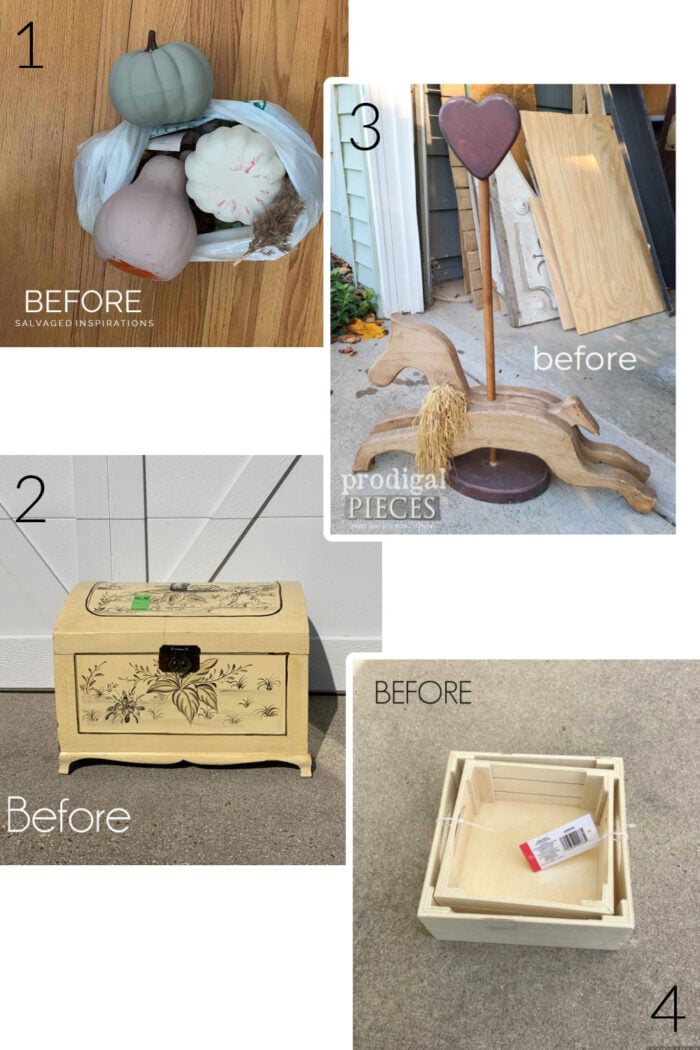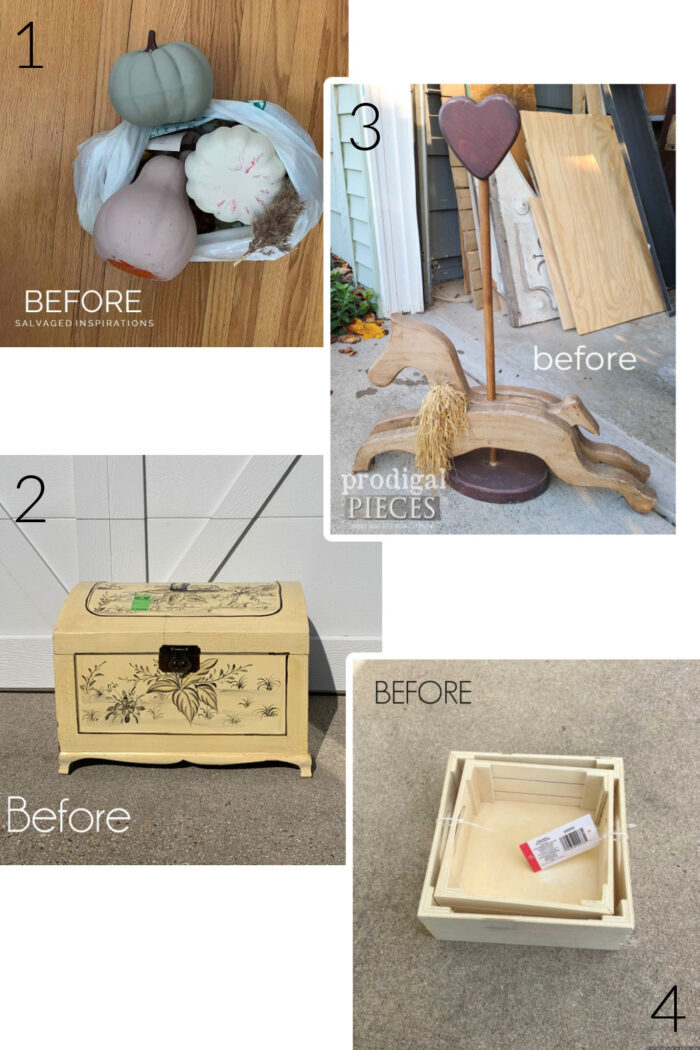 Don't forget to check back in for this!!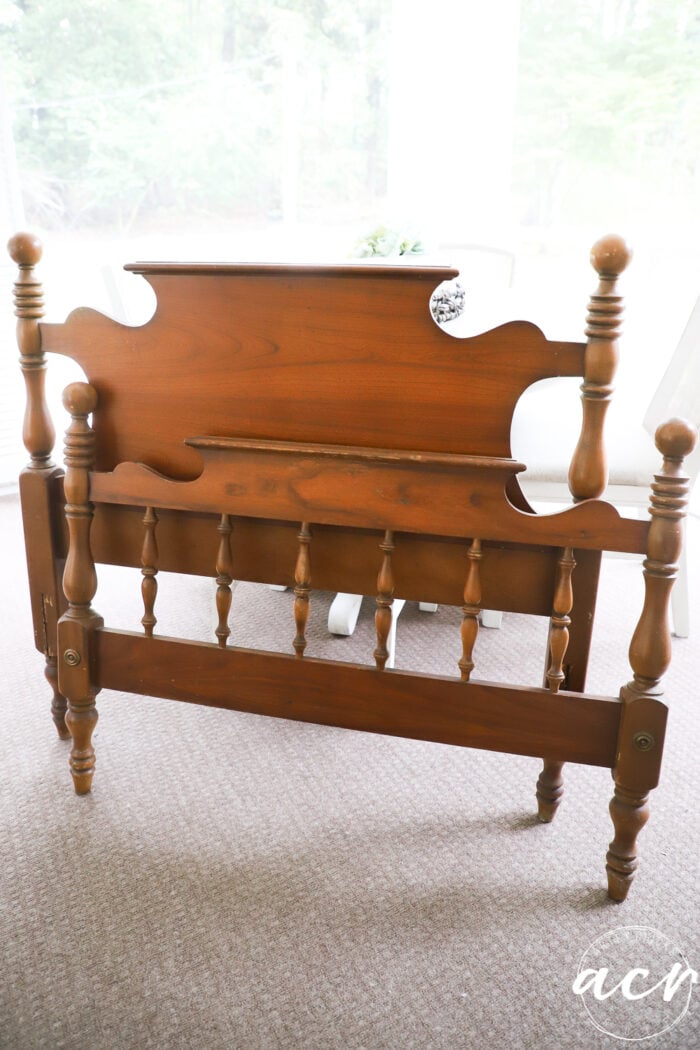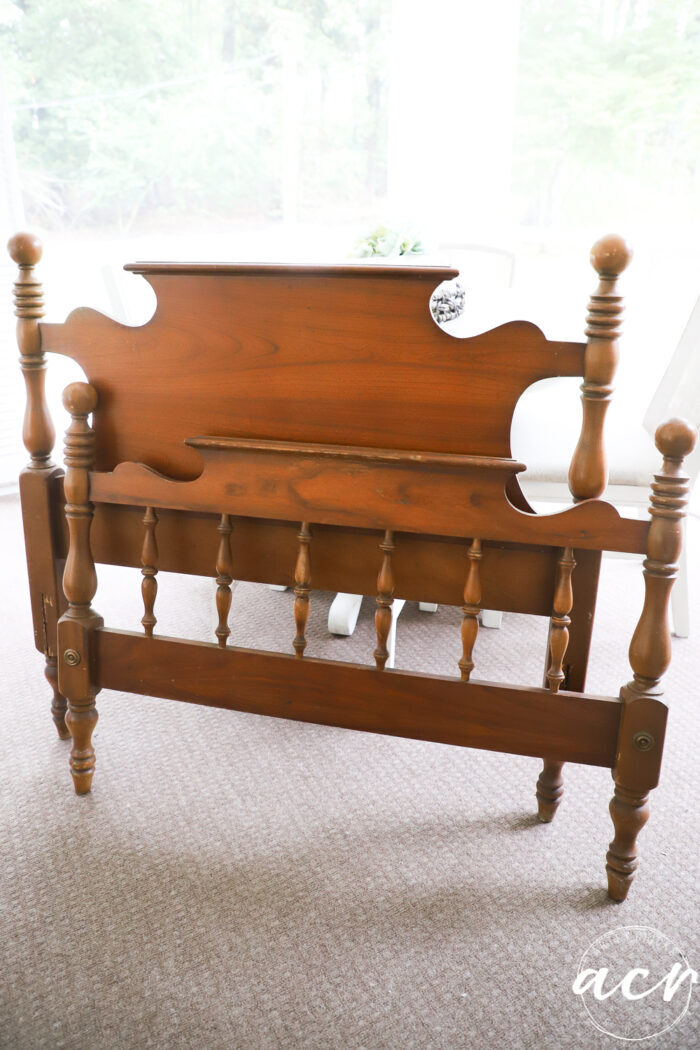 UPDATE!! See this beautiful makeover now here!
See you then!
xoxo